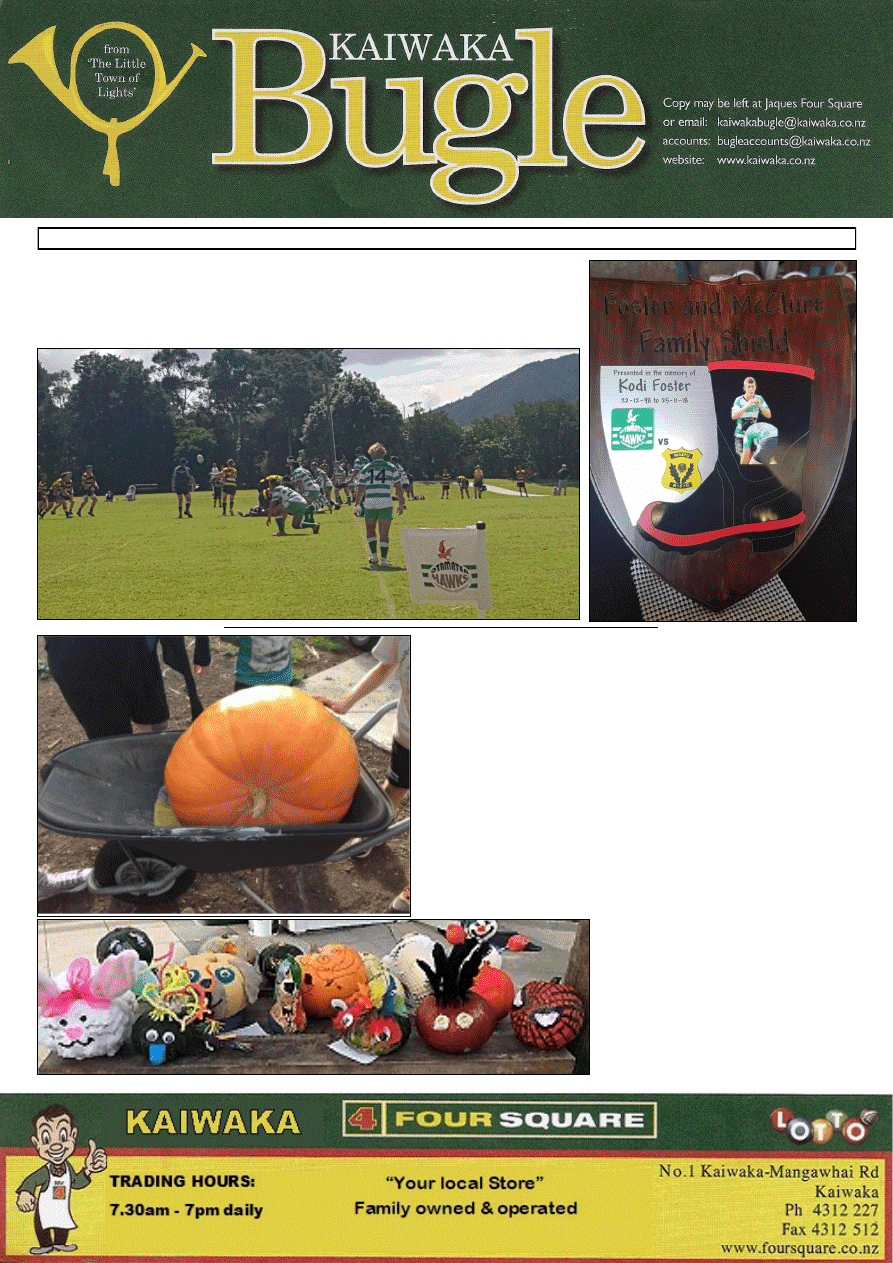 www.kaiwaka.co.nz 
Kaiwaka Bugle - 23 March 2021 
Page 1 
No.5 
23 March 2021 
KODI FOSTER MEMORIAL RUGBY 
Kaiwaka  Sports  Assn. 
hosted  a  great  turnout  on  their  grounds  for  the  Kodi 
Foster Memorial rugby game. Otamatea Hawks played Waipu and won 27-12, on  
Saturday 13th March. The trophy, pictured right, was presented following Kodi's 
tragic death 2 years ago. 
HOURS: 
7.30am - 7pm, seven days 
KAIWAKA SCHOOL GIANT 
PUMPKIN COMPETITION 2021
We  had  a  great  competition  this  year  with  some  beautiful, 
creative "best dressed" pumpkins and, of course, some impressive 
growing  efforts.  A  few  mums  and  dads  were seen staggering  in 
with some of the larger ones! 
The results were as follows: 
Heaviest Pumpkin:  First: Evan, 52.5kg, Second: Kierra, 21.5kg, 
Third: Michel- 15.5kg, Fourth: Amelia - 14kg;  
Best dressed Junior: First: Lily, Second: Ayla, Third: Winter 
Best Dressed Senior: First: Evan, Second: Amara, Third: Josie 
Longest Hill Roll:First: Amelia, Second: Kierra, Third: Caylis 
Mrs  Stevens  was  the  only  teacher  entry  this  year.  Her  pumpkin 
weighed a respectable 9kg and rolled well down the hill. 
Thank you 
Thanks  very  much  to  Ant  and  Jess  Pedersen,  Kaiwaka  Four 
Square 
owners, 
for 
generously 
providing  some  yummy  prizes.  Also, 
Rural Design and Forgotten Fruits for 
providing  plants  for  prizes.  Thanks  to 
Maungaturoto 
Vet 
Centre 
for 
providing the weighing scales as usual 
and Mike and Sue Saunders our guest 
judges. 
See  you  in  October  when  we  will  be 
distributing  seeds  for  the  2022 
competition!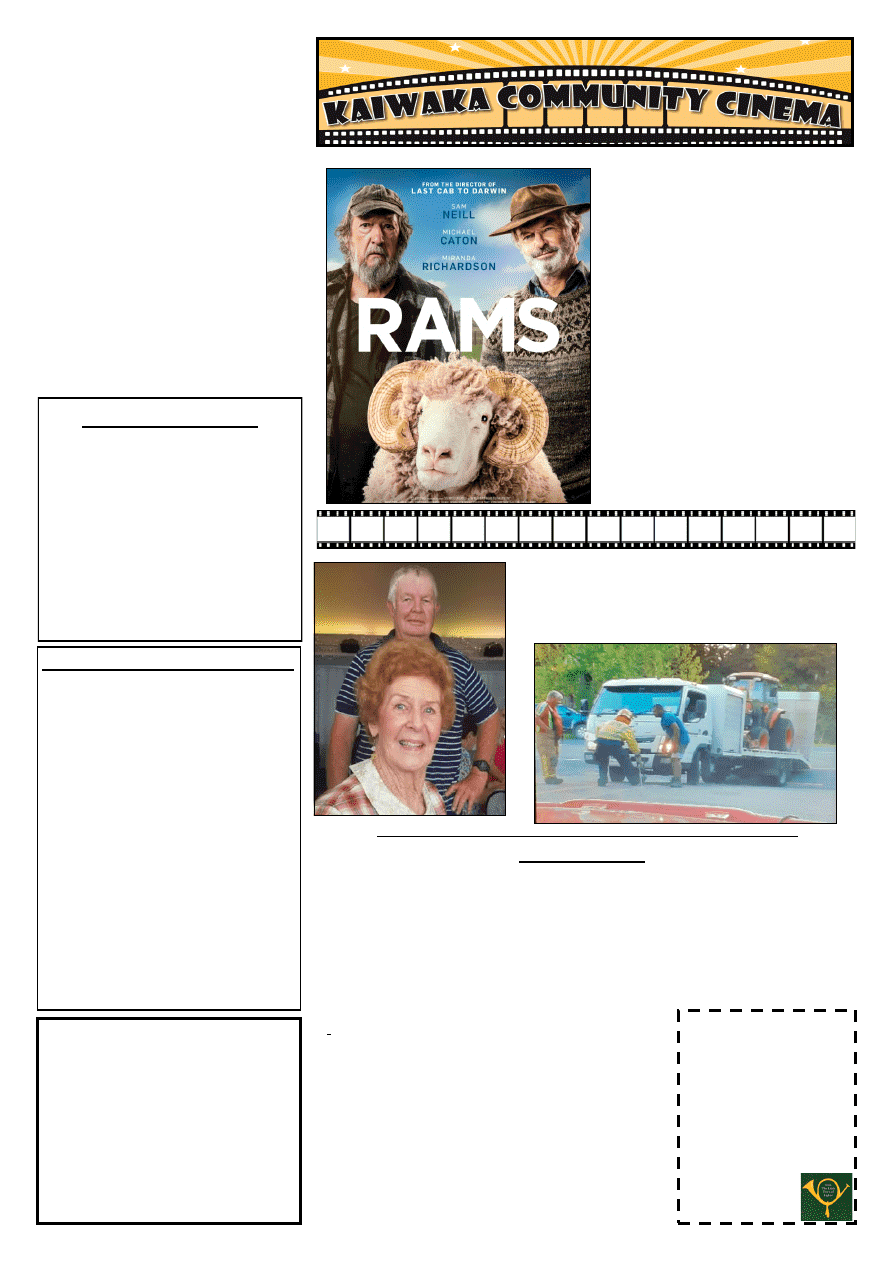 www.kaiwaka.co.nz 
Kaiwaka Bugle - 23 March 2021 
Page 2 
ABOUT TOWN 
 
A  very  BIG  THANK  YOU  to  Ant  and  Jess,  Four  Square  Kaiwaka,  for  our 
new  Bugle  front  page.  Yes,  every  page  one  is  from  them,  and  doesn't  it  give 
more 'zing' to our Bugle than plain black and white?!  

 A  WELL  DONE  to  the  hardworking  Otamatea  High  School  students  -  see 
NCEA results on page 9 

Congratulations to our local Shearing Sports team for a very successful day at 
the  Warkworth  A&P  Show  -  Toa  first  in  the  Open  Shears,  Tama  first  in  the 
Senior Shear with Jayden second, and young Hamu second in the Junior Shear! 

 Contact Amy, physio, for her weekly aqua aerobics/hydrotherapy classes at Te 
Hana pool starting   23rd March on 0212072729  

 Welcome  to  Diana  Langton  and  her  Four  Little 
Birds Patisserie and Cakes shop - opening in a couple 
of weeks (next to Allsortz) 

 Thank  you  Perry  Allen  and  family  for  the  great 
restore job on the Kaiwaka Playcentre wooden toys  - 
see page 17 

 Autumnal  equinox  -  equal  daylight  and  night  time 
hours  occurred on Saturday 20 March 

 Two more thanks  for classified adverts resulting in 
positive answers this week! 
~ Lindsey, Ed
'Politeness is like an air cushion. There's nothing in it, but it does 
ease the jolts wonderfully!'
At Kaiwaka War Memorial Hall . Adults $10, Kids (under 16) $5, Family Pass (2 adults + 3 children) $25 
KAIWAKA BUGLE NO.5 
23 MARCH 2021 
CONTENTS: 
Page 3: Public Notices, Classified 
Page 5: OCS; Easter Message 
Page 7: Kaiwaka Can 
Page 9: Otamatea High School 
Page 11: Kaiwaka Sports  Assn 
Page 13: Kaiwaka Revival Church; 
Apprentice Builder's Challenge 
Page 15: Pt. Curtis CC Fishing Comp 
Page 17: Kaiwaka Playcentre; Mgto & 
Districts Rotary 
Page19: Kaiwaka Library 
Bugle 6 will appear 6 April 
Contact for advertising, reports, articles 
or information can be made by 
Email: kaiwakabugle@kaiwaka.co.nz 
Ph: 09 4312 045 Lindsey 
Txt: 027 2724137 
Copy  may  be  left  at  Kaiwaka  Four 
Square. 
Kaiwaka Bugle 
Founded May 1978 
We appreciate articles and photos about local 
events, etc, as well as ads and suggestions. 
Copies available in Kaiwaka at Kaiwaka  Four 
Square, Kaiwaka Postal Centre, Shamrock 
Service Station, Animal Health Centre, 
Kaiwaka St John shop. 
Also outlets in Maungaturoto, 
Mangawhai and Paparoa. 
Can be viewed online at  
www.kaiwaka.co.nz/Bugle  
Or a copy can be posted to you if you supply 
stamped, self-addressed DLE envelopes. 
Kaiwaka Bugle Advertisements 2021: 
All 
copy 
and 
queries 
to: 
kaiwakabugle@kaiwaka.co.nz 
The Bugle is printed on an A4 page, B&W  
Ad  sizes:  1/16  page  (3  x  9.5cm)  $5;  1/8 
(6.5  x  9.5cm  landscape  or  portrait)  $8; 
3/16 ( 10 x 9.5cm or 7.5 x 12,5)  $12.  
Classified  ads:  First  one  FREE,  $4  per 
entry (max. 30 words, max. 4 repeats). 
Payments  can  be  made  online  at 
ANZ 
06  0365  0006990  00
,  posted  or  left  at 
Kaiwaka Four Square Store. 
We  use  Microsoft  Publisher,  and  can 
work  with  most  common  image 
formats, Word, Excel, and PDF files. 
Accounts:  
Email: bugleaccounts@kaiwaka.co.nz 
The  Kaiwaka  Bugle  is  a  community 
newspaper run by volunteers, as part of 
the Kaiwaka Media Group Inc.   
Articles, etc. printed are not necessarily 
the opinion of the Bugle Team. 
Proverbs 21:21 
Whoever goes hunting 
for what is right  
and kind finds  
life itself --- glorious life! 
(The Message Bible) 
KAIWAKA BUGLE 
DEADLINE DATES 
2021:   
Every second Friday 
April 2, 16, 30 
May 14, 28 
June 11, 25 
July 9, 23 
August 6, 20 
September 3, 17 
October 1, 15, 29 
November 12, 26 
December 10 
RAMS 
Friday  26  March, 7.30pm 
'In  remote  Western  Australia,  two 
estranged  brothers,  Colin  (Sam  Neill) 
and  Les  (Michael  Caton),  are  at  war. 
Raising  separate  flocks  of  sheep 
descended  from  their  family's  prized 
bloodline,  the  two  men  work  side  by 
side yet are worlds apart.  
When  Les's  prize  ram  is  diagnosed 
with  a  rare  and  lethal  illness, 
authorities  order  a  purge  of  every 
sheep  in  the  valley.  While  Colin 
attempts to stealthily outwit the powers 
that be, Les opts for angry defiance.  
But  can  the  warring  brothers  set  aside 
their  differences  and  have  a  chance  to 
reunite  their  family,  save  their  herd, 
and  bring  their  community  back 
together? 
Starring 
Sam 
Neill, 
Miranda 
Richardson, Michael Caton. 
HAPPY BIRTHDAY! 
Our very best wishes to Sunny on her 90th birthday! 
Alix Sunny Bowmar, pictured here with her brother 
John  (our  very  own  Fire  Chief)  celebrated  the 
special occasion at the weekend.
SPOTTED: 
Fulton 
Hogan 
truck 
'bridged' 
outside 
Kaiwaka 
Fire 
Station ....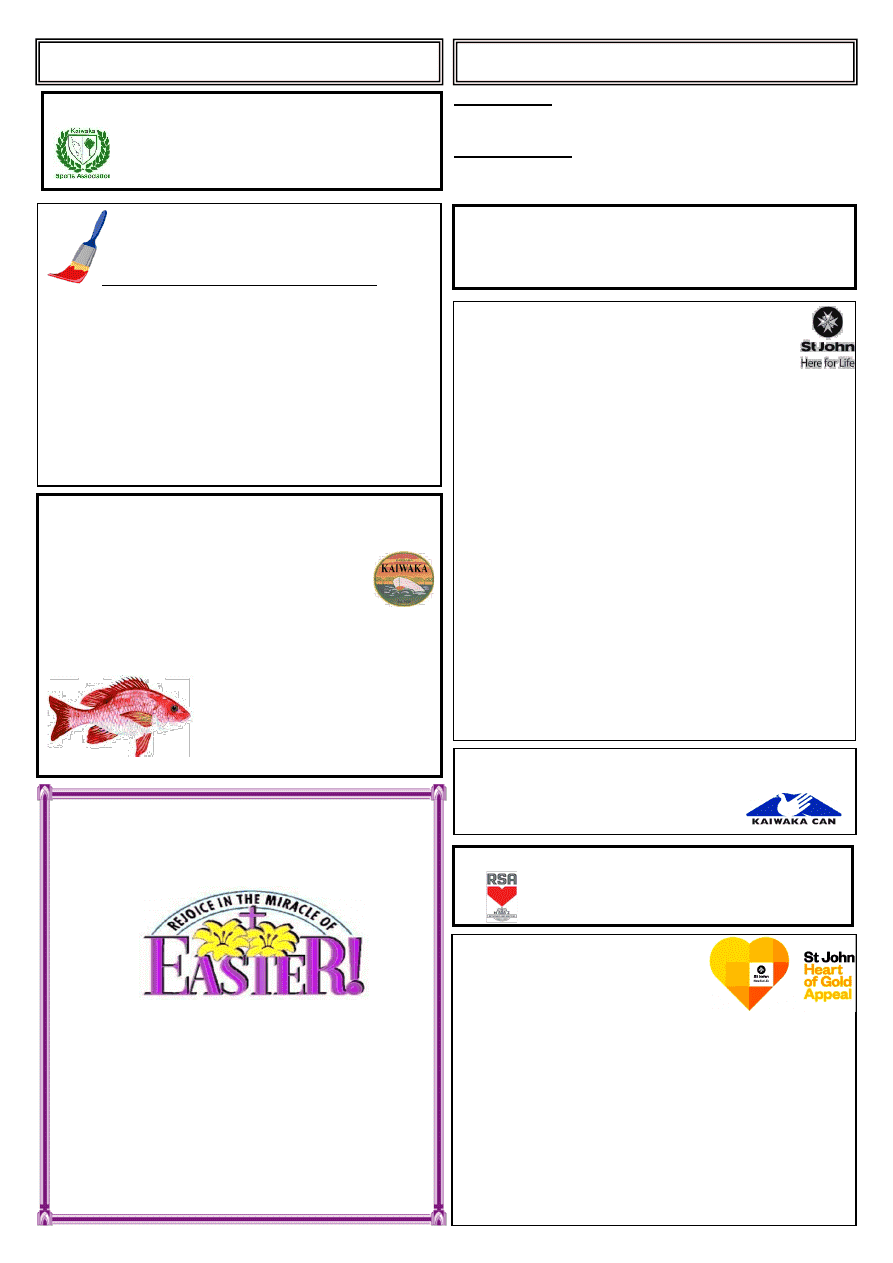 www.kaiwaka.co.nz 
Kaiwaka Bugle - 23 March 2021 
Page 3 
KAIWAKA  CAN 
AGM  on Wednesday 21st April, 5.30pm 
Archie Bull Hall, Kaiwaka 
All welcome  
PUBLIC NOTICES 
CLASSIFIED 
Easter Services 
St Paul's Church, Kaiwaka 
Christ the King Church, Mangawhai 
Good Friday 2 April 9.00 am 
Family Service - Christ the King Church 
9 Molesworth Drive, Mangawhai 
Easter Sunday 4 April 
Family Communion 
St Paul's, Kaiwaka, 9.00 am 
and 
Christ the King, Mangawhai 9.00 am  
ST JOHN HEART OF 
GOLD APPEAL  
5th to 11th April 2021 
There  will  be  a  chance to  donate  in 
both  Maungaturoto  and  Kaiwaka 
during  this  week.  We  are  also  hoping  to  have  BP  (blood 
pressure) checks some of the time. 
In  conjunction  with  this  appeal  the  Otamatea  Area 
Committee  is  running  a  colouring  competition  at  five 
primary  schools  in  our  area:  Kaiwaka,  Maungaturoto, 
Paparoa, Matakohe and Tinopai. 
There  will  be  three  age  groups  at  each  school  and  prizes 
will be allocated to each school separately. The ages are – 
5- and 6-year-olds; 7- and 8-year-olds; 9- and 10-year-olds. 
Competition  will  close  on  Wednesday  14th  April  and  we 
hope to announce winners by 16th April.  
~ Otamatea St. John Area Committee.
KAIWAKA St. John Op Shop 
BIG GARAGE SALE 
 ST JOHN WEEK 2021 
FRIDAY 9th - SATURDAY 10th APRIL 
AMBULANCE BAY, ST JOHN HALL 
Cnr. Gibbons and Mangawhai Rd 
     9.30am to 1.00pm 
FURNITURE ITEMS PLUS MORE 
Op Shop News 
CLOTHING SALE: All red, Yellow and Green Clothing 
$1.00 until 31 March   
BOOK SALE: All books in Book room   HALF PRICE 
until 31 March  
CHILDRENS BOOK on ramp 6 books for 50c. until 31 
March   
DONATIONS for shop please check the list on the wall as 
to what we can take. Please deliver donations for the shop 
during opening hours if possible. 
We are in need of … Clean Bric Brac, Handbags (clean 
and in saleable condition); And Men's clothing. 
Thank you for your support. 
Dianne and the Team 
HOURS: Tuesday – Friday 10am to 3pm;  Saturday 10am – 2pm 
PHONE: Shop  4312650  
1919SH1, Kaiwaka 
FOR  SALE:  Recipe  Books.  Large  pile,  excellent 
condition. $20 the lot. Please phone 4312288 Kaiwaka 
FOR  SALE:    Two  very  lage  bags  of  fluffy  knitting 
yarn.  Just  $5.00  each  bag.  Please  phone  4312288 
Kaiwaka 
POINT CURTIS CRUISING CLUB  
AUCTION AUCTION AUCTION 
Fish Fish Fish Fish 
FRESH FISH AUCTION 
(gilled and gutted) 
6.30pmish Sunday 28th March 2021 
@ 3 Furlongs Bar & Grill 
(ATM on site) 
(Point Curtis Cruising Club Inc 
Fundraiser  for upgrades at  
Rangiora Boat Ramp) 
First notice FREE  for Classified or Public Notices - 
less  than  30  words  -  then  charged  as  per  advertised  
($4).  This  includes  AGM  and  meeting  notices,  FOR 
SALE, WANTED, FOR RENT. ~ Kaiwaka Bugle 
  Kaiwaka Library
Painting quotes needed please 
For painting the exterior of the library building, 
 including the roof.
Please contact Wendy to discuss if needed:  
4312 539 or 027 480 6275. 
Send quote to kaiwaka.library@gmail.com or drop at 
the library (through returns slot if closed) 
by 31 March 2021. 
cnr State Highway 1 and Kaiwaka Mangawhai Road 
Phone 4312 539                       Email kaiwaka.library@gmail.com 
HAKARU RSA WOMENS SECTION 
Annual General Meeting 
Thursday 25 March. 
733 Settlement Road, Hakaru  
KAIWAKA SPORTS ASSOCIATION 
ANNUAL GENERAL MEETING 
Wednesday 24 March, 7pm. 
Kawaka Sports Complex 
All welcome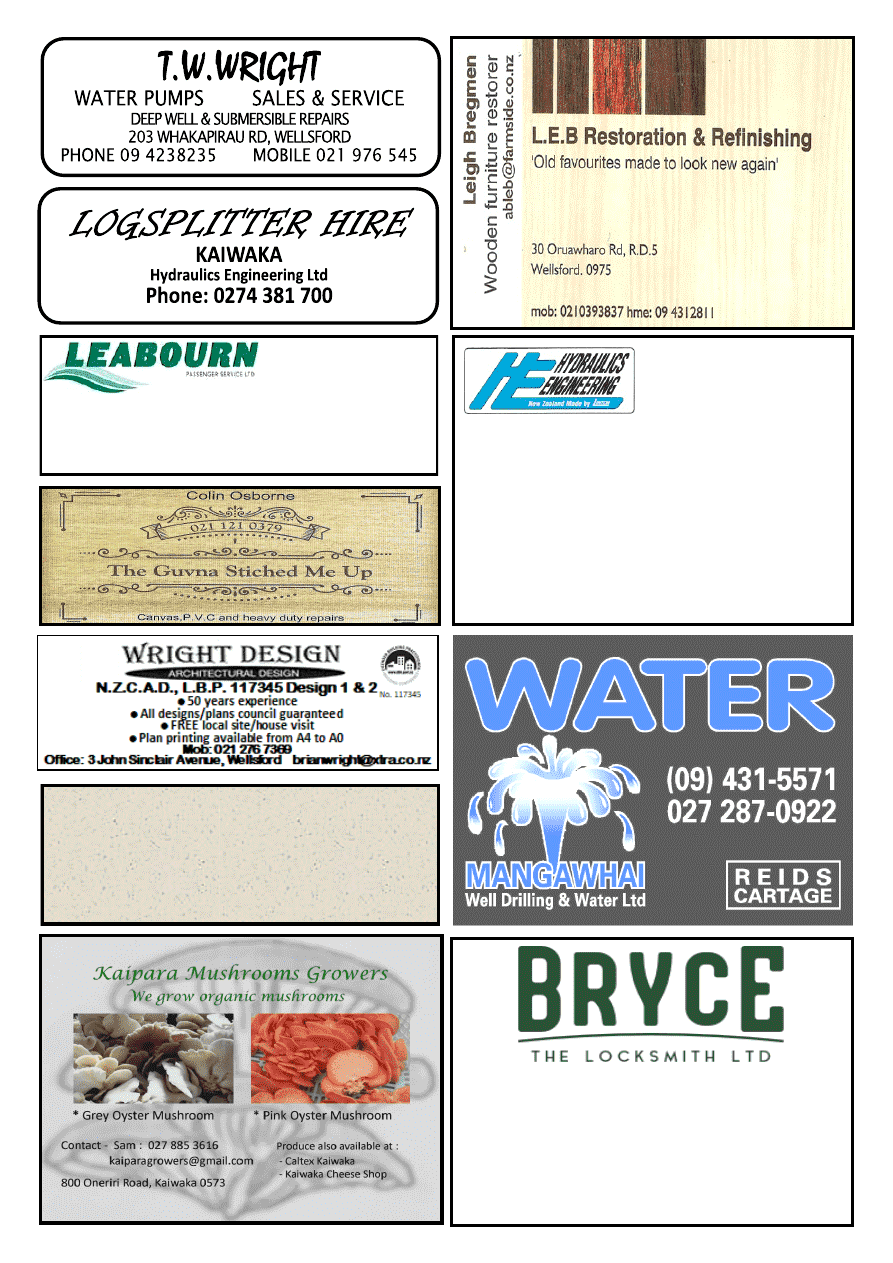 www.kaiwaka.co.nz 
Kaiwaka Bugle - 23 March 2021 
Page 4 
Bryce Frewin 
Ph: 021 850 983 
Kaipara Based Master Locksmith 
bryce@brycethelocksmith.co.nz 
www.brycethelocksmith.co.nz 
Hydraulics  
Engineering Ltd 
Kaiwaka 
Sales - Service - Parts - 
Hire - Manufacture 
Service Contractors & Industrial Equipment: 
Rams, Pumps, Valves 
Logsplitter Hire, Manufacturer, Sales 
Dennis Linton 
Lot 2 / 161 Ranganui Road, RD2, Kaiwaka, 0573, New Zealand 
Mobile: 0274 381 700 
Email: hydraulicsengineering@xtra.co.nz 
Counsellor and Registered Psychotherapist 
Offers Supervision 
ACC Sensitive Claims 
Susan Matheson      MNZAC 
Dip. Psychosynthesis Counselling and Psychotherapy 
Phone 09 431 2996                                     Mobile 027 605 2427 
Passenger Service
Car & Van Hire   Bus & Coach Charters 
Airport Transfers    
Phone (09) 4237416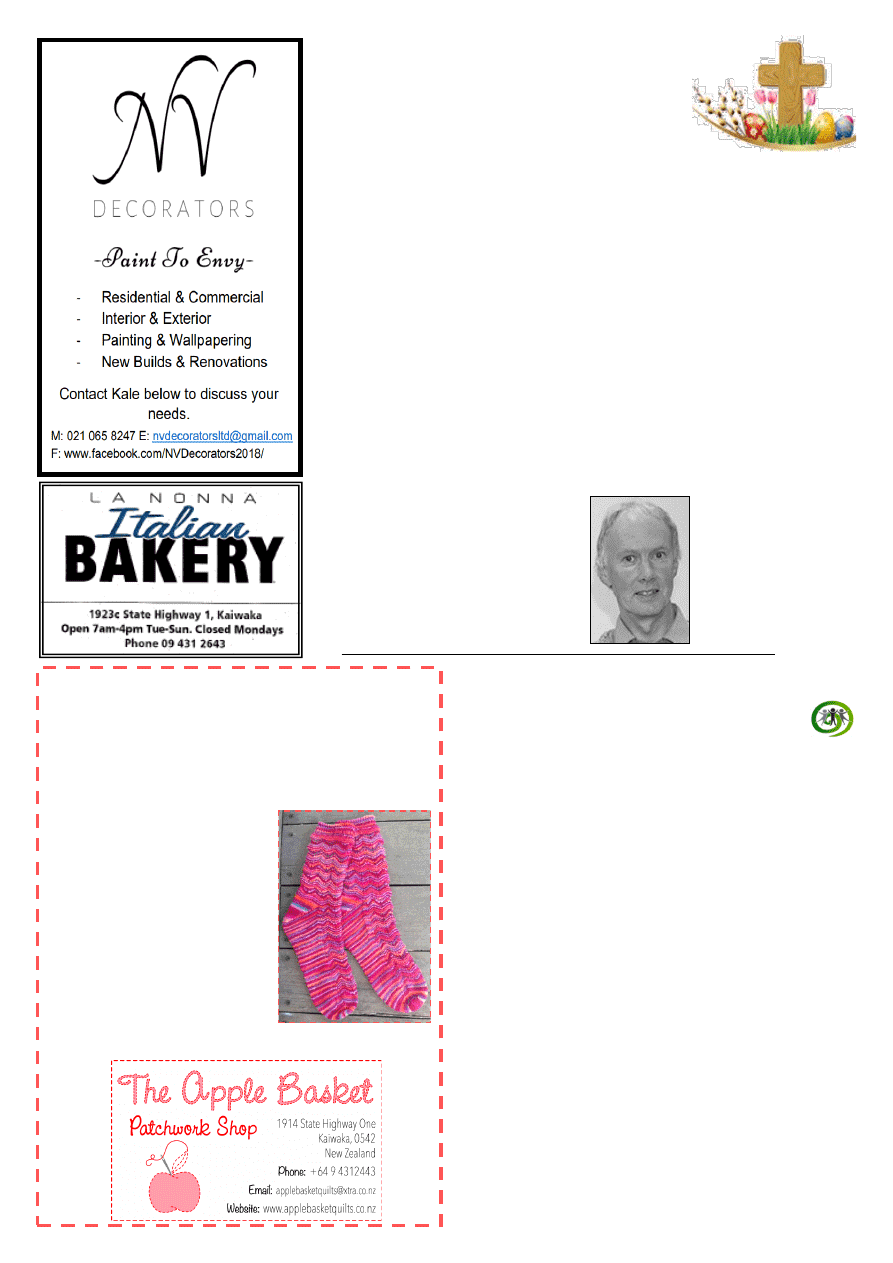 www.kaiwaka.co.nz 
Kaiwaka Bugle - 23 March 2021 
Page 5 
OTAMATEA COMMUNITY SERVICES 
NEW! 
SENIOR/COMMUNITY 
LUNCH 
IN 
MANGAWHAI. 
How  does  a  free  lunch  in  Mangawhai  every  month 
sound?  We  are  delighted  to  announce  the  launch  of 
our monthly senior/community lunch in Mangawhai.  
Our lunches in Maungaturoto have been a special part of the 
community  for  over  ten  years,  so  we  thought  we  would 
bring it to Magical Mangawhai for more people to enjoy. 
Lunch will be held at The Community Hall in Fagan Place, 
behind  the  Mangawhai  Medical  Centre,  on  Thursday  8th 
April.  We  will  be  open  from  11.30am  and  lunch  will  be 
served at 12.30pm. 
Please note that if Auckland goes to Level 3, please assume 
our lunches, Chocolate Bingo and Fun & Games will not go 
ahead due to the risks. 
Unfortunately,  we  had  to  cancel  two  regular  events  during 
Level  2  in  March  -  Fun  &  Games  and  the  Community 
Lunch.  We  didn't  think  it  appropriate  to  hold  these  events 
with  our  communities'  health  at  risk  until  Level  1.  As  the 
saying goes, it's better to be safe than sorry. 
On that note, stay safe, everyone. Don't forget the guidelines 
given  to  us  by  the  Health  Department.  Wash  your  hands 
regularly, scan QR Codes or sign in where possible, and be 
aware of the risks whatever you do and wherever you go. 
APRILCALENDAR 
Fun 'n Games: Every Monday 10am Footprints Room 
Community Lunches:  
Wednesday 7th 10am St John Hall, Maungaturoto 
Thursday 8th. 12.30 Community Hall Mangawhai 
Shopping  Trip:  Tuesday  13th  &  Wednesday  28th  Departs 
9.30 from the Retirement Village 
Chocolate Bingo: Wednesday 21st Footprints Room 10am –
12pm 
Ph: 094319080 more information. 
By  the  time  you  read  this  it  will  be 
pretty  close  to  Easter.  Easter - when 
we eat spicy buns with a funny mark on 
top. Easter - a time to enjoy the delights 
of chocolate eggs. 
For  many  of  us  Easter  is  more  about 
time out from the rigours and routine of 
work,  school,  study,  chores  ...  For 
others it is a retail opportunity that's too 
good to miss - monster sales and all too 
tempting bargains. 
Unlike  Christmas,  Easter  can  be  a 
little  confusing.  Christmas is all about 
the  birth  of  a  baby,  and  everybody 
knows  it's  right  and  proper  to  make  a 
fuss of the birth of a baby. 
Easter on the other hand is a little more 
difficult  to  get  your  head  around.  On 
the  Friday  Christians  pause  to 
remember  Jesus  dying  on  the  cross. 
Nothing to celebrate there for sure. But 
everybody  knows  when  someone  dies, 
especially a great bloke like Jesus, it is 
proper to say a fond farewell and grieve 
for  their  loss.  (Which  is  why  some 
people find it unbecoming to have sales 
on this special day.) 
Then  there  is  Sunday,  with  Christians 
celebrating  while  some  shake  their 
heads  and  others  do  not  even  notice. 
What 
are 
they 
celebrating 
... 
'resurrection'  ...  a  dead  person  coming 
back  to  life?!  Now  someone  dead 
coming  back  to  life  is  not  a  normal 
everyday  event;  it  is  out  of  our  league 
and  many  people  are  not  quite  sure 
what to make of it or do about it.  
At  the  heart 
of  Easter, 
it 
seems to me, is 
this:  the  Bible 
says  that  Jesus 
died  for  us,  to  show  God's 
amazing love for each and every one of 
us. As Jesus says in John's Gospel: No 
one has greater love than this, to lay 
down one's life for one's friends (John 
15:13). 
Self-sacrificing, 
no-strings-attached 
love.  Love  that  is  behind  every  act  of 
compassion,  every  reaching  out,  every 
instance  of  care.  Jesus'  resurrection 
affirms  that  Jesus'  way:  the  way  of 
reaching out in compassion, with caring 
and  open-ended  love,  is  the  way  that 
leads to life. Simple as that! 
So, when you are eating your bun with 
that  funny  mark  on  top,  enjoying  your 
sumptuous  chocolate  egg,  relaxing, 
finding  sale  bargains;  try  to  remember 
all  of  this  is  only  possible  because  of 
love.  Love  which  is  freely  given  and 
leads to life. 
For God so loved the world that he gave 
his  only  Son,  so  that 
everyone  who  believes 
in  him  will  not  perish 
but  have  eternal  life. 
(John 3:16) 
Peace  be  with  you, 
Wayne 
Thornton, 
Minister  for  St  Paul's 
Kaiwaka 
EASTER 2021 
Sock Knitting Class with Jean Guttery 
9th and 23rd April 2021 
10.00 am - 1.00 pm 
Jean will teach you how to make socks from the toe up so 
you can try them on as you knit to get the perfect fit and 
you will also learn how to do socks using the Magic Loop 
method.  It is such a useful skill to learn and they make 
wonderful gifts.   
The handmade socks last so 
much longer than the bought 
variety and there are such a 
lovely variety of sock yarns to 
make them in.  The only 
stipulation with this class is you 
must buy your yarn here  at The 
Apple Basket before class. 
Book in by phoning us on 09 
4312443  or email at 
applebasketquilts@xtra.co.nz or 
book in on our website under 
Workshops & Classes -w.ww.applebasketquilts.co.nz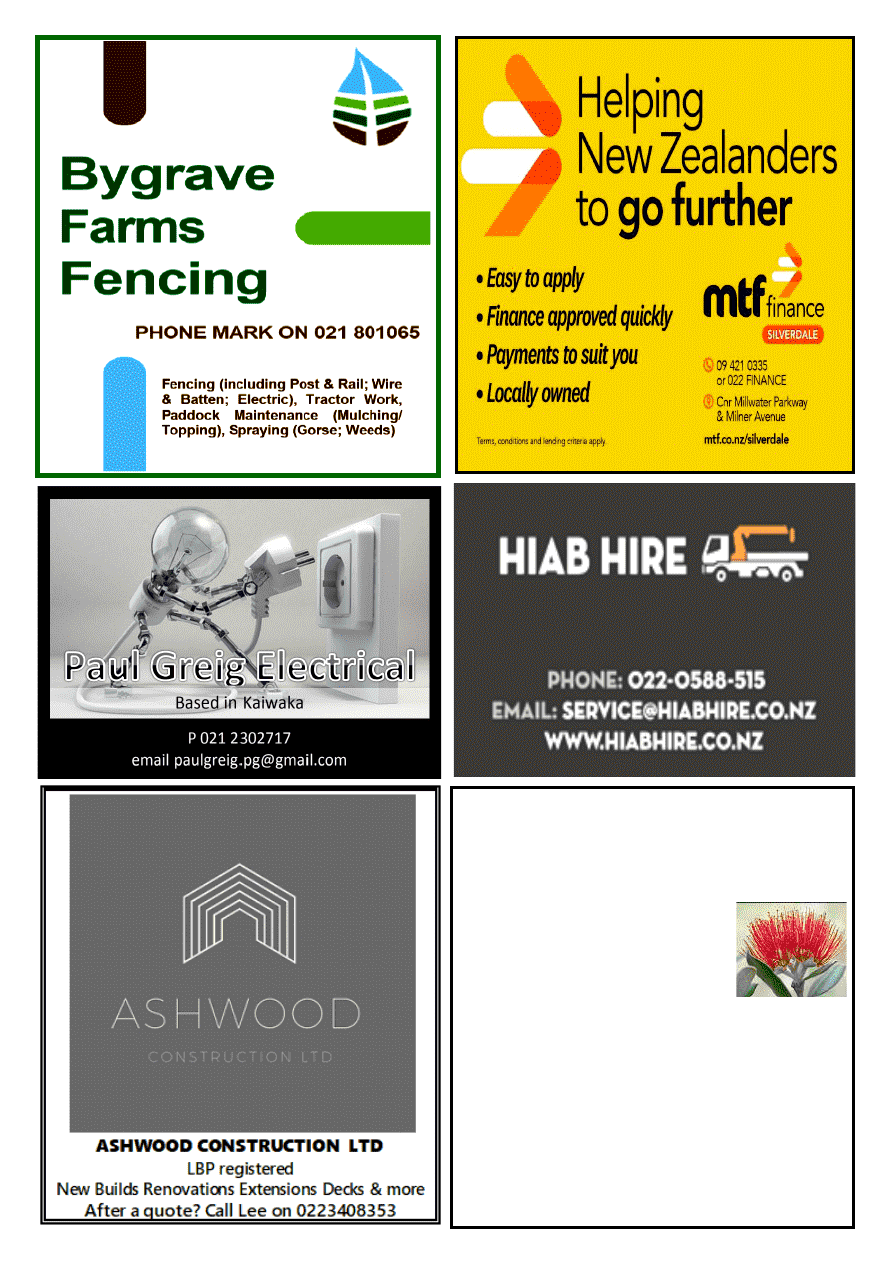 www.kaiwaka.co.nz 
Kaiwaka Bugle - 23 March 2021 
Page 6 
KAIPARA FLOORING CO 
FULLY MOBILE FLOORING SHOWROOM 
SERVICING THE KAIPARA 
PH (09) 946 9886 or  
CHRISTINE ON 021 515 415 or 
HOWARD 021 2696250 
IN HOUSE MEASURE, QUOTE AND 
CONSULTATION SERVICE 
FOR THE SUPPLY AND INSTALLATION OF 
CARPET, VINYL, VINYL PLANKING, HARD 
FLOORING, GARAGE CARPET, LAMINATE 
FLOORING AND MORE. 
EMAIL kaiparaflooring@gmail.com  
WEBSITE www.kaiparaflooring.co.nz 
Qcard 6 month interest free terms or 12 – 24 
month finance options available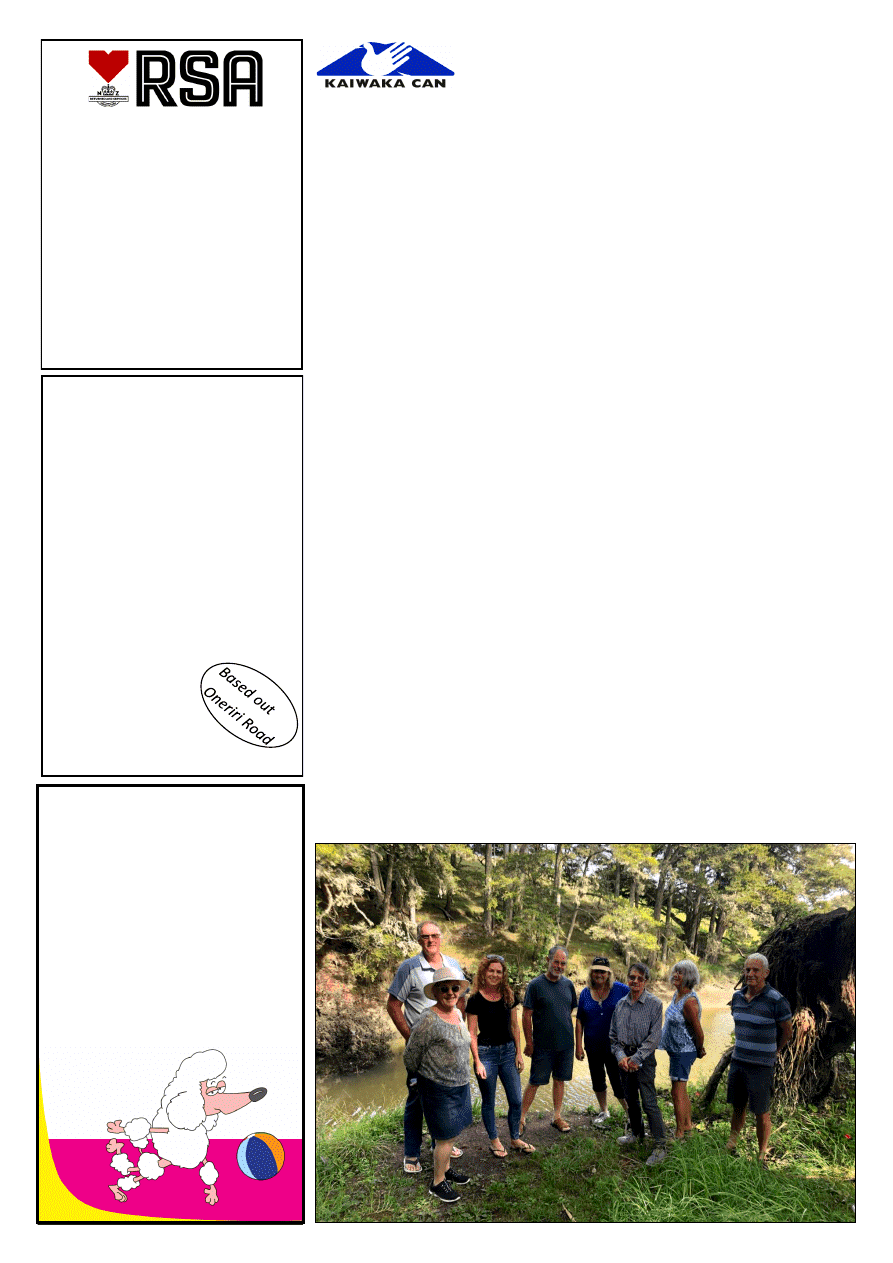 www.kaiwaka.co.nz 
Kaiwaka Bugle - 23 March 2021 
Page 7 
HAKARU & DISTRICTS 
MEMORIAL RSA (INC)
Members & guests are invited to 
come along and enjoy our hospitality. 
New members welcome. 
Meals are served on Thursday and 
Friday nights from 6.30pm. 
Order from Blackboard Menu  
The sing along with Des Chitty is the 
Last Friday of the month. 
For more information please phone 
Bill on 431 2092  
HODGETTS 
CONTRACTING
Digger Work   
Driveways 
House Sites   
Dams  
Drains, etc
Also available for HIRE 
3 ton Vib Roller  
Heavy Duty Tow  
Waterblaster      
Lazer Level
Phone Mark  
4312877 
027 447 8554 
Hot Diggity Dog  
DOG GROOMING  
KAIWAKA 
Spring is in the hair. 
Professional Dog Groomer  
at affordable prices.
www.doggroomingkaiwaka.co.nz 
call Pam 094312143 or text 
0273335380 for bookings 
GROWING MEMBERSHIP 
As  the  weather  slowly  cools  down, 
things  are  heating  up  at  Kaiwaka  Can, 
and  we're  basking  in  the  warmth  that 
connection with our community brings. 
March's 
monthly 
meeting 
on 
Wednesday was a roaring success. Our 
membership  grew  yet  again  with  go-
getter  Christelle  of  Best  Pets  Kaiwaka 
joining the team. Welcome to the team 
Christelle! 
WIKIPEDIA 
Christelle  has  generously  offered  to 
contribute  to  the  Kaiwaka  Wikipedia 
page,  a  satisfying  task  and  we're  sure 
her sharp eye will snap some awesome 
photos of our wonderful town. 
MCCLEAN PARK CLEAN-UP 
KDC's 
General 
Manager 
of 
Infrastructure  Services  Jim  Sephton 
joined  us  for  the  meeting  along  with 
Funding  Officer  Jenny  Rooney.  With 
the McClean Park clean-up, the current 
focus  of  our  collective  energy,  having 
them  on  board  for  the  evening  was 
fantastic.  Getting  the  green  light  from 
the appropriate parties before launching 
spade,  weed  whacker  and  bbq  sausage 
into this mahi is vital. 
Jim  and  Jenny  provided  valuable 
updates  and  clarity  on  what  KDC  is 
working  on  to  help  drive  the  McClean 
Park  clean-up  forward.  We  really 
appreciate the work that is underway to 
make  this  happen  and  look  forward  to 
'spreading the love' and uncovering the 
potential  hidden  under  weeds  and 
general  waste.  McClean  Park  –  a 
hidden  recreational  gem  and  future 
must-stop resting area. 
FACEBOOK PAGE FOR UPDATES 
Working  bee  dates  will  be  announced 
as  soon  as  possible  –  so  please  check 
your  local  noticeboard  and  our 
Facebook page for updates. 
MANGAWHAI 
MATTERS 
CONNECTION 
We are absolutely thrilled to have very 
recently  connected  with  Mangawhai 
Matters who have been doing excellent 
work  in  the  community.  MM  have 
expressed  their  willingness  to  join 
forces  and  work  together  towards  a 
better Kaipara. This important strategic 
relationship  is  going  to  be  key  to 
gaining 
traction, 
manpower 
and 
momentum on the many community-led 
projects we get behind. 
LONG-TERM PLAN 2021-2031 
We're also working on a submission for 
the  Long-Term  Plan  2021-2031.  The 
Long-Term Plan is the blueprint for the 
next  10  years  and  it  sets  the  KDC's 
direction for the future, and the projects 
and  services  that  are  planned  to  get 
there.  We  encourage  everyone  to  get 
involved  and  'have  your  say'  on  the 
future  of  your  community.  Deadline  is 
April 1st. 
ONERIRI ROAD INTERSECTION 
Turf  Tamer  is  going  to  be  cleaning  up 
debris  and  tree  trimming  opposite 
Oneriri  Road  entrance,  next  to  where 
the  new  patisserie  is  opening.  The 
remaining  overgrown  vegetation  is  set 
to  be  cleaned  up  after  the  new 
footbridges  go  in.  This  work  is  set  to 
get  underway  on  Monday  the  22nd  of 
March. 
Enjoy  the  rest  of  the  month  everyone, 
take care out there. 
Individually  we  are  one  drop,  but  together 
we are an ocean. – Ryunosuke Satoro 
Contact:  
David Wright, Interim Chairman 
pukepunga@xtra.co.nz 
Next meeting: AGM 21st April 2021 
Below:  Members  of  the  Kaiwaka  Can 
visited McClean Park. 
MARCH, THE MONTH OF 
MOMENTUM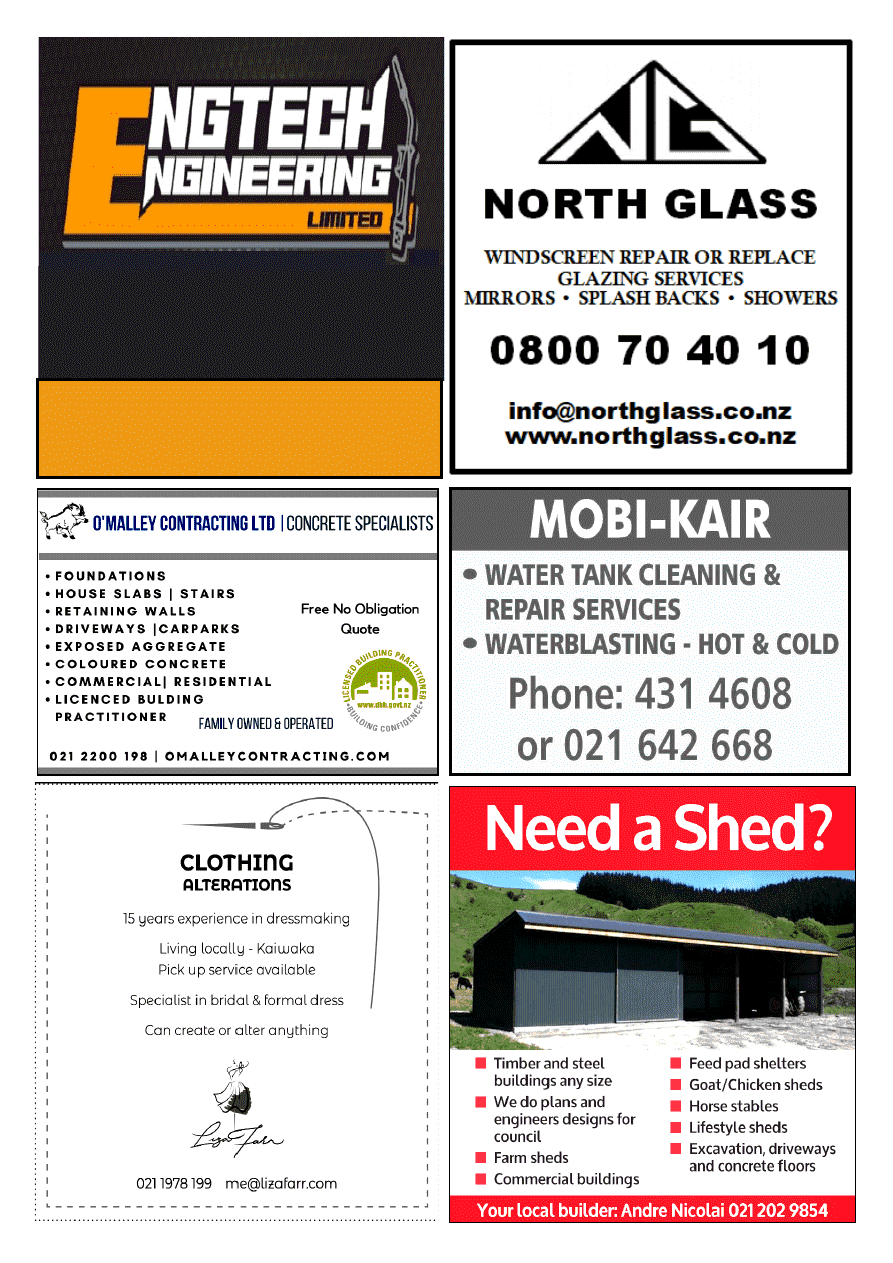 www.kaiwaka.co.nz 
Kaiwaka Bugle - 23 March 2021 
Page 8 
- Mobile Engineering Services - 
- Specialised Welding and Fabricating - 
- Media Blasting and Painting -  
- New CNC Profile Cutting Machine - 
PH: 021 415 259 or 09 973 3440 
648 Kaiwaka-Mangawhai Rd, Hakaru 
www.engtechengineering.nz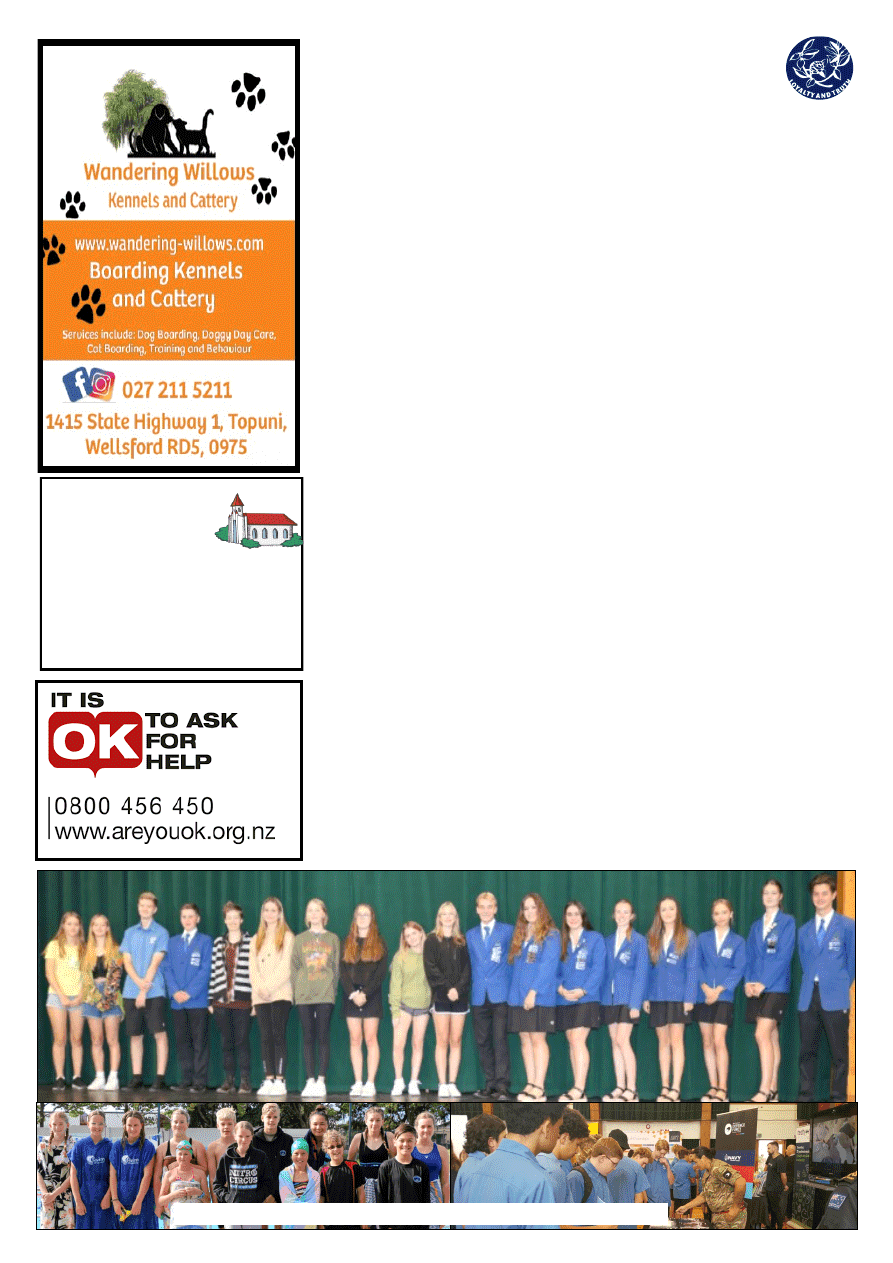 www.kaiwaka.co.nz 
Kaiwaka Bugle - 23 March 2021 
Page 9 
ST PAUL'S  
ANGLICAN  
SUNDAY SERVICES
First Sunday 9am Holy Communion 
Third Sunday 9am Family Service 
St Pauls Church: Kaiwaka-Mangawhai Rd. 
Priest in Charge Rev. W Thornton Ph 431 4122 
www.mangawhaianglican.org.nz
OTAMATEA HIGH SCHOOL 
EXCELLENT 2020 NCEA RESULTS FOR  
OTAMATEA HIGH SCHOOL STUDENTS
Otamatea  High  School  is  very 
proud  of  our  2020  NCEA  results, 
with  pass rates  well  above  the  national 
averages (in brackets) across all levels 
NCEA Level 1 (Year 11): 89.5% 
(71.6%) 
NCEA Level 2 (Year 12): 92.1% 
(80.0%) 
NCEA Level 3 (Year 13): 87.9% 
(72.3%) 
University Entrance (Year 13): 66.7% 
(53.6%) 
A  special  congratulations 
goes out 
to  all  our  seniors  who  have  been 
awarded  NZQA  certificate  and  course 
endorsements  for  the  2020  academic 
year.  Students  who  gain  50  credits 
overall  at  excellence  (or  merit)  level 
have  their  NCEA  certificate  endorsed 
with  excellence  (or  merit).  It  is  a 
considerable honour to be awarded such 
an endorsement.  
The following students gained overall 
certificate endorsements at excellence 
level.  
NCEA  Level  3:  Maggie  Hames, 
Juliana Bangcong, Jessica Evans. 
An  additional  ten  year  13  students 
gained  overall  certificate  endorsements 
at merit level. 
NCEA  Level  2:  Cory  Browne,  Amy 
Lawrence,  Jaden  Sheppard,  Alyssa 
Flannagan, Lola Smyth, Lilli McCarthy 
An  additional  eleven  year  12  students 
gained  overall  certificate  endorsements 
at merit level. 
NCEA  Level  1:  Billie  Le  Mesurier-
Cowbourne,  Alana  Yardley,  Michael 
Ferguson 
An  additional  eight  year  11  students 
gained  overall  certificate  endorsements 
at merit level. 
Students can also be awarded individual 
course 
endorsements. 
These 
endorsements  recognise  outstanding 
achievement  in  a  particular  subject. 
Students need to gain at least 14 credits 
at  excellence  (or  merit)  in  a  single 
course  to  receive  an  excellence  (or 
merit) endorsement.  
The  following  students  have  done 
exceptionally  well  in  receiving  NCEA 
course  endorsements  at  the  excellence 
level for their efforts last year. 
NCEA  Level  3  Excellence  Course 
Endorsements: 
Maggie  Hames  (Calculus,  Chemistry); 
Jessica 
Evans 
(English); 
Amy 
Lawrence  (Calculus);  Cory  Browne 
(Calculus) 
An  additional  39  level  3  merit  course 
endorsements were also awarded. 
NCEA  Level  2  Excellence  Course 
Endorsements: 
Amy  Lawrence  (Physics,  Statistics, 
English,  Biology);  Cory  Browne 
(Physics,  Statistics);  Jaden  Sheppard 
(History, Photography); Lilli McCarthy 
(Art,  Photography);  Alyssa  Flannagan 
(Physical Education); Brenda Ferguson 
(Chemistry); 
Arrick 
Corble 
(Photography); 
Emma 
Britton 
(History); Connor Sands (English); Jade 
Stables (Art); Sophie Gribble (Physical 
Education); 
Alana 
Yardley 
(Mathematics). 
An  additional  33  level  2  merit  course 
endorsements were also awarded. 
NCEA  Level  1  Excellence  Course 
Endorsements: 
Billie 
Le 
Mesurier-Cowbourne 
(Science, 
Physical 
Education, 
Geography,  English);  Alana  Yardley 
(Physical  Education,  Science);  Michael 
Ferguson  (English);  Joshua  Sheppard 
(Physical Education). 
An  additional  22  level  1  merit  course 
endorsements were also awarded. 
Success at Northland Schools Swimming Sports and Careers Roadshow at OHS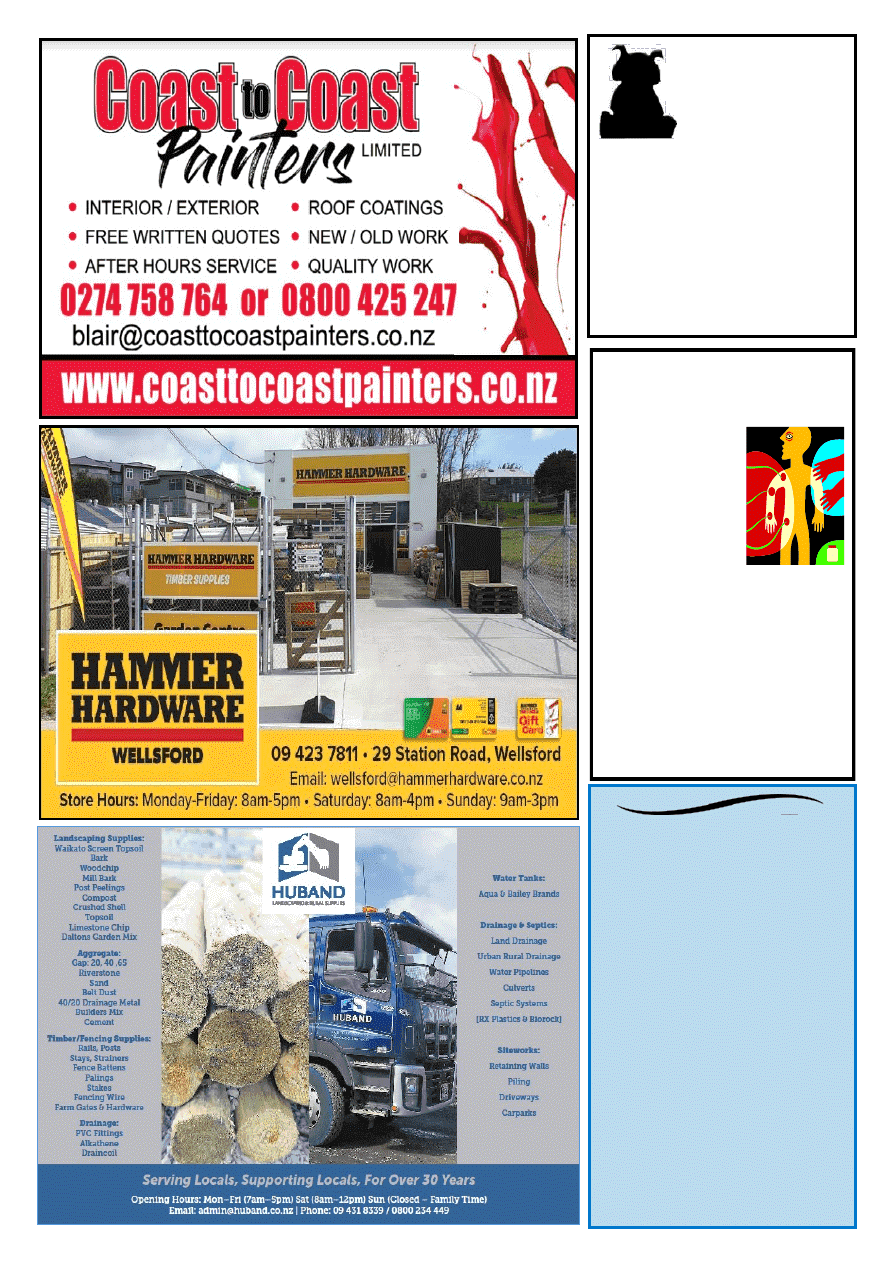 www.kaiwaka.co.nz 
Kaiwaka Bugle - 23 March 2021 
Page 10 
OWEN STEVENS 
Osteo Therapist
For careful 
adjustments to 
bones and joints 
Treatment for 
humans and their 
pets 
Clinics: 
Kate's Place, Kaiwaka: 
Last Friday of month 
For bookings: 
9.00am-5.00pm  
Phone 
09 4312661 
Or phone Owen  
09 4317123 anytime 
HAVEN HOME  
MAINTENANCE  
SERVICES 
Helping transform your  
haven into your home 
Interior:  
Kitset Assembly 
Wardrobe Furniture Install 
Picture & Mirror Mounted 
Minor Carpentry Works 
Exterior:  
Landscape Solutions 
Fence Build & Repair 
Low level Decks 
Gutter clearing & Repairs 
M: 021 1145709  
Kaipara  
Dog Training 
Club 
Mangawhai Domain,  
Moir Street 
Every Wednesday from 
5.30pm 
Please contact the 
Secretary 
for further information 
kaiparadogtrainingclub@gmail.com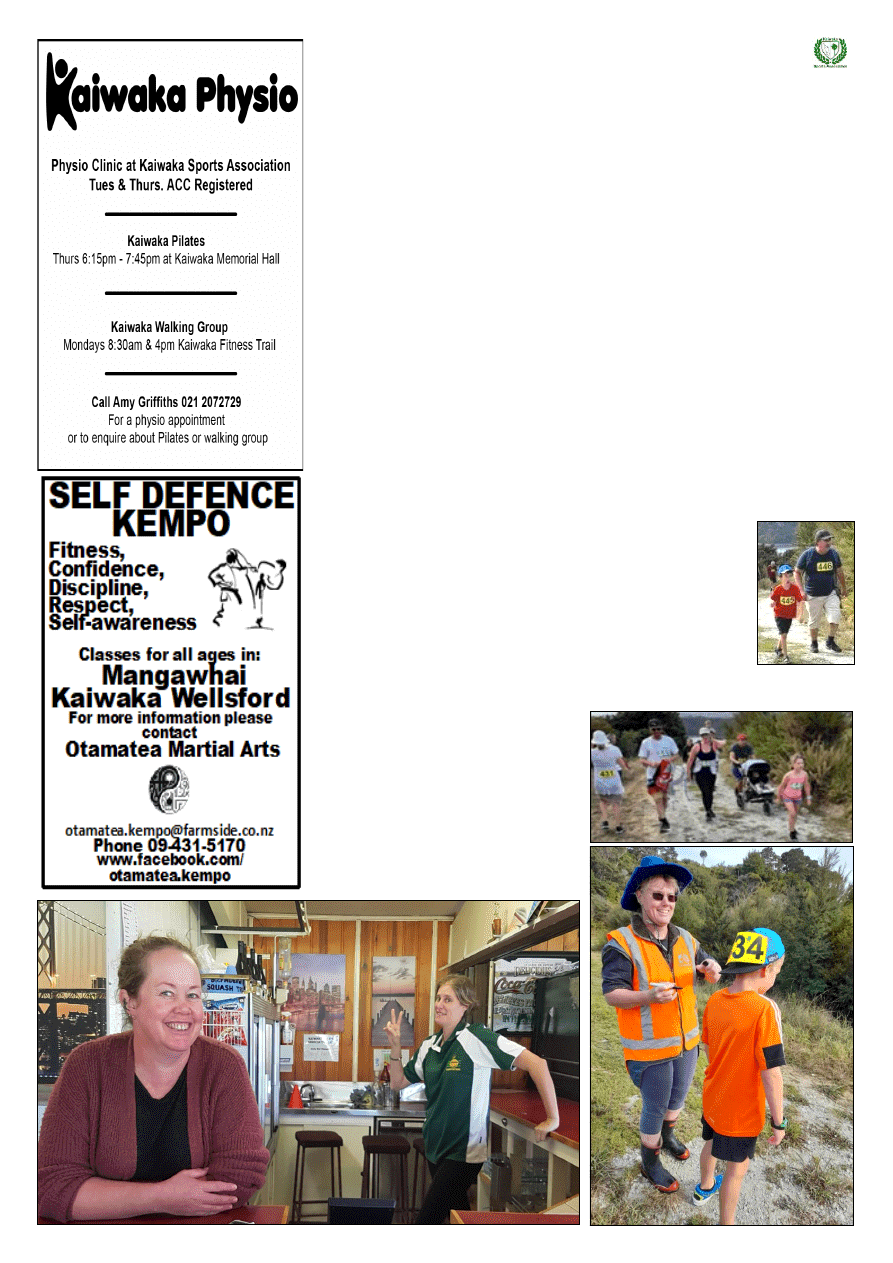 www.kaiwaka.co.nz 
Kaiwaka Bugle - 23 March 2021 
Page 11 
KAIWAKA SPORTS ASSN
ANNUAL GENERAL MEETING 
Wednesday 24 March, 7pm. 
Kawaka Sports Complex 
All welcome 
KSA  clubs,  please  ensure  there  is  a 
representative at this meeting. 
KAIWAKA Touch Module 2021  
Wednesday  nights  at  the  KSA  starting 
at  6.15pm.  See  their  photos  on 
Facebook. 
Any 
enquiries: 
tairalambert32@gmail .com 
KAIPARA BASKETBALL  
Year  7  and  8  Competition  -    referees 
needed;  5  weeks  on  Wednesdays  17th 
March - 14th April.  
Are 
you 
available 
Wednesday 
afternoons  between  4.00pm  -  7pm  to 
help out refereeing basketball games? 
Please  contact  Kalem  Tana  on  021 
0493856 
or 
email 
kalemkba@gmail.com 
COMMUNITY FITNESS  
Four 
Square 
Kaiwaka 
FREE 
community fitness classes with Siobhan 
and Wiki. See you again next Tuesday, 
6.30pm  at  the  Kaiwaka  Sports 
Complex. 
KAIWAKA SPORT WEBSITE 
www.kaiwakasport.co.nz 
"The KSA Complex, Built By The 
Community For The Community" 
More  information  needed  from  all  the 
clubs  associated  with  the  Kaiwaka 
Sports Assn, please. 
PHOTOS 
Please  forward  photos  of  Top  of  the 
Rock 
action 
to 
topoftherock@kaiwaka.co.nz 
The website crew would love photos of 
other KSA activities too. 
Right:  Lindell  with  at  the  5km  turn; 
way up the track! 
Below: The top rating KSA bar staff on 
duty last weekend! 
KAIWAKA SPORTS ASSN NEWS 
Contact email: kaiwakasportsassn@gmail.com 
Website: www.kaiwakasport.co.nz 
Northern Base 
LJ Hooker Kaiwaka 
Plane Support  
Silver Fern Farms 
Dream Planning 
Mangawhai Tyres 
Wyatt Landscaping 
Absolute Concrete 
Agridustrial 
Engtech 
Kaiwaka Liquor 
Parker Lime 
Farm Source 
The Vet Centre 
Neil Jones 
La Nonna 
Smyth Haulage 
Bennett's 
Chocolates 
PGG Wrightson 
Farmlands 
Torpedo 7 
Marshwood 
Apiaries 
Gateway Motel 
D&R Hastie 
T&L Hargreaves 
J&J Hargreaves 
Robbie Whitehead 
Pumps & Plumbing 
Rush Coffee 
Best Pets Kaiwaka 
Home & Hobbies 
3 Furs Bar & Grill 
Woody's Winners 
Kauri Park 
Hokonui Farms 
Gumboot Lodge 
Landcare Services 
Kaiwaka Motorcycles 
Four Square Kaiwaka 
No Limit Surf & Skate 
Ombro The Leather Man  
Amy Griffiths Physio 
Kaiwaka Fitness Centre 
Otamatea Martial Arts 
Carters Maungaturoto 
Wellsford Sport & Leisure 
Kaipara Landscape Supplies 
TOP OF THE ROCK 
SPONSORS 7/3/21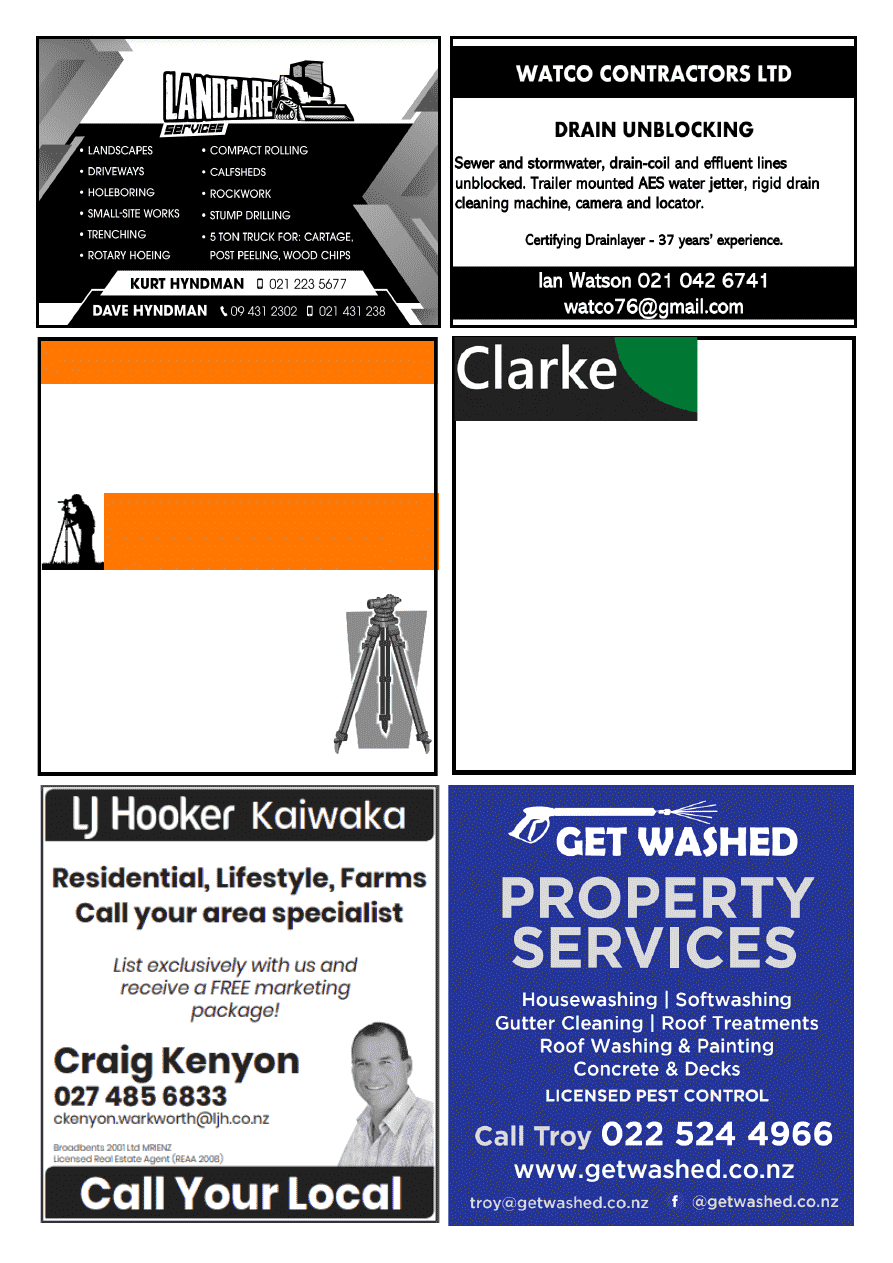 www.kaiwaka.co.nz 
Kaiwaka Bugle - 23 March 2021 
Page 12 
Drainage & Earthmoving 
nigel@clarkedrainage.nz 
027 2233 185 
Registered Drainlayer                 All Types of Earthworks  
> All Residential & Commercial Work  > House Sites 
> Septic System Design & Install 
> Footings & Drilling to 10m 
> Sewer Connections 
> Dams 
> Water Tank Installation 
> Roading & Races 
> Farm Work 
THE ONE STOP SHOP  
Phone Nigel for an Obligation Free Quote  
SURVEYORS 
SUBDIVISIONS 
HOUSE SITE SURVEYS 
CIVIL ENGINEERING 
WASTEWATER DESIGNS 
EXPERIENCED 
PROFESSIONAL 
INNOVATIVE 
Ph 09 431 5353 
0800 PACIFIC (0800 722 434) 
pacificcoastsurvey.com
Adam Booth - 027 415 5752 
Bsurv, Licensed Cadastral Surveyor
Surveying Kaipara since 1994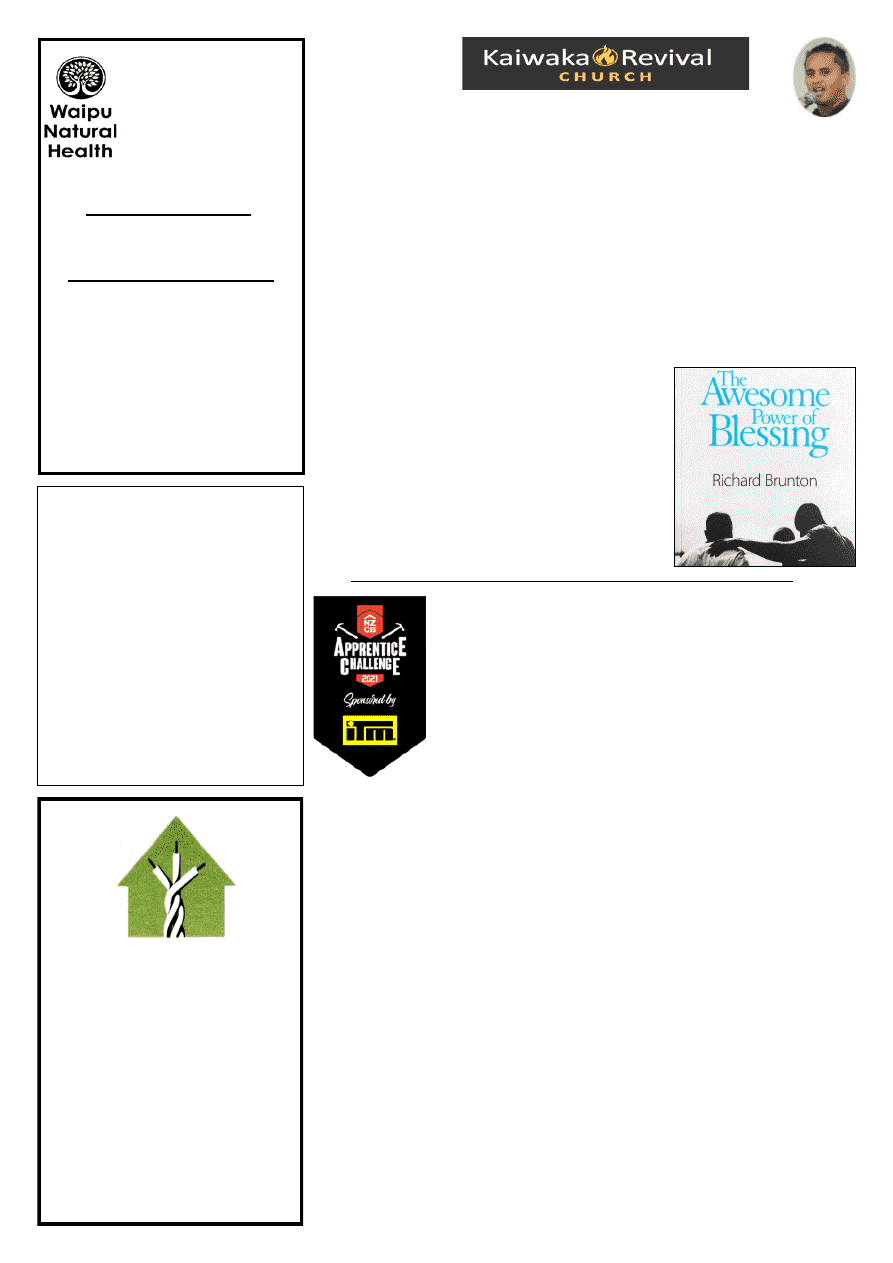 www.kaiwaka.co.nz 
Kaiwaka Bugle - 23 March 2021 
Page 13 
Reyahn  Leng 
Registered Electrician 
Local, honest and 
reliable. 
For your residential and 
light-commercial 
projects. 
022 314 1068 
3 Cove Road, Waipu 
(opposite the Pizza Barn
) 
094321325 
www.waipunaturalhealth.co.nz 
Clinical Nutritionist: 
Nutritional Checkups, Diets for 
Chronic Diseases,  
Food Sensitivities 
Naturopathic Physician: 
Ozone Therapy, Prolotherapy  
Reflexology, Craniosacral 
Therapy, Trauma Release 
Massage Therapy 
Counselling and Hypnotherapy 
Change Catalyst/ThetaHealer 
Affordable Children's Consults 
All therapists are fully qualified
NZ  Certified  Builders 
(NZCB)  encourages 
carpentry  apprentices 
nationwide to get their 
entries  in  before  the 
26 March deadline for 
the annual NZCB Apprentice Challenge 
Sponsored  by  ITM.  The  regional  heats 
of  the  competition  will  be  held  on  10 
April, with great prizes up for grabs and 
the winner of each going on to compete 
for  the  coveted  title  of  national 
champion in Wellington in June. 
All  apprentices  that  compete  in  the 
regional heats will receive a prize pack 
and additional prizes will be awarded to 
first,  second  and  third  placegetters. 
Regional  winners  also  win  an  all-
expenses-paid trip to the national final, 
held  at  the  NZCB  Annual  Conference 
and Expo, where they will compete for 
the  Ken  Read  Memorial  Trophy  and 
$50,000 worth of prizes. 
Held in 19 locations across the country, 
including Whangarei and Auckland, the 
competition  is  open  to  any  apprentices 
employed  by  NZCB  member  builders 
or  who  are  enrolled  with  Industry 
Training Association Building (ITAB). 
NZCB Business Development Manager 
South Island Nick Matthews says as last 
year's competition was cancelled due to 
Covid-19,  there  is  a  lot  of  anticipation 
building for the 2021 NZCB Apprentice 
Challenge  Sponsored  by  ITM  among 
NZCB 
member 
builders 
and 
apprentices around the country. 
"This  means the  stakes are  higher  than 
ever before and we are looking forward 
to seeing a couple years' worth of talent 
go  hammer-to-hammer  to  compete  for 
the  NZCB  Apprentice  Challenge 
Sponsored  by  ITM  national  title,"  says 
Nick. 
A  week  before  the  regional  heats, 
competitors  will  be  advised  of  the 
project they are to build. On the day of 
the  heats  each  competitor  will  have 
eight  hours  to  complete  that  project 
using  durable,  trade-quality  timber  and 
materials courtesy of ITM. 
The  finished  projects  must  meet 
minimum  safety  standards  and  will  be 
judged  by  a  panel  of  experienced 
building  practitioners  and  industry 
educators. The judges will be assessing 
a range of building elements, including 
quality  of  the craftsmanship,  assembly, 
ability  to  work  to  a  detailed  plan,  safe 
working 
technique 
and 
time 
management. 
Apprentices  can  enter  by  visiting 
https://apprenticechallenge.nz/how-to
-get-involved/  and  filling  out  the 
entry form. Entries must be received 
by Friday 26 March. 
The 
NZCB 
Apprentice 
Challenge 
Sponsored  by  ITM  is  held  in  association 
with  ITAB,  with  support  from  the 
Apprenticeship Scholarship Trust.  
HAKARU HALL  
ACTIVITIES 

Monday:  Line Dancing 10-12pm  
Ph 4315160 

Tuesday & Thursday: Pilates 10am  
    Qualified Instructor Ph. 0220643965 

Wednesday:  Music Jam Session 7pm  
Dennis Ph. 0210628631 

Friday Morning: Available for HIRE  

Sunday: Canine Coaching  
Ph 0272365004 

Dance Energy  Week Days  
   Monday to Friday, Afternoon/Evening  
Ph. 0275610469 

Friday Morning: Available for HIRE 
Hall Bookings Karen  
4312090 or 0210467490 
Kia ora koutou katoa,  
Well,  we  are  off  to  a  great  start  this  year  with  the  many  current 
challenges of our time. With COVID, lockdowns, earthquakes and the threat of 
tsunamis we keep our focus on the author and finisher of our faith Jesus Christ. 
God is faithful to us in every season, and we are reminded of this when we think 
of his great promises reminding ourselves that he is the Alpha and the Omega the 
beginning and the end. He has our life in his hands which includes our future! 
This year our focus has been families. As we know the lord is coming soon, we 
want to be prepared and ready, coming into alignment and order in every area of 
our  lives,  to  live  our  life  thriving  for  God  and  to  go  into  a  new  place  in  his 
presence  together.  This  year  we  have  already  seen  people  come  to  Jesus  from 
many different backgrounds. We have had families be restored and lives changed. 
One lady testified to a radical miracle, a healing of bone cancer. 
Another  person  was  saved  from  taking  his  own  life.  With  each  victory  we 
celebrate what our Lord is doing! 
We  have  just  completed  a  renovation  project  in  the  kitchen  to  create  a  better 
environment for those wanting to connect and fellowship. None of this would be 
possible without the many who volunteer each week 
to serve God and the community. We have a number 
of  things  happening  in  our  church  with  amazing 
guest  speakers  that  are  coming  and  future  events 
which will be happening in the next few months. 
Please remember to check Facebook, Instagram and 
our website at www.kaiwakarevival.co.nz for details 
of upcoming events. 
May  the  lord  bless  you  and keep  you  and  make  his  face 
shine upon you! Blessings, Pastor Tawhiri Littlejohn 
Come and hear the author of 'The Awesome Power 
of  Blessing',  Richard  Brunton  once  CEO  of 
Colmar Brunton, on Sunday 4th April at 10am. 
LAST CALL FOR ENTRIES FOR NZ 
CERTIFIED BUILDERS 
APPRENTICE CHALLENGE  
Sponsored by ITM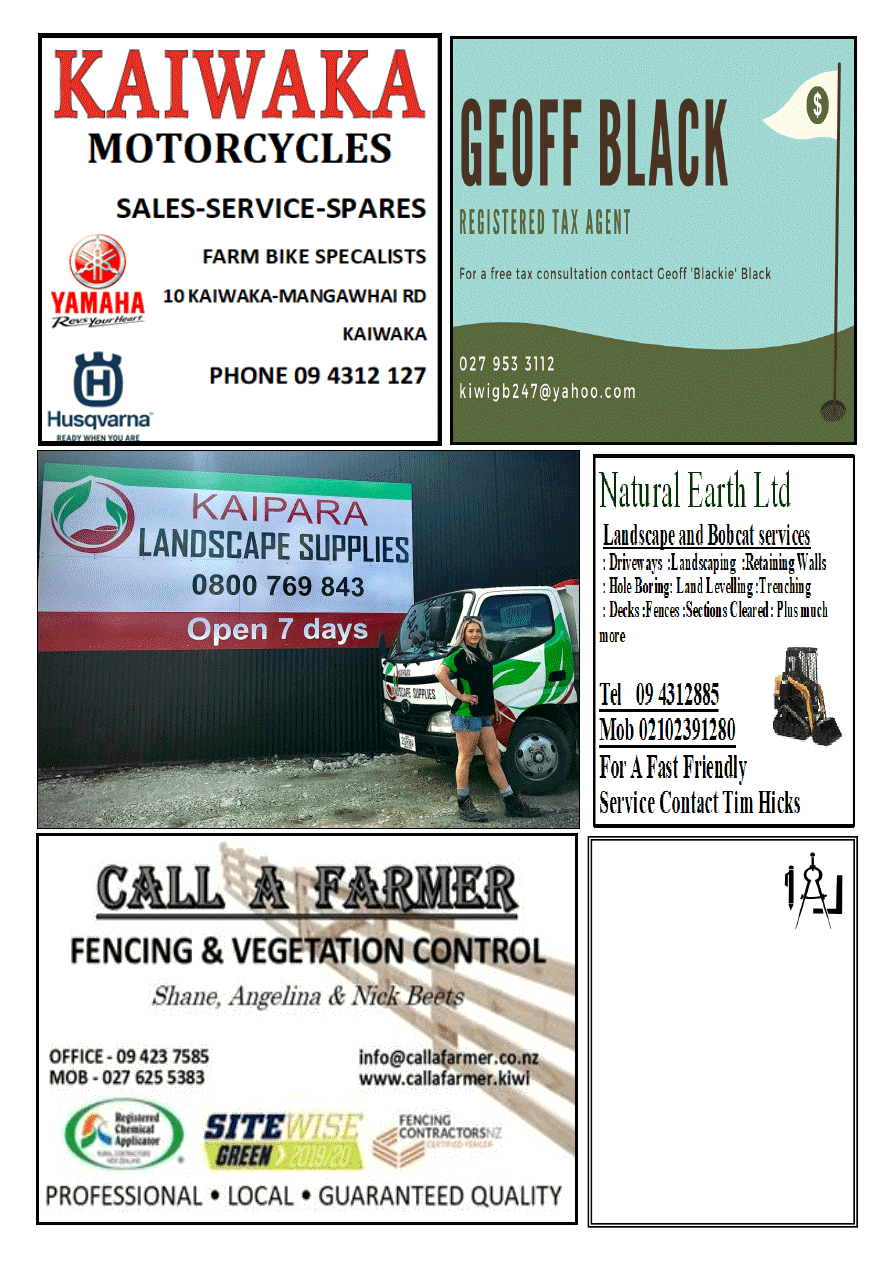 www.kaiwaka.co.nz 
Kaiwaka Bugle - 23 March 2021 
Page 14 
design  
drafting  
service 
Retired builder and manufacturer 
with over 40 years experience in the 
building industry is offering a design 
drafting service for domestic housing, 
sleepouts and sheds.  
Plans formulated in consultation with 
clients, with working drawings 
completed and submitted to council 
for processing.   
Extensive practical experience, able 
to identify & resolve problems. 
Please ring Mike Lean on 
09 431 2260  
or 
021 431 196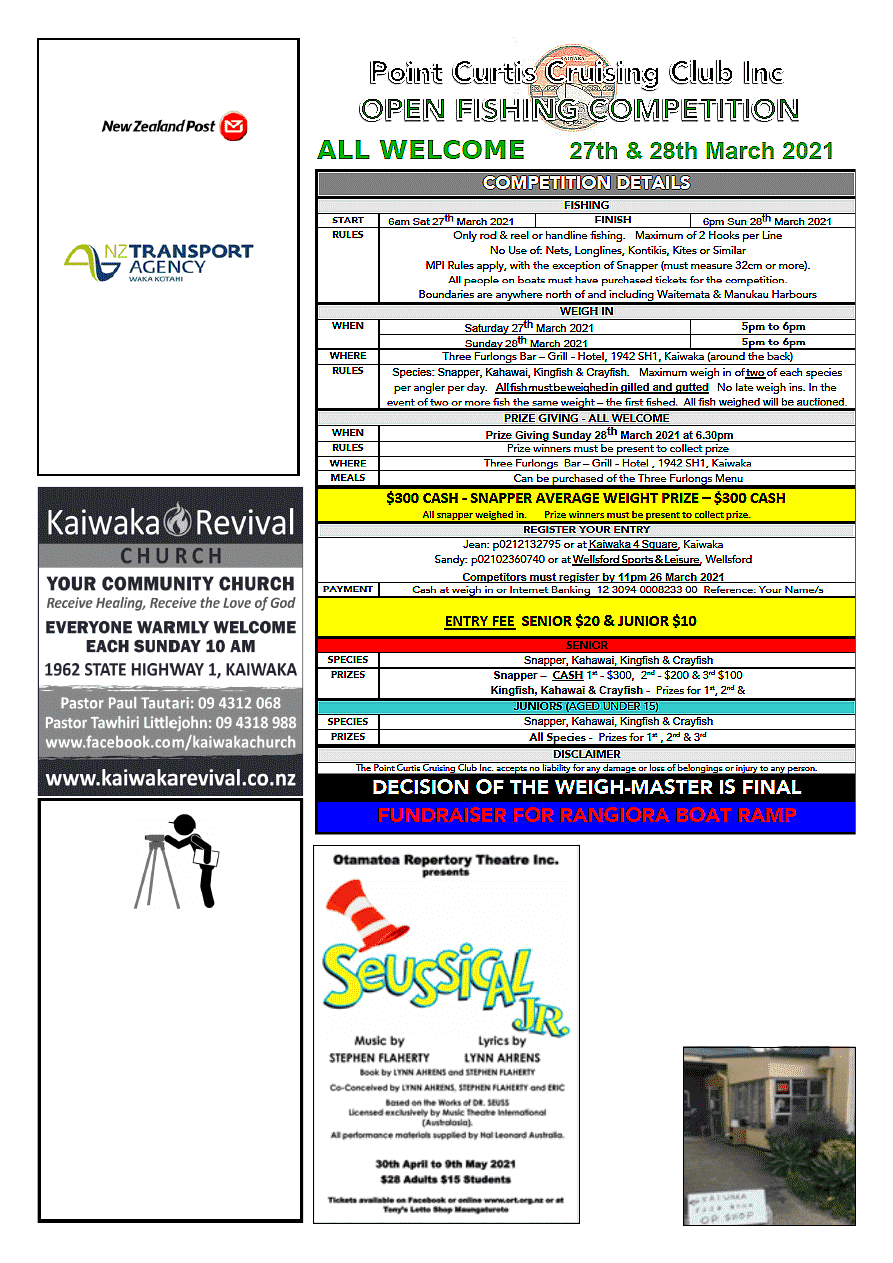 www.kaiwaka.co.nz 
Kaiwaka Bugle - 23 March 2021 
Page 15 
KAIWAKA POST 
CENTRE and 
FOOD MART 
POST CENTRE TRADING HOURS 
MONDAY to FRIDAY 8am to 5pm 
SATURDAY 8am to 12pm 
CLOSED ON SUNDAY and on 
PUBLIC HOLIDAYS 
FOOD MART (GROCERIES) 
MONDAY TO FRIDAY  
7:30am to 7.30pm 
SATURDAY  8am to 7.30pm 
SUNDAY  8:30am to 7pm 
IF ANY QUERIES PLEASE CALL 
STORE MANAGER AMRIT  
on 09 4312431 or 
EMAIL: kaiwakafood19a@gmail.com 
1919a State Highway1, Kaiwaka 0542 
Ken Urquhart 
BSurv Licensed  
Cadastral Surveyor 
KMU Surveys Ltd 
467 Bickerstaffe Road 
RD 2 
Maungaturoto 0587 
Ph 09 431 8705 
Mob 021 161 2344 
kenurquhart@xtra.co.nz 
KAIWAKA FOODBANK 
OP SHOP 
We are buzzing along with more people 
finding  us,  having  spread  the  word 
further.  We  are  due  for  a  "RED  DOT 
SALE"  soon  –  keep  an  eye  out on  our 
Facebook page. 
We  are  needing  more  nic  nacs,  tools, 
jigsaws,  games,  jewellery,  pillows,  pot 
plants  and  ceramic  garden  pots  –  and 
anything else in saleable condition. And 
toys – complete and in working order. 
Thank  you, 
we 
are 
grateful  for 
all 
the 
support 
given to us. 
Arohanui, 
Milly 
and 
Staff.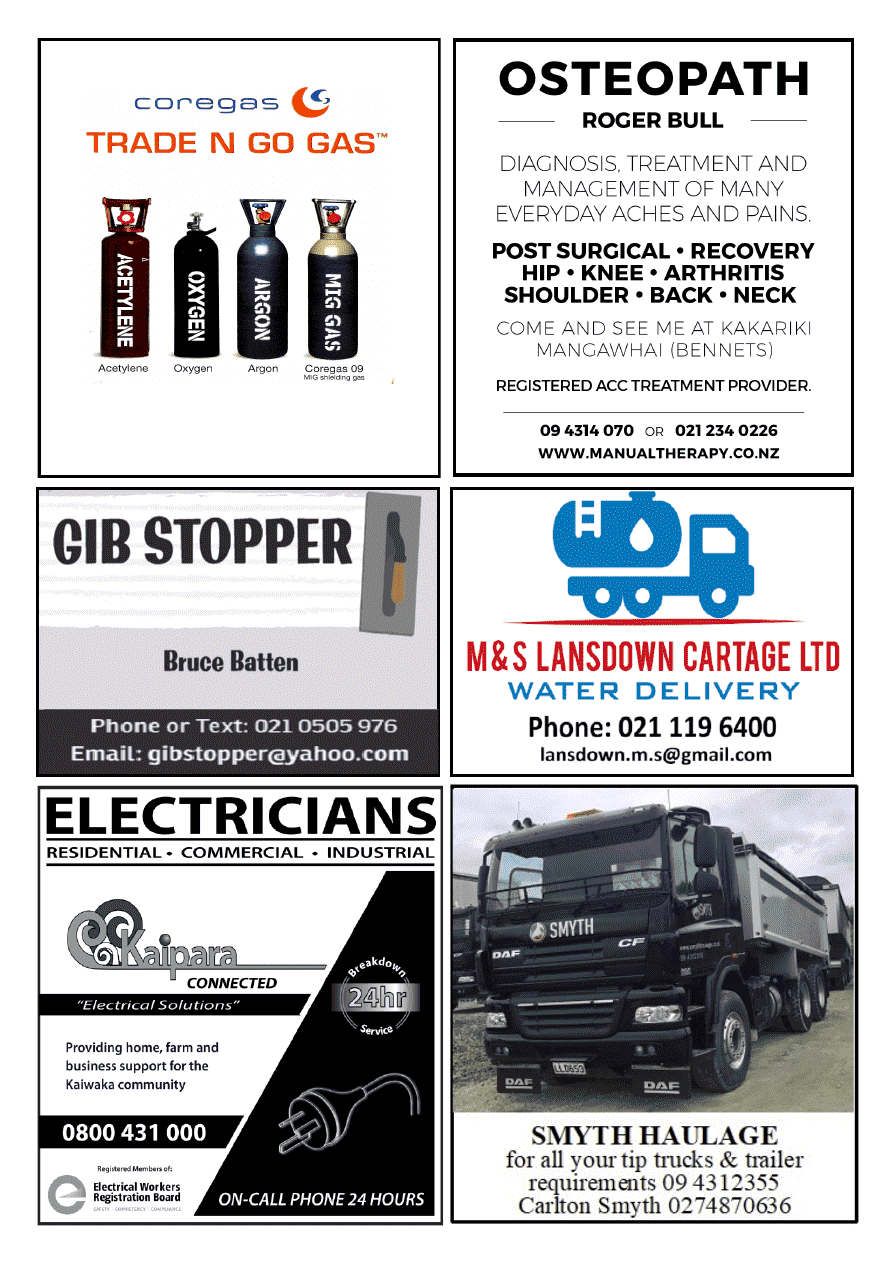 www.kaiwaka.co.nz 
Kaiwaka Bugle - 23 March 2021 
Page 16 
At Twinkle Tow 'n' Tyre 
Mob: 021 833 960 
Ph & Fax: 09 431 2823 
1837 State Highway 1, Kaiwaka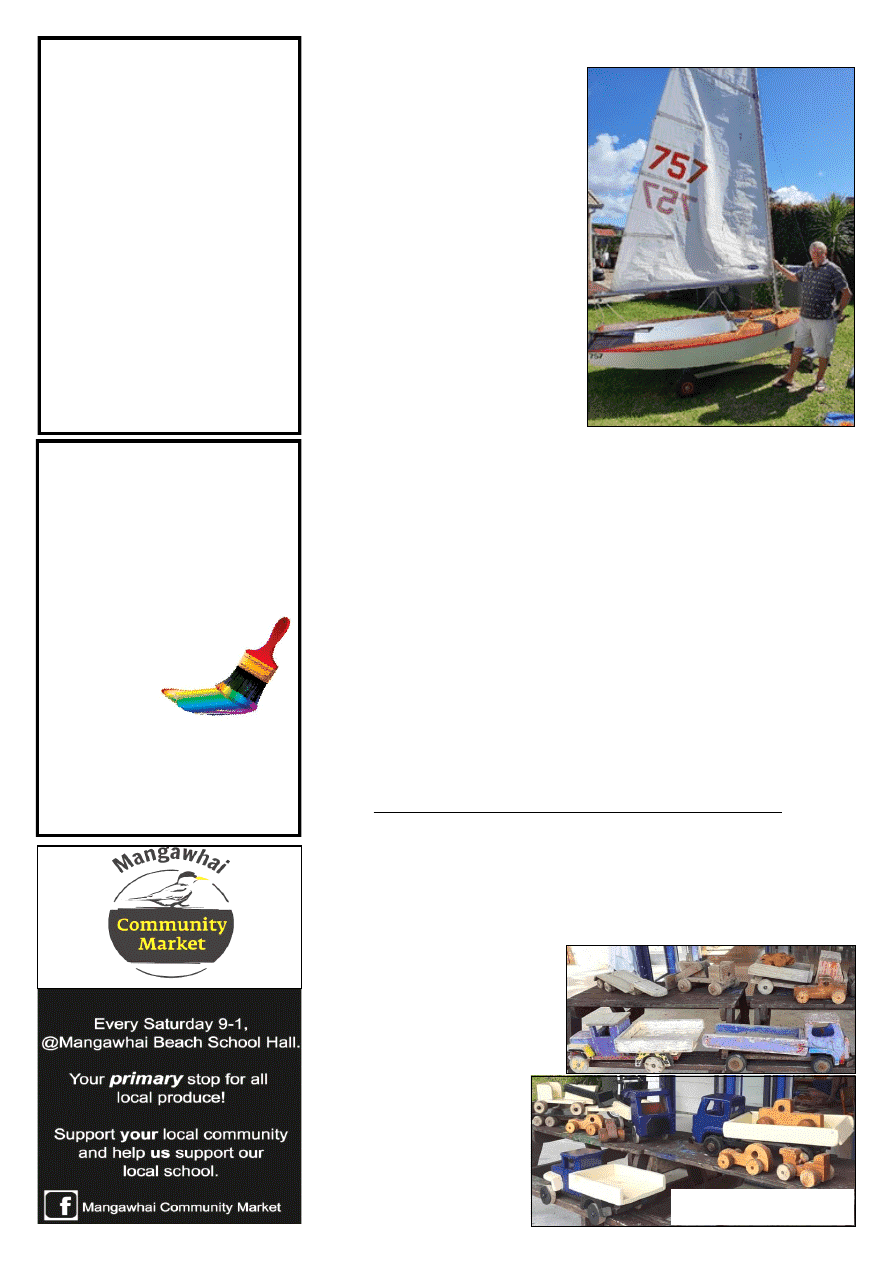 www.kaiwaka.co.nz 
Kaiwaka Bugle - 23 March 2021 
Page 17 
Willow Bend
HORSE  
HOTEL 
  
Total Horse Care 
 
Agistment 
 
Riding Lessons 
 
Arena Hire (60x40) 
 
Young Horse Starting 
 
Re-training/Exercising 
 
Hoof Trimming 
 
Problem Solving 
Phone Sue 09 431 2817 
or 021 623 776 
Or email  
susanjoll11@gmail.com 
LEE COOPER 
PAINTERS 
(Kaiwaka Based) 
*30 yrs Experience 
*Interior/Exterior 
*New and Restoration 
*Honest and Reliable 
*Free Quotes 
09 4312918 or 
0274735171 
leecooper@xtra.co.nz 
SAILING GROUP 
The  idea  for  the  sailing  group  for 
youngsters  at  Mangawhai,  is  making 
good progress. 
Because  daylight  saving  is  soon  to 
finish,  we  will  probably  not  be  able  to 
actually  undertake  this  activity  until 
next  spring/summer.  In  the  meantime, 
we  have  a  number  of  ideas  in  hand  so 
that  we  can  make  speed  at  that  time. 
There is also a possibility that we may 
be able to get some kitsets and with the 
help of the Mangawhai Men's shed, put 
them together. 
CYCLE TRACK 
While  only  a  few  Rotarians  were  able 
to  help  with  cycle track  at  the Primary 
school,  the  community  spirit  really 
showed  through  over  two  recent 
weekends and this is developing into a 
fantastic  asset.  Well  done  to  those 
youngsters  who  dreamed  up  the  idea 
and  then  were  prepared  to  take  it 
through  to  fruition.  As  you  will  have 
seen,  the  track  goes  around  the 
perimeter of  the field  which  includes a 
hill. 
PIROA FALLS  
We  are  continuing  to  work  on  the 
upgrade  of  the  Piroa  Falls  and  it  is 
hoped that this will be completed before 
the  weather  gets  really  wet  again.  I 
understand  that  there  is  a  platform 
being constructed to be placed over the 
washed-out  section.  Once  this  is  in 
place,  access  will  be  much  more 
manageable  for  a  wider  range  of 
people. 
DRIVER MENTORING  
As  far  as  our  driver  mentoring  scheme 
is  concerned,  we  are  still  trying  to  get 
the  car  sign  written  as  it  is  those 
businesses who have put up the funds to 
enable  us  to  buy  the  car  in  the  first 
place.  We  now  have  several  students 
sitting their restricted in the next month 
or so. 
We  have  had  one  success  this  year,  so 
we  hope  this  is  the  first  of  many.  We 
are  very  fortunate  to  have  a  good  pool 
of  Mentors,  but  if  you  feel  you  could 
help us in this area, please get in touch 
with  us.  Training  is  quite  basic,  and 
hours  of  work  is  dependent  on  when 
both  Mentors  and  students  are 
available. 
ROTARIAN 
Early  in  April  we  will  be  having  our 
District conference at Copthorne in the 
Bay of Islands. 
This is not only a chance to meet with 
other  Rotarians  from  our  District 
(which  enables  an  exchange  of  ideas 
and  projects)  but  also  to  hear  some 
excellent  speakers.  And  if  you  wish  to 
become part of Rotary, feel free to talk 
to  any  Rotarian  to  find  out  what  is 
involved. We meet on Tuesdays at 6pm 
in  the    Maungaturoto  Centennial  Hall, 
View Street, Maungaturoto 
 ~ Eileen, 021 142 0357 
Photo below: Grahame and the first yacht!
MAUNGATUROTO & DISTRICTS ROTARY 
KAIWAKA PLAYCENTRE 
Kaiwaka Playcentre have been working hard to revitalize and give new life to our 
environment.  This  year  the  focus  is  on  fundraising  and  working  toward  grant 
applications  so  that  we  can  revamp  the  outdoor  play  area  for  our  tamariki  to 
enjoy, with the main priority being a new shade sail.  
Our  daily  sessions  have  been  extended  to  8.45am  -  12.45pm  and  we  have 
employed a knowledgeable teacher to help facilitate our sessions. Puna are also 
running  a  playgroup  Tuesday  and  Thursday  and  we  are  pleased  our  centre  is 
being  utilized  as  much  as  possible. 
A fresh year bringing many positive 
changes.  
We  rely  heavily  on  community 
support 
and 
would 
like 
to 
acknowledge  Perry  Allen  and  his 
Grandchildren  Nixon  aged  10  and 
Roman  aged  6  for  assisting  us  and 
generously 
restoring 
our 
historical wooden toys.  
These  toys  have  been  with  us 
since  Kaiwaka  Playcentre  first 
opened  back  in  1968  and  it's 
great  to  see  the  children  still 
enjoying them! 
We  always  welcome  new 
families  to  join  us  learning 
through  play.  For  enquiries 
phone 09 4312 111 
. 
Top, wooden toys before, and 
below after restoration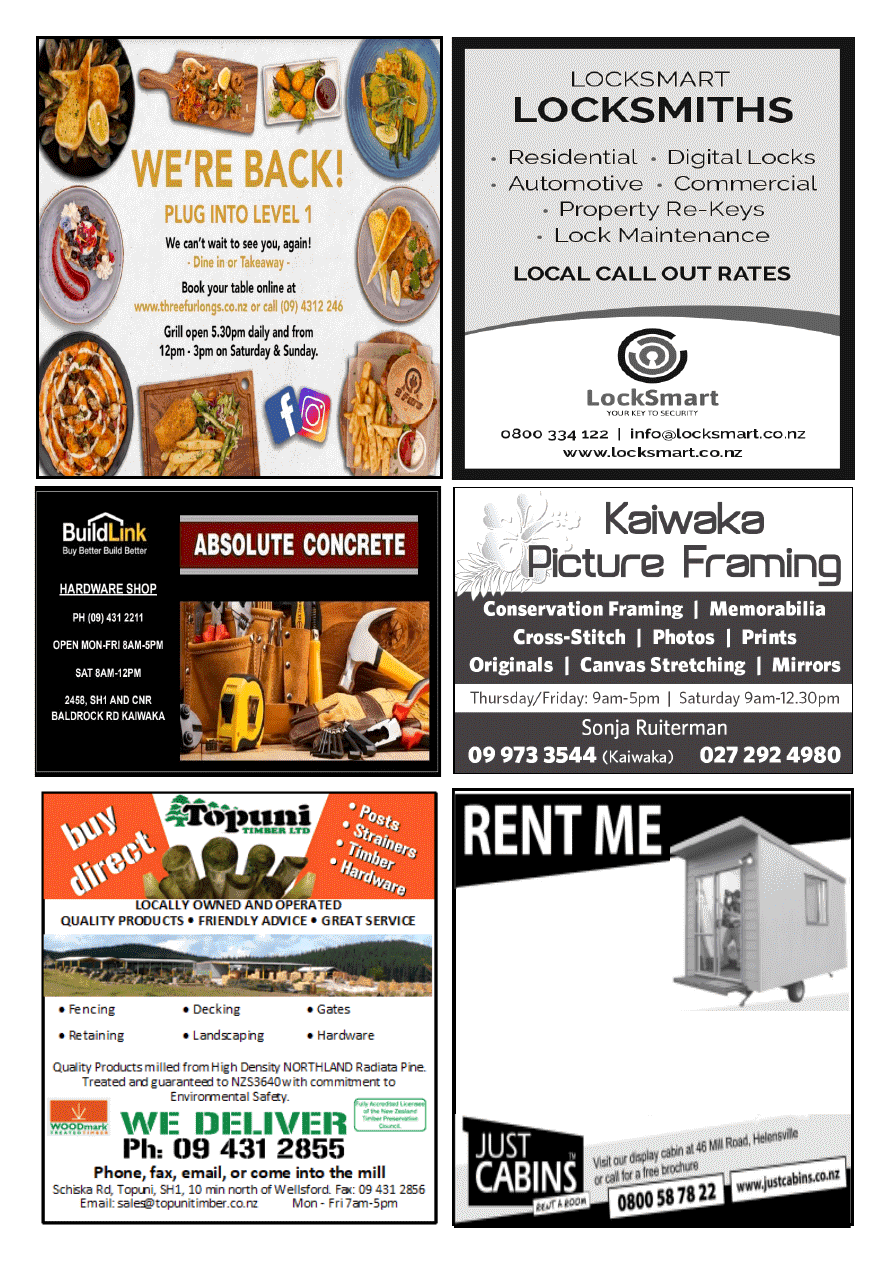 www.kaiwaka.co.nz 
Kaiwaka Bugle - 23 March 2021 
Page 18 
Ideal as an extra  
bedroom or office 
Three Convenient sizes: 
Standard 3.6m x 2.4m - $65 per week 
Large 4.2m x 2.4m - $80 per week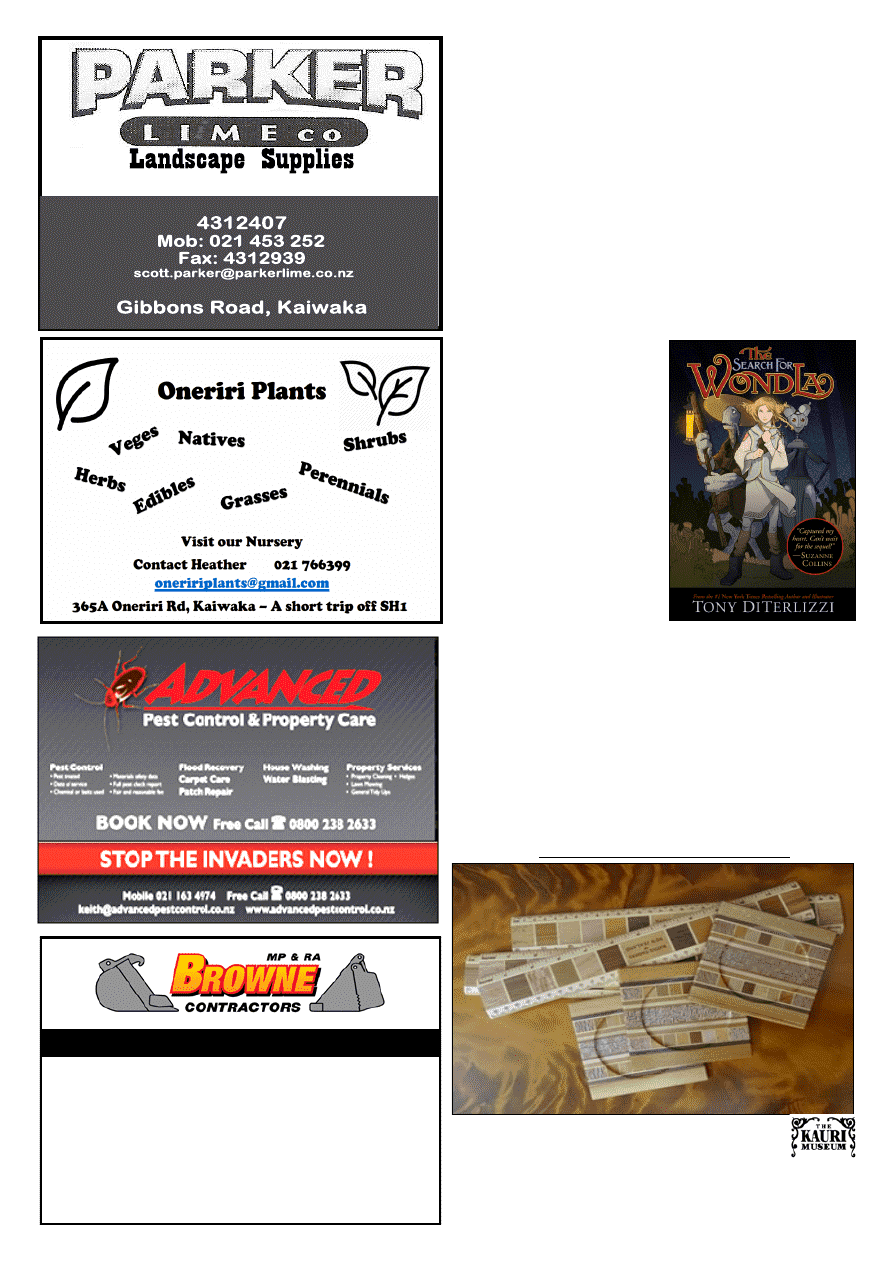 www.kaiwaka.co.nz 
Kaiwaka Bugle - 23 March 2021 
Page 19 
Bulk Cartage 
4Tonne DIGGER – BOBCAT – TIP TRUCK 
Property Maintenance - Driveways  
 Building Sites 
Stump & Tree Removal  
Hole Boring - Chain Trencher  
Calf Shed and Stockyard Cleaning 
Phone Matt: 021 199 6677 
Email: mprabrownecontractors@gmail.com 
KAIWAKA LIBRARY 
DARGAVILLE BOOK SWAP 
The date for this has now been set - Tuesday 13 April. Come 
in  and  take  a  good  look  at  the  Dargaville  shelves  in  the 
library  to  find  the  gems  waiting  to  be  discovered,  before 
they're  packed  up  and  sent  back  to  where they  belong.  We 
don't  need  these  books  back  before  the  swap,  anything  out 
when we do the swap will be sent back as it comes in. 
AUTUMN CATALOGUE 
Do  you  have  your  copy  of  the  new  autumn  catalogue  yet? 
Pick one up from the counter next time you're in the library. 
It's full of great reading suggestions for all the family. 
PAINTING QUOTES 
We want to get the exterior of the library painted, and that 
means applying for funding to pay for it. We are looking for 
quotes  for  the  job  by  31  March  2021  so  we  can  set  about 
applying for funding. If you are a painting contractor who is 
interested, please see the ad in this Bugle. 
BOOK REVIEW 
Recently  I've  read  a  delightful 
Teen Fiction book The  Search 
for 
WondLa 
by 
Tony 
DiTerlizzi. 
"When 
a 
marauder 
destroys 
the 
underground  sanctuary  that 
Eva Nine was raised in by the 
robot  Muthr,  the  twelve-year
-year-old girl is forced to flee 
aboveground.  Eva  Nine  is 
searching for anyone else like 
her:  She  knows  that  other 
humans  exist  because  of  an 
item she treasures—a scrap of 
cardboard 
on 
which 
is 
depicted  a  young  girl,  an 
adult,  and  a  robot,  with  the 
strange  word,  "WondLa."  Tony  DiTerlizzi  honors 
traditional  children's  literature  in  this  totally  original 
space-age  adventure—one  that  is  as  complex  as  an  alien 
planet,  but  as  simple  as  a  child's  wish  for  a  place  to 
belong." 
This  is  the  first  book  in  a  series  of  three  (A  Hero  for 
WondLa, and The Battle for WondLa), and all three books 
are on our Teen Fiction shelves. My book supplier indicates 
it  is  suitable  for  7-9  year  olds.  I  recommend  this  book  to 
anyone who likes a good story, and I think the short chapters 
would  make  it  an  excellent  book  to  read  aloud  to  younger 
children who still like their parent reading books to them. 
See you in the library! ~Wendy 
*Enterprise: http://kaipara.kotui.org.nz  
THE KAURI MUSEUM 
Last  chance  to  own  one  of  these  iconic  Aotearoa 
New Zealand souvenirs.  After more than seventy 
years  in  business,  the  company  that  has  always  produced 
these rulers and coasters with native timber inlay, is closing 
its doors.  The Kauri Museum has plenty of stock on hand 
but sadly, once sold, there will be no more.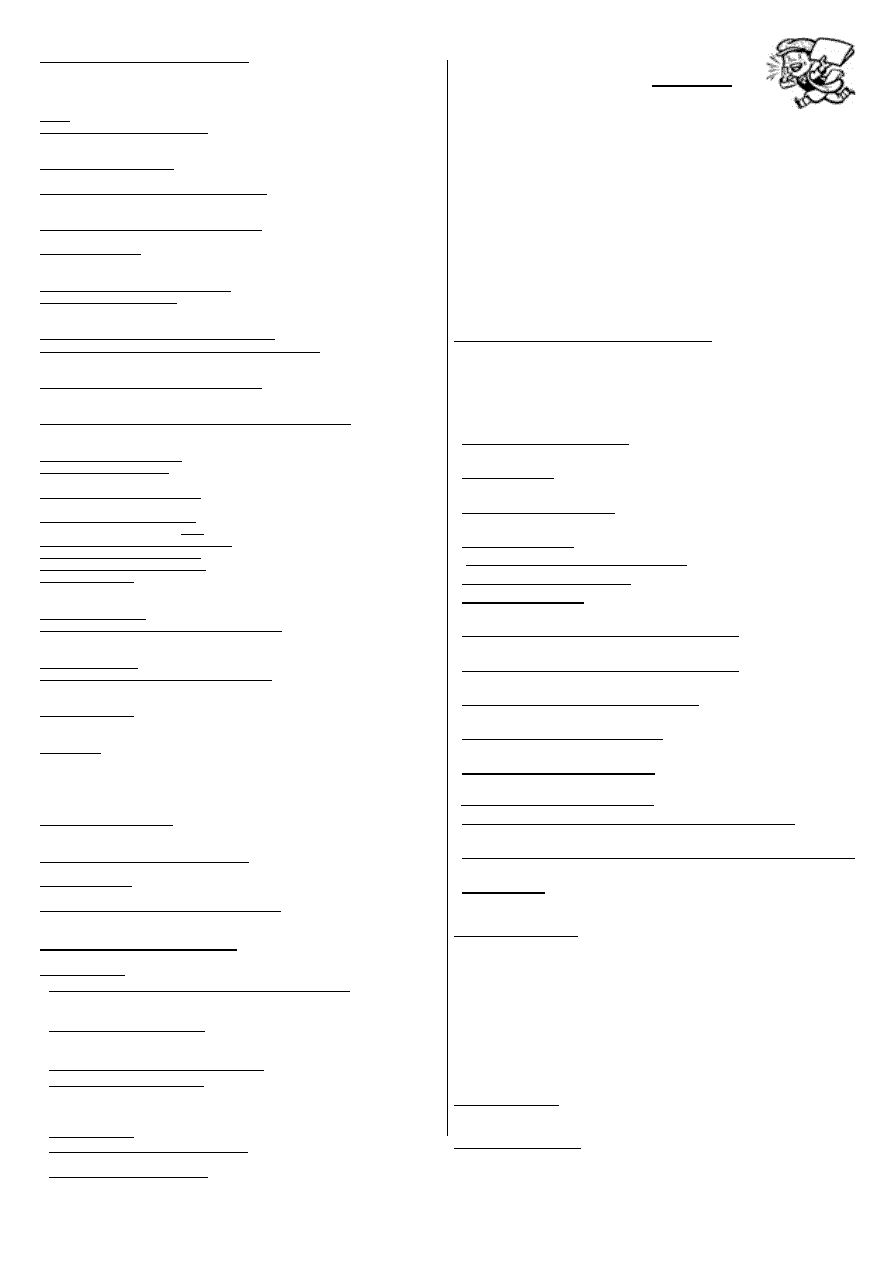 www.kaiwaka.co.nz 
Kaiwaka Bugle - 23 March 2021 
Page 20 
WHAT'S ON
PLEASE ~ do let us know what is on - 
email kaiwakabugle@kaiwaka.co.nz 
 
*
24Mar~Kaiwaka Sports Assn AGM. 7pm KSA 
*26Mar~Movie 'RAMS', 7.30pm KWMH 
*27-28Mar~Pt.CCC Open Fishing Competition 
*2Apr~ EASTER - Good Friday 
*4Apr~EASTER Service St. Paul's Church, 9am 
*4Apr~Daylight Saving 
*5-11Apr~St.John Heart of Gold Appeal 
*15-16Apr~Molesworth Dog Trials, Oneriri Rd 
*16Apr~End of School Term One 
KWMH = Kaiwaka War Memorial Hall; KSA = Kaiwaka Sports Association 
See www.kaiwaka.co.nz for more information 
HOUSEHOLD RUBBISH COLLECTION  
Kaiwaka Pick up: 
Mondays = Green bags (Northland Waste - 09 430 3273) 
Wednesdays  =  Blue  bags  and yellow recycling (at  Jaques $3.00 
and  $1.50)  (Kaurilands  09  4392146);  ONLY  Blue  and  Yellow 
bags picked up on Oneriri Road. 
 DIABETES Support Group-for Kaiwaka, Mangawhai, Wellsford 
10am, 3rd Friday of month Ph: Colleen James 09 4314238 
 GENEALOGY - Wellsford: 1st Thursday in month Ph: 423 
7033; Waipu: 4th Monday in month Ph: 4312 725 
 HAKARU PONY CLUB - Secretary Denise Rogers 021423376 
secretary@hakaruponyclub.co.nz  
 KAIPARA HUNT - Secretary Albert Doonenbal Ph 4312059 
  KAIPARA HUNTING & FISHING - 021 1294378 
 KAIWAKA BADMINTON -Tuesdays 7.30pm Ph: 4312345 
 KAIWAKA  CAN  - 3rd Wednesday in month, 5.30pm, Archie 
Bull Hall Ph: 0273572751 
 KAIWAKA GARDEN & FLORAL GROUP - 2nd Thursday in 
month. Ph: 431 4744 
 KNITTING FOR WHANGAREI HOSPITAL - 2nd Tuesday in 
month, Archie Bull Hall 10am Ph 4314827 
 MANGAWHAI COMBINED REBUS CLUB - 2pm, 3rd 
Thursday month, Senior Citizens Hall Mangawhai. Ph: 4315777 
 MANGAWHAI GENEALOGY  - meet 3rd Thursday month, 
Mangawhai Museum, 10.30am 
 PILATES - HAKARU HALL - Tuesday 10am, Thursday 9am 
Qualified Instructor  Ph. 0220643965  
*PT CURTIS CRUISING CLUB - Jean Ph: 4312227 (wk), 4312520 (hm) 
 RSA,  HAKARU  &  DISTRICTS  WOMEN'S  SECTION  –  meets 
1.30pm 4th Thursday of the month. Ph: 431 5818  
 KAIWAKA  SCOTTISH  COUNTRY  DANCING  CLUB-
Wednesdays 10am - 12 noon  Ph: Elaine 027 432 0032  
 TRAMPING 
- 
Mondays 
9am-2:30pm, 
contact  
valkenburgmaria@gmail.com 
HALLS FOR HIRE: 
  Kaiwaka St. John Hall: Phone Marj  0272941227  
 St.Pauls  Archie  Bull Hall  HIRE  $20 half day, $40 full day per 
hire, S McAulay, Ph 4312311 
 Kaiwaka  War  Memorial  Hall  HlRE  -  Phone  4312725  or 
kaiwaka.hall.bookings@gmail.com 
 Hakaru Community Hall HIRE -Ph.  Karen 4312090 
 Te Pounga Marae queries - Pearl Nathan  0223933533 
 Kaiwaka  Sports  Association  hire/queries  -  Jean  4312227  or 
kaiwakasportsassn@gmail.com 
Justice  of  Peace:    B.FJaques  4312  048;  L.Donaldson  4312  228; 
A.F.Hargreaves 4312 045, W.Howard 4312 725 - please phone to 
make sure they are available www.justiceofthepeace.org.nz 
Marriage Celebrants:  
L.Donaldson; A.F.Hargreaves; Y Osborne
Next Bugle Deadline  Friday 2 April 2021
LOCAL SERVICES 
*Emergencies - Ambulance, Fire, Police - dial 111 
*Non-urgent Police phone 105
A A: Meets Wed., 7pm. Kate's Place Ph 021 024 25969 or 0800 229 6757 
NARCOTICS ANONYMOUS : Mon., 6pm, Archie Bull Hall, Kwk-Mwi 
Road; drug and alcohol related issues. Ph. 02102412348 
ASUREQUALITY LTD (was AgriQuality) Call Free 0508 0011 22  
BUDGETING SERVICE, WELLSFORD: Free confidential advice & 
support for all areas of personal finance. Ph (09) 423 7123 
CAB-Citizens Advice Bureau.Wellsford Ph: 4237333 
0800 367 222 email:cab.wells@xtra.co.nz  
CIVIL DEFENCE - Kaiwaka Community Response Group: 
kaiwaka.civildefencecrg@gmail.com, 4312725 Wendy 
DOG/STOCK /NOISE CONTROL 0800 105 890 
FUNERAL SERVICES: Morris & Morris Ltd, 
Whangarei - Bev Jaques Ph:4312367 or 0800667747 
GRANDPARENTS Raising Grandchildren: Dianah Roberts 0223819539 
HAKARU & DISTRICTS MEMORIAL RSA (Inc) 733 Settlement Rd, 
Hakaru. Ph 4312 176 or Bill Warren (President) 431 2092 
HAKARU LANDFILL/Transfer Station:Open everyday  10am-
4pm.Ph4312629 Cost-$55 trailer load up to 1 cubic metre. Ph:4258567 - 
office 
KAIPARA DISTRICT COUNCIL www.kaipara.govt.nz:  
Help Desk FREEPHONE 0800 727 059  
KAIWAKA CEMETERY: Ph: 4312045 or 4314017 
KAIWAKA LIBRARY: kaiwaka.library@gmail.com  
Mon. 4-6pm; Wed., Thurs., Fri., Sat. 10am-2pm Ph:4312539 
KAIWAKA PLAYCENTRE: Ph Juanita 0274134904; open Mon, Wed, 
Fri 9am-12pm. Hastie Lane; Monday to Friday 9.00am - 12 noon. 
KAIWAKA POST OFFICE:Ph:4312 431  
Post Code: 0573 for RD2 and 0542 for all Kaiwaka Post Office mail 
KAIWAKA PRIMARY SCHOOL: Ph: 4312309   
KAIWAKA SPORTS ASSN: Ph 4312005; 4312129 gym 
KAIWAKA ST JOHN HALL: Phone Marj  0272941227  
KATE'S PLACE Community Centre - Employment services, Free Health 
Nurse, Plunket, Advocacy, Osteopath, A.A., Legal Advice. 4312 661 
LINKING HANDS Health Shuttle Ph 4315906 or 09 4318969 
MINISTRY FOR PRIMARY INDUSTRIES - General inquiries Call 
Free 0800 008 333 
NORTHPOWER: Faults Kaiwaka area 0800 104040 
OTAMATEA COMMUNITY SERVICES: Counselling, parent coach, 
Family Support worker, budget advice, food bank. Mon-Fri 9am-3pm. Ph 
09 431 9080 http://www.otamateacs.org/ 
PARENTPORT: Free, practical family support service Puhoi to Paparoa 
Ph or txt: Dianne 027 280 5093 or 09 425 9357 
PLUNKET: Kaiwaka- St John Hall, Monday 19 Oct, 23 Nov, 21 Dec. then 4th 
Monday of the month. Plunket Nurse Louise 027 282 3987 or 09 438 2508 
Mangawhai- Rose Madsen Cottage, Mondays and Wednesdays. Plunket Nurse 
Rebecca 021 501 941 or 09 438 2508 
Maungaturoto - Good News Church, 2nd and 4th Wednesday of the month. 
Plunket Nurse Seleisa 021 912 248 or 09 438 2508 
PLUNKET HELPLINE -0800 933 922 (24 hours)  
FACEBOOK - Kaipara Plunket 
TAITOKERAU COMMUNITY LAW: Free confidential legal advice and 
assistance, 2nd
Thursday
 of each month. Ph: 0800 155 529 for appts.  
TE URI O HAU Settlement Trust Tangata Developments: Whanau Ora 
021 793262  
VETERINARY SERVICE MANGAWHAI: 
Ph: 4314535 Mon-Fri 8.00-5.00, Sat 9-12, a/h appt. 
WELLSFORD DOCTORS: Ph: 4238 086 
CHURCHES:
 
Kaiwaka  Revival  Church  -  Your  Community  Church:  Sundays  10am. 
Ph: Pastor Tawhiri 09 431 8988 or Pastor Paul 09 4312 068 Visit us at 
www.facebook.com/kaiwakachurch 
 
St  Paul's  Anglican  Church  1st  Sun.  9.00am  (Eucharist),  3rd  Sun. 
9.00am (Family Service). Contact: Rev. Wayne Thornton Ph 431 4122 
www.mangawhaianglican.org.nz 
 
Church of Christ the King, Mangawhai:9.00am every Sunday 
 
St.Mary's  Catholic  Church:  Maungaturoto  –  Griffins  Road,  Saturday 
evening  Vigil  Mass  6pm;  Mangawhai  –  Senior  Citizens  Hall,  Sunday 
Mass  8:30am;  Wellsford  –  Matheson  Road,  Sunday  Mass  10:30am;  
Mid-week Mass times and all enquires to Fr. Bill Fletcher – phone 423 8170
 
Baptist Church: Sun. 10.30am Mangawhai Snr Cit.Hall.Ph:4312339 
 
Cause  Way  Church  Mangawhai:  Sundays  10.15am,  Mangawhai 
Community  Recreation  Centre,  Insley  St.  Ph:  09  4314782