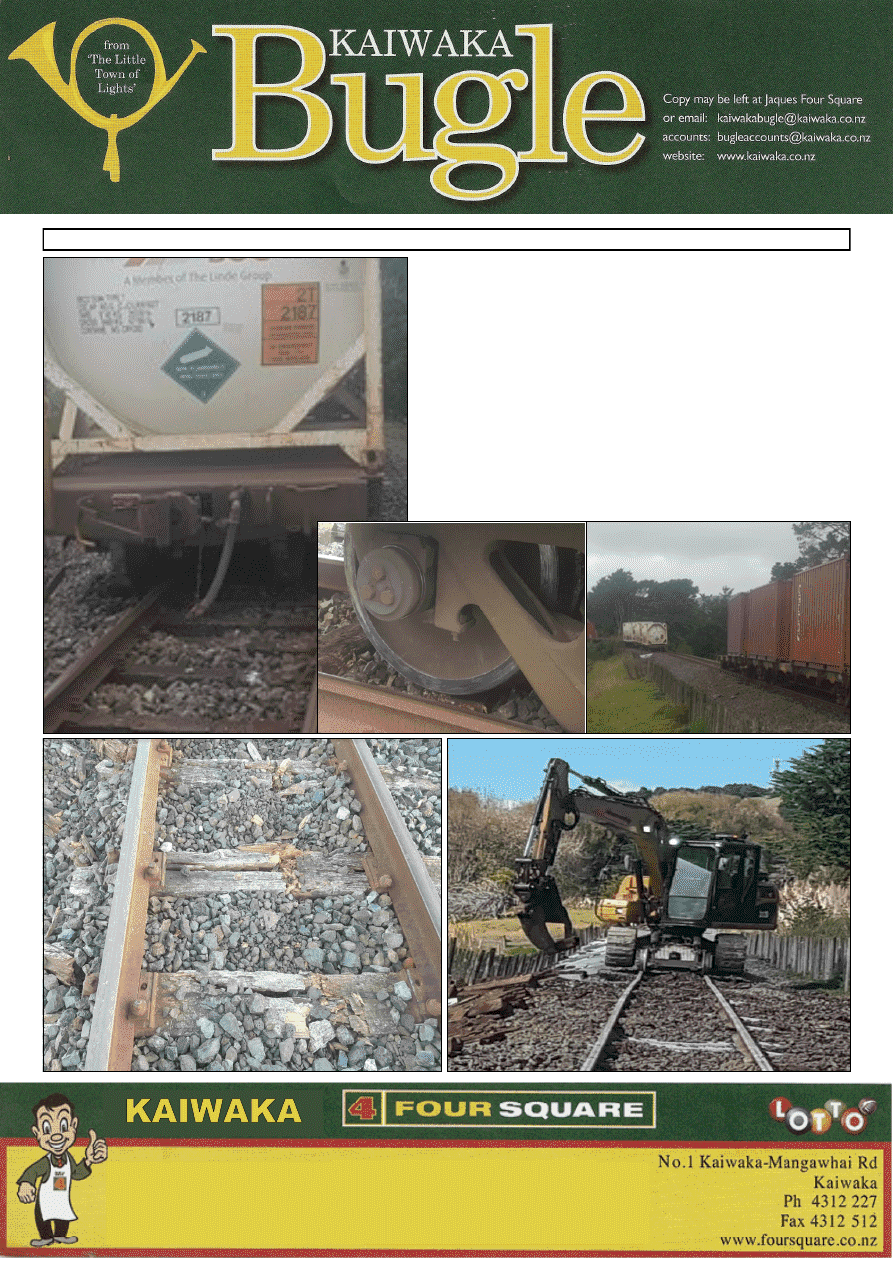 www.kaiwaka.co.nz 
Kaiwaka Bugle - 6 April, 2021 
Page 1 
No: 6 
 6 April 2021 
PUKENUI TRAIN STOP 
Train  derailment  at  Kaiwaka  Monday  mid  morning  29  March. 
The northbound freight train had a wagon carrying an empty gas 
tank,  pictured  left,  come  off  the  tracks  in  the  tunnel,  finally 
separating  from  the  rear  wagons  just  north  of  Pukenui  Road 
crossing. 
The train was heard travelling north when there was a very loud 
BANG and then silence. Neighbours knew there was a problem.  
The  wheels  of  the  wagon  had  left  the  rail  lines  scoring    a  large 
number  of  the  wooden  sleepers  -  see  below  left. The  driver  and 
engineer  were  okay,  and  saw  that  the  wagons  were  cleared  the 
next day ready for the new concrete sleepers to be put in position. 
Below, the new sleepers being put in place by a large road and rail 
digger. 
You may have seen the increasing pile of new concrete sleepers at 
the SH 1 /Schiska Road corner. 
Photos: Judy
TRADING HOURS: 
7.30am - 7pm daily 
"Your local Store" 
Family owned & operated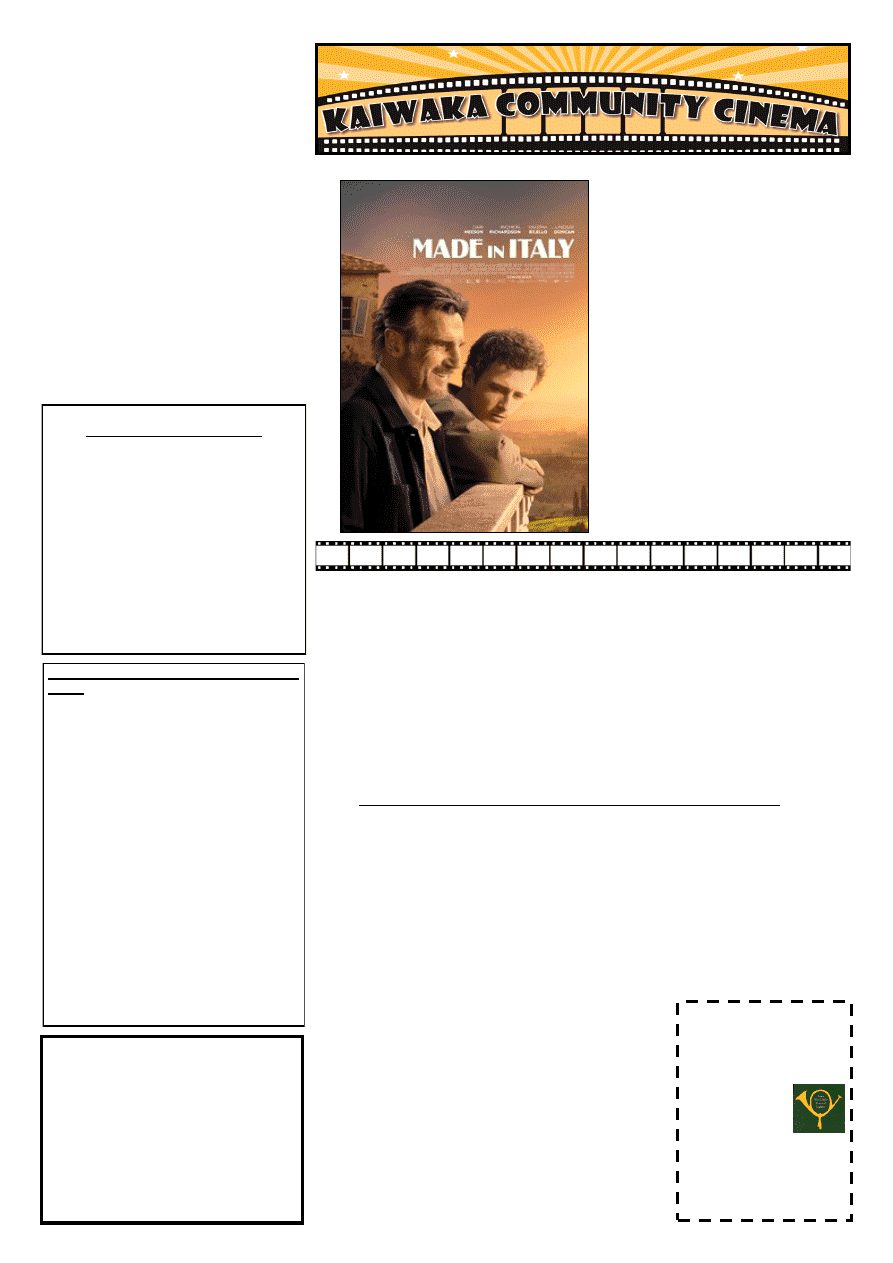 At Kaiwaka War Memorial Hall . Adults $10, Kids (under 16) $5, Family Pass (2 adults + 3 children) $25 
KAIWAKA BUGLE No. 6 
6 APRIL 2021 
CONTENTS 
Page 3: Public Notices, Classified 
Page 5: Spotted in Town 
Page 7: Pt. Curtis CC Fishing 
Competition; Women's Section RSA  
Page 9: RSA Poppy; Gardening 
Page 11: Kaiwaka Sports Assn. 
Page 13: Kaipara Hunting & Fishing 
Page 15: Otamatea High; Kaiwaka 
School 
Page 17: Topuni Sawmill 
Page 19: Kaiwaka Library 
Bugle  7 will appear 20 April 2021 
Contact for advertising, reports, articles 
or information can be made by 
Email kaiwakabugle@kaiwaka.co.nz 
Ph: 09 4312 045 Lindsey 
Txt: 027 2724137 
Copy may be left at our Four Square. 
Kaiwaka Bugle 
Founded May 1978 
We appreciate articles and photos about local 
events, etc, as well as ads and suggestions. 
Copies available in Kaiwaka at Four Square, 
Kaiwaka Postal Centre, Shamrock Service 
Station, Best Pets , Kaiwaka St John shop. 
Also outlets in Maungaturoto, 
Mangawhai and Paparoa. 
Can be viewed online at   
www.kaiwaka.co.nz/Bugle  
Or a copy can be posted to you if you supply 
stamped, self-addressed DLE envelopes. 
Kaiwaka 
Bugle 
Advertisements 
2021: 
All 
copy 
and 
queries 
to: 
kaiwakabugle@kaiwaka.co.nz 
The Bugle is printed on an A4 page   
Ad  sizes:  1/16  page  (3  x  9.5cm)  $5;  1/8 
(6.5  x  9.5cm  landscape  or  portrait)  $8; 
3/16 ( 10 x 9.5cm or 7.5 x 12,5)  $12.  
Classified  ads:  First  one  FREE,  $4  per 
entry (max. 30 words, max. 4 repeats). 
Payments  can  be  made  online  at 
ANZ 
06  0365  0006990  00
,  posted  or  left  at 
Kaiwaka Four Square Store. 
We  use  Microsoft  Publisher,  and  can 
work  with  most  common  image 
formats, Word, Excel, and PDF files. 
Accounts:  
Email: bugleaccounts@kaiwaka.co.nz 
The  Kaiwaka  Bugle  is  a  community 
newspaper run by volunteers, as part of 
the Kaiwaka Media Group Inc.   
Articles, etc. printed are not necessarily 
the opinion of the Bugle Team. 
ABOUT TOWN

 A  very  big  THANK  YOU  to  Liz  and  Russell  Hoyle  for  their  wonderful 
donation of a Canon B&W printer to the Bugle Team! 

What a surprise to see the photos of the train derailment a week ago - no doubt 
you may have seen more container vehicles on SH1; the main rail line  will be 
open soon.

 Kaiwaka Sports Assn crew are looking forward to a great turnout for the next 
meeting on 28 April. Volunteers are needed to make this place run.

 Our  condolences  to  the  families  of  KD  (Kerry)  Wintle,  Ray  Gates  and 
Gordon Baldwin who passed away recently.

 Great  rugby  photos  taken by  C  Peeni at the  Mid 
Western  grounds  of  the  Otamatea  Hawks  v  Mid 
Western on Facebook - sadly a loss.

 Local Sheep Dog Trials live - 616 Oneriri Road , 
15 and 16 April. 

 See  Karen  Butterworth's  Art  Exhibition  in 
Maungaturoto  Anglican  Church  in  aid  of  the  new 
Dementia Unit 19-24 April

 Kaiwaka 
Bugle 
No. 
6 
is 
online 
at 
www.kaiwaka.co.nz  and  is  in  print  for  our  local 
Readers.  
~ 
Lindsey, Ed
"The sense of obligation to continue is present in all of 
us. A duty to strive is the duty of us all. I felt a call to that 
duty." ~ Abraham Lincoln 
MADE IN ITALY 
Friday 9 April, 7.30pm 
'Made  in  Italy  is  a  2020 
comedy-drama  film  written 
and 
directed 
by 
James 
D'Arcy . 
Liam Neeson stars in this heart
-warming  comedy  about  a 
father  returning  to  glorious 
Tuscany  with  his  estranged 
son  to  repair  their  old  family 
villa,  as  well  as  their 
relationship. 
Filmed 
in 
Montalcino, 
Tuscany, Italy.  
Starring 
Liam 
Neeson, 
Micheál  Richardson,  Valeria 
Bilello 
' 
KAIWAKA BUGLE 
DEADLINE DATES 
2021:   
Every second Friday 
April 16, 30 
May 14, 28 
June 11, 25 
July 9, 23 
August 6, 20 
September 3, 17 
October 1, 15, 29 
November 12, 26 
December 10
KAIWAKA FOODBANK OP SHOP 
The cooler weather is coming so its time for warmer clothes  
We have a Blue Dot half price Sale on until next Friday  
Needing: Jigsaws, Wool, Knitting Needles, Blankets, Toys, Soft toys …. 
PLEASE DO NOT BRING BLACK BAGS OF DIRTY CLOTHES OR 
OTHER BROKEN GOODS AND LEAVE OUTSIDE SHOP  - funds raised 
are spent disposing of those goods/rubbish.  
Our Easter Raffle Drawn by a Staff from the FOUR Square Kaiwaka was 
won by Helen Marsh Ticket No. 47 Thank you for your support. 
The Shop will be CLOSED ON SATURDAYS UNTIL SUMMERTIME 
Arohanui Milly and staff.  
HOURS: Tuesday – Friday10am to 3pm 
PHONE: 027 388 9217  
 Check us out at 4 Kaiwaka-Mangawhai Rd, Kaiwaka Next to UBeauty
Proverbs 3: 5-6
Trust God from the bottom of 
your heart; don't try to figure 
out everything on your own. 
Listen for Gods' voice in 
everything you do, everywhere 
you go; He's the one who will 
keep you on track.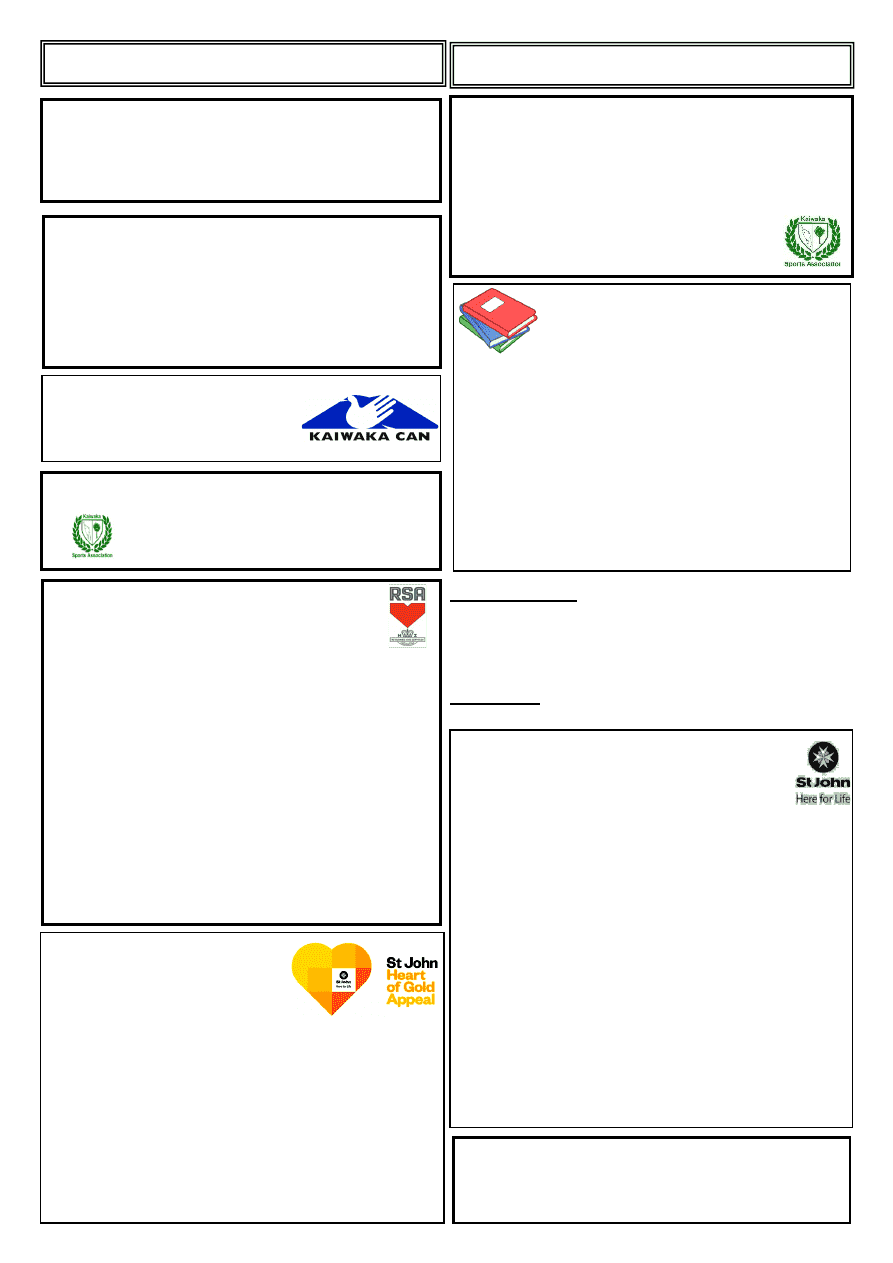 www.kaiwaka.co.nz 
Kaiwaka Bugle - 6 April, 2021 
Page 3 
PUBLIC NOTICES 
CLASSIFIED 
POP UP SHOP: Recycled woman's and girls clothing 
- sizes ranging from xs girls through to  woman's size 
10:  Books,  bits  and  bobs;  Labelled  jackets,  jeans, 
shorts,  tops,  shoes  dresses  and  sports  wear  -  selling 
cheap! Ph 0274373694 to arrange a rummage. 
FOR SALE: Dry pine cones for sale, $5 and $10 bags. 
Ph: 09 4312040 
HAKARU RE:SORT STATION 
636 KAIWAKA-MANGAWHAI ROAD 
Open every day 10am - 4pm ~Closed All Public Holidays 
Telephone: 09 431 2629 
NOTE: No GREEN Bag Pick Up on Oneriri Rd 
HAKARU & DISTRICTS 
MEMORIAL RSA INC 
Annual General Meeting 
Please take note the Annual General Meeting 
of the Association will be held at the clubrooms, 
733 Settlement Rd, Hakaru 
on Sunday 16th May 2021 
BUSINESS: 
1: Receive Apologies. 
2: Confirm Minutes of the previous year's AGM. 
3: Presentation of Annual Reports and Accounts 
4: Election of Executive and Committee 
5: Remits/Notices of Motion 
6: General Business 
Copies of Remits/Notices of motion to be presented at the 
Clubrooms  at  the  AGM  will  be  available  at  the 
Clubrooms from 1st May 2021 
Martin Edinborough, Secretary 
KAIWAKA SPORTS ASSN
POSITIONS AVAILABLE 
The KSA committee are wishing to fill the following 
positions: 
Secretary; Booking Officer; Head of Bar, 
Social Media Updates 
Please email  
kaiwakasportsassn@gmail.com  
For more information 
 Molesworth Sheep Dog Trials  
616 Oneriri Road 
15 and 16April - daylight hours 
You are welcome to come and see 'a shepherd, 
a dog and 3 sheep' competing at our local 
trials (please no extra dogs) 
For more information phone 4312192
KAIWAKA SPORTS ASSOCIATION 
GENERAL MEETING 
Wednesday 28 April, 7pm. 
Kawaka Sports Complex 
All welcome 
MAUNGATUROTO OPPORTUNITY SHOP 2013 
CHARITABLE TRUST PUBLIC MEETING
Foot Print Rooms Anglican Church 
134 Hurndall Street Maungaturoto 
Thursday 8th April 1pm 
KAIWAKA St. John Op Shop 
Welcome to St John Week 2021. 
Donations to our appeal can be made  
at the Op Shop, and also at our  
collection outside Four Square on Friday 9th April. 
BIG ST JOHN WEEK GARAGE SALE 
 SATURDAY 10th APRIL 
at ST JOHN HALL Gibbons Road 
Furniture, Electrical, Books, clothing and more. 
$1.00 Face Painting for the kids, also Soft Drinks 
and BBQ Sausage. 
Guess the beans in the Jar and Cake Raffle. 
Op Shop News 
WINTER CLOTHING has arrived in store.  Pop on in for 
a bargain. 
WE NEED clean Bric Brac, Glasses, Jewellery, Garden 
and Men's Tools. 
Thank you for supporting St John and our local community  
Dianne and the Team 
HOURS: Tuesday – Friday 10am to 3pm;  Saturday 10am – 2pm 
PHONE: Shop  4312650  
1919SH1, Kaiwaka 
ST JOHN HEART OF 
GOLD APPEAL  
5th to 11th April 2021 
There will be a chance to donate in 
both  Maungaturoto  and  Kaiwaka 
during  this  week.  We  are  also  hoping  to  have  BP  (blood 
pressure) checks some of the time. 
In  conjunction  with  this  appeal  the  Otamatea  Area 
Committee  is  running  a  colouring  competition  at  five 
primary  schools  in  our  area:  Kaiwaka,  Maungaturoto, 
Paparoa, Matakohe and Tinopai. 
There  will  be  three  age  groups  at  each  school  and  prizes 
will be allocated to each school separately. The ages are – 
5- and 6-year-olds; 7- and 8-year-olds; 9- and 10-year-olds. 
Competition  will  close  on  Wednesday  14th  April  and  we 
hope to announce winners by 16th April.  
~ Otamatea St. John Area Committee.
  Kaiwaka Library
Volunteers Needed
4th Wednesday and/or 4th Saturday 
10am-2pm
Would you like to join our friendly team of library volunteers? 
Are you available on one or more of these days each month? 
Do you have basic Windows skills? 
Do you have regular access to your email account?
If yes to all of these questions, contact Wendy via the email 
address below to get started. Full training given.
cnr State Highway 1 and Kaiwaka Mangawhai Road 
Phone 4312 539                       Email kaiwaka.library@gmail.com 
KAIWAKA  CAN 
AGM  on Wednesday 21st April, 
5.30pm 
Archie Bull Hall, Kaiwaka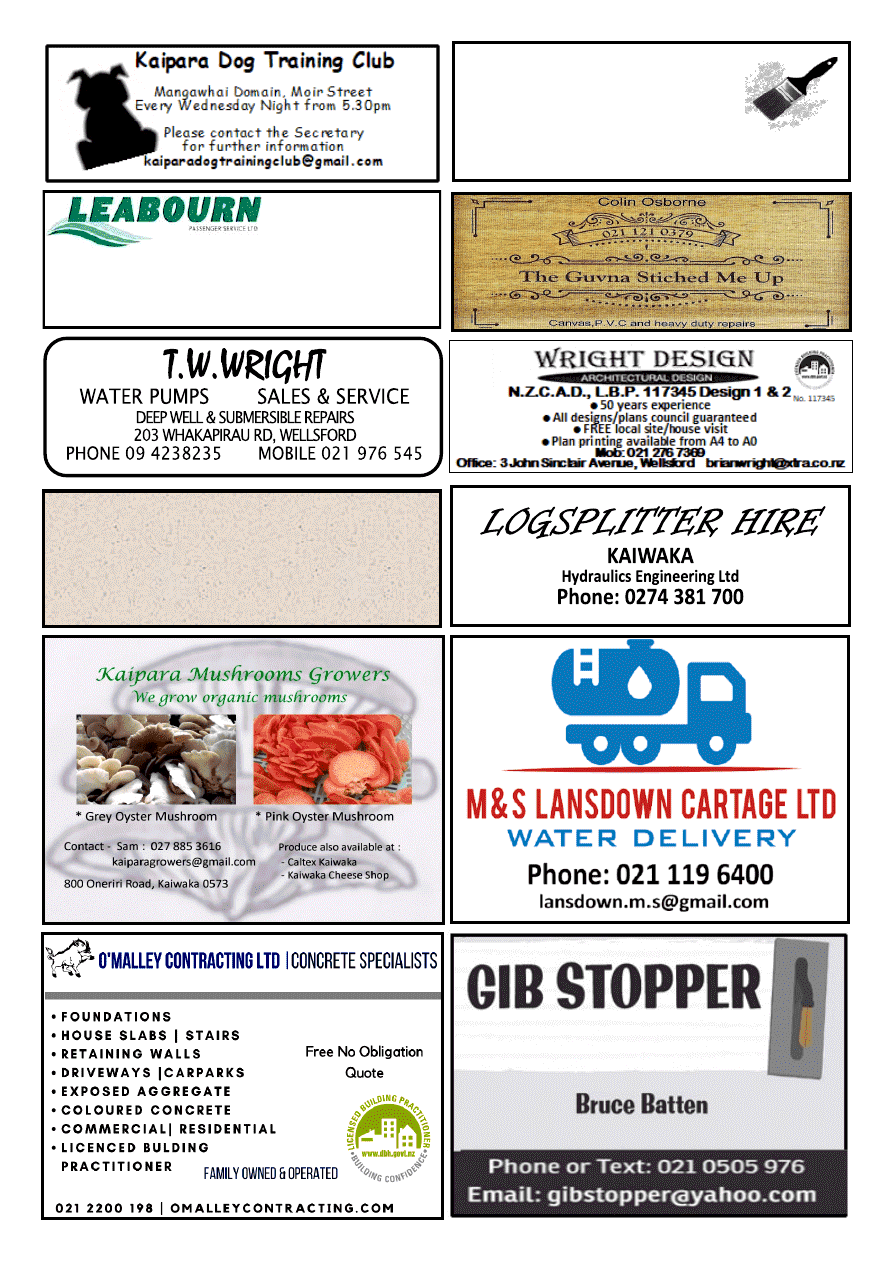 Counsellor and Registered Psychotherapist 
Offers Supervision
Susan Matheson 
MNZAC 
Dip. Psychosynthesis Counselling and Psychotherapy 
Phone 09 431 2996                        Mobile 027 605 2427 
Passenger Service
Car & Van Hire   Bus & Coach Charters 
Airport Transfers    
Phone (09) 4237416 
DR PAINT
 Dave & Rhys 
 Painters
 02108742551   
0211200667    drpaintnz@gmail.com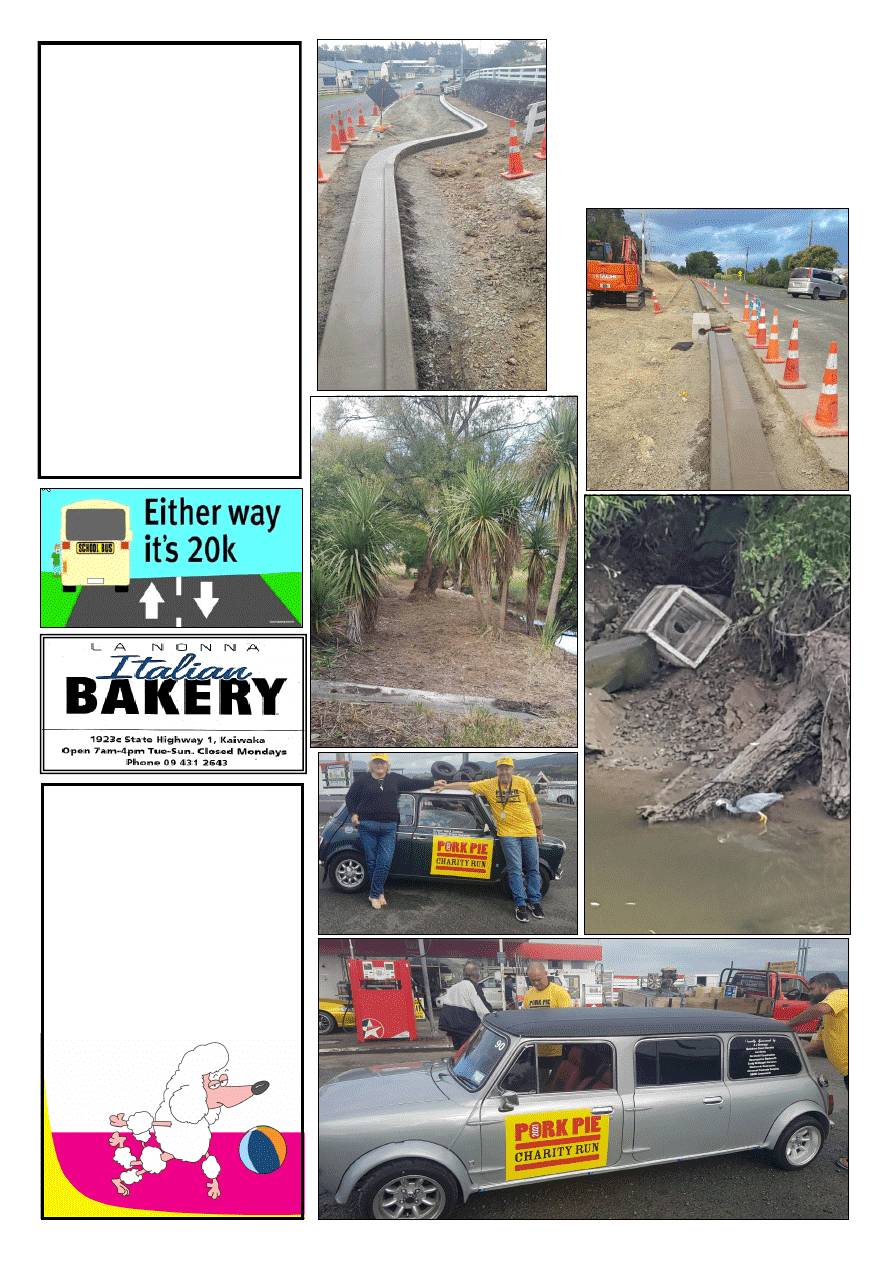 www.kaiwaka.co.nz 
Kaiwaka Bugle - 6 April, 2021 
Page 5 
Willow Bend
HORSE  
HOTEL 
#
Total Horse Care   
# 
Agistment 
# 
Riding Lessons    
#
 Arena Hire (60x40) 
# 
Young Horse Starting 
# 
Re-training/Exercising 
#
Hoof Trimming    
# 
Problem Solving 
Phone Sue  
09 431 2817 or  
021 623 776  
Or email  
susanjoll11@gmail.com 
Hot Diggity Dog  
DOG GROOMING  
KAIWAKA 
Spring is in the hair. 
Professional Dog Groomer  
at affordable prices.
www.doggroomingkaiwaka.co.nz 
call Pam 094312143 or text 
0273335380 for bookings 
SPOTTED ABOUT TOWN 
Top: New kerbing - looking west to the town; 
and below, looking east towards the school. 
Mid: KDC began a clean up of the Kaiwaka 
River  bank:  Left  is  just  below  "Four  Little 
Birds'  (opening  10  April);  Right,  nearby  a 
white-faced heron catches his dinner. 
Bottom:  Pork  Pie  Charity  crews  spotted 
stopping  in  Kaiwaka.  Left  a  team  from 
Dunedin; and a limo mini!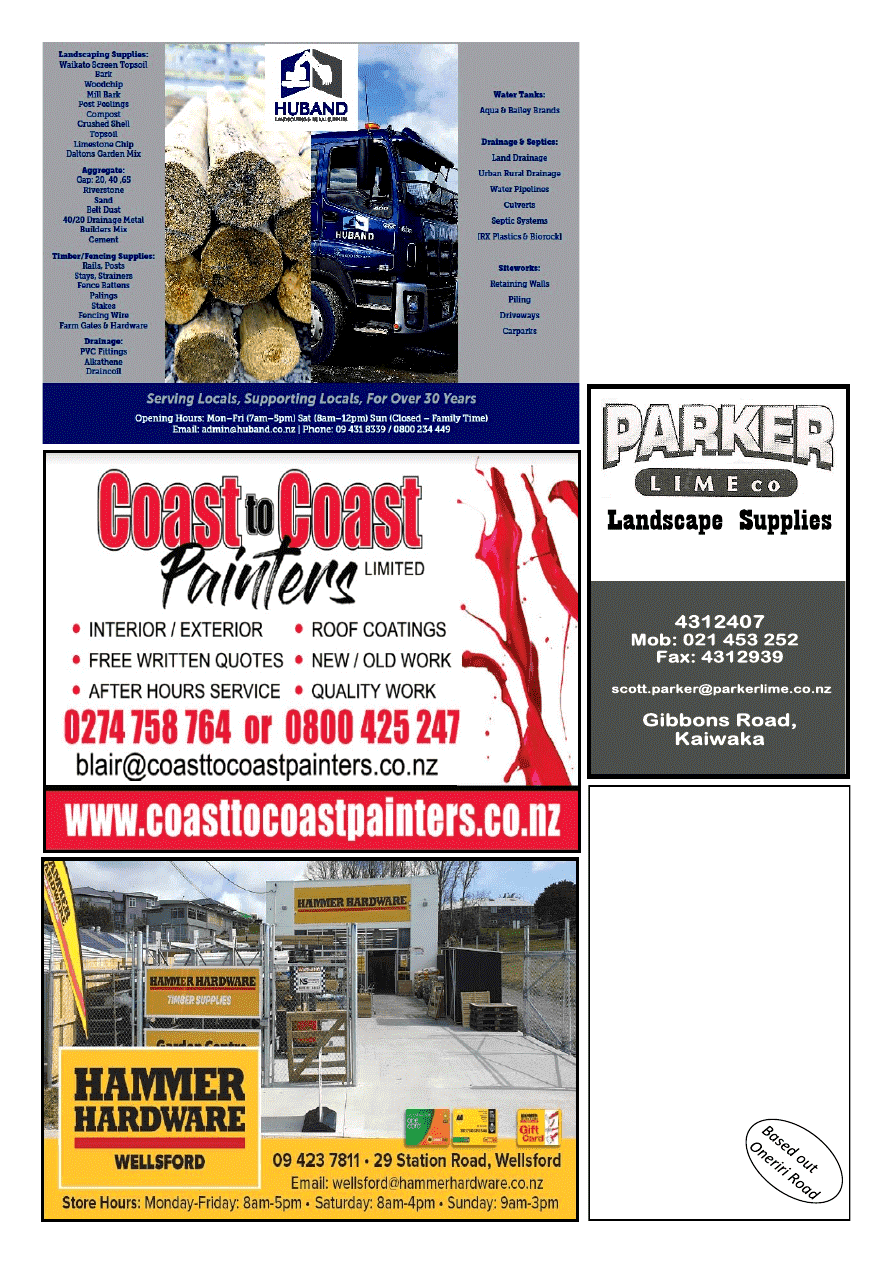 HODGETTS 
CONTRACTING
Digger Work    
Driveways   
House Sites  
Dams      
Drains, etc
Also available for HIRE 
3 ton Vib Roller  
Heavy Duty Tow  
Waterblaster      
Lazer Level
Phone Mark  
4312877 
027 447 8554 
Bulk Cartage 
HELP 
PHONE NUMBERS 

HEALTHLINE  0800  611  116  -  a 
nurse to answer health queries  

SAMARITANS  
0800  726  666  -  support  for  lonely  or 
suffering mental distress 

YOUTHLINE 0800 376 633 

LIFELINE 0800 543 354 

DEPRESSION HELPLINE  
0800 111 756 

ALCOHOL  &  DRUG  HELPLINE 
0800 787 797 

URGENT 
MENTAL 
HEALTH 
LINE 0800 223 371 

WARMLINE  -peer  support  for 
people with mental health issues  
0800 200 207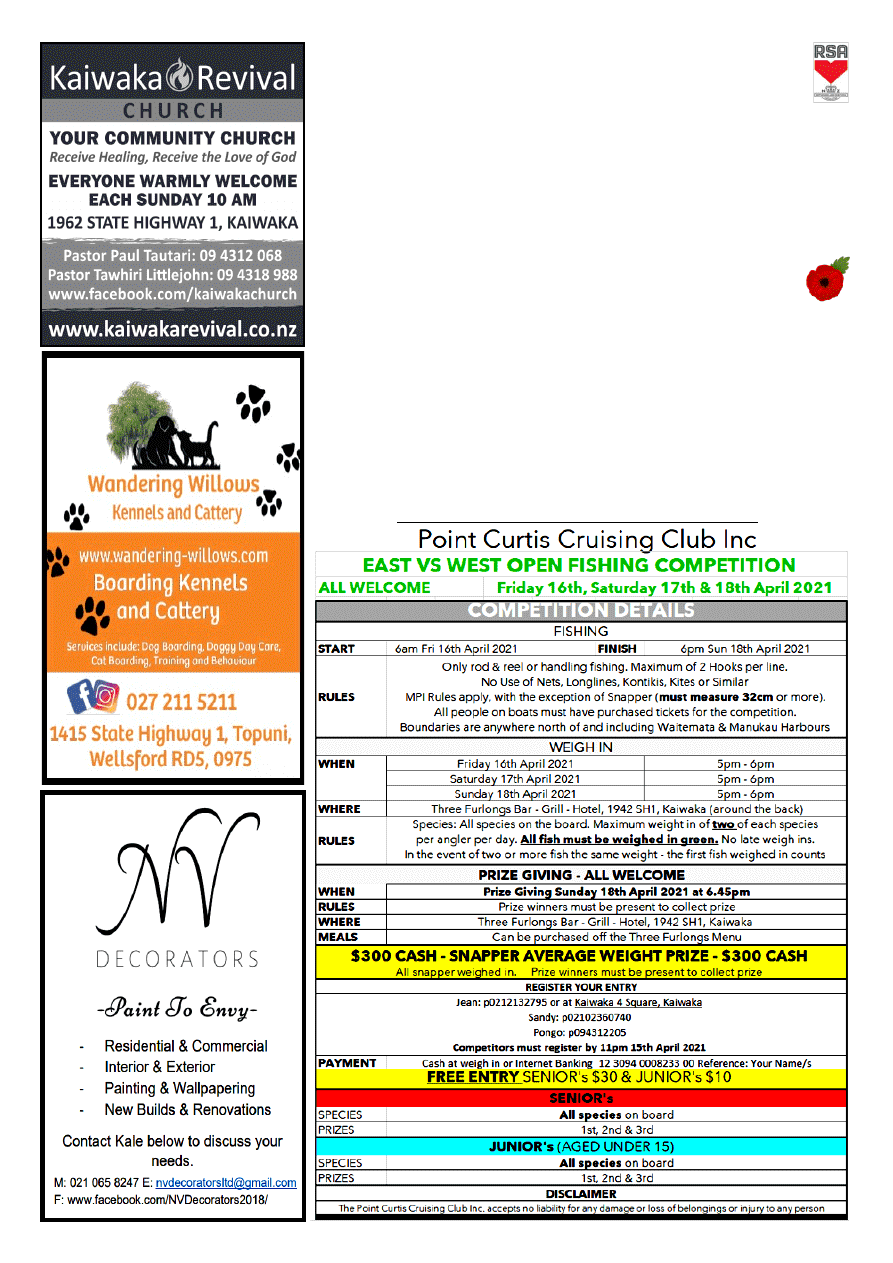 www.kaiwaka.co.nz 
Kaiwaka Bugle - 6 April, 2021 
Page 7 
Due  to  the  March  meeting  being  put 
forward  a  week  due  to  unforeseen 
circumstances  the  attendance  was 
down  to  half  as  members  had 
committed to other engagements. 
Sunday  16th  May  is  the  RSA  AGM 
and  Women's  Section  members  are 
expected to attend. 
The  correspondence  arrived  for  the 
NWA conference on the 15th of June at 
Levin,  Lena  is  our  Delegate  and  extra 
members  are  welcome  to  attend,  the 
travelling  arrangements include  a  train 
trip. 
Waipu  Women's  Section  are  having  a 
Midyear  Christmas  dinner  and  are 
hoping Hakaru will join them. 
We  extend  our  Deepest  Sympathy  to 
Fay  Wintle  our  Patroness  whose  Son 
KD (Kerry) passed away recently aged 
68. 
Dawn  Powell  who  celebrated  her  80th 
Birthday  with  a  ride  on  a  Harley 
Davidson  Motor  bike  was  presented 
with  the  over  80's  equipment  packet, 
one  of  the  things  was  a  safety  pin  to 
hold things together she may need it on 
the next ride!! 
The  raffle  for  this  month  was 
won  by  Petronella  Brom  with 
second  prize  going  to  Dawn 
Powell. 
After  the  monthly  meeting  closed  the 
AGM was held. 
Lena our President of 3 years read her 
report for 2020 then stood down after a 
very  busy  year  with  covid  not  making 
things any easier. 
The election results were as follows: - 
Patroness   - Fay Wintle 
President - Ann Dowson 
Vice President - June Wilson 
2nd Vice President -Trish Black 
Secretary/Treasurer - Jan Mann 
Delegate  to  Conference  -  Lena 
Carleton 
Committee  the  above  plus  Lena 
Carleton,  Pamela  Truscott,  Shirley 
Devries, Heather Small. 
Lena was presented with flowers and a 
thankyou card for the excellent job she 
has done as President. 
The next meeting will be on Thursday 
22nd April at 1.30 pm. 
Hostesses  will  be  Trish  Black  and 
Shirley DeVries. 
HAKARU RSA WOMEN'S SECTION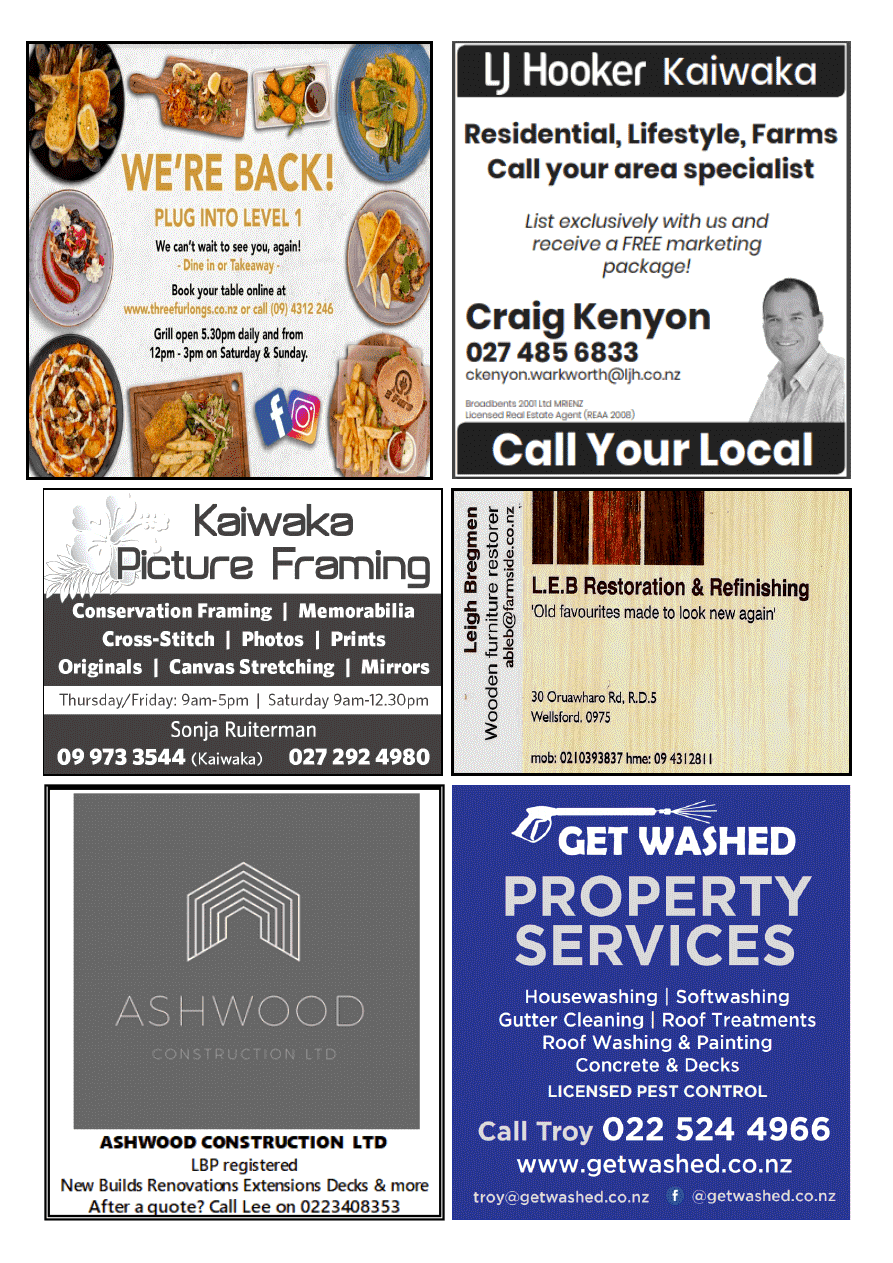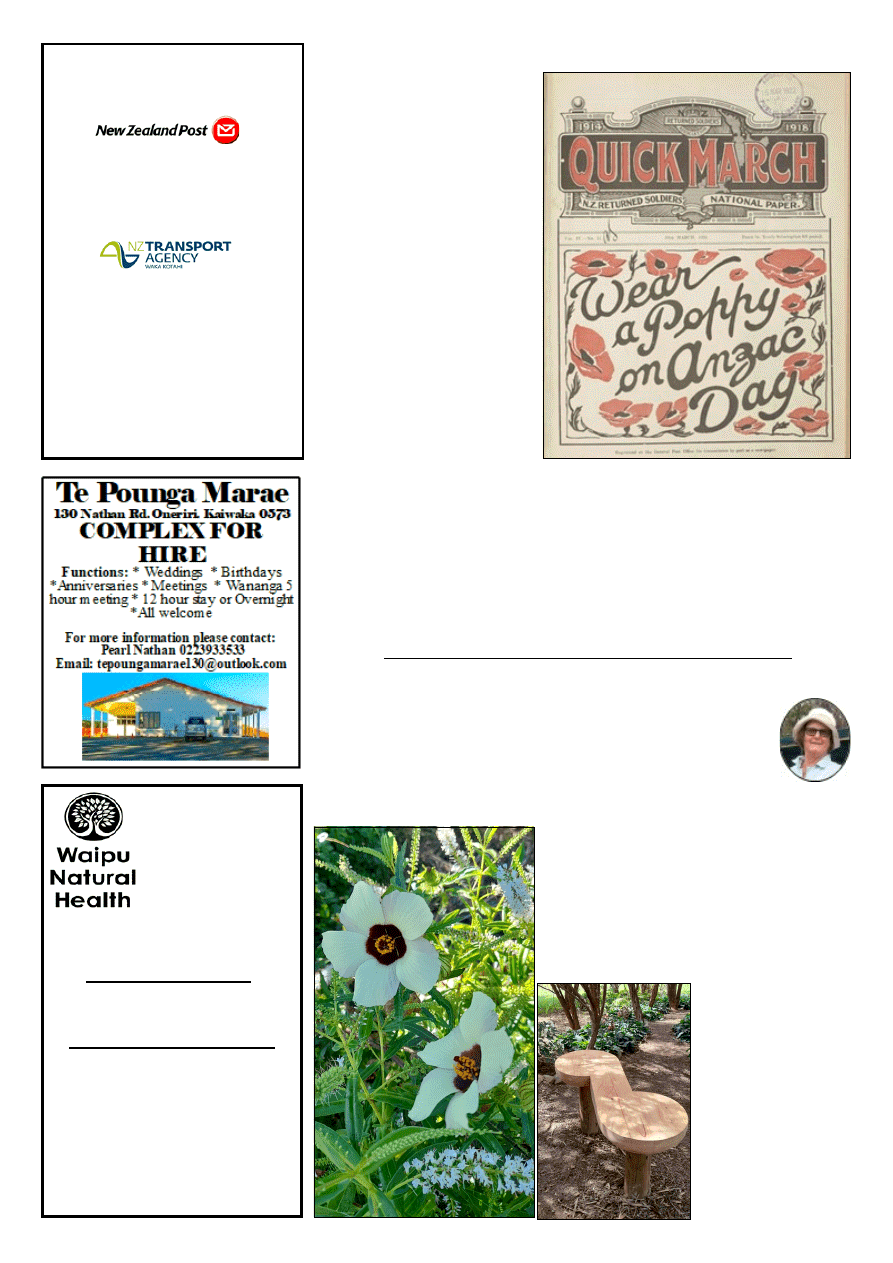 www.kaiwaka.co.nz 
Kaiwaka Bugle - 6 April, 2021 
Page 9 
3 Cove Road, Waipu 
 (opposite the Pizza Barn) 
094321325 
www.waipunaturalhealth.co.nz 
Clinical Nutritionist: 
Nutritional Checkups, Diets for 
Chronic Diseases, Food 
Sensitivities 
Naturopathic Physician: 
Ozone Therapy, Prolotherapy 
Reflexology, Craniosacral 
Therapy, Trauma Release, 
Massage Therapy 
Counselling and Hypnotherapy 
Change Catalyst/ThetaHealer 
Affordable Children's Consults 
All therapists are fully qualified
KAIWAKA POST 
CENTRE and 
FOOD MART 
POST CENTRE TRADING HOURS 
MONDAY to FRIDAY 8am to 5pm 
SATURDAY 8am to 12pm 
CLOSED ON SUNDAY and on 
PUBLIC HOLIDAYS 
FOOD MART (GROCERIES)  
MONDAY TO FRIDAY  
7:30am to 7.30pm 
SATURDAY  8am to 7.30pm 
SUNDAY  8:30am to 7pm 
IF ANY QUERIES PLEASE CALL 
STORE MANAGER AMRIT  
on 09 4312431 or 
EMAIL: kaiwakafood19a@gmail.com 
1919a State Highway1, Kaiwaka 0542 
Flowering Hibiscus trionum and  Koromiko 
Hibiscus  trionum
:  A scrappy little plant that self sows freely on 
waste land but it is well worth scattering seeds in dry corners with 
poor soil. Enjoy these lovely flowers. White with that deep shade of 
purple  that  is  almost  brown.  Lasting  only  a  few  hours.  Although 
each plant flowers freely, scatter plenty of seed. It should be treated 
as an annual. This little pant is pictured below flowering over the Koromiko. 
Koromiko
 flowering is part of my new drought resistant planting. Koromiko is 
an overlooked plant. It is generally used as a 
filler in that out of the way place. I love this 
one.    The  yellow  green  foliage  and  pretty 
racemes  of  flowers.    I  grew  these  from  seed 
the  beauty  of  growing  from  seed  means  you 
get  natural  variation.  I  have  them  in  several 
places. They tolerate damp as well. Don't just 
shove  them  in  because  you  have  the  space.  
Think  about  what  will  bring  them  out.  It's 
worth it. 
A  Love  Seat: 
Les's 
latest  creation.  He  is 
getting  really  good  at 
the  garden  benches. 
I'm  well  impressed. 
This one is a love seat 
in  the  manuka  grove. 
A  quiet  spot  to  watch 
birds  and  listen  to 
bees. 
~  Heather,    Oneriri 
Plants 021 766 399 
Give  Heather  a  call  and 
enjoy a relaxing  walk  in 
her garden.
HOW DOES YOUR GARDEN GROW? 
NEW ZEALAND'S FIRST POPPY DAY 
24 APRIL 1922 
The  idea  of  selling  artificial 
poppies  to  raise  funds  for 
veterans'  organisations 
was 
conceived  by  a  French  woman, 
Madame  E.  Guerin.  Her  plan 
was to have widows and orphans 
in  northern  France  manufacture 
artificial  poppies  that  could  be 
sold  to  benefit  veterans  and 
destitute children. 
After  Colonel  Alfred  S.  Moffatt 
took  the  idea  to  the  New 
Zealand 
Returned 
Soldiers' 
Association  in  September  1921, 
an  order  for  350,000  small  and 
16,000  large  silk  poppies  was 
placed  with  Madame  Guerin's 
French Children's League. 
Unlike  the  practice  in  other 
countries,  the  NZRSA  did  not 
hold its inaugural Poppy Appeal 
in  association  with  Armistice 
Day  (11  November).  The 
shipment  arrived  too  late  for 
Poppy  Day  to  be  properly  promoted  prior  to  Armistice  Day,  so  the  NZRSA 
decided to hold it on the day before Anzac Day 1922. 
The first Poppy Day was a 'brilliant success'. The annual Poppy Day Appeal – 
now usually held on the Friday before Anzac Day – has become the NZRSA's 
primary means of raising funds for the welfare of returned service personnel and 
their dependants. 
On  10 March  1922,  the  New  Zealand  R.S.A. printed  a rallying  article in  their 
'Quick March' paper.    It began: "Wear A Poppy." Every man, every woman, 
every  boy,  every  girl,  who  will  wear  a  R.S.A.  poppy  on  Anzac  Day  will  be 
showing a badge of remembrance."  
Ref.  'New  Zealand's  first  poppy  day',  https://nzhistory.govt.nz/new-zealands-
first-poppy-day-held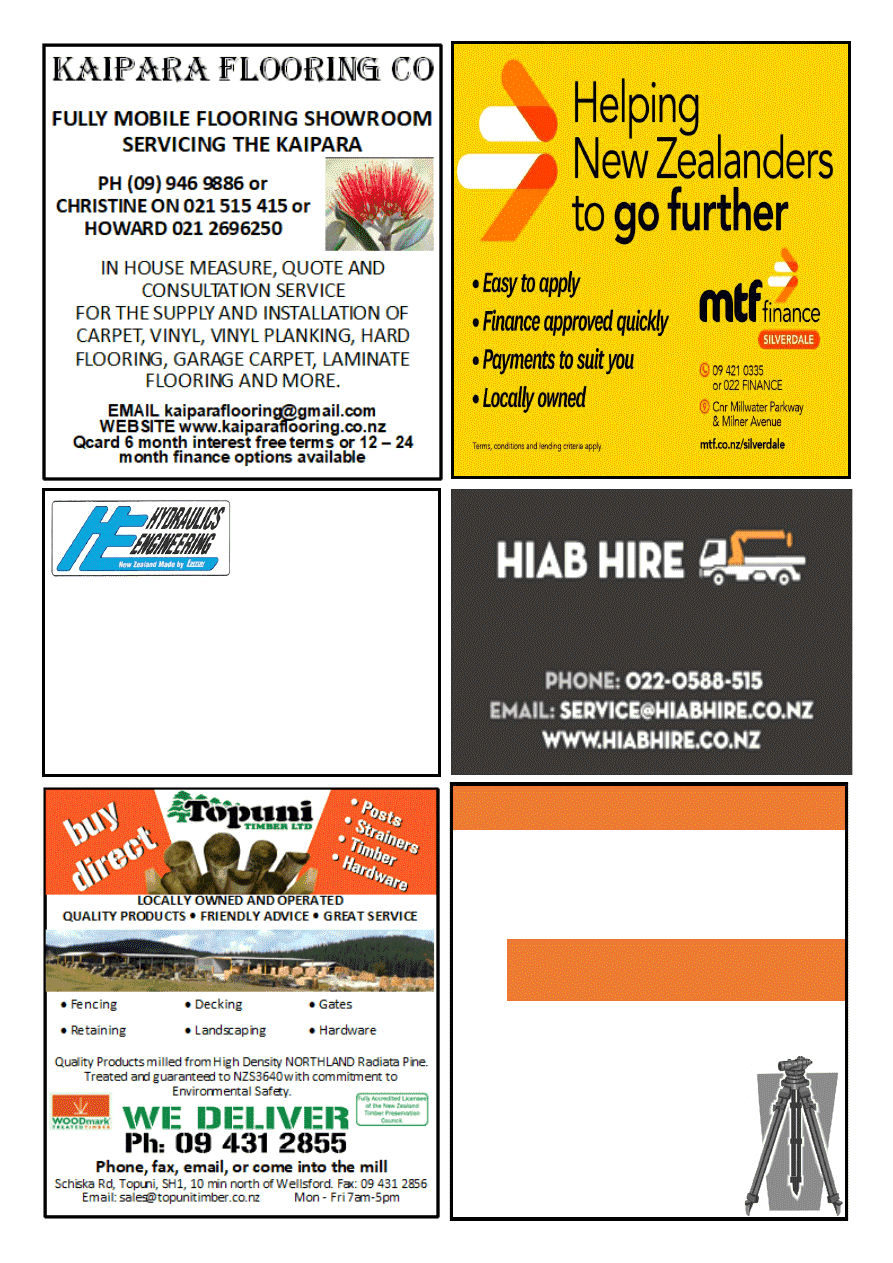 SURVEYORS 
SUBDIVISIONS 
HOUSE SITE SURVEYS 
CIVIL ENGINEERING 
WASTEWATER DESIGNS 
EXPERIENCED 
PROFESSIONAL 
INNOVATIVE 
Ph 09 431 5353 
0800 PACIFIC (0800 722 434) 
pacificcoastsurvey.com
Adam Booth - 027 415 5752 
Bsurv, Licensed Cadastral Surveyor
Surveying Kaipara since 1994 
Hydraulics  
Engineering Ltd 
Kaiwaka 
Sales - Service - Parts - Hire - Manufacture 
Service Contractors & Industrial Equipment: 
Rams, Pumps, Valves 
Logsplitter Hire, Manufacturer, Sales 
Dennis Linton 
Lot 2 / 161 Ranganui Road, RD2, Kaiwaka, 0573, New Zealand 
Mobile: 0274 381 700 
Email: hydraulicsengineering@xtra.co.nz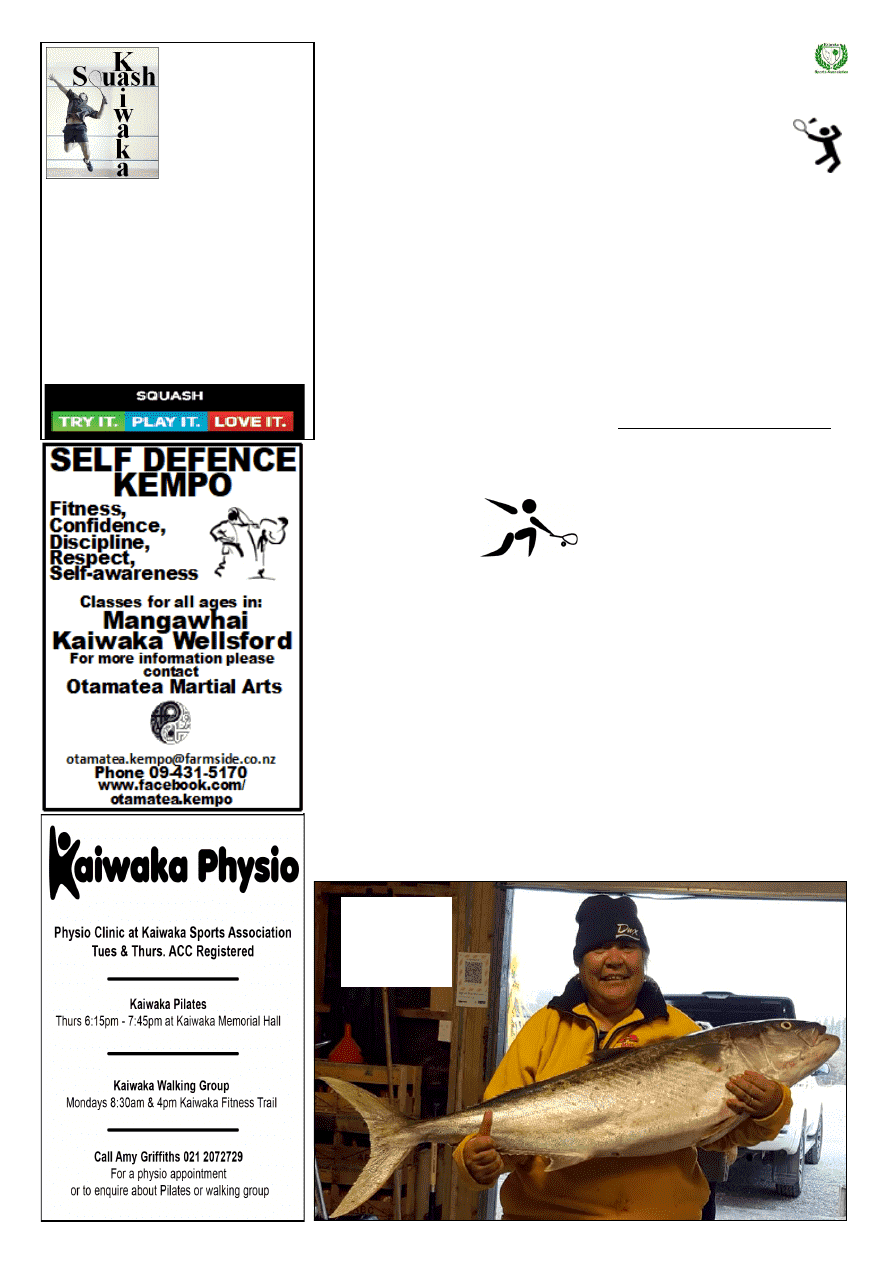 www.kaiwaka.co.nz 
Kaiwaka Bugle - 6 April, 2021 
Page 11 
KAIWAKA SPORTS ASSOCIATION 
KAIWAKA 
SPORTS 
ASSN 
AGM 
The  annual  meeting  was  held  on 
Wednesday  24  March,  sadly  the 
attendance  did  not  cover  all  the 
clubs  and  organisations  that  enjoy 
the use of this wonderful facility. 
Brian Jaques - patron, Wayne Leslie 
-  president;  and  Mark  Ottaway  - 
vice president were all reappointed. 
Paula  Jaques  stepped  down  as 
treasurer  and  was  duly  thanked  for 
the work she has done. Carol Mills 
has stepped up to this role. 
This  leaves  a  number  of  positions 
available  -  secretary,  bookings 
officer,  head  of  bar,  social  media 
contact. Filling of these positions is 
vitally important to maintaining our 
sports centre. 
Do you know how much is spent on 
electricity/lighting, the insurance? 
For 
more 
information 
email  
kaiwakasportsassn@gmail.com  
KAIWAKA 
SQUASH 
Business House Squash 
begins  an  8-week  fun  competition  on 
Monday  12  April.  Organise  a  team! 
Club members will be able to help with 
adding players to your team. Or if you 
would  like  to  play  and  don't  have  a 
team, they will be able to place you in 
a 
team. 
Email 
kaiwakasquash@gmail.com  to  register 
your team by 7 April. 
EASTERN UNITED JMB 
KAIWAKA -  RUGBY 
Team  Trainings  5pm  Thursdays  on 
Field  1  in  front  of  main  building  - 
Kaiwaka Sports grounds. 
Information on Facebook. 
OTAMATEA HAWKS  
JUNIOR RUGBY  MUSTER 
12 - 16 years old, KSA Field 2 
Thursdays 5.30 - 6.30pm 
KAIWAKA BADMINTON
Badminton  is  played  on 
Tuesdays from 7.30 pm $3 per 
session,  for  all  ages  and 
abilities. 
We 
promote 
badminton as a safe social fun sport for 
all  the  family.  Call  Kaye  on  09  4312 
345 
Kaiwaka Sports Assn. 
 GENERAL MEETING 
Wednesday 28 April, 7pm 
Kaiwaka Sports Complex 
All welcome 
Associated clubs please have your 
delegates/representatives attend. 
Any  queries  contact  Wayne  Leslie, 
KSA, 
Chairman 
or 
email  
kaiwakasportsassn@gmail.com  
PT.CURTIS FISHING 
COMPETITION 
A  very  successful  fishing  competition 
wss  held  over  the  last  weekend  of 
March, along with their fundraiser fish 
auction  at  the  Three  Furlongs  Bar  & 
Grill. 
Competition Winners: 
Juniors 
Snapper: 1st Casey Greig – 1.283kgs; 
2nd Ashley Greig - .759kgs; 3rd Casey 
Greig .728gks 
Seniors 
Snapper:  1st  Renna  Brown  3.966kgs; 
2nd Pongo 3.464kgs; 3rd Frank Steiner 
2.280kgs 
Kahawai: 
1st 
Jeanette 
Steward 
1.722kgs; 2nd Kraig Steiner 1.465kgs; 
3rd Carol Welsford 1.384kgs 
Kingi:  1st  Carol  Welsford  14.86kgs; 
2nd Grant Stewart 8.905kgs 
Average  overall  snapper  weight:     
Kraig Steiner 1.324kgs 
CLUB FISHING COMPETITION 
16th to 18th April 
KAIWAKA 
SQUASH 
BUSINESS 
HOUSE 
8 Week Competition 
Mondays 
Starting 12 April 
$40 per team ~ Prizes 
Grab your mates, family, work 
colleagues and register you 
team at : 
kaiwakasquash@gmail.com 
Photo: 
Carol Welsford 
with  her  prize 
winning  king-
fish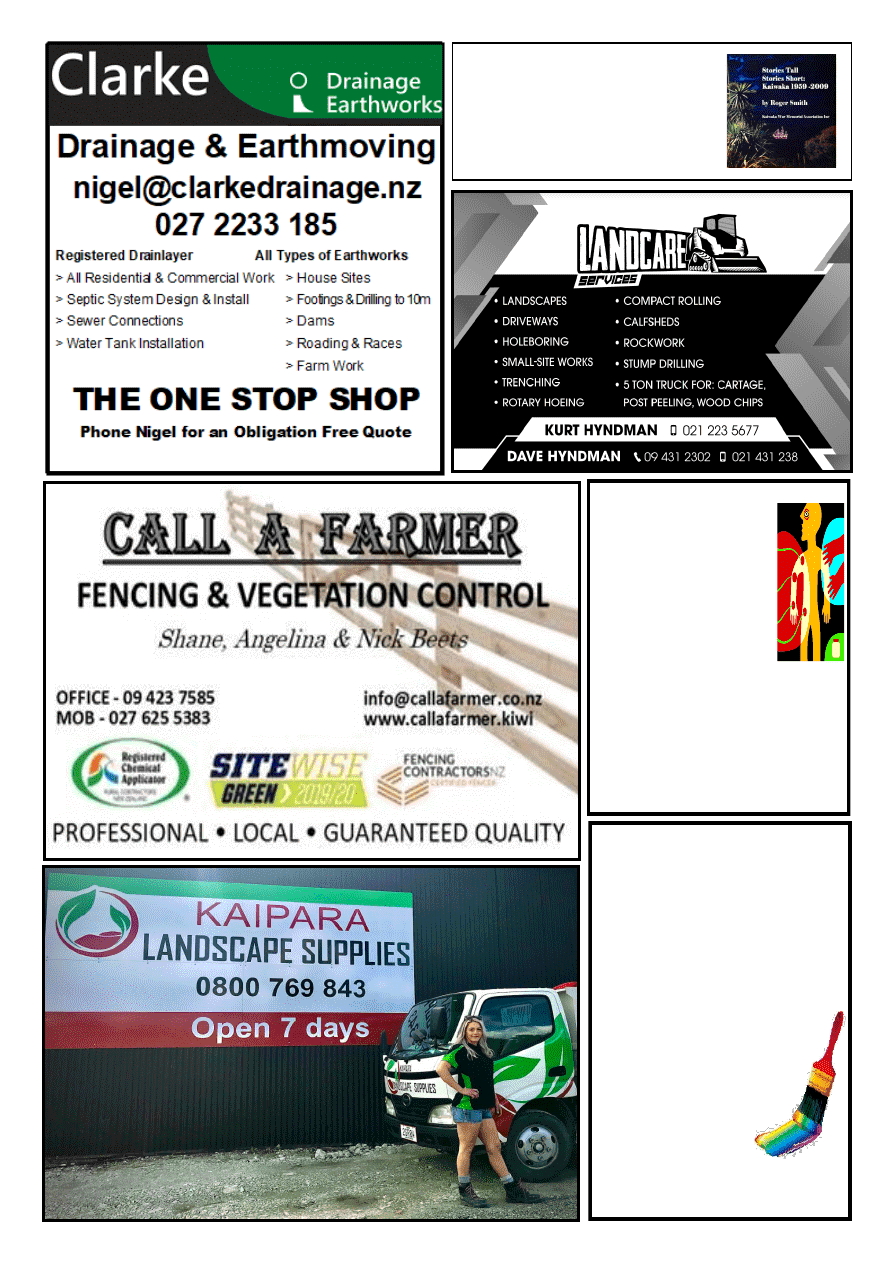 OWEN STEVENS 
Osteo Therapist
For careful adjustments 
to bones and joints 
Treatment for  
humans and their pets 
Clinics: 
Kate's Place, Kaiwaka: 
Last Friday of month  
9.00am-5.00pm 
For bookings:  
Phone 
09 4312661 
Or phone Owen  
 09 4317123 anytime 
LEE COOPER 
PAINTERS 
(Kaiwaka Based) 
*30 yrs Experience 
*Interior/Exterior 
*New and Restoration 
*Honest and Reliable 
*Free Quotes 
09 4312918 
0274735171 
leecooper@xtra.co.nz 
Stories Tall, Stories Short  
Kaiwaka 1959-2009 
by Roger TW Smith.  $40 
Available at All Sortz Collectables  
or phone  4312 045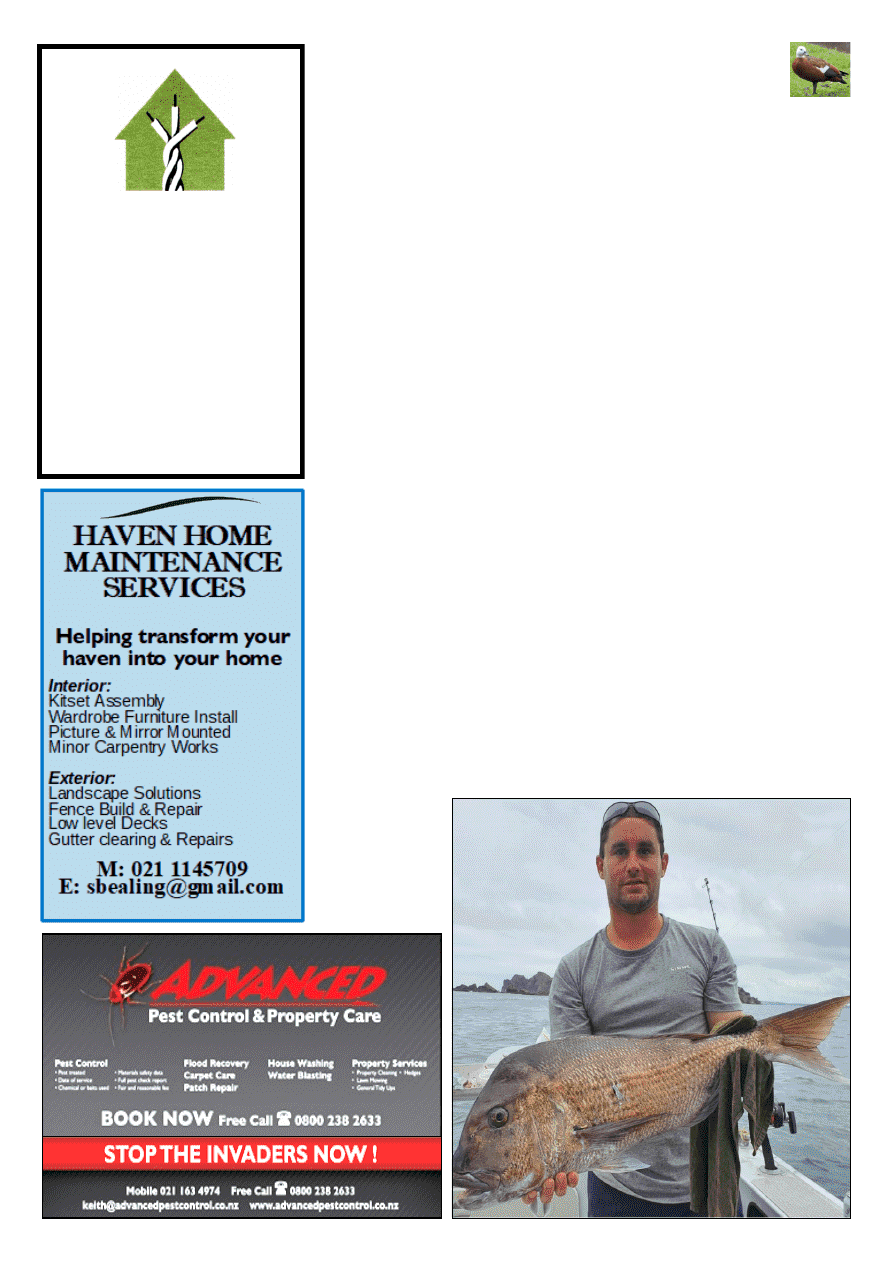 www.kaiwaka.co.nz 
Kaiwaka Bugle - 6 April, 2021 
Page 13 
Reyahn  Leng 
 Registered Electrician 
Local, honest and reliable. 
For your residential and 
light-commercial projects. 
022 314 1068  
KAIPARA HUNTING & FISHING 
ANNUAL PRE-PARI SHOOT  
What a great turnout for the annual pre
-pari  shoot  on  the  14th  February.  26 
shooters  turned  out  on  the  day.  Chris 
Hicky  with  the top  score, shooting  68 
targets out of 80. Well done. 
Results: Seniors Men 
1st Chris Hicky 68; 2nd Dale 67; 3rd Blair 
66 (Shoot off with Dylan 4th) 
Juniors: 1st  Lane  53;  2nd  Liam  47;  3rd 
Bronson 45 
Great effort from these young guys. 
Huge  thank  you  to  the  sponsors  for 
this  event:  These  events  wouldn't 
happen without them so please support 
these  local  businesses: 
Nola  Sports 
Dargaville,  Hunting  and  Fishing  Dargaville, 
Mangawhai Meat Shop, Maungaturoto Liquor 
Centre 
PARI WEIGH-IN  
The club held its Pari weigh-in also in 
February with some great prizes being 
won. 
Results: Heaviest Drake: 1st  Trev;  2nd 
Dale; 3rd Jen Mc 
Heaviest Hen: 1st  Dale;  2nd  Jen  Mc;  3rd 
Trev 
Heaviest Pair: 1st Dale; 2nd Trev; 3rd Jen 
Mc. 
Great weekend had by all. 
Welcome  to  all  new  members.  Thank 
you  all  for  updating  your  email 
addresses  as  this  is  the  only 
communication line we use. 
Photos:  Please forward any photos of 
our 
events 
to 
Annette 
Pull, 
annettebaker@slingshot.co.nz. 
We 
would  like  to  add  more  photos  to  our 
newsletters, thanks. 
FISHING: 
Game  fishing  is  nearing  its  end  but 
what  a  fantastic  result  by  one  of  our 
junior  members,  Bronson,  with  his 
striped 
marlin. 
Congratulations 
Bronson. Also, a big congratulations to 
Cory 
Bellamy, 
pictured  here  with 
this  prize-winning 
snapper caught out 
at 
the 
Cavalli 
Islands 
off 
Whangaroa. 
Awesome 
effort 
Cory, well done. 
CURRENT 
LADDER 
RESULTS:
Senior: 
Snapper Cory Bellamy 7.7kg 
Kingfish Nothing weighed 
Kahawai Regan 2.56kg 
Gamefish  Andy  Thompson  97kg 
(Striped Marlin) 
Junior: 
Snapper Tara Wrathall 4.51kg 
King Fish Bronson Wrathall 8.8kg 
Kahawai Nothing weighed 
Gamefish  Bronson  Wrathall  113.4kg 
(Striped Marlin) 
UP-COMING EVENT: 
The  club  will  be  holding  its  annual 
Duck Hunters shoot on the 11th April 
as below. Chance to get some practice 
in before opening weekend. Normal 80 
target course with prizes out to section 
winners  as  well  as  a  major  Duck 
Shooters  package  draw  prize  that  all 
attend is eligible for. 
SHOOT DETAILS: 
Sunday 11th April 2021, 10am start 
Club grounds: Hames Road 
Maungaturoto 
Entry: $50.00 per person  
Juniors: 16 years and under – Free 
Ammo: $14.00 per box (25) 
No Dogs please on course. (Can be 
tied up at your vehicle) 
All new members welcome so bring 
your shooting friends 
Cash only on the day – No eftpos 
Great prizes to be won.  
See you all there. 
Regards Your committee 
For  New  Membership:  Email  Andy  at 
awthompson@outlook.co.nz 
P.O. Box 12, Ruawai.0549 
President Cam Shanks 094316229 
Treasurer Andy Thompson 0211294378 
Secretary Annette Pull 0272862329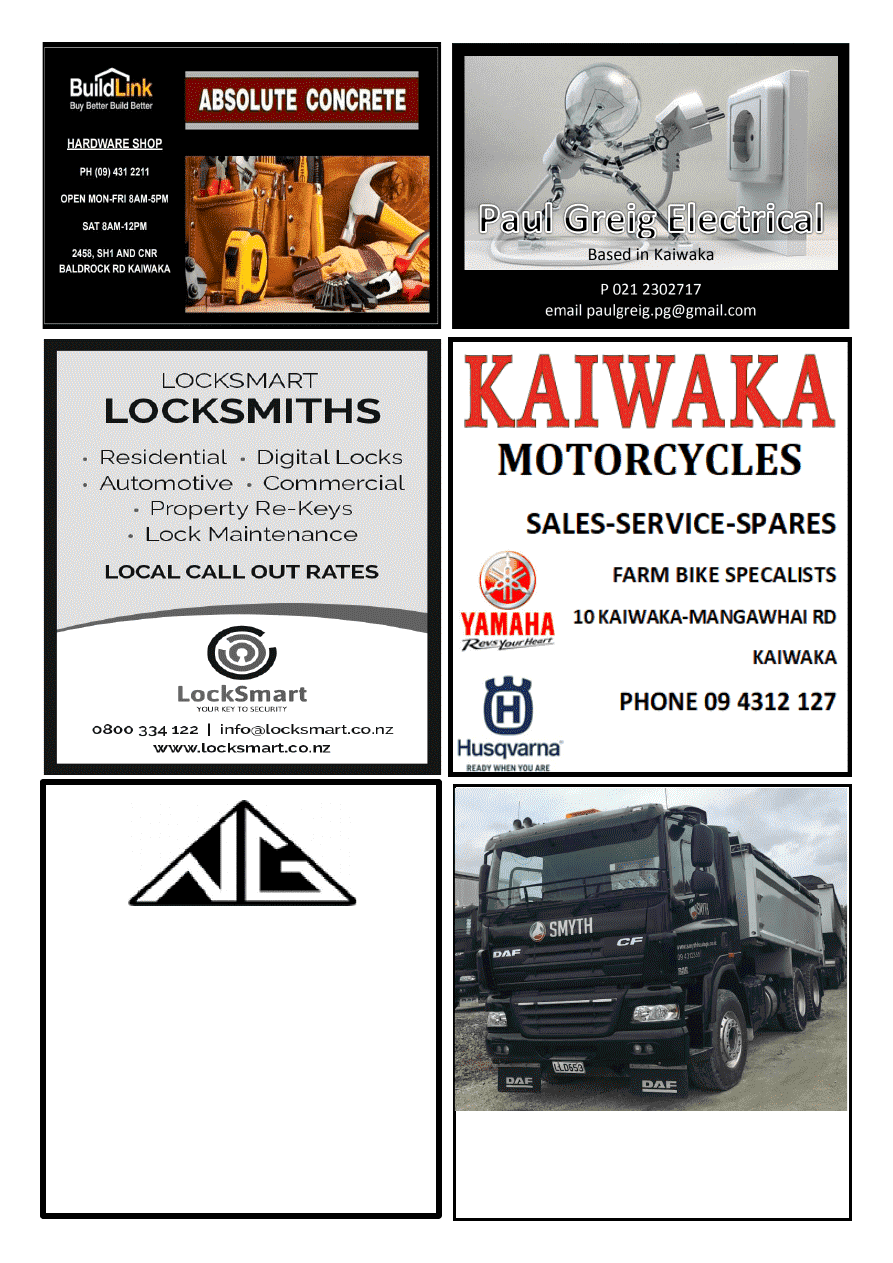 NORTH GLASS 
WINDSCREEN REPAIR OR REPLACE 
GLAZING SERVICES 
MIRRORS  •  SPLASH BACKS  •  SHOWERS 
0800 70 40 10
info@northglass.co.nz 
www.northglass.co.nz 
SMYTH HAULAGE       
for all your tip trucks & trailer 
requirements 09 4312355  
Carlton Smyth 0274870636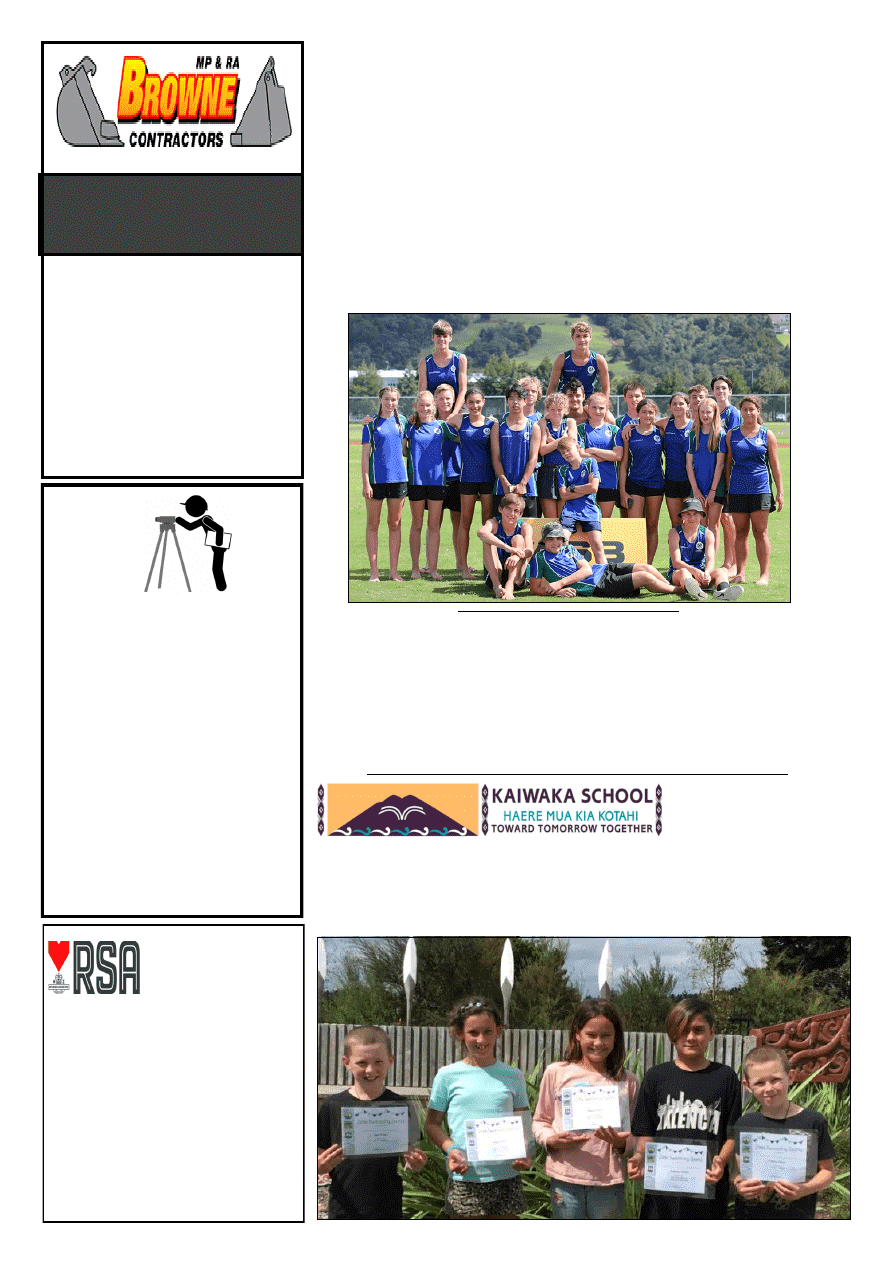 www.kaiwaka.co.nz 
Kaiwaka Bugle - 6 April, 2021 
Page 15 
HAKARU & 
DISTRICTS 
MEMORIAL RSA 
Members & guests are invited to 
come along and enjoy our hospitality. 
New members welcome. 
Meals are served on 
Thursday and Friday nights 
from 6.30pm. 
Order from Blackboard Menu  
For more information please phone 
Bill on 431 2092  
Northland Secondary School Athletics, 
11 March 2021 
This year, Otamatea High School had 24 athletes representing the school at this 
event.  The  day  was  a  huge  success  with  the  students  bringing  home  two  1st, 
seven 2nd and six 3rd place results on the day. 
Junior:  Anahera  Worsfold  –  4th  100m,  4th  300m;  Leayah  Buxton  –  1st  shot 
put, 3rd discus; Mollie Hanna – 2nd long jump; Mason Powell – 2nd 300m, 3rd 
long jump 
Intermediate:  Leonie  Beyer  –  2nd  100m,  2nd  long  jump,  3rd  200m  (senior 
girls); Alicia Moir – 4th 400m, 4th 800m; Kellan Antunovich – 3rd discus 
Senior: Cheylysse Flannagan – 2nd 100m, 2nd 200m, 1st 400m; Morgan Bull – 
4th 400m, 3rd 800m, 2nd 1500m; Nasah Cullen – 3rd long jump 
Well done to all the athletes, pictured below. You were a credit to your school. 
Thank you to Samara Foster and Teresa Brown for your organising and care of 
the  students  on  the  day.  Lastly  thank  you  to  all  the  parents/families  who 
supported our athletes. 
~ Tina Holst, Sports Co-ordinator. Photo: Teresa Brown
Ken Urquhart 
BSurv Licensed Cadastral 
Surveyor 
KMU  
Surveys Ltd
467 Bickerstaffe Road 
RD 2 
Maungaturoto 0587 
Ph 09 431 8705 
Mob 021 161 2344 
kenurquhart@xtra.co.nz 
OTAMATEA HIGH SCHOOL  
TEACHER AIDE VACANCIES AT OTAMATEA HIGH SCHOOL: 
Otamatea  High  School  has  teacher  aide  positions  available  in  our  Learning 
Support  department  for  dynamic,  energetic  and  empathetic  people  to  work 
primarily  with  students  who  have  challenging  behaviours.    A  willingness  to 
learn about and be a part of the restorative culture of our school is essential. 
If  you  think  you  have  what  it  takes  to have  a  positive  impact in  our  Learning 
Support  Department  please  complete  the  application  form  (available  on  our 
website  https://www.otamatea.school.nz/important/vacancies)  and  send,  along 
with  your  CV  and  a  cover  letter  to  Nikki  Donaldson,  Principal's  PA,  
ohs@otamatea.school.nz by Friday 9 April 2021. 
- 4 Tonne DIGGER - 
- BOBCAT- 
- TIP TRUCK - 
Property Maintenance  
Driveways 
Building Sites 
Stump & Tree Removal 
Hole Boring -  Chain Trencher 
Calf Shed and Stockyard Cleaning 
Phone Matt: 021 199 6677 
Email: mprabrownecontractors@gmail.com 
Five  senior  students  from 
our  school  who  went  on  to 
represent  us  at  the  Bream 
Bay Swimming Sports held 
at Bream Bay College in Ruakaka on the 11 March.  The schools who competed 
were Kaiwaka  School, Maungaturoto  Primary  School,  One  Tree  Point  School, 
Waipu  Primary  School  and  Ruakaka  Primary  School.  Our  students  performed 
well and had lots of fun! 
From  left:    Jack  Brown,  Josie  Griffiths,  Molleigh  Buxton,  Brooklyn  Hemara, 
Harry Brown.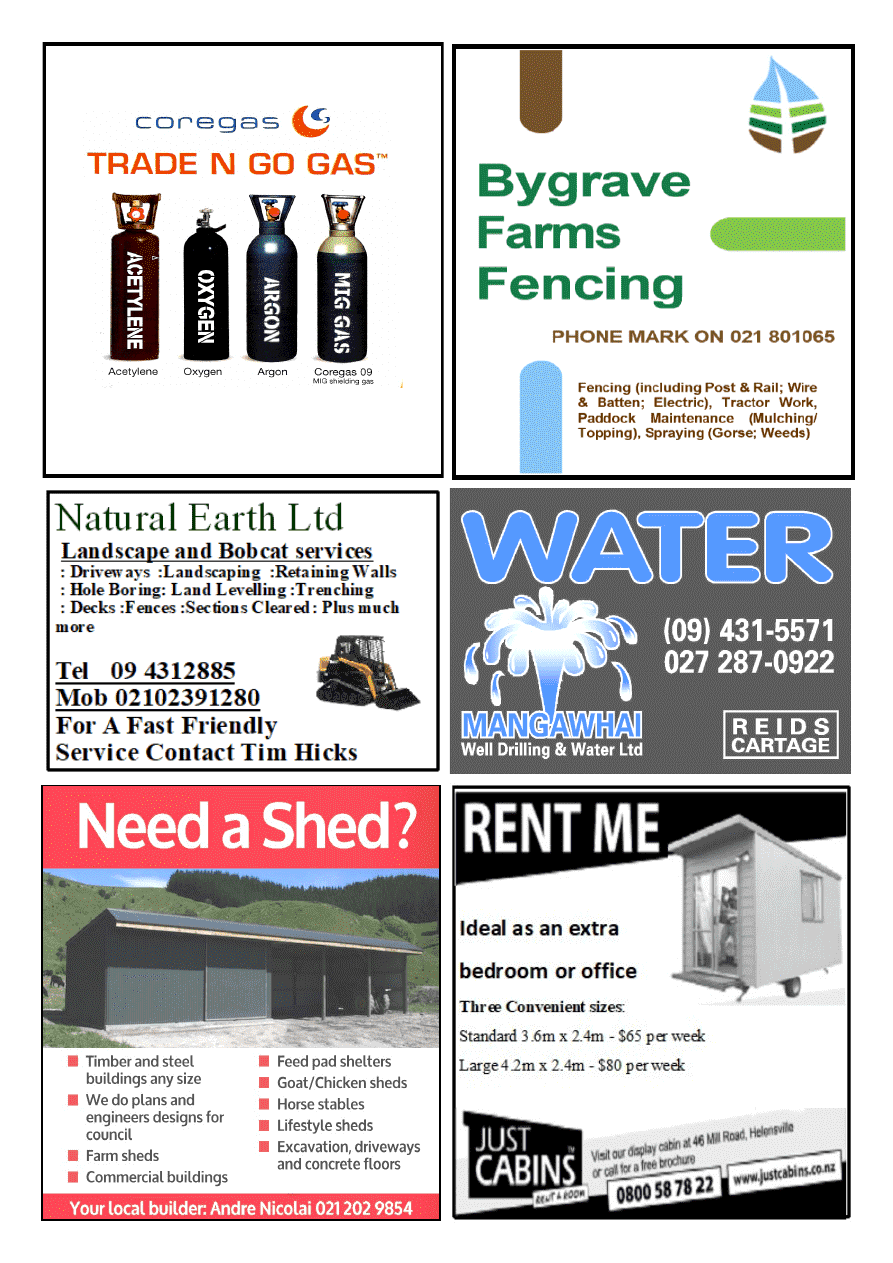 At Twinkle Tow 'n' Tyre 
Mob: 021 833 960 
Ph & Fax: 09 431 2823 
1837 State Highway 1, Kaiwaka 
www.kaiwaka.co.nz 
Kaiwaka Bugle - 6 April, 2021 
Page 17 
MENTAL  HEALTH  RECOVERY 
GROUP  meet  every  Thursday  in  the  
St  John  Hall,  Kaiwaka,  from  10am. 
The  aim  of  this  weekly  group  is  for 
everyone  who  attends  to  receive 
education,  support,  social  connection, 
and a nice lunch. 
Whether  you  live  with  a  diagnosed 
condition  or  are  dealing  with  stress, 
anxiety,  or  symptoms  of  depression 
you are welcome to come and be a part 
of 
this 
supportive 
environment  which  will 
aid  in  your  recovery  and 
future wellness.  
Please  call  0297739085 
for further information.  
TOPUNI MILL 
SETTLEMENT 
From Mark Ottaway: The photo below 
was taken in the early 60's.Our family 
arrived  in  1963.  The  big  mill  was  on 
top  at  the  right,  and  while  we  were 
there  the  planer  shed  on  the  left  was 
built.  Bayers,  Mellons,  Baldwins,  and 
Lees families also lived there. The Mill 
closed in July 1997 
The  Topuni  pine  forest  was  first 
planted  following  WWII  and  was 
bought out by Henderson and Pollard. 
Photo  left  appeared  in  the  NZ 
Women's Weekly in 1975. 
HAKARU HALL  
ACTIVITIES 

Monday:  Line Dancing 10-12pm    
Ph 4315160 

Tuesday & Thursday: Pilates 10am  

    Qualified Instructor Ph. 
0220643965 

Wednesday:  Music Jam Session 7pm  
Dennis Ph. 0210628631 

Friday Morning: Available for HIRE  

Sunday: Canine Coaching  
Ph 0272365004 

Dance Energy  Week Days  
   Monday to Friday, Afternoon/Evening  
Ph. 0275610469 

Friday Morning: Available for HIRE 
Hall Bookings Karen  
4312090 or 0210467490 
Eszter: 
"One  of  my 
clients  started 
yoga  to  be  able 
to  sit  on  the 
floor  &  play 
with  her  grand
-daughter.  
 
Another 
wanted  to  be 
able  to  balance 
on one foot! 
 
Whatever  your 
reason, you can 
find  it  in  my 
yoga 
classes! 
Join 
us 
on 
Thursdays 
at 
9:30am 
@ 
Memorial  Hall, 
Kaiwaka!"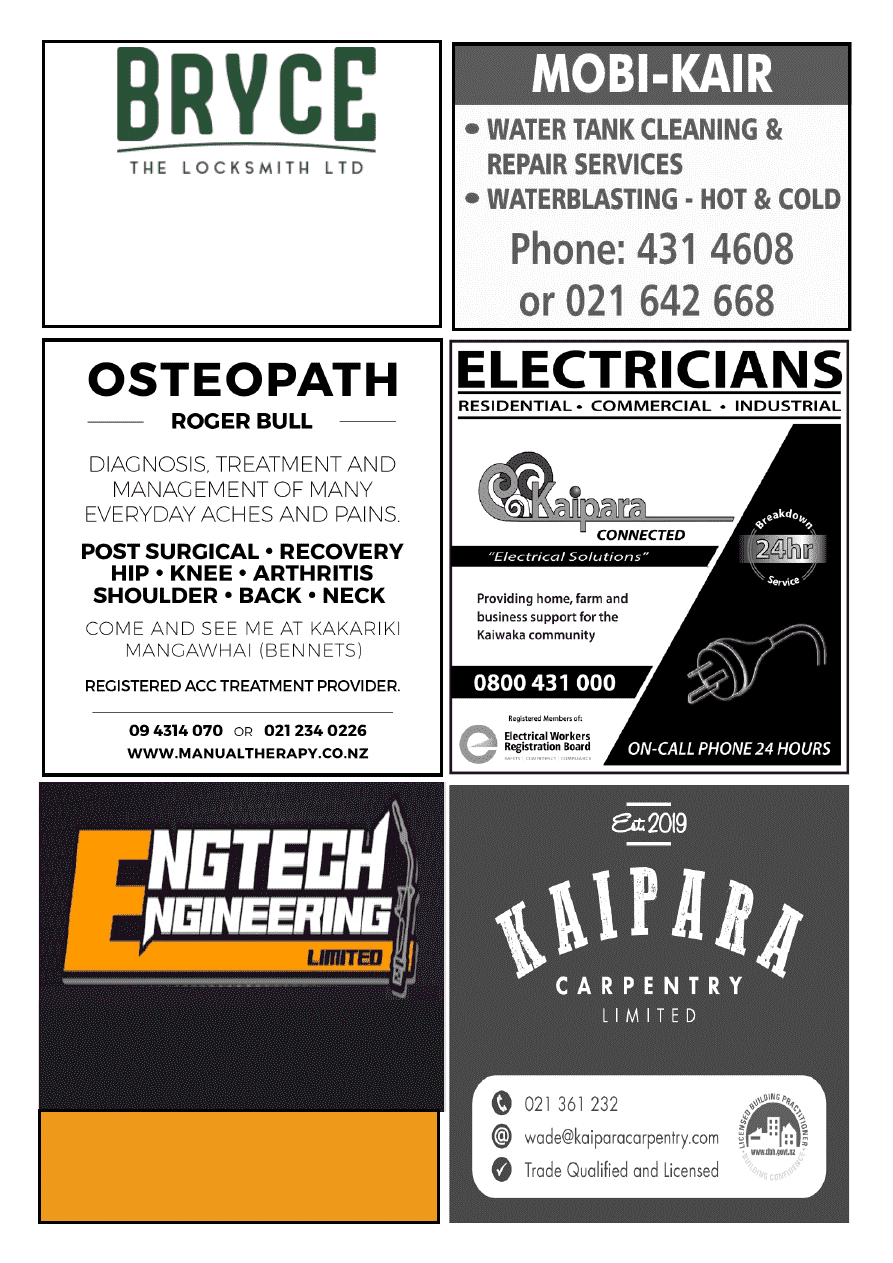 Bryce Frewin 
Ph: 021 850 983 
Kaipara Based Master Locksmith 
bryce@brycethelocksmith.co.nz 
www.brycethelocksmith.co.nz 
- Mobile Engineering Services - 
- Specialised Welding and Fabricating - 
- Media Blasting and Painting -  
- New CNC Profile Cutting Machine - 
PH: 021 415 259 or 09 973 3440 
648 Kaiwaka-Mangawhai Rd, Hakaru 
www.engtechengineering.nz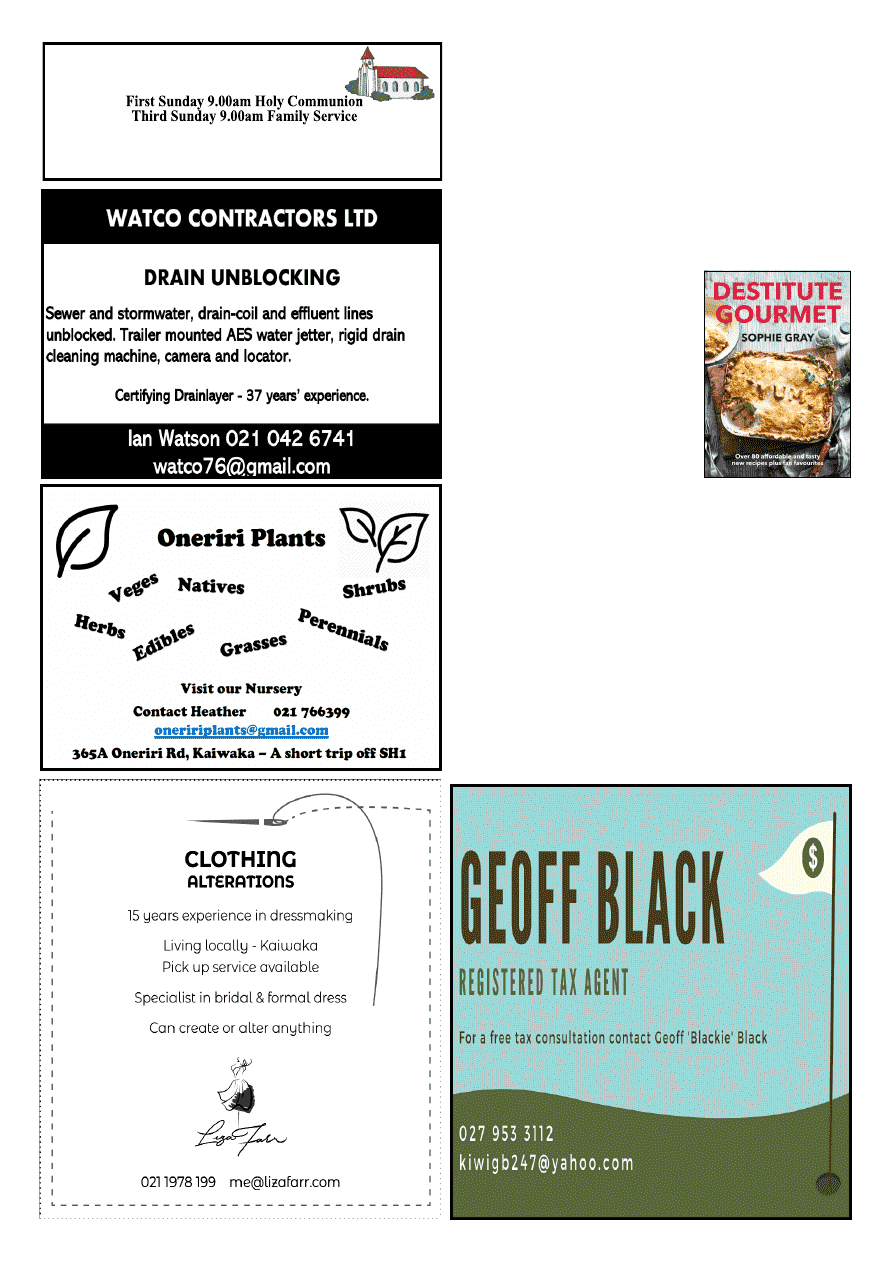 www.kaiwaka.co.nz 
Kaiwaka Bugle - 6 April, 2021 
Page 19 
KAIWAKA LIBRARY
AUCKLAND WRITERS FESTIVAL 
I know some of our library members enjoy this event each 
year. It's coming up again soon - 11-16 May. Find out more 
at https://www.writersfestival.co.nz/ 
NEW LIBRARY VOLUNTEER(S) NEEDED 
Would  you  like  to  join  our  friendly  team  of  library 
volunteers? Are you available on the 4th Wednesday and/or 
the 4th Saturday each month? Do you have basic Windows 
skills and regular access to emails? If you answered yes to 
all 
of 
these 
questions, 
send 
me 
an 
email 
(kaiwaka.library@gmail.com) and let me know. 
NEW NON-FICTION TITLES 
Do  you  keep  an  eye  on  the  new 
titles  appearing  on  our  Non-Fiction 
shelves?  I  post  about  them  (and  all 
our  other  new  books)  on  our 
Facebook  page  as  they  come  out. 
New titles go on the Rental shelves 
for a period and are $1.00 to borrow 
for 3 weeks. 
Recently,  these  great  titles  have 
been added to our collection...  

Lady  killers:  deadly  women 
throughout  history,  by  Tori  Telfer 
(364 TEL),  

Destitute  Gourmet:  over  80  affordable  and  tasty  new 
recipes plus fan favourites, by Sophie Gray (641 GRA),  

Endless Sea: stories told through the taonga of the New 
Zealand Maritime Museum Hui te Ananui a Tangaroa, by 
Frances Walsh and Jane Ussher (708 WAL),  

Lonely  Planet's  Best  of  New  Zealand:  top  sights, 
authentic experiences (910 PLA) 

The Forgotten Wars: why the Musket Wars matter today 
by Ron Crosby (993 CRO). 
Hop  onto  Enterprise*  or  the  library  app  on  your  phone/
tablet to place a hold on any title in our collection, or come 
into  the  library  to  find  them  on  the  shelves.  We  can  help 
you with placing holds if you need assistance with that. 
See you in the library! ~Wendy
Kaiwaka Library, cnr State Highway 1 and Kaiwaka Mangawhai Road. PO Box 
89,  Kaiwaka  0542.  Phone  4312  539.  Email  kaiwaka.library@gmail.com  Open 
Wed-Sat 10am-2pm, Mon 4-6pm. Free membership is available to all residents in 
the Kaiwaka area. https://www.facebook.com/KaiwakaLibrary   
*Enterprise: http://kaipara.kotui.org.nz/ 
ST PAUL'S ANGLICAN  
SUNDAY SERVICES 
St Pauls Church: Kaiwaka-Mangawhai Rd. 
Priest in Charge Rev. W Thornton Ph 431 4122 
www.mangawhaianglican.org.nz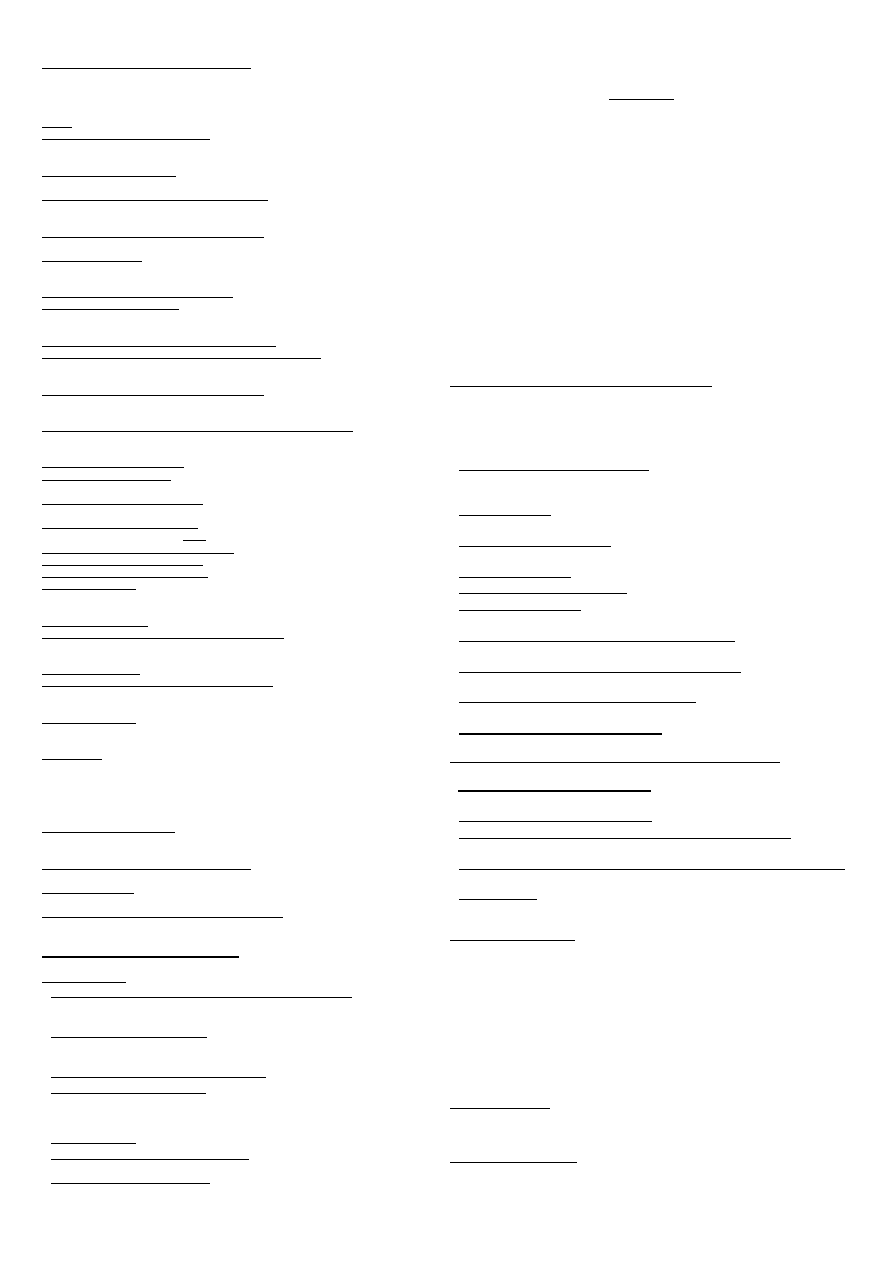 WHAT'S ON
PLEASE ~ do let us know what is on - or what is NOT on at the 
moment! 
email kaiwakabugle@kaiwaka.co.nz 
Advertising in WHAT'S ON is FREE  
**5-11Apr~St.John Heart of Gold Appeal 
*9April~Movie 'MADE in ITALY',7.30pm KWMH 
*15-16Apr~Molesworth Dog Trials, Oneriri Rd 
*16Apr~End of School Term One 
*16-18~Pt Curtis CC Fishing Competition 
*19-24Apr~Art Exhibition, Maungaturoto 
*21Apr~Kaiwaka Can AGM, Archie Bull Hall 5.30 
*28Apr~KSA General Meeting, 7pm 
*25Apr~ ANZAC DAY 
KWMH = Kaiwaka War Memorial Hall; KSA = Kaiwaka Sports Association 
See www.kaiwaka.co.nz for more information 
HOUSEHOLD RUBBISH COLLECTION - Kaiwaka Pick up: 
Mondays = Green bags (Northland Waste - 09 430 3273) 
Wednesdays  = Blue bags and yellow recycling (at Kaiwaka Four 
Square  $3.00  and  $1.50)  (Kaurilands  09  4392146);  ONLY  Blue 
and Yellow bags picked up on Oneriri Road. 
 DIABETES  Support  Group  -for  Kaiwaka,  Mangawhai, 
Wellsford  10am,  3rd  Friday  of  month  Ph:  Colleen  James  09 
4314238 
 GENEALOGY - Wellsford: 1st Thursday in month Ph: 423 
7033; Waipu: 4th Monday in month Ph: 4312 725 
 HAKARU PONY CLUB - Secretary Denise Rogers 021423376 
secretary@hakaruponyclub.co.nz  
 KAIPARA HUNT - Secretary Albert Doonenbal Ph 4312059 
 KAIWAKA BADMINTON -Tuesdays 7.30pm Ph: 4312345 
 KAIWAKA  CAN  - 3rd Wednesday in month, 5.30pm, Archie 
Bull Hall Ph: 0273572751 
 KAIWAKA GARDEN & FLORAL GROUP - 2nd Thursday in 
month. Ph: 431 4744 
 KNITTING FOR WHANGAREI HOSPITAL - 2nd Tuesday in 
month, Archie Bull Hall 10am Ph 4314827 
 MANGAWHAI COMBINED REBUS CLUB - 2pm, 3rd 
Thursday month, Senior Citizens Hall Mangawhai. Ph: 4315777 
 MANGAWHAI GENEALOGY  - meet 3rd Thursday month, 
Mangawhai Museum, 10.30am 
*PILATES - KAIWAKA WAR MEMORIAL HALL - Ph: 
021  
2072729  
*PILATES - HAKARU HALL - Tuesday 10am, Thursday 9am 
Qualified Instructor  Ph. 0220643965  
 PT CURTIS CRUISING CLUB - Jean Ph: 4312227 (wk), 4312520 (hm) 
 RSA,  HAKARU  &  DISTRICTS  WOMEN'S  SECTION  –  meets 
1.30pm 4th Thursday of the month. Ph: 431 5818  
 KAIWAKA  SCOTTISH  COUNTRY  DANCING  CLUB-
Wednesdays 10am - 12 noon  Ph: Elaine 027 432 0032  
 TRAMPING 
- 
Mondays 
9am-2:30pm, 
contact  
valkenburgmaria@gmail.com 
HALLS FOR HIRE: 
  Kaiwaka St. John Hall: Phone Marj  0272941227  
 St.Pauls Archie Bull Hall HIRE $20 half day, $40 full day per 
hire, S McAulay, Ph 4312311 
 Kaiwaka  War  Memorial  Hall  HlRE  -  Phone  4312725  or 
kaiwaka.hall.bookings@gmail.com 
 Hakaru Community Hall HIRE -Ph.  Karen 4312090 
 Te Pounga Marae queries - Pearl Nathan  0223933533 
 Kaiwaka  Sports  Association  hire/queries  -    Jean  4312227  or 
kaiwakasportsassn@gmail.com 
Justice of Peace:  
B.FJaques  4312  048;  L.Donaldson  4312  228;  A.F.Hargreaves 
4312 045, W.Howard 4312 725  - please phone to make sure they 
are available or go to www.justiceofthepeace.org.nz 
Marriage Celebrants:  
L.Donaldson; A.F.Hargreaves; Y Osborne
LOCAL SERVICES 
*Emergencies - Ambulance, Fire, Police - dial 111 
*Non-urgent Police phone 105
A A: Meets Wed., 7pm. Kate's Place Ph 021 024 25969 or 0800 229 6757  
NARCOTICS ANONYMOUS : Mon., 6pm, Archie Bull Hall, Kwk-Mwi 
Road; drug and alcohol related issues. Ph. 02102412348 
ASUREQUALITY LTD (was AgriQuality) Call Free 0508 0011 22  
BUDGETING SERVICE, WELLSFORD: Free confidential advice & 
support for all areas of personal finance. Ph (09) 423 7123 
CAB-Citizens Advice Bureau.Wellsford Ph: 4237333 
0800 367 222 email:cab.wells@xtra.co.nz  
CIVIL DEFENCE - Kaiwaka Community Response Group: 
kaiwaka.civildefencecrg@gmail.com, 4312725 Wendy 
DOG/STOCK /NOISE CONTROL 0800 105 890 
FUNERAL SERVICES: Morris & Morris Ltd, 
Whangarei - Bev Jaques Ph:4312367 or 0800667747 
GRANDPARENTS Raising Grandchildren: Dianah Roberts 0223819539 
HAKARU & DISTRICTS MEMORIAL RSA (Inc) 733 Settlement Rd, 
Hakaru. Ph 4312 176 or Bill Warren (President) 431 2092 
HAKARU LANDFILL/Transfer Station:Open everyday  10am-
4pm.Ph4312629 Cost-$55 trailer load up to 1 cubic metre. Ph:4258567 - 
office 
KAIPARA DISTRICT COUNCIL www.kaipara.govt.nz:  
Help Desk FREEPHONE 0800 727 059  
KAIWAKA CEMETERY: Ph: 4312045 or 4314017 
KAIWAKA LIBRARY: kaiwaka.library@gmail.com  
Mon. 4-6pm; Wed., Thurs., Fri., Sat. 10am-2pm Ph:4312539 
KAIWAKA PLAYCENTRE: Ph Juanita 0274134904; open Mon, Wed, 
Fri 9am-12pm. Hastie Lane; Monday to Friday 9.00am - 12 noon. 
KAIWAKA POST OFFICE:Ph:4312 431  
Post Code: 0573 for RD2 and 0542 for all Kaiwaka Post Office mail 
KAIWAKA PRIMARY SCHOOL: Ph: 4312309   
KAIWAKA SPORTS ASSN: Ph 4312005; 4312129 gym 
KAIWAKA ST JOHN HALL: Phone Marj  0272941227  
KATE'S PLACE Community Centre - Employment services, Free Health 
Nurse, Plunket, Advocacy, Osteopath, A.A., Legal Advice. 4312 661 
LINKING HANDS Health Shuttle Ph 4315906 or 09 4318969 
MINISTRY FOR PRIMARY INDUSTRIES - General inquiries Call 
Free 0800 008 333 
NORTHPOWER: Faults Kaiwaka area 0800 104040 
OTAMATEA COMMUNITY SERVICES: Counselling, parent coach, 
Family Support worker, budget advice, food bank. Mon-Fri 9am-3pm. Ph 
09 431 9080 http://www.otamateacs.org/ 
PARENTPORT: Free, practical family support service Puhoi to Paparoa 
Ph or txt: Dianne 027 280 5093 or 09 425 9357 
PLUNKET: Kaiwaka- St John Hall, Monday 19 Oct, 23 Nov, 21 Dec. then 4th 
Monday of the month. Plunket Nurse Louise 027 282 3987 or 09 438 2508 
Mangawhai- Rose Madsen Cottage, Mondays and Wednesdays. Plunket Nurse 
Rebecca 021 501 941 or 09 438 2508 
Maungaturoto - Good News Church, 2nd and 4th Wednesday of the month. 
Plunket Nurse Seleisa 021 912 248 or 09 438 2508 
PLUNKET HELPLINE -0800 933 922 (24 hours)  
FACEBOOK - Kaipara Plunket 
TAITOKERAU COMMUNITY LAW: Free confidential legal advice and 
assistance, 2nd
Thursday
 of each month. Ph: 0800 155 529 for appts.  
TE URI O HAU Settlement Trust Tangata Developments: Whanau Ora 
021 793262  
VETERINARY SERVICE MANGAWHAI: 
Ph: 4314535 Mon-Fri 8.00-5.00, Sat 9-12, a/h appt. 
WELLSFORD DOCTORS: Ph: 4238 086 
CHURCHES:
 
Kaiwaka  Revival  Church  -  Your  Community  Church:  Sundays  10am. 
Ph: Pastor Tawhiri 09 431 8988 or Pastor Paul 09 4312 068 Visit us at 
www.facebook.com/kaiwakachurch 
 
St  Paul's  Anglican  Church  1st  Sun.  9.00am  (Eucharist),  3rd  Sun. 
9.00am (Family Service). Contact: Rev. Wayne Thornton Ph 431 4122 
www.mangawhaianglican.org.nz 
 
Church of Christ the King, Mangawhai:9.00am every Sunday 
 
St.Mary's  Catholic  Church:  Maungaturoto  –  Griffins  Road,  Saturday 
evening  Vigil  Mass  6pm;  Mangawhai  –  Senior  Citizens  Hall,  Sunday 
Mass  8:30am;  Wellsford  –  Matheson  Road,  Sunday  Mass  10:30am;  
Mid-week Mass times and all enquires to Fr. Bill Fletcher – phone 423 8170
 
Baptist Church: Sun. 10.30am Mangawhai Snr Cit.Hall.Ph:4312339 
 
Cause  Way  Church  Mangawhai:  Sundays  10.15am,  Mangawhai 
Community  Recreation  Centre,  Insley  St.  Ph:  09  4314782 
Next Bugle Deadline Friday 16 April 2021