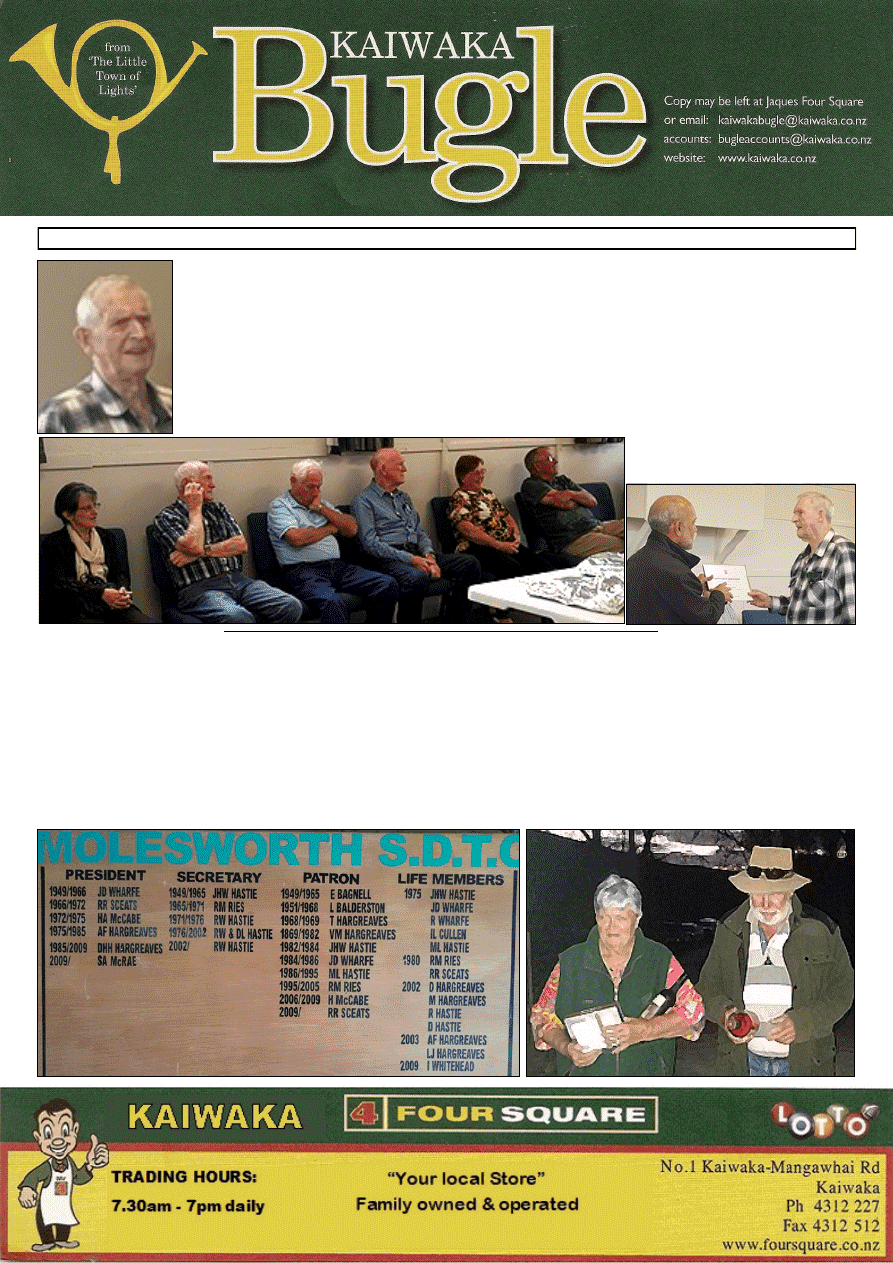 www.kaiwaka.co.nz 
Kaiwaka Bugle - 20 April 2021 
Page 1 
No.7 
20 April 2021 
50 YEARS JUSTICE OF THE PEACE 
Brian  Jaques  50  years  as  a  JP  was  recognised  on  Friday  9  April  with  a  morning  tea  in  the 
Kaiwaka War Memorial Hall, as Northland's longest serving JP. 
Brian became a JP at 36 years old and has served our community, mainly in the family Four 
Square Store. As he said, " I have witnessed and signed my name thousands of times!" 
He was presented the Justice of the Peace Award by Carl Netzler, immediate past president 
Northland JP Assn, and a beautiful red rose bush. Jules Flight, on behalf of Northland JP and 
Tony Hargreaves spoke in appreciation of the service given by Brian over a sustained period 
of time. Brian is now officially BF Jaques JP Retd. (Retired). 
The photo below show members of his family - Bev and Reg Jaques, Ken Jaques, Bill Jaques, 
Pam  (nee  Jaques)  and  Mark 
Ottaway.  Below:  Carl  Netzter 
presenting the certificate.
50 YEARS SECRETARY
Robert W Hastie became secretary of the *Molesworth Sheep Dog trials in 1971 as a single man, and by 1976  he was ably  
assisted by his wife Deborah. They were presented with gifts at the evening prizegiving at last week's local dog trials. 
The  first  dog  trial  meeting  was  held  in  the  Molesworth  School  in  1949  -  Robert's  father  Wallace  was  elected  the  first 
secretary.  The following May saw the first dog trials held on Nelson Hastie's farm. The following year the heading courses 
were moved to the Wharfe farm - now Bream Tail.  
The club continued to grow and prosper and with changes in Bream Tail the courses were moved to Oneriri Road, Kaiwaka 
in  1966  and  kept  the  Molesworth  name.  Wallace  then  retired  as  secretary,  Rex  Ries  took  over  for  5  years  then  Robert  
began  his  stint  as  the  club's  third  secretary.  Robert  has  competed  with  heading  and  huntaway  dogs  throughout  New 
Zealand, and has judged at the top level - North Island Championship in Taranaki and the New Zealand Championship in 
Gisborne. 
* The Molesworth name comes from one of Mangawhai's first surveyors ~ D. Hastie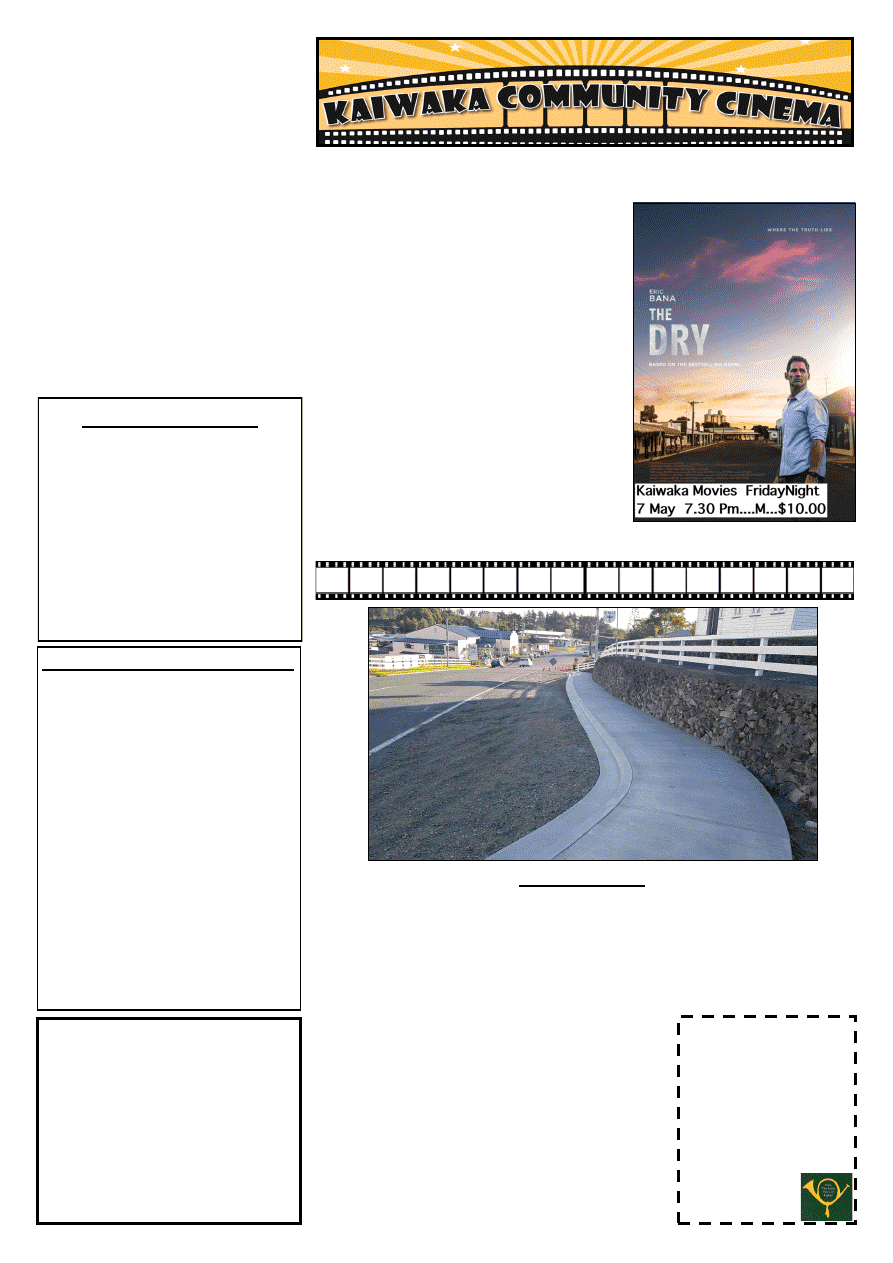 www.kaiwaka.co.nz 
Kaiwaka Bugle - 20 April 2021 
Page 2 
ABOUT TOWN 
 Prince Philip will always be remembered. Many youngsters from this area have been 
through  his Duke  of Edinburgh  Award venture  and  will  well  remember receiving their 
'Gold Duke' from the Governor General.

Congratulations Brian Jaques - 50 years JP, and Rob Hastie 50 years secretary! 

A WELL DONE to Taira and the 2021 Touch competition - a fun sport for a  
wide  age  range  AND    the  Senior  Otamatea  HAWKS  team  won  on  Saturday, 
beating Tomarata 25 - 13; next game 24 April, KSA 

Congratulations  to  our  local  Shearing  Sports  team  Toa,  Tama  and  Hamu  on 
their successes at the Te Kuiti Shears. Hamu pictured 
on page 15 

 KSA  Crew  in  need  of  volunteers  -  meeting  28 
April. Find out about the  increasing activity there. 

Oneriri folk note the freight train is back on the rail 
again. 

Four  Little  Birds  Patisserie  is  only  open  Thursday, 
Friday and Saturdays 9am-3pm, BUT just Saturdays at 
the moment

  Pictured  above  the  brand  new  concrete  footpath 
below St. Paul's Church.
 ~ Lindsey, Ed
'They shall grow not old, as we that are left grow old;  
Age shall not weary them, nor the years condemn. 
At the going down of the sun and in the morning.  
We will remember them.."
At Kaiwaka War Memorial Hall . Adults $10, Kids (under 16) $5, Family Pass (2 adults + 3 children) $25 
KAIWAKA BUGLE NO.7 
20 APRIL 2021 
CONTENTS: 
Page 3: Public Notices, Classified 
Page 5: ANZAC DAY 
Page 7: Kaiwaka Can 
Page 9: Kaiwaka Weather; Otamatea 
Repertory 
Page 11: Kaiwaka Sports  Assn 
Page 13: Libby Jones NDHB; OCS 
Page 15: OHS; Kaiwaka School 
Page 17: Mgto & Districts Rotary; 
Prince Philip 
Page19: Kaiwaka Library 
Bugle 8 will appear 4 May 
Contact for advertising, reports, articles 
or information can be made by 
Email: kaiwakabugle@kaiwaka.co.nz 
Ph: 09 4312 045 Lindsey 
Txt: 027 2724137 
Copy  may  be  left  at  Kaiwaka  Four 
Square. 
Kaiwaka Bugle 
Founded May 1978 
We appreciate articles and photos about local 
events, etc, as well as ads and suggestions. 
Copies available in Kaiwaka at Kaiwaka  Four 
Square, Kaiwaka Postal Centre, Shamrock 
Service Station, Animal Health Centre, 
Kaiwaka St John shop. 
Also outlets in Maungaturoto, 
Mangawhai and Paparoa. 
Can be viewed online at  
www.kaiwaka.co.nz/Bugle  
Or a copy can be posted to you if you supply 
stamped, self-addressed DLE envelopes. 
Kaiwaka Bugle Advertisements 2021: 
All 
copy 
and 
queries 
to: 
kaiwakabugle@kaiwaka.co.nz 
The Bugle is printed on an A4 page, B&W  
Ad  sizes:  1/16  page  (3  x  9.5cm)  $5;  1/8 
(6.5  x  9.5cm  landscape  or  portrait)  $8; 
3/16 ( 10 x 9.5cm or 7.5 x 12,5)  $12.  
Classified  ads:  First  one  FREE,  $4  per 
entry (max. 30 words, max. 4 repeats). 
Payments  can  be  made  online  at 
ANZ 
06  0365  0006990  00
,  posted  or  left  at 
Kaiwaka Four Square Store. 
We  use  Microsoft  Publisher,  and  can 
work  with  most  common  image 
formats, Word, Excel, and PDF files. 
Accounts:  
Email: bugleaccounts@kaiwaka.co.nz 
The  Kaiwaka  Bugle  is  a  community 
newspaper run by volunteers, as part of 
the Kaiwaka Media Group Inc.   
Articles, etc. printed are not necessarily 
the opinion of the Bugle Team. 
Proverbs 29:15 
Wise discipline imparts 
wisdom;  
Spoiled adolescents 
embarrass their parents. 
(The Message Bible 
version) 
KAIWAKA BUGLE 
DEADLINE DATES 
2021:   
Every second Friday 
April 30 
May 14, 28 
June 11, 25 
July 9, 23 
August 6, 20 
September 3, 17 
October 1, 15, 29 
November 12, 26 
December 10 
FUNDRAISING? HOW ABOUT A MOVIE? 
To run a Movie Fundraiser, you need 
To  book  a  date  confirming  availability  of  the 
Hall 
contact 
Wendy 
Howard 
kaiwaka.hall.bookings@gmail.com  and  Ad 
Clarijs  re  requirements  and  his  availability  on 
0212154495, as he sets up the audio visuals. 
Costs: Hall Hire $12 per hour; $24 per hour if 
kitchen  is  needed;  Hire  of  Audio/visual 
equipment  $50;  Public  Screening  Licence  fee 
( $115 - $140) – this is organised for you. 
Available in the Hall: 
150 comfy chairs, plus 100 plastic if needed. 
Sixteen tables, rectangular and round 
Carpeted supper room, separate from the hall 
Heaters in hall and supper room 
Small kitchen facility with instant hot water to 
make tea or coffee, with mugs. 
The  Kitchen,  if  hired,  has  2  electric  ranges,  2 
microwaves, pie warmer, instant hot water for 
tea  or  coffee,  2  small  urnies,  large  double 
display fridge, steriliser, lots of cutlery, plates, 
cups, bowls etc. with large stainless-steel bench and servery.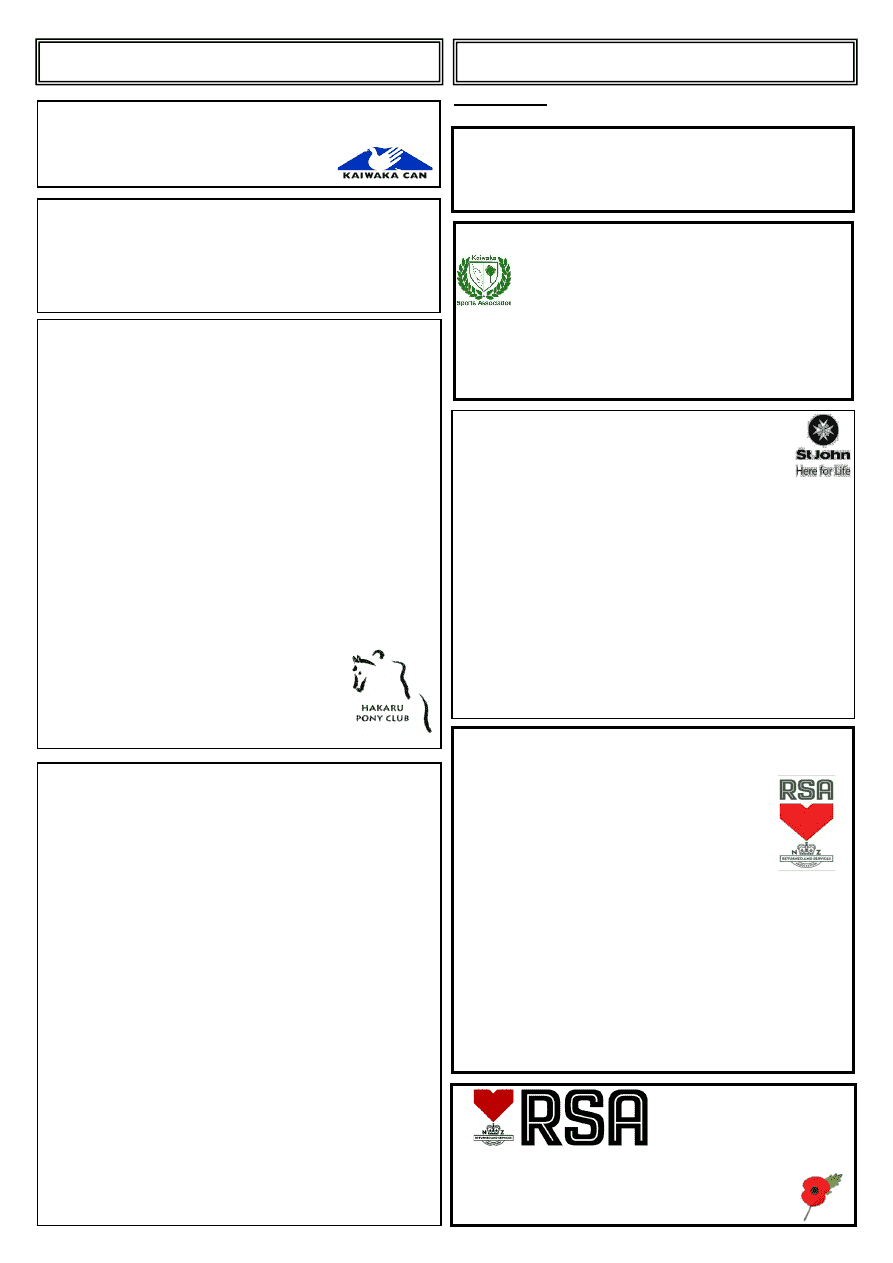 www.kaiwaka.co.nz 
Kaiwaka Bugle - 20 April 2021 
Page 3 
TE POUNGA MARAE 
ANNUAL GENERAL MEETING 
 to be held on 15th May 2021,  
at Te Pounga Marae, Nathan Road, Kaiwaka 
Agenda includes election of offices/ trustees.  
Pearl Nathan, Secretary, Te Pounga Marae 
PUBLIC NOTICES 
CLASSIFIED 
KAIWAKA St. John Op Shop 
BIG thank you 
to all those who turned out on 
Saturday 9th April, in the rain, to our Garage Sale. 
Winner of the 'Jar of Lollies' was Karen Stewart who was 
1 away from the total 57. 
We will be having another Garage Sale soon to clear out 
some more. For now, we are unable to take in any used 
furniture.  
Needed:  Glasses, Kitchen utensils, Bric Brac, Jewellery, 
Pillows and Blankets.   
We have First Aid Kits ready for the Winter Sports 
Season.  Pop on in and inquire. 
Don't forget to come stock up on Books and Puzzles for 
the Holidays. 
Dianne and the Team 
HOURS: Tuesday – Friday 10am to 3pm;  Saturday 10am – 2pm 
PHONE: Shop  4312650  
1919SH1, Kaiwaka 
FOR  SALE: PINE CONES, for sale, $5 & $10 bags. 
Ph: 09 4312040 
ANZAC DAY
HAKARU & DISTRICTS 
MEMORIAL RSA (INC) 
SEE PAGE 5 FOR ANZAC SERVICE DETAILS 
SUNDAY 25 APRIL 
First notice FREE  for Classified or Public Notices - 
less  than  30  words  -  then  charged  as  per  advertised  
($4).  This  includes  AGM  and  meeting  notices,  FOR 
SALE, WANTED, FOR RENT. ~ Kaiwaka Bugle 
HAKARU & DISTRICTS  
MEMORIAL RSA INC 
Annual General Meeting 
Please take note the Annual General Meeting 
of the Association will be held at the 
clubrooms, 
733 Settlement Rd, Hakaru 
on Sunday 16th May 2021 
BUSINESS: 
1: Receive Apologies. 
2: Confirm Minutes of the previous year's AGM. 
3: Presentation of Annual Reports and Accounts 
4: Election of Executive and Committee 
5: Remits/Notices of Motion 
6: General Business 
Copies of Remits/Notices of motion to be presented at the 
Clubrooms at the AGM will be available at the Clubrooms 
from 1st May 2021 
Martin Edinborough, Secretary 
KAIWAKA SPORTS ASSOCIATION 
GENERAL MEETING 
Wednesday 28 April, 7pm. 
Kawaka Sports Complex 
All welcome 
The KSA committee are wishing to fill the following 
positions: Secretary; Booking Officer; Head of Bar, 
Social Media Updates 
Please email kaiwakasportsassn@gmail.com  
For more information 
OTAMATEA KAIPARA COMMUNITY 
SERVICES are HOSTING a COMMUNITY 
LUNCH in MANGAWHAI 
WHEN: 
Every  month,  on  the  second 
Thursday, next one is on May 13th, 2021 
WHAT:  A two course seated and served lunch, 
for KAIPARA residents 
WHERE:  Mangawhai Community Hall, Fagan 
Place, Mangawhai Heads. 
WHO:  Anyone in the Community is welcome, 
(although we are focusing on our more Senior citizens)
CATERING  by  A  to  Z  (Alaina  Samson  and 
team) Experienced, Trusted and DELICIOUS 
WHY: 
A community gathering and opportunity to 
meet and chat. 
TRANSPORT AVAILABLE 
OUR CAPACITY IS 70 PEOPLE. 
(Cup  of  tea  available 
from 12pm, eating at 12.30pm) 
PLEASE  CALL  Otamatea  Kaipara  Community 
Services at 09 4319 080 for first time registration 
Or PAULINE WILSON at 021 2510225 
People who attended last time will be called to check if 
you  wish  to  attend  this  month's  lunch,  three  or  four 
days before the day. Thank you  
HAKARU PONY CLUB INC 
ANNUAL GENERAL MEETING 
Hello  members,  I  hereby  give  notice  to  all  current 
financial members that the Hakaru Pony Club Inc 
AGM meeting will take place on Monday 3rd May 
2021, 6.30pm at Three Furlongs, Kaiwaka. 
It is beneficial that members 18 years and over attend as 
you all have voting rights at the meeting. 
We must elect our officers for the 2021/2022 season, they 
are  President  –  Vice  President  –  Secretary  –  Treasurer  – 
Head  Coach  –  Fundraising/Grants  Officer  –  BBQ  & 
Catering – Uniform Person – Grounds & Equipment 
Person – Event Secretary – Rider Rep – District delegates 
–  Adult  Ride  Rep  –  Database  Coordinator  –  at  least  7 
committee members. 
The  pony  club  is  run  on  a  voluntary  basis  by  the 
membership  –  parents  and  adults  –  and  all  members 
should  be  able  to  contribute  in  some  way  to  this.  If  you 
would  like  to  put  forward  for  nomination  for  a  position 
above, 
please 
email 
Denise 
@ 
hakarupcpres@gmail.com 
This season has been a great season with lots 
on  new  keen  members  and  club  needs 
everybody's support.  
Also,  a  huge  thank  you  to  the  current 
committee and coaches. 
KAIWAKA  CAN 
AGM  on Wednesday 21st April, 5.30pm 
Archie Bull Hall, Kaiwaka 
All welcome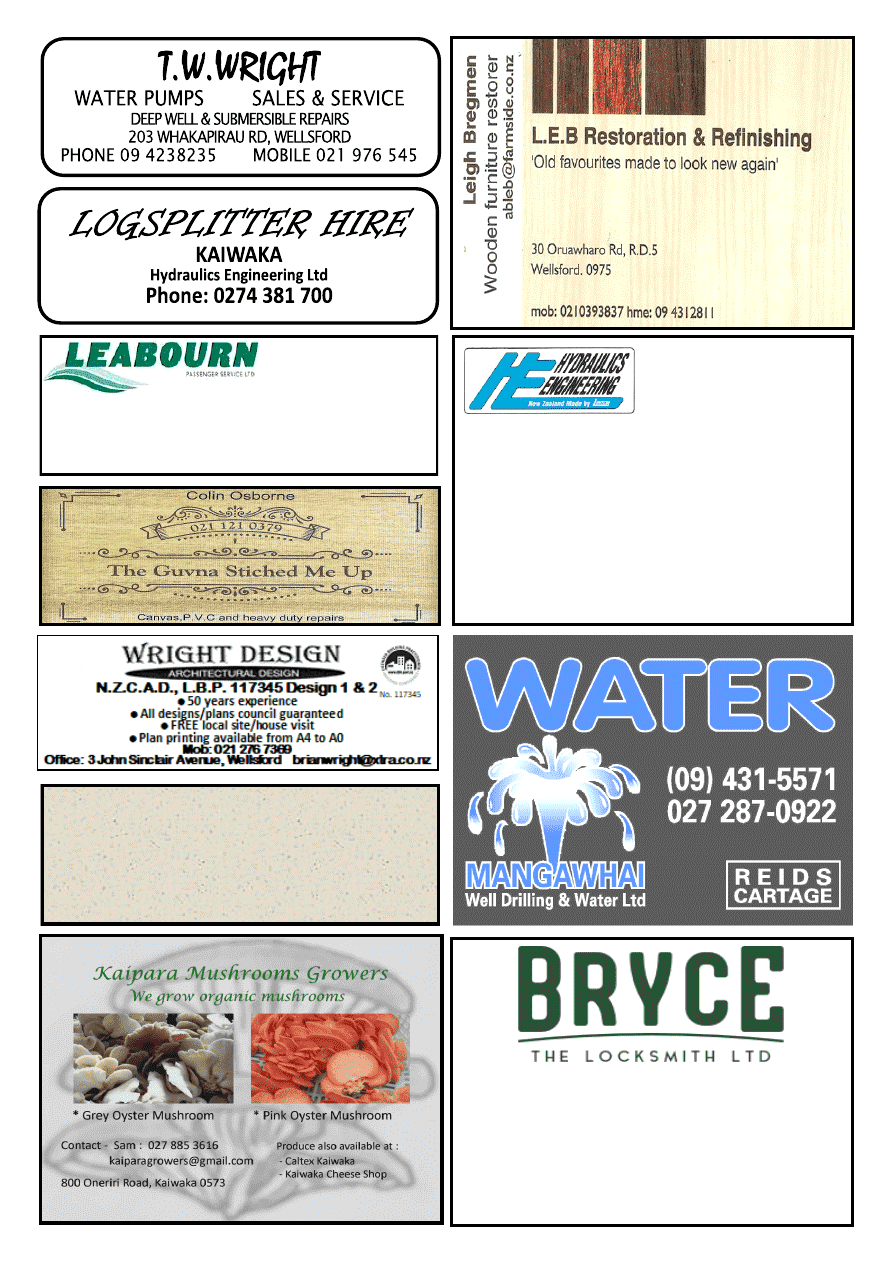 www.kaiwaka.co.nz 
Kaiwaka Bugle - 20 April 2021 
Page 4 
Bryce Frewin 
Ph: 021 850 983 
Kaipara Based Master Locksmith 
bryce@brycethelocksmith.co.nz 
www.brycethelocksmith.co.nz 
Hydraulics  
Engineering Ltd 
Kaiwaka 
Sales - Service - Parts - 
Hire - Manufacture 
Service Contractors & Industrial Equipment: 
Rams, Pumps, Valves 
Logsplitter Hire, Manufacturer, Sales 
Dennis Linton 
Lot 2 / 161 Ranganui Road, RD2, Kaiwaka, 0573, New Zealand 
Mobile: 0274 381 700 
Email: hydraulicsengineering@xtra.co.nz 
Counsellor and Registered Psychotherapist 
Offers Supervision 
ACC Sensitive Claims 
Susan Matheson      MNZAC 
Dip. Psychosynthesis Counselling and Psychotherapy 
Phone 09 431 2996                                     Mobile 027 605 2427 
Passenger Service
Car & Van Hire   Bus & Coach Charters 
Airport Transfers    
Phone (09) 4237416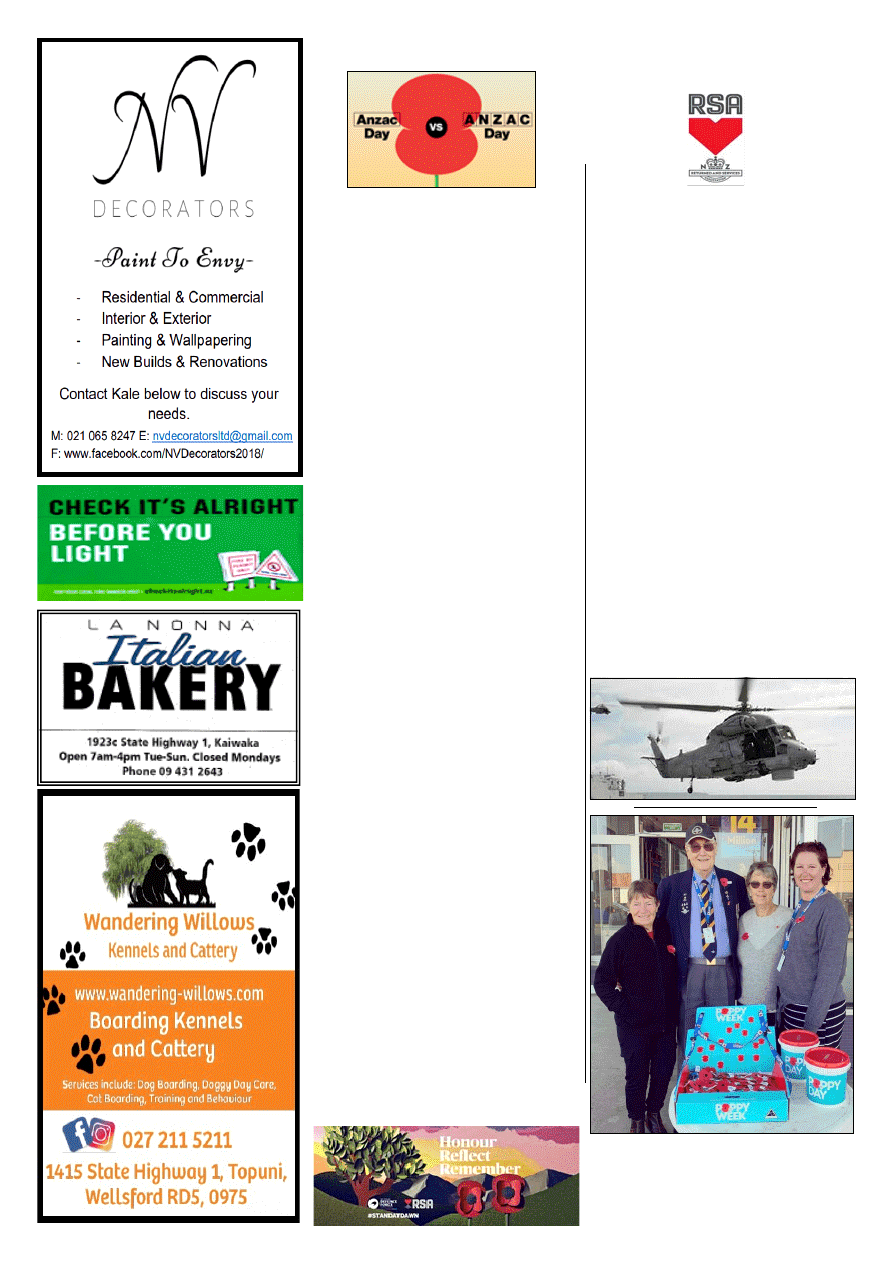 www.kaiwaka.co.nz 
Kaiwaka Bugle - 20 April 2021 
Page 5 
NZ DEFENCE FORCE: 
At  this  time  of  year,  there's  often 
confusion  about  which  form  of  the 
term Anzac to use. 
You should use the term 'ANZAC' with 
all  capitals  only  when  referring 
specifically  to  the  Australian  and  New 
Zealand  Army  Corps,  which  was  the 
name given to the military formation to 
which  the  New  Zealand  troops  at 
Gallipoli were attached. 
For  all  other  uses  'Anzac'  should  be 
used,  including  Anzac  Day  and 
reference to the "Anzacs". 
Historically,  ANZAC  (Australian  and 
New  Zealand  Army  Corps)  was  an 
acronym  devised  by  Major  General 
William  Birdwood's  staff  in  Cairo  in 
early  1915.  It  was  used  for  registering 
correspondence for the new corps and a 
rubber  stamp  was  cut  using  the  letters 
A.& N.Z.A.C. 
After  the  landing  at  Gallipoli,  General 
Birdwood  requested  that  the  position 
held  by  the  Australians  and  New 
Zealanders  on  the  peninsula  be  called 
'Anzac'  to  distinguish  it  from  the 
British  position  at  Helles.  Permission 
was also sought to name the little bay, 
where  the  majority  of  the  corps  had 
come  ashore  on  25  April  1915,  as 
'Anzac Cove'. 
Find  out  more  about  the  use  of  the 
word  'Anzac'  guidelines  on  the 
Ministry  for  Culture  and  Heritage  site 
here: https://bit.ly/anzacguidelines 
     ……………………………. 
Honour. Reflect. Remember. 
This Anzac Day, 25 April 2021 we are 
encouraging  people  -  no  matter  their 
circumstance  or  location  -  to  honour 
reflect and remember. 
We  encourage  you  to  commemorate 
the  spirit  of  Anzac  Day  in  a  way  that 
suits  you,  your  whānau  and  your 
community: 

Attend  an  Anzac  Day  service  on 
Sunday, 25 April. 

 Display  your  community  spirit  by 
decorating  your  letterbox,  fence  or 
front window with poppies, wreaths or 
Anzac-related artwork. 

 Make  some  Anzac  biscuits  to  enjoy 
while  researching  your  family  military 
history. 

 Download  our  resources  for  school 
or the school holidays. 
For 
more 
information 
visit: 
nzdf.mil.nz/anzac-day 
ANZAC 2021 
POPPY  DAY,  16 April, poppy sellers 
from  the  Hakaru  &  Districts  Memorial 
RSA  -  Sheryl  Botica,  Neville  Andrew, 
Karen  Stewart  and  Lis  Reid,  outside 
Four Square Kaiwaka 
Hakaru & Districts Memorial RSA. 
Lest We Forget 
ANZAC DAY 
SUNDAY25 APRIL 2021 
PARADE DETAILS 
Assemble ...................... 1010 Hrs 
Parade Fall In ....1020 Hrs 
March On ...... 1030 Hrs 
Laying of Wreaths 
Lowering of Flag - Last Post 
Prayer for the fallen, 1 minute 
silence 
Raising of Flag – Reveille 
National Anthems 
Rolls of Honour 
Ode 
Prayer for Anzac Day 
March off – Parade Fall Out 
Light lunch served – Bar open 
If members / visitors would like to bring a 
plate of finger-food it would be much 
appreciated 
Everyone is welcome as guests of the   
Hakaru RSA President and Committee. 
Please sign the sign-in sheet if you are not 
a member. 
Two Seasprite Helicopters from No 6 
Squadron will carry out a fly-by of 
Hakaru RSA on ANZAC Day at 1030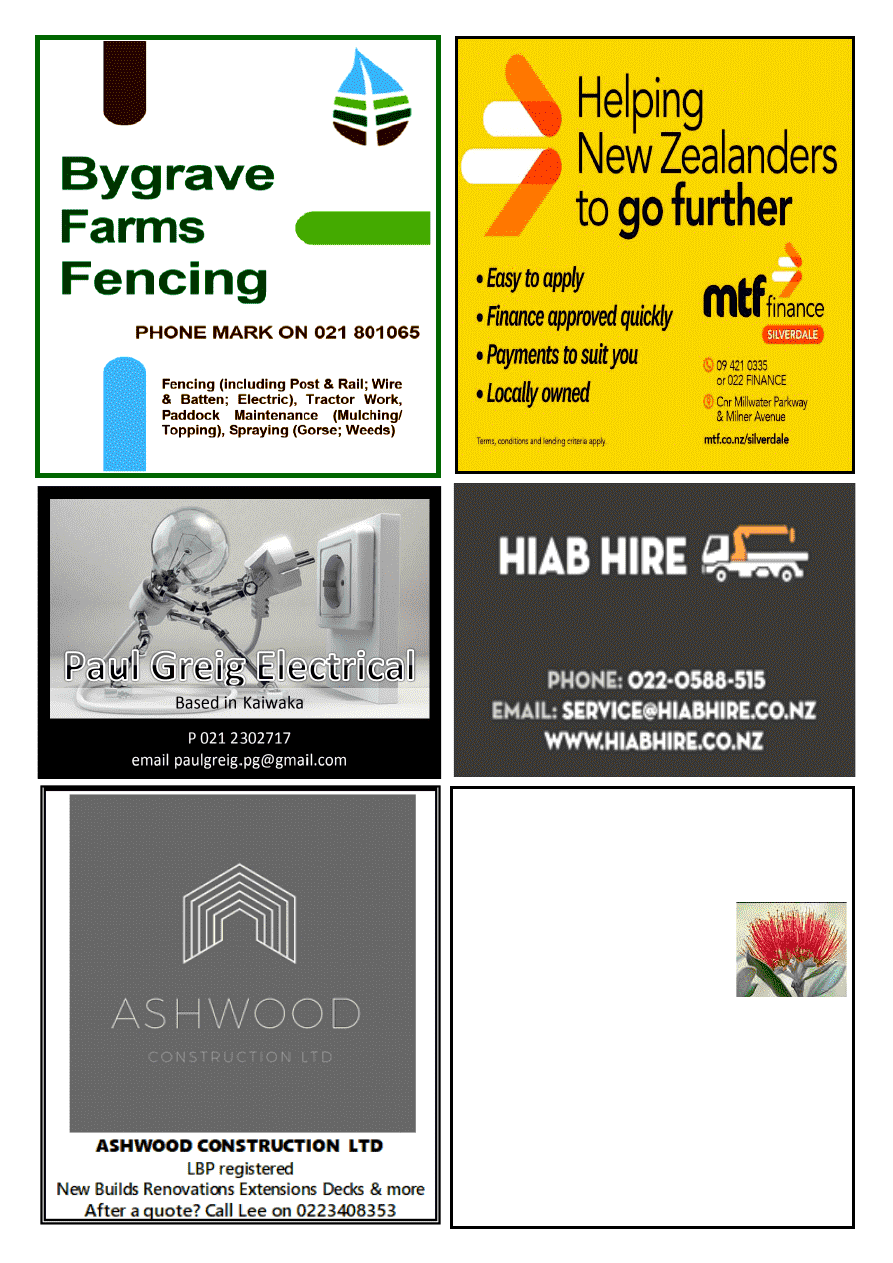 www.kaiwaka.co.nz 
Kaiwaka Bugle - 20 April 2021 
Page 6 
KAIPARA FLOORING CO 
FULLY MOBILE FLOORING SHOWROOM 
SERVICING THE KAIPARA 
PH (09) 946 9886 or  
CHRISTINE ON 021 515 415 or 
HOWARD 021 2696250 
IN HOUSE MEASURE, QUOTE AND 
CONSULTATION SERVICE 
FOR THE SUPPLY AND INSTALLATION OF 
CARPET, VINYL, VINYL PLANKING, HARD 
FLOORING, GARAGE CARPET, LAMINATE 
FLOORING AND MORE. 
EMAIL kaiparaflooring@gmail.com  
WEBSITE www.kaiparaflooring.co.nz 
Qcard 6 month interest free terms or 12 – 24 
month finance options available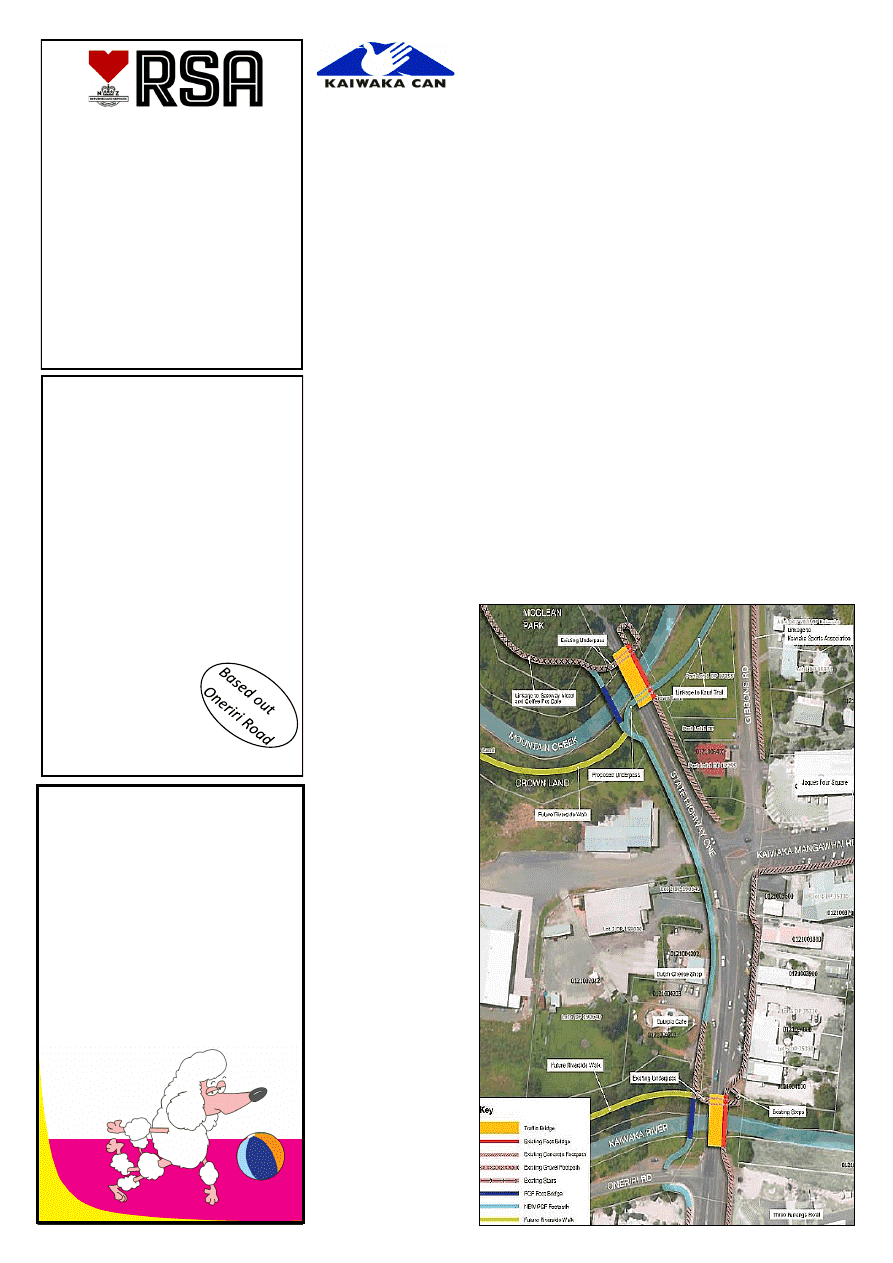 www.kaiwaka.co.nz 
Kaiwaka Bugle - 20 April 2021 
Page 7 
HAKARU & DISTRICTS 
MEMORIAL RSA (INC)
Members & guests are invited to 
come along and enjoy our hospitality. 
New members welcome. 
Meals are served on Thursday and 
Friday nights from 6.30pm. 
Order from Blackboard Menu  
For more information please phone 
Bill on 431 2092  
HODGETTS 
CONTRACTING
Digger Work   
Driveways 
House Sites   
Dams  
Drains, etc
Also available for HIRE 
3 ton Vib Roller  
Heavy Duty Tow  
Waterblaster      
Lazer Level
Phone Mark  
4312877 
027 447 8554 
Hot Diggity Dog  
DOG GROOMING  
KAIWAKA 
Spring is in the hair. 
Professional Dog Groomer  
at affordable prices.
www.doggroomingkaiwaka.co.nz 
call Pam 094312143 or text 
0273335380 for bookings 
It's  full  steam  ahead  with  tenders 
going  out 
shortly for construction of 
the new Kaiwaka footbridges. 
We  are  so  excited  to  see  this  project 
come  to  fruition  for  the  community, 
visitors,  and  travellers.  We  tip  our  hat 
to  Derek  Christensen,  who  planted  the 
seed for this project many moons ago. It 
just  goes  to  show,  if  there  is  a  will, 
there  truly  is  a  way.  Thanks  again  for 
the valuable contributions you've  made 
to our wonderful town Derek. 
A considered and (e)utopian submission 
for the Long-Term Plan 2021-2031 was 
made  to  Kaipara  District  at  the  end  of 
March,  and  on  April  21st  we'll  be 
presenting  it  to  council.  Contained 
within  the  submission  is  a  summarised 
overview of the team's vision and focus 
to  see  McClean  Park  turned  into  a 
thriving  community  hub.  Here's  a 
snippet of the submission: 
...The  currently  approved  footbridges 
project  will  bring  important  safety 
benefits to Kaiwaka residents, and will 
also  open  up  the  potential  to  improve 
linking of the spread-apart commercial 
areas strung along SH1. 
However,  as  planned  the  northern 
footbridge  will  deliver  pedestrians  to 
McClean  Park,  an  area  which  is 
presently badly run-down... Immediate 
priority  should  be  given  to  clean  up 
this  park  as  it  is  a 
major  potential  asset 
to the community. 
Cleaning  up  McClean 
Park  would  promote 
its  safe  use  as  a 
stopping / rest area for 
passing  motorists  and 
would  provide  for  the 
safety  and  security  of 
pedestrians  using  the 
footbridge  to  reach  a 
picnic area by the edge 
of 
the 
estuary. 
Connecting  the  town 
to 
the 
Kaipara 
waterway  will  provide 
great  advantage  to 
residents 
and 
to 
visitors  alike,  giving 
the  town  and  the  state 
highway  travellers  a 
waterside  picnic  rest 
area  and  a  venue 
where  kayakers  can 
access  the  waterway 
safely.  The  area  can 
provide parking spaces 
from  which  visitors 
can  access  the  town 
over 
the 
new 
footbridges  or  walking 
north  to  the  café  and 
beyond.  The  park  will 
be 
an 
open 
recreational  and  rest 
area  for  the  workers 
associated  with  the 
newly 
zoned 
commercial 
areas 
north  of  the  bridge. 
With 
enhancement, 
this  area  could  also 
potentially  provide  an excellent  future 
base  for  the  intended  information 
centre  at  Kaiwaka:  the  gateway  to 
Northland. 
A  special  thank  you  to  everyone  who 
rallied  over  the  last  few  weeks  putting 
together a sharp submission. We have a 
fantastic  team  and  look  forward  to 
memory-making  moments  mucking  in 
and  getting  to  know  others  in  the 
community.  Working  bees  are  looking 
like  they'll  be  in  the  calendar  sooner 
than expected so keep your eyes peeled 
and  check  our  Facebook  page  for 
updates.  And  a  big  shout  out  to  each 
and  every  one  of  our  volunteers  who 
generously  give  their  time  working 
towards  the  community  vision  for  a 
safe,  connected  and  vibrant  town. 
Legends. 
The  Annual  General  Meeting  is  on  the 
21st of April and to be eligible to vote, 
members  need  to  have  paid  the  $10 
annual fee. The bank account is ASB 12
-3095-0006555-00-  please  use  your 
name as a reference. 
If  you've  got  questions,  please  contact 
David Wright, Interim Chairman 
pukepunga@xtra.co.nz 
Next meeting: AGM 21st April 2021 
Archie Bull Hall, 5.30pm 
A (E)UTOPIAN VISION FOR 
KAIWAKA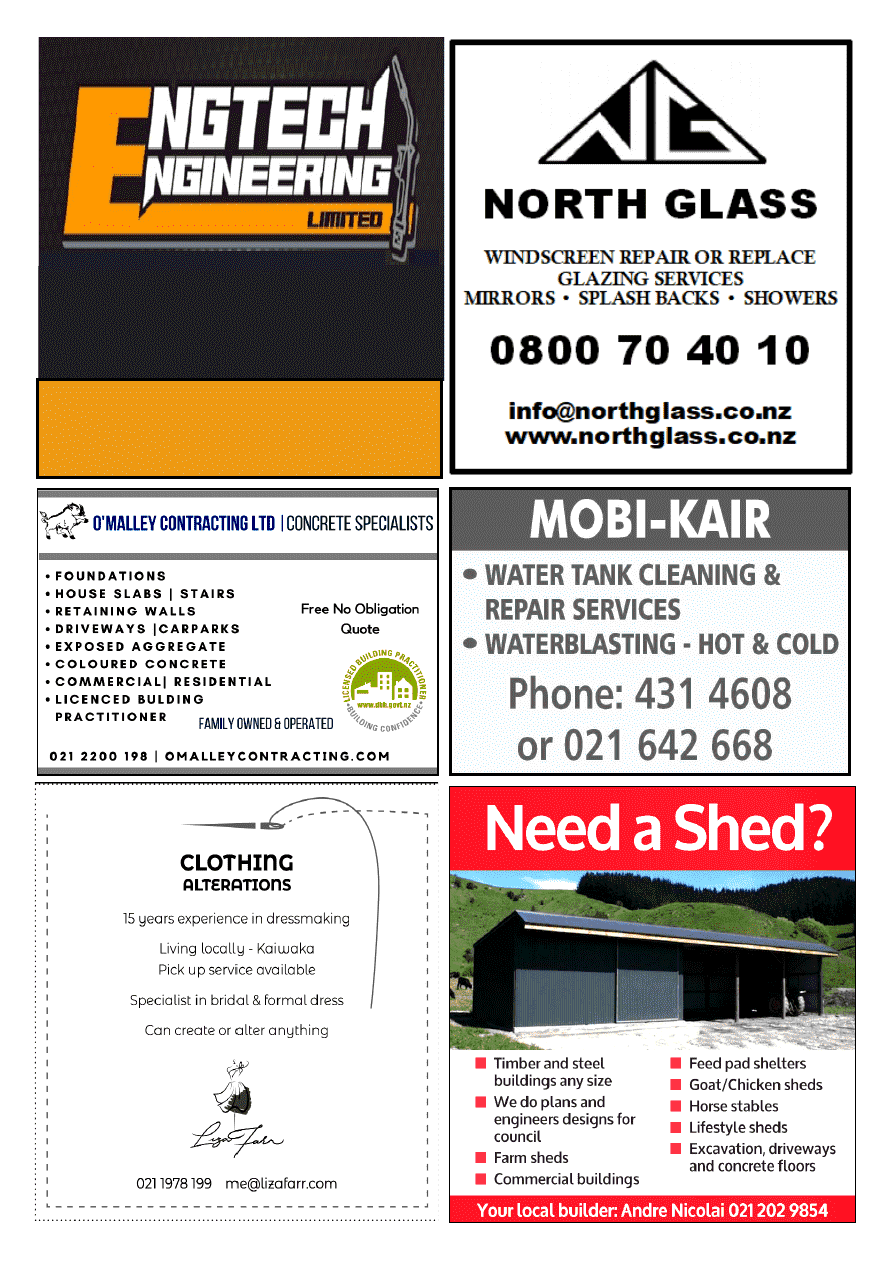 www.kaiwaka.co.nz 
Kaiwaka Bugle - 20 April 2021 
Page 8 
- Mobile Engineering Services - 
- Specialised Welding and Fabricating - 
- Media Blasting and Painting -  
- New CNC Profile Cutting Machine - 
PH: 021 415 259 or 09 973 3440 
648 Kaiwaka-Mangawhai Rd, Hakaru 
www.engtechengineering.nz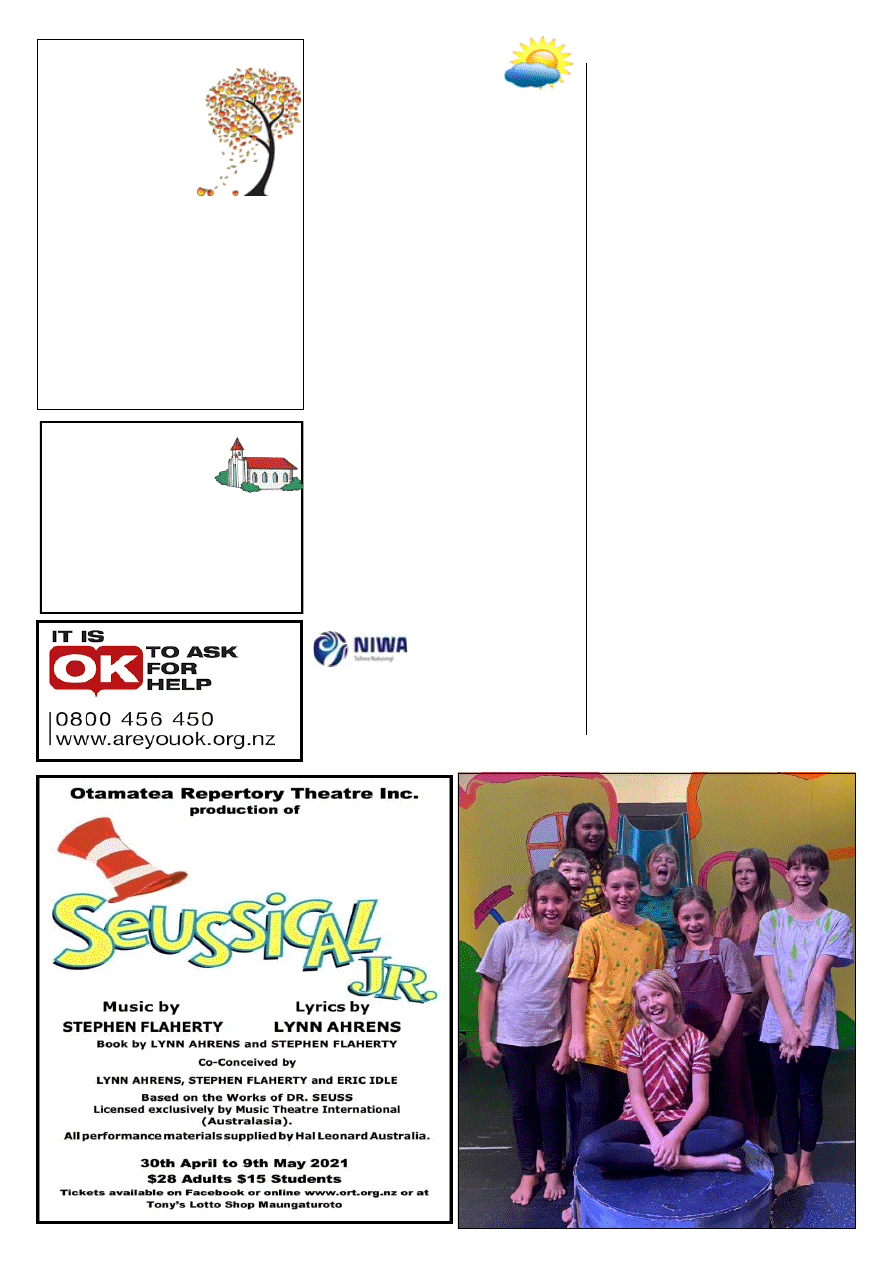 www.kaiwaka.co.nz 
Kaiwaka Bugle - 20 April 2021 
Page 9 
ST PAUL'S  
ANGLICAN  
SUNDAY SERVICES
First Sunday 9am Holy Communion 
Third Sunday 9am Family Service 
St Pauls Church: Kaiwaka-Mangawhai Rd. 
Priest in Charge Rev. W Thornton Ph 431 4122 
www.mangawhaianglican.org.nz
Autumn's Gift 
Go with the flow 
see the seasons weep 
For all that is true 
and all that is deep 
May Autumn be a time of Harvest 
in the truest sense 
When the apples fall from the tree 
ripe for the picking for you and me 
Nature's gift for us all to see 
How good is the Earth and  
its Majesty.   
~ Susan 
OTAMATEA 
REPERTORY 
"Oh,  the  thinks  you  can  think", 
when 
Dr 
Seuss' 
best-loved 
characters collide and cavort in an 
unforgettable musical caper! 
Horton the Elephant, the Cat in the Hat 
and  all  of  your  favourite  Dr  Seuss 
characters  spring  to  life  onstage 
in  Seussical  JR.,  a  fantastical  musical 
extravaganza  featuring  our  talented 
youngsters. 
Transporting audiences from the Jungle 
of  Nool  to  the  Circus  McGurkus,  the 
Cat  in  the  Hat  narrates  the  story  of 
Horton  the  Elephant,  who  discovers  a 
speck  of  dust  containing  tiny  people 
called  the  Whos.  Horton  must  protect 
the  Whos  from  a  world  of  naysayers 
and dangers, and he must also guard an 
abandoned  egg  that's  been  left  in 
his care by the irresponsible Mayzie La 
Bird.    Although  Horton  faces  ridicule, 
danger and a trial, the intrepid Gertrude 
McFuzz 
never 
loses 
faith 
in 
him.    Ultimately,  the  powers  of 
friendship, 
loyalty, 
family 
and 
community  are  challenged  and  emerge 
triumphant! 
Tickets  are  now  available  -  book  at 
Tony's Lotto Shop in Maungaturoto 
or online at www.ort.org.nz 
Friday April 30, 7pm 
Saturday May 1, 2pm and 6pm 
Sunday May 2, 2pm 
Friday May 7, 7pm 
Saturday May 8, 2pm and 6pm 
Sunday May 9, 2pm 
Adults $28 and students $15 
Photo  below:  A  very  happy  bunch  of  Jungle 
Citizens  feature  in  ORT's  upcoming  youth 
production 'Seussical Jnr'. 
Rear: Whetu Kingi. Back row, left to right: Jesse 
Richards,  Vanessa  Perry,  Jorja  Gibson.  Front 
row,  left  to  right:  Maddie  Schultz,  Tayla 
Harris,Naomi Gruener, Lili  Gallo, seated: Kira 
Barlow 
KAIWAKA 
WEATHER 
Apologies  for  no  weather  in  the  last 
Bugle.  I was to type it up but went to 
hospital unexpectedly.   
Well,  here  it  is  the  first  month  of 
Autumn.  The weather was mostly fine 
up till about 20th March then turned to 
an  Easterly  direction.    Rather  cold  as 
well.    The  rest  of  the  month  was  hot, 
then cloudy and showery. Our weather 
now is more Autumn like, even though 
we are moving into Winter now.  
Well,  for  March  2021  we  had  40mm 
and for March 2020 we had 82mm.  
We had rain on 9 days in March 2021 
and  in  March  2020  we  had  rain  on  11 
days.  
For  the  first  three  months  of  2021  we 
had  210mm  of  rain  and  for  2020  we 
had 134mm.  
Our driest first three months since 1987 
was  1987,  with  69mm  and  the  wettest 
first  three  months  was  1999  with 
615mm.    The traffic past our place is 
very different to March last year. With 
Covid,  there  was  hardly  a  car  on  the 
road but this year there is hardly a quiet 
time. 
 As  I  get  this  late  report  ready,  the 
weather  has  changed  considerably  but 
more about that in the next report.  As 
we came past the Brynderwyn waterfall 
it  was  merely  a  trickle  -  not  a  good 
sign.  
Cheers and take care out there. ~ Bev 
Of the six main centres in March 2021, 
Auckland 
was 
the 
warmest, 
Christchurch was the sunniest, Dunedin 
was  the  coolest  and  driest,  and 
Hamilton  was  the  wettest  and  least 
sunny.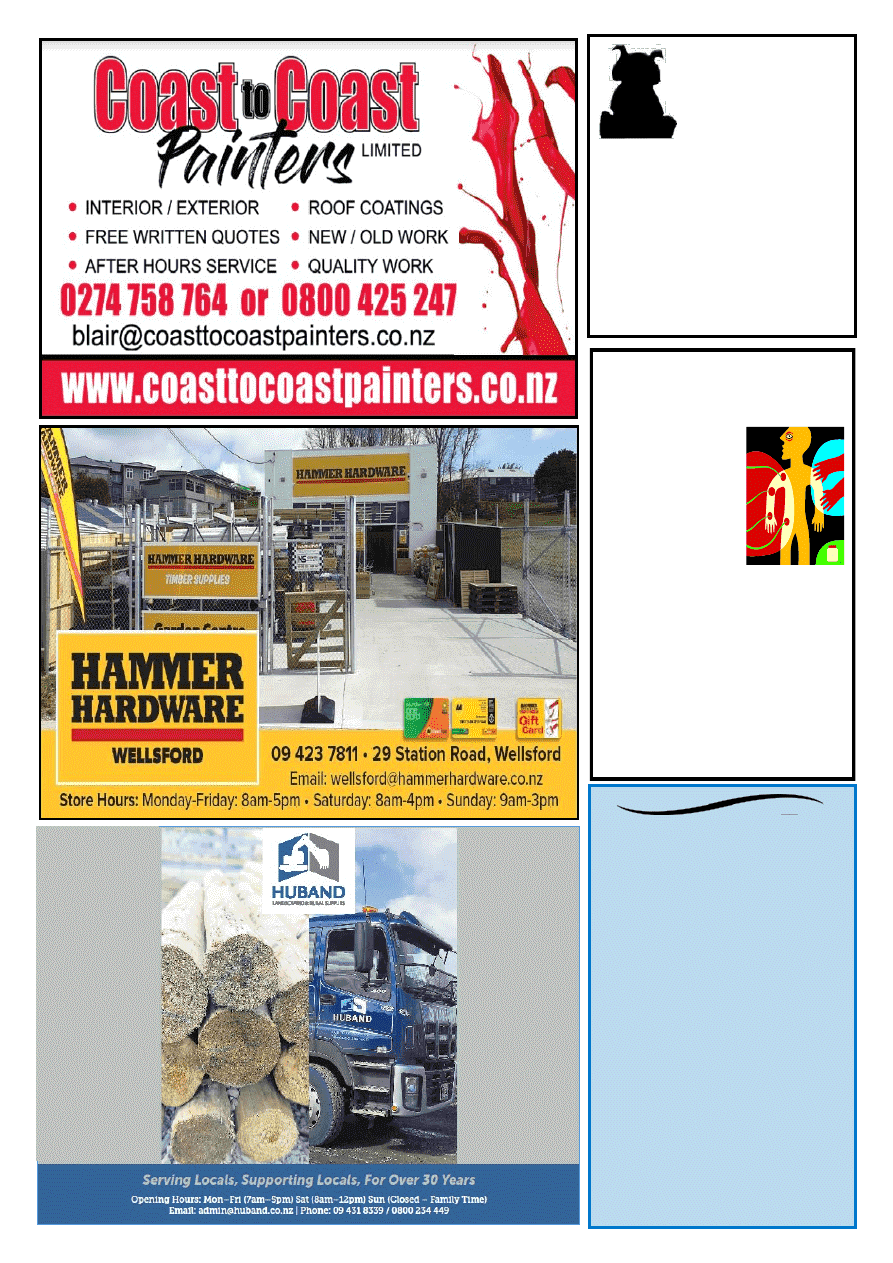 www.kaiwaka.co.nz 
Kaiwaka Bugle - 20 April 2021 
Page 10 
OWEN STEVENS 
Osteo Therapist
For careful 
adjustments to 
bones and joints 
Treatment for 
humans and their 
pets 
Clinics: 
Kate's Place, Kaiwaka: 
Last Friday of month 
For bookings: 
9.00am-5.00pm  
Phone 
09 4312661 
Or phone Owen  
09 4317123 anytime 
HAVEN HOME  
MAINTENANCE  
SERVICES 
Helping transform your  
haven into your home 
Interior:  
Kitset Assembly 
Wardrobe Furniture Install 
Picture & Mirror Mounted 
Minor Carpentry Works 
Exterior:  
Landscape Solutions 
Fence Build & Repair 
Low level Decks 
Gutter clearing & Repairs 
M: 021 1145709  
Kaipara  
Dog Training 
Club 
Mangawhai Domain,  
Moir Street 
Every Wednesday from 
5.30pm 
Please contact the 
Secretary 
for further information 
kaiparadogtrainingclub@gmail.com
WATER TANKS: 
Aqua & Baileys 
Brands 
DRAINAGE & 
SEPTICS: 
Land Drainage 
Urban Rural 
Drainage 
Water Pipelines 
Culverts 
Septic Systems 
(RX Plastics & 
Biorock) 
SITEWORKS: 
Retaining Walls 
Piling 
Driveways 
Carparks 
Landscaping Supplies: 
Waikato Screen Topsoil 
Bark 
Woodchip 
Mill Bark 
Post Peelings 
Compost 
Crushed Shell 
Topsoil 
Limestone Chip 
Daltons Garden Mix 
Aggregate 
Gap: 20,40.65 
Riverstone 
Sand 
Belt Dust 
40/20 Drainage Metal 
Builders Mix 
 Cement 
Timber/Fencing Supplies: 
Rails, Posts  
Stays, Strainers 
Fence Battens 
Palings 
Stakes 
Fencing Wire 
Farm Gates & hardware 
Drainage: 
PVC Fittings 
Alkathene 
Draincoil 
www.kaiwaka.co.nz 
Kaiwaka Bugle - 20 April 2021 
Page 11 
KAIWAKA SPORTS ASSN
GENERAL MEETING 
Wednesday 28 April, 7pm. 
Kawaka Sports Complex 
All welcome 
KSA  clubs,  please  ensure  there  is  a 
representative at this meeting. 
The KSA committee are wishing to fill 
the following positions: 
Secretary;  Booking  Officer;  Head  of 
Bar, Social Media Updates 
For  more  information  please  email  
kaiwakasportsassn@gmail.com  
KAIWAKA Touch Module 2021  
A  BIG  congrats  to  the  winners  -  1st 
Wolves,  2nd  Spartans,  3rd  Kaipara 
Crusaders,  and  thank  you  to  all  the 
players who took part over the 6 weeks! 
2021 Touch Module is complete! 
We  had  a  few  delays  in  the  beginning 
due  to  Covid  restrictions  and  some 
stormy  weather,  but  we  got  there 
eventually!  
A  big  thank  you  to  everyone  involved 
behind the scenes - Ngaroimata, Renei, 
Tracey,  Gerrin,  Matua,  Zac,  Llew, 
Grace,  Mike,  Chantelle,  Alicia  and 
Jean.  A  big  thank  you  to  the  3 
FURLONGS  BAR  AND  GRILL  for 
our weekly spot prize vouchers!  
Lastly  and  most  importantly,  a 
MASSIVE  thank  you  to  Taira  Phillips 
for organizing this event, for running it 
every  week,  as  well  as  playing  in  a 
team.  Your  time  and  effort  are  very 
much appreciated. Thank you. 
KAIWAKA ATHLETIC CLUB 
This  club,  (under  the  umbrella  of  the 
Kaiwaka Sports Assn) which runs on a 
Wednesday  night  at  Otamatea  has 
completed  another  successful  season, 
albeit  with  fewer  numbers.  However, 
we  did  have  one  athlete,  Jacob, 
compete  creditably  at  the  Northland 
Children's'  champs.  We  also  had 
several  athletes  improve  their  personal 
bests through the year. We are grateful 
for the use of the High School grounds 
and  the track  facilities  provided  by  the 
groundsman  there.  We  also  appreciate 
the support of the parents who help on 
the night. 
We cater for youngsters of all ages and 
will let you know when we plan to start 
next season ~ usually early November. 
~ Eileen 
JUNIOR RUGBY COACHING 
For  all  coaches  and  anyone  interested 
the  registration  form  is  at  http://
www.taniwha.co.nz/Coaching/Small-
Blacks-2021  for  the  Small  Blacks 
course  on  Wednesday  21st  April,  6pm 
at Kaiwaka Sports Association. 
OTAMATEA 
HAWKS 
2021 
South Zone Rugby Competition 
 24April: Otamatea vs Mangakahia  
 1May: Otamatea vs Dargaville OB  
 8May: Southern vs Otamatea  
 15 May: Otamatea vsWhangaruru     
22 May: Otamatea vs Mid Western  
29 May: Pipiwai vs Otamatea  
All games at 2:30pm 
KAIPARA BASKETBALL  
Our  Year  7/8  Competition  is  under 
way. 
Results  can  be  seen  on  the  Facebook 
page.  We  are  pleased to  announce that 
we  have  7  teams  in  the  competition:  2 
from Otamatea, 2 from Ruawai, 2 from 
Mangawhai  beach  and  one  from 
Matakohe. 
Kalem  Tana  our  Kaipara  Basketball 
development  officer  has  recently  run 
two  successful  coaching  clinics.  More 
to come in the future. 
Three  girls  from  Kaipara  teamed  up 
with  Hibiscus  Coast  Under  11  Girls 
team,  to  play  at  the  Mel Young  Easter 
Classic  in  Tauranga,  coming  fourth  in 
their  competition.  All  three  girls  have 
strong links to Kaiwaka, pictured below
-Harper  Dowson,  Izzy  Paikea,  Tui 
Nathan-Jenkins. 
KAIWAKA SPORTS ASSN NEWS 
Contact email: kaiwakasportsassn@gmail.com 
Website: www.kaiwakasport.co.nz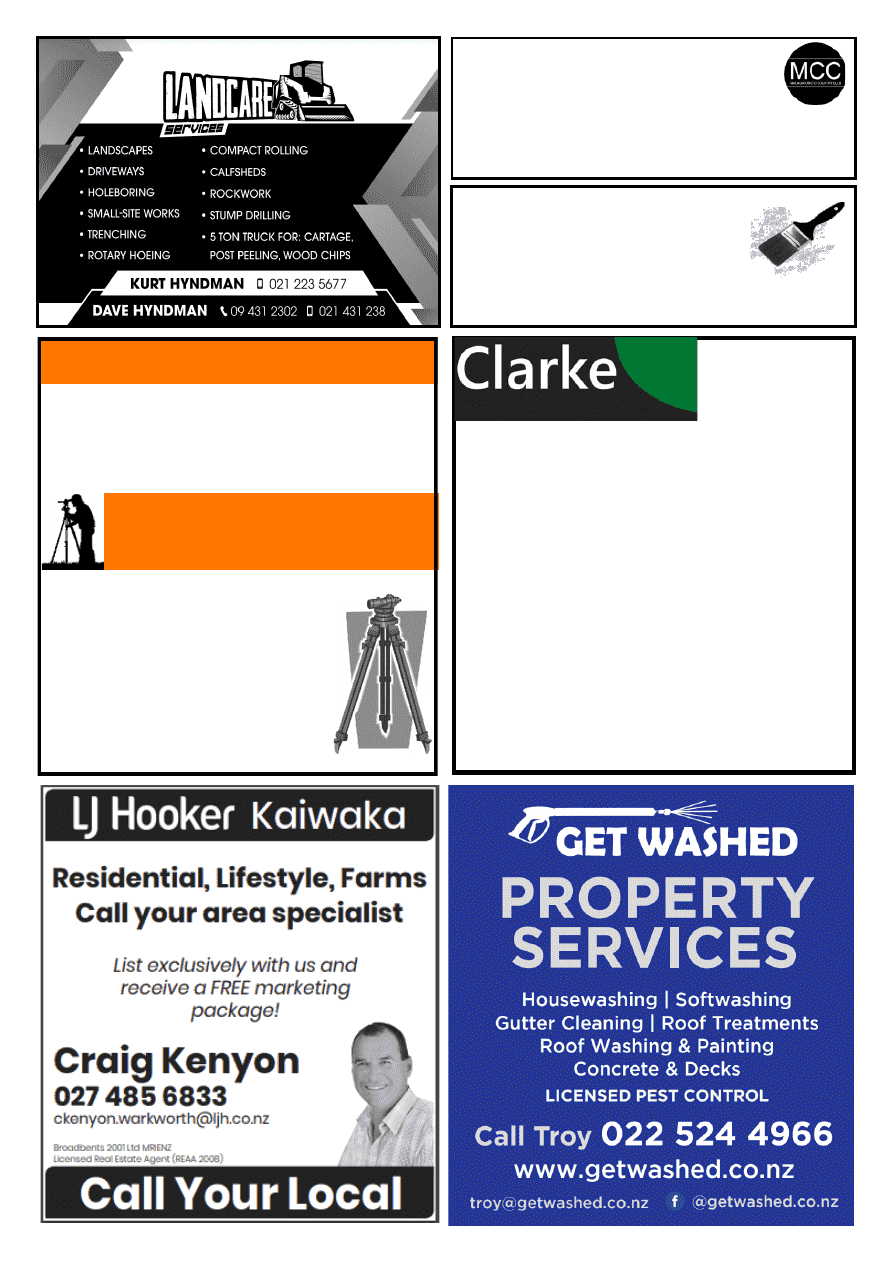 www.kaiwaka.co.nz 
Kaiwaka Bugle - 20 April 2021 
Page 12 
Drainage & Earthmoving 
nigel@clarkedrainage.nz 
027 2233 185 
Registered Drainlayer                 All Types of Earthworks  
> All Residential & Commercial Work  > House Sites 
> Septic System Design & Install 
> Footings & Drilling to 10m 
> Sewer Connections 
> Dams 
> Water Tank Installation 
> Roading & Races 
> Farm Work 
THE ONE STOP SHOP  
Phone Nigel for an Obligation Free Quote  
SURVEYORS 
SUBDIVISIONS 
HOUSE SITE SURVEYS 
CIVIL ENGINEERING 
WASTEWATER DESIGNS 
EXPERIENCED 
PROFESSIONAL 
INNOVATIVE 
Ph 09 431 5353 
0800 PACIFIC (0800 722 434) 
pacificcoastsurvey.com
Adam Booth - 027 415 5752 
Bsurv, Licensed Cadastral Surveyor
Surveying Kaipara since 1994 
DR PAINT
 Dave & Rhys 
 Painters
 02108742551 
0211200667   drpaintnz@gmail.com 
Maungaturoto Country Club 
MEMBERSHIPS & EVENTS 
contact: 0212010735 
E-mail: maungaturotocountryclub@gmail.com 
Their ORIENTEERING COUSE is now OPEN  
- see Facebook page for more information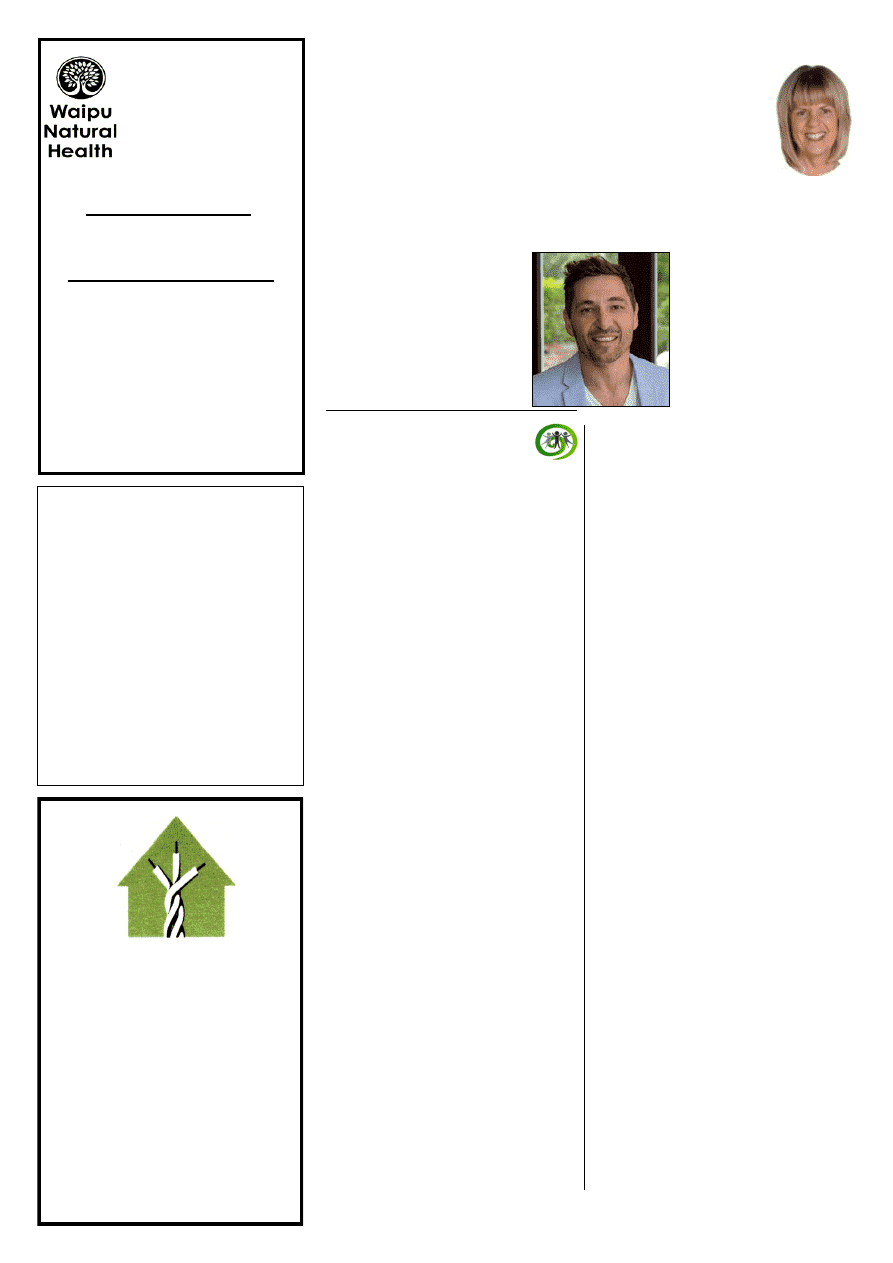 www.kaiwaka.co.nz 
Kaiwaka Bugle - 20 April 2021 
Page 13 
Reyahn  Leng 
Registered Electrician 
Local, honest and 
reliable. 
For your residential and 
light-commercial 
projects. 
022 314 1068 
3 Cove Road, Waipu 
(opposite the Pizza Barn
) 
094321325 
www.waipunaturalhealth.co.nz 
Clinical Nutritionist: 
Nutritional Checkups, Diets for 
Chronic Diseases,  
Food Sensitivities 
Naturopathic Physician: 
Ozone Therapy, Prolotherapy  
Reflexology, Craniosacral 
Therapy, Trauma Release 
Massage Therapy 
Counselling and Hypnotherapy 
Change Catalyst/ThetaHealer 
Affordable Children's Consults 
All therapists are fully qualified
LIBBY JONES – 
Member Northland District Health 
HAKARU HALL  
ACTIVITIES 

Monday:  Line Dancing 10-12pm  
Ph 4315160 

Tuesday & Thursday: Pilates 10am  
    Qualified Instructor Ph. 0220643965 

Wednesday:  Music Jam Session 7pm  
Dennis Ph. 0210628631 

Friday Morning: Available for HIRE  

Sunday: Canine Coaching  
Ph 0272365004 

Dance Energy  Week Days  
   Monday to Friday, Afternoon/Evening  
Ph. 0275610469 

Friday Morning: Available for HIRE 
Hall Bookings Karen  
4312090 or 0210467490 
THE FIRST 1000 DAYS 
Achieving mental and physical health 
is  a  lifelong  undertaking.  The  first 
1,000  days  of  a  person's life  – which 
stretches  from  conception  to  two 
years  is  the  most  critical  period  for 
growth  and  development  of  both  the 
brain and the body, and for determining 
our health outcomes as adults. The first 
three years have a direct impact on how 
children develop learning skills as well 
as 
social 
and 
emotional 
abilities,  including  emotional 
regulation and self-control. 
Nathan  Mikaere  Wallis,  a 
New  Zealand  neuroscientist 
and 
parenting 
educator, 
pictured  here,  recommends  to 
parents  for  the  first  1000  days 
of  their  child's  life.  "Drown 
those  toddlers  in  love, 
let  them  think  for 
themselves  and  don't 
stress." 
A  baby's  brain  wiring  is 
not  fully  connected  at 
birth.  It  changes  and 
develops in response to what's going on 
all 
around 
them. 
Day-to-day 
experiences like playing, being read to, 
learning, 
interacting 
and 
being 
responded  to  by  people 
help to develop the baby's 
brain. 
In  contrast  to  what  we 
used  to  believe,  our 
outcomes 
are 
not 
predetermined  just  by  our 
genes  and  it's  not  about 
learning 
alphabets, 
numbers or colours. It's about being in 
a 
safe, 
loving 
and 
interactive 
environment.  The  more  love  and 
positive  interaction  a  child  experiences 
in  the first  1000  days  of  life,  the  more 
developed and healthier their brain will 
be. 
Loving, 
consistent, 
positive 
relationships  also  help  protect  the 
baby's  brain  from  the  negative  effects 
of  chronic  or  toxic  stress,  which  is 
harmful to the baby's developing brain. 
With limited health dollars it is always 
a  challenge  to  decide  where  to  focus 
our resources. For  me  it  makes  sense 
to  put  energy  and  resources  into  the 
first  1000  days  by  supporting 
pregnant  women  with  good  nutrition, 
information,  healthy  environments, 
support  and  reducing  stress.  And  from 
there  to  focus  on  a  healthy  and 
nutritious environment for the baby and 
growing toddler, education and support 
to  new  parents,  allowing  them  the  best 
chance  to  bond  with  their  baby  and 
toddler and to reduce family violence.  
Our  brain  changes  a  lot  between 
birth  and  adolescence.  It  grows  in 
overall  size,  increases  the  number  of 
cells,  and  develops and  strengthens  the 
wiring. The changes don't stop once we 
turn  18.  Scientists  now  think  our  brain 
continues  maturing  and  fine-tuning 
itself  well  into  our  20s.  So,  all  is  not 
lost if the early years are not as good as 
they  could  be,  as  all  positive  loving 
relationships, 
interactions 
and 
experiences  are  beneficial.  However,  it 
seems  clear  that  giving  new  lives  the 
best opportunity to feel safe, secure and 
lovingly  connected  to  their  caregiver/s 
is  critical  to  positively  impact  all  of 
their  life-long  outcomes.  That  benefits 
us  all,  and  in  my  mind  is  a 
responsibility of us all. 
Libby Jones  
hames.jones@xtra.co.nz  
021 2080093 
OTAMATEA 
COMMUNITY 
SERVICES 
SENIOR/COMMUNITY LUNCH IN 
MANGAWHAI. 
We've  heard  some  chatter  and  praise 
about our first community lunch held in 
Mangawhai.  It  went  so  well,  and  we 
had a great turnout which was lovely to 
see.  We  are  so  lucky  to  have  the 
wonderful A to Z Catering who provide 
our  delicious  meals  at  our  community 
lunches.  Our  community  lunch  in 
Maungaturoto  has  been  popular  for 
over ten years, and they always have a 
great  group  of  people  ready  to  enjoy 
their day out. 
COMMUNITY MINI-BUS  
Our community mini-bus has been busy 
making  the  usual  twice-monthly 
shopping  trips  to  Whangarei  and  has 
been hired by others, including schools, 
sports  clubs  the  retirement  village  in 
Maungaturoto,  who  go  to  a  movie  and 
lunch regularly.  Our  bus was  also  able 
to  provide  transport  for  a  group 
attending  a  funeral  in  Auckland.  It's 
great to be able to provide the mini-van 
for  those  in  our  community  who  need 
it. 
DATES  TO  REMEMBER 
FOR MAY: 
Monday 
3rd: 
Chocolate  Bingo 
Anglican Church Footprints Room 
Wednesday  5th:  Senior/Community 
Lunch St John Hall Maungaturoto 
Tuesday  11th:  Free trip to Whangarei 
9.30am  from  Retirement  Village 
Maungaturoto 
Thursday  13th:  Senior/Community 
lunch  Mangawhai  Community  Hall 
Fagan Place, Mangawhai 
Wednesday  19th:  Chocolate  Bingo 
Anglican Church Footprints Room 
Wednesday  26th:  Free  trip  to 
Whangarei  9.30  am  from  Retirement 
Village Maungaturoto. 
Ph: 094319080 more information. 
Take care of each other.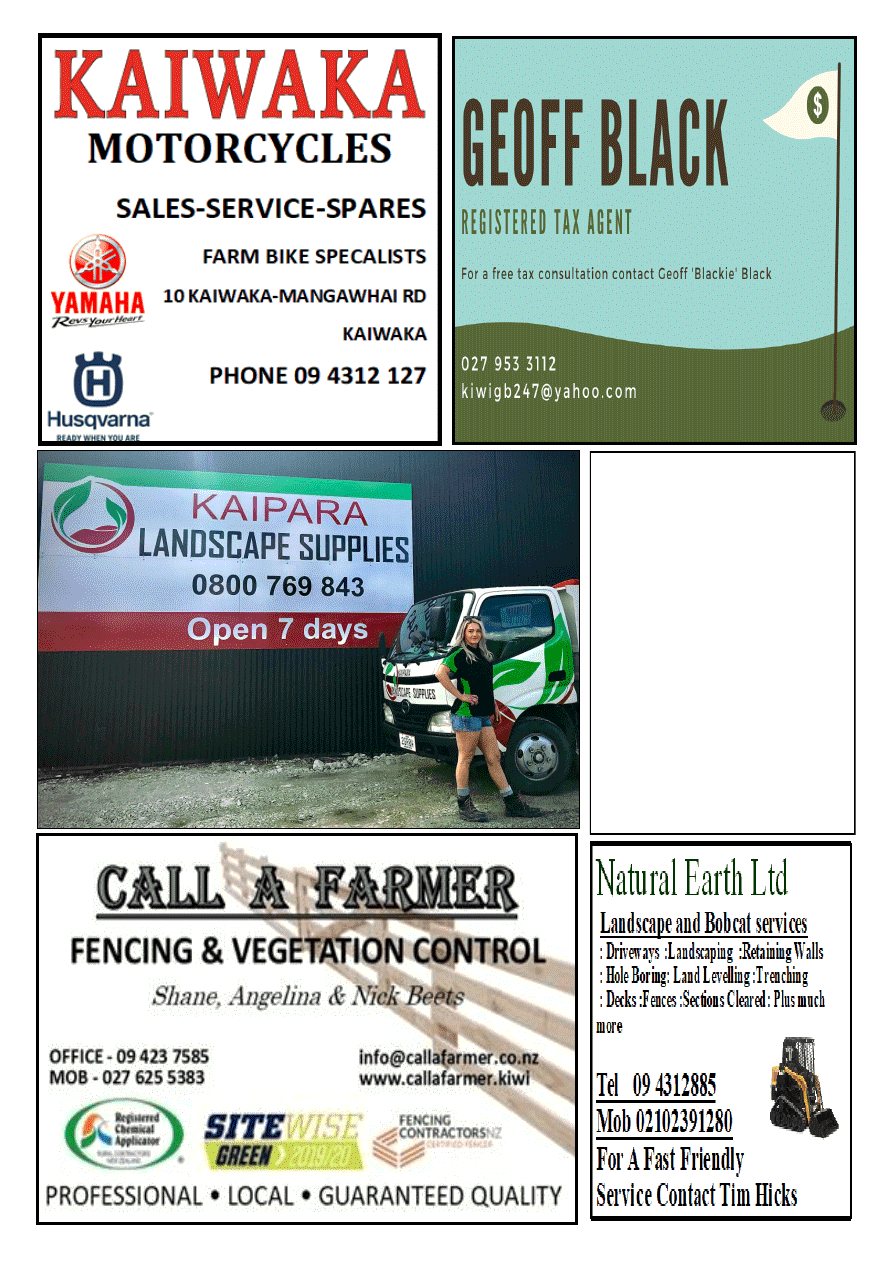 www.kaiwaka.co.nz 
Kaiwaka Bugle - 20 April 2021 
Page 14 
HELP 
PHONE NUMBERS 
HEALTHLINE 0800 611 116 - a 
nurse to answer health queries  
SAMARITANS 0800 726 666 - 
support for lonely or suffering 
mental distress 
YOUTHLINE 0800 376 633 
LIFELINE 0800 543 354 
DEPRESSION HELPLINE 0800 111 
756 
ALCOHOL & DRUG HELPLINE 0800 
787 797 
URGENT MENTAL HEALTH LINE 
0800 223 371 
WARMLINE -peer support for 
people with mental health issues 
0800 200 207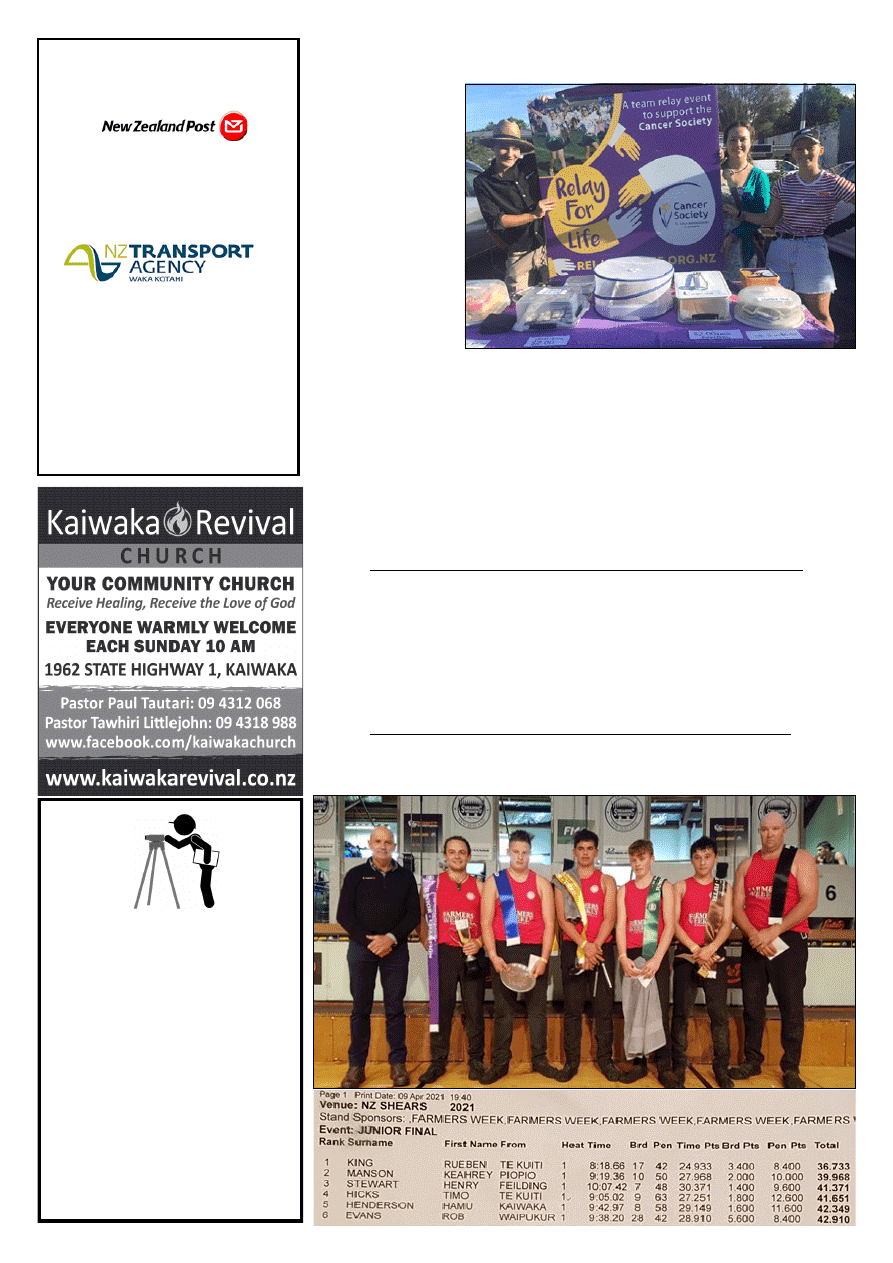 www.kaiwaka.co.nz 
Kaiwaka Bugle - 20 April 2021 
Page 15 
KAIWAKA POST 
CENTRE and 
FOOD MART 
POST CENTRE TRADING HOURS 
MONDAY to FRIDAY 8am to 5pm 
SATURDAY 8am to 12pm 
CLOSED ON SUNDAY and on 
PUBLIC HOLIDAYS 
FOOD MART (GROCERIES) 
MONDAY TO FRIDAY  
7:30am to 7.30pm 
SATURDAY  8am to 7.30pm 
SUNDAY  8:30am to 7pm 
IF ANY QUERIES PLEASE CALL 
STORE MANAGER AMRIT  
on 09 4312431 or 
EMAIL: kaiwakafood19a@gmail.com 
1919a State Highway1, Kaiwaka 0542 
Ken Urquhart 
BSurv Licensed  
Cadastral Surveyor 
KMU Surveys Ltd 
467 Bickerstaffe Road 
RD 2 
Maungaturoto 0587 
Ph 09 431 8705 
Mob 021 161 2344 
kenurquhart@xtra.co.nz 
OTAMATEA HIGH SCHOOL 
SHEARING SUCCESS AT TE KUITI SHEARS 
Our  Henderson  Shearing  crew  were  very  successful  -  Toa  Henderson,  Hamu 
Henderson and Tama Nahona - congratulations.
RELAY FOR LIFE:  
The final fundraising 
amounts  for  Relay 
for  Life  have  now 
been calculated and I 
am 
absolutely 
thrilled  to  see  that 
our  OTA  Kids  team 
have  finished  as  the 
top  fundraisers  in 
Northland,  with  a 
grand 
total 
of 
$12,387.  What  an 
incredible 
achievement. 
Well 
done  to  our  year  13s 
and prefects for their 
efforts  over  the  past 
few months.  
DUKE  OF  EDINBURGH: 
Prince Philip of England passed away last week at 
the age of 99. He was also known as the Duke of Edinburgh and was the founder 
of  the  Duke  of  Edinburgh  programme  in  1956.  Many  of  our  students  have 
completed,  or  are  currently  completing,  their  DOE  awards  so  as  a  school  we 
acknowledged the Duke's passing at assembly during the week. 
Free and Healthy Lunches: The final paperwork for the Free and Healthy School 
Lunches programme will be completed over the holidays and we are still on track 
to roll this out at the start of term 2. Full details will be sent out before the start of 
term. 
ANZAC  DAY: 
Over  the  holidays  our  prefects  will  be  laying  wreaths  at  our 
local ANZAC day parades at Maungaturoto, Waipu, Matakohe and Hakaru. Lest 
we forget. ~ Dirk Smyth, Acting Principal 
KAIWAKA SCHOOL  
KAIWAKA  SCHOOL  150  REUNION  WILL  BE  HELD  ON  23RD 
OCTOBER (LABOUR WEEKEND) THIS YEAR.  
Keep up to date with  Facebook Pages to follow: 
Kaiwaka School 150 year Reunion - message for more information  
Kaiwaka School Old Photos 
Kaiwaka Historical Society. 
Please  tag  in  your  friends  and  family  we  want  to  spread  the  word  about  our 
school Reunion on 23rd October 2021.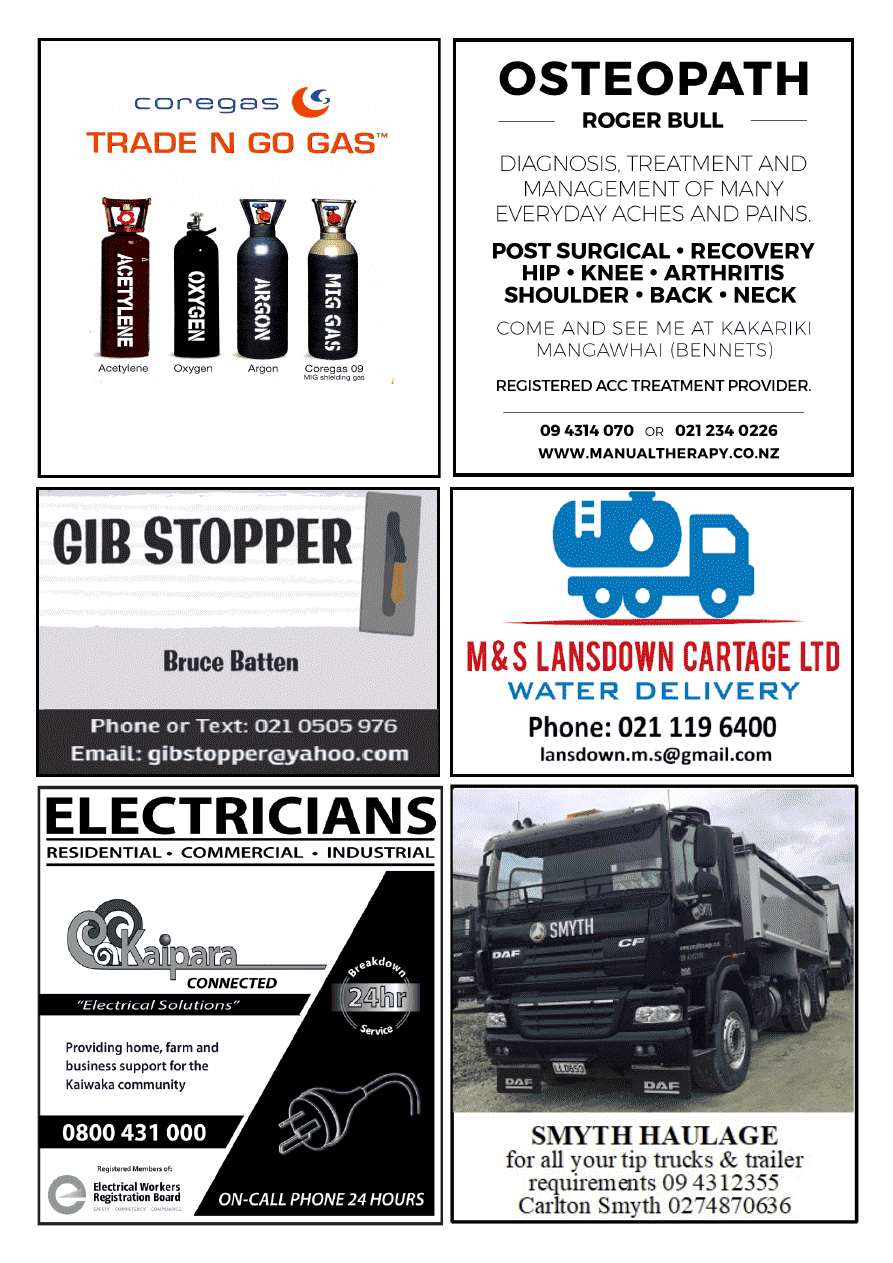 www.kaiwaka.co.nz 
Kaiwaka Bugle - 20 April 2021 
Page 16 
At Twinkle Tow 'n' Tyre 
Mob: 021 833 960 
Ph & Fax: 09 431 2823 
1837 State Highway 1, Kaiwaka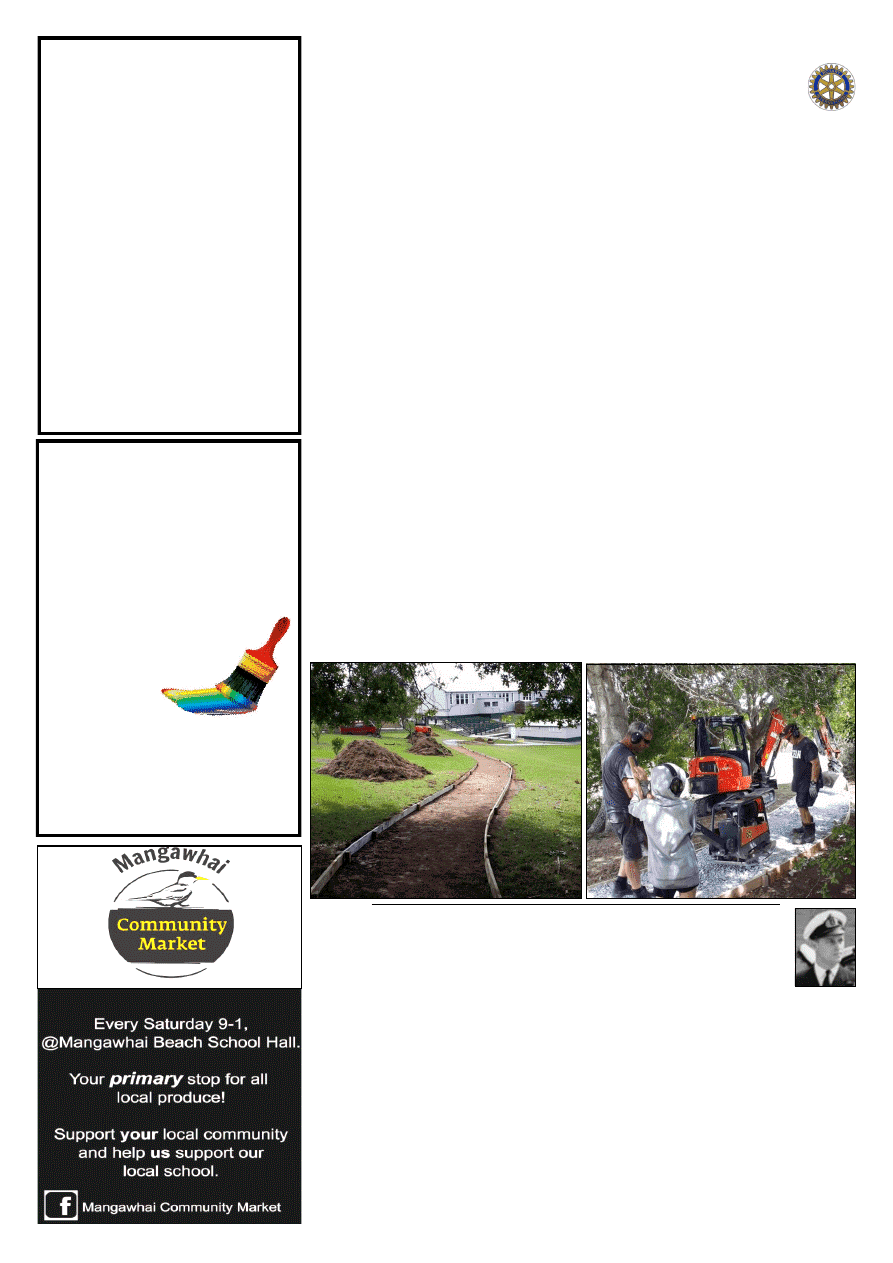 www.kaiwaka.co.nz 
Kaiwaka Bugle - 20 April 2021 
Page 17 
Willow Bend
HORSE  
HOTEL 
  
Total Horse Care 
 
Agistment 
 
Riding Lessons 
 
Arena Hire (60x40) 
 
Young Horse Starting 
 
Re-training/Exercising 
 
Hoof Trimming 
 
Problem Solving 
Phone Sue 09 431 2817 
or 021 623 776 
Or email  
susanjoll11@gmail.com 
LEE COOPER 
PAINTERS 
(Kaiwaka Based) 
*30 yrs Experience 
*Interior/Exterior 
*New and Restoration 
*Honest and Reliable 
*Free Quotes 
09 4312918 or 
0274735171 
leecooper@xtra.co.nz 
The  past  month  has  been  relatively 
quiet  in  a  community  sense  for  our 
Rotarians.  However,  several  were  able 
to  attend  Albie's  meeting  which  is 
endeavouring to find a way forward for 
the  Den  as  a  community  asset.  We  are 
all  grateful  for  the  effort  of  Albie  and 
his team in what has been provided and 
it will be great to see a sustainable plan 
put  in  place  for  its  future  success.  It 
would  seem  that  the  cycleway  itself  is 
complete, with fencing to be added at a 
future date. 
ROTARY 
YOUTH 
DRIVING 
AWARENESS  
Last  week,  three  of  us  attended  the 
Rotary  Youth  Driving  Awareness 
presentation  in  Whangarei.  We  had 
sponsored  Year  12  students  from 
Otamatea to attend this. (Something we 
have  done  for  a  number  of  years.)  We 
believe  that  the  modules  offered 
provide a good basis for these students 
as  they  are  learning  to  drive.  Topics 
covered  include  car  safety  ratings  and 
braking  distances  and  the  ongoing 
impact  of  a  head  injury  from  a  traffic 
accident  as  well  as  the  effect  of 
distractions when driving. We hope the 
lessons learnt from this day will ensure 
safe driving by these young people. 
ANNUAL CONFERENCE  
The  past  weekend  saw  our  annual 
conference  at  Waitangi.  Our  District 
extends up into the islands and because 
these  Rotarians  couldn't  attend,  there 
were  a  number  of  videos  to  showcase 
the  efforts  in  supporting  their  local 
communities.  The  presentations  by 
local  Rotarians  were  also  quite 
impressive  and  it  was  shown 
that  a  great  deal  more  could  be 
achieved  by  not  only  having 
Rotary  clubs  join  in  a  project  but  also 
by  involving  community  groups  so 
there  was  a  co-operative  effort.  The 
ongoing  impact  of  Student  Exchange 
visits  and  attendance  at  Science  and 
Technology  weeks  was  also  apparent 
by  helping  young  people  find  a  future 
direction in their lives. 
PIROA FALLS  
Hopefully,  by  the  time  this  goes  to 
press, Piroa falls will be much easier to 
access.  A  working  bee  is  planned  to 
provide  a  pathway  that  will  be  able  to 
withstand  the  rigours  of  torrential  rain 
and the impact of high river flows. The 
plan is to use materials already on site. 
This has worked well in other areas. 
ANZAC SERVICES 
We  are also  planning  to lay  wreaths  at 
the  dawn  service  in  Maungaturoto  as 
well as the later services at Hakaru and 
Matakohe on Anzac Day. 
RESTRICTED LICENCE? 
We  are  continuing  to  get  more  people 
on  board  who  are  aiming  for  their 
Restricted  licence  and  in  the  past 
month,  three  have  been  successful.  If 
you  believe  you  could  help  us  with 
mentoring  these  people  (not  always 
youngsters) please don't hesitate to get 
in touch. Any queries in relation to the 
above, please don't hesitate to give me 
a call – Eileen – 021 1420357 
Photos below: Working on the cycle track
MAUNGATUROTO & DISTRICTS ROTARY 
FROM VETERANS' FOUNDATION UK: 
'As  a  first  lieutenant  in  the  Royal  Navy,  Prince  Philip  foiled  a 
Luftwaffe bomber which looked certain to destroy his ship, according 
to fellow veteran Harry Hargreaves. 
Philip,  aged  just  22,  was  second  in  command  on  the  destroyer  HMS 
Wallace  in July  1943,  during  the  Allied landings  in  Sicily  when  the  ship  came 
under repeated attack in the night. According to Hargreaves, a yeoman on board 
the ship who revealed the story in 2003, the prince conjured up a plan to throw a 
smoking  wooden  raft  overboard  to  create  the  illusion  of  debris  on  fire  in  the 
water. Hargreaves said: "It was for all the world like being blindfolded and trying 
to evade an enemy whose only problem was getting his aim right. There was no 
doubt in anyone's mind that a direct hit was inevitable."  
Within five minutes they had launched a raft over the side with devices at each 
end that imitated flaming debris in the water. The captain ordered the ship to sail 
away before stopping the engines to hide the wake.  
"The  next  thing  was  the  scream  of  bombs,  but  at  some  distance,"  Hargreaves 
said. "The ruse had worked, and the aircraft was bombing the raft. Prince Philip 
saved  our  lives  that  night."  Hargreaves  remembered:  "He  was  very  courageous 
and resourceful and thought very quickly. You would say 'What the hell are we 
going to do now?' and Philip would come up with something."  
Ref UK Veterans' Foundation, inews.co.uk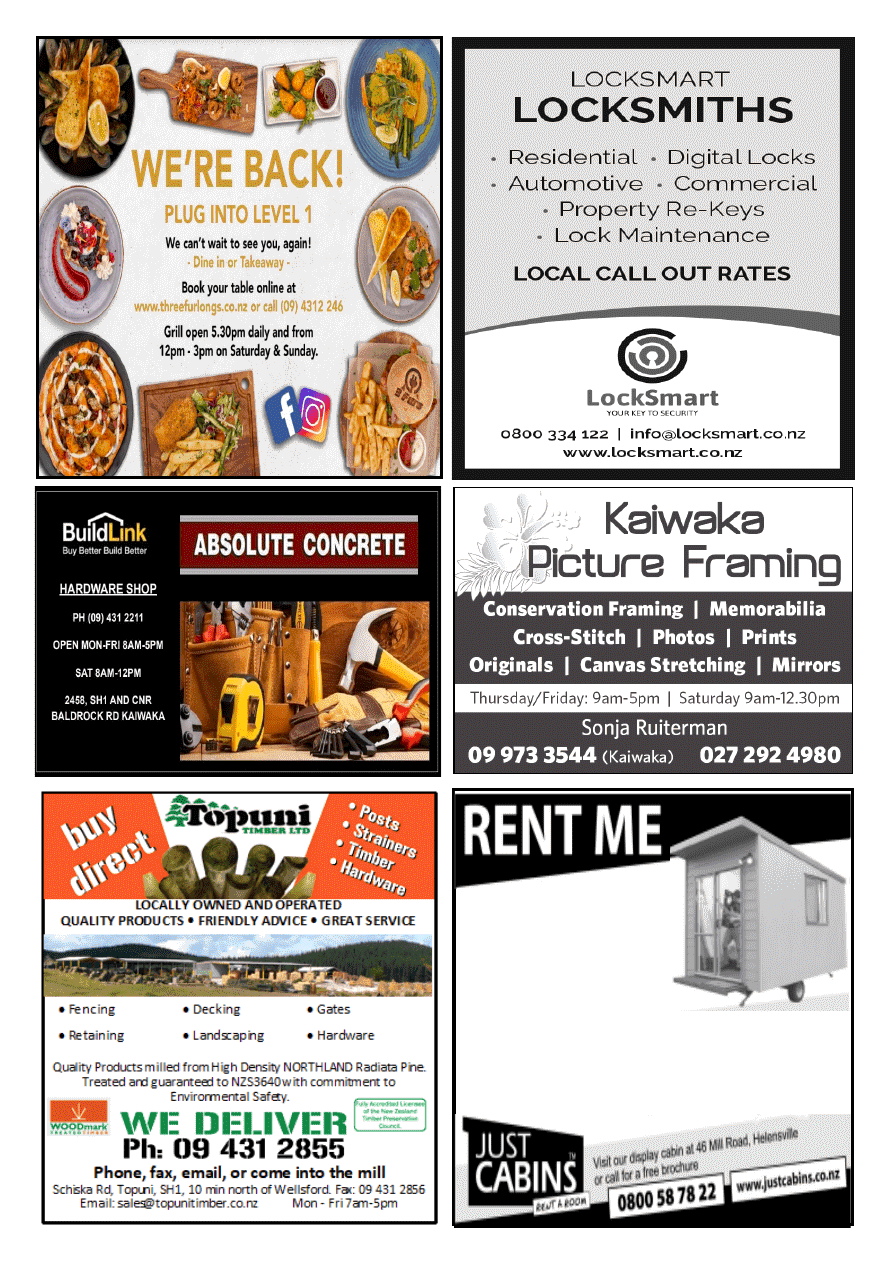 www.kaiwaka.co.nz 
Kaiwaka Bugle - 20 April 2021 
Page 18 
Ideal as an extra  
bedroom or office 
Three Convenient sizes: 
Standard 3.6m x 2.4m - $65 per week 
Large 4.2m x 2.4m - $80 per week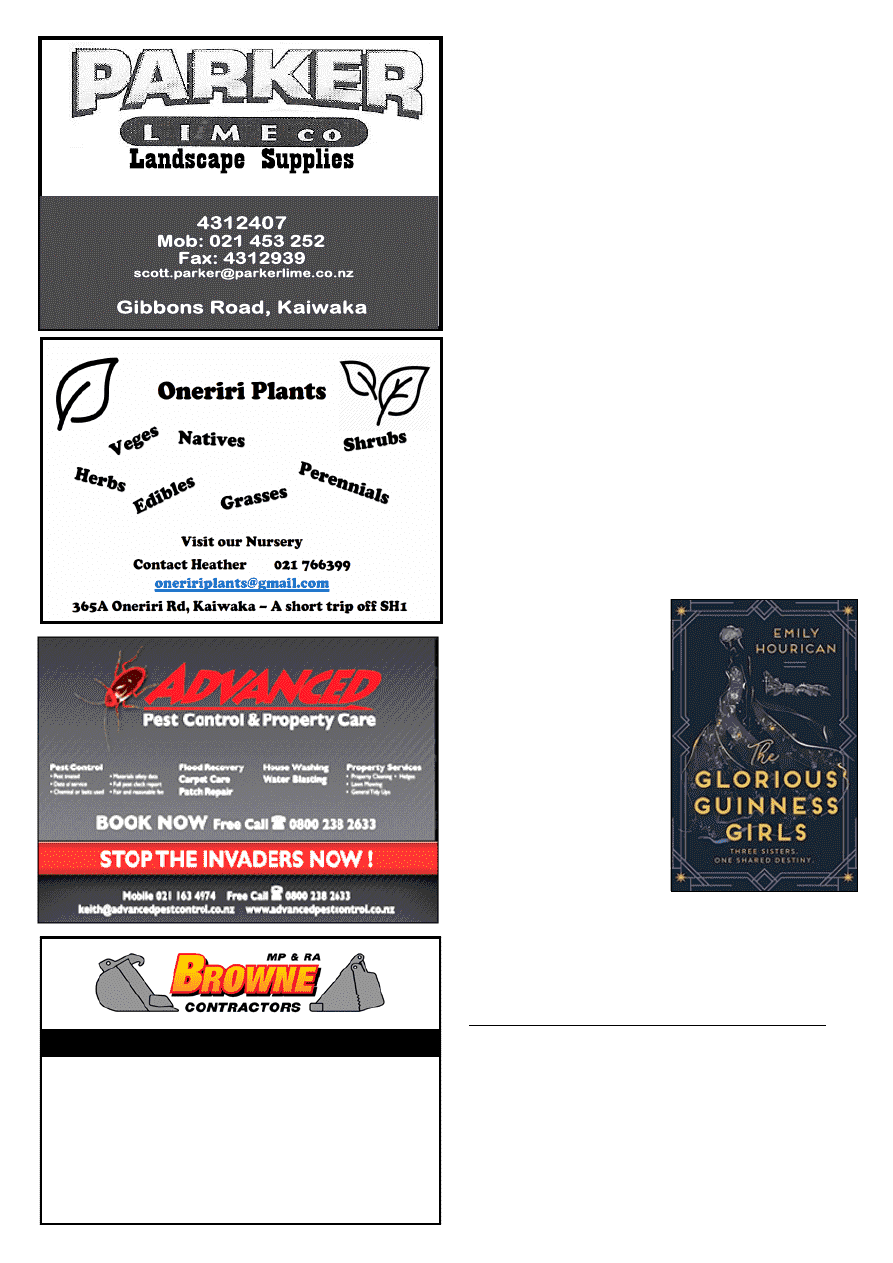 www.kaiwaka.co.nz 
Kaiwaka Bugle - 20 April 2021 
Page 19 
Bulk Cartage 
4Tonne DIGGER – BOBCAT – TIP TRUCK 
Property Maintenance - Driveways  
 Building Sites 
Stump & Tree Removal  
Hole Boring - Chain Trencher  
Calf Shed and Stockyard Cleaning 
Phone Matt: 021 199 6677 
Email: mprabrownecontractors@gmail.com 
KAIWAKA LIBRARY 
DARGAVILLE BOOK SWAP 
Many  thanks  to  everyone  involved  in  the  Dargaville  book 
swap  last  week,  your  efforts  are  much  appreciated.  Come 
and take a look at the new range of books on our shelves - 
there's something for everyone. 
VOLUNTEERS 
Thank  you  to  everyone  who  contacted  me  about 
volunteering in the library after the ad in the last Bugle. We 
have a new team member who starts this week. 
SCHOOL HOLIDAYS 
Stuck for something to do in the holidays? We have a great 
range of books, DVDs, and Blu-rays waiting to be borrowed. 
All  children's  titles  on  our  shelves  are  free  to  borrow.  We 
also  have  a  range  of  digital  items  in  our  online  book  and 
magazine/newspaper  collections  that  can  be  accessed  with 
your library card for free. 
JOINING THE LIBRARY 
It  is  free  to  join  the  library.  You  can  sign  up  online  as  a 
digital-only  member  and  start  using  our  digital  collections 
immediately  or  sign  up  for  a  library  card  and  once  you've 
shown  us  your  ID  (adults  only)  and  physically  have  your 
library card you can borrow physical and digital items. Go to 
Enterprise* to join, or come in to the library and we can do it 
for you. 
BOOK REVIEW 
Recently I've read  Tell  Me  Lies  by  JP  Pomare. I couldn't 
put  this  one  down!  It  is  an  excellent  thriller  that  will  keep 
you  guessing  to  the  end.  "
Psychologist  Margot  Scott  has  a 
picture-perfect life: a nice house in the suburbs, a husband, two 
children,  and  a  successful  career.  On  a  warm  spring  morning, 
Margot spots one of her clients on a busy train platform. He is 
looking  down  at  his  phone,  with  his  duffel  bag  in  hand  as  the 
train  approaches.  That's  when  she  slams  into  his  back  and  he 
falls in front of the train. Suddenly, one tragedy leads to another 
leaving  her,  her  family,  and  her 
patients in danger
." 
I've  also  read  The  Glorious 
Guinness  Girls  by  Emily 
Hourican. 
"
The 
Glorious 
Guinness  Girls  are  the  toast  of 
London  and  Dublin  society. 
Darlings  of  the  press,  Aileen, 
Maureen  and  Oonagh  lead 
charmed  existences  that  are  the 
envy  of  many.  But  Fliss  knows 
better.  Sent  to  live  with  them  as 
a  child,  she  grows  up  as  part  of 
the family and only she knows of 
the  complex  lives  beneath  the 
glamorous surface... Set amid the 
turmoil  of  the  Irish  Civil  War 
and  the  brittle  glamour  of  1920s 
London,  The  Glorious  Guinness  Girls  is  inspired  by  one  of  the 
most  fascinating  family  dynasties  in  the  world  -  an 
unforgettable  novel  of  reckless  youth,  family  loyalty  and 
destiny." 
I  enjoyed  this  historical  novel  a  lot,  and  have  no 
hesitation in recommending it. 
Both books are on the Rental Fiction shelves in the library. 
See you in the library! ~Wendy 
*Enterprise: http://kaipara.kotui.org.nz  
WINTER KIDS' SPORTS ALERT! 
Tomarata  Netball  Club  would  love  to  hear  from  junior 
players (Yr 1-8, girls and boys) who are keen to be part of a 
Tomarata  team  this  season.  Even  if  you  haven't  played 
before,  you're  welcome  to  get  involved  in  this  fun  team 
sport.  We're  a  small,  friendly  club  with  training  held  on  a 
Wednesday after school at the Tomarata School courts and 
Saturday  games  in  the  Rodney  Association  competition  at 
Centennial Park, Wellsford, starting 8th May. Year 1 and 2 
players don't have weekday training, so you only need to get 
to the Saturday games! 
Please email Nicola at tomaratajuniornetball@gmail.com for 
more information and a registration form or phone 027 
683 2754 if you have any questions.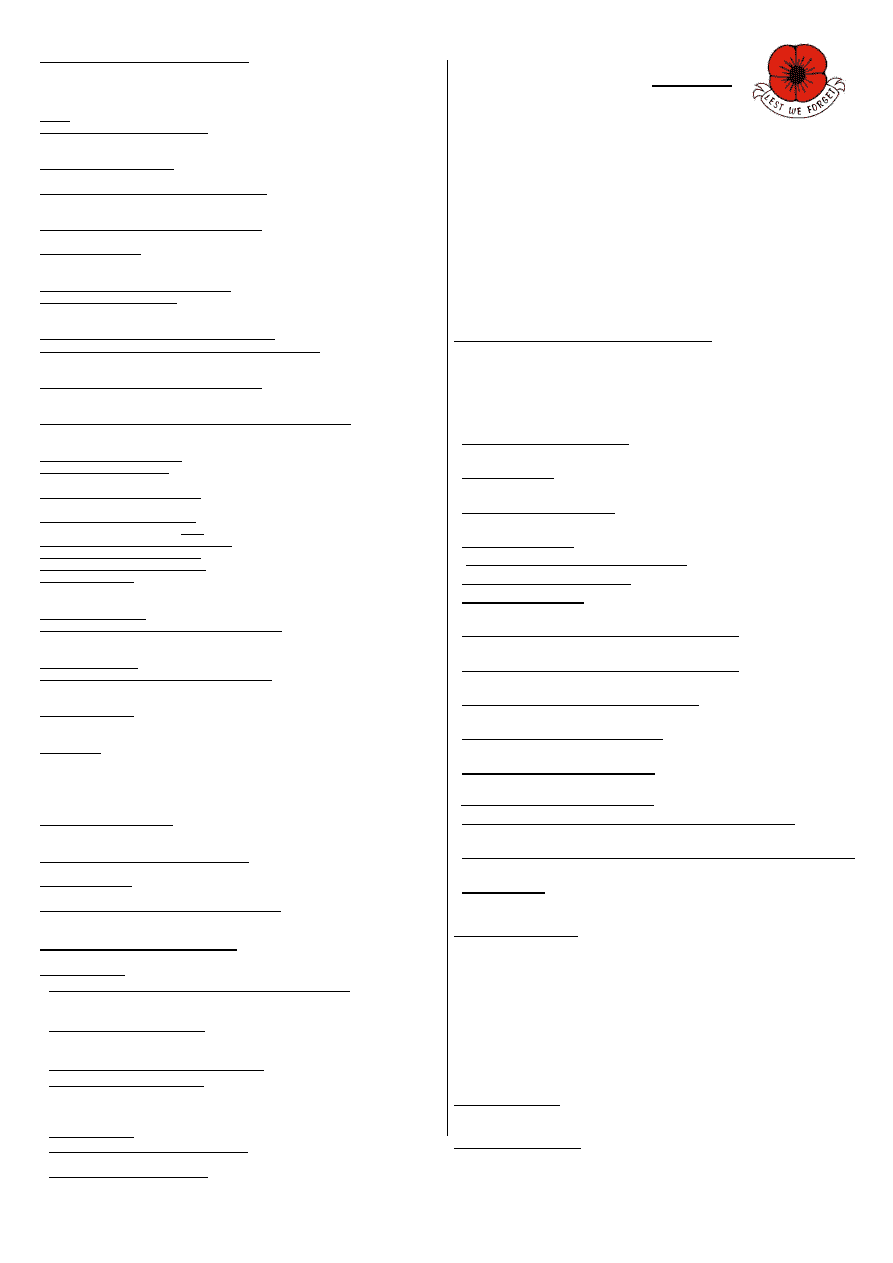 www.kaiwaka.co.nz 
Kaiwaka Bugle - 20 April 2021 
Page 20 
WHAT'S ON
PLEASE ~ do let us know what is on - 
email kaiwakabugle@kaiwaka.co.nz 
*19-24Apr~Art Exhibition, Maungaturoto 
*21Apr~Kaiwaka Can AGM, Archie Bull Hall 5.30 
*28Apr~KSA General Meeting, 7pm 
*24Apr~HAWKS v Mangakahia 2.30pm KSA 
*25Apr~ ANZAC DAY 
*30Apr-9May~ORT 'Seussical Jr' 
*3May~School Term Two begins 
*3May~Hakaru Pony Club AGM, 6.30pm 
*7May~Movie 'THE DRY',7.30pm KWMH 
KWMH = Kaiwaka War Memorial Hall; KSA = Kaiwaka Sports Association 
See www.kaiwaka.co.nz for more information 
HOUSEHOLD RUBBISH COLLECTION  
Kaiwaka Pick up: 
Mondays = Green bags (Northland Waste - 09 430 3273) 
Wednesdays  =  Blue  bags  and yellow recycling (at  Jaques $3.00 
and  $1.50)  (Kaurilands  09  4392146);  ONLY  Blue  and  Yellow 
bags picked up on Oneriri Road. 
 DIABETES Support Group-for Kaiwaka, Mangawhai, Wellsford 
10am, 3rd Friday of month Ph: Colleen James 09 4314238 
 GENEALOGY - Wellsford: 1st Thursday in month Ph: 423 
7033; Waipu: 4th Monday in month Ph: 4312 725 
 HAKARU PONY CLUB - Secretary Denise Rogers 021423376 
secretary@hakaruponyclub.co.nz  
 KAIPARA HUNT - Secretary Albert Doonenbal Ph 4312059 
  KAIPARA HUNTING & FISHING - 021 1294378 
 KAIWAKA BADMINTON -Tuesdays 7.30pm Ph: 4312345 
 KAIWAKA  CAN  - 3rd Wednesday in month, 5.30pm, Archie 
Bull Hall Ph: 0273572751 
 KAIWAKA GARDEN & FLORAL GROUP - 2nd Thursday in 
month. Ph: 431 4744 
 KNITTING FOR WHANGAREI HOSPITAL - 2nd Tuesday in 
month, Archie Bull Hall 10am Ph 4314827 
 MANGAWHAI COMBINED REBUS CLUB - 2pm, 3rd 
Thursday month, Senior Citizens Hall Mangawhai. Ph: 4315777 
 MANGAWHAI GENEALOGY  - meet 3rd Thursday month, 
Mangawhai Museum, 10.30am 
 PILATES - HAKARU HALL - Tuesday 10am, Thursday 9am 
Qualified Instructor  Ph. 0220643965  
*PT CURTIS CRUISING CLUB - Jean Ph: 4312227 (wk), 4312520 (hm) 
 RSA,  HAKARU  &  DISTRICTS  WOMEN'S  SECTION  –  meets 
1.30pm 4th Thursday of the month. Ph: 431 5818  
 KAIWAKA  SCOTTISH  COUNTRY  DANCING  CLUB-
Wednesdays 10am - 12 noon  Ph: Elaine 027 432 0032  
 TRAMPING 
- 
Mondays 
9am-2:30pm, 
contact  
valkenburgmaria@gmail.com 
HALLS FOR HIRE: 
  Kaiwaka St. John Hall: Phone Marj  0272941227  
 St.Pauls  Archie  Bull Hall  HIRE  $20 half day, $40 full day per 
hire, S McAulay, Ph 4312311 
 Kaiwaka  War  Memorial  Hall  HlRE  -  Phone  4312725  or 
kaiwaka.hall.bookings@gmail.com 
 Hakaru Community Hall HIRE -Ph.  Karen 4312090 
 Te Pounga Marae queries - Pearl Nathan  0223933533 
 Kaiwaka  Sports  Association  hire/queries  -  Jean  4312227  or 
kaiwakasportsassn@gmail.com 
Justice  of  Peace:  L.Donaldson  4312  228;  A.F.Hargreaves  4312 
045,  W.Howard  4312  725  -  please  phone  to  make  sure  they  are 
available www.justiceofthepeace.org.nz B.FJaques Retd  
Marriage Celebrants:  
L.Donaldson; A.F.Hargreaves; Y Osborne
Next Bugle Deadline  Friday 30 April 2021
LOCAL SERVICES 
*Emergencies - Ambulance, Fire, Police - dial 111 
*Non-urgent Police phone 105
A A: Meets Wed., 7pm. Kate's Place Ph 021 024 25969 or 0800 229 6757 
NARCOTICS ANONYMOUS : Mon., 6pm, Archie Bull Hall, Kwk-Mwi 
Road; drug and alcohol related issues. Ph. 02102412348 
ASUREQUALITY LTD (was AgriQuality) Call Free 0508 0011 22  
BUDGETING SERVICE, WELLSFORD: Free confidential advice & 
support for all areas of personal finance. Ph (09) 423 7123 
CAB-Citizens Advice Bureau.Wellsford Ph: 4237333 
0800 367 222 email:cab.wells@xtra.co.nz  
CIVIL DEFENCE - Kaiwaka Community Response Group: 
kaiwaka.civildefencecrg@gmail.com, 4312725 Wendy 
DOG/STOCK /NOISE CONTROL 0800 105 890 
FUNERAL SERVICES: Morris & Morris Ltd, 
Whangarei - Bev Jaques Ph:4312367 or 0800667747 
GRANDPARENTS Raising Grandchildren: Dianah Roberts 0223819539 
HAKARU & DISTRICTS MEMORIAL RSA (Inc) 733 Settlement Rd, 
Hakaru. Ph 4312 176 or Bill Warren (President) 431 2092 
HAKARU LANDFILL/Transfer Station:Open everyday  10am-
4pm.Ph4312629 Cost-$55 trailer load up to 1 cubic metre. Ph:4258567 - 
office 
KAIPARA DISTRICT COUNCIL www.kaipara.govt.nz:  
Help Desk FREEPHONE 0800 727 059  
KAIWAKA CEMETERY: Ph: 4312045 or 4314017 
KAIWAKA LIBRARY: kaiwaka.library@gmail.com  
Mon. 4-6pm; Wed., Thurs., Fri., Sat. 10am-2pm Ph:4312539 
KAIWAKA PLAYCENTRE: Ph Juanita 0274134904; open Mon, Wed, 
Fri 9am-12pm. Hastie Lane; Monday to Friday 9.00am - 12 noon. 
KAIWAKA POST OFFICE:Ph:4312 431  
Post Code: 0573 for RD2 and 0542 for all Kaiwaka Post Office mail 
KAIWAKA PRIMARY SCHOOL: Ph: 4312309   
KAIWAKA SPORTS ASSN: Ph 4312005; 4312129 gym 
KAIWAKA ST JOHN HALL: Phone Marj  0272941227  
KATE'S PLACE Community Centre - Employment services, Free Health 
Nurse, Plunket, Advocacy, Osteopath, A.A., Legal Advice. 4312 661 
LINKING HANDS Health Shuttle Ph 4315906 or 09 4318969 
MINISTRY FOR PRIMARY INDUSTRIES - General inquiries Call 
Free 0800 008 333 
NORTHPOWER: Faults Kaiwaka area 0800 104040 
OTAMATEA COMMUNITY SERVICES: Counselling, parent coach, 
Family Support worker, budget advice, food bank. Mon-Fri 9am-3pm. Ph 
09 431 9080 http://www.otamateacs.org/ 
PARENTPORT: Free, practical family support service Puhoi to Paparoa 
Ph or txt: Dianne 027 280 5093 or 09 425 9357 
PLUNKET: Kaiwaka- St John Hall, Monday 19 Oct, 23 Nov, 21 Dec. then 4th 
Monday of the month. Plunket Nurse Louise 027 282 3987 or 09 438 2508 
Mangawhai- Rose Madsen Cottage, Mondays and Wednesdays. Plunket Nurse 
Rebecca 021 501 941 or 09 438 2508 
Maungaturoto - Good News Church, 2nd and 4th Wednesday of the month. 
Plunket Nurse Seleisa 021 912 248 or 09 438 2508 
PLUNKET HELPLINE -0800 933 922 (24 hours)  
FACEBOOK - Kaipara Plunket 
TAITOKERAU COMMUNITY LAW: Free confidential legal advice and 
assistance, 2nd
Thursday
 of each month. Ph: 0800 155 529 for appts.  
TE URI O HAU Settlement Trust Tangata Developments: Whanau Ora 
021 793262  
VETERINARY SERVICE MANGAWHAI: 
Ph: 4314535 Mon-Fri 8.00-5.00, Sat 9-12, a/h appt. 
WELLSFORD DOCTORS: Ph: 4238 086 
CHURCHES:
 
Kaiwaka  Revival  Church  -  Your  Community  Church:  Sundays  10am. 
Ph: Pastor Tawhiri 09 431 8988 or Pastor Paul 09 4312 068 Visit us at 
www.facebook.com/kaiwakachurch 
 
St  Paul's  Anglican  Church  1st  Sun.  9.00am  (Eucharist),  3rd  Sun. 
9.00am (Family Service). Contact: Rev. Wayne Thornton Ph 431 4122 
www.mangawhaianglican.org.nz 
 
Church of Christ the King, Mangawhai:9.00am every Sunday 
 
St.Mary's  Catholic  Church:  Maungaturoto  –  Griffins  Road,  Saturday 
evening  Vigil  Mass  6pm;  Mangawhai  –  Senior  Citizens  Hall,  Sunday 
Mass  8:30am;  Wellsford  –  Matheson  Road,  Sunday  Mass  10:30am;  
Mid-week Mass times and all enquires to Fr. Bill Fletcher – phone 423 8170
 
Baptist Church: Sun. 10.30am Mangawhai Snr Cit.Hall.Ph:4312339 
 
Cause  Way  Church  Mangawhai:  Sundays  10.15am,  Mangawhai 
Community  Recreation  Centre,  Insley  St.  Ph:  09  4314782