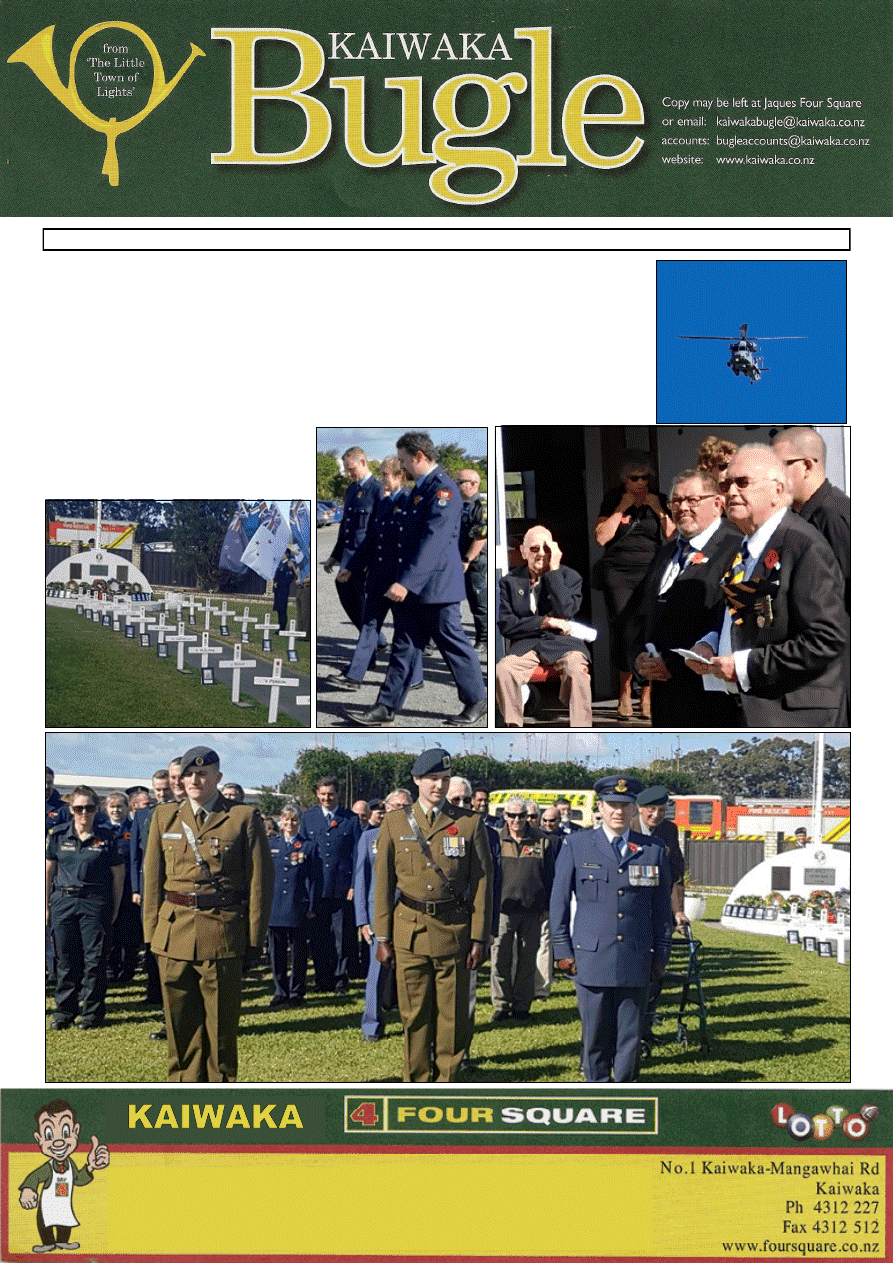 www.kaiwaka.co.nz 
Kaiwaka Bugle - 6 April, 2021 
Page 1 
No: 8 
 4 May 2021 
ANZAC SERVICE 2021 
It was a clear blue, sunny morning for the Hakaru and Districts Inc Anzac Service. 
The flyover by the Seasprite Helicopter of No 6 Squadron RNZAF was right on time at 
1030.Our  RSA  president  Bill  Warren  welcomed  a  large  crowd  of  folk  to  the  Service, 
remembering  those  who  served.  Bill,  pictured  at  right  is  with  the  Hakaru  RSA  patron 
Ronald Piargi (shading his eyes) who is100 years old and served in the Pacific in WWII. 
The path to the flag and wreaths was lined by crosses with the names and photos of those 
who did not return to the area after serving in WWI and II. 
Our Kaiwaka Fire Brigade members took part in the March On led by the bagpipes and 
past and  present armed  forces  members,  and  representatives  from  local cadets, schools, 
St.  John  Ambulance,  Fire  Service, 
Kaipara Council and others. 
An appropriate and informative address 
was  given  by  WGCDR  Phil  Jackson 
RNZAF, pictured below front right. 
TRADING HOURS: 
7.30am - 7pm daily 
"Your local Store" 
Family owned & operated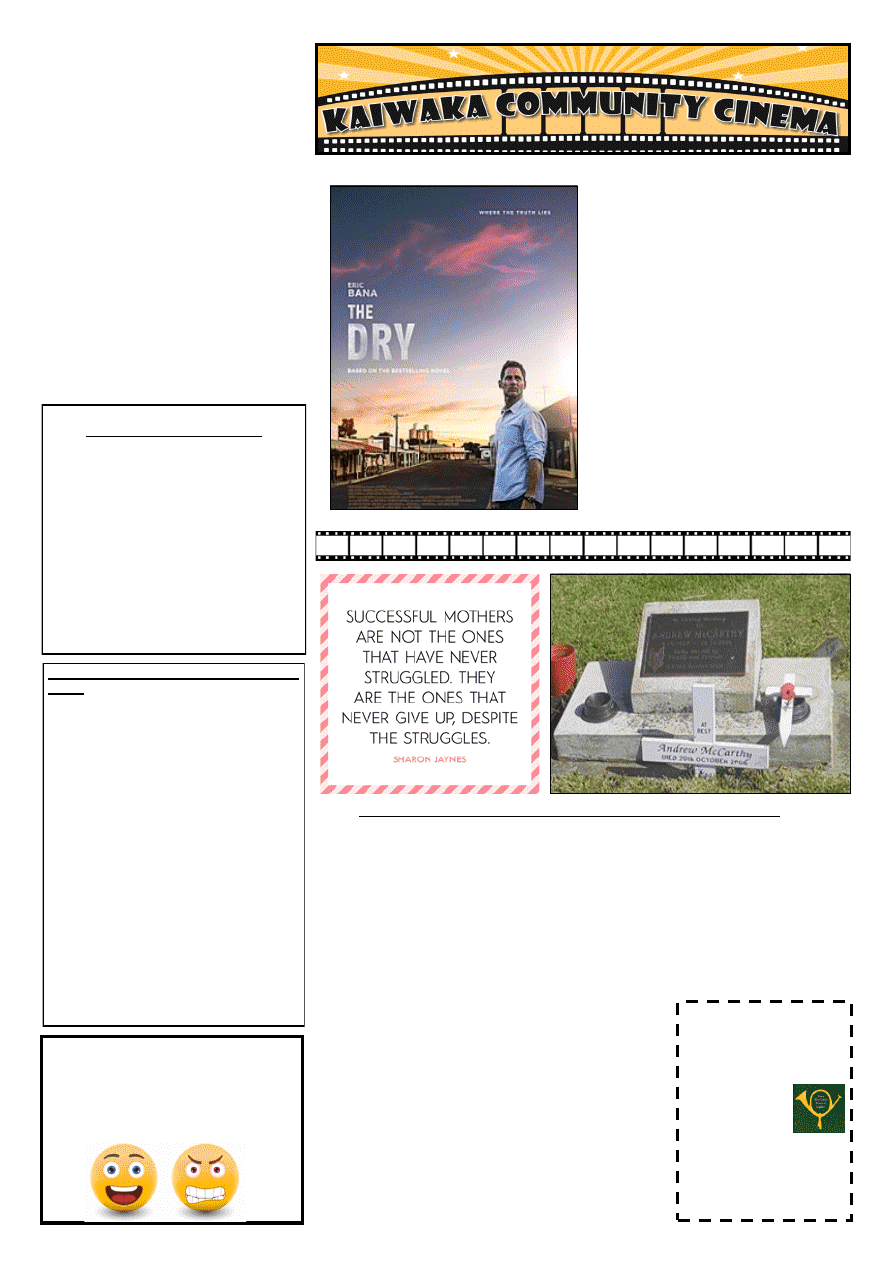 At Kaiwaka War Memorial Hall . Adults $10, Kids (under 16) $5, Family Pass (2 adults + 3 children) $25 
KAIWAKA BUGLE No. 8 
4 MAY 2021 
CONTENTS 
Page 3: Public Notices, Classified 
Page 5:  J Bowmar QSM; Women's 
Section RSA  
Page 7: Spotted in Town 
Page 9: Pt.Curtis CC; Gardening 
Page 11: Kaiwaka Sports Assn. 
Page 13: Mgto & Districts RSA;  
Page 15: Otamatea High; Kaipara 
Basketball 
Page 17: For A Free Life 
Page 19: Kaiwaka Library 
Bugle  9 will appear 18 May 2021 
Contact for advertising, reports, articles 
or information can be made by 
Email kaiwakabugle@kaiwaka.co.nz 
Ph: 09 4312 045 Lindsey 
Txt: 027 2724137 
Copy may be left at our Four Square. 
Kaiwaka Bugle 
Founded May 1978 
We appreciate articles and photos about local 
events, etc, as well as ads and suggestions. 
Copies available in Kaiwaka at Four Square, 
Kaiwaka Postal Centre, Shamrock Service 
Station, Best Pets , Kaiwaka St John shop. 
Also outlets in Maungaturoto, 
Mangawhai and Paparoa. 
Can be viewed online at   
www.kaiwaka.co.nz/Bugle  
Or a copy can be posted to you if you supply 
stamped, self-addressed DLE envelopes. 
Kaiwaka 
Bugle 
Advertisements 
2021: 
All 
copy 
and 
queries 
to: 
kaiwakabugle@kaiwaka.co.nz 
The Bugle is printed on an A4 page   
Ad  sizes:  1/16  page  (3  x  9.5cm)  $5;  1/8 
(6.5  x  9.5cm  landscape  or  portrait)  $8; 
3/16 ( 10 x 9.5cm or 7.5 x 12,5)  $12.  
Classified  ads:  First  one  FREE,  $4  per 
entry (max. 30 words, max. 4 repeats). 
Payments  can  be  made  online  at 
ANZ 
06  0365  0006990  00
,  posted  or  left  at 
Kaiwaka Four Square Store. 
We  use  Microsoft  Publisher,  and  can 
work  with  most  common  image 
formats, Word, Excel, and PDF files. 
Accounts:  
Email: bugleaccounts@kaiwaka.co.nz 
The  Kaiwaka  Bugle  is  a  community 
newspaper run by volunteers, as part of 
the Kaiwaka Media Group Inc.   
Articles, etc. printed are not necessarily 
the opinion of the Bugle Team. 
ABOUT TOWN

 Mother's Day, Sunday 9th May ~ thank you for your beautiful photos, Kyle 
Underwood! 

 Anzac  Day  visitors  to  our  local  Kaiwaka  Cemetery  took  the  photo  above  
remembering Andrew McCarthy who served in Jayforce 1945-1948; thank you 
to those who had the cemetery grave stones beautifully clean.

 'Open arse' fruit? See Heather's Gardening notes - a story with every plant!

Welcome  to  Pam,  the  Kaiwaka  Sports  Assn.  secretary.  Pam  is  wishing  to 
touch base with all KSA clubs - see page 13

 A big WELL DONE to our Kaipara Basketballers 
- a great success over the weekend.

 Do  you  have  a  story  or  a  report  for  the  Bugle? 
The  Bugle  Team  and  our  Readers  would  enjoy 
seeing  them.  A  visit  to  paperspast.govt.nz  has  lots 
and  lots  of  newspaper  records,  even  the  Police 
Gazette

Kaiwaka 
Bugle 
No. 
8 
is 
online 
at 
www.kaiwaka.co.nz  and  is  in  print  for  our  local 
Readers.  
~ 
Lindsey, Ed
"Sometimes, by holding on too tight, you end up losing 
what you were trying so hard to save. .....Soap, for 
example. " 
THE DRY 
Friday 7 May, 7.30pm 
'The  barren  earth  surrounding 
a 
drought-stricken 
Aussie 
town  provides  fertile  ground 
for  mystery,  suspense  and 
punchy emotional drama. 
The  Dry  is a 2020 Australian 
mystery  drama  thriller  film 
directed  by  Robert  Connolly, 
from a screenplay by Connolly 
and Harry Cripps, and starring 
Eric 
Bana, 
Genevieve 
O'Reilly,  Keir  O'Donnell  and 
John Polson. The film is based 
on the 2016 book of the same 
name by Jane Harper.'
KAIWAKA BUGLE 
DEADLINE DATES 
2021:   
Every second Friday 
April 16, 30 
May 14, 28 
June 11, 25 
July 9, 23 
August 6, 20 
September 3, 17 
October 1, 15, 29 
November 12, 26 
December 10
Proverbs 18: 21
Words kill, words give life; 
they're either poison or fruit 
---- you choose!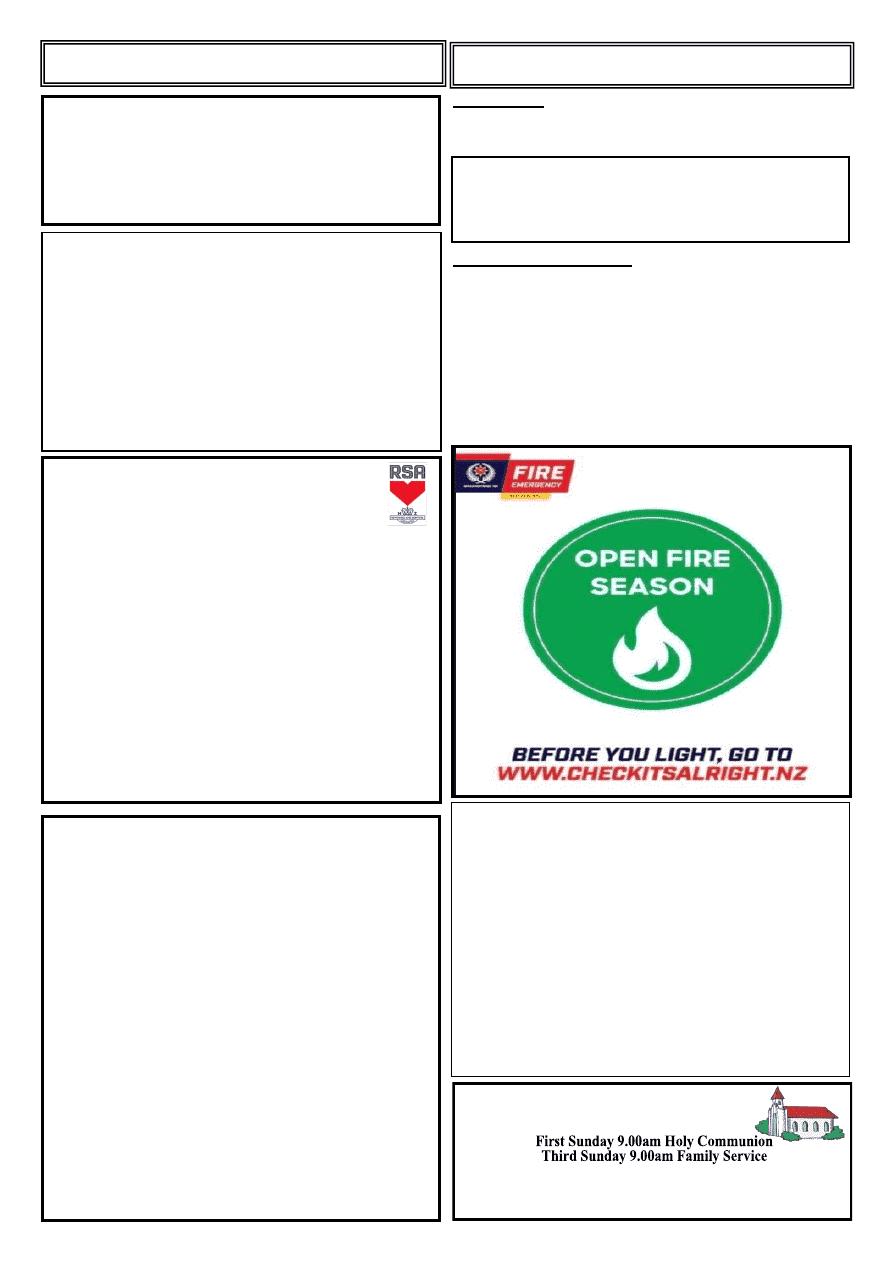 www.kaiwaka.co.nz 
Kaiwaka Bugle - 6 April, 2021 
Page 3 
PUBLIC NOTICES 
CLASSIFIED 
HAKARU  RE:SORT: 
The  Hakaru  Re:Sort  transfer 
station  site  has  now  been  temporarily  relocated  2-300 
metres  up  the  road  and  has  been  open  from  Saturday  24 
April. At this stage they can only receive general refuse (no 
recycling).  Look  out  for  the  signage,  please  bring  cash  if 
possible as eftpos may be unreliable in the interim. Thanks 
for  your  patience  and  again  apologies  for  any 
inconvenience. Further updates to come this week. 
The  main  Hakaru  transfer  station  (managed  by  Northland 
Waste)  has been temporarily  closed  effective  immediately 
due to a significant structural issue with the building onsite. 
See KDC kaipara.govt.nz 
HAKARU RE:SORT STATION 
636 KAIWAKA-MANGAWHAI ROAD 
Open every day 10am - 4pm ~Closed All Public Holidays 
Telephone: 09 431 2629 
NOTE: No GREEN Bag Pick Up on Oneriri Rd 
ST PAUL'S ANGLICAN  
SUNDAY SERVICES 
St Pauls Church: Kaiwaka-Mangawhai Rd. 
Priest in Charge Rev. W Thornton Ph 431 4122 
www.mangawhaianglican.org.nz
HAKARU & DISTRICTS 
MEMORIAL RSA INC 
Annual General Meeting 
Please take note the Annual General Meeting 
of the Association will be held at the clubrooms, 
733 Settlement Rd, Hakaru 
on Sunday 16th May 2021 
BUSINESS: 
1: Receive Apologies. 
2: Confirm Minutes of the previous year's AGM. 
3: Presentation of Annual Reports and Accounts 
4: Election of Executive and Committee 
5: Remits/Notices of Motion 
6: General Business 
Copies of Remits/Notices of motion to be presented at the 
Clubrooms  at  the  AGM  will  be  available  at  the 
Clubrooms from 1st May 2021 
Martin Edinborough, Secretary 
KAIWAKA FOOD BANK AND OP SHOP 
Public Meeting 
10 am Monday 10th May 
In Kaiwaka War Memorial Hall 
All those interested are invited to come and help us 
work out a management strategy for the 
administration of the Foodbank and Op Shop. 
KAIWAKA FOODBANK OP SHOP  
SALE WEEK  
The sale will end on the Friday 7th May  
There are still some good bits and bobs left, really cheap 
Then its clean up time and start again with a new lot due 
to the size of the shop.  
We have to do this quite often, a lot of mahi/ work but it is 
what it is and the Staff and I do our best plus I have also 
been  doing  some  Food  Boxes  for  those  needing  food. 
That's what we are here for and if they need anything from 
the shop within reason  - blankets knives and forks  - we 
will help them with that.  
Our  Sole  Purpose  is  to  'Help  raise  money  For  the 
FOODBANK to Help Those In NEED'   
Arohanui Milly and staff.  
HOURS: Tuesday – Friday10am to 3pm 
PHONE: 027 388 9217 
TE POUNGA MARAE 
ANNUAL GENERAL MEETING 
 to be held on 16th May 2021, 10am 
at Te Pounga Marae, 130 Nathan Road, Kaiwaka 
AGENDA: 

 Karakia timatanga/mihimihi 

 Apologies 

 Minutes from last AGM 

 Financial Report 

 Chairpersons Report 

 Re-election of Trustees/resignations of Trustees 

 General Business 

 Karakia whakamutunga
. 
FOR SALE: Fertile Khaki Campbell duck eggs - $12/
dozen.  Buyer must pick up from Kaiwaka township. 
Ph/txt  021 243 0372. 
MAUNGATUROTO  
RECREATIONAL SOC. INC 
ANNUAL GENERAL MEETING 
In the Clubrooms  
at 84 Bickerstaffe Road, Maungaturoto 
Tuesday 18th May 2021 at 7pm 
AGENDA: 
*Election of Officers 
 President's Annual Report 
 Financial Report 
 Notices of Motion 
*Note: Nominations for election to be delivered to the secretary 
no  later  than  Tuesday  4  May  2021.  The  Club  require  s  a 
treasurer,  vice  president,  secretary  and  active  committee 
members  to  join  the  committee.  There  will  be  an  honorarium 
attached to the secretary and treasurer positions. 
All members are urged to attend this meeting in order that 
decisions made are the will of the majority of members. 
Ray Turner, President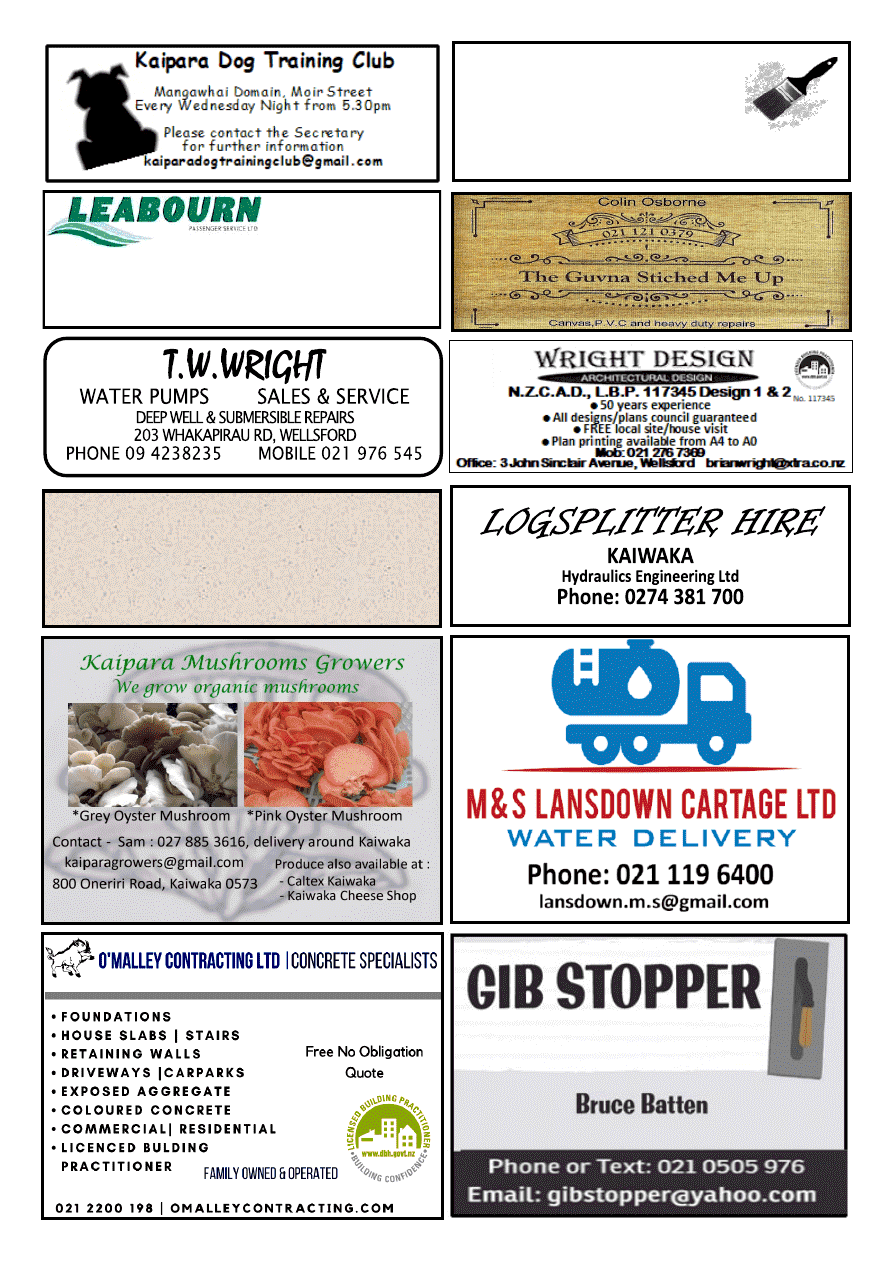 Counsellor and Registered Psychotherapist 
Offers Supervision
Susan Matheson 
MNZAC 
Dip. Psychosynthesis Counselling and Psychotherapy 
Phone 09 431 2996                        Mobile 027 605 2427 
Passenger Service
Car & Van Hire   Bus & Coach Charters 
Airport Transfers    
Phone (09) 4237416 
DR PAINT
 Dave & Rhys 
 Painters
 02108742551   
0211200667    drpaintnz@gmail.com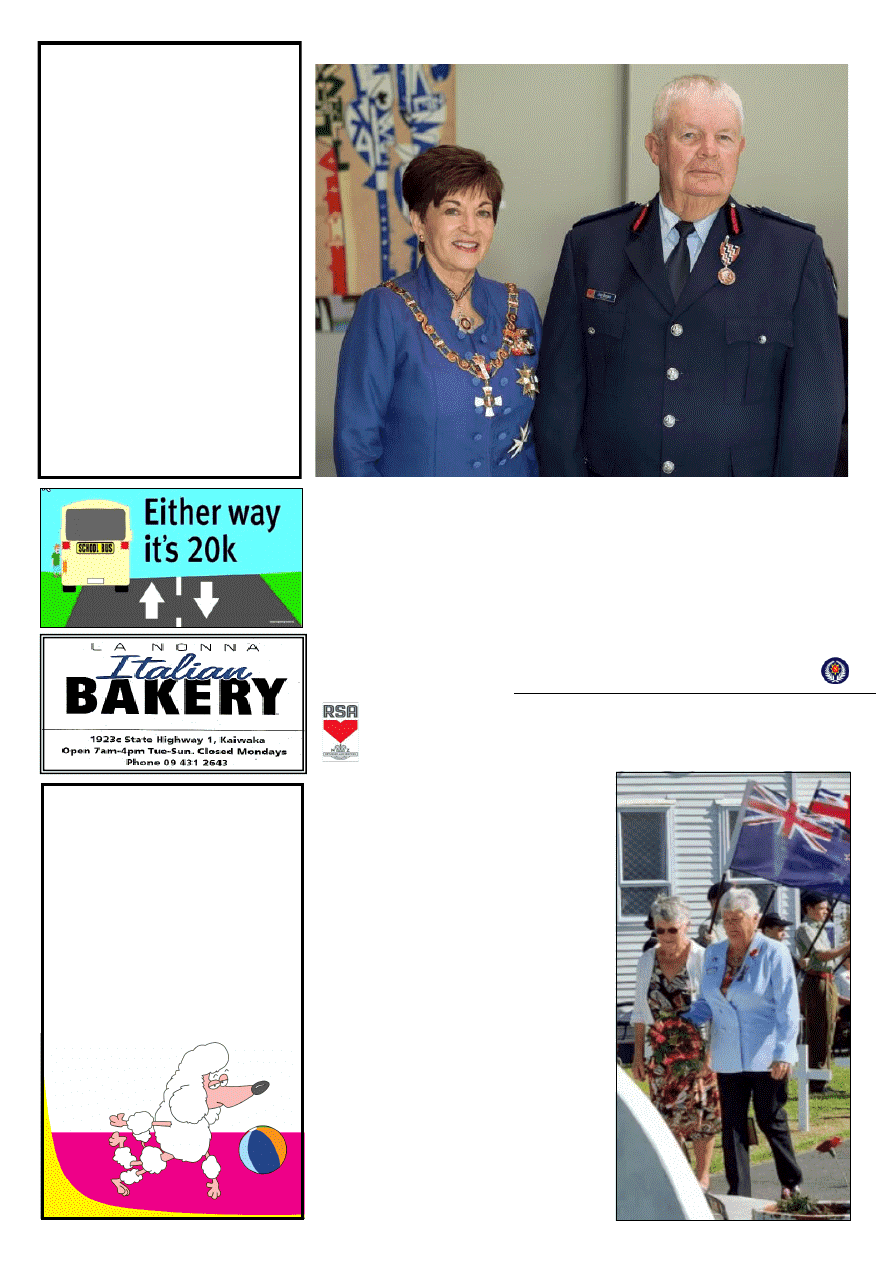 www.kaiwaka.co.nz 
Kaiwaka Bugle - 6 April, 2021 
Page 5 
Willow Bend
HORSE  
HOTEL 
#
Total Horse Care   
# 
Agistment 
# 
Riding Lessons    
#
 Arena Hire (60x40) 
# 
Young Horse Starting 
# 
Re-training/Exercising 
#
Hoof Trimming    
# 
Problem Solving 
Phone Sue  
09 431 2817 or  
021 623 776  
Or email  
susanjoll11@gmail.com 
Hot Diggity Dog  
DOG GROOMING  
KAIWAKA 
Spring is in the hair. 
Professional Dog Groomer  
at affordable prices.
www.doggroomingkaiwaka.co.nz 
call Pam 094312143 or text 
0273335380 for bookings 
Nine members were welcomed at our April meeting. 
We wish Francie Wearing a speedy get well after her recent fall. 
The  birthday  girls  for  this  month  were  Secretary  Jan  and  Doreen,  we 
hope you both had enjoyable days. 
The  raffle  this  month  was  won  by  Dawn 
Powell with Patroness Fay winning second 
prize. 
We  are  wanting  ideas  for  speakers  or 
demonstrators to complete our meetings so 
any one with ideas please let us know. 
Many thanks to the members who turned up 
on  the  Saturday  to  help  make  the  wreaths 
for the Cenotaph. This was the first time we 
have been without our flower wreath expert 
Heather,  and  we  were  pleased  to  welcome 
Dalleise Jaques from Garden Club and Liz 
Lawrence to help us as well. 
We  were  amazed  at  the  large  crowd  that 
turned  up  on  ANZAC  DAY,  many  thanks 
to our own members and those of the Public 
who  brought  plates  of  food  for  lunch  we 
would not have managed without them. 
The  next  meeting  will  be  on  27th  May  at 
1.30 p.m.  Lena and Pamela have offered to 
supply afternoon tea. 
Until  then  take  care,  and  any  members  of 
the Public wishing to join us would be most 
welcome. ~ Ann 
Photo:  Hakaru  Women's  section  Secretary 
Jan Mann  and President Ann Dowson lay 
their Section's wreath at the Hakaru Anzac 
Day Service. 
HAKARU RSA WOMEN'S SECTION
'Congratulations  John  Bowmar  –  who  recently  received  his  Queen's  Service 
Medal from the Governor General for his services to Fire and Emergency New 
Zealand and the community. 
John Bowmar has been a member of the Kaiwaka Volunteer Fire Brigade since 
1977.  He  was  Deputy  Chief  Fire  Officer  from  1994  to  2004  and  has  since 
served 16 years as Chief Fire Officer. In the past 10 years, he has attended 847 
callouts across a range of events. At the same time, he has provided support to 
neighbouring  Mangawhai  Volunteer  Fire  Brigade,  including  mentoring  new 
officers. 
John has also been an active member of his local Lions Club and been involved 
in community fundraising including for the Northland Rescue Helicopter Trust. 
He has supported the local Civil Defence team and has responded with his 
tractor to assist with rescues in the community.' ~ Fire and Emergency NZ
JOHN BOWMAR - QSM 2021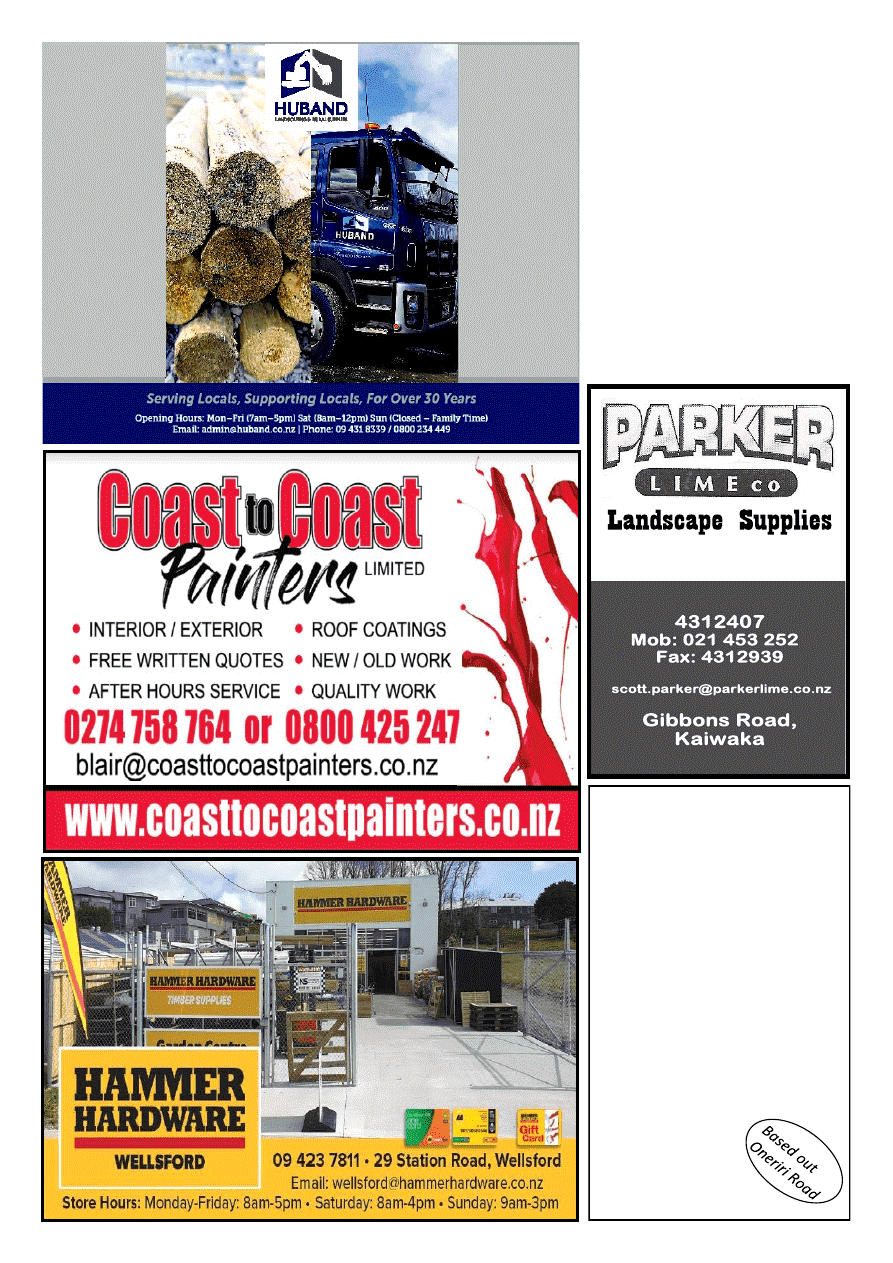 HODGETTS 
CONTRACTING
Digger Work    
Driveways   
House Sites  
Dams      
Drains, etc
Also available for HIRE 
3 ton Vib Roller  
Heavy Duty Tow  
Waterblaster      
Lazer Level
Phone Mark  
4312877 
027 447 8554 
Bulk Cartage 
HELP 
PHONE NUMBERS 

HEALTHLINE  0800  611  116  -  a 
nurse to answer health queries  

SAMARITANS  
0800  726  666  -  support  for  lonely  or 
suffering mental distress 

YOUTHLINE 0800 376 633 

LIFELINE 0800 543 354 

DEPRESSION HELPLINE  
0800 111 756 

ALCOHOL  &  DRUG  HELPLINE 
0800 787 797 

URGENT 
MENTAL 
HEALTH 
LINE 0800 223 371 

WARMLINE  -peer  support  for 
people with mental health issues  
0800 200 207 
Landscaping Supplies: 
Waikato Screen Topsoil 
Bark 
Woodchip 
Mill Bark 
Post Peelings 
Compost 
Crushed Shell 
Topsoil 
Limestone Chip 
Daltons Garden Mix 
Aggregate 
Gap: 20,40.65 
Riverstone 
Sand 
Belt Dust 
40/20 Drainage Metal 
Builders Mix 
 Cement 
Timber/Fencing Supplies: 
Rails, Posts  
Stays, Strainers 
Fence Battens 
Palings 
Stakes 
Fencing Wire 
Farm Gates & hardware 
Drainage: 
PVC Fittings 
Alkathene 
Draincoil 
WATER TANKS: 
Aqua & Baileys 
Brands 
DRAINAGE & 
SEPTICS: 
Land Drainage 
Urban Rural 
Drainage 
Water Pipelines 
Culverts 
Septic Systems 
(RX Plastics & 
Biorock) 
SITEWORKS: 
Retaining Walls 
Piling 
Driveways 
Carparks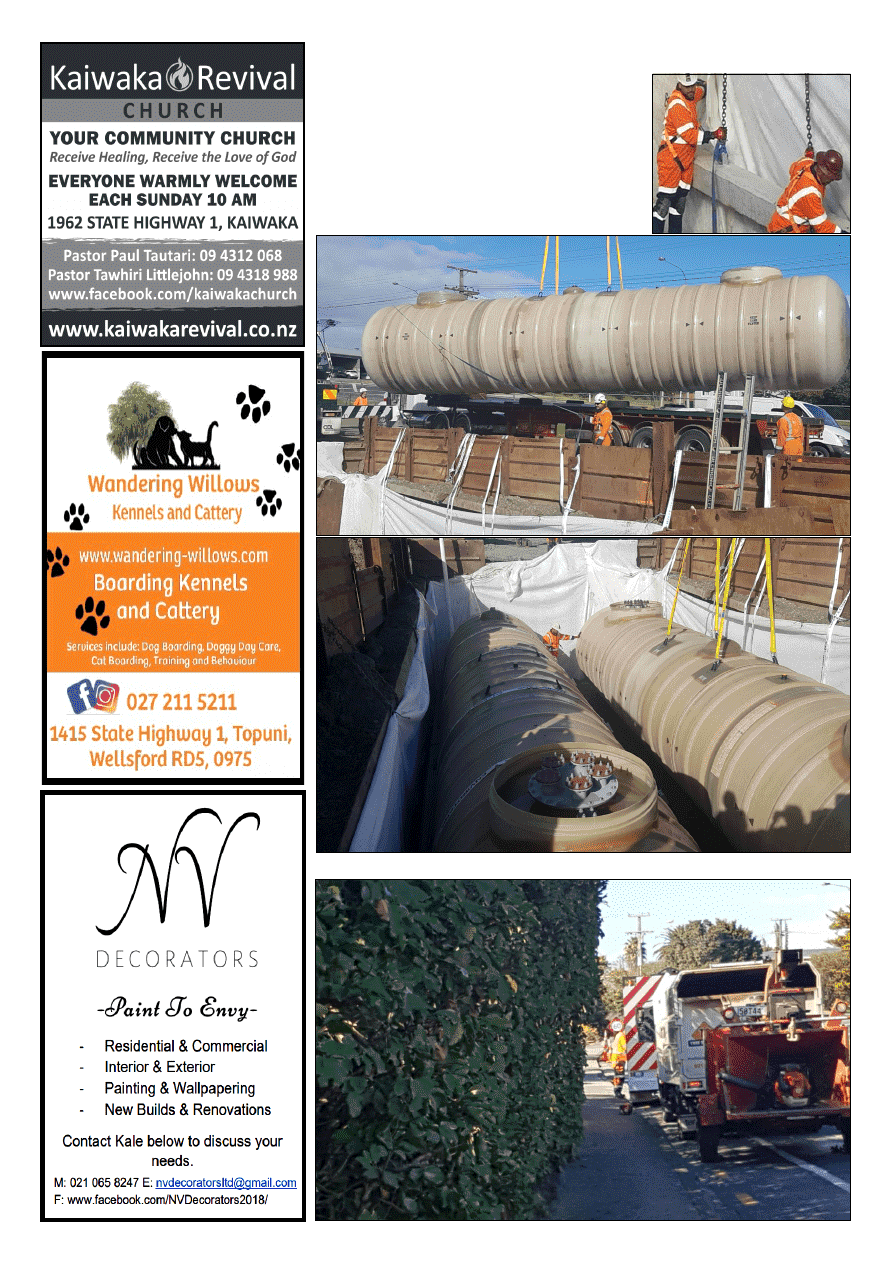 www.kaiwaka.co.nz 
Kaiwaka Bugle - 6 April, 2021 
Page 7 
SPOTTED ABOUT TOWN 
Below: PREPARING TO TRIM THE SH1 HEDGE
GULL  SERVICE  STATION:  A  very  large 
crane was brought in to install the two large fuel 
storage  tanks  last  week  -  one  for  91  fuel,  the 
second one divided for diesel and 96. 
These  tanks  were  strapped  down,  anchored  to 
concrete  beams  each  side,  then  fine  gravel  was 
poured and packed in to hold them firm. 
The  service  centre's  platform  is  being  extended 
to the east to cater for six high powered, 300kva, 
ultra fast EV charging  stations - the third in NZ.; 
and a car cleaner-vacuum station.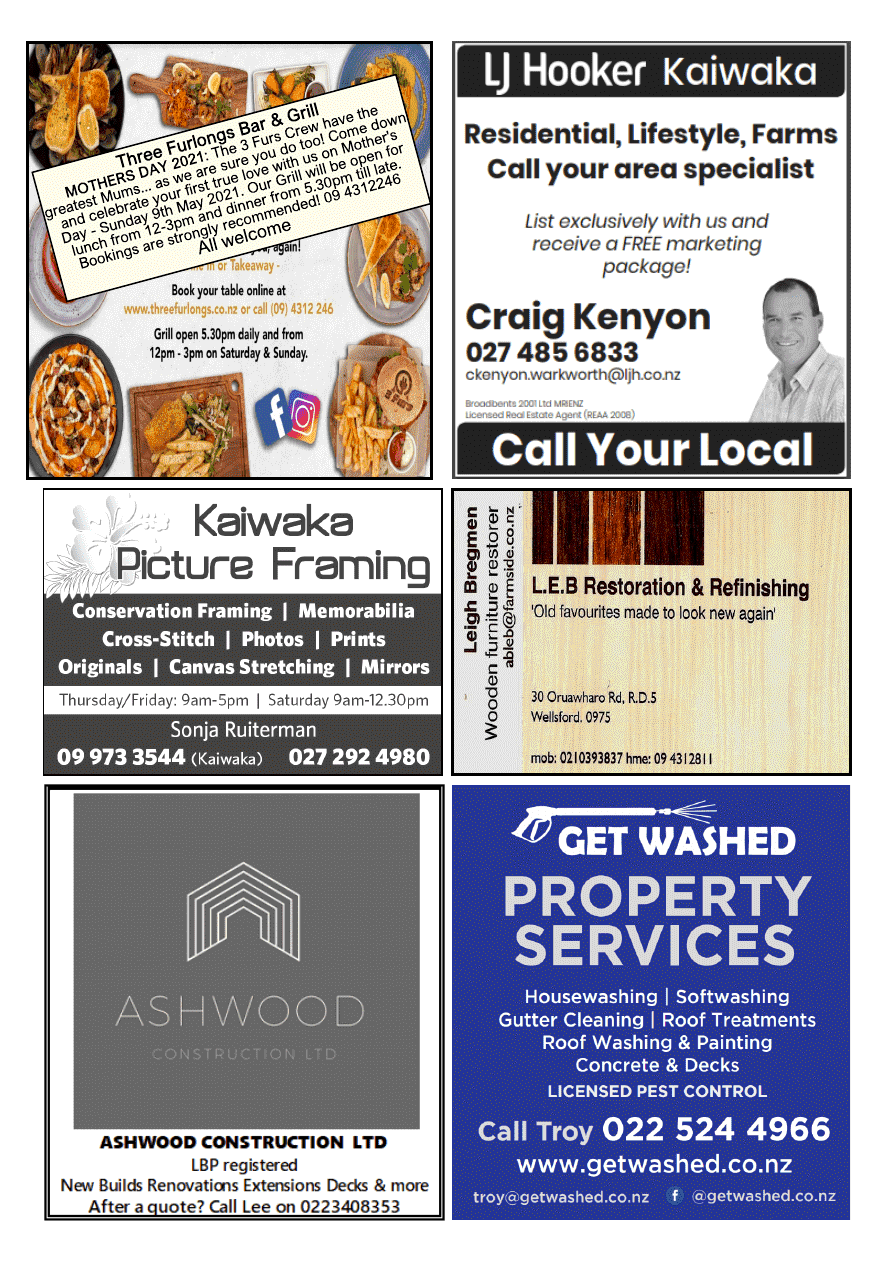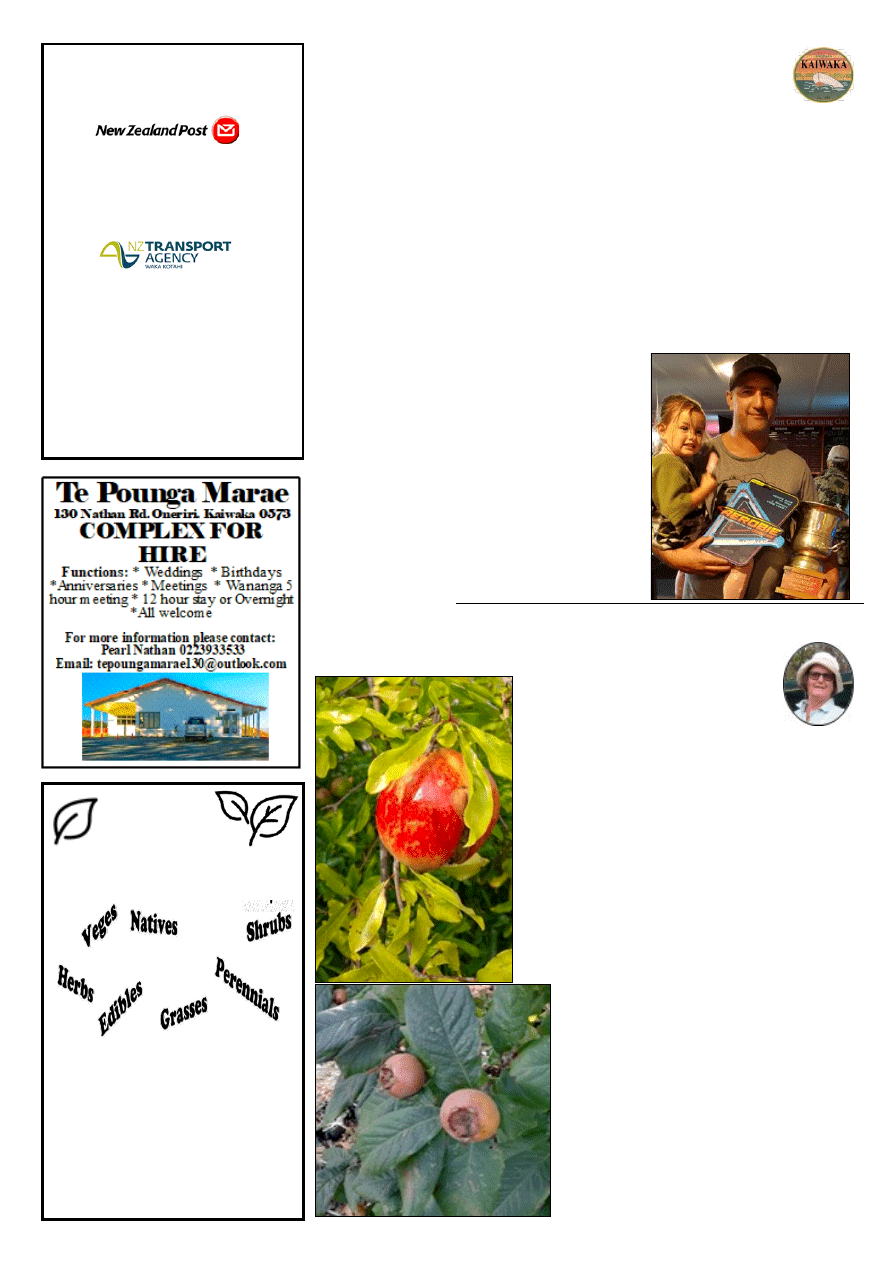 www.kaiwaka.co.nz 
Kaiwaka Bugle - 6 April, 2021 
Page 9 
KAIWAKA POST 
CENTRE and 
FOOD MART 
POST CENTRE TRADING HOURS 
MONDAY to FRIDAY 8am to 5pm 
SATURDAY 8am to 12pm 
CLOSED ON SUNDAY and on 
PUBLIC HOLIDAYS 
FOOD MART (GROCERIES)  
MONDAY TO FRIDAY  
7:30am to 7.30pm 
SATURDAY  8am to 7.30pm 
SUNDAY  8:30am to 7pm 
IF ANY QUERIES PLEASE CALL 
STORE MANAGER AMRIT  
on 09 4312431 or 
EMAIL: kaiwakafood19a@gmail.com 
1919a State Highway1, Kaiwaka 0542 
POMEGRANATE: 
Some of first trees I planted here. Five trees 
given to me by my father, who grew them from cuttings. I have had 
modest success with cuttings. I should 
have  asked  Dad  what  his  secret  was. 
Unfortunately,  too  late  now.  Don't 
forget to ask the old people questions. 
I  was  constantly  ringing  him  up  for  'how  to's'. 
Not  the  pomegranates.  The  pomegranates  grow 
well  here.  Hot  and  dry.  Dad  said  they  would. 
They  are  shallow  rooted  and  blow  over  easily. 
Doesn't  stop  them  growing  though.  They  just 
shoot up again. 
Downside.  There  are  serious  thorns.  This  puts 
them in Les' no-go area. 
Traditionally  they  were  used  as  fencing  for 
sheep. Planted in a circle they kept the sheep in, 
and  the  thorns  protected  the  sheep  from 
predators.  Also,  delicious  to  eat  and  lots  of 
vitamins and minerals.  
MEDLAR
:  Another  lovely  small  tree.  A 
member of the rose family like apple and quince. 
You  get  spring  blossom,  and  these  fruits 
hold  on  into  winter  with  great  autumn 
colour. I grow it because of its ancient and 
literary  lineage.  The  Roman's  grew  it  for 
the fruit which is edible in winter. Chaucer 
and  Shakespeare  use  it  as  a  metaphor  for 
corruption. Using the common name 'open 
arse'.  Pretty  obvious  why.  Who  am  I  to 
argue with the greatest writers in English? 
To eat the fruit, it involves bletting. Bletting 
is  letting  the  fruit  be  frosted  till  it  goes 
brown  and  mushy.  I  know.  I  tried  it.  It's  a 
bit like Christmas fruit mince - your choice. 
Medlar  are  well  worth  it.  Spring  blossom, 
winter colour, easy to grow, and a history.  
~ Heather, Oneriri Plants 021 766399 
HOW DOES YOUR GARDEN GROW? 
PT. CURTIS CRUISING CLUB 
We have had a hectic month with the 2021 Open Fishing Competition 
PLUS AUCTION – that was an amazing success along with the East Vs 
West Fishing Competition was well attended with Geff Stewart, photo 
below, took away the heaviest snapper and Thunder Cup. 
Over the weekend we had the Opening Duck Shoot – details not available at this 
time. Straight after was the End of Season Prizegiving for 2020/2021 with the 
winners table below. 
End of Year Prizegiving 2021 
Seniors: 
Snapper Noeline Bennett 8.317 
Kingfish Carol Welsford 17.442 
Kahawai Harman Walker 3.216 
Trevally Trevally 3.022 
Gurnard Gravy Greaves 0.915 
Peacock Pongo 5.536 
Boar Johnny Collinson 95.254 
Turkey Pongo 9.031 
Mallard Tony Smith 1.465 
Grey Tony Smith 1.233 
Parry Mike Donnelly 1.933 
Pheasant Hayden Smith 1.495 
Canadian Goose Dale Hamlin 4.96 
Pukeko Hayden Smith 1.207 
Swan (Black) Dale Hamlin 6.415 
Don't  forget  Subs  are  due  1st  June  2021.  $30 
Family  $20  Single;  Internet  banking  12  3094 
0008233 00 Please use Name/s as a reference. 
AGM  meeting  to be held 10 June 2021 at 7pm 
Kaiwaka Sports Association 
Fish  of  the  Month  for  February  was  Snapper 
and  we  had  a  full  complement  of  winners  1st 
Chainsaw  1.961kgs;  2nd  Shelly  1.447kgs;  3rd 
Paul 1.378kgs. 
New Fish of the Month: Kahawai till 13 May  
Next Club meeting: 13 May, 7pm, KSA 
Wayne Leslie (Commodore) 
Oneriri  
Plants 
Visit our Nursery 
Contact Heather 
021 766399 
oneririplants@gmail.com 
365AOneriri Rd, Kaiwaka 
A short trip off SH1
Juniors 
Snapper: Ashley Greig 3.134 
Kahawai: Aria Stewart 1.194 
Trevally: Sonya Steiner 1.901 
Gurnard: Sonya Steiner 0.313 
Peacock: Hunter Ries  5.124 
Turkey: Amanda Ries 7.663 
Mallard: Amanda Ries 1.228 
Parry: Hunter Ries 1.837 
Pukeko: Amanda Ries 1.096 
Swan, Black: Hunter Ries 6.128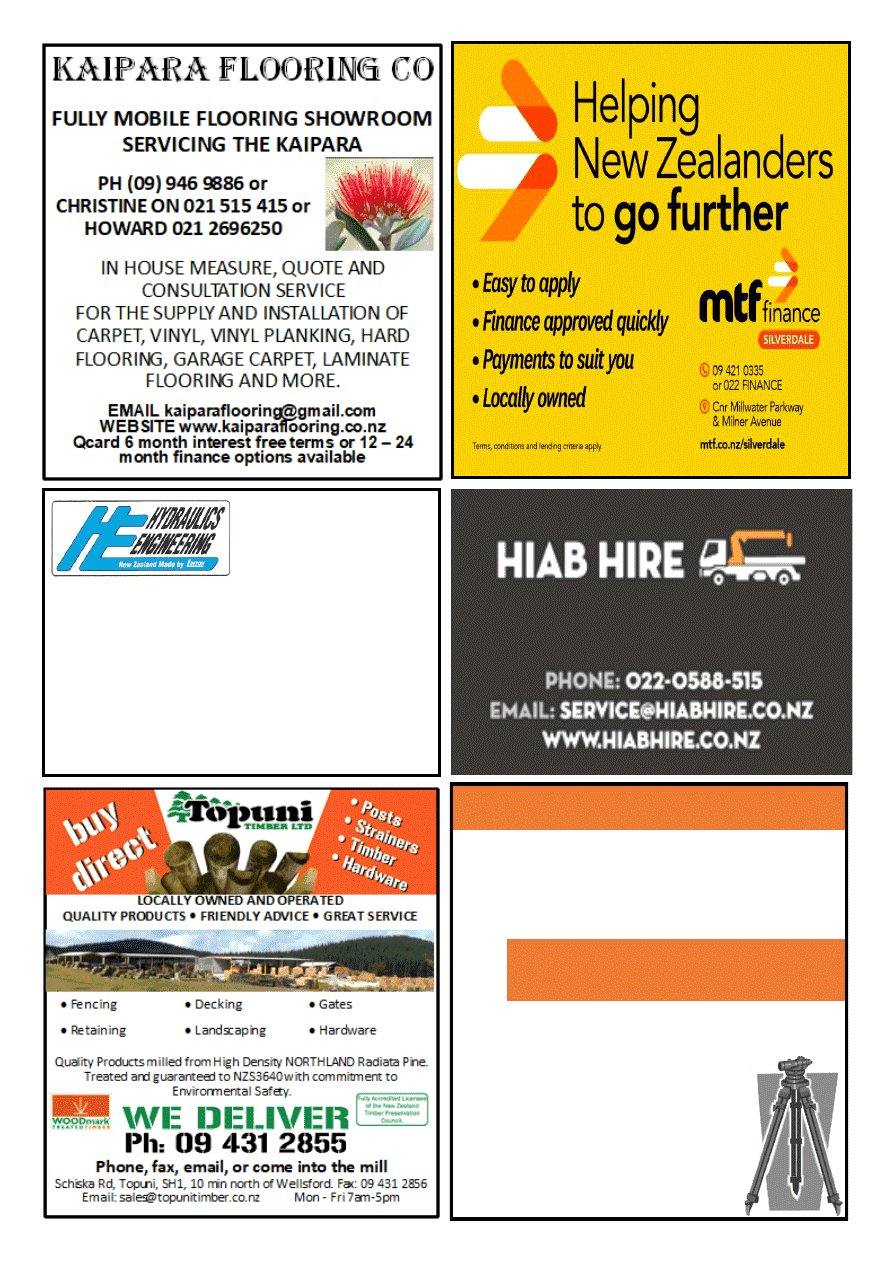 SURVEYORS 
SUBDIVISIONS 
HOUSE SITE SURVEYS 
CIVIL ENGINEERING 
WASTEWATER DESIGNS 
EXPERIENCED 
PROFESSIONAL 
INNOVATIVE 
Ph 09 431 5353 
0800 PACIFIC (0800 722 434) 
pacificcoastsurvey.com
Adam Booth - 027 415 5752 
Bsurv, Licensed Cadastral Surveyor
Surveying Kaipara since 1994 
Hydraulics  
Engineering Ltd 
Kaiwaka 
Sales - Service - Parts - Hire - Manufacture 
Service Contractors & Industrial Equipment: 
Rams, Pumps, Valves 
Logsplitter Hire, Manufacturer, Sales 
Dennis Linton 
Lot 2 / 161 Ranganui Road, RD2, Kaiwaka, 0573, New Zealand 
Mobile: 0274 381 700 
Email: hydraulicsengineering@xtra.co.nz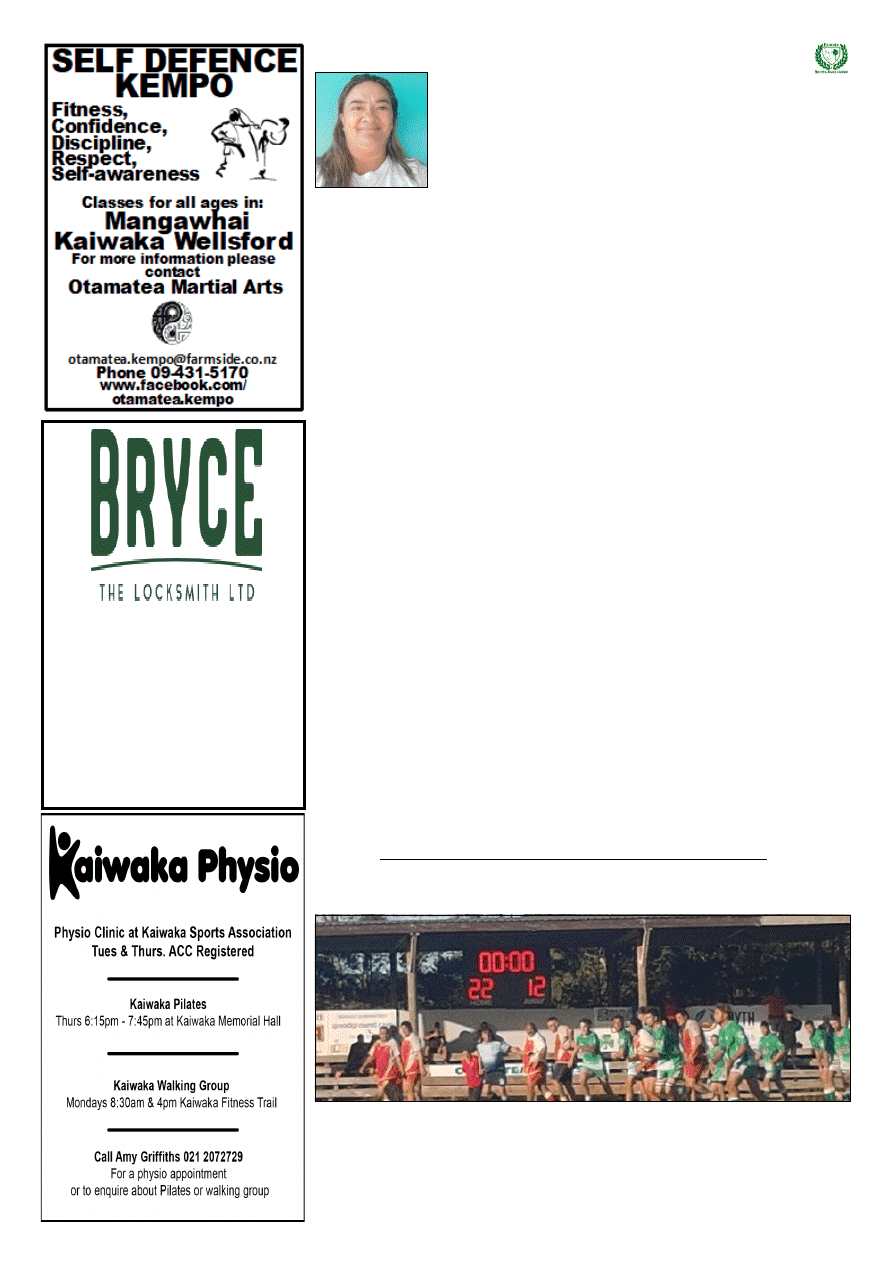 www.kaiwaka.co.nz 
Kaiwaka Bugle - 6 April, 2021 
Page 11 
Bryce Frewin 
Ph: 021 850 983 
Kaipara Based Master 
Locksmith 
bryce@brycethelocksmith.co.nz 
www.brycethelocksmith.co.nz 
KAIWAKA SPORTS ASSOCIATION 
KAIWAKA 
SPORTS 
ASSN 
NEW 
SECRETARY 
Pam  Lawson,  the 
new 
KSA 
secretary: 
Some  information  about  me:  I'm 
48, grew up in Dairy Flat. I'm hard 
working, dedicated, honest.  
I  decided  to  take  this  position  on 
because  Pongo  'bongsnoodled'  me 
(hahaha),  and  someone  had  to  step 
up.  I  will  apply  my  best  foot  and 
talents forward and do my very best 
to provide the KSA with my all.  
I'm  not  well  known  by  many  as  I 
like to keep my world small UNTIL 
NOW! I think I'm  going to build a 
bigger bubble. 
There  were  a  lot  of  members  who 
did not make it to the meeting but I 
have a plan to  get  everybody's  cell 
phone numbers so I can send a bulk 
text, and everyone will know about 
the next meeting.  
The  KSA  Committee  is  up  and 
running,  we  have  a  new  treasurer 
and  Secretary,  the  KSA  is  still 
looking  for  a  great  PR  and  FB 
coordinator. 
I'm  sure  the  KSA  has  a  lot  of 
upcoming  events,  sports  etc.  I  just 
have  to  find  out  what  they  are  and 
when  they  are  happening  so  bear 
with me and I will touch base soon. 
I have attached a new club's list but 
there are a couple of names which I 
am  missing  their  phone  numbers 
and  email  addresses.  So,  if  you 
know please pop me a text or email. 
The minutes of the last meeting are 
now being circulated. ~ Pam 
Email: sec.pam.ksa@gmail.com 
Text: 0274 916085  
CONTACT DETAILS FOR  
KSA CLUBS 
ATHLETICS 
Eileen Parsons 431 8055 
E: b.parsons@xtra.co.nz 
HOCKEY 
Tina Holst 021 293 5974 
POINT CURTIS CRUISING CLUB 
Sandy Shaw 021 0236 0740 
E: wfdsports@xtra.co.nz 
NETBALL-Senior (OTA-EX) 
Maree Stewart 
NETBALL  –  High  School  (Nicole 
Kemp) 
Jodie Bennetto 021 0266 3634 
E: mgtonetball@gmail.com 
TENNIS: 
Andrea Orchard 021 02346849 
E: the7orchards@gmail.com 
SQUASH: 
Heath Worsfold 021 431 320 
E: heath@ruraldesign.co.nz 
Bruce Leslie 021 12608015 
E: leswa212@gmail.com 
BASKETBALL 
Blake Worsfold 021 148 9743 
E: blake@ruraldesign.co.nz 
FITNESS CENTRE 
Siobhan Henderson 027 979 1203 
E: siobhanCole87@gmail.com 
MARTIAL ARTS 
Craig Bennetts 4315 170 
021 152 4466 
E: otamatea.kempo@farmside.co.nz 
KAIWAKA PRIMARY SCHOOL 
Sharlene Tornquist 
021 083 60424 
E: s.tornquist@kaiwaka.school.nz 
NETBALL- Primary School 
Courtney Cave 021 266 7946 
E: cjcave@hotmail.com 
BADMINTON 
Kay Fleming 4312 345 
E: pkfleming@xtra.co.nz 
RUGBY-Senior 
Michael Tovine 021 138 661 
E: michealtovine@hotmail.com 
RUGBY – JMB 
Te Awhina Whitehead 
021 0259 6889 
E: teawh@hotmail.com 
OTAMATEA HAWKS  
2021 South Zone Rugby Competition 
 24April: Otamatea vs Mangakahia resulted in a win for the HAWKS 29-19 
 1May: Otamatea vs Dargaville OB resulted in a win for the HAWKS 29-12  
Photo above showing the KSA scoreboard just before the final whistle. 
GAMES TO COME: All games at 2:30pm 
 8May: Southern vs Otamatea;  15 May: Otamatea vsWhangaruru     
22 May: Otamatea vs Mid Western ; 29 May: Pipiwai vs Otamatea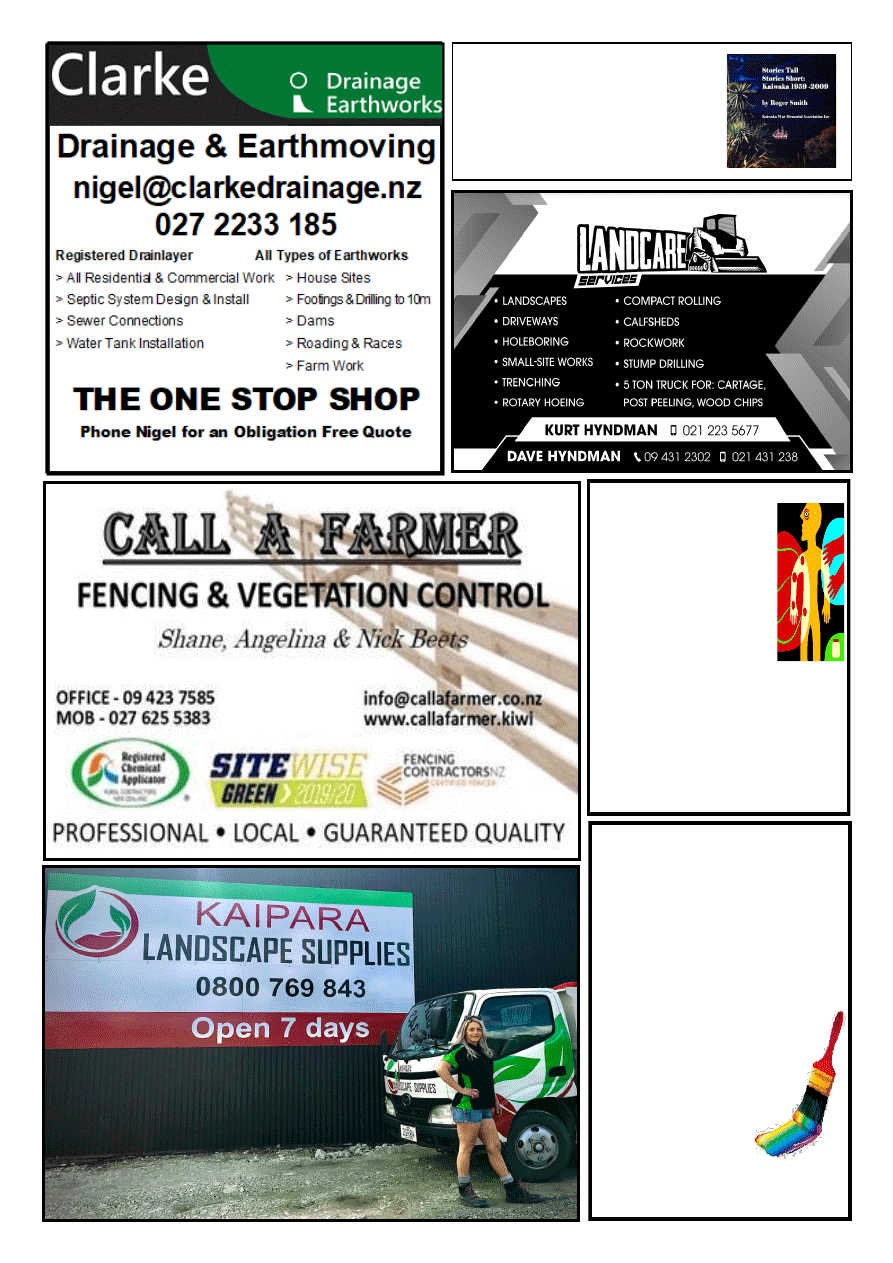 OWEN STEVENS 
Osteo Therapist
For careful adjustments 
to bones and joints 
Treatment for  
humans and their pets 
Clinics: 
Kate's Place, Kaiwaka: 
Last Friday of month  
9.00am-5.00pm 
For bookings:  
Phone 
09 4312661 
Or phone Owen  
 09 4317123 anytime 
LEE COOPER 
PAINTERS 
(Kaiwaka Based) 
*30 yrs Experience 
*Interior/Exterior 
*New and Restoration 
*Honest and Reliable 
*Free Quotes 
09 4312918 
0274735171 
leecooper@xtra.co.nz 
Stories Tall, Stories Short  
Kaiwaka 1959-2009 
by Roger TW Smith.  $40 
Available at All Sortz Collectables  
or phone  4312 045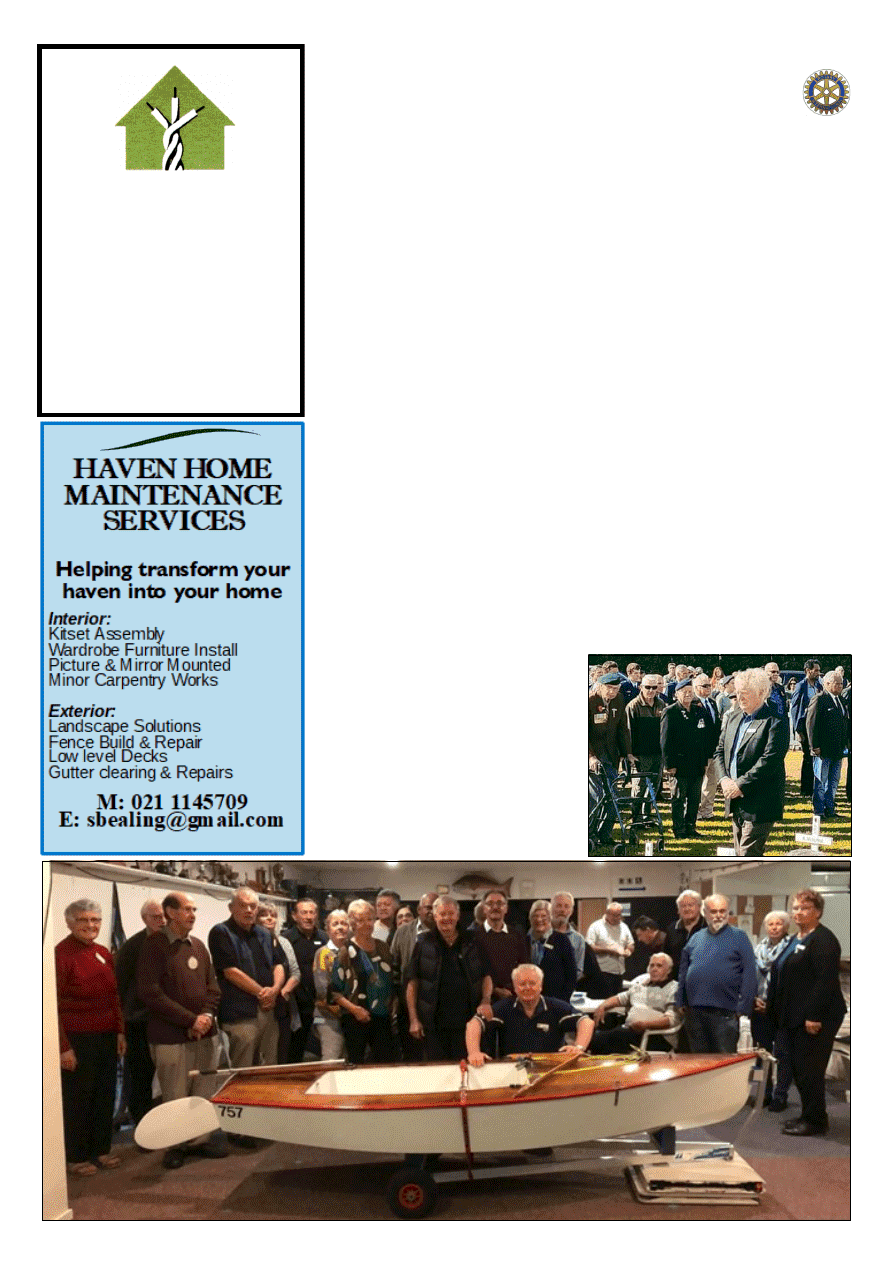 www.kaiwaka.co.nz 
Kaiwaka Bugle - 6 April, 2021 
Page 13 
Reyahn  Leng 
 Registered Electrician 
Local, honest and reliable. 
For your residential and 
light-commercial projects. 
022 314 1068  
MEETING  AT  BOATING  & 
FISHING CLUB 
President  Rodney  Tysoe  welcomed  a 
good  number  to  our  meeting  at  the 
Mangawhai Boating and Fishing club. 
It was great to have the partners along 
as well as AG Gary. 
It  was  also  great  to  have  our 
prospective  member,  Dennis  and  his 
wife  present.  Also  with  us  were  Dave 
and Lindsey Kitson, a couple who took 
up sailing later in life.  
Wayne Maclennan was able to be with 
us as well and he has had a great deal 
to  do  with  the  yachts  that  Otamatea 
High School has at Pahi. The centre of 
attention, looking very pristine was the 
boat pictured below. 
Grahame  launched  the  evening  by 
sharing  a  humorous  story  about  his 
first sailing venture as a teenager – all 
ended  well  when  they  were  taken 
under  the  wing  of a family  friend.  He 
then  spoke  of  the  inspiration  he 
received from the book written by the 
late Des Townson (and his wife Sue). 
JUNIOR SAILING SCHOOL 
Maungaturoto  &  Districts  Rotary 
project: 
Grahame's  plan  is  to  start  a  junior 
sailing school which will operate in the 
Mangawhai  Harbour  two  hours  either 
side  of  high  tide  and  will  sail  to  the 
right  of  North  Street.  Because  of  the 
congestion  at  the  weekend,  it  is  quite 
likely this will happen in the evenings. 
The ages of 11 to 17 have been chosen 
as  participants  need  to  have  a  body 
weight of around 40kgs or more. 
The  more  expensive  versions  of  these 
boats  cost  around  $13k  (fibreglass), 
but the ply yacht we have cost $1,300. 
Grahame has spent an amount of time 
and  effort  in  restoring  this  to  the 
beauty we have on display.  
On  the  stern  of  this  boat  is  a  sticker 
which states: "Starling Nationals 1991, 
Lyttleton"  so  it  was  obviously  a 
speedy  little  yacht.  Grahame 
hopes  to  get  sponsorship  (with 
naming  rights)  for  these  boats 
but ultimately would like the parents to 
buy them for their 
youngsters. 
SAFETY & SAILING 
Wayne  Maclennan  then  spoke  about 
taking  over  the  sailing  at  Pahi,  when 
he was at Otamatea High School. This 
was originally set up by the late Peter 
Broadhurst.  There  are  two  optimists 
there  which  can  be  used  for  our 
project.  Wayne  has  spoken  to  the 
Acting Principal who is happy for us to 
use  the  optimists.  There  are  also  8 
lifejackets  that  we  can  use.  Wayne 
stressed  the  importance  of  safety  and 
the  fact  that  there  should  be  a  safety 
boat  present.  Wayne's  philosophy 
when  teaching  sailing  is  that  sailors 
need to be able to problem solve when 
things go wrong. Wayne is hopeful, if 
everything  falls  into  place,  that  the 
project 
will 
be 
underway 
in 
September.  
We  were also fortunate  in having  Nik 
Tetzner present because he was able to 
speak  of  sailing  the  school  boats  at 
Pahi  and  how  this  passion  led  him  to 
his present trade as a boatbuilder. 
Photo  below:  Pres.  Rodney  Tysoe 
represented  the  Club  at  Hakaru  Anzac 
Service. Photo bottom: The Maungaturoto 
&  Districts  Rotary  meeting  at  the 
Mangawhai  Boating  &  Fishing  Club  with 
the ply yacht (Eileen at left). 
MAUNGATUROTO & DISTRICTS ROTARY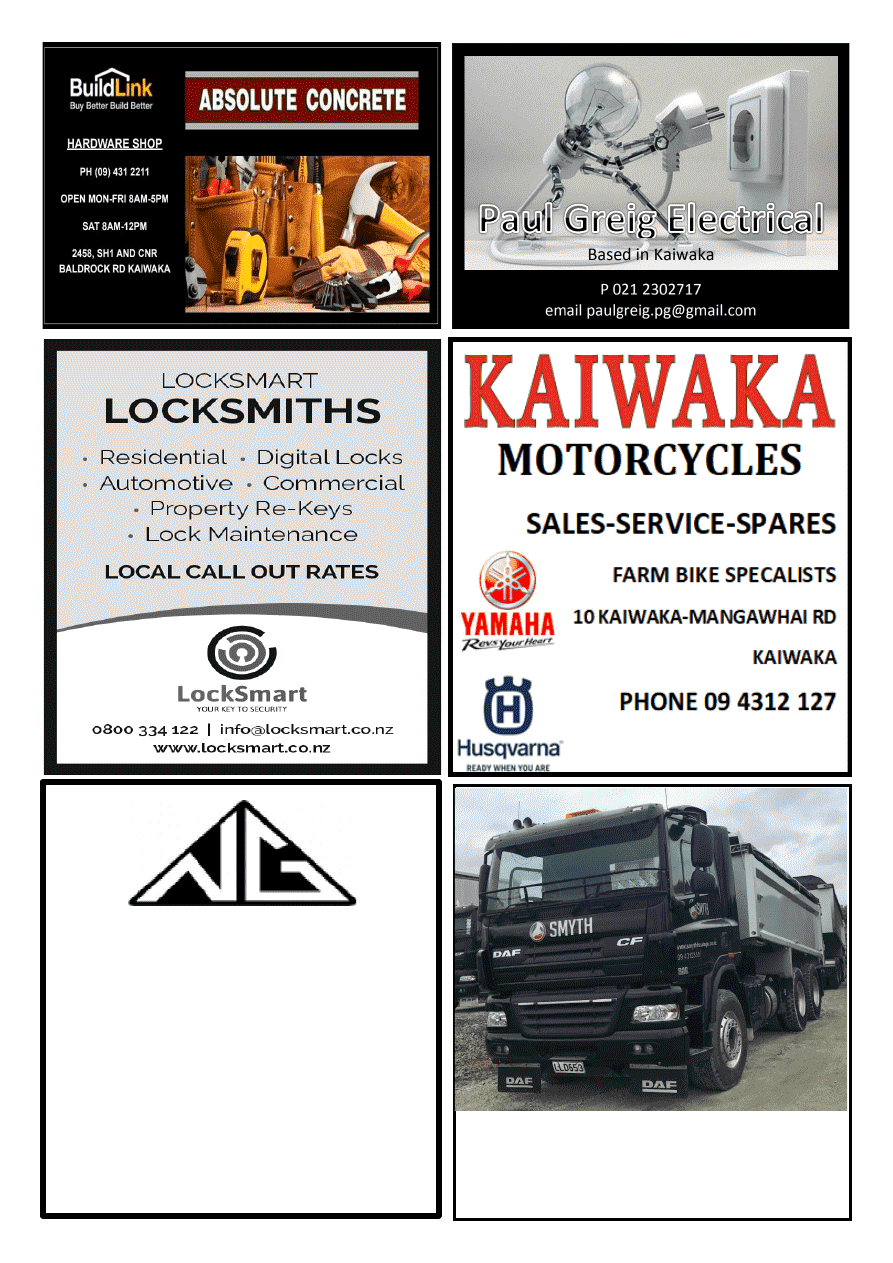 NORTH GLASS 
WINDSCREEN REPAIR OR REPLACE 
GLAZING SERVICES 
MIRRORS  •  SPLASH BACKS  •  SHOWERS 
0800 70 40 10
info@northglass.co.nz 
www.northglass.co.nz 
SMYTH HAULAGE       
for all your tip trucks & trailer 
requirements 09 4312355  
Carlton Smyth 0274870636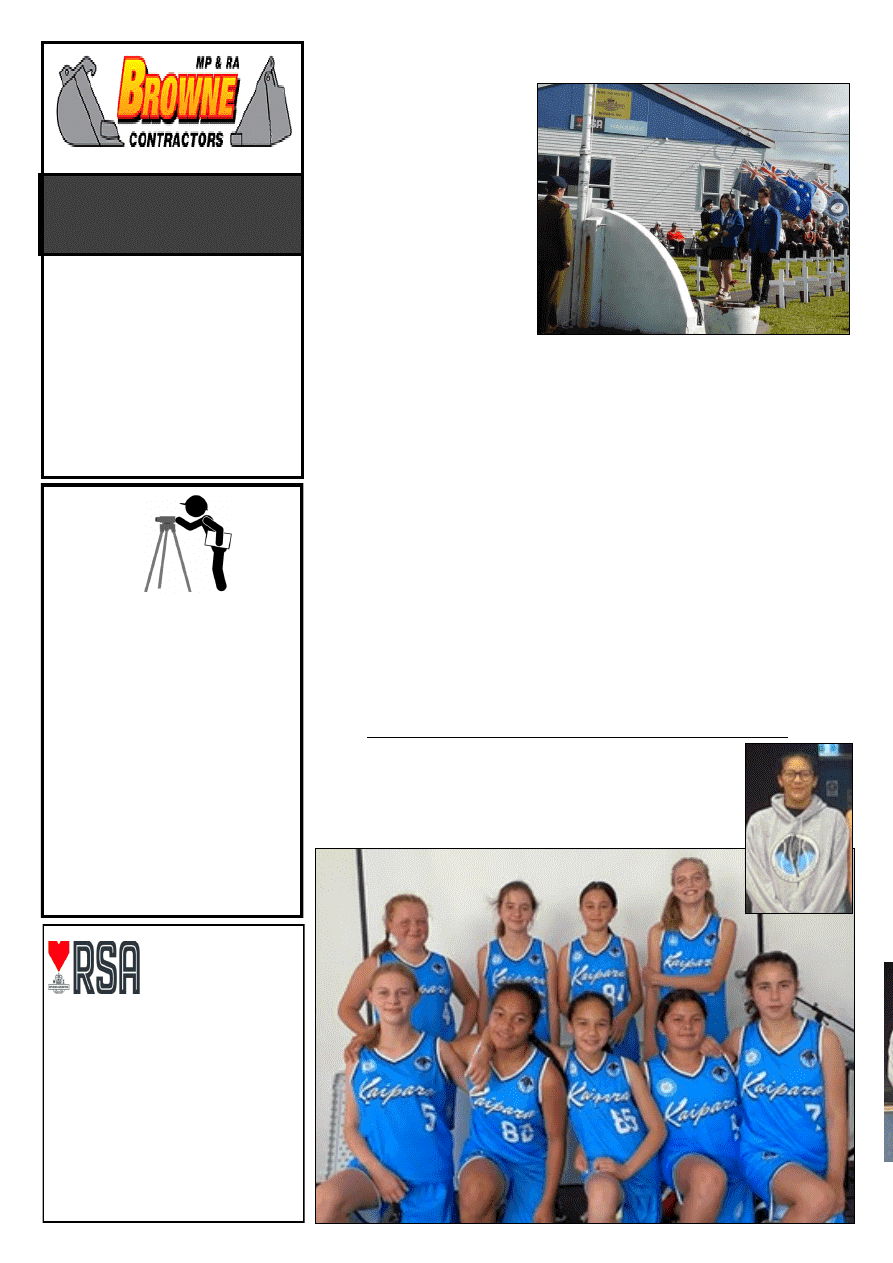 www.kaiwaka.co.nz 
Kaiwaka Bugle - 6 April, 2021 
Page 15 
HAKARU & 
DISTRICTS 
MEMORIAL RSA 
Members & guests are invited to 
come along and enjoy our hospitality. 
New members welcome. 
Meals are served on 
Thursday and Friday nights 
from 6.30pm. 
Order from Blackboard Menu  
For more information please phone 
Bill on 431 2092  
From Dirk Smyth, Acting Principal's Notes 
Ka  Ora,  Ka  Ako  /Free  and 
Healthy  Lunches:  I  am  very 
excited  to  announce  that 
Thursday  the  6th May  is day  1 
of  Ka  Ora,  Ka  Ako  -  the  free 
and healthy lunches programme 
that we are now a part of. Each 
child at school will be provided 
a  free  and  healthy  lunch  every 
day  from  Thursday  onwards. 
Dietary  requirements  will  be 
taken  into  account  for  those 
with  allergies  and  intolerances 
etc so please contact the school 
and  ensure  your  child's  details 
are  up  to  date.  This  will  help 
ensure  they  are  catered  for.  Regular,  nutritious  food  is  vital  for  children's 
physical,  mental  and  educational  development  and  it  affects  their  ability  to 
focus, concentrate and learn.  
Students will eat together in year groups after period 2, at the start of interval. 
The cafe will remain open during interval and lunchtimes, and the canteen will 
be open at lunchtimes only. Students should still bring additional food to school, 
such as fruit and other healthy snacks, to keep them going throughout the day. 
ANZAC Day: Congratulations to the year 13s and prefects who turned up to the 
local ANZAC day ceremonies last week, representing our school with pride. At 
each  of  the  four  services  (Maungaturoto,  Waipu,  Matakohe  and  Hakaru)  our 
students looked very smart in their uniforms and laid a beautiful wreath at the 
base of the flagpoles. I attended the dawn service at Centennial Hall. It was a 
beautiful morning and a reminder of the sacrifices made in the past that allow us 
to live in such an amazing country. Lest we forget. 
Year  13  Common  Room:  Well done to the year 13s who turned up over the 
holidays for their working bee. The common room looks so much better already. 
When the desks and chairs arrive, and the wifi access point is installed, this will 
look  and  feel  more  like  a  study  room  and  will  encourage  our  year  13s  to  use 
their study periods more productively.? 
Staff  Only  Day:  Please  note  that Thursday  the  20th  May  is  a  staff  only  day. 
This is a Ministry of Education staff only day, set aside for secondary schools. 
We  will  use  this  day  to  support  the  implementation  of  upcoming  changes  to 
NCEA and strengthen our junior curriculum areas. 
Ken Urquhart 
BSurv Licensed Cadastral 
Surveyor 
KMU  
Surveys Ltd
467 Bickerstaffe Road 
RD 2 
Maungaturoto 0587 
Ph 09 431 8705 
Mob 021 161 2344 
kenurquhart@xtra.co.nz 
OTAMATEA HIGH SCHOOL  
- 4 Tonne DIGGER - 
- BOBCAT- 
- TIP TRUCK - 
Property Maintenance  
Driveways 
Building Sites 
Stump & Tree Removal 
Hole Boring -  Chain Trencher 
Calf Shed and Stockyard Cleaning 
Phone Matt: 021 199 6677 
Email: mprabrownecontractors@gmail.com 
KAIPARA BASKETBALL 
A  great  day  at  the  RECENT  Blitz  tournament  with  Coach 
Toni  ,  PICTURED  RIGHT,  and  her  U14s  Development  team 
'Champions' in their grade ... well done!  A huge thanks to all 
the  players,  coaches,  managers  and  parents  for  their  time, 
support and dedication.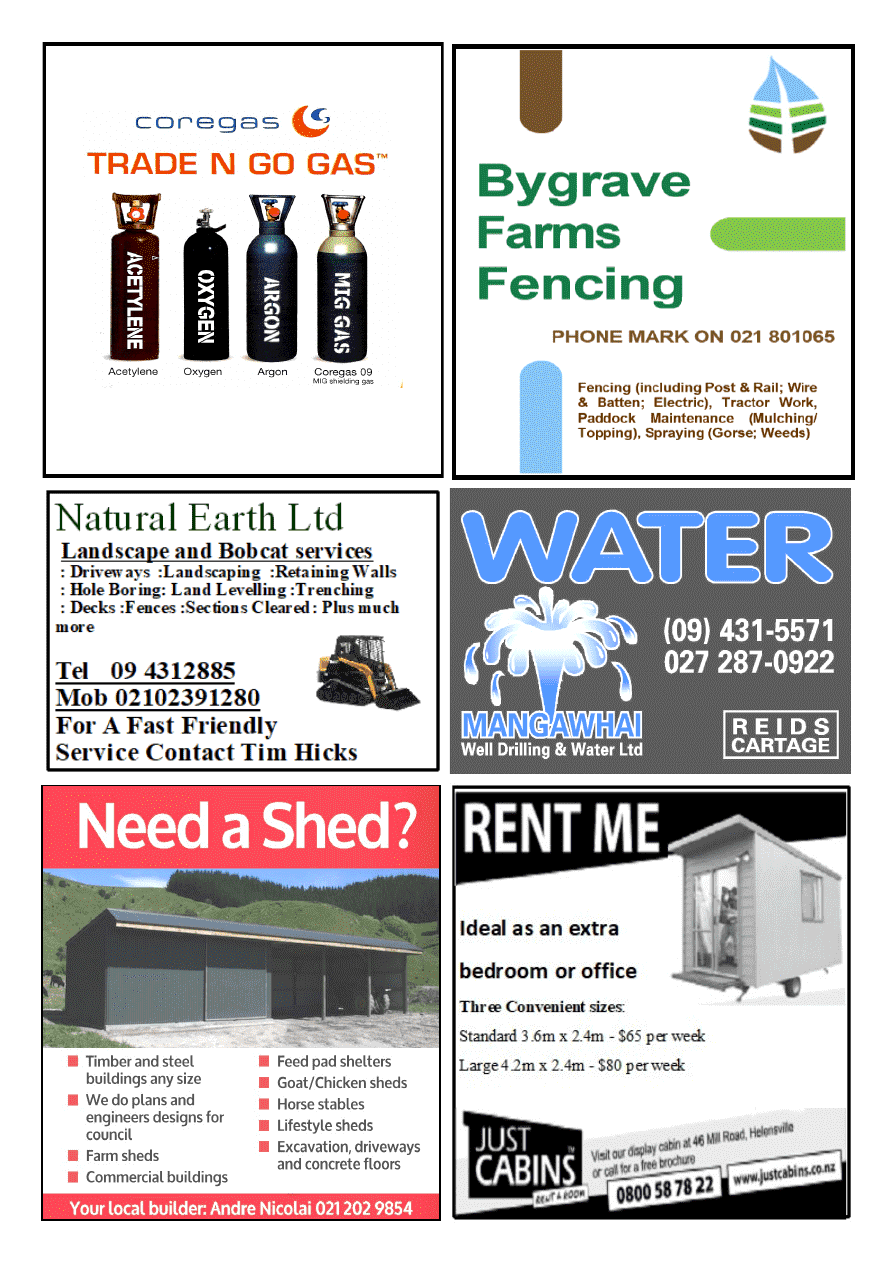 At Twinkle Tow 'n' Tyre 
Mob: 021 833 960 
Ph & Fax: 09 431 2823 
1837 State Highway 1, Kaiwaka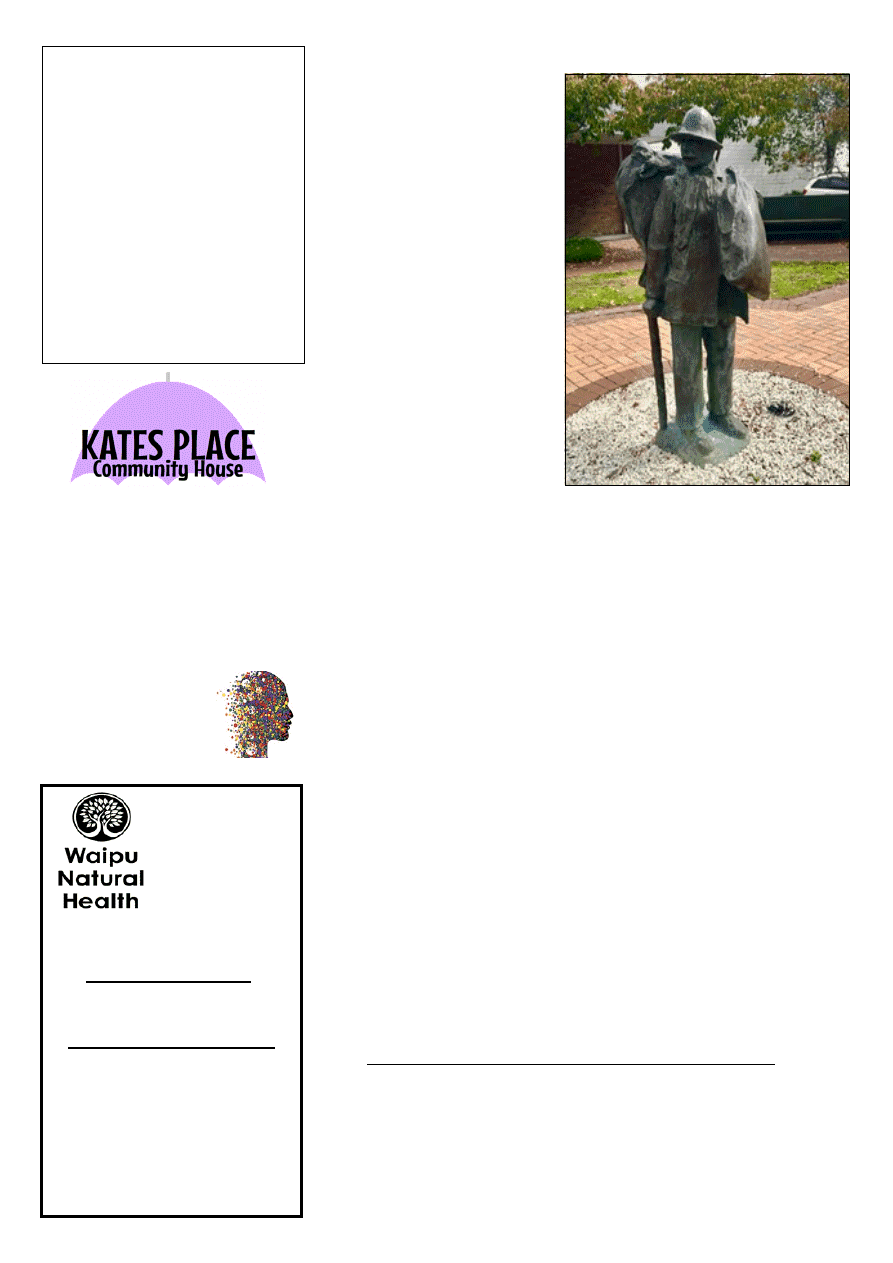 www.kaiwaka.co.nz 
Kaiwaka Bugle - 6 April, 2021 
Page 17 
3 Cove Road, Waipu 
 (opposite the Pizza Barn) 
094321325 
www.waipunaturalhealth.co.nz 
Clinical Nutritionist: 
Nutritional Checkups, Diets for 
Chronic Diseases, Food 
Sensitivities 
Naturopathic Physician: 
Ozone Therapy, Prolotherapy 
Reflexology, Craniosacral 
Therapy, Trauma Release, 
Massage Therapy 
Counselling and Hypnotherapy 
Change Catalyst/ThetaHealer 
Affordable Children's Consults 
All therapists are fully qualified
MENTAL  HEALTH  RECOVERY 
GROUP  meet  every  Thursday  in  the  
St  John  Hall,  Kaiwaka,  from  10am. 
The  aim  of  this  weekly  group  is  for 
everyone  who  attends  to  receive 
education,  support,  social  connection, 
and a nice lunch. 
Whether  you  live  with  a  diagnosed 
condition  or  are  dealing  with  stress, 
anxiety,  or  symptoms  of  depression 
you are welcome to come and be a part 
of 
this 
supportive 
environment  which  will 
aid  in  your  recovery  and 
future wellness.  
Please  call  0297739085 
for further information.  
FOR A FREE LIFE 
Swagmen  or  tramps  as  noted  in  
'Kaiwaka  Centennial  of  Kaiwaka 
Rautau O Kaiwaka 1859-1959': 
"Francis  Mander  was  held  in  the 
highest  esteem  by  his  associates  in 
the  industry.  He  was  noted  for  his 
sincere  human  sympathies.  In 
periods  of  depression  no  swagman 
was  turned  away  without  a  few 
days' work and keep at Mander and 
Bradley's  [sawmills]"...  and  … 
"One  winter  of  the  teens,  so  bad 
was the main road that a few chains 
on the south side of W. Ross's home 
(now  I.Marshall's)  a  tramp  was 
found completely bogged, without a 
hope of extricating himself. The one 
to  the  rescue  was  Harry  Webster, 
who,  on  horse-back,  was  able  to 
pull  the  poor  victim  out.  His  hat 
remained  on  top  of  the  mud  to  be 
seen for a long time afterwards." 
Tony  remembers  two  or  three 
tramps  who  used  to  periodically 
walk Oneriri. They only ever asked 
for shelter and something to eat, and 
do odd jobs. 
THE FREE LIFE OF RUSSIAN JACK.
HAKARU HALL  
ACTIVITIES 

Monday:  Line Dancing 10-12pm    
Ph 4315160 

Tuesday & Thursday: Pilates 10am  

    Qualified Instructor Ph. 
0220643965 

Wednesday:  Music Jam Session 7pm  
Dennis Ph. 0210628631 

Friday Morning: Available for HIRE  

Sunday: Canine Coaching  
Ph 0272365004 

Dance Energy  Week Days  
   Monday to Friday, Afternoon/Evening  
Ph. 0275610469 

Friday Morning: Available for HIRE 
Hall Bookings Karen  
4312090 or 0210467490 
KAIWAKA SCHOOL  
KAIWAKA SCHOOL 150 REUNION WILL BE HELD ON  
23RD OCTOBER (LABOUR WEEKEND) THIS YEAR.  
Keep up to date with  Facebook Pages to follow: 
Kaiwaka School 150 year Reunion - message for more information  
Kaiwaka School Old Photos, Kaiwaka Historical Society. 
Please  tag  in  your  friends  and  family  we  want  to  spread  the  word  about  our 
school Reunion on 23rd October 2021.
One  of  New  Zealand's  last  swagmen 
was known to all as Russian Jack - but 
his real name might be a mystery. 
His  actual  name  was  often  said  to  be 
Barrett Cruman - but it has never been 
known  if  it  was  really  his  name  or  it 
was  taken  because  he  spent  time  as  a 
crewman on a ship. 
Born in Latvia in a small village called 
Alexandria on March 26, 1878, he only 
did  a  few  years  of  education  before 
working in scrub-camps then joined the 
merchant marine, working as a seaman. 
He arrived in New Zealand in 1912 on 
the British steamer Star of Canada, but 
off the coast of Gisborne the ship was 
wrecked, and he was swept ashore. 
He worked on coastal ships for a while 
but then took to the land working as a 
scrub cutter and a farm hand. 
Then one day he took to the road. 
For  the  next  53  years  Russian  Jack 
wandered around the North Island. 
He  was  best  known  in  the  Manawatu 
and Wairarapa.  He just avoided being 
in  Hawke's  Bay  during  the  1931 
earthquake. 
He  called  himself  Russian  Jack  -  or 
Ivan in his native tongue. 
In Masterton the statue of him by artist 
Kenneth  Kendall  shows  a  shorter  man 
with  a  deeply  tanned  face,  a  drooping 
moustache, most often wearing a wide 
brimmed felt hat and a walking stick. 
He  smoked  a  pipe  that  he  usually  put 
out by jamming a cork in the bowl. 
Russian  Jack  carried  several  large 
sugar bags and a cut-down kerosene-tin 
billy, along with tins of dripping which 
he  rubbed  on  his  chest  and  neck  to 
protect against ailments. 
He  had  a  number  of  rough  bivouacs 
around  the  North  Island  that  he  kept 
ready for his next visit. 
He  wore  newspapers  layered  in 
between  his fraying  clothes  and  a  pair 
of boots he fixed over and over again. 
He  was  remembered  as  a  man  of 
honour,  being  good  natured  and 
courteous. 
It was only in the mid-1960's he gave 
up  the  life.    In  his  80's  he  was  deaf, 
having  trouble  walking  with  one  foot 
becoming deformed. 
He  was  admitted  to  hospital  with 
frostbitten  feet  in  1965  and  spent  the 
next three years in Greytown Hospital, 
dying on September 19, 1968, aged 90. 
It  was  a  life  he  had  chosen,  one  that 
made  him  happy  and,  in  his  words,, 
"Man  oh  man  I  vos  FREE!  Free  to 
have  a  beer,  have  a  smoke,  –  happy 
what  you  can  call  all  the  time,  you 
know. They was free days." 
Russian  Jack  was  buried  in  the 
Greytown  Cemetery,  given  a  funeral 
from  the  proceeds  of  a  pension  he 
never collected in life. 
Ref. teara.govt.nz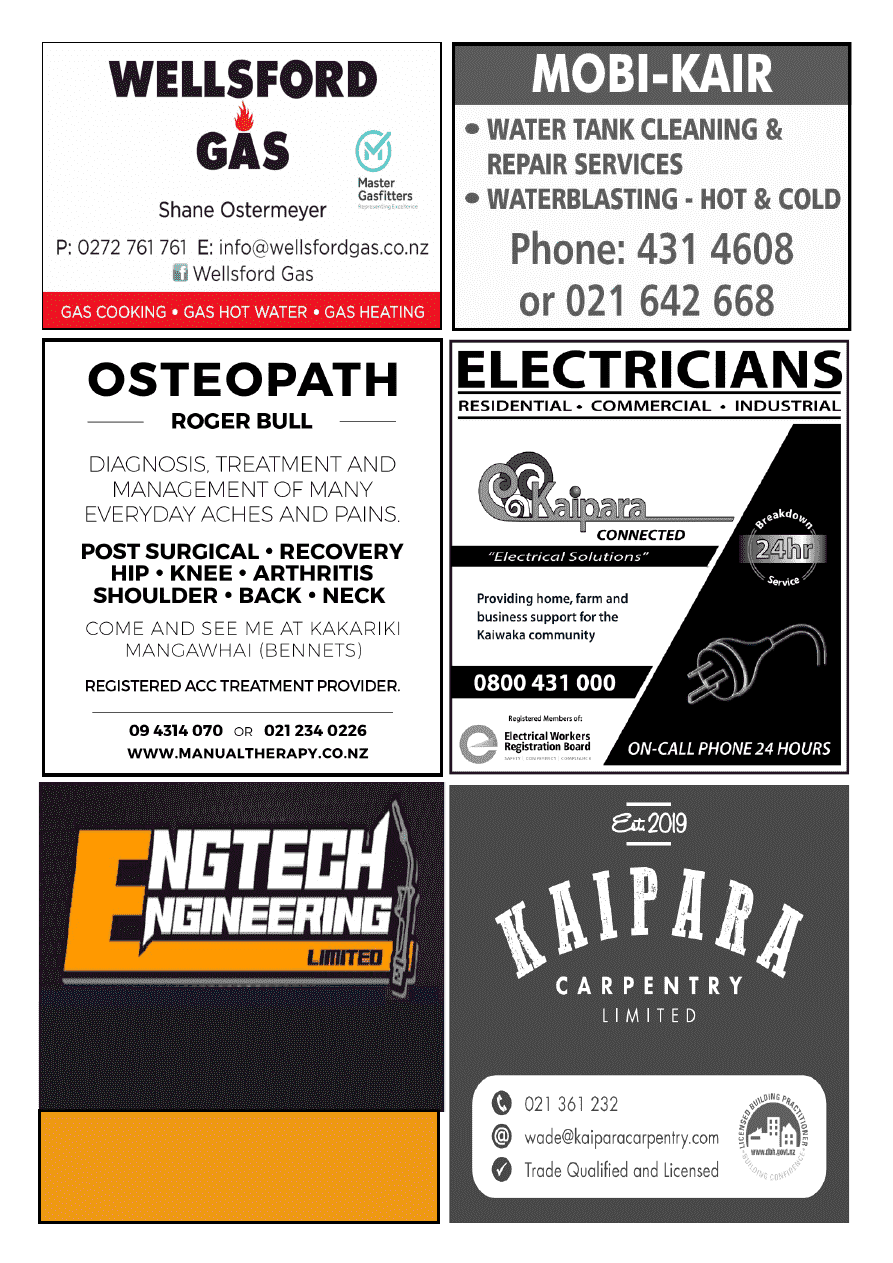 - Mobile Engineering Services - 
- Specialised Welding and Fabricating - 
- Media Blasting and Painting -  
- New CNC Profile Cutting Machine - 
PH: 021 415 259 or 09 973 3440 
648 Kaiwaka-Mangawhai Rd, Hakaru 
www.engtechengineering.nz 
www.kaiwaka.co.nz 
Kaiwaka Bugle - 6 April, 2021 
Page 19 
KAIWAKA LIBRARY
BOOK REVIEWS 
I've just finished reading The Travelling Cat Chronicles by 
Hiro  Arikawa.  It  is  a  delightful  and  charming 
tale  about 
Nana, a stray cat rescued from the streets of Tokyo. "It's not the 
journey that counts, but who's at your side. Nana is on a road 
trip,  but  he  is  not  sure  where  he  is  going.  All  that  matters  is 
that he can sit beside his beloved owner Satoru in the front seat 
of his silver van. Satoru is keen to visit three old friends from 
his  youth,  though  Nana  doesn't  know  why,  and  Satoru  won't 
say.  Set  against  the  backdrop  of  Japan's  changing  seasons  and 
narrated  with  a  rare  gentleness  and  humour,  Nana's  story 
explores the wonder and thrill of life's unexpected detours. It is 
about the value of friendship and solitude and knowing when 
to  give  and  when  to  take." 
This  book  is  on  our  Fiction 
shelves and is free to borrow. 
I've  also  been  reading  the  DCI  Ryan 
series  by  LJ  Ross.  The  first  book, 
Holy  Island  takes us to Lindisfarne, a 
famous  island  steeped  in  religious 
history 
off 
the 
coast 
of 
Northumberland.  "
Detective 
Chief 
Inspector  Ryan  retreats  to  Holy  Island 
seeking  sanctuary  when  he  is  forced  to 
take sabbatical leave from his duties as a 
homicide  detective.  A  few  days  before 
Christmas, his peace is shattered, and he 
is  thrust  back  into  the  murky  world  of 
murder  when  a  young  woman  is  found  dead  amongst  the 
ancient ruins of the nearby Priory. When former local girl Dr 
Anna Taylor arrives back on the island as a  police consultant, 
old  memories  swim  to  the  surface  making  her  confront  her 
difficult past. She and Ryan struggle to work together to hunt a 
killer  who  hides  in  plain  sight,  while  pagan  ritual  and  small-
town  politics  muddy  the  waters  of  their  investigation
."  Each 
book  is  set  in  a  different  location  around  Northumberland 
on  England's  northern  east  coast.  Most  of  the  series  is  on 
our Rental Fiction shelves, with the last few of the 17 titles 
on order and expected to be available soon. I'm enjoying the 
series a lot and find them easy to read - I read one of them 
in a day last week, and I'm not a speed-reader, though I did 
have several hours free to devote to it. 
PLACE A HOLD ON TITLES 
You  can  place  a  hold  on  the  books  I've  mentioned  above 
and all our other borrowable items, so they're ready for you 
to  collect  when  you  come  in.  Go  to  Enterprise*  or  the 
library  app  on  your  smartphone,  and  search  for  what 
interests  you,  then  click/touch  on  the  Place  Hold  button 
alongside  it.  You  can  choose  which  library  in  the  district 
you will collect it from, if you're heading out of town and 
that's more convenient to you. 
FREE NOTIFICATIONS 
If you are signed up for our free email and/or text message 
notifications you will receive a message when a hold item is 
at  the  counter,  ready  for  you  to  collect.  You  also  get  a 
notification  when  an  item  is  due  back  in  3  days,  and  then 
again when/if an item is overdue, so you don't lose sight of 
it  before  it's  returned.  If  you  don't  get  these  free 
notifications and would like them, contact me and I will set 
it up for you. 
READ THE HERALD FOR FREE! 
Tired  of  going  to  the  NZ  Herald  web  site  to  read  a  news 
story only to be told it's "premium content" and you need a 
paid  subscription  to  view  it?  You  can  read  the  newspaper 
(and  many  others)  for  free  at  PressReader.com  using  your 
library  card  to  log  in.  See  the  eResources  button  on  the 
home  page  at  Enterprise  for  more  information,  and  if  you 
need help getting started come and see me in the library or 
contact Dargaville Library 0800 532 542 and talk to one of 
the staff there if you need assistance with that. 
See you in the library! ~Wendy
Kaiwaka Library, cnr State Highway 1 and Kaiwaka Mangawhai Road. PO Box 89, Kaiwaka 
0542. Phone 4312 539. Email kaiwaka.library@gmail.com Open Wed-Sat 10am-2pm, Mon 4-
6pm.  Free  membership  is  available  to  all  residents  in  the  Kaiwaka  area.  https://
www.facebook.com/KaiwakaLibrary  *Enterprise: http://kaipara.kotui.org.nz/ WHAT'S ON
PLEASE ~ do let us know what is on - or what is NOT on at the 
moment! 
email kaiwakabugle@kaiwaka.co.nz 
Advertising in WHAT'S ON is FREE  
*30Apr-9May~ORT 'Seussical Jr' 
*7May~Movie 'THE DRY',7.30pm KWMH 
*10May~Kaiwaka Foodbank & Op Shop Public 
meeting, KWMH, 10am 
*13May~Pt. Curtis Cruising Club, 7pm KSA 
*16May~Te Pounga Marae AGM. 10am 
*16May~Hakaru & Districts RSA, AGM, 
*18May~Maungaturoto Rec Soc AGM, 7pm 
*19May~Kaiwaka Can meet, 5.30pm Archie Bull 
*27May~Hakaru Women's RSA meet 1.30pm 
KWMH = Kaiwaka War Memorial Hall; KSA = Kaiwaka Sports Association 
See www.kaiwaka.co.nz for more information 
HOUSEHOLD RUBBISH COLLECTION - Kaiwaka Pick up: 
Mondays = Green bags (Northland Waste - 09 430 3273) 
Wednesdays  = Blue bags and yellow recycling (at Kaiwaka Four 
Square  $3.30  and  $1.70)  (Kaurilands  09  4392146);  ONLY  Blue 
and Yellow bags picked up on Oneriri Road. 
 DIABETES  Support  Group  -for  Kaiwaka,  Mangawhai, 
Wellsford  10am,  3rd  Friday  of  month  Ph:  Colleen  James  09 
4314238 
 GENEALOGY - Wellsford: 1st Thursday in month Ph: 423 
7033; Waipu: 4th Monday in month Ph: 4312 725 
 HAKARU PONY CLUB - Secretary Denise Rogers 021423376 
secretary@hakaruponyclub.co.nz  
 KAIPARA HUNT - Secretary Albert Doonenbal Ph 4312059 
 KAIWAKA BADMINTON -Tuesdays 7.30pm Ph: 4312345 
 KAIWAKA  CAN  - 3rd Wednesday in month, 5.30pm, Archie 
Bull Hall Ph: 0273572751 
 KAIWAKA GARDEN & FLORAL GROUP - 2nd Thursday in 
month. Ph: 431 4744 
 KNITTING FOR WHANGAREI HOSPITAL - 2nd Tuesday in 
month, Archie Bull Hall 10am Ph 4314827 
 MANGAWHAI COMBINED REBUS CLUB - 2pm, 3rd 
Thursday month, Senior Citizens Hall Mangawhai. Ph: 4315777 
 MANGAWHAI GENEALOGY  - meet 3rd Thursday month, 
Mangawhai Museum, 10.30am 
*PILATES - KAIWAKA WAR MEMORIAL HALL - Ph: 
021  
2072729  
*PILATES - HAKARU HALL - Tuesday 10am, Thursday 9am 
Qualified Instructor  Ph. 0220643965  
 PT CURTIS CRUISING CLUB - Jean Ph: 4312227 (wk), 4312520 (hm) 
 RSA,  HAKARU  &  DISTRICTS  WOMEN'S  SECTION  –  meets 
1.30pm 4th Thursday of the month. Ph: 431 5818  
 KAIWAKA  SCOTTISH  COUNTRY  DANCING  CLUB-
Wednesdays 10am - 12 noon  Ph: Elaine 027 432 0032  
 TRAMPING 
- 
Mondays 
9am-2:30pm, 
contact  
valkenburgmaria@gmail.com 
HALLS FOR HIRE: 
  Kaiwaka St. John Hall: Phone Marj  0272941227  
 St.Pauls Archie Bull Hall HIRE $20 half day, $40 full day per 
hire, S McAulay, Ph 4312311 
 Kaiwaka  War  Memorial  Hall  HlRE  -  Phone  4312725  or 
kaiwaka.hall.bookings@gmail.com 
 Hakaru Community Hall HIRE -Ph.  Karen 4312090 
 Te Pounga Marae queries - Pearl Nathan  0223933533 
 Kaiwaka  Sports  Association  hire/queries  -    Jean  4312227  or 
kaiwakasportsassn@gmail.com 
Justice of Peace:  
B.FJaques  4312  048;  L.Donaldson  4312  228;  A.F.Hargreaves 
4312 045, W.Howard 4312 725  - please phone to make sure they 
are available or go to www.justiceofthepeace.org.nz 
Marriage Celebrants:  
L.Donaldson; A.F.Hargreaves; Y Osborne
LOCAL SERVICES 
*Emergencies - Ambulance, Fire, Police - dial 111 
*Non-urgent Police phone 105
A A: Meets Wed., 7pm. Kate's Place Ph 021 024 25969 or 0800 229 6757  
NARCOTICS ANONYMOUS : Mon., 6pm, Archie Bull Hall, Kwk-Mwi 
Road; drug and alcohol related issues. Ph. 02102412348 
ASUREQUALITY LTD (was AgriQuality) Call Free 0508 0011 22  
BUDGETING SERVICE, WELLSFORD: Free confidential advice & 
support for all areas of personal finance. Ph (09) 423 7123 
CAB-Citizens Advice Bureau.Wellsford Ph: 4237333 
0800 367 222 email:cab.wells@xtra.co.nz  
CIVIL DEFENCE - Kaiwaka Community Response Group: 
kaiwaka.civildefencecrg@gmail.com, 4312725 Wendy 
DOG/STOCK /NOISE CONTROL 0800 105 890 
FUNERAL SERVICES: Morris & Morris Ltd, 
Whangarei - Bev Jaques Ph:4312367 or 0800667747 
GRANDPARENTS Raising Grandchildren: Dianah Roberts 0223819539 
HAKARU & DISTRICTS MEMORIAL RSA (Inc) 733 Settlement Rd, 
Hakaru. Ph 4312 176 or Bill Warren (President) 431 2092 
HAKARU LANDFILL/Transfer Station:Open everyday  10am-
4pm.Ph4312629 Cost-$55 trailer load up to 1 cubic metre. Ph:4258567 - 
office 
KAIPARA DISTRICT COUNCIL www.kaipara.govt.nz:  
Help Desk FREEPHONE 0800 727 059  
KAIWAKA CEMETERY: Ph: 4312045 or 4314017 
KAIWAKA LIBRARY: kaiwaka.library@gmail.com  
Mon. 4-6pm; Wed., Thurs., Fri., Sat. 10am-2pm Ph:4312539 
KAIWAKA PLAYCENTRE: Ph Juanita 0274134904; open Mon, Wed, 
Fri 9am-12pm. Hastie Lane; Monday to Friday 9.00am - 12 noon. 
KAIWAKA POST OFFICE:Ph:4312 431  
Post Code: 0573 for RD2 and 0542 for all Kaiwaka Post Office mail 
KAIWAKA PRIMARY SCHOOL: Ph: 4312309   
KAIWAKA SPORTS ASSN: Ph 4312005; 4312129 gym 
KAIWAKA ST JOHN HALL: Phone Marj  0272941227  
KATE'S PLACE Community Centre - Employment services, Free Health 
Nurse, Plunket, Advocacy, Osteopath, A.A., Legal Advice. 4312 661 
LINKING HANDS Health Shuttle Ph 4315906 or 09 4318969 
MINISTRY FOR PRIMARY INDUSTRIES - General inquiries Call 
Free 0800 008 333 
NORTHPOWER: Faults Kaiwaka area 0800 104040 
OTAMATEA COMMUNITY SERVICES: Counselling, parent coach, 
Family Support worker, budget advice, food bank. Mon-Fri 9am-3pm. Ph 
09 431 9080 http://www.otamateacs.org/ 
PARENTPORT: Free, practical family support service Puhoi to Paparoa 
Ph or txt: Dianne 027 280 5093 or 09 425 9357 
PLUNKET: Kaiwaka- St John Hall, Monday 19 Oct, 23 Nov, 21 Dec. then 4th 
Monday of the month. Plunket Nurse Louise 027 282 3987 or 09 438 2508 
Mangawhai- Rose Madsen Cottage, Mondays and Wednesdays. Plunket Nurse 
Rebecca 021 501 941 or 09 438 2508 
Maungaturoto - Good News Church, 2nd and 4th Wednesday of the month. 
Plunket Nurse Seleisa 021 912 248 or 09 438 2508 
PLUNKET HELPLINE -0800 933 922 (24 hours)  
FACEBOOK - Kaipara Plunket 
TAITOKERAU COMMUNITY LAW: Free confidential legal advice and 
assistance, 2nd
Thursday
 of each month. Ph: 0800 155 529 for appts.  
TE URI O HAU Settlement Trust Tangata Developments: Whanau Ora 
021 793262  
VETERINARY SERVICE MANGAWHAI: 
Ph: 4314535 Mon-Fri 8.00-5.00, Sat 9-12, a/h appt. 
WELLSFORD DOCTORS: Ph: 4238 086 
CHURCHES:
 
Kaiwaka  Revival  Church  -  Your  Community  Church:  Sundays  10am. 
Ph: Pastor Tawhiri 09 431 8988 or Pastor Paul 09 4312 068 Visit us at 
www.facebook.com/kaiwakachurch 
 
St  Paul's  Anglican  Church  1st  Sun.  9.00am  (Eucharist),  3rd  Sun. 
9.00am (Family Service). Contact: Rev. Wayne Thornton Ph 431 4122 
www.mangawhaianglican.org.nz 
 
Church of Christ the King, Mangawhai:9.00am every Sunday 
 
St.Mary's  Catholic  Church:  Maungaturoto  –  Griffins  Road,  Saturday 
evening  Vigil  Mass  6pm;  Mangawhai  –  Senior  Citizens  Hall,  Sunday 
Mass  8:30am;  Wellsford  –  Matheson  Road,  Sunday  Mass  10:30am;  
Mid-week Mass times and all enquires to Fr. Bill Fletcher – phone 423 8170
 
Baptist Church: Sun. 10.30am Mangawhai Snr Cit.Hall.Ph:4312339 
 
Cause  Way  Church  Mangawhai:  Sundays  10.15am,  Mangawhai 
Community  Recreation  Centre,  Insley  St.  Ph:  09  4314782 
Next Bugle Deadline Friday 14May 2021