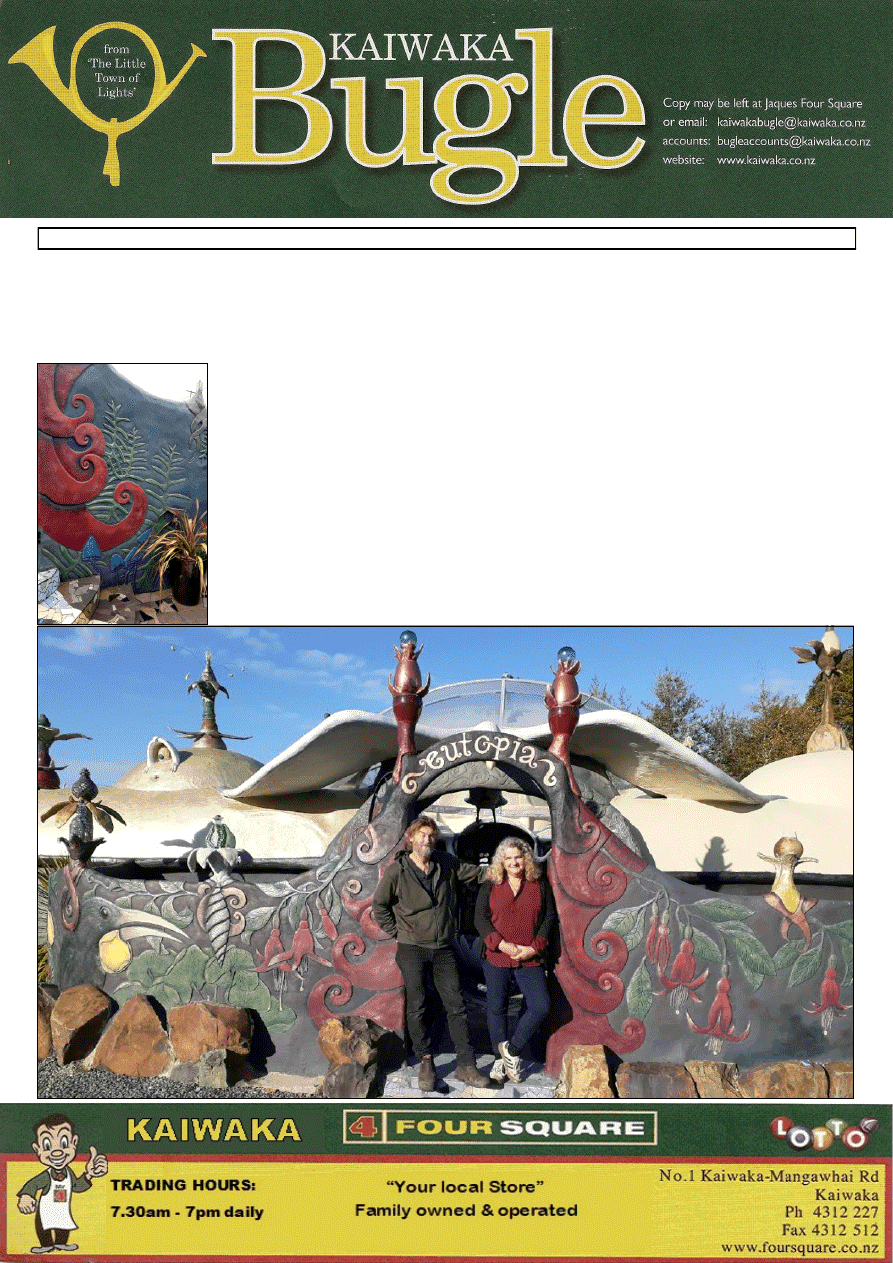 www.kaiwaka.co.nz 
Kaiwaka Bugle - 18 May 2021 
Page 1 
No.9 
18 May 2021 
EUTOPIA - 7 YEARS ON
We have now owned Eutopia for more than 7 years and have been open as a cafe for just over 2. As we head into the winter 
months, and everything quietens down a little, we can reflect on the journey so far and where we head from here. 
This  last  Summer  has  been  busy  as  people  become  more  aware  of  our  existence  in  Kaiwaka,  and  we  are  starting  to  become 
known. We have become a regular meeting spot for locals and the stop of choice for many local travellers. With the challenges of 
Covid we have relied heavily on local support which has carried us through, and we have greatly appreciated this. We get great 
feedback and people are enjoying the space we have created, our lovely hard-working staff and the food to match. 
Lockdown provided a bit of a breather and during this time we let loose on the place. We managed to 
paint the whole side wall, complete some concrete carving, make 9 granite tables as well as a number 
of sculptural features. 
We try and cater for everyone and make Eutopia inviting to all by providing gluten free, vegan, dairy 
free as well as keto options. We have a few things that are becoming our signature dishes. Auntie 
Jean's famous chocolate peanut butter balls for instance, and now we have our limited-edition peanut 
butter and blueberry jelly balls. We also try to ensure our ingredients are as much as possible local, 
free range, organic if possible and what we do creates minimal environment impact. 
We have recently acquired a liquor licence. We can now provide a beer or wine with meals. We are 
going to concentrate on local boutique beers, ciders and wines. When Summer approaches we will 
look at opening for some evenings with the plan to have occasional live music. 
In the meantime, our next big project is to look at making a covered, enclosed area at the back to 
mitigate  the  problem  that  we  are  mostly  a  fair  weather  cafe.  Apart  from  this  we  have  a  sea  of 
painting to complete,  more sculptures to finish and erect, glass work and lighting to complete and 
there are even some unfinished mosaiced areas. So, all we can say, watch this space, it is continually 
evolving and thanks for all your support. 
We are presently open 7 days 8.30am – 3pm. (3.30pm weekends) with evenings planned for later in 
the year.  
Marijke Valkenburg & Robert ter Veer 021 891484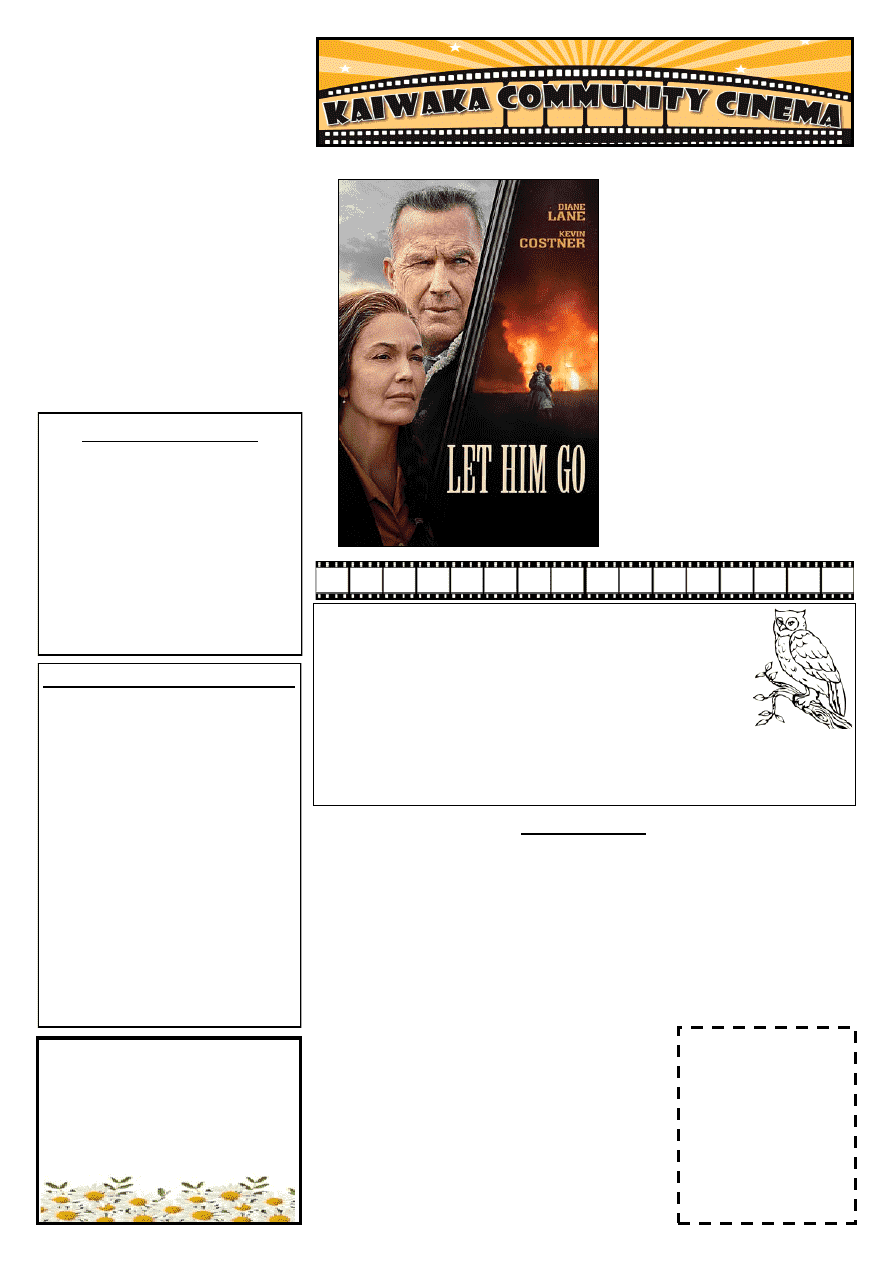 www.kaiwaka.co.nz 
Kaiwaka Bugle - 18 May 2021 
Page 2 
ABOUT TOWN

Congratulations Marijke and Robert - Eutopia is wonderful!  

 Needing a job? Leabourn Buses are needing school bus drivers, and they are 
seeking a mechanic too. 

 Saturday  29  May  2021  Albertlanders  celebrate  29th  May  1862,  the  date  the 
first 2 ships, Hanover & Matilda Wattenbach, departed the London Docks with 
over  600  passengers  on  board,  bound  for  their  new  life  in  Albertland  –  Port 
Albert. 

 To  book  Kaiwaka  Sports  Assn  -  contact  Jennie  ksa.bookings@mail.com, 
02102764171  

 Well done Otamatea HAWKS Snr rugby  - a win 32-31 over Whangaruru at 
Maungaturoto last Saturday 

 Badminton every Tuesday evening 7.30pm - great fitness, great warm-up! 

The  Hakaru  Re:Sort  transfer  station  site  (managed 
by Northland Waste) now open and running at normal 
capacity again – as from Monday 10 May.

All  of  us  could  take  a  lesson  from  the  weather.  It 
pays no attention to criticism 

Otamatea High School uniforms - please donate any 
un-needed  OHS  uniforms  to  the  PTCA  second-hand 
uniform shop, via the school office.

 Local stories, reports or articles are welcome in our 
local paper! 
 Keep us up-to-date with what is happening in 
our community. 
~ Lindsey, Ed
'People who say it cannot be done should not interrupt  
those who ae doing it." ~ George Bernard Shaw
At Kaiwaka War Memorial Hall . Adults $10, Kids (under 16) $5, Family Pass (2 adults + 3 children) $25 
KAIWAKA BUGLE NO.9 
18 MAY 2021 
CONTENTS: 
Page 3: Public Notices, Classified 
Page 5: The Way We Wore; Public 
Meeting 
Page 7: About Town;Kaiwaka Weather 
Page 9: Kaiwaka Gull 
Page 11: Kaiwaka Sports  Assn 
Page 13: Hinamoki; Pt. Curtis CC 
Page 15: Live for what matters; Short 
Story Competition 
Page 17: Kaipara Hunting & Fishing 
Page19: Kaiwaka Library 
Bugle 10 will appear 1 June 
Contact for advertising, reports, articles 
or information can be made by 
Email: kaiwakabugle@kaiwaka.co.nz 
Ph: 09 4312 045 Lindsey 
Txt: 027 2724137 
Copy  may  be  left  at  Kaiwaka  Four 
Square. 
Kaiwaka Bugle 
Founded May 1978 
We appreciate articles and photos about local 
events, etc, as well as ads and suggestions. 
Copies available in Kaiwaka at Kaiwaka  Four 
Square, Kaiwaka Postal Centre, Shamrock 
Service Station, Animal Health Centre, 
Kaiwaka St John shop. 
Also outlets in Maungaturoto, 
Mangawhai and Paparoa. 
Can be viewed online at  
www.kaiwaka.co.nz/Bugle  
Or a copy can be posted to you if you supply 
stamped, self-addressed DLE envelopes. 
Kaiwaka Bugle Advertisements 2021: 
All 
copy 
and 
queries 
to: 
kaiwakabugle@kaiwaka.co.nz 
The Bugle is printed on an A4 page, B&W  
Ad  sizes:  1/16  page  (3  x  9.5cm)  $5;  1/8 
(6.5  x  9.5cm  landscape  or  portrait)  $8; 
3/16 ( 10 x 9.5cm or 7.5 x 12,5)  $12.  
Classified  ads:  First  one  FREE,  $4  per 
entry (max. 30 words, max. 4 repeats). 
Payments  can  be  made  online  at 
ANZ 
06  0365  0006990  00
,  posted  or  left  at 
Kaiwaka Four Square Store. 
We  use  Microsoft  Publisher,  and  can 
work  with  most  common  image 
formats, Word, Excel, and PDF files. 
Accounts:  
Email: bugleaccounts@kaiwaka.co.nz 
The  Kaiwaka  Bugle  is  a  community 
newspaper run by volunteers, as part of 
the Kaiwaka Media Group Inc.   
Articles, etc. printed are not necessarily 
the opinion of the Bugle Team. 
Proverbs 13:7 
A pretentious, showy life 
is an empty life;  
a plain and simple life is 
a full life. 
KAIWAKA BUGLE 
DEADLINE DATES 
2021:   
Every second Friday 
May 28 
June 11, 25 
July 9, 23 
August 6, 20 
September 3, 17 
October 1, 15, 29 
November 12, 26 
December 10 
LET HIM GO 
Friday  21 May, 7.30pm 
"A black horse quietly returns to the 
ranch,  riderless.  A  scoop  of  ice 
cream  falls  from  a  little  boy's  cone 
onto the sidewalk. 
Subtle  moments,  all,  but  they  do  so 
much  to  set  the  scene  and  establish 
the themes of regret and redemption 
in "Let Him Go." This is the kind of 
solid,  grown-up  drama  we don't  see 
very  often  anymore.  In  a  world  of 
superhero blockbusters, this low-key 
throwback  of  a  Western  is  the  stuff 
of  timeless  cinema.  Understated  in 
its  quiet  rhythms  and  vast  beauty, 
it's  also  fortified  with  strong 
performances …"  
'Let  Him  Go'  is  a  2020  American 
neo-Western  film  starring  Diane 
Lane  and  Kevin  Costner,  and 
produced,  written  and  directed  by 
Thomas Bezucha.             
From Thelma's Scrapbook 
– 
What a Hoot: 
Each evening a bird lover, Tom, stood in his backyard, 
hooting  like  an  owl.  One  night  an  owl  called  back  to 
him.  For  a  year,  Tom  and  his  feathered  friend  hooted 
back  and  forth.  He  even  kept  a  log  of  the 
'conversation'. 
Just  as  he  thought  he  was  on  the  verge  of  breakthrough  in  inter-
species communication, his wife had a chat with her neighbour. 
"My husband spends his nights calling out to owls," she said. 
"That's odd," the neighbour replied, "so does mine."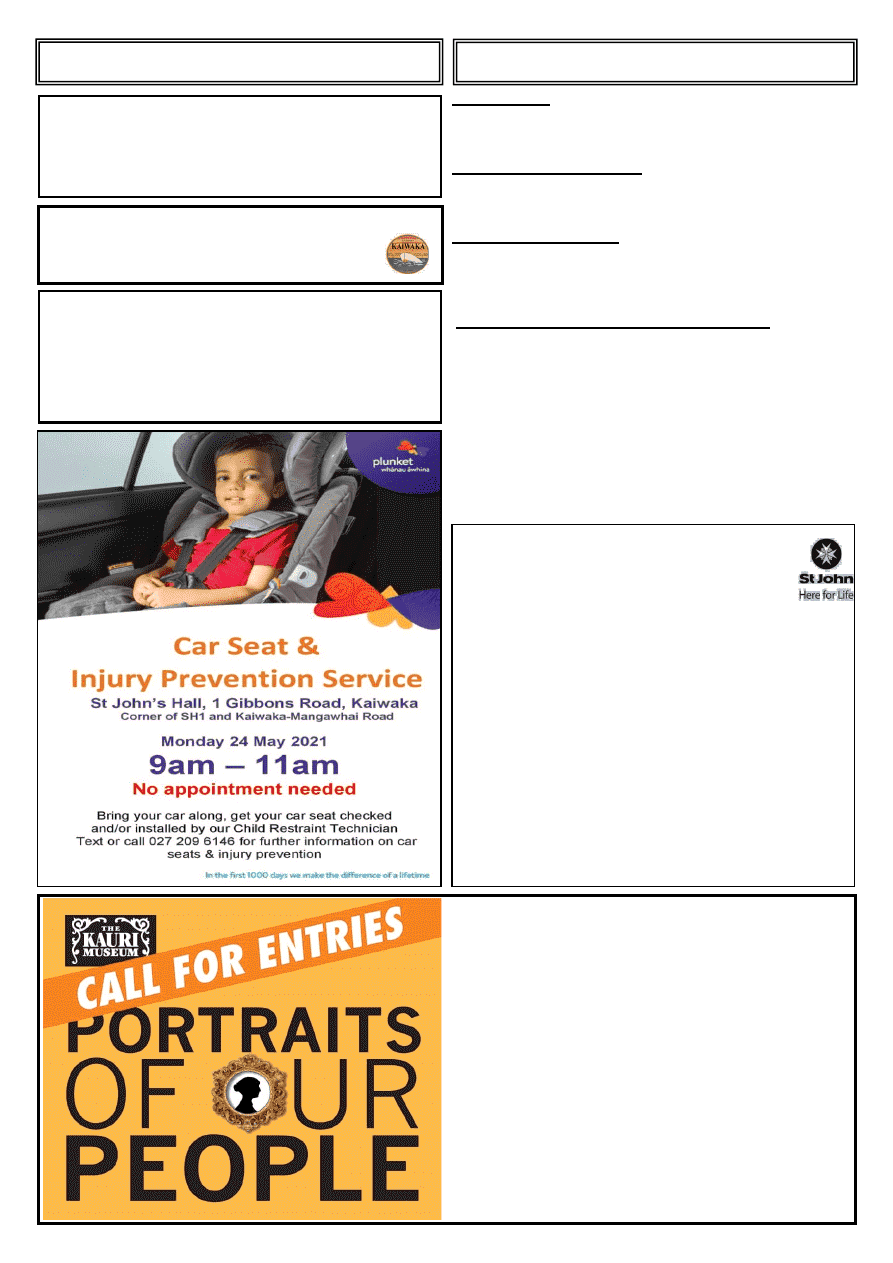 www.kaiwaka.co.nz 
Kaiwaka Bugle - 18 May 2021 
Page 3 
Kaiwaka Library 
Used Book Sale 
Clearance 
50c each, 3 for $1, or 10 for $2.50 
PUBLIC NOTICES 
CLASSIFIED 
KAIWAKA St. John Op Shop 
DID YOU KNOW:  Money raised from Shop 
helps to run the subsidised First Aid Courses for 
the Public.    
The more people who know First Aid the safer our 
community becomes. 
CLOTHING SALE Now on until Saturday 22nd May 

All Red, Green and Yellow HALF PRICE 

All Duvet Cover and Sheets HALF PRICE 

SINGLE CD and DVD Now $2.00 
Come and stock up for the Cold Days ahead. 
We will be having another GARAGE SALE soon, to clear 
more Large items of furniture. In the meantime, pop on in 
and ask if there is something you are looking for. 
We are currently only taking in MENS and CHILDRENS 
WINTER clothing as we are over stocked in Women's 
clothing. 
HOURS: Tuesday – Friday 10am to 3pm;  Saturday 10am – 2pm 
PHONE: Shop  4312650  
1919SH1, Kaiwaka 
FOR  SALE:  reluctantly,  a  1998  MERC  ML320, 
118,000 mileage, excellent and maintained condition, 
$5,250.  Ph 431 2243, or 021380906. 
LOOKING  TO  RENT:  A  room  near  or  within 
walking  distance  of  Kaiwaka  Clothing.  Phone  Emma 
Dawang 027 2214361 
WANTED TO RENT: Semi retired woman seeks long 
term,  self  contained  rental;  excellent  references,  no 
pets, experienced cleaner; happy to care for your house, 
B&B, etc. Ph. 027 279 7327 
 SCHOOL  BUS  DRIVERs  REQUIRED:  We have a 
vacancy  for  School  Bus  Drivers  in  the  Kaiwaka/
Wellsford  and  Mangawhai  Areas,  for  mornings  and 
afternoon  school  runs  during  term  time.    Potential  for 
charter  work  during  the  busy  season.  A  clean  clear 
license is all you need to start, Class 2 license would be 
preferred, and we will help you obtain a P endorsement 
if you do not already have one, and progress you onto a 
class  2  license.    School  Bus  driving  can  be  extremely 
rewarding job and is a vital part of our community. Call 
Louise on 027 4975842 for any questions. 
POINT CURTIS CRUISING CLUB
Annual General Meeting 
10 June, 7pm , Kaiwaka Sports Assn
. 
THE KAURI MUSEUM 
Calling  all  painters,  photographers,  sculptors,  video 
artists or even marquetry makers!  
The  Kauri  Museum  has  a  new  exhibition  coming  up  and 
wants your work. 
Portraits of Our People will feature portraits of people of the 
Kaipara district, in any media.  
Entries  are  invited  from  interested  members  of  the  local 
community  (within  the  boundaries  of  Kaipara  District 
Council) 
Conditions of entry include: 
• The portraits can be completed using any media  
• They must be of a local resident 
• size is restricted to 1200mm 
• Finished works, ready to be hung, must be at the Museum 
by Tuesday 8 June 2021. 
Portraits of our People will open to the public on Sunday 
13 June. 
For 
further 
information: 
09-431 
7417 
or 
admin@kaurimuseum.com 
HAKARU RE:SORT STATION 
636 KAIWAKA-MANGAWHAI ROAD 
Open every day 10am - 4pm ~Closed All Public Holidays 
Telephone: 09 431 2629 
NOTE: No GREEN Bag Pick Up on Oneriri Rd 
The Hakaru Re:Sort transfer station site (managed by 
Northland Waste) now open and running at normal 
capacity again – as from Monday 10 May.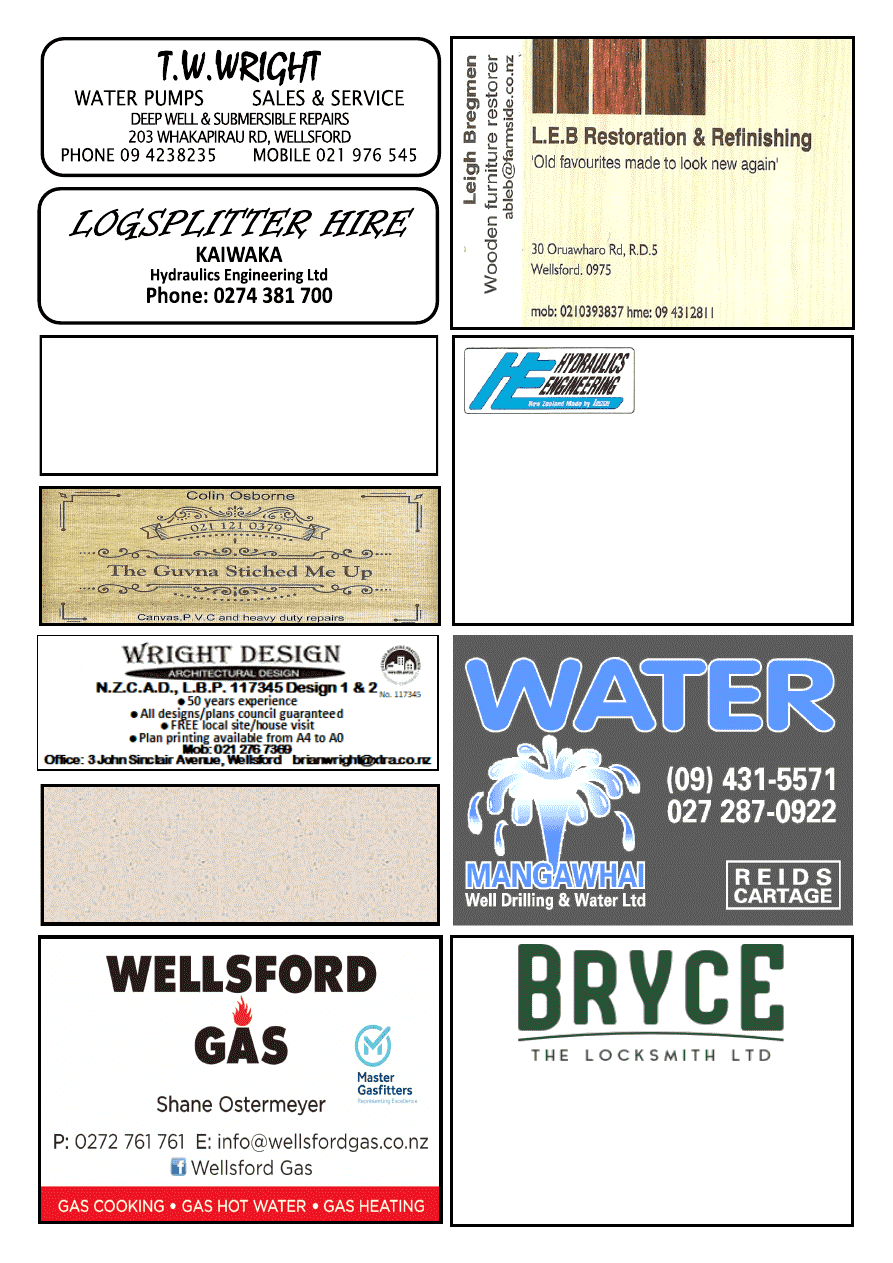 www.kaiwaka.co.nz 
Kaiwaka Bugle - 18 May 2021 
Page 4 
Bryce Frewin 
Ph: 021 850 983 
Kaipara Based Master Locksmith 
bryce@brycethelocksmith.co.nz 
www.brycethelocksmith.co.nz 
Hydraulics  
Engineering Ltd 
Kaiwaka 
Sales - Service - Parts - 
Hire - Manufacture 
Service Contractors & Industrial Equipment: 
Rams, Pumps, Valves 
Logsplitter Hire, Manufacturer, Sales 
Dennis Linton 
Lot 2 / 161 Ranganui Road, RD2, Kaiwaka, 0573, New Zealand 
Mobile: 0274 381 700 
Email: hydraulicsengineering@xtra.co.nz 
Counsellor and Registered Psychotherapist 
Offers Supervision 
ACC Sensitive Claims 
Susan Matheson      MNZAC 
Dip. Psychosynthesis Counselling and Psychotherapy 
Phone 09 431 2996                                     Mobile 027 605 2427 
Passenger Service
Car & Van Hire   Bus & Coach Charters 
Airport Transfers    
Phone (09) 4237416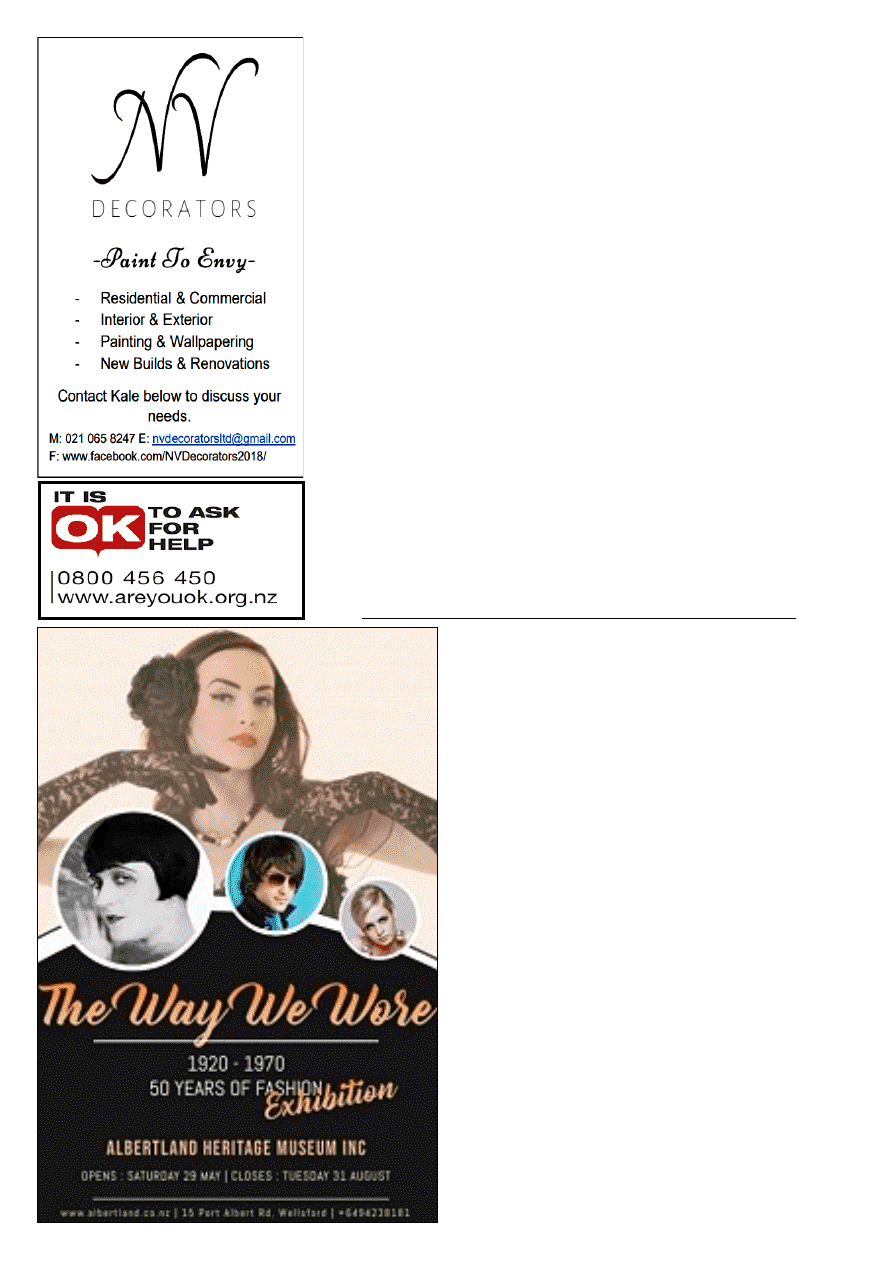 www.kaiwaka.co.nz 
Kaiwaka Bugle - 18 May 2021 
Page 5 
KAIWAKA FOODBANK 
KAIWAKA FOODBANK OP SHOP 
A Public Meeting was held at the 
Kaiwaka War Memorial Hall on 
Monday 10th May at 10am. 
It  was  great  to  see  so  many  people  at 
the meeting at a time of day that is not 
easy  for  many  people  in  the 
Community.  The  Op  Shop  and 
Foodbank 
volunteers 
were 
well 
represented,  the  new  owner,  Ant 
Pedersen,  of  the  Four  Square  attended 
with  some  of  his  staff  and  concerned 
people  from  the  community  some  of 
whom  have  been  customers  of  the  Op 
Shop or clients of the Foodbank. I think 
that there were 26 people altogether. 
Maria  Morgan  and  Milly  O'Leary 
explained  their  roles.  Maria  and  Rau 
have  developed  a  unique  way  of 
running  the  Foodbank  so  that  it  can 
provide much more support for those in 
continuing need than would be possible 
if  it  was  linked  into  external 
bureaucracy.  Milly  has  experience 
running local Op shops but is frustrated 
by  the  small  space  and  lack  of  the 
equipment that she is used to. 
It  was  clear  that  the  community 
acknowledges that there is a lot of need 
for  the  Foodbank  and  wants  the  Op 
Shop  to  continue  to  support  it.  It  was 
also clear that there have been problems 
with the relationships between the two. 
The  need  for  a  more  transparent  and 
accountable  structure  with  regular 
reporting  to  the  volunteers  and  to  the 
community was recognised. 
It was suggested that we should have a 
committee  with  two  people  nominated 
by 
the 
Foodbank, 
two 
people 
nominated  by  the  Op  Shop  volunteers, 
a Treasurer, Secretary and Chairperson. 
The meeting did not feel ready to elect 
these  people.  It  was  suggested  that  it 
would  be  good  to  involve  some 
younger  people  to  ensure  continuity. 
There  was  a  motion  to  hold  another 
meeting  in  about  one  month  to  further 
explore  how  to  set  this  committee  up 
and if possible, elect a chairperson. The 
meeting was already breaking up so the 
motion  was  not  put  to  the  vote  but 
support  for  it  will  be  canvassed  from 
attendees and it is expected to go ahead. 
Kaiwaka this is your chance to find the 
right  people  to  help  the  Foodbank  and 
the Op Shop develop to continue to be 
something we can be proud of.  
Do  you  or  one  of  your  friends  have 
accounting  skills,  secretarial  skills  or 
facilitation skills – or if you are young 
and  less  experienced  do  you  believe 
you could do one of these jobs?  
Look  out  for  a  notice  of  another 
meeting in the next issue of the Bugle. 
THE WAY WE WORE 
On  May  29th  each  year,  The  Albertland  Heritage  Museum 
celebrates  the  day  the  first  two  ships  set  sail  for  the  new 
future  of  Albertland,  a  special  settlement  for  the 
Nonconformist  Association.  About  3000  settlers  were  to 
make  the  voyage  to  the  new  land  and  create  a  city  to  rival 
Auckland.  
But for many, Auckland was the end of the journey. 
They heard about primitive conditions, lack of transport and 
roads  in  the  North,  and  so  settled  down  and  were  absorbed 
into  the  business,  trade,  and  commerce  of  the  young 
Auckland.  However,  regardless  of  the  difficulties  many  did 
stay and made a life on the Kaipara. 
The Victorian dress of the new arrivals can't have made the 
difficulties  of  working  and  living"  in  the  bush"  any  easier, 
and by the time of WW1 clothes were becoming simpler and 
less  formal  for  both  adults  and  children,  and  from  the 
twenties were similar to that we wear today. 
Albertland  Heritage  Museum  and  the  Port  Albert  Hall  are 
combining to celebrate 29 May with the launch of our latest 
exhibition, 
The Way We Wore: 50 years of fashion. 
Curated  by  Lyn  Johnston,  Rose  Reid  and  Julie  Cotton  our 
displays showcase fashion from the 'Roaring 20s' to the end 
of the 'Swinging Sixties'. 
From  day  dresses  and  glamorous  evening  wear  to  clothing 
accessories  and  toiletry  articles,  both  men  and  women's 
fashion over 50 years will be featured. 
29TH MAY PROGRAMME 
11.00  –  Exhibition  'The  Way  We  Wore'  opens  at 
Albertland Heritage Museum. Vintage cars display. 
1.15pm – Vintage Cars procession to the Port Albert Hall 
1.30pm  –  Refreshments  at  the  Port  Albert  Hall  (finger 
food  &  cuppa  for  gold  coin  donation).  Displays,  Quiz  & 
Raffles. Welcome from Hall Chairman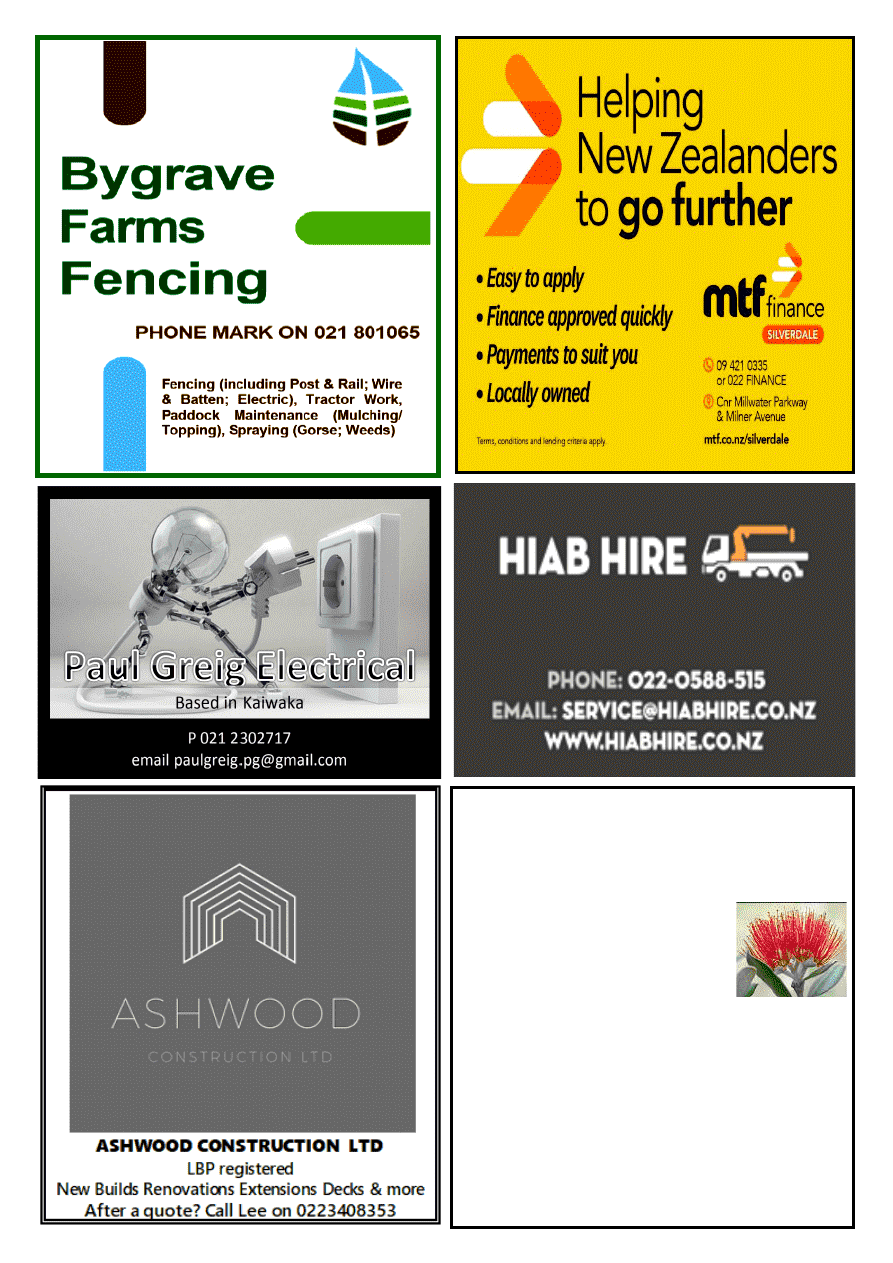 www.kaiwaka.co.nz 
Kaiwaka Bugle - 18 May 2021 
Page 6 
KAIPARA FLOORING CO 
FULLY MOBILE FLOORING SHOWROOM 
SERVICING THE KAIPARA 
PH (09) 946 9886 or  
CHRISTINE ON 021 515 415 or 
HOWARD 021 2696250 
IN HOUSE MEASURE, QUOTE AND 
CONSULTATION SERVICE 
FOR THE SUPPLY AND INSTALLATION OF 
CARPET, VINYL, VINYL PLANKING, HARD 
FLOORING, GARAGE CARPET, LAMINATE 
FLOORING AND MORE. 
EMAIL kaiparaflooring@gmail.com  
WEBSITE www.kaiparaflooring.co.nz 
Qcard 6 month interest free terms or 12 – 24 
month finance options available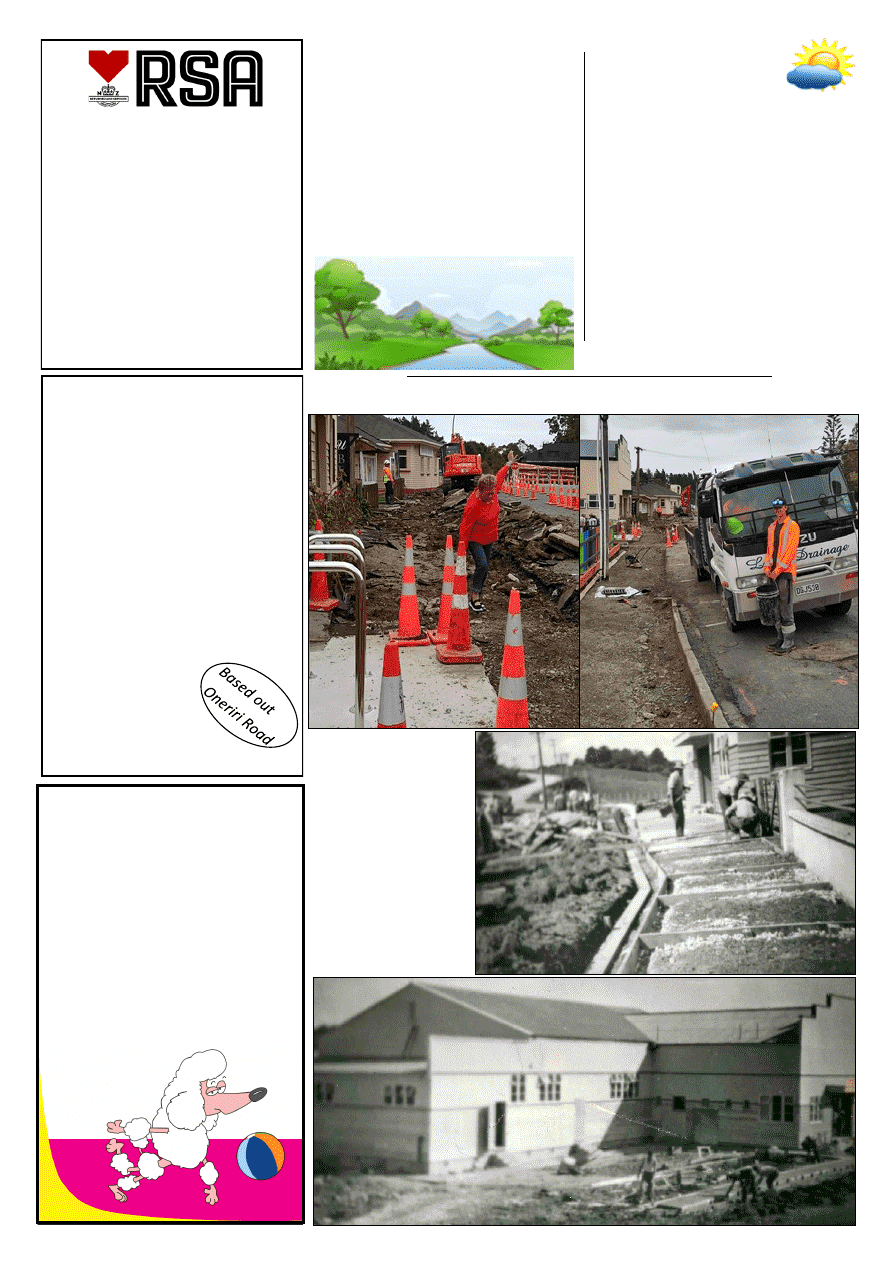 www.kaiwaka.co.nz 
Kaiwaka Bugle - 18 May 2021 
Page 7 
HAKARU & DISTRICTS 
MEMORIAL RSA (INC)
Members & guests are invited to 
come along and enjoy our hospitality. 
New members welcome. 
Meals are served on Thursday and 
Friday nights from 6.30pm. 
Order from Blackboard Menu  
For more information please phone 
Bill on 431 2092  
HODGETTS 
CONTRACTING
Digger Work   
Driveways 
House Sites   
Dams  
Drains, etc
Also available for HIRE 
3 ton Vib Roller  
Heavy Duty Tow  
Waterblaster      
Lazer Level
Phone Mark  
4312877 
027 447 8554 
1951 AND 2021 
 The  first  footpath 
outside  the  hall  was 
laid  prior  to  the  Hall 
opening in April 1952, 
when the roadway was 
still gravel.  
2021  upgrade  and  it  is 
more  colourful.  with 
orange 
cones 
and 
plenty of machinery. 
Tarseal was laid in the 
early  90s  as  a  'ramp' 
to the Hall front doors. 
Hot Diggity Dog  
DOG GROOMING  
KAIWAKA 
Spring is in the hair. 
Professional Dog Groomer  
at affordable prices.
www.doggroomingkaiwaka.co.nz 
call Pam 094312143 or text 
0273335380 for bookings 
KAIWAKA FOOTPATH 
A note from Susan …
If you want to cross that river,  
but don't know how to fly, 
there is no point sitting waiting,  
til the water all rolls by, 
When a tough job lies before you, 
Get it down without delay, 
You won't finish it tomorrow,   
If you don't begin today ! 
KAIWAKA 
WEATHER 
Bev has been very ill in hospital again, 
so  I  am  filling  in  for  her.  I  can  only 
give you rain totals as I have recorded 
at  our  place.  We  live  3km  East  of 
Kaiwaka  and  our  rainfall  can  be  very 
different to the township totals.  
April was quite a windy but very warm 
month.  Autumn  has  been  absolutely 
stunning  so  far  but  the  ground  is  still 
very  dry.  I  recorded  148.5ml  for  April 
2021.  Last  year  we  only  had  56ml  for 
April. 
This  is  a  very  short  and  not  in-depth 
report  but  I'm  sure  you  will  bear  with 
me. 
Question:  what  do  you  call  a 
boomerang that doesn't come back? 
Answer: a stick. ~Karen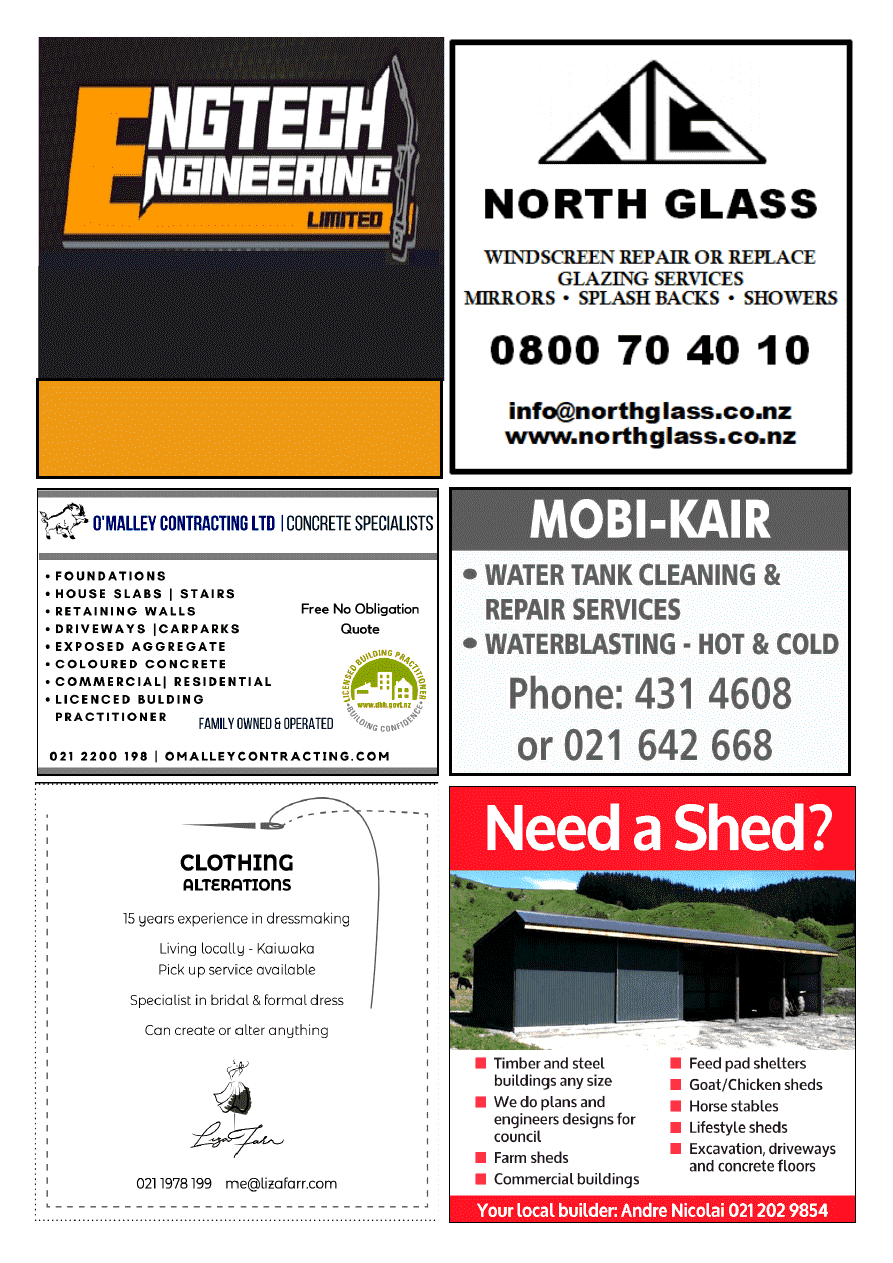 www.kaiwaka.co.nz 
Kaiwaka Bugle - 18 May 2021 
Page 8 
- Mobile Engineering Services - 
- Specialised Welding and Fabricating - 
- Media Blasting and Painting -  
- New CNC Profile Cutting Machine - 
PH: 021 415 259 or 09 973 3440 
648 Kaiwaka-Mangawhai Rd, Hakaru 
www.engtechengineering.nz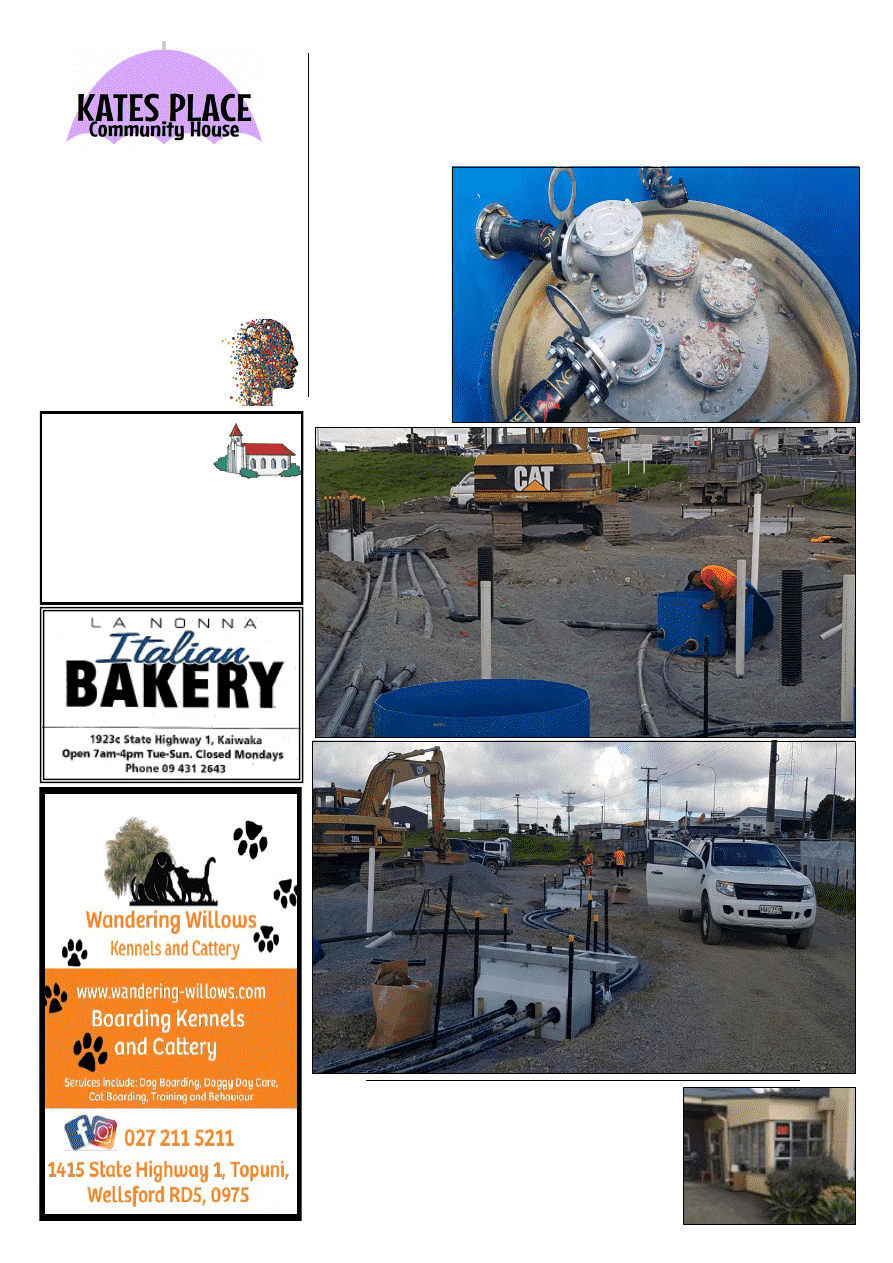 www.kaiwaka.co.nz 
Kaiwaka Bugle - 18 May 2021 
Page 9 
ST PAUL'S  
ANGLICAN  
SUNDAY SERVICES
First Sunday 9am Holy Communion 
Third Sunday 9am Family Service 
St Pauls Church: Kaiwaka-Mangawhai Rd. 
Priest in Charge Rev. W Thornton Ph 431 4122 
www.mangawhaianglican.org.nz
GULL SERVICE STATION 
Workmen are well on their way to the completion of the Gull Service Station just 
south of the Three Furs Bar & Grill. All the 'station' equipment that can be seen 
in  these  photographs  will  soon  disappear  from  sight  -  all  will  be  well  covered 
with packed gravel and concrete.  
The  top  photo:  The  'fuel  taps'  that  are  safe  in  the  blue  barrels  -  as  seen  in  the 
middle photo, manage the fuel flow. This new technology is the first of its kind in 
New Zealand. 
The  middle    photo 
also  shows  the 
double-lined 
special 
plastic 
pipes that go to the 
four  'stands'  (8 
filling 
stations), 
carrying  91,  96 
and  diesel.  At  the 
left is the bulk fuel 
tanker 
filling 
portal. 
The  bottom  photo 
shows  the  3  pipes 
at the four concrete 
stands  (in  a  line 
looking south). 
The FOODBANK OP SHOP 
The  shop  will  be  closed  until  25th  May,  but  if  the 
footpath  is  completed  opening  will  be  sooner  -  don't 
want  to  be  closed  too  long!  We  have  rearranged  the 
shop and had a good clean. 
Lots of new stock, but we do need towels, pillows and  
tea towels. At the moment - no more clothes. 
Thank you for your support, Milly & Staff 
MENTAL  HEALTH  RECOVERY 
GROUP meet every Thursday in the  St 
John  Hall,  Kaiwaka,  from  10am.  The 
aim  of  this  weekly  group  is  for 
everyone  who  attends  to  receive 
education,  support,  social  connection, 
and a nice lunch. 
Whether  you  live  with  a  diagnosed 
condition  or  are  dealing  with  stress, 
anxiety, or symptoms of depression you 
are  welcome  to  come  and  be  a  part  of 
this 
supportive 
environment which will aid 
in your recovery and future 
wellness.  
Please call 0297739085 for 
further information.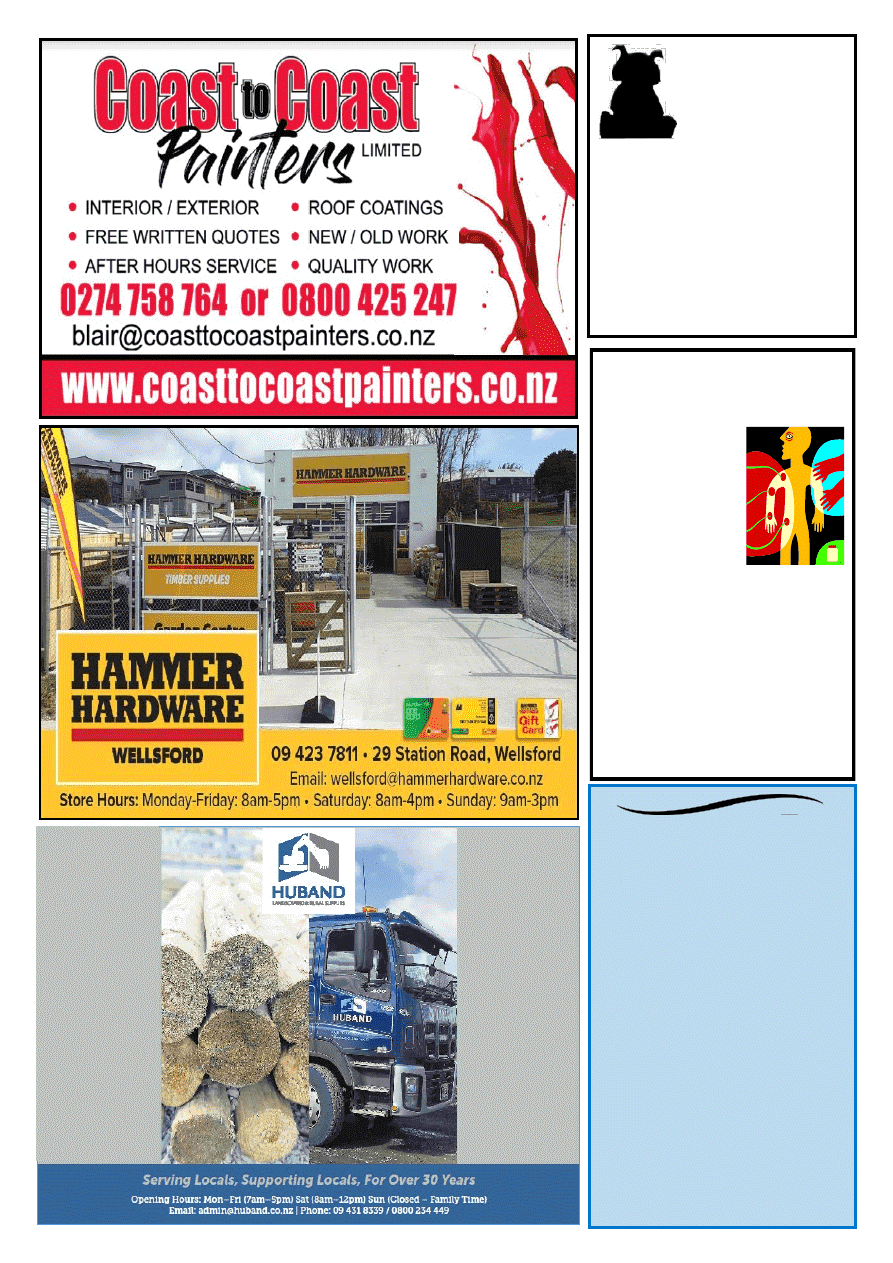 www.kaiwaka.co.nz 
Kaiwaka Bugle - 18 May 2021 
Page 10 
OWEN STEVENS 
Osteo Therapist
For careful 
adjustments to 
bones and joints 
Treatment for 
humans and their 
pets 
Clinics: 
Kate's Place, Kaiwaka: 
Last Friday of month 
For bookings: 
9.00am-5.00pm  
Phone 
09 4312661 
Or phone Owen  
09 4317123 anytime 
HAVEN HOME  
MAINTENANCE  
SERVICES 
Helping transform your  
haven into your home 
Interior:  
Kitset Assembly 
Wardrobe Furniture Install 
Picture & Mirror Mounted 
Minor Carpentry Works 
Exterior:  
Landscape Solutions 
Fence Build & Repair 
Low level Decks 
Gutter clearing & Repairs 
M: 021 1145709  
Kaipara  
Dog Training 
Club 
Mangawhai Domain,  
Moir Street 
Every Wednesday from 
5.30pm 
Please contact the 
Secretary 
for further information 
kaiparadogtrainingclub@gmail.com
WATER TANKS: 
Aqua & Baileys 
Brands 
DRAINAGE & 
SEPTICS: 
Land Drainage 
Urban Rural 
Drainage 
Water Pipelines 
Culverts 
Septic Systems 
(RX Plastics & 
Biorock) 
SITEWORKS: 
Retaining Walls 
Piling 
Driveways 
Carparks 
Landscaping Supplies: 
Waikato Screen Topsoil 
Bark 
Woodchip 
Mill Bark 
Post Peelings 
Compost 
Crushed Shell 
Topsoil 
Limestone Chip 
Daltons Garden Mix 
Aggregate 
Gap: 20,40.65 
Riverstone 
Sand 
Belt Dust 
40/20 Drainage Metal 
Builders Mix 
 Cement 
Timber/Fencing Supplies: 
Rails, Posts  
Stays, Strainers 
Fence Battens 
Palings 
Stakes 
Fencing Wire 
Farm Gates & hardware 
Drainage: 
PVC Fittings 
Alkathene 
Draincoil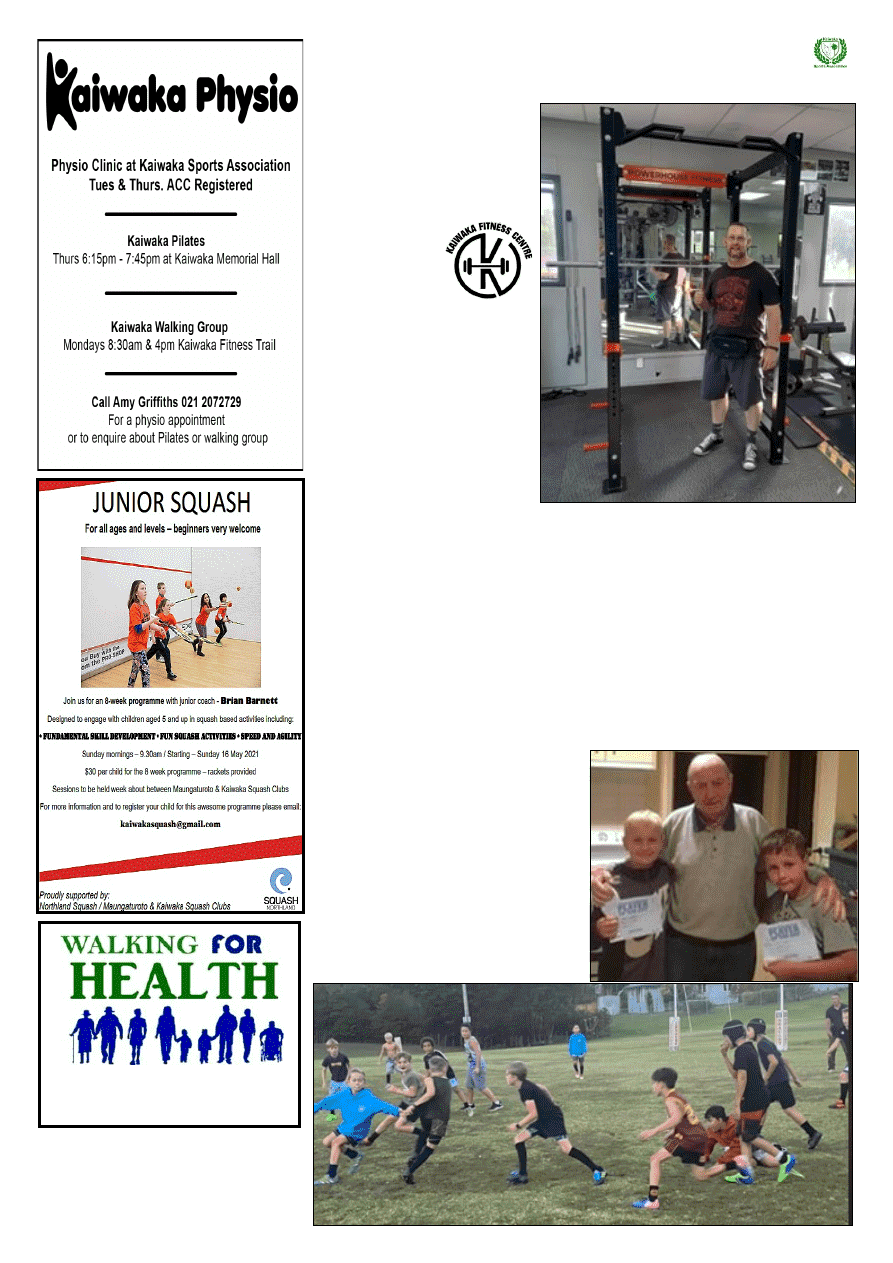 www.kaiwaka.co.nz 
Kaiwaka Bugle - 18 May 2021 
Page 11 
KAIWAKA 
SPORTS 
ASSN 
To make a booking contact:
Jennie Reynolds 
KSA Bookings 
ksa.bookings@mail.com 
02102764171  
KAIWAKA 
FITNESS 
CENTER 
BERNIE HALL 
Kaiwaka Fitness Center is proud 
to  announce  their  very  first 
official  sponsored  athlete  - 
Bernie Hall! Pictured right with 
the new squat rack. .Bernie is a 
powerlifting 
champion 
and 
competes  at  national  and 
international  level.    His  next 
competitions  are  on  June  5th, 
the  Qualifier  in  Avondale,  and 
on  July  17th  or  18th  at  the 
Nationals in Albany. He will be 
competing after lunch/ afternoon 
doing  the  big  DEADLIFT  representing 
our  Kaiwaka  Fitness  Center  There  is 
free spectators entry, so if you want to 
go and support our very own Bernie hit 
him up for more details!  
Updates:  New logo and new Facebook 
page - 'Kaiwaka Fitness Center' 
MEMBERSHIP: 
A 
full 
year 
membership  runs  from  1st  June  to  1st 
June  the  following  year,  prices  and 
membership term reduce every quarter. 
Prices are as follows; 
A full year (1st June to 1st June)- $140 
Half  year  (1st  December  to  1st  June)- 
$95 
Quarter  year  (1st  March  to  1st  June)- 
$50 
$10 is added to each price as a bond for 
the  key,  if  you  are  renewing  your 
membership and exchange your old key 
you do not pay the extra $10. There is a 
$50 charge for replacement of lost keys. 
EASTERN 
UNITED 
JMB 
KAIWAKA 
New 
email 
for 
the 
club: 
easternkaiwaka@gmail.com 
Eastern  is  enjoying  a  great  start  to  the 
season  with  growth  in  numbers  for  all 
grades.  All  the  kids  enjoyed  their  first 
run  at  Maungaturoto  last  Friday  night 
and  look  forward  to  games  this 
Saturday in Tomarata. Shout out to our 
many  sponsors:  Orang  Otang  Tree 
Trimmers,  The  Waterboy  Mangawhai 
and  Oilcon  Whangarei  for  the  much-
needed gear kits.  
We had some pretty elated kids who got 
Player of the Days thanks to 3 Furs Bar 
&  Grill  and  4  Square  Kaiwaka. 
Pictured below: Brothers Toby and Van 
Walker  with  their  great  grandfather 
Gaffa; Training on the KSA field. 
KAIWAKA SPORTS ASSN NEWS 
Contact email: kaiwakasportsassn@gmail.com 
Website: www.kaiwakasport.co.nz 
OTAMATEA  Hawks  2021  South 
Zone Rugby Competition 
22 May: Otamatea vs Mid Western  
29 May: Pipiwai vs Otamatea  
All games at 2:30pm 
KAIWAKA SPORTS ASSN. 
Checkout the walking path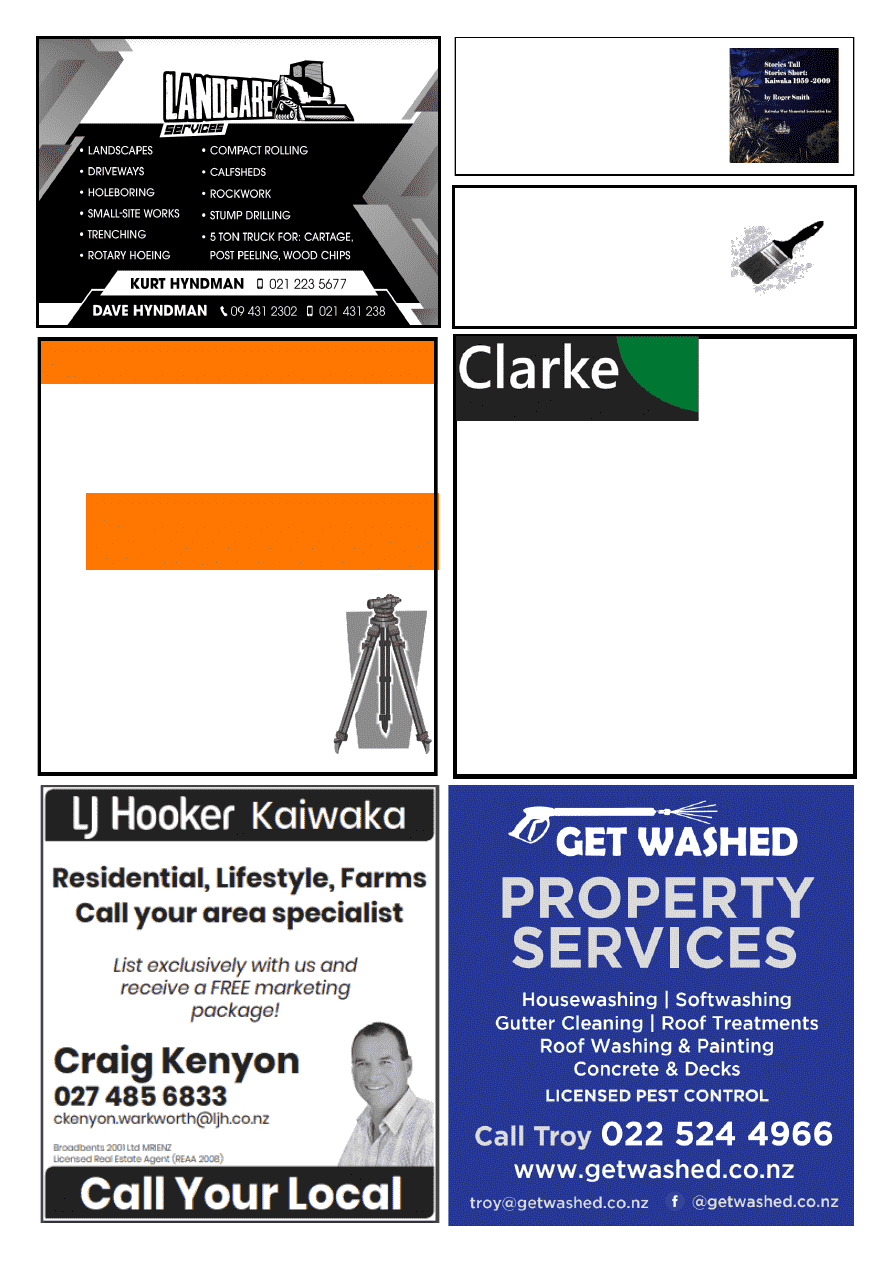 www.kaiwaka.co.nz 
Kaiwaka Bugle - 18 May 2021 
Page 12 
DR PAINT
 Dave & Rhys 
 Painters
 02108742551 
0211200667   drpaintnz@gmail.com 
Drainage & Earthmoving 
nigel@clarkedrainage.nz 
027 2233 185 
Registered Drainlayer                 All Types of Earthworks  
> All Residential & Commercial Work  > House Sites 
> Septic System Design & Install 
> Footings & Drilling to 10m 
> Sewer Connections 
> Dams 
> Water Tank Installation 
> Roading & Races 
> Farm Work 
THE ONE STOP SHOP  
Phone Nigel for an Obligation Free Quote  
SURVEYORS 
SUBDIVISIONS 
HOUSE SITE SURVEYS 
CIVIL ENGINEERING 
WASTEWATER DESIGNS 
EXPERIENCED 
PROFESSIONAL 
INNOVATIVE 
Ph 09 431 5353 
0800 PACIFIC (0800 722 434) 
pacificcoastsurvey.com
Adam Booth - 027 415 5752 
Bsurv, Licensed Cadastral Surveyor
Surveying Kaipara since 1994 
Stories Tall, Stories Short  
Kaiwaka 1959-2009 
by Roger TW Smith.  $40 
Available at All Sortz Collectables  
or phone  4312 045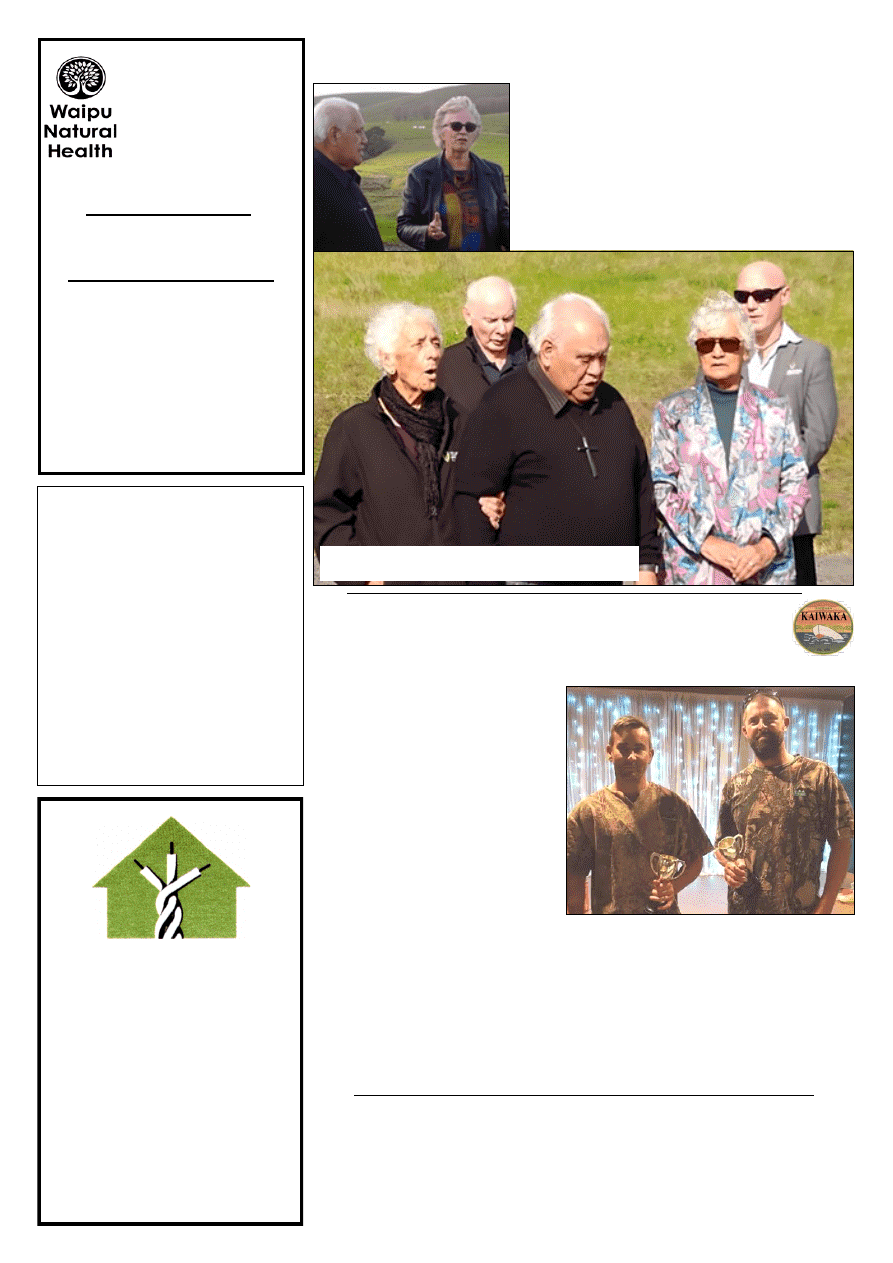 www.kaiwaka.co.nz 
Kaiwaka Bugle - 18 May 2021 
Page 13 
Reyahn  Leng 
Registered Electrician 
Local, honest and 
reliable. 
For your residential and 
light-commercial 
projects. 
022 314 1068 
3 Cove Road, Waipu 
(opposite the Pizza Barn
) 
094321325 
www.waipunaturalhealth.co.nz 
Clinical Nutritionist: 
Nutritional Checkups, Diets for 
Chronic Diseases,  
Food Sensitivities 
Naturopathic Physician: 
Ozone Therapy, Prolotherapy  
Reflexology, Craniosacral 
Therapy, Trauma Release 
Massage Therapy 
Counselling and Hypnotherapy 
Change Catalyst/ThetaHealer 
Affordable Children's Consults 
All therapists are fully qualified
POINT CURTIS CRUISING CLUB 
Our  Opening  Duck  Shoot  2021/2022  on  Saturday  1  May  was 
well  attended  and  enjoyed  by  all.  Good  number  of 
game  birds 
caught, and a number of different winners listed below: 2021/2022 
Seniors:  
Peacock: Michayla Kennedy 4.141 
Turkey: Kevin Ries 7.929 
Mallard: Kevin Watts 1.494 
Grey: Ben Ries 1.230 
Parry: Hayden Smith 1.951 
Pheasant: Harman Walker 1.312 
Pukeko: Nigel Ball 0.975 
Swan, black: Dave Kennedy 5.108 
Juniors: 
Peacock:Morgan G Leslie 4.569          
Turkey: Amanda Ries 7.087 
Mallard: Amanda Ries 1.408 
Grey: Amanda Ries 1.229 
Parry: Hunter Ries 1.785 
Pheasant: Hunter Ries 1.174 
Pukeko: Morgan G Leslie 1.191 

Don't  forget  Subs  are  Due  1st  June  2021.  $30  Family  $20  Single.  Internet 
banking 12 3094 0008233 00 Please use Name/s as a reference. 

AGM meeting to be held 10 June 2021 at 7pm Kaiwaka Sports Association 

Fish of the Month for April  was Snapper, and the winners are 1st Paul Greig 
6.8071kgs; 2nd Paul Greig 4.140 kgs 

New Fish of the Month: Kahawai till 10 June 2021 

Next  Club  meeting:    10  June  2021  immediately  after  the  AGM,  Kaiwaka 
Sports Association  
BLESSING AT HINAMOKI
HAKARU HALL  
ACTIVITIES 

Monday:  Line Dancing 10-12pm  
Ph 4315160 

Tuesday & Thursday: Pilates 10am  
    Qualified Instructor Ph. 0220643965 

Wednesday:  Music Jam Session 7pm  
Dennis Ph. 0210628631 

Friday Morning: Available for HIRE  

Sunday: Canine Coaching  
Ph 0272365004 

Dance Energy  Week Days  
   Monday to Friday, Afternoon/Evening  
Ph. 0275610469 

Friday Morning: Available for HIRE 
Hall Bookings Karen  
4312090 or 0210467490 
The Hinamoki development, which borders Takahoa on Oneriri Road, had 
its official naming and blessing carried out by 
Rev John Marsden on Saturday 15 May. 
Recent works done there have created a very 
impressive  landscape.  Four  sections  have 
been  sold  with  building  work  begun,  and 
more in the pipeline. New owners and locals 
were present to witness proceedings and were 
treated  to  a  superb  morning  tea  by  hostess 
and  manager  Jacquie  Taylor-Lynds,  pictured 
left with Rev. John Marsden.
KAIWAKA SCHOOL  
KAIWAKA  SCHOOL  150  REUNION  WILL  BE  HELD  ON  23RD 
OCTOBER (LABOUR WEEKEND) THIS YEAR.  
Keep up to date with  Facebook Pages to follow: 
Kaiwaka School 150 year Reunion; Kaiwaka School Old Photos; 
Kaiwaka  Historical  Society.  Please  tag  in  your  friends  and  family  we  want  to 
spread the word about our school Reunion on 23rd October 2021.
Photo:  Rev.  John    Marsden  led  the  waiata,  Martha 
Nathan, Rangi and Liz Mitchelson and Adam Taylor 
Photo: 2021/22 - Harman Walker heaviest Kahawai 
for  the  year  3.216kgs  &    Dave  Kennedy  heaviest 
Crayfish 3.266 kgs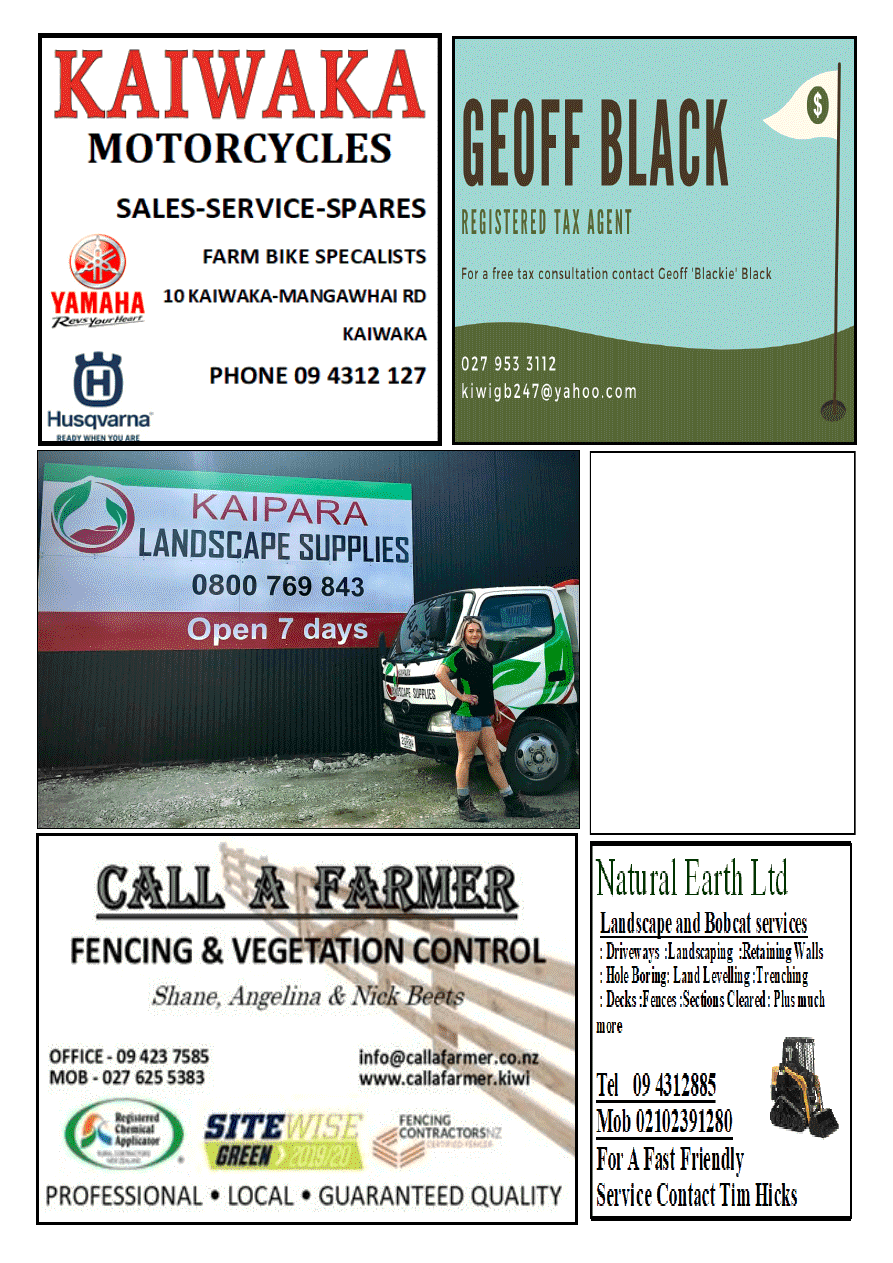 www.kaiwaka.co.nz 
Kaiwaka Bugle - 18 May 2021 
Page 14 
HELP 
PHONE NUMBERS 
HEALTHLINE 0800 611 116 - a 
nurse to answer health queries  
SAMARITANS 0800 726 666 - 
support for lonely or suffering 
mental distress 
YOUTHLINE 0800 376 633 
LIFELINE 0800 543 354 
DEPRESSION HELPLINE 0800 111 
756 
ALCOHOL & DRUG HELPLINE 0800 
787 797 
URGENT MENTAL HEALTH LINE 
0800 223 371 
WARMLINE -peer support for 
people with mental health issues 
0800 200 207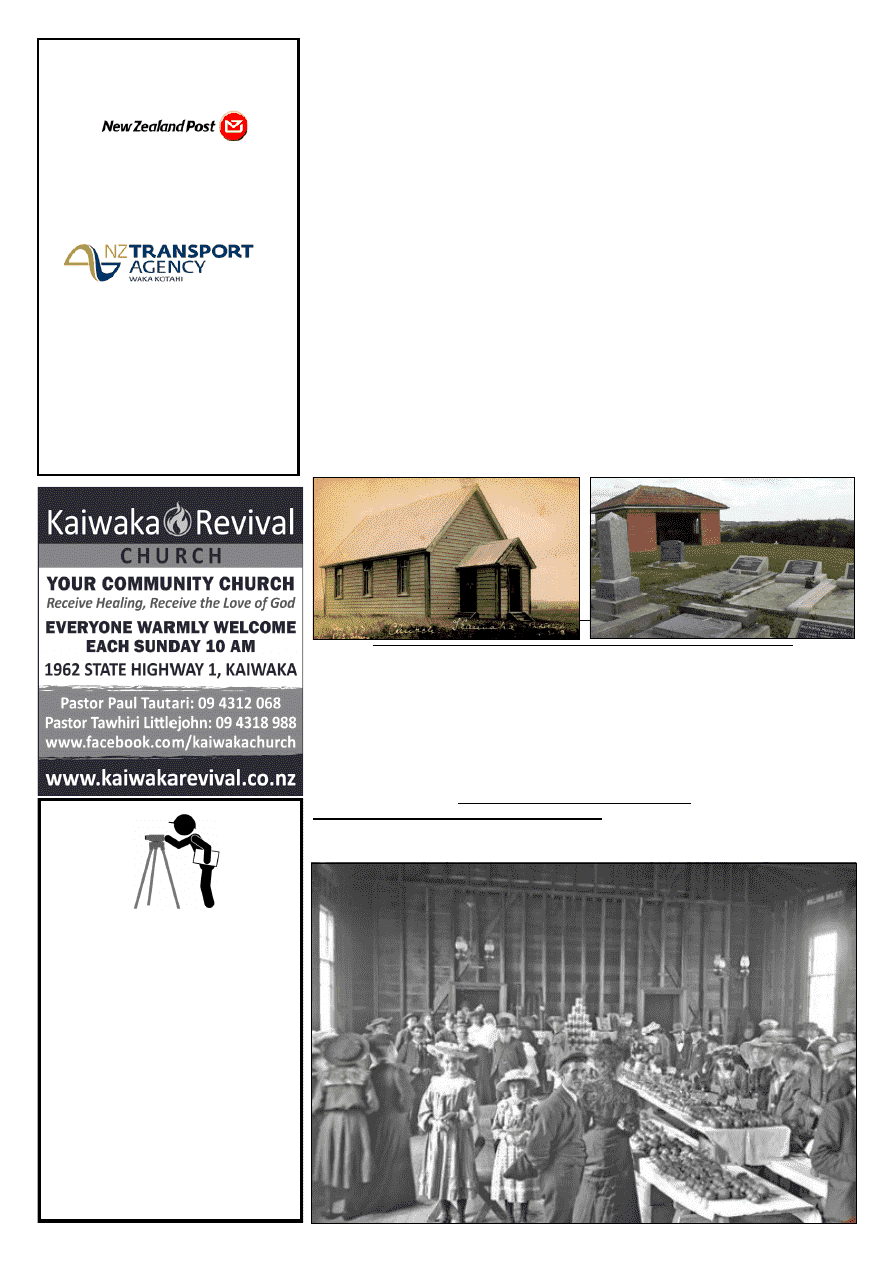 www.kaiwaka.co.nz 
Kaiwaka Bugle - 18 May 2021 
Page 15 
KAIWAKA POST 
CENTRE and 
FOOD MART 
POST CENTRE TRADING HOURS 
MONDAY to FRIDAY 8am to 5pm 
SATURDAY 8am to 12pm 
CLOSED ON SUNDAY and on 
PUBLIC HOLIDAYS 
FOOD MART (GROCERIES) 
MONDAY TO FRIDAY  
7:30am to 7.30pm 
SATURDAY  8am to 7.30pm 
SUNDAY  8:30am to 7pm 
IF ANY QUERIES PLEASE CALL 
STORE MANAGER AMRIT  
on 09 4312431 or 
EMAIL: kaiwakafood19a@gmail.com 
1919a State Highway1, Kaiwaka 0542 
Ken Urquhart 
BSurv Licensed  
Cadastral Surveyor 
KMU Surveys Ltd 
467 Bickerstaffe Road 
RD 2 
Maungaturoto 0587 
Ph 09 431 8705 
Mob 021 161 2344 
kenurquhart@xtra.co.nz 
LIVE FOR WHAT MATTERS! 
Imagine Albertland/Auckland 
Wellsford Library Short Story Competition 
Albertland  was  to  be  a  city  to  rival  Auckland.  This  short  story  challenge  is  to 
imagine that it had. How would New Zealand have been shaped if its largest city 
was based around the Kaipara Harbour? Could you imagine a safer harbour and a 
prosperous city? Or one besieged with drownings and piracy? It is up to you. All 
genres welcome. Teen (13-19) and Adult categories. Winning entries will be on 
display in the library; writer permitting.  
Submit by 30June to wellslib@aucklandcouncil.govt.nz with the subject heading 
Albertlander  Short  Story  Competition,  Please  email  the  above  address  for 
more information and full terms and conditions. 
Photo courtesy of the Albertland Heritage Museum 'Inside exhibits at the Port Albert Agricultural 
Show, early 1900s.' WH Marsh Collection 2004.2.98.585 
If you work harder, you can earn more 
money, but you can't earn more time. 
To coin a popular song,  'Time  may be 
money,  but  your  money  won't  buy 
time.' 
There's  a  story  about  a  man  who 
worked  the  late  shift  at  a  factory,  who 
walked  home  in  the  early  hours.  One 
night  he  took  a  shortcut  through  the 
cemetery. 
Failing to notice the new grave that had 
just been dug in the centre of his path, 
he  fell  into  it.  After  several 
unsuccessful  attempts  to  get  out,  he 
decided  to  relax  until  morning  when 
someone was around to help him. As he 
sat  in  the  corner  of  the  grave  half 
asleep,  a  fellow  traveller  who  had 
overindulged  at  the  bar  stumbled  in 
beside  him.  Desperate  to  get  out,  the 
drunk  started  yelling  and  clawing 
frantically at the sides. At that point our 
hero  reached  out,  touched  him  gently 
on the leg, and said, 'It's no use, friend, 
I've tried. You'll never get out of here.' 
Not  surprisingly  -  he  did!  He  jumped 
out! 
A  periodic  visit  to  the  local  cemetery 
might  help  you  re-evaluate  and 
reprioritise  your  life!  For  example,  it 
might  encourage  you  to  stop  and  ask 
yourself what you're really living for. A 
rut  is  simply  a  grave  with  the  ends 
kicked  out.  Don't  just  make  a  living; 
get  out  of  your  rut  and  make  a 
difference.  Don't  just  leave  an 
inheritance;  leave  a  legacy  that  will 
enrich  the  lives  of  those  who  follow 
you.  
Ref. Word for the Day, Rhema Media 
Have 
you 
visited 
the 
Kaiwaka Cemetery? 
The 
original 
Kaiwaka 
Settlers 
Interdenominational  Church  was  built 
on  the  cemetery  site  in  1878,  pictured 
below  left  in  1918.  In  the  early  1950s 
the  church  was  sold  privately  and 
removed.    To  commemorate  the 
building of the church by the pioneers, 
the  brick  chapel  was  erected  in  1956, 
pictured below.   
Commemorative plaques maybe placed 
in  the  chapel.  For  further  information 
phone 0272724137.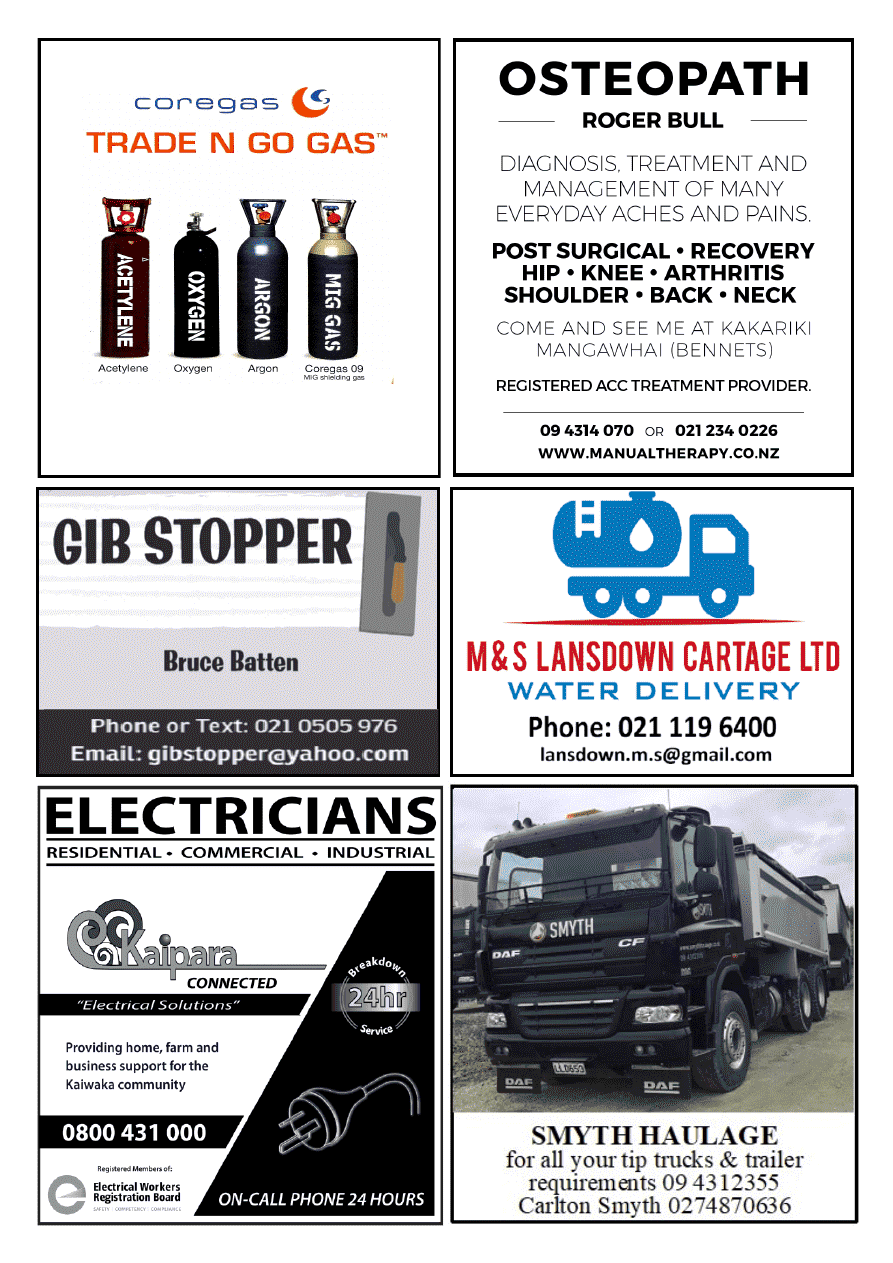 www.kaiwaka.co.nz 
Kaiwaka Bugle - 18 May 2021 
Page 16 
At Twinkle Tow 'n' Tyre 
Mob: 021 833 960 
Ph & Fax: 09 431 2823 
1837 State Highway 1, Kaiwaka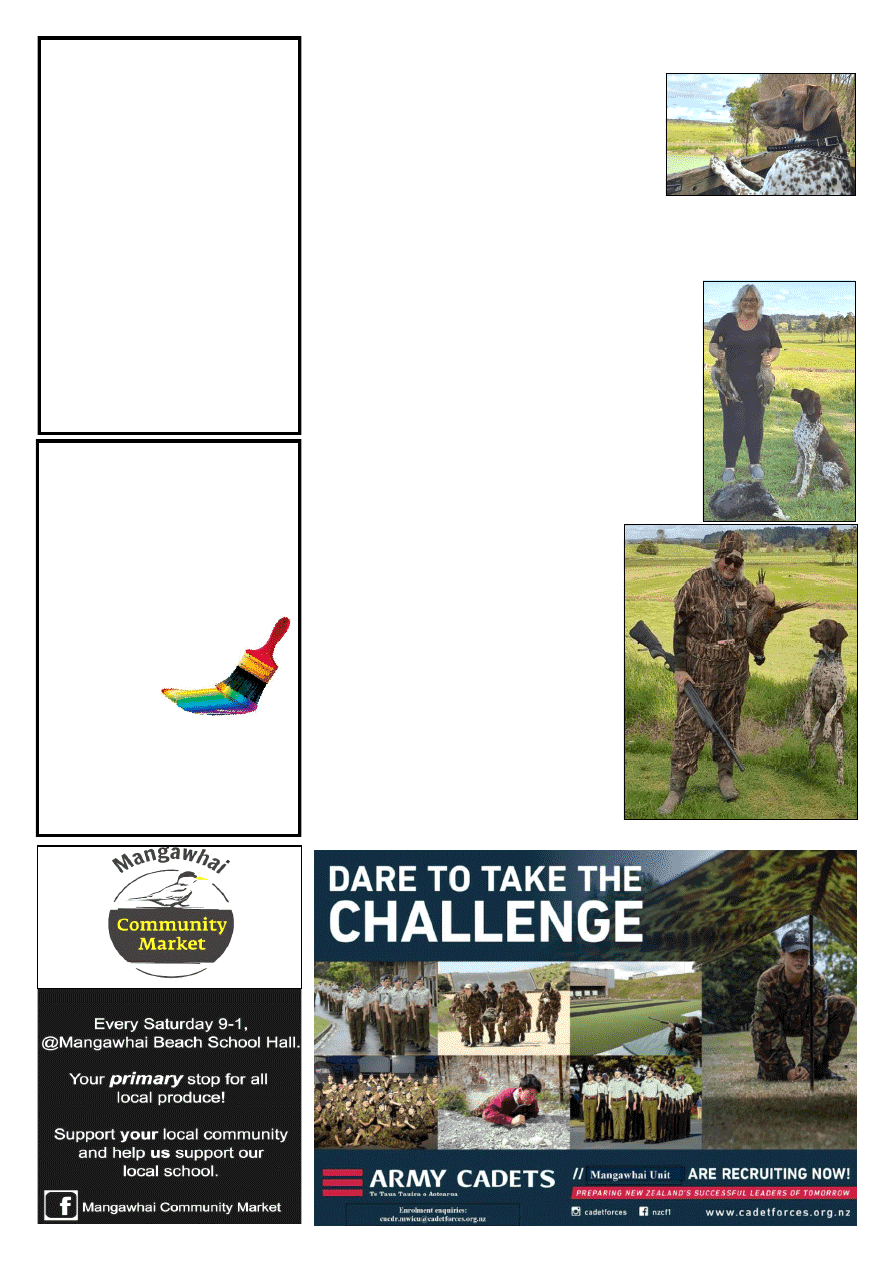 www.kaiwaka.co.nz 
Kaiwaka Bugle - 18 May 2021 
Page 17 
Willow Bend
HORSE  
HOTEL 
  
Total Horse Care 
 
Agistment 
 
Riding Lessons 
 
Arena Hire (60x40) 
 
Young Horse Starting 
 
Re-training/Exercising 
 
Hoof Trimming 
 
Problem Solving 
Phone Sue 09 431 2817 
or 021 623 776 
Or email  
susanjoll11@gmail.com 
LEE COOPER 
PAINTERS 
(Kaiwaka Based) 
*30 yrs Experience 
*Interior/Exterior 
*New and Restoration 
*Honest and Reliable 
*Free Quotes 
09 4312918 or 
0274735171 
leecooper@xtra.co.nz 
KAIPARA HUNTING & FISHING 
CLUB NEWS: 
What a great turnout for the annual Duck Hunters 
Shoot. Tony Smith with the top score, shooting 72 
targets out of 80.  
Results:  
Seniors  Men's:  1st  Tony  Smith  72,  2nd  Richard 
Bellamy 71, 3rd Dale Hamlin 69 
Ladies: 1st Regan 23, 2nd Lauren 
Juniors: 1st Lane Hickey 61, 2nd Kellan 
Huge  thank  you  to  the  sponsors  for  this  event:  These  events  wouldn't  happen 
without them, so please support these local businesses: Nola  Sports  Dargaville, 
Hunting  and  Fishing  Dargaville,  Chris  Hickey  Fencing,  Mangawhai  Meat 
Shop,  Maungaturoto  Liquor  Centre,  Farm  Source  Maungaturoto,  Gary  Flood 
Crewcut, Hayden Smith. 
OPENING MORNING 
My dog was excited for opening morning as we all were. 
- photo above 
Had a few mixed reports. The ducks seemed very cagey 
and  switched  on  this  season.  Great  to  have  a  normal 
opening  with  a  good  season  ahead.  Guns  blazing  guys. 
Good luck. Photos right: A couple of Annette's opening 
weekend shots . 
UP-COMING EVENTS: 

Mixed Bag Weekend 
Birds shot over the weekend of the 22rd and 23rd May 
Will be taken on a points system 
Species  to  be  weighed  in  –  Everything  on 
your license 
Weigh in 23rd May 4 – 5pm at the club 
Great prizes to be won. See you all there. 

Heaviest Bird Weekend 
Birds shot over the weekend of the 19th and 
20th June 
Prizes for: 
Heaviest Mallard ~ Heaviest Drake 
Heaviest Pheasant ! Longest Pheasant tail 
Weigh  in  Sunday  20th  June  between  4  and 
5pm at the club 
Great prizes to be won. See you all there. 
Welcome to all new members. Thank you all 
for updating your email addresses, as this is 
the only communication line we use. 
Regards Your Committee 
Club  Contacts:  For  New  Membership:  Andy  at 
awthompson@outlook.co.nz  Or  -  Send  to  -  P.O.  Box 
12, Ruawai.0549 
President Cam Shanks 094316229; Secretary Annette Pull 0272862329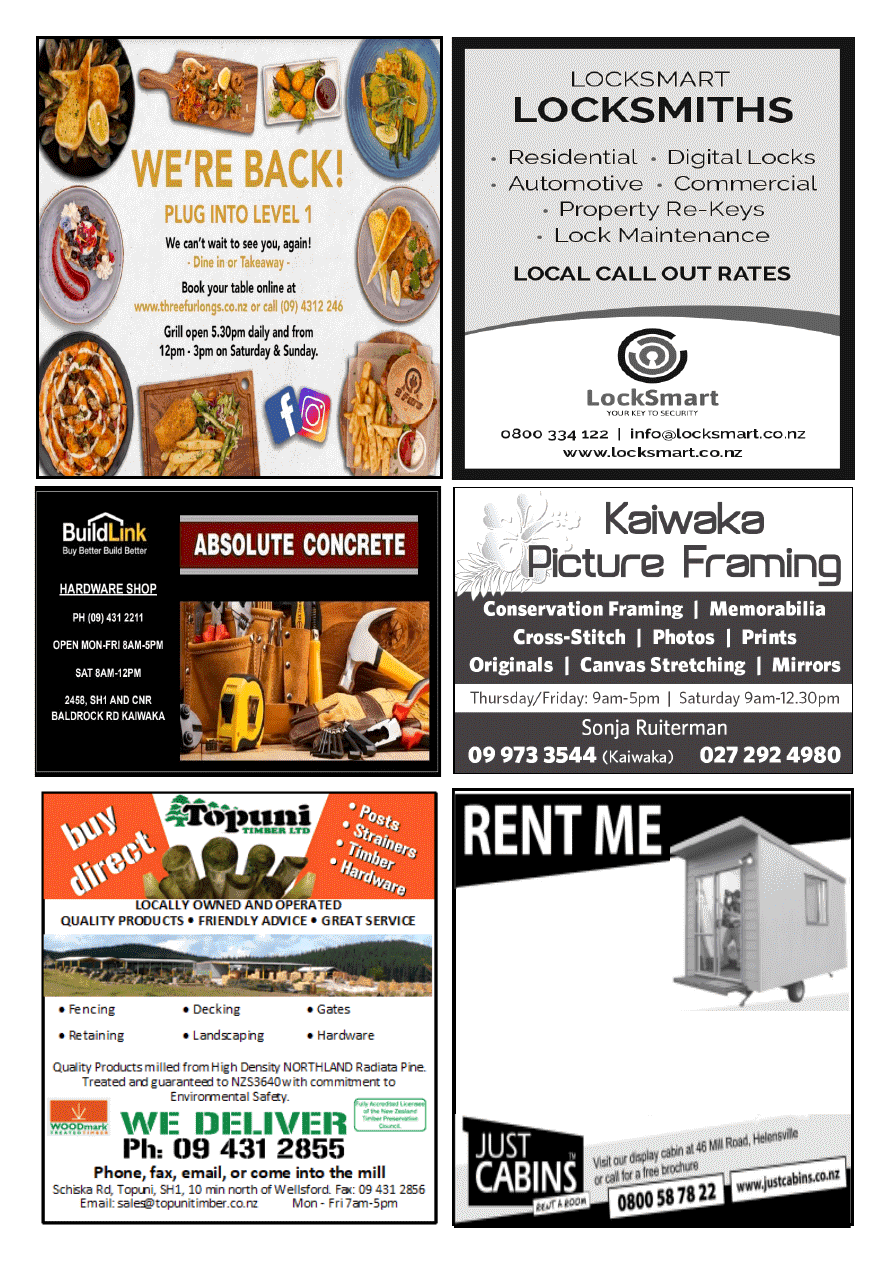 www.kaiwaka.co.nz 
Kaiwaka Bugle - 18 May 2021 
Page 18 
Ideal as an extra  
bedroom or office 
Three Convenient sizes: 
Standard 3.6m x 2.4m - $65 per week 
Large 4.2m x 2.4m - $80 per week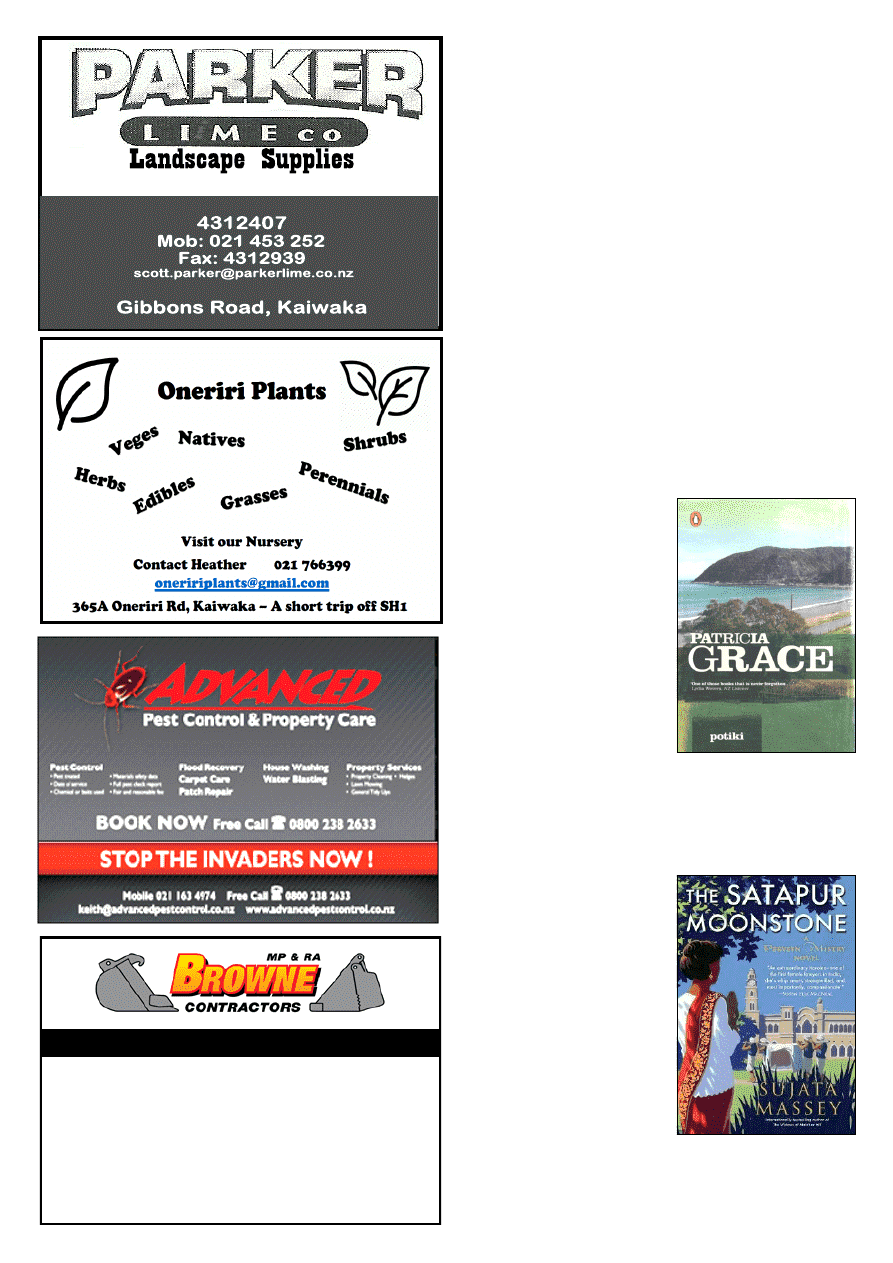 www.kaiwaka.co.nz 
Kaiwaka Bugle - 18 May 2021 
Page 19 
Bulk Cartage 
4Tonne DIGGER – BOBCAT – TIP TRUCK 
Property Maintenance - Driveways  
 Building Sites 
Stump & Tree Removal  
Hole Boring - Chain Trencher  
Calf Shed and Stockyard Cleaning 
Phone Matt: 021 199 6677 
Email: mprabrownecontractors@gmail.com 
KAIWAKA LIBRARY 
BOOKS FOR SALE 
Have you seen the 'new' books for sale? We had a clean-out 
of our non-fiction shelves the other week, so there is a stack 
of newly discarded books on the sales shelves/table to pick 
through,  along  with  fiction  and  kids'  books.  They're  50c 
each, 3 for $1, or 10 for $2.50. 
DARGAVILLE 
LIBRARY 
TEMPORARY 
CLOSING 
On  Friday  28  May  Dargaville  Library  will  be  closing  their 
doors at 5pm and reopening on Tuesday 15 June, so they can 
have  a  refresh  in  the  library.  Now  is  a  good  time  to  order 
books from their shelves to arrive before they close - place a 
hold by Wednesday 26 May for delivery to Kaiwaka Library 
on  the  27th.  Go  to  Enterprise*  to  search  the  catalogue  and 
place a hold or get in touch with me and let me know what 
you're looking for. 
ROADWORKS 
Have  you  seen  the  work  going  on  outside  the  hall  and 
library?  The  footpath  is  being  replaced,  and  a  pedestrian 
island  and  disabled  parking  spaces  are  being  installed 
amongst other things. Right now, it's a bit of a mess outside, 
but we are still open our usual hours. Look carefully to see 
how to navigate through the works to our door  - as I  write 
this article last week, the entrance is via the phone exchange 
driveway between the hall and library. We're expecting the 
new concrete to be laid at the end of this week. We will also 
open the doors facing State Highway 1 when it's not too cold 
and windy to do so, for easier access. 
BOOK REVIEW 

Recently  I've  read  Potiki  by 
Patricia  Grace. 
"In  a  small 
coastal  community  threatened  by 
developers  who  would  ravage 
their lands it is a time of fear and 
confusion  –  and  growing  anger. 
The prophet child Tokowaru-i-te-
Marama 
shares 
his 
people's 
struggles  against  bulldozers  and 
fast  money  talk.  When  dramatic 
events menace the marae, his grief 
and rage threaten to burst beyond 
the  confines  of  his  twisted  body. 
His  all-seeing  eye  looks  forward 
to  a  strange  and  terrible  new  dawn.  Patrica  Grace's  second 
novel  is  a  work  of  spellbinding  power  in  which  the  myths  of 
older times are inextricably woven into the political realities of 
today." 
This award-winning book is beautifully written, and 
despite the events that happen in it, it was a joy to read. This 
book is held at Dargaville Library; you can place a hold on it 
to pick up at Kaiwaka, and we have some of her other titles 
on our shelves. 

The  Satapur  Moonstone  by 
Sujata  Massey  was also a good 
read. It's the second book in the 
Perveen Mistry series. 
Perveen is 
India's  only  female  lawyer  at  the 
time  this  story  is  set  (1922)  and 
finds  she  has  access  to  female 
clients  her  male  counterparts  do 
not,  including  the  widow  of  a 
maharaja,  who  is  in  dispute  with 
her  mother-in-law  about  the 
education  of  her  son,  the  new 
maharaja  who  is  a  teenager  and  a 
ward  if  the  state  until  he  is  old 
enough  to  be  crowned. 
Like  the 
first book A murder at Malabar Hill, it is an insightful look 
into a world vastly different to ours, and an enjoyable read. 
Both titles are on our Rental Fiction shelves, and the third is 
on order for delivery when it is published in the near future. 
library. See you in the library! ~Wendy 
*Enterprise: http://kaipara.kotui.org.nz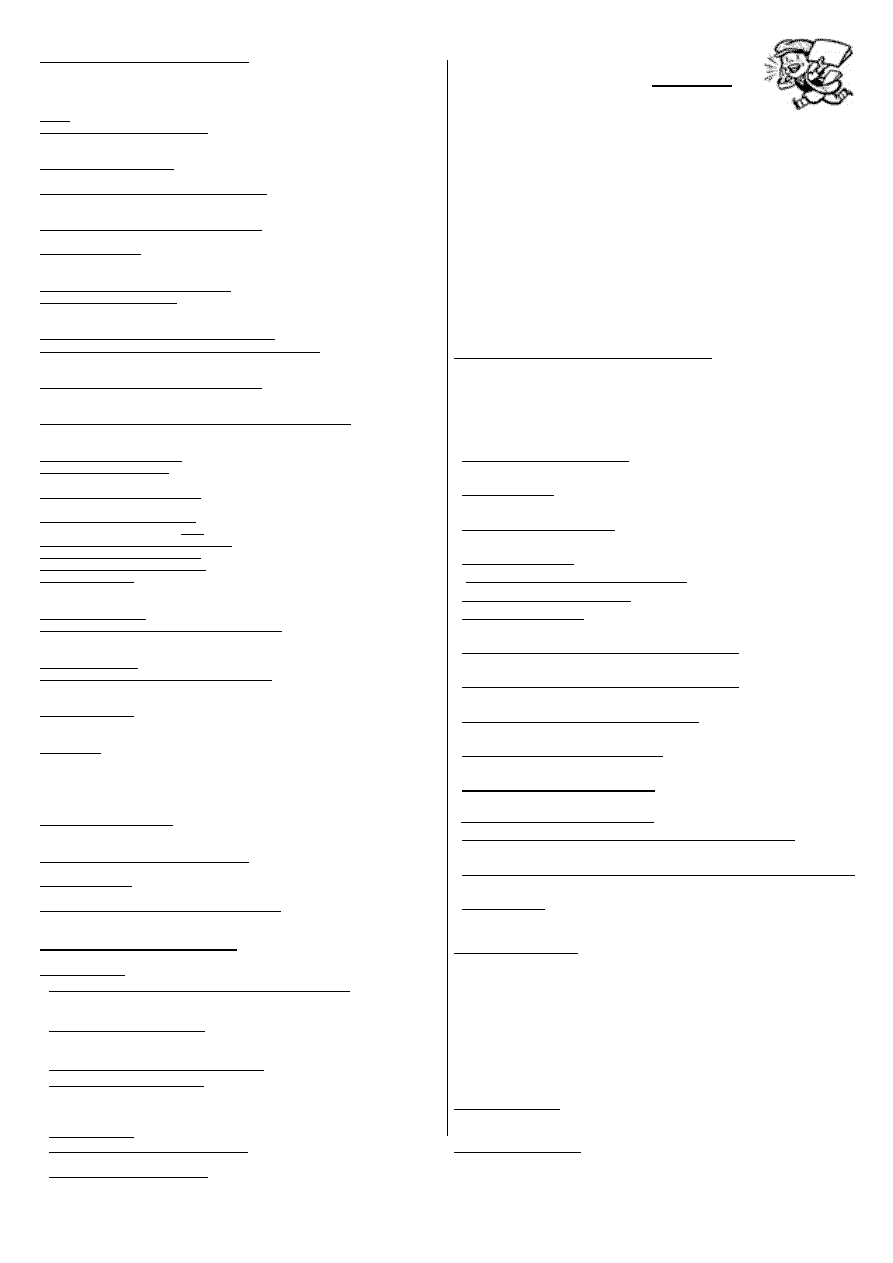 www.kaiwaka.co.nz 
Kaiwaka Bugle - 18 May 2021 
Page 20 
WHAT'S ON
PLEASE ~ do let us know what is on - 
email kaiwakabugle@kaiwaka.co.nz 
*18May~Maungaturoto Rec Soc AGM, 7pm 
*19May~Kaiwaka Can meet, 5.30pm Archie Bull 
*20May~OHS Staff Only Day 
*21May~Movie 'LET HIM GO',7.30pm KWMH 
*27May~Hakaru Women's RSA meet 1.30pm 
*24May~Plunket Car Seat Day, 9 - 11am St. John 
Hall 
*28May~Kaiwaka School Gumboot Day 
*29May~Albertlanders Celebration 
*10Jun~Pt. Curtis CC, AGM, 7pm KSA 
KWMH = Kaiwaka War Memorial Hall; KSA = Kaiwaka Sports Association 
See www.kaiwaka.co.nz for more information 
HOUSEHOLD RUBBISH COLLECTION  
Kaiwaka Pick up: 
Mondays = Green bags (Northland Waste - 09 430 3273) 
Wednesdays  =  Blue  bags  and  yellow  recycling  (at  Four  Square 
Kaiwaka $3.30 and $1.70) (Kaurilands 09 4392146); ONLY Blue 
and Yellow bags picked up on Oneriri Road. 
 DIABETES Support Group-for Kaiwaka, Mangawhai, Wellsford 
10am, 3rd Friday of month Ph: Colleen James 09 4314238 
 GENEALOGY - Wellsford: 1st Thursday in month Ph: 423 
7033; Waipu: 4th Monday in month Ph: 4312 725 
 HAKARU PONY CLUB - Secretary Denise Rogers 021423376 
secretary@hakaruponyclub.co.nz  
 KAIPARA HUNT - Secretary Albert Doonenbal Ph 4312059 
  KAIPARA HUNTING & FISHING - 021 1294378 
 KAIWAKA BADMINTON -Tuesdays 7.30pm Ph: 4312345 
 KAIWAKA  CAN  - 3rd Wednesday in month, 5.30pm, Archie 
Bull Hall Ph: 0273572751 
 KAIWAKA GARDEN & FLORAL GROUP - 2nd Thursday in 
month. Ph: 431 4744 
 KNITTING FOR WHANGAREI HOSPITAL - 2nd Tuesday in 
month, Archie Bull Hall 10am Ph 4314827 
 MANGAWHAI COMBINED REBUS CLUB - 2pm, 3rd 
Thursday month, Senior Citizens Hall Mangawhai. Ph: 4315777 
 MANGAWHAI GENEALOGY  - meet 3rd Thursday month, 
Mangawhai Museum, 10.30am 
 PILATES - HAKARU HALL - Tuesday 10am, Thursday 9am 
Qualified Instructor  Ph. 0220643965  
*PT CURTIS CRUISING CLUB - Jean Ph: 4312227 (wk), 4312520 (hm) 
 RSA,  HAKARU  &  DISTRICTS  WOMEN'S  SECTION  –  meets 
1.30pm 4th Thursday of the month. Ph: 431 5818  
 KAIWAKA  SCOTTISH  COUNTRY  DANCING  CLUB-
Wednesdays 10am - 12 noon  Ph: Elaine 027 432 0032  
 TRAMPING 
- 
Mondays 
9am-2:30pm, 
contact  
valkenburgmaria@gmail.com 
HALLS FOR HIRE: 
  Kaiwaka St. John Hall: Phone Marj  0272941227  
 St.Pauls  Archie  Bull Hall  HIRE  $20 half day, $40 full day per 
hire, S McAulay, Ph 4312311 
 Kaiwaka  War  Memorial  Hall  HlRE  -  Phone  4312725  or 
kaiwaka.hall.bookings@gmail.com 
 Hakaru Community Hall HIRE -Ph.  Karen 4312090 
 Te Pounga Marae queries - Pearl Nathan  0223933533 
 Kaiwaka Sports Association hire/queries - Jennie Reynolds
   ksa.bookings@mail.com
, 02102764171  
Justice  of  Peace:  L.Donaldson  4312  228;  A.F.Hargreaves  4312 
045,  W.Howard  4312  725  -  please  phone  to  make  sure  they  are 
available www.justiceofthepeace.org.nz B.FJaques Retd  
Marriage Celebrants:  
L.Donaldson; A.F.Hargreaves; Y Osborne
Next Bugle Deadline  Friday 11 June 2021
LOCAL SERVICES 
*Emergencies - Ambulance, Fire, Police - dial 111 
*Non-urgent Police phone 105
A A: Meets Wed., 7pm. Kate's Place Ph 021 024 25969 or 0800 229 6757 
NARCOTICS ANONYMOUS : Mon., 6pm, Archie Bull Hall, Kwk-Mwi 
Road; drug and alcohol related issues. Ph. 02102412348 
ASUREQUALITY LTD (was AgriQuality) Call Free 0508 0011 22  
BUDGETING SERVICE, WELLSFORD: Free confidential advice & 
support for all areas of personal finance. Ph (09) 423 7123 
CAB-Citizens Advice Bureau.Wellsford Ph: 4237333 
0800 367 222 email:cab.wells@xtra.co.nz  
CIVIL DEFENCE - Kaiwaka Community Response Group: 
kaiwaka.civildefencecrg@gmail.com, 4312725 Wendy 
DOG/STOCK /NOISE CONTROL 0800 105 890 
FUNERAL SERVICES: Morris & Morris Ltd, 
Whangarei - Bev Jaques Ph:4312367 or 0800667747 
GRANDPARENTS Raising Grandchildren: Dianah Roberts 0223819539 
HAKARU & DISTRICTS MEMORIAL RSA (Inc) 733 Settlement Rd, 
Hakaru. Ph 4312 176 or Bill Warren (President) 431 2092 
HAKARU LANDFILL/Transfer Station:Open everyday  10am-
4pm.Ph4312629 Cost-$55 trailer load up to 1 cubic metre. Ph:4258567 - 
office 
KAIPARA DISTRICT COUNCIL www.kaipara.govt.nz:  
Help Desk FREEPHONE 0800 727 059  
KAIWAKA CEMETERY: Ph: 4312045 or 4314017 
KAIWAKA LIBRARY: kaiwaka.library@gmail.com  
Mon. 4-6pm; Wed., Thurs., Fri., Sat. 10am-2pm Ph:4312539 
KAIWAKA PLAYCENTRE: Ph Juanita 0274134904; open Mon, Wed, 
Fri 9am-12pm. Hastie Lane; Monday to Friday 9.00am - 12 noon. 
KAIWAKA POST OFFICE:Ph:4312 431  
Post Code: 0573 for RD2 and 0542 for all Kaiwaka Post Office mail 
KAIWAKA PRIMARY SCHOOL: Ph: 4312309   
KAIWAKA SPORTS ASSN: Ph 4312005; 4312129 gym 
KAIWAKA ST JOHN HALL: Phone Marj  0272941227  
KATE'S PLACE Community Centre - Employment services, Free Health 
Nurse, Plunket, Advocacy, Osteopath, A.A., Legal Advice. 4312 661 
LINKING HANDS Health Shuttle Ph 4315906 or 09 4318969 
MINISTRY FOR PRIMARY INDUSTRIES - General inquiries Call 
Free 0800 008 333 
NORTHPOWER: Faults Kaiwaka area 0800 104040 
OTAMATEA COMMUNITY SERVICES: Counselling, parent coach, 
Family Support worker, budget advice, food bank. Mon-Fri 9am-3pm. Ph 
09 431 9080 http://www.otamateacs.org/ 
PARENTPORT: Free, practical family support service Puhoi to Paparoa 
Ph or txt: Dianne 027 280 5093 or 09 425 9357 
PLUNKET: Kaiwaka- St John Hall, Monday 19 Oct, 23 Nov, 21 Dec. then 4th 
Monday of the month. Plunket Nurse Louise 027 282 3987 or 09 438 2508 
Mangawhai- Rose Madsen Cottage, Mondays and Wednesdays. Plunket Nurse 
Rebecca 021 501 941 or 09 438 2508 
Maungaturoto - Good News Church, 2nd and 4th Wednesday of the month. 
Plunket Nurse Seleisa 021 912 248 or 09 438 2508 
PLUNKET HELPLINE -0800 933 922 (24 hours)  
FACEBOOK - Kaipara Plunket 
TAITOKERAU COMMUNITY LAW: Free confidential legal advice and 
assistance, 2nd
Thursday
 of each month. Ph: 0800 155 529 for appts.  
TE URI O HAU Settlement Trust Tangata Developments: Whanau Ora 
021 793262  
VETERINARY SERVICE MANGAWHAI: 
Ph: 4314535 Mon-Fri 8.00-5.00, Sat 9-12, a/h appt. 
WELLSFORD DOCTORS: Ph: 4238 086 
CHURCHES:
 
Kaiwaka  Revival  Church  -  Your  Community  Church:  Sundays  10am. 
Ph: Pastor Tawhiri 09 431 8988 or Pastor Paul 09 4312 068 Visit us at 
www.facebook.com/kaiwakachurch 
 
St  Paul's  Anglican  Church  1st  Sun.  9.00am  (Eucharist),  3rd  Sun. 
9.00am (Family Service). Contact: Rev. Wayne Thornton Ph 431 4122 
www.mangawhaianglican.org.nz 
 
Church of Christ the King, Mangawhai:9.00am every Sunday 
 
St.Mary's  Catholic  Church:  Maungaturoto  –  Griffins  Road,  Saturday 
evening  Vigil  Mass  6pm;  Mangawhai  –  Senior  Citizens  Hall,  Sunday 
Mass  8:30am;  Wellsford  –  Matheson  Road,  Sunday  Mass  10:30am;  
Mid-week Mass times and all enquires to Fr. Bill Fletcher – phone 423 8170
 
Baptist Church: Sun. 10.30am Mangawhai Snr Cit.Hall.Ph:4312339 
 
Cause  Way  Church  Mangawhai:  Sundays  10.15am,  Mangawhai 
Community  Recreation  Centre,  Insley  St.  Ph:  09  4314782