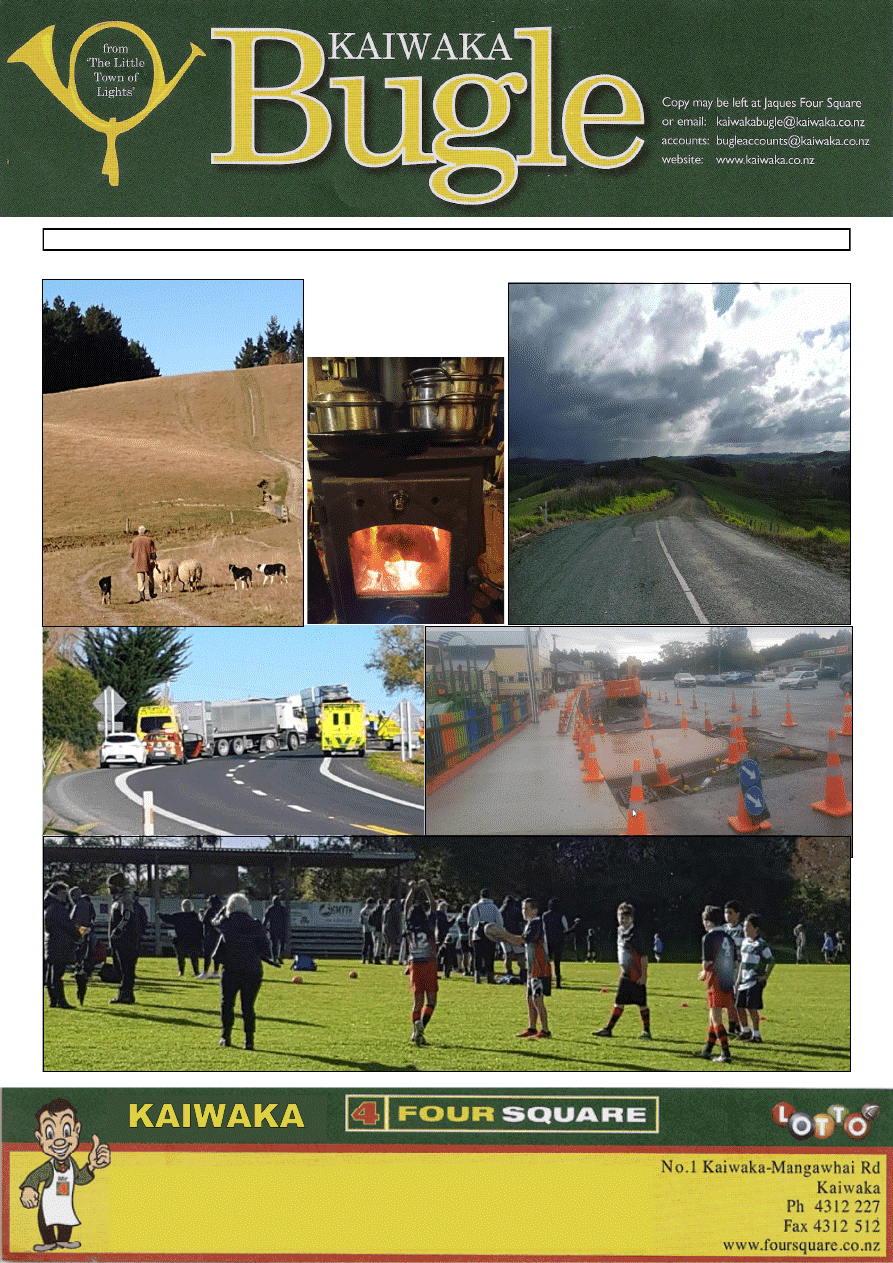 www.kaiwaka.co.nz 
Kaiwaka Bugle - 1 June, 2021 
Page 1 
No: 10 
 1 June 2021 
COUNTRY ROUND-UP, SOME NEAR, SOME FAR 
Clockwise:  Storm  over 
Oneriri.  New  crossing  and 
footpath  work  in  process. 
Weekend  JMB  rugby. 
Stay warm, safe and cozy. 
TRADING HOURS: 
7.30am - 7pm daily 
"Your local Store" 
Family owned & operated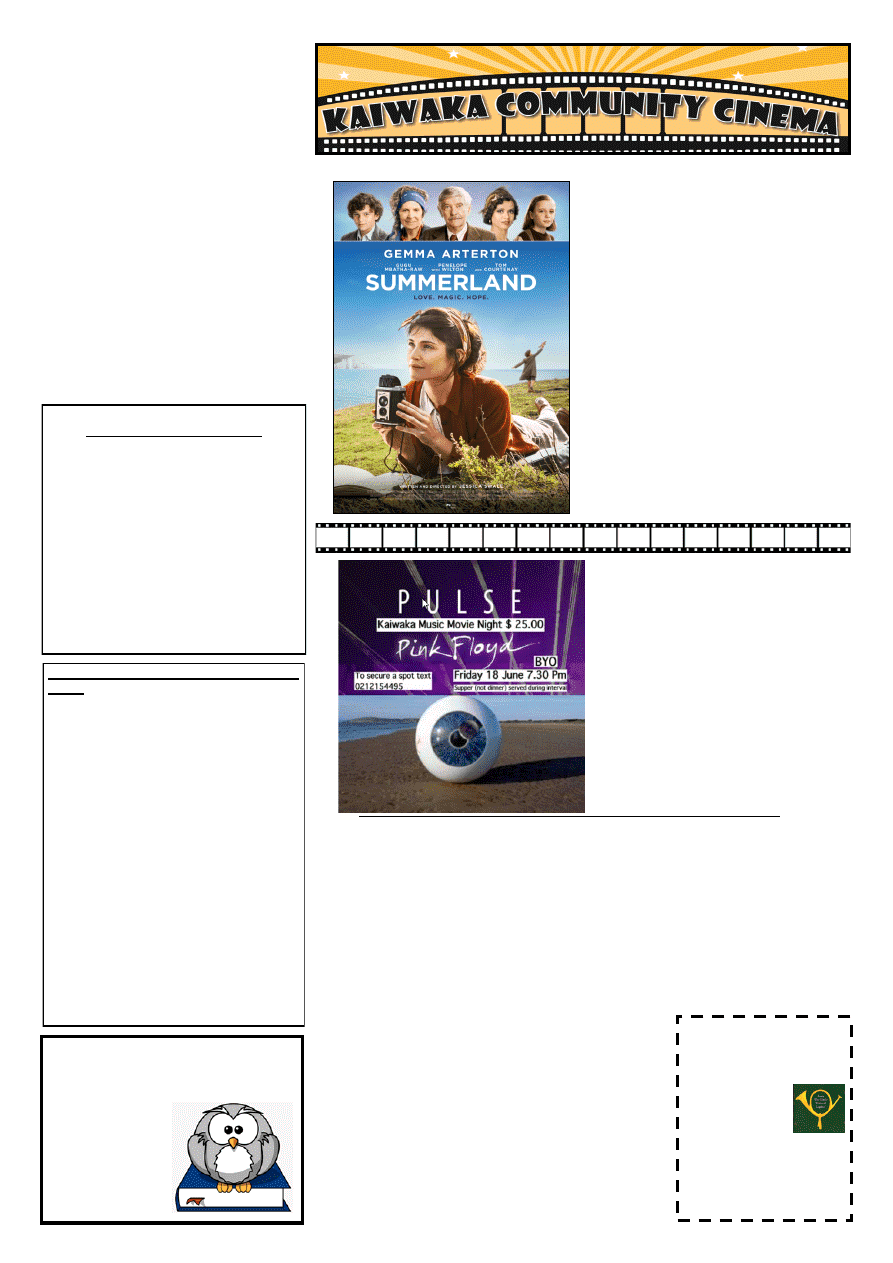 At Kaiwaka War Memorial Hall . Adults $10, Kids (under 16) $5, Family Pass (2 adults + 3 children) $25 
KAIWAKA BUGLE No. 10 
1 JUNE 2021 
CONTENTS 
Page 3: Public Notices, Classified 
Page 5:  Kaiwaka Can  
Page 7: Libby - NDHB 
Page 9: OCS; Gardening 
Page 11: Kaiwaka Sports Assn. 
Page 13: Kates Place ; SPLAT! 
Page 15: Hakaru Hall Activities 
Bugle  11 will appear 15 June 2021 
Contact for advertising, reports, articles 
or information can be made by 
Email kaiwakabugle@kaiwaka.co.nz 
Ph: 09 4312 045 Lindsey 
Txt: 027 2724137 
Copy may be left at our Four Square. 
Kaiwaka Bugle 
Founded May 1978 
We appreciate articles and photos about local 
events, etc, as well as ads and suggestions. 
Copies available in Kaiwaka at Four Square, 
Kaiwaka Postal Centre, Shamrock Service 
Station, Best Pets , Kaiwaka St John shop. 
Also outlets in Maungaturoto, 
Mangawhai and Paparoa. 
Can be viewed online at   
www.kaiwaka.co.nz/Bugle  
Or a copy can be posted to you if you supply 
stamped, self-addressed DLE envelopes. 
Kaiwaka 
Bugle 
Advertisements 
2021: 
All 
copy 
and 
queries 
to: 
kaiwakabugle@kaiwaka.co.nz 
The Bugle is printed on an A4 page   
Ad  sizes:  1/16  page  (3  x  9.5cm)  $5;  1/8 
(6.5  x  9.5cm  landscape  or  portrait)  $8; 
3/16 ( 10 x 9.5cm or 7.5 x 12,5)  $12.  
Classified  ads:  First  one  FREE,  $4  per 
entry (max. 30 words, max. 4 repeats). 
Payments  can  be  made  online  at 
ANZ 
06  0365  0006990  00
,  posted  or  left  at 
Kaiwaka Four Square Store. 
We  use  Microsoft  Publisher,  and  can 
work  with  most  common  image 
formats, Word, Excel, and PDF files. 
Accounts:  
Email: bugleaccounts@kaiwaka.co.nz 
The  Kaiwaka  Bugle  is  a  community 
newspaper run by volunteers, as part of 
the Kaiwaka Media Group Inc.   
Articles, etc. printed are not necessarily 
the opinion of the Bugle Team. 
ABOUT TOWN

 A  very  sad  time  for  all  involved  with  last  Thursday's  accident  south  of 
Kaiwaka; and a tough time too, for our emergency services - what a wonderful 
service they provide.

 At the recent AGM Barry Wallace was elected the President of the Hakaru & 
Districts Memorial RSA.
 
La  Nonna  Italian  Bakery  Kaiwaka  and  Ruakaka  will  be  closed for  a  winter 
break from 31May until 28 June. 
 Welcome to MOMMAS TAKEAWAYS, now open at 1923b SH1 

Northland climate is the best! See Heather's Gardening notes - tamarillo and 
clivia.

ST JOHN OP SHOP will be closed on Wednesday 
2nd June due to power cut in the complex.

 What  happens  if  you  get  scared  half  to  death 
twice?

 The Bugle Team and our Readers would enjoy a 
story or a report from you. Kaiwaka Bugle No. 10 is 
online at www.kaiwaka.co.nz and is in print for our 
local Readers.    
~ 
Lindsey, Ed
"Smiling is definitely one of the best beauty treatments. If 
you have a good sense of humour and a good approach to 
life, that's beautiful". " 
SUMMERLAND 
Friday 4  June, 7.30pm 
During  World  War  II,  reclusive 
writer  Alice  has  her  sequestered 
life  upended  when  Frank,  an 
evacuee from the London Blitz, is 
left  in  her  care.  Despite  initially 
resolving  to  be  rid  of  him,  Alice 
finds  herself  and  her  emotions 
reawakened by him. 
Summerland  is  a  2020  British 
drama  film  written  and  directed 
by Jessica Swale. It stars Gemma 
Arterton,  Gugu  Mbatha-Raw, 
Lucas  Bond,  Dixie  Egerickx, 
Siân  Phillips,  Penelope  Wilton 
and Tom Courtenay. 
KAIWAKA BUGLE 
DEADLINE DATES 
2021:   
Every second Friday 
June 11, 25 
July 9, 23 
August 6, 20 
September 3, 
17 
October 1, 15, 29 
November 12, 26 
December 10
Proverbs 13:10
Pride only breeds quarrels, 
but wisdom is 
found in 
those who 
take advice. 
PINK FLOYD 
PULSE 
Friday 18  June, 7.30pm 
Pink  Floyd  live  at  Earls  Court: 
Directed  by  David  Mallet.  With 
David  Gilmour,  Nick  Mason, 
Richard Wright, Guy Pratt. 
 $25.00  includes  Supper  (not 
dinner) and free tea coffee during 
interval. 
To  secure  your  spot  text  me 
0212154495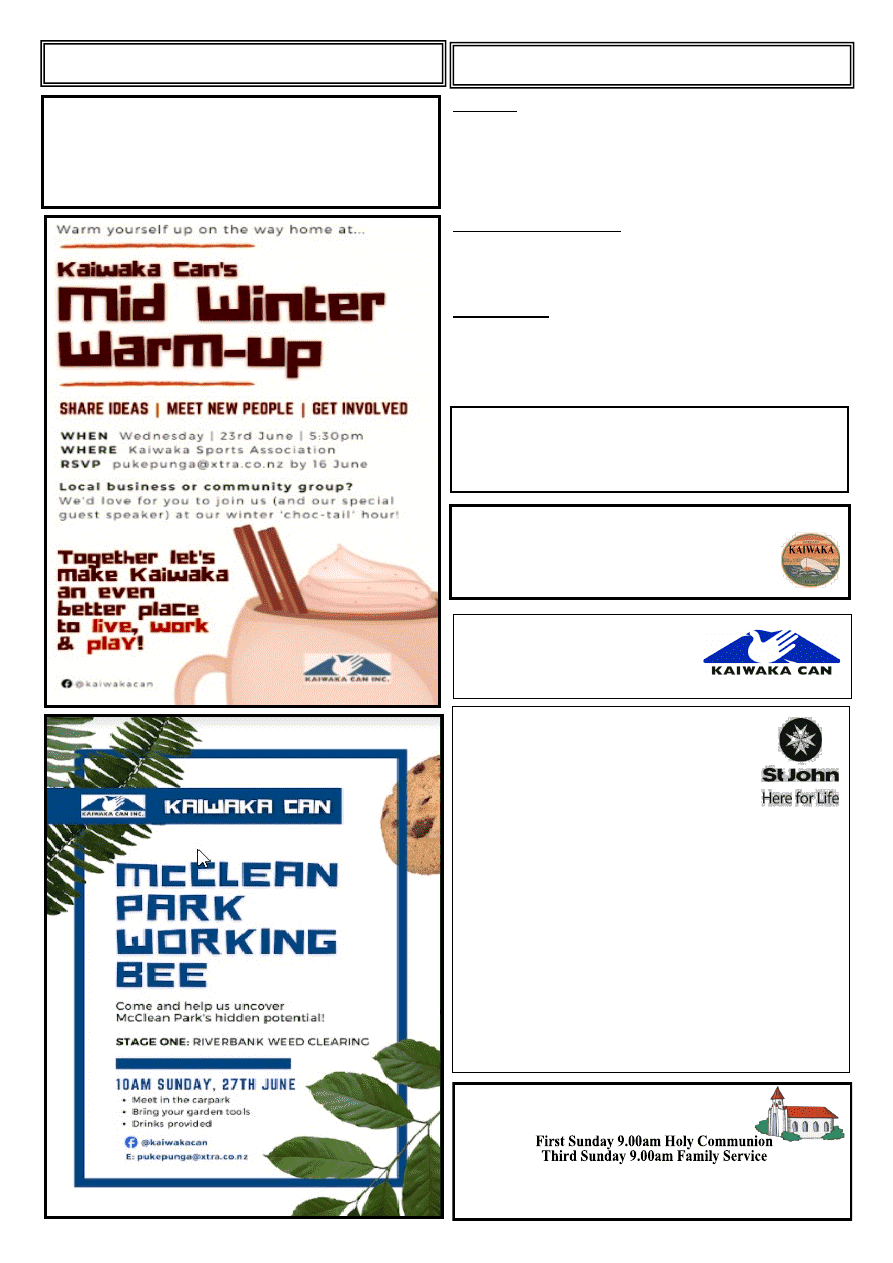 www.kaiwaka.co.nz 
Kaiwaka Bugle - 1 June, 2021 
Page 3 
POINT CURTIS CRUISING CLUB
Annual General Meeting 
10 June, 7pm 
Kaiwaka Sports Assn
. 
PUBLIC NOTICES 
CLASSIFIED 
HAKARU RE:SORT STATION 
636 KAIWAKA-MANGAWHAI ROAD 
Open every day 10am - 4pm ~Closed All Public Holidays 
Telephone: 09 431 2629 
NOTE: No GREEN Bag Pick Up on Oneriri Rd 
ST PAUL'S ANGLICAN  
SUNDAY SERVICES 
St Pauls Church: Kaiwaka-Mangawhai Rd. 
Priest in Charge Rev. W Thornton Ph 431 4122 
www.mangawhaianglican.org.nz
KAIWAKA FOOD BANK OP SHOP 
Public Meeting 
10 am Thursday 3 June 
In Kaiwaka War Memorial Hall 
Seeking nominations for Chairperson Secretary Treasurer 
and Op Shop Manager ~  Arohanui Milly 
KAIWAKA CAN  
Next monthly meeting:  
16th June 2021 
Archie Bull Hall 
FOUND:  x2  Rising  Yearling  (?)  Steers.  Wandered 
onto our lifestyle block from the valley at the back of 
our  property  -  approx  halfway  down  Oneriri  Road. 
(Otamatea  River  side  of  Oneriri).  Please  contact  us 
(with  a  description  of  them)  to  return  them  to  their 
correct owner. They are tagged. Text 027 7765223 
HOUSE FOR RENT:  Small 4 bedroom, unfurnished 
house in Kaiwaka.  All freshly painted inside and out. 
New kitchen.  Available approx end of June. No pets.  
$500.00 p.w. Ph: Dave 0274725479 
CONCERT:  Sunday  27th  June  4pm,  Amy 
Cottingham  on  piano  and  Marika  Balzat  on  violin 
playing a variety of musical  styles, classical  to  Celtic 
and  much  more.  Absurdistan  Hall  317A  Parekura  Rd 
$20 door sales; $15 earlybird from Cheese Shop.  
Ph: 021 2377678 
KAIWAKA  
St. John Op Shop 
DID YOU KNOW:  Money raised in the Op 
Shop helps pay for the St. John Hall upkeep, 
Rates  etc.  By  supporting  us  you  are 
supporting  the  community.  Community 
Groups hire our Hall for their meetings. 
We  will  be  CLOSED  FOR  THE  DAY  on Wednesday 
2nd  June  as  North  Power  are  working  on  our  complex 
from 9.30 to 3.30, we will be back again on Thursday as 
usual. 
We  are  looking  for  clean  winter  clothing  for Children 
(under  14)  and  Men's  ONLY,  as  we  are  inundated  in 
other areas and have no storage for Summer Clothing. 
We  would  appreciate  Bric  a  Brac,  especially  glasses, 
books and board games. 
Thank you for your patronage and ongoing support. 
HOURS: Tuesday – Friday 10am to 3pm;   
Saturday 10am – 2pm 
PHONE: Shop  4312650  
1919SH1, Kaiwaka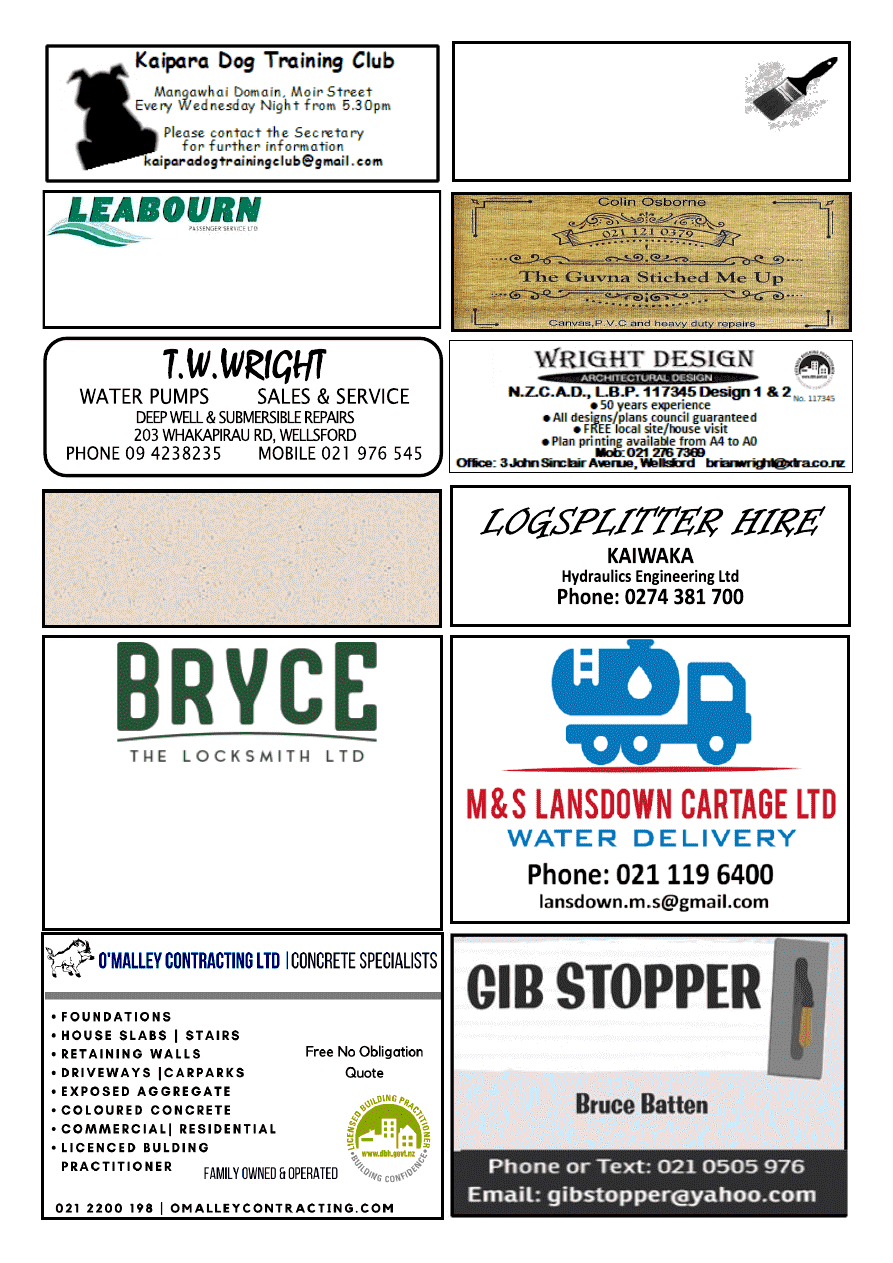 Counsellor and Registered Psychotherapist 
Offers Supervision
Susan Matheson 
MNZAC 
Dip. Psychosynthesis Counselling and Psychotherapy 
Phone 09 431 2996                        Mobile 027 605 2427 
Passenger Service
Car & Van Hire   Bus & Coach Charters 
Airport Transfers    
Phone (09) 4237416 
Bryce Frewin 
Ph: 021 850 983 
Kaipara Based Master Locksmith 
bryce@brycethelocksmith.co.nz 
www.brycethelocksmith.co.nz 
DR PAINT
 Dave & Rhys 
 Painters
 02108742551   
0211200667    drpaintnz@gmail.com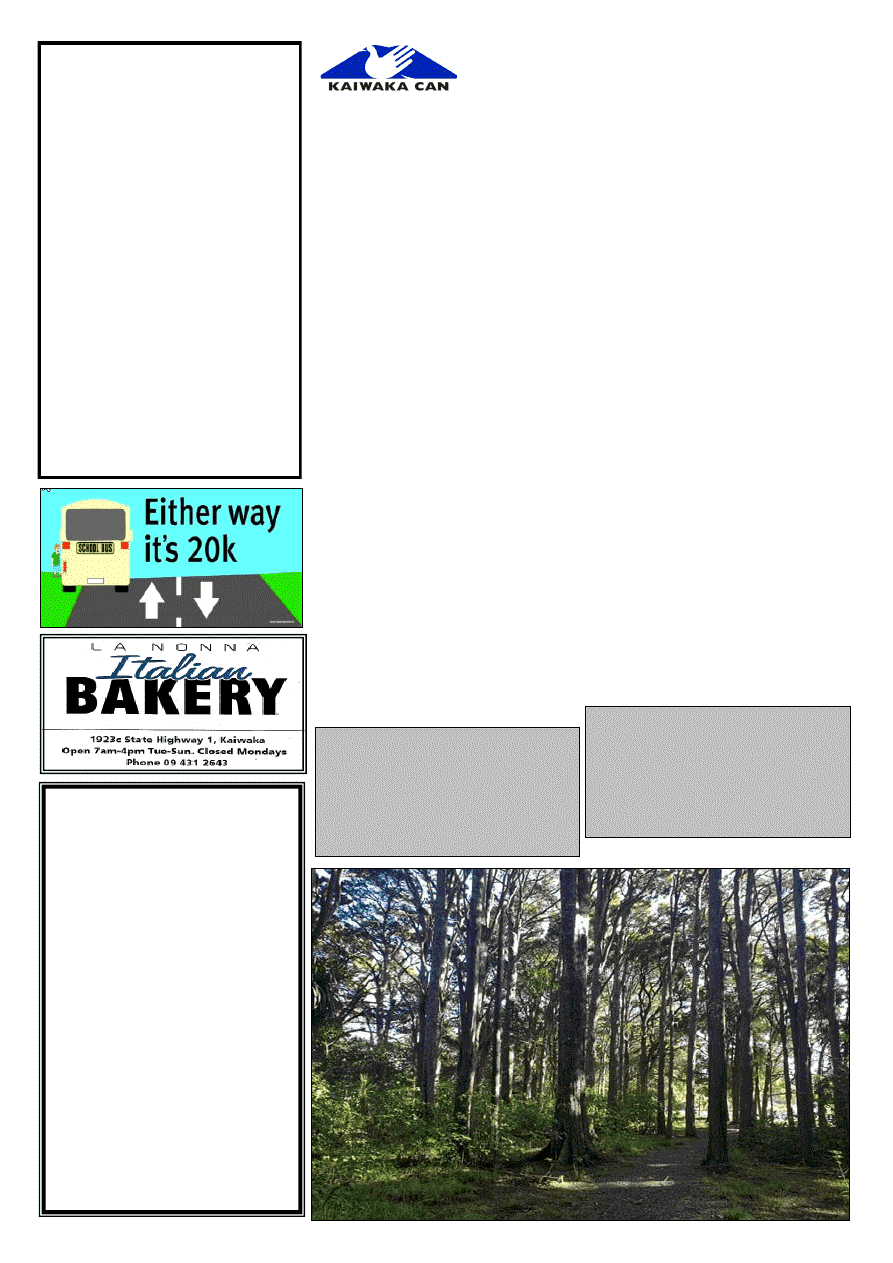 www.kaiwaka.co.nz 
Kaiwaka Bugle - 1 June, 2021 
Page 5 
Willow Bend
HORSE  
HOTEL 
#
Total Horse Care   
# 
Agistment 
# 
Riding Lessons    
#
 Arena Hire (60x40) 
# 
Young Horse Starting 
# 
Re-training/Exercising 
#
Hoof Trimming    
# 
Problem Solving 
Phone Sue  
09 431 2817 or  
021 623 776  
Or email  
susanjoll11@gmail.com 
RESULT! 
Kaiwaka  Can's 
sharp 
submission 
and 
short 
presentation  to  council  yielded  a 
massive  win  this  May  for  our 
magnificent town. At the KDC's Long 
Term  Plan  deliberations,  $100,000  of 
financial  contributions  were  allocated 
to  the  clean-up  and  transformation  of 
one  of  Kaiwaka's  hidden  gems  - 
McClean Park. 
With  the  new  footbridges  opening  in 
March  2022,  it  is  vital  that  McClean 
Park  gets  a  serious  makeover  and  be 
set  up  for  ongoing  enjoyment  by  our 
community.  Along  with  community 
working  bees  and  local  contributions, 
this funding is going to go a long way 
to making our vision a reality. 
Authorities  have  given  us  the  green 
light to get stuck in on stage one of the 
makeover which is clearing pest plants, 
kikuyu  grass,  and  weeds  from  around 
the riverbank. 
Cleaning  up  and  better  connecting 
McClean Park to the waterway is going 
to  be  a  huge  advantage  to  locals  and 
visitors  alike,  giving  the  town  and 
travellers  a  waterside  picnic  rest  area 
and a venue where kayakers can access 
the  waterway  safely.  Visitors  can  get 
around  the  town  over  the  new 
footbridges  or  walking  north  to  the 
café and beyond. 
So,  grab  the  grubber,  gloves,  and 
gumboots,  and  come  along  for  stage 
one  of  uncovering  McClean  Park's 
enormous  potential.  From  sizzling 
sausages  and  brewing  tea  to  pulling 
weeds  and  trimming  trees,  any 
contribution  you  can  make  will  be 
greatly appreciated. 
What:  McClean  Park  Stage  One 
Working  Bee  -  Riverbank  Weed 
Clearing 
When: 10.00am, 27th June 2021 
Where:  McClean  Park,  State 
Highway  One  before  the  Coffee 
Pot. Meet in the carpark.  
All welcome 
MID-WINTER WARM UP 
If you happen to be involved in one of 
our  amazing  local  businesses  or 
community  groups,  we'd  love  for  you 
to join us at our winter 'choc-tail' hour 
this June. It's going to be a casual and 
laid-back evening full of local friendly 
faces keen to get to know you and hear 
about your ideas for Kaiwaka. 
Perhaps  you've  got  a  project  or  idea 
that  you're  working  towards  and  need 
some  support?  We're  keen  to 
strengthen  and  further  develop  links 
within the community, so drop in to the 
KSA  and  share  your  ideas  for 
Kaiwaka, meet new people and enjoy a 
hot  bevvy  and  pre-dinner  nibbles  on 
us. 
To  help  paint  the  picture  of  Kaiwaka 
Can's grand vision for a safer and more 
connected  town,  there  will  be  various 
maps and concept drawings on display. 
There  are  some  pretty  amazing  things 
happening  around  town  already  and 
many more ideas simmering away, but 
not  everyone  hears  about  them.  So, 
let's change that. Come along to learn 
more  out  about  our  ideas  beyond  the 
McClean  Park  clean  up.  A  riverside 
walking track, riparian planting, kayak 
launch 
and 
pontoon, 
connected 
walkways  around  town  lit  by  magical 
lighting  installations,  a  pump  track, 
skate  park,  shared  spaces,  welcome 
sculptures, historical story boards. 
So many ambitious ideas for our town, 
and together we can make Kaiwaka an 
even  better  place  to  live,  work  and 
play. 
What: Kaiwaka Can's Winter Warm 
Up 
When: Wednesday, 23rd June 2021 
Where: 
Kaiwaka 
Sports 
Association 
Please  RSVP  by  email  to 
pukepunga@xtra.co.nz by the 16th 
of June for catering purposes. 
Contact: David Wright, Chairman 
pukepunga@xtra.co.nz  
$100,000 FOR MCCLEAN PARK 
Now Open!! 
MOMMAS 
TAKEAWAYS 
09 601 6124 
7 days 
12 - 8pm 
1923b State Highway 1 
Kaiwaka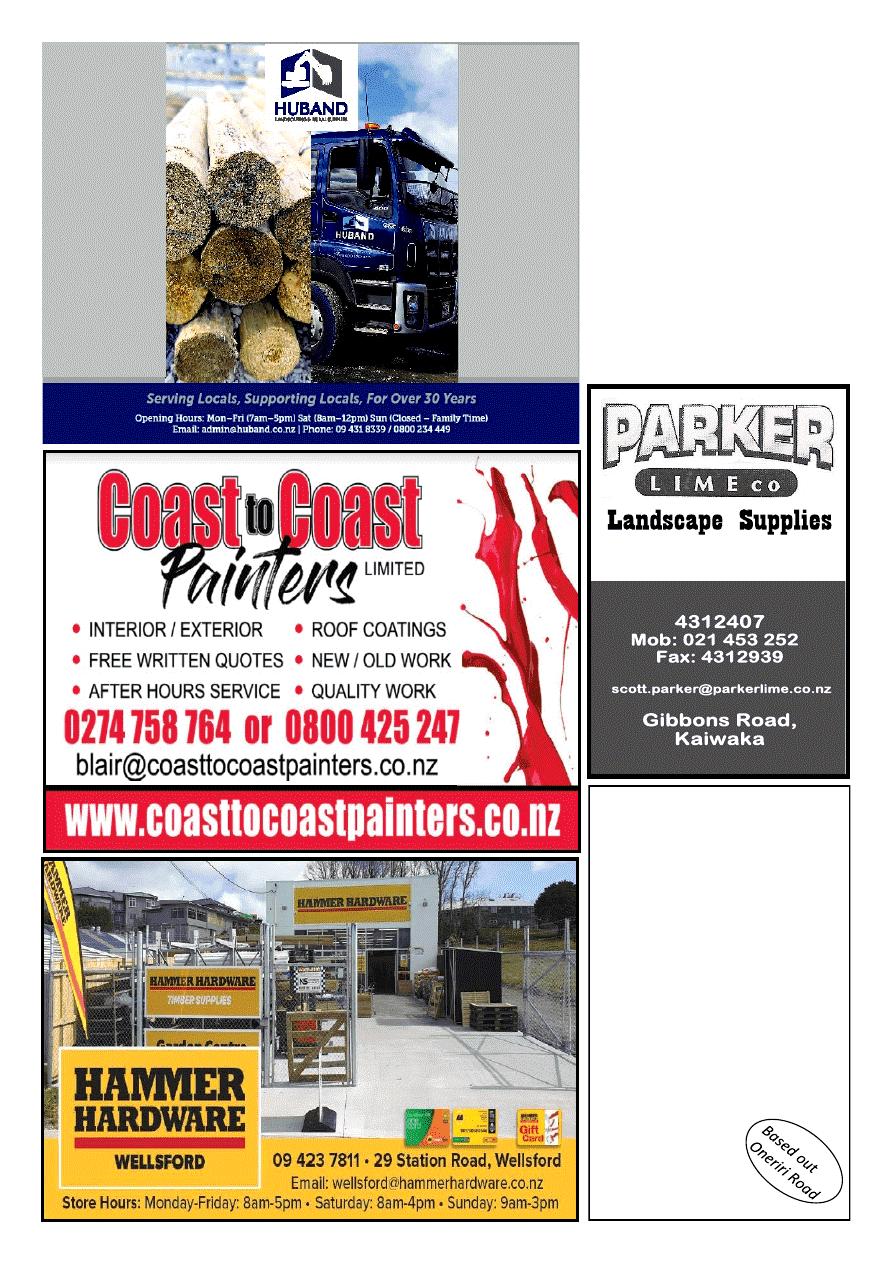 HODGETTS 
CONTRACTING
Digger Work    
Driveways   
House Sites  
Dams      
Drains, etc
Also available for HIRE 
3 ton Vib Roller  
Heavy Duty Tow  
Waterblaster      
Lazer Level
Phone Mark  
4312877 
027 447 8554 
Bulk Cartage 
HELP 
PHONE NUMBERS 

HEALTHLINE  0800  611  116  -  a 
nurse to answer health queries  

SAMARITANS  
0800  726  666  -  support  for  lonely  or 
suffering mental distress 

YOUTHLINE 0800 376 633 

LIFELINE 0800 543 354 

DEPRESSION HELPLINE  
0800 111 756 

ALCOHOL  &  DRUG  HELPLINE 
0800 787 797 

URGENT 
MENTAL 
HEALTH 
LINE 0800 223 371 

WARMLINE  -peer  support  for 
people with mental health issues  
0800 200 207 
Landscaping Supplies: 
Waikato Screen Topsoil 
Bark 
Woodchip 
Mill Bark 
Post Peelings 
Compost 
Crushed Shell 
Topsoil 
Limestone Chip 
Daltons Garden Mix 
Aggregate 
Gap: 20,40.65 
Riverstone 
Sand 
Belt Dust 
40/20 Drainage Metal 
Builders Mix 
 Cement 
Timber/Fencing Supplies: 
Rails, Posts  
Stays, Strainers 
Fence Battens 
Palings 
Stakes 
Fencing Wire 
Farm Gates & hardware 
Drainage: 
PVC Fittings 
Alkathene 
Draincoil 
WATER TANKS: 
Aqua & Baileys 
Brands 
DRAINAGE & 
SEPTICS: 
Land Drainage 
Urban Rural 
Drainage 
Water Pipelines 
Culverts 
Septic Systems 
(RX Plastics & 
Biorock) 
SITEWORKS: 
Retaining Walls 
Piling 
Driveways 
Carparks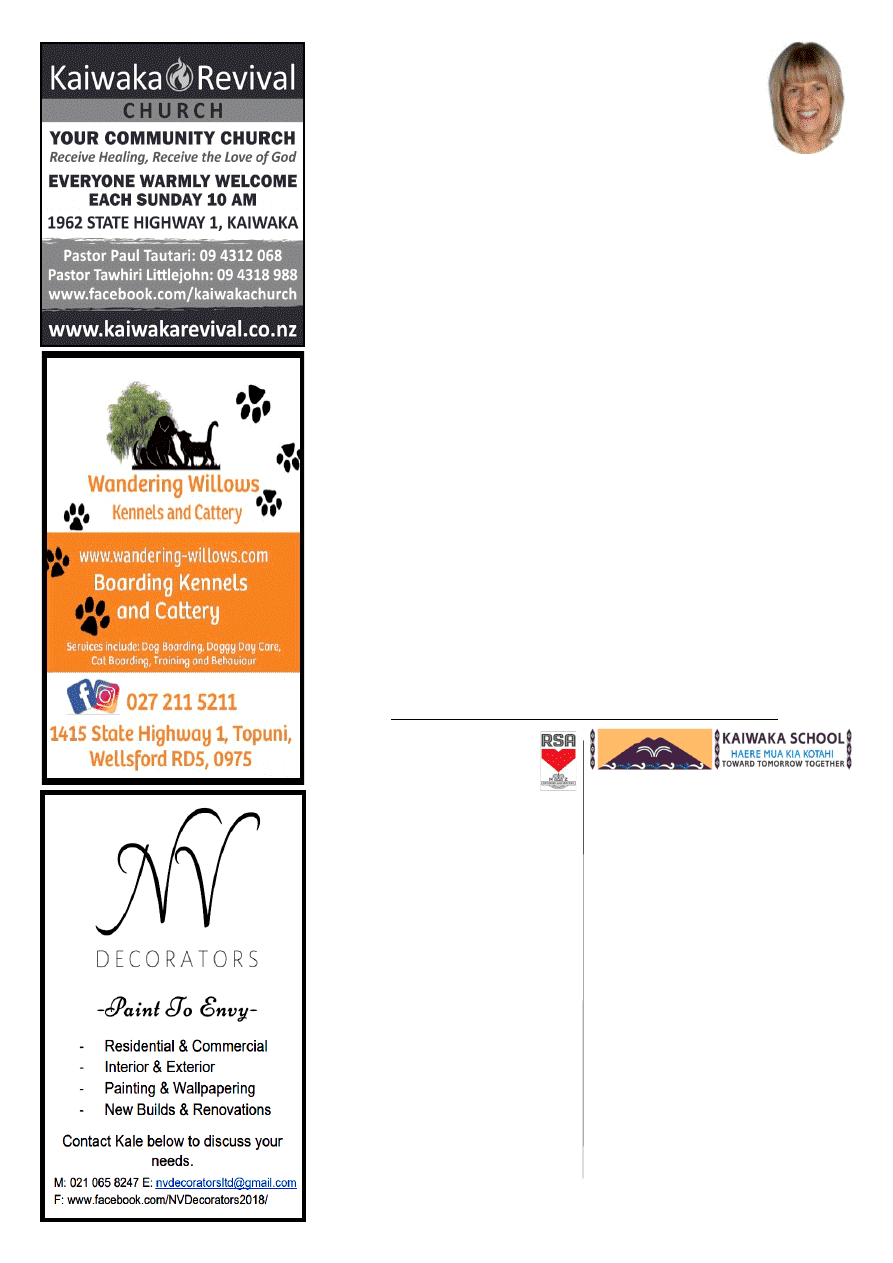 www.kaiwaka.co.nz 
Kaiwaka Bugle - 1 June, 2021 
Page 7 
HAKARU RSA 
The  Hakaru  RSA  Committee 
has  had  a  few  changes  for  the 
coming year. 
A new Committee has been elected. It 
has  been  a  busy  time  ensuring  a 
smooth  transition  to  new  processes 
within  the  Club's  Administration.  We 
will  all  be  working  hard  to  ensure 
members are happy to come along and 
join in with our events and activities.  
Our assistance to Returned and Service 
members  will  continue,  helped  along 
by  a  good  response  to  our  Poppy  Day 
Appeal.  We  raised  over  $5300.00  (the 
total is still climbing) and on behalf of 
the  Members  we  wish  to  thank  the 
wider  Community  for  choosing  to 
support us. 
We  are  investigating  removing  some 
Macrocarpa  trees  and  we  might  have 
some firewood for sale soon. Once the 
trees  are  removed,  we  will  commence 
creating  our  outdoor  grassed  area  to 
use in fine weather as a Garden bar. 
We are looking for some support from 
the  community,  maybe  some  local 
businesses  would  like  to  place  an 
advertising sign within the Garden bar 
or  donate  some  substantial  outdoor 
benches and tables. 
~ Martin Edinborough, Secretary 
LIBBY JONES – Member Northland 
District Health Board  
NZ HEALTH CHANGES 
The 
Health 
and 
Disability 
Review
, that I have mentioned before, 
gave  a  clear  picture  of  some 
inconsistencies  and  major  challenges 
across  the  New  Zealand  health  sector, 
including different health outcomes for 
different  population  groups.  Northland 
fares badly, with Maori, poor and rural 
people  having  worse  health  outcomes 
than urban dwellers, more well off and 
pakeha. This comes as no surprise, but 
despite  all  the  good  things  happening 
across  the  health  sector  in  Northland, 
the  differences  have  not  significantly 
reduced.  Unwell  population  groups 
affect all of us and should not occur. So 
why  not  share  decision  making  in 
genuine partnership with those who are 
badly affected by the current system? 
The  government  has  announced  its 
response  to  this  review  with  some  big 
changes  for  the  sector.  Their  goal  is 
Pae  Ora
, which is Healthy Futures for 
all New Zealanders, specifically equity 
for  all,  sustainability  of  the  sector, 
person  and  whanau-centred  care, 
partnership  and  excellence.  Sounds 
great  and  of  course  the  "proof  will  be 
in the pudding". 
District  health  boards  will  be 
disestablished,  with  a  national  system 
put in  place  to try  to  make  the system 
work more cohesively and collectively 
across  all  parts  of  the  sector  –  e.g., 
hospitals and primary care. The goal is 
to  move  away  from  reliance  on 
hospitals  and  inpatient  services  with  a 
greater investment in and 
access  to  primary  and 
community  services.  I 
have  been  promoting 
that 
for 
years 
so 
definitely am supportive of that aim. 
The  new  structure  will  create  a  New 
Zealand  national  health  service,  with 
two  principal  organisations  -  Health 
NZ  and  the  Maori  Health  Authority, 
which  will  be  in  place  by  July  2022. 
These organisations will work together 
to make decisions about funding health 
services. There will also be "localities" 
across  the  country,  which  will 
contribute  to  decision  making  about 
what services should exist in their area. 
We  need  to  have  a  say  locally  about 
what  works for  us, so for me  this  will 
be critical. While it will take some time 
to  see  the  results  of  the  changes, 
interim  units  are  being  set  up  now  to 
begin  the  consultation  regarding  some 
of  the  detail,  which  Northland  DHB 
and  other  health  providers  will 
contribute to.  
I  will  finish  my  role  as  Director  on 
Northland DHB in July 2022 (only six 
months  earlier  than  planned).  In  the 
meantime, I will continue to do what I 
can  to  make  good  decisions  for  our 
health  services  and  to  ensure  that  the 
new  organisations  understand  what 
works well in Northland and should be 
continued, as well unmet needs. 
Mauri ora, Libby 
Libby  Jones  hames.jones@xtra.co.nz 
021 2080093 
PO Box 104 Kaiwaka 0543 Physical Address: 33 
Kaiwaka-Mangawhai Rd. Kaiwaka. Ph 09 431 2309 
Email admin@kaiwaka.school.nz 
The  Kaiwaka  School  Board  has 
determined  that  there  may  be  a 
restricted  number  of  out  of  zone 
enrolments  available  for  the  start  of 
Term 3, 2021. 
This is to be available to Year 2 to Year 
6 students. 
Year 2 = 2 spaces available 
Year 3 = 7 spaces available 
Year 4 = 6 spaces available 
Year 5 = 3 spaces available 
Year 6 = 2 spaces available 
Criteria for selection: 
1. Siblings of current students 
2. Siblings of former students 
3. Children of former students 
4. Children of Board or staff members 
5. All other applicants 
Applications  need  to  be  received 
before  Wednesday  9th  June  2021. 
The  date  of  the  ballot  will  be 
Wednesday  16th  June  2021.  To 
apply,  please  contact  the  office  and 
fill  out  an  enrolment  form,  stating 
which criteria you are applying 
under.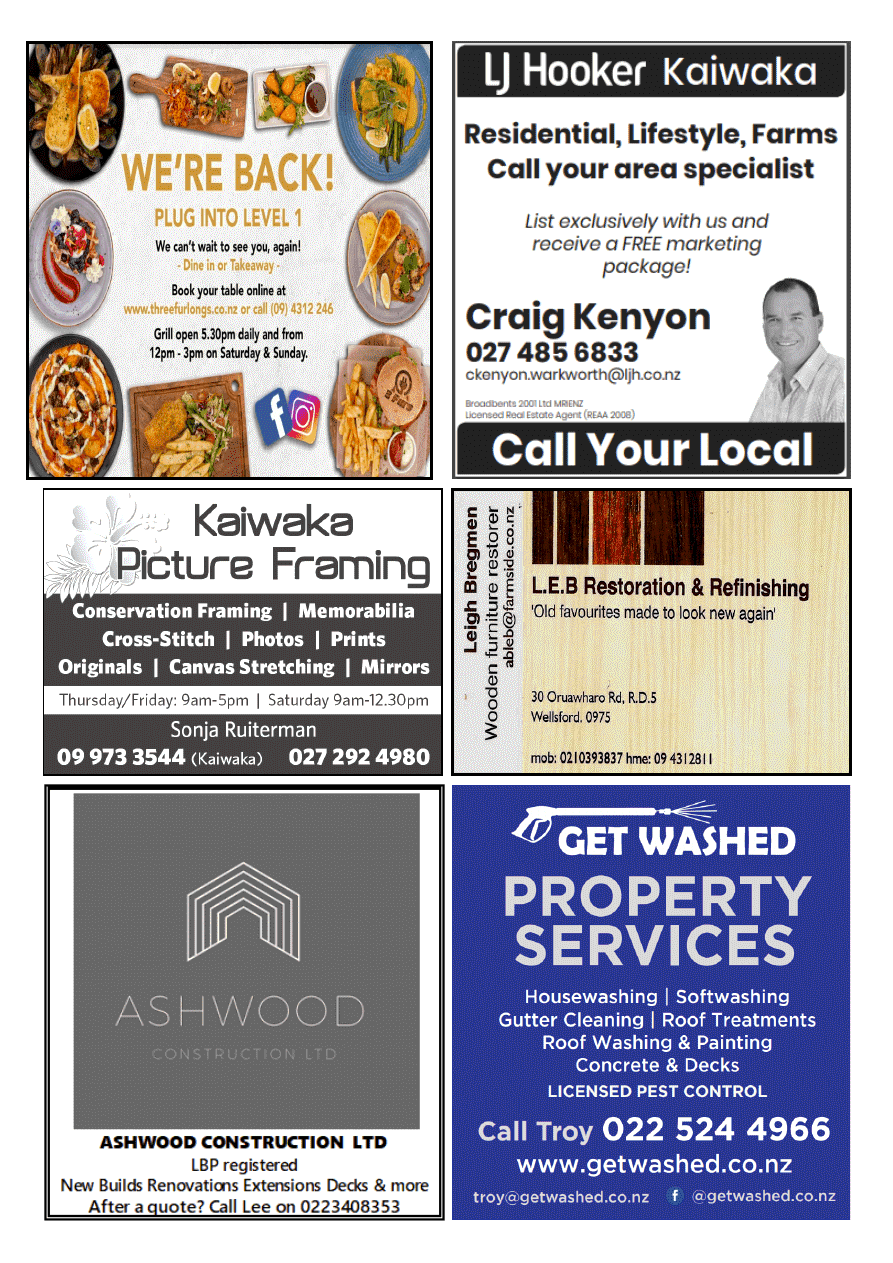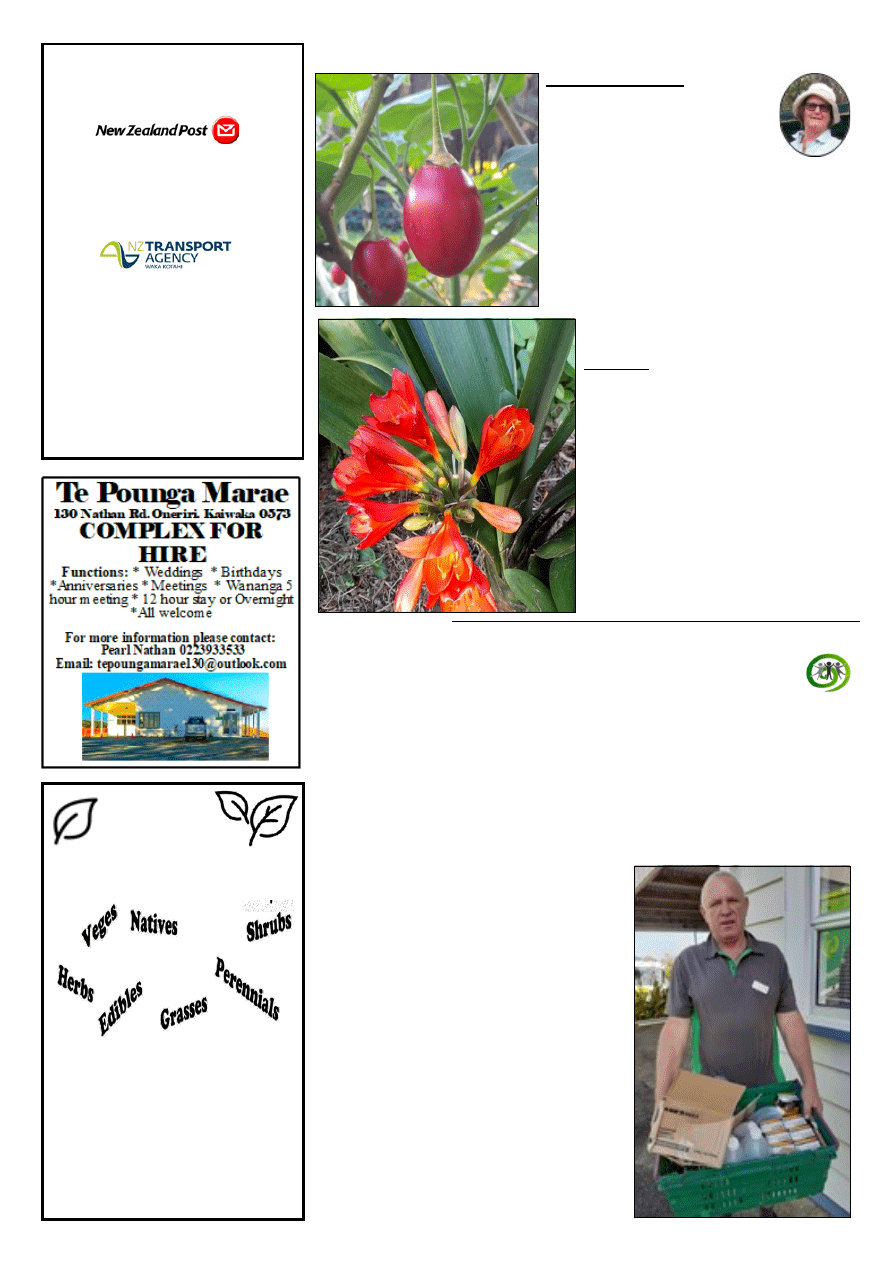 www.kaiwaka.co.nz 
Kaiwaka Bugle - 1 June, 2021 
Page 9 
KAIWAKA POST 
CENTRE and 
FOOD MART 
POST CENTRE TRADING HOURS 
MONDAY to FRIDAY 8am to 5pm 
SATURDAY 8am to 12pm 
CLOSED ON SUNDAY and on 
PUBLIC HOLIDAYS 
FOOD MART (GROCERIES)  
MONDAY TO FRIDAY  
7:30am to 7.30pm 
SATURDAY  8am to 7.30pm 
SUNDAY  8:30am to 7pm 
IF ANY QUERIES PLEASE CALL 
STORE MANAGER AMRIT  
on 09 4312431 or 
EMAIL: kaiwakafood19a@gmail.com 
1919a State Highway1, Kaiwaka 0542 
TAMARILLO:  
New  Zealanders  have  been 
growing  and  eating  them  since 
the 1880s. We even came up with 
the  name.  Tree  tomato  wasn't 
doing  it,  so  in  a  rebranding 
exercise  someone  came  up  with  'Tama' 
from  Maori  and  'rillo'  from  Spanish  as a 
nod  to  tamarillo's  origins  in  Bolivia.  I  love 
tamarillos.  A  lovely  winter  fruit.  A  little 
tricky  to  grow.  Need  a  frost-free  sheltered 
site. Also, they are short lived. 5 to 10 years. 
Plus side, they are easy to grow from cutting 
or seed. I got my original tree from my father 
forty years ago. I don't know how long he had 
been  growing  them,  but  I  am  still 
propagating from the same line.  
CLIVIA:  Beautiful and a perfect plant 
for  northland.  A  native  of  Natal  in 
South  Africa,  it  grows  on  the  edges  of 
woodlands.  So  you  need  a  semi  shady 
place.  Morning  sun  as  afternoon  sun 
will  burn.    Needs  periods  of  dry  and 
wet. No frost.  This is starting to sound 
like us. Except, being woodland plants, 
they  need  mulch.  We  give  them  wood 
chips  and  leaves.  They  like  to  form  a 
clump,  maybe  3  or  more  before 
flowering.  Propagation  -  seed  takes 
years  before  you  get  a  flower  or  by 
division  -  make  sure  you  get  plenty  of 
roots and enjoy a beautiful African lily. 
~ Heather, Oneriri Plants 021 766399 
HOW DOES YOUR GARDEN GROW? 
Oneriri  
Plants 
Visit our Nursery 
Contact Heather 
021 766399 
oneririplants@gmail.com 
365AOneriri Rd, Kaiwaka 
A short trip off SH1
OTAMATEA COMMUNITY SERVICES 
JUNE CALENDAR is as follows: 
Wednesday 2nd – Community/Senior lunch, St John Hall, Maungaturoto 
Every  Monday  –  Fun  &  Games,  Anglican  Church  Footprints  Room, 
Maungaturoto. 
This  is  a  lovely  morning  of  fun  (10-12)  –  usually  with  board  games  but  can 
simply be an outing for those wanting a bit of chat and morning tea with other 
locals. 
Tuesday  8th  -  Free  Shopping  trip  to  Whangarei  9.30  am  from  Retirement 
Village Maungaturoto 
Thursday 10th – Community/Senior lunch, Mangawhai Community Hall 
Wednesday  16th  –  Chocolate  Bingo  -  Anglican  Church  Footprints  Room, 
Maungaturoto 
Wednesday  23rd  – Free Shopping trip to Whangarei 9.30 am from Retirement 
Village Maungaturoto 
Huge  thank  you  to 
Neville the Countdown 
driver,
  (pictured  right)  always  a  pleasure  to 
see  him  and  his  colleague's  faces  who 
delivered  a  truckload  of  goods  for  our 
foodbank. The shelves were beginning to look 
bare, so  you  arrived  in  perfect  time.  You're  a 
true 'Good Sort'. 
We've  had  great  feedback  about  the 
Maungaturoto,  and  Mangawhai  Community/
Senior  lunch  held  every  month.  We  remind 
you all that this is a community event, and our 
caterers provide for a set number of diners.  
So  please  phone  if  you  would  like  to  come, 
that  way  we  can  ensure there is  enough to  go 
round. 
Call  09  431  9080  for  the  Maungaturoto 
lunch, Wednesday 2nd June. 
Call  021  –  251  0225  for  the  Mangawhai 
lunch on the Thursday 10th June. 
Stay safe and take care of each other, from all 
at the Community House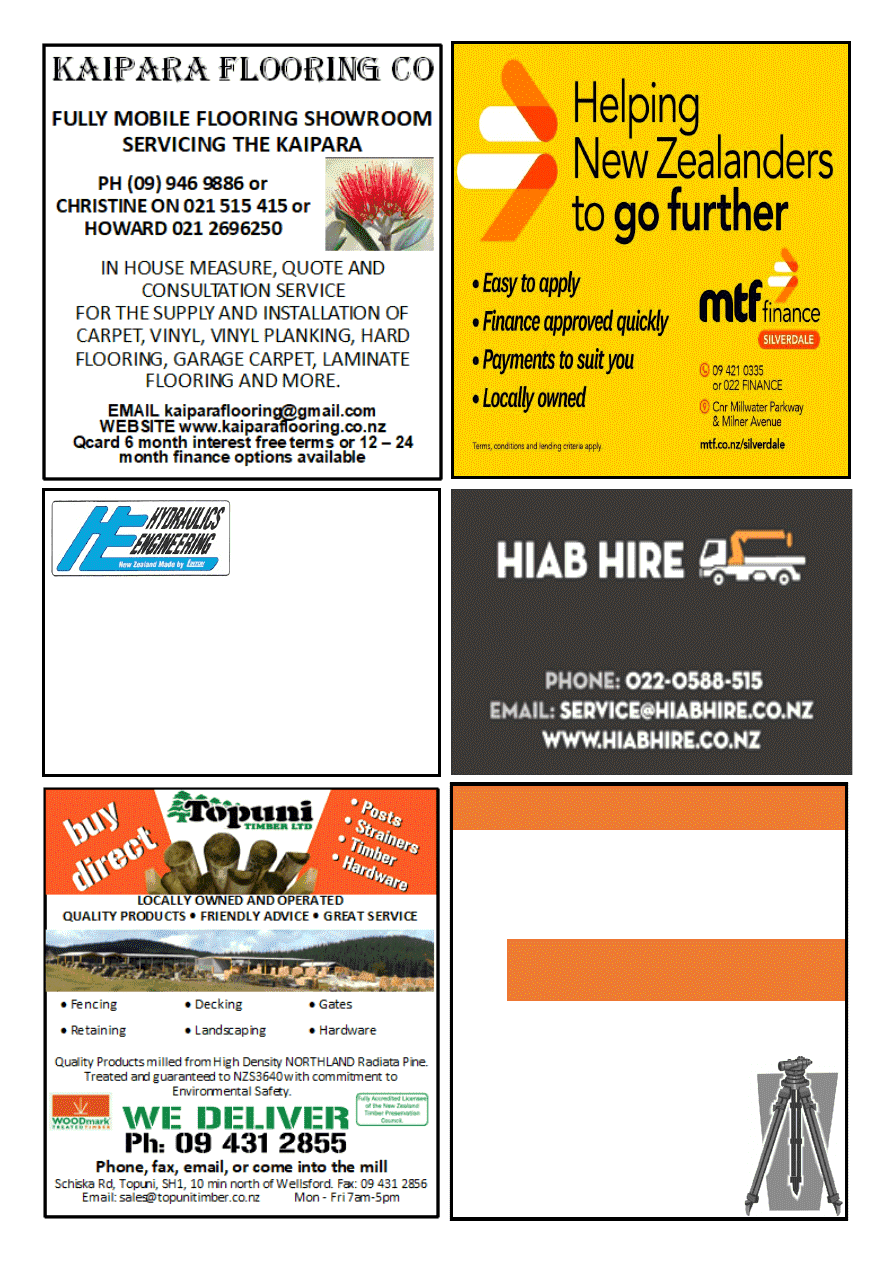 SURVEYORS 
SUBDIVISIONS 
HOUSE SITE SURVEYS 
CIVIL ENGINEERING 
WASTEWATER DESIGNS 
EXPERIENCED 
PROFESSIONAL 
INNOVATIVE 
Ph 09 431 5353 
0800 PACIFIC (0800 722 434) 
pacificcoastsurvey.com
Adam Booth - 027 415 5752 
Bsurv, Licensed Cadastral Surveyor
Surveying Kaipara since 1994 
Hydraulics  
Engineering Ltd 
Kaiwaka 
Sales - Service - Parts - Hire - Manufacture 
Service Contractors & Industrial Equipment: 
Rams, Pumps, Valves 
Logsplitter Hire, Manufacturer, Sales 
Dennis Linton 
Lot 2 / 161 Ranganui Road, RD2, Kaiwaka, 0573, New Zealand 
Mobile: 0274 381 700 
Email: hydraulicsengineering@xtra.co.nz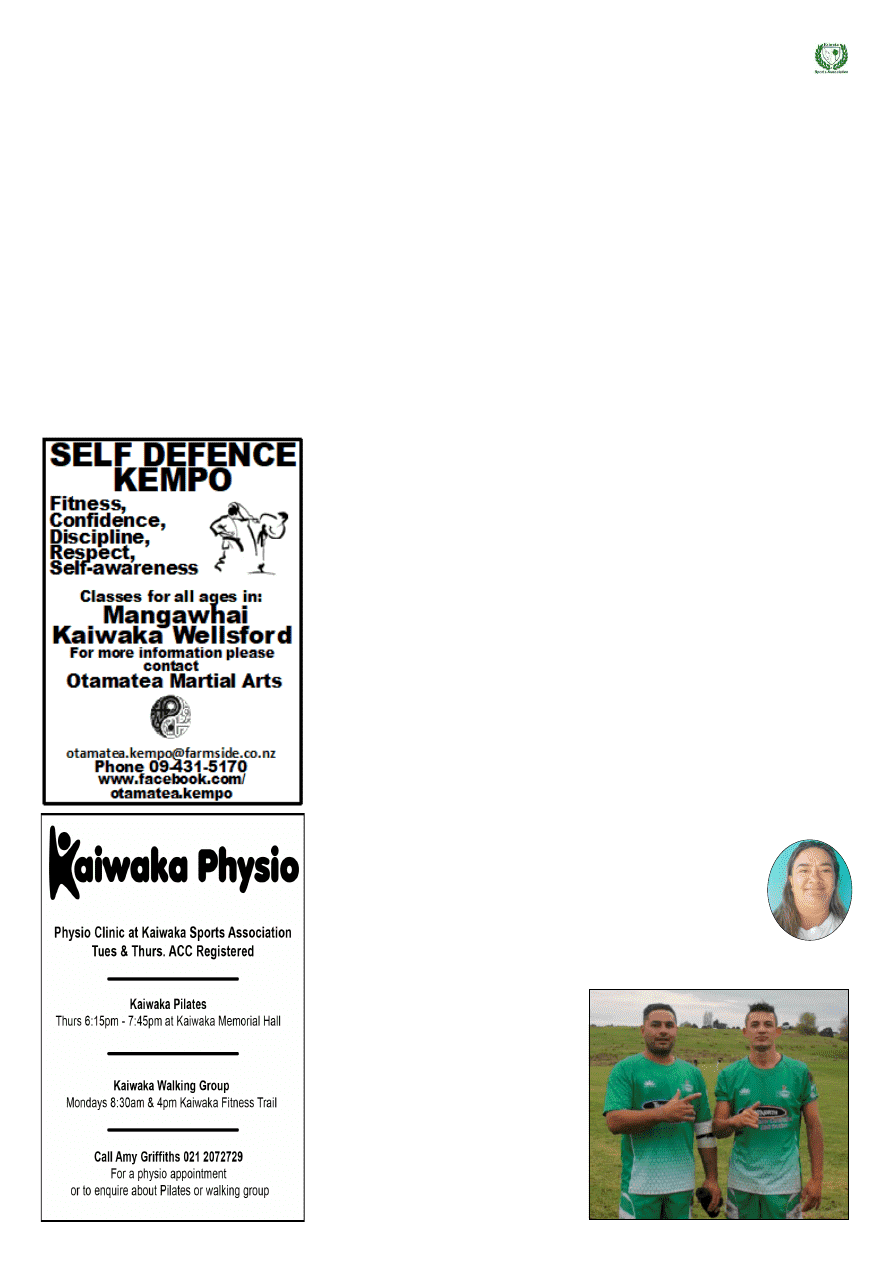 www.kaiwaka.co.nz 
Kaiwaka Bugle - 1 June, 2021 
Page 11 
KAIWAKA SPORTS ASSOCIATION 
General  meeting  on  Wednesday 
26    seven  committee  members 
attended.  Although  there  were 
apologies,  I  would  like  to  thank 
those  who  provided  update  reports 
on how their clubs are progressing. 
Tina  Holst  Rep:  Otamatea 
Hockey 
We  have  started  our  collegiate 
competition  in  Whangarei  on 
Monday nights. We have one mixed 
team of 15 players with a mixture of 
experienced  players  and  new 
players.  We  are  in  Division  2  and 
have played three games so far.  
Heath  Worsfold  Rep-  Kaiwaka 
Squash Club 

We  have  a  successful  juniors 
programme  that  started  15th  May. 
33  children  enrolled  with  9  on  the 
waiting list.  

Obtained  funding  for  a  coaching 
clinic from Squash Northland.  

Really 
good 
to 
be 
encouraging juniors as that is where 
it  starts.  Thanks  to  Lana  Thomson 
our secretary for organising this. 

We  have  had  a  successful 
business  house  round  of  7  rounds 
and  finals  night  next  Monday  31st 
May. 
8 
teams 
representing 
businesses from the area. Great turn 
out. 

Normal  club  nights  will  be 
starting up soon every Monday and 
I will be doing the draw. 

We are in the process of updating 
the squash key codes through Mark 
Ottaway  as  subscription  renewals 
due now.  

Picking  up  a  lot  of  new 
memberships.  Bruce  Leslie  doing  a 
great  job  at  Treasurer  and 
administration of the keys. 
Blake  Worsfold  Rep-Kaipara 
Basketball  

Successful  Outing  for  Under  15 
Kaipara  Girls  Basketball  at  The 
Harbour  Showcase  Tournament  in 
the  North  Shore  (See  our  FB  page 
for updates). 

 Otamatea  Trainings  with  Kalem 
Tana  ongoing  twice  a  week  at 
Otamatea  High  School.  Kalem  is 
doing  a  great  job  as  our  Kaipara 
Basketball  Development  Officer 
getting around to local schools etc. 

 Kaipara  Basketball  Under  15 
Boys Playing  at  Harbour Showcase 
Event this Saturday. 

 Kaipara  Basketball  Travelling  to 
Play 'Whangarei 27th June. 

 Term Three Miniball (Years 1-6) 
to  be  held  at  Kaiwaka.  Time  and 
Day TBC. 

 Term  Three  Senior  Comp  to  be 
held at Mangawhai. 

 Anahera  Worsfold  and  Bekks 
Coll 
represented 
Kaipara 
at 
National  Under  14  Training  Camp 
held  in  Rotorua.  (See  our  FB  page 
for updates). 

 Thankyou 
to 
Northland 
Basketball for recent Funding. 

 Thankyou 
to 
Stephanie 
Masiutama for securing 50 Breakers 
tickets  for  our  young  Under  11 
players  to  attend  a  game  at  Spark 
Arena 30th June. 
Sandy  Shaw  –  Rep  for  Point 
Curtis Cruising club Inc  
The  club  is  ticking  away  quite 
nicely  –  this  year  we  have  held  2 
fishing  competitions,  a  game  bird 
shoot  and  have  had  our  annual 
prizegiving. 
We  have  a  further  game  bird  shoot 
coming up 26th & 27th June 2021. 
We are also holding the Super Club 
Fishing  competition  at  the  end  of 
September  2021  and  fishing  clubs 
from  North  of  Auckland  to  Cape 
Reinga are invited to attend. 
Thank  you  once  again  to  the 
Kaiwaka Sports Association for the 
support  you  give  to  the  club.  It  is 
much appreciated.  
Linda  Cowbourne  –  Treasurer 
Kaiwaka Tennis  
A  great  season  for  the  kids  who 
came  along  for  the  coaching 
sessions  held  Term  4  2020  and 
Term 1 2021. We were able to hold 
our  annual  Junior  Tournament  at 
end of season (which didn't happen 
due to the lockdown). Junior tennis 
will start again in Term 4 2021. 
The  Otamatea  Open  Tournament 
that  has  been  traditionally  held  on 
the Auckland Anniversary weekend 
was  unfortunately  cancelled  due  to 
the 
lack 
of 
numbers. 
The 
postponement 
date 
was 
also 
cancelled. No regular twilight tennis 
has  been  held  as  it  needs  a 
Volunteer or volunteers  to  run this. 
Many thanks to the KSA for the use 
and  upkeep  of  the  courts.  A 
fantastic resource in the community. 
Wayne  Leslie  –  Otamatea  Rugby 
update 
Otamatea  Hawks  won  22  -12 
against  Mid-Western 22.05.21 
Toby 
Phillips, 
John-Luke 
Whitehead  and  Michael  Peeni, 
pictured below, were presented with 
their 100-game blazers, 
and the Team honoured 
them  with  a  haka 
which  was  hair  raising 
and chilling.  
~ Pam 
Email: 
sec.pam.ksa@gmail.com 
Text: 0274 916085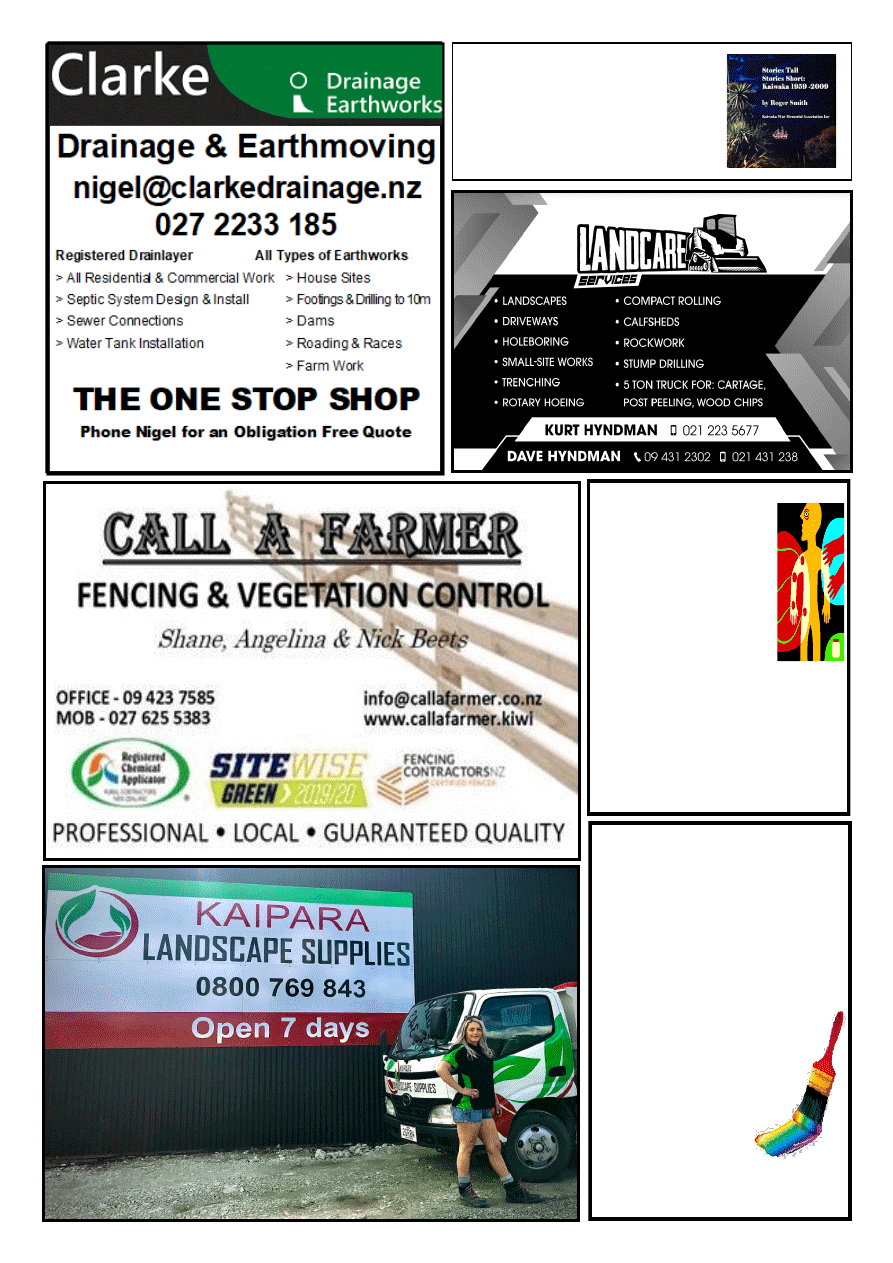 OWEN STEVENS 
Osteo Therapist
For careful adjustments 
to bones and joints 
Treatment for  
humans and their pets 
Clinics: 
Kate's Place, Kaiwaka: 
Last Friday of month  
9.00am-5.00pm 
For bookings:  
Phone 
09 4312661 
Or phone Owen  
 09 4317123 anytime 
LEE COOPER 
PAINTERS 
(Kaiwaka Based) 
*30 yrs Experience 
*Interior/Exterior 
*New and Restoration 
*Honest and Reliable 
*Free Quotes 
09 4312918 
0274735171 
leecooper@xtra.co.nz 
Stories Tall, Stories Short  
Kaiwaka 1959-2009 
by Roger TW Smith.  $40 
Available at All Sortz Collectables  
or phone  4312 045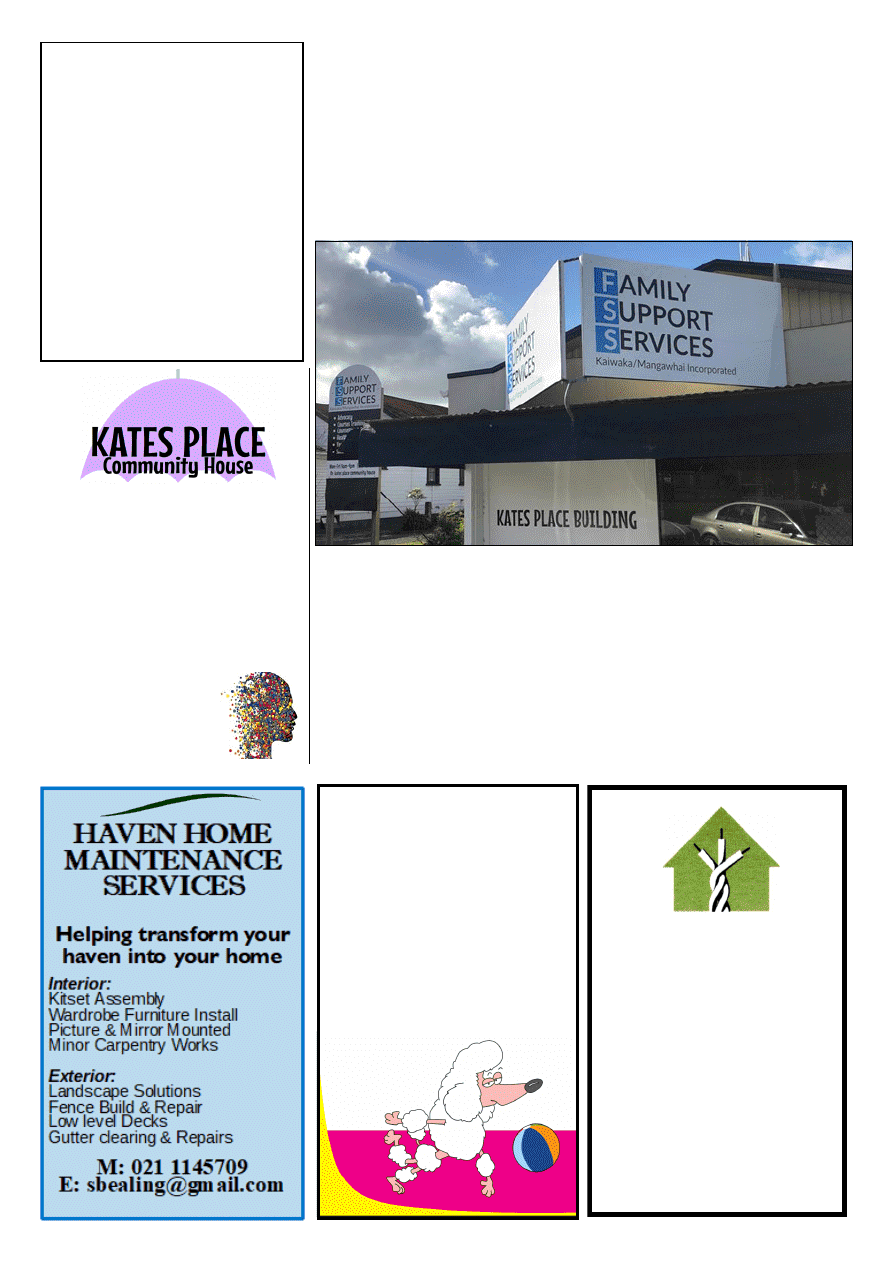 www.kaiwaka.co.nz 
Kaiwaka Bugle - 1 June, 2021 
Page 13 
Reyahn  Leng 
 Registered Electrician 
Local, honest and reliable. 
For your residential and 
light-commercial projects. 
022 314 1068  
SPLAT! 
The story is  told of a traveller who 
met a guru along the road and asked 
him, 'Where's the road to success?' 
The  bearded  sage  didn't  speak  but 
instead pointed to a place off in the 
far distance. The man, thrilled at the 
prospect of quick and easy success, 
rushed  off  in  the  appropriate 
direction. Splat! Down he went! He 
limped  back,  bruised  and  stunned. 
Assuming 
he 
must 
have 
misinterpreted  the  message,  he 
repeated his question, and again the 
philosopher  pointed  silently  in  the 
same direction. So the traveller took 
off  once  more.  This  time  the  splat 
was  deafening.  Crawling  back 
bloody, broken and irate, he shouted 
at the guru, 'I asked you which way 
is  success!  I  followed  the  direction 
you  indicated,  and  all  I  got  was 
splattered!  No  more  pointing  – 
talk!' Only then did the sage speak. 
'Success is that way. It's just a little 
beyond the splat.' 
Hot Diggity Dog  
DOG GROOMING  
KAIWAKA 
Spring is in the hair. 
Professional Dog Groomer  
at affordable prices.
www.doggroomingkaiwaka.co.nz 
call Pam 094312143 or text 
0273335380 for bookings 
MENTAL  HEALTH  RECOVERY 
GROUP  meet  every  Thursday  in  the  
St  John  Hall,  Kaiwaka,  from  10am. 
The  aim  of  this  weekly  group  is  for 
everyone  who  attends  to  receive 
education, support, social connection, 
and a nice lunch. 
Whether  you  live  with  a  diagnosed 
condition  or  are  dealing  with  stress, 
anxiety,  or  symptoms  of  depression 
you  are  welcome  to  come  and  be  a 
part  of  this  supportive 
environment  which  will 
aid  in  your  recovery  and 
future wellness.  
Please  call  0297739085 
for further information.  
Kates Place - Community House 
NAME CHANGE 
If you have driven past us lately you may of noticed we have begun using our 
legal name "
Family  Support  Services  Kaiwaka/Mangawhai  Inc
" this 
name has been in existence since 1992 when Kate first opened the centre here, 
the organisation dwindled for a period and took on the name Kates Place.  
So due to receiving funding under our legal name we have decided to make the 
change back to it publicly, we are still in the Kates Place Building.  
We are the same as we have always been, still offering Advocacy, Counselling, 
Employment,  Courses,  Mental  Health  group,  Family  Support  and  Financial 
Assistance, Weekly AA meetings and much more. Call us on 0297739085  
Kates Place - Community House 
LIFE EDUCATION COURSE 
Starting 15 June 2021 
Personal development 
Employment preparation - CV's, 
interview techniques, employment 
law etc 
Offsite day trips 
Life skills 
Life planning and goal setting 
First aid certificate Free drivers 
licensing 
Funded by St Johns Otamatea 
Tutors: Kirstie Brown,  
Gregg Nathan 
Message us or call to register. 
Ph: 0297739085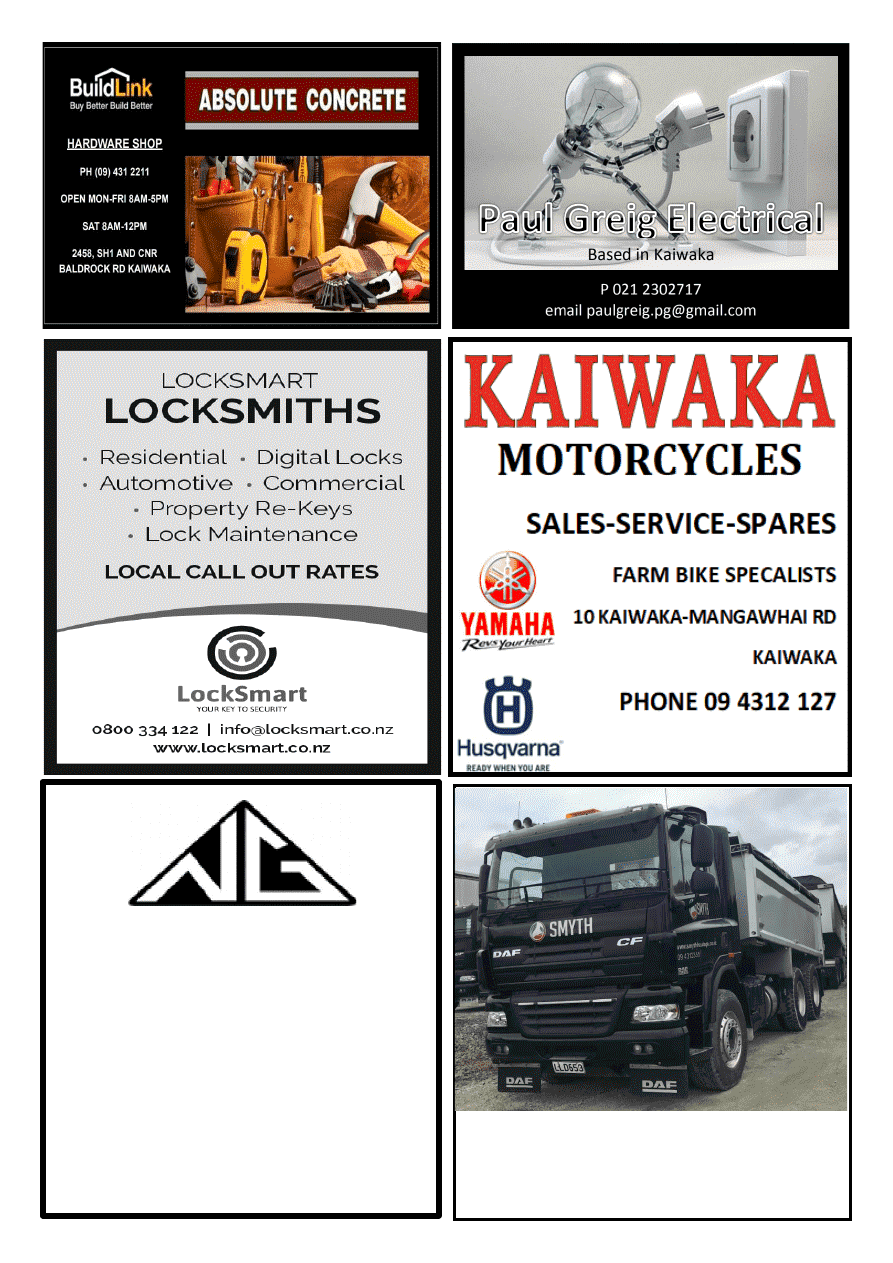 NORTH GLASS 
WINDSCREEN REPAIR OR REPLACE 
GLAZING SERVICES 
MIRRORS  •  SPLASH BACKS  •  SHOWERS 
0800 70 40 10
info@northglass.co.nz 
www.northglass.co.nz 
SMYTH HAULAGE       
for all your tip trucks & trailer 
requirements 09 4312355  
Carlton Smyth 0274870636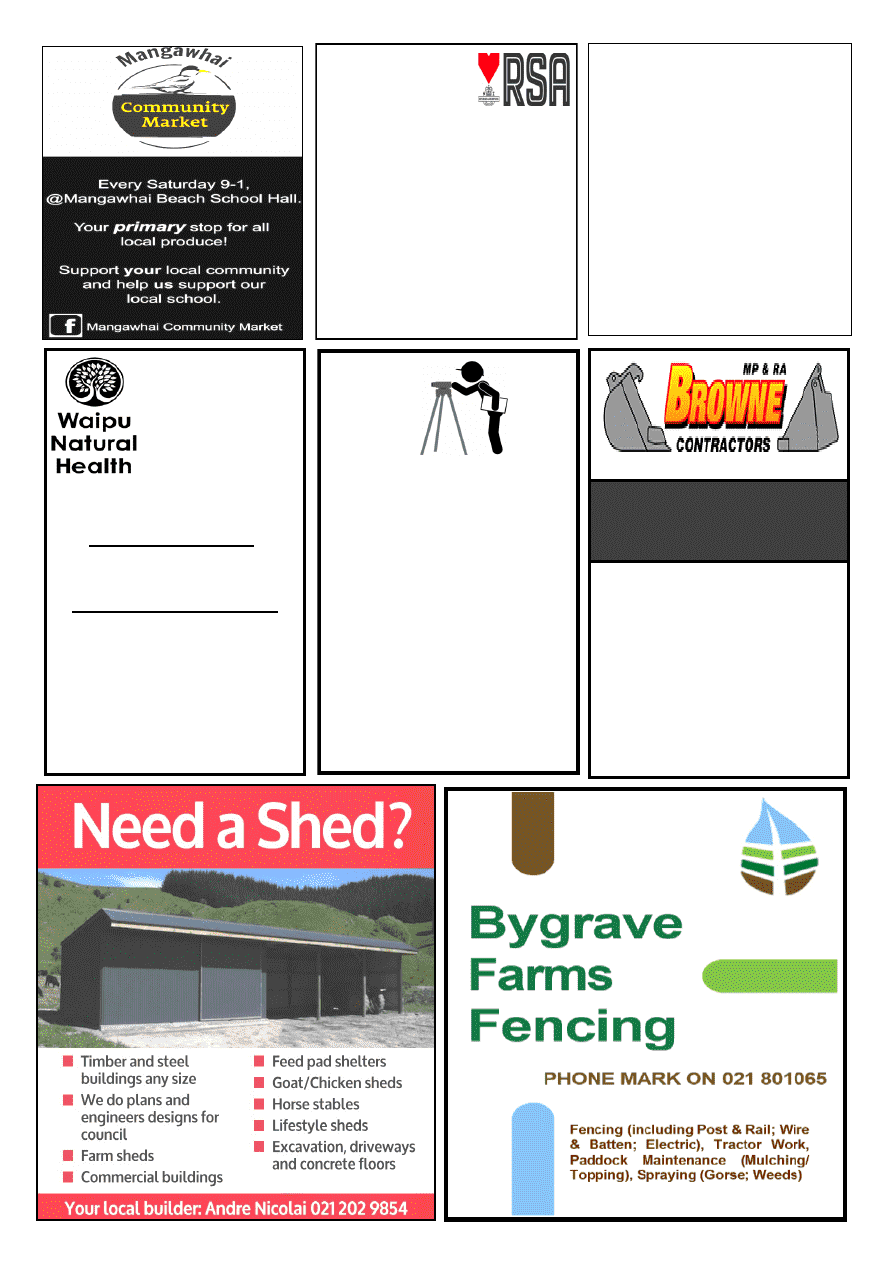 www.kaiwaka.co.nz 
Kaiwaka Bugle - 1 June, 2021 
Page 15 
HAKARU & 
DISTRICTS 
MEMORIAL RSA 
Members & guests are invited to 
come along and enjoy our hospitality. 
New members welcome. 
Meals are served on 
Thursday and Friday nights 
from 6.30pm. 
Order from Blackboard Menu  
For more information please phone 
President Barry Wallace  
3 Cove Road, Waipu 
 (opposite the Pizza Barn) 
094321325 
www.waipunaturalhealth.co.nz 
Clinical Nutritionist: 
Nutritional Checkups, Diets for 
Chronic Diseases, Food 
Sensitivities 
Naturopathic Physician: 
Ozone Therapy, Prolotherapy 
Reflexology, Craniosacral 
Therapy, Trauma Release, 
Massage Therapy 
Counselling and Hypnotherapy 
Change Catalyst/ThetaHealer 
Affordable Children's Consults 
All therapists are fully qualified
Ken Urquhart 
BSurv Licensed Cadastral 
Surveyor 
KMU  
Surveys Ltd
467 Bickerstaffe Road 
RD 2 
Maungaturoto 0587 
Ph 09 431 8705 
Mob 021 161 2344 
kenurquhart@xtra.co.nz 
HAKARU HALL  
ACTIVITIES 

Monday:  Line Dancing 10-12pm    
Ph 4315160 

Tuesday & Thursday: Pilates 10am  

    Qualified Instructor Ph. 
0220643965 

Wednesday:  Music Jam Session 7pm  
Dennis Ph. 0210628631 

Friday Morning: Available for HIRE  

Sunday: Canine Coaching  
Ph 0272365004 

Dance Energy  Week Days  
   Monday to Friday, Afternoon/Evening  
Ph. 0275610469 

Friday Morning: Available for HIRE 
Hall Bookings Karen  
4312090 or 0210467490 
- 4 Tonne DIGGER - 
- BOBCAT- 
- TIP TRUCK - 
Property Maintenance  
Driveways 
Building Sites 
Stump & Tree Removal 
Hole Boring -  Chain Trencher 
Calf Shed and Stockyard Cleaning 
Phone Matt: 021 199 6677 
Email: mprabrownecontractors@gmail.com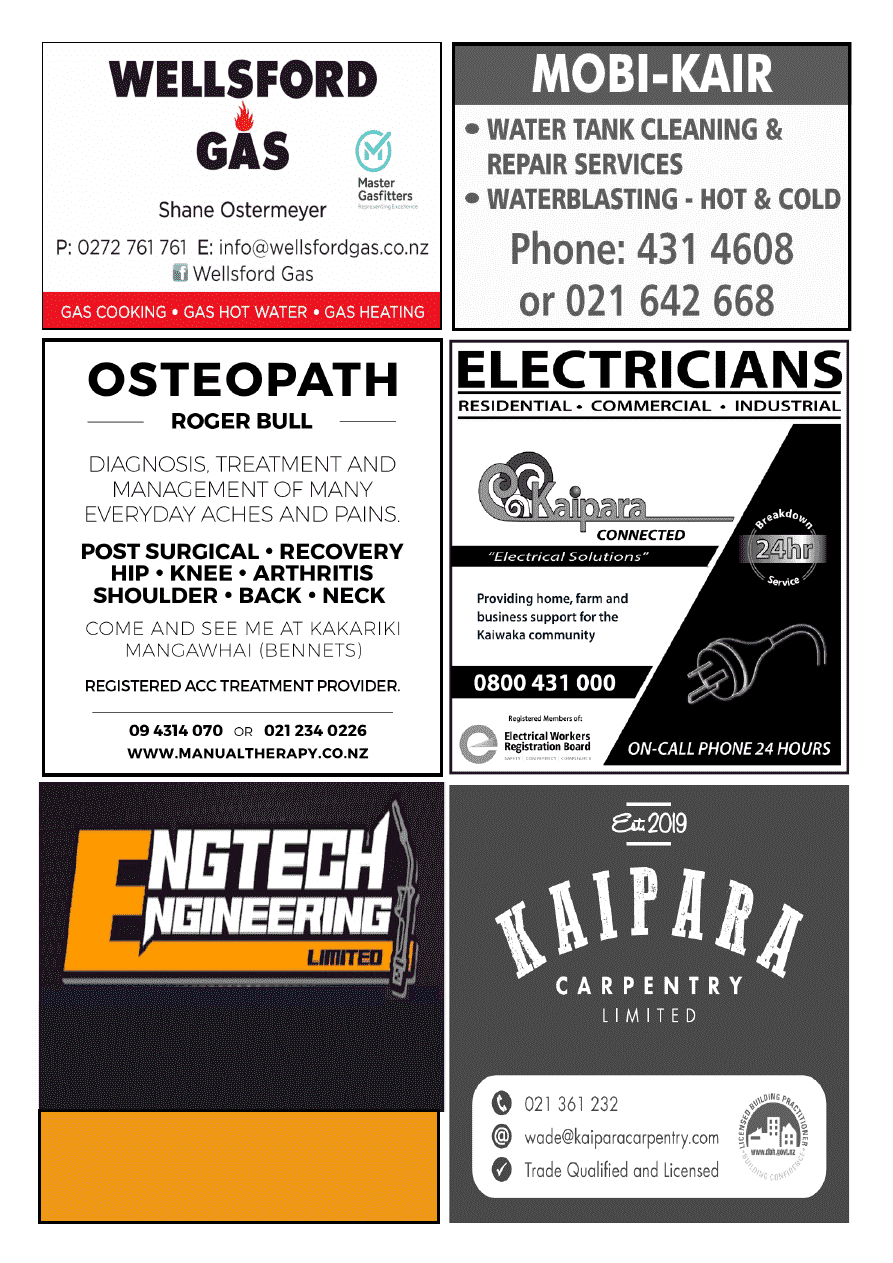 - Mobile Engineering Services - 
- Specialised Welding and Fabricating - 
- Media Blasting and Painting -  
- New CNC Profile Cutting Machine - 
PH: 021 415 259 or 09 973 3440 
648 Kaiwaka-Mangawhai Rd, Hakaru 
www.engtechengineering.nz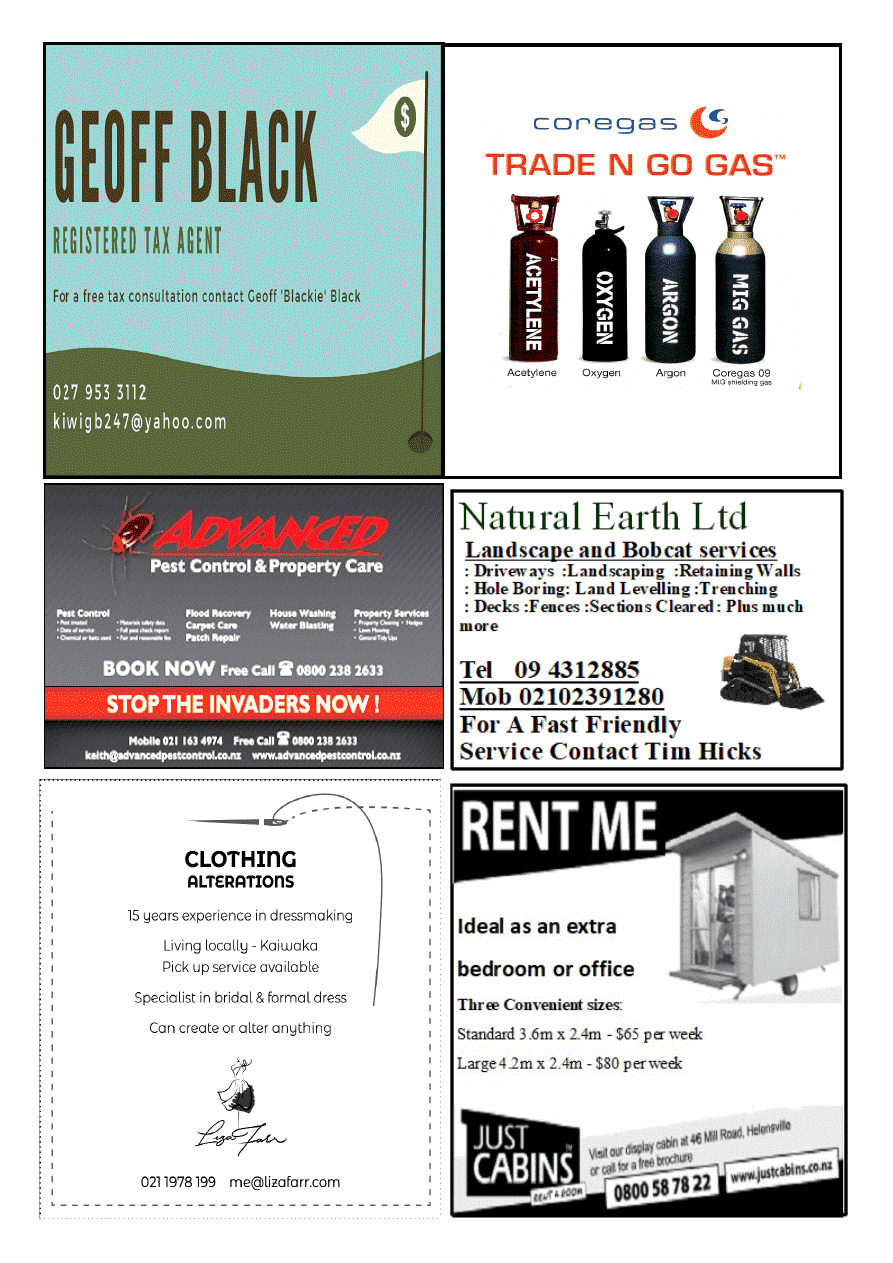 www.kaiwaka.co.nz 
Kaiwaka Bugle - 1 June, 2021 
Page 17 
At Twinkle Tow 'n' Tyre 
Mob: 021 833 960 
Ph & Fax: 09 431 2823 
1837 State Highway 1, Kaiwaka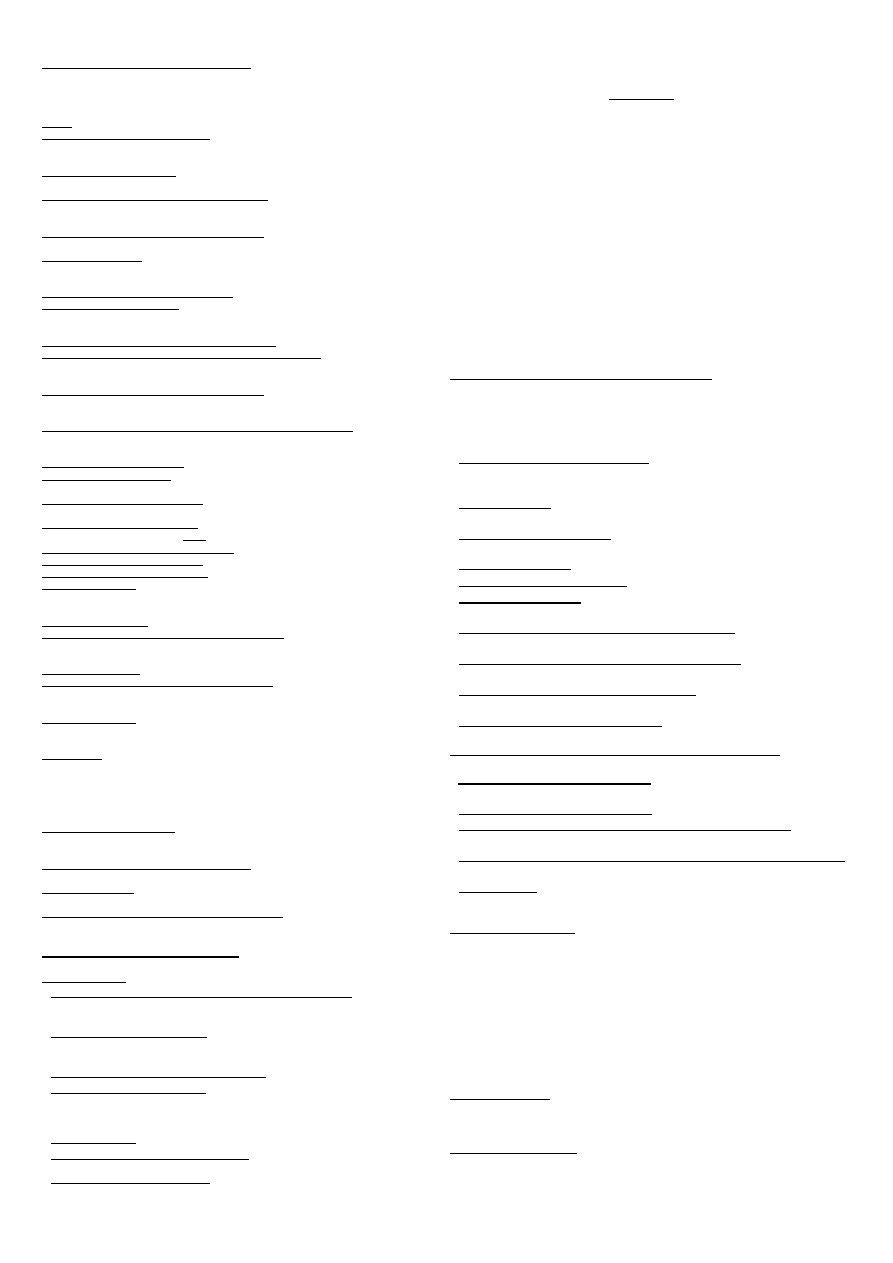 WHAT'S ON
PLEASE ~ do let us know what is on - or what is NOT on at the 
moment! 
email kaiwakabugle@kaiwaka.co.nz 
Advertising in WHAT'S ON is FREE  
*3Jun~Foodbank Op Shop meet, 10am KWMH 
*4Jun~Movie 'Summerland', KWMH, 7.30pm 
*10Jun~Pt. Curtis CC, AGM, 7pm KSA 
*16Jun~Kaiwaka Can meet Archie Bull Hall 5.30 
*18Jun~Movie 'Pink Floyd Pulse', KWMH 7.30pm 
*23Jun~Mid Winter Warm Up, KSA, 5.30pm 
*27Jun~McClean Park Working Bee, 10am 
*27Jun~Absurdistan Concert, 4pm 
KWMH = Kaiwaka War Memorial Hall; KSA = Kaiwaka Sports Association 
See www.kaiwaka.co.nz for more information 
HOUSEHOLD RUBBISH COLLECTION - Kaiwaka Pick up: 
Mondays = Green bags (Northland Waste - 09 430 3273) 
Wednesdays  = Blue bags and yellow recycling (at Kaiwaka Four 
Square  $3.30  and  $1.70)  (Kaurilands  09  4392146);  ONLY  Blue 
and Yellow bags picked up on Oneriri Road. 
 DIABETES  Support  Group  -for  Kaiwaka,  Mangawhai, 
Wellsford  10am,  3rd  Friday  of  month  Ph:  Colleen  James  09 
4314238 
 GENEALOGY - Wellsford: 1st Thursday in month Ph: 423 
7033; Waipu: 4th Monday in month Ph: 4312 725 
 HAKARU PONY CLUB - Secretary Denise Rogers 021423376 
secretary@hakaruponyclub.co.nz  
 KAIPARA HUNT - Secretary Albert Doonenbal Ph 4312059 
 KAIWAKA BADMINTON -Tuesdays 7.30pm Ph: 4312345 
 KAIWAKA  CAN  - 3rd Wednesday in month, 5.30pm, Archie 
Bull Hall Ph: 0273572751 
 KAIWAKA GARDEN & FLORAL GROUP - 2nd Thursday in 
month. Ph: 431 4744 
 KNITTING FOR WHANGAREI HOSPITAL - 2nd Tuesday in 
month, Archie Bull Hall 10am Ph 4314827 
 MANGAWHAI COMBINED REBUS CLUB - 2pm, 3rd 
Thursday month, Senior Citizens Hall Mangawhai. Ph: 4315777 
 MANGAWHAI GENEALOGY  - meet 3rd Thursday month, 
Mangawhai Museum, 10.30am 
*PILATES - KAIWAKA WAR MEMORIAL HALL - Ph: 
021  
2072729  
*PILATES - HAKARU HALL - Tuesday 10am, Thursday 9am 
Qualified Instructor  Ph. 0220643965  
 PT CURTIS CRUISING CLUB - Jean Ph: 4312227 (wk), 4312520 (hm) 
 RSA,  HAKARU  &  DISTRICTS  WOMEN'S  SECTION  –  meets 
1.30pm 4th Thursday of the month. Ph: 431 5818  
 KAIWAKA  SCOTTISH  COUNTRY  DANCING  CLUB-
Wednesdays 10am - 12 noon  Ph: Elaine 027 432 0032  
 TRAMPING 
- 
Mondays 
9am-2:30pm, 
contact  
valkenburgmaria@gmail.com 
HALLS FOR HIRE: 
  Kaiwaka St. John Hall: Phone Marj  0272941227  
 St.Pauls Archie Bull Hall HIRE $20 half day, $40 full day per 
hire, S McAulay, Ph 4312311 
 Kaiwaka  War  Memorial  Hall  HlRE  -  Phone  4312725  or 
kaiwaka.hall.bookings@gmail.com 
 Hakaru Community Hall HIRE -Ph.  Karen 4312090 
 Te Pounga Marae queries - Pearl Nathan  0223933533 
 Kaiwaka Sports Association hire/queries 
Jennie Reynolds 
   ksa.bookings@mail.com, 02102764171  
Justice of Peace:  
L.Donaldson  4312  228;  A.F.Hargreaves  4312  045,  W.Howard 
4312 725  - please phone to make sure they are available or go to 
www.justiceofthepeace.org.nz 
Marriage Celebrants:  
L.Donaldson; A.F.Hargreaves; Y Osborne
LOCAL SERVICES 
*Emergencies - Ambulance, Fire, Police - dial 111 
*Non-urgent Police phone 105
A A: Meets Wed., 7pm. Kate's Place Ph 021 024 25969 or 0800 229 6757  
NARCOTICS ANONYMOUS : Mon., 6pm, Archie Bull Hall, Kwk-Mwi 
Road; drug and alcohol related issues. Ph. 02102412348 
ASUREQUALITY LTD (was AgriQuality) Call Free 0508 0011 22  
BUDGETING SERVICE, WELLSFORD: Free confidential advice & 
support for all areas of personal finance. Ph (09) 423 7123 
CAB-Citizens Advice Bureau.Wellsford Ph: 4237333 
0800 367 222 email:cab.wells@xtra.co.nz  
CIVIL DEFENCE - Kaiwaka Community Response Group: 
kaiwaka.civildefencecrg@gmail.com, 4312725 Wendy 
DOG/STOCK /NOISE CONTROL 0800 105 890 
FUNERAL SERVICES: Morris & Morris Ltd, 
Whangarei - Bev Jaques Ph:4312367 or 0800667747 
GRANDPARENTS Raising Grandchildren: Dianah Roberts 0223819539 
HAKARU & DISTRICTS MEMORIAL RSA (Inc) 733 Settlement Rd, 
Hakaru. Ph 4312 176 or Bill Warren (President) 431 2092 
HAKARU LANDFILL/Transfer Station:Open everyday  10am-
4pm.Ph4312629 Cost-$55 trailer load up to 1 cubic metre. Ph:4258567 - 
office 
KAIPARA DISTRICT COUNCIL www.kaipara.govt.nz:  
Help Desk FREEPHONE 0800 727 059  
KAIWAKA CEMETERY: Ph: 4312045 or 4314017 
KAIWAKA LIBRARY: kaiwaka.library@gmail.com  
Mon. 4-6pm; Wed., Thurs., Fri., Sat. 10am-2pm Ph:4312539 
KAIWAKA PLAYCENTRE: Ph Juanita 0274134904; open Mon, Wed, 
Fri 9am-12pm. Hastie Lane; Monday to Friday 9.00am - 12 noon. 
KAIWAKA POST OFFICE:Ph:4312 431  
Post Code: 0573 for RD2 and 0542 for all Kaiwaka Post Office mail 
KAIWAKA PRIMARY SCHOOL: Ph: 4312309   
KAIWAKA SPORTS ASSN: Ph 4312005; 4312129 gym 
KAIWAKA ST JOHN HALL: Phone Marj  0272941227  
KATE'S PLACE Community Centre - Employment services, Free Health 
Nurse, Plunket, Advocacy, Osteopath, A.A., Legal Advice. 4312 661 
LINKING HANDS Health Shuttle Ph 4315906 or 09 4318969 
MINISTRY FOR PRIMARY INDUSTRIES - General inquiries Call 
Free 0800 008 333 
NORTHPOWER: Faults Kaiwaka area 0800 104040 
OTAMATEA COMMUNITY SERVICES: Counselling, parent coach, 
Family Support worker, budget advice, food bank. Mon-Fri 9am-3pm. Ph 
09 431 9080 http://www.otamateacs.org/ 
PARENTPORT: Free, practical family support service Puhoi to Paparoa 
Ph or txt: Dianne 027 280 5093 or 09 425 9357 
PLUNKET: Kaiwaka- St John Hall, Monday 19 Oct, 23 Nov, 21 Dec. then 4th 
Monday of the month. Plunket Nurse Louise 027 282 3987 or 09 438 2508 
Mangawhai- Rose Madsen Cottage, Mondays and Wednesdays. Plunket Nurse 
Rebecca 021 501 941 or 09 438 2508 
Maungaturoto - Good News Church, 2nd and 4th Wednesday of the month. 
Plunket Nurse Seleisa 021 912 248 or 09 438 2508 
PLUNKET HELPLINE -0800 933 922 (24 hours)  
FACEBOOK - Kaipara Plunket 
TAITOKERAU COMMUNITY LAW: Free confidential legal advice and 
assistance, 2nd
Thursday
 of each month. Ph: 0800 155 529 for appts.  
TE URI O HAU Settlement Trust Tangata Developments: Whanau Ora 
021 793262  
VETERINARY SERVICE MANGAWHAI: 
Ph: 4314535 Mon-Fri 8.00-5.00, Sat 9-12, a/h appt. 
WELLSFORD DOCTORS: Ph: 4238 086 
CHURCHES:
 
Kaiwaka  Revival  Church  -  Your  Community  Church:  Sundays  10am. 
Ph: Pastor Tawhiri 09 431 8988 or Pastor Paul 09 4312 068 Visit us at 
www.facebook.com/kaiwakachurch 
 
St  Paul's  Anglican  Church  1st  Sun.  9.00am  (Eucharist),  3rd  Sun. 
9.00am (Family Service). Contact: Rev. Wayne Thornton Ph 431 4122 
www.mangawhaianglican.org.nz 
 
Church of Christ the King, Mangawhai:9.00am every Sunday 
 
St.Mary's  Catholic  Church:  Maungaturoto  –  Griffins  Road,  Saturday 
evening  Vigil  Mass  6pm;  Mangawhai  –  Senior  Citizens  Hall,  Sunday 
Mass  8:30am;  Wellsford  –  Matheson  Road,  Sunday  Mass  10:30am;  
Mid-week Mass times and all enquires to Fr. Bill Fletcher – phone 423 8170
 
Baptist Church: Sun. 10.30am Mangawhai Snr Cit.Hall.Ph:4312339 
 
Cause  Way  Church  Mangawhai:  Sundays  10.15am,  Mangawhai 
Community  Recreation  Centre,  Insley  St.  Ph:  09  4314782 
Next Bugle Deadline Friday 11June 2021