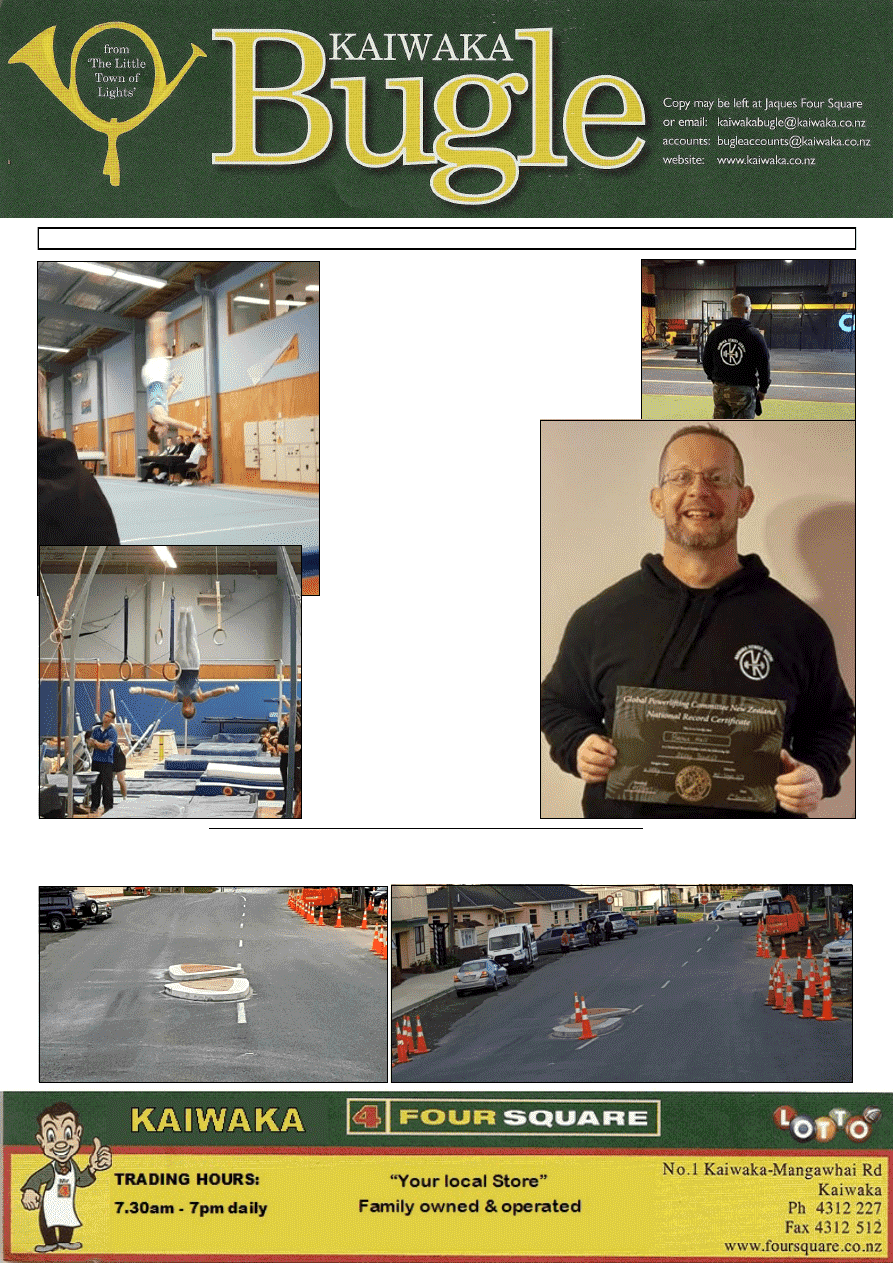 www.kaiwaka.co.nz 
Kaiwaka Bugle - 15 June 2021 
Page 1 
No.11 
15 June 2021 
HOURS: 
7.30am - 7pm, seven days 
FROM KAIWAKA TO 
THE NATIONALS!
GARETH  FERGUSON
, pictured left, 
was placed 3rd in floor, 4th in vault and 5th on 
rings  for  Level  7  Men's  Artistic  Gymnastics 
(MAG) when competing at Auckland Manukau 
Gymnastics  Championships  over  Queens 
Birthday weekend. 
Gareth,  15  years  old,  has  now  qualified  to 
compete  in  floor  apparatus  at 
Nationals  in  July  and  will 
compete  as  part  of  the 
Northland  representative  team. 
He  competes  at  Level  7  which 
is decided by gymnastic ability, 
not age, and trains at Whangarei 
Academy 
of 
Gymnastics 
(WAGs). 
The  Nationals  (officially  called 
the  New  Zealand  Gymnastic 
Championships)  will  be  at  The 
Trusts 
Arena, 
Henderson, 
Auckland from 20 to 24 July. 
 BERNIE  HALL
, pictured 
right, 
representing 
Kaiwaka 
Fitness  Center,    won  his  
qualifying Deadlift on June 5th, at 
the  GPC  Winter  Warmup  2021  
Qualifier  in  Avondale,  with  a  260 
lift. 
He  now  goes  on  to  the  Masters 
Nationals  on  July  17th  in  Albany 
And  he  finally  got  his  elusive 
Nationals  Deadlift  certificate  of 
266kg 
from 
GPC 
(Global 
Powerlifting Committee) Push/pull 
December 2020 competition.
KAIWAKA-MANGAWHAI ROAD 'ISLANDS' 
These pink and white raised patches - pedestrian safety zone - caused some grief last Friday. Photo left: the islands show 
black tyre marks; by 11pm, photo right, a couple of Kaiwaka's many cones made them more obvious.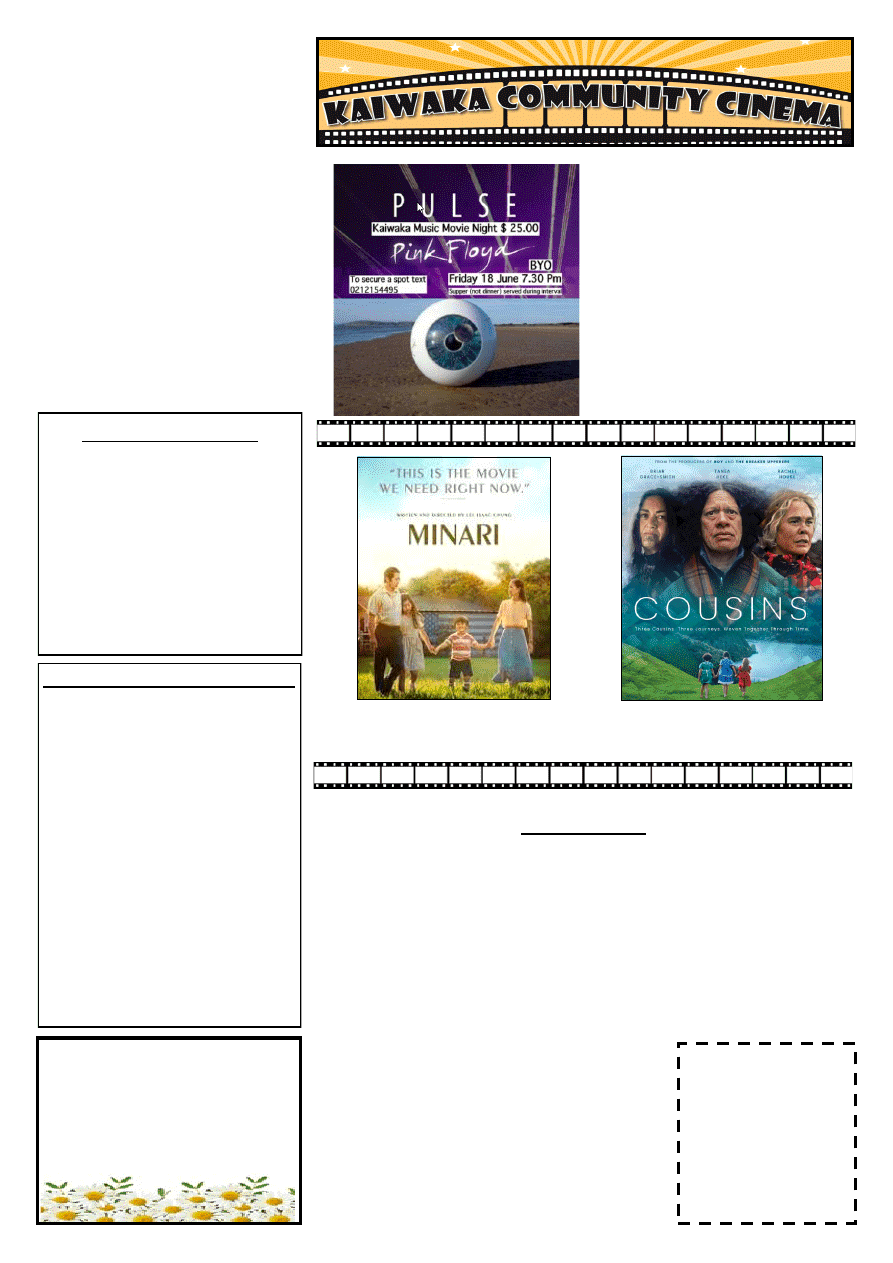 www.kaiwaka.co.nz 
Kaiwaka Bugle - 15 June 2021 
Page 2 
ABOUT TOWN

 Is  it  the  'Little Town  of Lights' or the  'Little Town  of  Cones  'or  the  'Little 
Town of bright Hi Viz Jackets'! 

 A big Well  Done to the Eastern United JMB Rugby crew - our young rugby 
players  are  enjoying  their sport.  And  big  'well  done'  to  both  Gareth  Ferguson, 
who  began  his  gymnastics  with  the  KSA  Kaiwaka  Gymnastic  Club,  and  to 
Bernie Hall for leading the way in powerlifting! 

 A  note  from  Thelma:  'Teach  a  child  courtesy  and  you  show  him  or  her  the 
loving way through life.' A very special big happy Birthday wish to Thelma who 
celebrates her 90th birthday at the end of this week! 

 See page 13 for Zonta Club of Mangawhai's Award of a 10 Day Development 
Voyage on the Spirit of New Zealand - youngest applicant age is now 16 

To  book  Kaiwaka  Sports  Assn  -  contact  Jennie  ksa.bookings@mail.com, 
02102764171  

 Badminton  every  Tuesday  evening  7.30pm  -  great 
fitness, great warm-up! 

The  Pt.  Curtis  Cruising  Club  Closing  Day  Game 
Bird Shoot will be Sunday 27 June, followed by weigh
-in and prizegiving at Three Furlongs Bar & Grill – all 
welcome, after 5pm

 Local stories, reports or articles are welcome in our 
local paper! 
 Keep us up-to-date with what is happening in 
our community. 
~ Lindsey, Ed
'"You can fool all of the people some of time; you can fool some of 
the people all of the time, but you can't fool all the people all the 
time." Attributed to Abraham Lincoln in The New York Times, 
August 27, 1887
At Kaiwaka War Memorial Hall . Adults $10, Kids (under 16) $5, Family Pass (2 adults + 3 children) $25 
KAIWAKA BUGLE NO.11 
15JUNE 2021 
CONTENTS: 
Page 3: Public Notices, Classified 
Page 5: Mommas Takeaways; Kaiwaka 
Foodbank/Kaiwaka Op Shop 
Page 7: Hakaru Womens RSA; 
Kaiwaka Weather 
Page 9: Kaiwaka Can 
Page 11: Kaiwaka Sports  Assn 
Page 13: Kaipara Hunting & Fishing; 
Zonta Award 
Page 15: Stoats; Kaiwaka Playcentre 
Page 17: Otamatea High School 
Page19: Kaiwaka Library 
Bugle 12 will appear 29 June 
Contact for advertising, reports, articles 
or information can be made by 
Email: kaiwakabugle@kaiwaka.co.nz 
Ph: 09 4312 045 Lindsey 
Txt: 027 2724137 
Copy  may  be  left  at  Kaiwaka  Four 
Square. 
Kaiwaka Bugle 
Founded May 1978 
We appreciate articles and photos about local 
events, etc, as well as ads and suggestions. 
Copies available in Kaiwaka at Kaiwaka  Four 
Square, Kaiwaka Postal Centre, Shamrock 
Service Station, Animal Health Centre, 
Kaiwaka St John shop. 
Also outlets in Maungaturoto, 
Mangawhai and Paparoa. 
Can be viewed online at  
www.kaiwaka.co.nz/Bugle  
Or a copy can be posted to you if you supply 
stamped, self-addressed DLE envelopes. 
Kaiwaka Bugle Advertisements 2021: 
All 
copy 
and 
queries 
to: 
kaiwakabugle@kaiwaka.co.nz 
The Bugle is printed on an A4 page, B&W  
Ad  sizes:  1/16  page  (3  x  9.5cm)  $5;  1/8 
(6.5  x  9.5cm  landscape  or  portrait)  $8; 
3/16 ( 10 x 9.5cm or 7.5 x 12,5)  $12.  
Classified  ads:  First  one  FREE,  $4  per 
entry (max. 30 words, max. 4 repeats). 
Payments  can  be  made  online  at 
ANZ 
06  0365  0006990  00
,  posted  or  left  at 
Kaiwaka Four Square Store. 
We  use  Microsoft  Publisher,  and  can 
work  with  most  common  image 
formats, Word, Excel, and PDF files. 
Accounts:  
Email: bugleaccounts@kaiwaka.co.nz 
The  Kaiwaka  Bugle  is  a  community 
newspaper run by volunteers, as part of 
the Kaiwaka Media Group Inc.   
Articles, etc. printed are not necessarily 
the opinion of the Bugle Team. 
Proverbs 14: 29 
A wise man/woman 
controls their temper. 
They know that anger 
causes mistakes.
KAIWAKA BUGLE 
DEADLINE DATES 
2021:   
Every second Friday 
June 25 
July 9, 23 
August 6, 20 
September 3, 17 
October 1, 15, 29 
November 12, 26 
December 10 
MINARI 
Friday  2 July, 7.30pm 
COUSINS 
Friday  16 July, 7.30pm
PINK FLOYD 
PULSE 
Friday 18  June, 7.30pm 
Pink  Floyd  live  at  Earls  Court: 
Directed  by  David  Mallet.  With 
David  Gilmour,  Nick  Mason, 
Richard Wright, Guy Pratt. 
 $25.00  includes  Supper  (not 
dinner) and free tea coffee during 
interval. 
To  secure  your  spot  text  me 
0212154495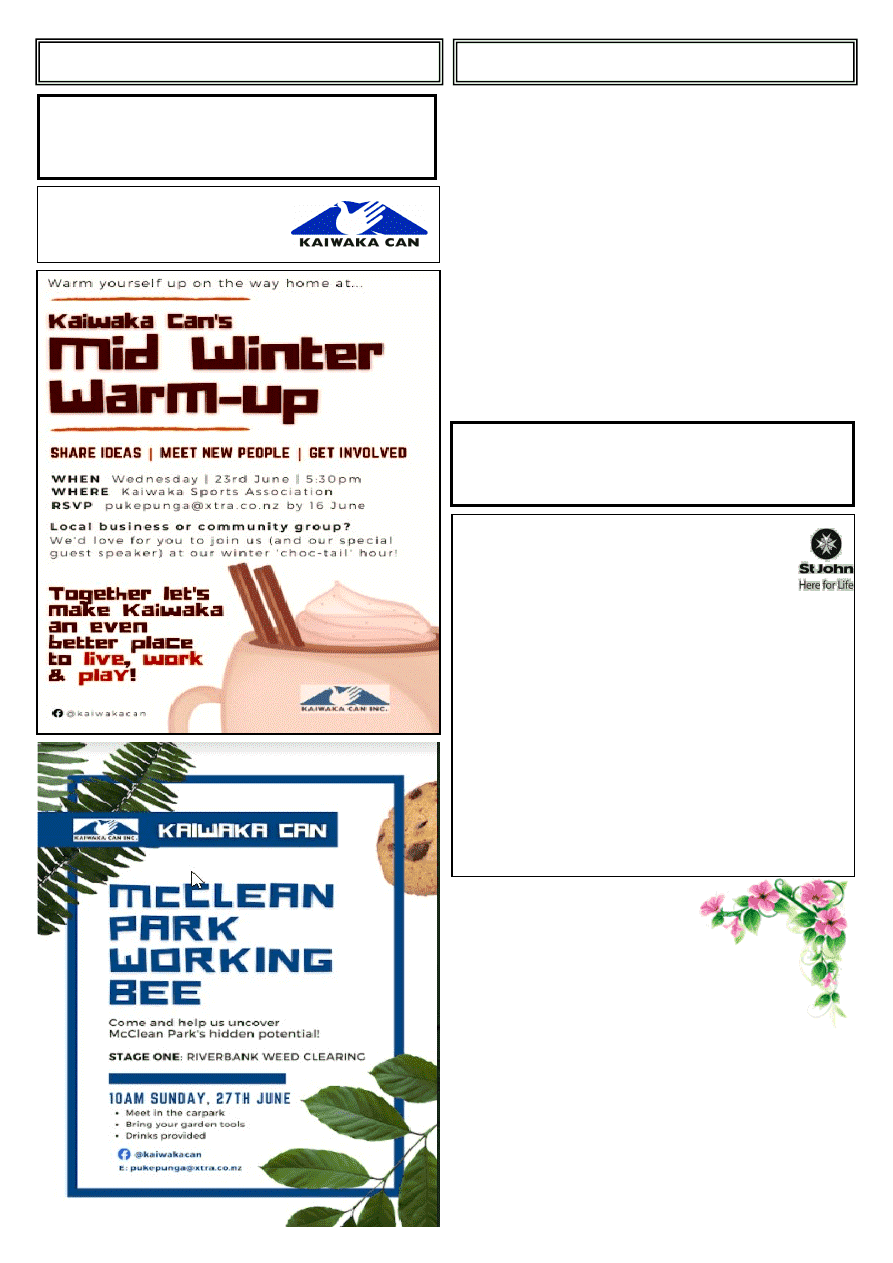 www.kaiwaka.co.nz 
Kaiwaka Bugle - 15 June 2021 
Page 3 
PUBLIC NOTICES 
CLASSIFIED 
KAIWAKA St. John Op Shop 
THANK  YOU 
for your donations over the past 
few weeks, and your support this helps to keep the 
Ambulances going in your hour of need. 

As  we  enter  the  colder  days,  we  have  our  single  DVD 
and CD down to $2.00.  

We  have  lots  of  Books  for  those  long  winter  evenings, 
and rainy days. Children's books on the Ramp 5 for $1.00.  
We  have  a  few  Family  Games  to  help  entertain  the 
children. 

We  are  in  need  of  clean  Blankets,  Pillows  and  Drinking 
Glasses, Bric a Brac.  

We have ample clothing so are only looking for Men's winter, 
Children's, and especially Babies winter clothing.   
Regards, Dianne and the Team 
Please bring your donations in during opening hours.  
HOURS: Tuesday – Friday 10am to 3pm;  Saturday 10am – 2pm 
PHONE: Shop  4312650  
1919SH1, Kaiwaka 
KAIWAKA OP SHOP  
Kaiwaka  Op  Shop  last  meeting  on  3rd  June  was 
successful  we  were  able  to  appoint  a  new  committee 
chairman, treasurer, and secretary. 
There have been a lot of great donations of all sorts so 
come  on  in  and  get  yourself  a  bargain  supporting  the 
Kaiwaka Op Shop supporting the Kaiwaka Food Bank 
supporting those in need. 
There  is  a  Food  Bank  Food  Donation  box  in  the  4 
Square if you can spare a can or a bag of unperishable 
food  items  that  would  be  great  and  is  always 
appreciated. 
We are still not accepting any clothing and we will not 
be accepting any electrical items as we do not have an 
electrician who can certify the safety of such items. 
There is a meeting on Thursday 17 June 2021 at 10am 
at the Kaiwaka War Memorial Hall. 
All are welcome to attend, please bring a plate for the 
after-meeting morning tea. See you there. ~ Pam 
First notice FREE  for Classified or Public Notices - 
less  than  30  words  -  then  charged  as  per  advertised  
($4).  This  includes  AGM  and  meeting  notices,  FOR 
SALE, WANTED, FOR RENT. ~ Kaiwaka Bugle 
A note from Susan …
FRIENDSHIP 
The Value of Friendship is immeasurable, 
it's beauty untold 
of times past, and days of old, 
True friendship is worth its weight in gold. 
It may be for a short time, need not be long 
but it is often true and strong 
whether it stands the test of time 
or for a limited season, it is for a reason. 
So, treasure your friends, for short or long 
you can't go wrong if you stay true and 
enjoy the moments or the hours for 
good friends are like a garden of Beautiful Flowers. 
KAIWAKA FOOD BANK OP SHOP 
Public Meeting 
10 am Thursday 17 June 
In Kaiwaka War Memorial Hall 
KAIWAKA CAN  
Next monthly meeting:  
16th June 2021 
Archie Bull Hall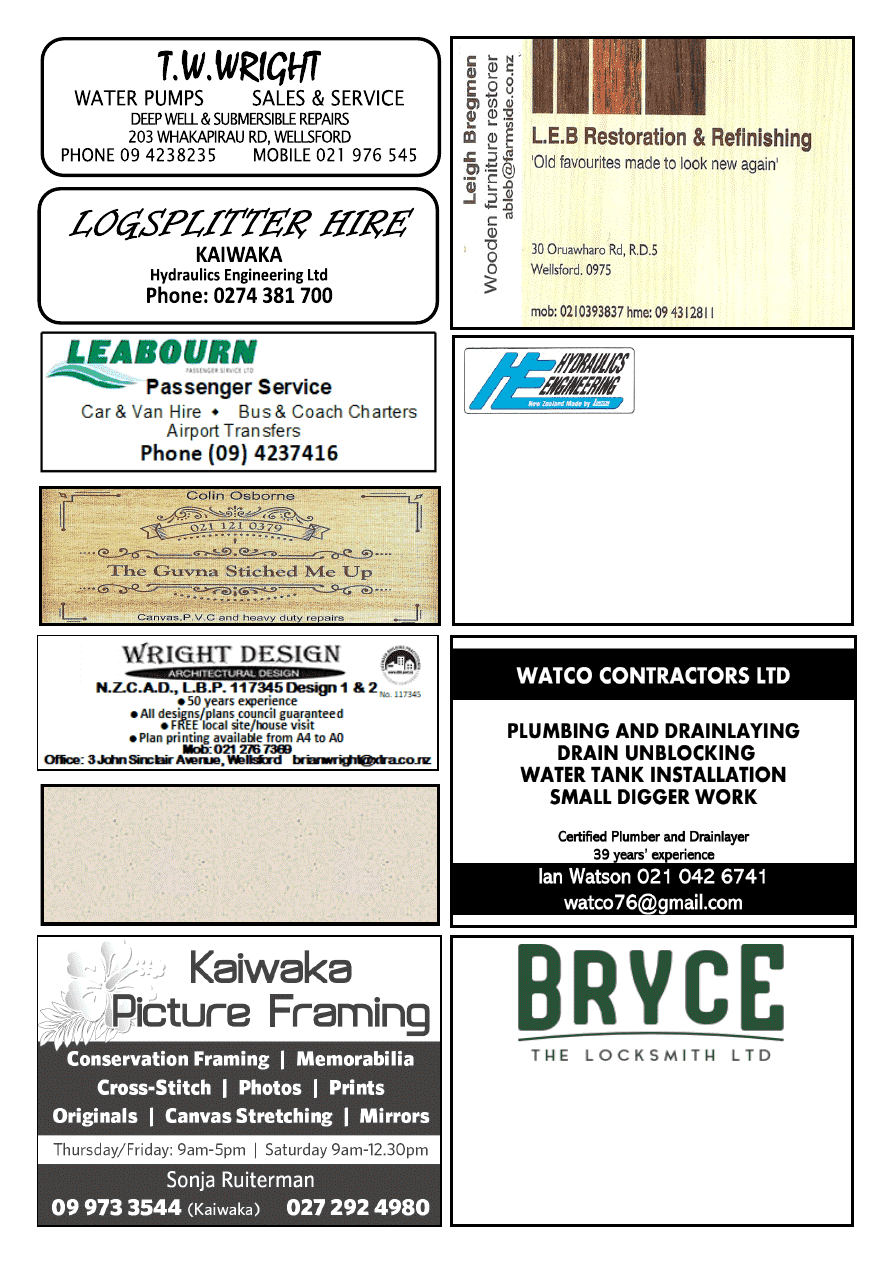 www.kaiwaka.co.nz 
Kaiwaka Bugle - 15 June 2021 
Page 4 
Bryce Frewin 
Ph: 021 850 983 
Kaipara Based Master Locksmith 
bryce@brycethelocksmith.co.nz 
www.brycethelocksmith.co.nz 
Hydraulics  
Engineering Ltd 
Kaiwaka 
Sales - Service - Parts - 
Hire - Manufacture 
Service Contractors & Industrial Equipment: 
Rams, Pumps, Valves 
Logsplitter Hire, Manufacturer, Sales 
Dennis Linton 
Lot 2 / 161 Ranganui Road, RD2, Kaiwaka, 0573, New Zealand 
Mobile: 0274 381 700 
Email: hydraulicsengineering@xtra.co.nz 
Counsellor and Registered Psychotherapist 
Offers Supervision 
ACC Sensitive Claims 
Susan Matheson      MNZAC 
Dip. Psychosynthesis Counselling and Psychotherapy 
Phone 09 431 2996                                     Mobile 027 605 2427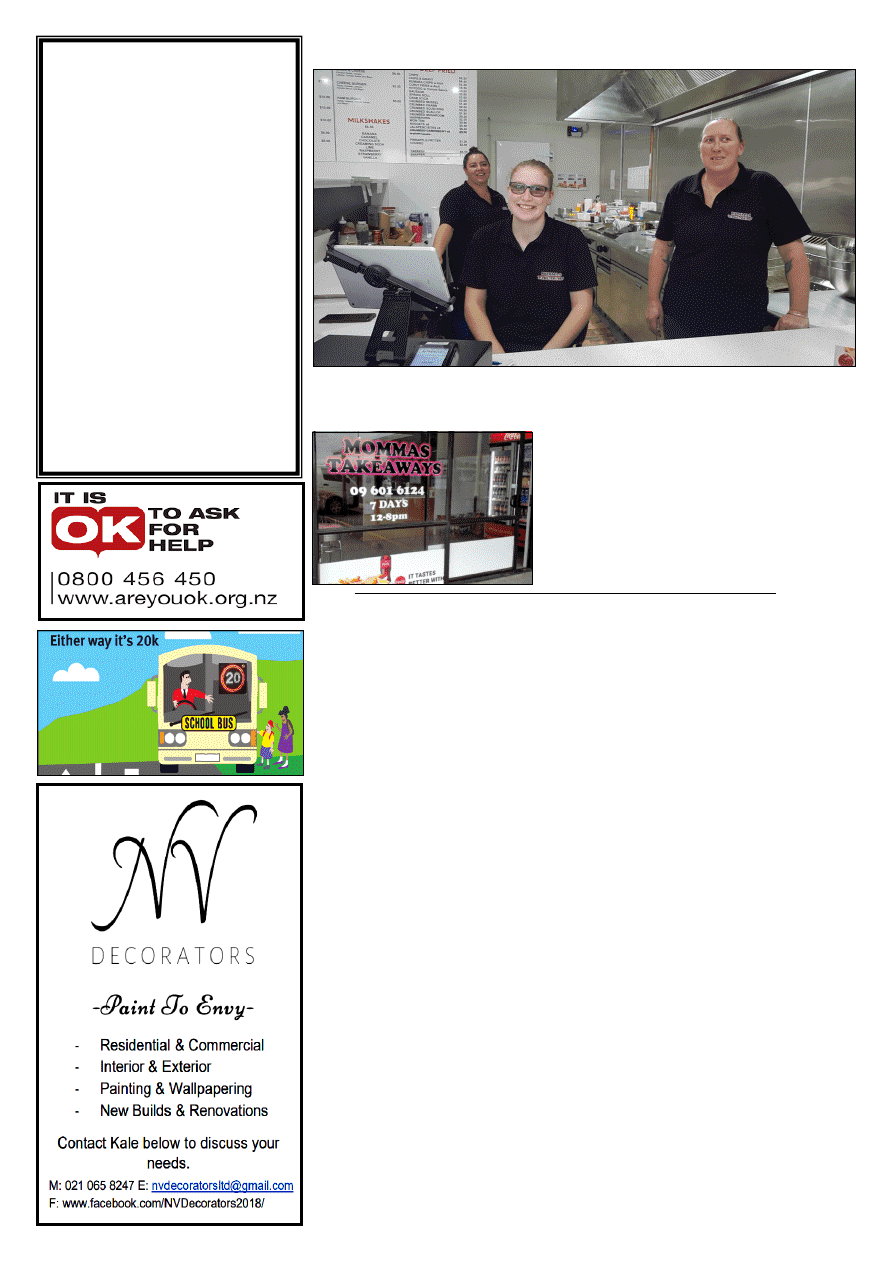 www.kaiwaka.co.nz 
Kaiwaka Bugle - 15 June 2021 
Page 5 
KAIWAKA FOODBANK 
KAIWAKA  OP SHOP 
Alongside Jean McLeish (treasurer) and 
Pam  Lawson  (secretary),  it's  both  an 
honour  and  privilege  to  be  writing  this 
first  report  as  the  recently  elected 
Chairman  of  the  Kaiwaka  Food  Bank 
and Kaiwaka Op Shop. I have not been 
in  town  for  long  but  in  the  6  months 
(thereabouts)  since  we  shifted  North 
from  Tauranga,  my  family  and  I  have 
been  blown  away  with  the  strong 
community  spirit  that  exists  in 
Kaiwaka.  With  that  said,  I  feel  a  big 
responsibility  in  doing  my  utmost  to 
lead the organisation as Chairman with 
passion, enthusiasm, and integrity. And 
to  see  the  people  of  Kaiwaka  greatly 
benefit from the work of both the Food 
Bank and Op Shop. 
At the meeting held last week I outlined 
three  key  points  for  which  I  feel  are 
critical be established ASAP to see the 
potential  of  the  Food  Bank  and  Op 
Shop realised. 
1
.  Structure 
– create an organisational 
structure  fit  for  purpose.  Set  up  an 
umbrella  entity  for  which  the  Food 
Bank  and  Op  Shop  sit  underneath  of. 
This  new entity  will  give credibility  to 
the organisation as a whole and will be 
the  vehicle  used  to  apply  for  things 
such  as  bank  account/s,  EFTPOS 
facilities etc. Those that were present at 
the meeting last week were tasked with 
selecting  both  a  name  and  vision 
statement for the new umbrella entity. 
2.  Regular  meetings 
–  organise 
regular meetings to ensure key tasks are 
actioned – 'Less Hui, More Doey' 
3.  Communication 
– create a regular 
communication  channel  from  the  Food 
Bank/ Op Shop out to the community to 
keep them informed and up to date with 
all 
matters 
concerning 
the 
organisations.  This  will  help  our 
credibility  in  the  community  and 
provide  information  regarding  how  the 
community  can  help  and  assist  their 
fellow Kaiwaka people. 
What  the  Foodbank  and  Op  Shop 
(Aunty  Ma,  Rau  and  Milly  alongside 
their  amazing  teams)  have  done  over 
the years for the Kaiwaka community is 
awesome.  By  bringing  some  structure, 
meeting  regularly,  and  lifting  the 
communication  across  and  through  the 
organisation, my belief is that the sky is 
the  limit  as  to  who  and  how  the 
organisation 
can 
benefit 
our 
community.  I  am  excited  and  you 
should be too! 
We  welcome  suggestions  or  ideas  so 
please  feel  free  to  share  them  with 
anyone you know who is involved with 
the  organisation.  If  you're  still  unsure 
as to who to speak with, give me a call 
at the shop – 4312227. 
Aku mihi, 
Ant Pedersen 
Chairman – Kaiwaka Foodbank/ Op Shop 
WELCOME TO OUR LOCAL MOMMAS! 
MOMMAS TAKEAWAYS IS NOW IN TOWN 
Pictured above, left to right: Teresa, Lisa and Paige on duty in their new takeaway 
shop  at  1923  SH  One.  Mike,  Blair  and  Dominic,  along  with  Emma  (part  time)  
are  missing  from  the  photo!  This  local  family 
has  brought  much  delight  to  our  community, 
"Just what we have been waiting for!"; "This is 
wonderful!". 
The brand new premises is nestled between La 
Nonna Café and LJ Hooker Real Estate, where 
there is plenty of parking! 
Mommas Takeaway hours are midday till 8pm, 
7 days a week. Phone: 09 601 6124 
Now Open!! 
MOMMAS 
TAKEAWAYS 
09 601 6124 
7 days 
12 - 8pm 
1923b State Highway 1 
Kaiwaka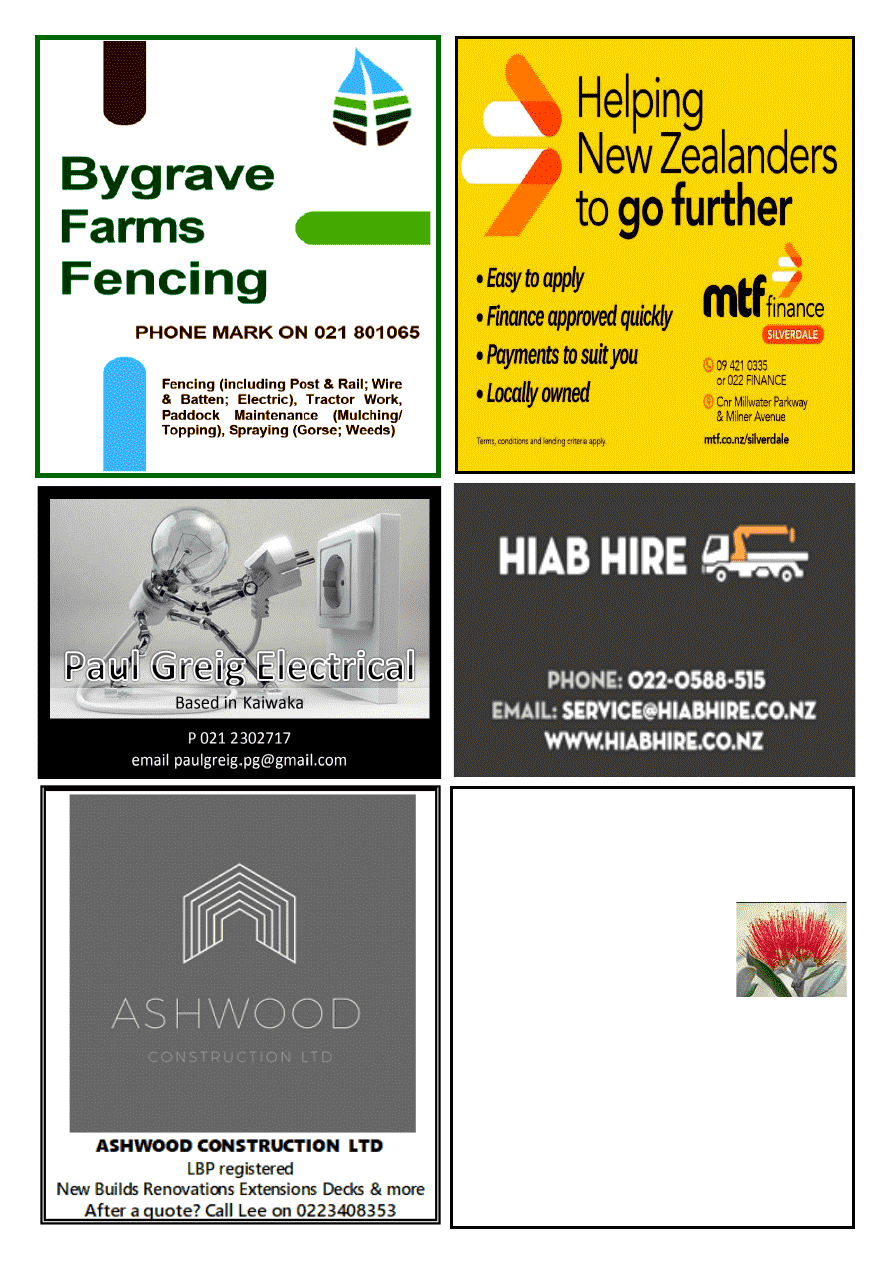 www.kaiwaka.co.nz 
Kaiwaka Bugle - 15 June 2021 
Page 6 
KAIPARA FLOORING CO 
FULLY MOBILE FLOORING SHOWROOM 
SERVICING THE KAIPARA 
PH (09) 946 9886 or  
CHRISTINE ON 021 515 415 or 
HOWARD 021 2696250 
IN HOUSE MEASURE, QUOTE AND 
CONSULTATION SERVICE 
FOR THE SUPPLY AND INSTALLATION OF 
CARPET, VINYL, VINYL PLANKING, HARD 
FLOORING, GARAGE CARPET, LAMINATE 
FLOORING AND MORE. 
EMAIL kaiparaflooring@gmail.com  
WEBSITE www.kaiparaflooring.co.nz 
Qcard 6 month interest free terms or 12 – 24 
month finance options available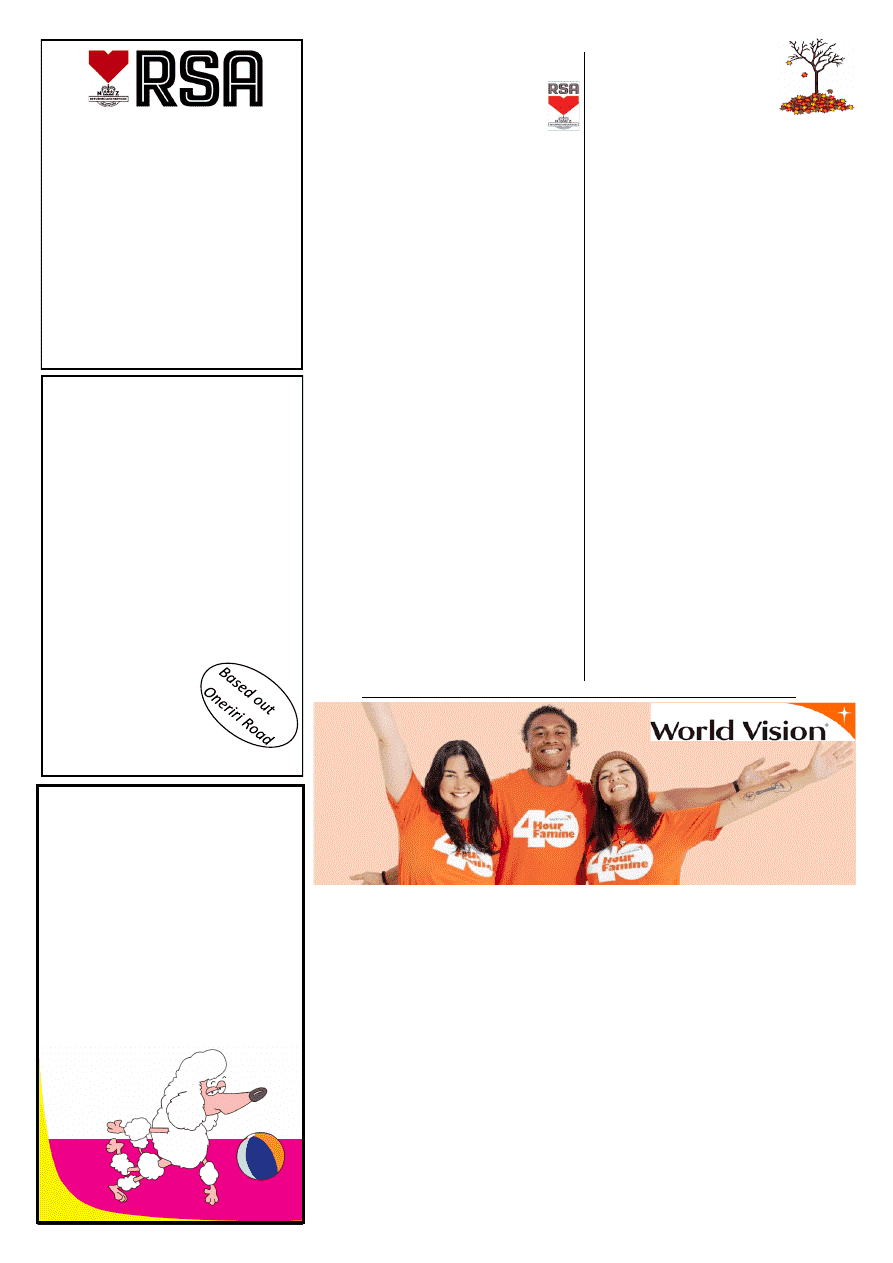 www.kaiwaka.co.nz 
Kaiwaka Bugle - 15 June 2021 
Page 7 
HAKARU & DISTRICTS 
MEMORIAL RSA (INC)
Members & guests are invited to 
come along and enjoy our hospitality. 
New members welcome. 
Meals are served on Thursday and 
Friday nights from 6.30pm. 
Order from Blackboard Menu  
For more information please phone 
President Barry Wallace  
HODGETTS 
CONTRACTING
Digger Work   
Driveways 
House Sites   
Dams  
Drains, etc
Also available for HIRE 
3 ton Vib Roller  
Heavy Duty Tow  
Waterblaster      
Lazer Level
Phone Mark  
4312877 
027 447 8554 
HAKARU RSA 
WOMENS SECTION 
There  was  a  good  attendance  at 
the meeting held on 27th May. 
Many  thanks  to  vice-President 
Trish  Black  for  taking  over  the 
helm  in  the  absence  of  President  Ann 
who  was  galivanting  around  down  the 
South  Island  (prior  to  the  floods  thank 
goodness.!). 
Birthday  Girls  for  this  month  were 
Petronella  Brom  and  Shirley  De  Vries, 
hope  you  both  enjoyed  your  special 
days. 
There  was  no  raffle  this  month 
(President's negligence, sorry). 
Various  trips  were  discussed,  and  we 
they  are  looking  interesting  no  dates 
have been set as yet. 
We 
received 
an 
invitation 
to 
Birkenhead  RSA  Women's  67th 
Birthday.  Cost  $25  pp.  for  4  members 
of  Hakaru,  DATE  Tuesday  20th  July, 
Lena has kindly agreed to drive us and 
there  are  two  more  seats  available 
anyone interested please phone Ann on 
4315913, before 12th July. 
Due  to  some  of  our  members  booked 
for the 3 Tenors show at Warkworth on 
24th June we have put our next meeting 
forward  one  week  to  Thursday  17th 
JUNE. We hope all members have been 
notified of this CHANGE and intending 
members! 
More  new  members  are  welcome,  we 
are having an interesting talk by Pamela 
Truscott  about  her  adventures  in  India 
as  a  Missionary  with  her  husband  Dr 
Graham Truscott. 
Hope you are all keeping Cosy and Warm. 
~ Yours Aye Ann. 
Hot Diggity Dog  
DOG GROOMING  
KAIWAKA 
Spring is in the hair. 
Professional Dog Groomer  
at affordable prices.
www.doggroomingkaiwaka.co.nz 
call Pam 094312143 or text 
0273335380 for bookings 
KAIWAKA 
WEATHER 
May  has  mostly  been  a 
warm month with the wind 
turning  chilly  in  the  last  two  weeks. 
The  leaves  have  made  a  dash  for  the 
ground,  leaving  a  beautiful  carpet  of 
gold and burgundy beneath them. 
There a still a few hardy leaves hanging 
on.  Gosh  the  storm  that  hit  the  East 
coast on the 22nd and 23rd has caused 
huge damage to the surf beach frontage 
and the Northern end of the sandhills by 
Picnic Bay.  
Rainfall  at  our  place  for  May  was  a 
mere 66ml, recorded over 16 days.  
Last  year  we  recorded  281ml  recorded 
over 18 days.  
May  2019  at  our  place  was  even  drier 
with only 37.5ml but 2017 we recorded 
118.5ml over only 8 days.  
The  wind  turned  south  easterly  late  in 
the month and of course has been a lot 
cooler.  
I  have  noticed  the  waterfall  on  the 
Brynderwyns  is  struggling  to  keep 
going.  In  my  69  years  in  Kaiwaka  I 
have  never  seen  such  a  small  trickle 
coming down it.  
I  hope  those  of  you  with  fireplaces, 
managed  to  do  your  squirrel  thing  and 
got plenty of firewood in. Keep warm  
I  hear  the  King  of  Spain  has  been 
quarantined  on  his  private  jet.  That 
means the Reign in Spain stays mainly 
on the plane……~Karen 
NIWA reports, 
of the six main centres in 
May 2021, Auckland  was the  warmest and 
driest,  Christchurch  was  the  coldest, 
wettest, and sunniest, and Hamilton was the 
least sunny.
Northland  youth  set  to  shape  history  for  children  in  sub-Saharan  Africa 
through World Vision 40 Hour Famine 
New  Zealand's  largest  youth  fundraising  event,  the  World  Vision  40  Hour 
Famine,  is  back  and  bigger  than  ever,  with  plenty  of  Northland  students  set  to 
take on a challenge or go without something they rely on for 40 hours – and it's 
all in the name of stopping the hunger pandemic in sub-Saharan Africa. 
For  40  hours  from  Friday  25th  to  Sunday  27th  June,  about  90,000  young  New 
Zealanders  are  expected  to  take  part  and  raise  much-needed  funds  for  children 
and  families  in  sub-Saharan  Africa  who  are  facing  what  could  be  the  biggest 
hunger crisis of our lifetime. 
This  year,  three  of  Aotearoa's  most  loved  young  Kiwis  –  rugby  star  Caleb 
Clarke,  model  and  body  positivity  advocate  Jess  Quinn  and  singer  and 
songwriter Paige  Tapara  – are championing the World Vision 40 Hour Famine 
as ambassadors, each of them determined to use their platforms to help make as 
big an impact for children in sub-Saharan Africa as possible. 
"I  encourage  each  and  every  young  Kiwi  to  take  part  in  the  World  Vision  40 
Hour  Famine.  In  the scheme  of  things,  40  hours  isn't a  very  long  time,  yet the 
impact we can make for children in sub-Saharan Africa is massive," says Caleb.  
Those who join Paige, Caleb and Jess in taking part simply need to live without 
something they rely on for 40 hours, like transport, furniture, technology or food, 
and raise as much money as possible while they're at it. 
Plus, those who sign up online will have the chance to win one of three special, 
history-shaping prizes – a rugby coaching session with Caleb, a sit-down session 
with Paige or a morning tea with Jess. 
For full details, and to sign up today, visit 40hour.org.nz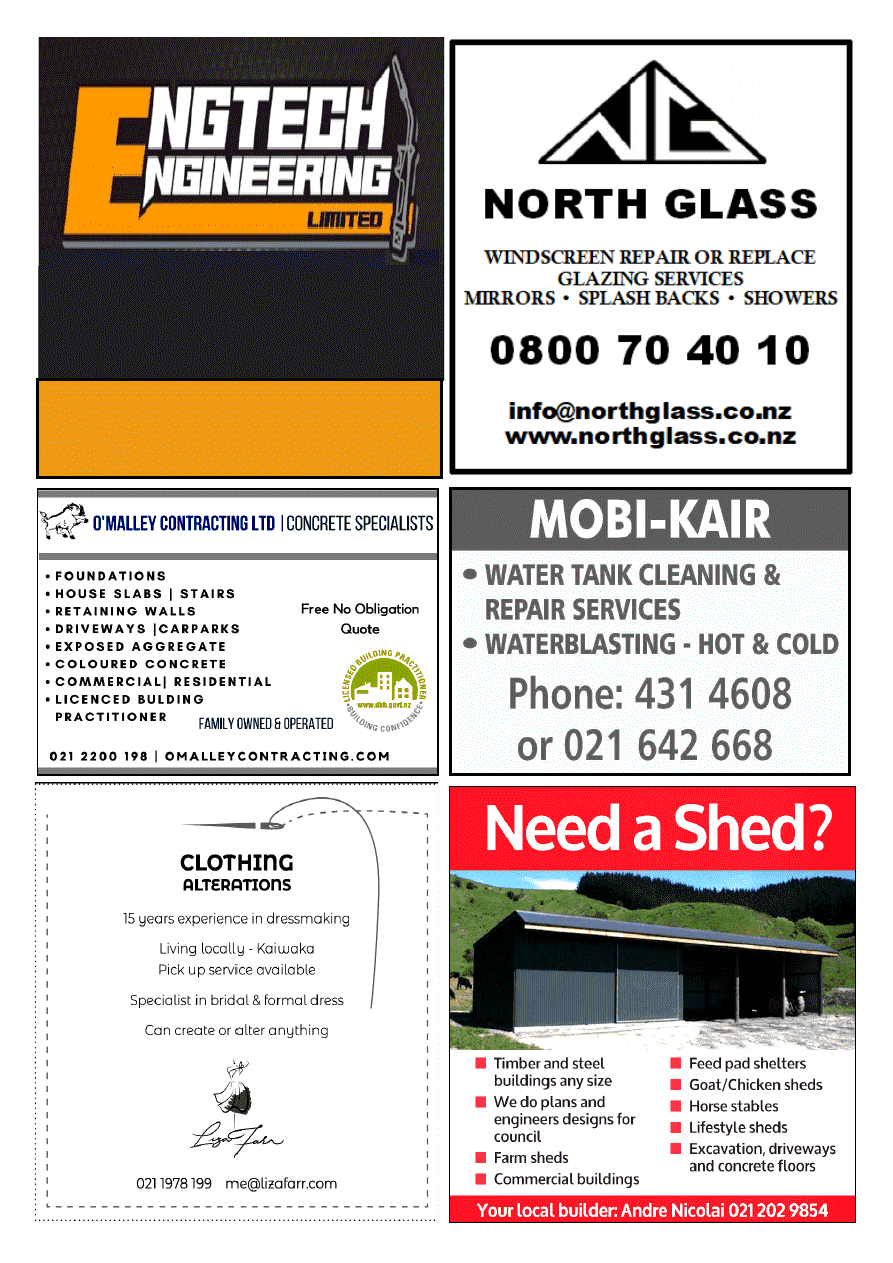 www.kaiwaka.co.nz 
Kaiwaka Bugle - 15 June 2021 
Page 8 
- Mobile Engineering Services - 
- Specialised Welding and Fabricating - 
- Media Blasting and Painting -  
- New CNC Profile Cutting Machine - 
PH: 021 415 259 or 09 973 3440 
648 Kaiwaka-Mangawhai Rd, Hakaru 
www.engtechengineering.nz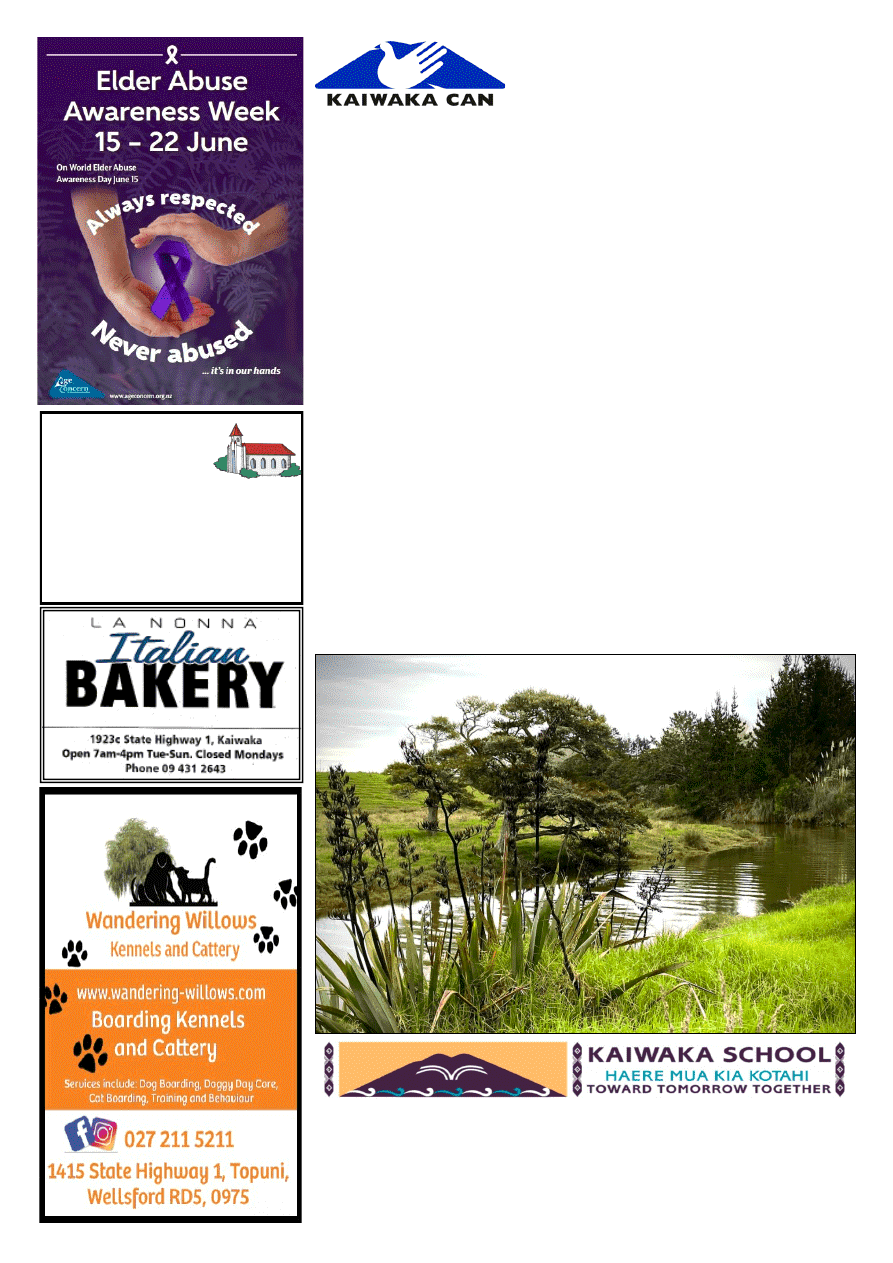 www.kaiwaka.co.nz 
Kaiwaka Bugle - 15 June 2021 
Page 9 
ST PAUL'S  
ANGLICAN  
SUNDAY SERVICES
First Sunday 9am Holy Communion 
Third Sunday 9am Family Service 
St Pauls Church: Kaiwaka-Mangawhai Rd. 
Church Office Ph 431 4122 
www.mangawhaianglican.org.nz
FLAT OUT AND FULL-ON 
June is a full-on  month for the Kaiwaka Can team, 
with  two  events  scheduled  to  take  place  over  the 
course of a week. 
First up we talk the walk! Shake off the winter chill and rain at our 
Mid-Winter 
Warmer  at  the  Kaiwaka  Sports  Association 
on Wednesday the 23rd of 
June  from  5.30pm.  There  will  be  a  huge  pot  of  delicious  hot  soup  and  toasty 
garlic bread courtesy of the amazing Eutopia, or if you've got a sweet tooth, hot 
chocolate and marshmallows. 
It's  an  opportunity  for  our  local  community  groups,  teams  and  businesses  to 
touch  base  and  join  forces  as  we  dream  up  and  make  meaningful  change  for 
Kaiwaka in 2021 and beyond. We will be showcasing the wonderful vision that 
has led us to where we are today – now with an extra $100,000 in the kitty! Come 
and get acquainted with how the BIG picture may look for our little town. 
To ensure no one misses out on a cup of Eutopia's sensational soup 
please  do 
RSVP  your  intention  to  attend  to  pukepunga@xtra.co.nz.
 Of course, 
you'll still get a warm welcome and riveting conversation if you decide to rock 
up last minute, but you may have to fight over the garlicy crumbs! 
The second event for the month we walk the talk, throwing on the gumboots to 
muck  in  for  McClean  Park. 
If  you're  able  to  come  and  support  the 
transformation we can certainly find a job for you! It's going to be a big task, so 
we're  'eating  this  elephant  one  bite  at  a  time'  as  they  say,  breaking  the  whole 
shebang into stages. Compliance boxes have been ticked and niggles cleared for 
Stage One – Riverbank Weed Clearing, the first opportunity to roll up our sleeves 
and let loose which is just around the corner on 
Sunday  the  27th  of  June 
at 
10:00am. 
The priorities for this kick-off working bee will be: 

cleaning up the rubbish 

clearing kikuyu grass from the riverbank 

clearing privet and other pest plants, mulching 

trimming 
If  the  weather  is  rubbish, we  will  make  a  cancellation  call by  8:00am  and  post 
this to our Facebook page and in the Kaiwaka Community group. 
There is an event on Facebook, so you can RSVP your intention to attend there, 
or flick an email through to pukepunga@xtra.co.nz. We can also add you to our 
McClean  Park  Transformation  Messenger  group  so  you're  in  on  the  clean-up 
conversations. 
It  will  be  a  fun  day  as  we  will  continue  to  make  our  little  town  of  lights  even 
better. See you there! 
KAIWAKA SCHOOL  
KAIWAKA SCHOOL 150 REUNION WILL BE HELD ON  
SATURDAY 23RD OCTOBER (LABOUR WEEKEND) 2021 
Keep up to date with  Facebook Pages to follow: 
Kaiwaka School 150 year Reunion; Kaiwaka School Old Photos; 
Kaiwaka  Historical  Society.  Please  tag  in  your  friends  and  family  we  want  to 
spread the word about our school Reunion on 23rd October 2021.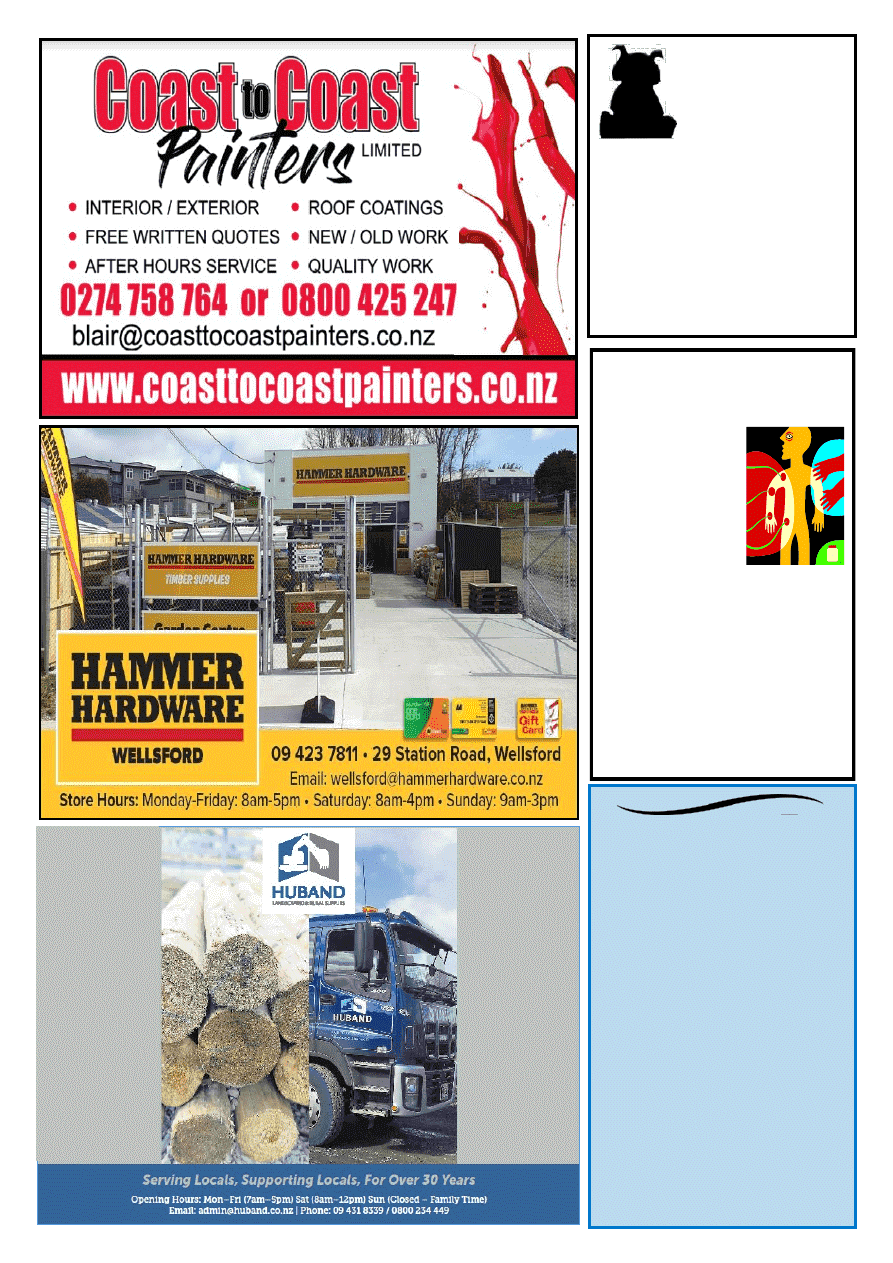 www.kaiwaka.co.nz 
Kaiwaka Bugle - 15 June 2021 
Page 10 
OWEN STEVENS 
Osteo Therapist
For careful 
adjustments to 
bones and joints 
Treatment for 
humans and their 
pets 
Clinics: 
Kate's Place, Kaiwaka: 
Last Friday of month 
For bookings: 
9.00am-5.00pm  
Phone 
09 4312661 
Or phone Owen  
09 4317123 anytime 
HAVEN HOME  
MAINTENANCE  
SERVICES 
Helping transform your  
haven into your home 
Interior:  
Kitset Assembly 
Wardrobe Furniture Install 
Picture & Mirror Mounted 
Minor Carpentry Works 
Exterior:  
Landscape Solutions 
Fence Build & Repair 
Low level Decks 
Gutter clearing & Repairs 
M: 021 1145709  
Kaipara  
Dog Training 
Club 
Mangawhai Domain,  
Moir Street 
Every Wednesday from 
5.30pm 
Please contact the 
Secretary 
for further information 
kaiparadogtrainingclub@gmail.com
WATER TANKS: 
Aqua & Baileys 
Brands 
DRAINAGE & 
SEPTICS: 
Land Drainage 
Urban Rural 
Drainage 
Water Pipelines 
Culverts 
Septic Systems 
(RX Plastics & 
Biorock) 
SITEWORKS: 
Retaining Walls 
Piling 
Driveways 
Carparks 
Landscaping Supplies: 
Waikato Screen Topsoil 
Bark 
Woodchip 
Mill Bark 
Post Peelings 
Compost 
Crushed Shell 
Topsoil 
Limestone Chip 
Daltons Garden Mix 
Aggregate 
Gap: 20,40.65 
Riverstone 
Sand 
Belt Dust 
40/20 Drainage Metal 
Builders Mix 
 Cement 
Timber/Fencing Supplies: 
Rails, Posts  
Stays, Strainers 
Fence Battens 
Palings 
Stakes 
Fencing Wire 
Farm Gates & hardware 
Drainage: 
PVC Fittings 
Alkathene 
Draincoil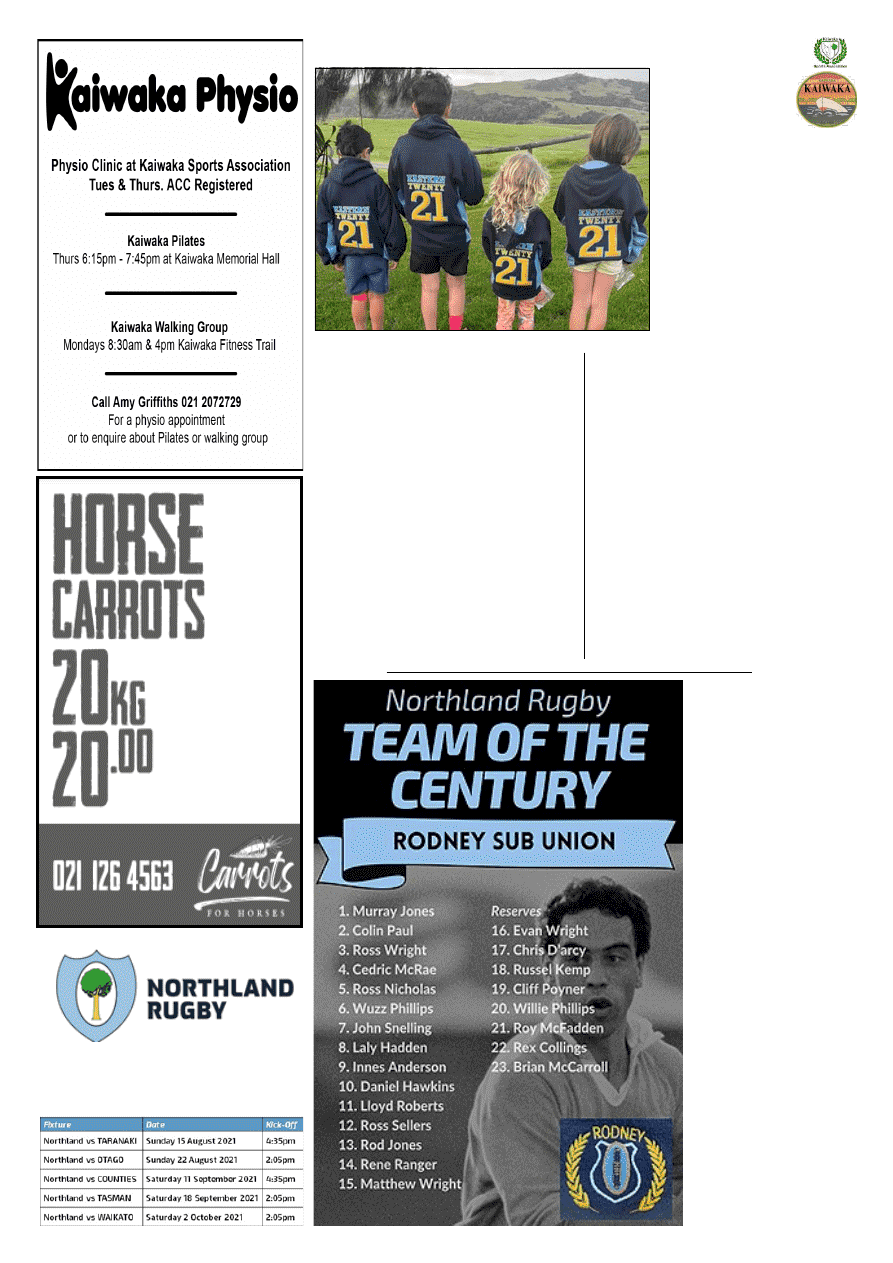 www.kaiwaka.co.nz 
Kaiwaka Bugle - 15 June 2021 
Page 11 
EASTERN 
UNITED 
JMB 
KAIWAKA 
New 
email 
for 
the 
club: 
easternkaiwaka@gmail.com 
The  hoodies  have  arrived,  and  they 
look  awesome!  Now  we  can't  wait for 
our uniforms to arrive. 
We  are  well  into  our  season  being 
halfway  through.  There  have  been 
some  greats  nights  and  Saturdays  with 
weather behaving.  
Thanks  to  the  community  for 
supporting our raffle. The winners were 
K. 
Frecklington, 
Bill 
Stewart, 
H.Anderson,  Dave  Graham  and  An 
Frecklington. 
Big  thanks to  our local  sponsors  Rural 
Design,  ABC  Construction,  Kaiwaka 
Clothing  and  Tracey  O'Donoghue  and 
Orang Otang Tree Trimmers! 
KAIWAKA SPORTS ASSN NEWS 
NORTHLAND 
RUGBY UNION 
RODNEY SUB UNION 
-  TEAM  OF  THE 
CENTURY! 
Leading  up  to  the 
Northland Rugby Union 
Centenary  events  held 
on  Queens  Birthday 
Weekend 
each 
Northland  Rugby  Sub 
Union  TEAM  OF  THE 
CENTURY 
was 
announced  –  these  can 
be 
seen 
on 
their 
Facebook 
page 
'Northland 
Rugby 
Union'. 
A  number  of  our 
Otamatea  -  Eastern 
and 
Maungaturoto 
players  are listed in the 
team  pictured:  Colin 
Paul,  Wuzz  Phillips, 
John  Snelling,  Innes 
Anderson, 
Daniel 
Hawkins,  Evan  Wright, 
Russel  Kemp,  Willie 
Phillips, 
Brian 
McCarroll. 
[Loved  the  comments 
Northland Rugby NPC 
Home Games 
Semenoff Stadium, Whangarei
PT.CURTIS 
CRUISING  
CLUB 
CLOSING DAY  
GAME BIRD SHOOT
SUNDAY   27 June 2021 
WEIGH  IN:  Sunday  27 
June, between 4pm - 5pm 
at Three Furlongs Bar & 
Grill . 
PRIZEGIVING to follow 
All welcome. 
TICKETS: 
All  competitors  must  be 
financial  members  of  the  Point  Curtis 
Cruising  Club  Inc  for  7  days  prior  to 
the competition 
Jean:  p0212132795  or  at  Kaiwaka  4 
Square, Kaiwaka 
Sandy: p02102360740 
Pongo: p094312205 
Register by 11pm 26th June 2021  
SENIOR's Entry Fee $20  
JUNIOR's (Un. 15 as of 1st June 2020) 
Entry Fee $10. 
SPECIES: 
Peacock, Turkey, Mallard, 
Grey, Parry, Pheasant, Canadian Goose, 
Pukeko & Black Swan. 
DISCLAIMER:  The Point Curtis Cruising 
Club  Inc.  accepts  no  liability  for  any 
damage  or  loss  of  belongings  or  injury  to 
any person  
DECISION OF THE WEIGH-MASTER IS FINAL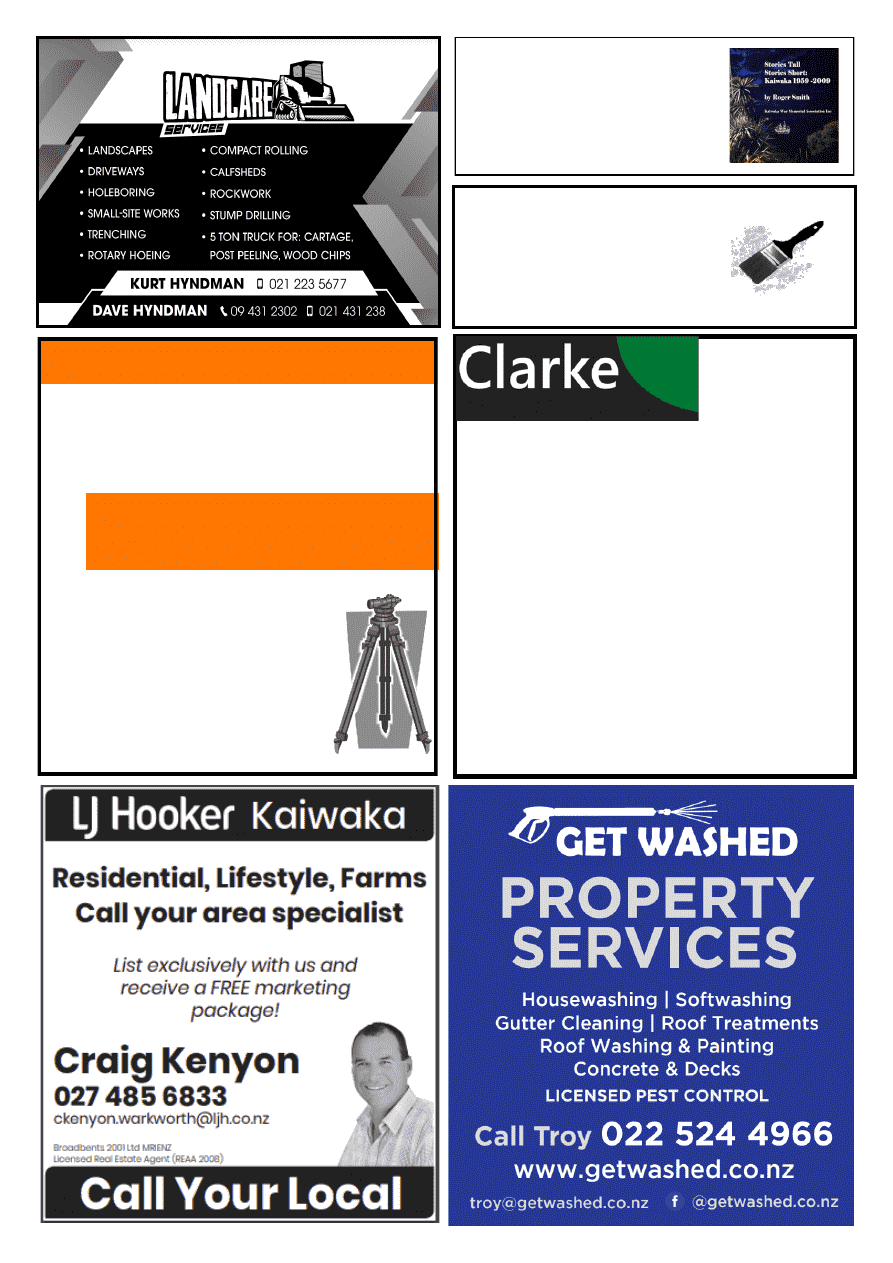 www.kaiwaka.co.nz 
Kaiwaka Bugle - 15 June 2021 
Page 12 
DR PAINT
 Dave & Rhys 
 Painters
 02108742551 
0211200667   drpaintnz@gmail.com 
Drainage & Earthmoving 
nigel@clarkedrainage.nz 
027 2233 185 
Registered Drainlayer                 All Types of Earthworks  
> All Residential & Commercial Work  > House Sites 
> Septic System Design & Install 
> Footings & Drilling to 10m 
> Sewer Connections 
> Dams 
> Water Tank Installation 
> Roading & Races 
> Farm Work 
THE ONE STOP SHOP  
Phone Nigel for an Obligation Free Quote  
SURVEYORS 
SUBDIVISIONS 
HOUSE SITE SURVEYS 
CIVIL ENGINEERING 
WASTEWATER DESIGNS 
EXPERIENCED 
PROFESSIONAL 
INNOVATIVE 
Ph 09 431 5353 
0800 PACIFIC (0800 722 434) 
pacificcoastsurvey.com
Adam Booth - 027 415 5752 
Bsurv, Licensed Cadastral Surveyor
Surveying Kaipara since 1994 
Stories Tall, Stories Short  
Kaiwaka 1959-2009 
by Roger TW Smith.  $40 
Available at All Sortz Collectables  
or phone  4312 045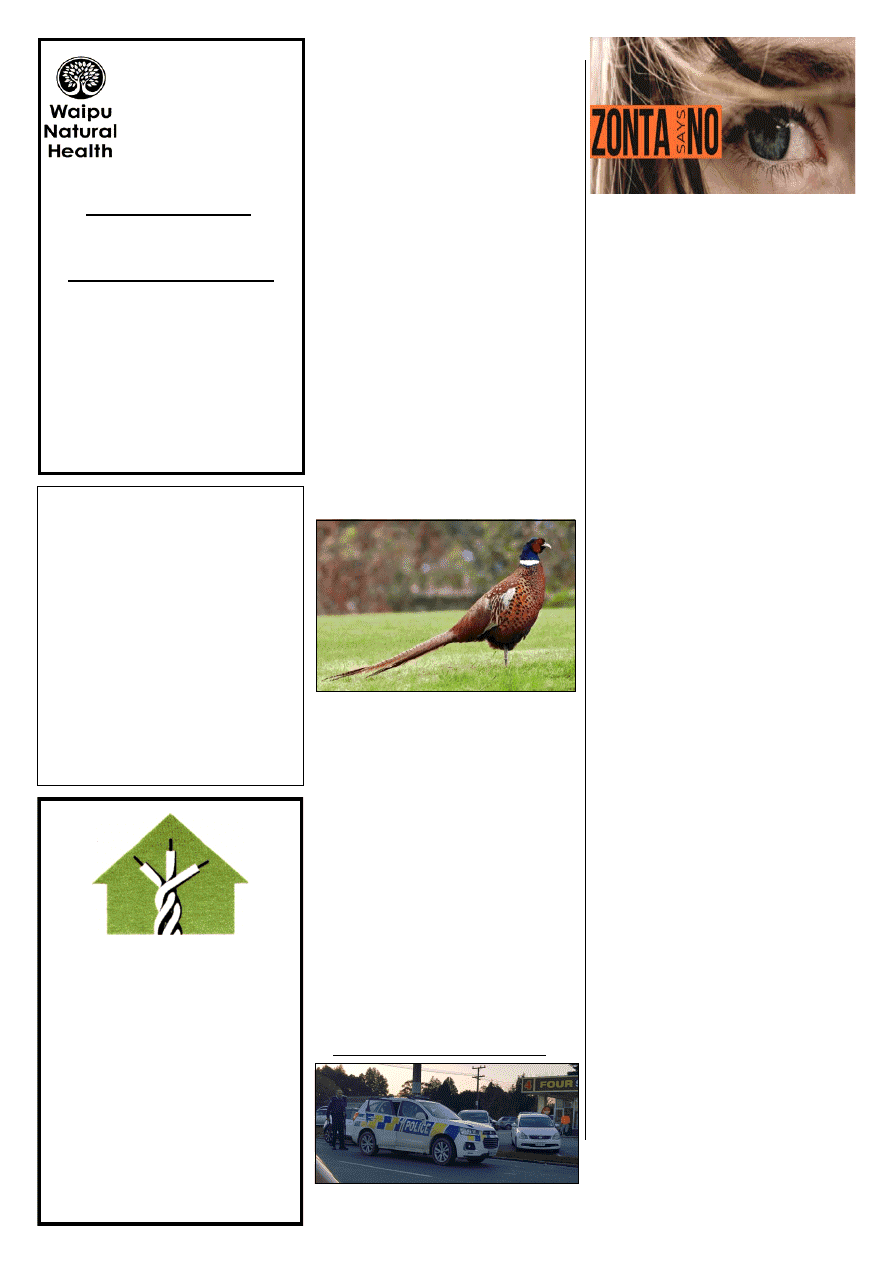 www.kaiwaka.co.nz 
Kaiwaka Bugle - 15 June 2021 
Page 13 
3 Cove Road, Waipu 
(opposite the Pizza Barn
) 
094321325 
www.waipunaturalhealth.co.nz 
Clinical Nutritionist: 
Nutritional Checkups, Diets for 
Chronic Diseases,  
Food Sensitivities 
Naturopathic Physician: 
Ozone Therapy, Prolotherapy  
Reflexology, Craniosacral 
Therapy, Trauma Release 
Massage Therapy 
Counselling and Hypnotherapy 
Change Catalyst/ThetaHealer 
Affordable Children's Consults 
All therapists are fully qualified
Action in Kaiwaka - 31 May, that was 
safely resolved. 
KAIPARA HUNTING 
& FISHING 
CLUB NEWS: 
 Our  Mixed  Bag  weekend  went  well 
with  14  competitors  turning  up  on  the 
23rd  of  May  for  the  annual  weigh  in 
comp.  This  was  completed  on  a  points 
system with the winners listed below: 
1st  Hayden  Smith  53;  2nd  Cory 
Bellamy  50;  3rd  Tony  Smith  43. 
Congratulations, guys. 
FISHING: 
Bronson Wrathall has weighed in a nice 
Striped Marlin and is leading the way in 
the  junior.  Congratulations  on  your 
catch Bronson. Nice Fish. 
Current ladder results: 
Senior: 
Snapper Cory Bellamy 7.7kg 
Kingfish Nothing weighed 
Kahawai Tony Smith 2.88kg 
Gamefish  Andy  Thompson  97kg 
(Striped Marlin) 
Junior: 
Snapper Tara Wrathall 4.51kg 
King Fish Bronson Wrathall 8.8kg 
Kahawai Nothing weighed 
Gamefish  Bronson  Wrathall  113.4kg 
Striped Marlin 
UP-COMING EVENTS: 
Heaviest Bird Weekend 
Birds  shot  over  the  weekend  of  the 
19th and 20th June. 
Prizes for: 
Heaviest Mallard 
Heaviest Drake 
Heaviest Pheasant 
Longest Pheasant tail 
Weigh-in  Sunday  20th  June  between  4 
and 5pm at the club 
Great  prizes  to  be  won.  See  you  all 
there. 
Welcome  to  all  new  members.  Thank 
you  all  for  updating  your  email 
addresses,  as  this  is  the  only 
communication line we use. 
Regards Your Committee 
Club  Contacts:  For  New  Membership:  Andy  at 
awthompson@outlook.co.nz Or - Send to - P.O. 
Box 12, Ruawai.0549 
President  Cam  Shanks  094316229;  Secretary 
Annette Pull 0272862329 
HAKARU HALL  
ACTIVITIES 

Monday:  Line Dancing 10-12pm  
Ph 4315160 

Tuesday & Thursday: Pilates 10am  
    Qualified Instructor Ph. 0220643965 

Wednesday:  Music Jam Session 7pm  
Dennis Ph. 0210628631 

Friday Morning: Available for HIRE  

Sunday: Canine Coaching  
Ph 0272365004 

Dance Energy  Week Days  
   Monday to Friday, Afternoon/Evening  
Ph. 0275610469 

Friday Morning: Available for HIRE 
Hall Bookings Karen  
4312090 or 0210467490 
The 
Zonta 
Club 
of 
Mangawhai 
is delighted to offer to 
young  local  women  our  9th  Annual 
Award  of  a  10  Day  Development 
Voyage on the Spirit of New Zealand. 
CRITERIA FOR APPLICANTS 

A young woman from 16-18 years of 
age  (not  have  turned  19,  including 
during the voyage) 

 A New Zealand citizen or permanent 
resident of New Zealand 

 A resident of Mangawhai, Tomarata, 
Wellsford,  Kaiwaka,  Maungaturoto  or 
Waipu areas 

 Has  shown  leadership  potential  or 
would like to develop leadership skills. 

 Meets  the  medical  criteria  of  the 
Spirit of Adventure Trust 

 Must  be  able  to  swim  100  metres 
unaided. 

 Must  agree  to  the  Spirit  of 
Adventure  Trust's  code  of  conduct  /
terms and conditions of the voyage. 
See  the  Spirit  of  Adventure  website 
for more details. 10 Day Development - 
Voyage • Spirit of Adventure Trust 
After  the  voyage,  the  Awardee  will  be 
required  to  report  back  to  the  Zonta 
Club of Mangawhai. 

HOW TO APPLY 

Applications  are  to  be  on  the 
designated form. 

You  will  need  two  referees  (not  a 
family member) 

For an application form, email Sheryl 
sheryl@pivotal4u.com  or  text  027  478 
2540 citing Spirit Award. 
and  giving  your  name  and  contact 
details (telephone and email) 
CLOSING DATE FOR 
APPLICATIONS IS  
FRIDAY 16 JULY 2021 
This award is made possible because of 
the  generosity  of  the  local  community 
at Zonta fundraising events such as our 
Mid Winter Ball and quiz nights. 
ABOUT ZONTA 
Zonta  International  empowers  women 
worldwide 
through 
service 
and 
advocacy. 
We  welcome  new  members.  Locally, 
the  Zonta  Club  of  Mangawhai  meet 
twice monthly - a dinner meeting and a 
committee meeting. 
We  raise  funds  to  support  a  variety  of 
projects 
locally, 
nationally 
and 
internationally. 
We  work  with  other  local and  national 
organisations  and  provide  international 
aid  to  projects  that  help  women 
overcome  barriers  to  equal  education, 
health 
care, 
legal 
rights, 
and 
employment.  For  further  information 
go to www.zonta.org 
Reyahn  Leng 
Registered Electrician 
Local, honest and 
reliable. 
For your residential and 
light-commercial 
projects. 
022 314 1068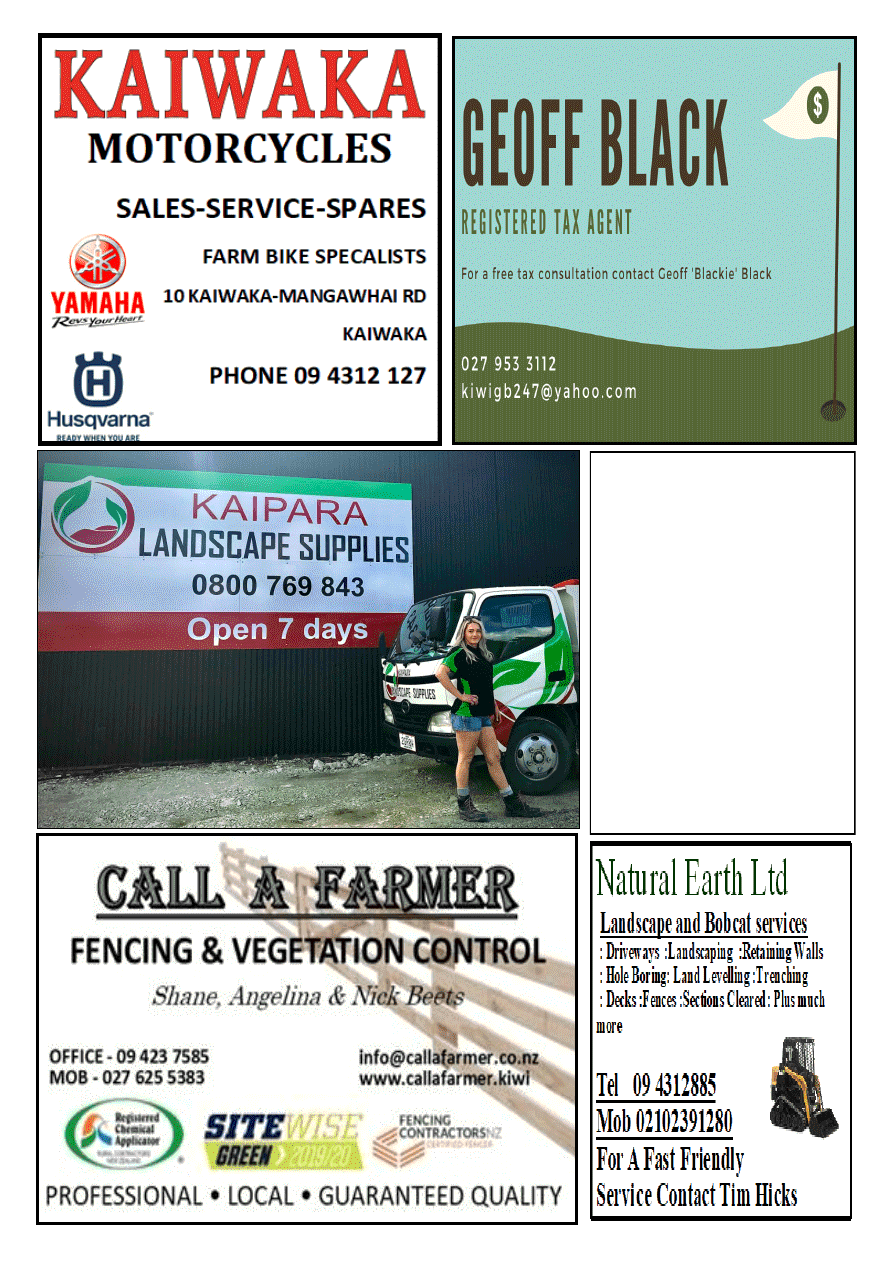 www.kaiwaka.co.nz 
Kaiwaka Bugle - 15 June 2021 
Page 14 
HELP 
PHONE NUMBERS 
HEALTHLINE 0800 611 116 - a 
nurse to answer health queries  
SAMARITANS 0800 726 666 - 
support for lonely or suffering 
mental distress 
YOUTHLINE 0800 376 633 
LIFELINE 0800 543 354 
DEPRESSION HELPLINE 0800 111 
756 
ALCOHOL & DRUG HELPLINE 0800 
787 797 
URGENT MENTAL HEALTH LINE 
0800 223 371 
WARMLINE -peer support for 
people with mental health issues 
0800 200 207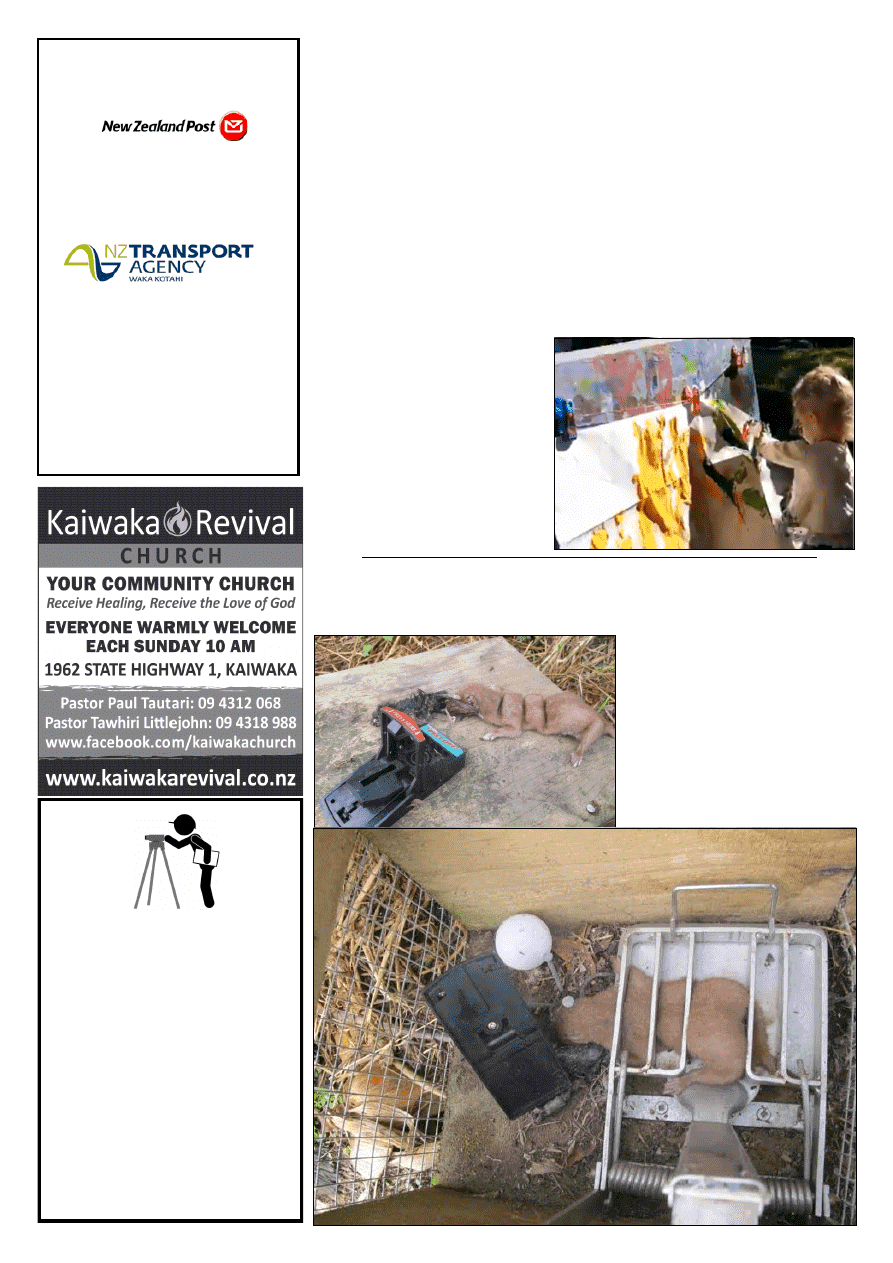 www.kaiwaka.co.nz 
Kaiwaka Bugle - 15 June 2021 
Page 15 
KAIWAKA POST 
CENTRE and 
FOOD MART 
POST CENTRE TRADING HOURS 
MONDAY to FRIDAY 8am to 5pm 
SATURDAY 8am to 12pm 
CLOSED ON SUNDAY and on 
PUBLIC HOLIDAYS 
FOOD MART (GROCERIES) 
MONDAY TO FRIDAY  
7:30am to 7.30pm 
SATURDAY  8am to 7.30pm 
SUNDAY  8:30am to 7pm 
IF ANY QUERIES PLEASE CALL 
STORE MANAGER AMRIT  
on 09 4312431 or 
EMAIL: kaiwakafood19a@gmail.com 
1919a State Highway1, Kaiwaka 0542 
Ken Urquhart 
BSurv Licensed  
Cadastral Surveyor 
KMU Surveys Ltd 
467 Bickerstaffe Road 
RD 2 
Maungaturoto 0587 
Ph 09 431 8705 
Mob 021 161 2344 
kenurquhart@xtra.co.nz 
KAIWAKA PLAYCENTRE 
STOAT BITES MOUSE DUST 
A mousetrap in a DoC 200 wooden trap was enough to snap a stoat in May. This 
was the second stoat caught at an Oneriri property with a peanut butter lure in a 
mousetrap placed within the spring trap. 
This  mustelid  must  have  been 
hungry as the mouse it gored was 
a day dead. 
Interested  folk  are  welcome  to 
meet  with  Northland  Regional 
Council's representative to discuss 
stoat,  mouse,  rat  and  possum 
numbers on the Oneriri Peninsula, 
east  of  Rangiora  Road  at  5pm 
Friday, 25 June.  
Phone.  Kaira  Oneriri  Biosecurity 
Group 021 1214 746  
Kaiwaka  Playcentre  would  love  to 
update  you  with  you  the  amazing 
progress  and  upgrades  we  have 
achieved at our centre recently. 
We're excited to complete phase one of 
its  playground  upgrade  –  installing  a 
(yet to be roofed) pergola and sunshade 
over  our  sandpit.  This  followed  a  mud 
kitchen  from  Earth  Mama  being 
installed in 2020.  
A  big  thanks  to  Pub  Charity  (with 
proceeds  from  the  Mangawhai  Tavern 
machines),  along  with  contributions 
from Ngā Tupuranga o ngā Puna Reo ki 
Kaiwaka  who  also  use  the  facilities 
twice a week.  
Thanks  also  to  our  local  Ashwood 
Construction  and  to  Palmer 
Canvas  in Whangarei for keeping 
costs  to  a  minimum,  and  for 
everyone  who  donated  to  or 
participated in our recent raffles to 
help us with the next phases! 
Kaiwaka  Playcentre  is  your 
community 
asset 
with 
pre-
schoolers  and  parents  from 
surrounding 
towns 
also 
participating.  
It  offers  opportunities  for  our 
tamariki  to  safely  learn  and 
explore,  and  for  parents  to  form 
friendships  and  earn  qualifications  if 
they choose to! 
We  welcome  new  members  and  are 
keen  to  grow  our  membership  so  that 
we  can  pass  on  a  lively  and  healthy 
community  asset  and  organisation  onto 
future families. 
P.S.  Just  in  case  anyone  is  inspired  to 
support our playground upgrade, please 
get  in  touch.  As  we  are  a  charitable 
organisation, all donations receipted are 
tax deductible. 
New  enquiries  please  contact  us  at 
kaiwaka@playcentre.org.nz through our 
Facebook  page  or  don't  hesitate  to  pop 
in  Monday  and  Wednesday  between 
8.45am and 12.45pm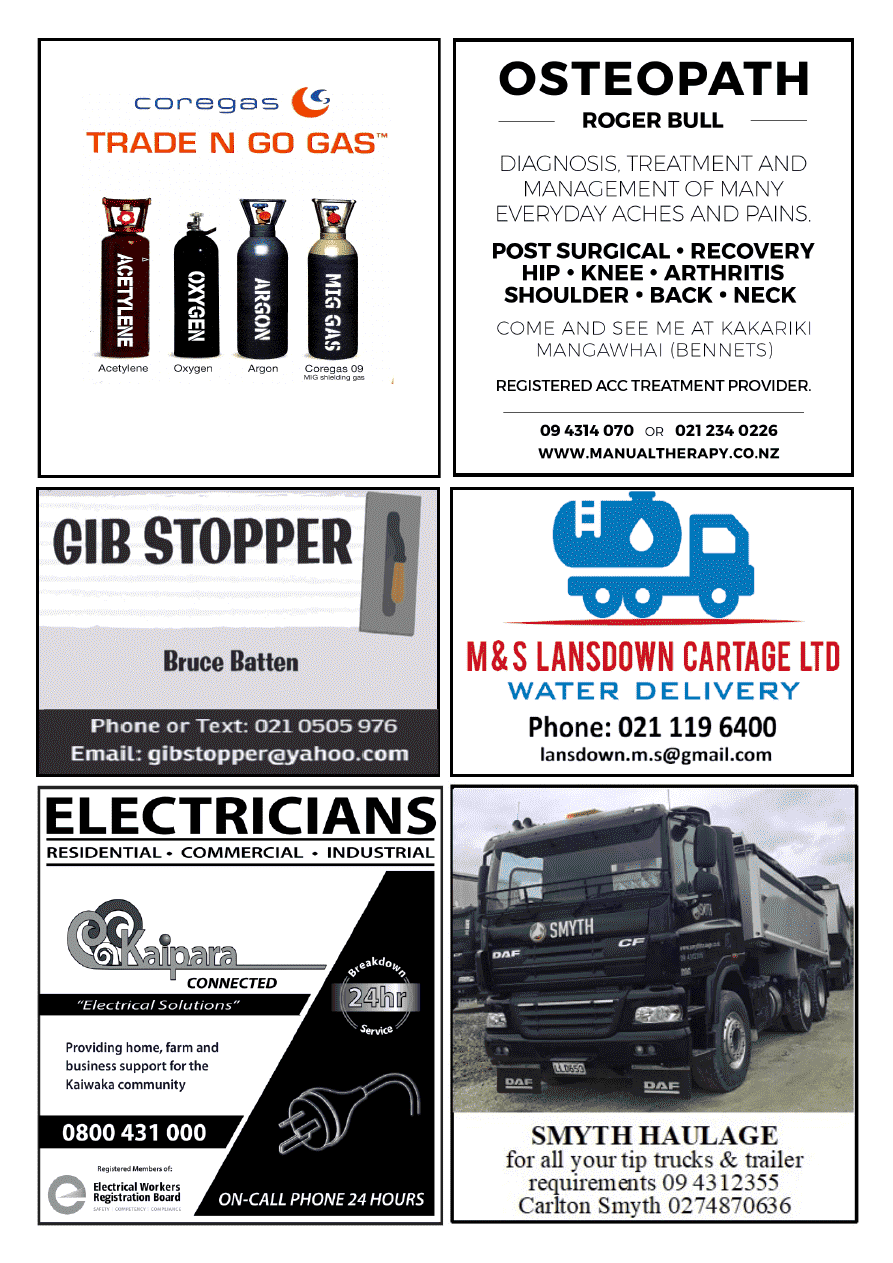 www.kaiwaka.co.nz 
Kaiwaka Bugle - 15 June 2021 
Page 16 
At Twinkle Tow 'n' Tyre 
Mob: 021 833 960 
Ph & Fax: 09 431 2823 
1837 State Highway 1, Kaiwaka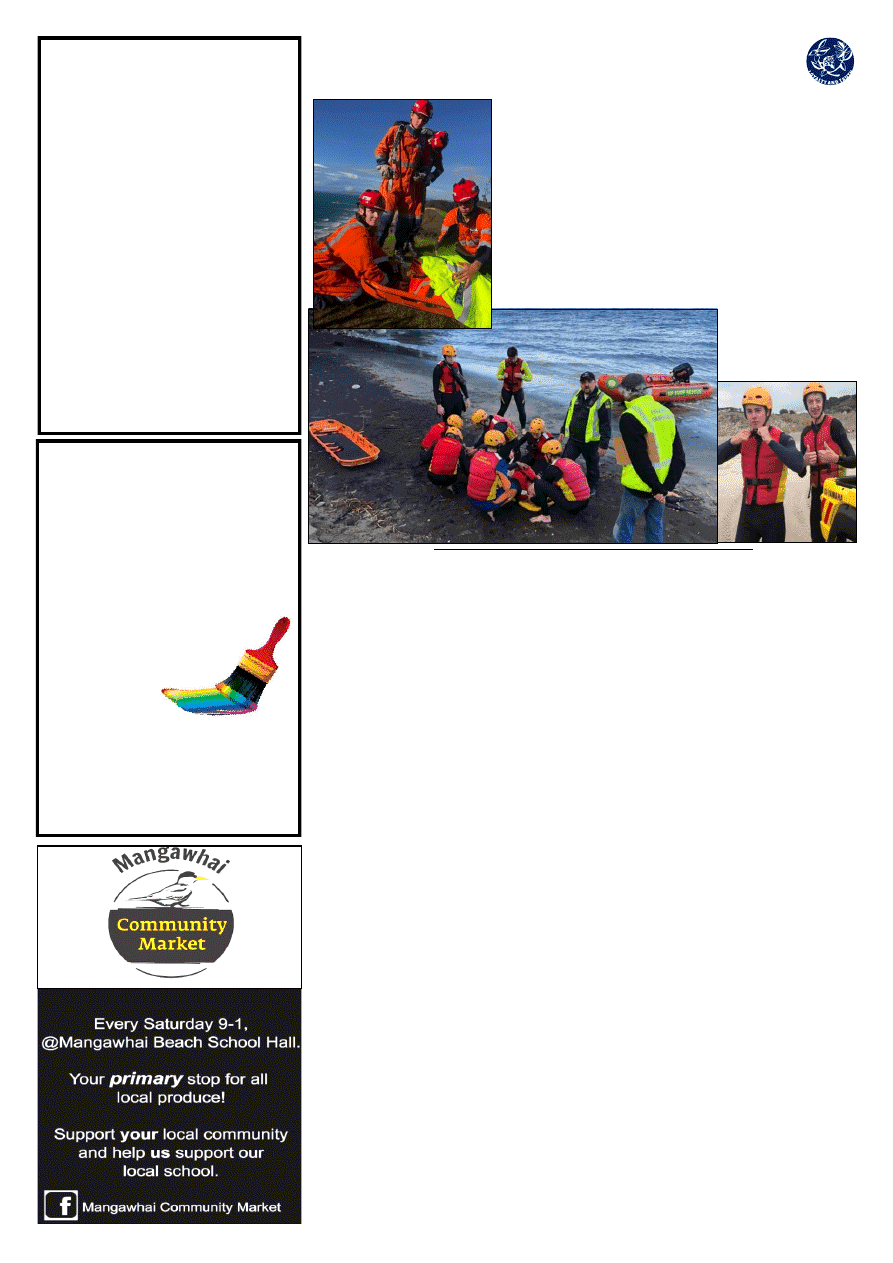 www.kaiwaka.co.nz 
Kaiwaka Bugle - 15 June 2021 
Page 17 
Willow Bend
HORSE  
HOTEL 
  
Total Horse Care 
 
Agistment 
 
Riding Lessons 
 
Arena Hire (60x40) 
 
Young Horse Starting 
 
Re-training/Exercising 
 
Hoof Trimming 
 
Problem Solving 
Phone Sue 09 431 2817 
or 021 623 776 
Or email  
susanjoll11@gmail.com 
LEE COOPER 
PAINTERS 
(Kaiwaka Based) 
*30 yrs Experience 
*Interior/Exterior 
*New and Restoration 
*Honest and Reliable 
*Free Quotes 
09 4312918 or 
0274735171 
leecooper@xtra.co.nz 
OTAMATEA HIGH SCHOOL 
From  Dirk  Smyth,  Acting 
Principal, 
Rotary: 
Recently  I  attend  the  local 
Rotary  dinner  at  Centennial  Hall  in 
Maungaturoto.  I  was  invited  to  give  a 
brief  presentation  about  our  Duke  of 
Edinburgh 
and 
William 
Pike 
programmes.  Robyn  Bruce  and  Nyree 
Alcock,  leaders  of  these  programmes, 
also attended. It was a great opportunity 
to  share  some  of the  amazing  trips our 
students go on, as well as the skills they 
learn and the contributions they make to 
society  through  community  service. 
Over  a  quarter  of  our  students 
participate  in  these  programmes.  The 
Rotary  club  has  always  been  a  valued 
supporter  of  our  school,  and  this 
certainly  strengthened  our  relationship. 
The  Rotary  Club  members  have  all 
been invited to a High Tea being held at 
school on the 22nd of June.  
Mufti  Day: 
We have celebrated Pink 
Shirt  Day  and  Gumboot  Friday.  Pink 
Shirt  Day,  recognised  nationally  on 
Friday  21st  May,  is  about  working 
together  to  stop  bullying  -  by 
celebrating  diversity  and  promoting 
kindness  and  inclusiveness.  It  is  a  day 
where we are all asked to "kōrero mai, 
kōrero atu, mauri tū, mauri ora – speak 
up,  stand  together,  stop  bullying!" 
Gumboot  Friday  is  an  I  am  Hope 
initiative  aimed  at  promoting  positive 
conversations  around  mental  health. 
Having  depression  is  like  walking 
through  mud  every  day,  so  on  Friday 
the  28th  May  we  showed  our  support 
for  this  cause  by  putting  on  our 
gumboots  and  taking  a  walk  in  their 
shoes  for  the  day.  Our  school's  health 
council,  the  Ota  Kaihoe,  is  a  student 
group  focussed  on  supporting  the 
overall  wellbeing  of  all  students  at  our 
school.  One  way  of  doing  this  is  by 
getting  involved  in  events  that 
encourage wellbeing conversations. The 
Ota  Kaihoe  suggested  a  gold-coin-
donation mufti day on Friday the 28th, 
so  we  decided  to  combine  Pink  Shirt 
Day  and  Gumboot  Friday  to  raise 
awareness  about  bullying  and  mental 
health,  and  to  raise  funds  for  I  am 
Hope. Over $400 was raised! Year 13s 
Lily  Hosford  and  Amy  Lawrence 
presented  a  slideshow  for  the  whole 
school  at  assembly  on  Wednesday, 
where they explained the importance of 
not  being  a  bystander  and  supporting 
those  who  may  need  help.  We  are  so 
proud of these students, and to all those 
who got stuck in and made a difference 
to  the  wellbeing  of  our  school 
community.  This  term  members  from 
the  Ota  Kaihoe  have  created  a 
welcoming,  weekly  hangout  space  in 
E3  for  students  to  chill  with  their 
friends,  make  new  friends  and  have  a 
place to read, play games, and eat their 
lunch.  Information  about  this  is  posted 
in  the  school  notices  and  posters  are 
displayed around the school.  
DAY 
RELIEF 
TEACHERS 
REQUIRED  
Otamatea  High  School  wishes  to  hear 
from  suitably  qualified  and  registered 
teachers who wish to be considered for 
day  relief.  Please  send  your  CV  to: 
Deborah Cornhill-Davies,  
Relief 
Co-ordinator 
email: 
deborah.cornhill@otamatea.school.nz  
OTAMATEA HIGH SCHOOL STUDENTS ATTEND  
NORTHLAND YOUTH IN EMERGENCY SERVICES PROGRAMME 
Morgan  Bull,  Nasah  Cullen,  Ashlie  Huggett,  Alfie 
Vinnels and Cody Brunt have all been involved in an 
amazing  programme  run  by  Northland  Youth  in 
Emergency Services. 
The  programme  ran  over  4  days  and  covered  Fire 
Fighting, St John and Red Cross, Police and Surf Life 
Saving. The last day involved putting all the learned 
components together, with a helicopter evacuation to 
top it off. 
Samara Foster, OHS Gateway Co-ordinator 
The YES (Youth in Emergency Services) programme 
is  designed  to  strengthen  and  encourage  the 
connection  of  local  teens  with  their  community  by 
engaging 
them 
with 
the 
emergency 
services.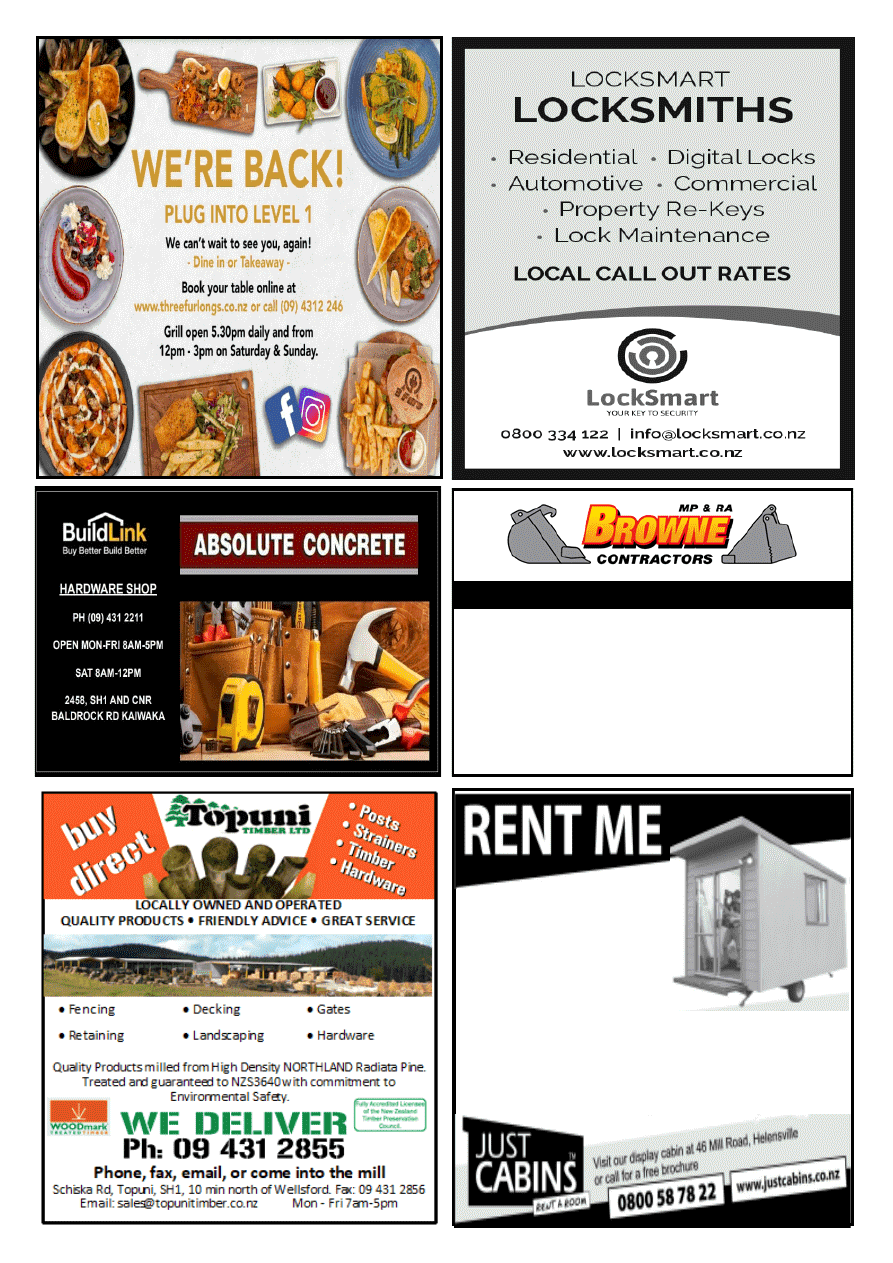 www.kaiwaka.co.nz 
Kaiwaka Bugle - 15 June 2021 
Page 18 
Ideal as an extra  
bedroom or office 
Three Convenient sizes: 
Standard 3.6m x 2.4m - $65 per week 
Large 4.2m x 2.4m - $80 per week 
4Tonne DIGGER – BOBCAT – TIP TRUCK 
Property Maintenance - Driveways  
 Building Sites 
Stump & Tree Removal  
Hole Boring - Chain Trencher  
Calf Shed and Stockyard Cleaning 
Phone Matt: 021 199 6677 
Email: mprabrownecontractors@gmail.com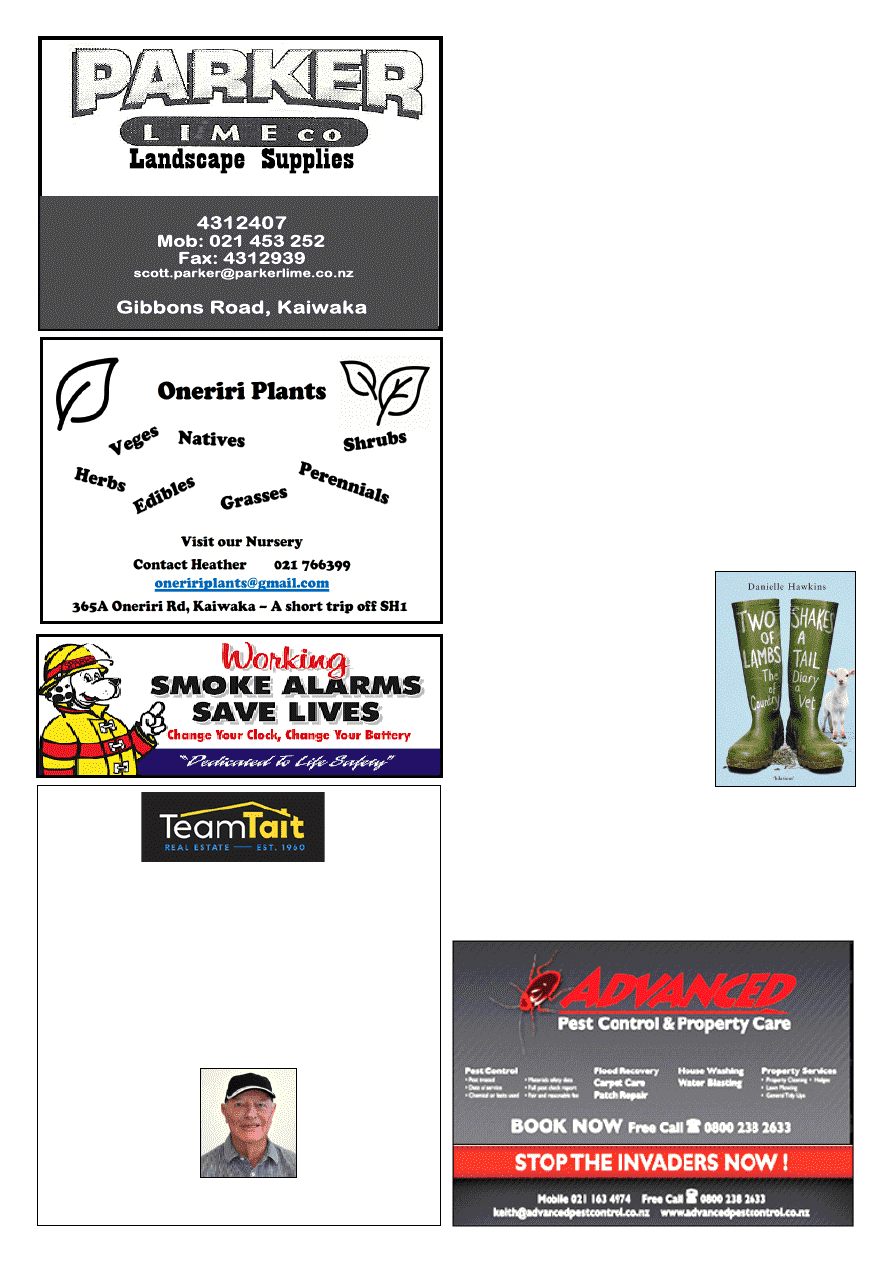 www.kaiwaka.co.nz 
Kaiwaka Bugle - 15 June 2021 
Page 19 
Bulk Cartage 
KAIWAKA LIBRARY 

DARGAVILLE LIBRARY REOPENING 
By the time you're reading this article, Dargaville Library's 
two-week  closure  for renovations  will  be  over. This means 
our weekly deliveries will resume this week as before, and 
books  that  have  been  requested  from  other  libraries  in  the 
district  will  start  arriving  again  this  week.  Thank  you  to 
everyone for your patience while this work was undertaken, 
disrupting our normal supply lines. 

EMAIL AND TEXT NOTIFICATIONS 
We can set you to receive automated notices for holds and 
overdue  items,  if  you're  not  already  getting  them.  This 
includes  a  courtesy  reminder  three  days  before  an  item  is 
due to be returned, just in case you've lost sight of it. These 
automated notices are more timely than the manual ones you 
otherwise receive directly from me. If you'd like this, get in 
touch with the volunteer on duty or with me, and we will set 
it  up  for  you.  You  can  get  either  texts  or  emails,  or  both. 
Emails contain more details than the texts, such as the titles 
involved. 

BOOK REVIEW 
Recently I've read The Chester Creek Murders  by Nathan 
Dylan  Goodwin,  the  first  book  in  the  Venator  Cold  Case 
series. "
When Detective Clayton Tyler is tasked with reviewing 
the  formidable  archives  of  unsolved  homicides  in  his  police 
department's vaults, he settles on one particular cold case from 
the  1980s:  The  Chester  Creek  Murders.  Three  young  women 
were  brutally  murdered—their  bodies  dumped  in  Chester 
Creek,  Delaware  County—by  a  serial  killer  who  has 
confounded  a  slew  of  detectives  and  evaded  capture  for  over 
thirty-eight years..." 
I'm looking forward to the next book in 
the series, which has yet to be published. This book is on our 
Rental Fiction shelves. 
Two  Shakes  of  a  Lamb's  Tail:  the 
diary  of  a  country  vet  by  Danielle 
Hawkins  is  a  memoir  in  diary  form 
by  an  author  who  is  much-loved  in 
this  library.  "
With  a  husband  and  two 
children,  1200  sheep  and  400  cattle, 
farm  dogs  and  pet  lambs,  pigs  bent  on 
excavation  and  a  goat  bent  on  escape, 
country  life  is  never  dull.  From  calving 
cows  to  constipated  dogs,  weddings  to 
weaning lambs, daffodils to ducklings to 
droughts,  each  season  brings  new 
challenges  and  delights.  Sometimes  it's 
exhausting  but  it's  almost  always  a  lot  of  fun  -  anyway,  it's  all 
part  and  parcel  of  the  life  of  a  Kiwi  mother,  farmer's  wife  and 
vet." 
You may remember Danielle from her time working at 
the Mangawhai vet's many years ago now, and she has been 
featured  on  Country  Calendar,  too.  This  book  is  on  our 
Rental  Non-Fiction  shelves,  and  we  have  all  four  of  her 
novels on our shelves. I love her sense of humour. ~See you 
in the library! ~Wendy 
*Enterprise: http://kaipara.kotui.org.nz  
I have worked in the Real Estate industry since 2000, prior to 
that I was a dairy farmer for 34 years and a stock agent, and 
that is why I specialise in Rural Real Estate. 
Recently,  I  have  sold  my  property  just  south  of  Whangarei 
and  am  now  living  on  a  4ha  block  on  Ti  Kouka  Way,  off 
Baldrock Road so I'm going 
to concentrate on the Kaiwaka to Wellsford, Hakaru area up 
to the Brynderwyns. 
If you're thinking of selling or want an assessment on what 
your  property  is  worth  in  this  fantastic  market,  please  give 
me a call on 0274 983 809 for a free no obligation appraisal. 
I work  for Tait Real Estate  who are locally owned and  have 
operated  in  your  neighbourhood  successfully  for  over  60 
years, specialising in all types of Real Estate. 
 
 
 
 
Keep it local and give me a call 
Brian Marsh 0274 983 809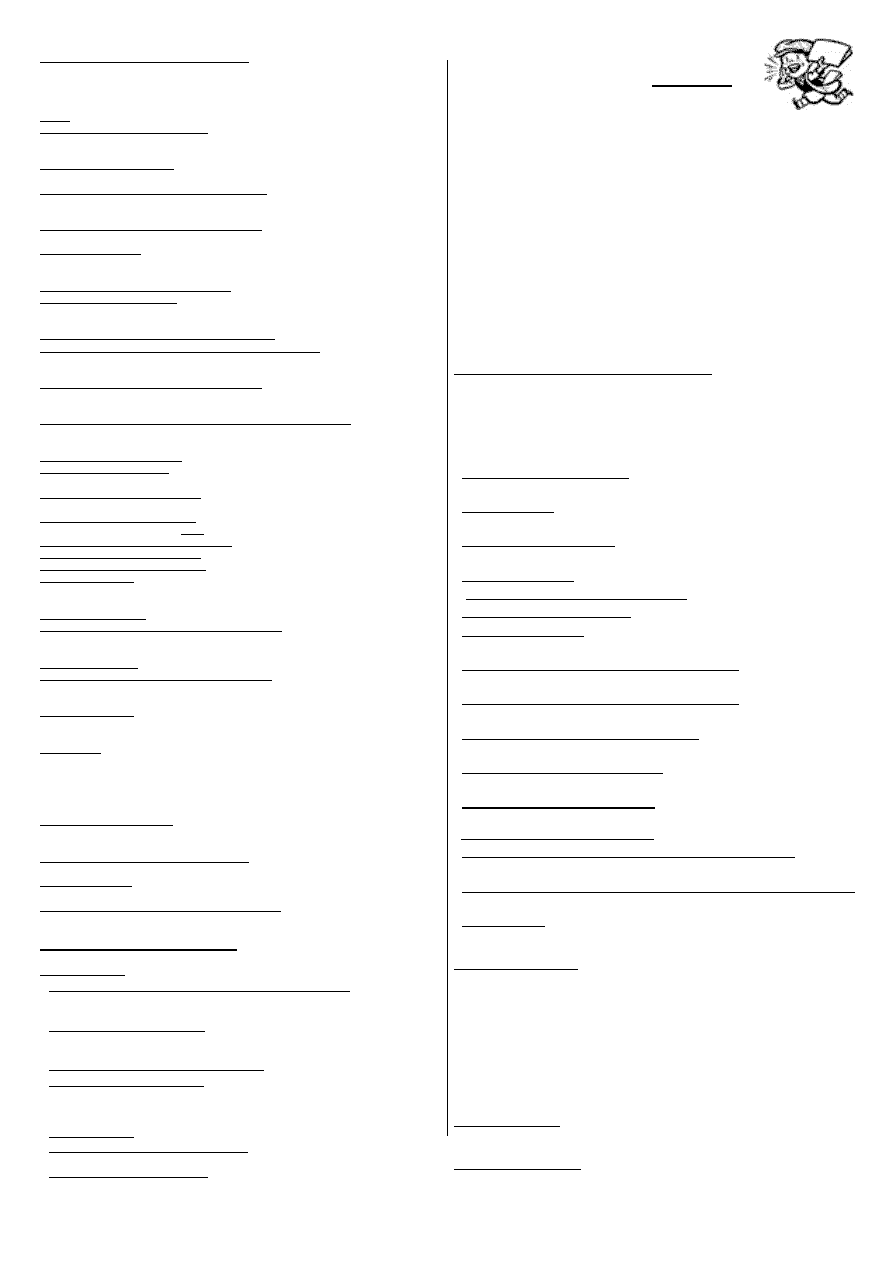 www.kaiwaka.co.nz 
Kaiwaka Bugle - 15 June 2021 
Page 20 
WHAT'S ON
PLEASE ~ do let us know what is on - 
email kaiwakabugle@kaiwaka.co.nz 
*16Jun~Kaiwaka Can meet Archie Bull Hall 5.30 
*17Jun~Kaiwaka Foodbank meet. KWMH 10am 
*18Jun~Movie 'Pink Floyd Pulse', KWMH 7.30pm 
*23Jun~Mid Winter Warm Up, KSA, 5.30pm 
*27Jun~McClean Park Working Bee, 10am 
*27Jun~Absurdistan Concert, 4pm 
*2Jul~Movie 'MINARI', KWMH 7.30pm 
*15Jul~Pt. Curtis CC meet KSA, 7pm 
*16Jul~Movie 'COUSINS', KWMH 7.30pm 
KWMH = Kaiwaka War Memorial Hall; KSA = Kaiwaka Sports Association 
See www.kaiwaka.co.nz for more information 
HOUSEHOLD RUBBISH COLLECTION  
Kaiwaka Pick up: 
Mondays = Green bags (Northland Waste - 09 430 3273) 
Wednesdays  =  Blue  bags  and  yellow  recycling  (at  Four  Square 
Kaiwaka $3.30 and $1.70) (Kaurilands 09 4392146); ONLY Blue 
and Yellow bags picked up on Oneriri Road. 
 DIABETES Support Group-for Kaiwaka, Mangawhai, Wellsford 
10am, 3rd Friday of month Ph: Colleen James 09 4314238 
 GENEALOGY - Wellsford: 1st Thursday in month Ph: 423 
7033; Waipu: 4th Monday in month Ph: 4312 725 
 HAKARU PONY CLUB - Secretary Denise Rogers 021423376 
secretary@hakaruponyclub.co.nz  
 KAIPARA HUNT - Secretary Albert Doonenbal Ph 4312059 
  KAIPARA HUNTING & FISHING - 021 1294378 
 KAIWAKA BADMINTON -Tuesdays 7.30pm Ph: 4312345 
 KAIWAKA  CAN  - 3rd Wednesday in month, 5.30pm, Archie 
Bull Hall Ph: 0273572751 
 KAIWAKA GARDEN & FLORAL GROUP - 2nd Thursday in 
month. Ph: 431 4744 
 KNITTING FOR WHANGAREI HOSPITAL - 2nd Tuesday in 
month, Archie Bull Hall 10am Ph 4314827 
 MANGAWHAI COMBINED REBUS CLUB - 2pm, 3rd 
Thursday month, Senior Citizens Hall Mangawhai. Ph: 4315777 
 MANGAWHAI GENEALOGY  - meet 3rd Thursday month, 
Mangawhai Museum, 10.30am 
 PILATES - HAKARU HALL - Tuesday 10am, Thursday 9am 
Qualified Instructor  Ph. 0220643965  
*PT CURTIS CRUISING CLUB - Jean Ph: 4312227 (wk), 4312520 (hm) 
 RSA,  HAKARU  &  DISTRICTS  WOMEN'S  SECTION  –  meets 
1.30pm 4th Thursday of the month. Ph: 431 5818  
 KAIWAKA  SCOTTISH  COUNTRY  DANCING  CLUB-
Wednesdays 10am - 12 noon  Ph: Elaine 027 432 0032  
 TRAMPING 
- 
Mondays 
9am-2:30pm, 
contact  
valkenburgmaria@gmail.com 
HALLS FOR HIRE: 
  Kaiwaka St. John Hall: Phone Marj  0272941227  
 St.Pauls  Archie  Bull Hall  HIRE  $20 half day, $40 full day per 
hire, S McAulay, Ph 4312311 
 Kaiwaka  War  Memorial  Hall  HlRE  -  Phone  4312725  or 
kaiwaka.hall.bookings@gmail.com 
 Hakaru Community Hall HIRE -Ph.  Karen 4312090 
 Te Pounga Marae queries - Pearl Nathan  0223933533 
 Kaiwaka Sports Association hire/queries - Jennie Reynolds
   ksa.bookings@mail.com
, 02102764171  
Justice  of  Peace:  L.Donaldson  4312  228;  A.F.Hargreaves  4312 
045,  W.Howard  4312  725  -  please  phone  to  make  sure  they  are 
available www.justiceofthepeace.org.nz B.FJaques Retd  
Marriage Celebrants:  
L.Donaldson; A.F.Hargreaves; Y Osborne
Next Bugle Deadline  Friday 25 June 2021
LOCAL SERVICES 
*Emergencies - Ambulance, Fire, Police - dial 111 
*Non-urgent Police phone 105
A A: Meets Wed., 7pm. Kate's Place Ph 021 024 25969 or 0800 229 6757 
NARCOTICS ANONYMOUS : Mon., 6pm, Archie Bull Hall, Kwk-Mwi 
Road; drug and alcohol related issues. Ph. 02102412348 
ASUREQUALITY LTD (was AgriQuality) Call Free 0508 0011 22  
BUDGETING SERVICE, WELLSFORD: Free confidential advice & 
support for all areas of personal finance. Ph (09) 423 7123 
CAB-Citizens Advice Bureau.Wellsford Ph: 4237333 
0800 367 222 email:cab.wells@xtra.co.nz  
CIVIL DEFENCE - Kaiwaka Community Response Group: 
kaiwaka.civildefencecrg@gmail.com, 4312725 Wendy 
DOG/STOCK /NOISE CONTROL 0800 105 890 
FUNERAL SERVICES: Morris & Morris Ltd, 
Whangarei - Bev Jaques Ph:4312367 or 0800667747 
GRANDPARENTS Raising Grandchildren: Dianah Roberts 0223819539 
HAKARU & DISTRICTS MEMORIAL RSA (Inc) 733 Settlement Rd, 
Hakaru. Ph 4312 176 or Bill Warren (President) 431 2092 
HAKARU LANDFILL/Transfer Station:Open everyday  10am-
4pm.Ph4312629 Cost-$55 trailer load up to 1 cubic metre. Ph:4258567 - 
office 
KAIPARA DISTRICT COUNCIL www.kaipara.govt.nz:  
Help Desk FREEPHONE 0800 727 059  
KAIWAKA CEMETERY: Ph: 4312045 or 4314017 
KAIWAKA LIBRARY: kaiwaka.library@gmail.com  
Mon. 4-6pm; Wed., Thurs., Fri., Sat. 10am-2pm Ph:4312539 
KAIWAKA PLAYCENTRE: Ph Juanita 0274134904; open Mon, Wed, 
Fri 9am-12pm. Hastie Lane; Monday to Friday 9.00am - 12 noon. 
KAIWAKA POST OFFICE:Ph:4312 431  
Post Code: 0573 for RD2 and 0542 for all Kaiwaka Post Office mail 
KAIWAKA PRIMARY SCHOOL: Ph: 4312309   
KAIWAKA SPORTS ASSN: Ph 4312005; 4312129 gym 
KAIWAKA ST JOHN HALL: Phone Marj  0272941227  
KATE'S PLACE Community Centre - Employment services, Free Health 
Nurse, Plunket, Advocacy, Osteopath, A.A., Legal Advice. 4312 661 
LINKING HANDS Health Shuttle Ph 4315906 or 09 4318969 
MINISTRY FOR PRIMARY INDUSTRIES - General inquiries Call 
Free 0800 008 333 
NORTHPOWER: Faults Kaiwaka area 0800 104040 
OTAMATEA COMMUNITY SERVICES: Counselling, parent coach, 
Family Support worker, budget advice, food bank. Mon-Fri 9am-3pm. Ph 
09 431 9080 http://www.otamateacs.org/ 
PARENTPORT: Free, practical family support service Puhoi to Paparoa 
Ph or txt: Dianne 027 280 5093 or 09 425 9357 
PLUNKET: Kaiwaka- St John Hall, Monday 19 Oct, 23 Nov, 21 Dec. then 4th 
Monday of the month. Plunket Nurse Louise 027 282 3987 or 09 438 2508 
Mangawhai- Rose Madsen Cottage, Mondays and Wednesdays. Plunket Nurse 
Rebecca 021 501 941 or 09 438 2508 
Maungaturoto - Good News Church, 2nd and 4th Wednesday of the month. 
Plunket Nurse Seleisa 021 912 248 or 09 438 2508 
PLUNKET HELPLINE -0800 933 922 (24 hours)  
FACEBOOK - Kaipara Plunket 
TAITOKERAU COMMUNITY LAW: Free confidential legal advice and 
assistance, 2nd
Thursday
 of each month. Ph: 0800 155 529 for appts.  
TE URI O HAU Settlement Trust Tangata Developments: Whanau Ora 
021 793262  
VETERINARY SERVICE MANGAWHAI: 
Ph: 4314535 Mon-Fri 8.00-5.00, Sat 9-12, a/h appt. 
WELLSFORD DOCTORS: Ph: 4238 086 
CHURCHES:
 
Kaiwaka  Revival  Church  -  Your  Community  Church:  Sundays  10am. 
Ph: Pastor Tawhiri 09 431 8988 or Pastor Paul 09 4312 068 Visit us at 
www.facebook.com/kaiwakachurch 
 
St  Paul's  Anglican  Church  1st  Sun.  9.00am  (Eucharist),  3rd  Sun. 
9.00am  (Family  Service).  Contact:  Church  Office  Ph  431  4122 
www.mangawhaianglican.org.nz 
 
Church of Christ the King, Mangawhai:9.00am every Sunday 
 
St.Mary's  Catholic  Church:  Maungaturoto  –  Griffins  Road,  Saturday 
evening  Vigil  Mass  6pm;  Mangawhai  –  Senior  Citizens  Hall,  Sunday 
Mass  8:30am;  Wellsford  –  Matheson  Road,  Sunday  Mass  10:30am;  
Mid-week Mass times and all enquires to Fr. Bill Fletcher – phone 423 8170
 
Baptist Church: Sun. 10.30am Mangawhai Snr Cit.Hall.Ph:4312339 
 
Cause  Way  Church  Mangawhai:  Sundays  10.15am,  Mangawhai 
Community  Recreation  Centre,  Insley  St.  Ph:  09  4314782