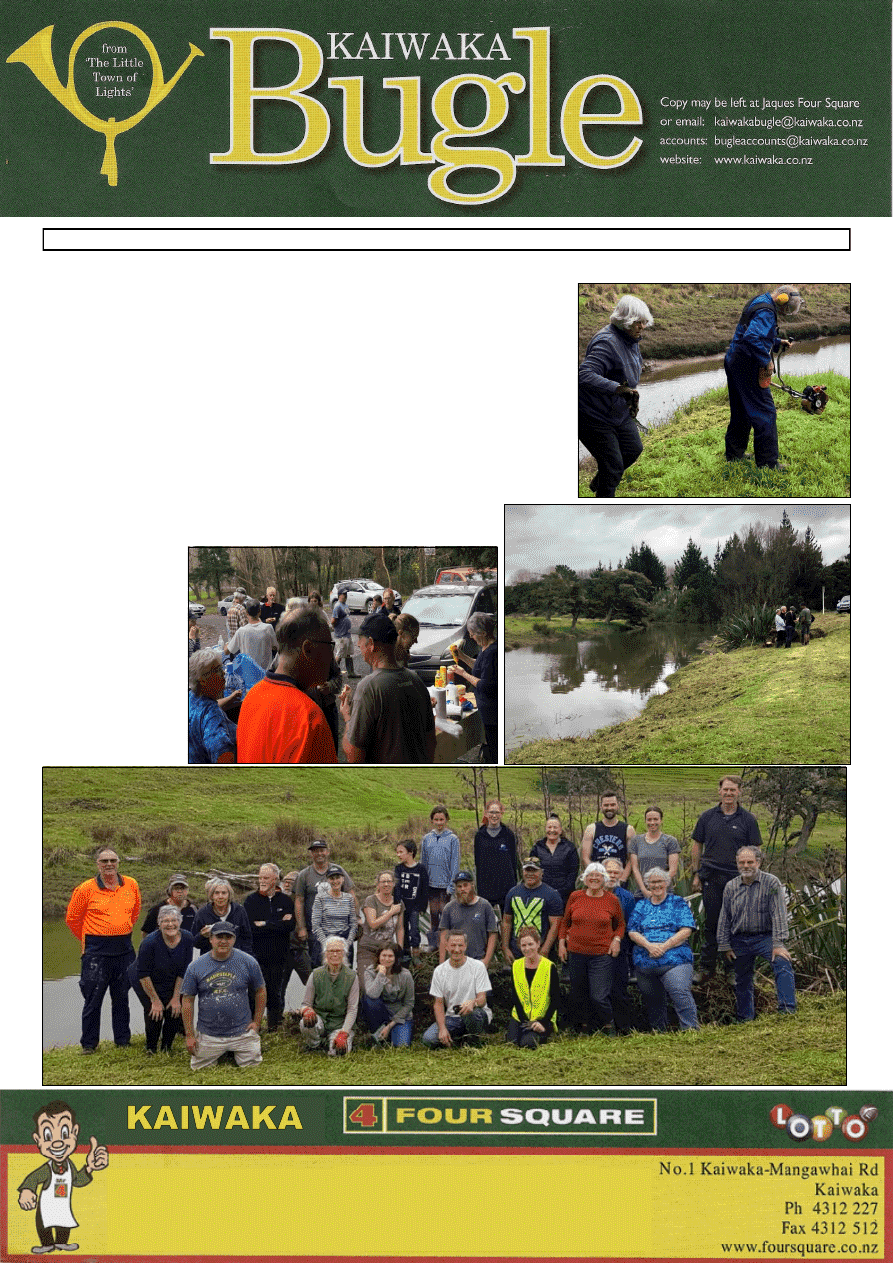 www.kaiwaka.co.nz 
Kaiwaka Bugle - 29 June, 2021 
Page 1 
No: 12 
 29 June 2021 
MUCK IN FOR MCCLEAN PARK KAIWAKA 
BOOM! 
It's incredible the change that can be made in just a few hours when 
you've got a team of go-getters on your side. 
Kaiwaka  Can's  group  of  amazing  volunteers  ripped  through stage one of 
their Muck-In for McClean Park on Sunday- riverbank and pest-plant clearing. 
The  kikuyu  grass  was  no  match  for  the  Grillo  mower  and  blokes  in  chaps 
wielding  weed-eaters.  Chainsaws  and  pole  saws  tidied  up  low  hanging 
branches making the park feel safer and more open. The woodchipper was fed 
continuously, and by the end of the morning parts of the park had been chipped 
into  a  generous  pile  of  mulch,  ready  to  nurture  new  plants  in  the  very  near 
future. 
A  selection  of  medium  sized  privet  trees  was  left  untouched  until  the 
transformation project reaches planting stage, because currently they are doing 
an  excellent  job  of  shading  out  and  suppressing  other  weeds  that  could  take 
over. Smaller privet and woolly nightshade were satisfyingly pulled out by the 
roots, and nine bags of general rubbish collected. 
Better  connecting  McClean  Park  to  the  waterway  is  a  huge 
advantage  to  local  families  and  visitors,  providing  Kaiwaka  an 
open, 
inviting 
waterside 
picnic 
area  and  a  venue 
where  kayakers  and 
paddleboarders  can 
access the waterway 
safely. 
A  huge  thank  you 
to  all  the  families, 
businesses, 
and 
individuals 
who 
joined 
Kaiwaka 
Can  to  'Muck-In 
for 
McClean 
Park'. 
TRADING HOURS: 
7.30am - 7pm daily 
"Your local Store" 
Family owned & operated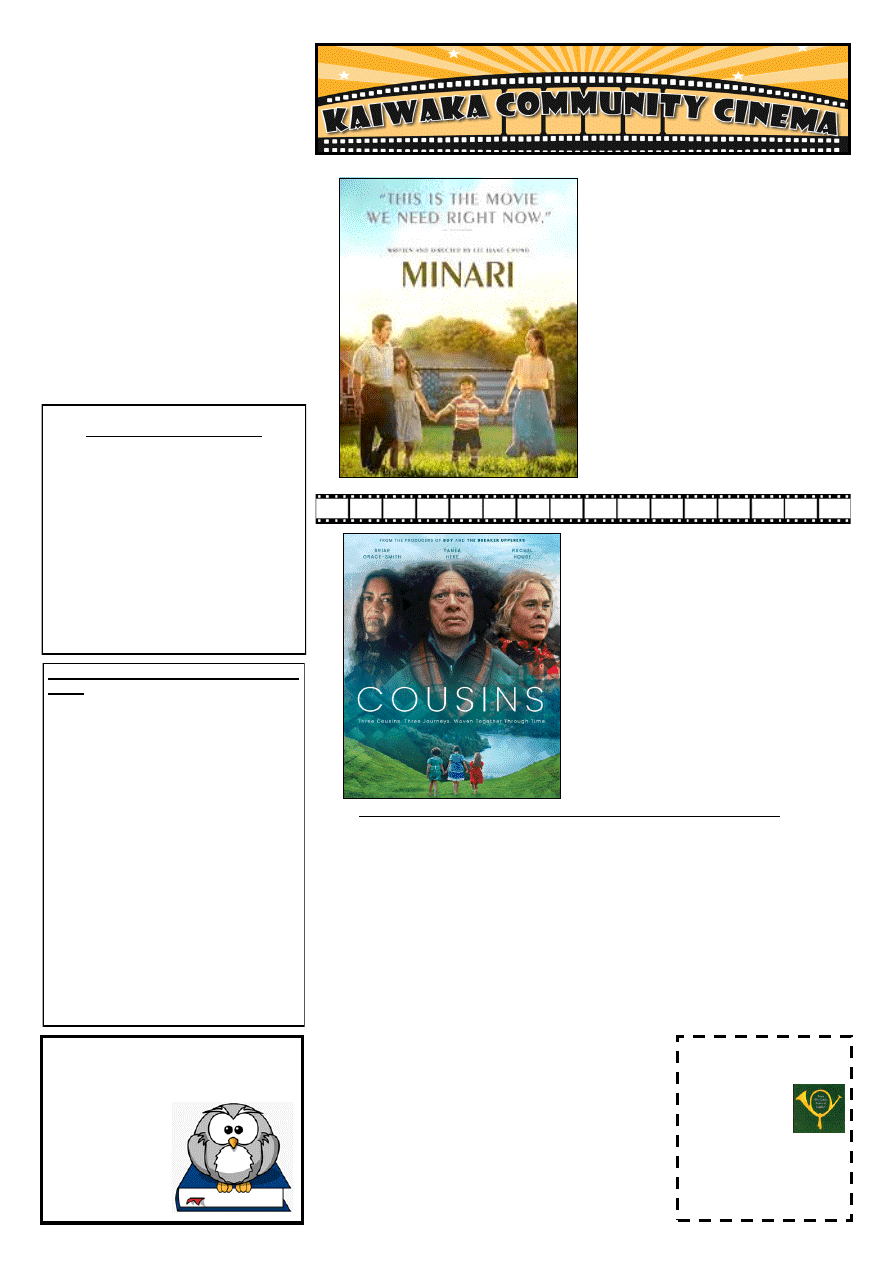 At Kaiwaka War Memorial Hall . Adults $10, Kids (under 16) $5, Family Pass (2 adults + 3 children) $25 
KAIWAKA BUGLE No. 12 
29 JUNE 2021 
CONTENTS 
Page 3: Public Notices, Classified 
Page 5: About Town; Lish Reynolds  
Page 7: Rotary; Cows Don't Give Milk 
Page 9: Kaiwaka Can 
Page 11: Kaiwaka Sports Assn. 
Page 13: OCS; Gardening 
Page 15: Push Against Pests 
Page 17: Back Then; Otamatea High 
Page 19: Kaiwaka Library 
Bugle  13 will appear 13 July 2021 
Contact for advertising, reports, articles 
or information can be made by 
Email kaiwakabugle@kaiwaka.co.nz 
Ph: 09 4312 045 Lindsey 
Txt: 027 2724137 
Copy may be left at our Four Square. 
Kaiwaka Bugle 
Founded May 1978 
We appreciate articles and photos about local 
events, etc, as well as ads and suggestions. 
Copies available in Kaiwaka at Four Square, 
Kaiwaka Postal Centre, Shamrock Service 
Station, Best Pets , Kaiwaka St John shop. 
Also outlets in Maungaturoto, 
Mangawhai and Paparoa. 
Can be viewed online at   
www.kaiwaka.co.nz/Bugle  
Or a copy can be posted to you if you supply 
stamped, self-addressed DLE envelopes. 
Kaiwaka 
Bugle 
Advertisements 
2021: 
All 
copy 
and 
queries 
to: 
kaiwakabugle@kaiwaka.co.nz 
The Bugle is printed on an A4 page   
Ad  sizes:  1/16  page  (3  x  9.5cm)  $5;  1/8 
(6.5  x  9.5cm  landscape  or  portrait)  $8; 
3/16 ( 10 x 9.5cm or 7.5 x 12,5)  $12.  
Classified  ads:  First  one  FREE,  $4  per 
entry (max. 30 words, max. 4 repeats). 
Payments  can  be  made  online  at 
ANZ 
06  0365  0006990  00
,  posted  or  left  at 
Kaiwaka Four Square Store. 
We  use  Microsoft  Publisher,  and  can 
work  with  most  common  image 
formats, Word, Excel, and PDF files. 
Accounts:  
Email: bugleaccounts@kaiwaka.co.nz 
The  Kaiwaka  Bugle  is  a  community 
newspaper run by volunteers, as part of 
the Kaiwaka Media Group Inc.   
Articles, etc. printed are not necessarily 
the opinion of the Bugle Team. 
ABOUT TOWN

 We are saddened  by the passing of Bev Jaques last week. Our thoughts go 
out to family and friends. Bev has been the Bugle's Kaiwaka Weather reporter 
for 12 years.

 WELL DONE, Kaiwaka Can and crew!

 Welcome  to  the  Kaiwaka  Cheese  Shop  new  owners,  Kristel  &  Anton  who 
take over 1st July. Best wishes Marita & Keith for your many years  of 'cheese'! 

 A  message  from  Alicia  Reynolds  following  her  successful  fire  fighting 
training course: 'Fit smoke alarms and have an evacuation plan'. 

People  who  wonder  whether  the  glass  is  half  empty  or  half  full 
are missing the point. The glass is refillable. 

 See the  Rotary  news  on  page  7  re Maungaturoto 
& Districts is the 'mother club' with a satellite club 
in Mangawhai.

 KDC dog registration 1 July till 31 August.

 The Bugle Team and our Readers would enjoy a 
story or a report from you. Kaiwaka Bugle No. 12 is 
online at www.kaiwaka.co.nz and is in print for our 
local Readers.    
~ 
Lindsey, Ed
From Thelma: "It's not rank or wealth that makes a lady, 
It's manners!" 
MINARI 
Friday 2 July, 7.30pm 
Another  Award-winning  movie  - 
Golden  Globe  Winner,  best 
foreign  movie  and  Academy 
Award nominee. 
The story: 
A  Korean  American  family 
moves  to  an  Arkansas  farm  in 
search  of  its  own  American 
dream.  Amidst  the  challenges  of 
this  new  life  in  the  strange  and 
rugged Ozarks, they discover the 
undeniable  resilience  of  family 
and what really makes a home. 
KAIWAKA BUGLE 
DEADLINE DATES 
2021:   
Every second 
Friday 
July 9, 23 
August 6, 20 
September 3, 17 
October 1, 15, 29 
November 12, 26 
December 10
Proverbs 11: 17
Your own soul is nourished 
when you are 
kind; it is 
destroyed 
when you are 
cruel.  
COUSINS 
Friday 23  July, 7.30pm 
COUSINS is a NZ movie will be 
screened 23 July 7.30pm PG 
Note:  it's  out  of  sequence  with 
our normal fortnightly screening. 
This is the story of three cousins - 
Mata, Missy and Makareta.  
Directors: 
Ainsley 
Gardiner, 
Briar Grace Smith 
Writers:  Briar  Grace  Smith  and 
based  on  the  novel  by  Patricia 
Grace.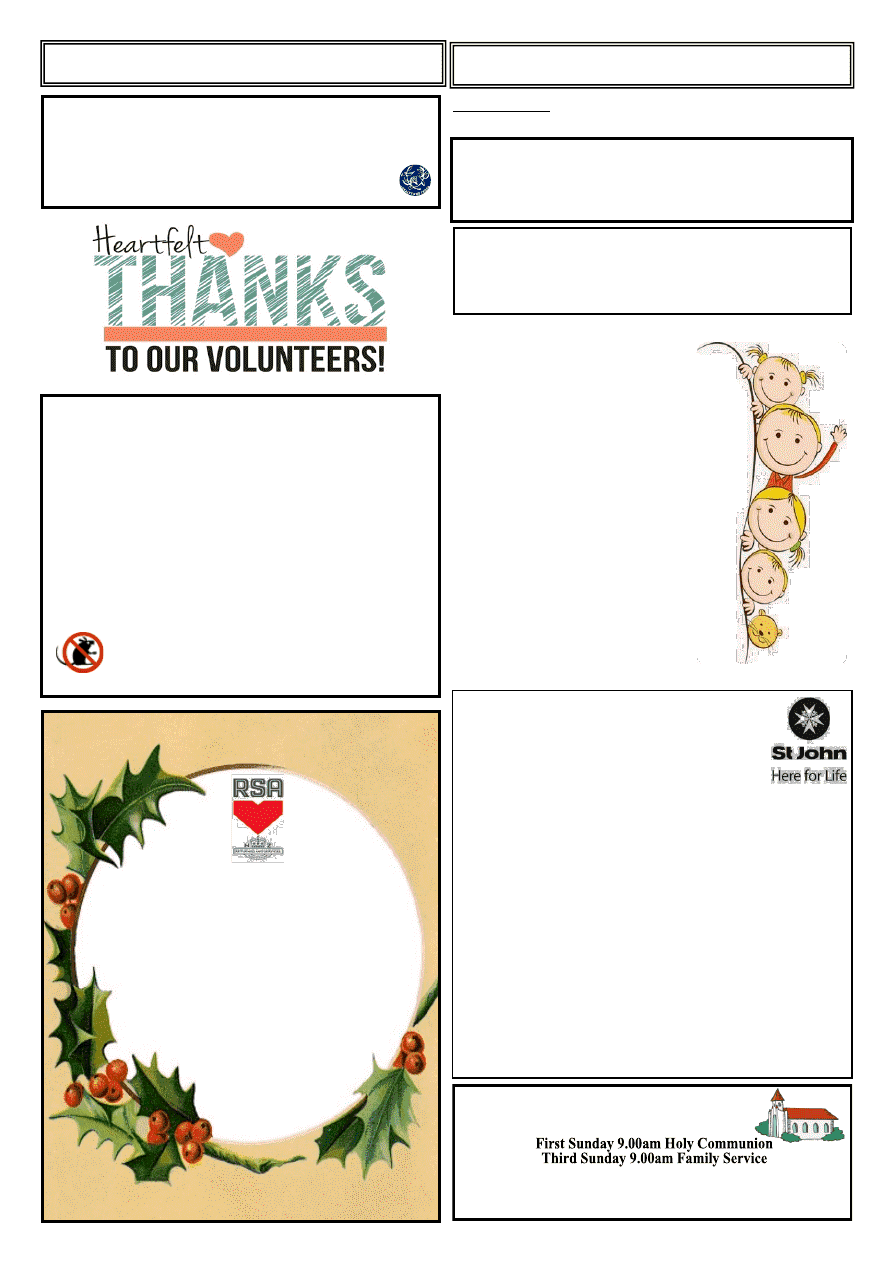 www.kaiwaka.co.nz 
Kaiwaka Bugle - 29 June, 2021 
Page 3 
HAKARU RESIDENTS 
Are You Interested in Possum, Rat and 
Stoat Control????? 
Pest Trapping    Pest Control   
Information Day 
Trap Display  Information on Funding 
Steve Henderson  
from the Northern Regional Council 
Tuesday 6th July 12.00 
To register please phone 
Karen/ Rodger Bennett 
4312090 
0210467490
PUBLIC NOTICES 
CLASSIFIED 
HAKARU RE:SORT STATION 
636 KAIWAKA-MANGAWHAI ROAD 
Open every day 10am - 4pm ~Closed All Public Holidays 
Telephone: 09 431 2629 
NOTE: No GREEN Bag Pick Up on Oneriri Rd 
ST PAUL'S ANGLICAN  
SUNDAY SERVICES 
St Pauls Church: Kaiwaka-Mangawhai Rd. 
Ph 431 4122 
www.mangawhaianglican.org.nz
OTAMATEA HIGH SCHOOL 
Otamatea  High  School  wishes  to  hear  from  suitably 
qualified  and  registered  teachers  who  wish  to  be 
considered for day relief.  Please send your CV to:  
Deborah Cornhill-Davies, Relief Co-ordinator    
e mail: deborah.cornhill@otamatea.school.nz 
FOR  SALE:  Dry  Pine  Cones.  $5  and  $10  bags. 
Phone: 09 4312040  
KAIWAKA  
St. John Op Shop 
Firstly,  a  big  THANK  YOU  to  all  our 
volunteers,  your  hard  work  you  give  to  our 
store.  We  have  had  lots  of  comments  about 
our tidy little shop.  
Keep up the good work.  You are more than appreciated. 
Pop on in for your reading supplies for the rainy days and 
cold nights ahead. 
We will be having a Re-Branding Week Sale  starting on 
Friday 2nd July to the end of trade Friday 9th July.   
We are looking forward to our Facelift and new imaging.   
25% discount on all sales for the week.  
Pop  on  in  and  check  out  our  new  look  and  pick  up  a 
bargain.   
We  are  in  need  of clean and tidy books, Clean linen and 
Bedware, Glasses, 
Bric Brac and Kitchen items.   
We thank you for your continued support. 
Hours: Tuesday to Friday 10 to 3 EVERY SATURDAY 
10 to 2. 
HOURS: Tuesday – Friday 10am to 3pm;   
Saturday 10am – 2pm 
PHONE: Shop  4312650  - 1919SH1, Kaiwaka 
NEW BEGINNINGS 
grow from an unknown place 
a welcoming smile on a person's face 
New or old friends, 
Strangers I have just met 
Don't force anything 
just let 
The rhythm flow and go 
where the Angels take you 
LET IT BE 
and see what eventuates 
it may surprise and delight 
teach me, or put me right 
on new pathways 
a delight to the soul 
that enrich my life 
and make me whole.  
~ Susan 
First notice FREE  for Classified or Public Notices - 
less  than  30  words  -  then  charged  as  per  advertised  
($4).  This  includes  AGM  and  meeting  notices,  FOR 
SALE, WANTED, FOR RENT. ~ Kaiwaka Bugle 
HAKARU RSA 
MID WINTER 
CHRISTMAS 
DINNER 
FRIDAY, 9 JULY 2021 6pm 
Members and guests invited. 
Bookings appreciated to 
secretary@hakarursa.co.nz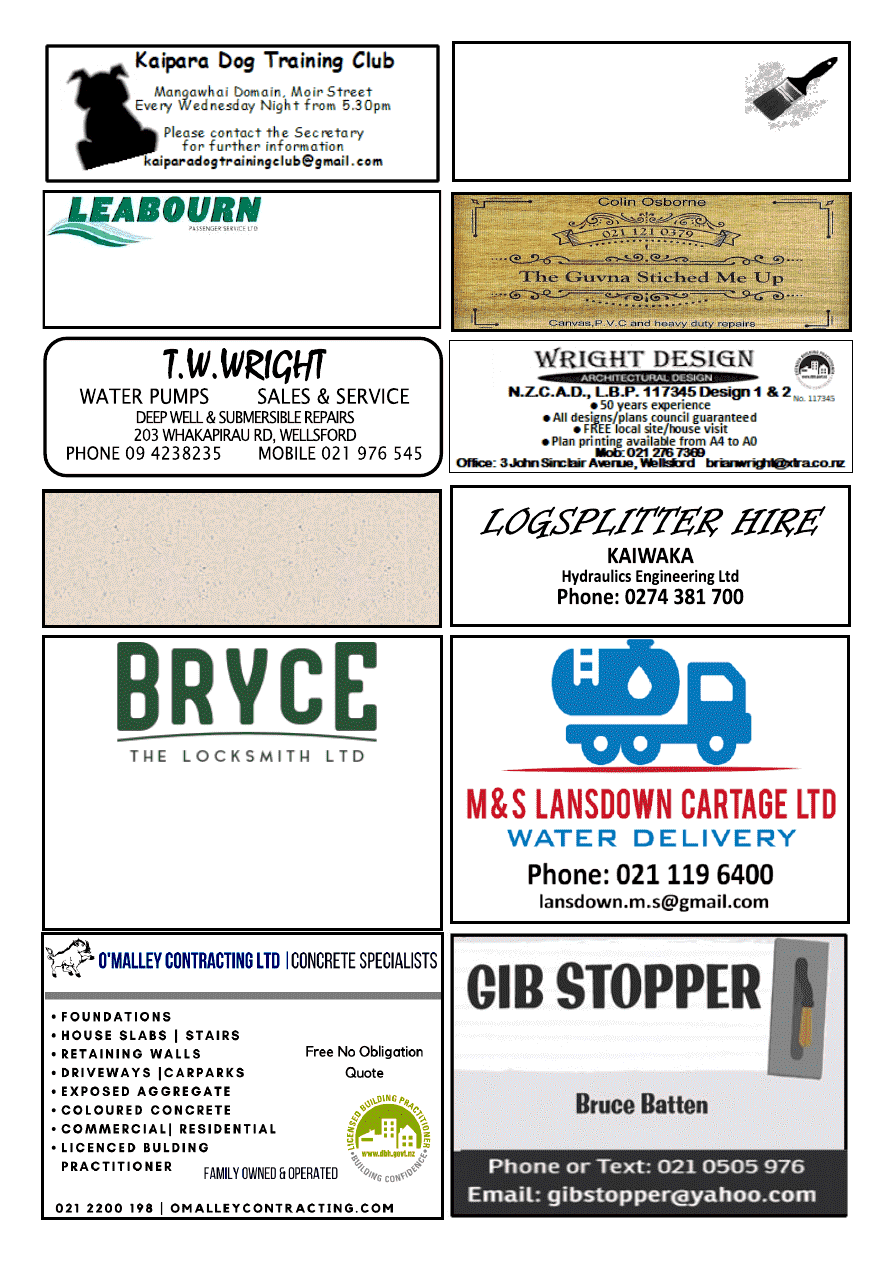 Counsellor and Registered Psychotherapist 
Offers Supervision
Susan Matheson 
MNZAC 
Dip. Psychosynthesis Counselling and Psychotherapy 
Phone 09 431 2996                        Mobile 027 605 2427 
Passenger Service
Car & Van Hire   Bus & Coach Charters 
Airport Transfers    
Phone (09) 4237416 
Bryce Frewin 
Ph: 021 850 983 
Kaipara Based Master Locksmith 
bryce@brycethelocksmith.co.nz 
www.brycethelocksmith.co.nz 
DR PAINT
 Dave & Rhys 
 Painters
 02108742551   
0211200667    drpaintnz@gmail.com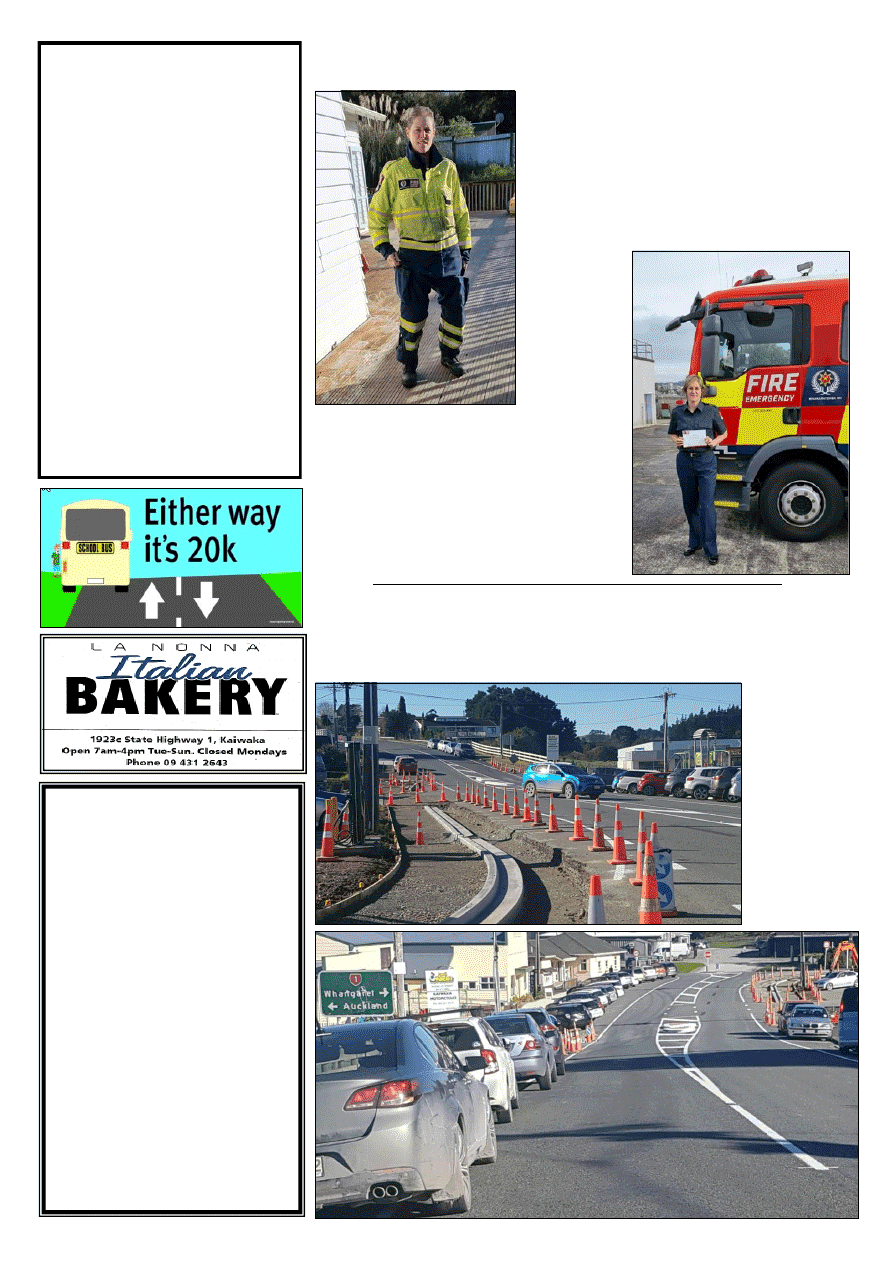 www.kaiwaka.co.nz 
Kaiwaka Bugle - 29 June, 2021 
Page 5 
Willow Bend
HORSE  
HOTEL 
#
Total Horse Care   
# 
Agistment 
# 
Riding Lessons    
#
 Arena Hire (60x40) 
# 
Young Horse Starting 
# 
Re-training/Exercising 
#
Hoof Trimming    
# 
Problem Solving 
Phone Sue  
09 431 2817 or  
021 623 776  
Or email  
susanjoll11@gmail.com 
From Alicia - 'As some of you may or may not 
know  I've  just  come  back  from  a  7-day  recruit 
course  in  Mount  Wellington,  Auckland,  where 
there  were  10  Recruits  and  numerous  trainers. 
Over the days we covered things such as hoses, 
ladder  work,  working  with  heights  and  a  day 
rural (which I really enjoyed). For the other 3 or 
4  days  we  learnt  and  trained  in  breathing 
apparatus,  completing  the  BATB  obstacle 
course,  entrapment  techniques  and  also  worked 
with  live  fire 
at 
the 
Auckland 
Airport  where 
we  learnt  a  lot 
about 
fire 
behavior  and 
of  course  the 
heat! 
The 
whole 
course was very challenging and informative. 
I  feel  that  I've  started  my  journey  in  the 
Kaiwaka Fire Brigade on a good footing. The 
training I received before I left was definitely 
'on point' and was consolidated this last week. 
I believe Kaiwaka is in great hands because of 
the  past,  present  and  future  fire  brigade 
members.' 
Photos: Alicia - left getting ready for training 
and right, with graduation certificate in hand. 
CONGRATULATIONS KAIWAKA 
FIREFIGHTER ALICIA REYNOLDS 
Now Open!! 
MOMMAS 
TAKEAWAYS 
09 601 6124 
7 days 
12 - 8pm 
1923b State Highway 1 
Kaiwaka 
ABOUT TOWN 
Sadly the most reported problem in town are these "ISLANDS". 
These two 'pedestrian safety zone' mounds have caused a number of flat tyres, 
bumps  and  bruises.  The  lack  of  visibility  has  made  passing  or  missing  them 
difficult.  The  road  marking  has  helped,  but  now  we  have  vehicles  trying  to 
squeeze  next 
the  kerb  (see 
bottom  photo) 
where  before  
a 
vehicle 
could 
park 
safely. 
Parking  is  a 
problem. 
Folk 
would 
like  to  know 
when  will  the 
pavement  be 
sealed  and  the 
road 
cones 
gone?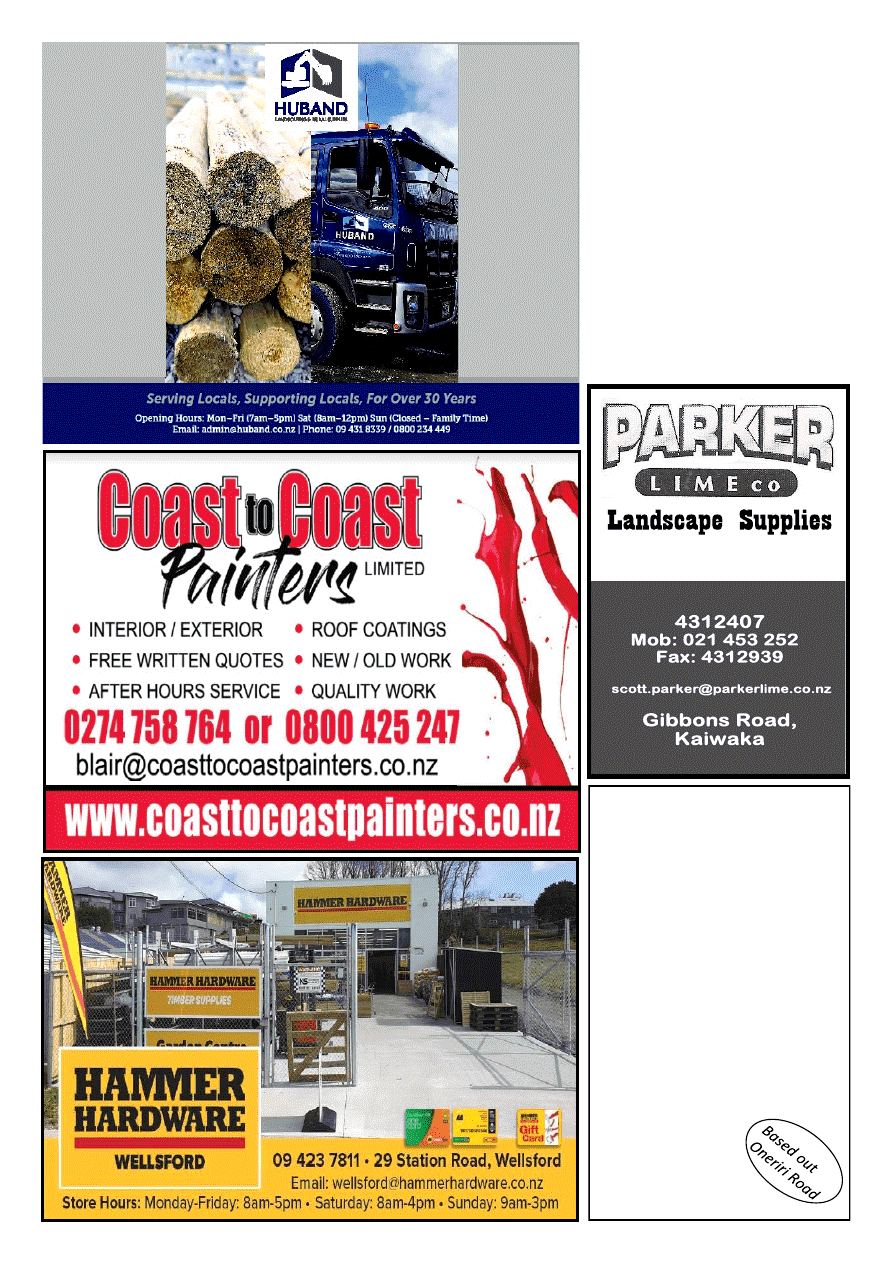 HODGETTS 
CONTRACTING
Digger Work    
Driveways   
House Sites  
Dams      
Drains, etc
Also available for HIRE 
3 ton Vib Roller  
Heavy Duty Tow  
Waterblaster      
Lazer Level
Phone Mark  
4312877 
027 447 8554 
Bulk Cartage 
HELP 
PHONE NUMBERS 

HEALTHLINE  0800  611  116  -  a 
nurse to answer health queries  

SAMARITANS  
0800  726  666  -  support  for  lonely  or 
suffering mental distress 

YOUTHLINE 0800 376 633 

LIFELINE 0800 543 354 

DEPRESSION HELPLINE  
0800 111 756 

ALCOHOL  &  DRUG  HELPLINE 
0800 787 797 

URGENT 
MENTAL 
HEALTH 
LINE 0800 223 371 

WARMLINE  -peer  support  for 
people with mental health issues  
0800 200 207 
Landscaping Supplies: 
Waikato Screen Topsoil 
Bark 
Woodchip 
Mill Bark 
Post Peelings 
Compost 
Crushed Shell 
Topsoil 
Limestone Chip 
Daltons Garden Mix 
Aggregate 
Gap: 20,40.65 
Riverstone 
Sand 
Belt Dust 
40/20 Drainage Metal 
Builders Mix 
 Cement 
Timber/Fencing Supplies: 
Rails, Posts  
Stays, Strainers 
Fence Battens 
Palings 
Stakes 
Fencing Wire 
Farm Gates & hardware 
Drainage: 
PVC Fittings 
Alkathene 
Draincoil 
WATER TANKS: 
Aqua & Baileys 
Brands 
DRAINAGE & 
SEPTICS: 
Land Drainage 
Urban Rural 
Drainage 
Water Pipelines 
Culverts 
Septic Systems 
(RX Plastics & 
Biorock) 
SITEWORKS: 
Retaining Walls 
Piling 
Driveways 
Carparks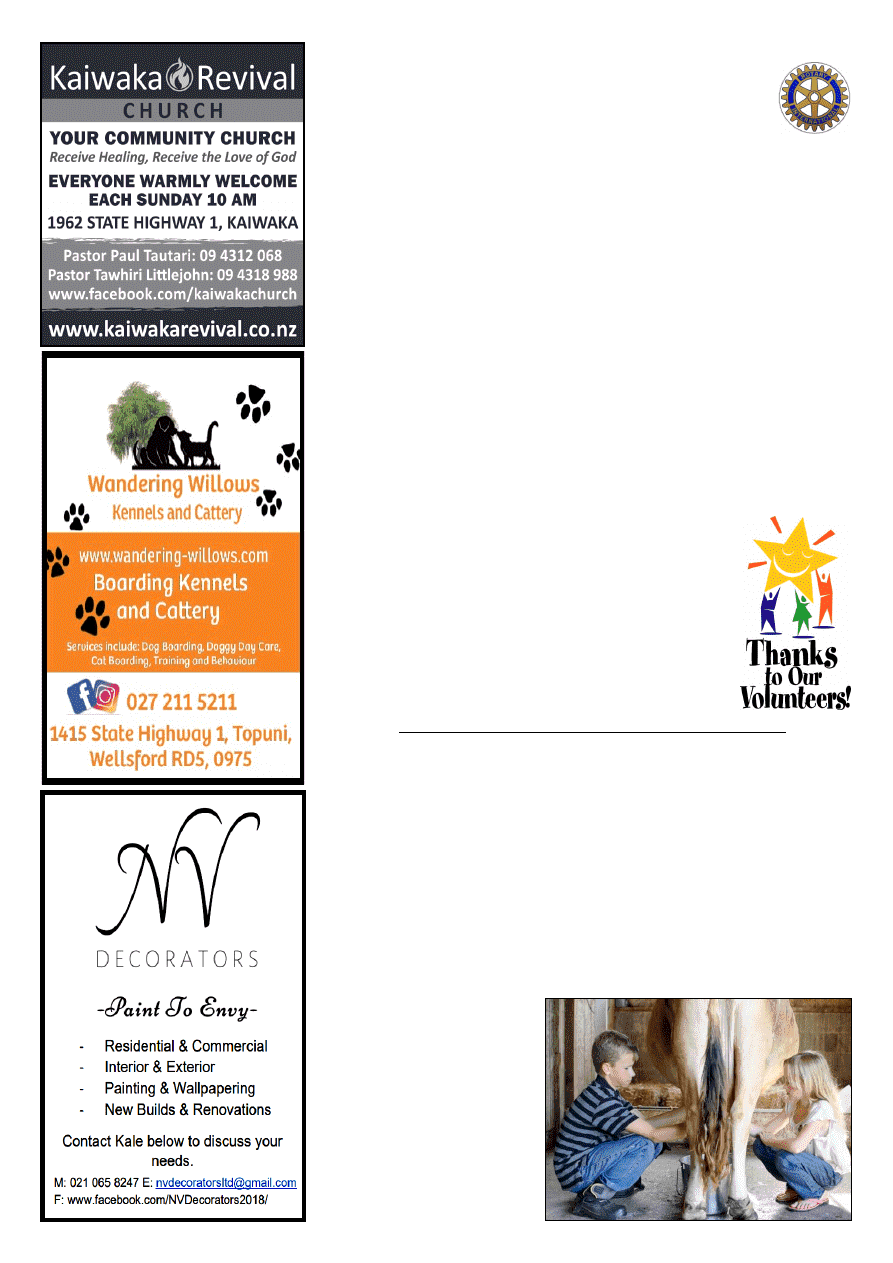 www.kaiwaka.co.nz 
Kaiwaka Bugle - 29 June, 2021 
Page 7 
MANGAWHAI 
SATELLITE 
CLUB 
Our  Rotary  Club's  new  venture  is 
going ahead in leaps and bounds and at 
the  moment  we  are  in  the  process  of 
updating our own Constitution and By-
laws in order to set up a Satellite club 
in 
Mangawhai. 
While 
the 
Maungaturoto  Club  will  be  the 
"Mother  Club"  the Satellite Club will 
operate  in  a  manner  that  is  chosen  by 
the 
membership. 
The 
initial 
requirement  is  for  the  Satellite  club  to 
have  at  least  eight  members  from 
whom  they  will  choose  a  President, 
Secretary and Treasurer (at the moment 
they have twelve people interested). 
SAILING ACTIVITY  
The immediate focus of the Club is the 
setting  up  of  a  sailing  activity  in  the 
Mangawhai  Estuary,  but  the  Satellite 
can  choose  to  branch  out  into  other 
areas  of  interest  to  the  members.  This 
club  is  planning  on  meeting  twice  a 
month  and  members  are  welcome  to 
attend  the  Maungaturoto  Club  when  it 
suits  them.  We  are looking  forward  to 
the  launching  of  the  sailing  activity, 
hopefully  in  September  when  daylight 
saving starts again. 
DOE SCHEME 
We  have  a  close  association  with 
Otamatea  High  School,  and  we  were 
fortunate  in  having  the  Acting 
Principal, Dirk Smyth come and talk to 
us  about  the  Duke  of  Edinburgh 
scheme and the personal growth that is 
attained  by  the  participants.  He  also 
spoke about the William Pike challenge 
for  year  7  and  8  students  and  Nyree 
Alcock  answered  questions 
in  relation  to  this.  Both  of 
these  courses  are  aimed  at 
developing 
a 
better 
connection  with  community 
while  the  students  gain  more 
confidence and resilience. 
RUDY VAN DER POL  
Many of us are aware of the enormous 
talent  that  is  abundant  in  this 
community, and we were able to get an 
insight  into  one of these  people.  Rudy 
van der Pol spoke about his progress in 
the  art  world,  initially  with  mixed 
media  but  latterly  with  sculpture.  He 
brought  along  several  pieces  of  his 
work, and they were truly amazing. He 
also spoke about the process involved, 
especially  when  working  with  copper. 
His website is definitely worth a visit. 
DRIVER MENTORING  
In  the  past  week  we  have  had  two 
Driver  Mentoring  students  successful 
in attaining their Restricted licence. To 
run this program successfully we need 
to  match  car,  student  and  Mentor 
availability. Thank you to our Mentors. 
We  really  appreciate 
your 
help 
and 
support. 
CONTACT 
Please  feel  free  to 
call 
Eileen, 
0211420357  if  you 
would like to join us, 
help  us  out  with  our 
projects  or  have  a 
message  you  would 
like to share with us. 
COWS DON'T GIVE MILK 
A father used to say to his children when they were young: When you all reach 
the age of 12 I will tell you the secret of life. One day when the oldest turned 12, 
he anxiously asked his father what the secret of life was. The father replied that 
he was going to tell him, but that he should not reveal it to his brothers.  
The secret of life is this: The cow does not give milk. "What are you saying?" 
Asked the boy incredulously. "As you hear it, son: The cow does not give milk, 
you have to milk it. You have to get up at 4 in the morning, go to the field, walk 
through the corral full of manure, tie the tail, hobble the legs of the cow, sit on 
the stool, place the bucket and do the work yourself. 
That is the secret of life, the cow does not give milk. You milk her or you don't 
get milk. There is this generation that thinks that cows GIVE milk. Those things 
are automatic and free: their mentality is that if "I wish, I ask... I obtain."  
"They have been accustomed to get whatever they want the easy way...But no, 
life is not a matter of wishing, asking and obtaining. The things that one receives 
are  the  effort  of  what  one  does. 
Happiness is  the  result  of effort. 
Lack 
of 
effort 
creates 
frustration." 
So,  share  with  your  children 
from  a  young  age  the  secret  of 
life,  so  they  don't  grow  up  with 
the 
mentality 
that 
the 
government,  their  parents,  or 
their  cute  little  faces  is  going  to 
give  them  everything  they  need 
in life. 
Remember:  "Cows  don't  give 
milk; you have to work for it." 
~Author Unknown 
MAUNGATUROTO AND DISTRICTS ROTARY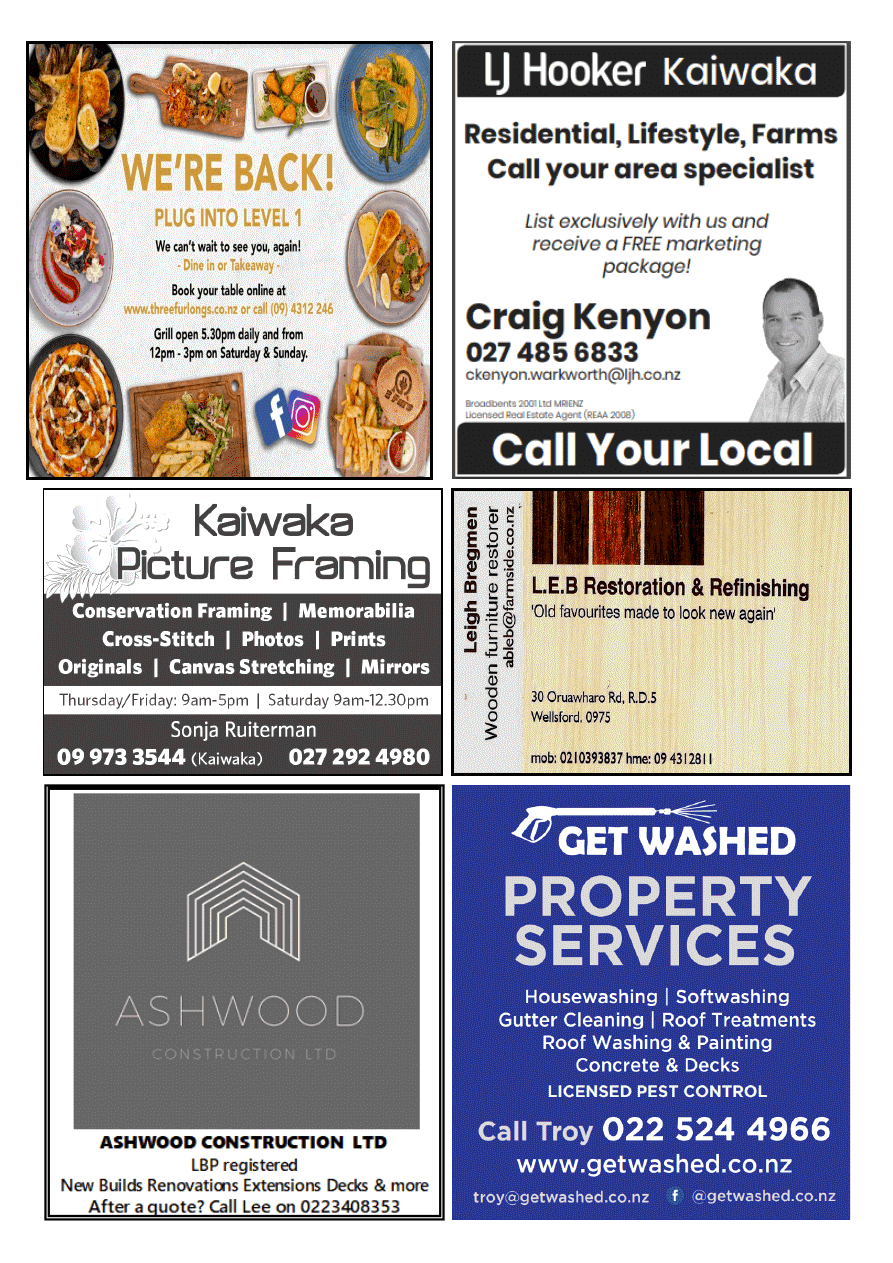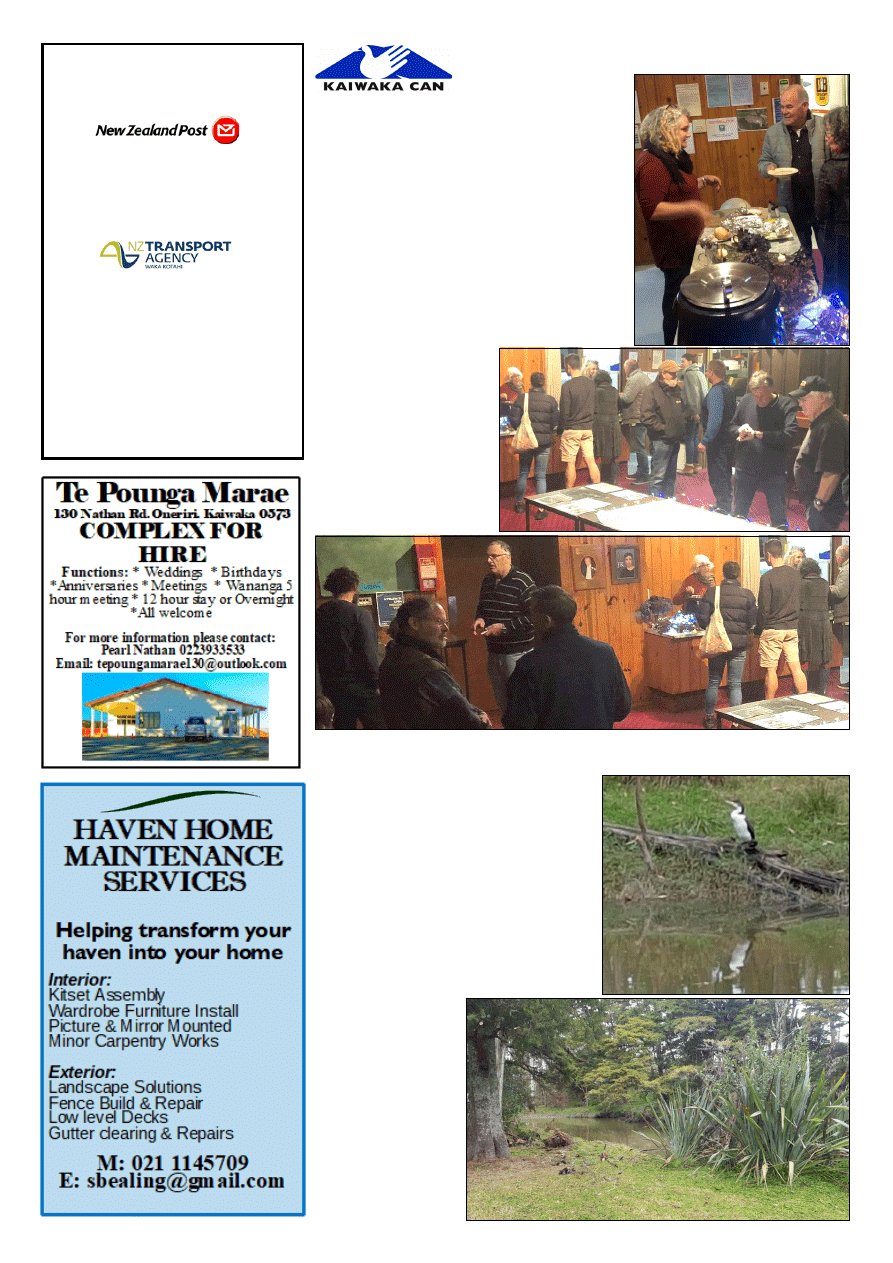 www.kaiwaka.co.nz 
Kaiwaka Bugle - 29 June, 2021 
Page 9 
KAIWAKA POST 
CENTRE and 
FOOD MART 
POST CENTRE TRADING HOURS 
MONDAY to FRIDAY 8am to 5pm 
SATURDAY 8am to 12pm 
CLOSED ON SUNDAY and on 
PUBLIC HOLIDAYS 
FOOD MART (GROCERIES)  
MONDAY TO FRIDAY  
7:30am to 7.30pm 
SATURDAY  8am to 7.30pm 
SUNDAY  8:30am to 7pm 
IF ANY QUERIES PLEASE CALL 
STORE MANAGER AMRIT  
on 09 4312431 or 
EMAIL: kaiwakafood19a@gmail.com 
1919a State Highway1, Kaiwaka 0542 
MID WINTER WARM UP! 
The  Kaiwaka  Can  team  had  a  blast  on 
Wednesday  evening  at  the  KSA  for  the  Mid 
Winter Warm Up, so much so we want to do it 
again soon! 
It was a delicious opportunity to mix, mingle, 
share a meal and share ideas.  Chairman David 
Wright  gave  a  presentation  on  current  and 
future  projects  that  the  team  are  working  on, 
and concept maps and images were on display.  
Henk from the lighting team brought along an 
interactive display of Neonflex, the new LED 
lighting used around Kaiwaka. 
A  huge  thank  you  to  everyone  who  attended 
and helped out, membership continues to rise 
with several more go-getters signing up on the 
night. 
We  wrapped  up  with  a 
door  prize  draw,  lucky 
winner  Lesley  will  be 
plugging  in  at  the  3  Furs 
Bar  &  Grill  with  a  $50 
voucher,  kindly  donated 
for the evening. 
Facebook: @kaiwakacan 
Next  meeting:  21  July, 
5.30pm at the Archie Bull 
Hall, Kaiwaka 
McCLEAN PARK MUCK IN 
continued … 
If  you'd  like  to  be  part  of  the 
transformation 
conversation, 
contact 
David Wright on pukepunga@xtra.co.nz.  
From Jonathan Larsen: 
McClean Park Transformation underway! 
I  had  the  pleasure  of  being  part  of  the 
Kaiwaka Can Muck In for McClean Park 
working bee on Sunday 27 June. 
Kaiwaka Can is a community group with 
several 
projects 
underway 
around 
Kaiwaka  including  the  beautification  of 
this park. 
Work  is soon to  commence  on  two  PGF 
funded  footbridges  and  underpasses  that 
will  link  the  rest  of 
Kaiwaka 
with 
McClean 
Park. 
Kaiwaka Can plan to 
have 
this 
long-
neglected 
park 
transformed  in  time 
for  the  opening  of 
the new bridges early 
next year. 
Thanks  to  everyone 
who  came  along  and 
helped  -  a  great 
display 
of 
community spirit and 
enthusiasm.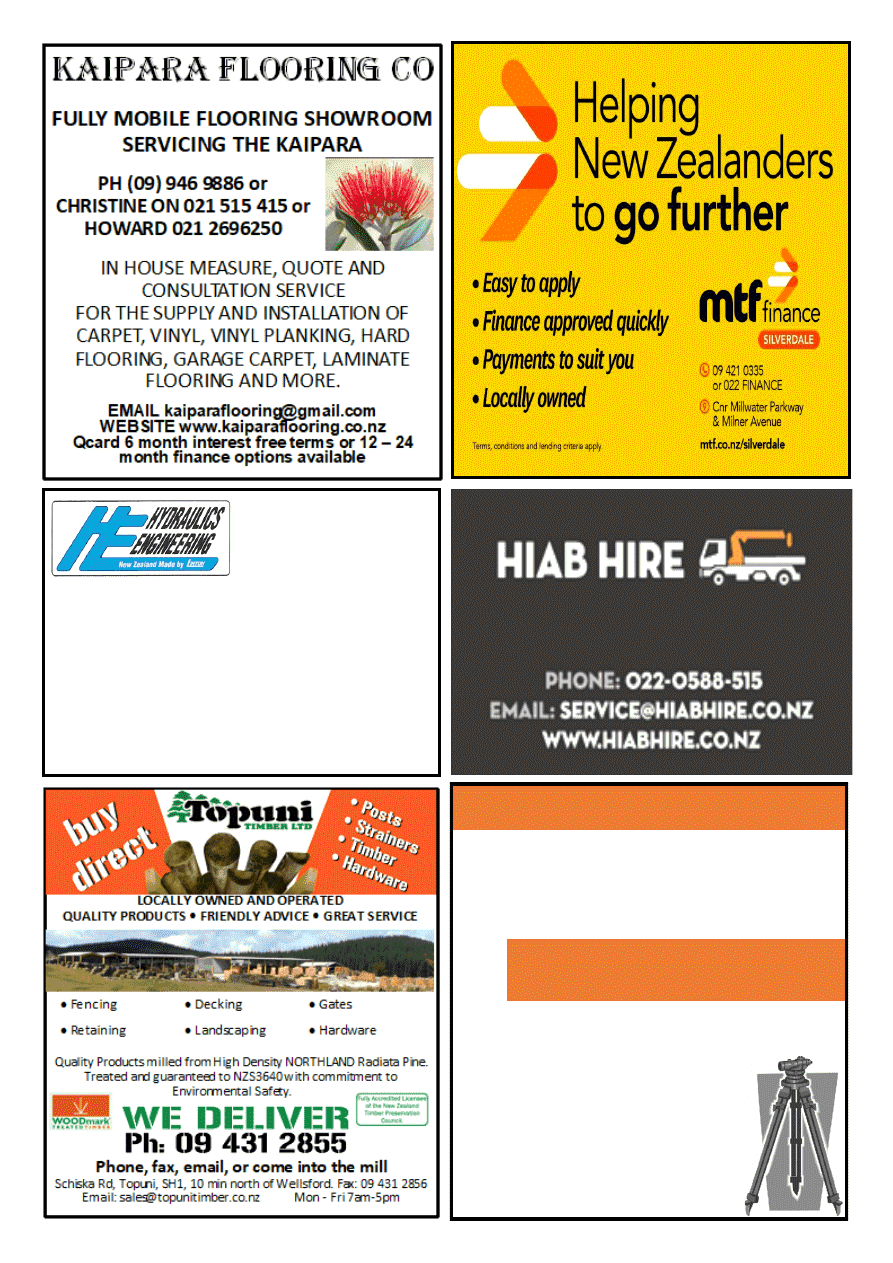 SURVEYORS 
SUBDIVISIONS 
HOUSE SITE SURVEYS 
CIVIL ENGINEERING 
WASTEWATER DESIGNS 
EXPERIENCED 
PROFESSIONAL 
INNOVATIVE 
Ph 09 431 5353 
0800 PACIFIC (0800 722 434) 
pacificcoastsurvey.com
Adam Booth - 027 415 5752 
Bsurv, Licensed Cadastral Surveyor
Surveying Kaipara since 1994 
Hydraulics  
Engineering Ltd 
Kaiwaka 
Sales - Service - Parts - Hire - Manufacture 
Service Contractors & Industrial Equipment: 
Rams, Pumps, Valves 
Logsplitter Hire, Manufacturer, Sales 
Dennis Linton 
Lot 2 / 161 Ranganui Road, RD2, Kaiwaka, 0573, New Zealand 
Mobile: 0274 381 700 
Email: hydraulicsengineering@xtra.co.nz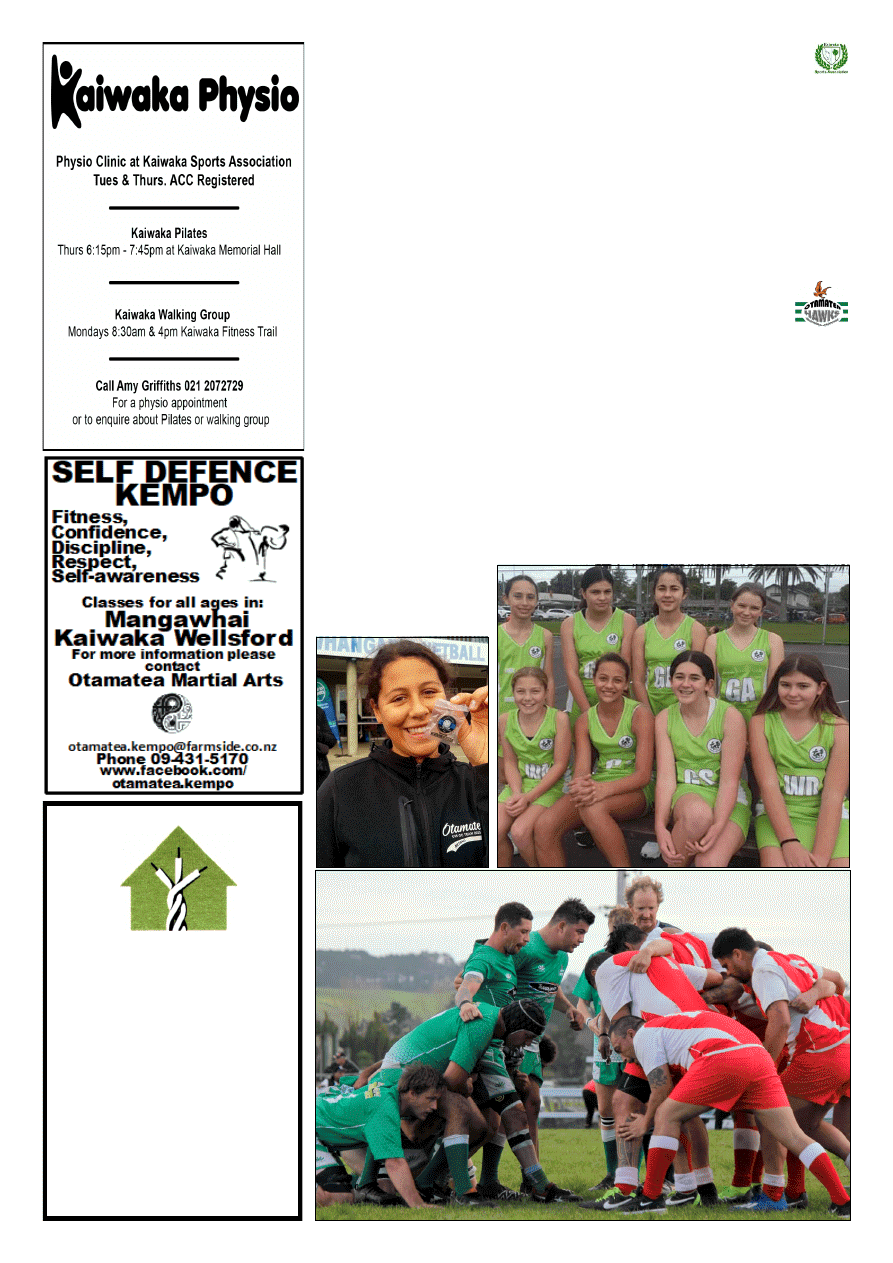 www.kaiwaka.co.nz 
Kaiwaka Bugle - 29 June, 2021 
Page 11 
Reyahn  Leng 
 Registered Electrician 
Local, honest and reliable. 
For your residential and 
light-commercial projects. 
022 314 1068  
KAIWAKA SPORTS ASSOCIATION 
BOOKING  THE  KAIWAKA 
SPORT ASSOCIATION 
To  book  the  facilities  at  the  Kaiwaka 
Sports Assn. contact Jennie: 
ksa.bookings@mail.com  
or 02102764171 
There  is  a  range  of  facilities  available 
at  our  Sports  Complex  -  kitchen, 
lounge,  gymnasium,  fitness  centre, 
tennis/netball courts, changing rooms  -  
available for hire. These have different 
hireage  charges  so  make  contact  to 
discuss charges. 
When  booking  for  a  function  like  a 
wedding etc we ask 50% deposit and a 
$200 Bond on booking. The bond will 
be refunded when the facility has been 
checked and found clean, tidy and with 
no damage. 
For functions, such as a wedding when 
a Special License (alcohol) is required, 
an extra fee of $63.50 will be applied - 
this is a Council charge. We will need 
at least  6  weeks  to  gain  the  license  so 
booking  in  ahead  of  time  is  essential. 
All  guests  must  have  left  the  building 
by 1am as per our License. 
Unfortunately, we are no longer able to 
hold  21st  birthdays  as  the  Special 
License  requirements  from  Kaipara 
District  Council  are  too 
difficult  to  meet  in  our 
situation. 
Please enjoy your time at 
the Kaiwaka Sports Association. 
Contact Jennie 
ksa.bookings@mail.com or 
02102764171 
NETBALL 
Congratulations to Leayah Buxton who 
gained her Centre Umpire Badge at the 
Whangarei Netball Centre. 
OTAMATEA  JUNIOR  1,  pictured 
below, won their 'promotion-relegation 
game in Whangarei on Saturday, 40-4. 
They  now  move  up  a  grade  -  well 
done! 
RUGBY 
Otamatea  HAWKS  beat  Dargaville 
Old Boys last Saturday, 26 June 45 
- 17, at Dargaville. 
Photo  below  by  C  Peeni,  shows 
HAWKS  in  green  (left)  setting  a 
scrum  with  Dargaville,  and  referee 
Ken Finlayson. 
RUGBY  KSA:  Saturday  3rd  July; 
Eastern  JMB  rugby  in  the  morning 
(there  are  more  than  60  youngsters 
enjoying  their  rugby!)  followed  by 
Otamatea 
HAWKS 
playing 
Southern at 2.30pm.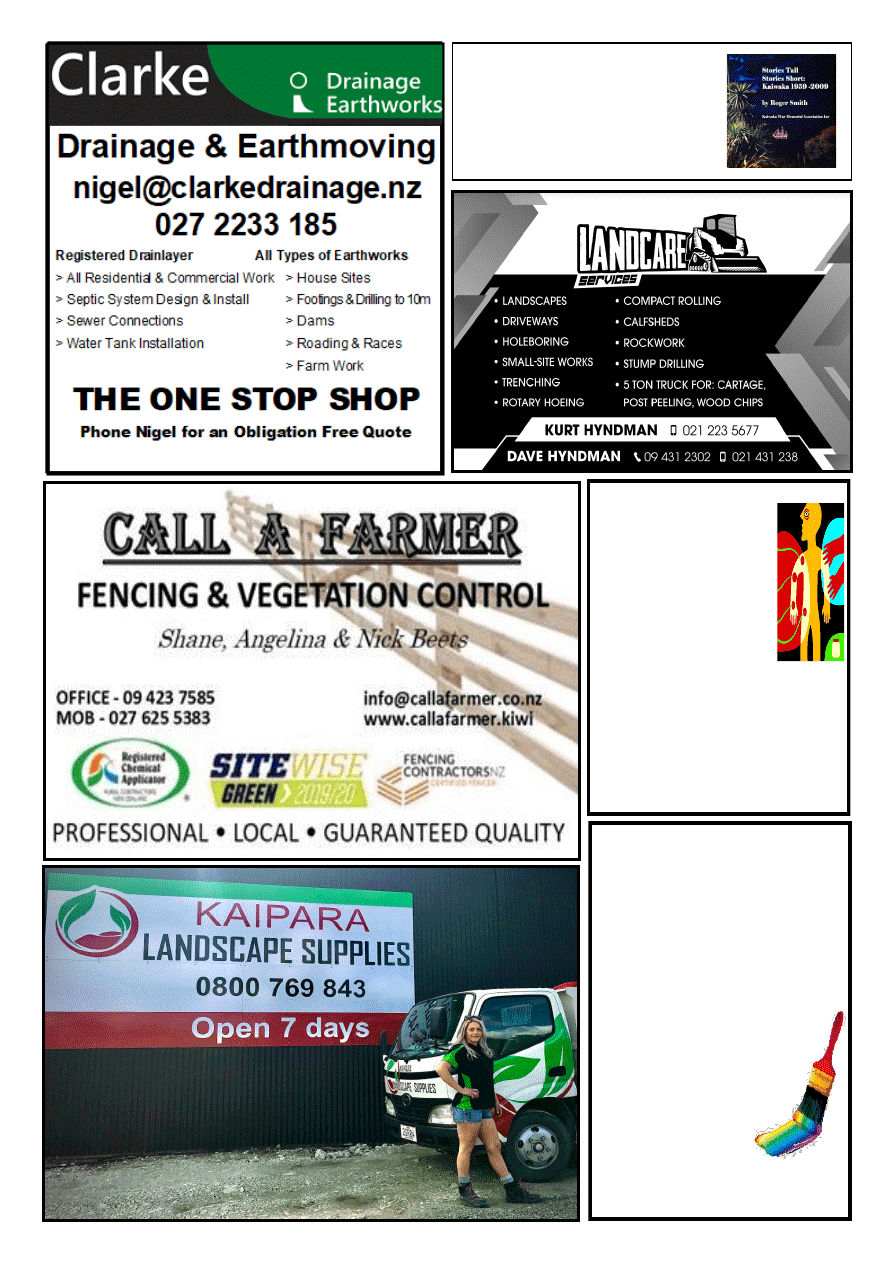 OWEN STEVENS 
Osteo Therapist
For careful adjustments 
to bones and joints 
Treatment for  
humans and their pets 
Clinics: 
Kate's Place, Kaiwaka: 
Last Friday of month  
9.00am-5.00pm 
For bookings:  
Phone 
09 4312661 
Or phone Owen  
 09 4317123 anytime 
LEE COOPER 
PAINTERS 
(Kaiwaka Based) 
*30 yrs Experience 
*Interior/Exterior 
*New and Restoration 
*Honest and Reliable 
*Free Quotes 
09 4312918 
0274735171 
leecooper@xtra.co.nz 
Stories Tall, Stories Short  
Kaiwaka 1959-2009 
by Roger TW Smith.  $40 
Available at All Sortz Collectables  
or phone  4312 045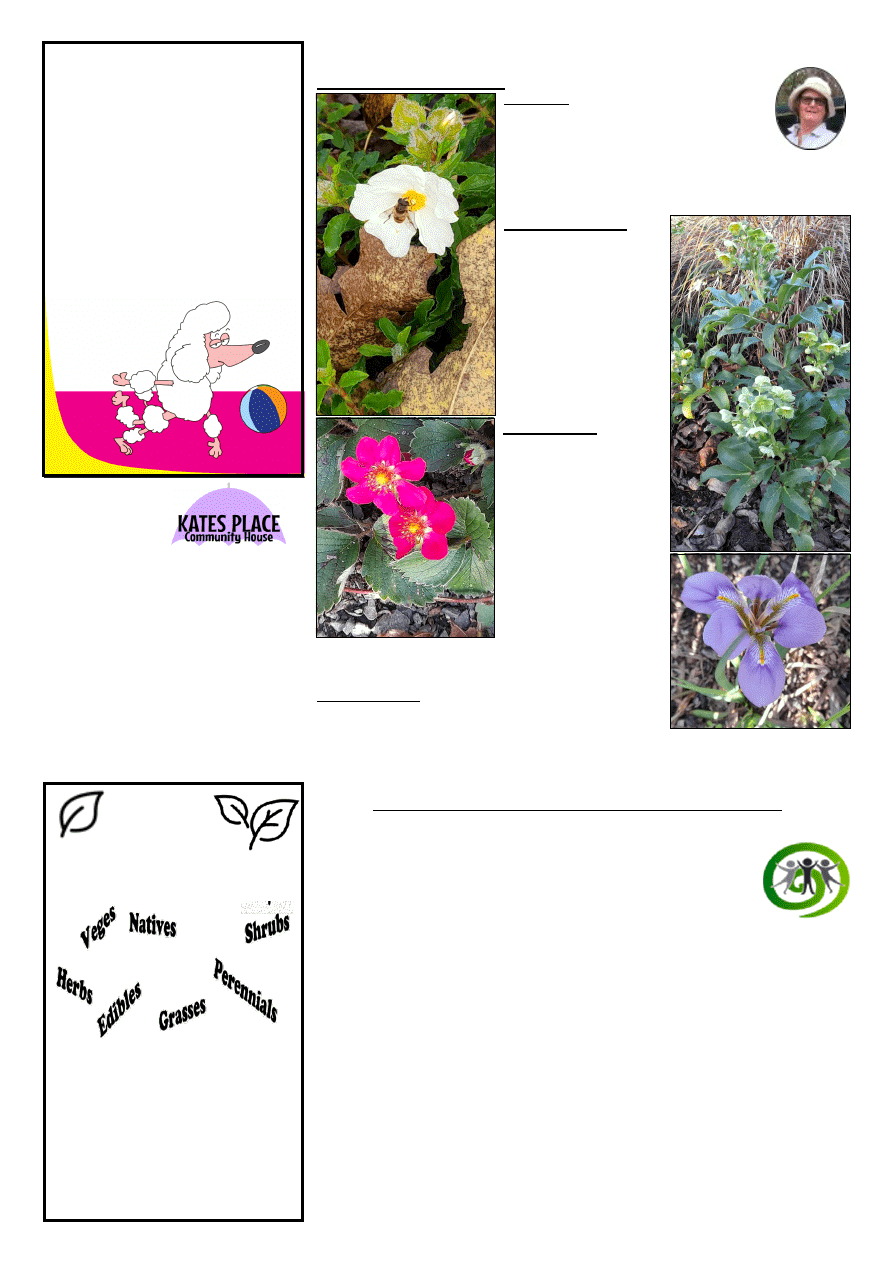 www.kaiwaka.co.nz 
Kaiwaka Bugle - 29 June, 2021 
Page 13 
Hot Diggity Dog  
DOG GROOMING  
KAIWAKA 
Spring is in the hair. 
Professional Dog Groomer  
at affordable prices.
www.doggroomingkaiwaka.co.nz 
call Pam 094312143 or text 
0273335380 for bookings 
ONERIRI IN JUNE: 
CISTUS:  
The shortest day and a bee is still hard 
at  work.  where  there's  a  flower  there's 
the  will.  The  cistus  under  the  poplars 
are  full  of  flowers.  Cistus,  Mediterranean  native. 
Drought tolerant and cope with poor soil. I have lots 
of  them.  Love  the  white  ones.  I  have  some  pink 
that's rather nice as well. 
WINTER ROSE: 
Helleboure  or  winter 
rose.  Full  of  flowers  at 
the moment. They need 
a  shady  spot  with  lots 
of leaf mulch. Mine are 
under the poplars in the 
long  border.  I  adore 
them.  Green  flowers 
really  do  it  for  me. 
They  will  self-sow  and 
will 
accept 
being 
moved around. 
FRAGARIA: 
A  pretty  strawberry.  I 
call 
it 
a 
wild 
strawberry.  It  certainly 
grows  like  one.  I  don't 
know  much  about  it 
and  am  not  even  sure 
where I got it from. But 
I'm sure glad I've got it. 
This  one  is  growing  in 
the  gravel  beside  our 
front  step.  Not  planted 
but  perfectly  happy. 
Flowering 
cheerfully 
on the coldest day of the year so far. 0 degrees here 
this  morning.  A  bit  of  shock  for  us  but  apparently 
not this little beauty.  
IRIS SETOSA: 
There are several varieties. This one is rather small 
but the flower is oversized for the size of the plant. 
And it likes the cold. Growing happily jammed between rocks. Tough and cute 
that'll do me. ~ Heather, Oneriri Plants 021 766399 
Oneriri Plants is a small nursery just off SH1 in Kaiwaka where we propagate all of our 
plants on-site. Pop by to see what we have or call or email with inquiries.365 Oneriri 
Road. 
HOW DOES YOUR GARDEN GROW? 
MENTAL 
HEALTH 
RECOVERY 
GROUP  
meet  every  Thursday  in  the    St  John 
Hall, Kaiwaka, from 10am. The aim of 
this weekly group is for everyone who 
attends  to  receive  education,  support, 
social connection, and a nice lunch. 
Whether  you  live  with  a  diagnosed 
condition  or  are  dealing  with  stress, 
anxiety,  or  symptoms  of  depression 
you are welcome to come and be a part 
of  this  supportive  environment  which 
will  aid  in  your  recovery  and  future 
wellness.  
Please  call  0297739085  for  further 
information.  
FINANCIAL MENTORS  
Cheques  are  now  a  thing  of  the  past. 
We  all  need  to  adjust  to  new  ways  of 
paying  our  bills;  some  can  be  paid  in 
person  or  at  the  post  shop,  but  this  is 
not always convenient.  
If  you  are  pulling  your  hair  out  over 
these  changes,  our  Financial  Mentors 
and a few savvy volunteers would love 
to  help  you!  Come  and  learn  how  to 
use  internet  or  phone  banking  and 
paying  your  bills  online  will  become 
second nature in no time. Call us on 09 
431 9080 to book in an appointment.  
WHAT'S  HAPPENING  THIS 
JULY:  
Every  Monday: Fun & Games – 10am 
–  12.  Footprints  Room,  Anglican 
Church,  Maungaturoto.  Play  board 
games  or  simply  an  outing  for  those 
wanting  a  chat  and  morning  tea  with 
other people.  
Thursday 
8th: 
Community/Senior 
lunch,  Community  Hall, 
Fagan 
Place, 
Mangawhai.  From  12 
o'clock  
Tuesday  13th:  Free  shopping  trip  to 
Whangarei-leaves  retirement  village 
9.30  
Wednesday  21st:  Chocolate  Bingo  - 
Footprints Room, Maungaturoto   
Wednesday  28th:  Free  shopping  trip 
to  Whangarei-9.30  from  retirement 
village  
For  more  information  about  these 
activities  call  us  on  09  431  9080  or 
reach out to us on social media.   
Take care of each other, from all at the 
Community House, Maungaturoto.  
Call  021  251  0225  for  the 
Mangawhai  lunch  on  the  Thursday 
8th July. 
OTAMATEA COMMUNITY SERVICES 
Oneriri  
Plants 
Visit our Nursery 
Contact Heather 
021 766399 
oneririplants@gmail.com 
365AOneriri Rd, Kaiwaka 
A short trip off SH1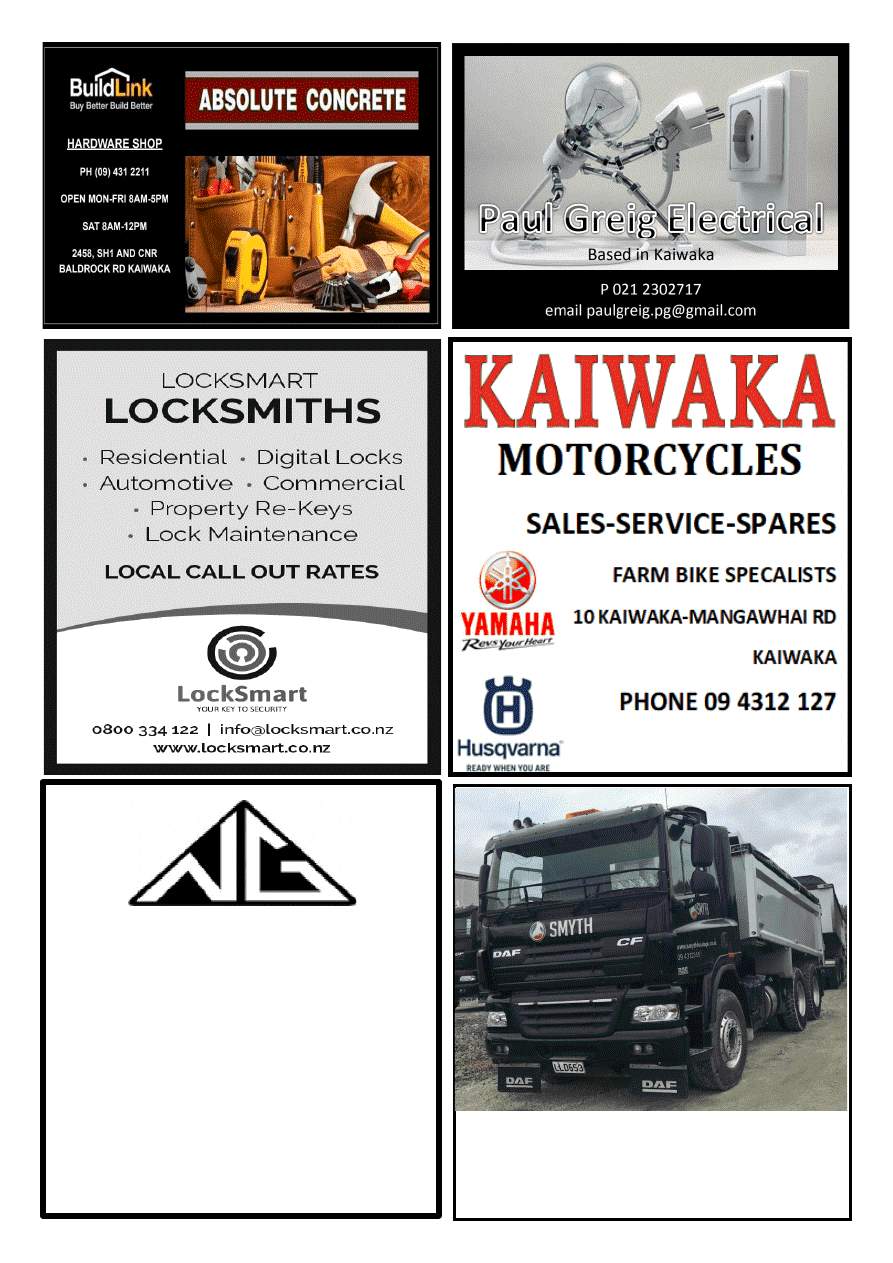 NORTH GLASS 
WINDSCREEN REPAIR OR REPLACE 
GLAZING SERVICES 
MIRRORS  •  SPLASH BACKS  •  SHOWERS 
0800 70 40 10
info@northglass.co.nz 
www.northglass.co.nz 
SMYTH HAULAGE       
for all your tip trucks & trailer 
requirements 09 4312355  
Carlton Smyth 0274870636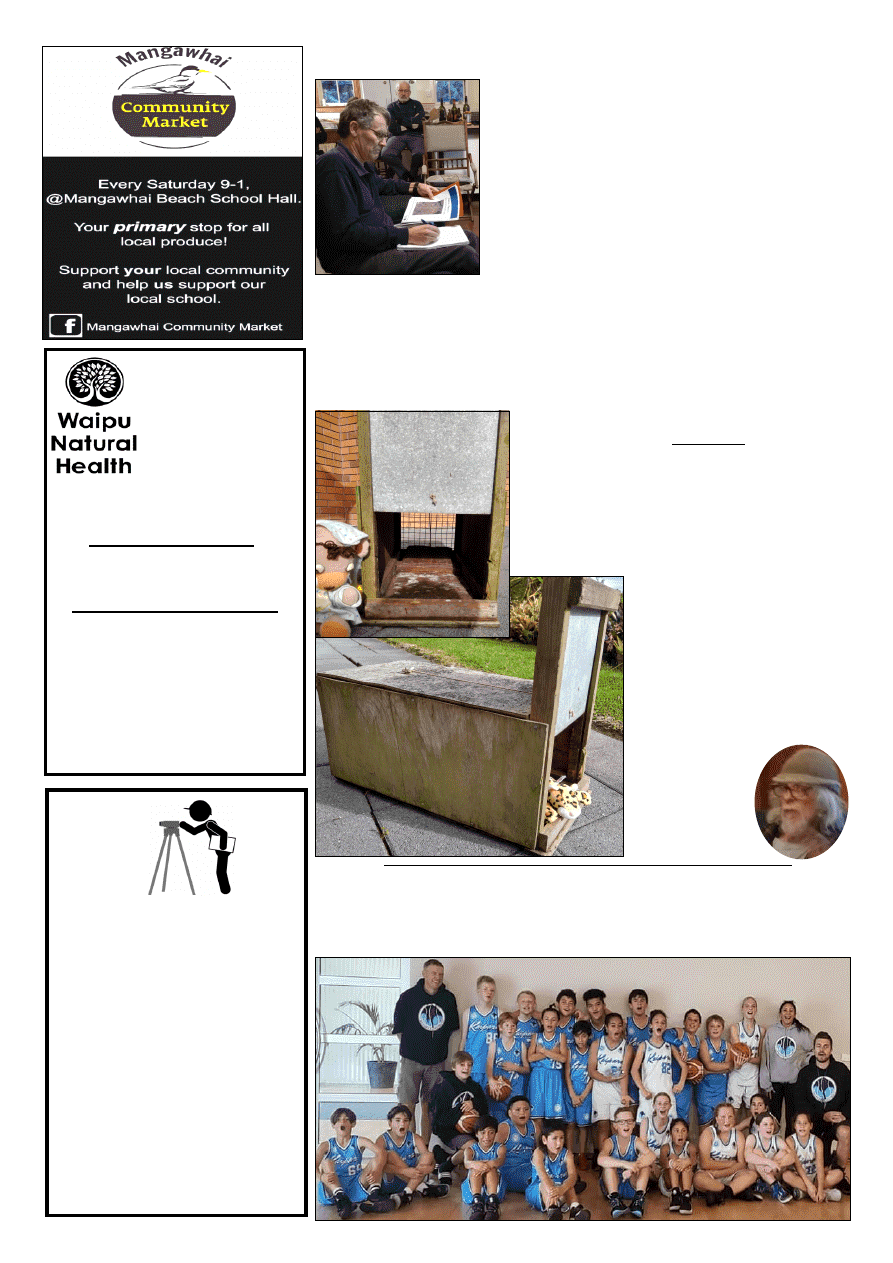 www.kaiwaka.co.nz 
Kaiwaka Bugle - 29 June, 2021 
Page 15 
3 Cove Road, Waipu 
 (opposite the Pizza Barn) 
094321325 
www.waipunaturalhealth.co.nz 
Clinical Nutritionist: 
Nutritional Checkups, Diets for 
Chronic Diseases, Food 
Sensitivities 
Naturopathic Physician: 
Ozone Therapy, Prolotherapy 
Reflexology, Craniosacral 
Therapy, Trauma Release, 
Massage Therapy 
Counselling and Hypnotherapy 
Change Catalyst/ThetaHealer 
Affordable Children's Consults 
All therapists are fully qualified
Ken Urquhart 
BSurv Licensed Cadastral 
Surveyor 
KMU  
Surveys Ltd
467 Bickerstaffe Road 
RD 2 
Maungaturoto 0587 
Ph 09 431 8705 
Mob 021 161 2344 
kenurquhart@xtra.co.nz 
 HANDS-ON PUSH AGAINST PESTS 
Neighbours  have  stepped  forward  and  council  will 
continue  to  take  a  back  seat  in  an  Oneriri  group's 
strategy to manage introduced pests on the peninsula. 
Seventeen  attended  the  late  June  meeting  with 
Northern  Regional  Council  biosecurity  officer  Paul 
Ralph,  pictured  left,  to  review  tactics  for  the  Kaira 
Oneriri  Biosecurity  Area  (Koba)  of  1570  hectares. 
The  Koba  group  reviewed  control  methods  and 
supported personal decision-making, as circumstances 
arise, on trap type, use of the .22, poison and bait. The 
application  for  further  funding  from  NRC  will  add 
"live catch" traps  to the list. 
Cooperation  is  important  to  uphold  predator/pest 
control  aims  (highlighted  by  the  recent  RNZ/TVNZ 
innovation fund series "Fight for the Wild") with local community action groups 
the best chance of success. 
Further  biosecurity  areas  can  be  established  on  Oneriri  as  more  get  involved. 
Two other NRC biosecurity areas on the peninsula (Otamatea Eco Village and 
Takahoa Bay) had reps. at this get-together.  
Paul  Ralph  says  establishment  of  biosecurity  areas  is  a  growing  trend  in 
Northland. One proposal from the meeting is for online mapping of catches by 
biosecurity  area  so  all  can  see  progress  against 
pests  as  it  happens.  More  on  this  will  be  in  an 
extended article on the column.nz website. 
For  trap  and  information  requests,  Koba  contact 
is: 021 1214746.  
THE BEST TRAP EVER 
Held  together  by  nails,  this  wood  and  wire  live 
trap  is  a  single  solution  for  possums,  rats,  stray 
cats and hedgehogs. 
Knowing where to place it, and 
irresistible aromas in its timbers, 
are key to its successes over 16 
years.  
It's better than the live wire trap, 
and  while  others  swear  by 
Timms  and  Doc200s,  Oneriri 
farmer 
Tony 
Hargreaves 
reckons  the  battered  old  box 
can't be beaten. 
"And  the  dogs  deal  with  the 
contents." 
The  Koba  group 
wants 
another 
half-dozen 
to 
supplement  its 
trap library.  
~ Hugh  
KAIPARA BASKETBALL.  
Last  Sunday  was  a'Big  Day'  for  Kaipara  Basketball.  Our  Under  9's,  11's  and 
13's got in some much-needed gametime in a fun and fast flowing environment. 
A big thankyou to Cameron Basketball Academy, Mata, Jin and their crew for 
hosting. ~ Blake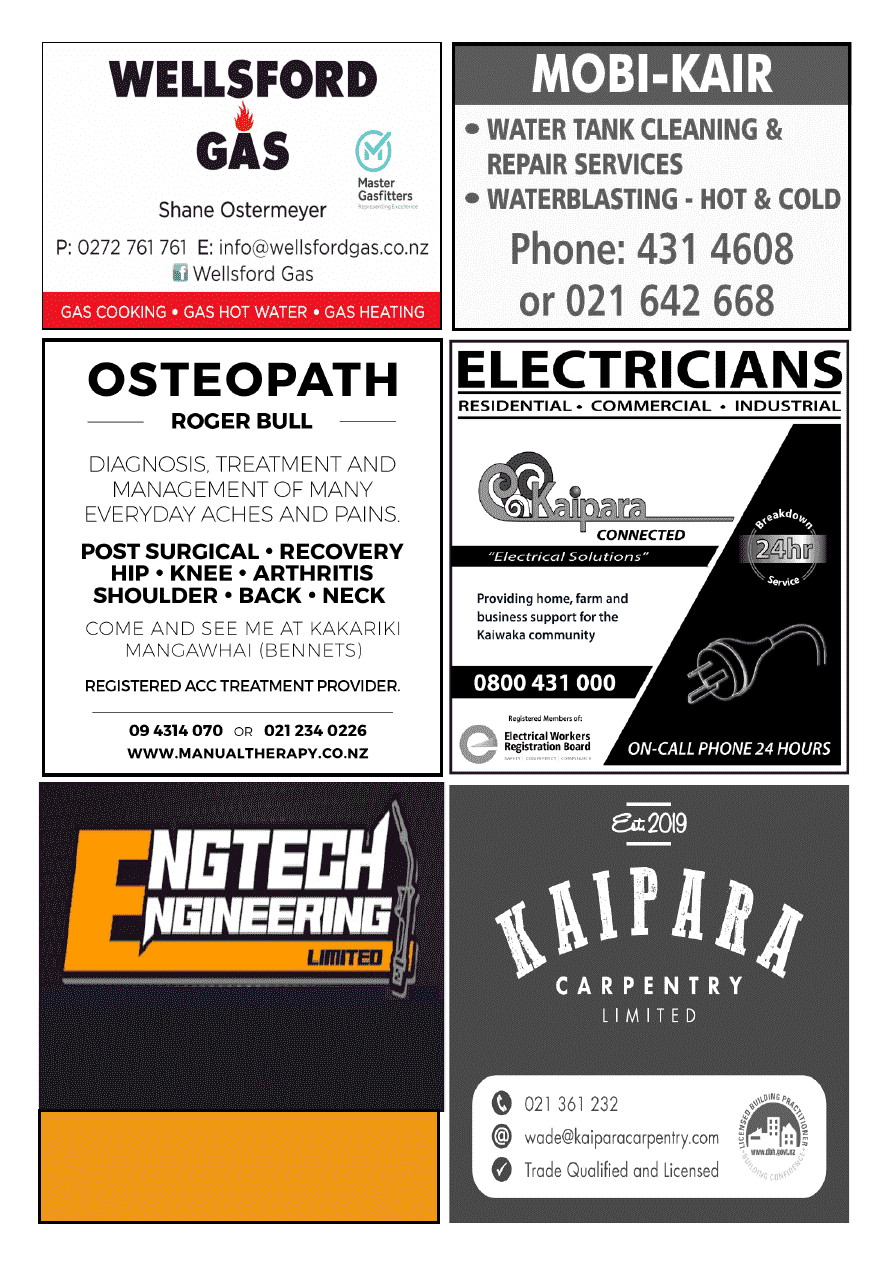 - Mobile Engineering Services - 
- Specialised Welding and Fabricating - 
- Media Blasting and Painting -  
- New CNC Profile Cutting Machine - 
PH: 021 415 259 or 09 973 3440 
648 Kaiwaka-Mangawhai Rd, Hakaru 
www.engtechengineering.nz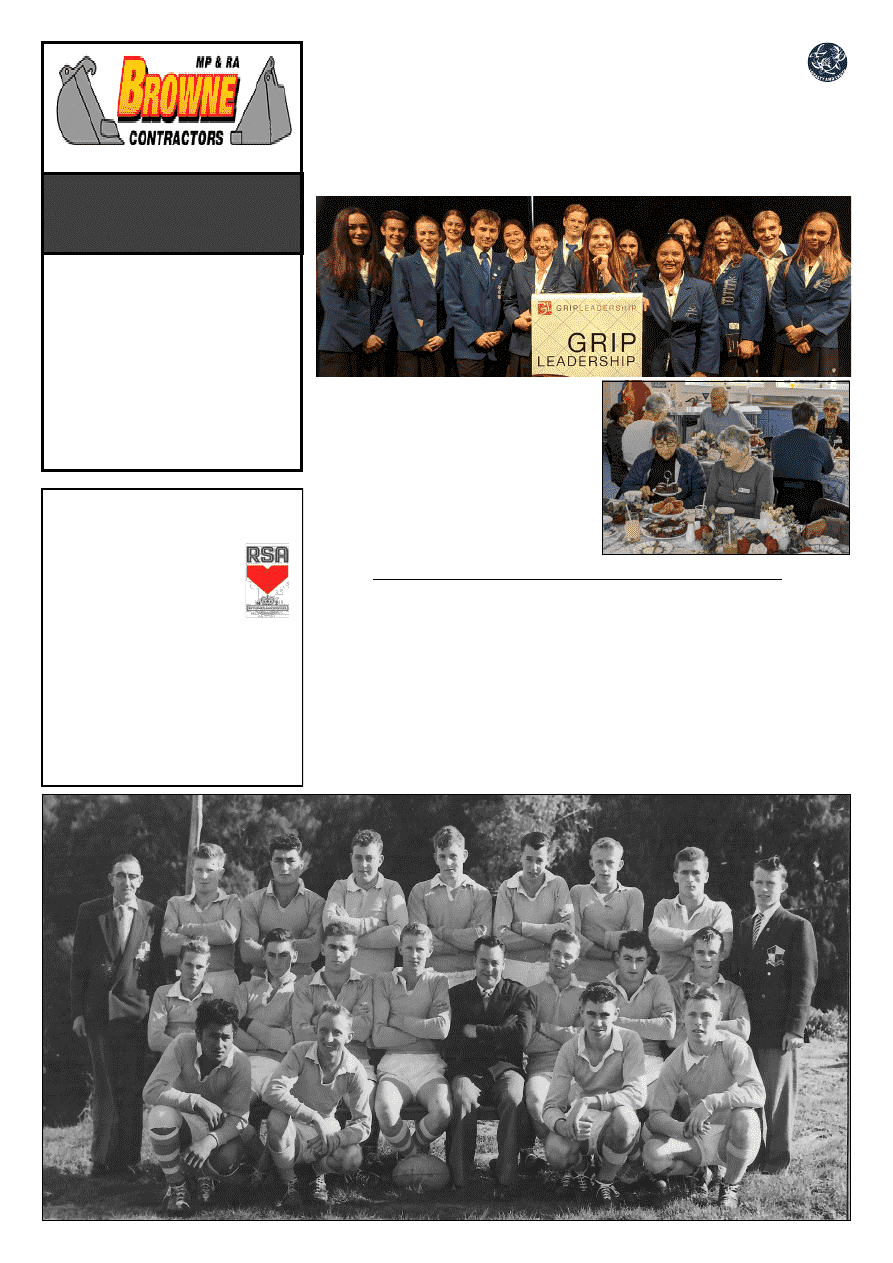 www.kaiwaka.co.nz 
Kaiwaka Bugle - 29 June, 2021 
Page 17 
SIXTY YEARS AGO ...
Many will remember these rugby club members at a time when there were more 
rugby teams. The jerseys were Cambridge blue and the shorts were white. Half 
of this team also played for the Otamatea Sub Union. 
The EASTERN UNITED RUGBY CLUB JUNIORS 1961, KAIWAKA 
Back  Row  L  to  R:  Manager  Eddie  Lambarth,  Myles  Reddy,  Harry  Crallan, 
Terence Leabourn, Robert Hargreaves, 
Alan Forde, Bob Donaldson, Ken McClean, Coach Terry Dowson 
Middle Row: Bill Phillips Tony Hargreaves, Bryan McClean Doug Donaldson, 
Manager Selwyn Woodcock, Neville 
Dowson, Warren Battersby, Jim Wintle 
Front Row: Robert Manukau, Peter Donaldson, Peter Fishlock, Ken Jaques. 
~ Kaiwaka Historical Soc
HAKARU & DISTRICTS 
MEMORIAL RSA 
Members & guests are 
invited to come along and 
enjoy our hospitality. 
New members welcome. 
Meals are served on 
Thursday and Friday nights 
from 6.30pm. 
Order from Blackboard Menu  
For more information please phone 
Barry Wallace 0274 922 975 
Email: president@hakarursa.co.nz 
- 4 Tonne DIGGER - 
- BOBCAT- 
- TIP TRUCK - 
Property Maintenance  
Driveways 
Building Sites 
Stump & Tree Removal 
Hole Boring -  Chain Trencher 
Calf Shed and Stockyard Cleaning 
Phone Matt: 021 199 6677 
Email: mprabrownecontractors@gmail.com 
OTAMATEA HIGH SCHOOL 
From Dirk Smyth, Acting Principal's Notes 
GRIP:  Last  week  all  the  prefects  to  the  GRIP  (Generosity,  Responsibility, 
Integrity, People) student leadership conference at the Vodafone Events Centre 
in  Auckland.  It  was  a  very  entertaining  day  and  our  students  learned  what 
leadership was about and how they can become better leaders themselves. Some 
of the ideas they came away with were: How to involve more students in school 
events  e.g.,  inter-iwi  competitions,  and  How  to  improve  the  effectiveness  of 
something already important at school e.g. Open Day.  
High Tea: On  Tuesday  our  year  10  Food 
Technology  students  hosted  the  school's 
first  High  Tea  event.  Members  from  the 
Rotary  Club  of  Maungaturoto  were  our 
special  guests  for  the  afternoon  and  they 
were  treated  to  a  variety  of  delicious 
cakes,  tarts,  donuts,  croissants,  cheeses 
and  other  goodies,  as  well  as  a  selection 
of  teas  and  cold  drinks.  Our  students 
provided  excellent  customer  service  and 
were  wonderful  ambassadors  for  our 
school. Well done to Ms Meachin for organising this event.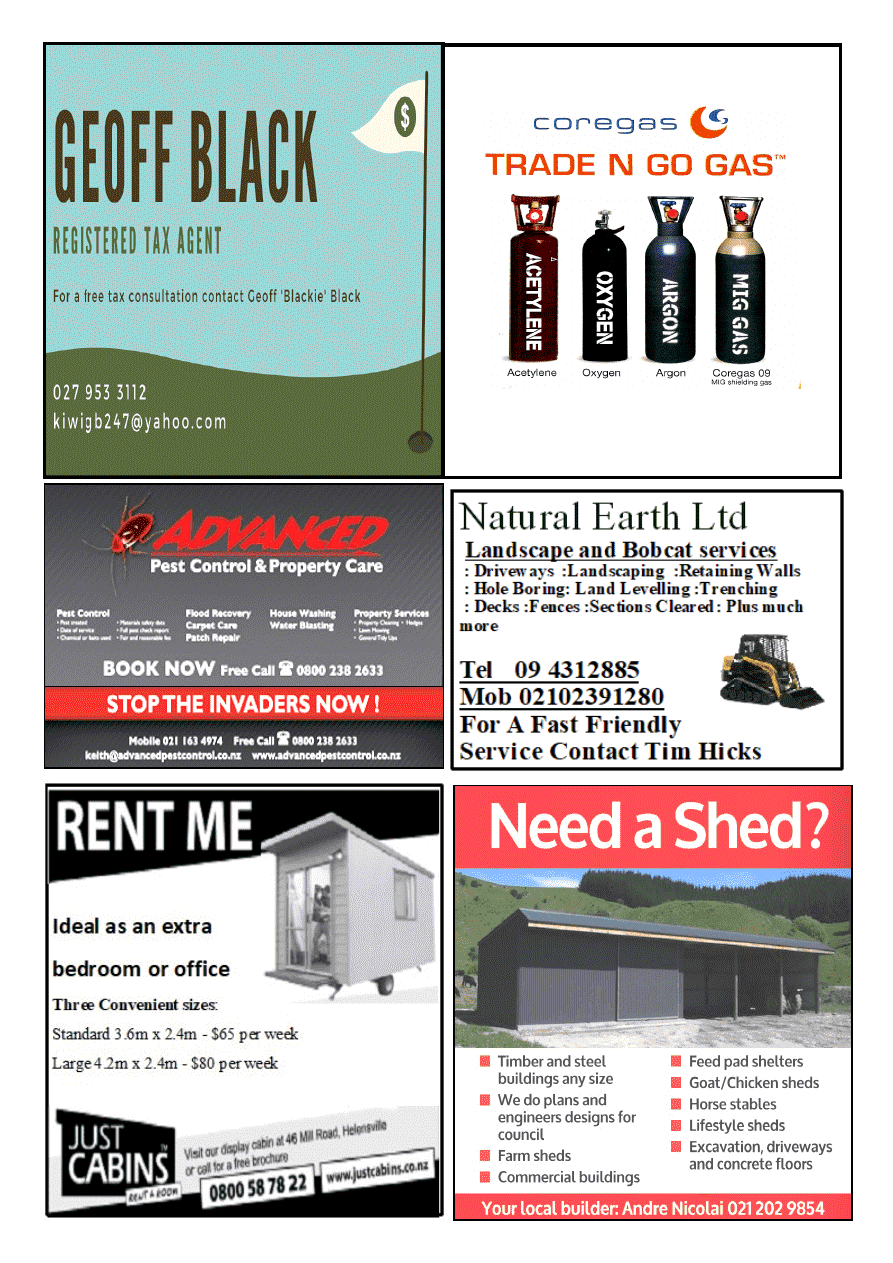 At Twinkle Tow 'n' Tyre 
Mob: 021 833 960 
Ph & Fax: 09 431 2823 
1837 State Highway 1, Kaiwaka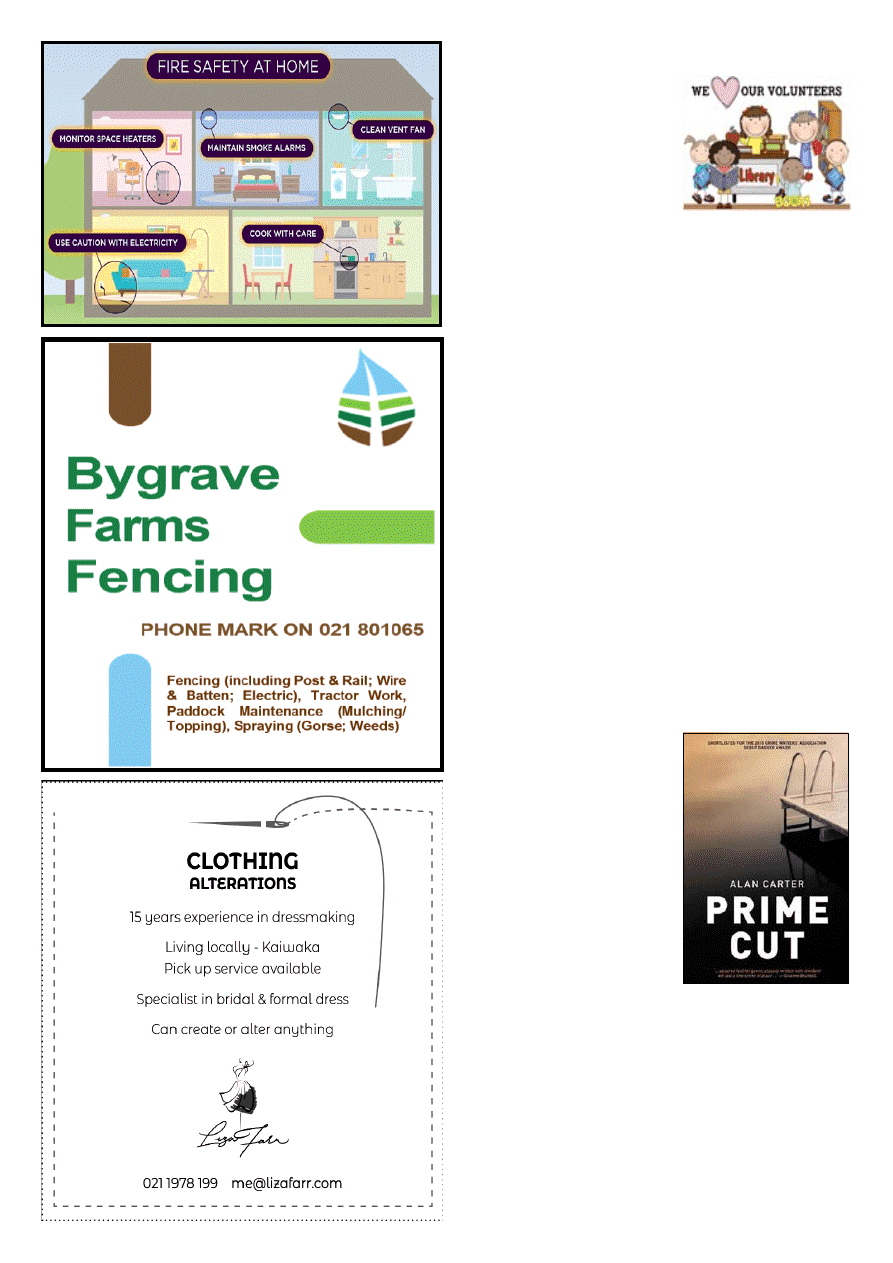 www.kaiwaka.co.nz 
Kaiwaka Bugle - 29 June, 2021 
Page 19 
LIBRARY VOLUNTEERS 
Last 
week 
was 
National 
Volunteer  Week.  Every  year  in 
Aotearoa  over  1  million  kiwis 
volunteer  their  time,  energy  and 
minds  for  various  organisations 
to help make a difference in their 
communities.  NVW  recognises 
the  huge  impact  they  make  and 
thank them for their service. I give my thanks to the team of 
wonderful  volunteers  who  give  their  time  and  efforts  to 
make our library the great place it is. 
And many thanks to Lindsey, who has stepped down from 
the team after 15 years of service with us.  
As  I  was  writing  this  article  last  week,  I  was  still  in  the 
process  of  contacting  people  who  responded  last  time  we 
had a vacancy in the team, to see if any of them were able 
to take on the available day, so that was still in progress at 
that point in time. If you would like to add your name to the 
waiting 
list, 
send 
me 
an 
email 
(kaiwaka.library@gmail.com)  and  let  me  know.  You  need 
to have regular access to your emails and be familiar with 
using a Windows 10 computer. Full training is given when 
you join the team. 
OVERDUES NOTICES 
From time to time a book is returned to the library and gets 
accidentally  put  on  the  shelves  without  being  discharged 
from  the  borrower's  account.  It's  nothing  to  do  with  us 
being  volunteers,  it  happens  to  professional  librarians  too. 
Just  one  of  those  things.  If  you  receive  a  notice  from  the 
library  about  an  overdue  item  and  you're  sure  you  have 
returned it already, please get in touch and let us know so 
we can check the shelves. 
If  you  have  an  email  notice,  forward  it  to 
kaiwaka.library@gmail.com  and  then  we  have  all  the 
details.  Otherwise,  you  can  phone  the  library  or  text  my 
mobile  if  you  have  the  number.  Don't  leave  it  for  weeks 
until the item is marked in the system as lost and a charge 
placed on your account - get onto it straight away so it can 
be sorted before it becomes a problem. 
BOOK REVIEW 
Recently,  I've  read  and  enjoyed 
the  Cato  Kwong  series  by  Alan 
Carter. "
The world is in economic 
meltdown,  but  a  mining  town  on 
the  edge  of  nowhere  is  booming. 
With 
the 
town's 
population 
exploding, it's easy enough to hide 
a  crime—or  even  a  dirty  past. 
Banished  to  the  stock  squad  after 
the fallout from a police frame-up, 
Detective  Senior  Sergeant  Cato 
Kwong is brought in from the cold 
to solve the case of a torso washed 
up on the wild shores of the Great 
Southern  Ocean.  When  Kwong's 
investigation  lifts  the  lid  on  the  exploitation  of  migrant 
workers and disturbs an even darker criminal mind, the fallen 
cop  faces  powerful  opposition.  Drawing  in  globally  relevant 
issues,  such  as  immigration,  racism,  and  the  economic  crisis, 
this  is  a  humorous  and  tightly  plotted  crime  narrative
."  All 
four books in this Western Australian series, (1) Prime Cut, 
(2) Getting Warmer, (3) Bad Seed, and (4) Heaven Sent, are 
on the Rental Fiction shelves in the library. 
See you in the library! ~Wendy 
Kaiwaka Library, cnr State Highway 1 and Kaiwaka Mangawhai Road. 
PO 
Box 
89, 
Kaiwaka 
0542.  Phone 
4312  539. 
Email 
kaiwaka.library@gmail.com  Open  Wed-Sat  10am-2pm,  Mon  4-6pm. 
Free membership is available to all residents in the Kaiwaka area. https://
www.facebook.com/KaiwakaLibrary 
*Enterprise: 
http://
kaipara.kotui.org.nz/ 
KAIWAKA LIBRARY 

WHAT'S ON
PLEASE ~ do let us know what is on - or what is NOT on at the 
moment! 
email kaiwakabugle@kaiwaka.co.nz 
Advertising in WHAT'S ON is FREE  
*2Jul~Movie 'MINARI', KWMH 7.30pm 
*6Jul~Hakaru Pest Control meet Ph 4312090 
*8Jul~OCS Seniors Lunch, Mangawhai Ph 021 251 0225  
*9Jul~End School Term Two 
*9Jul~Hakaru RSA Mid Winter Christmas Dinner 
*15Jul~Pt. Curtis CC meet KSA, 7pm 
*21Jul~Kaiwaka Can meet 5.30pm Archie Bull Hall 
*23Jul~Movie 'COUSINS', KWMH 7.30pm 
*26Jul~Begin School Term Three 
KWMH = Kaiwaka War Memorial Hall; KSA = Kaiwaka Sports Association 
See www.kaiwaka.co.nz for more information 
HOUSEHOLD RUBBISH COLLECTION - Kaiwaka Pick up: 
Mondays = Green bags (Northland Waste - 09 430 3273) 
Wednesdays  = Blue bags and yellow recycling (at Kaiwaka Four 
Square  $3.30  and  $1.70)  (Kaurilands  09  4392146);  ONLY  Blue 
and Yellow bags picked up on Oneriri Road. 
 DIABETES  Support  Group  -for  Kaiwaka,  Mangawhai, 
Wellsford  10am,  3rd  Friday  of  month  Ph:  Colleen  James  09 
4314238 
 GENEALOGY - Wellsford: 1st Thursday in month Ph: 423 
7033; Waipu: 4th Monday in month Ph: 4312 725 
 HAKARU PONY CLUB - Secretary Denise Rogers 021423376 
secretary@hakaruponyclub.co.nz  
 KAIPARA HUNT - Secretary Albert Doonenbal Ph 4312059 
 KAIWAKA BADMINTON -Tuesdays 7.30pm Ph: 4312345 
 KAIWAKA  CAN  - 3rd Wednesday in month, 5.30pm, Archie 
Bull Hall Ph: 0273572751 
 KAIWAKA GARDEN & FLORAL GROUP - 2nd Thursday in 
month. Ph: 431 4744 
 KNITTING FOR WHANGAREI HOSPITAL - 2nd Tuesday in 
month, Archie Bull Hall 10am Ph 4314827 
 MANGAWHAI COMBINED REBUS CLUB - 2pm, 3rd 
Thursday month, Senior Citizens Hall Mangawhai. Ph: 4315777 
 MANGAWHAI GENEALOGY  - meet 3rd Thursday month, 
Mangawhai Museum, 10.30am 
*PILATES - KAIWAKA WAR MEMORIAL HALL - Ph: 
021  
2072729  
*PILATES - HAKARU HALL - Tuesday 10am, Thursday 9am 
Qualified Instructor  Ph. 0220643965  
 PT CURTIS CRUISING CLUB - Jean Ph: 4312227 (wk), 4312520 (hm) 
 RSA,  HAKARU  &  DISTRICTS  WOMEN'S  SECTION  –  meets 
1.30pm 4th Thursday of the month. Ph: 431 5818  
 KAIWAKA  SCOTTISH  COUNTRY  DANCING  CLUB-
Wednesdays 10am - 12 noon  Ph: Elaine 027 432 0032  
 TRAMPING 
- 
Mondays 
9am-2:30pm, 
contact  
valkenburgmaria@gmail.com 
HALLS FOR HIRE: 
  Kaiwaka St. John Hall: Phone Marj  0272941227  
 St.Pauls Archie Bull Hall HIRE $20 half day, $40 full day per 
hire, S McAulay, Ph 4312311 
 Kaiwaka  War  Memorial  Hall  HlRE  -  Phone  4312725  or 
kaiwaka.hall.bookings@gmail.com 
 Hakaru Community Hall HIRE -Ph.  Karen 4312090 
 Te Pounga Marae queries - Pearl Nathan  0223933533 
 Kaiwaka Sports Association hire/queries 
Jennie Reynolds 
   ksa.bookings@mail.com, 02102764171  
Justice of Peace:  
L.Donaldson  4312  228;  A.F.Hargreaves  4312  045,  W.Howard 
4312 725  - please phone to make sure they are available or go to 
www.justiceofthepeace.org.nz 
Marriage Celebrants:  
L.Donaldson; A.F.Hargreaves; Y Osborne
LOCAL SERVICES 
*Emergencies - Ambulance, Fire, Police - dial 111 
*Non-urgent Police phone 105
A A: Meets Wed., 7pm. Kate's Place Ph 021 024 25969 or 0800 229 6757  
NARCOTICS ANONYMOUS : Mon., 6pm, Archie Bull Hall, Kwk-Mwi 
Road; drug and alcohol related issues. Ph. 02102412348 
ASUREQUALITY LTD (was AgriQuality) Call Free 0508 0011 22  
BUDGETING SERVICE, WELLSFORD: Free confidential advice & 
support for all areas of personal finance. Ph (09) 423 7123 
CAB-Citizens Advice Bureau.Wellsford Ph: 4237333 
0800 367 222 email:cab.wells@xtra.co.nz  
CIVIL DEFENCE - Kaiwaka Community Response Group: 
kaiwaka.civildefencecrg@gmail.com, 4312725 Wendy 
DOG/STOCK /NOISE CONTROL 0800 105 890 
FUNERAL SERVICES: Morris & Morris Ltd, Whangarei 0800667747 
GRANDPARENTS Raising Grandchildren: Dianah Roberts 0223819539 
HAKARU & DISTRICTS MEMORIAL RSA (Inc) 733 Settlement Rd, 
Hakaru. Ph 4312 176 or Bill Warren (President) 431 2092 
HAKARU LANDFILL/Transfer Station:Open everyday  10am-
4pm.Ph4312629 Cost-$55 trailer load up to 1 cubic metre. Ph:4258567 - 
office 
KAIPARA DISTRICT COUNCIL www.kaipara.govt.nz:  
Help Desk FREEPHONE 0800 727 059  
KAIWAKA CEMETERY: Ph: 4312045 or 4314017 
KAIWAKA LIBRARY: kaiwaka.library@gmail.com  
Mon. 4-6pm; Wed., Thurs., Fri., Sat. 10am-2pm Ph:4312539 
KAIWAKA PLAYCENTRE: Ph Juanita 0274134904; open Mon, Wed, 
Fri 9am-12pm. Hastie Lane; Monday to Friday 9.00am - 12 noon. 
KAIWAKA POST OFFICE:Ph:4312 431  
Post Code: 0573 for RD2 and 0542 for all Kaiwaka Post Office mail 
KAIWAKA PRIMARY SCHOOL: Ph: 4312309   
KAIWAKA SPORTS ASSN: Ph 4312005; 4312129 gym 
KAIWAKA ST JOHN HALL: Phone Marj  0272941227  
KATE'S PLACE Community Centre - Employment services, Free Health 
Nurse, Plunket, Advocacy, Osteopath, A.A., Legal Advice. 4312 661 
LINKING HANDS Health Shuttle Ph 4315906 or 09 4318969 
MINISTRY FOR PRIMARY INDUSTRIES - General inquiries Call 
Free 0800 008 333 
NORTHPOWER: Faults Kaiwaka area 0800 104040 
OTAMATEA COMMUNITY SERVICES: Counselling, parent coach, 
Family Support worker, budget advice, food bank. Mon-Fri 9am-3pm. Ph 
09 431 9080 http://www.otamateacs.org/ 
PARENTPORT: Free, practical family support service Puhoi to Paparoa 
Ph or txt: Dianne 027 280 5093 or 09 425 9357 
PLUNKET: Kaiwaka- St John Hall, Monday 19 Oct, 23 Nov, 21 Dec. then 4th 
Monday of the month. Plunket Nurse Louise 027 282 3987 or 09 438 2508 
Mangawhai- Rose Madsen Cottage, Mondays and Wednesdays. Plunket Nurse 
Rebecca 021 501 941 or 09 438 2508 
Maungaturoto - Good News Church, 2nd and 4th Wednesday of the month. 
Plunket Nurse Seleisa 021 912 248 or 09 438 2508 
PLUNKET HELPLINE -0800 933 922 (24 hours)  
FACEBOOK - Kaipara Plunket 
TAITOKERAU COMMUNITY LAW: Free confidential legal advice and 
assistance, 2nd
Thursday
 of each month. Ph: 0800 155 529 for appts.  
TE URI O HAU Settlement Trust Tangata Developments: Whanau Ora 
021 793262  
VETERINARY SERVICE MANGAWHAI: 
Ph: 4314535 Mon-Fri 8.00-5.00, Sat 9-12, a/h appt. 
WELLSFORD DOCTORS: Ph: 4238 086 
CHURCHES:
 
Kaiwaka  Revival  Church  -  Your  Community  Church:  Sundays  10am. 
Ph: Pastor Tawhiri 09 431 8988 or Pastor Paul 09 4312 068 Visit us at 
www.facebook.com/kaiwakachurch 
 
St  Paul's  Anglican  Church  1st  Sun.  9.00am  (Eucharist),  3rd  Sun. 
9.00am  (Family  Service).  Contact:  Church  Office  Ph  431  4122 
www.mangawhaianglican.org.nz 
 
Church of Christ the King, Mangawhai:9.00am every Sunday 
 
St.Mary's  Catholic  Church:  Maungaturoto  –  Griffins  Road,  Saturday 
evening  Vigil  Mass  6pm;  Mangawhai  –  Senior  Citizens  Hall,  Sunday 
Mass  8:30am;  Wellsford  –  Matheson  Road,  Sunday  Mass  10:30am;  
Mid-week Mass times and all enquires to Fr. Bill Fletcher – phone 423 8170
 
Baptist Church: Sun. 10.30am Mangawhai Snr Cit.Hall.Ph:4312339 
 
Cause  Way  Church  Mangawhai:  Sundays  10.15am,  Mangawhai 
Community  Recreation  Centre,  Insley  St.  Ph:  09  4314782 
Next Bugle Deadline Friday 9 July 2021