www.kaiwaka.co.nz 
Kaiwaka Bugle - 13 July 2021 
Page 1 
No.13 
12 July 2021 
HAKARU HOSTS ROARING SUCCESS 
Gangsters and flappers were out in force for the Annual Zonta Club Charity Ball 
and Auction, held in the Hakaru Village on Saturday 26 June.   
The Roaring 20s themed event was an evening of glitz and glamour as more than 
150 people danced the night away decked out in fabulous fashion from the iconic 
era.  
The event was also a roaring success, with more than $10,000 raised for the Zonta 
Club's 'Second Chance' and 'Spirit of Adventure' scholarships.  Kaye and Stewart 
McElwain from Ray White in Mangawhai were the major sponsors of the event.   
"It  was  a  fantastic  night  and  heartening  to  see  the  local  community  coming 
together for a great cause," said Kaye.  
Kaye and Stewart send a shout out to Kaiwakaians that they are always looking 
for opportunities to support the 
various 
hamlets 
and 
communities they work in.   
In  the  coming  weeks  keep  a 
look  out  for  Kaye's  new 
monthly  column  providing  an 
insight into what's going on in 
our  local  real  estate  market 
utilising  real-time  from  Ray 
White's 
184 
offices 
nationwide. 
The Zonta Club of Mangawhai is 
offering  to  young  local  women 
an  Award  of  a  10  Day 
Development  Voyage  on  the 
Spirit of New Zealand. 
Text 027478254 for details. 
Applications close 16 July 
KAIWAKA-MANGAWHAI ROAD 'ISLANDS' 
These pink and white raised patches - pedestrian safety zone - caused some grief last Friday. Photo left: the islands show 
black tyre marks; by 11pm, photo right, a couple of Kaiwaka's many cones made them more obvious.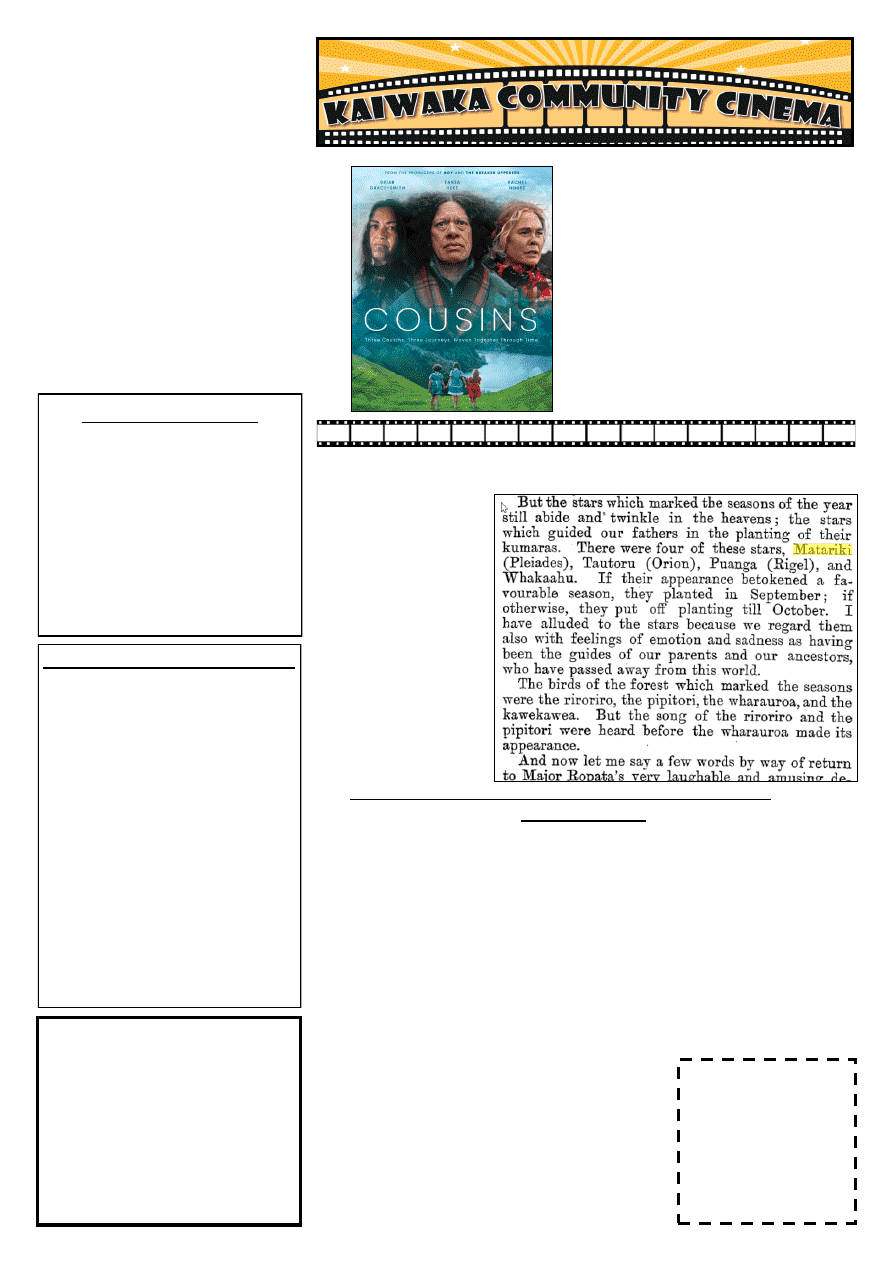 www.kaiwaka.co.nz 
Kaiwaka Bugle - 13 July 2021 
Page 2 
ABOUT TOWN

 Thank you Eastern  United  JMB  Rugby Under 11 players for your brilliant 
Saturday  game  against  Maungaturoto  -  exciting,  fun  and  played  with  great 
enthusiasm. 

 What a brilliant crowd at the KSA sports ground for Saturday's rugby - they 
ran out of car park! Well done Otamatea  HAWKS  on their wins for the last 2 
Saturdays - versus Southern on 3 July 57-7 and 10 July versus Mangakahia 30-6. 
The team now goes onto play their finals against Mid Western on Okara Park on 
17 July. 

 The  Kaiwaka  St.  John  Op  Shop  is  now  St.  John  Kaiwaka  Store  -  see 
Otamatea St. John News on page 15 

 Maungaturoto  Pet  Day  2021 will be on22 October includes Otamatea High 
School students. For more information and to register your interest please contact 
Terri:  kenny.terri@xtra.co.nz  or Pepe jimandpep@xtra.co.nz   

Century Farms - do you know of any families in our district that have farmed 
the same farm for 100 years? See page 9 

 Badminton  every  Tuesday  evening  7.30pm  -  great 
fitness, great warm-up! 

Holiday  activities:  Join  Andy  Griffiths  for 
'Cartooning 
For 
Kids' 
- 
contact 
09 
4312029 or andy@andygriffiths.com 

 Take  a  peek  in  our  new  Trade  Aid  shop,  next  to 
Four Little Birds

 Bugle 12 in colour at kaiwaka.co.nz 
~ Lindsey, Ed
' 
Ehara taku toa i te toa takitahi, ēngari taku toa he toa takatini.' 
Success is not the work of one but the work of many'.
At Kaiwaka War Memorial Hall . Adults $10, Kids (under 16) $5, Family Pass (2 adults + 3 children) $25 
KAIWAKA BUGLE NO.13 
13 JULY 2021 
CONTENTS: 
Page 3: Public Notices, Classified 
Page 5: Photos About Town 
Page 7: Hakaru Womens RSA; 
Kaiwaka Weather 
Page 9: Century Farm - Pukeatua 
Page 11: Kaiwaka Sports  Assn 
Page 13: Otamatea High School; Kauri 
Museum 
Page 15: Otamatea St. John 
Page 17: Otamatea HAWKS Rugby 
Page19: Kaiwaka Library 
Bugle 14 will appear 27 July 
Contact for advertising, reports, articles 
or information can be made by 
Email: kaiwakabugle@kaiwaka.co.nz 
Ph: 09 4312 045 Lindsey 
Txt: 027 2724137 
Copy  may  be  left  at  Kaiwaka  Four 
Square. 
Kaiwaka Bugle 
Founded May 1978 
We appreciate articles and photos about local 
events, etc, as well as ads and suggestions. 
Copies available in Kaiwaka at Kaiwaka  Four 
Square, Kaiwaka Postal Centre, Shamrock 
Service Station, Animal Health Centre, 
Kaiwaka St John shop. 
Also outlets in Maungaturoto, 
Mangawhai and Paparoa. 
Can be viewed online at  
www.kaiwaka.co.nz/Bugle  
Or a copy can be posted to you if you supply 
stamped, self-addressed DLE envelopes. 
Kaiwaka Bugle Advertisements 2021: 
All 
copy 
and 
queries 
to: 
kaiwakabugle@kaiwaka.co.nz 
The Bugle is printed on an A4 page, B&W  
Ad  sizes:  1/16  page  (3  x  9.5cm)  $5;  1/8 
(6.5  x  9.5cm  landscape  or  portrait)  $8; 
3/16 ( 10 x 9.5cm or 7.5 x 12,5)  $12.  
Classified  ads:  First  one  FREE,  $4  per 
entry (max. 30 words, max. 4 repeats). 
Payments  can  be  made  online  at 
ANZ 
06  0365  0006990  00
,  posted  or  left  at 
Kaiwaka Four Square Store. 
We  use  Microsoft  Publisher,  and  can 
work  with  most  common  image 
formats, Word, Excel, and PDF files. 
Accounts:  
Email: bugleaccounts@kaiwaka.co.nz 
The  Kaiwaka  Bugle  is  a  community 
newspaper run by volunteers, as part of 
the Kaiwaka Media Group Inc.   
Articles, etc. printed are not necessarily 
the opinion of the Bugle Team. 
Proverbs 3: 5&6 
Trust in the Lord with 
ALL your heart and lean 
not on your own 
understanding; in ALL 
your ways acknowledge 
Him and He WILL direct 
your paths. 
KAIWAKA BUGLE 
DEADLINE DATES 
2021:   
Every second Friday 
July23 
August 6, 20 
September 3, 17 
October 1, 15, 29 
November 12, 26 
December 10 
COUSINS 
Friday 23 July, 7.30pm 
COUSINS  is  a  New  Zealand 
movie. 
Note:  it's  out  of  sequence  with 
our normal fortnightly screening. 
This is the story of three cousins - 
Mata, Missy and Makareta.  
Directors: 
Ainsley 
Gardiner, 
Briar Grace Smith 
Writers:  Briar  Grace  Smith  and 
based  on  the  novel  by  Patricia 
Grace. 
MATARIKI 
An except form 'Newspapers  Waka Maori  22 September 1874  Page 239':  . 
Matariki  is  both  the 
name of the Pleiades star 
cluster  and  also  of  the 
celebration  of  its  first 
rising  in  late  June  or 
early  July.  This  marked 
the beginning of the new 
year  in  the  Māori  lunar 
calendar.  
MAORI 
PROVERB: 
Haste with the harvest; 
Matariki  (Pleiades)  is 
setting (i.e., the season is 
advanced 
). 
Ref. 
Newspapers    Waka  Maori    6 
July 1875  Page 159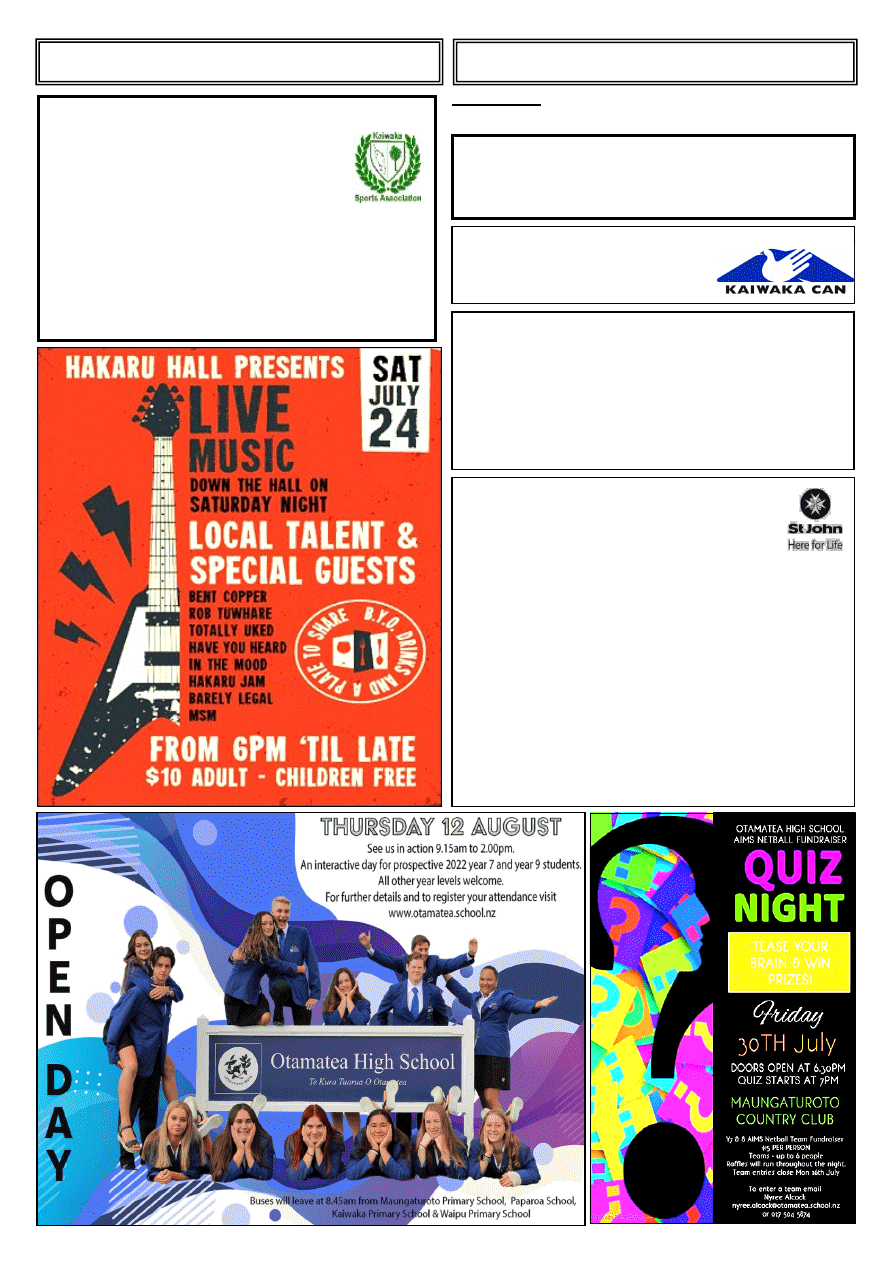 www.kaiwaka.co.nz 
Kaiwaka Bugle - 13 July 2021 
Page 3 
PUBLIC NOTICES 
CLASSIFIED 
ST. JOHN KAIWAKA STORE 
THANK  YOU 
for your donations over the past 
few  weeks,  and  your  support  this  helps  to  keep 
the Ambulances going in your hour of need. 
Pop  on  in  to  the  St  John  Store.  New  Layout  and  New 
signage. Looking Great  
We have lots of Books for those long winter evenings, and 
rainy days. Children's books on the Ramp 5 for $1.00.  We 
have a few Family Games to help entertain the children. 

IN  NEED  of  clean  Blankets,  Pillows  and  Drinking  Glasses, 
Bric  a  Brac.,  Men's,  Children's,  and  especially  Babies  winter 
clothing.   
Regards, Dianne and the Team 
Please bring your donations in during opening hours.  
HOURS: Tuesday – Friday 10am to 3pm;  Saturday 10am – 2pm 
PHONE: Shop  4312650  
1919SH1, Kaiwaka 
FOR SALE: Dry Pine Cones. $5 and $10 bags.  
Phone: 09 4312040  
KAIWAKA FOODBANK OP SHOP  
Our Sale will finish on Friday 16th July 
Fill a bag of clothes now $3; half price on other goods  
Looking for Grapefruit, Lemons, Cutlery, Plants, Cooking 
pots and anything in good Saleable condition  
Please  Don't  leave  Black  Bags  of  Dirty  Clothes  outside 
the shop  
Thank  you  to  everyone  for  your  support  and  donations 
AROHANUI Milly and Staff  
First notice FREE  for Classified or Public Notices - 
less  than  30  words  -  then  charged  as  per  advertised  
($4).  This  includes  AGM  and  meeting  notices,  FOR 
SALE, WANTED, FOR RENT. ~ Kaiwaka Bugle 
KAIWAKA SPORTS ASSOCIATION 
Farewell Invitation 
Paula & Greg Jaques 
Lenore & Doug Donaldson 
And special mention to the Jaques Family 
Wednesday 21st July, 7pm 
Meet, Greet and Supper 
All welcome 
KAIWAKA CAN  
Next monthly meeting:  
21st Juky 2021 
Archie Bull Hall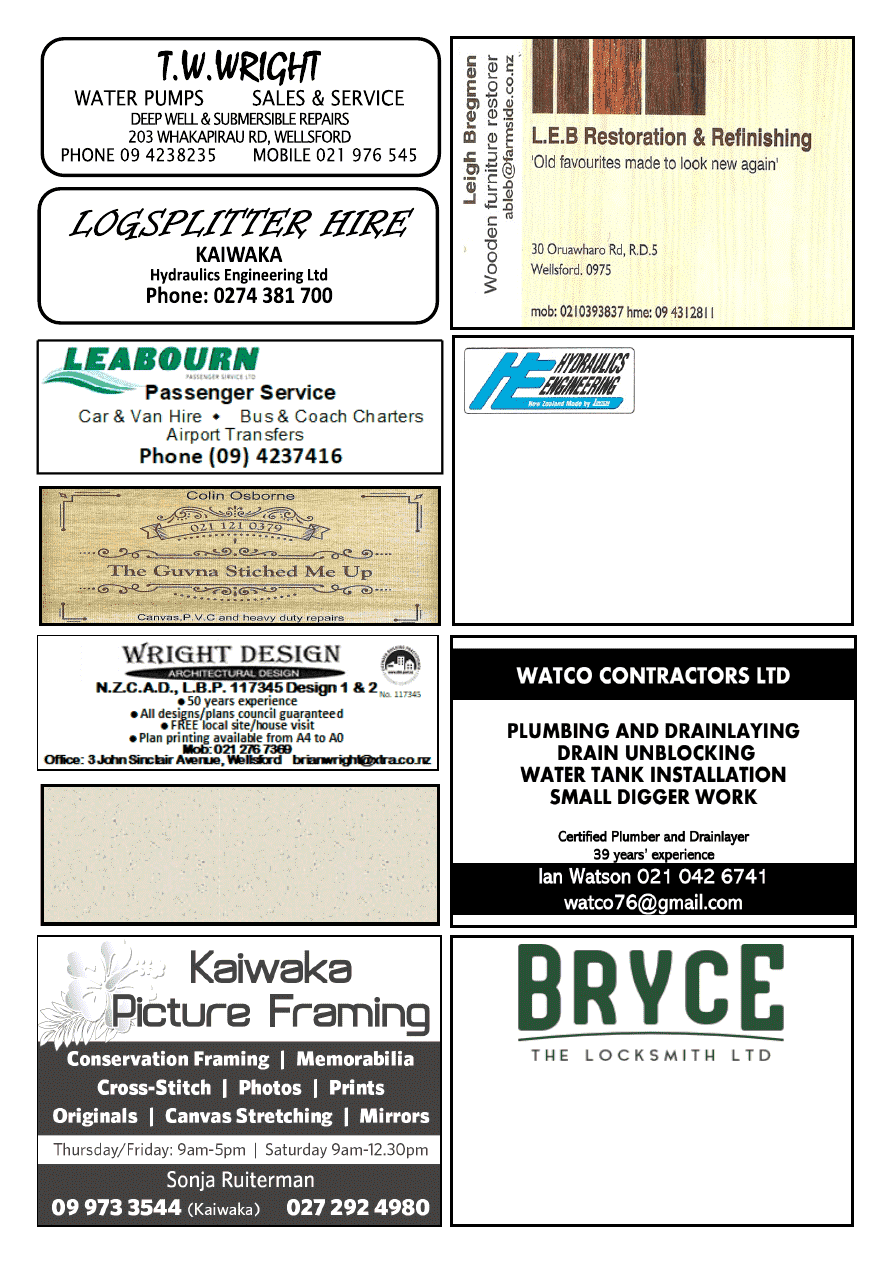 www.kaiwaka.co.nz 
Kaiwaka Bugle - 13 July 2021 
Page 4 
Bryce Frewin 
Ph: 021 850 983 
Kaipara Based Master Locksmith 
bryce@brycethelocksmith.co.nz 
www.brycethelocksmith.co.nz 
Hydraulics  
Engineering Ltd 
Kaiwaka 
Sales - Service - Parts - 
Hire - Manufacture 
Service Contractors & Industrial Equipment: 
Rams, Pumps, Valves 
Logsplitter Hire, Manufacturer, Sales 
Dennis Linton 
Lot 2 / 161 Ranganui Road, RD2, Kaiwaka, 0573, New Zealand 
Mobile: 0274 381 700 
Email: hydraulicsengineering@xtra.co.nz 
Counsellor and Registered Psychotherapist 
Offers Supervision 
ACC Sensitive Claims 
Susan Matheson      MNZAC 
Dip. Psychosynthesis Counselling and Psychotherapy 
Phone 09 431 2996                                     Mobile 027 605 2427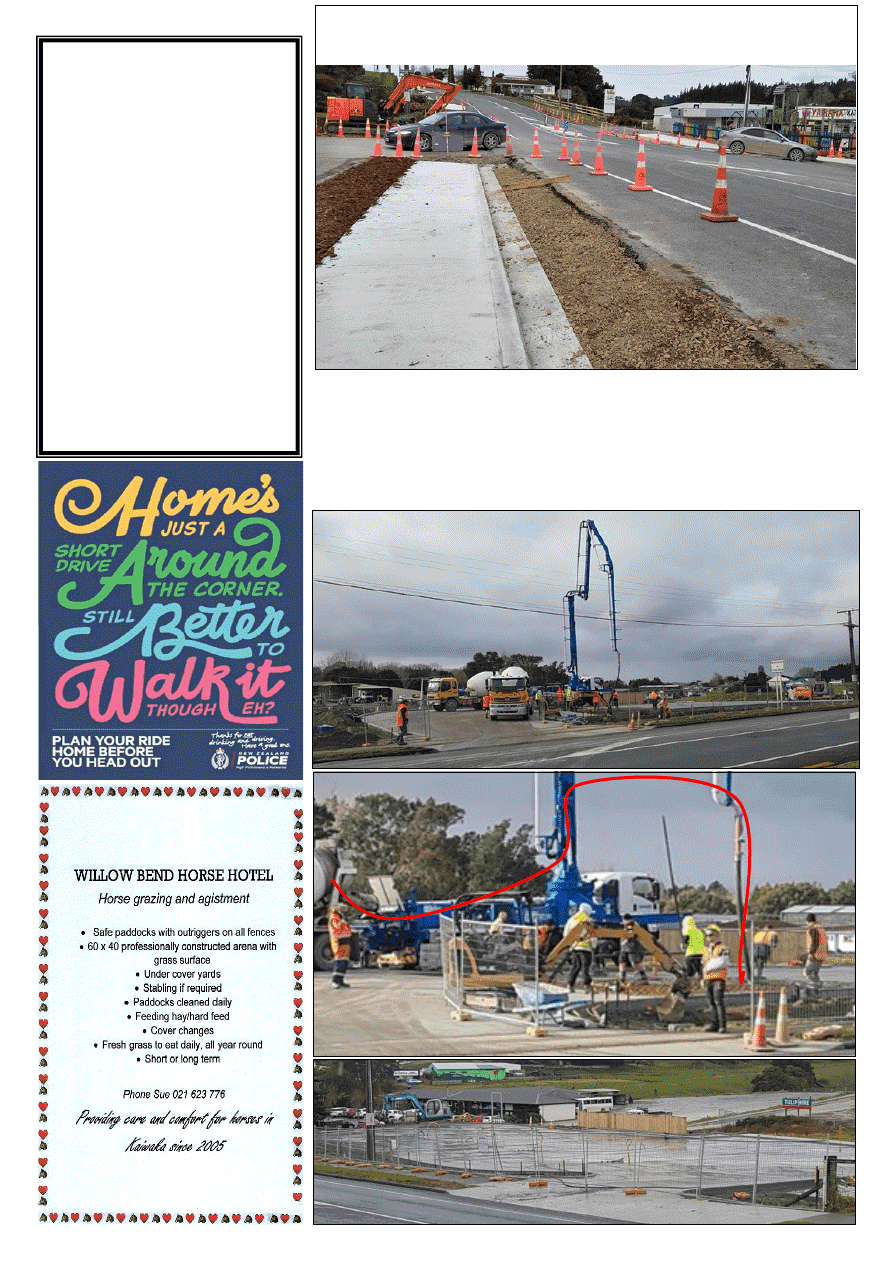 www.kaiwaka.co.nz 
Kaiwaka Bugle - 13 July 2021 
Page 5 
ABOUT TOWN 
Now Open!! 
MOMMAS 
TAKEAWAYS 
09 601 6124 
7 days 
12 - 8pm 
1923b State Highway 1 
Kaiwaka 
FEWER CONES THIS WEEK 
There will be a slope from the old seal to the new kerbing when the final sealing 
is completed. 
GULL SERVICE STATION 
The  final  concrete  surface  -  follow  the  line  left  to  right  where  there  concrete 
leaves the Atlas truck, is poured in the special vault then goes up and over in the 
'crane' pipe and down to the large hose to exactly where it is needed. 
Bottom photo: A clean slate!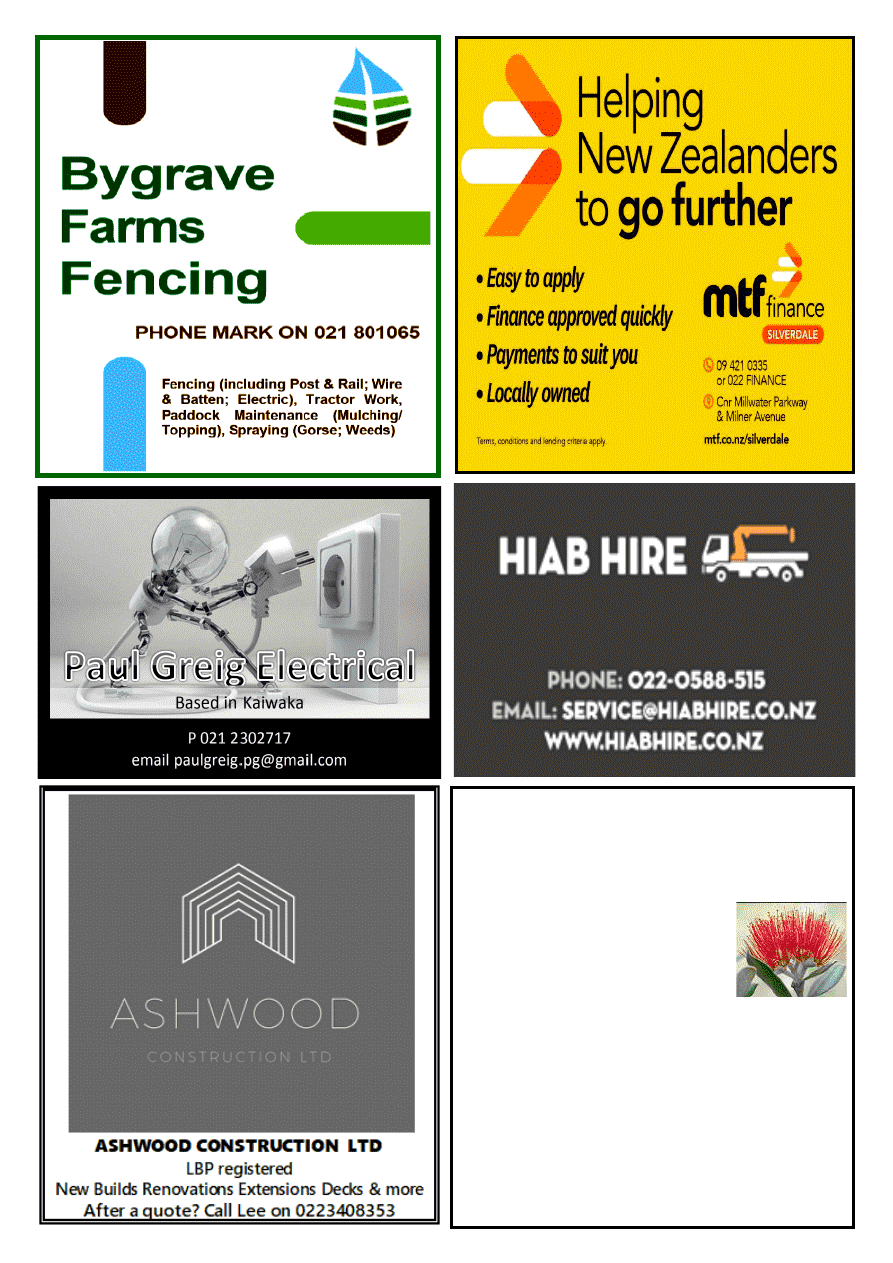 www.kaiwaka.co.nz 
Kaiwaka Bugle - 13 July 2021 
Page 6 
KAIPARA FLOORING CO 
FULLY MOBILE FLOORING SHOWROOM 
SERVICING THE KAIPARA 
PH (09) 946 9886 or  
CHRISTINE ON 021 515 415 or 
HOWARD 021 2696250 
IN HOUSE MEASURE, QUOTE AND 
CONSULTATION SERVICE 
FOR THE SUPPLY AND INSTALLATION OF 
CARPET, VINYL, VINYL PLANKING, HARD 
FLOORING, GARAGE CARPET, LAMINATE 
FLOORING AND MORE. 
EMAIL kaiparaflooring@gmail.com  
WEBSITE www.kaiparaflooring.co.nz 
Qcard 6 month interest free terms or 12 – 24 
month finance options available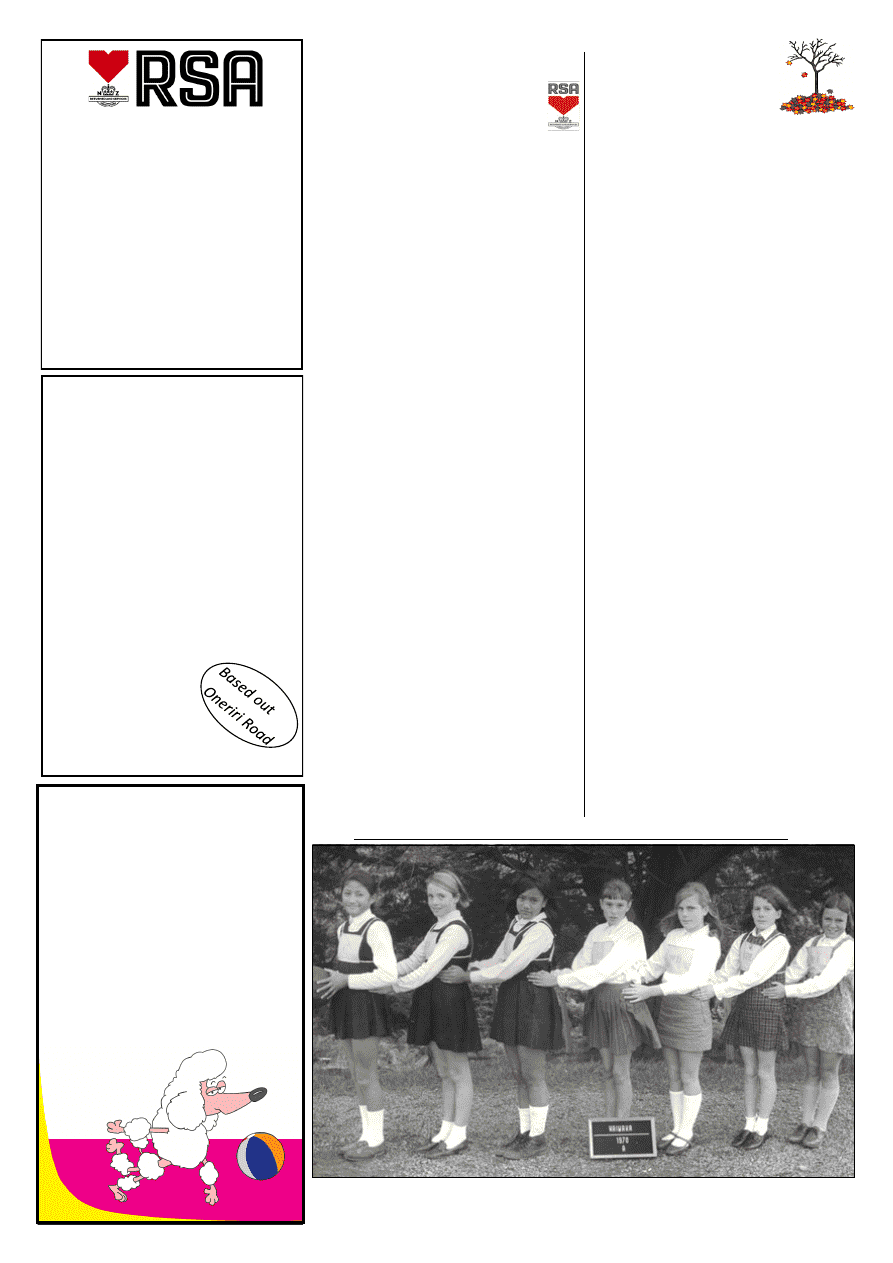 www.kaiwaka.co.nz 
Kaiwaka Bugle - 13 July 2021 
Page 7 
HAKARU & DISTRICTS 
MEMORIAL RSA (INC)
Members & guests are invited to 
come along and enjoy our hospitality. 
New members welcome. 
Meals are served on Thursday and 
Friday nights from 6.30pm. 
Order from Blackboard Menu  
For more information please phone 
Barry Wallace 0274 922 975 
Email: president@hakarursa.co.nz 
HODGETTS 
CONTRACTING
Digger Work   
Driveways 
House Sites   
Dams  
Drains, etc
Also available for HIRE 
3 ton Vib Roller  
Heavy Duty Tow  
Waterblaster      
Lazer Level
Phone Mark  
4312877 
027 447 8554 
HAKARU RSA 
WOMENS SECTION 
Thirteen  members  attended  the 
June meeting held one week early 
on the 17th. 
We  were  pleased  to  welcome 
Sheila Holmes and Beth Stone for their 
first meeting and hope they enjoyed the 
afternoon. 
Activities 
Margaret  Haverfield  received  her 
Birthday card, and we hope she had an 
enjoyable Birthday. 
The  raffle  was  won  by  Petronella  and 
second prize went to Beth. 
Four 
members 
are 
attending 
Silverdale's 67th Birthday on July 20th 
A  trip  to  Riders  at  Riverside  is  being 
arranged, details at next meeting. 
Missionaries in India 
Pamela Truscott gave a very interesting 
talk  on  her  and  her  husband's 
experiences  in  India.  Pamela  and 
Graham spent 18 years as Missionaries 
in  India  as  well  as  bringing  up  their 
family.  It  really  makes  us  realise  how 
lucky  we  are  here  in  New  Zealand 
when we hear how others in the world 
have to live. 
Service in England  
Next  month  Margaret  Haverfield  has 
agreed  to  talk  of  her  experience  in  the 
Service  in  England  which  is  very 
appropriate  as  this  last  ANZAC  Day 
was  titled  "The  year  of  the  Women  in 
the Services". 
Next Meeting  
Our  next  meeting  will  be  held  on 
Thursday  22nd  July  1.15  p.m.  Visitors 
welcome. 
The RSA Mid Winter Christmas dinner 
on Friday 9th July was a great success - 
with ham and all the trimmings. It was 
'full house"! 
Any queries phone Ann on 4315913. 
Hope you are all keeping Cosy and Warm. 
~ Yours Aye Ann. 
Hot Diggity Dog  
DOG GROOMING  
KAIWAKA 
Spring is in the hair. 
Professional Dog Groomer  
at affordable prices.
www.doggroomingkaiwaka.co.nz 
call Pam 094312143 or text 
0273335380 for bookings 
KAIWAKA 
WEATHER 
May It is with heavy heart 
that  I  write  this  month's 
weather  report.  My  sister  Beverley 
(who wrote this report for many years) 
recently  lost  her  battle  with  heart 
disease. Rest in peace Bev. 
Welcome  to  all  the  share  milkers  and 
their families who have moved into our 
area.  I'm  sure  you  will  have  been  very 
glad of a dry start on your new farms. 
June  has  been  an  extremely  warm 
month this year. I heard on the TV this 
morning that this year June has been the 
warmest  month  ever,  taking  all 
anomalies into consideration.  
The  month  started  with  lovely  fine 
weather  and  then  last  week  we  had 
several days of frosty mornings and the 
sun struggled to make much impression 
until  late  morning.  The  rain  has  been 
very  scarce  this  month,  so  we  only 
recorded 213.5ml for the month.  
Hopefully we will get some rain out of 
the  cold  front  that  is  heading  up  the 
country.  We  had  279.5ml  for  June  last 
year  (2020).  The  recording  for  June 
2019 was only 85.5ml.   
The Brynderwyn waterfall was flowing 
nicely for a couple of weeks during the 
middle of the month, but I notice it has 
gone  back  to  a  gentle  trickle  again.  
Please take care out there everyone. 
Q:  Why  did  the  employee  get  fired 
from the calendar factory? 
A: He took a day off.……~Karen 
NIWA  reports, 
last  month  was  the 
warmest June on record for the country. 
The  average  temperature  was  2.0°C  above 
average  -  that  is  the  13th  time  that  has 
happened  since  1909.  That  meant  several 
records  were  broken  with  24  locations 
having their warmest June on record. 
The highest temperature was 22 at Hastings 
on June 26 and Leigh on June 19. 
Taranaki  is  still  leading  the  sunniest 
location table 
KAIWAKA  SCHOOL  NETBALL  1970:  Alamain  Connelly,  Susan  Mitchell 
(Inger), Kathy  Paikea  (Henderson),  Sandra  Leslie (Shaw),  Linda  Haiatana,  Ann 
Marie Dunn, Lucinda Pert.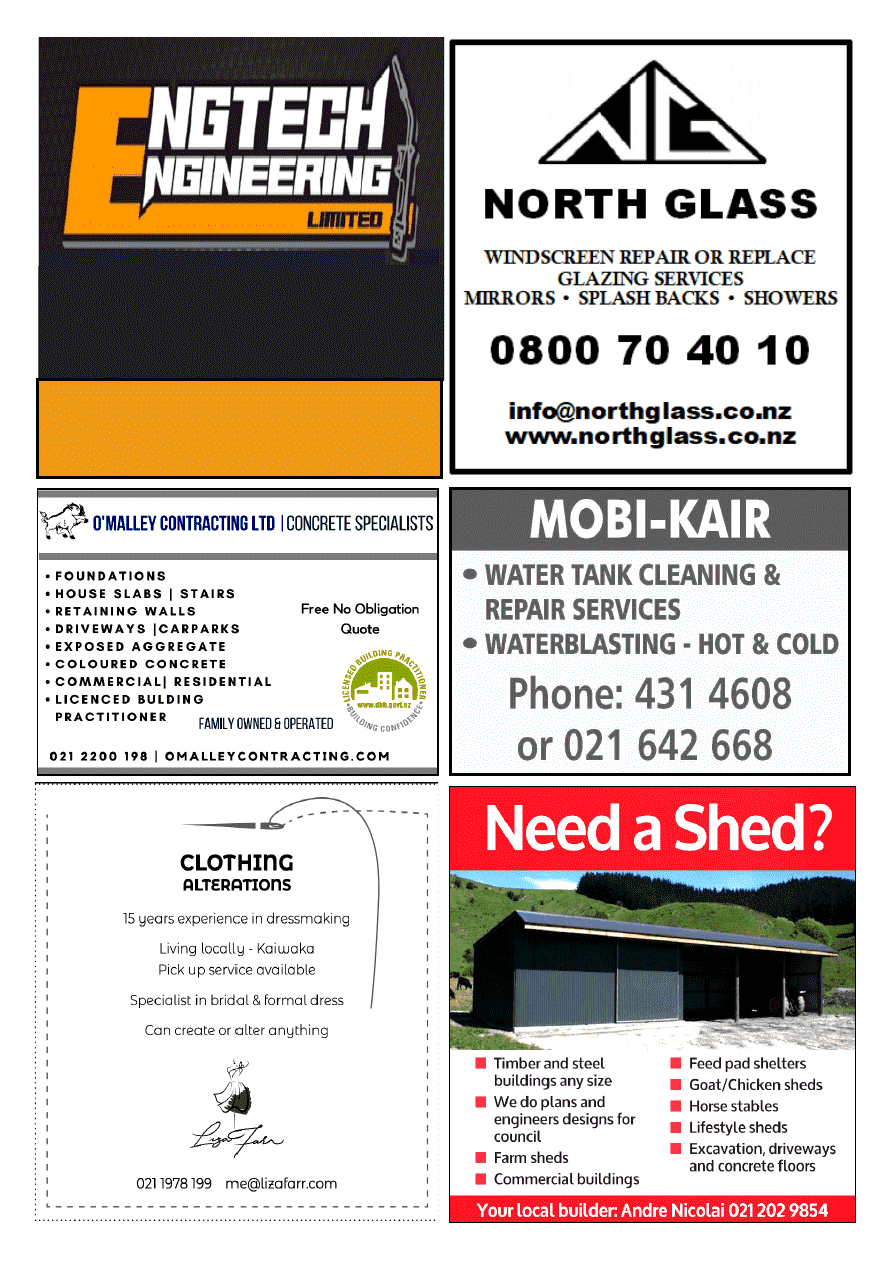 www.kaiwaka.co.nz 
Kaiwaka Bugle - 13 July 2021 
Page 8 
- Mobile Engineering Services - 
- Specialised Welding and Fabricating - 
- Media Blasting and Painting -  
- New CNC Profile Cutting Machine - 
PH: 021 415 259 or 09 973 3440 
648 Kaiwaka-Mangawhai Rd, Hakaru 
www.engtechengineering.nz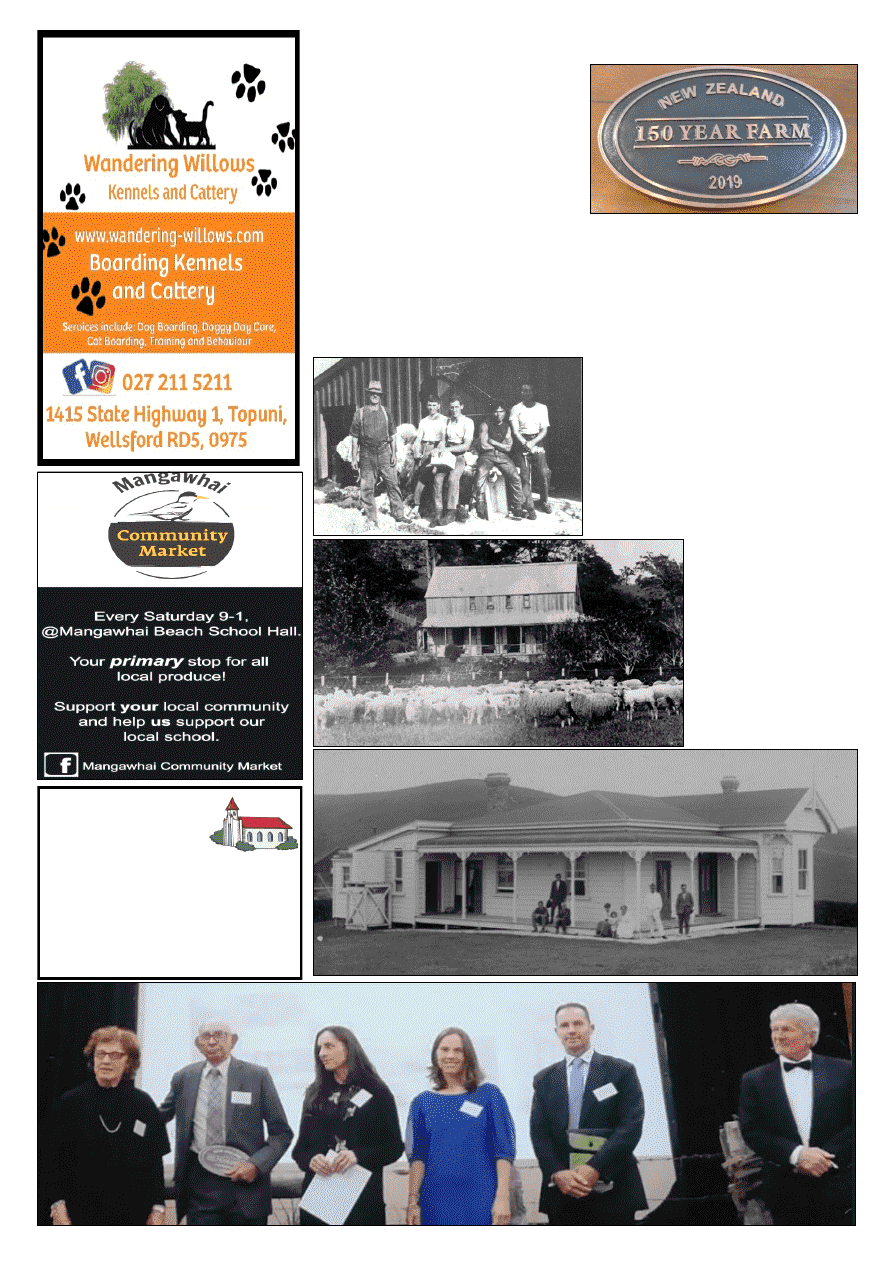 www.kaiwaka.co.nz 
Kaiwaka Bugle - 13 July 2021 
Page 9 
ST PAUL'S  
ANGLICAN  
SUNDAY SERVICES
First Sunday 9am Holy Communion 
Third Sunday 9am Family Service 
St Pauls Church: Kaiwaka-Mangawhai Rd. 
Church Office Ph 431 4122 
www.mangawhaianglican.org.nz
CELEBRATING GENERATIONS ON THE LAND 
HARGREAVES FAMILY RECEIVE 
GENERATION FARMIMG AWARD 
Photos:  Top  -  Pukeatua  woolshed,  1925, 
Vivian  Hargreaves,  Richard  Woodhouse, 
George  Connelly  and  Max  Hargreaves 
enjoy 'smoko' time during shearing. 
Mid: The Joseph Hargreaves Homestead at 
Hargreaves Bay 
Mid:  The  Pukeatua  Homestead  built  by 
Vivian  and  Ellen  Hargreaves,  1915,  for 
their family - Hartley, Max, Francis, Terry, 
Val and Margaret. 
Bottom: Jan and John Hargreaves with their 
children Heidi, Ruth and Ross, and guest of 
honour, the Minister of Agriculture Damien 
O'Connor, who presented the Awards. 
Pukeatua 
Joseph and Mary Hargreaves came north to 
the  Oneriri  in  1865  with  their  family, 
building  at  Hargreaves  Bay.  Vivian,  their 
third  son  took  on  the  running  of  Oneriri 
Station after leaving school in Auckland.  In 
1915  Vivian  moved  his  family  to 
'Pukeatua' (his own 700 acres) on the north 
side  of  the  peninsula.  On  his  retirement  in 
1934 his two eldest sons, Hartley and Max, 
took over the running of the farm. 
Max's  son  John  followed  in  his  father's 
footsteps. 
The Award 
The  sacrifices  made  by  early  farming 
families  were  honoured  in  the  histories 
recalled  at  an  awards  ceremony  in 
Lawrence, South Island, at the end of May. 
For  many  families  back  in  the  mid  1800s, 
and  later  following  World  War  1,  were 
recognised at the 14th annual New Zealand 
Century Farm and Station awards. 
The  New  Zealand  Century  Farm  and 
Station Awards programme aims to capture 
and 
preserve 
this 
important  rural  history, 
which  might  otherwise  be 
lost 
through 
the 
generations. 
Thirty-three 
families 
attended  from  the  North 
Island  this  year  and  36 
from  the  South  met  in 
Lawrence,  at  the  Simpson 
Park  who  were  being 
recognised for working the 
land for over 100 years. 
Ref. http://
www.centuryfarms.nz/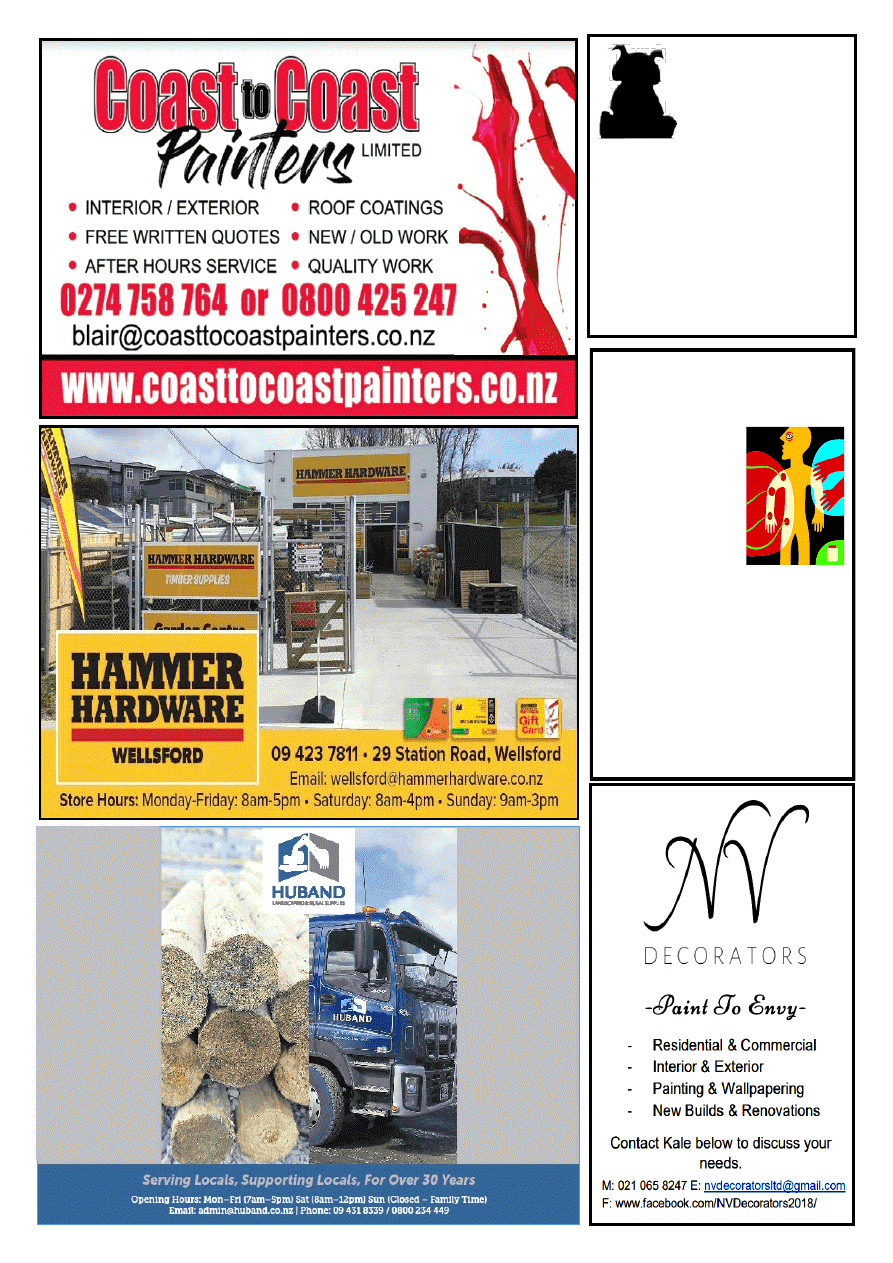 www.kaiwaka.co.nz 
Kaiwaka Bugle - 13 July 2021 
Page 10 
OWEN STEVENS 
Osteo Therapist
For careful 
adjustments to 
bones and joints 
Treatment for 
humans and their 
pets 
Clinics: 
Kate's Place, Kaiwaka: 
Last Friday of month 
For bookings: 
9.00am-5.00pm  
Phone 
09 4312661 
Or phone Owen  
09 4317123 anytime 
Kaipara  
Dog Training 
Club 
Mangawhai Domain,  
Moir Street 
Every Wednesday from 
5.30pm 
Please contact the 
Secretary 
for further information 
kaiparadogtrainingclub@gmail.com
WATER TANKS: 
Aqua & Baileys 
Brands 
DRAINAGE & 
SEPTICS: 
Land Drainage 
Urban Rural 
Drainage 
Water Pipelines 
Culverts 
Septic Systems 
(RX Plastics & 
Biorock) 
SITEWORKS: 
Retaining Walls 
Piling 
Driveways 
Carparks 
Landscaping Supplies: 
Waikato Screen Topsoil 
Bark 
Woodchip 
Mill Bark 
Post Peelings 
Compost 
Crushed Shell 
Topsoil 
Limestone Chip 
Daltons Garden Mix 
Aggregate 
Gap: 20,40.65 
Riverstone 
Sand 
Belt Dust 
40/20 Drainage Metal 
Builders Mix 
 Cement 
Timber/Fencing Supplies: 
Rails, Posts  
Stays, Strainers 
Fence Battens 
Palings 
Stakes 
Fencing Wire 
Farm Gates & hardware 
Drainage: 
PVC Fittings 
Alkathene 
Draincoil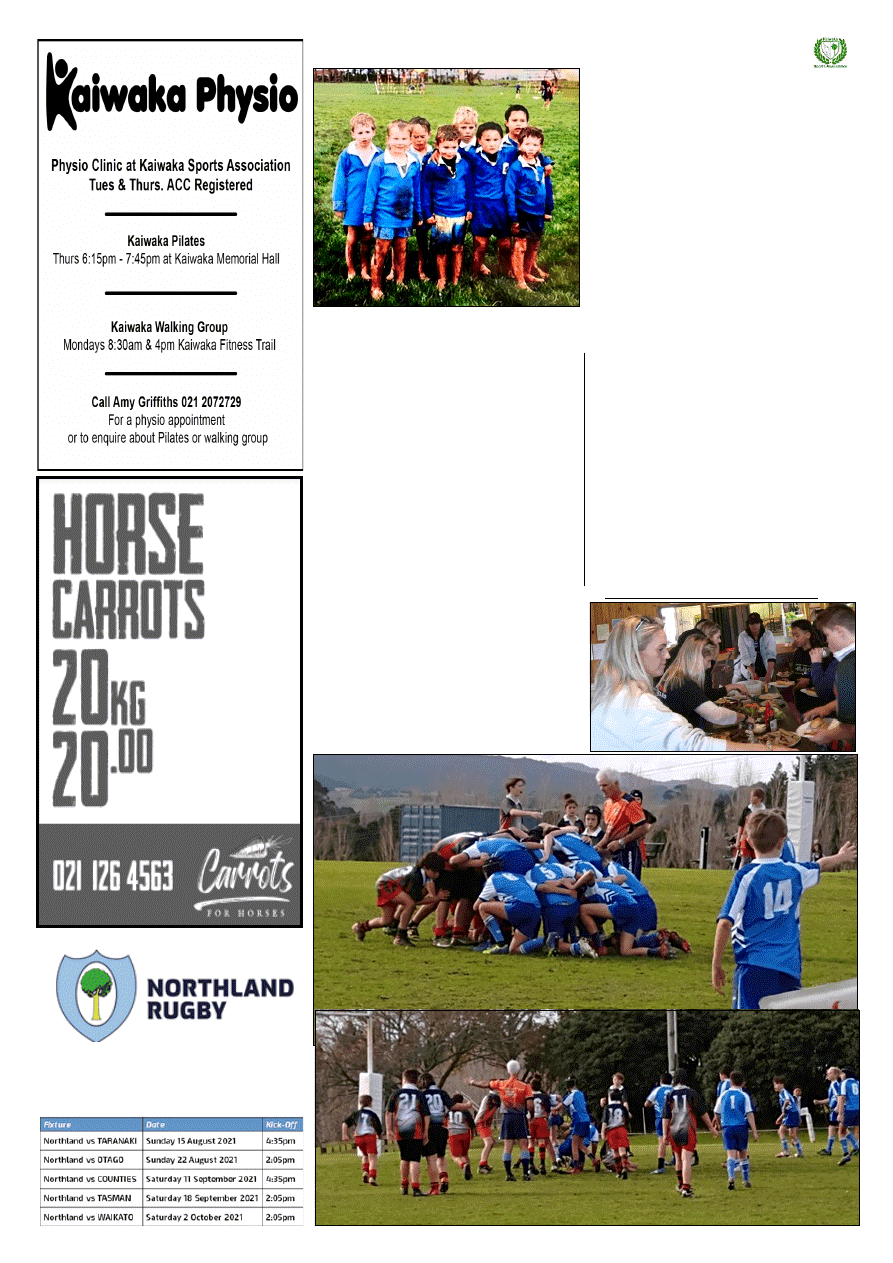 www.kaiwaka.co.nz 
Kaiwaka Bugle - 13 July 2021 
Page 11 
EASTERN 
UNITED 
JMB 
KAIWAKA 
Email: easternkaiwaka@gmail.com 
The  Under  11  Eastern  United  rugby 
played  the  Maungaturoto  Under  11 
team  for  the  Curtain  raiser  to  the 
2.30pm Senior match. 
The  joy  for  the  players  (and  their 
parents) for playing on a full sized field 
was  obvious.  The  game  was  played 
with lots of energy and enthusiasm. 
Eastern  was  pleased  with  the  win,  15-
10. Referee: Innes Anderson. 
Eastern played in their smart new strip -
blue  and  white  jerseys  and  dark  blue 
shorts. 
The 'after-match' was well received. 
KAIWAKA SPORTS ASSN NEWS 
NO BOOTS JMB RUGBY - 
KAIWAKA 
Pictured  above  are  Eastern  United 
players in their Cambridge blue jerseys- 
left  to  right:  Sam  Wilson,  Garth 
Linnell, Harmon Walker, ? , ? , Whetu 
Henderson,  Tane  Henderson  and  Eden 
Worsfold.    Please  do  you  know  the 
names of the  two lads, and what year? 
NORTHLAND RUGBY UNION 
TANIWHA SHIELD UNDER 16 
TOURNAMENT 
At Wellsford Centennial Park 
Monday 12 - Friday 16 July 
The representative teams are from sub-
unions  -  Bay  of  Islands,  Hokianga, 
Whangarei,  Northern  Wairoa  and 
Rodney-Otamatea. 
The  Rodney-Otamatea  (Rhinos)  team 
Otamatea,  Wellsford  and  Tomarata 
clubs. 
GAMES: 
Monday 12 July: 
Bears v Grizzlies    
         10.00am 
BOI v Northern Wairoa           11.45am 
Mangonui v Rod/Otamatea  
1.00pm 
Tuesday 13 July: 
Mangonui v Northern Wairoa  10.30am 
Rod/Otamatea v Bears            11.15am 
BOI v Grizzlies    
         12.30pm 
Wednesday 14 July: 
Mangonui v Grizzlies            10.30am 
BOI v Bears  
         11.15am 
Rod/Otamatea v North Wairoa 12.30pm 
Thursday 15 July: 
Mangonui v Bears   
         10.30am 
BOI v Rod/Otamatea  
         11.15am 
North Wairoa v Grizzlies         12.30pm 
Friday 16 July: 
BOI v Mangonui    
         10.30am 
Rod/Otamatea v Grizzlies        11.15am 
North Wairoa v Bears           12.30pm 
Northland Rugby NPC 
Home Games 
Semenoff Stadium, Whangarei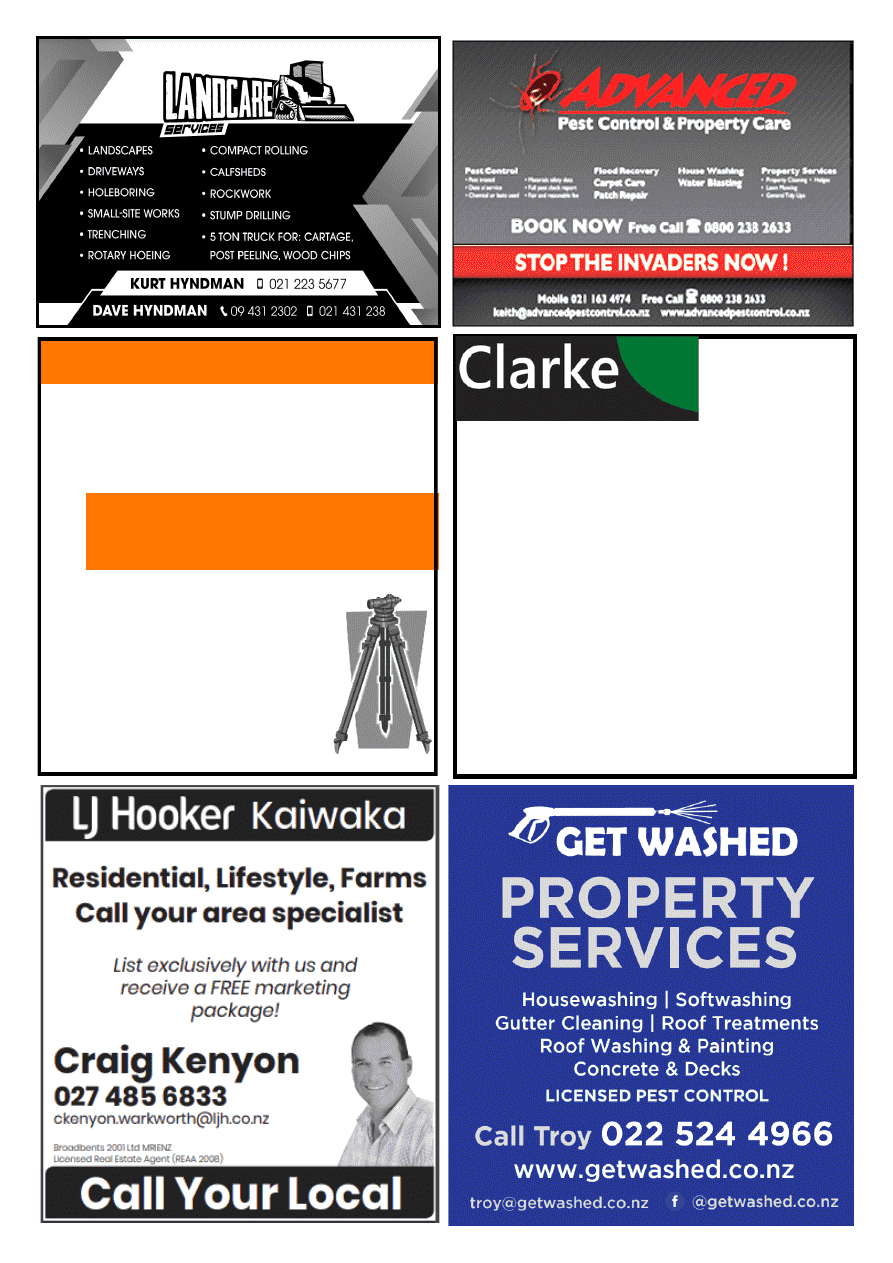 www.kaiwaka.co.nz 
Kaiwaka Bugle - 13 July 2021 
Page 12 
Drainage & Earthmoving 
nigel@clarkedrainage.nz 
027 2233 185 
Registered Drainlayer                 All Types of Earthworks  
> All Residential & Commercial Work  > House Sites 
> Septic System Design & Install 
> Footings & Drilling to 10m 
> Sewer Connections 
> Dams 
> Water Tank Installation 
> Roading & Races 
> Farm Work 
THE ONE STOP SHOP  
Phone Nigel for an Obligation Free Quote  
SURVEYORS 
SUBDIVISIONS 
HOUSE SITE SURVEYS 
CIVIL ENGINEERING 
WASTEWATER DESIGNS 
EXPERIENCED 
PROFESSIONAL 
INNOVATIVE 
Ph 09 431 5353 
0800 PACIFIC (0800 722 434) 
pacificcoastsurvey.com
Adam Booth - 027 415 5752 
Bsurv, Licensed Cadastral Surveyor
Surveying Kaipara since 1994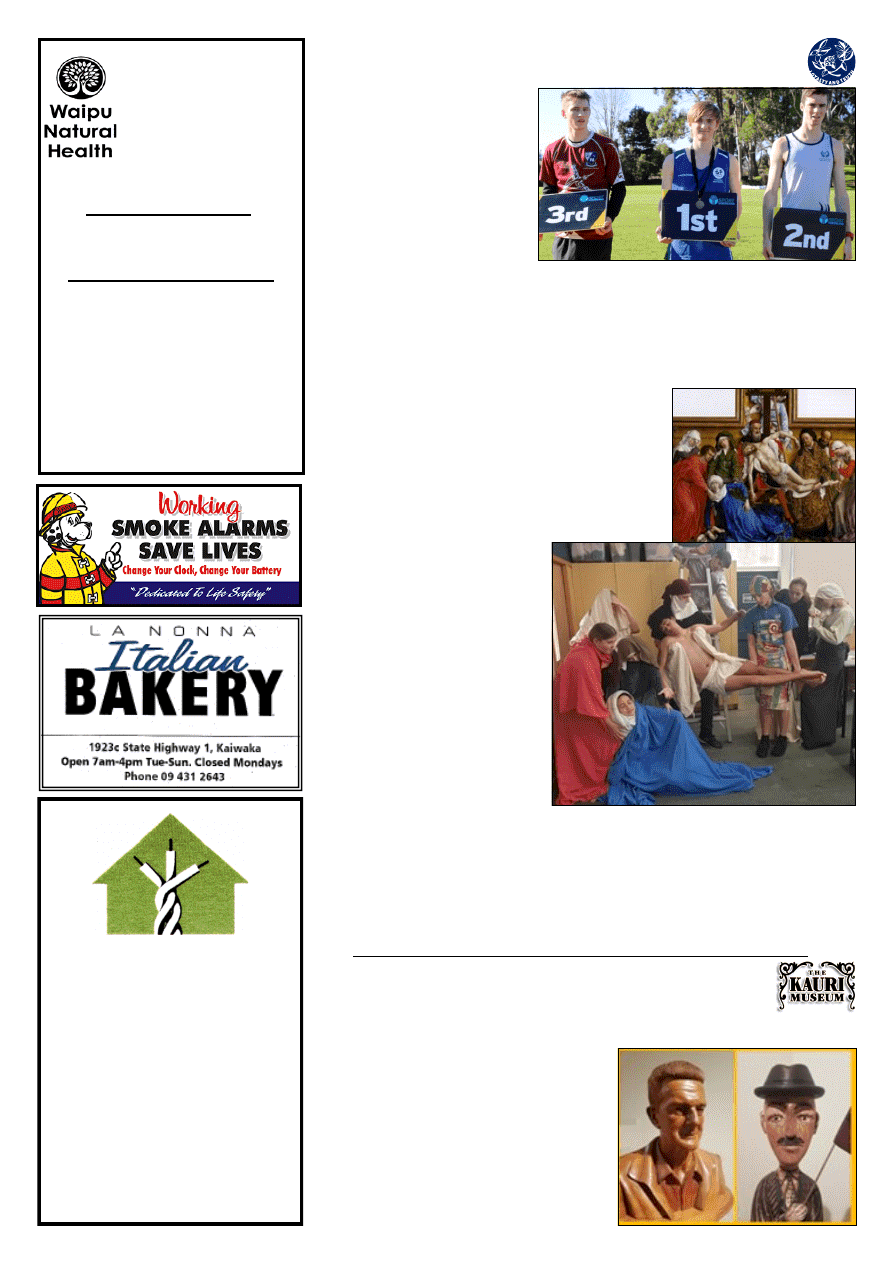 www.kaiwaka.co.nz 
Kaiwaka Bugle - 13 July 2021 
Page 13 
3 Cove Road, Waipu 
(opposite the Pizza Barn
) 
094321325 
www.waipunaturalhealth.co.nz 
Clinical Nutritionist: 
Nutritional Checkups, Diets for 
Chronic Diseases,  
Food Sensitivities 
Naturopathic Physician: 
Ozone Therapy, Prolotherapy  
Reflexology, Craniosacral 
Therapy, Trauma Release 
Massage Therapy 
Counselling and Hypnotherapy 
Change Catalyst/ThetaHealer 
Affordable Children's Consults 
All therapists are fully qualified
OTAMATEA HIGH SCHOOL 
From Dirk Smyth, Acting Principal, 
Cross  Country:    A  massive 
congratulations to Morgan  Bull 
who  has  won  the  senior  boys 
age  division  of  the  Northland 
Cross Country competition held 
at  Barge  Park  in  Whangarei  on 
Thursday. This is an outstanding 
achievement,  and  the  first  for 
our school for a long time. What 
makes 
this 
even 
more 
impressive  is  that  Morgan  is 
only  in  Year  11  and  with  two  more  years  at  school,  has  the  potential  to  only 
improve  on  this  fantastic  result.  Well  done  Morgan!  Photo:  Senior  Boys  -1st 
Morgan Bull, Otamatea High School, 2nd Will Tatterfield, Huanui College, 3rd 
Eric Benitz, Kaitaia College  
Term  3:  Next term I am away on my sabbatical. All the best to Paul Chambers 
who will be acting principal during this time. Huia Coll will remain on the senior 
leadership  team  and  she  will  be  joined  by  Bruce  Alison  and  Nicky  Cotching. 
With a strong leadership team in place for term 3 it 
is reassuring to know that the school is in safe hands 
and  will  continue  to  excel.  Alice  Croskery  moves 
into  the  head  of  health  and  physical  education 
position,  and  Gretchen  Dainty  into  the  specialist 
classroom teacher position because of these changes. 
With  so  many  teachers  taking  on  additional 
responsibilities  we  have  had  to  arrange  teaching 
cover  for  a  number  of  our  junior  classes.  We 
welcome  Kylie  Reynolds  (junior 
science,  English  and  PE)  and 
Marie  Stewart  (junior  health  and 
PE)  who  will  be  joining  our 
teaching team as a result.  
Tableau Vivant Competition: 
Thanks to Peter and Maura Flower 
who  judged  the  inter-iwi  tableau 
vivant  competition.  In  a  pre-
recorded  video  message  they 
explained 
the 
rationale 
for 
awarding  first  place  to  Whātua. 
Well  done  to  all  the  whānau 
classes  for  putting  so  many 
impressive  entries  forward  this 
year.  
DAY RELIEF TEACHERS REQUIRED  
Otamatea  High  School  wishes  to  hear  from  suitably  qualified  and  registered 
teachers  who  wish  to  be  considered  for  day  relief.  Please  send  your  CV  to: 
Deborah Cornhill-Davies,  
Relief Co-ordinator email: deborah.cornhill@otamatea.school.nz  
NOTICE OF ABANDONMENT OF ENROLMENT SCHEME 
Under  Clause  8(2)(b)  of  Schedule  20  of  the  Education  and  Training  Act  2020, 
that  the  Otamatea  High  School  Board  of  Trustees  has  abandoned  the  school's 
enrolment scheme, effective Monday 12th July 2021.  
THE KAURI MUSEUM 
SCHOOL HOLIDAY PROGRAMME AT THE MUSEUM 
The  Museum  has  a  new  show,  featuring  portraits  of  local  people. 
Some  of  the  portraits  are  sculpture,  so  this  school  holidays,  we  are  running 
special sculpture workshops for students. 
Join  us  at  the  Museum  and  learn  how  to 
make a head and shoulders bust out of paper 
mâché.  Design,  then  make  your  own 
sculpture, following the instructions of tutor 
Stephen Davies. 
Wednesday 14 July,  10am-2pm 
Wednesday 21 July; 10am-2pm 
$20 per student; Bring lunch and a drink 
Bookings essential 
Enquires 09 431 7417  
or admin@kaurimuseum.com
Reyahn  Leng 
Registered Electrician 
Local, honest and 
reliable. 
For your residential and 
light-commercial 
projects. 
022 314 1068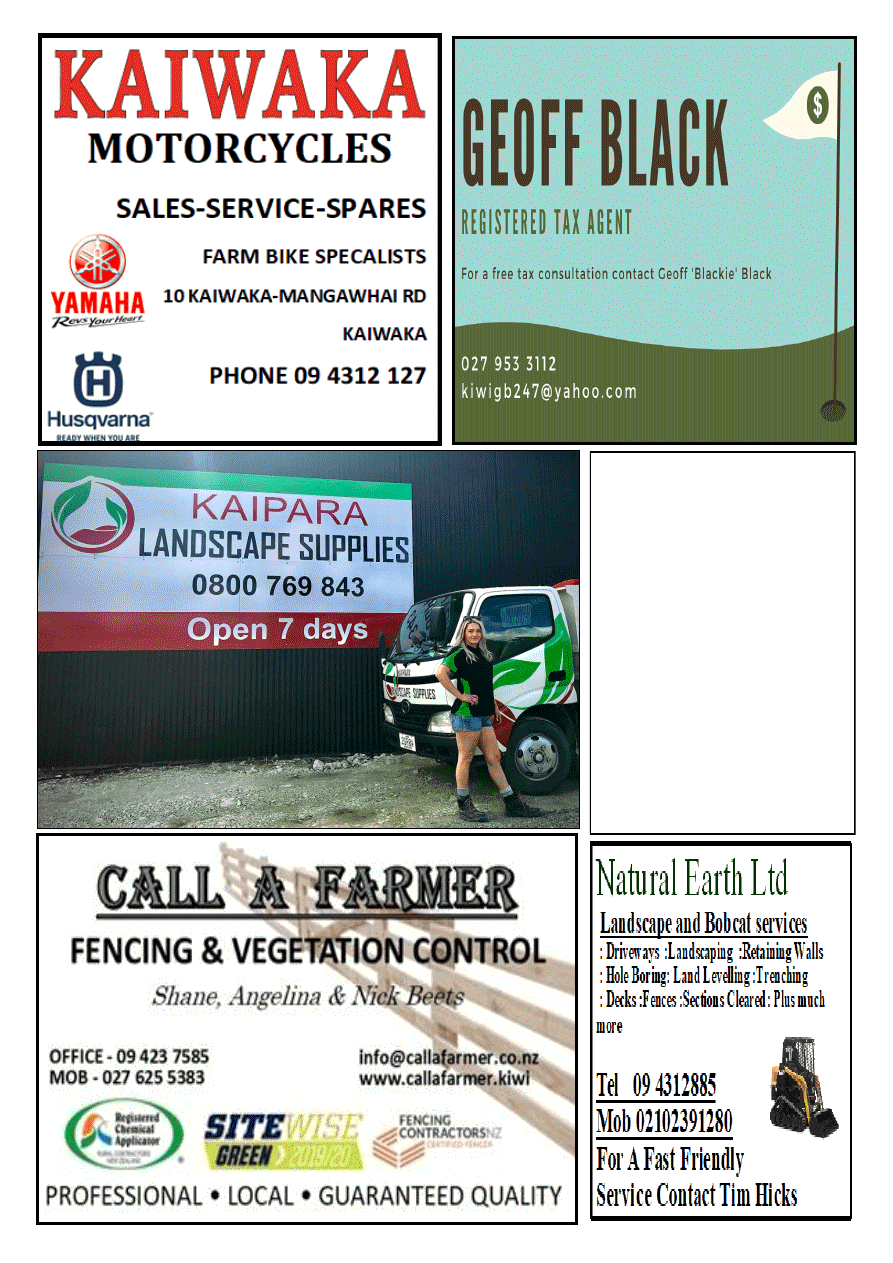 www.kaiwaka.co.nz 
Kaiwaka Bugle - 13 July 2021 
Page 14 
HELP 
PHONE NUMBERS 
HEALTHLINE 0800 611 116 - a 
nurse to answer health queries  
SAMARITANS 0800 726 666 - 
support for lonely or suffering 
mental distress 
YOUTHLINE 0800 376 633 
LIFELINE 0800 543 354 
DEPRESSION HELPLINE 0800 111 
756 
ALCOHOL & DRUG HELPLINE 0800 
787 797 
URGENT MENTAL HEALTH LINE 
0800 223 371 
WARMLINE -peer support for 
people with mental health issues 
0800 200 207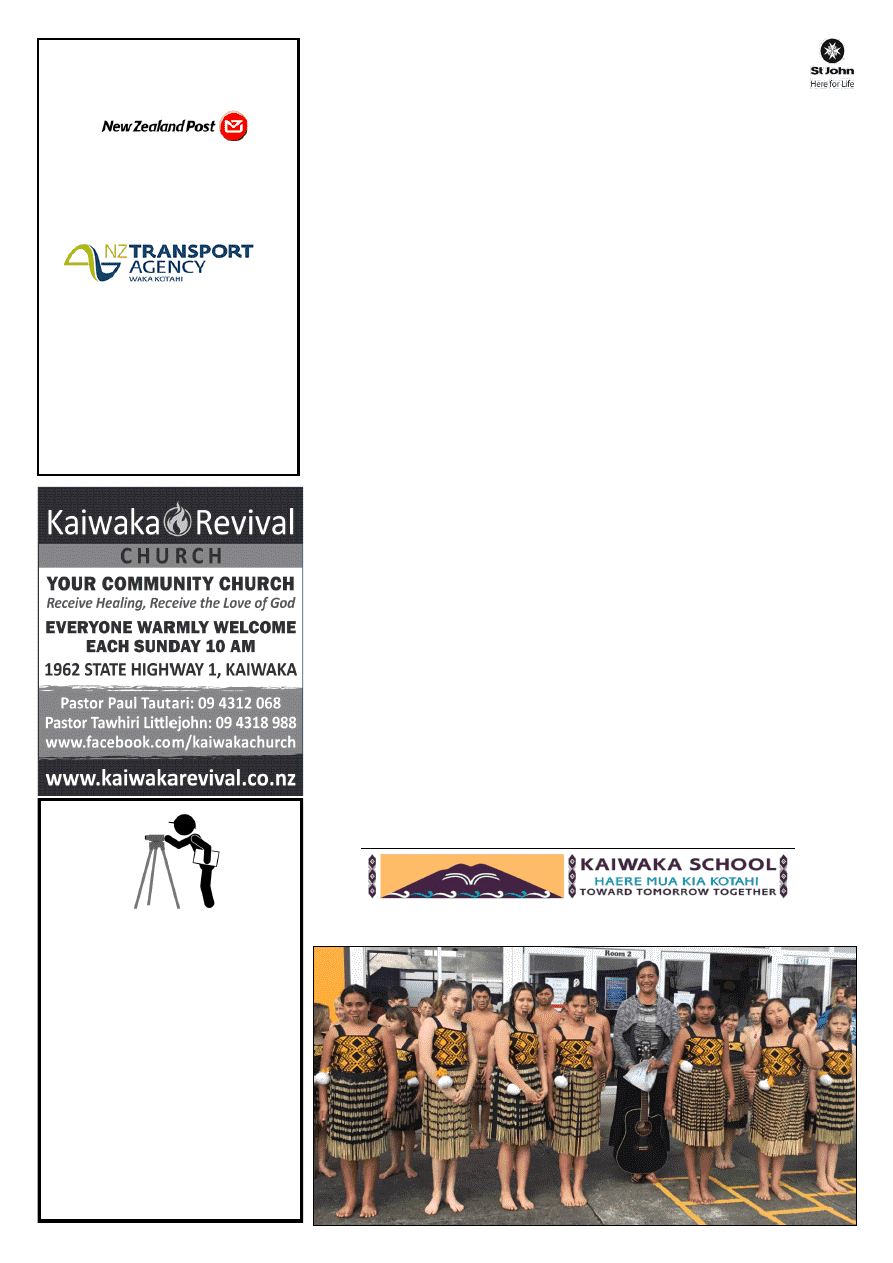 www.kaiwaka.co.nz 
Kaiwaka Bugle - 13 July 2021 
Page 15 
KAIWAKA POST 
CENTRE and 
FOOD MART 
POST CENTRE TRADING HOURS 
MONDAY to FRIDAY 8am to 5pm 
SATURDAY 8am to 12pm 
CLOSED ON SUNDAY and on 
PUBLIC HOLIDAYS 
FOOD MART (GROCERIES) 
MONDAY TO FRIDAY  
7:30am to 7.30pm 
SATURDAY  8am to 7.30pm 
SUNDAY  8:30am to 7pm 
IF ANY QUERIES PLEASE CALL 
STORE MANAGER AMRIT  
on 09 4312431 or 
EMAIL: kaiwakafood19a@gmail.com 
1919a State Highway1, Kaiwaka 0542 
Ken Urquhart 
BSurv Licensed  
Cadastral Surveyor 
KMU Surveys Ltd 
467 Bickerstaffe Road 
RD 2 
Maungaturoto 0587 
Ph 09 431 8705 
Mob 021 161 2344 
kenurquhart@xtra.co.nz 
ST JOHN OTAMATEA  
Kaiwaka  School  tamariki  performed  well  last  Thursday  at  the  Morning  Side 
Matariki Celebration – an awesome Kapa Haka. A big thank you to Whaea Mina 
and Michelle for organising this day and to all the parents for help and support. 
 The St John Otamatea Area Committee 
has  the  pleasure  of  serving  the 
community  and  helping  to  improve  the 
health  and  wellbeing  of  residents  from 
Kaiwaka  to  Tinopai.  The  area 
committee  meets  once  a  month  to 
discuss the issues that are presented to it 
and how best to allocate funds to make 
the most tangible difference possible. 
In  the  past,  area  committees  were 
responsible for replacing equipment and 
other  items  that  St  John's  emergency 
ambulance 
operations 
required, 
especially  to  support  the  many 
volunteers.    These  days,  the  focus  has 
evolved to how best the area committee 
can  benefit  the  community  to  build 
resilience and enable people to live well 
for longer. Over the past few years, the 
St  John  Otamatea  Area  Committee  has 
contributed  to  many  initiatives.  The 
funding  has  come  mainly  from  the 
wonderful St John Kaiwaka Op Shop 
(which has been re-branded to the St 
John  Kaiwaka  Store),  demonstrating 
how  purchasing  items  from  the  store 
leads  to  proceeds  going  back  to  the 
community.  Below  is  a  list  of  some  of 
the area committee's activities in recent 
years:  

Subsidising St John First Aid courses 
($20 per person – discounted from $179 
each).  

Providing  Plunket  with  free  hall  hire 
to  help  new  mums  and  host  coffee 
mornings. 

Offering free hall hire for community 
group meetings at the St John Kaiwaka 
and Otamatea halls.  

Sponsoring a $1,000 scholarship. 

Purchasing  cooling/heating  units  for 
the St John Kaiwaka Store.  

Payment  of  Manager  at  the  St  John 
Kaiwaka Store 

Supporting  Kate's  Place  with  mental 
health workshops. 

Updating  restrooms  at  the  St  John 
Otamatea station. 

Updating the kitchen at the St 
John Otamatea hall. 

Covering maintenance costs of the St 
John halls in Kaiwaka and Otamatea 

Sponsoring  free  confidence  and 
leadership  courses,  including  covering 
the  costs  of  first  aid  certificates  and 
next  level  of  driver's  licenses  required 
by participants.  

Installing  many  automated  external 
defibrillators  (AEDs)  at  marae,  shops, 
RSAs,  etc.  throughout  the  Otamatea 
area. 

Supporting  St  John  Youth  Cadets  in 
Maungaturoto. 
This  year,  the  St  John  Otamatea  Area 
Committee  is  continuing  the  above  as 
well  as  looking  beyond,  with  the 
following: 

Updating  the  kitchen  at  the  St  John 
Otamatea station. 

Sponsoring 
Outward 
Bound 
scholarships for both paid and volunteer 
ambulance staff. 

Updating the water system at both the 
St  John  Kaiwaka  Store  and  St  John 
Kaiwaka hall.  

Installing  a  fire  exit  door  in  the  St 
John Kaiwaka hall. 

Building an outside safe exit platform 
at the St John Kaiwaka hall. 

Sponsoring  the  ASB  St  John  in 
Schools programme which teaches first 
aid to students.  

Sponsoring 
prizes 
for 
school 
colouring competitions. 

Supporting 
Linking 
Hands 
by 
sponsoring  free  St  John  First  Aid 
courses  for  their  drivers  and  first  aid 
kits for their vehicles.  

Keeping renovations up to date on the 
St John halls in Kaiwaka and Otamatea 
and the St John Kaiwaka Store.  
The Otamatea St John Area Committee 
is  a  volunteer  committee  and  the  Op 
Shop  (St  John  Kaiwaka  Store),  is  also 
run by volunteers with a paid Manager.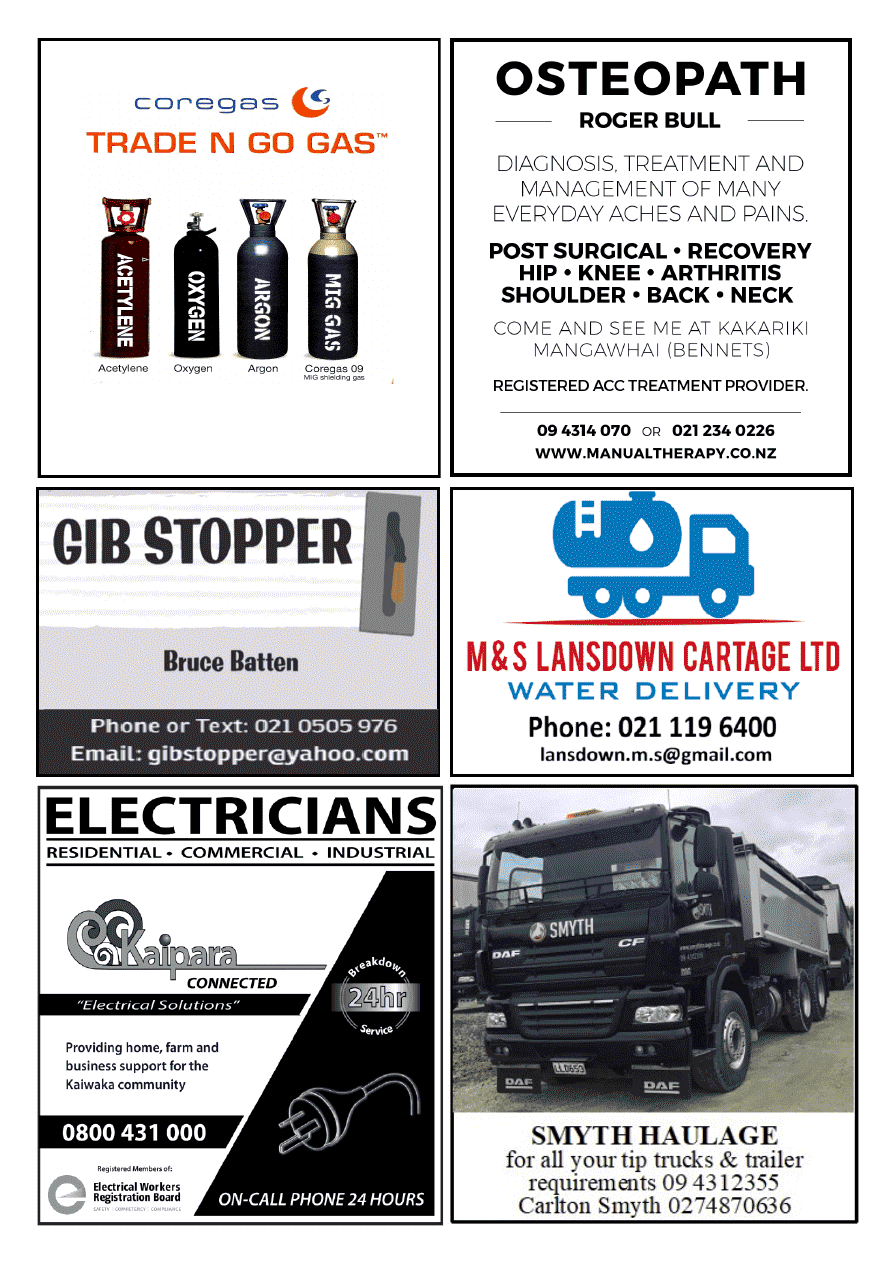 www.kaiwaka.co.nz 
Kaiwaka Bugle - 13 July 2021 
Page 16 
At Twinkle Tow 'n' Tyre 
Mob: 021 833 960 
Ph & Fax: 09 431 2823 
1837 State Highway 1, Kaiwaka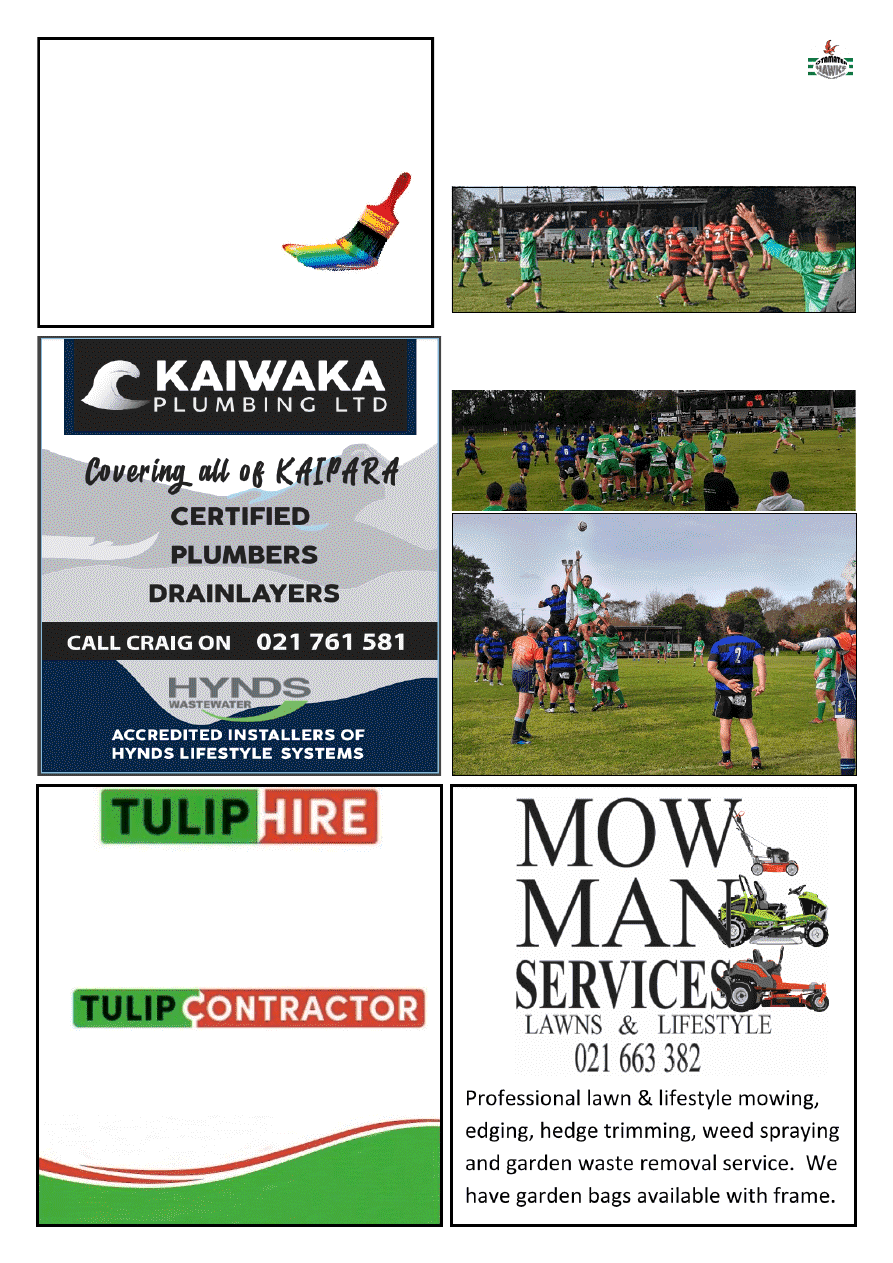 www.kaiwaka.co.nz 
Kaiwaka Bugle - 13 July 2021 
Page 17 
LEE COOPER PAINTERS 
(Kaiwaka Based) 
*30 yrs Experience 
*Interior/Exterior 
*New and Restoration 
*Honest and Reliable 
*Free Quotes
09 4312918 or 
0274735171 
leecooper@xtra.co.nz 
OTAMATEA HAWKS RUGBY 
The season for the Otamatea HAWKS rugby team is 
definitely  ending  on  a  high  note,  especially  with 
wins at the Kaiwaka Sports grounds in the last two games. 
They  play  a  good  style  of  rugby  -  when  they  win  the  ball 
they  move  it  wide.  Great  crowds  are  appreciating  their 
success and have turned out to cheer them on.  
3rd July- they played Southern, quite a young side that held 
in for a while then Eastern ran away with a good finish 57-7. 
10 July - the semi final against  Mangakahia , Otamatea were very 
good in the first half with a nice lead at half time; second half both 
sides were a bit flat. A win to the HAWKS 30-6. 
The  team  now  goes  onto  play  their  final  match  against  Mid 
Western on Okara Park, Whangarei, on 17 July 
BUILDERS…FARMERS…LANDOWNERS 
..LEND US YOUR EARS.. 
..AND WE'LL LEND YOU OUR GEARS.. 
We Dry-Hire: Diggers, Rollers, Compactors & 
Attachments. 
-or- 
Can price your Earthworks Jobs, with our top 
Operators. 
Contact Us: 
1938a State Highway 1 Kaiwaka  
(Beside 3 Furlongs Hotel) 
Tim Magill 027 431 0006 
tim.magill@tuliphire.nz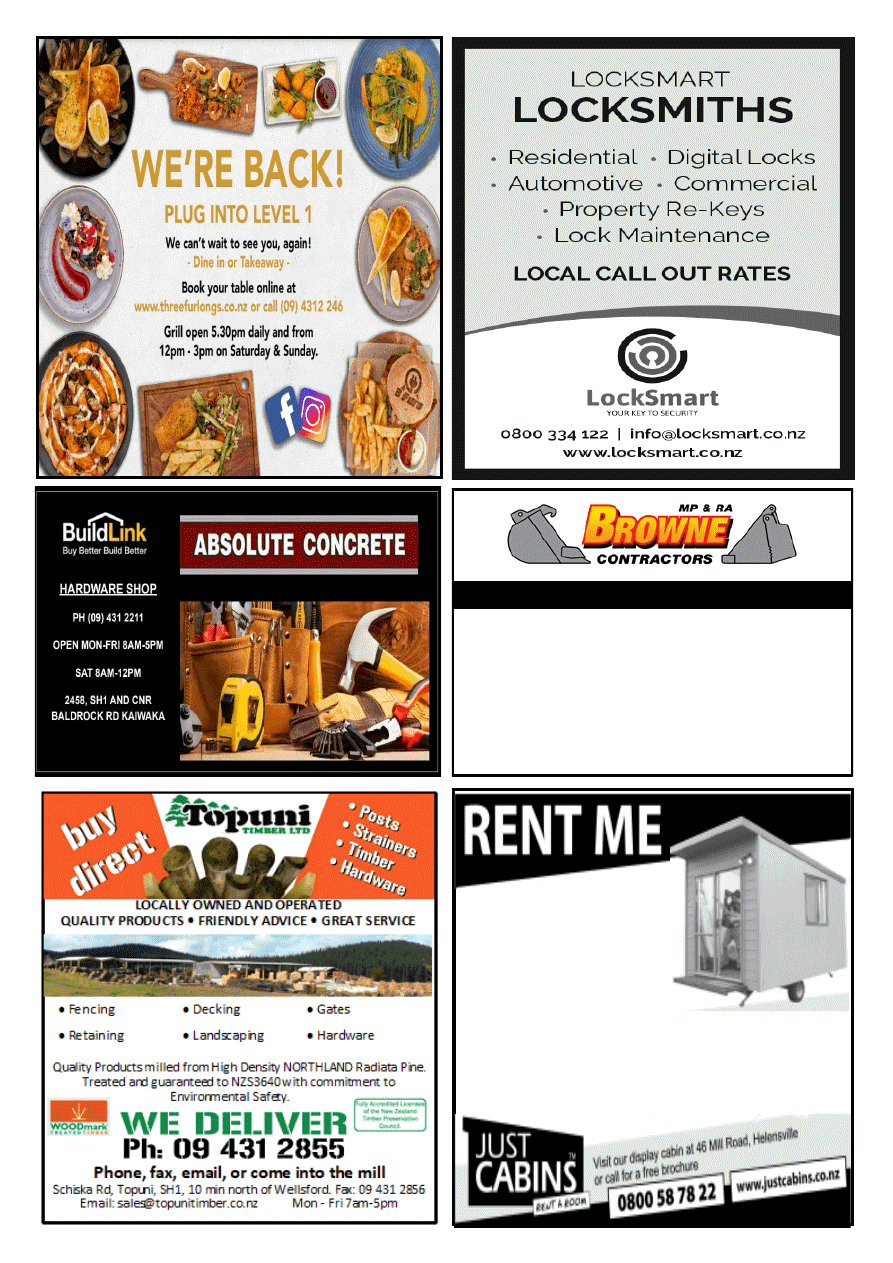 www.kaiwaka.co.nz 
Kaiwaka Bugle - 13 July 2021 
Page 18 
Ideal as an extra  
bedroom or office 
Three Convenient sizes: 
Standard 3.6m x 2.4m - $65 
per week 
Large 4.2m x 2.4m - $80 per week 
Extra Large 4.8m x 2.4m - $100 per week 
Fully insulated. Minimum 6 months rental period 
4Tonne DIGGER – BOBCAT – TIP TRUCK 
Property Maintenance - Driveways  
 Building Sites 
Stump & Tree Removal  
Hole Boring - Chain Trencher  
Calf Shed and Stockyard Cleaning 
Phone Matt: 021 199 6677 
Email: mprabrownecontractors@gmail.com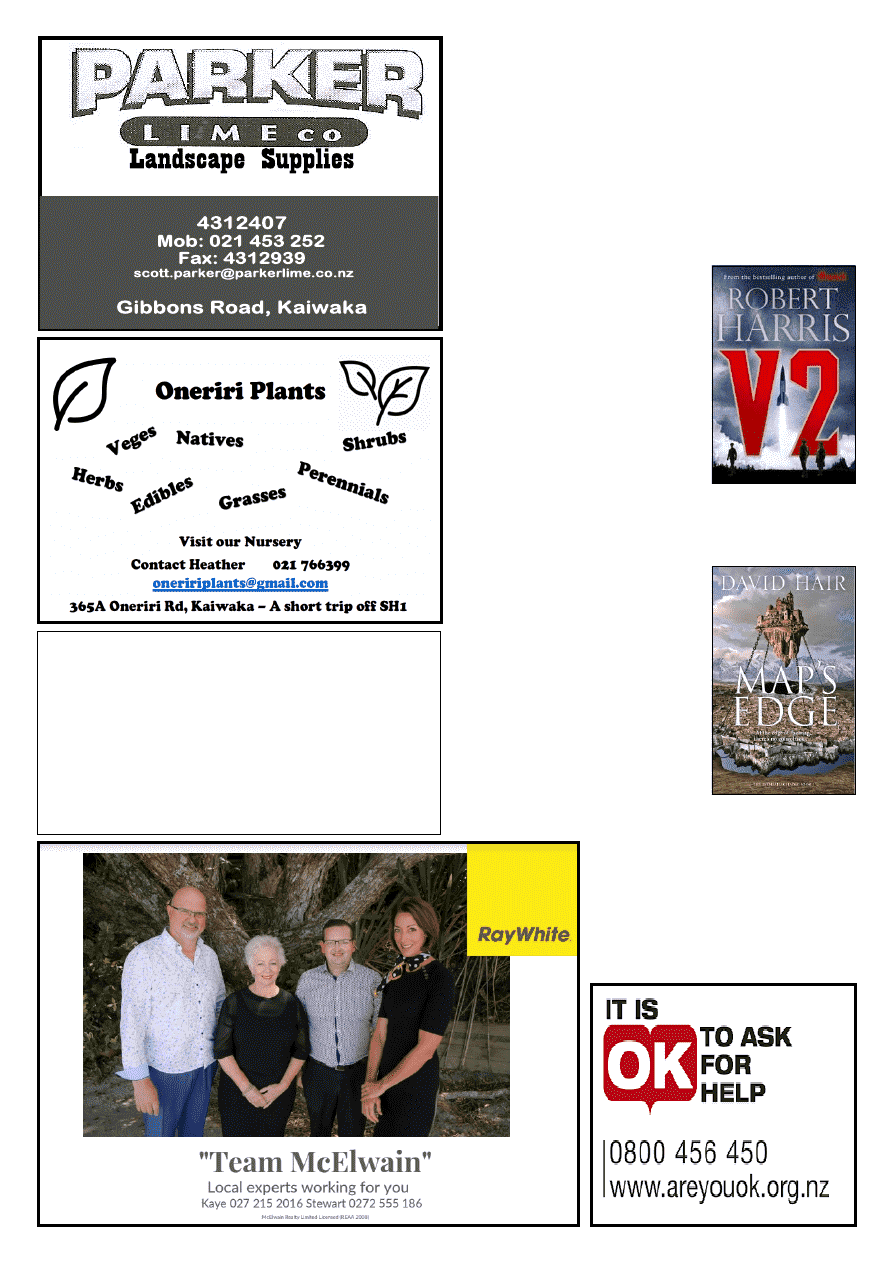 www.kaiwaka.co.nz 
Kaiwaka Bugle - 13 July 2021 
Page 19 
Bulk Cartage 
KAIWAKA LIBRARY 
BY THE WINTER CATALOGUE 
Have you picked up your copy of the free Winter Catalogue 
yet?  They're  on  the  counter  in  the  library  waiting  for  you. 
Lots of suggestions for good reads for all the family. 
HELP KEEP THE LIBRARY HEALTHY 
If  you  are  ill  with  any  communicable  illness  -  that  is, 
something  that  can  be  passed  on  to  others  -  please  do  not 
come into the library until you are well again. This includes 
sniffles, colds and flu, shingles, tummy bugs, and anything 
else  that  people  can  catch  from  other  people.  If  you  need 
library  books,  get  in  touch  with  me  (phone  and  email  are 
below) and we will work something out, including delivery 
if a friend can't pick up for you. 
BOOK REVIEW 
V2 by Robert Harris is as good a read as 
his  past  titles;  he  does  not  disappoint. 
"It's  November  1944--Willi  Graf,  a 
German  rocket  engineer,  is  launching 
Nazi  Germany's  V2  rockets  at  London 
from Occupied Holland. Kay Connolly, 
once  an  actress,  now  a  young  English 
Intelligence  officer,  ships  out  for 
Belgium  to  locate  the  launch  sites  and 
neutralize  the  threat.  But  when 
rumours of a defector circulate through 
the  German  ranks,  Graf  becomes  a 
suspect.  Unknown  to  each  other,  Graf  and  Connolly  find 
themselves  on  opposite  sides  of  the  hunt  for  the  saboteur... 
Their destinies are on a collision course." 
This book is on our 
Rental Fiction shelves, and we have many of his other titles 
on our free shelves. 
Map's  Edge  by  David  Hair  was  an 
excellent read, and I'm looking forward 
to  the  next  episode  in  the  series,  due 
out in November. "Soldier, sorcerer and 
exiled  nobleman  Raythe  Vyre  has  run 
out  of  places  to  hide.  When  the  all-
conquering Bolgravian Empire invaded, 
Raythe  grabbed  his  daughter  Zar  and 
after  taking  part  in  a  disastrous 
rebellion,  they  washed  up  on  the  edge 
of  the  continent.  Now  he's  found  a 
chance  of  redemption  for  himself  and 
the  precociously  talented  Zar:  a  map 
showing a hitherto unknown place that's rich in istariol, ... and 
even out here, at the edge of the map, implacable imperial agent 
Toran  Zorne  has  caught  Raythe's  scent. 
The  hunt  is  on." 
This book is on the 
Rental  Fiction  shelves  in  the  library. 
~
See you in the library, Wendy 
Kaiwaka  Library.  Phone  4312  539.  Email 
kaiwaka.library@gmail.com 
Open 
Wed-Sat 
10am-2pm,  Mon  4-6pm.  Free  membership  is 
available  to  all  residents  in  the  Kaiwaka  area. 
https://www.facebook.com/KaiwakaLibrary 
*Enterprise: http://kaipara.kotui.org.nz  
HAKARU HALL ACTIVITIES 

Monday:  Line Dancing 10-12pm Ph 4315160 

Tuesday & Thursday: Pilates 10am Ph. 0220643965 

Wednesday:  Music Jam Session 7pm Ph. 0210628631 

Friday Morning: Available for HIRE  

Sunday: Canine Coaching Ph 0272365004 

Dance Energy  Week Days  
   Monday to Friday, Afternoon/Evening   Ph. 0275610469 

Friday Morning: Available for HIRE 
Hall Bookings Karen  
4312090 or 0210467490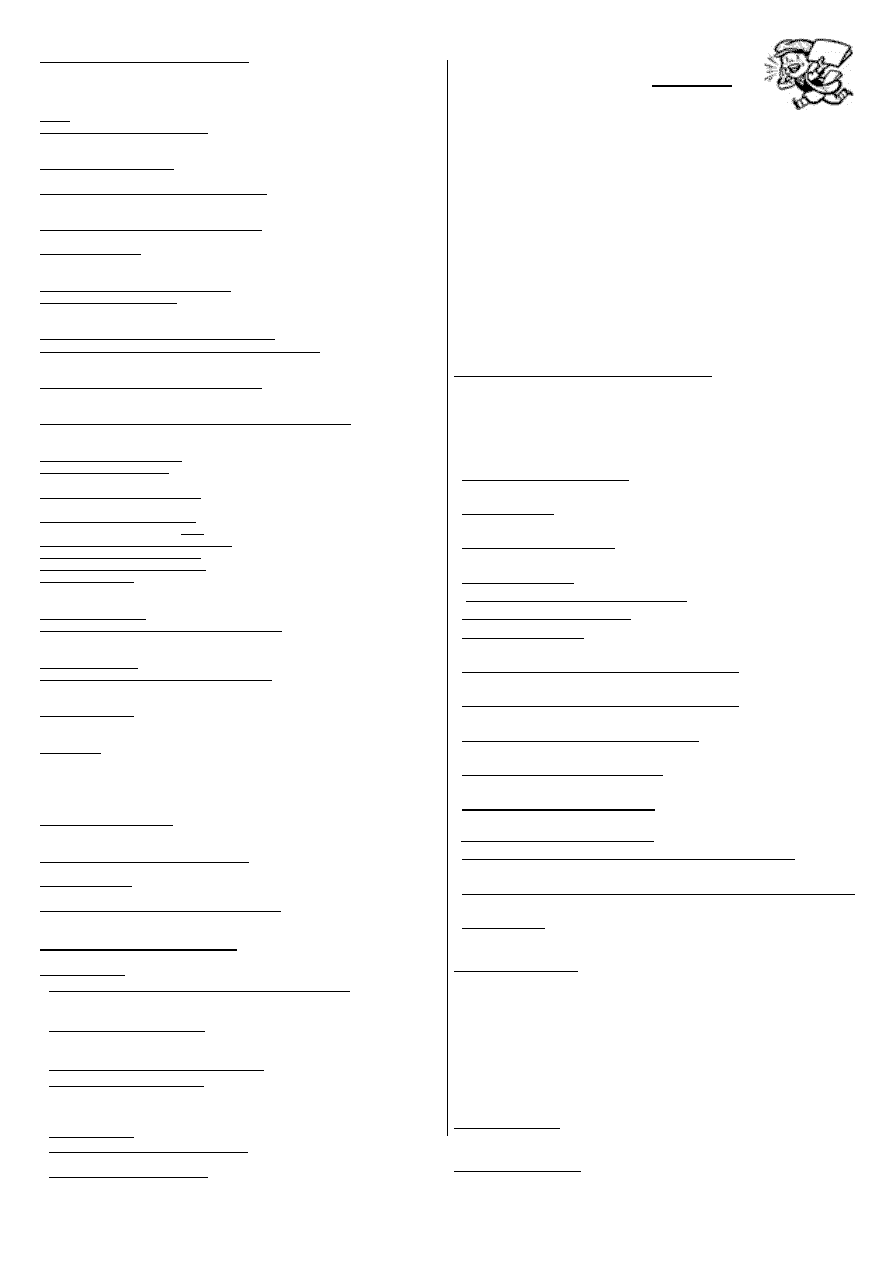 www.kaiwaka.co.nz 
Kaiwaka Bugle - 13 July 2021 
Page 20 
WHAT'S ON
PLEASE ~ do let us know what is on - 
email kaiwakabugle@kaiwaka.co.nz 
*12-16Jul~Northland Taniwha Shield Rugby, 
Wellsford Centennial Park 
*15Jul~Pt. Curtis CC meet KSA, 7pm 
*21Jul~Kaiwaka Can meet 5.30pm Archie Bull Hall 
*21Jul~FAREWELL, Jaques & Donaldson KSA 
7pm - all welcome 
*23Jul~Movie 'COUSINS', KWMH 7.30pm 
*24Jul~LIVE MUSIC, Hakaru Hall, 6pm 
*26Jul~Begin School Term Three 
KWMH = Kaiwaka War Memorial Hall; KSA = Kaiwaka Sports Association 
See www.kaiwaka.co.nz for more information 
HOUSEHOLD RUBBISH COLLECTION  
Kaiwaka Pick up: 
Mondays = Green bags (Northland Waste - 09 430 3273) 
Wednesdays  =  Blue  bags  and  yellow  recycling  (at  Four  Square 
Kaiwaka $3.30 and $1.70) (Kaurilands 09 4392146); ONLY Blue 
and Yellow bags picked up on Oneriri Road. 
 DIABETES Support Group-for Kaiwaka, Mangawhai, Wellsford 
10am, 3rd Friday of month Ph: Colleen James 09 4314238 
 GENEALOGY - Wellsford: 1st Thursday in month Ph: 423 
7033; Waipu: 4th Monday in month Ph: 4312 725 
 HAKARU PONY CLUB - Secretary Denise Rogers 021423376 
secretary@hakaruponyclub.co.nz  
 KAIPARA HUNT - Secretary Albert Doonenbal Ph 4312059 
  KAIPARA HUNTING & FISHING - 021 1294378 
 KAIWAKA BADMINTON -Tuesdays 7.30pm Ph: 4312345 
 KAIWAKA  CAN  - 3rd Wednesday in month, 5.30pm, Archie 
Bull Hall Ph: 0273572751 
 KAIWAKA GARDEN & FLORAL GROUP - 2nd Thursday in 
month. Ph: 431 4744 
 KNITTING FOR WHANGAREI HOSPITAL - 2nd Tuesday in 
month, Archie Bull Hall 10am Ph 4314827 
 MANGAWHAI COMBINED REBUS CLUB - 2pm, 3rd 
Thursday month, Senior Citizens Hall Mangawhai. Ph: 4315777 
 MANGAWHAI GENEALOGY  - meet 3rd Thursday month, 
Mangawhai Museum, 10.30am 
 PILATES - HAKARU HALL - Tuesday 10am, Thursday 9am 
Qualified Instructor  Ph. 0220643965  
*PT CURTIS CRUISING CLUB - Jean Ph: 4312227 (wk), 4312520 (hm) 
 RSA,  HAKARU  &  DISTRICTS  WOMEN'S  SECTION  –  meets 
1.30pm 4th Thursday of the month. Ph: 431 5818  
 KAIWAKA  SCOTTISH  COUNTRY  DANCING  CLUB-
Wednesdays 10am - 12 noon  Ph: Elaine 027 432 0032  
 TRAMPING 
- 
Mondays 
9am-2:30pm, 
contact  
valkenburgmaria@gmail.com 
HALLS FOR HIRE: 
  Kaiwaka St. John Hall: Phone Marj  0272941227  
 St.Pauls  Archie  Bull Hall  HIRE  $20 half day, $40 full day per 
hire, S McAulay, Ph 4312311 
 Kaiwaka  War  Memorial  Hall  HlRE  -  Phone  4312725  or 
kaiwaka.hall.bookings@gmail.com 
 Hakaru Community Hall HIRE -Ph.  Karen 4312090 
 Te Pounga Marae queries - Pearl Nathan  0223933533 
 Kaiwaka Sports Association hire/queries - Jennie Reynolds
   ksa.bookings@mail.com
, 02102764171  
Justice  of  Peace:  L.Donaldson  4312  228;  A.F.Hargreaves  4312 
045,  W.Howard  4312  725  -  please  phone  to  make  sure  they  are 
available www.justiceofthepeace.org.nz B.FJaques Retd  
Marriage Celebrants:  
L.Donaldson; A.F.Hargreaves; Y Osborne
Next Bugle Deadline  Friday 23 July 2021
LOCAL SERVICES 
*Emergencies - Ambulance, Fire, Police - dial 111 
*Non-urgent Police phone 105
A A: Meets Wed., 7pm. Kate's Place Ph 021 024 25969 or 0800 229 6757 
NARCOTICS ANONYMOUS : Mon., 6pm, Archie Bull Hall, Kwk-Mwi 
Road; drug and alcohol related issues. Ph. 02102412348 
ASUREQUALITY LTD (was AgriQuality) Call Free 0508 0011 22  
BUDGETING SERVICE, WELLSFORD: Free confidential advice & 
support for all areas of personal finance. Ph (09) 423 7123 
CAB-Citizens Advice Bureau.Wellsford Ph: 4237333 
0800 367 222 email:cab.wells@xtra.co.nz  
CIVIL DEFENCE - Kaiwaka Community Response Group: 
kaiwaka.civildefencecrg@gmail.com, 4312725 Wendy 
DOG/STOCK /NOISE CONTROL 0800 105 890 
FUNERAL SERVICES: Morris & Morris Ltd, 
Whangarei - Bev Jaques Ph:4312367 or 0800667747 
GRANDPARENTS Raising Grandchildren: Dianah Roberts 0223819539 
HAKARU & DISTRICTS MEMORIAL RSA (Inc) 733 Settlement Rd, 
Hakaru. Ph 4312 176 or Bill Warren (President) 431 2092 
HAKARU LANDFILL/Transfer Station:Open everyday  10am-
4pm.Ph4312629 Cost-$55 trailer load up to 1 cubic metre. Ph:4258567 - 
office 
KAIPARA DISTRICT COUNCIL www.kaipara.govt.nz:  
Help Desk FREEPHONE 0800 727 059  
KAIWAKA CEMETERY: Ph: 4312045 or 4314017 
KAIWAKA LIBRARY: kaiwaka.library@gmail.com  
Mon. 4-6pm; Wed., Thurs., Fri., Sat. 10am-2pm Ph:4312539 
KAIWAKA PLAYCENTRE: Ph Juanita 0274134904; open Mon, Wed, 
Fri 9am-12pm. Hastie Lane; Monday to Friday 9.00am - 12 noon. 
KAIWAKA POST OFFICE:Ph:4312 431  
Post Code: 0573 for RD2 and 0542 for all Kaiwaka Post Office mail 
KAIWAKA PRIMARY SCHOOL: Ph: 4312309   
KAIWAKA SPORTS ASSN: Ph 4312005; 4312129 gym 
KAIWAKA ST JOHN HALL: Phone Marj  0272941227  
KATE'S PLACE Community Centre - Employment services, Free Health 
Nurse, Plunket, Advocacy, Osteopath, A.A., Legal Advice. 4312 661 
LINKING HANDS Health Shuttle Ph 4315906 or 09 4318969 
MINISTRY FOR PRIMARY INDUSTRIES - General inquiries Call 
Free 0800 008 333 
NORTHPOWER: Faults Kaiwaka area 0800 104040 
OTAMATEA COMMUNITY SERVICES: Counselling, parent coach, 
Family Support worker, budget advice, food bank. Mon-Fri 9am-3pm. Ph 
09 431 9080 http://www.otamateacs.org/ 
PARENTPORT: Free, practical family support service Puhoi to Paparoa 
Ph or txt: Dianne 027 280 5093 or 09 425 9357 
PLUNKET: Kaiwaka- St John Hall, Monday 19 Oct, 23 Nov, 21 Dec. then 4th 
Monday of the month. Plunket Nurse Louise 027 282 3987 or 09 438 2508 
Mangawhai- Rose Madsen Cottage, Mondays and Wednesdays. Plunket Nurse 
Rebecca 021 501 941 or 09 438 2508 
Maungaturoto - Good News Church, 2nd and 4th Wednesday of the month. 
Plunket Nurse Seleisa 021 912 248 or 09 438 2508 
PLUNKET HELPLINE -0800 933 922 (24 hours)  
FACEBOOK - Kaipara Plunket 
TAITOKERAU COMMUNITY LAW: Free confidential legal advice and 
assistance, 2nd
Thursday
 of each month. Ph: 0800 155 529 for appts.  
TE URI O HAU Settlement Trust Tangata Developments: Whanau Ora 
021 793262  
VETERINARY SERVICE MANGAWHAI: 
Ph: 4314535 Mon-Fri 8.00-5.00, Sat 9-12, a/h appt. 
WELLSFORD DOCTORS: Ph: 4238 086 
CHURCHES:
 
Kaiwaka  Revival  Church  -  Your  Community  Church:  Sundays  10am. 
Ph: Pastor Tawhiri 09 431 8988 or Pastor Paul 09 4312 068 Visit us at 
www.facebook.com/kaiwakachurch 
 
St  Paul's  Anglican  Church  1st  Sun.  9.00am  (Eucharist),  3rd  Sun. 
9.00am  (Family  Service).  Contact:  Church  Office  Ph  431  4122 
www.mangawhaianglican.org.nz 
 
Church of Christ the King, Mangawhai:9.00am every Sunday 
 
St.Mary's  Catholic  Church:  Maungaturoto  –  Griffins  Road,  Saturday 
evening  Vigil  Mass  6pm;  Mangawhai  –  Senior  Citizens  Hall,  Sunday 
Mass  8:30am;  Wellsford  –  Matheson  Road,  Sunday  Mass  10:30am;  
Mid-week Mass times and all enquires to Fr. Bill Fletcher – phone 423 8170
 
Baptist Church: Sun. 10.30am Mangawhai Snr Cit.Hall.Ph:4312339 
 
Cause  Way  Church  Mangawhai:  Sundays  10.15am,  Mangawhai 
Community  Recreation  Centre,  Insley  St.  Ph:  09  4314782