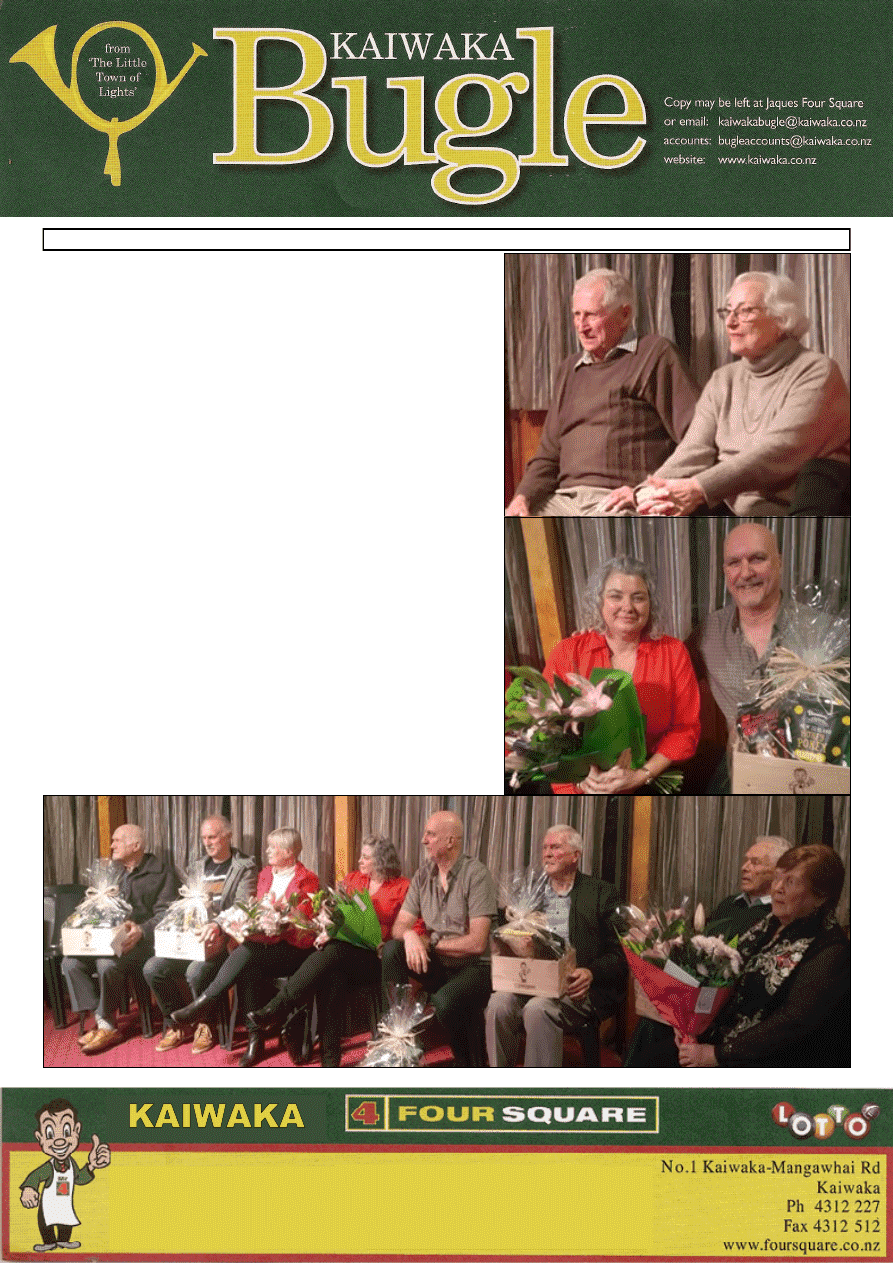 www.kaiwaka.co.nz 
Kaiwaka Bugle - 27 July, 2021 
Page 1 
No: 14 
 27 July 2021 
A NIGHT TO CELEBRATE THE 
DONALDSON AND JAQUES FAMILIES 
Last  Wednesday  night  was  an  opportunity  for  our  Kaiwaka 
Community  to  gather  at  the  KSA  and  recognise  the  outstanding 
contribution made by two local families. 
Our  KSA  chairman,  Wayne  Leslie  welcomed  everyone  and 
outlined  why  Kaiwaka  needed  to  recognise  the  part  these  two 
families have played. 
Evan Wright spoke of the influence the Jaques family  have had for 
nigh on one hundred years serving not only the local Four Square 
but  the  music  supplied  by  the  Jaques  boys  around  all  the  local 
dances - they still have all the talents and the word is that they are 
going  to  have  another  music  night  (watch  the  Bugle).  Special 
mention  of  Paula  Jaques  in  financial  guidance  to  the  KSA, 
following on from her father-in-law Brian, was treasurer for over 
20 years. 
Doug and Lenore have been active locally for well over fifty years 
-  Doug  as  a  young  man  served  on  the  Kaiwaka  Domain  Board, 
thirty-one  years  on  the  Matakohe  Museum  area  committee  and 
nearly as long for the Otamatea St. John Area committee. He was 
the team leader when the Kaiwaka St. John Ambulance station was 
purchased.  His  wife  Lenore  was  a  long  time  staffer  at  Otamatea 
High School, Board representative and student adviser. Lenore is a 
long serving JP , and marriage and funeral celebrant . 
It was nice the way several speakers came forward to pay tribute to  
these families. 
The night was officially called a farewell as both families - Doug 
and Lenore will eventually move to Auckland, and Paula and Greg 
are  moving  to  Whangarei.  However  with  their  local  ties  we  still 
expect to see plenty of them. 
Photos: Top - Doug and Lenore Donaldson; Mid - Paula and Greg 
Jaques;  Bottom  -  Jaques  family  -  Reg,  Glenn,  Dalleise,  Paula, 
Greg, Brian, Ken and Pam. Absent Bill and Alan. 
TRADING HOURS: 
7.30am - 7pm daily 
"Your local Store" 
Family owned & operated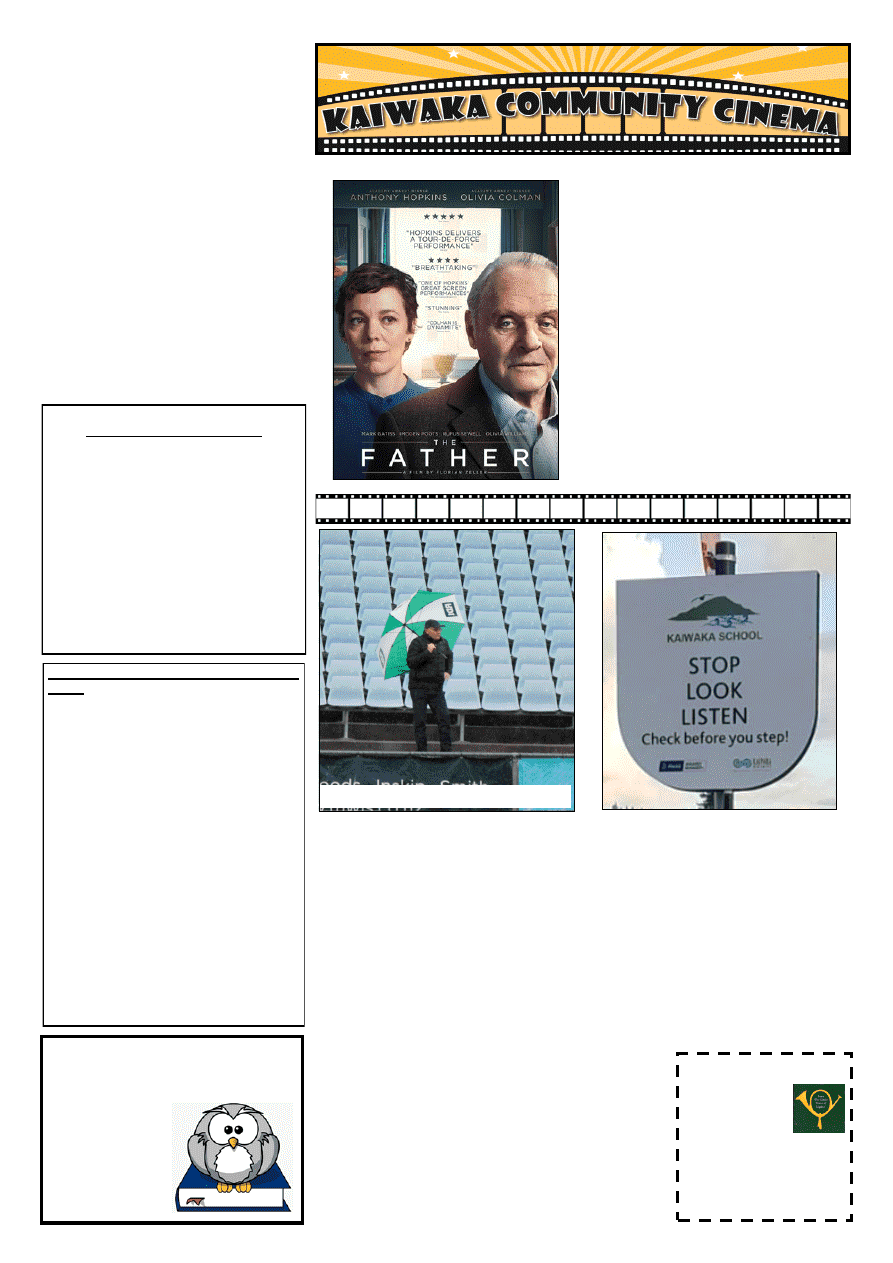 At Kaiwaka War Memorial Hall . Adults $10, Kids (under 16) $5, Family Pass (2 adults + 3 children) $25 
KAIWAKA BUGLE No. 14 
27 JULY 2021 
CONTENTS 
Page 3: Public Notices, Classified 
Page 5: About Town;  True Story 
Page 7: Rotary; Northland Life member 
Page 9: Arthur Porritt - bronze medal 
Page 11: Kaiwaka Sports Assn. 
Page 13:Otamatea Community Services 
Page 15: About Town; Te Pataka  
Page 17:  Kaiwaka Library 
Page 19: Property Demand 
Bugle  15 will appear 10 August 2021 
Contact for advertising, reports, articles 
or information can be made by 
Email kaiwakabugle@kaiwaka.co.nz 
Ph: 09 4312 045 Lindsey 
Txt: 027 2724137 
Copy may be left at our Four Square. 
Kaiwaka Bugle 
Founded May 1978 
We appreciate articles and photos about local 
events, etc, as well as ads and suggestions. 
Copies available in Kaiwaka at Four Square, 
Kaiwaka Postal Centre, Shamrock Service 
Station, Best Pets , Kaiwaka St John shop. 
Also outlets in Maungaturoto, 
Mangawhai and Paparoa. 
Can be viewed online at   
www.kaiwaka.co.nz/Bugle  
Or a copy can be posted to you if you supply 
stamped, self-addressed DLE envelopes. 
Kaiwaka 
Bugle 
Advertisements 
2021: 
All 
copy 
and 
queries 
to: 
kaiwakabugle@kaiwaka.co.nz 
The Bugle is printed on an A4 page   
Ad  sizes:  1/16  page  (3  x  9.5cm)  $5;  1/8 
(6.5  x  9.5cm  landscape  or  portrait)  $8; 
3/16 ( 10 x 9.5cm or 7.5 x 12,5)  $12.  
Classified  ads:  First  one  FREE,  $4  per 
entry (max. 30 words, max. 4 repeats). 
Payments  can  be  made  online  at 
ANZ 
06  0365  0006990  00
,  posted  or  left  at 
Kaiwaka Four Square Store. 
We  use  Microsoft  Publisher,  and  can 
work  with  most  common  image 
formats, Word, Excel, and PDF files. 
Accounts:  
Email: bugleaccounts@kaiwaka.co.nz 
The  Kaiwaka  Bugle  is  a  community 
newspaper run by volunteers, as part of 
the Kaiwaka Media Group Inc.   
Articles, etc. printed are not necessarily 
the opinion of the Bugle Team. 
ABOUT TOWN

 What a great pleasure it was to hear the stories of service for the Jaques and 
Donaldson families at last week's farewell evening.

 WELL DONE, Bernie Hall on your 1st Place Overall in Single Lift Deadlift.
 
And also WELL DONE Gareth Ferguson, who placed 11th in New Zealand 
Gymnastics in Level 7 floor apparatus Men's Artistic Gymnastics (MAG) at the 
Nationals in the Trusts Arena, Henderson on Friday.  

 Congratulations to our local Under 16 rugby reps, the RhinOs, on winning the 
Sportsman Trophy at their recent tournament! 

How old is Windsor Castle?

 Kaipara Dog Training sessions begin Term 3 Wednesday 28 July, 5pm at the 
Mangawhai Domain. .

 Windsor Castle  is the largest and oldest occupied castle in the world; King 
William  the  Conqueror    chose  the  site for  Windsor 
Castle;  building  began  around  1070,  and  16  years 
later his castle was complete . 

 The Bugle Team and our Readers would enjoy a 
story or a report from you. Kaiwaka Bugle No. 14 is 
online at www.kaiwaka.co.nz and is in print for our 
local Readers.    
~ 
Lindsey, Ed
From Susan: "Actually, there is only a slight difference 
between keeping your chin up, and sticking your neck out, 
but it is worth knowing the difference!! "   Anon 
THE FATHER 
Friday 30 July, 7.30pm 
'Anthony  (Anthony  Hopkins)  is  80, 
mischievous,  living  defiantly  alone  and 
rejecting  the  carers  that  his  daughter, 
Anne  (Olivia  Colman),  encouragingly 
introduces. Yet help is also becoming a 
necessity for Anne; she can't make daily 
visits  anymore  and  Anthony's  grip  on 
reality is unravelling. As we experience 
the  ebb  and  flow  of  his  memory,  how 
much  of  his  own  identity  and  past  can 
Anthony  cling  to?  THE  FATHER 
warmly  embraces  real  life,  through 
loving  reflection  upon  the  vibrant 
human  condition;  heart-breaking  and 
uncompromisingly  poignant  --  a  movie 
that nestles in the truth of our own lives. 
KAIWAKA BUGLE 
DEADLINE DATES 
2021:   
Every second 
Friday 
August 6, 20 
September 3, 17 
October 1, 15, 29 
November 12, 26 
December 10
Proverbs 16:20
God blesses those who obey 
Him; happy 
the person 
who puts 
their trust in 
the Lord.  
Photo: HAWKS supporter by C Peeni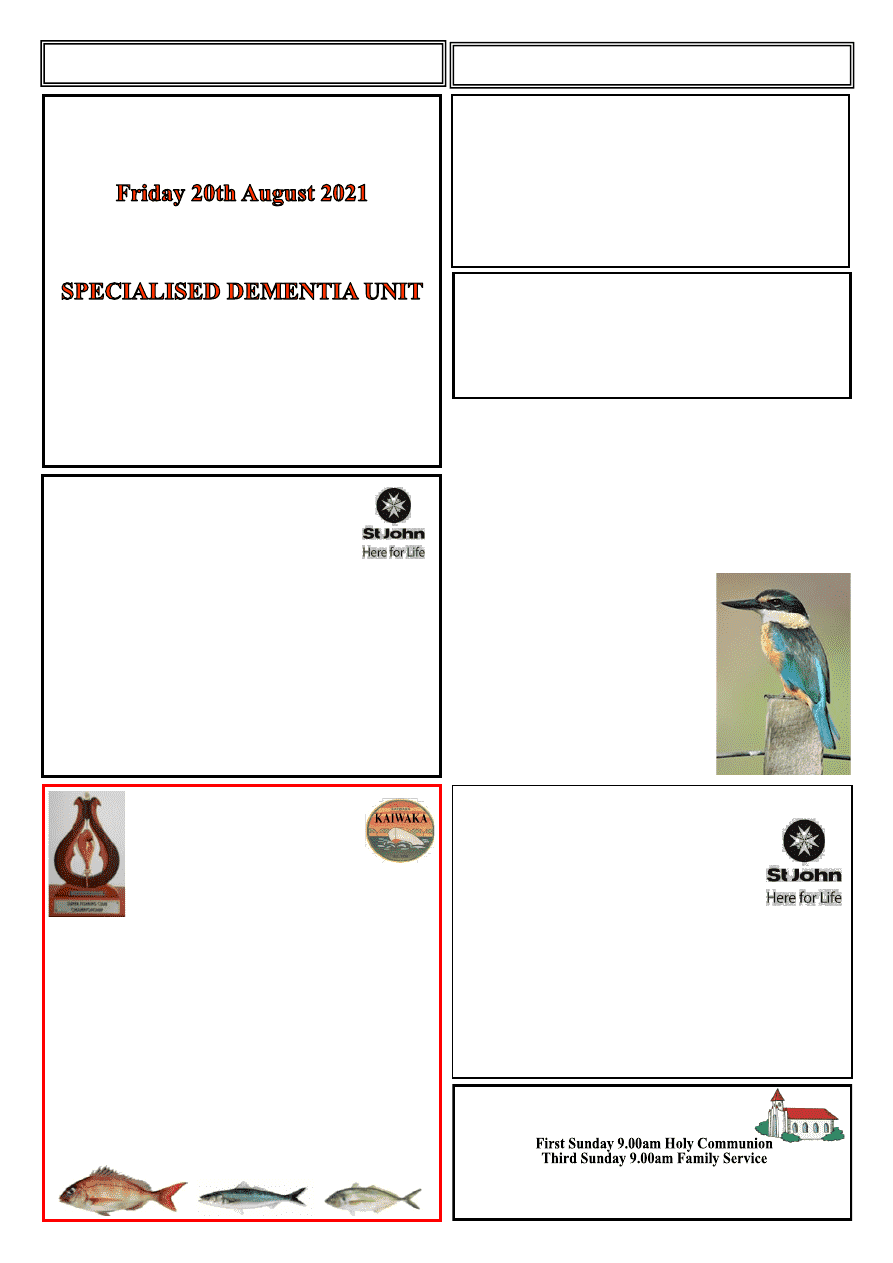 www.kaiwaka.co.nz 
Kaiwaka Bugle - 27 July, 2021 
Page 3 
POINT CURTIS  
CRUISING CLUB 
is hosting the 
SUPER CLUB  
CHAMPIONSHIP 2021 
Start Fishing: 6am Saturday 18 September 
Weigh In: 2.30 - 4.4.30pm Sunday 19 September 
Prizegiving: 5pm Sunday 19 September 
Three Furlongs Bar & Grill, 1942 SH 1 
Kaiwaka 
(around the back) 
The trophy will be awarded to the club with the heaviest 
combined weight of two snapper. 
We have individual prizes for the heaviest kahawai and trevally. 
Refreshments will be at the Three Furlongs Bar & Grill 
Sponsored by Wellsford Sorts & Leisure, Hunting & Fishing 
Whangarei, Saltwater Connection Whangarei,  
Tackle & Outdoors Warkworth. 
ST JOHN TRASH AND 
TREASURE 
4th – 8th October 2021 
We are now planning this year's event –  
annual fundraiser that we have run for 37 years in a row. 
As you will have noticed from Facebook promotions,  
we are now receiving good items that we can sell.  
Please, no TV screens, computers or printers. 
Eileen can meet you at the hall if you have items to donate. 
If you are able to help in setting up on the afternoon of the 
3rd October (or at any time during the week) please call 
Eileen – 021 142 0357 
PUBLIC NOTICES 
CLASSIFIED 
ST PAUL'S ANGLICAN  
SUNDAY SERVICES 
St Pauls Church: Kaiwaka-Mangawhai Rd. 
Ph 431 4122 
www.mangawhaianglican.org.nz
MAUNGATUROTO COMMUNITY 
CHARITABLE TRUST 
invites you to join us on 
for the Blessing and Public viewing  
of our newly completed community 
Blessing 6.30am 
Unit open for public viewing 1-3pm 
Parking available behind the St John's Station 
@ Plymouth Brethren Church Car Park. 
Maungaturoto Rest Home 
136 Hurndall Street 
Maungaturoto 
St. JOHN SHOP KAIWAKA  
NAME. CHANGE: 
We are now St John Shop Kaiwaka. 
We  have  had  a  change  around,  new  signage 
but the same friendly faces will greet you.   
We  are  in  need  of  clean  saleable  Bric  Brac, 
Linen, Books, and winter clothing. 
Please drop donations during opening hours.  
SHOP HOURS. Tuesday 10am to 3pm and  
EVERY SATURDAY 10am TO 2pm. 
Help us to help you our beloved community.    
Looking forward to seeing you all soon, Diane and the Team 
PHONE: Shop  4312650  - 1919SH1, Kaiwaka 
KINGFISHER BLUE                                                                                                              
How true, such a pleasure                                                                                                 
to see your brilliant hue                                                                                                    
so Yellow and Blue                                                                                                           
I await for your arrival each morning,                                                                                 
this Morn.                                                                                                                   
you came with the Dawn                                                                                                       
and are an inspiration to us each day 
 as we watch you                                                                                                              
come and go                                                                                                                  
as if you know 
you bring hope and harmony                                                                                              
even on a dull day 
and in the bright light of morning 
you are such an uplifting sight. 
 ~ 
Susan 
MAUNGATUROTO SWIM CLUB 
Unfortunately, our club did not operate last year because 
we couldn't get enough coaches for Swimsafe. We would 
like to meet anyone who is interested in joining the 
committee. We are usually able to utilize the pools at both 
Maungaturoto Primary and Otamatea High. If you are 
interested in reinvigorating our committee, please call 
Eileen – 021 142 0357 
JENNY'S RURAL CLEANING SERVICES 
P.O. Box 87, Kaiwaka 
Looking for a casual to part time worker.  
Must be able to work the odd Saturday morning.  
Must be trustworthy and have a driver license and be 
able to work in a team. 
Please send your C.V if you got one to: 
jrcleaningservices.chellew@yahoo.com 
Or phone Jenny on 431 2826 after 7pm.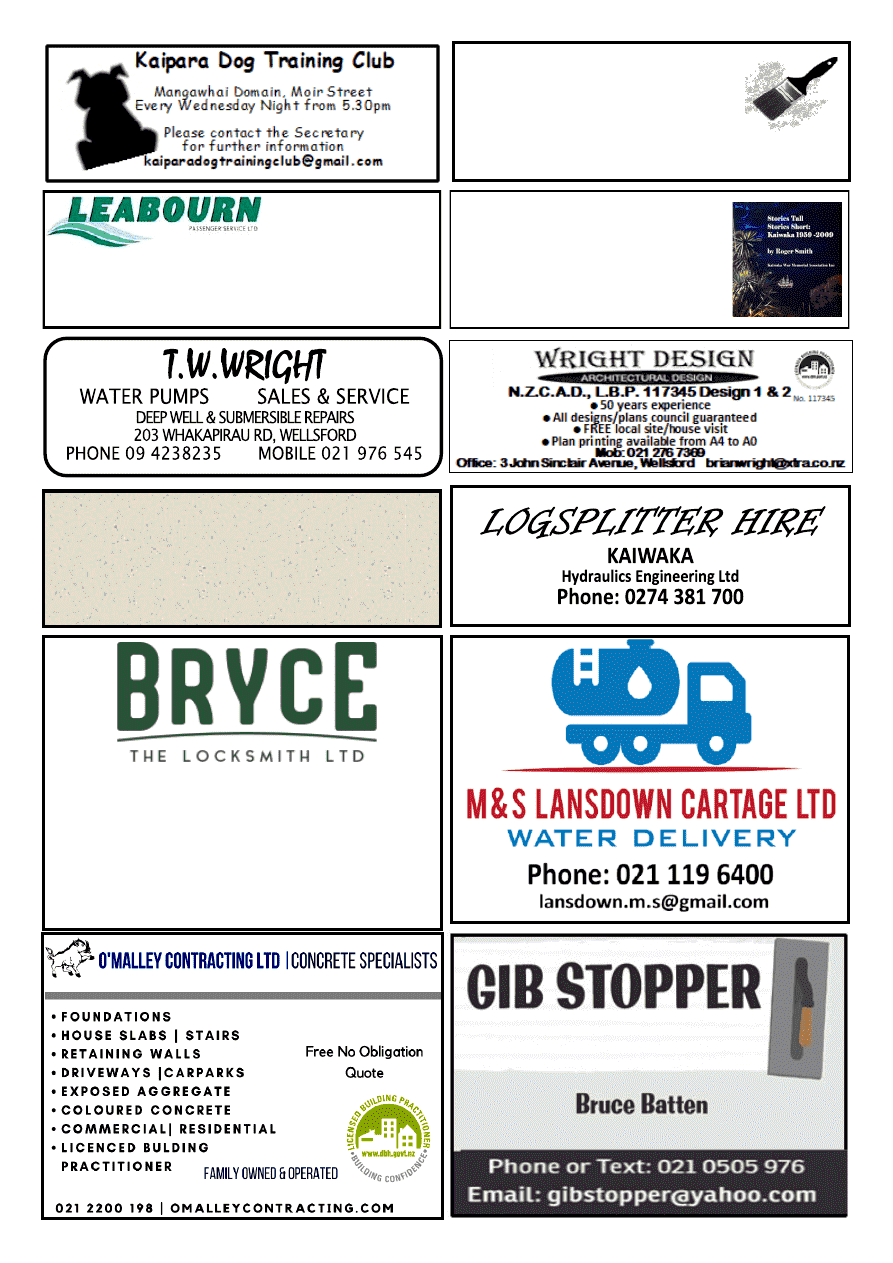 Counsellor and Registered Psychotherapist 
Offers Supervision
Susan Matheson 
MNZAC 
Dip. Psychosynthesis Counselling and Psychotherapy 
Phone 09 431 2996                        Mobile 027 605 2427 
Passenger Service
Car & Van Hire   Bus & Coach Charters 
Airport Transfers    
Phone (09) 4237416 
Bryce Frewin 
Ph: 021 850 983 
Kaipara Based Master Locksmith 
bryce@brycethelocksmith.co.nz 
www.brycethelocksmith.co.nz 
Stories Tall, Stories Short  
Kaiwaka 1959-2009 
by Roger TW Smith.  $40 
Kaiwaka Photographic History 
Available at All Sortz Collectables  
or phone  4312 045 
DR PAINT
 Dave & Rhys 
 Painters
 02108742551   
0211200667    drpaintnz@gmail.com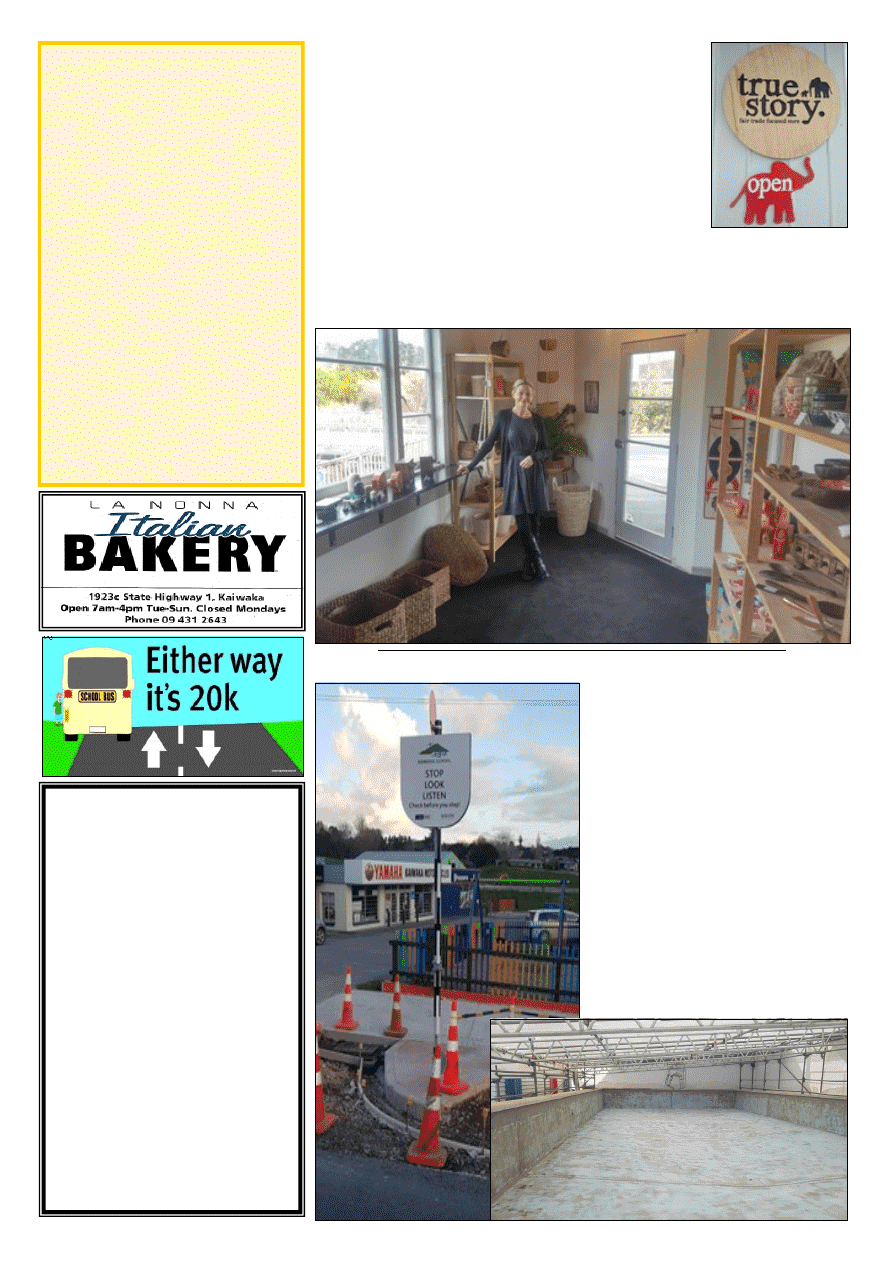 www.kaiwaka.co.nz 
Kaiwaka Bugle - 27 July, 2021 
Page 5 
Willow Bend 
HORSE  
HOTEL 
Horse Grazing & Agistment 

Safe paddocks with outriggers 
on all fences 

60x40 professionally 
constructed arena with grass 
surface 

Under cover yards 

Stabling if required 

Paddocks cleaned daily 

Feeding hay/hard feed 

Cover changes 

Fresh grass daily, all year round 

Short or long term
Phone Sue  
021 623 776  
Providing care and comfort for 
horses in Kaiwaka since 2005 
Welcome to Denise and her 'True Story ' 
"My  story:    I've  been  living  and  working  in  the  area  for 
the last  7  years and  when this  space came  up  for lease  I 
saw  an  opportunity  to  open  a  shop  that  focused  on  fair 
trade products. 
It's important to be conscious about the purchases we all 
make, our choices can make a big impact and by buying 
fair trade products we can do our bit to make the world a 
better place. 
I'm  stocking  a  range  of  fair  trade  gifts,  homewares,  bags  and  musical 
instruments,  and  will  look  at  expanding  into  locally  produced  products  in  the 
future. 
Hours: Currently open every day except Saturday. ~ Denise' 
True Story is the wee shop with the entrance on the righthand side of the Four 
Little Birds Cake shop 1954 SH 1, and across from Eutopia Café. 
TRUE STORY,  
FAIR TRADE FOCUSED STORE 
Now Open!! 
MOMMAS 
TAKEAWAYS 
09 601 6124 
7 days 
12 - 8pm 
1923b State Highway 1 
Kaiwaka 
ABOUT TOWN 
Out from the playground on Kaiwaka-
Mangawhai  Road  the  large  'pink 
pedestrian crossing tongues' have been 
ground to a smaller size - a bit of trial 
and  error,  as  is  similar  for  the  one  on 
the opposite side of the road.  
Pictured  left  is  one  of  the  pedestrian 
'crossing  arms'  or  lollipops  all  ready 
for  the  Kaiwaka  pupils  -  arms  are 
locked in place until ready for use. 
UNDERCOVER 
AT 
THE 
SPORTS ASSN! 
The photo below is a sneak preview of 
the  Kaiwaka  School  swimming  pool 
preparing 
for 
summer. 
The 
sandblasting has been completed and is 
now  ready  for  painting.  The  word  is 
that  the  pool is  strong  and  very  fit  for 
purpose.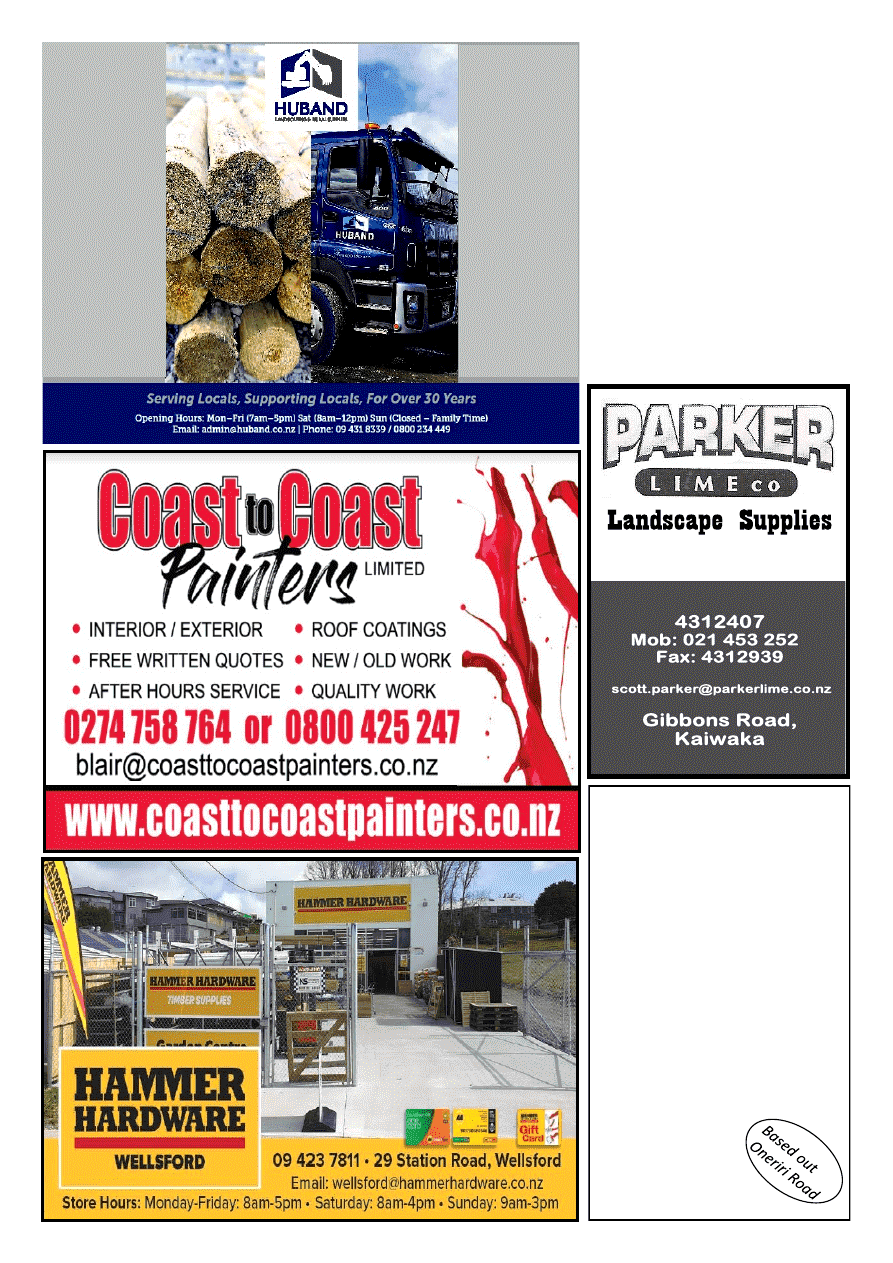 HODGETTS 
CONTRACTING
Digger Work    
Driveways   
House Sites  
Dams      
Drains, etc
Also available for HIRE 
3 ton Vib Roller  
Heavy Duty Tow  
Waterblaster      
Lazer Level
Phone Mark  
4312877 
027 447 8554 
Bulk Cartage 
HELP 
PHONE NUMBERS 

HEALTHLINE  0800  611  116  -  a 
nurse to answer health queries  

SAMARITANS  
0800  726  666  -  support  for  lonely  or 
suffering mental distress 

YOUTHLINE 0800 376 633 

LIFELINE 0800 543 354 

DEPRESSION HELPLINE  
0800 111 756 

ALCOHOL  &  DRUG  HELPLINE 
0800 787 797 

URGENT 
MENTAL 
HEALTH 
LINE 0800 223 371 

WARMLINE  -peer  support  for 
people with mental health issues  
0800 200 207 
Landscaping Supplies: 
Waikato Screen Topsoil 
Bark 
Woodchip 
Mill Bark 
Post Peelings 
Compost 
Crushed Shell 
Topsoil 
Limestone Chip 
Daltons Garden Mix 
Aggregate 
Gap: 20,40.65 
Riverstone 
Sand 
Belt Dust 
40/20 Drainage Metal 
Builders Mix 
 Cement 
Timber/Fencing Supplies: 
Rails, Posts  
Stays, Strainers 
Fence Battens 
Palings 
Stakes 
Fencing Wire 
Farm Gates & hardware 
Drainage: 
PVC Fittings 
Alkathene 
Draincoil 
WATER TANKS: 
Aqua & Baileys 
Brands 
DRAINAGE & 
SEPTICS: 
Land Drainage 
Urban Rural 
Drainage 
Water Pipelines 
Culverts 
Septic Systems 
(RX Plastics & 
Biorock) 
SITEWORKS: 
Retaining Walls 
Piling 
Driveways 
Carparks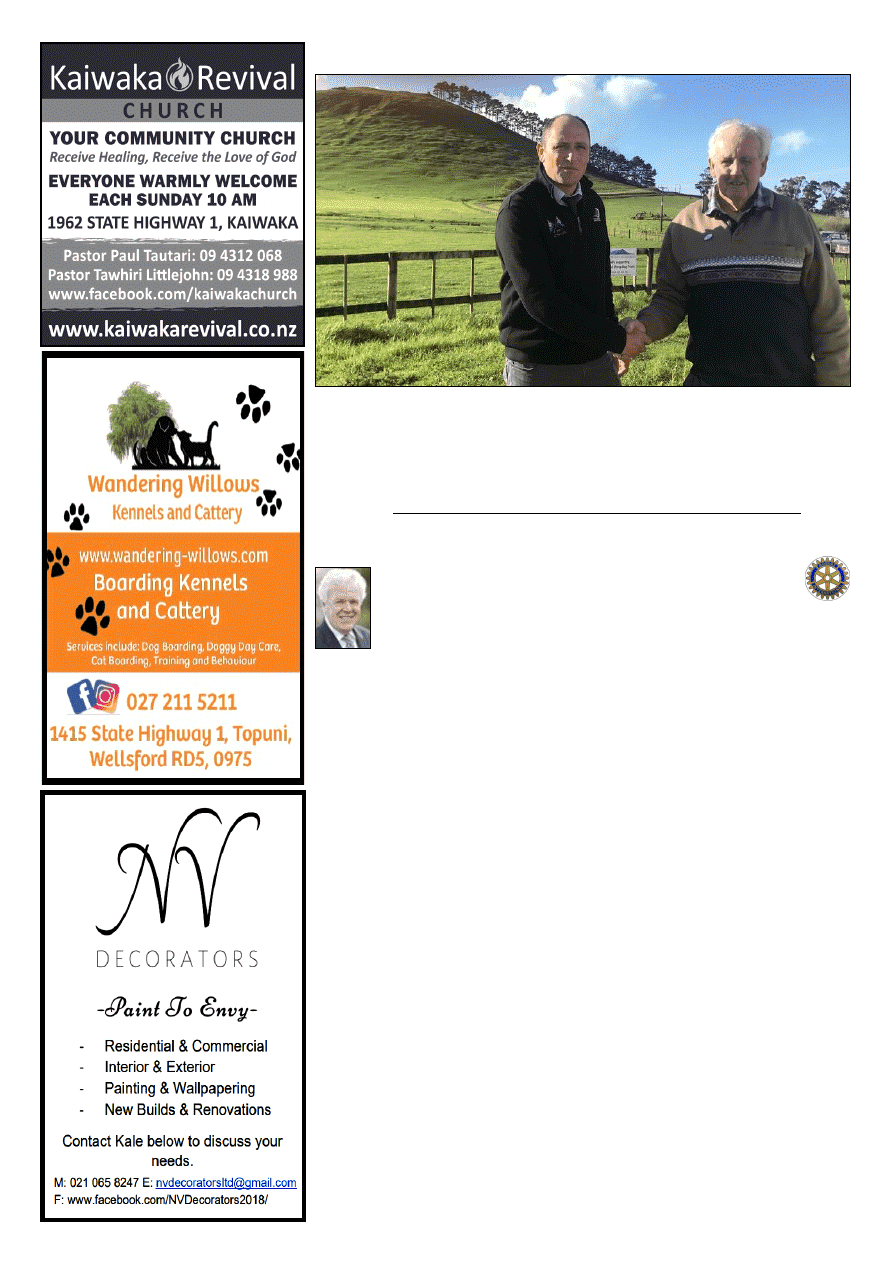 www.kaiwaka.co.nz 
Kaiwaka Bugle - 27 July, 2021 
Page 7 
CHANGEOVER  
The 
29June 
saw 
our 
Changeover  from  one  Rotary 
year  to  the  next. 
Rodney 
Tysoe
  has  agreed  to  be 
President for this year as well 
and  we  look  forward  to 
supporting  him  with  work  both  in  this 
community and overseas.  
We were fortunate to have a number of 
personnel  from  the  new  District  9910 
Executive  as  well  as  several  past 
District  Governors  with  us  that  night. 
Elaine,  Past  DG  spoke  about  the  new 
Satellite club at Mangawhai and what it 
meant  for  our  wider  community.  As  a 
result of this 8 of the 12 new members 
were inducted.  
The  Paul  Harris  Fellow  Award 
was  presented  to  five  very  surprised 
recipients. (Paul Harris was the founder 
of  Rotary  in  1907)  and  to  give  this 
award our club has to have contributed 
$US1K  to  the  Rotary  Foundation  for 
each  recipient.  The  Rotary  Foundation 
is  the  Rotary  Charity  Arm.  The 
recipients  were:  Tim  Magill,  Vipin 
Chand,  Bronwyn  Ellison,  Albie 
Paton and Eileen Parsons.  
President  Rodney  then  outlined  the 
work  we  had  undertaken  during  the 
year.  It  is  obvious  that  we  have 
achieved  a  great  deal  in  the  past  year 
(as  has  been  outlined  in  previous 
monthly reports.) He then spoke of his 
aims for this year: Growth, service and 
publicity.  Having  the  inauguration  of 
the  Mangawhai  Satellite  club  in  the 
past year has meant growth in the East 
so we now need to focus on growth in 
our  Club  as  a  whole.  This  year's 
international motto is SERVICE TO 
CHANGE LIVES. 
Some of us were able to take up 
the  invitation  from  Otamatea 
High  School  to  a  High  Tea 
hosted  and  provided  by  the  Year  10 
Hospitality students. Not only did these 
young  people  excel  in  the  preparation 
of  all  the  food,  but  also  in  the 
presentation.  During  the  afternoon  the 
students interacted with their guests in 
a  very  positive  way.  Thank  you  OHS 
for  giving  us  the  opportunity  to  be 
involved in this. 
Our  Club  will  continue  to be  involved 
with  the  new  Satellite  club  at 
Mangawhai  and  the  sailing  activity. 
They will be meeting twice a month on 
a  Thursday  and  of  course,  their 
members  are  welcome  at  our  weekly 
meetings. 
We  continue  to  be  grateful  for  the 
catering  support  of  the  OHS  Netball 
team  and  the  DOE  Gold  group.  Our 
meals are a win/win situation as we not 
only  receive  a  delicious  meal,  but  we 
are  able  to  support  these  groups' 
fundraising efforts. 
Our  four  driving  mentors  continue  to 
provide  Restricted  licence  tutoring  to 
people in our area. Last year we had 17 
successful  applicants  and  already  this 
year we have had two. The new car is 
going well, and we are grateful to Dean 
Garnett for his upkeep of our car. It is 
great to know we have someone we can 
depend on when we have a problem. 
CONTACT 
Please  feel  free  to  call  Eileen, 
0211420357  if  you  would  like  to  join 
us,  help  us  out  with  our  projects  or 
have a message you would like to share 
with us. 
MAUNGATUROTO AND DISTRICTS ROTARY 
LIFE MEMBER NORTHLAND SDTA 
Graham  Robertson,  Maungaturoto,  was  awarded  life  membership  to  the 
Northland Sheep Dog Trials Assn,  at their recent annual meeting. He is seen 
here with the Northland President, Shaun Haynes in front of the Te Ahu Ahu 
longhead  course.  Graham  has  been  a  dog  trialing  stalwart  for  many  years, 
beginning as a member of the Otamatea SDTC and being of assistance to our 
local Molesworth  Club,  and  a  tireless  worker at  Northland  New  Zealand  and 
North Island Championships.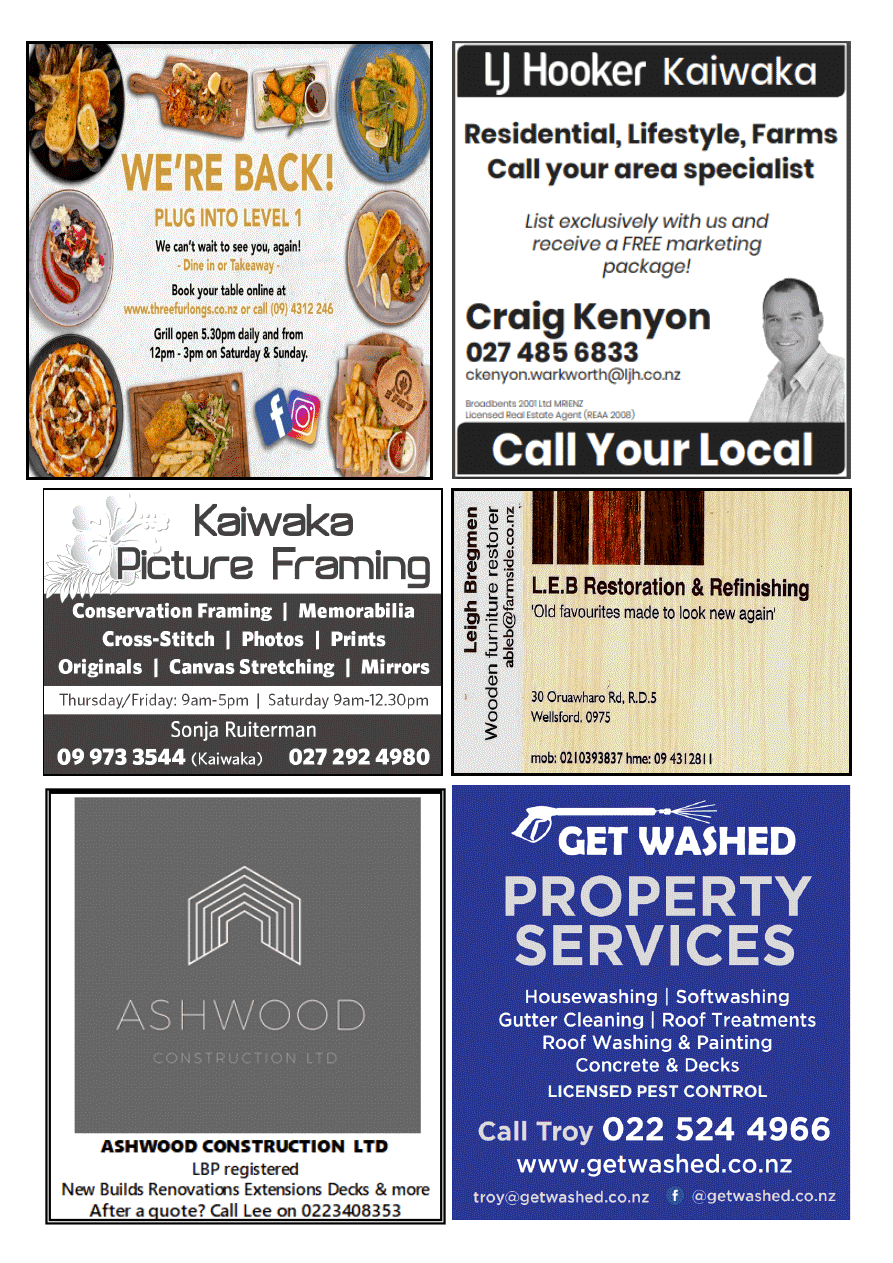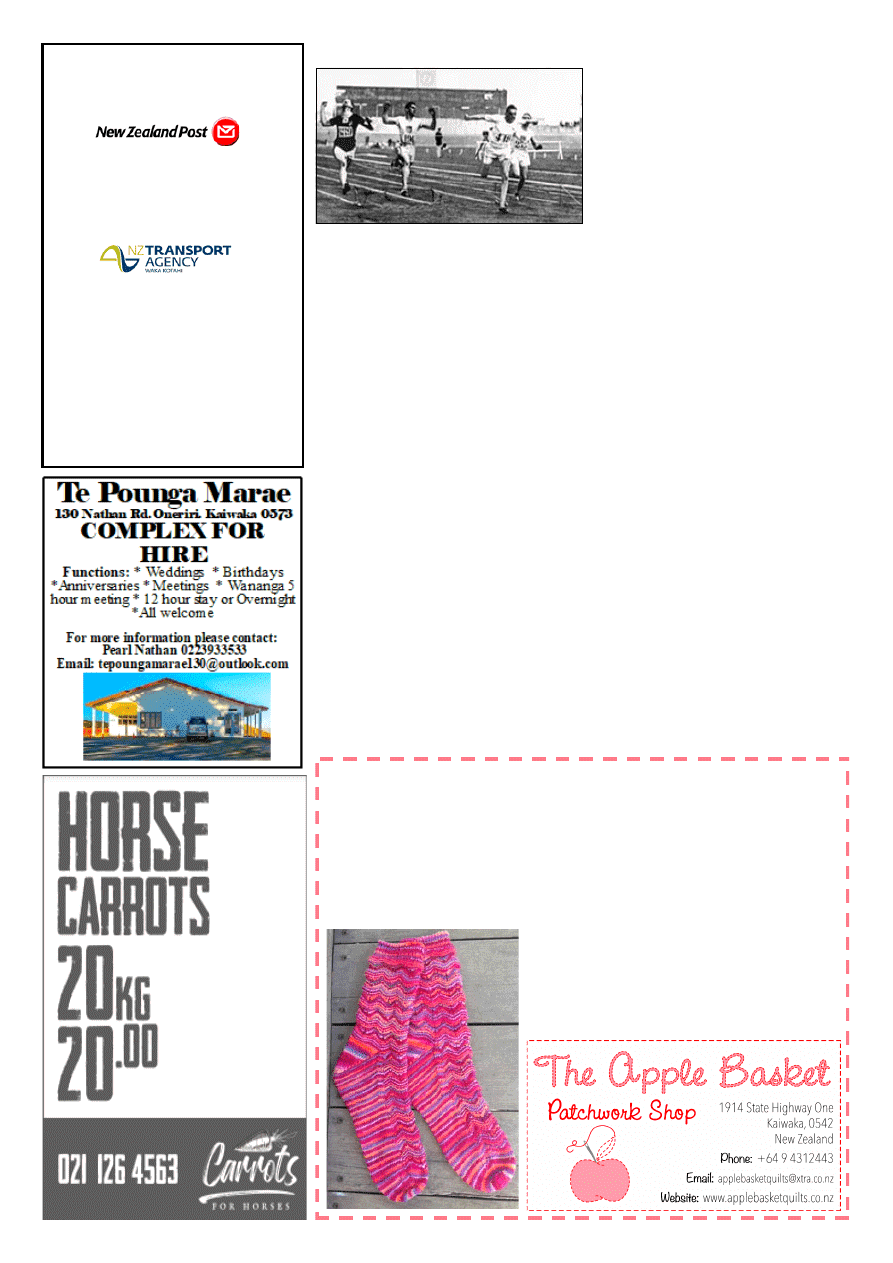 www.kaiwaka.co.nz 
Kaiwaka Bugle - 27 July, 2021 
Page 9 
NZ's FIRST TRACK MEDAL - 1924 
KAIWAKA POST 
CENTRE and 
FOOD MART 
POST CENTRE TRADING HOURS 
MONDAY to FRIDAY 8am to 5pm 
SATURDAY 8am to 12pm 
CLOSED ON SUNDAY and on 
PUBLIC HOLIDAYS 
FOOD MART (GROCERIES)  
MONDAY TO FRIDAY  
7:30am to 7.30pm 
SATURDAY  8am to 7.30pm 
SUNDAY  8:30am to 7pm 
IF ANY QUERIES PLEASE CALL 
STORE MANAGER AMRIT  
on 09 4312431 or 
EMAIL: kaiwakafood19a@gmail.com 
1919a State Highway1, Kaiwaka 0542 
Photo: Arthur Porritt (left) wins bronze 
in  the  100-m  sprint  at  the  1924 
Olympics (Radio New Zealand) 
The  Academy  Award-winning  film 
Chariots of fire (1981) was based on 
a  true  story  about  British  athletes 
who  competed  at  the  1924  Paris 
Olympics. 
During  the  film  one  of  the  main 
characters,  Briton  Harold  Abrahams, 
wins  gold  in  the  100-m  sprint. 
American  Jackson  Scholz  finishes 
second,  while  New  Zealander  'Tom 
Watson'  comes  third.  Watson  was 
based  on  Arthur  Porritt,  who 
reportedly refused permission for his 
name  to  be  used  in  the  film  out  of 
modesty. 
Porritt was one of four New Zealanders 
who  competed  at  the  1924  Olympics. 
He  claimed  to  have  been  selected  not 
only  because  he  was  New  Zealand's 
fastest  sprinter  but  because  it  was 
cheap  to  get  him  to  Paris  –  he  was 
studying medicine at Oxford. 
About  30,000  spectators  saw  Porritt, 
Abrahams, 
Scholz 
and 
fellow 
Americans  Charley  Paddock,  Loren 
Murchison  and  Chet  Bowman  contest 
the 100 m final. Scholz was the fastest 
away and still led at the halfway point, 
but  with  20  m  to  go  Abrahams  edged 
ahead to win in 10.6 seconds, followed 
closely  by  Scholz  (10.7  seconds)  and 
Porritt (10.8 seconds). 
New  Zealanders  had  competed  in 
athletics 
at 
previous 
Olympics. 
Taranaki  walker  Harry  Kerr  had  won 
bronze  for  the  Australasian  team  in 
1908,  but  Porritt's  was  the  first  track 
medal  won  by  New  Zealand  –  and  in 
one  of  the  glamour  events.  It  was  an 
amazing  feat  –  Porritt  did  not  even 
have a coach. Following the Games he 
trained  under  Abrahams'  coach,  Sam 
Mussabini,  and  in  1925  he  beat 
Abrahams over 100 yards (91 m). Until 
Abrahams' death in 1978 the two men 
and their wives dined together at 7 p.m. 
on  7  July  every  year  to  commemorate 
their final. 
Porritt  captained  the  New  Zealand 
team  at  the  Amsterdam  Olympics  in 
1928 but had to withdraw from the 100 
m because of injury. By then a trained 
physician,  he  treated  members  of  the 
New  Zealand  team,  including  boxer 
Ted  Morgan,  who  won  gold.  Porritt 
was  team  manager  at  the  1936  Berlin 
Olympics,  where  he  crucially  advised 
Jack Lovelock to compete in the 1500 
m, which he won, rather than the 5000 
m. 
From  1934  to  1967  Porritt  was  the 
New  Zealand 
member 
of  the 
International 
Olympic 
Committee 
(IOC). He greeted New Zealand teams 
when  they  arrived  in  London  on  their 
way  to  various  Olympic  Games, 
arranging 
medical 
treatment, 
accommodation,  training  facilities  and 
equipment.  He  also  presented  Yvette 
Williams  (1952),  Murray  Halberg 
(1960) and Peter Snell (1960 and 1964) 
with  their  Olympic  gold  medals.  Sir 
Arthur  Porritt  was  accorded  life 
membership  of  the  IOC  when  he 
resigned  to  become  Governor-General 
of New Zealand (1967–72). 
Ref.  ''Tom  Watson'  wins  bronze  for  New  Zealand',  URL: 
https://nzhistory.govt.nz/page/tom-watson-wins-bronze-for-
new-zealand, (Ministry for Culture and Heritage)  
Sock Knitting Class with Jean Guttery 
Thursday 29th July and Friday 6th August 2021 
10.00 am - 1.00 pm both days. 
Jean will teach you how to make socks from the toe up so you can try them on as 
you knit to get the perfect fit and you will also learn how to do socks using the 
Magic Loop method.  It is such a useful skill to learn and they make wonderful gifts.   
The handmade socks last so much longer than the bought variety and there are such 
a lovely variety of sock yarns to make them in.  The only stipulation with this class is 
you must buy your yarn here  at  
The Apple Basket before class. 
 
Book in by phoning us on 09 4312443  or email at                             
applebasketquilts@xtra.co.nz or book in on our 
website under Workshops & Classes - 
www.applebasketquilts.co.nz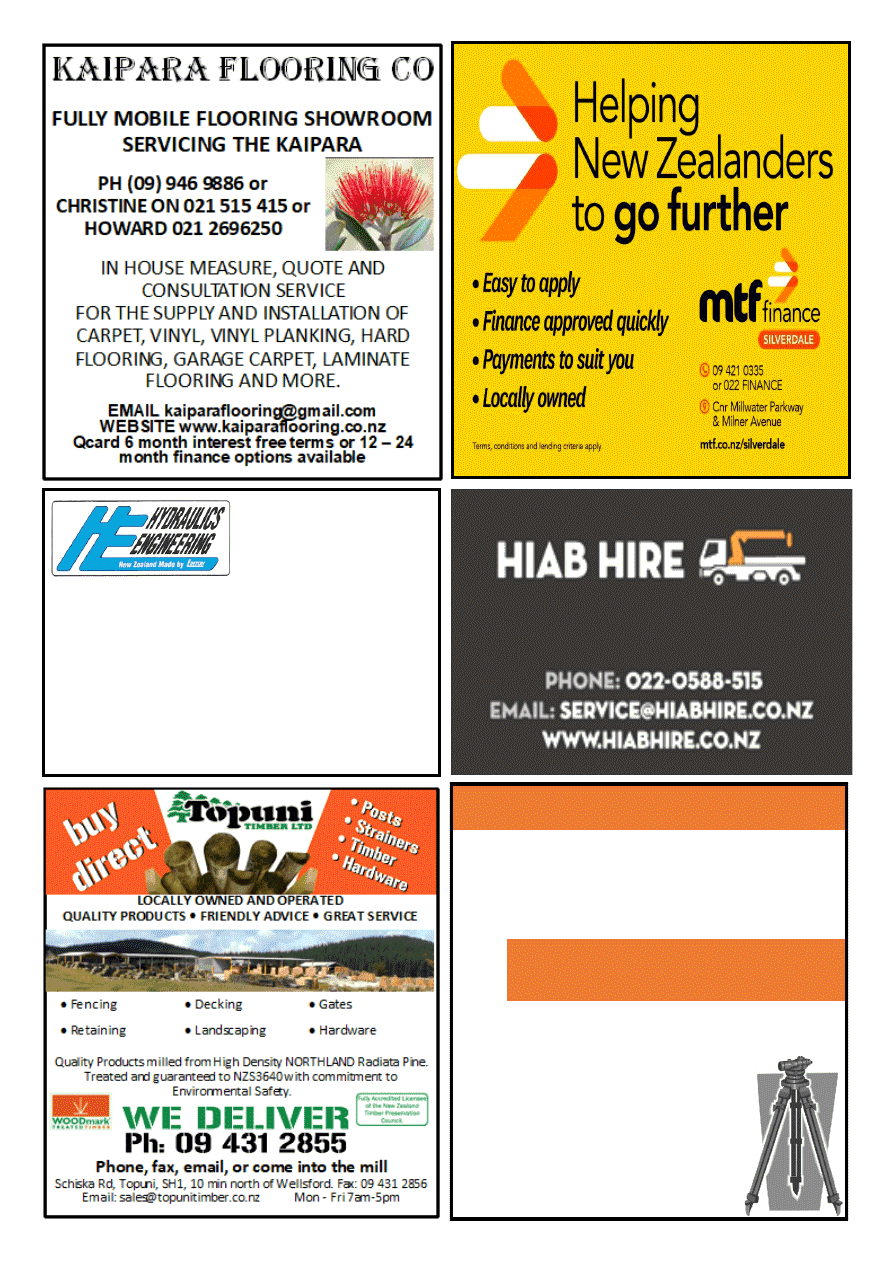 SURVEYORS 
SUBDIVISIONS 
HOUSE SITE SURVEYS 
CIVIL ENGINEERING 
WASTEWATER DESIGNS 
EXPERIENCED 
PROFESSIONAL 
INNOVATIVE 
Ph 09 431 5353 
0800 PACIFIC (0800 722 434) 
pacificcoastsurvey.com
Adam Booth - 027 415 5752 
Bsurv, Licensed Cadastral Surveyor
Surveying Kaipara since 1994 
Hydraulics  
Engineering Ltd 
Kaiwaka 
Sales - Service - Parts - Hire - Manufacture 
Service Contractors & Industrial Equipment: 
Rams, Pumps, Valves 
Logsplitter Hire, Manufacturer, Sales 
Dennis Linton 
Lot 2 / 161 Ranganui Road, RD2, Kaiwaka, 0573, New Zealand 
Mobile: 0274 381 700 
Email: hydraulicsengineering@xtra.co.nz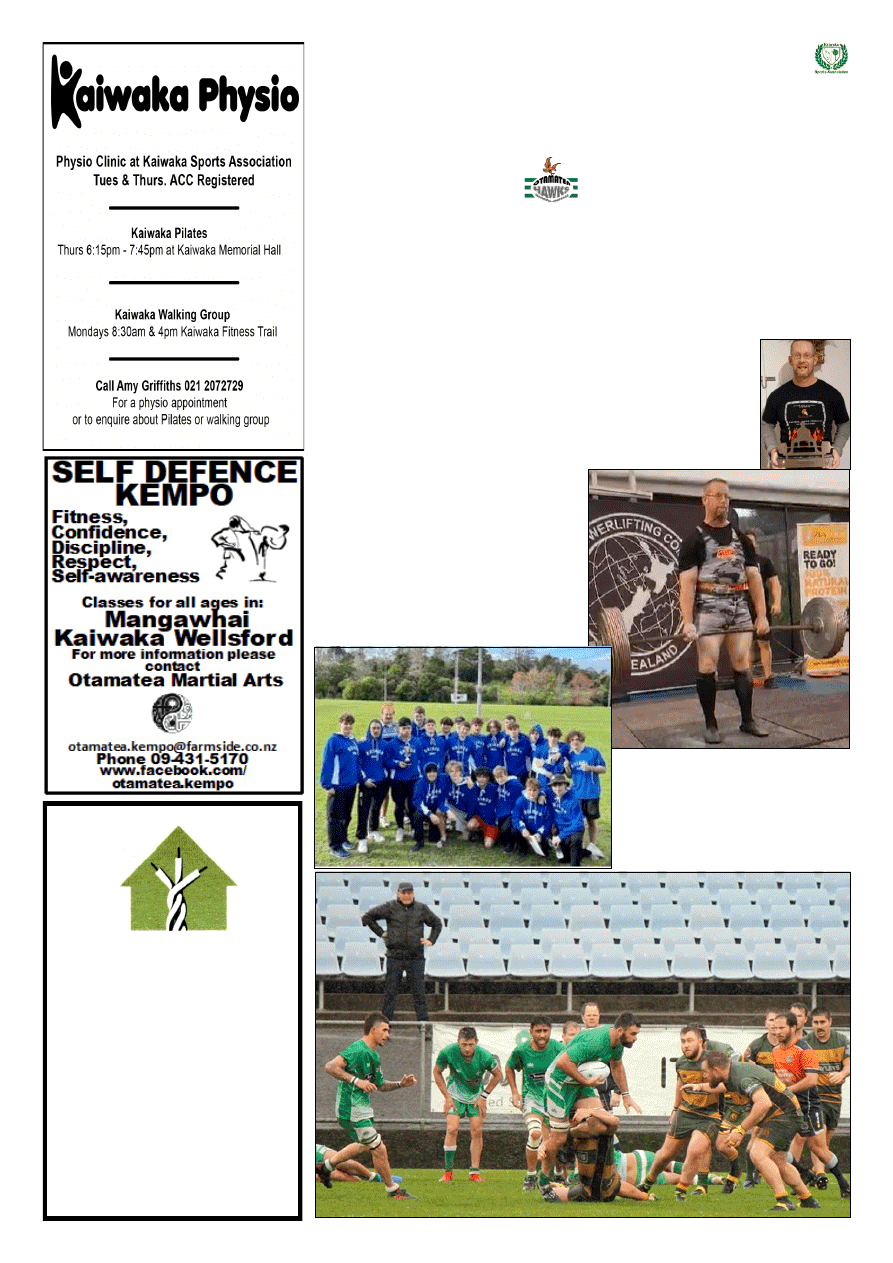 www.kaiwaka.co.nz 
Kaiwaka Bugle - 27 July, 2021 
Page 11 
Reyahn  Leng 
 Registered Electrician 
Local, honest and reliable. 
For your residential and 
light-commercial projects. 
022 314 1068  
KAIWAKA SPORTS ASSOCIATION 
BOOKING  THE  KAIWAKA 
SPORTS ASSOCIATION 
To  book  the  facilities  at  the  Kaiwaka 
Sports Assn. contact Jennie: 
ksa.bookings@mail.com  
or 02102764171 
RUGBY 
Saturday  17  July  -  2021  Senior 
FINALS:  Hawks  lost  20-27  after  a 
great  game  to  Mid  Western  on  Okara 
Park/Semenoff Stadium. 
Photo below by C Peeni. 
RUGBY  Un  16: 
Northland Rugby 
Union Taniwha Shield tournament was 
held at Wellsford Centennial Park 12 - 
16 July. 
The  Rodney  &  Otamatea  RhinOs, 
our  local  team  from  the  Otamatea, 
Wellsford  and  Tomarata  clubs,  had  a 
very  successful  tournament  playing 
some  great  rugby  and  coming  away 
with the Sportsmanship Trophy. 
They would like to thank the following 
local  groups  and  businesses  for 
generously supporting our team: 
Steve 
from 
Tomarata,Wellsford 
RSA,Maxi-milk  Productions  (Delwyn 
and  Niall),  Bridgestone  Wellsford,  Te 
Hana  Nurseries,  Whangaripo  Eggs, 
Kaiwaka  4  Square,  Rodney  4  Square, 
Scott Massey, Libelle Group, Kaiwaka 
Sports Association, and the Wellsford, 
Tomarata  and  Otamatea  Rugby  Clubs.  
~ Mirna 
POINT  CURTIS  CRUISING 
CLUB 
The  End  of  Season  game  shoot  was 
successful - results to be published. 
Fish  of  the  Month  for  July  was 
Gurnard 1st Dip 2.912kg; 2nd Danielle 
2.912kg 
Next  Club  meeting: 7pm, 12 August, 
Kaiwaka Sports Assn. 
Me:  Sobbing my heart out, "I can't see 
you  anymore  ...  I'm  not  going  to  let 
you 
hurt 
me 
again." 
Trainer:    "Relax! It was only one sit-
up!"  
BERNIE HALL:  
"Ended  up  with  a 
successful 
260kg 
Deadlift.  And  my  first 
ever  Trophy.  1st  Place 
Overall  in  Single  Lift 
Deadlift. 
Beautiful 
Trophy ." 
KAIWAKA BADMINTON 
Isa friendly group of players of all 
ages  and  abilities.  Play  on 
Tuesday  from  7.30  pm  $3  per 
session  
Contact Kaye on 4312 345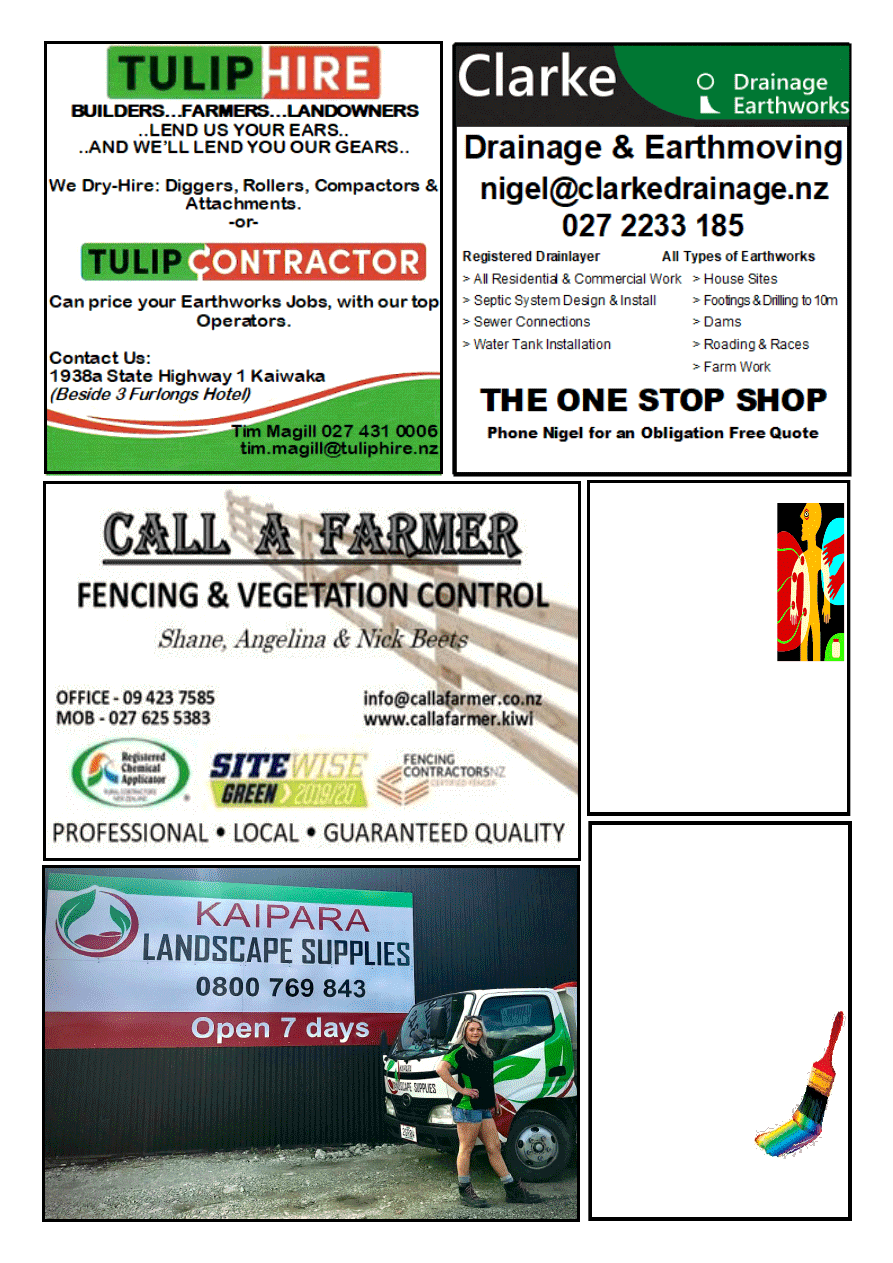 OWEN STEVENS 
Osteo Therapist
For careful adjustments 
to bones and joints 
Treatment for  
humans and their pets 
Clinics: 
Kate's Place, Kaiwaka: 
Last Friday of month  
9.00am-5.00pm 
For bookings:  
Phone 
09 4312661 
Or phone Owen  
 09 4317123 anytime 
LEE COOPER 
PAINTERS 
(Kaiwaka Based) 
*30 yrs Experience 
*Interior/Exterior 
*New and Restoration 
*Honest and Reliable 
*Free Quotes 
09 4312918 
0274735171 
leecooper@xtra.co.nz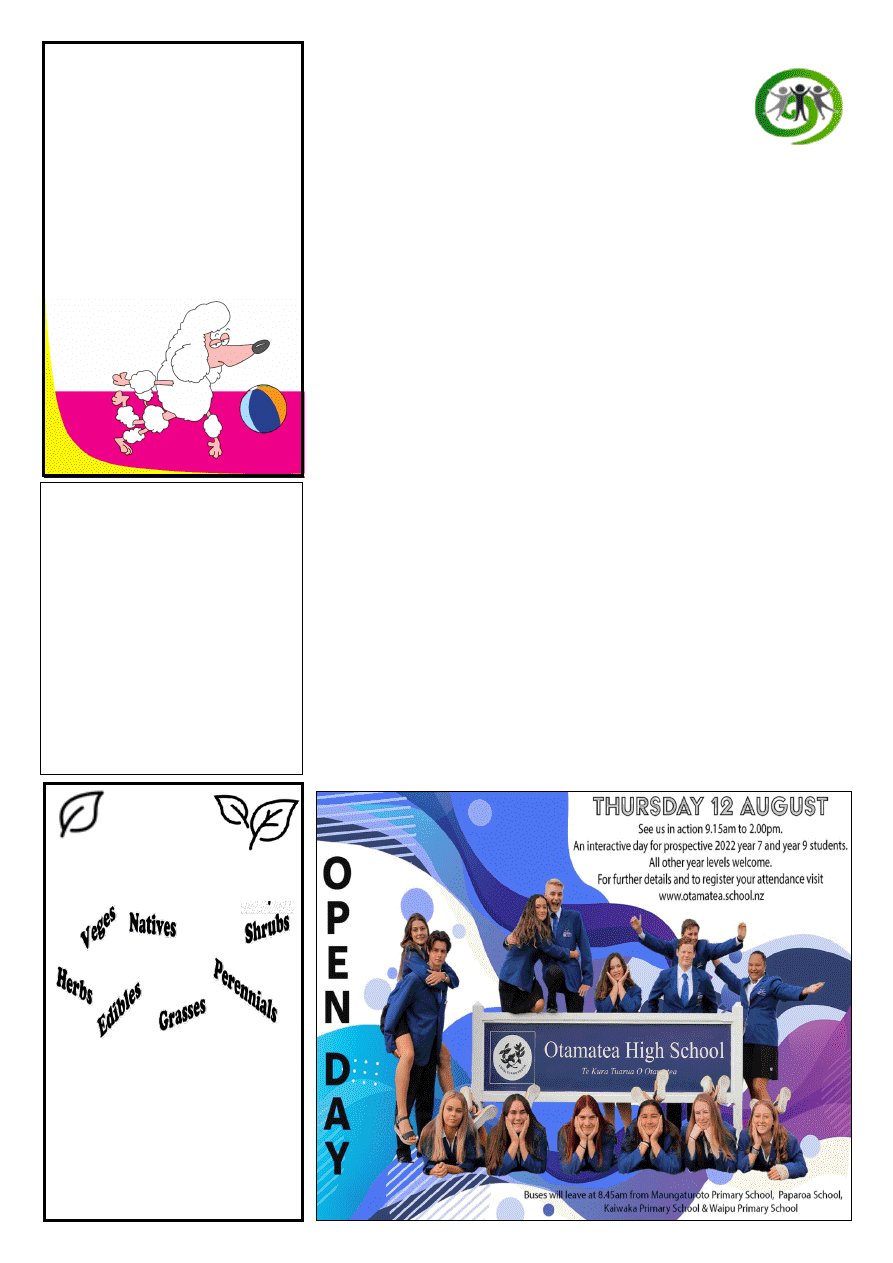 www.kaiwaka.co.nz 
Kaiwaka Bugle - 27 July, 2021 
Page 13 
Hot Diggity Dog  
DOG GROOMING  
KAIWAKA 
Spring is in the hair. 
Professional Dog Groomer  
at affordable prices.
www.doggroomingkaiwaka.co.nz 
call Pam 094312143 or text 
0273335380 for bookings 
HAKARU HALL  
ACTIVITIES 

Monday:  Line Dancing 10-12pm    
Ph 4315160 

Tuesday & Thursday: Pilates 10am  

    Qualified Instructor Ph. 
0220643965 

Wednesday:  Music Jam Session 7pm  
Dennis Ph. 0210628631 

Friday Morning: Available for HIRE  

Sunday: Canine Coaching  
Ph 0272365004 

Dance Energy  Week Days  
   Monday to Friday, Afternoon/Evening  
Ph. 0275610469 

Friday Morning: Available for HIRE 
Hall Bookings Karen  
4312090 or 0210467490 
Otamatea 
Kaipara 
Community 
Services  –  a  wrap-around  service 
agency based in the Kaipara. 
We  have  a  food  bank  with  a  support 
system around budgeting and planning, 
for families and individuals. 
We  provide  a  monthly  community/
senior  lunch  plus  weekly  and  monthly 
entertainment mornings. 
OUR SERVICES INCLUDE: 

Counselling: 
with 
highly 
professional 
with 
qualified 
counsellors  covering  all  aspects  of 
counselling for all ages, in issues with 
relationships, 
grief/loss, 
trauma 
therapy, anger management and more. 

Family/Whanau  support:  for  help 
with a range of life's challenges 

Parenting:  Visits  to  the  home  with 
one-on-one help for parents of children 
of all ages 

Financial  Mentors:  Help  with 
finances,  budget;  with  suggestions  of 
ways  to  help  make  dollars  stretch  a 
little and to check that those on benefits 
are receiving all they are entitled to. 

Seniors  social  events:  monthly 
lunch, weekly fun and games morning, 
monthly  chocolate  bingo.  Twice 
monthly  free  shopping  trip  to 
Whangarei (all ages welcome) 

Help  with  personal  banking  online 
since  cheques  are  no  longer  being 
accepted 

Addiction  support: for those whose 
lives  are  affected  by  active  addiction, 
access to groups and services. 
OUR  MISSION  –  In  the  community 
for the community 
OUR  VISION  –  To  support  families 
and  individuals  to  create  a  safe  and 
nurturing environment for themselves. 
We  would  like  to  show  appreciation 
and  thanks  to  our  supporting  funders, 
both  from  government 
and 
the 
local 
community. 
If anyone would like to 
make a donation, please 
go  to  our  webpage  or  contact  our 
agency directly. 
The  Community  House  is  open  from 
9am  to  4pm,  Monday  to  Friday. 
Services  are  available  outside  office 
hours by arrangement. 
155  Hurndall  Street,  Maungaturoto 
0540. 09 431 9080 
AUGUST CALENDAR: 
Every  Monday:  Fun  &  Games, 
Footprints  Room  Anglican  Church 
Hurndall St Mgto 10am-12 
Wednesday  4:  Senior/Community 
lunch  St  John  Hall  Maungaturoto 
from 10am 
Tuesday  10:  Free  Shopping  trip  to 
Whangarei. 
Leaves 
Retirement 
Village, Mgto 9.30 
Thursday 
12: 
Senior/Community 
lunch  Mangawhai  Community  Hall, 
Fagan Place Mwi 12 o'clock 
Wednesday  18:  Chocolate  Bingo 
Footprints  Room,  Anglican  Church, 
Hurndall St Mgto, 10am-12 
Wednesday 25: Free shopping trip to 
Whangarei.  9.30  from  retirement 
village, Mgto 
For  more  information  about  these 
activities  call  us  on  09  431  9080  or 
reach out to us on social media.   
Keep warm and dry, stay safe. 
Best wishes from all at The Community 
House, Maungaturoto. 
Call  021  251  0225  for  the 
Mangawhai  lunch  on  the  Thursday 
12th August. 
OTAMATEA COMMUNITY SERVICES 
Oneriri  
Plants 
Visit our Nursery 
Contact Heather 
021 766399 
oneririplants@gmail.com 
365AOneriri Rd, Kaiwaka 
A short trip off SH1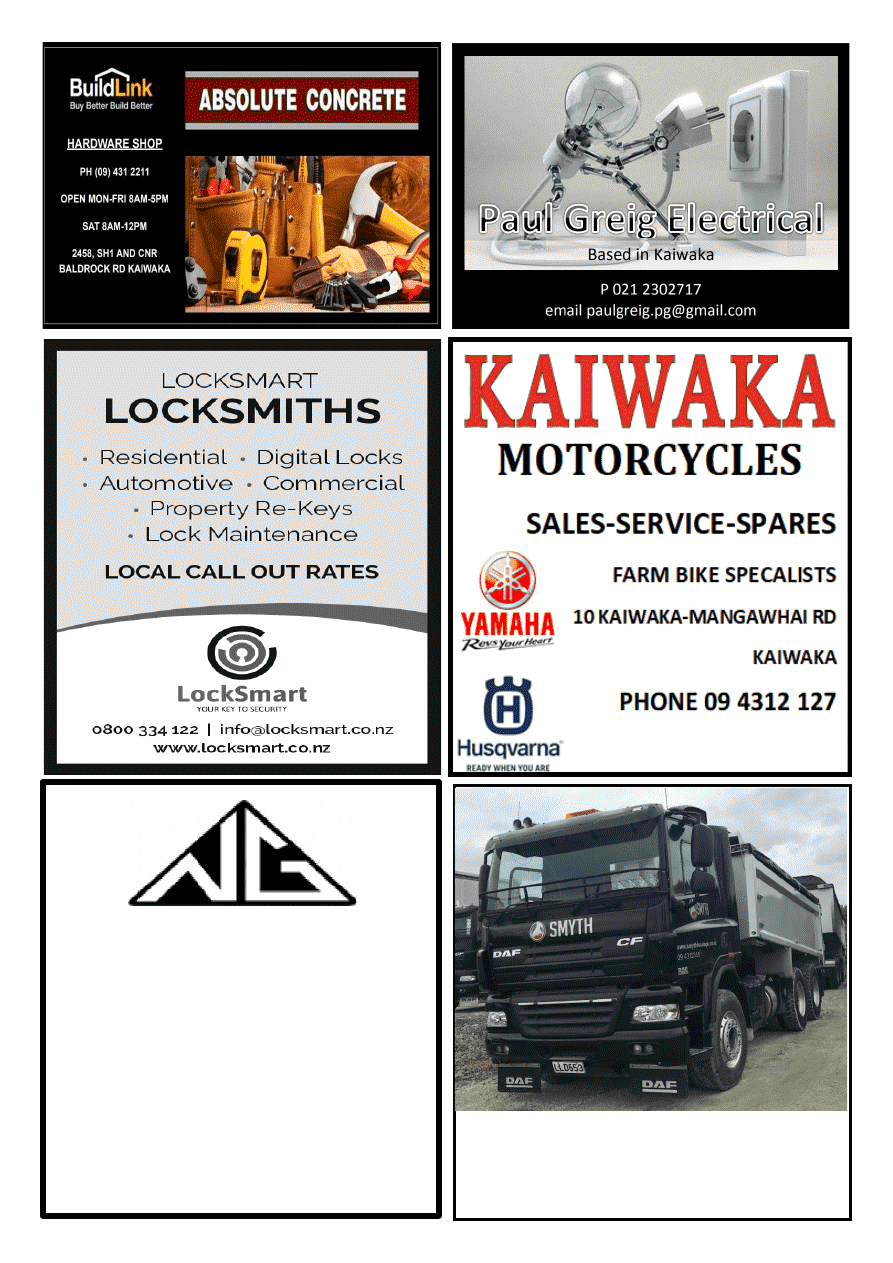 NORTH GLASS 
WINDSCREEN REPAIR OR REPLACE 
GLAZING SERVICES 
MIRRORS  •  SPLASH BACKS  •  SHOWERS 
0800 70 40 10
info@northglass.co.nz 
www.northglass.co.nz 
SMYTH HAULAGE       
for all your tip trucks & trailer 
requirements 09 4312355  
Carlton Smyth 0274870636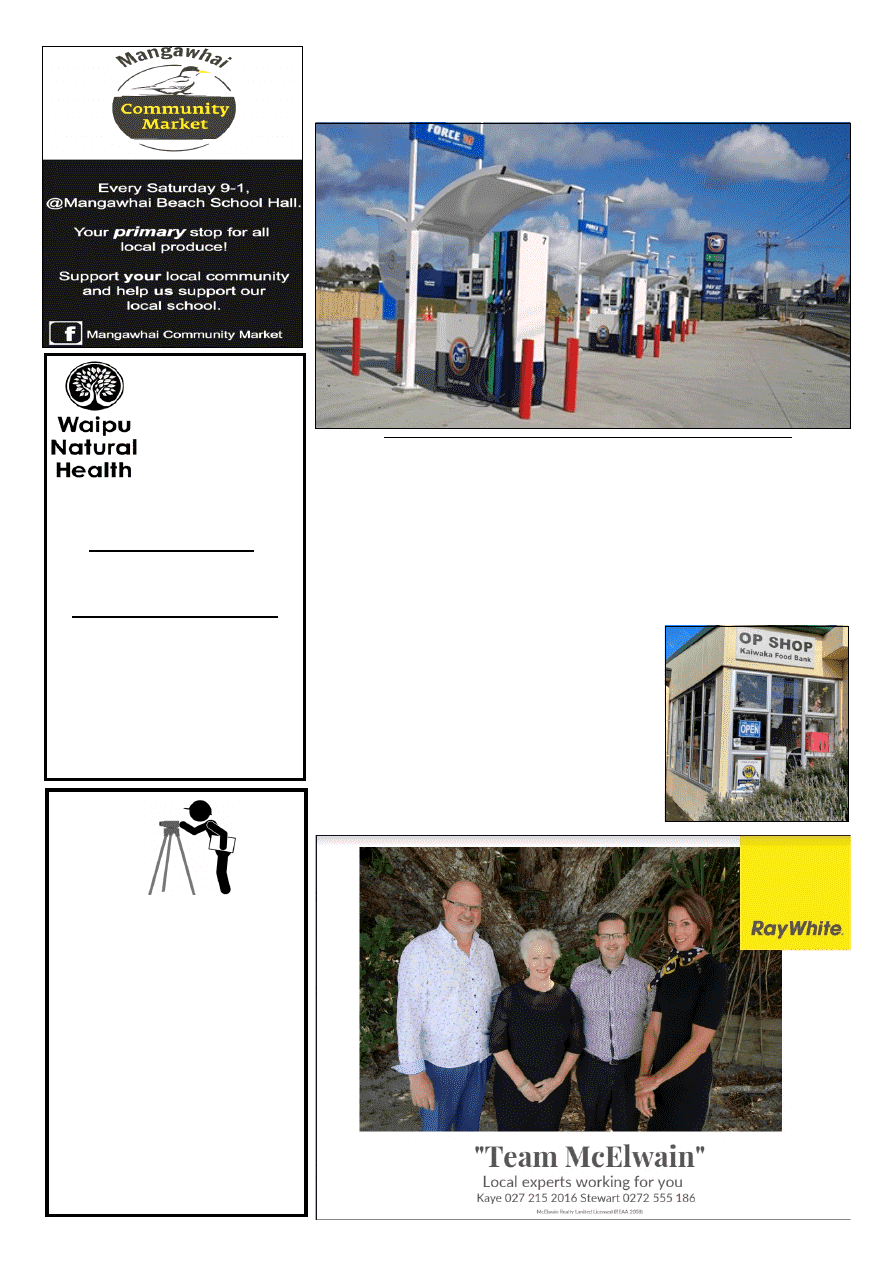 www.kaiwaka.co.nz 
Kaiwaka Bugle - 27 July, 2021 
Page 15 
3 Cove Road, Waipu 
 (opposite the Pizza Barn) 
094321325 
www.waipunaturalhealth.co.nz 
Clinical Nutritionist: 
Nutritional Checkups, Diets for 
Chronic Diseases, Food 
Sensitivities 
Naturopathic Physician: 
Ozone Therapy, Prolotherapy 
Reflexology, Craniosacral 
Therapy, Trauma Release, 
Massage Therapy 
Counselling and Hypnotherapy 
Change Catalyst/ThetaHealer 
Affordable Children's Consults 
All therapists are fully qualified
Ken Urquhart 
BSurv Licensed Cadastral 
Surveyor 
KMU  
Surveys Ltd
467 Bickerstaffe Road 
RD 2 
Maungaturoto 0587 
Ph 09 431 8705 
Mob 021 161 2344 
kenurquhart@xtra.co.nz 
ABOUT TOWN - GULL SERVICE SOON! 
Getting  closer!  The  landscaping  has  begun,  then  the  final  electrical  and  card 
payment parts to be fitted, etc and the service station will be all ready for the 
opening on Monday 2 August. The EV charging stations will follow. 
TE PĀTAKA O KAIWAKA -  
THE STOREHOUSE OF KAIWAKA 
Te Pataka o Kaiwaka is the recently renamed organisation for the Kaiwaka Food 
Bank and Kaiwaka Op Shop.  
At our June public meeting for the Food Bank and Op Shop, those present voted 
on a new name to represent both the Food Bank and Op Shop and Te Pataka o 
Kaiwaka  was  the  overwhelming  winner.  Translated  the  name  means,  The 
Storehouse of Kaiwaka.  
Further to the name, we also voted on a purpose statement and again the clear 
winner was 'Nā  tō  rourou,  nā  taku  rourou,  ka  ora  ai  te  iwi'  which  means 
'With your food basket and my food basket the 
people  will  thrive'.  A  fitting  name  and  purpose 
statement for the great work the Food Bank and Op 
Shop currently do and will continue to do into the 
future. 
Please be sure to keep checking in to the Facebook 
page  for  all  matters  concerning  Te  Pataka  o 
Kaiwaka;  opportunities  where  you  can  serve  and 
help and most importantly information as to who to 
see if you need help! 
Manaakitanga, 
Ant Pedersen, Chairman 
Te Pataka o Kaiwaka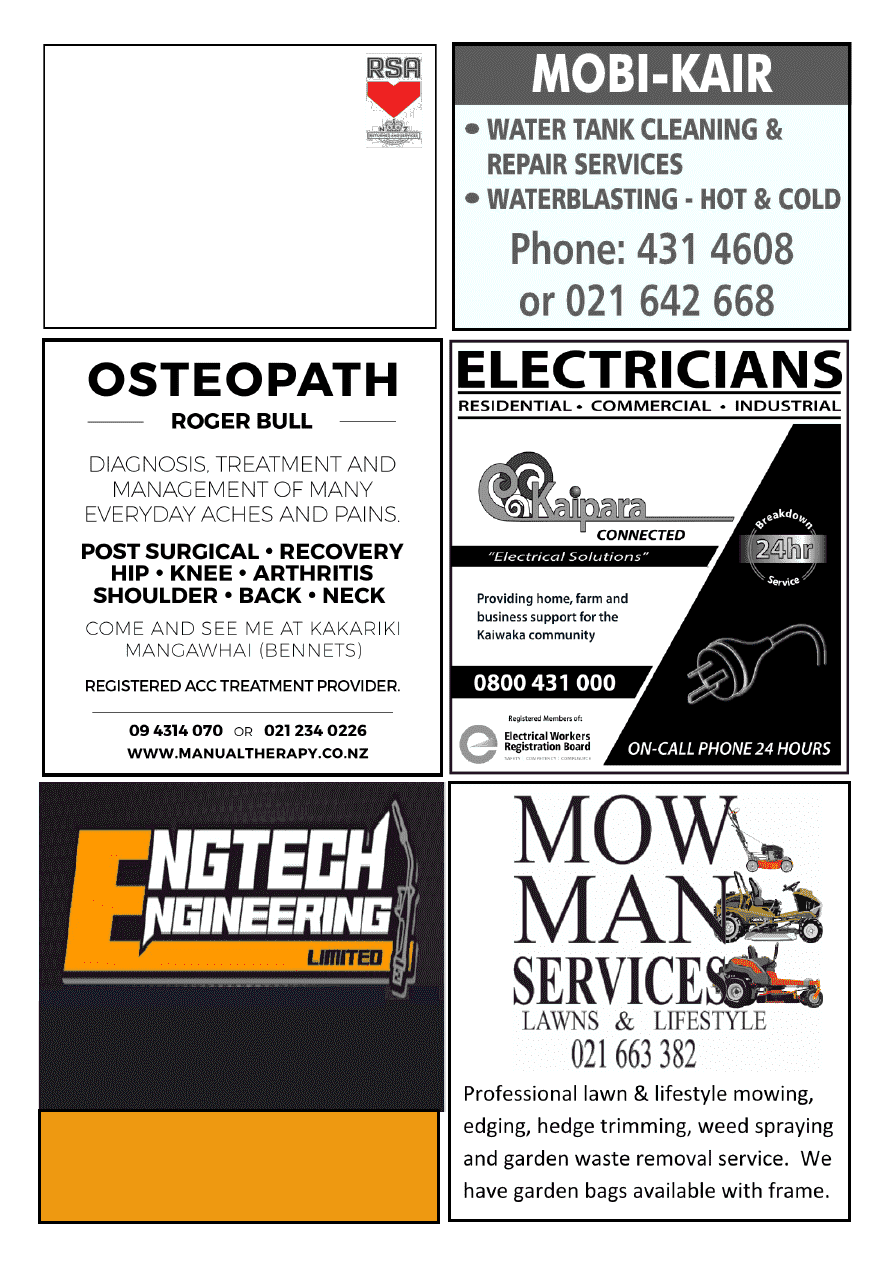 HAKARU & DISTRICTS 
MEMORIAL RSA 
Members & guests are invited to come along 
and enjoy our hospitality. 
New members welcome. 
Meals are served on Thursday and Friday 
nights from 6.30pm. 
Order from Blackboard Menu  
For more information please phone  
Barry Wallace 0274 922 975 
Email: president@hakarursa.co.nz 
- Mobile Engineering Services - 
- Specialised Welding and Fabricating - 
- Media Blasting and Painting -  
- New CNC Profile Cutting Machine - 
PH: 021 415 259 or 09 973 3440 
648 Kaiwaka-Mangawhai Rd, Hakaru 
www.engtechengineering.nz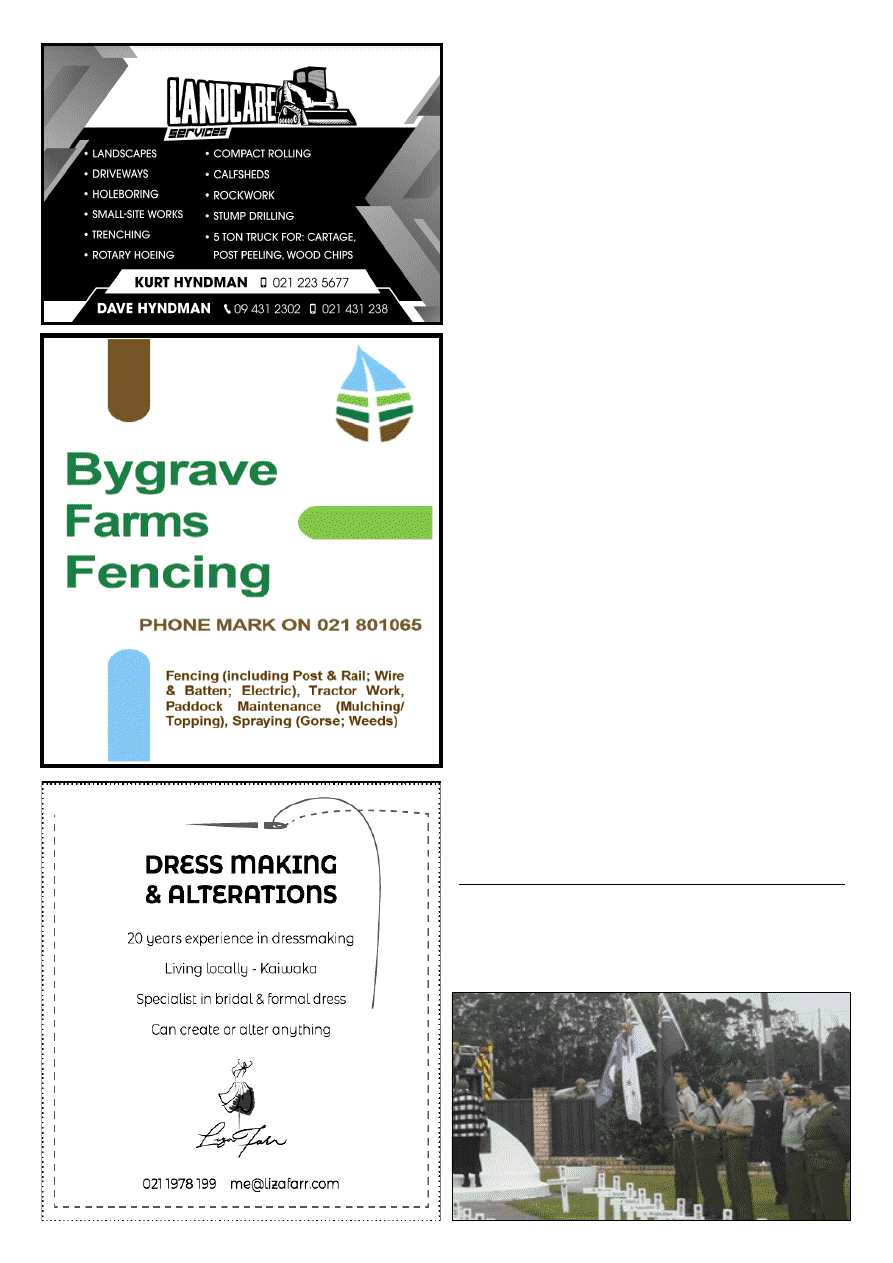 www.kaiwaka.co.nz 
Kaiwaka Bugle - 27 July, 2021 
Page 17 
HELL READING CHALLENGE 2021 
We  are  taking  part  in  this  reading  challenge  again.  How 
does it work? Kids in school years 1 to 8 read a book, report 
to the library about it, and earn a stamp on a card for each 
book.  Collect  7  stamps  on  a  card,  and  trade  it  in  at  Hell 
Pizza  for  a  free  pizza.  More  information  at  https://
www.facebook.com/HELLReadingChallenge  or  ask  at  the 
library. 
NEW JUNIOR BOOKS 
A book order arrived at the library just as I was writing this 
report,  and  I  can't  wait  to  tell  you  about  some  of  the 
fantastic  new  books  coming  to  our  shelves  for  kids.  They 
will be ready to borrow soon, but in the meantime, you can 
place a hold in Enterprise* or the library app on your phone 
to be in the queue as soon as they hit the shelves. 
In the Junior Picture Book section is Pirate Stew by Neil 
Gaiman  and  Chris  Riddell  and  Rona  Moon  Ko  Rona 
Māhina  by  Tim  Tipene  and  Theresa  Reihana.  Both  are 
great stories to read to your smaller kids, or the older ones 
can read to themselves. Rona Moon is in both English and 
Maori. 
In  the  Junior  Non  Fiction  section  you'll  find  Whiti 
Colossal  Squid  of  the  Deep  by  Victoria  Cleal  and  Isobel 
Joy  Te  Aho-White  -  full  of  interesting  information  and 
glorious illustrations about life in the icy waters of the Ross 
Sea  in  Antarctica  (594  CLE),  and  How  Do  I  Feel?  by 
Rebekah Lipp and Craig Phillips - a dictionary of emotions 
for  children,  with  60+  definitions to  help children identify 
and understand their emotions (152 LIP). 
BOOK REVIEW 
Recently  I've  read  the  Aurora  Teagarden  series  by 
Charlaine  Harris.  Does  the  name  sound  familiar  to  you? 
The books have been made into a tv series that has been on 
NZ television in recent times. 
Aurora, Roe to her friends, is a 
librarian in the town of Lawrenceton, Georgia, who belongs to 
the  Real  Murders  Club  -  a  group  of  crime  buffs  who  get 
together  to  talk  about  famous  murders.  In  the  first  book,  just 
before the group is due to start a meeting, a member is found 
dead, and then other people one by one are murdered - in ways 
that  copy  the  styles  of  well-known  murders.
  I've  read  this 
author before, we have several of her books in the library, 
and this series did not disappoint. There are 10 books in the 
series, and Dargaville Library has them all - the first 8 titles 
are  collected  in  two  omnibus  books,  plus  the  last  two  as 
separate  items.  You  can  find  them  all  in  the  library 
catalogue  -  either  on  the  phone  app  or  at  Enterprise*  -  by 
searching  on  the  character's  name.  Or  let  me  know  you'd 
like to read them I can place a hold for you. The first title 
Real  Murders  is  also  available  as  an  audio  book  in  the 
Libby  app.  Do  read  them  in  order,  so  you  get  the 
progression  of  Aurora's  life  over  the  years,  from  a  single 
woman  dating  Arthur  Smith,  a  local  police  detective,  to... 
well, that would be telling, wouldn't it?! 
See you in the library! ~Wendy 
*Enterprise: http://kaipara.kotui.org.nz/ 
KAIWAKA LIBRARY 
MANGAWHAI ARMY UNIT AND  
ST JOHN CADETS  
We need you: landscapers, builders, fencers, general labour 
for  a  huge  clean  up  at  the  unit  base  on  Saturday  7th 
August,  9am.  Please  contact  the  unit  commander 
Anastasia.tinsel@cadetforces.org.nz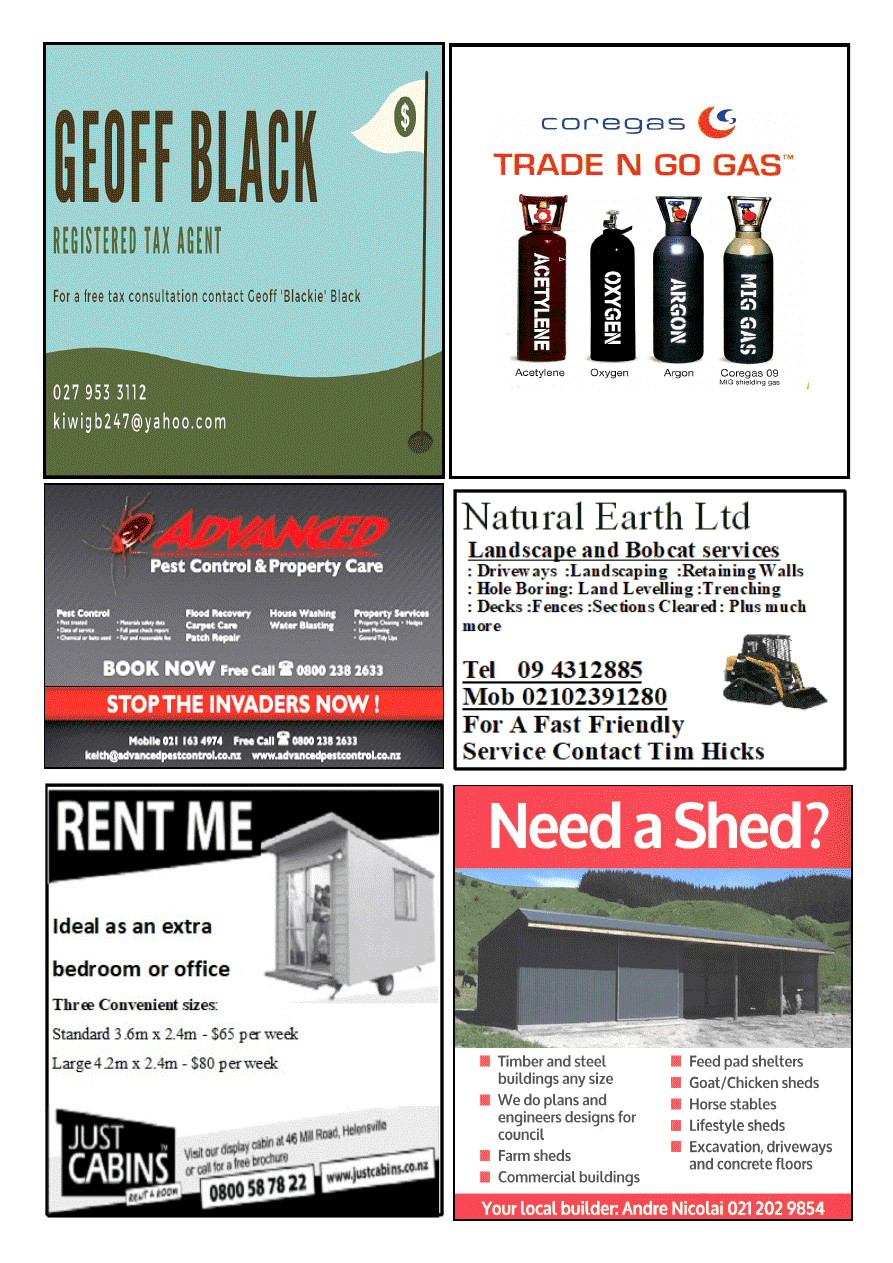 At Twinkle Tow 'n' Tyre 
Mob: 021 833 960 
Ph & Fax: 09 431 2823 
1837 State Highway 1, Kaiwaka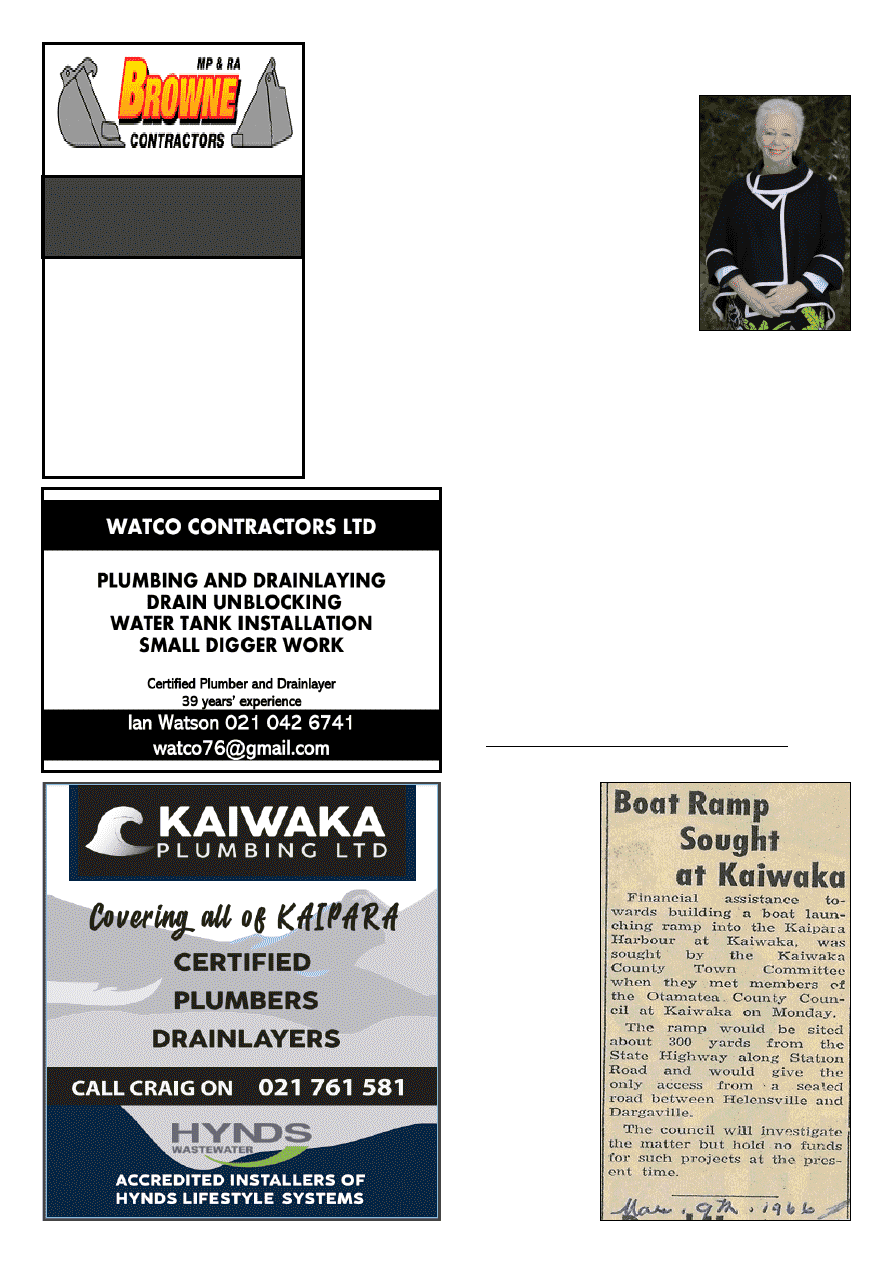 www.kaiwaka.co.nz 
Kaiwaka Bugle - 27 July, 2021 
Page 19 
BOAT RAMP - 1966 
Still  Kaiwaka  folk 
eagerly  await  a  boat 
ramp/kayak jetty. 
This  clipping  was 
taken  from  a  local 
paper,  possibly  the 
Rodney  &  Otamatea 
Times,  of  9  March 
1966. 
This 
particular 
launching  ramp  was 
proposed  for  a  site 
just  300  yards  from 
Sate  Highway  One, 
along Station Road - 
the  road  to  the 
railway station - now 
known  as  Oneriri 
Road. 
- 4 Tonne DIGGER - 
- BOBCAT- 
- TIP TRUCK - 
Property Maintenance  
Driveways 
Building Sites 
Stump & Tree Removal 
Hole Boring -  Chain Trencher 
Calf Shed and Stockyard Cleaning 
Phone Matt: 021 199 6677 
Email: mprabrownecontractors@gmail.com 
RED HOT PROPERTY DEMAND 
CONTINUES IN KAIPARA.  
Kaye  McElwain  from  Ray  White 
has lived in the 
area for 16 years and has worked in real estate for more 
than  two  decades  as  an  agent  and  business 
owner.    Starting  today,  she  will  be  doing  a  monthly 
column  with  commentary  and  analysis  on  what's 
happening in our local real estate market.  
Over the past 12 months the change in property values 
have seen the average price across New Zealand rise by 
22.8 per cent to an average value of $906,532.  So why 
is  the  national  and  local  property  market  continuing  to 
boom?    
Real  estate  markets  are  driven  by  several  factors; 
however,  the  two  basic  fundamentals  of  supply  (the 
number of total properties for sale) and demand (the number of buyers active in 
the  marketplace)  play  a  significant  role  in  establishing  market  conditions  that 
favour sellers or buyers.  In general terms, when supply is low, and demand is 
high conditions are favourable for sellers.  Conversely, when supply is high and 
demand is low, conditions are favourable for buyers.  
So,  what  are  we  seeing  now?    Simply put, we are selling more than we are 
listing which is creating an under supply of stock.  According to statistics from 
realestate.co.nz, Northland has seen a substantial decrease in the total number of 
listings  for  the  month  of  June,  down  47.8%,  compared  to 
last year.    
Combined with sustained levels of unprecedented demand, 
the  property  market  is  firmly  favouring  those  that  are 
looking  to  sell  despite  the  recent  housing  policy 
announcement by the Government. 
In summary, if you're looking to sell, there has never been a 
better  time  to  do  it.    Historically,  we  always  have  more 
sellers coming to the market in Springtime, so if you want 
to get the jump on other sellers, now is the perfect time.  
If you would like to take advantage of these unprecedented 
times  in  the  property  market,  or  you're just  curious  to  see 
what your home is now worth, call me today for chat and a 
free market appraisal 027 215 2016.  
Have a good week, Kaye WHAT'S ON
PLEASE ~ do let us know what is on - or what is NOT on at the 
moment! 
email kaiwakabugle@kaiwaka.co.nz 
Advertising in WHAT'S ON is FREE  
*26Jul~Begin School Term Three 
*30Jul~Movie 'The FATHER', KWMH 7.30pm 
*12Aug~Otamatea High School OPEN DAY 
*12Aug~ Senior/Community lunch Mangawhai 
Community Hall, Fagan Place,12pm 
*14Aug~Linking Hands AGM 11.30 Maungaturoto 
*20Aug~Maungaturot Charitable Trust -blessing & 
viewing Specialised Dementia Unit. 
KWMH = Kaiwaka War Memorial Hall; KSA = Kaiwaka Sports Association 
See www.kaiwaka.co.nz for more information 
HOUSEHOLD RUBBISH COLLECTION - Kaiwaka Pick up: 
Mondays = Green bags (Northland Waste - 09 430 3273) 
Wednesdays  = Blue bags and yellow recycling (at Kaiwaka Four 
Square  $3.30  and  $1.70)  (Kaurilands  09  4392146);  ONLY  Blue 
and Yellow bags picked up on Oneriri Road. 
 DIABETES  Support  Group  -for  Kaiwaka,  Mangawhai, 
Wellsford  10am,  3rd  Friday  of  month  Ph:  Colleen  James  09 
4314238 
 GENEALOGY - Wellsford: 1st Thursday in month Ph: 423 
7033; Waipu: 4th Monday in month Ph: 4312 725 
 HAKARU PONY CLUB - Secretary Denise Rogers 021423376 
secretary@hakaruponyclub.co.nz  
 KAIPARA HUNT - Secretary Albert Doonenbal Ph 4312059 
 KAIWAKA BADMINTON -Tuesdays 7.30pm Ph: 4312345 
 KAIWAKA  CAN  - 3rd Wednesday in month, 5.30pm, Archie 
Bull Hall Ph: 0273572751 
 KAIWAKA GARDEN & FLORAL GROUP - 2nd Thursday in 
month. Ph: 431 4744 
 KNITTING FOR WHANGAREI HOSPITAL - 2nd Tuesday in 
month, Archie Bull Hall 10am Ph 4314827 
 MANGAWHAI COMBINED REBUS CLUB - 2pm, 3rd 
Thursday month, Senior Citizens Hall Mangawhai. Ph: 4315777 
 MANGAWHAI GENEALOGY  - meet 3rd Thursday month, 
Mangawhai Museum, 10.30am 
*PILATES - KAIWAKA WAR MEMORIAL HALL - Ph: 
021  
2072729  
*PILATES - HAKARU HALL - Tuesday 10am, Thursday 9am 
Qualified Instructor  Ph. 0220643965  
 PT CURTIS CRUISING CLUB - Jean Ph: 4312227 (wk), 4312520 (hm) 
 RSA,  HAKARU  &  DISTRICTS  WOMEN'S  SECTION  –  meets 
1.30pm 4th Thursday of the month. Ph: 431 5818  
 KAIWAKA  SCOTTISH  COUNTRY  DANCING  CLUB-
Wednesdays 10am - 12 noon  Ph: Elaine 027 432 0032  
 TRAMPING 
- 
Mondays 
9am-2:30pm, 
contact  
valkenburgmaria@gmail.com 
HALLS FOR HIRE: 
  Kaiwaka St. John Hall: Phone Marj  0272941227  
 St.Pauls Archie Bull Hall HIRE $20 half day, $40 full day per 
hire, S McAulay, Ph 4312311 
 Kaiwaka  War  Memorial  Hall  HlRE  -  Phone  4312725  or 
kaiwaka.hall.bookings@gmail.com 
 Hakaru Community Hall HIRE -Ph.  Karen 4312090 
 Te Pounga Marae queries - Pearl Nathan  0223933533 
 Kaiwaka Sports Association hire/queries 
Jennie Reynolds 
   ksa.bookings@mail.com, 02102764171  
Justice of Peace:  
L.Donaldson  4312  228;  A.F.Hargreaves  4312  045,  W.Howard 
4312 725  - please phone to make sure they are available or go to 
www.justiceofthepeace.org.nz 
Marriage Celebrants:  
L.Donaldson; A.F.Hargreaves; Y Osborne
LOCAL SERVICES 
*Emergencies - Ambulance, Fire, Police - dial 111 
*Non-urgent Police phone 105
A A: Meets Wed., 7pm. Kate's Place Ph 021 024 25969 or 0800 229 6757  
NARCOTICS ANONYMOUS : Mon., 6pm, Archie Bull Hall, Kwk-Mwi 
Road; drug and alcohol related issues. Ph. 02102412348 
ASUREQUALITY LTD (was AgriQuality) Call Free 0508 0011 22  
BUDGETING SERVICE, WELLSFORD: Free confidential advice & 
support for all areas of personal finance. Ph (09) 423 7123 
CAB-Citizens Advice Bureau.Wellsford Ph: 4237333 
0800 367 222 email:cab.wells@xtra.co.nz  
CIVIL DEFENCE - Kaiwaka Community Response Group: 
kaiwaka.civildefencecrg@gmail.com, 4312725 Wendy 
DOG/STOCK /NOISE CONTROL 0800 105 890 
FUNERAL SERVICES: Morris & Morris Ltd, Whangarei 0800667747 
GRANDPARENTS Raising Grandchildren: Dianah Roberts 0223819539 
HAKARU & DISTRICTS MEMORIAL RSA (Inc) 733 Settlement Rd, 
Hakaru. Ph 4312 176 or Bill Warren (President) 431 2092 
HAKARU LANDFILL/Transfer Station:Open everyday  10am-
4pm.Ph4312629 Cost-$55 trailer load up to 1 cubic metre. Ph:4258567 - 
office 
KAIPARA DISTRICT COUNCIL www.kaipara.govt.nz:  
Help Desk FREEPHONE 0800 727 059  
KAIWAKA CEMETERY: Ph: 4312045 or 4314017 
KAIWAKA LIBRARY: kaiwaka.library@gmail.com  
Mon. 4-6pm; Wed., Thurs., Fri., Sat. 10am-2pm Ph:4312539 
KAIWAKA PLAYCENTRE: Ph Juanita 0274134904; open Mon, Wed, 
Fri 9am-12pm. Hastie Lane; Monday to Friday 9.00am - 12 noon. 
KAIWAKA POST OFFICE:Ph:4312 431  
Post Code: 0573 for RD2 and 0542 for all Kaiwaka Post Office mail 
KAIWAKA PRIMARY SCHOOL: Ph: 4312309   
KAIWAKA SPORTS ASSN: Ph 4312005; 4312129 gym 
KAIWAKA ST JOHN HALL: Phone Marj  0272941227  
KATE'S PLACE Community Centre - Employment services, Free Health 
Nurse, Plunket, Advocacy, Osteopath, A.A., Legal Advice. 4312 661 
LINKING HANDS Health Shuttle Ph 4315906 or 09 4318969 
MINISTRY FOR PRIMARY INDUSTRIES - General inquiries Call 
Free 0800 008 333 
NORTHPOWER: Faults Kaiwaka area 0800 104040 
OTAMATEA COMMUNITY SERVICES: Counselling, parent coach, 
Family Support worker, budget advice, food bank. Mon-Fri 9am-3pm. Ph 
09 431 9080 http://www.otamateacs.org/ 
PARENTPORT: Free, practical family support service Puhoi to Paparoa 
Ph or txt: Dianne 027 280 5093 or 09 425 9357 
PLUNKET: Kaiwaka- St John Hall, Monday 19 Oct, 23 Nov, 21 Dec. then 4th 
Monday of the month. Plunket Nurse Louise 027 282 3987 or 09 438 2508 
Mangawhai- Rose Madsen Cottage, Mondays and Wednesdays. Plunket Nurse 
Rebecca 021 501 941 or 09 438 2508 
Maungaturoto - Good News Church, 2nd and 4th Wednesday of the month. 
Plunket Nurse Seleisa 021 912 248 or 09 438 2508 
PLUNKET HELPLINE -0800 933 922 (24 hours)  
FACEBOOK - Kaipara Plunket 
TAITOKERAU COMMUNITY LAW: Free confidential legal advice and 
assistance, 2nd
Thursday
 of each month. Ph: 0800 155 529 for appts.  
TE URI O HAU Settlement Trust Tangata Developments: Whanau Ora 
021 793262  
VETERINARY SERVICE MANGAWHAI: 
Ph: 4314535 Mon-Fri 8.00-5.00, Sat 9-12, a/h appt. 
WELLSFORD DOCTORS: Ph: 4238 086 
CHURCHES:
 
Kaiwaka  Revival  Church  -  Your  Community  Church:  Sundays  10am. 
Ph: Pastor Tawhiri 09 431 8988 or Pastor Paul 09 4312 068 Visit us at 
www.facebook.com/kaiwakachurch 
 
St  Paul's  Anglican  Church  1st  Sun.  9.00am  (Eucharist),  3rd  Sun. 
9.00am  (Family  Service).  Contact:  Church  Office  Ph  431  4122 
www.mangawhaianglican.org.nz 
 
Church of Christ the King, Mangawhai:9.00am every Sunday 
 
St.Mary's  Catholic  Church:  Maungaturoto  –  Griffins  Road,  Saturday 
evening  Vigil  Mass  6pm;  Mangawhai  –  Senior  Citizens  Hall,  Sunday 
Mass  8:30am;  Wellsford  –  Matheson  Road,  Sunday  Mass  10:30am;  
Mid-week Mass times and all enquires to Fr. Bill Fletcher – phone 423 8170
 
Baptist Church: Sun. 10.30am Mangawhai Snr Cit.Hall.Ph:4312339 
 
Cause  Way  Church  Mangawhai:  Sundays  10.15am,  Mangawhai 
Community  Recreation  Centre,  Insley  St.  Ph:  09  4314782 
Next Bugle Deadline Friday 6 August 2021