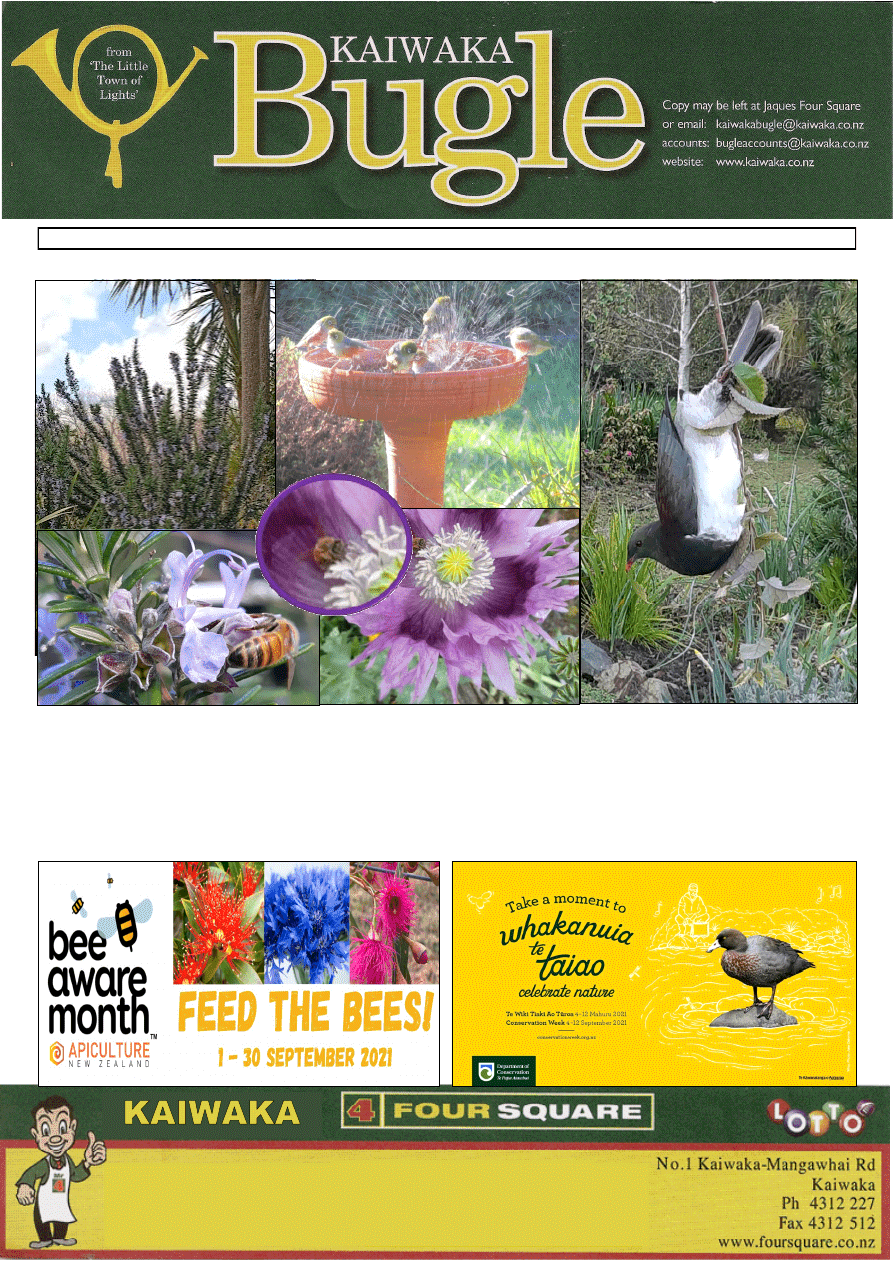 www.kaiwaka.co.nz 
Kaiwaka Bugle - 7 September 2021 
Page 1 
No.17 
7 September 2021 
For  Bee  Aware  Month  September  2021, Apiculture New Zealand is asking Kiwis to 'Feed the Bees' by planting bee-
friendly trees and plants. Bees need an ongoing supply of pollen and nectar throughout the year to be strong and healthy, 
and to stay resilient against the many threats they face.  These threats include pests, diseases, climate change, habitat loss 
and pesticide use. Planting for bees is a fantastic way to look after nature's tiniest superheroes as they keep our gardens, 
food crops and native bush growing. 
Ref. 
https://apinz.org.nz/bee-aware-month/ 
DOC Conservation Week 4 - 12 September 2021:  Take a moment to discover nature virtually this Conservation Week 
with our Digital Treasure Hunt. The competition is open now and closes 5 pm on 9 September 2021. Find and answer the 
10 questions hidden on the nature section of our website – each one you answer increases your chance to win! 
Daily hints on where to find the questions on DOC Instagram and Facebook stories during Conservation Week.  
Ref. https://www.doc.govt.nz/news/events/competitions/digital-treasure-hunt-competition/
TRADING HOURS: 
7.30am - 7pm daily 
"Your local Store" 
Family owned & operated 
KAIWAKA - BIRDS AND BEES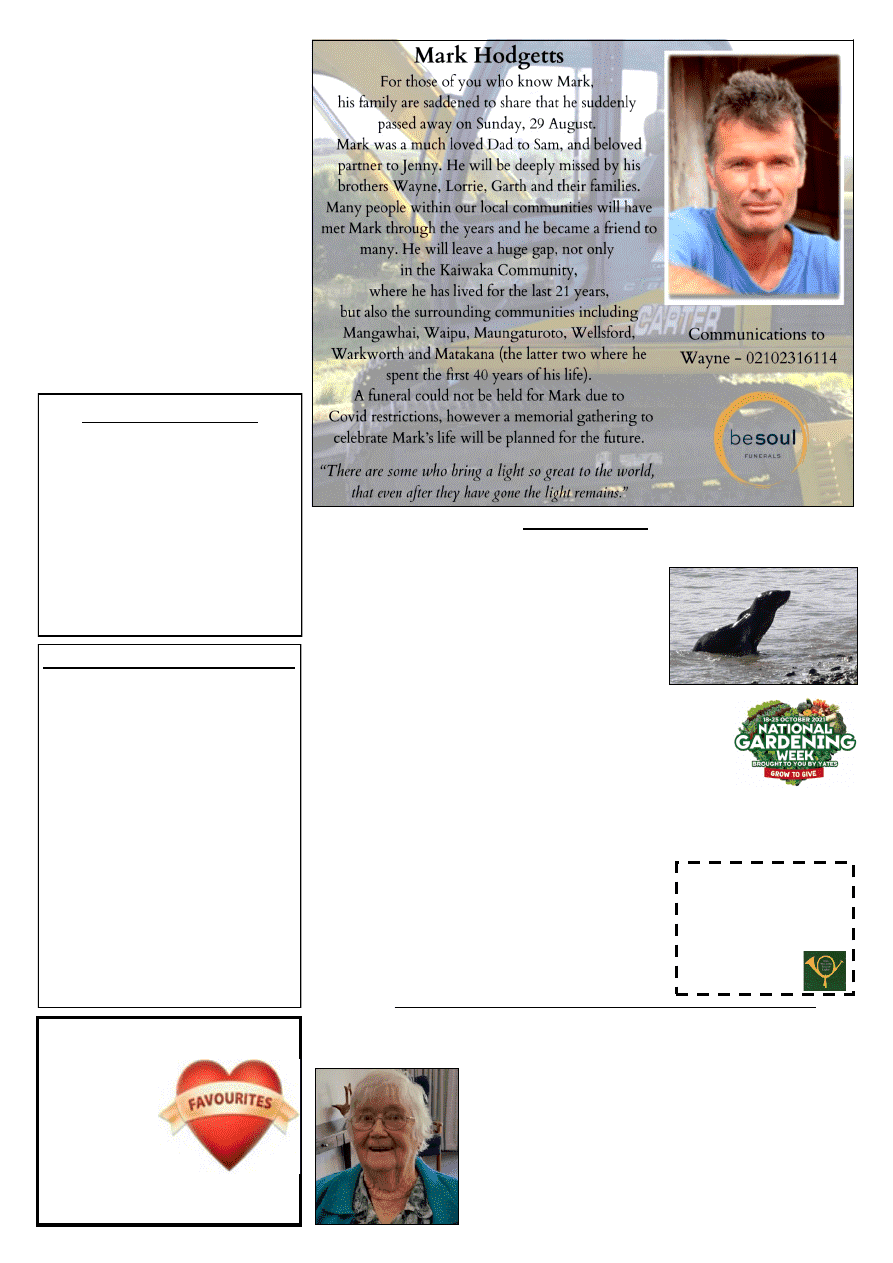 www.kaiwaka.co.nz 
Kaiwaka Bugle - 7 September 2021 
Page 2 
ABOUT TOWN

 We were saddened to hear of the passing of Mark Hodgetts. Our sympathies to  
family and friends. 

 Let 's hope we are not in Covid LEVEL 3 for too 
much longer!  

 A  special  HAPPY  99th  BIRTHDAY  to  MARY 
CORKER! 

 Have you registered your dog this year? 

 We  have  had  the  pleasure  of  watching  a  young 
seal  swimming  off  Onoke  Point;  sadly  we  have 
seen a dead one up on the beach too. 

 Check out the Yates' Gardening prize on page 5 

 Kaipara  Basketball  Association  BASKETBALL  WILL  BE 
BACK AT LEVEL 2... Stay tuned for more announcements. 

 The Jono & Ben Show at 8pm on TV2, 23 will feature dog 
trials at the Rural Games in Palmerston North earlier this year 

 Q: What do you get if you don't clean your mirror?  
A: A dirty look. 

 Q: Where do you go to replace a missing chess piece? A: The Pawn Shop. 

 New  Zealand  has  just  experienced  its  warmest  winter  on  record  -  NIWA 
official  climate  data  shows  winter  2021  (June  to  August)  was  1.32°C  degrees 
above average.  

 Front  page  photos  were  all  taken  in  Oneriri 
gardens; the  kereru (wood  pigeon  landed  on the tree 
branch  then  'walked'  his  way  down  to  get  closer  to 
the ground!

 Bugle 17 can be seen in colour at kaiwaka.co.nz
~ Lindsey, Ed
"Life is not about being rich, being popular, being highly 
educated or being perfect. It's about being real,  
humble and kind.".
KAIWAKA BUGLE NO.17 
7 SEPTEMBER2021 
CONTENTS: 
Page 3: Public Notices, Classified 
Page 5: Yates Garden Competition 
Page 7: Selling by Auction 
Page 9: Kaiwaka Gardening; OCS 
Page 11: Kaiwaka Sports  Assn 
Page 13: Wm Leslie Memorial Church; 
Possums 
Page 15: Bless 'Em All 
Page 17: Kaiwaka Library; KDC 
Page 19: Northland Regional Council 
Bugle 18 will appear 21 September 
Contact for advertising, reports, articles 
or information can be made by 
Email: kaiwakabugle@kaiwaka.co.nz 
Ph: 09 4312 045 Lindsey 
Txt: 027 2724137 
Copy  may  be  left  at  Kaiwaka  Four 
Square. 
Kaiwaka Bugle 
Founded May 1978 
We appreciate articles and photos about local 
events, etc, as well as ads and suggestions. 
Copies available in Kaiwaka at Kaiwaka  Four 
Square, Kaiwaka Postal Centre, Shamrock 
Service Station, Animal Health Centre, 
Kaiwaka St John shop. 
Also outlets in Maungaturoto, 
Mangawhai and Paparoa. 
Can be viewed online at  
www.kaiwaka.co.nz/Bugle  
Or a copy can be posted to you if you supply 
stamped, self-addressed DLE envelopes. 
Kaiwaka Bugle Advertisements 2021: 
All 
copy 
and 
queries 
to: 
kaiwakabugle@kaiwaka.co.nz 
The Bugle is printed on an A4 page, B&W  
Ad  sizes:  1/16  page  (3  x  9.5cm)  $5;  1/8 
(6.5  x  9.5cm  landscape  or  portrait)  $8; 
3/16 ( 10 x 9.5cm or 7.5 x 12,5)  $12.  
Classified  ads:  First  one  FREE,  $4  per 
entry (max. 30 words, max. 4 repeats). 
Payments  can  be  made  online  at 
ANZ 
06  0365  0006990  00
,  posted  or  left  at 
Kaiwaka Four Square Store. 
We  use  Microsoft  Publisher,  and  can 
work  with  most  common  image 
formats, Word, Excel, and PDF files. 
Accounts:  
Email: bugleaccounts@kaiwaka.co.nz 
The  Kaiwaka  Bugle  is  a  community 
newspaper run by volunteers, as part of 
the Kaiwaka Media Group Inc.   
Articles, etc. printed are not necessarily 
the opinion of the Bugle Team. 
Proverbs 28: 21 
Playing 
favourites is 
always a bad 
thing;  
you can do 
great harm 
in seemingly harmless ways  
KAIWAKA BUGLE 
DEADLINE DATES 
2021:   
Every second Friday 
September 17 
October 1, 15, 29 
November 12, 26 
December 10 
HAPPY 99th BIRTHDAY, MARY CORKER! 
Mary Corker, who began the Kaiwaka Bugle more than 43 years ago celebrated 
her 99th birthday on Friday 3 September. 
Mary  and  her  husband,  Roy,  and  the  3  oldest  of  their  6 
children  moved  to  their  Kaiwaka  farm  on  SH1  opposite 
Pukekaroro  in  1950.    Mary  was  busy  in  the  district  with 
Women's  Division  and  Institute  and  was  a  Brownie 
Leader  for  many  years.  She  stayed  on  with  family  after 
Roy  died  in  1986  moving  to  Saorsa  Village  in  Waipu  in 
2000, and then to Selwyn Park, Whangarei, 7 years ago. 
Due to Covid Level 3 we were unable to visit Mary, but 
were able to wish her happy birthday by phone. ~Lindsey.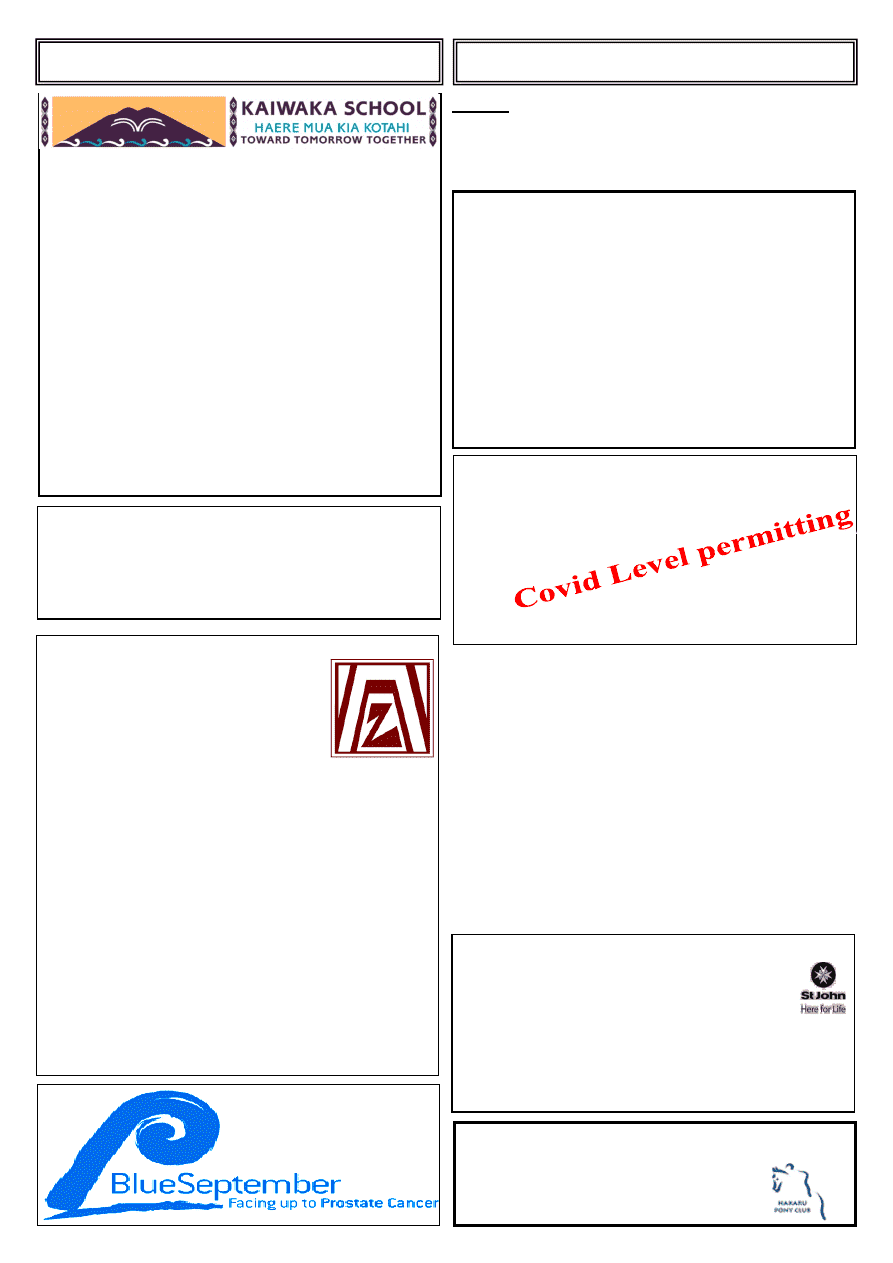 www.kaiwaka.co.nz 
Kaiwaka Bugle - 7 September 2021 
Page 3 
HAKARU HALL ACTIVITIES 

Monday:  Line Dancing 10-12pm Ph 4315160 

Tuesday & Thursday: Pilates 10am Ph. 0220643965 

Wednesday:  Music Jam Session 7pm Ph. 0210628631 

Sunday: Canine Coaching Ph 0272365004 

Dance Energy  Week Days  
   Monday to Friday, Afternoon/Evening   Ph. 0275610469 

Friday Morning: Available for HIRE 
Hall Bookings Karen  
4312090 or 0210467490 
PUBLIC NOTICES 
CLASSIFIED 
ST. JOHN KAIWAKA SHOP 

We will not be open until Covid Level 2 

We are going to hold a Spring  Garage  Sale  in 
September.  Check our pages for updates 
Regards, Dianne and Friendly Staff 
Please bring your donations in during opening hours.  
HOURS: Tuesday – Friday 10am to 3pm;  Saturday 10am – 2pm 
PHONE: Shop  4312650  
1919SH1, Kaiwaka 
NOTE:  The  Kaiwaka  Whangarei  Hospital  Knitting 
Group's September meeting will be cancelled. 
For  more  information  contact  Gale  Matheson 
0274149576 or 094314827 
KAIWAKA SCHOOL  
KAIWAKA SCHOOL 150 REUNION 
CANCELLED 
It  is  with  huge  disappointment  that  due  to  Covid  19 
restrictions  and  further  levels  at  which  we  will  be 
restricted  on  numbers  able  to  attend  an  event,  we  have 
made  the  heart-breaking  decision to  cancel  the Kaiwaka 
Primary School Reunion which was planned for October 
23rd this year.  
A  wooden  seat  will  be  erected  at  the  school  to 
commemorate the 150 years of education in the Kaiwaka 
district. 
 A tree will also be planted near the seat.  
A  small  booklet  will  be  printed  to  tell  of  the  history  of 
education in Kaiwaka.  
A big thankyou to all those who have already registered. 
You will be contacted in due course.  
Thank  you  so  much  to  the  committee  and  the  Kaiwaka 
School Principal for all the work you have put into trying 
to get this event happening. 
Karen, Committee Chair 
HAKARU RE:SORT STATION 
636 KAIWAKA-MANGAWHAI ROAD 
Northland Waste - North Auckland 
Due to Northland moving to Level 3 the Hakaru Transfer 
Station open and operating under Level 3 restrictions: 
• Vehicle and customer numbers restricted. 
• No assistance can be provided by our attendants. 
• Social distancing & face masks required. 
• Contract tracing will be in place. 
• 
Eftpos transactions preferred. 
Unfortunately recycling services will NOT be available 
during this time.  
Open 8am - 4pm 
Telephone: 09 431 2629 
NOTE: No GREEN Bag Pick Up on Oneriri Rd 
HAKARU PONY CLUB 
For more information 
Contact Amy Westlake  
021-180-5000 
"SECOND CHANCE STUDY 
AWARD" 
The Zonta Club of Mangawhai is once 
again offering a Second Chance for 
Women Study Award. 
The  successful  applicant  will  receive 
up  to  $3,500  towards  tuition  costs  for 
an  NZQA  approved  course  of  study  towards  a 
sustainable career path. 
Any  woman  furthering  educational  studies  who  is 
resident  in  the  Mangawhai,  Kaiwaka,  Maungaturoto 
or Bream Bay area is eligible to apply. 
Awardees  mostly  use  their  award  to  assist  with  the 
final year in their studies. 
Application forms can be requested by texting Sheryl 
on 027 478 2540 with your name, email address and 
2nd Chance Study Award. 
Applications close Friday 17 September 2021 
This award is made possible because of the generosity 
of  the  local  community  at  Zonta  fundraising  events 
such as our Mid-Winter Ball and quiz nights. 
For further information go to www.zonta.org 
KAIWAKA WAR MEMORIAL HALL 
KAIWAKA KIBRARY 
ANNUAL GENRAL MEETING 
Tuesday 21 September, 5pm 
Covid Level permitting 
Kaiwaka War Memorial Hall
OBSTACLES 
Will come our way, whatever may happen 
This life is for learning, not a comfort zone 
It stretches our minds, increases our knowledge 
Makes us wiser, we hope, with each lesson, 
 hard it may be.  but it is our Destiny 
to grow, to become strong 
but sensitive and caring in our Heart and Souls 
  ~ Susan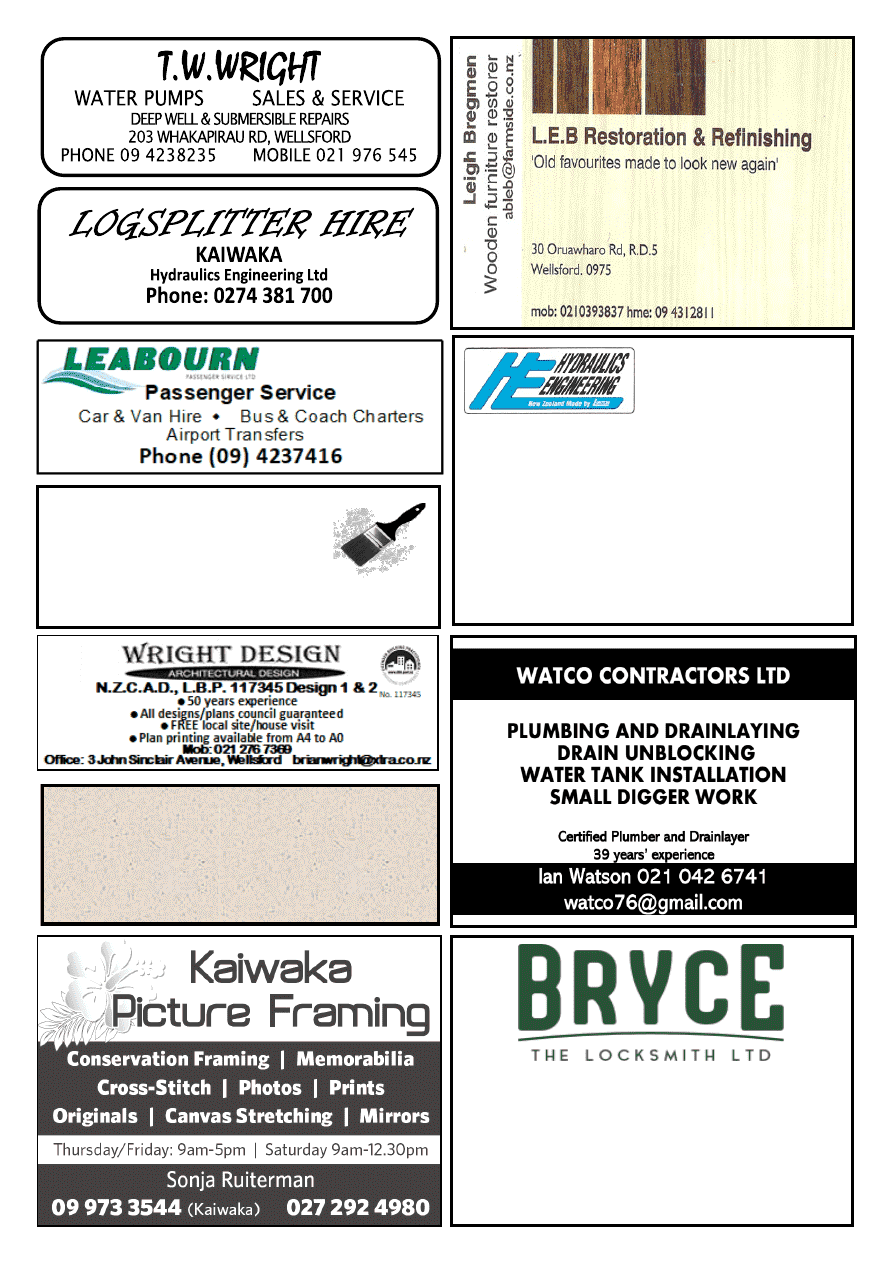 www.kaiwaka.co.nz 
Kaiwaka Bugle - 7 September 2021 
Page 4 
DR PAINT
 Dave & Rhys 
 Painters
 02108742551 
0211200667   drpaintnz@gmail.com 
Bryce Frewin 
Ph: 021 850 983 
Kaipara Based Master Locksmith 
bryce@brycethelocksmith.co.nz 
www.brycethelocksmith.co.nz 
Hydraulics  
Engineering Ltd 
Kaiwaka 
Sales - Service - Parts - 
Hire - Manufacture 
Service Contractors & Industrial Equipment: 
Rams, Pumps, Valves 
Logsplitter Hire, Manufacturer, Sales 
Dennis Linton 
Lot 2 / 161 Ranganui Road, RD2, Kaiwaka, 0573, New Zealand 
Mobile: 0274 381 700 
Email: hydraulicsengineering@xtra.co.nz 
Counsellor and Registered Psychotherapist 
Offers Supervision 
ACC Sensitive Claims 
Susan Matheson      MNZAC 
Dip. Psychosynthesis Counselling and Psychotherapy 
Phone 09 431 2996                                     Mobile 027 605 2427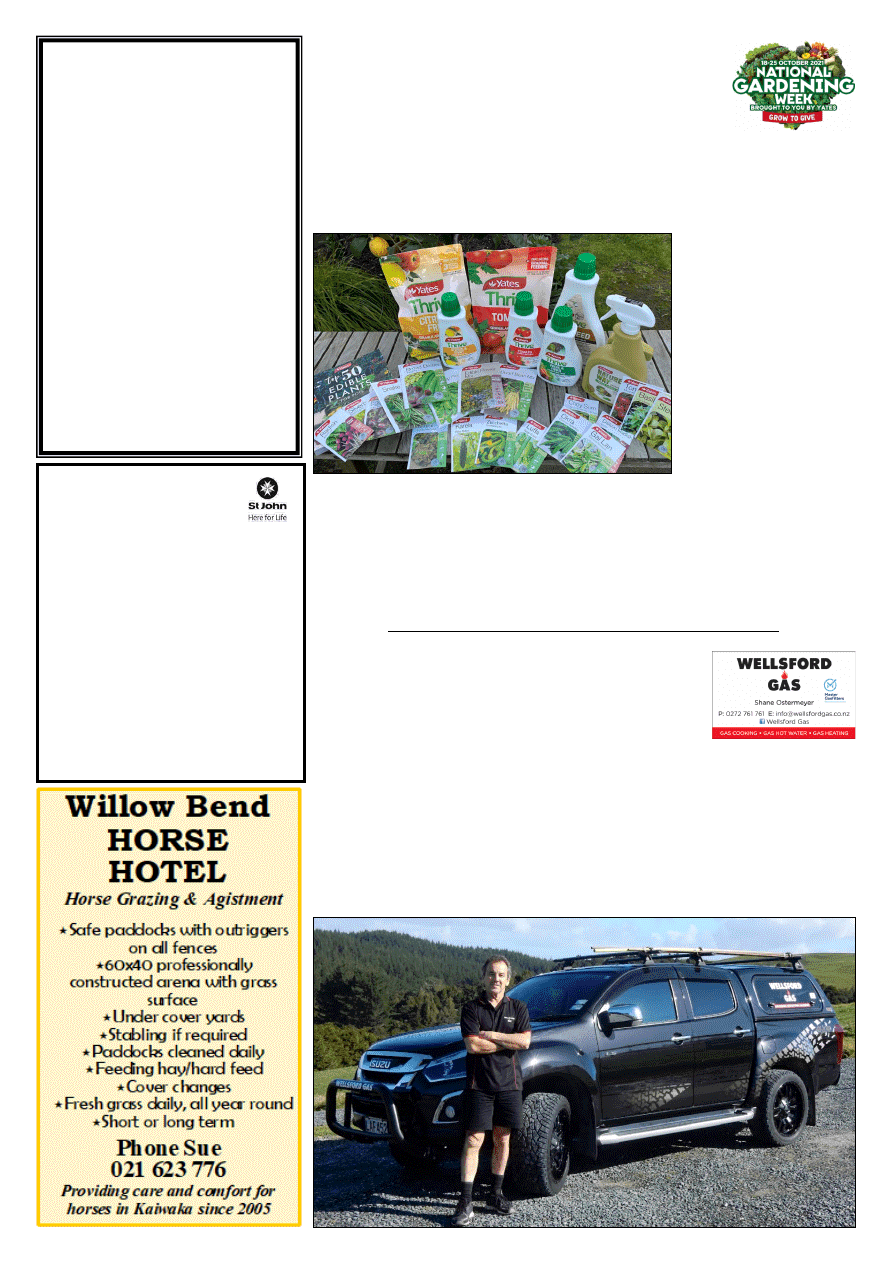 www.kaiwaka.co.nz 
Kaiwaka Bugle - 7 September 2021 
Page 5 
OTAMATEA 
ST JOHN TRASH 
AND TREASURE 
4th – 8th October 2021 
We are now receiving good items that 
we can sell. Please, no TV screens, 
computers or printers. 
Call Eileen if you have items to 
donate. 
Spare bags, paper or plastic, would be 
appreciated too! 
If you are able to help in setting up on 
the afternoon of the 3rd October (or at 
any time during the week) please call 
Eileen on 021 142 0357 
Now Open!! 
MOMMAS 
TAKEAWAYS 
09 601 6124 
7 days 
12 - 8pm 
1923b State Highway 1 
Kaiwaka 
LOCAL GAS FITTING 
Shane  and  his  partner  Diana  own  Wellsford  Gas,  a  local 
gas  fitting  business  with  35  years  in  the  industry.  Shane 
started  his  trade  as  a  plumber/gasfitter  and  chose  to 
specialise in gasfitting. 
Wellsford  Gasfitting  Ltd  supply,  service  and  install  all 
domestic  gas  cooking,  heating  and  hot  water  systems.  Gasfitting  on  house 
alterations and new housing is also our speciality. 
Shane is a Certifying Gasfitter and member of The Master Plumbers, Gasfitters & 
Drainlayers  NZ  Incorporated.  We  are  the  service  agent  for  Bosch  Hot  Water, 
Rheem Hot Water, Real Fires Gas Fires and Eurotech Gas Appliances. We also 
service other brands, including Rinnai and Challenger. 
Shane  and  Diana  live  in  rural  Te  Hana  and  their  area  of  service  includes 
Wellsford, Tapora, Kaiwaka, Maungaturoto, Paparoa, Matakohe and Waipu. 
"It is an awesome area to work and live in. The people are friendly, the surrounds 
are diverse and so is our work. We can't see ourselves anywhere else!" 
Contact Shane 0272 761 761 or email info@wellsfordgas.co.nz 
NATIONAL GARDENING WEEK: 
"GROW TO GIVE" 
18-25 October 2021 
This National Gardening Week everyone is being encouraged 
to  grow-an-extra-row  to  share  with  neighbours,  community 
pantries, food banks and other local food donation agencies. 
Popping a few extra seeds in the dirt does not require much effort but could mean 
so much for another family in need. To help get your extra row underway Yates 
is lending a helping hand.     
Just  register  online  at  https://www.yates.co.nz/national-gardening-week/this-
year/2021/ between 1st and 25th October to receive a free packet of vegie seeds. 
Once  you've  grown  your 
vegies  to  share,  please 
visit  Yates'  website  to 
find  a  list  of  the 
organisations in your area 
that  would  welcome  your 
donation 
of 
fresh 
homegrown vegies. 
WIN 
THIS 
YATES 
VEGIE HAMPER 
To  help  get  your  extra 
row  underway  Yates  is 
giving  away  a  Vegie 
hamper  to  the  Kaiwaka 
Bugle  readers,  valued  at 
$300, full of vegie seeds – 
including  some  wonderful  new  vegie  varieties  as  well  as  old  favourites  - 
fertiliser,  pest  control  and  Yates  new  book  "Top  50  Edible  Plants  for  Pots" 
containing the latest in inspiration and practical advice on successfully growing 
vegies and herbs in pots. 
To  enter  just  email  your  answer  to  kaiwakabugle@kaiwaka.co.nz  by  24 
September. The first correct answer will win a wonderful prize! 
Questions:1. 'What is the theme of this year's National Gardening Week?' (hint: 
visit the Yates website – link above) 
2. 'Name two new Yates' vegie seed varieties: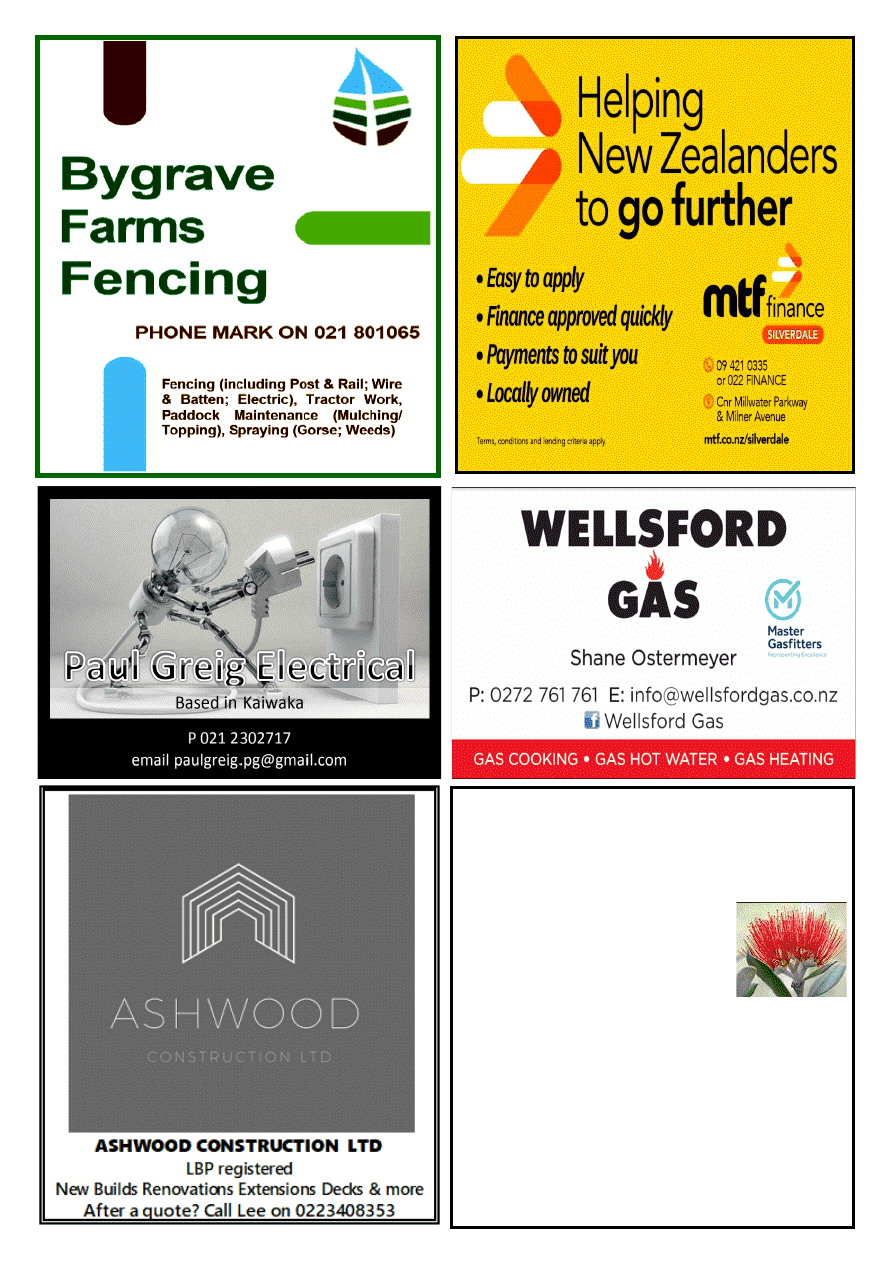 www.kaiwaka.co.nz 
Kaiwaka Bugle - 7 September 2021 
Page 6 
KAIPARA FLOORING CO 
FULLY MOBILE FLOORING SHOWROOM 
SERVICING THE KAIPARA 
PH (09) 946 9886 or  
CHRISTINE ON 021 515 415 or 
HOWARD 021 2696250 
IN HOUSE MEASURE, QUOTE AND 
CONSULTATION SERVICE 
FOR THE SUPPLY AND INSTALLATION OF 
CARPET, VINYL, VINYL PLANKING, HARD 
FLOORING, GARAGE CARPET, LAMINATE 
FLOORING AND MORE. 
EMAIL kaiparaflooring@gmail.com  
WEBSITE www.kaiparaflooring.co.nz 
Qcard 6 month interest free terms or 12 – 24 
month finance options available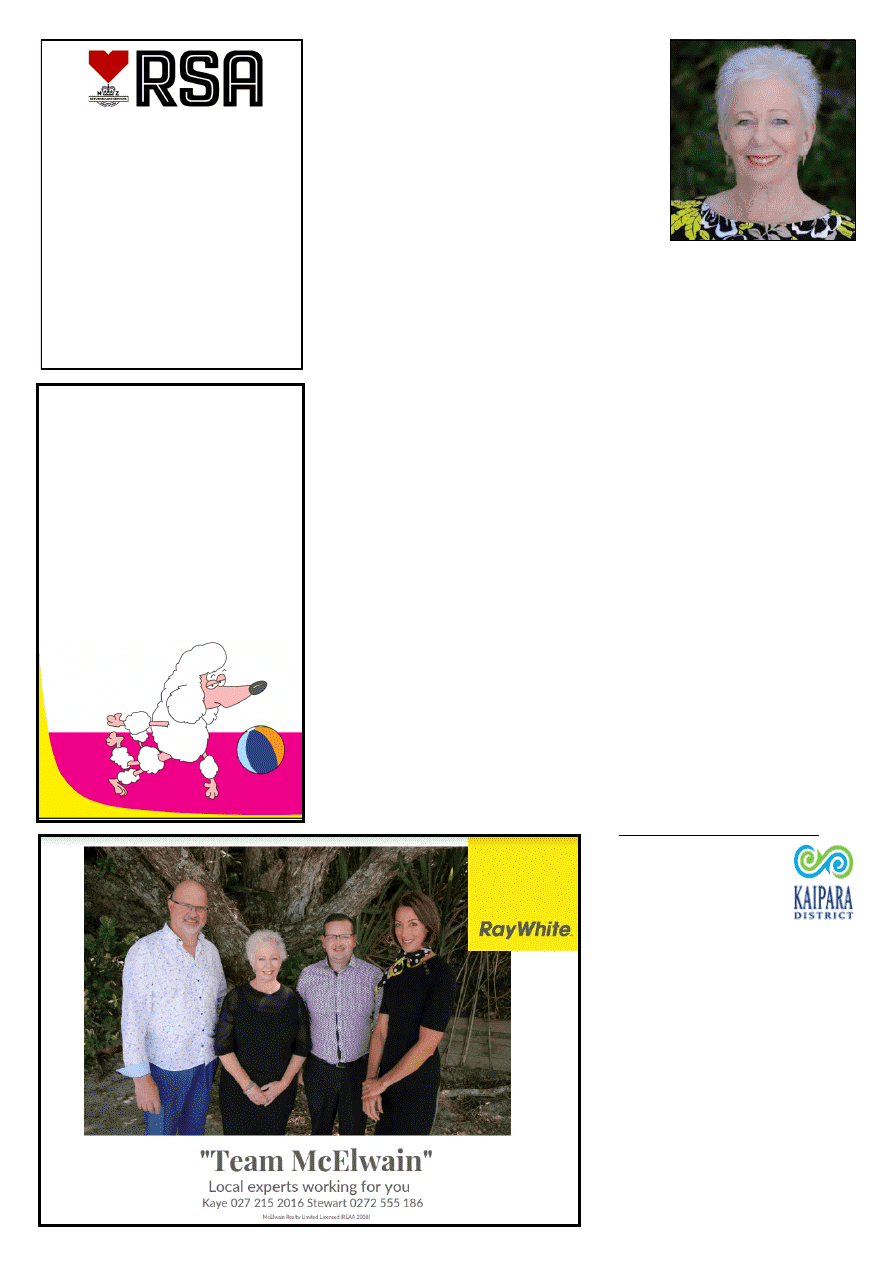 www.kaiwaka.co.nz 
Kaiwaka Bugle - 7 September 2021 
Page 7 
HAKARU & DISTRICTS 
MEMORIAL RSA (INC)
Members & guests are invited to 
come along and enjoy our hospitality. 
New members welcome. 
Meals are served on Thursday and 
Friday nights from 6.30pm. 
Order from Blackboard Menu  
For more information please phone 
Barry Wallace 0274 922 975 
Email: president@hakarursa.co.nz 
Kaye  McElwain  from  Ray  White 
has  lived  in  the  area  for  16  years 
and  has  worked in real  estate for  more 
than  two  decades  as  an  agent  and 
business  owner.    Once  a  month  she 
writes  a  column  with  commentary  and 
analysis  on  our  local  real  estate 
market.  Today, she talks us through the 
benefits  of  selling  your  home  at 
auction.    
Last  month  we  saw  the  highest 
percentage  of  NZ  homes  sold  by 
auction  for  a  July  month  since  records 
began,  with  more  than  a  quarter  of  all 
properties 
sold 
through 
this 
method.    However,  the  first  comment 
we  often  receive  from  buyers  is  "Oh 
no! It's an auction, I just want to know 
what  the  vendor  wants?"  The  auction 
method of sale provides one of the most 
transparent  processes  of  buying  a 
property  -  you  can  see  and  hear  what 
another buyer is prepared to pay, giving 
you  confidence  with  your  bid.  If  you 
are  a  property  owner  thinking  of 
selling,  (a  vendor),  the  benefits  are 
many .... 
CONTROL FOR THE VENDOR  
Sometimes people think that the chaotic 
nature  of  an  auction  means  that  the 
vendor has a lot less control over what 
their property is sold for. This is not the 
case  at  all!  Reserve  prices,  declared 
vendor  bids,  choice  of  settlement  date, 
nominated 
deposit 
terms, 
and 
unconditional  sales  contracts  all  grant 
the  seller  a  great  deal  of  control  over 
the sale of their property. 
COMPETITION 
One of the unique features of selling by 
auction  compared  to  private  treaty, 
selling  your  home  through  auction  can 
often 
result 
in 
what 
is 
known  as 
'auction 
fever'; 
people 
might  end 
up buying your property well above its 
perceived market value. 
This  has  obvious  benefits  for  you  as  a 
seller,  and  also  plays  upon  any  unique 
features that your home may have. You 
could  find  that  a  particular  feature  of 
your  house  is  extremely  attractive  to 
two  or  more  buyers,  and  the 
competitive arena of the auction brings 
out a bidding war. 
Our internal data from Ray White's 187 
nationwide offices show that our sellers 
who proceeded to take their property to 
sell  under  the  hammer  last  week  were 
rewarded with a sale price of 11.75 per 
cent higher than the best offer prior.  
SPEED  
The  fact  that  to  bid  at  an  auction, 
buyers  must  have  NO  conditions, 
including  the  10-working  day  title 
requisition  clause  when  selling  by 
'private treaty' means there is no delay 
in concluding the sale. 
The method is also a lot faster pre-sale, 
as you do not have to organise a series 
of  individual  viewings  for  potential 
buyers  who  may  not  be  willing  to 
buy.    Buyers  viewing  know  that  they 
need  to  do  their  due  diligence  prior  to 
auction  day.    People  who  turn  up  to 
auction  mostly  come  with  a  mind  to 
purchase. 
For  more  information  on  how  to  put 
your home up for auction, don't hesitate 
to give me a call today 027 215 2016.  
Have a good week and stay safe, Kaye 
Hot Diggity Dog  
DOG GROOMING  
KAIWAKA 
Spring is in the hair. 
Professional Dog Groomer  
at affordable prices.
www.doggroomingkaiwaka.co.nz 
call Pam 094312143 or text 
0273335380 for bookings 
REIMAGINING 
OUR LIBRARIES 
Kaipara  District  Council  are 
forming  a  plan  that  will 
guide 
development 
of 
Kaipara's libraries for the next ten years 
and want to hear what you think would 
really make a difference. 
Please  come  to  one  of  three  drop-in 
sessions and talk to the team: 
•
 Monday September 6 - from 3pm to 
6pm, Centennial Hall, Maungaturoto 
•
 Tuesday  September  7  -  from 
2.15pm  to  5.15pm,  Domain  Hall, 
Mangawhai  
•
 Wednesday  September  8  -  from  3pm 
to 6pm, Town Hall, Dargaville 
These sessions are open to everyone in 
the  district,  not  just  current  library 
users. What are your thoughts about our 
libraries and about the experiences you 
might have had of libraries elsewhere.  
If  lockdown  is  extended  these  sessions  may  be 
deferred so for further details please check 
www.kaipara.govt.nz/library. 
WHAT ARE THE 
BENEFITS OF SELLING BY 
AUCTION?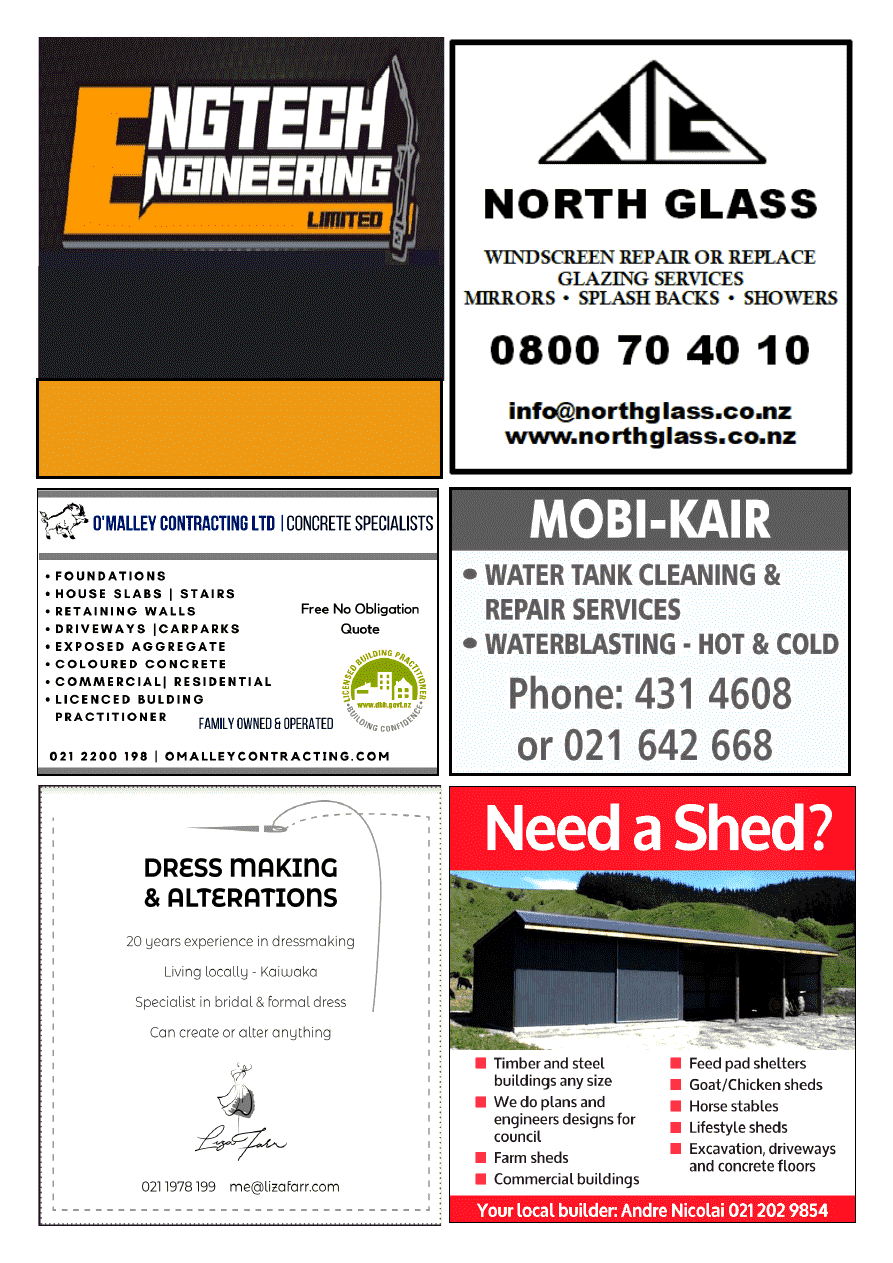 www.kaiwaka.co.nz 
Kaiwaka Bugle - 7 September 2021 
Page 8 
- Mobile Engineering Services - 
- Specialised Welding and Fabricating - 
- Media Blasting and Painting -  
- New CNC Profile Cutting Machine - 
PH: 021 415 259 or 09 973 3440 
648 Kaiwaka-Mangawhai Rd, Hakaru 
www.engtechengineering.nz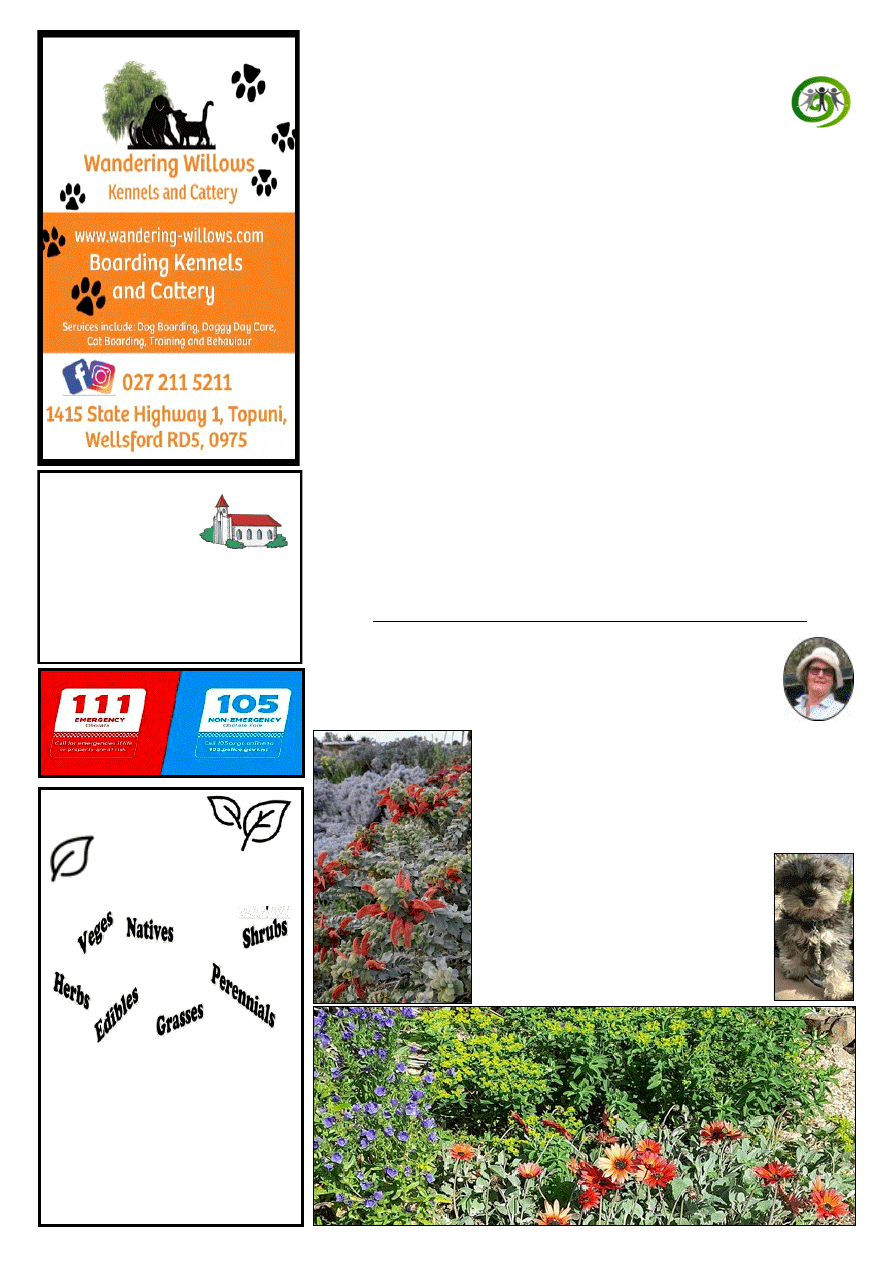 www.kaiwaka.co.nz 
Kaiwaka Bugle - 7 September 2021 
Page 9 
ST PAUL'S  
ANGLICAN  
SUNDAY SERVICES
First Sunday 9am Holy Communion 
Third Sunday 9am Family Service 
St Pauls Church: Kaiwaka-Mangawhai Rd. 
Church Office Ph 431 4122 
www.mangawhaianglican.org.nz
September! 
That means frolicking 
new-born  lambs,  daffodils,  a  bit  bluer 
sky  and  slightly  less  chilly  mornings; 
great clouds of dust arising from all the 
properties  having  their  annual  spring 
clean and the sounds and smells of lawn 
mowers.  It's  one  of  our  favourite 
months of the year. 
This  year,  however,  we  have  the  ever-
present  virus  looming  over  us  to  put  a 
very  real  threat  of  danger  in  place  to 
spoil  things.  We  must  adhere  to  strict 
precautions as advised and take care of 
ourselves  and  each  other  if  we  are  to 
continue  our  very  good  record  of 
keeping it out of the community. 
We'd love to see you at one or more of 
our usual monthly happenings. 
JOINT INITIATIVE  
Announcing  Joint  initiative  between 
Otamatea  Community  Services  and 
Grow Whakatipu Paparoa. 
The wonderful fresh food that goes into 
our  food  parcels  is  grown  or  collected 
by  the  gardeners  at  the  Paparoa 
Community Garden – Grow Whakatipu 
Paparoa. 
Now we want to join with the Garden in 
helping  locals  to  grow  their  own  food. 
We'll be launching our Garden Partners 
scheme  this  month  and  invite  anyone 
interested  (both  new  and  experienced) 
to  come  along  for  a  few  hours  each 
week  to  help  in  the 
established  garden  and  to 
learn  how  to  grow  your  own 
fruit  and  vegetables.  Grow 
Whakatipu  Paparoa  will  establish  a 
separate  garden  for  participants,  and 
you will take home fresh produce each 
week. 
If you want healthy food and you want 
to  learn  how  to  grow  it  for  yourself 
contact 
the 
Community 
House. 
Transport  from  Maungaturoto  to 
Paparoa  and  return  will  be  available 
from  next  Friday  20th  August.  Ring 
OCS Reception on 09 431 9080. 
Our SEPTEMBER is as follows
: 

Every  Monday:  Fun  &  Games, 
Footprints  Room  Anglican  Church 
Hurndall St Mgto 10am-12 

Wednesday  1st  Senior/Community 
lunch at St John Hall, Maungaturoto from 
10am 

Thursday  9th  Senior/Community  lunch 
at  Mangawhai  Community  Hall,  Fagan 
Place, Mangawhai 

Tuesday  14th  Free  Shopping  trip  to 
Whangarei.  9.30am  from  Retirement 
Village Maungaturoto. 

Wednesday  15th  Chocolate  Bingo  at 
the  Footprints  Room,  Anglican  Church, 
Maungaturoto 10 – 12 

Thursday  22nd  Free  Shopping  trip  to 
Whangarei. 9.30 from Retirement Village 
Maungaturoto 
Oneriri  
Plants 
Visit our Nursery 
Contact Heather 021 
766399 
oneririplants@gmail.com 
365AOneriri Rd, Kaiwaka 
A short trip off SH1
OTAMATEA COMMUNITY SERVICES 
HOW DOES YOUR GARDEN GROW? 
FOR the BIRDS and the  BEES! 
ARCTOTIS, ECHIUM, EUPHORBIA:  One of my favourite colour 
combinations.  The  red  and  grey  is  arctotis,  african  daisy.  A  great 
ground  cover.  Flowers  come  in  a  variety  of  colours.  The  blue  is  an 
annual  echium.  I  collect  the  seeds  and  scatter  them 
where  I  want  a  splash  of  blue.  The  chartreuse  is  a 
euphorbia, sometimes an annual but can last a few years. 
Some people regard it as a weed. Not me. I've fallen in 
love  with this  wild  child. The  colour enchants  me,  and 
later  on  the  stems  turn  red.  Extremely  prolific.  Hence 
the weed insult 
SALVIA  AFRICANA.  Not  to  everyone's  taste  but  I 
love  this  plant.  The  flowers  are  fabulous. 
Colour combination, russet and grey really 
pleases  me.  The  seed  heads  are  a  striking 
extra bonus. And boy do the waxeyes love 
these flowers. There were maybe 20 birds 
hanging  out  of these  flowers till  I  got  too 
close.  Grows  in  a  natural  round  shape 
about  a  metre.  And  thrives  in  our 
environment.   Right- New Ass. Gardener 
~ Heather, Oneriri Plants 021 766399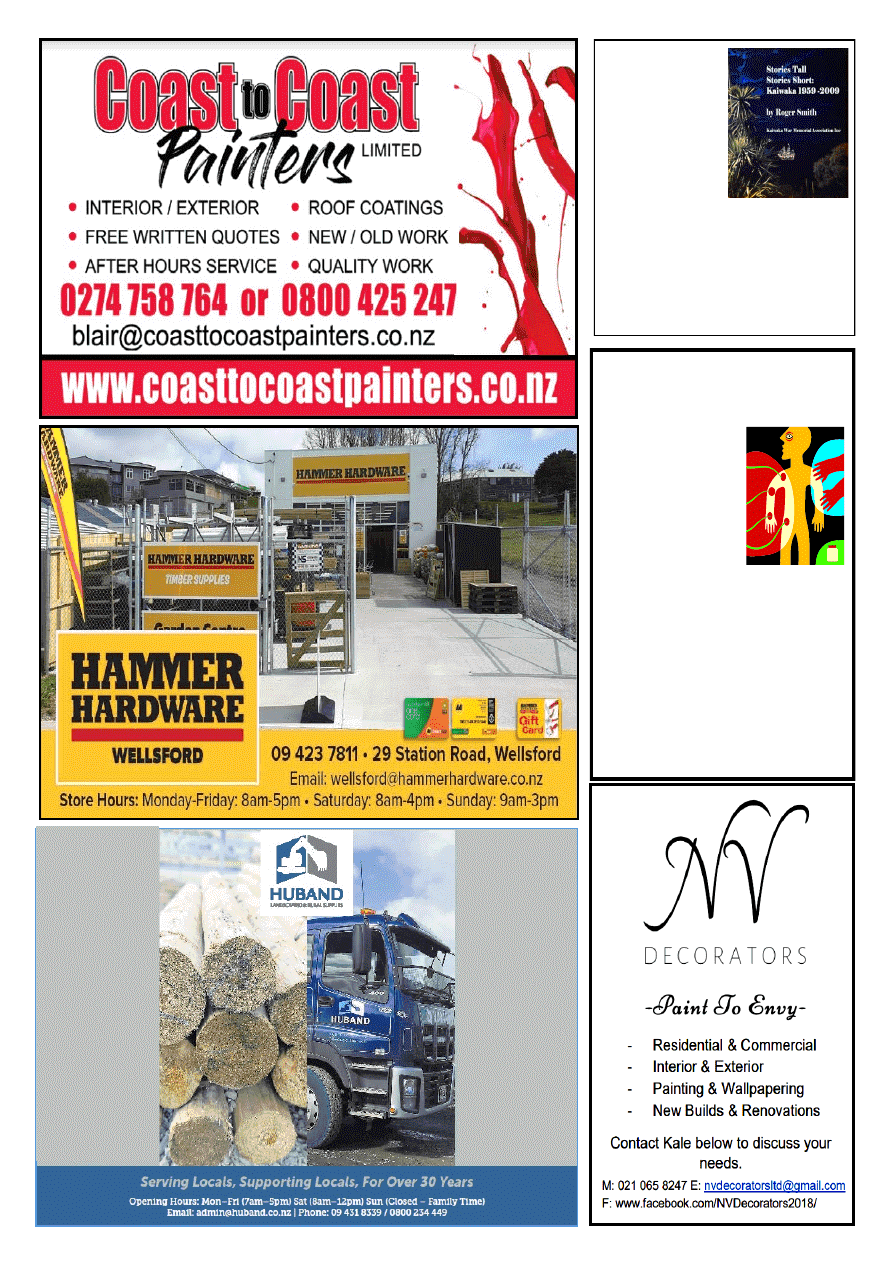 www.kaiwaka.co.nz 
Kaiwaka Bugle - 7 September 2021 
Page 10 
OWEN STEVENS 
Osteo Therapist
For careful 
adjustments to 
bones and joints 
Treatment for 
humans and their 
pets 
Clinics: 
Kate's Place, Kaiwaka: 
Last Friday of month 
For bookings: 
9.00am-5.00pm  
Phone 
09 4312661 
Or phone Owen  
09 4317123 anytime 
WATER TANKS: 
Aqua & Baileys 
Brands 
DRAINAGE & 
SEPTICS: 
Land Drainage 
Urban Rural 
Drainage 
Water Pipelines 
Culverts 
Septic Systems 
(RX Plastics & 
Biorock) 
SITEWORKS: 
Retaining Walls 
Piling 
Driveways 
Carparks 
Landscaping Supplies: 
Waikato Screen Topsoil 
Bark 
Woodchip 
Mill Bark 
Post Peelings 
Compost 
Crushed Shell 
Topsoil 
Limestone Chip 
Daltons Garden Mix 
Aggregate 
Gap: 20,40.65 
Riverstone 
Sand 
Belt Dust 
40/20 Drainage Metal 
Builders Mix 
 Cement 
Timber/Fencing Supplies: 
Rails, Posts  
Stays, Strainers 
Fence Battens 
Palings 
Stakes 
Fencing Wire 
Farm Gates & hardware 
Drainage: 
PVC Fittings 
Alkathene 
Draincoil 
Stories Tall, 
Stories Short  
Kaiwaka  
1959-2009 
by Roger TW Smith.  $40 
Kaiwaka, A Photographic 
History $25 
Available at All Sortz Collectables  
or phone  4312 045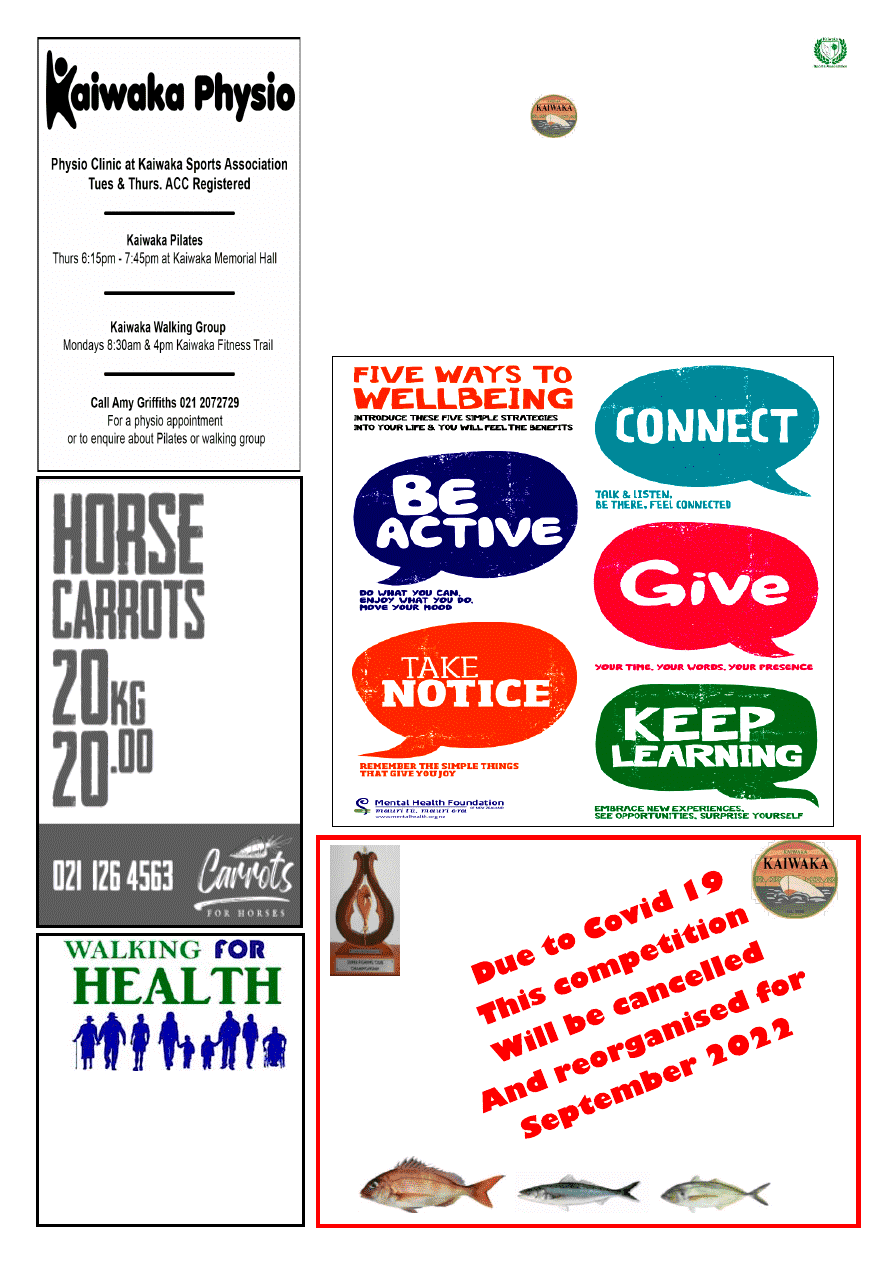 www.kaiwaka.co.nz 
Kaiwaka Bugle - 7 September 2021 
Page 11 
KAIWAKA SPORTS ASSN NEWS 
KAIWAKA SPORTS ASSN 
KSA Bookings contact: 
Jennie Reynolds, 02102764171  
ksa.bookings@mail.com 
Contact email: 
kaiwakasportsassn@gmail.com 
Website: www.kaiwakasport.co.nz 
NOTE  TO  ALL  KSA  SPORTS 
CLUBS: 
Notices, articles and photos 
welcome    (no  charge  to  the  individual 
club). Here to promote your sport! 
Below a note from LIBBY 
JONES – 
Member Northland 
District Health Board:
PT.CURTIS CRUISING  
CLUB 
Due  to  the  Covid19  lockdowns 
we  will  NOT  be  hosting  the 
PCCC Super Club Fishing Competition 
on 18 & 19 September 2021. This event 
will be hosted next September 2022. 
Fish  of  the  Month  since  August  is 
Snapper and will not have a close date 
until  we  have  our  next  Club  meeting 
under  the  level  2  Covid19  alert 
conditions. 
Next  Club  meeting: To be advised @ 
7pm,  Kaiwaka  Sports  Association  – 
dependent on Covid19 level. 
Keep safe everyone, Wayne Leslie (Commodore) 
POINT CURTIS CRUISING CLUB 
is hosting the 
SUPER CLUB  
CHAMPIONSHIP 2021 
Start Fishing: 6am Saturday 18 September 
Weigh In: 2.30 - 4.4.30pm Sunday 19 September 
Prizegiving: 5pm Sunday 19 September 
Three Furlongs Bar & Grill, 1942 SH 1 Kaiwaka (around the back) 
The trophy & $1000 will be awarded to the club with the heaviest combined weight 
of  two  snapper  and  club  prizes  for  2nd  &  3rd  combined  weights  of  the  next  two 
heaviest snapper. 
We have individual 1st, 2nd and 3rd prizes for the heaviest kahawai and trevally. 
Refreshments will be at the Three Furlongs Bar & Grill 
Weigh In Station is around the back of the Three Furlongs Bar & Grill 
Sponsored  by  Wellsford  Sorts  &  Leisure,  Hunting  &  Fishing  Whangarei,  Saltwater 
Connection Whangarei, Tackle & Outdoors Warkworth. 
Checkout the walking path 
at the  
KAIWAKA SPORTS 
ASSN. GROUNDS 
The buildings are off limits during the 
current Lockdown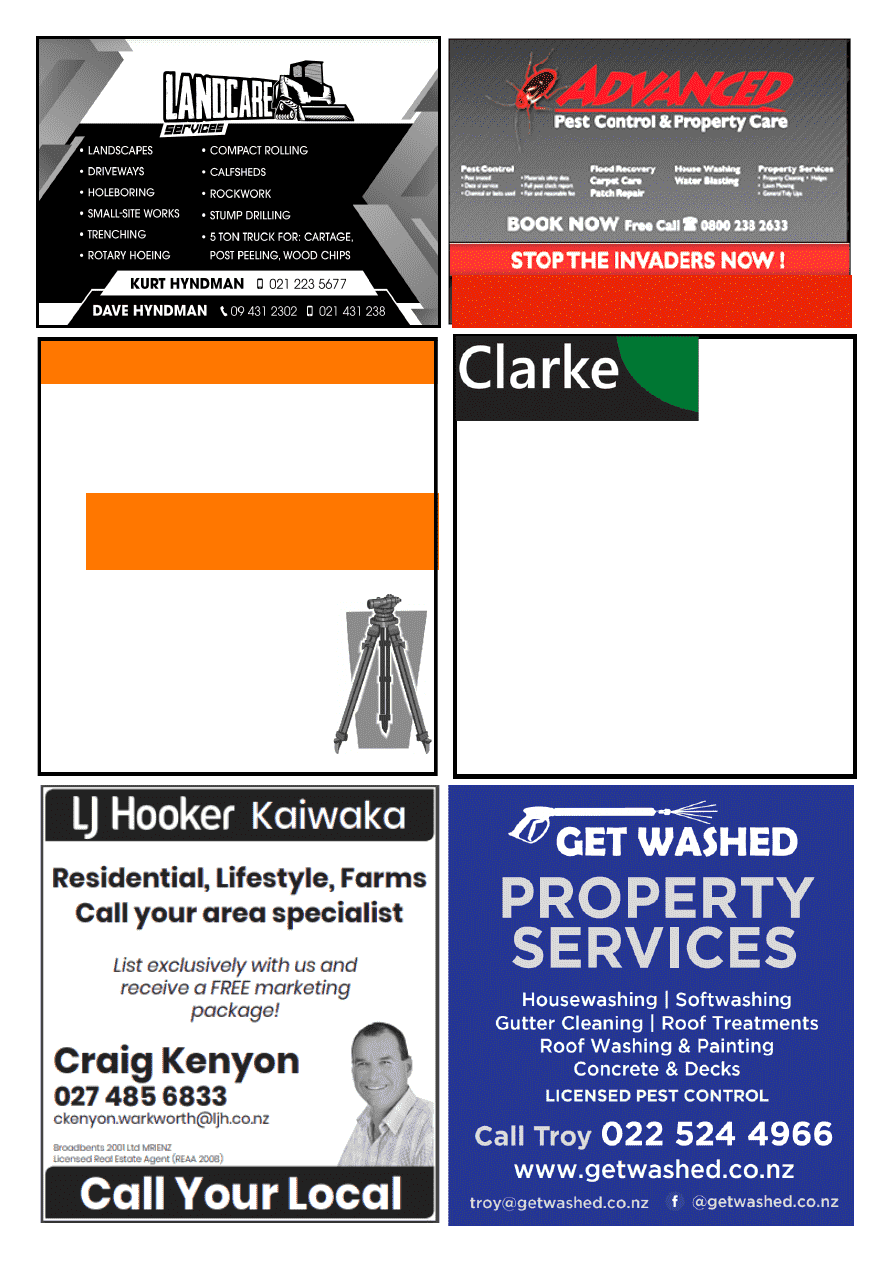 www.kaiwaka.co.nz 
Kaiwaka Bugle - 7 September 2021 
Page 12 
Drainage & Earthmoving 
nigel@clarkedrainage.nz 
027 2233 185 
Registered Drainlayer                 All Types of Earthworks  
> All Residential & Commercial Work  > House Sites 
> Septic System Design & Install 
> Footings & Drilling to 10m 
> Sewer Connections 
> Dams 
> Water Tank Installation 
> Roading & Races 
> Farm Work 
THE ONE STOP SHOP  
Phone Nigel for an Obligation Free Quote  
SURVEYORS 
SUBDIVISIONS 
HOUSE SITE SURVEYS 
CIVIL ENGINEERING 
WASTEWATER DESIGNS 
EXPERIENCED 
PROFESSIONAL 
INNOVATIVE 
Ph 09 431 5353 
0800 PACIFIC (0800 722 434) 
pacificcoastsurvey.com
Adam Booth - 027 415 5752 
Bsurv, Licensed Cadastral Surveyor
Surveying Kaipara since 1994 
M: 021 163 4974 
E: keith@advancedpestcontrol.co.nz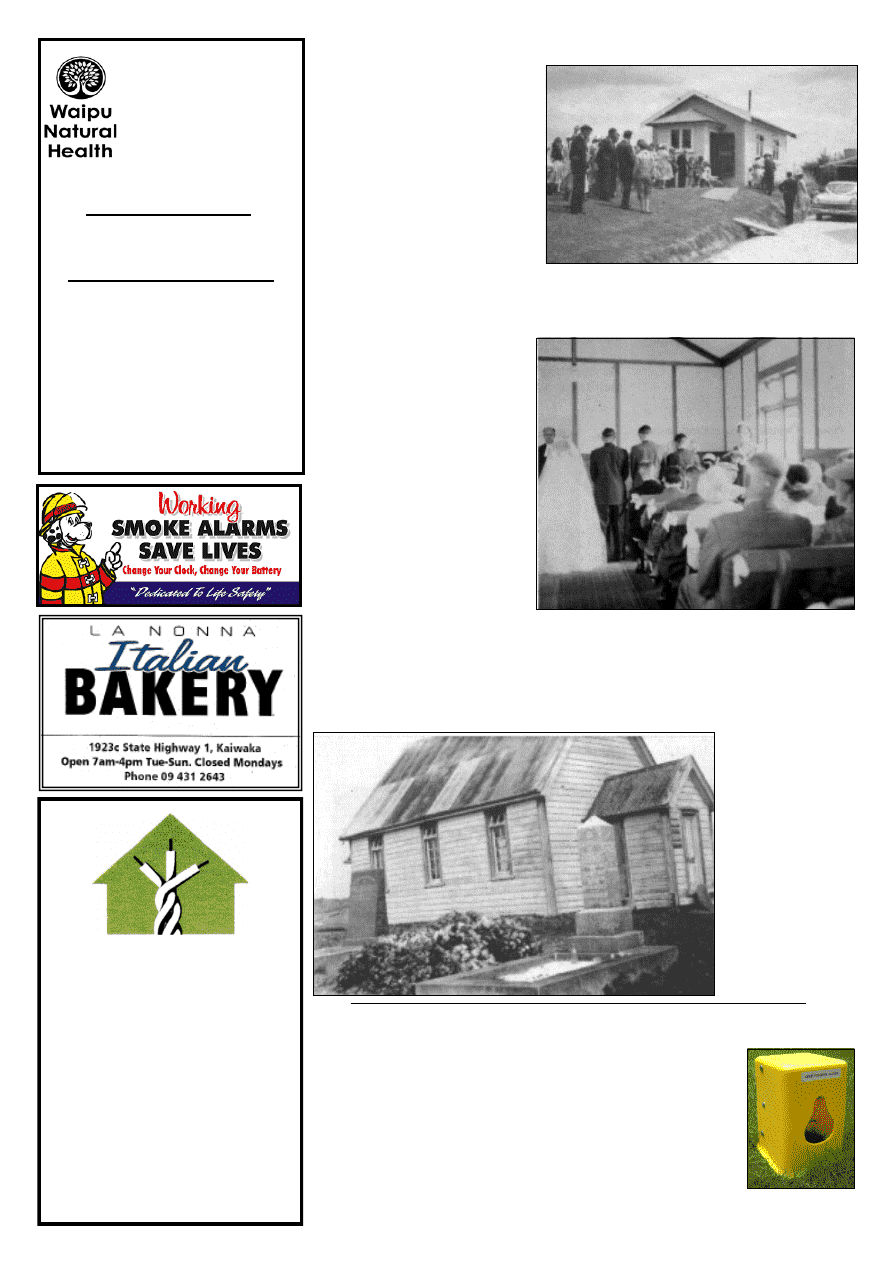 www.kaiwaka.co.nz 
Kaiwaka Bugle - 7 September 2021 
Page 13 
3 Cove Road, Waipu 
(opposite the Pizza Barn
) 
094321325 
www.waipunaturalhealth.co.nz 
Clinical Nutritionist: 
Nutritional Checkups, Diets for 
Chronic Diseases,  
Food Sensitivities 
Naturopathic Physician: 
Ozone Therapy, Prolotherapy  
Reflexology, Craniosacral 
Therapy, Trauma Release 
Massage Therapy 
Counselling and Hypnotherapy 
Change Catalyst/ThetaHealer 
Affordable Children's Consults 
All therapists are fully qualified
WILLIAM LESLIE MEMORIAL CHURCH  
POSSUMS ABOUT 
Young  possums  who  are  not  trap  wise  will  be  leaving  their 
mothers about now. 
Kaira Oneriri Biosecurity Area recommends putting out Timms 
traps baited with an apple slice and cinnamon on access routes 
like streams and drives. 
A  regional  council  says  breeding  is  from  late  March  to  early 
May,  with  gestation  of  17-19  days.  Most  females  raise  only  a 
single offspring (joey) per year and can live a dozen years when 
fertile.  
More information from DoC. (Department of Conservation) 
https://www.doc.govt.nz/documents/science-and-technical/everybodyspossum.pdf  
The possum is one of the greatest threats to our natural environment.  
Reyahn  Leng 
Registered Electrician 
Local, honest and 
reliable. 
For your residential and 
light-commercial 
projects. 
022 314 1068 
Giday, down there.  
When  my  grandfather  William 
Leslie  Jnr  died  in  May  1937 
some  of  the  locals  decided  that 
his 
name 
should 
be 
commemorated  for  all  the  work 
he  did  for  Kaiwaka  and  as  the 
Presbyterian  Church  was  falling 
into disrepair a small Church on a 
new  site  was  agreed  upon  with 
the  name  ''The  William  Leslie 
Memorial  Church''.  Mrs  A.B. 
McClean  donated  the  land,  Mr 
F.Jaques lent 80 pounds free of interest, and the community made up the rest. It 
cost  240  pounds  to  build  and  was  consecrated  21st  April  1939.  A  missionary 
named  Mr  Melville  held  services there,  but it  was  used  mainly  for  Bible  Class 
during the war.  These were run by Jim Hay, Harvey Gubb and Harry Wright. 
It  was  also  used  by  the 
Methodists.  The first Methodist 
marriage  was  when  Paul 
Donaldson  and  Bev  Clarke 
married.   
My  earliest  recollections  of  the 
Church 
were 
when 
a 
granddaughter of William, Irene 
Leslie married Colin Hay in the 
late  1940s.    The  Hay's  had  a 
small  farm  at  Pukekaroro.  
During  the  1960/70s  there  was 
a  stable  congregation,  and  all 
my  children  were  baptised 
there.  Amongst  some  of  the 
names  attending  were  Leslie, 
Larsen, 
Gubb, 
McAuley, 
Parker,  Cowdrey,  Wright.    The 
Rev Neil Whimp was a very popular Minister at this time.  
With the downturn in numbers and the combining with the Methodists in the mid-
1980s it ceased to be used.    While working in other parts of N.Z. I was surprised 
to see it had been sold before my return to Kaiwaka in 2004. ~ Bill Leslie 
Photos from 'Kaiwaka, A Photographic History' - Top, the Wm. Leslie memorial 
Church  (opposite  the  Three  Furlongs  Hotel);  Mid,  inside  the  church  at  the 
wedding of Faith Parker and Barry Smith in 1959; Below the first Presbyterian 
Church 
in 
the 
grounds 
of 
the 
Kaiwaka Cemetery. 
The 
first 
Presbyterian 
Church was opened 
on 7 January 1880 - 
more on this can be 
read  at  the  Papers 
Past  website  in  the 
New 
Zealand 
Herald  of    7 
January 
1880,  
Page 3.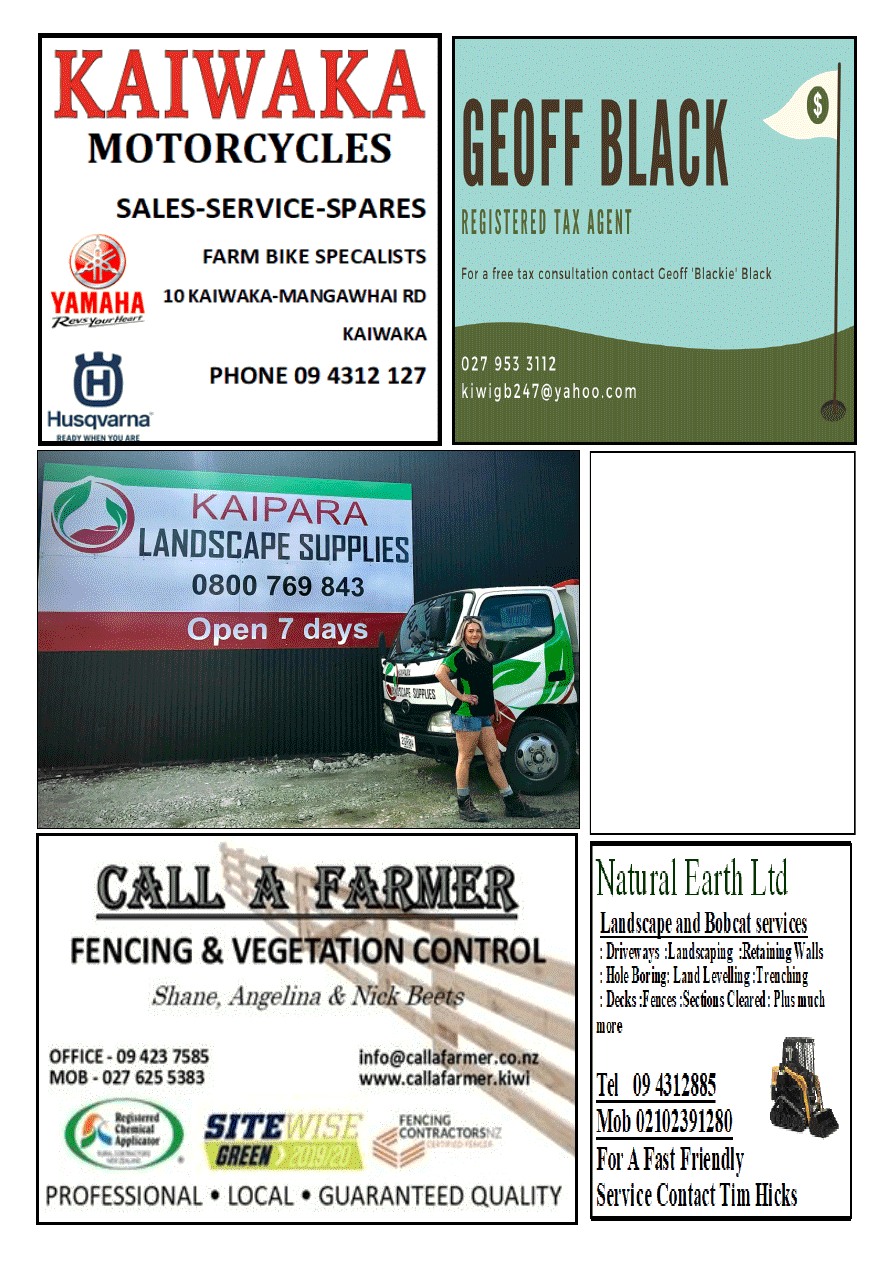 www.kaiwaka.co.nz 
Kaiwaka Bugle - 7 September 2021 
Page 14 
HELP 
PHONE NUMBERS 
HEALTHLINE 0800 611 116 - a 
nurse to answer health queries  
SAMARITANS 0800 726 666 - 
support for lonely or suffering 
mental distress 
YOUTHLINE 0800 376 633 
LIFELINE 0800 543 354 
DEPRESSION HELPLINE 0800 111 
756 
ALCOHOL & DRUG HELPLINE 0800 
787 797 
URGENT MENTAL HEALTH LINE 
0800 223 371 
WARMLINE -peer support for 
people with mental health issues 
0800 200 207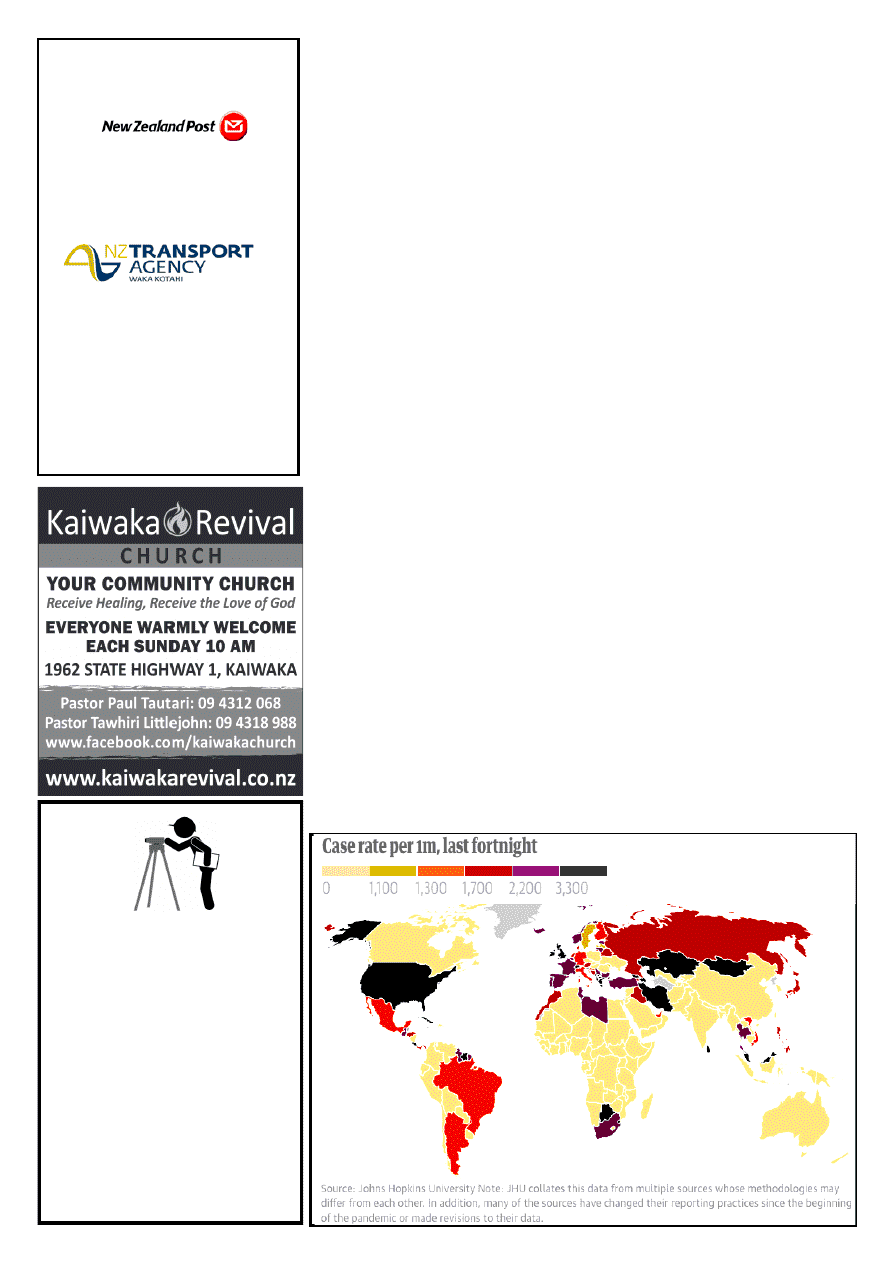 www.kaiwaka.co.nz 
Kaiwaka Bugle - 7 September 2021 
Page 15 
KAIWAKA POST 
CENTRE and 
FOOD MART 
POST CENTRE TRADING HOURS 
MONDAY to FRIDAY 8am to 5pm 
SATURDAY 8am to 12pm 
CLOSED ON SUNDAY and on 
PUBLIC HOLIDAYS 
FOOD MART (GROCERIES) 
MONDAY TO FRIDAY  
7:30am to 7.30pm 
SATURDAY  8am to 7.30pm 
SUNDAY  8:30am to 7pm 
IF ANY QUERIES PLEASE CALL 
STORE MANAGER AMRIT  
on 09 4312431 or 
EMAIL: kaiwakafood19a@gmail.com 
1919a State Highway1, Kaiwaka 0542 
Ken Urquhart 
BSurv Licensed  
Cadastral Surveyor 
KMU Surveys Ltd 
467 Bickerstaffe Road 
RD 2 
Maungaturoto 0587 
Ph 09 431 8705 
Mob 021 161 2344 
kenurquhart@xtra.co.nz 
I really enjoy getting  
The Bugle
.
Like the news in the community where I 
grew  up,  it  tethers  me  to  people,  the 
local  activity  and  the  ads  of  the  locals 
(mainly  men,  backed  up  by  women). 
With  the  reminders,  I  see  faces.  With 
news  and  memories  sit  the  people  we 
live beside. 
The  whole  Covid  viral  situation  has 
produced  a  long  period  of  reflection 
which I believe many share. Some react 
strongly  and  lame  outside  themselves 
but  most,  like  in  a  war,  settled  for  the 
long haul. 
LIFESTYLE BENEFITS
Living  on  a  big  block  with  plants  and 
animals,  we  are  not  too  pressured  for 
food.  We  have  shops  11km  away  for 
extras  and  luxuries.  We  can  give  eggs, 
veges  and  fruit.  We  have  a  beach  a 
couple  of  km  away  to  exercise  dogs. 
We have telephones and computers with 
which  to  contact  neighbours,  some  of 
whom  travel  to  "essential  work"  in 
continuing  services  and  some  who  log 
the same from home. 
A daughter is employed as a gig worker 
(means  long  hours,  tight  contracts  but 
pays  the  high  city  rent)  by  a  personnel 
department posing as an employer. All I 
guess,  like  my  daughter,  are  in 
lockdown  with  nowhere  to  spend  their 
profits, and one day more may see that 
the  sharing  and  sacrifice  we  all  must 
now do has great benefit. 
Under Level 4, as we were in Kaiwaka 
until  today  (Thursday    2  September), 
control  on  movement  is  recommended 
but left to individual responsibility. It's 
enforced  by  the  community.  Down  our 
road  people  have  banded  together. 
Solitary  neighbours  are  included. 
Personal 
circumstances 
more 
understood.  Our  bubbles  stretch  across 
tracts  of  the  whenua.  Some  folk  doing 
work  of  connection  and  support  are 
appreciated as the heroes they selflessly 
aim to be. 
LESS FEAR 
People are less fearful than in the March 
2020 
lockdown 
where 
strangers 
represented  lethal  disease  and  I  mused 
on  Daniel  Defoe's  Journal  of  the 
Plague Year of 360 years ago. 
Gradually,  over  our  time  of  isolation 
and  change,  common  sense  has 
expanded.  I  have  learned  and  reflected 
on:  the  value  of  science,  the  value  of 
kind friends, our decent neighbours, and 
the  plight  of  those  living  in  mis-
managed  and  impoverished  countries. 
The dumb news has never felt dumber. 
The  outside  world  is  less  significant, 
and is important by relationship and by 
shared concern for others pressured by a 
chronic  condition  that  affects  humanity 
the world round. 
And thanks to Zoom and to the Internet 
(which Tim Berners-Lee gave everyone 
on  the  planet  rather  than  locking 
himself  in  as  a  billionaire)  we  can 
connect  with  folk  overseas:  for  us, 
family  in  Australia  and  Europe, 
wwoofers,  couchsurfers  and  Warm 
Showers cyclists. 
Our  wide  circle  live  on  five  of  six 
continents. 
ZOOMED TOGETHER
Last  night  we  zoomed  with  'locked 
down'  family  in  Auckland  and  New 
South  Wales  for  a  40th  birthday  party, 
kids  and  adults,  everyone  observing 
lockdown  rules  and  four  in  that  party 
performing "essential work". 
These gains in kindness and community 
are  worldwide  though  the  black  on  the 
map  as  measured  this  week  by  The 
Guardian 
shows 
where 
poor 
management  requires  kind  attention 
[source: Johns Hopkins University]. 
Yes,  there  is  disinformation.  Even 
Prince Harry is saying that. 
https://www.theguardian.com/world/2021/
jun/11/covid-world-map-which-countries-
have-the-most-coronavirus-vaccinations-
cases-and-deaths 
HP
BLESS 'EM ALL ~ Hugh P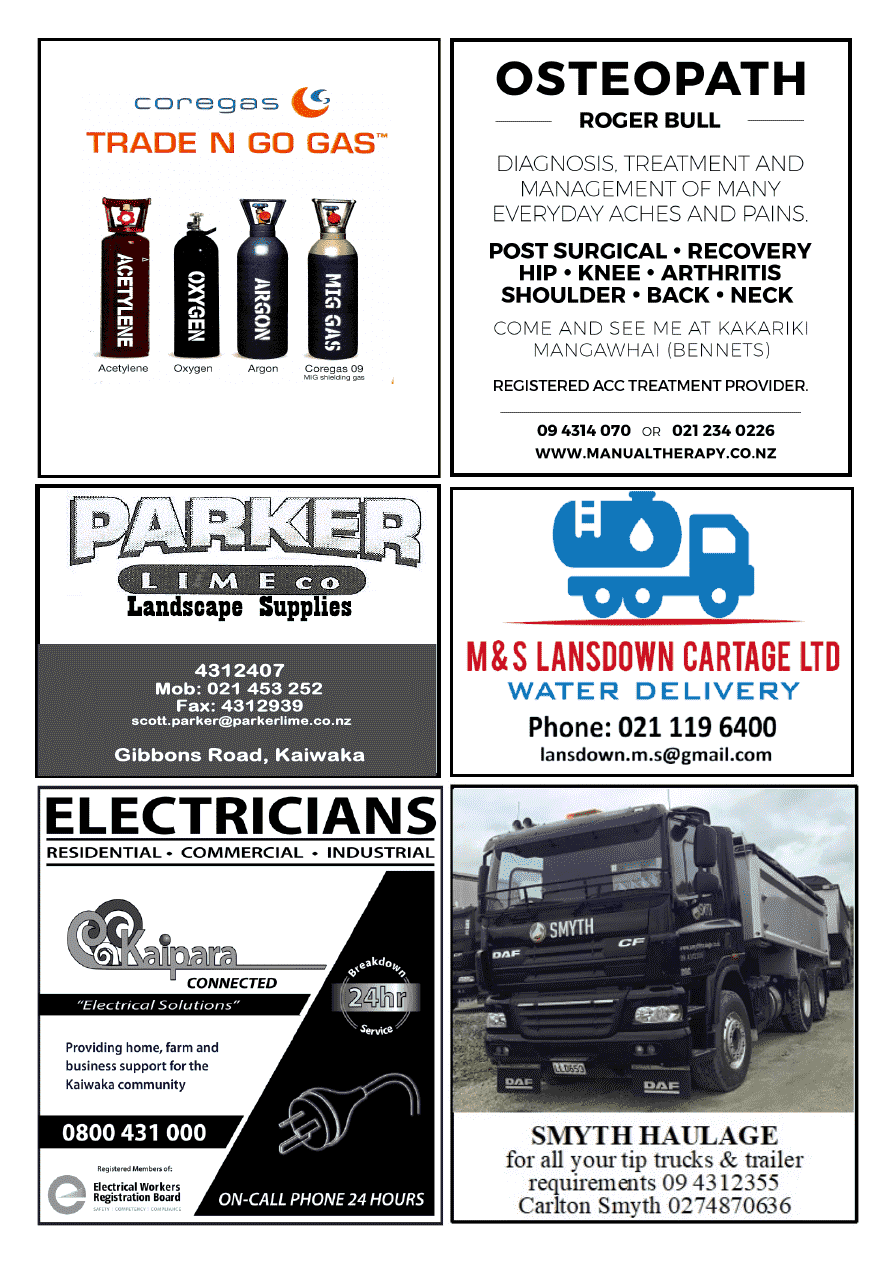 www.kaiwaka.co.nz 
Kaiwaka Bugle - 7 September 2021 
Page 16 
At Twinkle Tow 'n' Tyre 
Mob: 021 833 960 
Ph & Fax: 09 431 2823 
1837 State Highway 1, Kaiwaka 
Bulk Cartage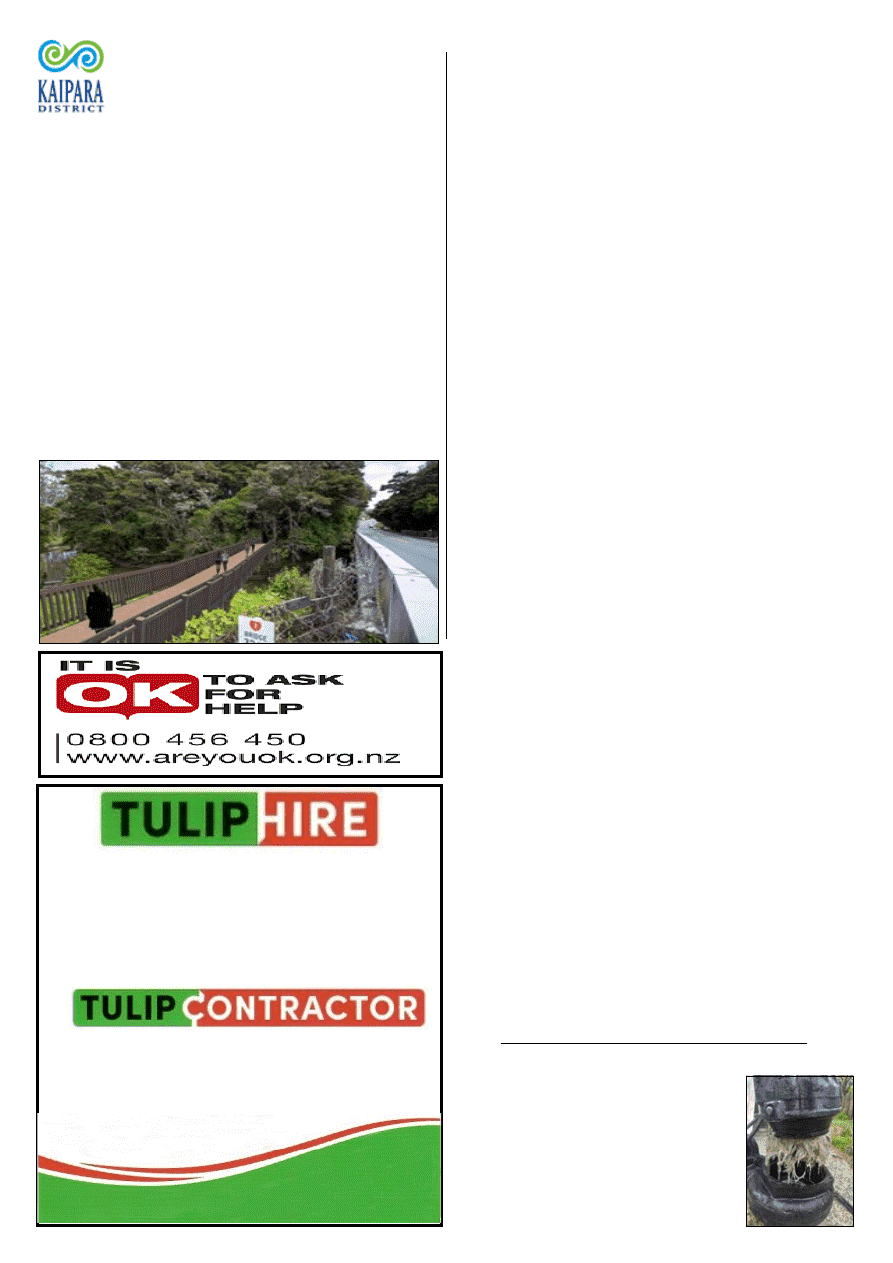 www.kaiwaka.co.nz 
Kaiwaka Bugle - 7 September 2021 
Page 17 
KAIWAKA FOOTBRIDGE 
CONTRACT AWARDED 
The  Council  has  awarded  the  contract  to  design 
and build the two Kaiwaka footbridges to Bridge 
It NZ. 
The  footbridges  are  funded  through  Kānoa  –  Regional 
Economic  Development  and  Investment  Unit  to  improve 
pedestrian safety around State Highway 1. 
Bridge It has started the detailed design for the works. They 
will pre-fabricate the bridges off site and will start the onsite 
works  early  in  the  new  year.  The  two  bridges  will  be  2.5 
metres wide and share the same design, which improves the 
efficiency of the design and build phases. 
After  the  bridges  are  in  place,  access  ramps  will  be  built, 
and  paths  constructed  under  the  State  Highway  1  road 
bridges  to  make  it  easier  to  move  around  the  Kaiwaka 
village. 
The  northern-most  bridge  will  cross  over  to  McClean's 
Park. The McClean Family is gifting the land at 5-7 Gibbons 
Road  to  allow  the  path  to  go  through  it.  The  Council  has 
allocated $100,000 in the Long-Term Plan for development 
of  the  Park.  KDC  staff,  Kaiwaka  Can  and  the  community 
will work together to implement a plan to develop the park 
as a local recreational area. 
At  this  stage  the  bridges  are  expected  to  be  completed 
and opened by March 2022. 
KAIWAKA LIBRARY 
STILL CLOSED IN LEVEL 3 
As  I  type  this  report  (Thursday  last  week)  we've  just  been 
told that Northland will be moving to Alert Level 3 tonight. 
Yay!  Sadly,  the  library  is  still  closed  -  we  can't  open  until 
we're in Level 2. 
JP SERVICE CENTRE IS CLOSED TOO 
Until we are in Alert Level 2, I'm not available as a Justice 
of the Peace, sorry. Some JP services are available online - 
go to https://justiceofthepeace.org.nz/ and type ONLINE in 
the 'city' search box at the top of the page, and you'll find the 
JPs around the country who are operating digitally. Choose 
one  and  make  contact  -  it  doesn't  matter  where  in  the 
country they are, as the work is being done online, though if 
you  scroll  through the  list you  might  recognise  one  or two 
local-ish names or recognise Northland phone numbers. 
LOTS OF ONLINE/DIGITAL CONTENT TO ENJOY 
Do  keep  an  eye  on  our  Facebook  page  -  https://
www.facebook.com/KaiwakaLibrary  -  where  I've  been 
posting  things  I  think  people  will  enjoy,  from  interviews 
with  authors,  news  about  upcoming  books  to  look  forward 
to, idea for keeping the kids amused, and so on. You don't 
need  to  have  a  Facebook  account  to  view  our  page,  it's 
publicly visible - just ignore Facebook's attempts to get you 
to sign up, if you don't want to do that. You can also view it 
on the Kaiwaka page at Enterprise*. 
Science  fiction  fans  in  particular  may  be  interested  in  the 
hour-long interview with Alastair Reynolds that I posted on 
31 August. We have a few of his books on our shelves, and 
there is a selection of titles available in our digital services, 
too. He's one of my favourites in that genre. 
You can still sign up as a DIGITAL-ONLY library member 
and  access  our  digital  services  straight  away.  Go  to 
Enterprise*  and  click  on  the  big  friendly  green  button  to 
join. And click on the eRESOURCES button below the join 
one, to find  out  more  about  our  digital services;  they're  all 
free to use. 
GETTING READY FOR THE LIBRARY TO OPEN 
Meanwhile,  you  can  be  thinking  ahead  to  what  books  you 
want to borrow when we're open again and get yourself in 
the  queue  for  when  we  can  do  that.  Log  in  and  search  the 
catalogue  at  Enterprise*  or  on  the  phone  app,  and  you  can 
place holds on any borrowable title, from any of the libraries 
in  the  district.  When  we  are  open,  we  will  pull  off  the 
shelves  the  available  titles  that  have  holds  waiting,  and  let 
you know they're ready for you to collect. 
Please keep your library books, etc, at home for now. 
We  have  extended  the  due  dates  on  all  items  on  issue  and 
will continue to extend them as needed while we're closed. 
WE'RE HERE TO HELP 
If you have any questions or problems about library services 
during lockdown, please don't hesitate to get in touch. You 
can call  Dargaville  Library  and  speak  to a librarian  -  0800 
543 532 during normal business hours. Or contact me - send 
me  a  private  message  on  Facebook,  send  an  email  to 
kaiwaka.library@gmail.com, phone the library's number (09 
431 2539 - it is automatically diverted to my mobile phone), 
or  call/text  my  mobile  (0274806275),  and  you'll  reach  me. 
Calls and texts to me at reasonable hours only, please. 
See you in the library one day soon, Wendy 
https://www.facebook.com/KaiwakaLibrary  
*Enterprise: http://kaipara.kotui.org.nz/ 
KAIPARA DISTRICT COUNCIL 
There  has  been  an  increase  in  blocked 
pipes  and  broken  sewerage  pumps  since 
lockdown started.  
While many brands of wipes are marketed 
and  labelled  as  'flushable'  they  contain 
plastic and other non-woven fibres. 
Please, only flush the three Ps (pee,  poo, 
and  paper).  Place  wipes,  sanitary  items, 
rags, 
toys, 
goldfish, 
and 
other 
miscellaneous objects in the bin. 
BUILDERS…FARMERS…LANDOWNERS 
..LEND US YOUR EARS.. 
..AND WE'LL LEND YOU OUR GEARS.. 
We Dry-Hire: Diggers, Rollers, Compactors & 
Attachments. 
-or- 
Can price your Earthworks Jobs, with our top 
Operators. 
Contact Us: 
1938a State Highway 1 Kaiwaka  
(Beside 3 Furlongs Hotel) 
Tim Magill 027 431 0006 
tim.magill@tuliphire.nz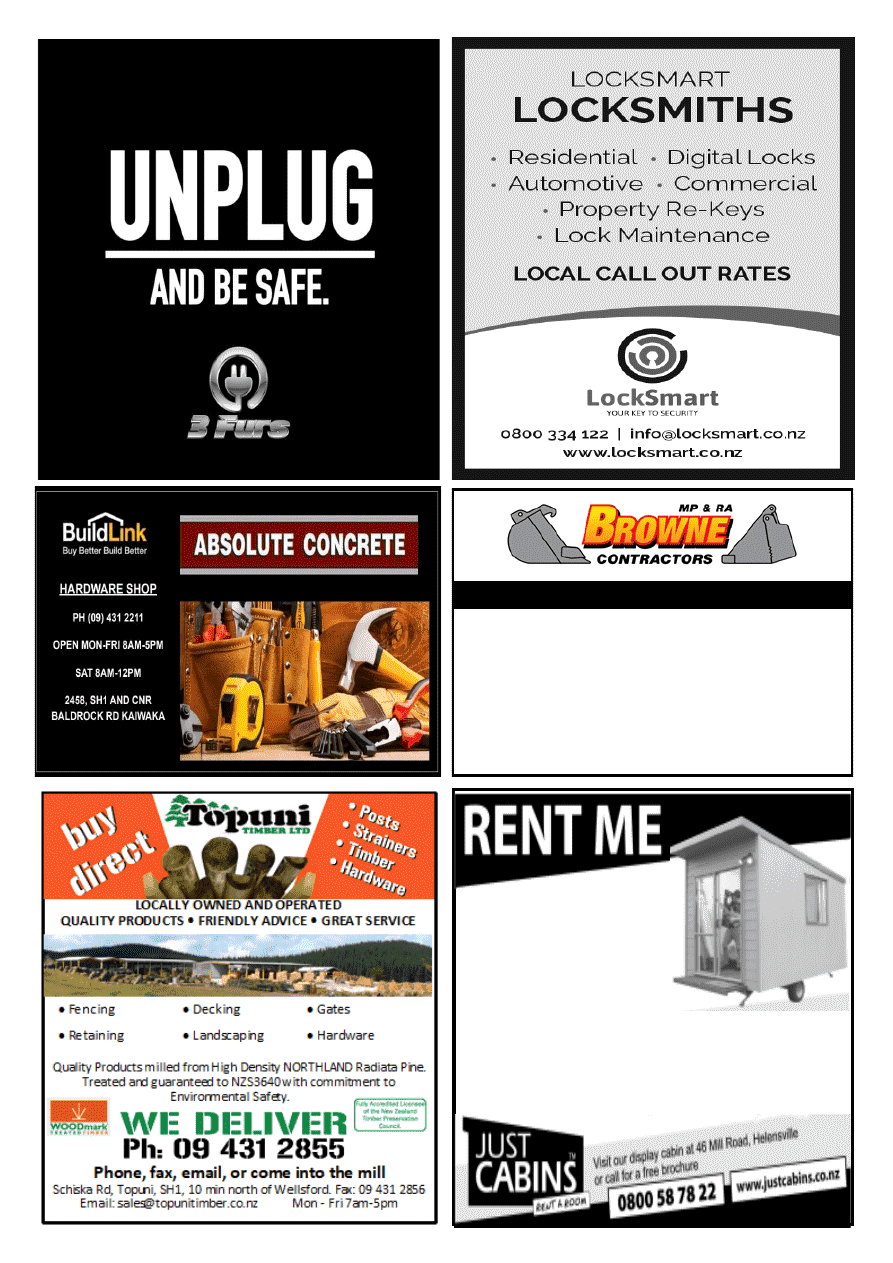 www.kaiwaka.co.nz 
Kaiwaka Bugle - 7 September 2021 
Page 18 
Ideal as an extra  
bedroom or office 
Three Convenient sizes: 
Standard 3.6m x 2.4m - $65 
per week 
Large 4.2m x 2.4m - $80 per week 
Extra Large 4.8m x 2.4m - $100 per week 
Fully insulated. Minimum 6 months rental period 
4Tonne DIGGER – BOBCAT – TIP TRUCK 
Property Maintenance - Driveways  
 Building Sites 
Stump & Tree Removal  
Hole Boring - Chain Trencher  
Calf Shed and Stockyard Cleaning 
Phone Matt: 021 199 6677 
Email: mprabrownecontractors@gmail.com 
WE 
ARE CLOSED DURING 
COVID L3 
Phone 09 4312 246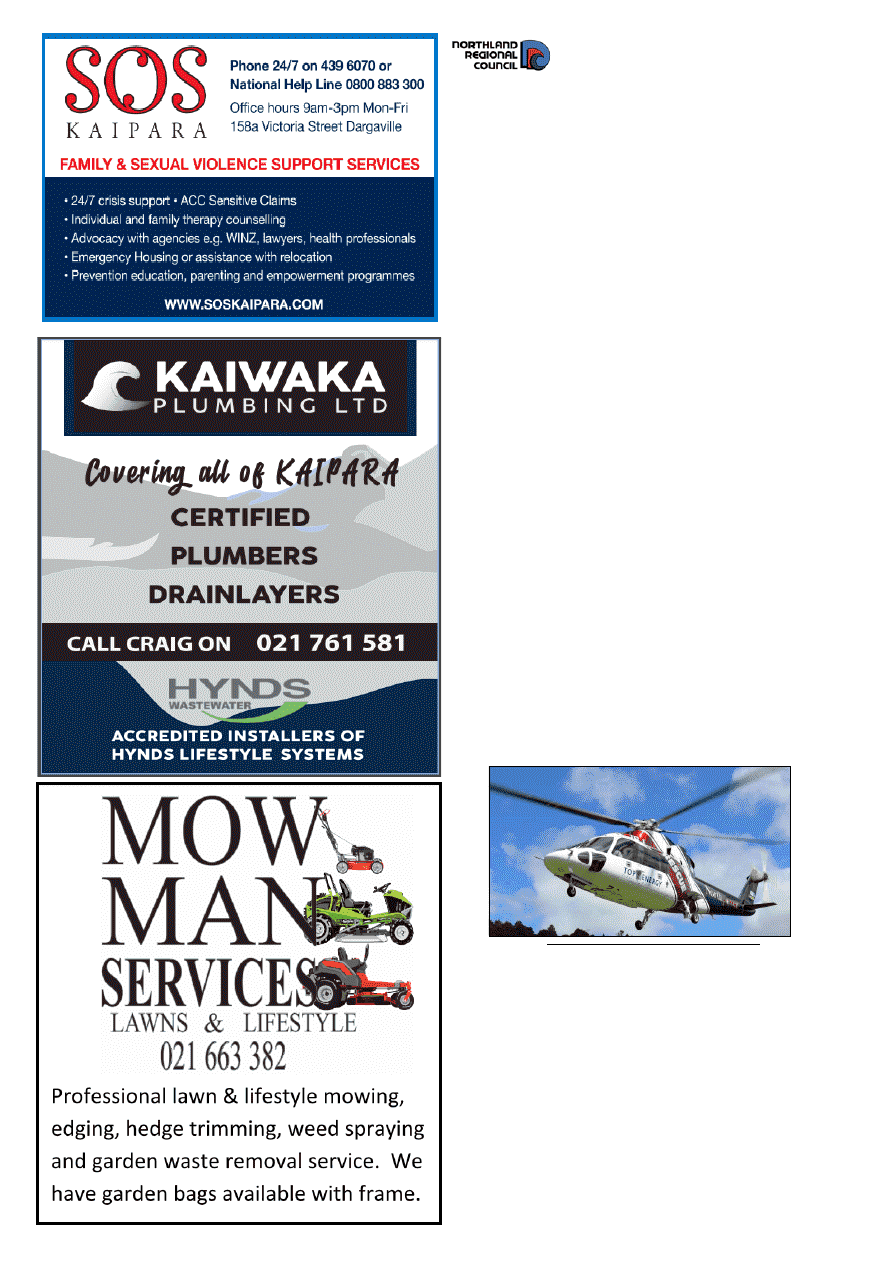 www.kaiwaka.co.nz 
Kaiwaka Bugle - 7 September 2021 
Page 19 
NORTHLAND 
REGIONAL COUNCIL 
Emergency Services Funding Allocated  
for 2021-2024 
A  rescue  helicopter  service  and the region's  surf  lifesavers 
are  among  the  six  recipients  of  the  Northland  Regional 
Council's  Emergency  Services  Fund  (ESF),  which  has 
recently been allocated for 2021-2024. 
Council  chair,  Penny  Smart,  says  the  ratepayer-funded 
fund  is  allocated  every  three  years  to  enable  recipients  to 
better plan several years ahead. 
"Ratepayers contribute about $12 each year to the ESF 
to  support  organisations  whose  primary  purpose  is  to 
save lives that are in immediate or critical danger in the 
Northland  region,  and  about  $972,000  is  available  to 
allocate annually." 
After  presentations  from  emergency  service  providers  and 
discussions  as  to  how  the  ESF  should  be  allocated  for  the 
next  three  financial  years,  councillors  have  recently 
(Tuesday 17 August) confirmed the latest round of funding. 
Recipients are: 

Northland  Emergency  Services  Trust  -  $535,000 
annually  to  support  the  provision  of  helicopter  rescue, 
ambulance services and necessary helicopter upgrades. 

Surf  Life  Saving  Northern  Region  - $224,000 annually 
to  provide  professional  lifeguard  services  in  six  key 
Northland locations during the peak holiday period. 

St  John  Northern  Region  - $90,000 annually to support 
and  train  volunteers  to  participate  in  their  life-saving 
services. 

Coastguard  Northern  Region  -  $84,000  annually  to 
support their ongoing life-saving maritime rescue services in 
Northland. 

Far  North  &  Northland  Land  Search  and  Rescue  - 
$30,000  jointly  annually  towards  purchasing  life-saving 
equipment and training for volunteers. 

Far  North  Radio  and  Sea  Rescue  - $9000 annually to 
support  the  radio  service,  in  particular  its  continued  search 
and rescue and emergency response. 
Chair  Smart  says the council is pleased to be able to assist 
funding  recipients,  all  of  whom  play  a  valuable  role  in 
helping  to  keep  Northlanders,  and  visitors  to  the  region, 
safe. 
Ref. www.nrc.govt.nz 
The Tale of The Oyster 
'There once was an oyster whose story I'll tell 
Who found that some sand had got into his shell. 
Just one little grain, but it gave him such pain. 
Now did he berate the working of fate 
That brought him to such a deplorable state? 
Did he curse the government, call that the sea 
Should give him protection? 
"No," he said to himself as he lay on the shelf 
"Since I cannot remove it, I'll try to improve it." 
The years rolled by as the years always do 
And he came to his ultimate destiny – stew. 
And the grain of sand that bothered him so 
Was a beautiful pearl, all richly aglow. 
Now this tale has a moral, for isn't it grand 
What an oyster can do with a morsel of sand? 
What couldn't we do if we'd only begin 
Improving the things that get under our skin?'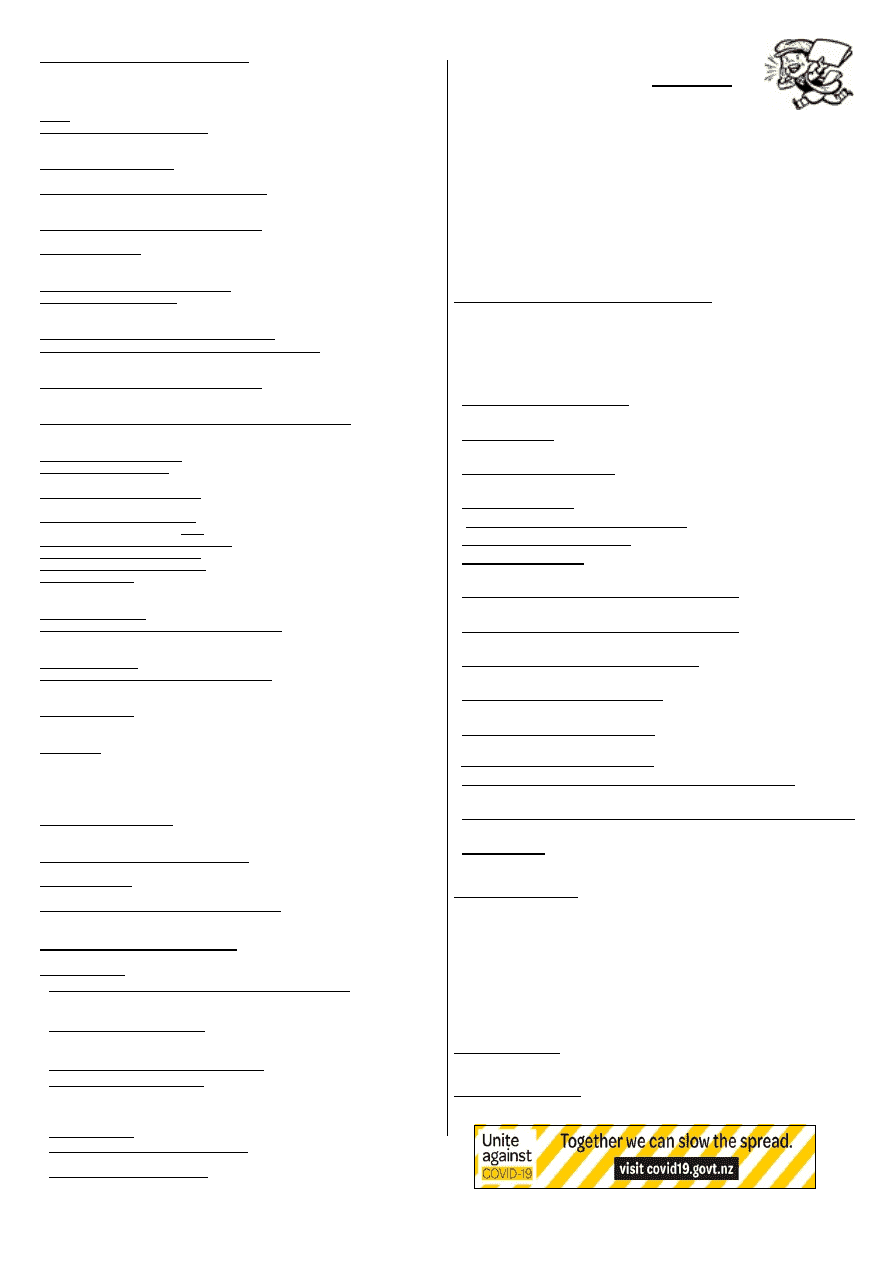 www.kaiwaka.co.nz 
Kaiwaka Bugle - 7 September 2021 
Page 20 
WHAT'S ON
PLEASE ~ do let us know what is on - 
email kaiwakabugle@kaiwaka.co.nz 
*7Sep~KDC Libraries discussion 2.15pm Domain 
Hall, Mangawhai - check KDC website 
*17Sep~ZONTA Second Chance applications close 
*21Sep~Kaiwaka War Memorial Hall and Library 
AGM, KWMH 5pm 
*4-8Oct~St John Trash & Treasure, Maungaturoto 
KWMH = Kaiwaka War Memorial Hall; KSA = Kaiwaka Sports Association 
See www.kaiwaka.co.nz for more information 
HOUSEHOLD RUBBISH COLLECTION  
Kaiwaka Pick up: 
Mondays = Green bags (Northland Waste - 09 430 3273) 
Wednesdays  =  Blue  bags  and  yellow  recycling  (at  Four  Square 
Kaiwaka $3.30 and $1.70) (Kaurilands 09 4392146); ONLY Blue 
and Yellow bags picked up on Oneriri Road. 
 DIABETES Support Group-for Kaiwaka, Mangawhai, Wellsford 
10am, 3rd Friday of month Ph: Colleen James 09 4314238 
 GENEALOGY - Wellsford: 1st Thursday in month Ph: 423 
7033; Waipu: 4th Monday in month Ph: 4312 725 
 HAKARU PONY CLUB - Secretary Denise Rogers 021423376 
secretary@hakaruponyclub.co.nz  
 KAIPARA HUNT - Secretary Albert Doonenbal Ph 4312059 
  KAIPARA HUNTING & FISHING - 021 1294378 
 KAIWAKA BADMINTON -Tuesdays 7.30pm Ph: 4312345 
 KAIWAKA  CAN  - 3rd Wednesday in month, 5.30pm, Archie 
Bull Hall Ph: 0273572751 
 KAIWAKA GARDEN & FLORAL GROUP - 2nd Thursday in 
month. Ph: 431 4744 
 KNITTING FOR WHANGAREI HOSPITAL - 2nd Tuesday in 
month, Archie Bull Hall 10am Ph 4314827 
 MANGAWHAI COMBINED REBUS CLUB - 2pm, 3rd 
Thursday month, Senior Citizens Hall Mangawhai. Ph: 4315777 
 MANGAWHAI GENEALOGY  - meet 3rd Thursday month, 
Mangawhai Museum, 10.30am 
 PILATES - HAKARU HALL - Tuesday 10am, Thursday 9am 
Qualified Instructor  Ph. 0220643965  
*PT CURTIS CRUISING CLUB - Jean Ph: 4312227 (wk), 4312520 (hm) 
 RSA,  HAKARU  &  DISTRICTS  WOMEN'S  SECTION  –  meets 
1.30pm 4th Thursday of the month. Ph: 431 5818  
 KAIWAKA  SCOTTISH  COUNTRY  DANCING  CLUB-
Wednesdays 10am - 12 noon  Ph: Elaine 027 432 0032  
 TRAMPING 
- 
Mondays 
9am-2:30pm, 
contact  
valkenburgmaria@gmail.com 
HALLS FOR HIRE: 
  Kaiwaka St. John Hall: Phone Marj  0272941227  
 St.Pauls  Archie  Bull Hall  HIRE  $20 half day, $40 full day per 
hire, S McAulay, Ph 4312311 
 Kaiwaka  War  Memorial  Hall  HlRE  -  Phone  4312725  or 
kaiwaka.hall.bookings@gmail.com 
 Hakaru Community Hall HIRE -Ph.  Karen 4312090 
 Te Pounga Marae queries - Pearl Nathan  0223933533 
 Kaiwaka Sports Association hire/queries - Jennie Reynolds
   ksa.bookings@mail.com
, 02102764171  
Justice  of  Peace:  L.Donaldson  4312  228;  A.F.Hargreaves  4312 
045,  W.Howard  4312  725  -  please  phone  to  make  sure  they  are 
available www.justiceofthepeace.org.nz B.FJaques Retd  
Marriage Celebrants:  
L.Donaldson; A.F.Hargreaves; Y Osborne
Next Bugle Deadline  Friday 17 September 2021
LOCAL SERVICES 
*Emergencies - Ambulance, Fire, Police - dial 111 
*Non-urgent Police phone 105
A A: Meets Wed., 7pm. Kate's Place Ph 021 024 25969 or 0800 229 6757 
NARCOTICS ANONYMOUS : Mon., 6pm, Archie Bull Hall, Kwk-Mwi 
Road; drug and alcohol related issues. Ph. 02102412348 
ASUREQUALITY LTD (was AgriQuality) Call Free 0508 0011 22  
BUDGETING SERVICE, WELLSFORD: Free confidential advice & 
support for all areas of personal finance. Ph (09) 423 7123 
CAB-Citizens Advice Bureau.Wellsford Ph: 4237333 
0800 367 222 email:cab.wells@xtra.co.nz  
CIVIL DEFENCE - Kaiwaka Community Response Group: 
kaiwaka.civildefencecrg@gmail.com, 4312725 Wendy 
DOG/STOCK /NOISE CONTROL 0800 105 890 
FUNERAL SERVICES: Morris & Morris Ltd, 
Whangarei - Bev Jaques Ph:4312367 or 0800667747 
GRANDPARENTS Raising Grandchildren: Dianah Roberts 0223819539 
HAKARU & DISTRICTS MEMORIAL RSA (Inc) 733 Settlement Rd, 
Hakaru. Ph 4312 176 or Bill Warren (President) 431 2092 
HAKARU LANDFILL/Transfer Station:Open everyday  10am-
4pm.Ph4312629 Cost-$55 trailer load up to 1 cubic metre. Ph:4258567 - 
office 
KAIPARA DISTRICT COUNCIL www.kaipara.govt.nz:  
Help Desk FREEPHONE 0800 727 059  
KAIWAKA CEMETERY: Ph: 4312045 or 4314017 
KAIWAKA LIBRARY: kaiwaka.library@gmail.com  
Mon. 4-6pm; Wed., Thurs., Fri., Sat. 10am-2pm Ph:4312539 
KAIWAKA PLAYCENTRE: Ph Juanita 0274134904; open Mon, Wed, 
Fri 9am-12pm. Hastie Lane; Monday to Friday 9.00am - 12 noon. 
KAIWAKA POST OFFICE:Ph:4312 431  
Post Code: 0573 for RD2 and 0542 for all Kaiwaka Post Office mail 
KAIWAKA PRIMARY SCHOOL: Ph: 4312309   
KAIWAKA SPORTS ASSN: Ph 4312005; 4312129 gym 
KAIWAKA ST JOHN HALL: Phone Marj  0272941227  
KATE'S PLACE Community Centre - Employment services, Free Health 
Nurse, Plunket, Advocacy, Osteotherapist, A.A., Legal Advice. 4312 661 
LINKING HANDS Health Shuttle Ph 4315906 or 09 4318969 
MINISTRY FOR PRIMARY INDUSTRIES - General inquiries Call 
Free 0800 008 333 
NORTHPOWER: Faults Kaiwaka area 0800 104040 
OTAMATEA COMMUNITY SERVICES: Counselling, parent coach, 
Family Support worker, budget advice, food bank. Mon-Fri 9am-3pm. Ph 
09 431 9080 http://www.otamateacs.org/ 
PARENTPORT: Free, practical family support service Puhoi to Paparoa 
Ph or txt: Dianne 027 280 5093 or 09 425 9357 
PLUNKET: Kaiwaka- St John Hall, Monday 19 Oct, 23 Nov, 21 Dec. then 4th 
Monday of the month. Plunket Nurse Louise 027 282 3987 or 09 438 2508 
Mangawhai- Rose Madsen Cottage, Mondays and Wednesdays. Plunket Nurse 
Rebecca 021 501 941 or 09 438 2508 
Maungaturoto - Good News Church, 2nd and 4th Wednesday of the month. 
Plunket Nurse Seleisa 021 912 248 or 09 438 2508 
PLUNKET HELPLINE -0800 933 922 (24 hours)  
FACEBOOK - Kaipara Plunket 
TAITOKERAU COMMUNITY LAW: Free confidential legal advice and 
assistance, 2nd
Thursday
 of each month. Ph: 0800 155 529 for appts.  
TE URI O HAU Settlement Trust Tangata Developments: Whanau Ora 
021 793262  
VETERINARY SERVICE MANGAWHAI: 
Ph: 4314535 Mon-Fri 8.00-5.00, Sat 9-12, a/h appt. 
WELLSFORD DOCTORS: Ph: 4238 086 
CHURCHES:
 
Kaiwaka  Revival  Church  -  Your  Community  Church:  Sundays  10am. 
Ph: Pastor Tawhiri 09 431 8988 or Pastor Paul 09 4312 068 Visit us at 
www.facebook.com/kaiwakachurch 
 
St  Paul's  Anglican  Church  1st  Sun.  9.00am  (Eucharist),  3rd  Sun. 
9.00am  (Family  Service).  Contact:  Church  Office  Ph  431  4122 
www.mangawhaianglican.org.nz 
 
Church of Christ the King, Mangawhai:9.00am every Sunday 
 
St.Mary's  Catholic  Church:  Maungaturoto  –  Griffins  Road,  Saturday 
evening  Vigil  Mass  6pm;  Mangawhai  –  Senior  Citizens  Hall,  Sunday 
Mass  8:30am;  Wellsford  –  Matheson  Road,  Sunday  Mass  10:30am;  
Mid-week Mass times and all enquires to Fr. Bill Fletcher – phone 423 8170
 
Baptist Church: Sun. 10.30am Mangawhai Snr Cit.Hall.Ph:4312339 
 
Cause  Way  Church  Mangawhai:  Sundays  10.15am,  Mangawhai 
Community  Recreation  Centre,  Insley  St.  Ph:  09  4314782