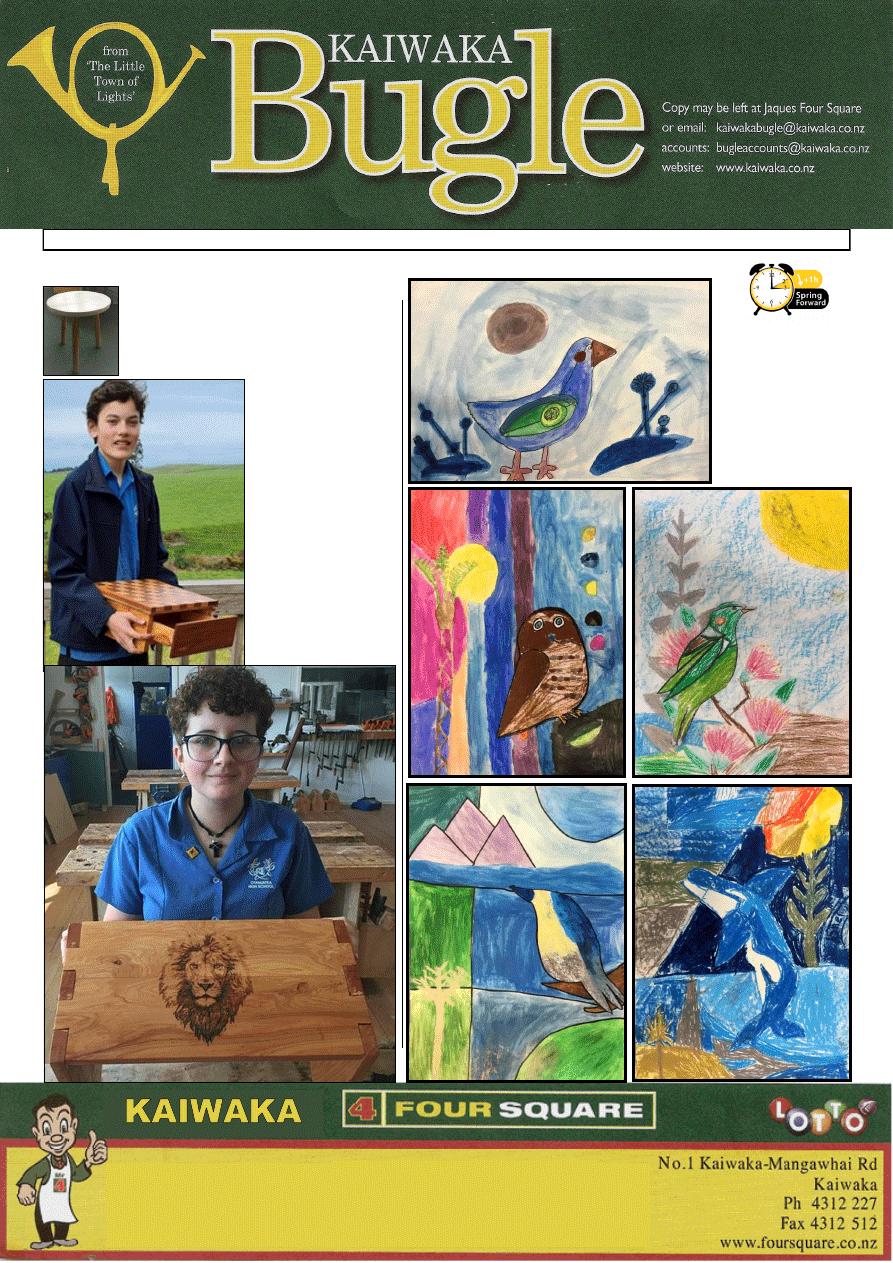 www.kaiwaka.co.nz 
Kaiwaka Bugle - 21 September 2021 
Page 1 
No: 18 
 21 September 2021 
LOCAL STUDENTS ART AND CRAFT 
OTAMATEA HIGH 
SCHOOL 
The  Year  10 Technology  class  have just 
finished  their  small  furniture  project 
where  they  have  been  designing  their 
own 
individual 
product.  The  results 
achieved  have  been 
quite  amazing  with 
everyone 
showing 
perseverance 
to 
achieve their best.  
Kaine 
Sade 
combined  a  chess 
board  on  a  small 
table  with  a  drawer, 
Sophie  Lawson  used 
her skills on the lathe 
to  make  a  three 
legged  stool  and 
Tammy  Foster  used 
the  laser  engraver  to 
personalise 
her 
footstool. 
TRADING HOURS: 
7.30am - 7pm daily 
"Your local Store" 
Family owned & operated 
KAIWAKA 
SCHOOL 
The  children  in 
Ruma  14  /  Kauri 
have  been  creating 
some  amazing  art 
work.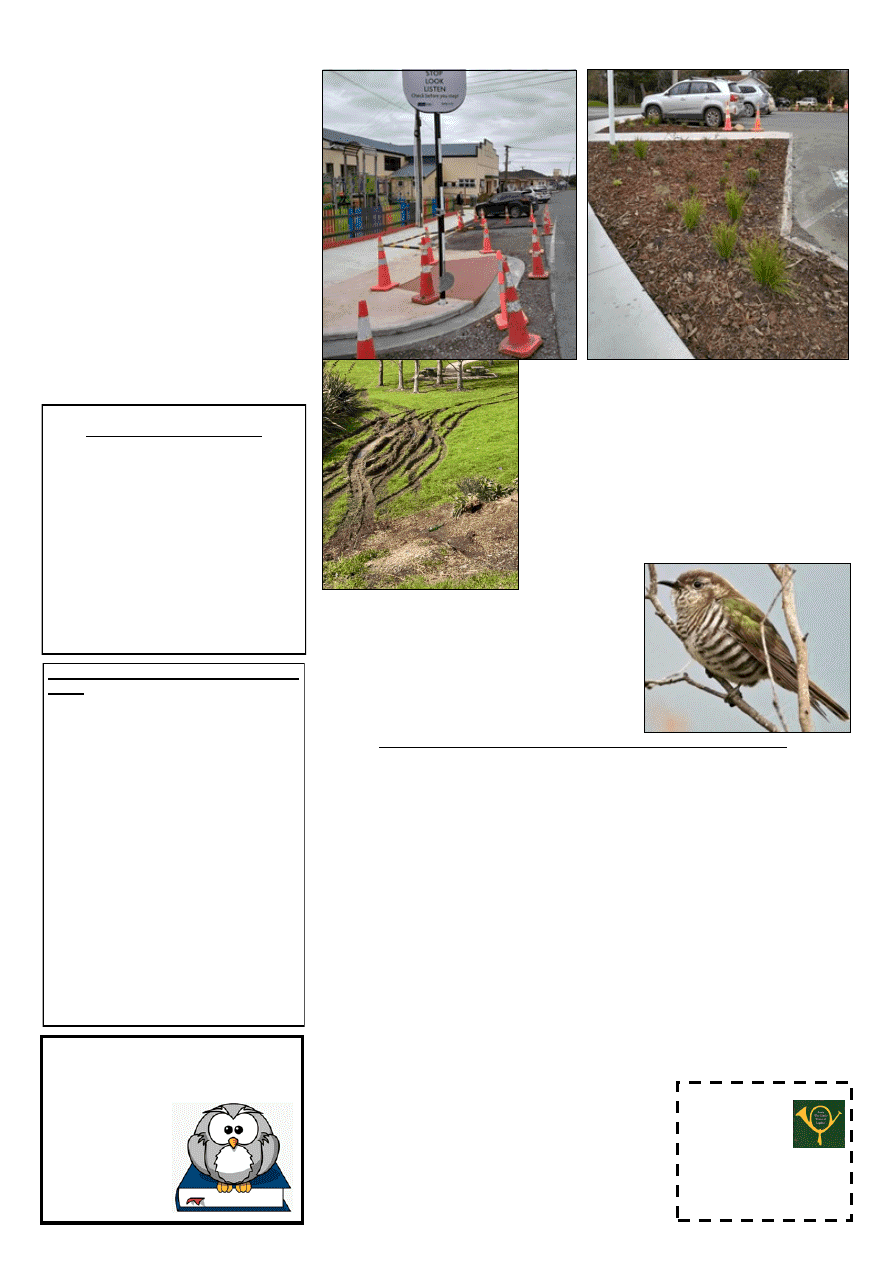 SPOTTED ABOUT TOWN 
KAIWAKA BUGLE No. 18 
21 SEPTEMBER 2021 
CONTENTS 
Page 3: Public Notices, Classified 
Page 5: Kaiwaka Weather; Fire Brigade 
Page 7: Rotary; Gas loader 
Page 9: Libby Jones; OCS 
Page 11: Kaiwaka Sports Assn.; Kiwi 
Company One 
Page 13:Kaiwaka Can; McClean Park 
Page 15: Kaiwaka School; Seaweed  
Page 17:  Kaiwaka Library 
Bugle  19 will appear 5 October2021 
Contact for advertising, reports, articles 
or information can be made by 
Email kaiwakabugle@kaiwaka.co.nz 
Ph: 09 4312 045 Lindsey 
Txt: 027 2724137 
Copy may be left at our Four Square. 
Kaiwaka Bugle 
Founded May 1978 
We appreciate articles and photos about local 
events, etc, as well as ads and suggestions. 
Copies available in Kaiwaka at Four Square, 
Kaiwaka Postal Centre, Shamrock Service 
Station, Best Pets , Kaiwaka St John shop. 
Also outlets in Maungaturoto, 
Mangawhai and Paparoa. 
Can be viewed online at   
www.kaiwaka.co.nz/Bugle  
Or a copy can be posted to you if you supply 
stamped, self-addressed DLE envelopes. 
Kaiwaka 
Bugle 
Advertisements 
2021: 
All 
copy 
and 
queries 
to: 
kaiwakabugle@kaiwaka.co.nz 
The Bugle is printed on an A4 page   
Ad  sizes:  1/16  page  (3  x  9.5cm)  $5;  1/8 
(6.5  x  9.5cm  landscape  or  portrait)  $8; 
3/16 ( 10 x 9.5cm or 7.5 x 12,5)  $12.  
Classified  ads:  First  one  FREE,  $4  per 
entry (max. 30 words, max. 4 repeats). 
Payments  can  be  made  online  at 
ANZ 
06  0365  0006990  00
,  posted  or  left  at 
Kaiwaka Four Square Store. 
We  use  Microsoft  Publisher,  and  can 
work  with  most  common  image 
formats, Word, Excel, and PDF files. 
Accounts:  
Email: bugleaccounts@kaiwaka.co.nz 
The  Kaiwaka  Bugle  is  a  community 
newspaper run by volunteers, as part of 
the Kaiwaka Media Group Inc.   
Articles, etc. printed are not necessarily 
the opinion of the Bugle Team. 
ABOUT TOWN

 Have you heard the shining cuckoo this spring? 

 Maori  proverb:  "Ka  tangi  te  wharauroa,  ko  nga  karere  a  Mahuru"  -  "If  the 
shining cuckoo cries it is the messenger of Spring". See page 6 

 Great  news  -  Four  Square  Kaiwaka  have  a  new,  much  larger  meat  chiller  
arriving in their store soon! 

The  equinoxes  happen  in  March  (about  March  21)  and  September  (about 
September 23). These are the days when the Sun is exactly above the Equator, 
which makes day and night of equal length. 

When was the table fork invented? 

 Welcome  to  Mike  Cuff,  plumber  and  gasfitter,  who    covers  Kaiwaka, 
Mangawhai, Maungaturoto, Wellsford and the Warkworth/Snells Beach area  - 
see page 4. 

 The  fork  was  introduced  to  Europe  in  the  10th  century  by  Theophanu 
Byzantine wife of Emperor Otto the 2nd  (Roman), where they were in common 
use by the 4th century 

 For advertisers and organisations - the Bugle accounts crew are just coming 
through  some  changes  -  please  can  you  check  that  your  adverts  are  being 
printed. 
Contact 
me 
at 
kaiwakabugle@kaiwaka.co.nz with your updates. A 
big thank you, Lindsey 

 The Bugle Team and our Readers would enjoy a 
story or a report from you. Kaiwaka Bugle No. 18 is 
online at www.kaiwaka.co.nz and is in print for our 
local Readers.    
~ 
Lindsey, Ed
'Lean on a gate and talk to a mate".  
KAIWAKA BUGLE 
DEADLINE 
DATES 2021:   
Every second 
Friday 
October 1, 15, 29 
November 12, 26 
December 10
Proverbs 16:1
Mortals make elaborate 
plans,  
but God has 
the last word. 
Nearly there! The cones are slowly disappearing. 
The  planting  has  begun.  Sad  to  see  the  deep 
tracks in the Puawai Street reserve are still there 
- making it too difficult to mow. 
STRONG CALL TO GARDEN  
Two  Oneriri  residents  heard  shining  cuckoo's 
call early this year. Tony Hargreaves has a good 
ear  for  the  pipiwharauroa  call  and  regularly 
picks  it  up  as  the  September  equinox, 
approaches  (7.20am  on  Thursday  the  23rd 
September this year, let's party). Tony heard the 
call 
Monday, 
August  30  at 
Opiki  off  Rangiora  Road,  which  a  neighbour 
confirmed  in  his  own  wooded  back  yard.  The 
cuckoos  and  their  hosts,  the  riroriro  [warblers] 
are  being joined  by  nesting  kereru,  kahu,  ruru, 
tui,  kotare,  matuku  and  putakitaki  plus  quail, 
pheasants,  magpies  and  a  host  of  relatively 
recent  arrivals,  all  of  which  seem  settled  now 
possum,  mouse,  stoat  and  rat  threats  are 
reducing. ~ HP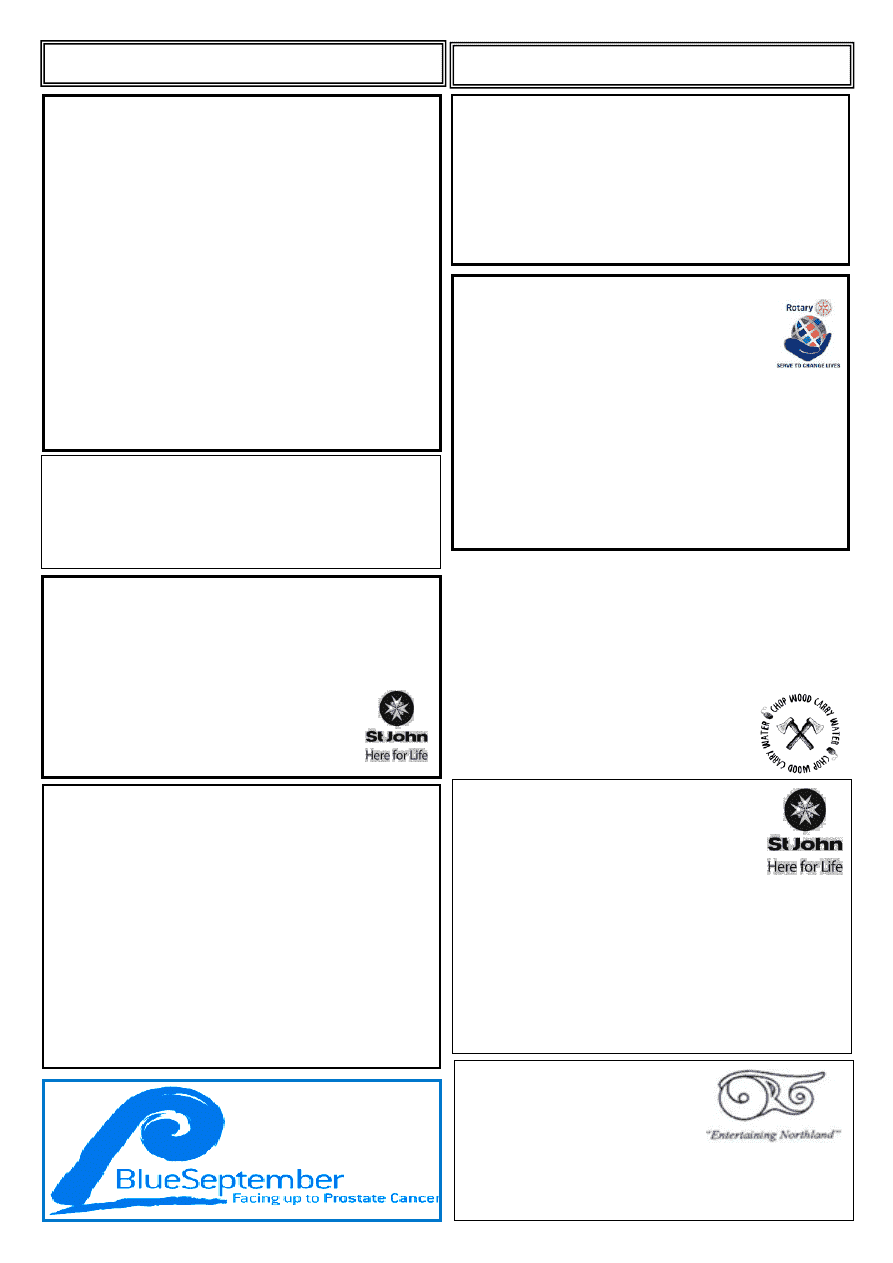 www.kaiwaka.co.nz 
Kaiwaka Bugle - 21 September 2021 
Page 3 
ST JOHN TRASH AND TREASURE 
Which was to be held early October has been postponed 
as  we  are concerned  about  the  implications  of  Delta and 
the ongoing safety of this community.  
However, you can be assured that as soon as we feel we 
can  safely  run  some  type  of  event  to  sell  the 
donations already given, we will do so. Thank 
you to all who have already donated items.  
Notice will be given of an alternative option as 
soon as we are able to. (Eileen Parsons) 
PUBLIC NOTICES 
CLASSIFIED 
MAUNGATUROTO COMMUNITY 
CHARITABLE TRUST 
invites you to join us on 
Saturday 25th September 2021  
for the Blessing & public viewing of our newly 
completed community  
Specialised Dementia Unit 
Guided tours of the Unit will run from 10am to 
3pm 
ALL COVID RULES WILL APPLY, SO DON'T 
FORGET TO SCAN IN OR SIGN THE REGISTER, 
WEAR YOUR MASK AND SANITISE. 
The Rapid Relief Team will be on site providing food at a 
small charge. All proceeds kindly donated back to the 
Trust for the continued development of the Rest Home 
facilities
. 
Maungaturoto Rest Home 
136 Hurndall Street, Maungaturoto
St. JOHN STORE 
KAIWAKA  
Pop on in and grab a bargain.   
Lots  of  books,  and  a  great  CLOTHING 
SALE. ALL items except coats and jacket $2.  
Pop on in and don't forget your mask.  
We  are  NOT  ACCEPTING  clothing  or  electrical  until 
further notice.  
We will take Clean, Unbroken and Saleable items.  
Please drop donations during opening hours.  
SHOP HOURS. Tuesday 10am  to 3pm and  
EVERY SATURDAY 10am to 2pm. 
PHONE: Shop  4312650  - 1919SH1, Kaiwaka 
A  THOUGHT  I  HAD  LAST  NIGHT  WAS 
: 
a  known philosophy 
Before Enlightenment :  Chop wood, Carry Water 
After Enlightenment: Chop wood and Carry Water !! 
Regards ,  
Susan                                  
KAIWAKA VOLUNTEER FIRE 
BRIGADE  
OPEN FISHING CONTEST 
Saturday the 6th & Sunday the 7th November 2021 
Start time 12am on Saturday 6th November 
 Adults - species: Snapper, Gurnard, Kingfish, Kahawai. 
Trevally & Crayfish. 
1st Prize Snapper $300*,1st Prize Gurnard $300*, 1st 
Prize Kingfish $300*, 1st Prize Kahawai category $300*, 
1st Prize Trevally category $300*, 1st Prize Crayfish 
category $300*, Mystery Weight Prize $500*, Average 
Weight Prize $500*, 
Lucky Draw Prize $500*.   
Junior prizes for Snapper & Kahawai. 
*  Prize can be in cash or equivalent value of a sponsored prize. 
For further information see advert on page 5 
SITUATION VACANT: CLEANER 
Looking for a casual to part time worker.  
Must be able to work Saturday morning.  
Must be trustworthy and have drivers license, and be 
able to work in a team. 
Please email your C.V to: 
 jrcleaningservices.chellew@yahoo.com 
Or  phone  Jenny  on  431.2826  or  027  311  5129. 
Between 5 pm and 8.pm 
KAIWAKA WAR MEMORIAL HALL 
KAIWAKA KIBRARY 
ANNUAL GENERAL MEETING 
Tuesday 21 September, 5pm 
Covid Level permitting 
Kaiwaka War Memorial Hall
ROTARY CLUB OF 
MAUNGATUROTO & DISTRICTS 
and  
SATELLITE CLUB of MANGAWHAI 
(Serving Mangawhai, Kaiwaka, 
Maungaturoto, Paparoa and Matakohe) 
PRESIDENT'S SCHOLARSHIP 
Applications for this Scholarship for $1500 are now being 
sought.  Any  young  person  wanting  to  undertake  further 
education at a tertiary level is eligible to apply. 
Should  you  require  a  form,  ask  any  Rotarian  or  call 
Eileen  on  021  142  0357,  giving  an  email  that  it  can  be 
sent  to.  Applications  will  close  on  Tuesday  26  October 
2021. 
OTAMATEA 
REPERTORY 
THEATRE 
Sadly,  our  holiday  programme  - 
'U ORT 2 B a Star' has been cancelled due to Covid 
restrictions.   
Hopefully we will be able to continue with our Youth 
Theatre activities in 2022. ~  Maura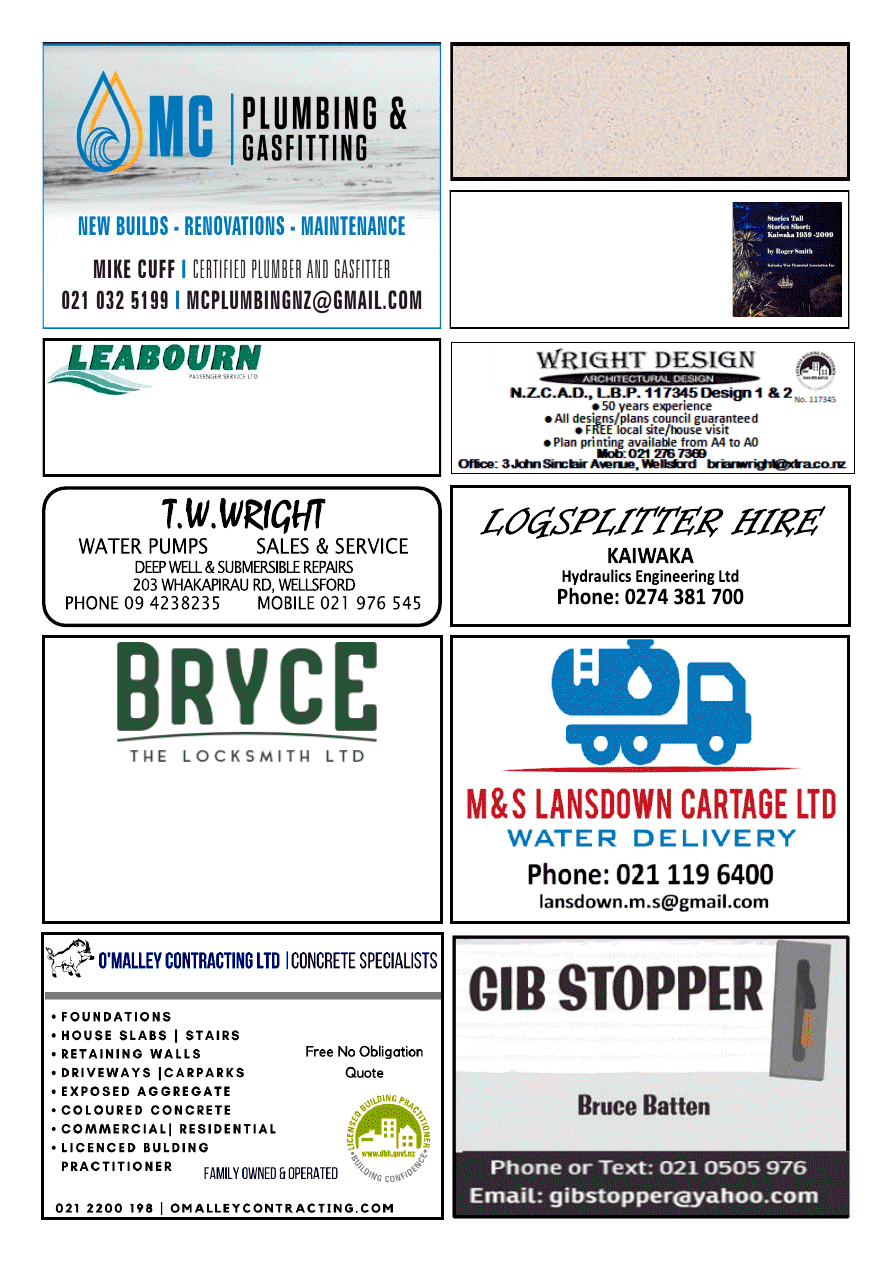 Counsellor and Registered Psychotherapist 
Offers Supervision
Susan Matheson 
MNZAC 
Dip. Psychosynthesis Counselling and Psychotherapy 
Phone 09 431 2996                        Mobile 027 605 2427 
Passenger Service
Car & Van Hire   Bus & Coach Charters 
Airport Transfers    
Phone (09) 4237416 
Bryce Frewin 
Ph: 021 850 983 
Kaipara Based Master Locksmith 
bryce@brycethelocksmith.co.nz 
www.brycethelocksmith.co.nz 
Stories Tall, Stories Short  
Kaiwaka 1959-2009 
by Roger TW Smith.  $40 
Kaiwaka Photographic History 
Available at All Sortz Collectables  
or phone  4312 045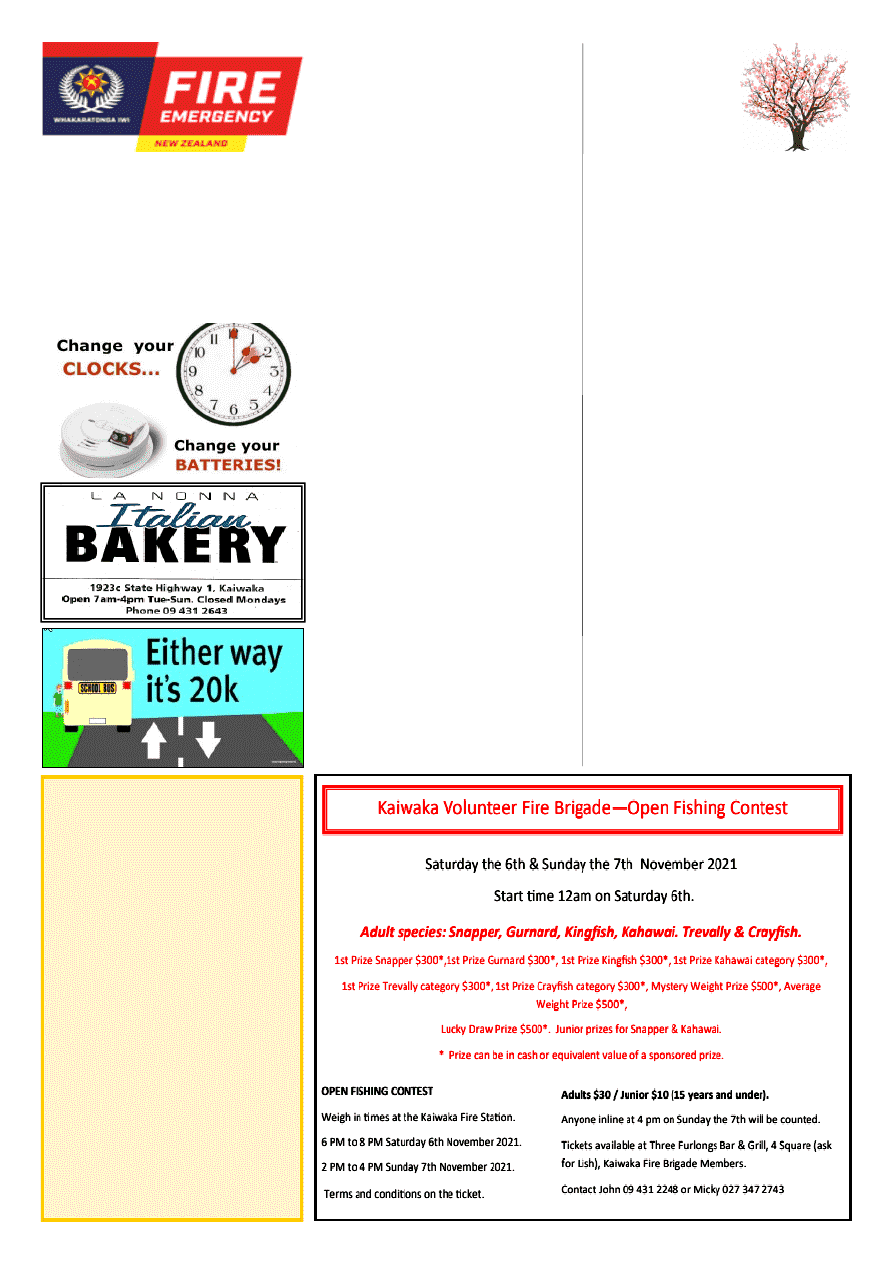 www.kaiwaka.co.nz 
Kaiwaka Bugle - 21 September 2021 
Page 5 
Willow Bend 
HORSE  
HOTEL 
Horse Grazing & Agistment 

Safe paddocks with outriggers 
on all fences 

60x40 professionally 
constructed arena with grass 
surface 

Under cover yards 

Stabling if required 

Paddocks cleaned daily 

Feeding hay/hard feed 

Cover changes 

Fresh grass daily, all year round 

Short or long term
Phone Sue  
021 623 776  
Providing care and comfort for 
horses in Kaiwaka since 2005 
KAIWAKA 
WEATHER 
I  hope  everyone  is 
managing  to  stay  safe 
and  sane  during  the 
covid lockdown.  
Thank  you  so  much  to  Kaiwaka  4 
Square staff and management for their 
polite and pleasant service during these 
tough  times.  Gosh  what  a  lot  of  angst 
was  caused  by  the  incorrect  locations 
of Northlands southern border.  
Well, here we are into Spring already. 
The  wind  this  month  has  been  quite 
cold.  Our  Spring  bulbs  have  been 
flowering beautifully for 2 or 3 weeks 
now  and  the  Poplar  trees  are  getting 
their  new  bronze-coloured  leaves  and 
the  willows  are  getting  a  very  green 
covering. Our lawn is still very wet in 
places, and I haven't been able to mow 
parts of it for 5 or 6 weeks now.  
The  rain  records  for  August 
have 
been  in  keeping  with  its  usual  range 
(averaging 110ml at our place).  
This  year  I  recorded  103ml  for  the 
month.  
2020s recording was 180.5ml and 2019 
was 122.5ml.  
The  wettest  August  I  recorded  was  in 
2010  when  we  had  227.5ml  and  the 
driest  August  was  in  2011  with  only 
34.5ml.   
Q - Why do Bees have sticky hair?  
A - Because they use honeycombs.   
Stay safe and well people, Karen 
Equinoxes
happen in March (about March 
21)  and  September  (about  September  23) 
when the Sun is exactly above the Equator, 
which makes day and night of equal length. 
Solstices  happen  in  June  (20  or  21)  - 
winter  solstice  is  the  shortest  day,  and 
December (21 or 22) - summer solstice the 
year's longest daylight hours. 
FIRE  &  EMERGENCY 
NEW ZEALAND
: 
KAIWAKA 
On  the  14  November  2019  Kaiwaka 
Volunteered Fire Brigade turned out to 
a potential very dangerous house fire at 
a Marshall Road address. 
The  fire  started  in  the  kids'  room  and 
the occupants were able to get quickly 
out  of  the  room  and  house  due  to  a 
working  smoke  alarm  that  alerted  all 
occupants in the house. 
The  room  was  completely  fire 
damaged  with  melted  power  sockets 
and  light  fittings,  but  the  fire  was 
contained in the one room due to good 
fire  proofing  and  quick  response  from 
the fire crew. 
Fire  &  Emergency  New  Zealand 
believe  people's 
best  protection  is 
to 
have 
working 
long-life 
photoelectric  smoke  alarms 
in 
every bedroom, living area and hallway 
in their home. 
When  you're  asleep,  you  lose  your 
sense  of  smell.  Don't  assume  your 
smoke  alarms  are  working.  Press  the 
button to check regularly. If  you are a 
Landlord  please  install  smoke  alarms 
for tenants. 
For  further  information  about  smoke 
alarms 
please 
go 
to 
http://
www.fireandemergency.nz/at-home/
smoke-alarms  and  escape  plans  http://
www.fireandemergency.nz/at-home/
creating-an-escape-plan/ 
The local Kaiwaka Volunteered Fire 
Brigade  has  access  to  smoke  alarms 
for  some  the  local  community 
members, 
please 
contact 
the 
Kaiwaka  Volunteered  Fire  Brigade 
(09-431 
2290) 
for 
further 
information 
CHECK YOUR SMOKE 
ALARM 
A smoke alarm becomes your "Nose at 
Night".  Most  fatal  fires  occur  during 
the  night  when  people  are  sleeping. 
The  smoke  and  poisonous  gases 
emitted  from  a  fire  are  deadly.  People 
may  be  suffocated  from  the  gases 
without  being  awakened  or  even 
realising there is a fire.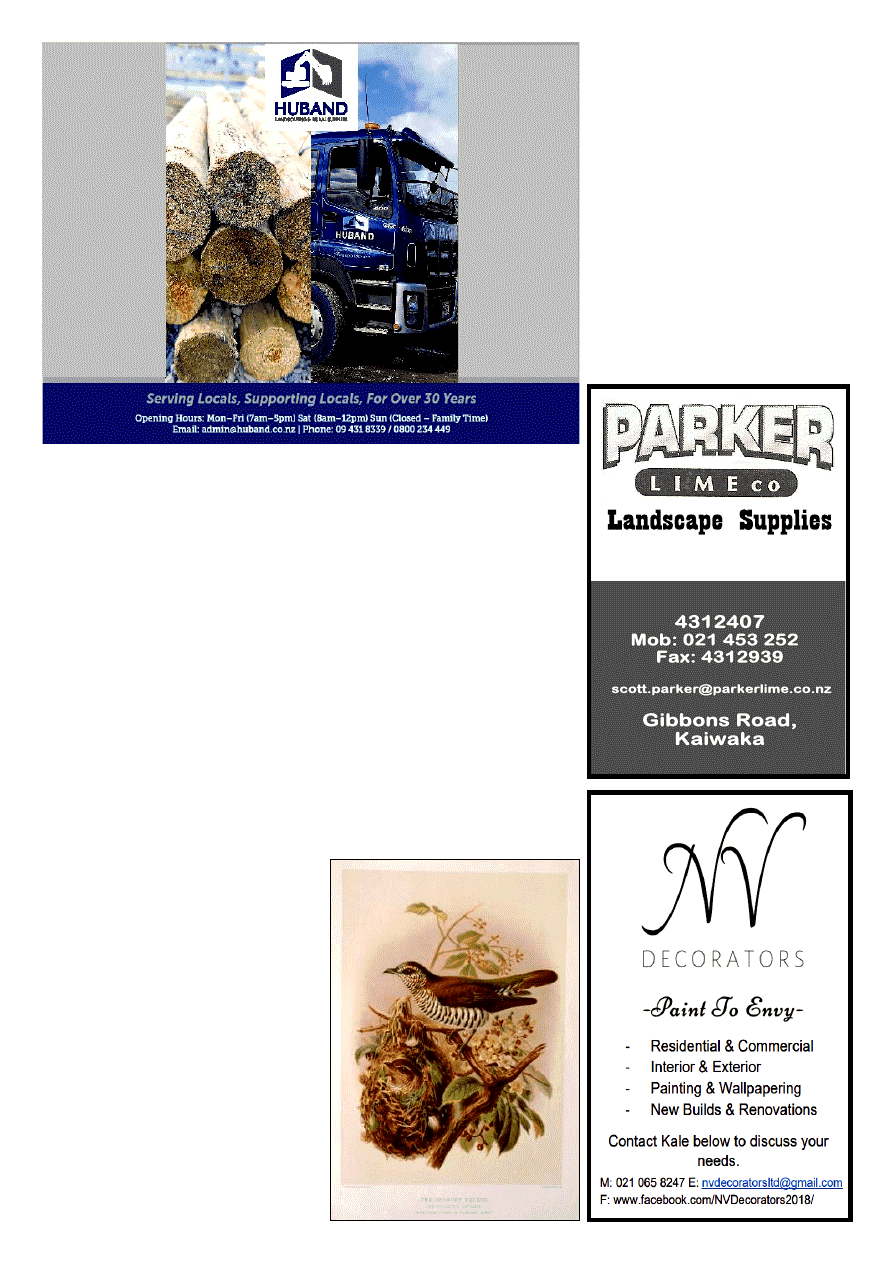 Bulk Cartage 
HELP 
PHONE NUMBERS 

HEALTHLINE  0800  611  116  -  a 
nurse to answer health queries  

SAMARITANS  
0800  726  666  -  support  for  lonely  or 
suffering mental distress 

YOUTHLINE 0800 376 633 

LIFELINE 0800 543 354 

DEPRESSION HELPLINE  
0800 111 756 

ALCOHOL  &  DRUG  HELPLINE 
0800 787 797 

URGENT 
MENTAL 
HEALTH 
LINE 0800 223 371 

WARMLINE  -peer  support  for 
people with mental health issues  
0800 200 207 
PIPIWHARAUROA,  
THE SHINING CUCKOO 
Maori welcomed the 'wharauroa as a harbinger.  
Ka tangi te wharauroa, ko nga karere a Mahuru, says the proverb; "If the shining 
cuckoo cries it is the messenger of Spring". 
On  first  hearing  the  welcome  cry,  the  children  greeted  the  bird  with  the 
following song: — 
E manu tena koe. Kua tae tenei ki te mahanatanga. Kua puawai nga rakau katoa. 
Kua pa te kakara ki te ihu o te tangata. Kua puta ano koe ki runga, tioro ai. 
Tioro it te whitu, tioro i te waru. 
Me tioro haere ano ke koe tenei kupu e whai ake nei, te marae o tama ma, o hine ma: 
Kui Kui Kui, whiti whit ora. 
 
O bird, greeting to you. The warm season appears, and all trees have blossomed. 
The fragrance reaches the nostrils of man. You again appear trilling on high. 
Trilling in the seventh(month), trilling in the eighth(month). 
Trill you ever forth as you fly the following message to the homes of lads and lasses: 
Kui Kui Kui, whiti whit ora. 
It was known as the "bird of Hawaiki", and it has been thought possible that the 
migratory flight of the cuckoo encouraged Maori to come to New Zealand. One 
of the favourite landing places is said by Maori to be the Manganui  Bluff,  25 
miles south of Hokianga, towards the extreme north of the North Island, where 
the  birds  may  be  seen  in  numbers  after  their  arrival,  generally  in  a  state  of 
exhaustion. The bird is said to carry in its 
claws  a  small  pebble,  usually  white, 
which  it  licks  during  flight  when  thirsty. 
As  to  the  mystery  of  how  the  cuckoo 
places its egg in the nest of its host, "the 
Maori has frequently seen the 'wharauroa 
at  this  work.  For  about  eight  months  in 
the  year  the  Maori  roamed  the  bush 
weekly  and  even  daily  — for  bird,  berry 
and  root  foods.  He  saw  the  'wharauroa 
select its nest and proceed, sometimes, to 
toss  out  the  true  eggs,  with  its  bill.  It 
sometimes crushed them in doing so, and 
sometimes  ate  them.  It  laid  its  own  egg 
either  on  a  stump,  the  barrel  of  a  prone 
tree,  or  on the  leafy  ground.  It  then  took 
the egg, at times in its bill and at times in 
its  claws,  —  and  put  it  into  the  nest.  It 
worked  silently  and  quickly,  and 
sometimes  remained  concealed  in  the 
vicinity as if to see what the riroriro (grey 
warbler) might do with its egg." 
Reference 
~ 
https://www.nzbirds.com/birds/
pipiwharauroa2.html  
Landscaping Supplies: 
Waikato Screen Topsoil 
Bark 
Woodchip 
Mill Bark 
Post Peelings 
Compost 
Crushed Shell 
Topsoil 
Limestone Chip 
Daltons Garden Mix 
Aggregate 
Gap: 20,40.65 
Riverstone 
Sand 
Belt Dust 
40/20 Drainage Metal 
Builders Mix 
 Cement 
Timber/Fencing Supplies: 
Rails, Posts  
Stays, Strainers 
Fence Battens 
Palings 
Stakes 
Fencing Wire 
Farm Gates & hardware 
Drainage: 
PVC Fittings 
Alkathene 
Draincoil 
WATER TANKS: 
Aqua & Baileys 
Brands 
DRAINAGE & 
SEPTICS: 
Land Drainage 
Urban Rural 
Drainage 
Water Pipelines 
Culverts 
Septic Systems 
(RX Plastics & 
Biorock) 
SITEWORKS: 
Retaining Walls 
Piling 
Driveways 
Carparks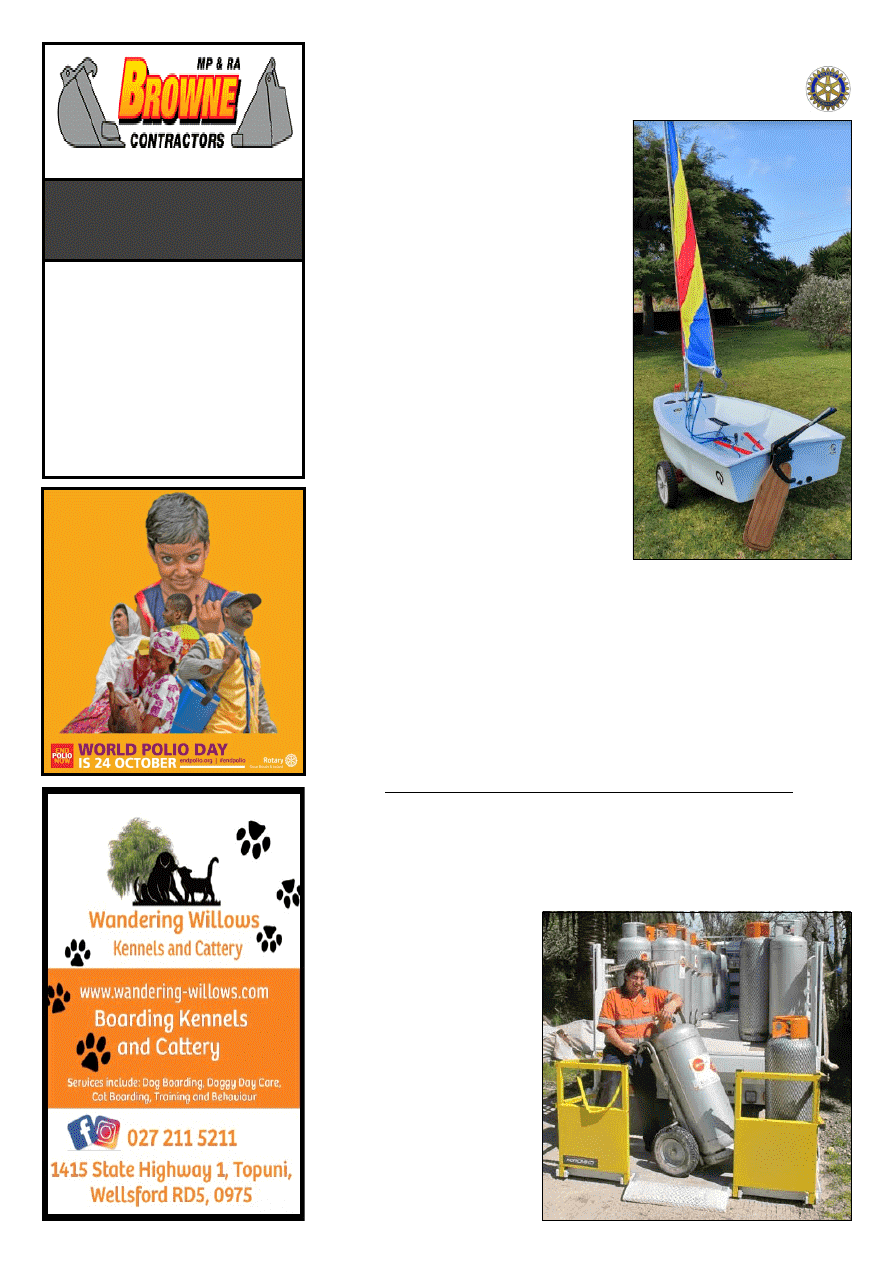 www.kaiwaka.co.nz 
Kaiwaka Bugle - 21 September 2021 
Page 7 
OPTIMIST BOATS 
The  Satellite  club  in  Mangawhai 
continues to go ahead in leaps and 
bounds.  With  the  grant  from  the  Wright  family  foundation  which  has 
enabled the Club to purchase and kit out four 
Optimist  boats  (see  attached  photo),  the  club 
now have 7 Optimists and 1 Starling available 
for  use.  There  are  also  some  boats  that  are 
being loaned by Otamatea High school. These 
boats  had  been  used  for  activities  but  have 
been in storage for some time. We are grateful 
for the support of Nik Tetzner who is helping 
to  prepare  them  for  sailing  as  they  have  not 
been used for some time. 
SATELLITE CLUB 
The Satellite Club 
has  15  active  members, 
and they are looking at options for fundraising 
as  obviously  the  sailing  project  will  have 
ongoing fixed expenses, like insurance. While 
this  Club  has  the  Maungaturoto  club  as  its 
umbrella, they will be working independently 
of  Maungaturoto  and  can  set  their  own 
meeting dates and times as well as the format 
the  meeting  will  take.  The  most  recent 
meeting  had  to  be  run  by  Zoom  because  of 
Covid restrictions. 
JOINING ROTARY 
When  a  person  joins  Rotary  as  an 
organisation, there is a tremendous amount of 
training and support that is available for those 
who wish to avail themselves of it. I recently 
went onto My Rotary and completed some of 
these on-line modules. This has been followed 
up  by  a  Zoom,  on-line  training  which  was  offered  to  two  Northern  Districts, 
9910  and  9920.  The  first  one  was  held  last  week  in  which  more  than  40 
Rotarians participated. This was a great way to not only come up to date with 
Rotary projects old and new but also to listen to a variety of viewpoints.  
POLIO PLUS DAY  
October 24th is Polio Plus day when Rotarians worldwide focus on fundraising 
for  this  cause.  This  project  started  in  1988  and  since  that  time  the  number  of 
children affected by wild polio has reduced by 99%. From 350,000 cases in 125 
countries to fewer than 200 cases today in just two countries, Afghanistan and 
Pakistan. 
PRESIDENT'S SCHOLARSHIP 
If  you  have  a  youngster  considering  tertiary  education  of  any  sort,  encourage 
them  to  apply  for  our  annual  scholarship  which  sees  $1500  given  towards  a 
worthy recipient for their studies. (Details shown on page 3.) 
- 4 Tonne DIGGER - 
- BOBCAT- 
- TIP TRUCK - 
Property Maintenance  
Driveways 
Building Sites 
Stump & Tree Removal 
Hole Boring -  Chain Trencher 
Calf Shed and Stockyard Cleaning 
Phone Matt: 021 199 6677 
Email: mprabrownecontractors@gmail.com 
MAUNGATUROTO AND DISTRICTS ROTARY 
SAFE STEPS ON THE GAS 
LPG deliverer Dominic Foster is happy with a new tail-lift system designed 
and built in the North Island. 
After  nearly  two  weeks  on  the  Genesis  Kaiwaka  run  on  a  new  Fuso  truck, 
Dominic gives the tray and lift platform top marks for safety and efficiency.  
He  even  had  them  use  the  timber  from  his  retired  truck  tray  to  hurry  the 
conversion. 
The workshop that built it in The 
Mount,  also  makes  tippers, 
loggers, 
crane 
trucks, 
curtainsiders,  dump  trucks  [and 
near anything else on and off the 
road,  according  to  its  online 
profile].  Founded  in  the  70s, 
Koromiko 
Engineering 
Ltd 
makes  machines  work  in  local 
conditions  and  deals  with 
shortcomings  in  OEM.  https://
ttmf.org.nz/images/Profiles/
Koromiko.pdf 
Nice  to  see  practical  Kiwis 
helping Kiwis. ~ HP 
Photo:  
Dominic  Foster:  Longer  truck, 
safer travel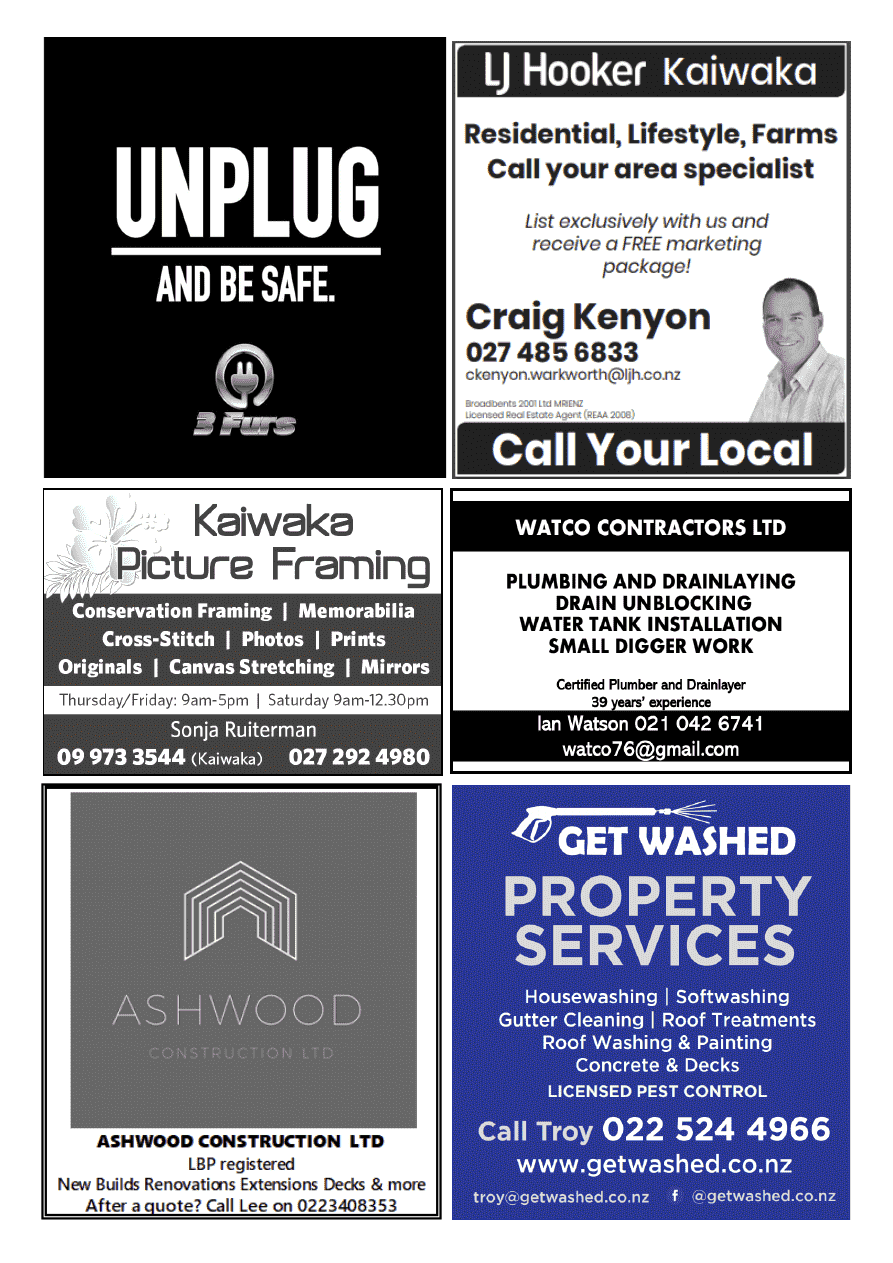 WE ARE CLOSED  
But we will see you all again soon!  
Phone 09 4312 246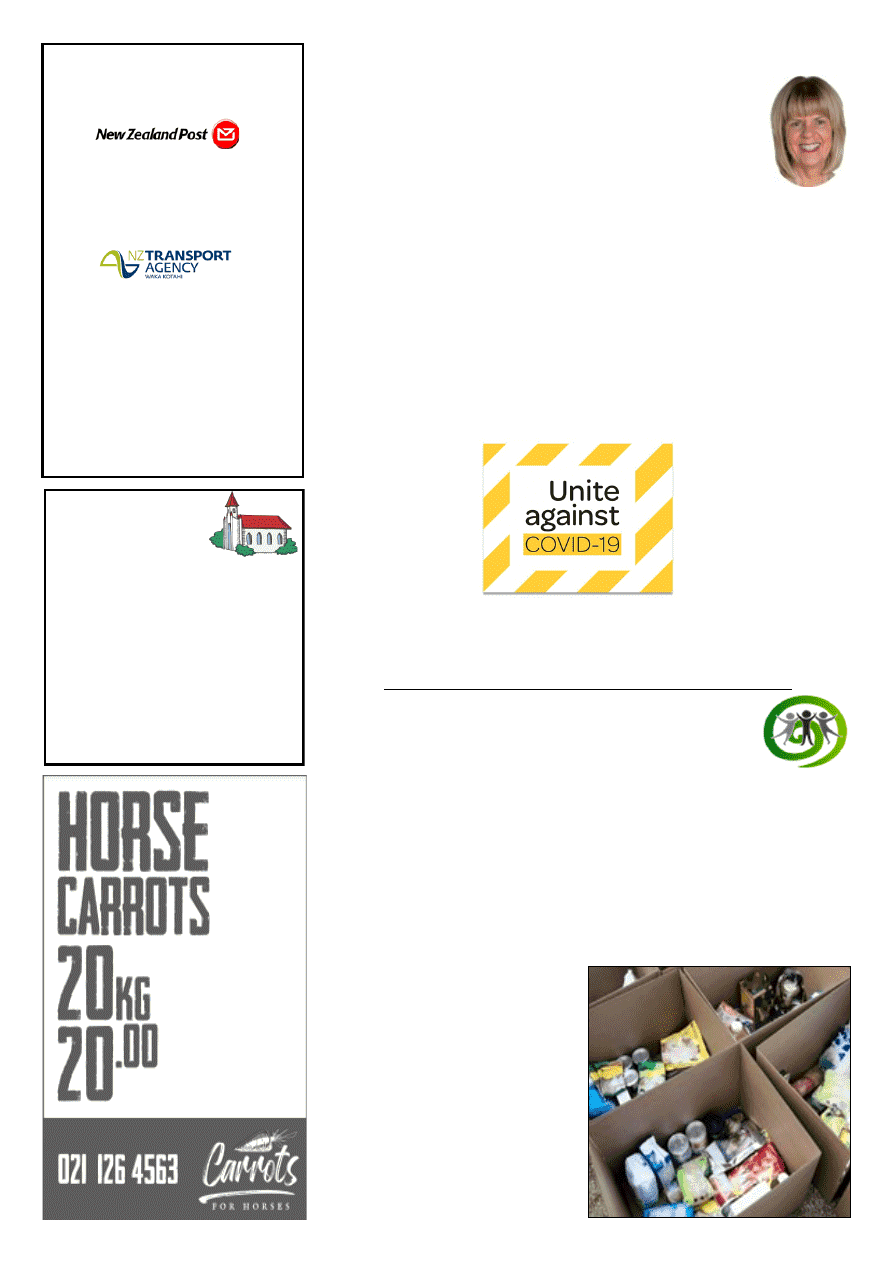 www.kaiwaka.co.nz 
Kaiwaka Bugle - 21 September 2021 
Page 9 
COVID 19 - MY EXPERIENCE 
You  might  be  sick  of  seeing  and 
hearing  information  on  COVID  19,  so 
my  apologies  if  that  is  the  case,  but 
thought  I'd  share  some  of  my  own 
experience.  I'm  pleased  to  be  able  to 
say  I  am  now  double  dosed  -  fully 
vaccinated  against  COVID  19.  I  am 
fortunate that like most people, I didn't 
have any reaction to either dose. Funny 
though,  because  I  had  booked  my 
second dose for about 3 weeks after the 
first,  then  when  recommendations 
came  out  that  it  was  better  to  extend 
that interval up to 6 weeks, I postponed 
it to give a longer time between doses. 
Then  Bam  a  day  later  I  got  a  cold 
which  turned  into  me  being  pretty 
unwell  for  quite  a  few  days.  If  I  had 
had  the  second  dose  of  my  vaccine, 
would  I  and  others  have  assumed  that 
my  unwellness  was  related  to  the 
vaccine?  Who  knows, 
but  it  just  reminds  me 
how we should not jump 
to conclusions and make 
assumptions  that  one 
thing causes another. 
UPDATES  
As a DHB member I get 
regular 
COVID 
19 
updates 
on 
how 
Northland  is  tracking 
with  testing  and  vaccinations,  as  well 
as  information  on  the  rest  of  New 
Zealand  and  relevant  overseas  data.  It 
is  great  to  see  the  huge  reduction  in 
deaths  in  the  UK  for  example  from 
their  Third  Wave  of  the 
virus 
compared 
to 
previously,  and  this  is 
with  the  deadlier  Delta 
variant.  They  have  so  far 
got  to  80%  vaccination 
rate,  and  this  is  already  making  a  big 
difference for them. 
FOR NEW ZEALAND 
New Zealand can always do better than 
most countries so I'm hoping we get to 
over 90% vaccination coverage for our 
population.  We  will  have  to  re-open 
our borders before too long, so COVID 
19 will be back. And even at 90% rate 
of coverage, modelling shows that over 
the  next  two  years  we  will  still  have 
more cases of COVID 19 than we will 
be happy with, including some deaths. 
The  deaths  are  unlikely  to  be 
vaccinated  people.  The  only  way  to 
minimise that outcome is for everyone 
to  be  vaccinated.  We 
know 
that 
some 
vulnerable  people  cannot 
be  vaccinated  and  under 
12s 
are 
not 
being 
vaccinated,  so  the  rest  of 
us  getting  vaccinated 
helps to keep others safe. 
I know I don't want to be 
continually locked down. 
Have  you  done  your  part  for  New 
Zealand? 
Keep us all well, Mauri ora, Libby 
Libby  Jones  hames.jones@xtra.co.nz 
021 2080093 
KAIWAKA POST 
CENTRE and 
FOOD MART 
POST CENTRE TRADING HOURS 
MONDAY to FRIDAY 8am to 5pm 
SATURDAY 8am to 12pm 
CLOSED ON SUNDAY and on 
PUBLIC HOLIDAYS 
FOOD MART (GROCERIES)  
MONDAY TO FRIDAY  
7:30am to 7.30pm 
SATURDAY  8am to 7.30pm 
SUNDAY  8:30am to 7pm 
IF ANY QUERIES PLEASE CALL 
STORE MANAGER AMRIT  
on 09 4312431 or 
EMAIL: kaiwakafood19a@gmail.com 
1919a State Highway1, Kaiwaka 0542 
As I write this, we have just come out 
of  a  lockdown  and  we  are  slowly 
returning  to  a  new  normal.  We  are 
lucky  here  in  Northland,  we  have  the 
good fortune to now live within level 2 
although  we  have  noticed  a  little 
difference in the community. 
A  few  weeks  ago,  when  we  were  at 
level 4, there was a heavy demand for 
food  from  those  finding  things  a  bit 
tough. We had some in our community 
with  family  who  had  visited  then  got 
stranded  in  lockdown,  as  well  as 
families whose children are suddenly at 
home  24/7,  eating  much  more  than 
usual. We are so grateful that we have 
the ability to provide for those in need. 
We wanted to give a huge thank you to 
Grow Paparoa, The Rapid Relief Team, 
Neville  from  Countdown  and  all  the 
other  generous  groups  and  individuals 
who have all made it possible for us to 
provide some help to those in need. 
Due  to  the  uncertainty  of  alert 
levels, we're not able to list details 
of  our  October  calendar  at  this 
time.   
We  sadly  said  goodbye  to  two  of  our 
long-standing  members  of  the  team: 
Amee Nicholson and Brigitte Fowler, 
who  have  moved  into  new  areas  in 
their  careers  recently  – 
and  we  welcomed  on 
board  new  members  to 
the  agency  who  are  already  looking 
like they are settling in and are ready to 
do  some  great  things  for  our 
community. 
The road is still pretty quiet; however, 
shops are now  open and there is  more 
foot traffic, which is great to see. Keep 
supporting  locals  where  you  can.  Kia 
Kaha, From all at OCS 
For  more  information  about  these 
activities  call  us  on  09  431  9080  or 
reach out to us on social media.   
LIBBY JONES – MEMBER NORTHLAND 
DISTRICT HEALTH BOARD  
ST PAUL'S  
ANGLICAN  
SUNDAY SERVICES 
First Sunday 9am Holy Communion 
Third Sunday 9am Family Service 
St Pauls Church: Kaiwaka-Mangawhai Rd. 
Church Office Ph 431 4122 
www.mangawhaianglican.org.nz
OTAMATEA COMMUNITY SERVICES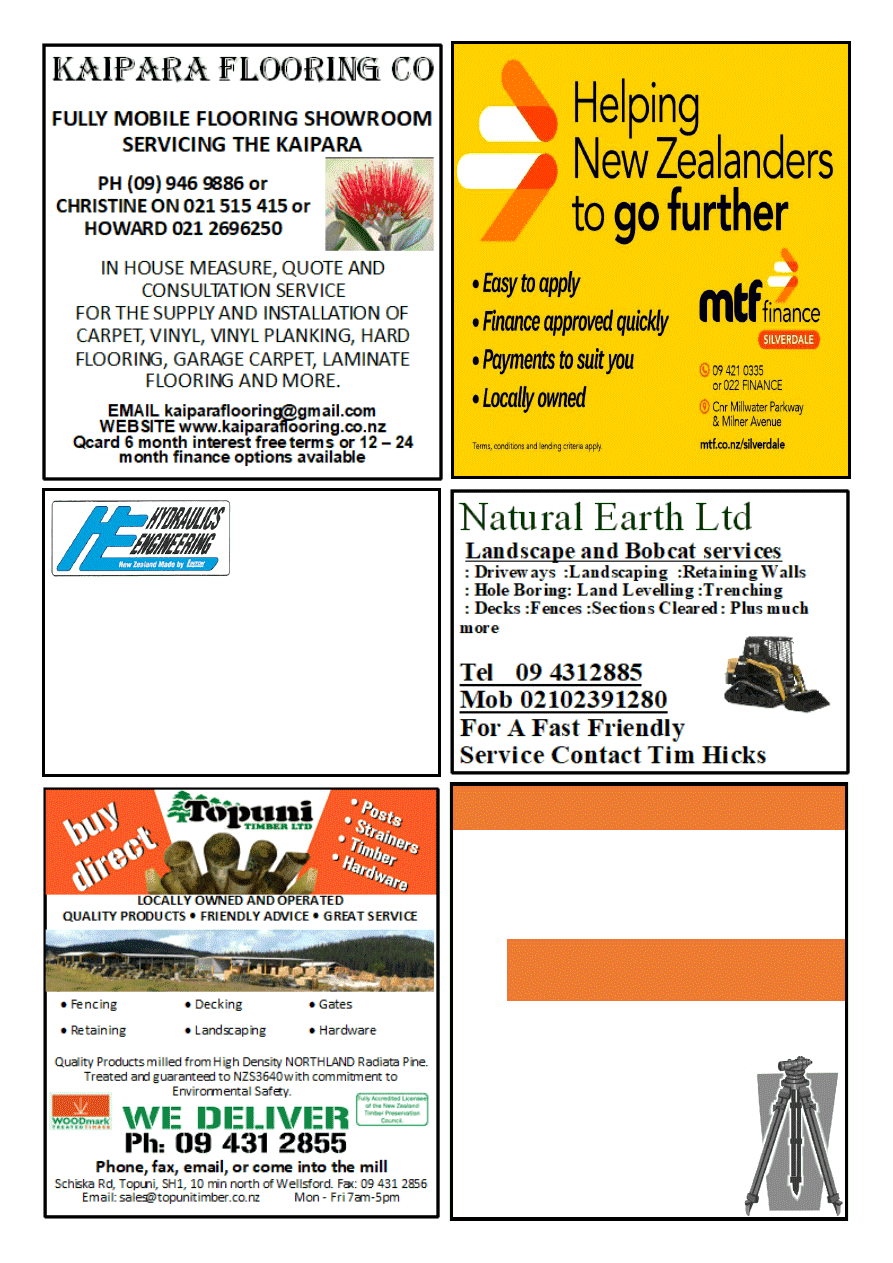 SURVEYORS 
SUBDIVISIONS 
HOUSE SITE SURVEYS 
CIVIL ENGINEERING 
WASTEWATER DESIGNS 
EXPERIENCED 
PROFESSIONAL 
INNOVATIVE 
Ph 09 431 5353 
0800 PACIFIC (0800 722 434) 
pacificcoastsurvey.com
Adam Booth - 027 415 5752 
Bsurv, Licensed Cadastral Surveyor
Surveying Kaipara since 1994 
Hydraulics  
Engineering Ltd 
Kaiwaka 
Sales - Service - Parts - Hire - Manufacture 
Service Contractors & Industrial Equipment: 
Rams, Pumps, Valves 
Logsplitter Hire, Manufacturer, Sales 
Dennis Linton 
Lot 2 / 161 Ranganui Road, RD2, Kaiwaka, 0573, New Zealand 
Mobile: 0274 381 700 
Email: hydraulicsengineering@xtra.co.nz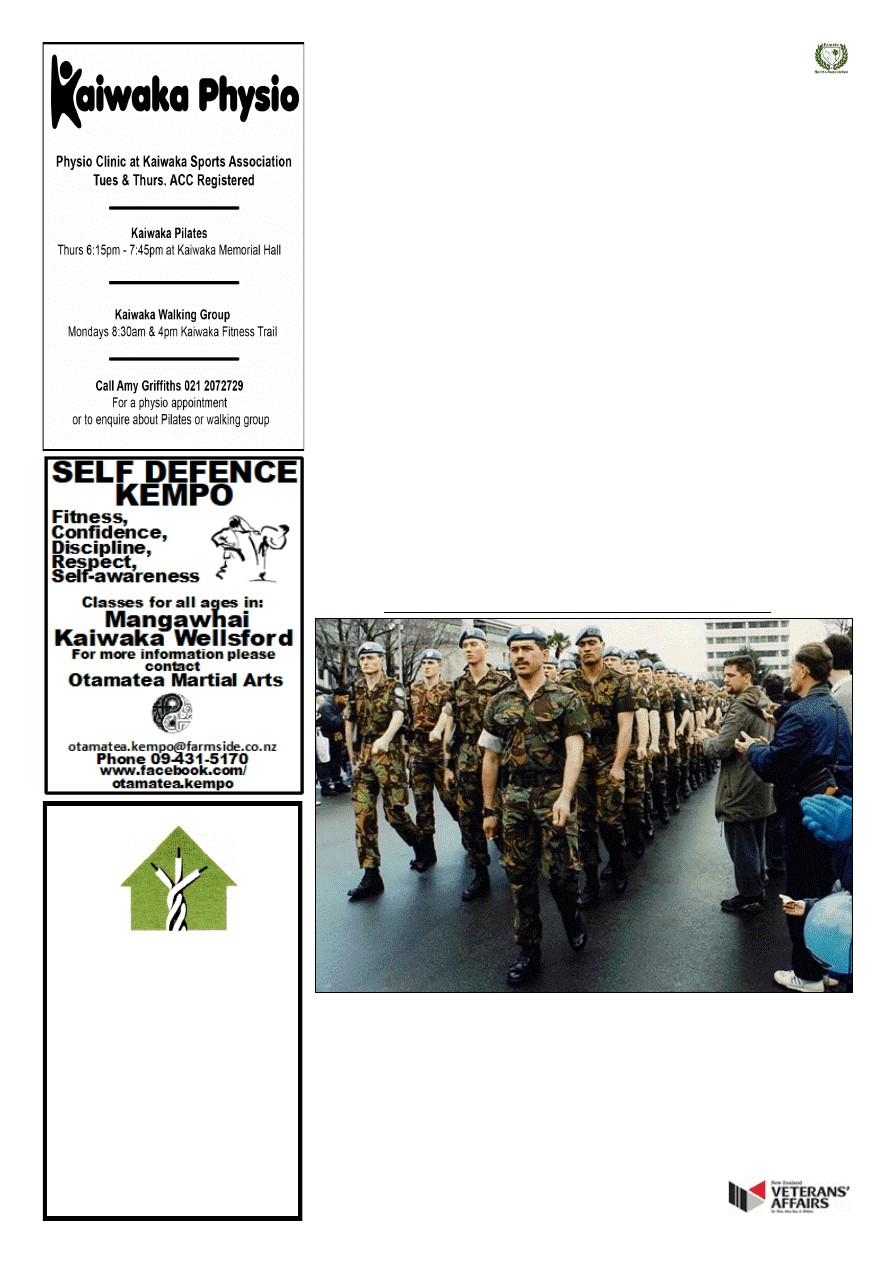 www.kaiwaka.co.nz 
Kaiwaka Bugle - 21 September 2021 
Page 11 
Reyahn  Leng 
 Registered Electrician 
Local, honest and reliable. 
For your residential and 
light-commercial projects. 
022 314 1068  
KAIWAKA SPORTS ASSOCIATION 
BOOKING THE KSA 
To  book  the  facilities  at  the  Kaiwaka 
Sports Assn. contact Jennie: 
ksa.bookings@mail.com  
or 02102764171 
CONACT DETAILS 
Are  the  names,  phone  numbers  and 
email addresses correct for your sports 
club? 
Please 
email 
kaiwakabugle@kaiwaka.co.nz 
ATHLETICS 
Eileen Parsons 431 8055 
E: b.parsons@xtra.co.nz 
HOCKEY 
Tina Holst 021 293 5974 
POINT CURTIS CRUISING CLUB 
Sandy Shaw 021 0236 0740 
E: wfdsports@xtra.co.nz 
NETBALL-Senior (OTA-EX) 
Maree Stewart 
NETBALL – High School (Nicole Kemp) 
Jodie Bennetto 021 0266 3634 
E: mgtonetball@gmail.com 
TENNIS: 
Andrea Orchard 021 02346849 
E: the7orchards@gmail.com 
SQUASH: 
Heath Worsfold 021 431 320 
E: heath@ruraldesign.co.nz 
Bruce Leslie 021 12608015 
E: leswa212@gmail.com 
BASKETBALL 
Blake Worsfold 021 148 9743 
E: blake@ruraldesign.co.nz 
FITNESS CENTRE 
Siobhan Henderson 027 979 1203 
E: siobhanCole87@gmail.com 
MARTIAL ARTS 
Craig Bennetts 4315 170 
021 152 4466 
E: otamatea.kempo@farmside.co.nz 
KAIWAKA PRIMARY SCHOOL 
Sharlene Tornquist 
021 083 60424 
E: s.tornquist@kaiwaka.school.nz 
NETBALL- Primary School 
Courtney Cave 021 266 7946 
E: cjcave@hotmail.com 
BADMINTON 
Kyle Fleming 4312 345 
E: pkfleming@xtra.co.nz 
RUGBY-Senior 
Michael Tovine 021 138 661 
E: michealtovine@hotmail.com 
RUGBY - Women 
Bron Hames 0274258046  
RUGBY – JMB 
Te Awhina Whitehead 
021 0259 6889 
E: teawh@hotmail.com 
CONTACT DETAILS FOR  KSA CLUBS 
12TH SEPTEMBER 1994 KIWI COMPANY ONE  
On  12th  September  1994  Kiwi  Company  One  deployed  as  part  of  Operation 
Radian  to  Bosnia  and  Herzegovina.  Operation  Radian  was  part  of  the  United 
Nations  Protection  Force (UNPROFOR).  At  the  time,  the  deployment  was the 
largest  New  Zealand  Defence  Force  deployment  since  service  in  Viet  Nam. 
UNPROFOR  was  mandated  to  observe  the  withdrawal  of  troops  and  to 
demilitarise  areas  of  the  Former  Yugoslavia.  Personnel  who  served  as  part  of 
UNPROFOR were at times actively targeted by groups involved in the conflict. 
Did you, or someone you know, serve in Bosnia and Herzegovina? You may be 
eligible for support from us — now or in the future. Find out what we may be 
able to do for you: Veterans' Affairs New Zealand 
NOTE:  Kaiwaka  had  soldiers  involved  as  part  of  the 
Operation  Radian  to  Bosnia  and  Herzegovina  -  maybe  you 
can spot one of them in the photo above? 
OWEN STEVENS 
Osteo Therapist
For careful adjustments 
to bones and joints 
Treatment for  
humans and their pets 
Clinics: 
Kate's Place, Kaiwaka: 
Last Friday of month  
9.00am-5.00pm 
For bookings:  
Phone 
09 4312661 
Or phone Owen  
 09 4317123 anytime 
KAIWAKA BUGLE 
READERS  
See the Kaiwaka Bugle in colour 
online at www.kaiwaka.co.nz  
at any time. 
Please pass this on to your 
neighbours - we have so many new 
neighbours in our community and we 
would love them to be part of our 
great community 
Do you have a story to share? 
KAIWAKA BUGLE 
ADVERTISERS 
See your advertisement in the 
Kaiwaka Bugle in colour online at 
www.kaiwaka.co.nz  
at any time. 
Is it there? is it okay? 
Contact: 09 4312045 
0272724137 
kaiwakabugle@kaiwaka.co.nz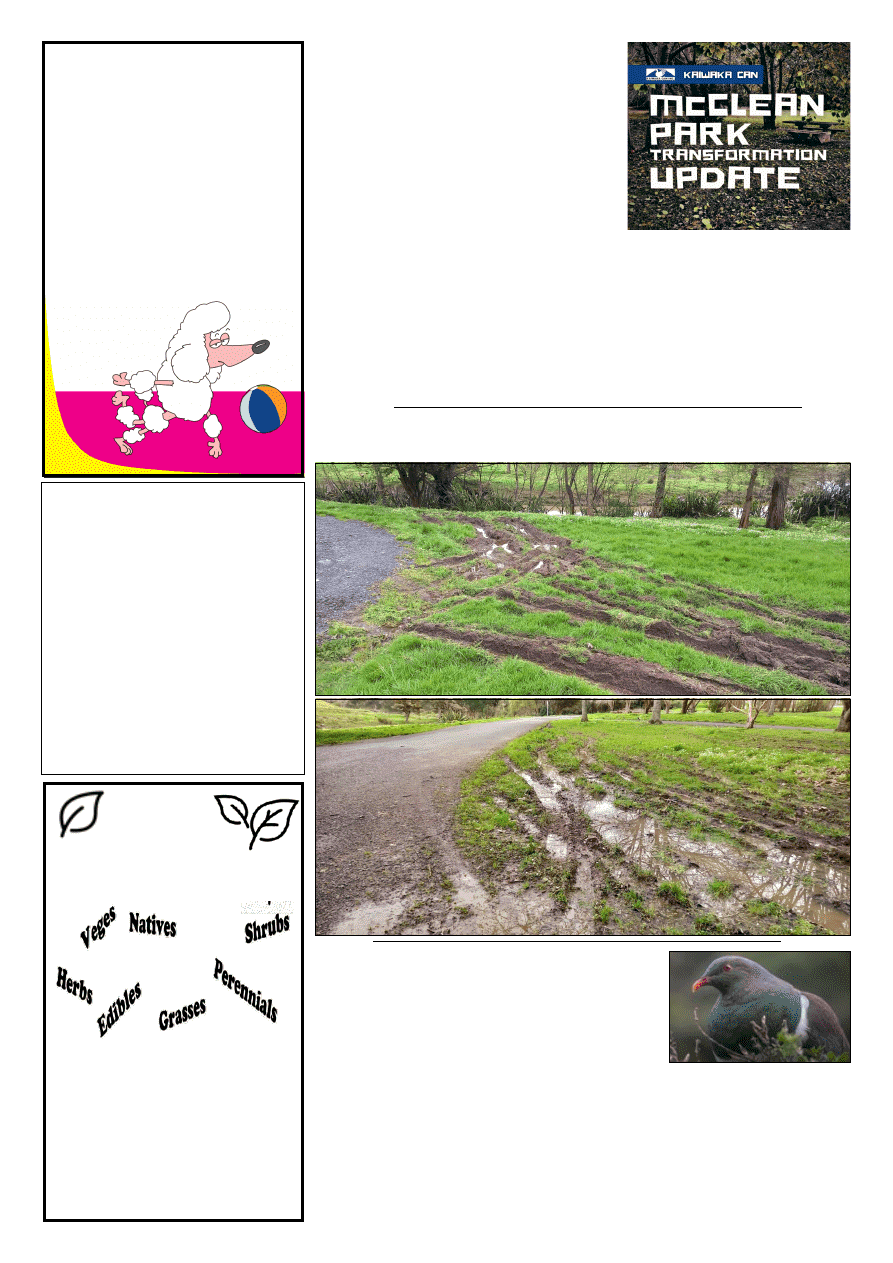 www.kaiwaka.co.nz 
Kaiwaka Bugle - 21 September 2021 
Page 13 
Hot Diggity Dog  
DOG GROOMING  
KAIWAKA 
Spring is in the hair. 
Professional Dog Groomer  
at affordable prices.
www.doggroomingkaiwaka.co.nz 
call Pam 094312143 or text 
0273335380 for bookings 
HAKARU HALL  
ACTIVITIES 

Monday:  Line Dancing 10-12pm    
Ph 4315160 

Tuesday & Thursday: Pilates 10am  

    Qualified Instructor Ph. 
0220643965 

Wednesday:  Music Jam Session 7pm  
Dennis Ph. 0210628631 

Friday Morning: Available for HIRE  

Sunday: Canine Coaching  
Ph 0272365004 

Dance Energy  Week Days  
   Monday to Friday, Afternoon/Evening  
Ph. 0275610469 

Friday Morning: Available for HIRE 
Hall Bookings Karen  
4312090 or 0210467490 
OTAMATEA COMMUNITY SERVICES 
Oneriri  
Plants 
Visit our Nursery 
Contact Heather 
021 766399 
oneririplants@gmail.com 
365AOneriri Rd, Kaiwaka 
A short trip off SH1
KAIWAKA  CAN 
have  been  in 
hibernation  mode,  waiting  out  winter  and 
lockdown,  but  spring  has  well  and  truly 
sprung,  and  we're  rested  and  ready  to  get 
cracking again! 
Here are some dates to mark down in the 
calendar: 
Sunday, 10th of October: 
A tree-focused working bee to clear and open 
up  the  area.  We  just  need  a  few  'qualified' 
helpers with the right gear and experience to 
assist with this task. Wet weather date 17th October. 
Sunday, 31st of October: 
General working bee, nitty gritty of the tasks still to be determined. 
Early December: 
Picnic  in  the  Park. 
Bring  your  whānau  down  to  the  park  to  celebrate 
community spirit and each other.  Live music, food, family fun and frivolity!   
We  would  LOVE  to  see  'Picnic  in  the  Park'  become  an  annual  event  for 
Kaiwaka, so if you have any ideas or would like to get involved, please get in 
touch.  ~ Email: pukepunga@xtra.co.nz 
MCCLEAN PARK AS AT LAST WEEK 
The ground is very soft - please, keep off. 
THE GREAT KERERŪ COUNT 
17 – 26 September 
The  Great  Kererū  Count  is  NZ's  biggest  citizen 
science  project  to  help  gather  information  on  the 
abundance  and  distribution  of  the  New  Zealand 
pigeon — also known as kererū, kūkū or kūkupa. 
Everyone in New Zealand can get involved with the 
Great  Kererū  Count,  whether  you  see  any  kererū  or  not,  sharing  your 
observations with us will help build up a clearer picture of where the kererū live, 
how many there are and what they are feeding on. 
The humble kererū is one of New Zealand's most valuable assets when it comes 
to our native forests. Kererū are the only bird left in New Zealand that are able to 
swallow  and  disperse  the  seeds  from  our  largest  native  trees  such  as  tawa, 
taraire,  pūriri  and  matai.  Kererū  can  live  for  21+  years  and  are  essential  for 
native bush regeneration. Their disappearance would be a disaster for our native 
forests. For information check their website https://www.greatkererucount.nz/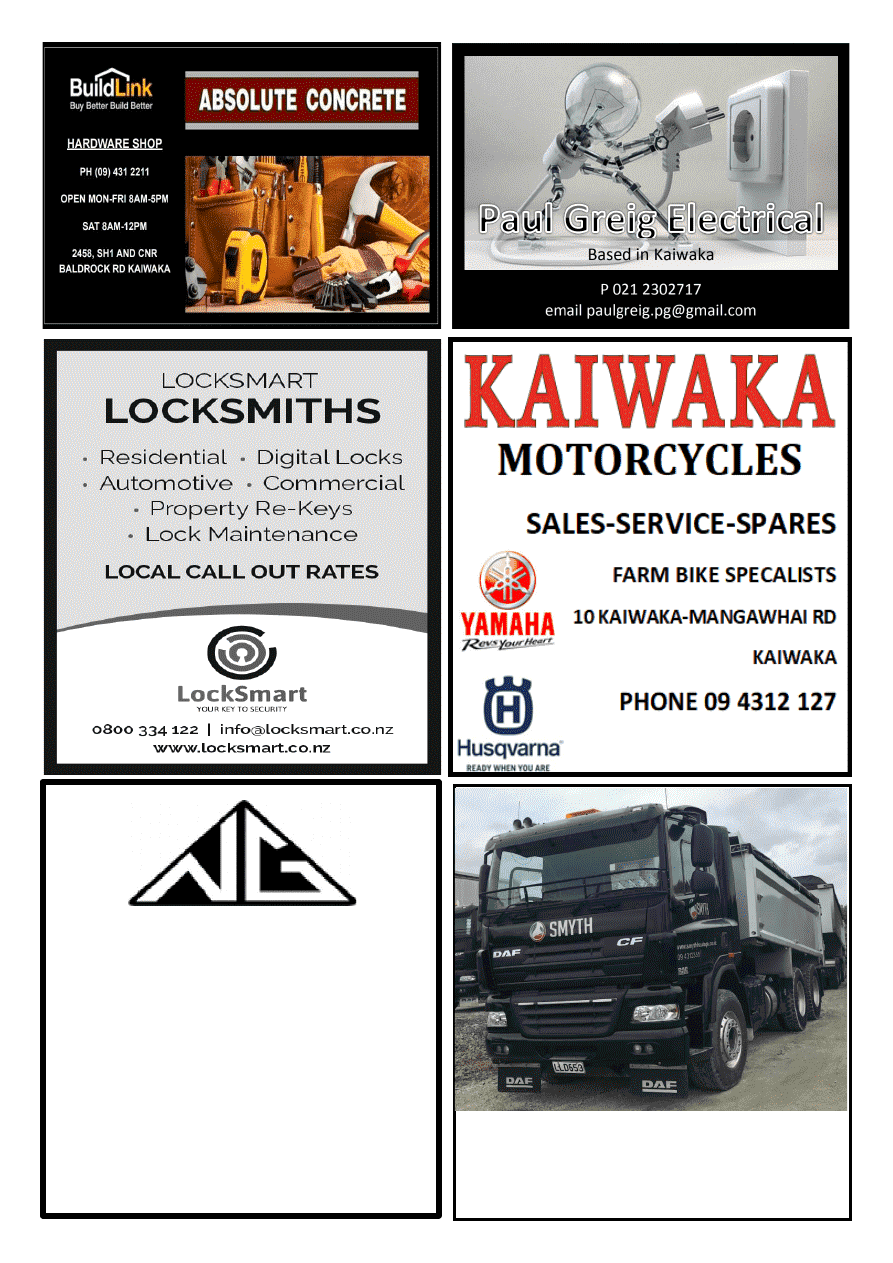 NORTH GLASS 
WINDSCREEN REPAIR OR REPLACE 
GLAZING SERVICES 
MIRRORS  •  SPLASH BACKS  •  SHOWERS 
0800 70 40 10
info@northglass.co.nz 
www.northglass.co.nz 
SMYTH HAULAGE       
for all your tip trucks & trailer 
requirements 09 4312355  
Carlton Smyth 0274870636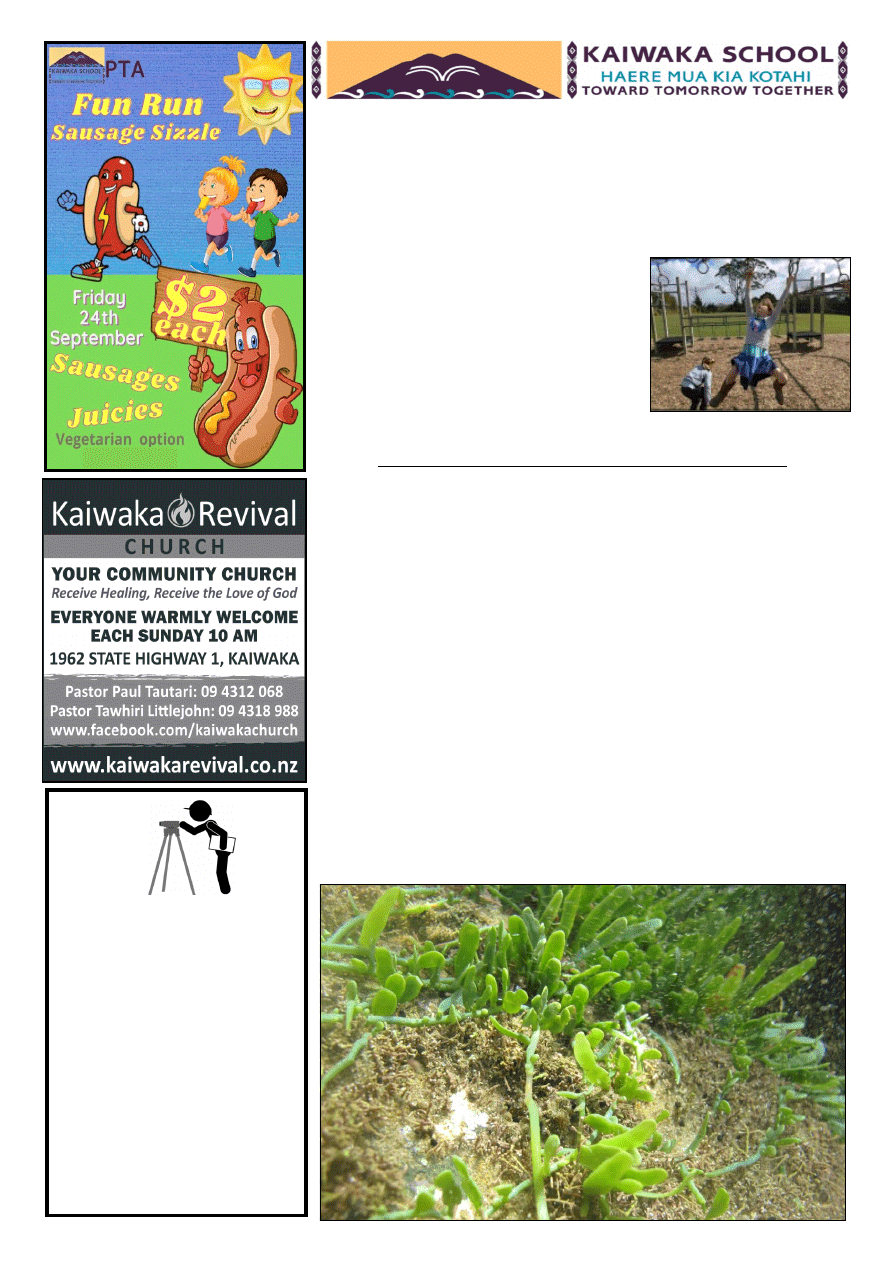 www.kaiwaka.co.nz 
Kaiwaka Bugle - 21 September 2021 
Page 15 
Ken Urquhart 
BSurv Licensed Cadastral 
Surveyor 
KMU  
Surveys Ltd
467 Bickerstaffe Road 
RD 2 
Maungaturoto 0587 
Ph 09 431 8705 
Mob 021 161 2344 
kenurquhart@xtra.co.nz 
BACK TO SCHOOL 
Last week the children were back into their learning at school.  
The  children  are  enjoying  seeing  their  peers  and  working  together.  We  are  a 
few staff members down due to their residence being in the Level 4 zone. The 
staff are working as a team so that all the children can be at school.  
FUN RUN 
We have the Fun Run coming up and this event is one of the school's biggest 
fundraisers. It's a great day because everyone is moving - running and walking 
and  we  get  money  donated  to  do  this.  The  money  this  year  is  going  towards 
buying new sports gear.  
NEW TURF 
The new turf on the top playground is open now 
and the new basketball hoops are getting plenty 
of use.  
150 YEAR REUNION CANCELED 
Sadly,  the  150  year  reunion  committee  decided 
to  cancel  the  150  year  reunion  due  to  COVID 
and  the  uncertainty  around  the  lockdown  and 
levels.  We  will  be  sending  out  the  booklet 
written  by  Bill  Leslie  to  the  people  who 
registered  and  local  businesses  who  sponsored  the  event.  All  donations  are 
going towards a commemoration seat with a plaque. ~ Sharlene, Principal 
THE INVASIVE SEAWEED  
CAULERPA BRACHYPUS 
Caulerpa  brachypus,  has been found in Blind Bay and Tryphena Harbour  – 
Great  Barrier,  is  an  Unwanted  Organism  under  the  Biosecurity  Act  and  can 
spread rapidly and create dense mats. 
Biosecurity New Zealand's Director Readiness and Response, John Walsh, says 
it  can  be  spread  to  new  locations  by  small  fragments  and  is  easily  moved  by 
people  going  about  water  activities  like  boating,  and  fishing,  including 
dredging. 
From  Monday  20  September,  Biosecurity  New  Zealand  will  issue  legal 
controls, known as a Controlled Area Notice (CAN), which will make it illegal 
to  take  seafood  from  Blind  Bay  or  Tryphena  Harbour.    Anchoring  in the  two 
areas is also banned without a permit. All equipment used for marine activities 
–  e.g.,  footwear,  wetsuits,  craypots,  dredges  and  boat  trailers  –  cannot  be 
removed  from  the  controlled  zones  without  first  checking  for  seaweed  and 
removing it, leaving it in the area it came from. At the same time, a rāhui will 
be imposed. The CAN is in place until at least the end of November. 
"People can still swim, dive, paddle or use a vessel in the Controlled Areas, so 
long  as  they  don't  drop  anchor.  It's  the  movement  of  equipment  along  the 
seabed which poses the risk of picking up fragments of Caulerpa and moving it 
elsewhere," Mr Walsh explains. 
If you are using Aotea coastal waters or planning to visit there, you must check 
the rules at: www.biosecurity.govt.nz/caulerpa 
If you believe you have seen Caulerpa brachypus somewhere outside of Blind 
Bay or Tryphena Harbour, contact Biosecurity New Zealand on 0800 80 99 66. 
available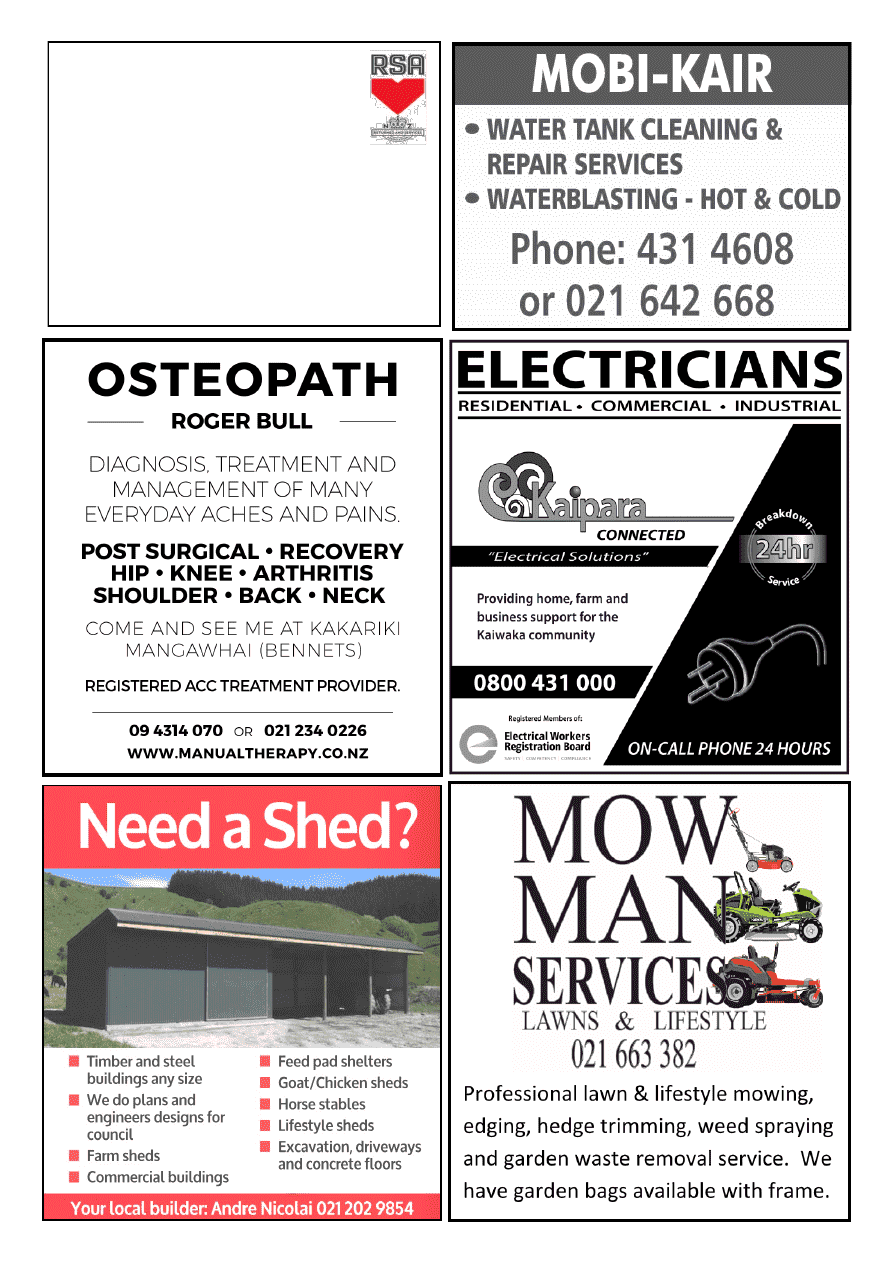 HAKARU & DISTRICTS 
MEMORIAL RSA 
Members & guests are invited to come along 
and enjoy our hospitality. 
New members welcome. 
Meals are served on Thursday and Friday 
nights from 6.30pm. 
Order from Blackboard Menu  
For more information please phone  
Barry Wallace 0274 922 975 
Email: president@hakarursa.co.nz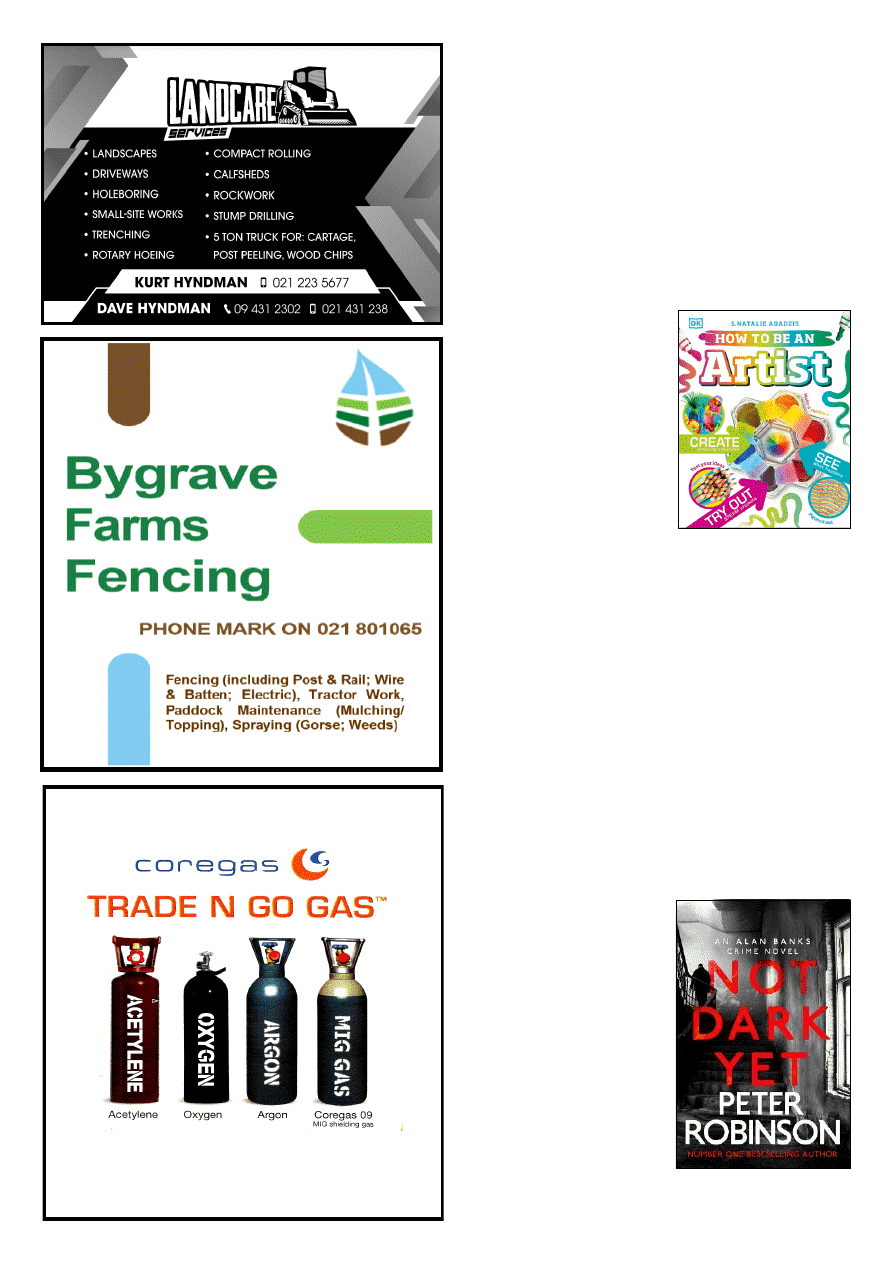 www.kaiwaka.co.nz 
Kaiwaka Bugle - 21 September 2021 
Page 17 
WE ARE OPEN! 
We  opened  our  doors  again  as  soon  as  Alert  Level  2 
commenced. Many thanks to the team for the extra efforts 
required to operate in these conditions, and to everyone for 
their patience as we come to grips with it all. 
As  I  write  this  report,  we're  still  in  Level  2  but  hoping  to 
move to Level 1 just after this paper is published. If it does 
come  to  pass,  I  expect  that  we  will  be  able  to  open  our 
doors and allow unrestricted access. Time will tell, and any 
restrictions or requirements in place when you come to the 
library will be clearly indicated in a notice on the door so 
you can see it before coming in. 
SPRING CATALOGUE OUT NOW 
The  new  catalogue  for  Spring  is  now  available.  Pick  up 
your copy when you come into the library.  It has loads of 
great new reads for adults and kids. Most of the items are 
only  at  Dargaville  Library  but  holds can  be placed  so  you 
can borrow them too.  
One of the items in the catalogue 
that is on our shelves is 
How  to 
be  an  artist  by  S.  Natalie 
Abadzis
, 
a 
lovely 
book 
containing  over  30  art-based 
activities,  as  well  as  teaching 
kids  a  little  about  artists  and 
their  distinctive  styles.  There's 
such  a  variety  of  creative 
projects that there's bound to be 
something  for  everyone.  You'll 
find  it  under  702  ABA  in  the 
Junior Non-Fiction shelves. 
Also,  on  our  shelves  and  in  the 
catalogue is 
Lit:  stories  from 
home,
 a carefully selected collection of short stories from 
16  New  Zealand  writers  past  and  present  edited  by 
Elizabeth  Kirkby-McLeod,  containing  stories  from  an 
incredible  line-up  of  some  of  Aotearoa's  literary  masters 
(including  Katherine  Mansfield,  Frank  Sargeson,  Patricia 
Grace,  Witi  Ihimaera)  and  some  up-and-coming  names 
you're sure to see again in the future (we're already fans of 
JP  Pomare  and  Lani  Wendt  Young!).  The  stories  explore 
identity,  activism,  coming-of-age,  society,  and  family  in 
Aotearoa New Zealand. You'll find it on the Rental Fiction 
shelves  for  a  while,  but  it's  free  to  borrow.  Later,  it  will 
move to the Teen Fiction (YP) shelves. 
MAORI LANGUAGE WEEK 
13-19 September 2021 
We have a number of titles on our shelves to help you learn 
to  speak  Maori,  learn  about  the  myths  and  legends,  and 
stories to entertain the little ones. You can get started with 
this  search  of  our  Enterprise*  that  I've  set  up  for  you  - 
https://bit.ly/KL-TeReo It captures all titles currently on our 
shelves that have the subject "Maori language materials" set 
in its record. There are  some  gorgeous  kids'  picture books 
there, some  are  in  both Maori  and  English, some  we  have 
both  versions  in  separate  books,  and  some  have  CDs  in 
them so you can listen as well as read. 
If  you're  after  something  more  for  yourself,  you  need  to 
look  on  the  Non-Fiction  shelves  at  499,  including  several 
titles  by  Scotty  Morrison,  who 
you  may  know  from  tv  -  you 
can  find  his  books  on  our 
shelves  with  this  link:  https://
bit.ly/ScottyM  and  there  are 
others  under  499  in  the  Non-
Fiction section, too. 
BOOK REVIEW 
Recently,  I've  read 
Not  Dark 
Yet  by  Peter  Robinson
, the 
27th  book  in  the  DCI  Banks 
series.  If  you've  been  following 
the  story  of  Zelda  in  the  past 
couple of books, this brings it to 
an  apparent  conclusion.  I  say 
'apparent',  'cos  I  don't  know 
what  is  coming  up  in  the  next 
book, if there is to be one. Like 
the rest of the series, this was a 
good  read,  and  I  have  no 
hesitation  in  recommending  it  to  fans  of  police/detective 
dramas.   
See you in the library! ~Wendy 
*Enterprise: http://kaipara.kotui.org.nz/ 
At Twinkle Tow 'n' Tyre 
Mob: 021 833 960 
Ph & Fax: 09 431 2823 
1837 State Highway 1, Kaiwaka 
KAIWAKA LIBRARY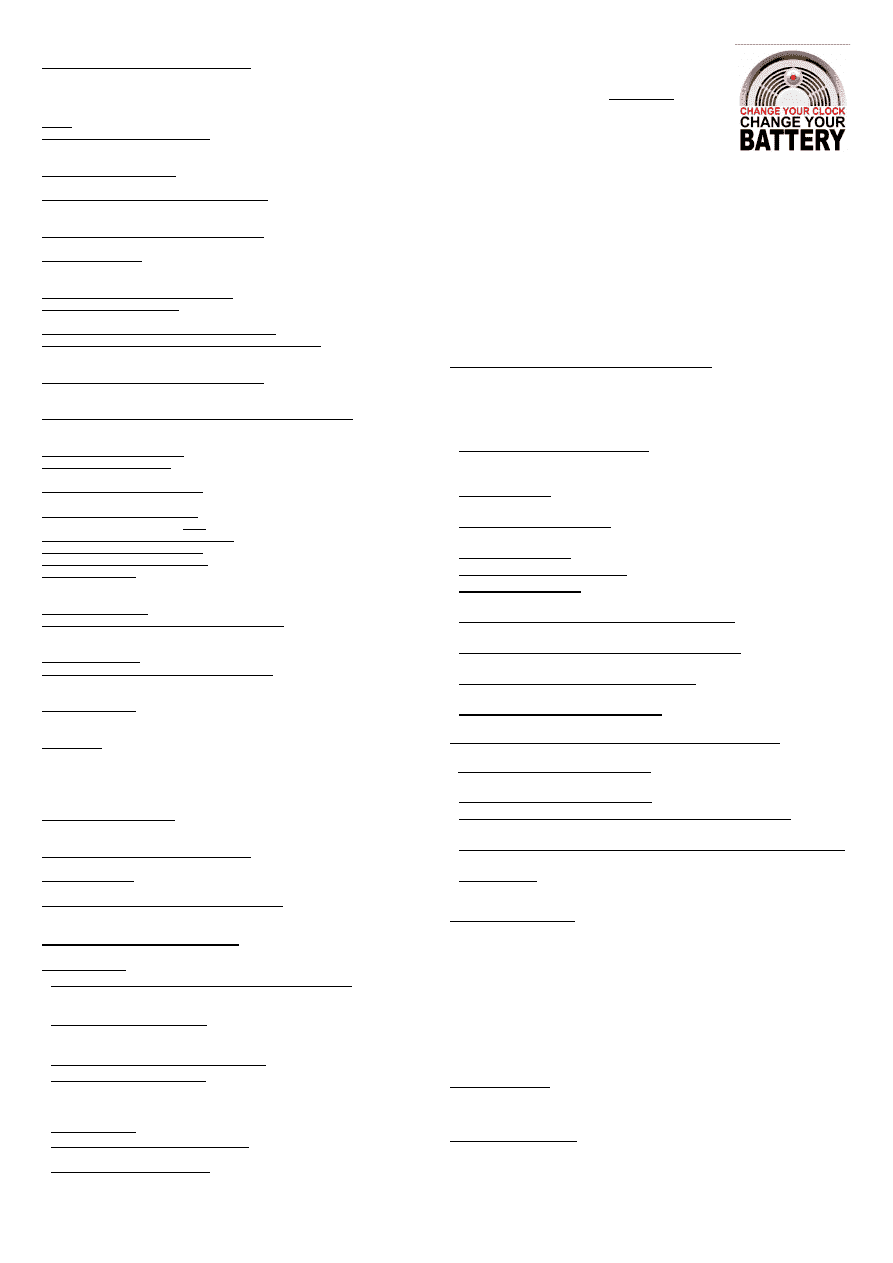 WHAT'S ON
PLEASE ~ do let us know what is on - or what 
is NOT on at the moment! 
email kaiwakabugle@kaiwaka.co.nz 
Advertising in WHAT'S ON is FREE  
*21Sep~Kaiwaka War Memorial Hall & Library AGM 
*25Sep~Maungaturoto Rest Home Dementia  Unit 
viewing 10am-3pm 
*26Sep~ DAYLIGHT SAVING begins 
*1Oct~School Term 3 ends 
*6-7Nov~Kaiwaka Volunteer Fire Brigade Open Fishing 
Contest 
KWMH = Kaiwaka War Memorial Hall; KSA = Kaiwaka Sports Association 
See www.kaiwaka.co.nz for more information 
HOUSEHOLD RUBBISH COLLECTION - Kaiwaka Pick up: 
Mondays = Green bags (Northland Waste - 09 430 3273) 
Wednesdays  = Blue bags and yellow recycling (at Kaiwaka Four 
Square  $3.30  and  $1.70)  (Kaurilands  09  4392146);  ONLY  Blue 
and Yellow bags picked up on Oneriri Road. 
 DIABETES  Support  Group  -for  Kaiwaka,  Mangawhai, 
Wellsford  10am,  3rd  Friday  of  month  Ph:  Colleen  James  09 
4314238 
 GENEALOGY - Wellsford: 1st Thursday in month Ph: 423 
7033; Waipu: 4th Monday in month Ph: 4312 725 
 HAKARU PONY CLUB - Secretary Denise Rogers 021423376 
secretary@hakaruponyclub.co.nz  
 KAIPARA HUNT - Secretary Albert Doonenbal Ph 4312059 
 KAIWAKA BADMINTON -Tuesdays 7.30pm Ph: 4312345 
 KAIWAKA  CAN  - 3rd Wednesday in month, 5.30pm, Archie 
Bull Hall Ph: 0273572751 
 KAIWAKA GARDEN & FLORAL GROUP - 2nd Thursday in 
month. Ph: 431 4744 
 KNITTING FOR WHANGAREI HOSPITAL - 2nd Tuesday in 
month, Archie Bull Hall 10am Ph 4314827 
 MANGAWHAI COMBINED REBUS CLUB - 2pm, 3rd 
Thursday month, Senior Citizens Hall Mangawhai. Ph: 4315777 
 MANGAWHAI GENEALOGY  - meet 3rd Thursday month, 
Mangawhai Museum, 10.30am 
*PILATES - KAIWAKA WAR MEMORIAL HALL - Ph: 
021  
2072729  
*PILATES - HAKARU HALL - Tuesday 10am, Thursday 9am 
Qualified Instructor  Ph. 0220643965  
 PT CURTIS CRUISING CLUB - Jean Ph: 4312227 (wk), 4312520 (hm) 
 RSA,  HAKARU  &  DISTRICTS  WOMEN'S  SECTION  –  meets 
1.30pm 4th Thursday of the month. Ph: 431 5818  
 KAIWAKA  SCOTTISH  COUNTRY  DANCING  CLUB-
Wednesdays 10am - 12 noon  Ph: Elaine 027 432 0032  
 TRAMPING 
- 
Mondays 
9am-2:30pm, 
contact  
valkenburgmaria@gmail.com 
HALLS FOR HIRE: 
  Kaiwaka St. John Hall: Phone Marj  0272941227  
 St.Pauls Archie Bull Hall HIRE $20 half day, $40 full day per 
hire, S McAulay, Ph 4312311 
 Kaiwaka  War  Memorial  Hall  HlRE  -  Phone  4312725  or 
kaiwaka.hall.bookings@gmail.com 
 Hakaru Community Hall HIRE -Ph.  Karen 4312090 
 Te Pounga Marae queries - Pearl Nathan  0223933533 
 Kaiwaka Sports Association hire/queries 
Jennie Reynolds 
   ksa.bookings@mail.com, 02102764171  
Justice of Peace:  
L.Donaldson  4312  228;  A.F.Hargreaves  4312  045,  W.Howard 
4312 725  - please phone to make sure they are available or go to 
www.justiceofthepeace.org.nz 
Marriage Celebrants:  
L.Donaldson; A.F.Hargreaves; Y Osborne
LOCAL SERVICES 
*Emergencies - Ambulance, Fire, Police - dial 111 
*Non-urgent Police phone 105
A A: Meets Wed., 7pm. Kate's Place Ph 021 024 25969 or 0800 229 6757  
NARCOTICS ANONYMOUS : Mon., 6pm, Archie Bull Hall, Kwk-Mwi 
Road; drug and alcohol related issues. Ph. 02102412348 
ASUREQUALITY LTD (was AgriQuality) Call Free 0508 0011 22  
BUDGETING SERVICE, WELLSFORD: Free confidential advice & 
support for all areas of personal finance. Ph (09) 423 7123 
CAB-Citizens Advice Bureau.Wellsford Ph: 4237333 
0800 367 222 email:cab.wells@xtra.co.nz  
CIVIL DEFENCE - Kaiwaka Community Response Group: 
kaiwaka.civildefencecrg@gmail.com, 4312725 Wendy 
DOG/STOCK /NOISE CONTROL 0800 105 890 
FUNERAL SERVICES: Morris & Morris Ltd, Whangarei 0800667747 
GRANDPARENTS Raising Grandchildren: Dianah Roberts 0223819539 
HAKARU & DISTRICTS MEMORIAL RSA (Inc) 733 Settlement Rd, 
Hakaru. Ph 4312 176 or Bill Warren (President) 431 2092 
HAKARU LANDFILL/Transfer Station:Open everyday  10am-
4pm.Ph4312629 Cost-$55 trailer load up to 1 cubic metre. Ph:4258567 - 
office 
KAIPARA DISTRICT COUNCIL www.kaipara.govt.nz:  
Help Desk FREEPHONE 0800 727 059  
KAIWAKA CEMETERY: Ph: 4312045 or 4314017 
KAIWAKA LIBRARY: kaiwaka.library@gmail.com  
Mon. 4-6pm; Wed., Thurs., Fri., Sat. 10am-2pm Ph:4312539 
KAIWAKA PLAYCENTRE: Ph Juanita 0274134904; open Mon, Wed, 
Fri 9am-12pm. Hastie Lane; Monday to Friday 9.00am - 12 noon. 
KAIWAKA POST OFFICE:Ph:4312 431  
Post Code: 0573 for RD2 and 0542 for all Kaiwaka Post Office mail 
KAIWAKA PRIMARY SCHOOL: Ph: 4312309   
KAIWAKA SPORTS ASSN: Ph 4312005; 4312129 gym 
KAIWAKA ST JOHN HALL: Phone Marj  0272941227  
KATE'S PLACE Community Centre - Employment services, Free Health 
Nurse, Plunket, Advocacy, Osteotherapist, A.A., Legal Advice. 4312 661 
LINKING HANDS Health Shuttle Ph 4315906 or 09 4318969 
MINISTRY FOR PRIMARY INDUSTRIES - General inquiries Call 
Free 0800 008 333 
NORTHPOWER: Faults Kaiwaka area 0800 104040 
OTAMATEA COMMUNITY SERVICES: Counselling, parent coach, 
Family Support worker, budget advice, food bank. Mon-Fri 9am-3pm. Ph 
09 431 9080 http://www.otamateacs.org/ 
PARENTPORT: Free, practical family support service Puhoi to Paparoa 
Ph or txt: Dianne 027 280 5093 or 09 425 9357 
PLUNKET: Kaiwaka- St John Hall, Monday 19 Oct, 23 Nov, 21 Dec. then 4th 
Monday of the month. Plunket Nurse Louise 027 282 3987 or 09 438 2508 
Mangawhai- Rose Madsen Cottage, Mondays and Wednesdays. Plunket Nurse 
Rebecca 021 501 941 or 09 438 2508 
Maungaturoto - Good News Church, 2nd and 4th Wednesday of the month. 
Plunket Nurse Seleisa 021 912 248 or 09 438 2508 
PLUNKET HELPLINE -0800 933 922 (24 hours)  
FACEBOOK - Kaipara Plunket 
TAITOKERAU COMMUNITY LAW: Free confidential legal advice and 
assistance, 2nd
Thursday
 of each month. Ph: 0800 155 529 for appts.  
TE URI O HAU Settlement Trust Tangata Developments: Whanau Ora 
021 793262  
VETERINARY SERVICE MANGAWHAI: 
Ph: 4314535 Mon-Fri 8.00-5.00, Sat 9-12, a/h appt. 
WELLSFORD DOCTORS: Ph: 4238 086 
CHURCHES:
 
Kaiwaka  Revival  Church  -  Your  Community  Church:  Sundays  10am. 
Ph: Pastor Tawhiri 09 431 8988 or Pastor Paul 09 4312 068 Visit us at 
www.facebook.com/kaiwakachurch 
 
St  Paul's  Anglican  Church  1st  Sun.  9.00am  (Eucharist),  3rd  Sun. 
9.00am  (Family  Service).  Contact:  Church  Office  Ph  431  4122 
www.mangawhaianglican.org.nz 
 
Church of Christ the King, Mangawhai:9.00am every Sunday 
 
St.Mary's  Catholic  Church:  Maungaturoto  –  Griffins  Road,  Saturday 
evening  Vigil  Mass  6pm;  Mangawhai  –  Senior  Citizens  Hall,  Sunday 
Mass  8:30am;  Wellsford  –  Matheson  Road,  Sunday  Mass  10:30am;  
Mid-week Mass times and all enquires to Fr. Bill Fletcher – phone 423 8170
 
Baptist Church: Sun. 10.30am Mangawhai Snr Cit.Hall.Ph:4312339 
 
Cause  Way  Church  Mangawhai:  Sundays  10.15am,  Mangawhai 
Community  Recreation  Centre,  Insley  St.  Ph:  09  4314782 
Next Bugle Deadline Friday 1 October 2021