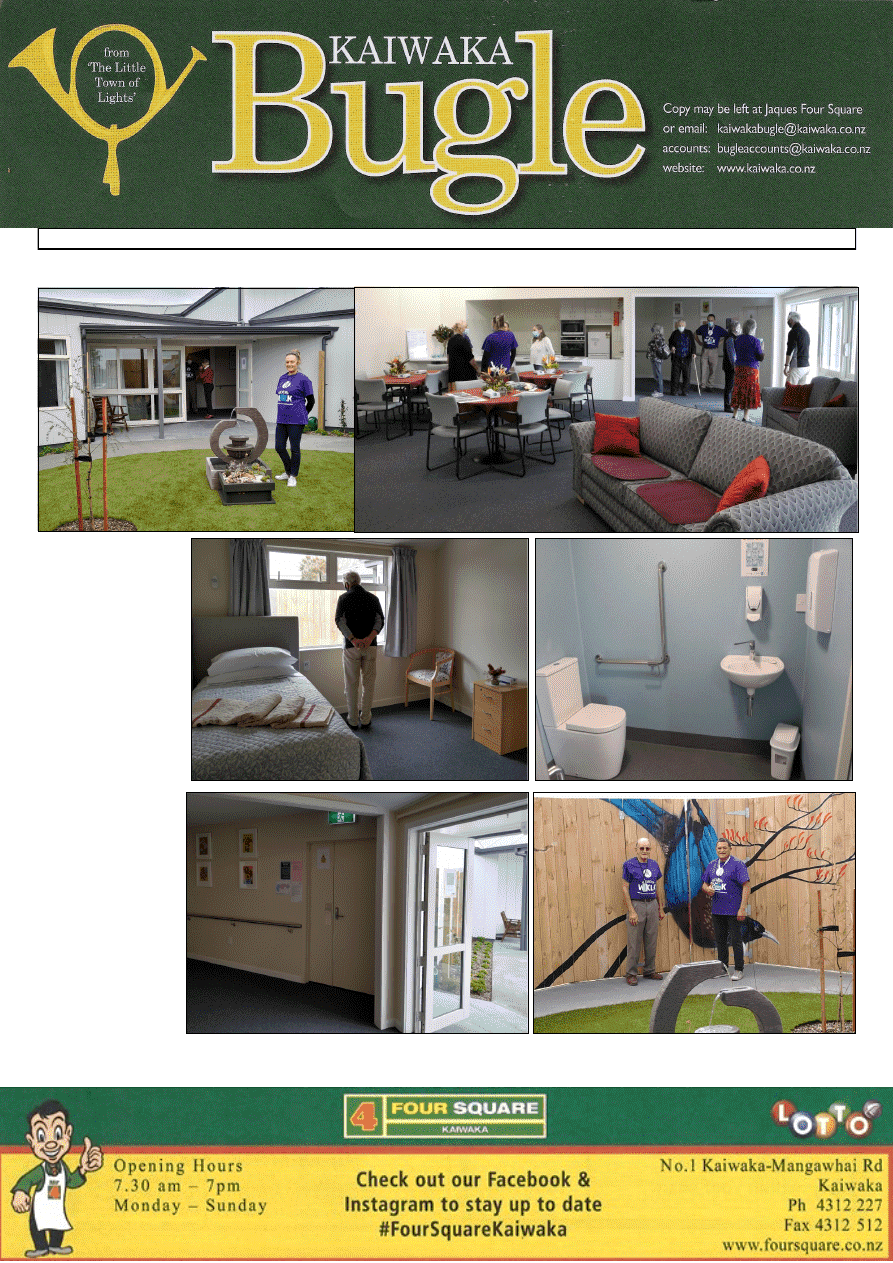 www.kaiwaka.co.nz 
Kaiwaka Bugle - 5 October 2021 
Page 1 
No.19 
5 October 2021 
THANK  YOU  to  the 
team 
of 
Maungaturoto 
Community 
Charitable 
Trust, 
their 
workers 
, 
supporters 
and 
helpers 
for 
the 
wonderful 
presentation.    More 
than  three  hundred 
people  were  able  to 
walk  through  this 
newly  completed    14 
bed  unit.  On  30 
September  viewing 
day - welcomed into 
the 
neat 
garden 
(Paula 
Mooney, 
Trust  member)  and 
then  into  the  main 
lounge  and  small 
kitchen; 
follow 
around 
to 
the 
bedrooms  -  all  with 
beautiful  quilts  on 
the  beds;  the  well 
appointed  bathroom 
off    each  bedroom; 
passed  the  nurses 
station  and  passed 
the  main  kitchen 
doors  to  the  lounge. 
And  out  the  gate 
with  former  Trust  chair  Don  McKay  and  present  chair  Graham  Slatter  in  front  of  the  artwork  done  by  Joe  Paikea 
(Kaiwaka). 
Thank you Melody, Mangawhai Focus - lounge  and bathroom photos. 
'BRILLIANT' - DEMENTIA UNIT OPENED FOR VIEWING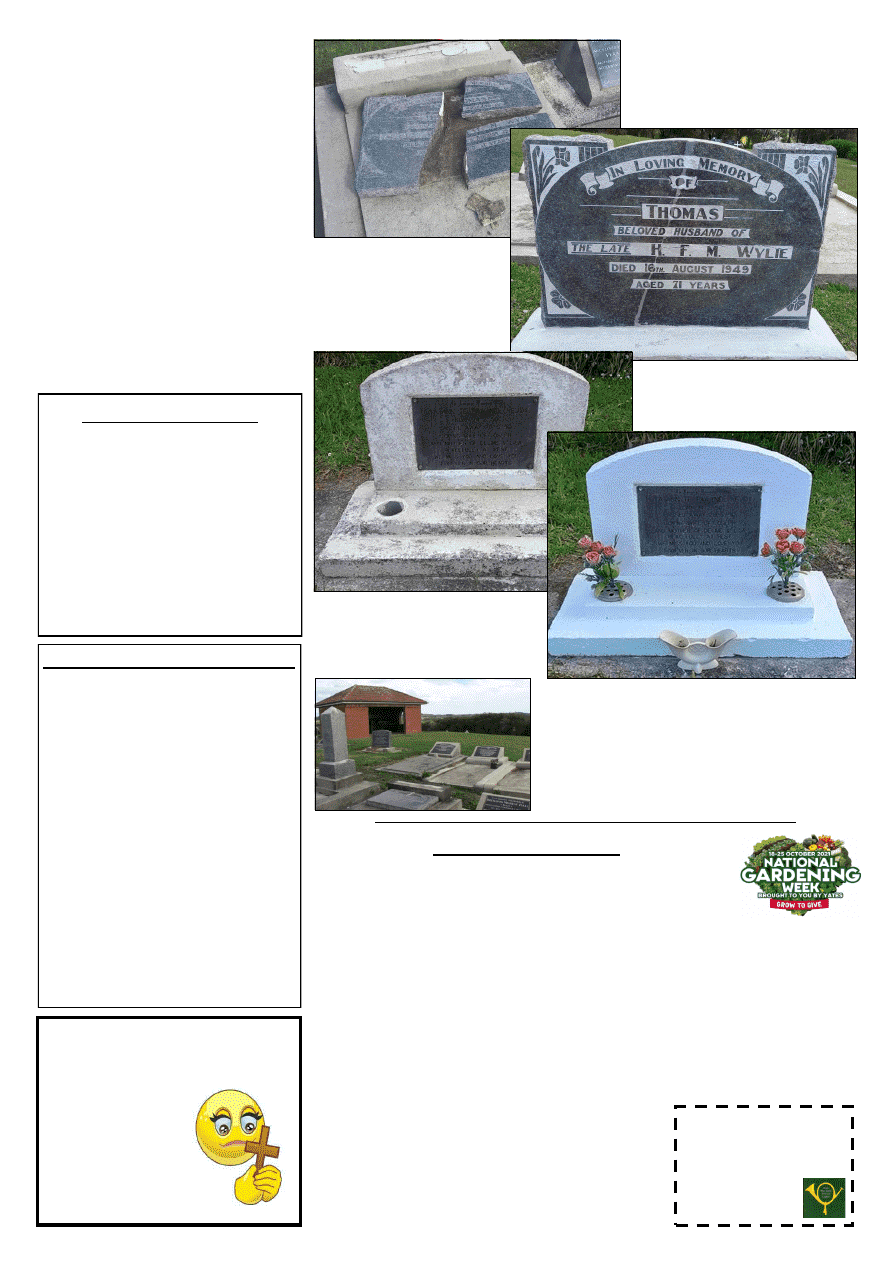 www.kaiwaka.co.nz 
Kaiwaka Bugle - 5 October 2021 
Page 2 
ABOUT TOWN 

 A special welcome to Jess and Ant Pedersen's new son! 

 We  have  a  winner  for  the  wonderful  Yates  Gardening 
Hamper ! Well done, Milliscent Kemp. Milliscent will receive 
her prize during Yates Garden Week 18-25 October 

 Kids' Chess Tournament Tuesday 5th and 12th October at the Hakaru Hall – 
contact Tina  021 689 988 for details 

 Scottish Word of the Week … Scunnered - bored, fed up and discontented! 

 Note: Brian Wright, Wright Design, has updated his phone number and office 
address - see page 4 

 Please  support  our  advertisers;  Advertisers  please  check  your  advert  is 
displayed correctly - thank you 

 International  Day  of  Older  Persons  is  on  1  October  each  year  -  a  day  to 
celebrate older people – to highlight the value of all older people and to promote 
dignity and respect.  

 The  cones  are  nearly  all  gone  in  town!  Great  to  see  the  upgrade  is  nearly 
finished. There are 19 x 90degree parking spaces and 
disabled parking spaces 

 Bugle 19 can be seen in colour at kaiwaka.co.nz
~ Lindsey, Ed
"Her love shines over my horizon, she's a slice of heaven ." ~ 
Dave Dobbyn's hit single, written for the movie Footrot Flats,  
hit No. 1 on 2 October 1986
KAIWAKA BUGLE NO.19 
5 OCTOBER 2021 
CONTENTS: 
Page 3: Public Notices, Classified 
Page 5: Kaiwaka Central upgrade; 
Page 7: Ray White; Kaiwaka Fire 
Brigade Open Fishing competition 
Page 9: Gardening; Kauri Museum; 
Kaipara Hunting & Fishing 
Page 11: Kaiwaka Sports  Assn 
Page 13: Kaiwaka School;  Otamatea 
High School 
Page 15: Love & Fear; Standby Power;  
Bugle 20 will appear 19 October 
Contact for advertising, reports, articles 
or information can be made by 
Email: kaiwakabugle@kaiwaka.co.nz 
Ph: 09 4312 045 Lindsey 
Txt: 027 2724137 
Copy  may  be  left  at  Kaiwaka  Four 
Square. 
Kaiwaka Bugle 
Founded May 1978 
We appreciate articles and photos about local 
events, etc, as well as ads and suggestions. 
Copies available in Kaiwaka at Kaiwaka  Four 
Square, Kaiwaka Postal Centre, Shamrock 
Service Station, Animal Health Centre, 
Kaiwaka St John shop. 
Also outlets in Maungaturoto, 
Mangawhai and Paparoa. 
Can be viewed online at  
www.kaiwaka.co.nz/Bugle  
Or a copy can be posted to you if you supply 
stamped, self-addressed DLE envelopes. 
Kaiwaka Bugle Advertisements 2021: 
All 
copy 
and 
queries 
to: 
kaiwakabugle@kaiwaka.co.nz 
The Bugle is printed on an A4 page, B&W  
Ad  sizes:  1/16  page  (3  x  9.5cm)  $5;  1/8 
(6.5  x  9.5cm  landscape  or  portrait)  $8; 
3/16 ( 10 x 9.5cm or 7.5 x 12,5)  $12.  
Classified  ads:  First  one  FREE,  $4  per 
entry (max. 30 words, max. 4 repeats). 
Payments  can  be  made  online  at 
ANZ 
06  0365  0006990  00
,  posted  or  left  at 
Kaiwaka Four Square Store. 
We  use  Microsoft  Publisher,  and  can 
work  with  most  common  image 
formats, Word, Excel, and PDF files. 
Accounts:  
Email: bugleaccounts@kaiwaka.co.nz 
The  Kaiwaka  Bugle  is  a  community 
newspaper run by volunteers, as part of 
the Kaiwaka Media Group Inc.   
Articles, etc. printed are not necessarily 
the opinion of the Bugle Team. 
Proverbs 16 : 2 
Humans are satisfied with 
what looks 
good;  
God probes  
for what IS 
good. 
KAIWAKA BUGLE 
DEADLINE DATES 
2021:   
Every second Friday 
October 15, 29 
November 12, 26 
December 10 
KAIWAKA 
CEMETERY 
Our  local  Cemetery  Angels  have 
been busy again. Thank you. 
The  newspaper  notice  for 
Thomas reads "WYLIE. On 
August 
16, 
1949, 
at 
Kaiwaka,  Thomas  Wylie, 
beloved husband of the late 
Helen  and  loved  father  of 
Bessie,  Madge,  Winifred  and 
Enid  (Mrs  Mackrell,  Otakiri 
Aged 71 years." 
The  headstone  for  Toya  Ann  Te 
Paa,  nee  Reddy,  who  died  28 
May 1990 , loving wife of Joseph 
and mother of Delme and Lisa. 
To  commemorate  the  original  church  built  by 
the  pioneers,  the  brick  chapel  was  erected  in 
1956.    This  memorial  was  dedicated  at  the 
Kaiwaka Centennial celebrations in 1959. 
Memorial plaques can be placed inside. 
The Kaiwaka Cemetery is just east of Kaiwaka 
on the Kaiwaka Mangawhai Road.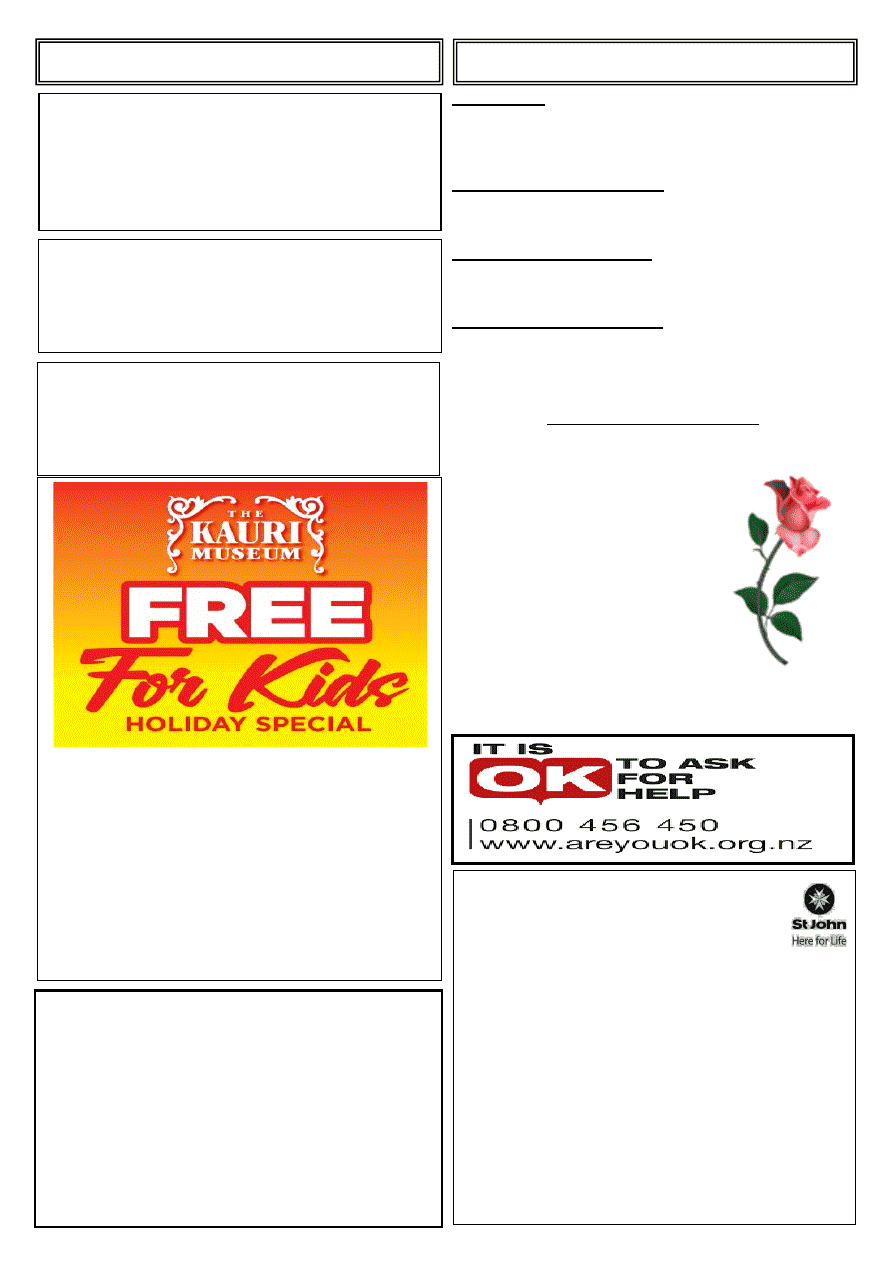 www.kaiwaka.co.nz 
Kaiwaka Bugle - 5 October 2021 
Page 3 
PUBLIC NOTICES 
CLASSIFIED 
ST. JOHN KAIWAKA STORE 
Hope  you  are  all  staying  safe  and  enjoying 
Spring. 

We are in need of Clean Bric Brac,  
Cutlery and Crockery.  

We  are  at  present  NOT  taking  ADULT  CLOTHING 
but are after Clean Tidy Baby Clothing. 

Towels and Books are always in High demand. 

Thank you to all those who have thought of us lately  
and donated clean, tidy items 

We are able to accept items during Opening hours ONLY 

If you have something to donate and are not sure, please 
ring and check. 
Kaiwaka St John Store Hours: 
TUESDAY to FRIDAY  10am to 3pm 
EVERY Saturday 10am to 2 pm 
PHONE: Shop  4312650  
1919SH1, Kaiwaka 
Helping us to provide cheap First Aid Courses Locally. 
FOR  SALE: Wooden Dining table. 1m wide x 2.20m 
long.  Immaculate  condition  plus  6  padded  matching 
chairs. Glass cover for table optional. $750. Phone Ann 
Dowson 094315913 Mangawhai Heads. 
CASUAL HELP WANTED with Garden Maintenance 
of Shrubs and some Weedeating.  Ph Sue 021 380 906 
SUPPORT  WORKERS  required  for  Kaiwaka  IHC 
House.  Go  to  Trademe  Jobs  and  type  'support  worker 
kaiwaka' in the search box for details. 
POSITION  AVAILABLE:    Building  Supervisor  at 
THE  KAURI  MUSEUM.  Do  you  have  experience  in 
facilities  repair  and  maintenance,  compliance,  project 
management and staff supervision? Get in touch to find 
out  more about  this position by  filling out  the form at 
https://www.kaurimuseum.com/contact-us 
HAKARU HALL  
Annual General Meeting 
Thursday 21st October 7.30pm 
Hakaru Hall Settlement Road 
Everyone most welcome.  
Come along and support your local Hall 
Hakaru Hall Committee 
THE EXPLORE THE KAURI MUSEUM 
THESE SCHOOL HOLIDAYS AND KIDS 
GET IN FREE! 
We have huge spaces, and lots to see  
for all the family.  
Test your hunting skills with our Treasure Hunt, learn 
to polish kauri gum (and take your own piece home) 
and visit our café for a delicious lunch as well. 
(Kids are free with a paying adult.)  
Open 9-5 every day. 
see: 
https://www.kaurimuseum.com/school-holiday-activities
KAIWAKA WAR MEMORIAL HALL 
KAIWAKA LIBRARY 
ANNUAL GENRAL MEETING 
Tuesday 19 October, 5pm 
Covid Level permitting 
Kaiwaka War Memorial Hall
NATURE     
What does it mean to you 
we all have a different view 
our likes and or dislikes 
what is special to me 
may not be special to you 
However who can resist  
the beauty of a flower or a bud 
coming into bloom 
the daily glory of the golden sun 
or the night time silvery moon. 
~ Susan 
KAIWAKA VOLUNTEER FIRE 
BRIGADE  
OPEN FISHING CONTEST 
Saturday the 6th & Sunday the 7th November 2021 
Start time 12am on Saturday 6th November 
FISH AUCTION & PRIZEGIVING 
Following weigh in, Sunday 7 November, around 5pm 
 Adults - species: Snapper, Gurnard, Kingfish, Kahawai. 
Trevally & Crayfish. 
Junior prizes for Snapper & Kahawai. 
*  Prize can be in cash or equivalent value of a sponsored prize. 
For further information see advert on page 7 
KAIWAKA SCHOOL  
PARENTS AND TEACHERS ASSN. 
ANNUAL GENRAL MEETING 
Tuesday 23 November 
The PTA is currently looking for a treasurer, contact 
021 025 48044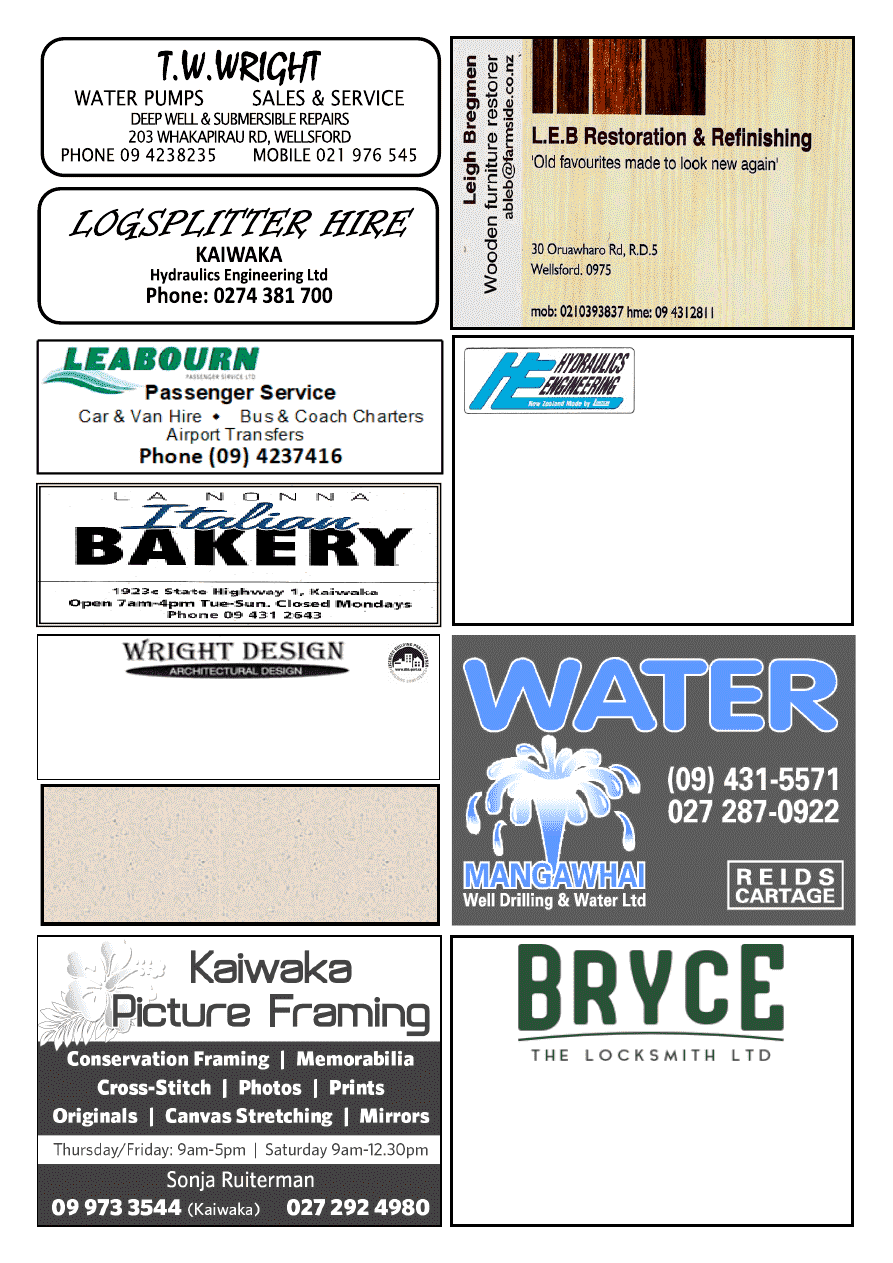 www.kaiwaka.co.nz 
Kaiwaka Bugle - 5 October 2021 
Page 4 
Bryce Frewin 
Ph: 021 850 983 
Kaipara Based Master Locksmith 
bryce@brycethelocksmith.co.nz 
www.brycethelocksmith.co.nz 
Hydraulics  
Engineering Ltd 
Kaiwaka 
Sales - Service - Parts - 
Hire - Manufacture 
Service Contractors & Industrial Equipment: 
Rams, Pumps, Valves 
Logsplitter Hire, Manufacturer, Sales 
Dennis Linton 
Lot 2 / 161 Ranganui Road, RD2, Kaiwaka, 0573, New Zealand 
Mobile: 0274 381 700 
Email: hydraulicsengineering@xtra.co.nz 
Counsellor and Registered Psychotherapist 
Offers Supervision 
ACC Sensitive Claims 
Susan Matheson      MNZAC 
Dip. Psychosynthesis Counselling and Psychotherapy 
Phone 09 431 2996                                     Mobile 027 605 2427 
No. 117345 
N.Z.C.A.D., L.B.P. 117345 Design 1 & 2 

50 years experience 

All designs/plans council guaranteed 

FREE local site/house visit 

Plan printing available from A4 to A0 
Mob: 021-276-7389 
Office:  25 Lupis Way, Kaiwaka  Email: brianwright@xtra.co.nz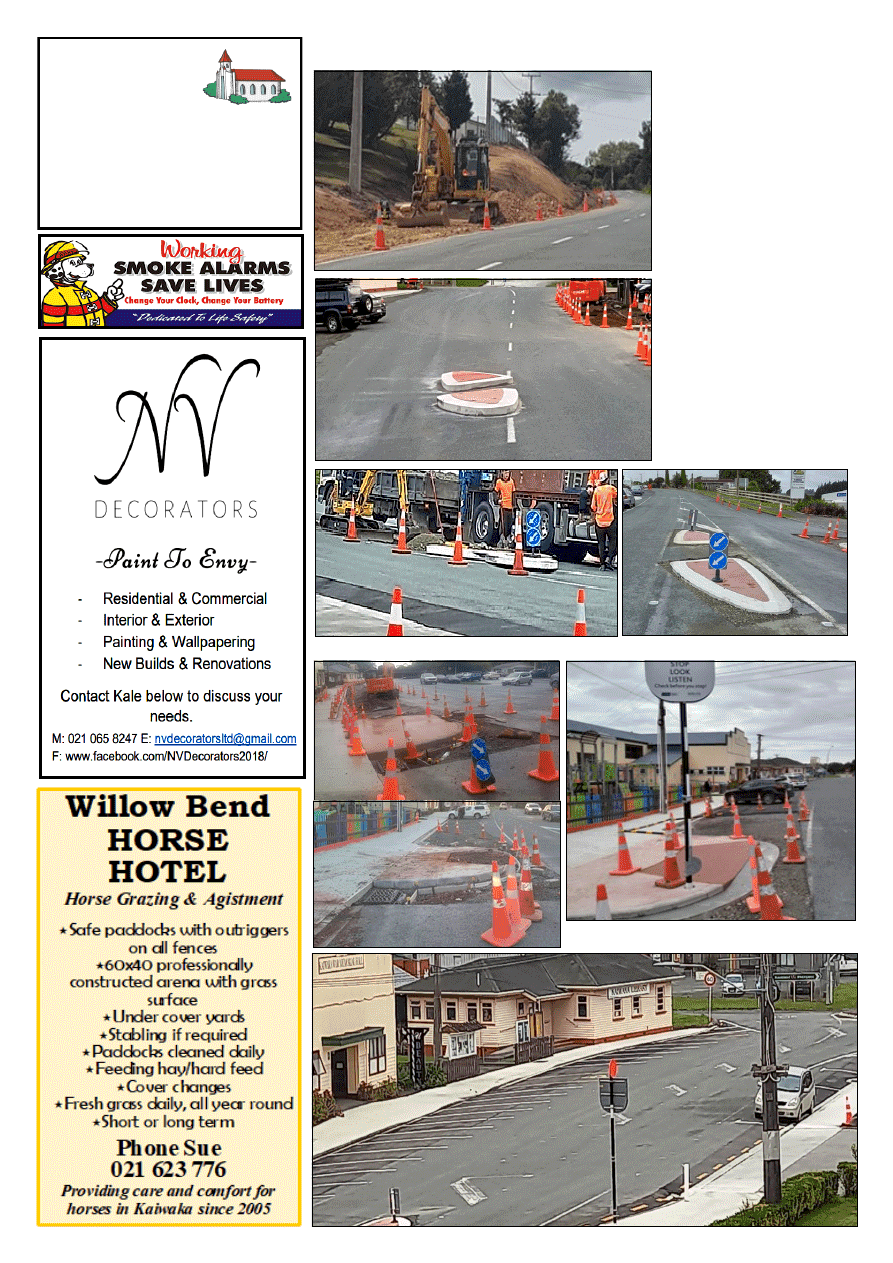 www.kaiwaka.co.nz 
Kaiwaka Bugle - 5 October 2021 
Page 5 
ST PAUL'S  
ANGLICAN  
SUNDAY SERVICES
First Sunday 9am Holy Communion 
Third Sunday 9am Family Service 
St Pauls Church: Kaiwaka-Mangawhai Rd. 
Church Office Ph 431 4122 
www.mangawhaianglican.org.nz
KAIWAKA CENTRAL UPGRADE 
And then there were the problems in July with the pedestrian crossing pad … 
The work on the upgrade and 
additions 
of 
Kaiwaka's 
footpaths  have  regularly 
appeared  in  the  Bugle  - 
beginning  with  the  digger  at 
work forming the footpath to 
join  the  path  leading  from 
the  primary  school  carpark  - 
pictured  left  as  in  Bugle  9 
March. 
Photos left and below: These 
pink and white raised patches 
for  the    pedestrian  safety 
zone - caused some grief last 
Friday.  Photo  left  taken  on 
11  June,  where  the  islands 
show  black  tyre  marks;  by 
11pm  that  night  a  couple  of 
Kaiwaka's many cones made 
them more obvious. 
Come  23rd  September  these 
islands  were  changed  -  they 
were too high, we now have 
the correct islands. 
Below, Friday 1st October: Tarsealing done 
and  parking lines painted .. .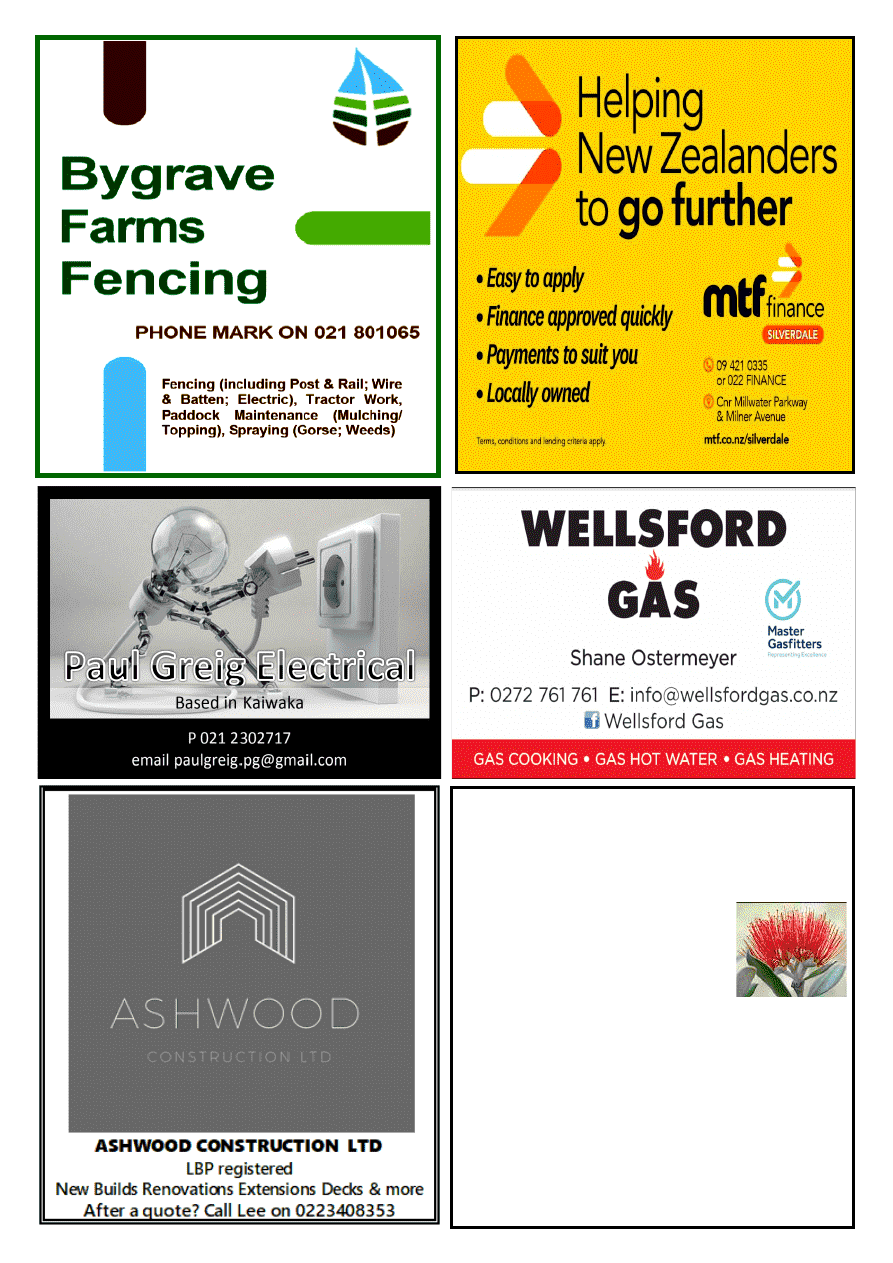 www.kaiwaka.co.nz 
Kaiwaka Bugle - 5 October 2021 
Page 6 
KAIPARA FLOORING CO 
FULLY MOBILE FLOORING SHOWROOM 
SERVICING THE KAIPARA 
PH (09) 946 9886 or  
CHRISTINE ON 021 515 415 or 
HOWARD 021 2696250 
IN HOUSE MEASURE, QUOTE AND 
CONSULTATION SERVICE 
FOR THE SUPPLY AND INSTALLATION OF 
CARPET, VINYL, VINYL PLANKING, HARD 
FLOORING, GARAGE CARPET, LAMINATE 
FLOORING AND MORE. 
EMAIL kaiparaflooring@gmail.com  
WEBSITE www.kaiparaflooring.co.nz 
Qcard 6 month interest free terms or 12 – 24 
month finance options available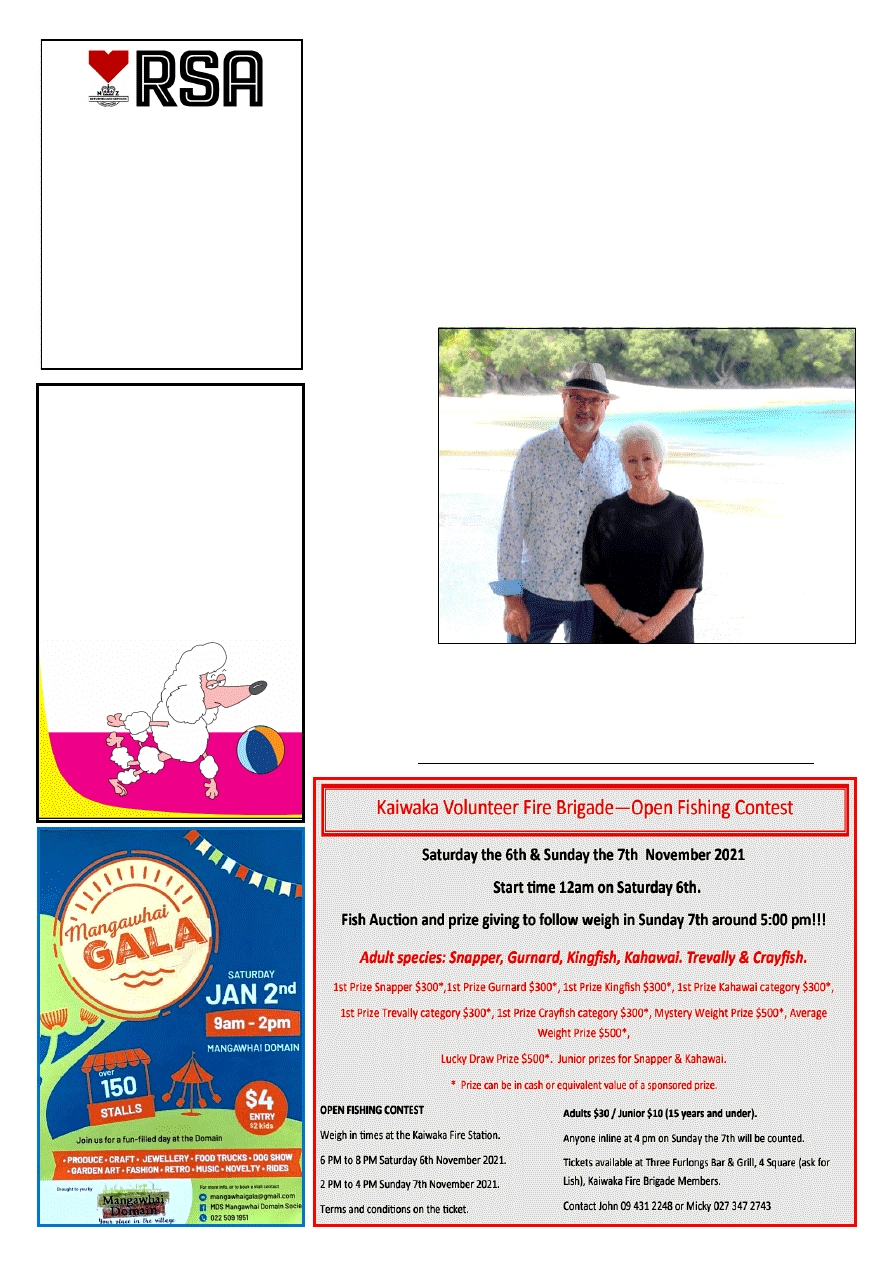 www.kaiwaka.co.nz 
Kaiwaka Bugle - 5 October 2021 
Page 7 
HAKARU & DISTRICTS 
MEMORIAL RSA (INC)
Members & guests are invited to 
come along and enjoy our hospitality. 
New members welcome. 
Meals are served on Thursday and 
Friday nights from 6.30pm. 
Order from Blackboard Menu  
For more information please phone 
Barry Wallace 0274 922 975 
Email: president@hakarursa.co.nz 
Ray  White  Mangawhai  is  moving  onwards  and  upwards  to  better  service  its 
community with a new office at Mangawhai Central. 
Selling  principals  Kaye  and  Stewart  McElwain  said  their  new  office  would  be 
perfectly  positioned  to  service  their  Mangawhai Village,  The  Heads,  and  wider 
Kaipara surrounds clientele. 
"We are thrilled to announce we're moving our team to a sleek and stylish new 
office at Mangawhai Central," Ms McElwain said. 
"Mangawhai Central will provide a much-needed retail and commercial hub for 
Mangawhai and we're really excited to be one of the successful businesses that 
have secured office premises in this new development." 
Ray White Mangawhai will move into its new office in 2022 and, in the interim, 
will operate out of a "pop up" office in Wellsford. 
"The  COVID-19  pandemic  has  shown  us  all  that  it's  possible  to  work  from 
anywhere and we plan to continue doing exactly that, while our new premises are 
being built," Mr McElwain said. 
"We  have  the 
technology  and 
procedures 
to 
work 
remotely 
but  we  can  also 
come  directly  to 
you  or  if  you 
wish  to  come  to 
us,  feel  free  to 
stop  into  our 
temporary  office 
in Wellsford. 
"Our 
existing 
clients  strongly 
remain  our  focus 
during 
this 
transition  period, 
and  we're  also 
excited 
to 
establish 
new 
clients 
and 
contacts. 
"If you would also like to move onwards and upwards, give us a call!" 
Media contacts: 
Kaye McElwain, Selling Principal,  
Ray White Mangawhai 027 215 2016 kaye.mcelwain@raywhite.com 
Cassandra Glover, Media advisor,  
Ray White Group, +61 447 000 471 cglover@raywhite.com
Hot Diggity Dog  
DOG GROOMING  
KAIWAKA 
Spring is in the hair. 
Professional Dog Groomer  
at affordable prices.
www.doggroomingkaiwaka.co.nz 
call Pam 094312143 or text 
0273335380 for bookings 
RAY WHITE MANGAWHAI SECURES 
PREMIUM NEW OFFICE SPACE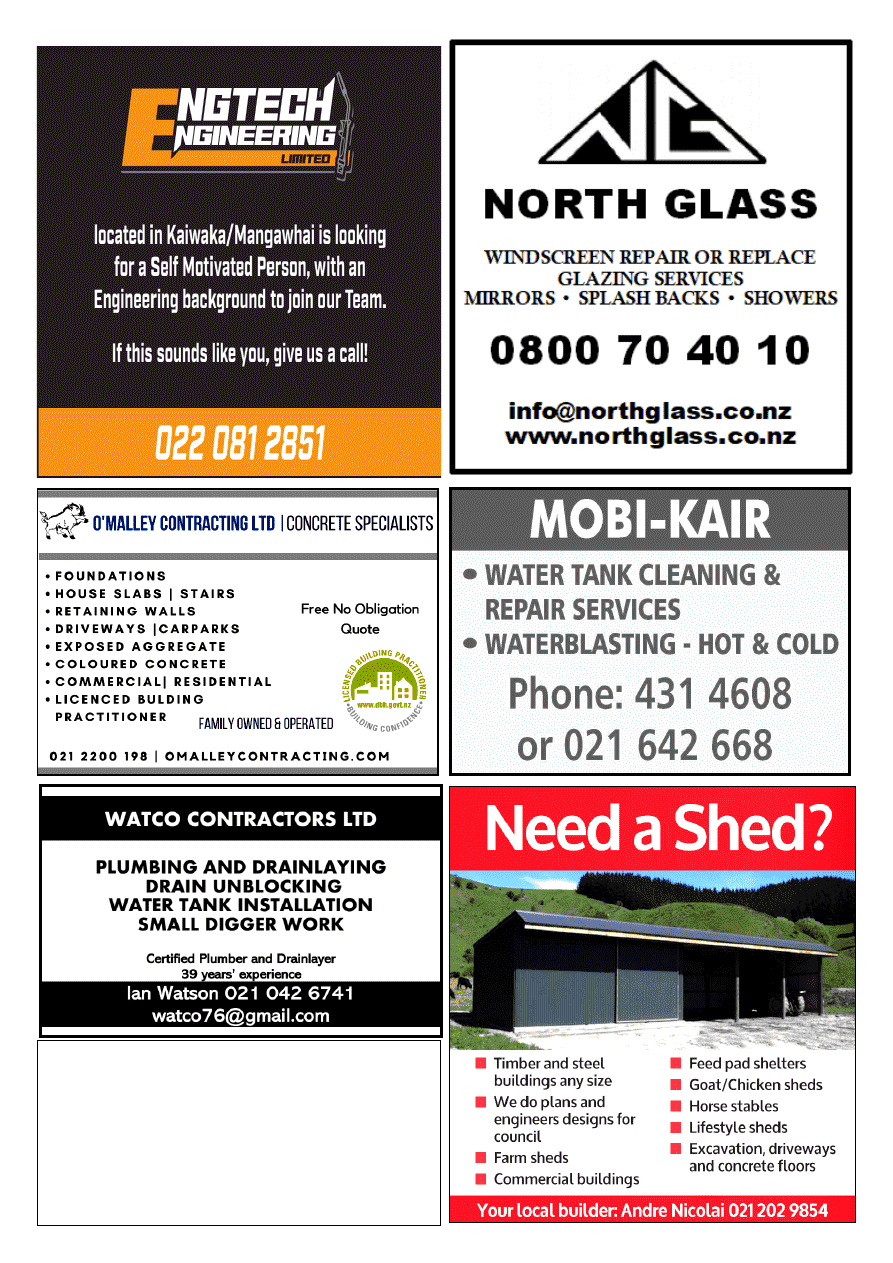 www.kaiwaka.co.nz 
Kaiwaka Bugle - 5 October 2021 
Page 8 
HAKARU HALL ACTIVITIES 

Monday:  Line Dancing 10-12pm Ph 4315160 

Tuesday & Thursday: Pilates 10am Ph. 0220643965 

Wednesday:  Music Jam Session 7pm Ph. 0210628631 

Sunday: Canine Coaching Ph 0272365004 

Dance Energy  Week Days  
   Monday to Friday, Afternoon/Evening   Ph. 0275610469 

Friday Morning: Available for HIRE 
Hall Bookings Karen  
4312090 or 0210467490 
www.kaiwaka.co.nz 
Kaiwaka Bugle - 5 October 2021 
Page 9 
THE KAURI 
MUSEUM 
Explore The Kauri Museum 
these school holidays and 
kids get in free! 
We  have  huge  spaces,  and  lots  to  see 
for  all  the  family.    You  may  be 
surprised  at  what  you  might  find 
lurking  in  the  shadows  of  The  Kauri 
Museum!  Find  this  beautiful  piece  of 
antique kauri furniture. 
OTAMATEA 
QUILTERS' 
GROUP QUILT SHOW 
An  exhibition  showcasing  the  craft  of 
patchwork  and  quilting  opens  on  22nd 
October  and  runs  to  21st  November 
2021 
KAIPARA HUNTING 
& FISHING 
October shoot 
Yee ha - back into it 
Up-coming Event: 
The  club  will  be  holding  its  October 
shoot  on  Sunday  10th  October  as 
below.  Normal  80  target  course  with 
prizes out to section winners 
SHOOT DETAILS: 
Sunday 10th October 2021 
Club 
grounds: 
Hames 
Road 
Maungaturoto 
10:00 am start 
Entry:  $40.00  per  person  Juniors:  16 
years and under – $20.00 
Ammo: $14.00 per box (25) 
No Dogs please on course. Can be tied 
up at your vehicle. 
All  new  members  welcome  so  bring 
your shooting friends 
Great  prizes  to  be  won.  See  you  all 
there. 
Regards your committee 
Club Contacts: 
For  New  Membership:  Email,  Andy  at 
awthompson@outlook.co.nz or send to - P.O. 
Box 12, Ruawai 0549 
President Cam Shanks 09 4316229 
Treasurer Andy Thompson 021 1294 378 
Secretary Annette Pull 027 2862 329 
If you are feeling unwell,  
please stay home
! 
Oneriri  
Plants 
Visit our Nursery 
Contact Heather 021 
766399 
oneririplants@gmail.com 
365AOneriri Rd, Kaiwaka 
A short trip off SH1
HOW DOES YOUR GARDEN GROW? 
SPRING and COLOUR! 
DUTCH  IRISES. 
Superbly easy bouquets of flowers. For the price 
of  a  few  bulbs  I  have  lovely  long  stemmed  irises.  And  more  every 
year. They come in white, blues and yellows. Irises of all varieties do 
so  well  here  (Les  loves  them  too.  He  says  it's  pointless  buying  me 
flowers. There's always something beautiful in the garden. Hmm. I've 
been given a spade, a greenhouse and a golf cart among other treasures and I'm 
very grateful.) 
SALVIA  AFRICANA  AND  CISTUS  ENTWINED. 
I have six of each 
growing  on  the  bank  behind  the  house.  This  colour  scheme  was  inspired  by  a 
dress I loved. Wore it to death in my twenties. I think you have to have young 
skin to wear these colours. Or maybe it just wasn't as gorgeous as I thought. Still 
enamoured  though.   
~  Heather,  Oneriri  Plants  -  a  small  nursery  just  off  SH1  in 
Kaiwaka where we propagate all of our plants on-site. Pop by, 365 Oneriri Road, to see 
what we have or call  021 766399 with inquiries.
• 
"Things which matter most must never be 
at the mercy of things which matter least." 
 ~ 
Johann Wolfgang Von Goethe
• 
"Laughter is an instant vacation." 
 ~ 
Milton Berle
• 
"Oh, take your time, don't live too fast. 
Troubles will come and they will pass..." 
 ~ 
Lynyrd Skynyrd
• 
"Worry is like a rocking chair: it gives you 
something to do but never gets you 
anywhere."  ~ 
Erma Bombeck
• 
"Be yourself; everyone else is already 
taken."  ~ 
Oscar Wilde
• 
"Those who dream by day are cognizant of 
many things which escape those who 
dream only by night."   ~ 
Edgar Allan Poe
• 
 "We need much less than we think we 
need."  ~ 
Maya Angelou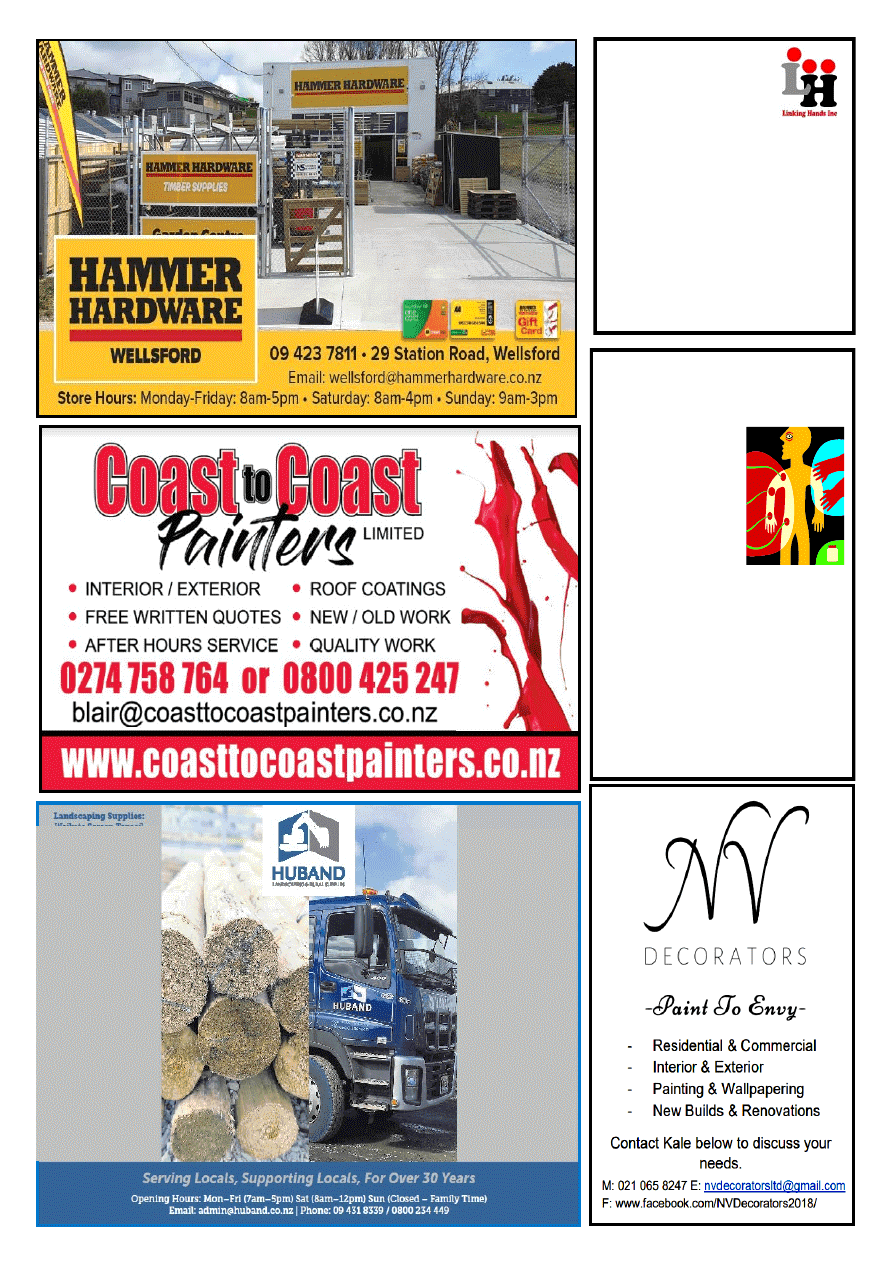 www.kaiwaka.co.nz 
Kaiwaka Bugle - 5 October 2021 
Page 10 
OWEN STEVENS 
Osteo Therapist
For careful 
adjustments to 
bones and joints 
Treatment for 
humans and their 
pets 
Clinics: 
Kate's Place, Kaiwaka: 
Last Friday of month 
For bookings: 
9.00am-5.00pm  
Phone 
09 4312661 
Or phone Owen  
09 4317123 anytime 
WATER TANKS: 
Aqua & Baileys 
Brands 
DRAINAGE & 
SEPTICS: 
Land Drainage 
Urban Rural 
Drainage 
Water Pipelines 
Culverts 
Septic Systems 
(RX Plastics & 
Biorock) 
SITEWORKS: 
Retaining Walls 
Piling 
Driveways 
Carparks 
Landscaping Supplies: 
Waikato Screen Topsoil 
Bark 
Woodchip 
Mill Bark 
Post Peelings 
Compost 
Crushed Shell 
Topsoil 
Limestone Chip 
Daltons Garden Mix 
Aggregate 
Gap: 20,40.65 
Riverstone 
Sand 
Belt Dust 
40/20 Drainage Metal 
Builders Mix 
 Cement 
Timber/Fencing Supplies: 
Rails, Posts  
Stays, Strainers 
Fence Battens 
Palings 
Stakes 
Fencing Wire 
Farm Gates & hardware 
Drainage: 
PVC Fittings 
Alkathene 
Draincoil 
LINKING 
HANDS INC 
Maungaturoto - Kaiwaka 
- Mangawhai 
Meeting the needs of the community. 
A free Health Shuttle Service, providing 
transport to those who would struggle to 
get  to  medical,  dental,  podiatry,  or 
optometrist  appointments  anywhere 
from Warkworth to Whangarei. 
HEALTH SHUTTLE SERVICES  
Ph/fax 09 431 8969 
Kaiwaka/Mangawhai 09 4315906 
OFFICE HOURS Maungaturoto - 
Monday to Friday - 10am to 4pm 
Closed Public Holidays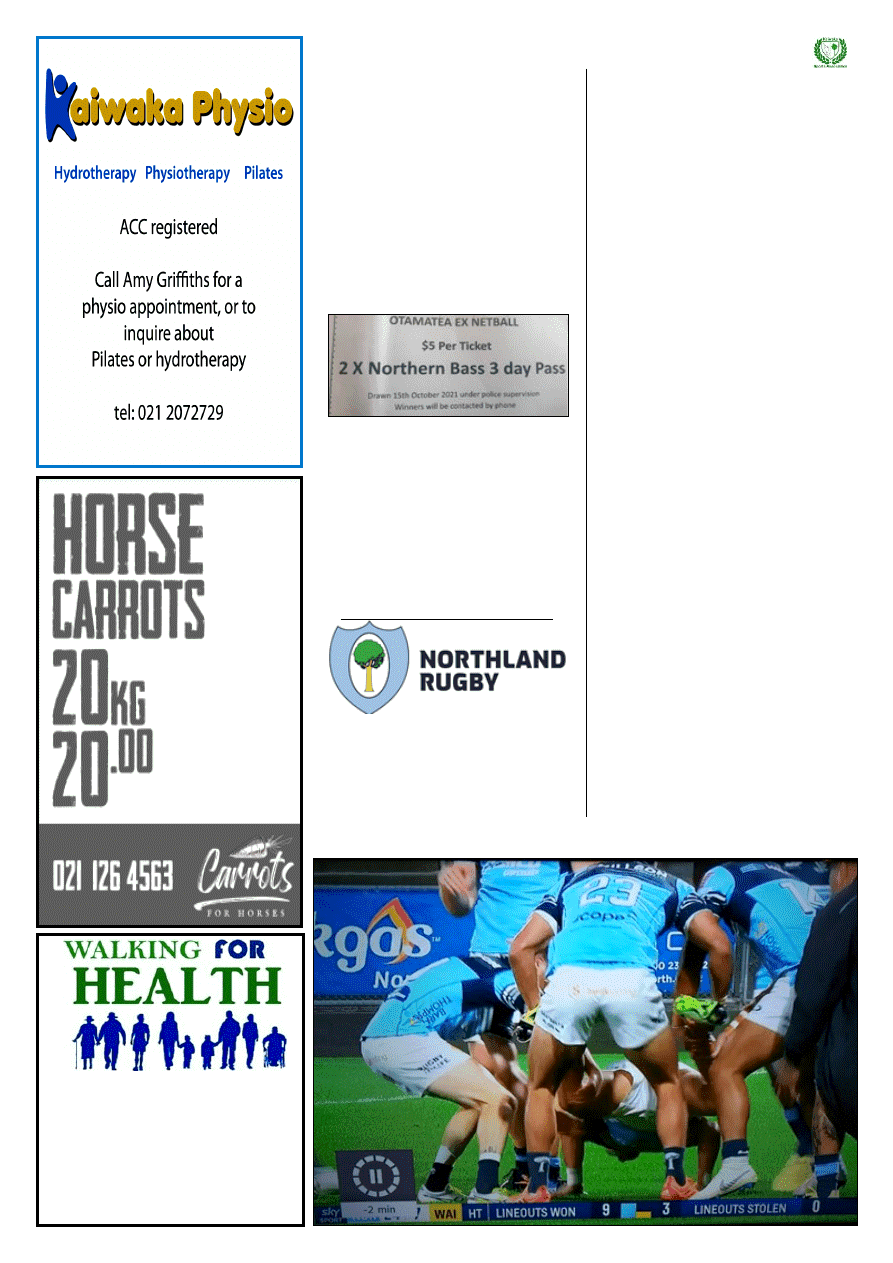 www.kaiwaka.co.nz 
Kaiwaka Bugle - 5 October 2021 
Page 11 
KAIWAKA SPORTS ASSN NEWS 
Friday evening, 1st October, Northland 
beat  Waikato,    38-28,  in  a  thrilling 
match  at  Semenoff  Stadium  in 
Whangārei.  Rene  Ranger,  man-of-the-
match,  played  his  100th  game  for 
Northland.  
The  photo  below  shows  the  Sam 
Nock's try - 5 points for the try and 10 
points for the 'celebration'!  
KAIWAKA SPORTS ASSN 
KSA Bookings contact: 
Jennie Reynolds, 02102764171  
ksa.bookings@mail.com 
Contact email: ksa.sec3@gmail.com 
Lindell Ferguson
Checkout the walking path 
at the  
KAIWAKA SPORTS 
ASSN. GROUNDS 
The buildings are off limits during the 
current Lockdown 
OTAMATEA EX NETBALL 
TOP OF THE TABLE WINNERS 
Team  1  won  all  of  their  games  but 
unfortunately didn't get to play the last 
game  due  to  covid  but  finished  on  the 
top of the table.  
RAFFLE FUNDRAISER 
Team  1  members  are  selling  raffle 
tickets for our club. 
2x 3 day passes to Northern Bass.  
$5 per ticket 
You  can  get  tickets  from  Team  1 
members  -  Taira  Phillips,  Maree 
Stewart,  Toni  Phillips,  Julia  Neal, 
Ocean Shadbolt, Mirna Manuell. 
Or by bank transfer – see Otamatea Ex  
Netball Club Facebook page 
 The  raffle  will  be  drawn  on  15th 
October under police supervision.
NOTE  TO  ALL  KSA  SPORTS 
CLUBS: 
Notices, articles and photos 
welcome   (no  charge  to the  individual 
club). Here to promote your sport! 
ATHLETICS 
Eileen Parsons 021 142 0357 
E: b.parsons@xtra.co.nz 
HOCKEY 
Tina Holst 021 293 5974 
E:  tina.holst@otamatea.school.nz 
POINT CURTIS CRUISING CLUB 
Sandy Shaw 021 0236 0740 
E: wfdsports@xtra.co.nz 
NETBALL-Senior (OTA-EX) 
Maree Stewart 
NETBALL – High School (Nicole Kemp) 
Jodie Bennetto 021 0266 3634 
E: mgtonetball@gmail.com 
TENNIS: 
Linda Cowbourne 021 266 8571 
kaiwakatennis@gmail.com 
SQUASH: 
Heath Worsfold 021 431 320 
E: heath@ruraldesign.co.nz 
Bruce Leslie 021 12608015 
E: leswa212@gmail.com 
BASKETBALL 
Blake Worsfold 021 148 9743 
E: blake@ruraldesign.co.nz 
FITNESS CENTRE 
Siobhan Henderson 027 979 1203 
E: siobhanCole87@gmail.com 
MARTIAL ARTS 
Craig Bennetts 4315 170 
021 152 4466 
E: otamatea.kempo@farmside.co.nz 
KAIWAKA PRIMARY SCHOOL 
Sharlene Tornquist 021 083 60424 
E: s.tornquist@kaiwaka.school.nz 
NETBALL- Primary School 
Courtney Cave 021 266 7946 
E: cjcave@hotmail.com 
BADMINTON 
Kaye Fleming 4312 345 
E: pkfleming@xtra.co.nz 
RUGBY-Senior 
Michael Tovine 021 138 661 
E: michealtovine@hotmail.com 
RUGBY – JMB 
Te Awhina Whitehead 
021 0259 6889 
E: teawh@hotmail.com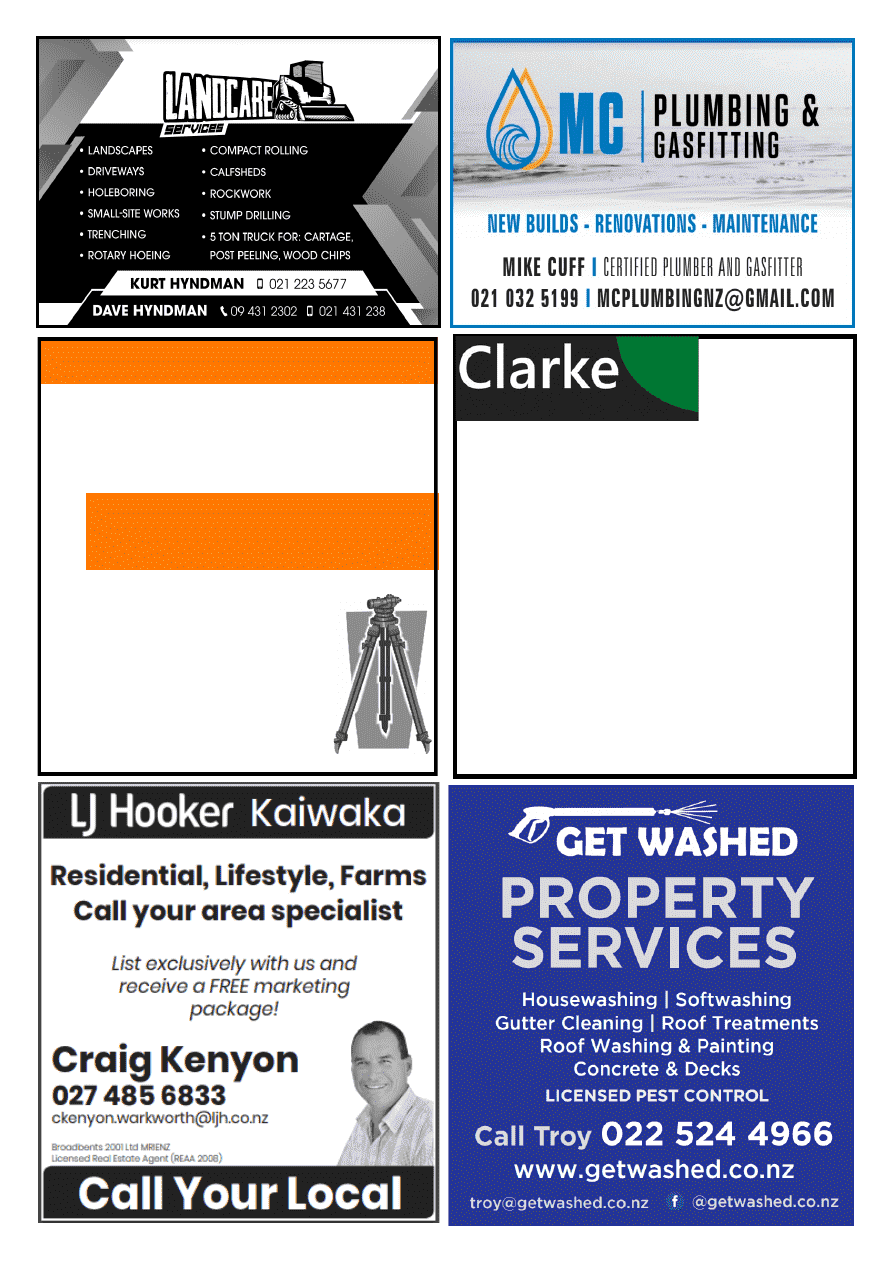 www.kaiwaka.co.nz 
Kaiwaka Bugle - 5 October 2021 
Page 12 
Drainage & Earthmoving 
nigel@clarkedrainage.nz 
027 2233 185 
Registered Drainlayer                 All Types of Earthworks  
> All Residential & Commercial Work  > House Sites 
> Septic System Design & Install 
> Footings & Drilling to 10m 
> Sewer Connections 
> Dams 
> Water Tank Installation 
> Roading & Races 
> Farm Work 
THE ONE STOP SHOP  
Phone Nigel for an Obligation Free Quote  
SURVEYORS 
SUBDIVISIONS 
HOUSE SITE SURVEYS 
CIVIL ENGINEERING 
WASTEWATER DESIGNS 
EXPERIENCED 
PROFESSIONAL 
INNOVATIVE 
Ph 09 431 5353 
0800 PACIFIC (0800 722 434) 
pacificcoastsurvey.com
Adam Booth - 027 415 5752 
Bsurv, Licensed Cadastral Surveyor
Surveying Kaipara since 1994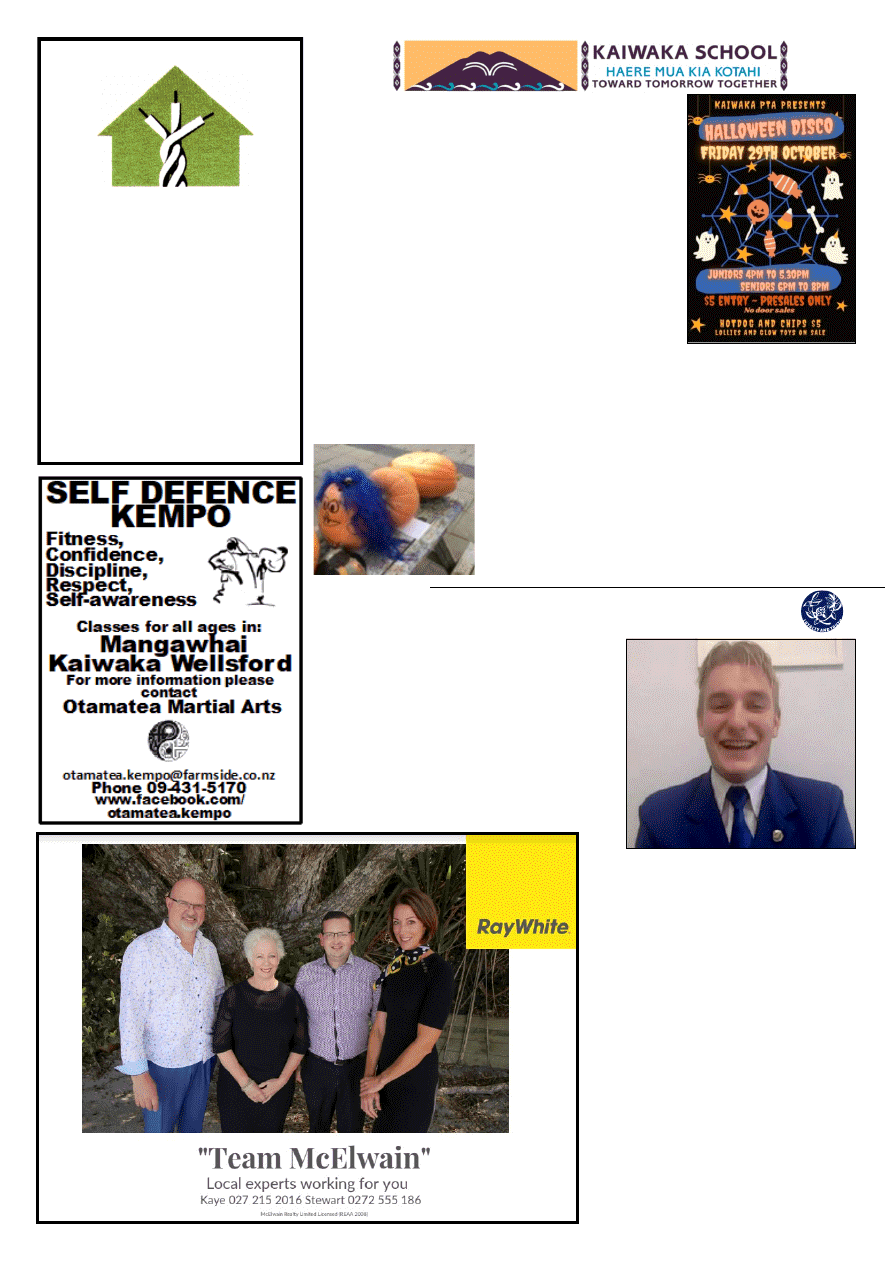 www.kaiwaka.co.nz 
Kaiwaka Bugle - 5 October 2021 
Page 13 
OTAMATEA HIGH SCHOOL 
Acting Principal's Notes 
Wednesday 22 September:  Jaden  Sheppard 
put Otamatea High School on the map as he 
upstaged  John  Campbell  on  TVNZ's 
Breakfast Show. The previous day Jaden had 
come  to  see  me  and  ask  if  he  could  use  the 
meeting  room  for  this  event.  The  SLT 
briefing was moved so that Jaden had a room 
and peace and quiet so that he could prepare 
for  his  moment  in  the  spotlight.  The  staff 
briefing  in  the  school  hall  had  the  Breakfast 
Show  streamed  onto  the  big  screen  as  we 
waited for Jaden to be introduced and be the 
'guest  weatherman'.  Jaden  did  not 
disappoint us as he performed brilliantly 
in  front  of  the  entire  nation.  He  was  a 
great  ambassador  for  our  school  and 
community. You can see the clip on the 
school  Facebook  page,  it  is  certainly 
worth a watch. 
Next  term  we  welcome  back  Dirk 
Smyth  as  the  new  Principal  of 
Otamatea  High  School.  The  staff  at 
school  were  delighted  with  this 
appointment and look forward to a new 
chapter  for  the  school  with  Dirk  at  the 
helm.  As  I  hand  back  control to  him,  I 
would like to thank all the staff for their 
support and tremendous effort that they 
have  put  into  the  school  throughout  an 
extremely  busy  term.  We  are  very 
fortunate  to  have  such  a  great  team 
supporting  the  education  of  our 
students. 
He Waka Eke Noa, Paul Chambers 
Reyahn  Leng 
Registered Electrician 
Local, honest and 
reliable. 
For your residential and 
light-commercial 
projects. 
022 314 1068 
This has been a busy term! A big thank you to the staff 
who made sure that learning has continued to happen 
over  Term  3  with  the  COVID  lockdown  and  the 
changes in levels. 
We have just been told that a child from our school has 
chicken  pox.  You  may  want  to  keep  an  eye  on  your 
children for symptoms.  
Symptoms:  Initial  symptoms  of  chickenpox  include 
fatigue, a mild fever, lack of appetite, and a feeling of 
being  generally  unwell.  This  is  quickly  followed 
(usually within 24 hours) by the development of a red 
rash,  which  usually  appears  on  the  chest  and/or  back 
first, later spreading to the face, scalp, arms, and legs. 
Nga mihi, Sharlene Tornquist, Principal 
KAIWAKA SCHOOL GIANT  
PUMPKIN COMPETITION 
Spring is here so it's time to get your pumpkins going for the Kaiwaka School 
Giant Pumpkin Competition! 
Last year Evan Britton grew the heaviest pumpkin at 52kg, and the school record 
is 93kg – by Lincoln Morgan. The secret, I am told, is plenty of sheep or horse 
poo and water, water, water through the dry months. 
Seeds  have  been  saved  from  Evan's  pumpkin  and  are 
available  at  the  school  office.  Otherwise,  you  can  get 
Giant  Atlantic  Pumpkin  seeds  from  Kings  Seeds  and 
Bunnings. 
Weigh in will be March 2022. There will be prizes for 
Heaviest, Furthest Roll Down the Hill and Best Dressed 
and of course the giant pumpkin trophy will be up for 
grabs! 
Happy growing and good luck! 
www.kaiwaka.co.nz 
Kaiwaka Bugle - 5 October 2021 
Page 14 
HELP 
PHONE NUMBERS 
HEALTHLINE 0800 611 116 - a 
nurse to answer health queries  
SAMARITANS 0800 726 666 - 
support for lonely or suffering 
mental distress 
YOUTHLINE 0800 376 633 
LIFELINE 0800 543 354 
DEPRESSION HELPLINE 0800 111 
756 
ALCOHOL & DRUG HELPLINE 0800 
787 797 
URGENT MENTAL HEALTH LINE 
0800 223 371 
WARMLINE -peer support for 
people with mental health issues 
0800 200 207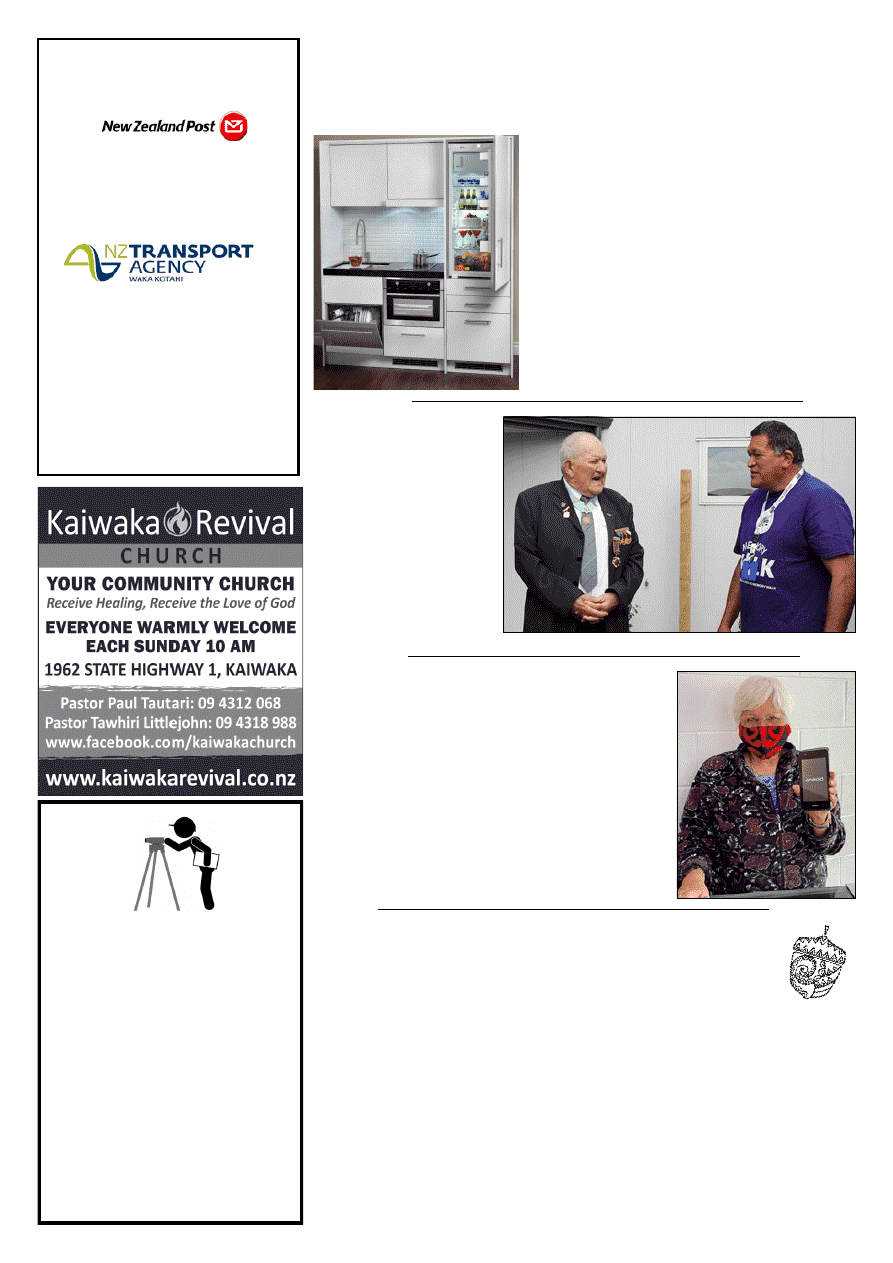 www.kaiwaka.co.nz 
Kaiwaka Bugle - 5 October 2021 
Page 15 
KAIWAKA POST 
CENTRE and 
FOOD MART 
POST CENTRE TRADING HOURS 
MONDAY to FRIDAY 8am to 5pm 
SATURDAY 8am to 12pm 
CLOSED ON SUNDAY and on 
PUBLIC HOLIDAYS 
FOOD MART (GROCERIES) 
MONDAY TO FRIDAY  
7:30am to 7.30pm 
SATURDAY  8am to 7.30pm 
SUNDAY  8:30am to 7pm 
IF ANY QUERIES PLEASE CALL 
STORE MANAGER AMRIT  
on 09 4312431 or 
EMAIL: kaiwakafood19a@gmail.com 
1919a State Highway1, Kaiwaka 0542 
Ken Urquhart 
BSurv Licensed  
Cadastral Surveyor 
KMU Surveys Ltd 
467 Bickerstaffe Road 
RD 2 
Maungaturoto 0587 
Ph 09 431 8705 
Mob 021 161 2344 
kenurquhart@xtra.co.nz 
DEMENTIA 
UNIT GIFT 
Pictured:  Kelvin  Foster 
(Kaiwaka  Bugle  crew 
member)  and  Graham 
Slatter, 
chairman 
of 
Maungaturoto  Community 
Charitable Trust, at the 20 
September viewing. 
Kelvin,  on  behalf  of 
Buffalo  Lodge  Luxin  109, 
had  just  presented  a 
cheque  for  $25,500  to 
Graham  Slatter  to  cover 
the  cost  of  furnishings  for 
all 14 units of the newly completed dementia unit.
STANDBY POWER ~ HP 
How can we reduce use of power? 
First up, organise so that use of the machines is at a minimum. Laundry baskets, 
shared  meals  and  clotheslines  are  money  savers.  The  main  power  gulpers  are 
washing machines, dishwashers, ovens and dryers. Where gas is an option, it is 
recommended as an alternative. 
Age and cleanliness are factors, so maintenance 
needs to be done. 
Some swear by turning off the wall plug. That is 
a  good  idea  if  you  miss  getting  back  to  the 
machine. Standby functions work well for some 
and  not  for  others.  Check  out  the  Consumer 
Magazine link below and others for comparison. 
If you rely on a tank, an isolation switch can stop 
that  pump  buzz  that  indicates  leaks  somewhere 
on taps or pipes. 

https://www.powershop.co.nz/saving-electricity/
how-much-power-do-appliances-use/ 

https://www.consumer.org.nz/articles/appliance-
running-costs 

https://www.daftlogic.com/information-appliance-
power-consumption.htm 
LOVE AND FEAR  
Love and fear are incompatible; they can't co-exist.  
Children  have  two  basic  needs:  (1)  A  need  to  explore.  That's  how 
they  learn,  grow  and  develop.  (2)  A  need  to  feel  safe.  If  they  don't 
feel  secure,  they  won't  explore.  Every  human  being  needs  a  secure 
base from which to investigate and grow.  
Research confirms that, generally speaking, one parent more than the other will 
push  a  child  to  take  chances,  run  risks  and  learn  that  a  little  danger  is  a  good 
thing, while the other parent tends to be the comforter, the soother, the safety net. 
But the truth is any parent can give a child both gifts. 
When we're afraid, our body activates its sympathetic nervous system. Our heart 
races, our breathing becomes faster and shallower, and our muscles tense up. So, 
we run to our non-anxious presence: our comforter, protector and parent. 
And as we are held, reassured and loved, the parasympathetic system takes over. 
Our  heart  rate  slows,  our  breathing  becomes  deep  and  even,  our  muscles  relax 
and blood flows back to our brain. ln essence, a little voice inside us says, 'l can 
go out and face the world again.' 
It's a fact in the physical realm that 'perfect love casts out fear'. And it's also true 
in the spiritual realm.  
Ref. Word for Today
TE PĀTAKA O KAIWAKA - 
THE STOREHOUSE OF 
KAIWAKA 
Millie, pictured right,  has an EFTPOS machine now 
and an awesome range of goods in store! 
There is also an official Facebook Page 'Te Pātaka o 
Kaiwaka - The Storehouse of Kaiwaka'.  
"With your food basket and my food basket,  
the people will thrive"  
Nā tō rourou, nā taku rourou, ka ora ai te iwi  
We are open Tuesday-Friday 10am - 2pm 
022 564 3830 
tepatakaokaiwaka@gmail.com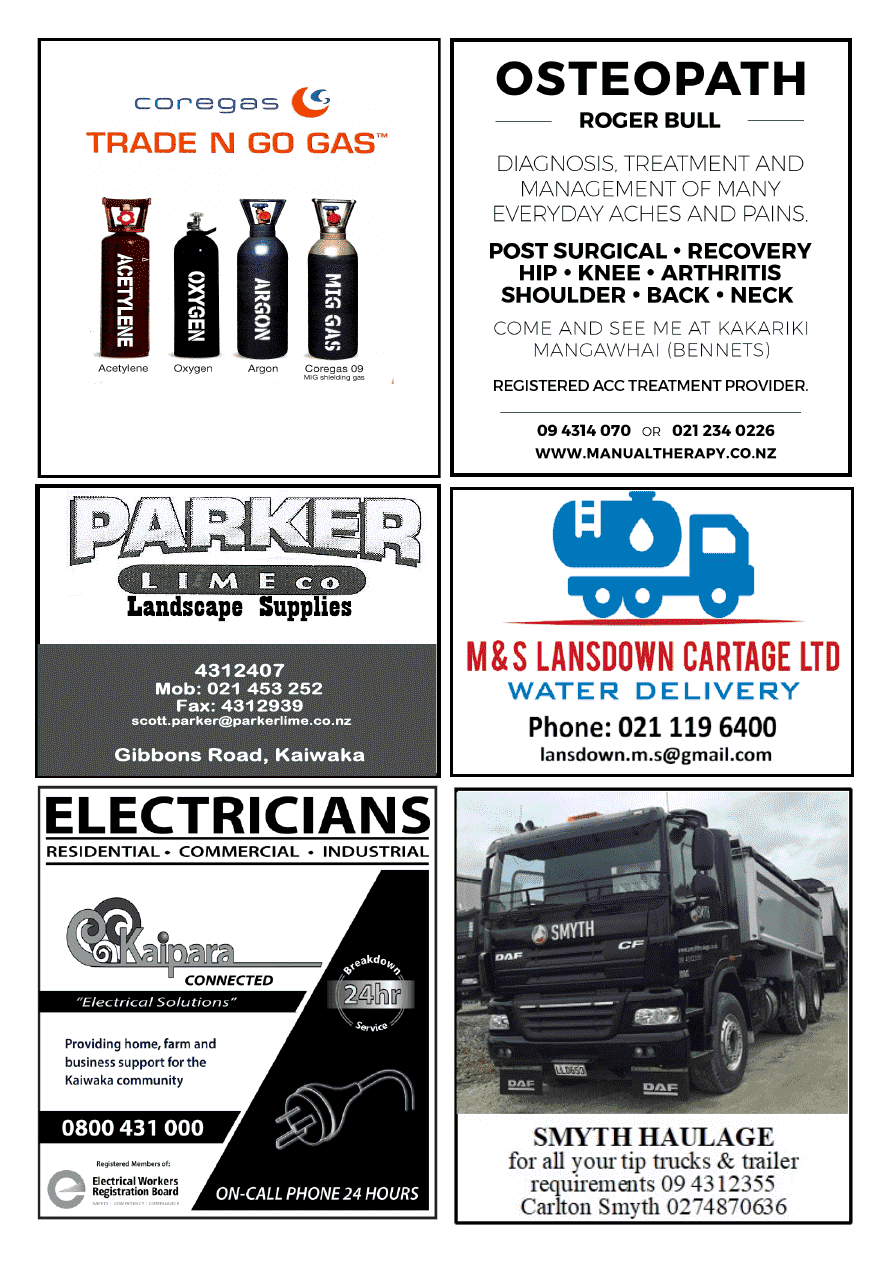 www.kaiwaka.co.nz 
Kaiwaka Bugle - 5 October 2021 
Page 16 
At Twinkle Tow 'n' Tyre 
Mob: 021 833 960 
Ph & Fax: 09 431 2823 
1837 State Highway 1, Kaiwaka 
Bulk Cartage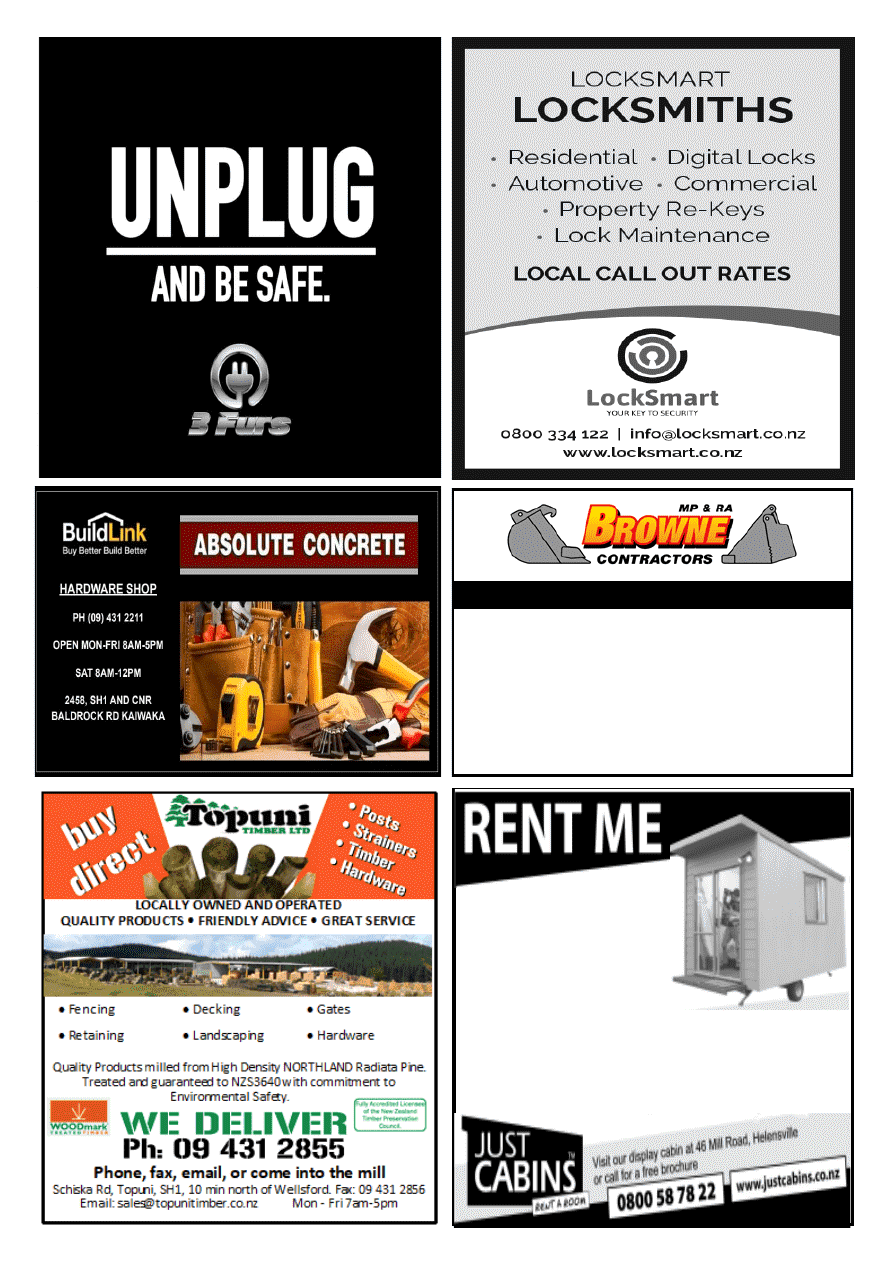 www.kaiwaka.co.nz 
Kaiwaka Bugle - 5 October 2021 
Page 17 
Ideal as an extra  
bedroom or office 
Three Convenient sizes: 
Standard 3.6m x 2.4m - $65 
per week 
Large 4.2m x 2.4m - $80 per week 
Extra Large 4.8m x 2.4m - $100 per week 
Fully insulated. Minimum 6 months rental period 
4Tonne DIGGER – BOBCAT – TIP TRUCK 
Property Maintenance - Driveways  
 Building Sites 
Stump & Tree Removal  
Hole Boring - Chain Trencher  
Calf Shed and Stockyard Cleaning 
Phone Matt: 021 199 6677 
Email: mprabrownecontractors@gmail.com 
WE 
ARE CLOSED  
But we will see you all again soon! 
Phone 09 4312 246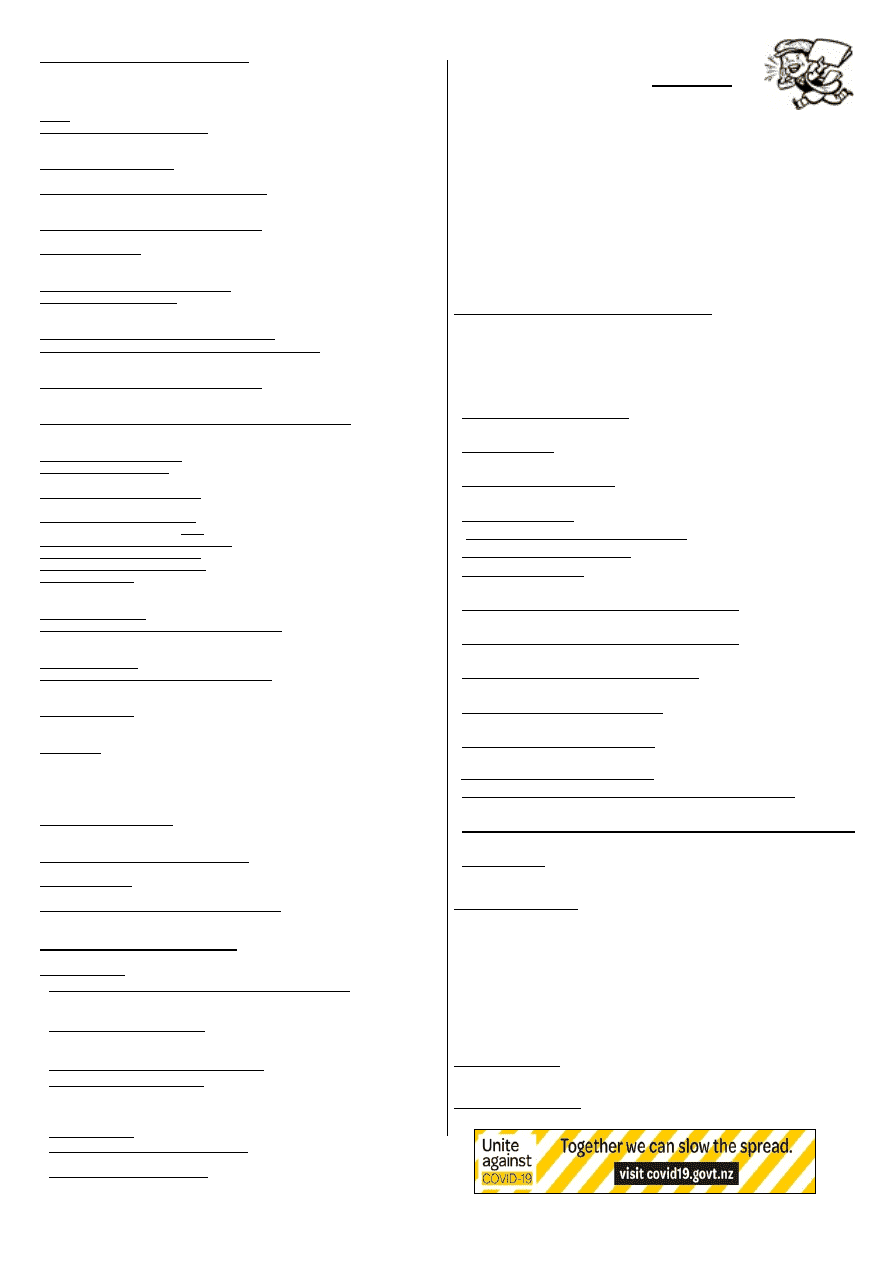 www.kaiwaka.co.nz 
Kaiwaka Bugle - 5 October 2021 
Page 18 
WHAT'S ON
PLEASE ~ do let us know what is on - 
email kaiwakabugle@kaiwaka.co.nz 
*13Oct~PtCurtis Cruising Club meet 7pm KSA 
*18Oct~School Term 4 begins 
*19Oct~Kaiwaka War Memorial Hall & Library 
AGM 
*21Oct~Hakaru Hall AGM, 7.30pm 
*6-7Nov~Kaiwaka Volunteer Fire Brigade Open 
Fishing Contest 
KWMH = Kaiwaka War Memorial Hall; KSA = Kaiwaka Sports Association 
See www.kaiwaka.co.nz for more information 
HOUSEHOLD RUBBISH COLLECTION  
Kaiwaka Pick up: 
Mondays = Green bags (Northland Waste - 09 430 3273) 
Wednesdays  =  Blue  bags  and  yellow  recycling  (at  Four  Square 
Kaiwaka $3.30 and $1.70) (Kaurilands 09 4392146); ONLY Blue 
and Yellow bags picked up on Oneriri Road. 
 DIABETES Support Group-for Kaiwaka, Mangawhai, Wellsford 
10am, 3rd Friday of month Ph: Colleen James 09 4314238 
 GENEALOGY - Wellsford: 1st Thursday in month Ph: 423 
7033; Waipu: 4th Monday in month Ph: 4312 725 
 HAKARU PONY CLUB - Secretary Denise Rogers 021423376 
secretary@hakaruponyclub.co.nz  
 KAIPARA HUNT - Secretary Albert Doonenbal Ph 4312059 
  KAIPARA HUNTING & FISHING - 021 1294378 
 KAIWAKA BADMINTON -Tuesdays 7.30pm Ph: 4312345 
 KAIWAKA  CAN  - 3rd Wednesday in month, 5.30pm, Archie 
Bull Hall Ph: 0273572751 
 KAIWAKA GARDEN & FLORAL GROUP - 2nd Thursday in 
month. Ph: 431 4744 
 KNITTING FOR WHANGAREI HOSPITAL - 2nd Tuesday in 
month, Archie Bull Hall 10am Ph 4314827 
 MANGAWHAI COMBINED REBUS CLUB - 2pm, 3rd 
Thursday month, Senior Citizens Hall Mangawhai. Ph: 4315777 
 MANGAWHAI GENEALOGY  - meet 3rd Thursday month, 
Mangawhai Museum, 10.30am 
 PILATES - HAKARU HALL - Tuesday 10am, Thursday 9am 
Qualified Instructor  Ph. 0220643965  
*PT CURTIS CRUISING CLUB - Jean Ph: 4312227 (wk), 4312520 (hm) 
 RSA,  HAKARU  &  DISTRICTS  WOMEN'S  SECTION  –  meets 
1.30pm 4th Thursday of the month. Ph: 431 5818  
 KAIWAKA  SCOTTISH  COUNTRY  DANCING  CLUB-
Wednesdays 10am - 12 noon  Ph: Elaine 027 432 0032  
 TRAMPING 
- 
Mondays 
9am-2:30pm, 
contact  
valkenburgmaria@gmail.com 
HALLS FOR HIRE: 
  Kaiwaka St. John Hall: Phone Marj  0272941227  
 St.Pauls  Archie  Bull Hall  HIRE  $20 half day, $40 full day per 
hire, S McAulay, Ph 4312311 
 Kaiwaka  War  Memorial  Hall  HlRE  -  Phone  4312725  or 
kaiwaka.hall.bookings@gmail.com 
 Hakaru Community Hall HIRE -Ph.  Karen 4312090 
 Te Pounga Marae queries - Pearl Nathan  0223933533 
 Kaiwaka Sports Association hire/queries - Jennie Reynolds
   ksa.bookings@mail.com
, 02102764171  
Justice  of  Peace:  L.Donaldson  4312  228;  A.F.Hargreaves  4312 
045,  W.Howard  4312  725  -  please  phone  to  make  sure  they  are 
available www.justiceofthepeace.org.nz B.FJaques Retd  
Marriage Celebrants:  
L.Donaldson; A.F.Hargreaves; Y Osborne
Next Bugle Deadline  Friday 15 October 2021
LOCAL SERVICES 
*Emergencies - Ambulance, Fire, Police - dial 111 
*Non-urgent Police phone 105
A A: Meets Wed., 7pm. Kate's Place Ph 021 024 25969 or 0800 229 6757 
NARCOTICS ANONYMOUS : Mon., 6pm, Archie Bull Hall, Kwk-Mwi 
Road; drug and alcohol related issues. Ph. 02102412348 
ASUREQUALITY LTD (was AgriQuality) Call Free 0508 0011 22  
BUDGETING SERVICE, WELLSFORD: Free confidential advice & 
support for all areas of personal finance. Ph (09) 423 7123 
CAB-Citizens Advice Bureau.Wellsford Ph: 4237333 
0800 367 222 email:cab.wells@xtra.co.nz  
CIVIL DEFENCE - Kaiwaka Community Response Group: 
kaiwaka.civildefencecrg@gmail.com, 4312725 Wendy 
DOG/STOCK /NOISE CONTROL 0800 105 890 
FUNERAL SERVICES: Morris & Morris Ltd, 
Whangarei - Bev Jaques Ph:4312367 or 0800667747 
GRANDPARENTS Raising Grandchildren: Dianah Roberts 0223819539 
HAKARU & DISTRICTS MEMORIAL RSA (Inc) 733 Settlement Rd, 
Hakaru. Ph 4312 176 or Bill Warren (President) 431 2092 
HAKARU LANDFILL/Transfer Station:Open everyday  10am-
4pm.Ph4312629 Cost-$55 trailer load up to 1 cubic metre. Ph:4258567 - 
office 
KAIPARA DISTRICT COUNCIL www.kaipara.govt.nz:  
Help Desk FREEPHONE 0800 727 059  
KAIWAKA CEMETERY: Ph: 4312045 or 4314017 
KAIWAKA LIBRARY: kaiwaka.library@gmail.com  
Mon. 4-6pm; Wed., Thurs., Fri., Sat. 10am-2pm Ph:4312539 
KAIWAKA PLAYCENTRE: Ph Juanita 0274134904; open Mon, Wed, 
Fri 9am-12pm. Hastie Lane; Monday to Friday 9.00am - 12 noon. 
KAIWAKA POST OFFICE:Ph:4312 431  
Post Code: 0573 for RD2 and 0542 for all Kaiwaka Post Office mail 
KAIWAKA PRIMARY SCHOOL: Ph: 4312309   
KAIWAKA SPORTS ASSN: Ph 4312005; 4312129 gym 
KAIWAKA ST JOHN HALL: Phone Marj  0272941227  
KATE'S PLACE Community Centre - Employment services, Free Health 
Nurse, Plunket, Advocacy, Osteotherapist, A.A., Legal Advice. 4312 661 
LINKING HANDS Health Shuttle Ph 4315906 or 09 4318969 
MINISTRY FOR PRIMARY INDUSTRIES - General inquiries Call 
Free 0800 008 333 
NORTHPOWER: Faults Kaiwaka area 0800 104040 
OTAMATEA COMMUNITY SERVICES: Counselling, parent coach, 
Family Support worker, budget advice, food bank. Mon-Fri 9am-3pm. Ph 
09 431 9080 http://www.otamateacs.org/ 
PARENTPORT: Free, practical family support service Puhoi to Paparoa 
Ph or txt: Dianne 027 280 5093 or 09 425 9357 
PLUNKET: Kaiwaka- St John Hall, Monday 19 Oct, 23 Nov, 21 Dec. then 4th 
Monday of the month. Plunket Nurse Louise 027 282 3987 or 09 438 2508 
Mangawhai- Rose Madsen Cottage, Mondays and Wednesdays. Plunket Nurse 
Rebecca 021 501 941 or 09 438 2508 
Maungaturoto - Good News Church, 2nd and 4th Wednesday of the month. 
Plunket Nurse Seleisa 021 912 248 or 09 438 2508 
PLUNKET HELPLINE -0800 933 922 (24 hours)  
FACEBOOK - Kaipara Plunket 
TAITOKERAU COMMUNITY LAW: Free confidential legal advice and 
assistance, 2nd
Thursday
 of each month. Ph: 0800 155 529 for appts.  
TE URI O HAU Settlement Trust Tangata Developments: Whanau Ora 
021 793262  
VETERINARY SERVICE MANGAWHAI: 
Ph: 4314535 Mon-Fri 8.00-5.00, Sat 9-12, a/h appt. 
WELLSFORD DOCTORS: Ph: 4238 086 
CHURCHES:
 
Kaiwaka  Revival  Church  -  Your  Community  Church:  Sundays  10am. 
Ph: Pastor Tawhiri 09 431 8988 or Pastor Paul 09 4312 068 Visit us at 
www.facebook.com/kaiwakachurch 
 
St  Paul's  Anglican  Church  1st  Sun.  9.00am  (Eucharist),  3rd  Sun. 
9.00am  (Family  Service).  Contact:  Church  Office  Ph  431  4122 
www.mangawhaianglican.org.nz 
 
Church of Christ the King, Mangawhai:9.00am every Sunday 
 
St.Mary's  Catholic  Church:  Maungaturoto  –  Griffins  Road,  Saturday 
evening  Vigil  Mass  6pm;  Mangawhai  –  Senior  Citizens  Hall,  Sunday 
Mass  8:30am;  Wellsford  –  Matheson  Road,  Sunday  Mass  10:30am;  
Mid-week Mass times and all enquires to Fr. Bill Fletcher – phone 423 8170
 
Baptist Church: Sun. 10.30am Mangawhai Snr Cit.Hall.Ph:4312339 
 
Cause  Way  Church  Mangawhai:  Sundays  10.15am,  Mangawhai 
Community  Recreation  Centre,  Insley  St.  Ph:  09  4314782