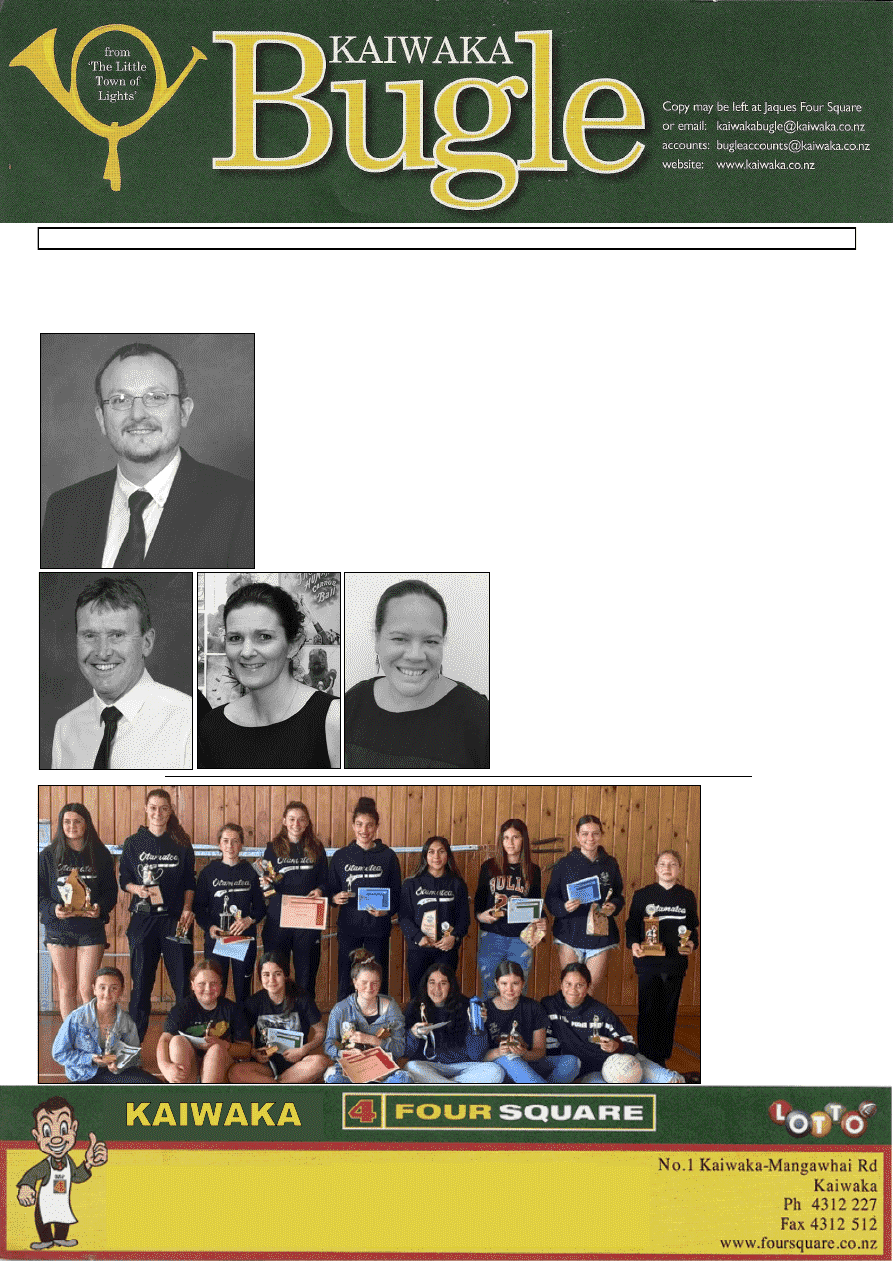 www.kaiwaka.co.nz 
Kaiwaka Bugle - 2 November 2021 
Page 1 
No.21 
2 November 2021 
Otamatea High School is very excited to announce its new senior leadership team, in place for the start of 
the 2022 academic year.  
Dirk  Smyth
, previously Deputy Principal, started as the school's new principal at the beginning of this term, having been 
on a Ministry of Education sabbatical during term 3.  
Paul  Chambers, 
previously  Assistant  Principal,  has  now  moved  into  the  Deputy 
Principal role.  
These promotions, combined with significant roll growth, have led to the creation of two 
new  Assistant  Principal  positions.  Following  a  rigorous  appointment  process,  Nicky 
Cotching and Huia Coll were the successful candidates. Both Nicky and Huia currently 
work at the High School.   
Nicky, an ex-student of Kaiwaka Primary School and of Otamatea High School brings 
considerable  experience  to  this  position.  She  was  seconded  onto  the  senior  leadership 
team during term 3 while Dirk was on sabbatical and did an impressive job during this 
time. Nicky is currently the school's Specialist Classroom Teacher, and oversees EOTC, 
staff professional development and the teachers' professional growth cycle. She has also 
previously been the head of the science department.  
Huia has been on the senior leadership team since the beginning of the year on a fixed 
term basis and has impressed everyone with her leadership skills and calm approach to 
what  has  been  a  busy  year.  She  brings  a  wealth  of 
experience  to  the  role,  and  is  currently  the  school's 
Learning  Support  Coordinator,  overseeing  a  team  of 
teaching  assistants  and  specialist  teachers.  We  also 
welcome  Huia  as  the  first  Māori  wahine  to  the 
school's senior leadership team.  
This  is  a  strong  team  that  will  be  responsible  for 
implementing a number of ambitious goals the school 
will have in place for the next 3 to 5 years. This will 
ensure  our  kura  goes  from  strength  to  strength,  to 
help our students be "Ready for the World"." 
Photos:  Top left  -  Dirk  Smyth;  Left  -  left to right  - 
Paul Chambers, Nicky Cotching, Huia Coll 
TRADING HOURS: 
7.30am - 7pm daily 
"Your local Store" 
Family owned & operated 
OTAMATEA HIGH SCHOOL LEADERS 
OTAMATEA 
NETBALL 2021 
WINNERS 
L to R Back:  Mollie 
Hanna,  Renee  Allen, 
Natalia 
Orchard, 
Analise Allen, Leonie 
Beyer, Maia Fairburn, 
Azaria  Paikea,  Bella 
Allen, Oliva Alcock,  
Front:  
Oliva  Tong,  Harper 
Dowson,  Izzy  Paikea, 
Stevie-ray 
Ball, 
Ngatira Mead, Brooke 
Healy, 
Sapphire 
Parata. 
See page 11 for winners.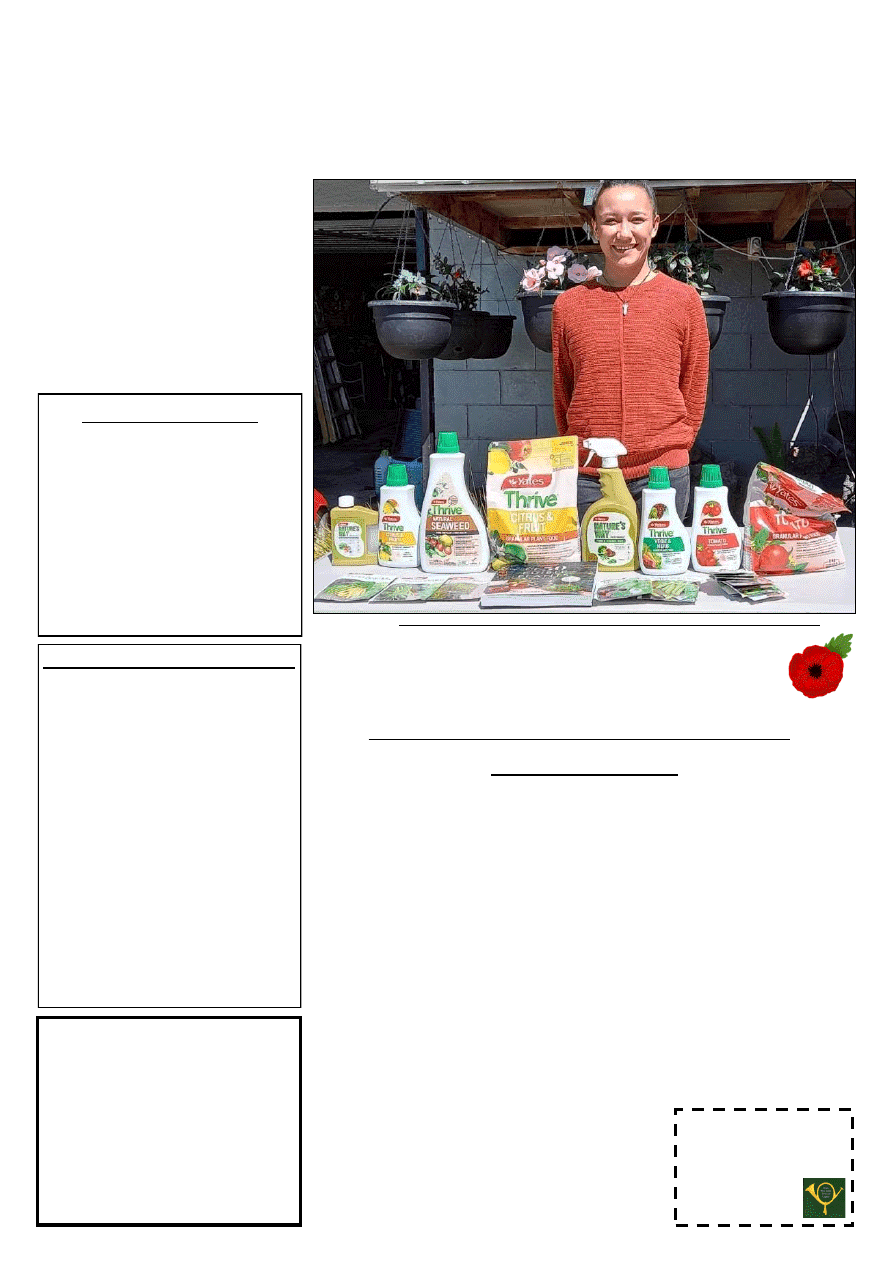 www.kaiwaka.co.nz 
Kaiwaka Bugle - 2 November 2021 
Page 2 
ABOUT TOWN 

 With positive COVID-19 cases now in the Kaipara region is a timely reminder 
that if you are feeling sick, or have any of the COVID symptoms – have a test. 

 From a local who has been paying particular attention to the number of locals 
who scan in on the QR codes at the Four Square, the Post Shop, La Nonna and 
the liquor store, "I can say with a degree of accuracy that only 1/3 of customers 
are using their phones to scan in or manual signing in." 

Bugle 20 Yates Seed Competition Winners: Yates seeds are on their way to the 
youngsters  who  emailed their  favourite  vegetables; they  were  young  lads  who 
like  Broccoli,  Cabbage,  Hot  Chillies,  and  another  who  eats  anything  and 
everything! Congratulations, Lads. 

 Kaipara Basketball – Fast 4 Level 2 restrictions will apply. Entries via email 
only and must be in before the 5 November – see age 11  

 Scottish Word of the Week: Tartle - unique to the Scots language that defines 
the hesitation shown in trying to remember someone's name.  

 Three  Furlongs  Bar  &  Grill  - Grill will be open on Wednesday, Thursday, 
Friday  nights  from  5.30pm.  To  book  call  (09)  4312  246  or  online  at 
www.threefurlongs.co.nz 

 The weekly Bream  Bay  Link  Service  to Whangarei resumes -with adequate 
distancing between passengers.  To book your seat please call Leabourn's office 
on 09 4237416 

 Student Representative to the Board of Trustees at Otamatea High School for 
2021  is  Michael  Ferguson,  and  for  2022  this  will  be 
John Hampshire – well done, lads. 

 Bugle 21 can be seen in colour at kaiwaka.co.nz
~ Lindsey, Ed
"Letters, diaries, emails and messages can be much more than 
just transactions of information. They have the power to capture 
and retain emotion, documenting love and loss – a connection 
between two people at a particular point in time and space."~ 
Auckland Museum.com Love & Loss exhibition 
KAIWAKA BUGLE NO.21 
2 NOVEMBER 2021 
CONTENTS: 
Page 3: Public Notices, Classified 
Page 5: Kaiwaka Physio; Four Little 
Birds - window 
Page 7: Kaye McElwain; Te Pataka 
Page 9: Kaiwaka Revival Church; 
Libby Jones 
Page 11: Kaiwaka Sports  Assn 
Page 13: Spotted in Kaiwaka 
Page 15: Kaiwaka Library; Kauri 
Museum  
Bugle 22 will appear 16 November 
Contact for advertising, reports, articles 
or information can be made by 
Email: kaiwakabugle@kaiwaka.co.nz 
Ph: 09 4312 045 Lindsey 
Txt: 027 2724137 
Copy  may  be  left  at  Kaiwaka  Four 
Square. 
Kaiwaka Bugle 
Founded May 1978 
We appreciate articles and photos about local 
events, etc, as well as ads and suggestions. 
Copies available in Kaiwaka at Kaiwaka  Four 
Square, Kaiwaka Postal Centre, Shamrock 
Service Station, Animal Health Centre, 
Kaiwaka St John shop., La Nonna 
Also outlets in Maungaturoto, 
Mangawhai and Paparoa. 
Can be viewed online at  
www.kaiwaka.co.nz/Bugle  
Or a copy can be posted to you if you supply 
stamped, self-addressed DLE envelopes. 
Kaiwaka Bugle Advertisements 2021: 
All 
copy 
and 
queries 
to: 
kaiwakabugle@kaiwaka.co.nz 
The Bugle is printed on an A4 page, B&W  
Ad  sizes:  1/16  page  (3  x  9.5cm)  $5;  1/8 
(6.5  x  9.5cm  landscape  or  portrait)  $8; 
3/16 ( 10 x 9.5cm or 7.5 x 12,5)  $12.  
Classified  ads:  First  one  FREE,  $4  per 
entry (max. 30 words, max. 4 repeats). 
Payments  can  be  made  online  at 
ANZ 
06  0365  0006990  00
,  posted  or  left  at 
Kaiwaka Four Square Store. 
We  use  Microsoft  Publisher,  and  can 
work  with  most  common  image 
formats, Word, Excel, and PDF files. 
Accounts:  
Email: bugleaccounts@kaiwaka.co.nz 
The  Kaiwaka  Bugle  is  a  community 
newspaper run by volunteers, as part of 
the Kaiwaka Media Group Inc.   
Articles, etc. printed are not necessarily 
the opinion of the Bugle Team. 
Proverbs 24: 14 
Eat honey, dear child - it's 
good for you - Likewise 
knowledge, and Wisdom for 
your soul - get that and your 
future is secured, your Hope 
is on solid ground.  
(Read also Matthew 6:33) 
KAIWAKA BUGLE 
DEADLINE DATES 
2021:   
Every second 
Friday 
November 12, 26 
December 10 
YATES GARDEN HAMPER WINNER 
Our winner of the wonderful Yates Gardening Hamper Competition! Well done, 
Milliscent  Kemp,  pictured  below  with  her  wonderful  prize.  Milliscent  received 
her prize last week during Yates Garden Week 18-25 October. And some words 
from Milliscent:"I have studied in most fields of the Environment, Horticulture, 
Permaculture, Hydroponics and sustainable rural development. I'm now doing a 
study  in  apiculture  (bees).  I  hope  to  one  day  work  with  the  department  of 
conservation as a ranger to help restore our environment back to its natural state." 
ARMISTICE DAY: PEACE AND HOMECOMING:  
At 11 a.m. on 11 November 1918, the Armistice marked the moment 
when hostilities ceased on the Western Front. The "eleventh  hour  of 
the  eleventh  day  of  the  eleventh  month"  thereafter  became 
universally associated with the remembrance of those who had died in the First 
World War.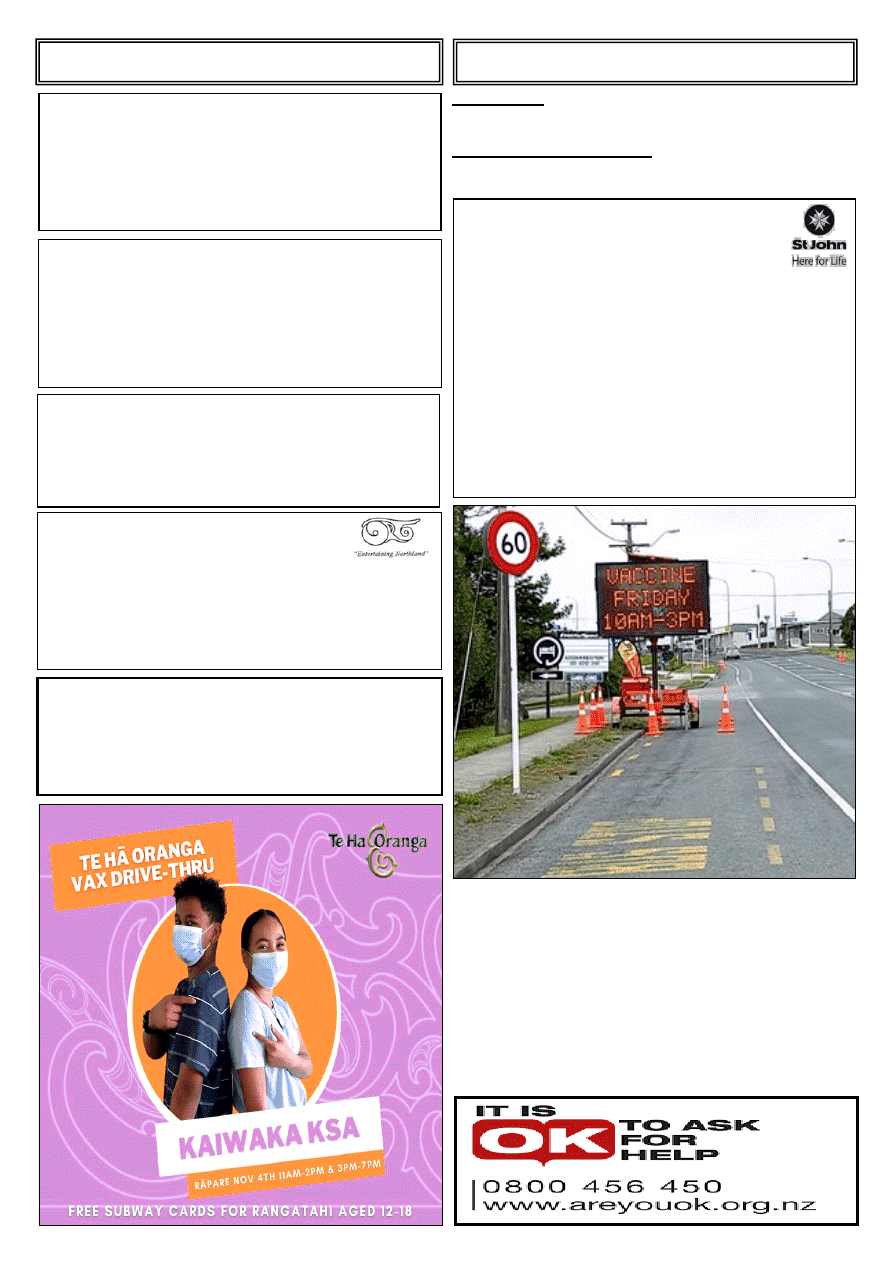 www.kaiwaka.co.nz 
Kaiwaka Bugle - 2 November 2021 
Page 3 
PUBLIC NOTICES 
CLASSIFIED 
ST. JOHN KAIWAKA STORE 
Hope this finds you all well.  
We have had lots of donations in the past 2 weeks 
and things seem to be selling fast.  
We are in need of clean saleable Bric Brac, especially 
Glassware, and any Christmas decorations, Books and 
clean used toys.  
We hope to have a garage sale before end the of November 
to clean out our garage as we are full to over flowing. 
Stay safe, be kind and look after one another. 
Pop in and check us out  
Kaiwaka St John Store Hours: 
TUESDAY to FRIDAY  10am to 3pm 
SATURDAY 10am to 2 pm 
PHONE: Shop  4312650  
1919SH1, Kaiwaka 
FOR  SALE: HENS -  Brown Shaver & White Sussex, 
$20 ea. Ph: 021 027 24843 
SUPPORT  WORKERS  required  for  Kaiwaka  IHC 
House.  Go  to  Trademe  Jobs  and  type  'support  worker 
kaiwaka' in the search box for details. 
COVID TESTS & VAX 
Photo  above  is  the  'sign'  trailer  outside  Three  Furlongs 
carpark -  keep an eye out for any changes! 
At  this  stage  covid  testing  is will be at Three Furlongs on 
Wednesday 3 and Friday 5 November. 
Te Ha Oranga nurses will be covid vaccinating Thursday 4 
November  - 11am to 2pm and 3pm till 7pm at the Kaiwaka 
Sports Assn car park. 
More  testing  centres  can  be  found  on  the  Health  Point 
website: https://www.healthpoint.co.nz/covid-19/northland/ 
Also check the Facebook page for Te Ha Oranga 
HAKARU HALL  
Annual General Meeting 
Thursday 4th November 7.30pm 
Hakaru Hall Settlement Road 
Everyone most welcome.  
Come along and support your local Hall 
Hakaru Hall Committee 
OTAMATEA REPERTORY  
THEATRE Inc. 
Annual General Meeting. 
Wednesday 24 November 2021 @ 7pm 
at the theatre, Bickerstaffe Road, Maungaturoto. 
If unable to meet physically, due to COVID-19 Restrictions, we 
will meet via Zoom. Please register your interest by emailing 
info@ort.org.nz by Fri 19 November 2021. 
OTAMATEA COMMUNITY SERVICES 
ANNUAL GENERAL MEETING 
Wednesday 17 November 1pm 
The Good News Church, Hurndall Street, Maungaturoto 
ALL WELCOME 
PLEASE NOTE: WE WILL BE HAPPY TO ACCEPT 
APPLICATIONS FOR BOARD MEMBERSHIP 
09 431 9080 reception@otamateacs.org.nz 
KAIWAKA VOLUNTEER FIRE 
BRIGADE  
OPEN FISHING CONTEST 
Saturday the 29 & 30 January 2022 
with 
FISH AUCTION & PRIZEGIVING
KAIWAKA SCHOOL  
PARENTS AND TEACHERS ASSN. 
ANNUAL GENERAL MEETING 
Tuesday 23 November 
The PTA is currently looking for a treasurer, contact 
021 025 48044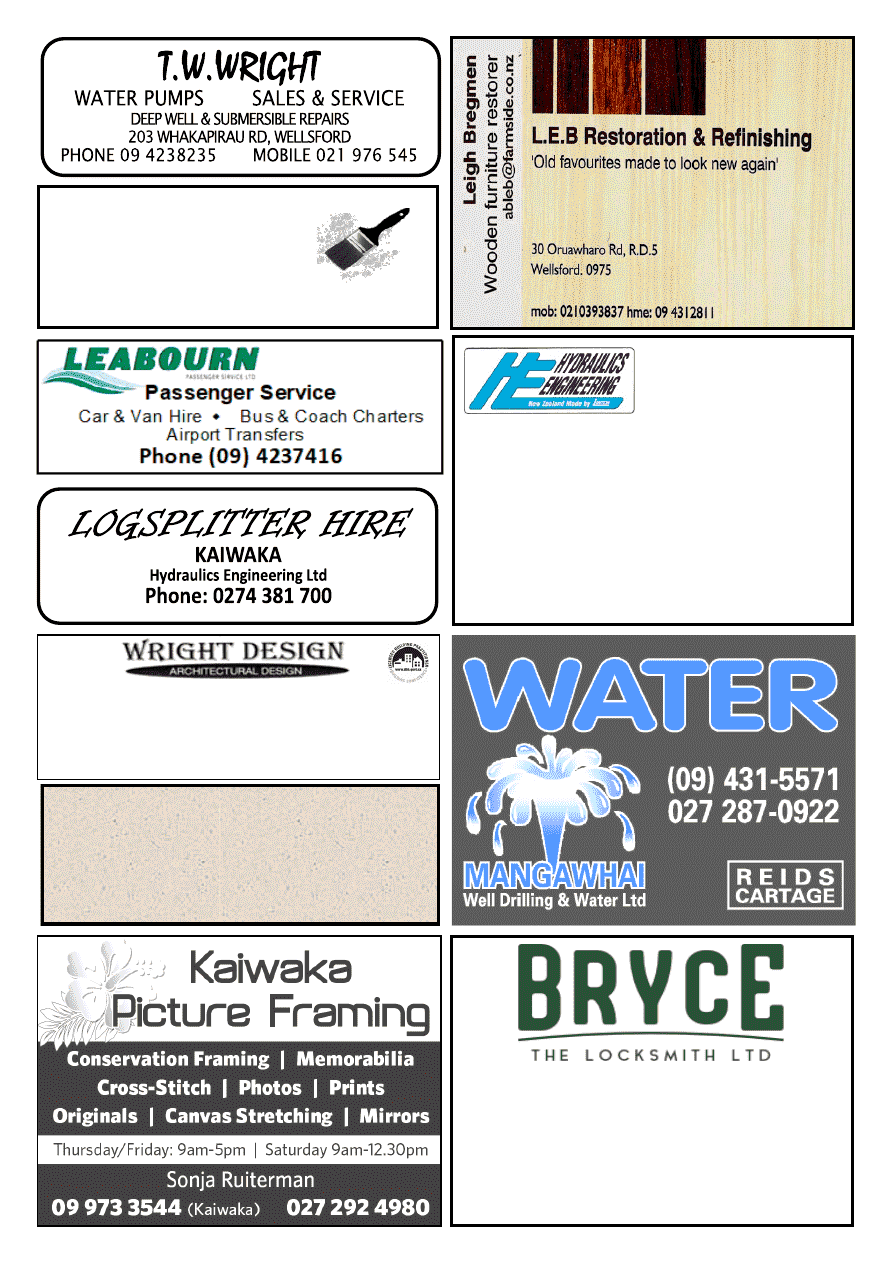 www.kaiwaka.co.nz 
Kaiwaka Bugle - 2 November 2021 
Page 4 
DR PAINT
 Dave & Rhys 
 Painters
 02108742551 
0211200667   drpaintnz@gmail.com 
Bryce Frewin 
Ph: 021 850 983 
Kaipara Based Master Locksmith 
bryce@brycethelocksmith.co.nz 
www.brycethelocksmith.co.nz 
Hydraulics  
Engineering Ltd 
Kaiwaka 
Sales - Service - Parts - 
Hire - Manufacture 
Service Contractors & Industrial Equipment: 
Rams, Pumps, Valves 
Logsplitter Hire, Manufacturer, Sales 
Dennis Linton 
Lot 2 / 161 Ranganui Road, RD2, Kaiwaka, 0573, New Zealand 
Mobile: 0274 381 700 
Email: hydraulicsengineering@xtra.co.nz 
Counsellor and Registered Psychotherapist 
Offers Supervision 
ACC Sensitive Claims 
Susan Matheson      MNZAC 
Dip. Psychosynthesis Counselling and Psychotherapy 
Phone 09 431 2996                                     Mobile 027 605 2427 
No. 117345 
N.Z.C.A.D., L.B.P. 117345 Design 1 & 2 

50 years experience 

All designs/plans council guaranteed 

FREE local site/house visit 

Plan printing available from A4 to A0 
Mob: 021-276-7389 
Office:  25 Lupis Way, Kaiwaka  Email: brianwright@xtra.co.nz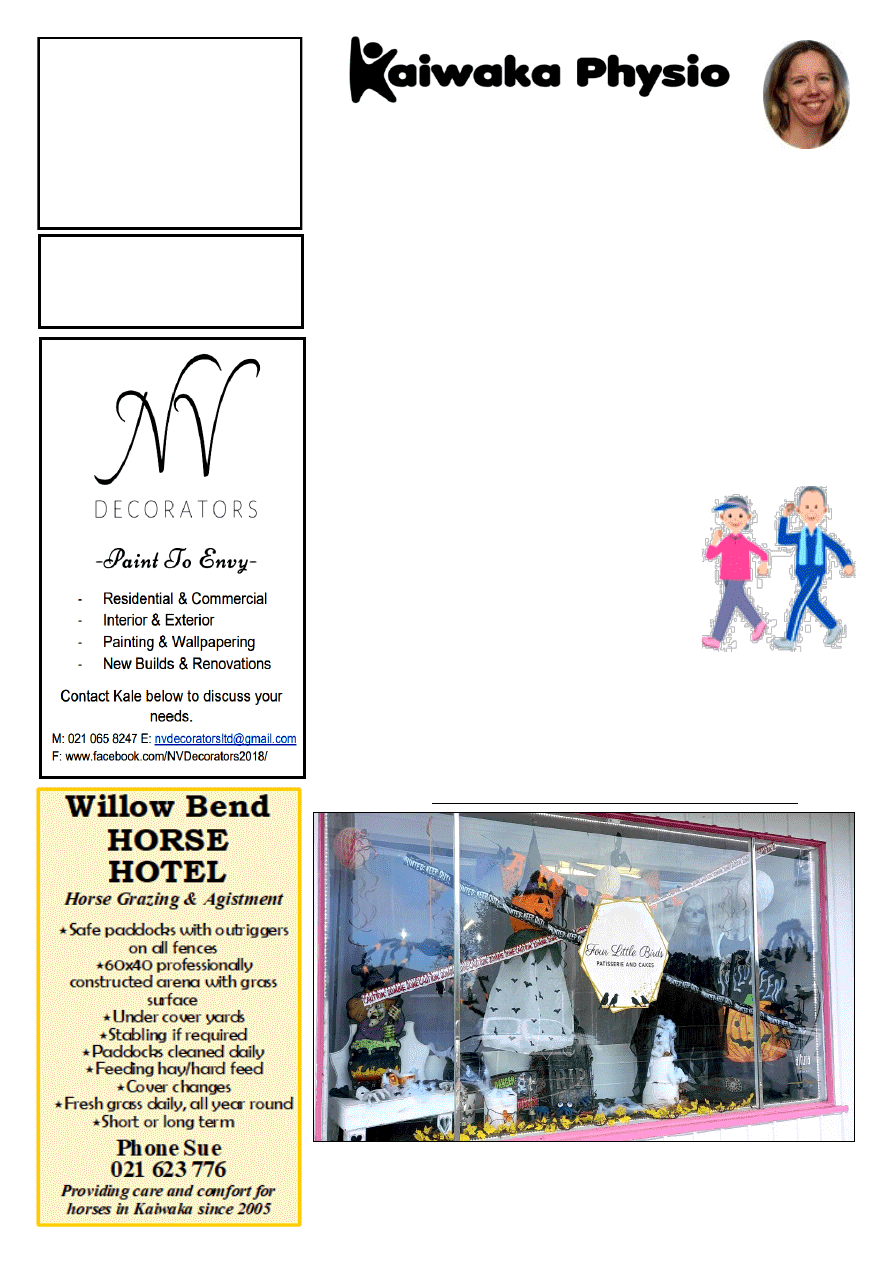 www.kaiwaka.co.nz 
Kaiwaka Bugle - 2 November 2021 
Page 5 
ST PAUL'S  
ANGLICAN  
SUNDAY SERVICES
First Sunday 9am Holy Communion 
Third Sunday 9am Family Service 
St Pauls Church: Kaiwaka-Mangawhai Rd. 
Church Office Ph 431 4122 
www.mangawhaianglican.org.nz
Spotted in Kaiwaka: Four Little Birds Patisserie and 
Cakes  wonderful  Halloween  window
.  As  Diana  says, 
"Halloween  this  year  might  be  a  little  different  for  kids  so  thought  we  would 
create a little scary magic in shop window to bring on some smiles to kids!" 
Kaiwaka  Physio:  a  regular 
column  on  all  thing's  physio 
and fitness: 
It's  important  in  these  times  that  we 
keep  ourselves  as  fit  and  healthy  as 
possible.  To  kick  things  off  I  plan  to 
write a few articles about exercise- how 
much?,  what  type?,  what  to  do  if  you 
struggle  to  exercise  or  are  just  really 
lazy! 
I am sure you have heard it before, but 
it has been said that "If  exercise  could 
be packaged in a pill, it would be the 
single  most  widely  prescribed  and 
beneficial medicine in the world." 
Exercise  decreases  the  risk  of  heart 
disease,  high  blood  pressure,  cancer, 
type-2  diabetes,  falls,  anxiety  and 
depression.  It  helps  improve  sleep, 
cognitive  health  and  can  help  with 
weight loss. 
World 
Health 
Organisation 
guidelines  state that adults aged 18–64 
years 

should  do  at  least  2.5-  5  hours  of 
moderate-intensity  aerobic  physical 
activity a week  

or at least 1.25- 2.5 hours of vigorous
-intensity aerobic physical activity; or 
an 
equivalent 
combination 
of 
moderate-  and  vigorous-intensity 
activity throughout the week 

should  also  do  muscle-strengthening 
activities  at  moderate  or  greater 
intensity that involve all major muscle 
groups on 2 or more days a week, as 
these  provide  additional  health 
benefits. 

should limit the amount of time spent 
being  sedentary.  Replacing  sedentary 
time  with  physical  activity  of  any 
intensity  (including  light  intensity) 
provides health benefits. 
There 
are 
different 
recommendations 
for 
children and over 65's but 
more on them another time. 
EXERCISE 
Moderate  exercise 
includes  brisk 
walking,  heavy  housework  such  as 
washing  windows  and  vacuuming, 
playing  badminton  and  mowing  the 
lawn.  Vigorous  activity  includes 
jogging/running, 
fast 
cycling, 
shovelling,  playing  soccer.  Muscle 
strengthening 
involves 
applying 
resistance  to  your  muscles.  This  could 
be  lifting  weights,  gardening,  steps, 
hillwalking and squats. 
10000 STEPS A DAY  
A  popular  way  of  monitoring  activity 
levels  is  counting  your  steps.  10000 
steps a day is a great goal but don't be 
put  off  if  you  are  some  way  off  this 
target.  If  you  do  no  exercise  and  just 
walk  round  the 
house  a  bit  and 
to  and  from  the 
car  a  couple  of 
times,  you  will 
clock up about 2
-3000  steps  a 
day. 
By 
doubling  this  to 
about 
5-6000 
steps  you  can 
gain significant health benefits. 
I hope this has given you something to 
think about. How are you tracking with 
the amount of physical activity you do 
every  week?  Next  time  I  plan  to  give 
you  some  ideas  to  help  increase  your 
activity levels and then we'll talk about 
kids and older adults. ~ Amy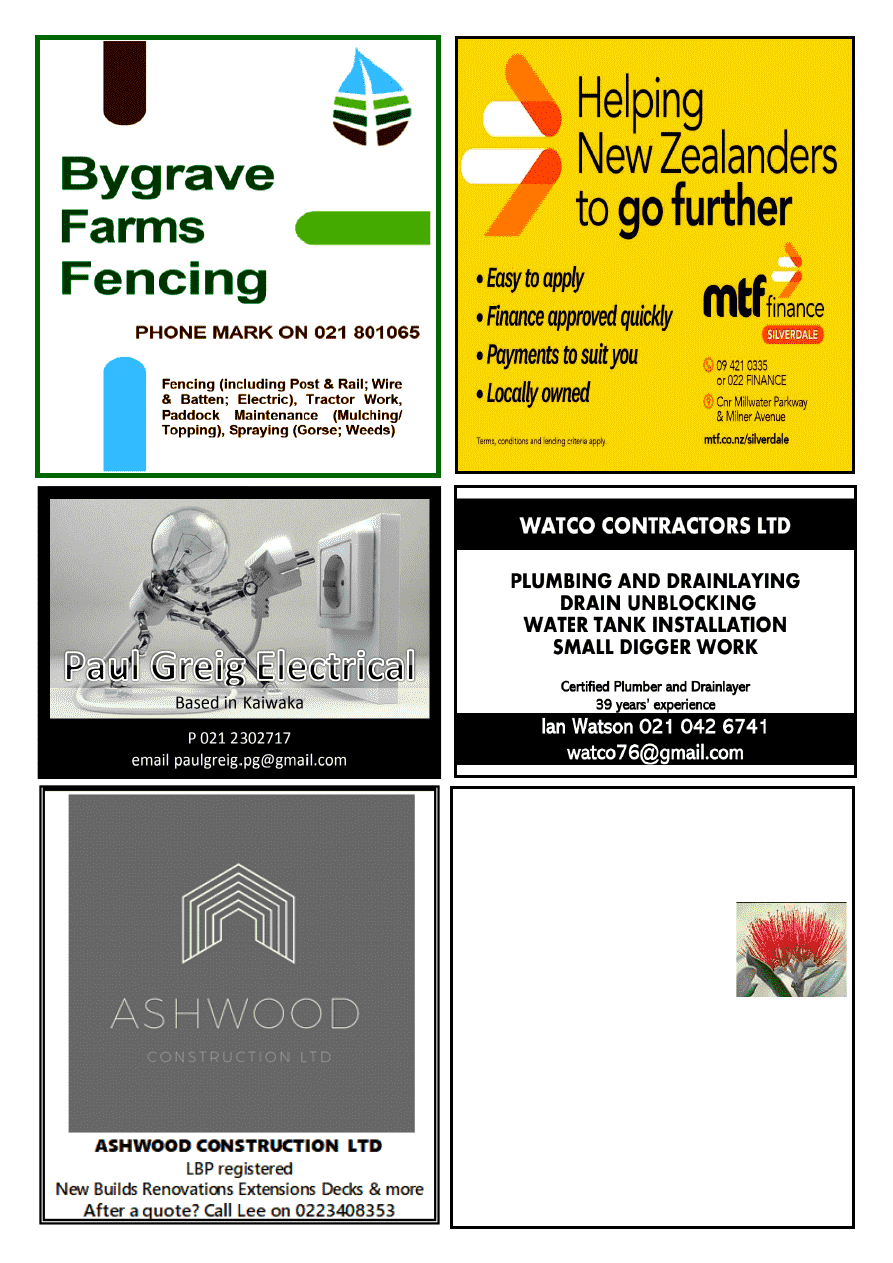 www.kaiwaka.co.nz 
Kaiwaka Bugle - 2 November 2021 
Page 6 
KAIPARA FLOORING CO 
FULLY MOBILE FLOORING SHOWROOM 
SERVICING THE KAIPARA 
PH (09) 946 9886 or  
CHRISTINE ON 021 515 415 or 
HOWARD 021 2696250 
IN HOUSE MEASURE, QUOTE AND 
CONSULTATION SERVICE 
FOR THE SUPPLY AND INSTALLATION OF 
CARPET, VINYL, VINYL PLANKING, HARD 
FLOORING, GARAGE CARPET, LAMINATE 
FLOORING AND MORE. 
EMAIL kaiparaflooring@gmail.com  
WEBSITE www.kaiparaflooring.co.nz 
Qcard 6 month interest free terms or 12 – 24 
month finance options available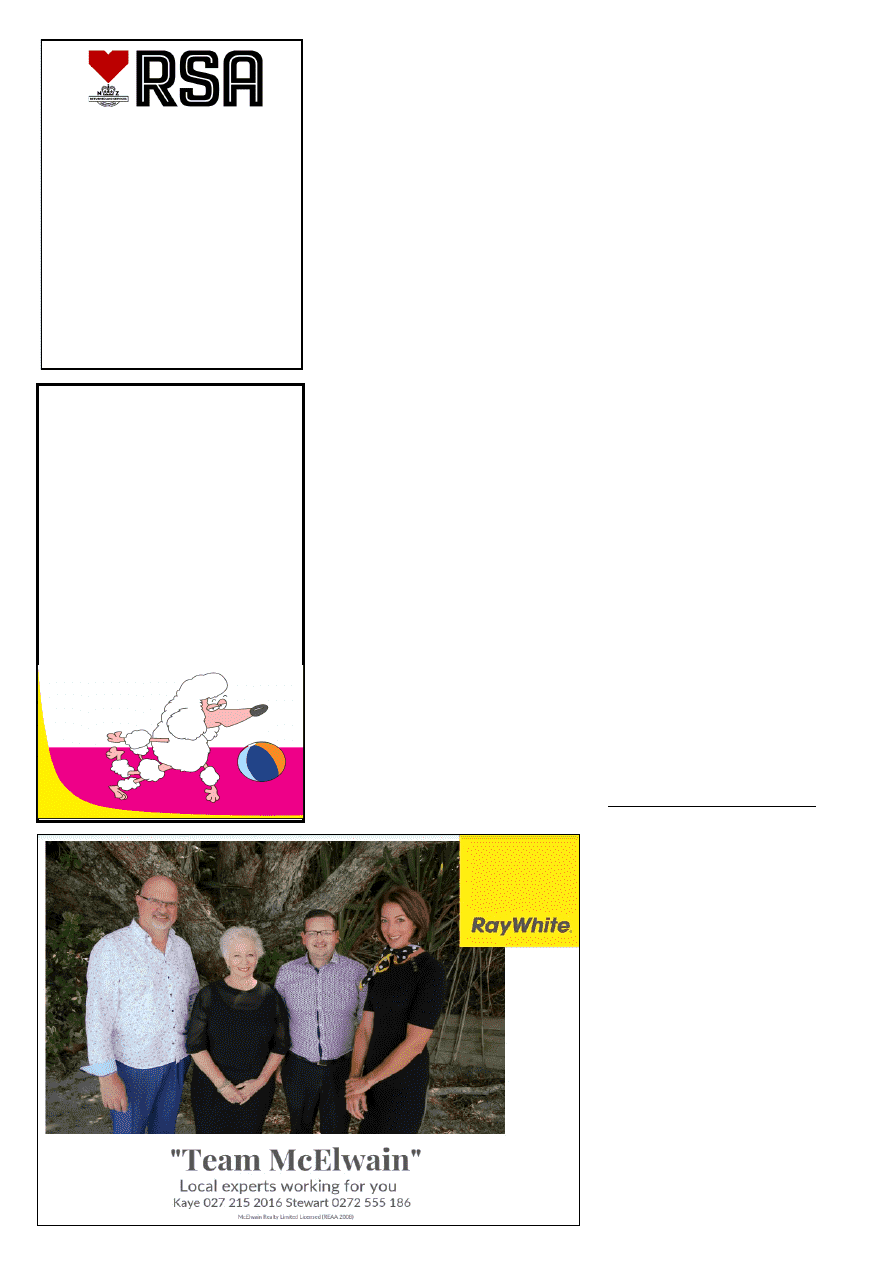 www.kaiwaka.co.nz 
Kaiwaka Bugle - 2 November 2021 
Page 7 
HAKARU & DISTRICTS 
MEMORIAL RSA (INC)
Members & guests are invited to 
come along and enjoy our hospitality. 
New members welcome. 
Meals are served on Thursday and 
Friday nights from 6.30pm. 
Order from Blackboard Menu  
For more information please phone 
Barry Wallace 0274 922 975 
Email: president@hakarursa.co.nz 
"DO YOU WONDER WHAT YOUR 
PROPERTY MAY BE WORTH?"  
"Would you like to know, 
but  don't  want  to  feel 
obligated to sell now?" 
Kaye  McElwain  from  Ray  White 
has lived in the area for 16 years and 
has  worked  in  real  estate  for  more 
than  two  decades  as  an  agent  and 
business owner
. 
'This  week  I'll  explain  if  you  do  wish 
to  know  what  your  property  may  be 
worth  in  today's  crazy  market,  what 
you  can  expect  the  salesperson  to 
provide; and how this may be of value, 
even  if  you're  not  wishing  to  sell  now 
or in the near future. 
As  far  as  value,  there  are  a  number  of 
appraisal methods the salesperson could 
use  to  provide  you  with  an  expected 
selling range. The most common being 
the  'Sales  Comparison'  approach.  This 
is  a  reliable  method  that  is  market-
related  and  relies  on  actual  sales 
transactions,  comparing  your  property 
to  similar  properties  to  yours  in  your 
surrounding area 
that  have  sold  recently.  The  variables 
used  in  establishing  value  would 
include: location; size and quality of the 
land;  current  and  potential  use  of  the 
land  (if  a  lifestyle  property);  size, 
quality  of  fixtures  and  fittings  of  your 
dwelling;  zoning  of  the  property; 
property  improvements;  and  some 
consideration  of  what  the  property 
market trends are. If there is no real or 
limited data that is comparable, another 
appraisal method should be used. 
So that the salesperson understands and 
appreciates  the  features  your  property 
offers,  it  is  best  practice  for  them  to 
meet with you and view the property. If 
you  are  just  curious  and  not  intending 
to sell at this time, be clear with them. 
They should respect this, understanding 
that  their  business  may  come  from  a 
relationship  developed  some  years 
before.  For  you,  being  informed  of 
possible  sale  value  gives  you  a  better 
appreciation  of  the  property  trends  in 
your  area,  can  greatly  assist  planning 
for  your  future  moves  and  can  assist 
with  planning  finance  requirements  for 
renovations 
and 
or 
mortgage 
restructuring. 
The  licensee  salesperson  or  agent  is 
governed by the Real Estate Agents Act 
2008  which  states  that  an  appraisal  of 
land  or  business  must:  be  provided  in 
writing  and  realistically  reflect  current 
market conditions and; be supported by 
comparable  information  on  sales  of 
similar  land  in  similar  locations  or 
businesses. In the event you may decide 
to  sell  the  completed  appraisal  will 
include: 
● A comparative market analysis giving 
a  probable  $  selling  range  for  your 
property; 
● A general overview of the real estate 
market; 
●  Recommended  sales  and  marketing 
strategy tailored to your property; 
● A choice of sale methods available; 
● Samples of marketing options; 
●  Agency  fee  and  any  other  expenses 
that may be incurred. 
To answer the thought "I don't wish to 
put you to all this trouble, but just want 
to know how much my home is worth", 
rest  assured  a  good  salesperson  will 
want  to  assist,  happy  to  provide  you 
with  full  information  so  that  you  can 
not  only  understand  property  values 
better  in  your  area  and  for  your 
property  but  are  aware  of  the  selling 
process for when you 
may  wish  to  make  a  property  change. 
Love to talk to you further if you have 
property  questions,  please  call  me  on 
027 215 2016. 
Hot Diggity Dog  
DOG GROOMING  
KAIWAKA 
Spring is in the hair. 
Professional Dog Groomer  
at affordable prices.
www.doggroomingkaiwaka.co.nz 
call Pam 094312143 or text 
0273335380 for bookings 
TE PĀTAKA O KAIWAKA - 
THE STOREHOUSE OF 
KAIWAKA 

We provide food parcels for those in 
need in the Kaiwaka community. 

To  apply  for  a  food  parcel,  you  will 
be  required  to  fill  out  a  confidential 
application  form.  NB  you  may  only 
apply  for  your  household  and  not  on 
behalf of another household. 

Te  Pataka  O  Kaiwaka  is  a  voluntary 
community  organisation  funded  by 
donations 
from 
the 
Kaiwaka 
community  and  the  Te  Pataka  O 
Kaiwaka  Op-shop  (opposite  the  Four 
Square)  with  a  goal  to  meet  the  needs 
of those struggling in our community. 

Te  Pataka  O  Kaiwaka  does  not 
discriminate.  If  you  or  someone  you 
know  is  in  need  of  food,  please  make 
contact via the numbers below or at Te 
Pataka O Kaiwaka Op-shop. 
Maria & Rau Morgan    - 027 211 75 78 
Milly O'Leary (op shop) - 027 388 9217  
Open Tuesday-Friday 10am - 2pm 
tepatakaokaiwaka@gmail.com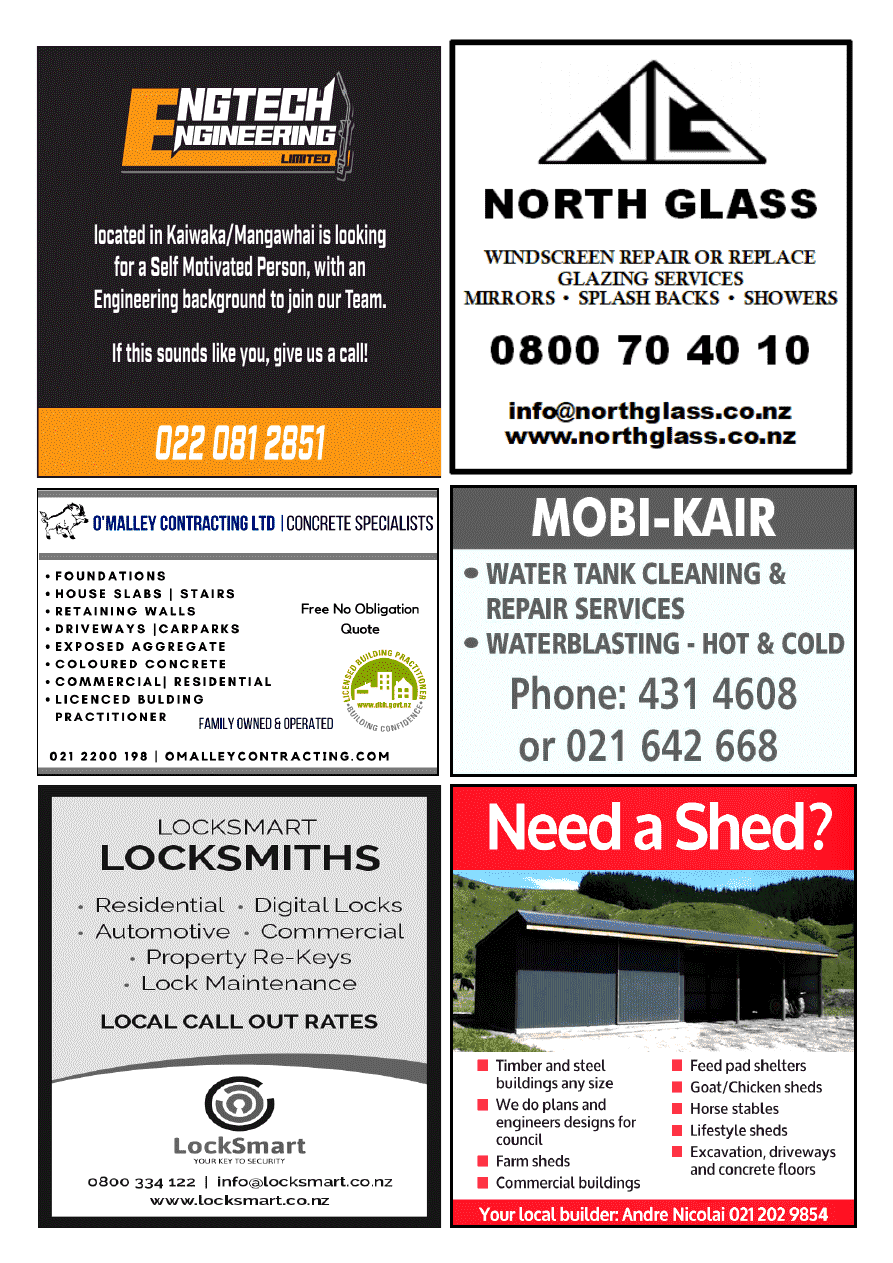 www.kaiwaka.co.nz 
Kaiwaka Bugle - 2 November 2021 
Page 8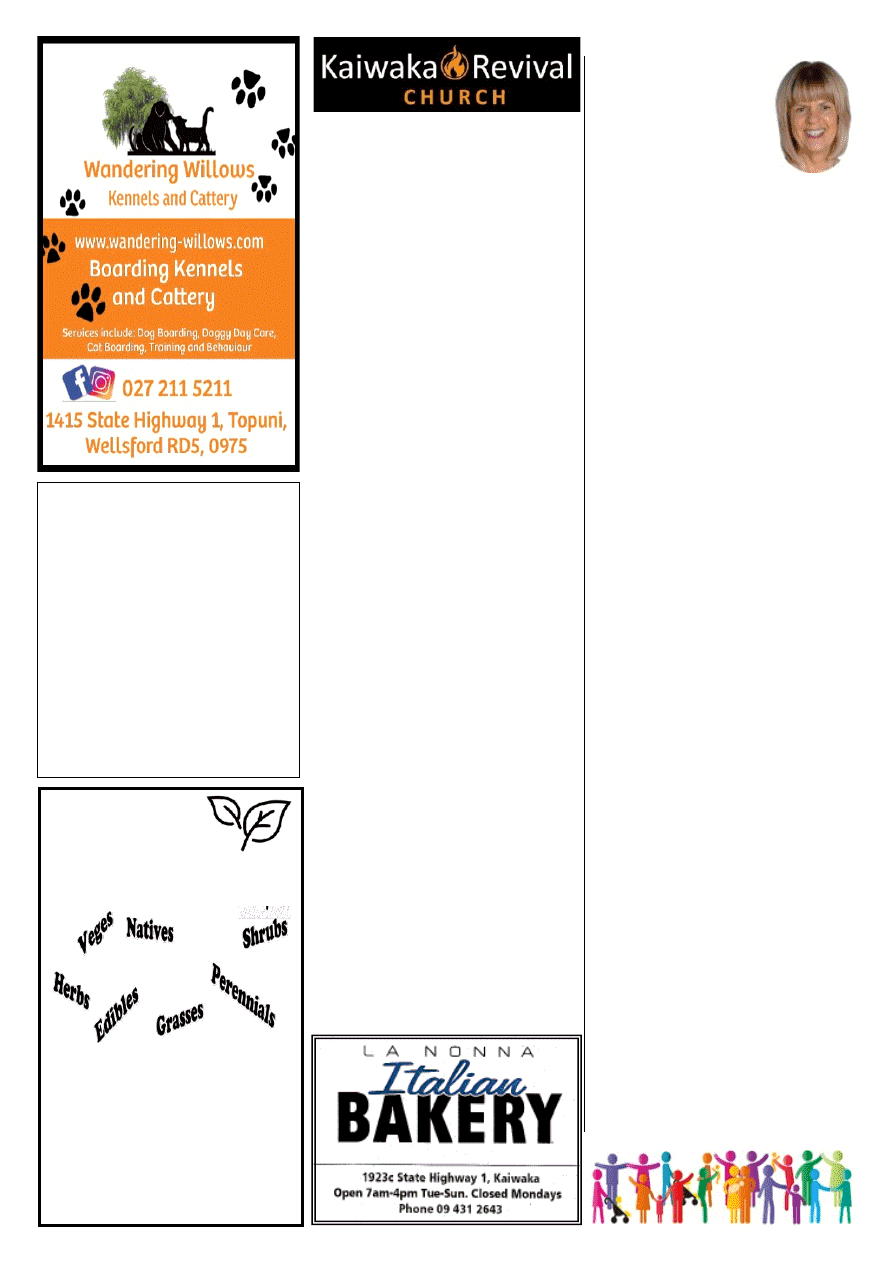 www.kaiwaka.co.nz 
Kaiwaka Bugle - 2 November 2021 
Page 9 
HAKARU HALL 
ACTIVITIES 

Monday:  Line Dancing 10-12pm Ph 
4315160 

Tuesday & Thursday: Pilates 10am 
Ph. 0220643965 

Wednesday:  Music Jam Session 7pm 
Ph. 0210628631 

Sunday: Canine Coaching Ph 
0272365004 

Dance Energy  Week Days  
   Monday to Friday, Afternoon/Evening  
Ph. 0275610469 

Friday Morning: Available for HIRE 
Hall Bookings Karen  
4312090 or 0210467490 
LIBBY  JONES  –  MEMBER 
NORTHLAND 
DISTRICT 
HEALTH BOARD  
New 
Zealand 
and 
especially  Northland,  has 
an  ageing  population.  In 
2020  over  65-year-olds 
were  20%  of  our  population, and this 
is  predicted  to  rise  to  28%  by  2028, 
when  the  national  figure  will  be  21%. 
While most of us would prefer to age at 
home and be supported if needed in our 
own  familiar  environment,  that  is  not 
possible for everyone as they age. 
HOME HELP 
Home  support  services  such  as  home 
help  and  personal  cares  are  a  great 
support  to  keep  people  ageing  well  at 
home.  However  sometimes  chronic 
health,  disability  and  mobility  issues 
can  mean  that  out  of  home  care  is 
needed.  Services  such  as  residential 
care,  including  rest  homes,  dementia 
units  and  hospitals,  home  support 
services  and  day  care  centres  are  all 
provided specifically for older persons. 
Communities  such  as  ours,  which  are 
away  from  main  centres,  often  do  not 
have  many  of  these  services  available 
and older people needing extra care and 
support may need to leave their familiar 
community  and  move  either  closer  to 
family or to the main centres. 
MAUNGATUROTO DEMENTIA 
UNIT  
This  doesn't  work  for  everyone  which 
is  why  it  is  so  good  to  see  the  recent 
opening of the Maungaturoto Dementia 
Unit attached to the Maungaturoto Rest 
Home.  What  a  fantastic  community 
effort  and  persistence  from  a  small 
group  of  people  with  a  vison  for  the 
safe care of some of our older citizens. 
Paparoa is in the process of developing 
a Lifestyle Village for older persons to 
remain  locally  and  again  it  is  a 
mammoth task being undertaken. 
Thanks to all of these volunteers. 
SOCIAL CONNECTION  
Loneliness  and  social  connection  are 
other  reasons  why  older  persons  move 
away  from  their  homes  to  bigger 
centres or to residential care. A sense of 
belonging and connecting with others is 
essential  for  all  of  us,  especially  older 
persons  who  may  not  be  seeing  or 
meeting  with  as  many  people  as  they 
used to, and are key factors in keeping 
us all ageing well. We are social beings 
and  as  members  of  our  small 
communities  we  can  make  and  take 
opportunities to connect with our older 
neighbours  and  citizens.  We  did  this 
well  in  the  first  lockdown  in  2020, 
checking  in  with  our  older  residents. 
Are we still doing it now? 
Keep connecting, Libby 
hames.jones@xtra.co.nz 021 2080093 
A MESSAGE FROM 
OUR PASTORS 
Kia ora Family 
Great news for us here in Northland as 
we are at Covid Level 2. This means we 
will  be  operating  our  Sunday  services 
with Level 2 restrictions. 
To ensure everyone  is  safe,  we  will  be 
making  sure  that  we  scan  in  or 
manually sign in at the door with details 
and social distancing. 
Masks  are  optional  inside  our  service, 
and we will be making sure we keep a 
limited number of people inside. 
If we exceed our numbers, we have an 
overflow  room  that  will  be  ready  to 
cope with this.  
The  Kids  Service  and  Crèche  will 
continue as normal.  
We  are  praying  and  thinking  of  our 
Church  Family  who  are  stuck  over  the 
border still in level 3 and all those that 
have  been  unable  to  attend  Church 
since mid-August - kia kaha Whanau. 
Our  Church  position  regarding  the 
Covid vaccination is that we will not be 
forcing  anyone  to  be  vaccinated  or 
unvaccinated  -  we  believe  in  the 
freedom of choice. 
We do consider everyone's safety at this 
time but will allow you and your family 
to  make  your  own  decisions  regarding 
vaccinations. 
We  will  continue  to  love  and  serve  all 
who come through our doors regardless 
of their stance on vaccinations.  
We  will  not  discriminate  between 
people  and  your  own  personal  views 
regarding these matters. 
We 
respect 
and 
follow 
our 
Government's  guidelines  but  we  as 
Faith  Leaders  will  uphold  our  spiritual 
values  centered  in  Christ,  according  to 
God's  Word  which  is  to  love  our 
neighbour.  
All  are  welcome  into  our  service,  and 
we are here to serve our community. 
God  bless  you  all  and  if  we  can  help 
you  in  any  way  at  this  time,  please 
contact us directly.  
Blessings! 
Ps Tawhiri Littlejohn  
Ps Paul Tautari  
Ps Jenn Long
Oneriri  
Plants 
Visit our Nursery 
Contact Heather 021 
766399 
oneririplants@gmail.com 
365AOneriri Rd, Kaiwaka 
A short trip off SH1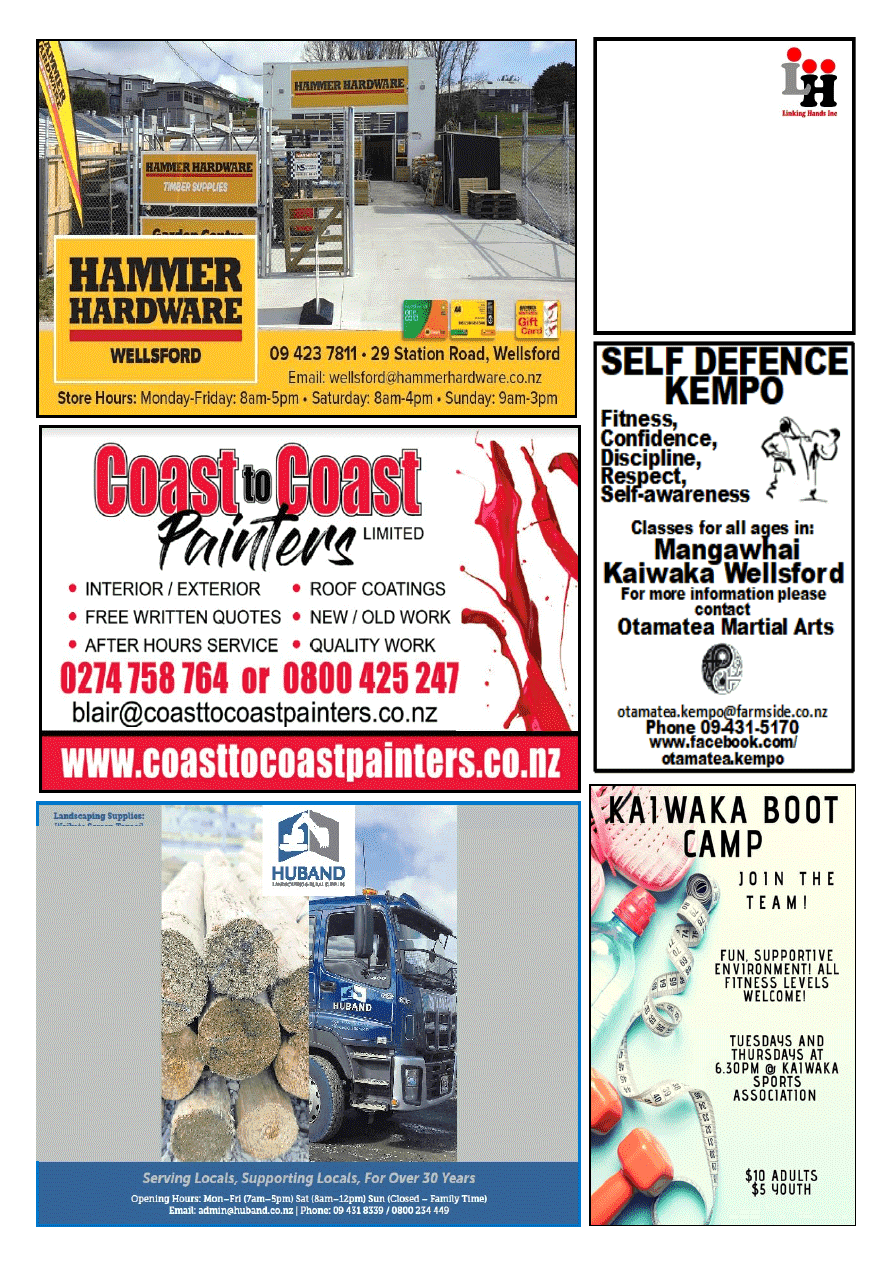 www.kaiwaka.co.nz 
Kaiwaka Bugle - 2 November 2021 
Page 10 
WATER TANKS: 
Aqua & Baileys 
Brands 
DRAINAGE & 
SEPTICS: 
Land Drainage 
Urban Rural 
Drainage 
Water Pipelines 
Culverts 
Septic Systems 
(RX Plastics & 
Biorock) 
SITEWORKS: 
Retaining Walls 
Piling 
Driveways 
Carparks 
Landscaping Supplies: 
Waikato Screen Topsoil 
Bark 
Woodchip 
Mill Bark 
Post Peelings 
Compost 
Crushed Shell 
Topsoil 
Limestone Chip 
Daltons Garden Mix 
Aggregate 
Gap: 20,40.65 
Riverstone 
Sand 
Belt Dust 
40/20 Drainage Metal 
Builders Mix 
 Cement 
Timber/Fencing Supplies: 
Rails, Posts  
Stays, Strainers 
Fence Battens 
Palings 
Stakes 
Fencing Wire 
Farm Gates & hardware 
Drainage: 
PVC Fittings 
Alkathene 
Draincoil 
LINKING 
HANDS INC 
Maungaturoto - Kaiwaka 
- Mangawhai 
Meeting the needs of the community. 
A free Health Shuttle Service, providing 
transport to those who would struggle to 
get  to  medical,  dental,  podiatry,  or 
optometrist  appointments  anywhere 
from Warkworth to Whangarei. 
HEALTH SHUTTLE SERVICES  
Ph/fax 09 431 8969 
Kaiwaka/Mangawhai 09 4315906 
OFFICE HOURS Maungaturoto - 
Monday to Friday - 10am to 4pm 
Closed Public Holidays 
www.kaiwaka.co.nz 
Kaiwaka Bugle - 2 November 2021 
Page 11 
KAIWAKA SPORTS ASSN NEWS 
KAIWAKA BOOT CAMP 
2021/22 season: 
Tuesday's  class  will  be  a  mix  of 
strength and fitness through a full body 
workout.  A  combination  of  HIIT  and 
endurance  using  our  bodyweight  and 
also  weights  once  we  master  some 
Foundations.  
Wednesday's  class  is  a  bodyweight 
strength  and  cardio  class  which  works 
the  whole  body.  This  class  is  FREE 
thanks to Kaiwaka Four Square   
Thursday's  class  is  a  boxfit  class, 
using  boxing  as  our  cardio  base  and 
incorporating 
bodyweight 
strength 
exercises with a focus on our core.  

Tuesday and Thursday class is $10 

Please  reach  out  if  you  have  any 
questions or concerns.  
~ Siobhan Henderson , FB Kaiwaka Boot Camp 
KAIWAKA TENNIS 
For school-aged children during Term 4 
2021  and  Term  1  2022,  on  Monday 
afternoons  at the  Kaiwaka  Sports  Assn 
tennis  courts.  For  more  information 
contact Linda on 021 266 8571 
KAIPARA BASKETBALL 
The 
Kaipara 
Primary 
Schools 
basketball  competition  begins  their  8-
week  competition  on  Tuesday 
2 November 
This will be for Juniors Mixed 
Grade  -  Years  3/4  and  Years 
5/6.  Games  begin  at  3.30pm  in  the 
Kaiwaka Sports Assn Gym. 
For more information email info@ kaipara 
basketball.com 
Facebook: @kbabasketball 
Website: www.kaiparabasketball.com 
KAIWAKA SPORTS ASSN 
KSA Bookings contact: 
Jennie Reynolds, 02102764171  
ksabookings@mail.com 
KSA email: ksa.sec3@gmail.com 
Lindell Ferguson
OTAMATEA 
NETBALL 
2021 
AWARD WINNERS   
Senior  1:  Most improved - Mollie Hannah 
Most  consistent  -  Leonie  Beyer  Most 
valuable - Maia Fairburn and Renee Allen  
Senior  2:  Most improved - Haven Fletcher 
Most  consistent  -  Azaria  Paikea  Most 
valuable - Bella Allen  
Junior  1:  Most improved - Brooke Healey 
Most  dedicated  -  Izzy  Paikea,  Most 
valuable - Ngatira Mead  
Junior  2:  Most improved- Sapphire Parata 
Most  consistent  -  Olivia  Tong,  Most 
valuable - Harper Dowson  
Team Awards: 
 Most  Improved  senior  team  -  Senior  1 
Senior team spirit - Senior 2  
Most  Improved  junior  team  -  Junior  1 
Team spirit - Junior 1  
Individual  Awards:  Senior  representative 
trophy  -  Renee  Allen.  Fair  play  cup 
Junior  year  7  &  8  -  Olivia  Alcock.  Fair 
play  cup  year  9  &  10  -  Analiese  Allen. 
Fair play cup Senior year 11 - 13 - Natalia 
Orchard  Students  coaches  Cup  -  Leayah 
Buxton Mould's & Kemp's Coaches cup - 
Nikola  Kemp.  Junior  Umpires  cup  - 
Stevie  Ray  Rahoro  Ball  Top  Student 
Umpire  -  Leayah  Buxton.  Dedication  to 
Umpiring  -  Jodie  Bennetto.  Service  to 
Otamatea  Netball  -  Jodie  Bennetto. 
Shanelle  Kemp  100%  effort  cup  -  Maia 
Fairburn.  Jodie  Bennetto  100%  effort 
Award  for  year  7  &  8  -  Stevie  Ray. 
Rahoro  Ball  Supporters  cup  Seniors  - 
Beyer  family.  Supporters  cup  Juniors  - 
Sandy Mead. President's cup (Top Y11-13 
player) - Renee Allen Mrs & Mrs Kemp's 
cup  (Top  Y9-10  player)  -  Mollie  Hanna. 
Vice  President's  cup  (Top Y7-8  player)  - 
Pyper Buxton . 
Checkout the walking path 
at the  
KAIWAKA SPORTS 
ASSN. GROUNDS 
The buildings are off limits during the 
current Lockdown 
KSA UPDATE 
The  Covid  situation  has  certainly 
curbed  a  number  of  activities  at  our 
Sports  Assn.  for  example  the  Kaiwaka 
School Disco, the district's Agricultural 
Group Day, the Fright Night activities, 
the Kaiwaka School reunion and others 
that are planned but not yet advertised; 
even  a  number  of  Christmas  functions 
are now on hold. 
Being  on  Auckland's  Level  3  border  
does make it difficult to plan.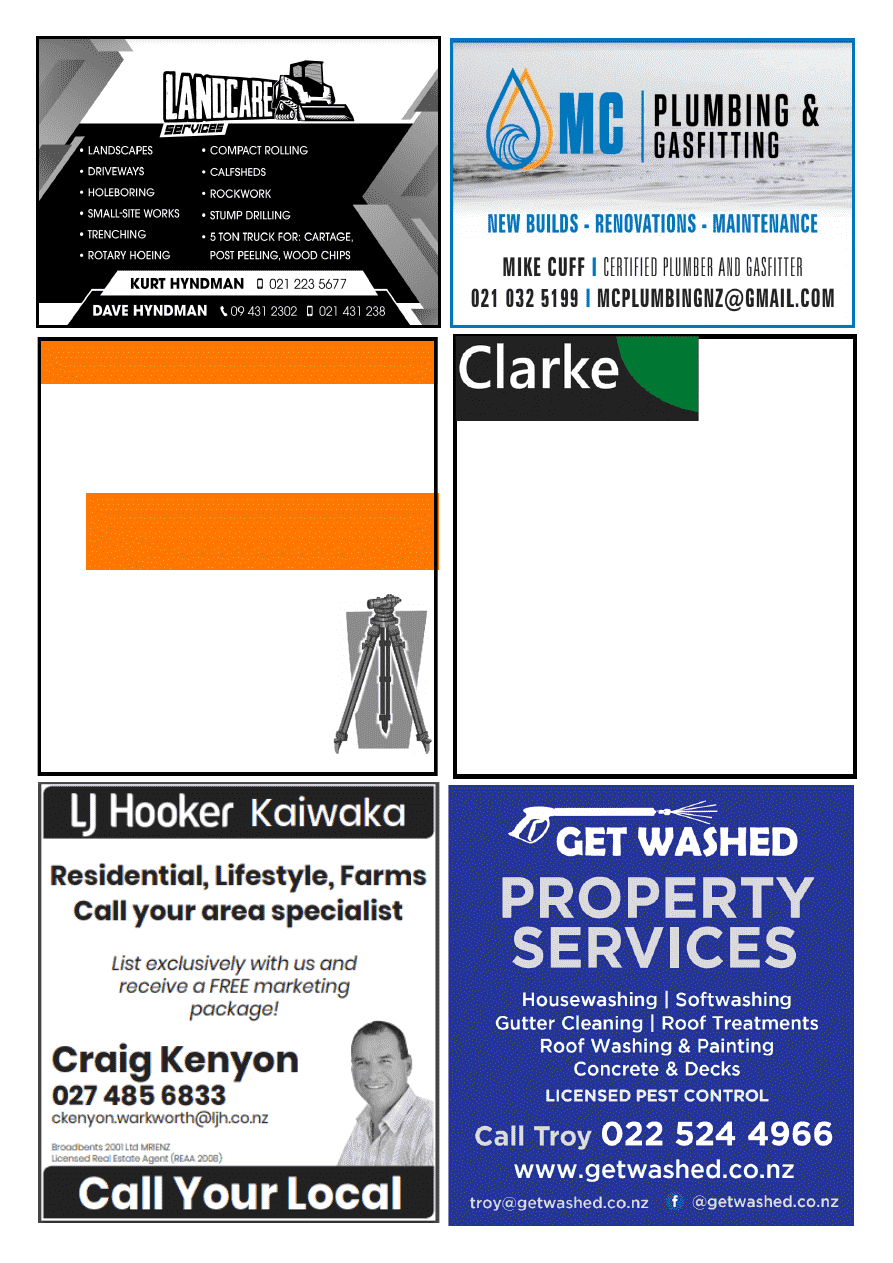 www.kaiwaka.co.nz 
Kaiwaka Bugle - 2 November 2021 
Page 12 
Drainage & Earthmoving 
nigel@clarkedrainage.nz 
027 2233 185 
Registered Drainlayer                 All Types of Earthworks  
> All Residential & Commercial Work  > House Sites 
> Septic System Design & Install 
> Footings & Drilling to 10m 
> Sewer Connections 
> Dams 
> Water Tank Installation 
> Roading & Races 
> Farm Work 
THE ONE STOP SHOP  
Phone Nigel for an Obligation Free Quote  
SURVEYORS 
SUBDIVISIONS 
HOUSE SITE SURVEYS 
CIVIL ENGINEERING 
WASTEWATER DESIGNS 
EXPERIENCED 
PROFESSIONAL 
INNOVATIVE 
Ph 09 431 5353 
0800 PACIFIC (0800 722 434) 
pacificcoastsurvey.com
Adam Booth - 027 415 5752 
Bsurv, Licensed Cadastral Surveyor
Surveying Kaipara since 1994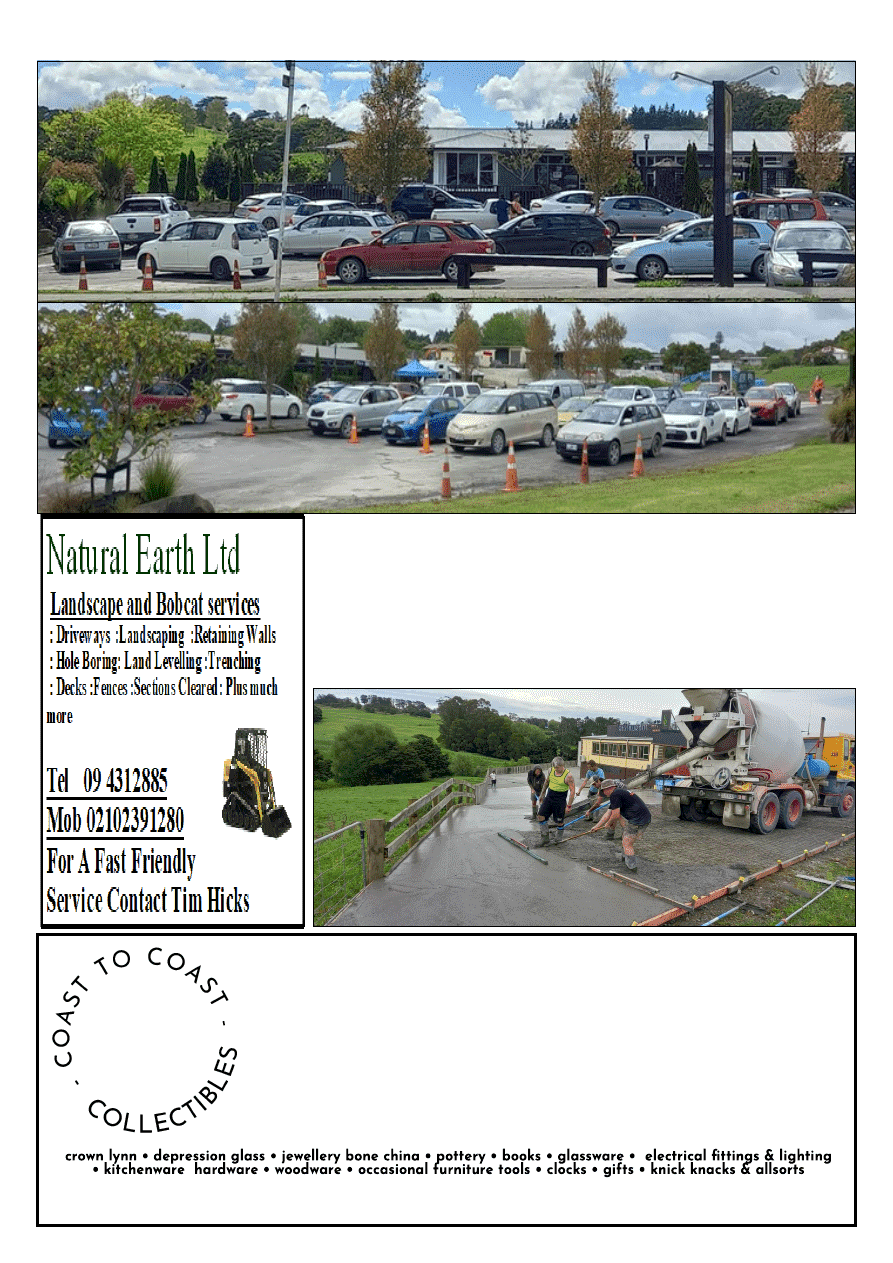 www.kaiwaka.co.nz 
Kaiwaka Bugle - 2 November 2021 
Page 13 
COVID QUEUES IN KAIWAKA 
Eclectic Boutique 
99 Gibbons Rd, Kaiwaka 
Contact Trish 
for buying or selling 
021 2140 522 | 09 431 2193 
Large selection of: 
Open10am – 4pm  
Cash, Eftpos or Direct Debit available 
SPOTTED AT THE THREE FURLONGS 
Top  photo  was  taken  last  Friday  following  the  Covid-19  Locations 
announcement and folk wisely came in for a covid test. Covid vaccinations were 
also being administered at the Kaiwaka St. John building at the same time. 
The  lower  photo  was  taken  on  Saturday  when  the  covid  vaccinations  were 
available.  Sunday  was  a  busy  day  at  the  Three  Furlongs  car  park  with  testing 
provided. 
Photo  below:  Concrete  being  poured  and  smoothed  on  the  south  side  of  Spice 
Lounge - a lot more parking for the Indian restaurant and nextdoor businesses.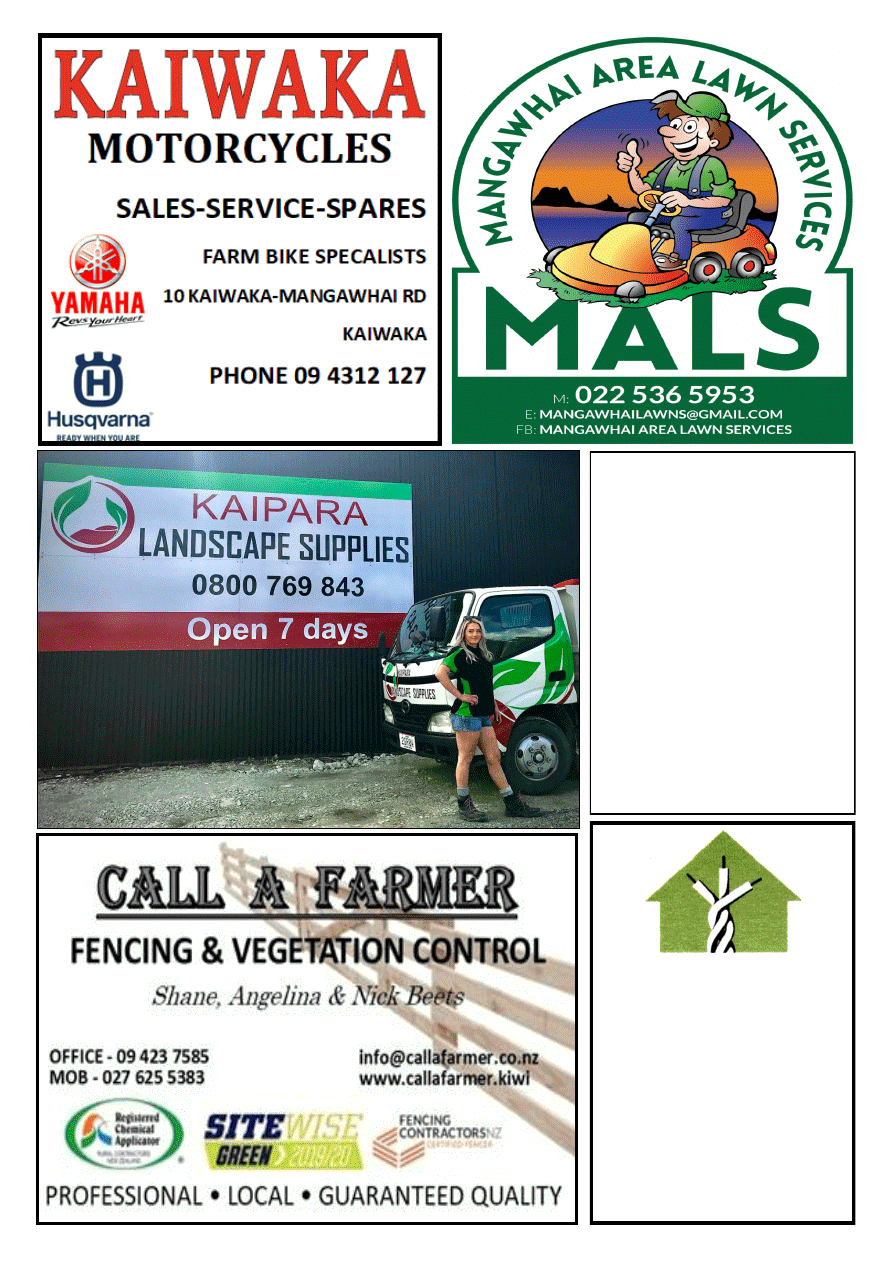 www.kaiwaka.co.nz 
Kaiwaka Bugle - 2 November 2021 
Page 14 
HELP 
PHONE NUMBERS 
HEALTHLINE 0800 611 116 - a 
nurse to answer health queries  
SAMARITANS 0800 726 666 - 
support for lonely or suffering 
mental distress 
YOUTHLINE 0800 376 633 
LIFELINE 0800 543 354 
DEPRESSION HELPLINE 0800 111 
756 
ALCOHOL & DRUG HELPLINE 0800 
787 797 
URGENT MENTAL HEALTH LINE 
0800 223 371 
WARMLINE -peer support for 
people with mental health issues 
0800 200 207 
Reyahn  Leng 
Registered Electrician 
Local, honest and 
reliable. 
For your residential and 
light-commercial 
projects. 
022 314 1068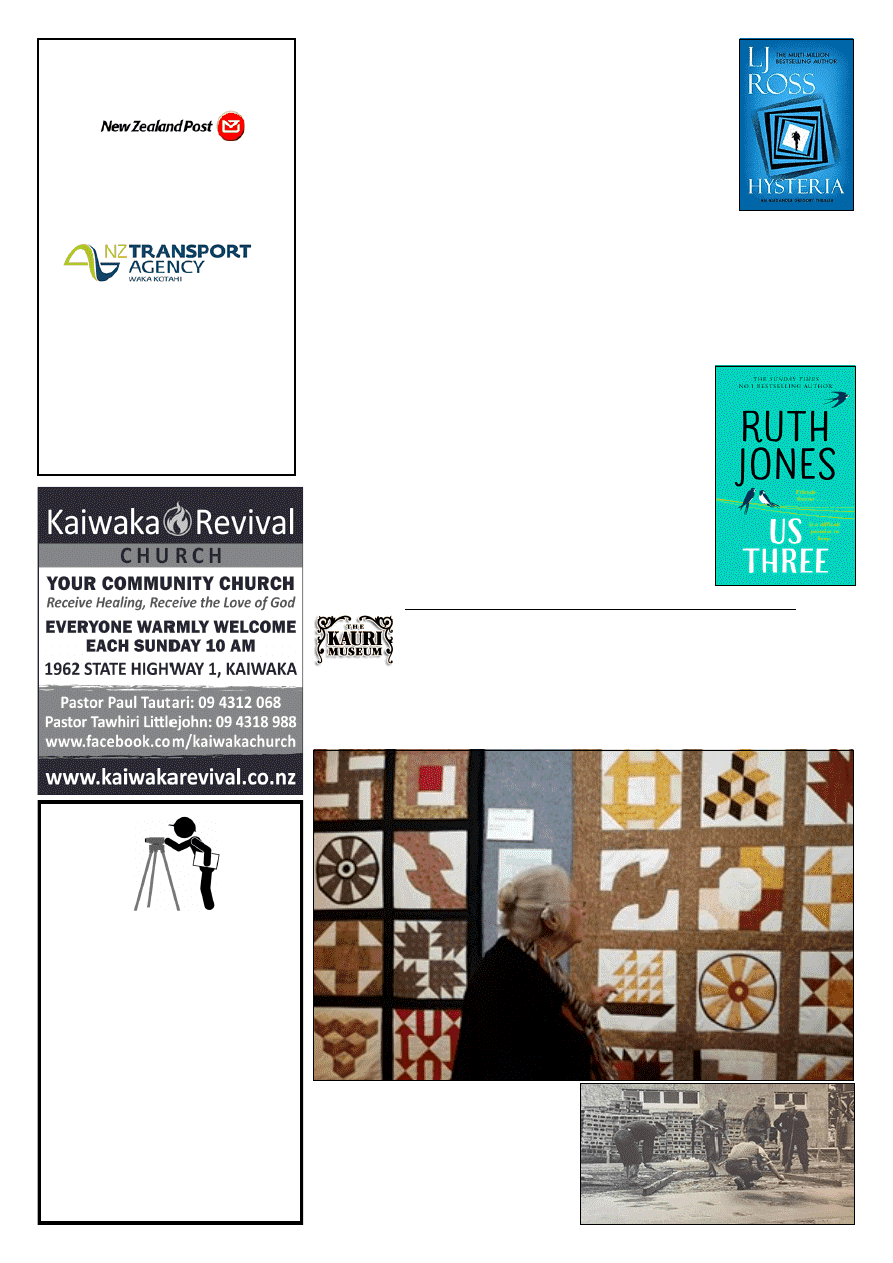 www.kaiwaka.co.nz 
Kaiwaka Bugle - 2 November 2021 
Page 15 
KAIWAKA POST 
CENTRE and 
FOOD MART 
POST CENTRE TRADING 
HOURS 
MONDAY to FRIDAY 8am to 5pm 
SATURDAY 8am to 12pm 
CLOSED ON SUNDAY and on 
PUBLIC HOLIDAYS 
FOOD MART (GROCERIES) 
MONDAY TO FRIDAY  
7:30am to 7.30pm 
SATURDAY  8am to 7.30pm 
SUNDAY  8:30am to 7pm 
IF ANY QUERIES PLEASE CALL 
STORE MANAGER AMRIT  
on 09 4312431 or 
EMAIL: kaiwakafood19a@gmail.com 
1919a State Highway1, Kaiwaka 0542 
Ken Urquhart 
BSurv Licensed  
Cadastral Surveyor 
KMU Surveys Ltd 
467 Bickerstaffe Road 
RD 2 
Maungaturoto 0587 
Ph 09 431 8705 
Mob 021 161 2344 
kenurquhart@xtra.co.nz 
KAIWAKA LIBRARY 
MISSING BOOK - "HYSTERIA" BY LJ ROSS 
Do  you  happen  to  have  this  book  at  home?  It's  #2  in  the 
Alexander  Gregory  series.  We  think  it  may  have  gone  out 
without  being  issued  properly.  If  you  have  it,  please  let  me 
know  so  I  can  add  it  to  your  account  or  return  it  if  you've 
finished with it. Thanks.  
DARGAVILLE BOOK SWAP 
By  the  time  you  read  this  the  latest  swap  will  be  done  and 
dusted.  Come  in  and  see  the  new  range  of  books  on  our 
Dargaville shelves - there are some great titles there. We have 
these  for  about  six  months  before  we  swap  them  for  more  new  ones.  Many 
thanks to the team members who helped with the hard work! 
HELL READING CHALLENGE 2021 
Are your kids collecting stamps for this? Children in school years 1 to 8 read a 
book,  report  to  the  library  about  it,  and  earn  a  stamp  on  a  card for each  book. 
Collect  7 stamps  on  a  card  and  trade  it  in at  Hell  Pizza  for  a  free  pizza.  More 
information  at  https://www.nzbookawards.nz/hell-reading-challenge/  or  ask  at 
the  library.  We  have  blank  cards  if  you  need  one.  This  year  the  deadline  for 
redeeming wheels has been extended until 31 January 2022. 
BOOK REVIEW 
Recently,  I've  read  Us  Three,  by  Ruth  Jones. 
Familiar 
name? You may know her as Ness from the tv series Gavin & 
Stacey.  "Meet  Lana,  Judith  and  Catrin.  Best  friends  since 
primary  school  when  they  swore  an  oath  on  a  Curly  Wurly 
wrapper that they would always be there for each other, come 
what may. After the trip of a lifetime, the three girls are closer 
than  ever.  But  an  unexpected  turn  of  events  shakes  the 
foundation of their friendship to its core, leaving their future 
in doubt – there's simply too much to forgive, let alone forget. 
An  innocent  childhood  promise  they  once  made  now  seems 
impossible  to  keep..." 
This  was  a  lovely  read,  with  a 
surprising twist along the way. The book is on our Rental 
Fiction shelves. 
See you in the library ~Wendy 
https://www.facebook.com/KaiwakaLibrary  *Enterprise: http://kaipara.kotui.org.nz/ 
THE KAURI MUSEUM 
QUIILT EXHIBITION 
A  special  feature  of  this  year's  Quilt  Exhibition  at  the  Museum  on 
until November 21, are the Underground  Railroad Quilts.  According to some 
historians,  certain  patterns  on  quilts  were  a  code  to  assist  slaves  attempting  to 
escape  from  the  United  States  to  Canada.    Pictured  below  is  quilter  Lyn  King 
viewing  a  sampler  quilt  which  features  a  number  of  the  patterns. 
Ref. 
kaurimuseum.com/quilting-gallery. 
KAURI MUSEUM 
ARCHIVES: 
Sixty  Years  Ago  -  October  1961  the 
foundations for the Kauri Museum, at 
Matakohe were laid. 
Photo  right  shows  the  work  laying 
concrete  on  the  north  side  of  the 
Matakohe Memorial Hall.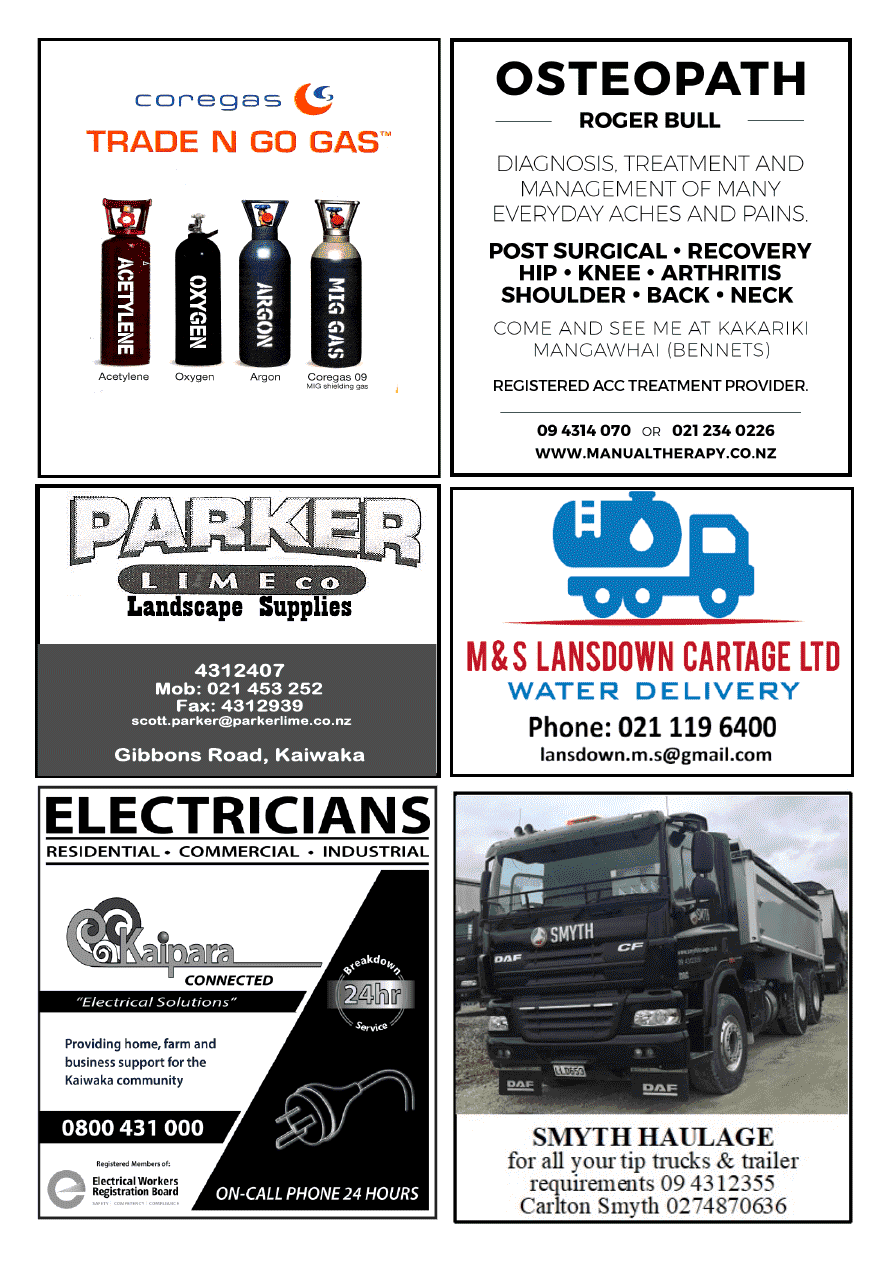 www.kaiwaka.co.nz 
Kaiwaka Bugle - 2 November 2021 
Page 16 
Bulk Cartage 
At Twinkle Tow 'n' Tyre 
Mob: 021 833 960 
Ph & Fax: 09 431 2823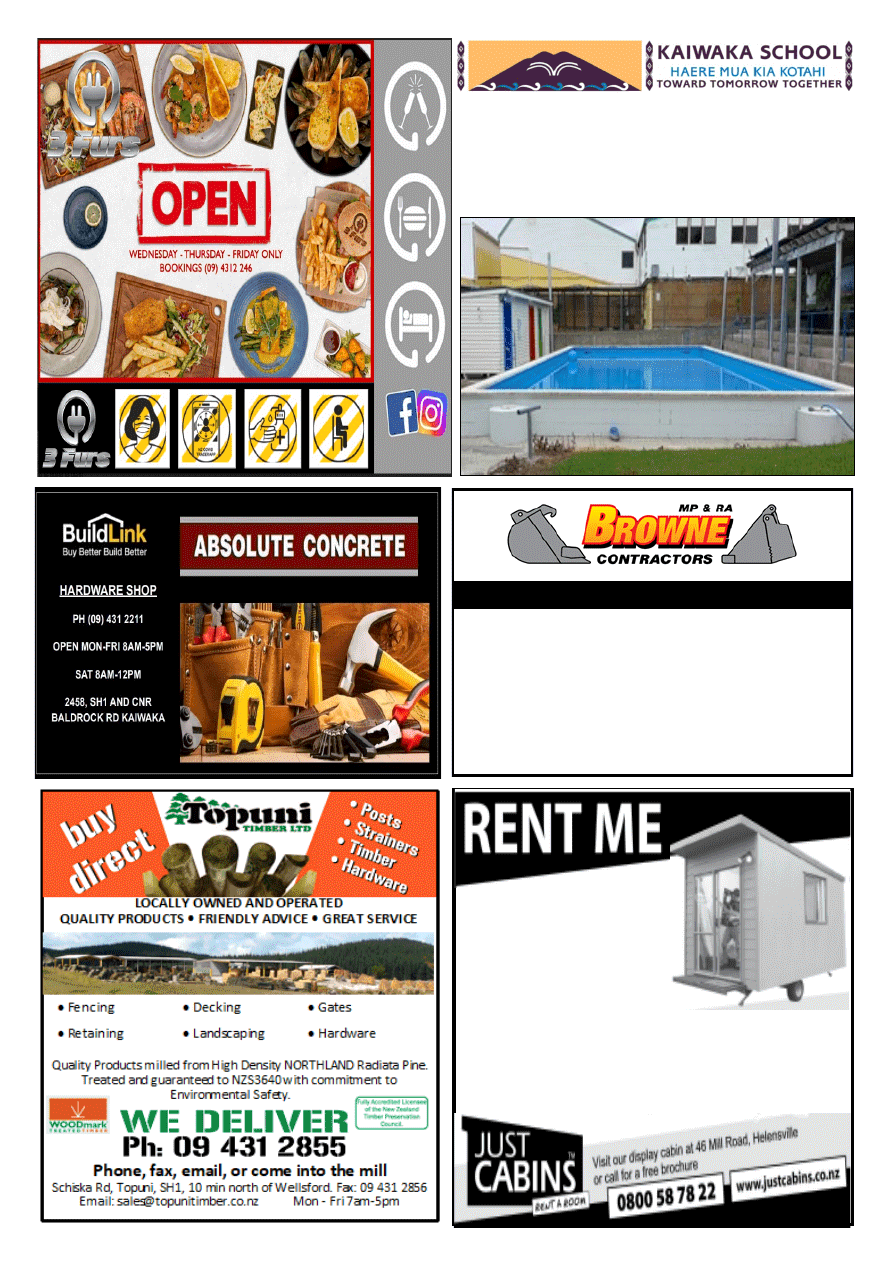 www.kaiwaka.co.nz 
Kaiwaka Bugle - 2 November 2021 
Page 17 
Ideal as an ex-
tra  
bedroom or 
office 
Three Convenient sizes: 
Standard 3.6m x 2.4m - $65 per week 
4Tonne DIGGER – BOBCAT – TIP TRUCK 
Property Maintenance - Driveways  
 Building Sites 
Stump & Tree Removal  
Hole Boring - Chain Trencher  
Calf Shed and Stockyard Cleaning 
Phone Matt: 021 199 6677 
Email: mprabrownecontractors@gmail.com 
The school swimming pool, in the shelter of the Kaiwaka 
Sports Assn. complex,  has had a wonderful 'scrub up' and 
paint and now looks very inviting. The school pupils begin 
their swimming lessons very soon. 
Sports  Days  are  coming  up  so  the  fields  have  been 
prepared. 
9 December: End of Year Assembly and Prizegiving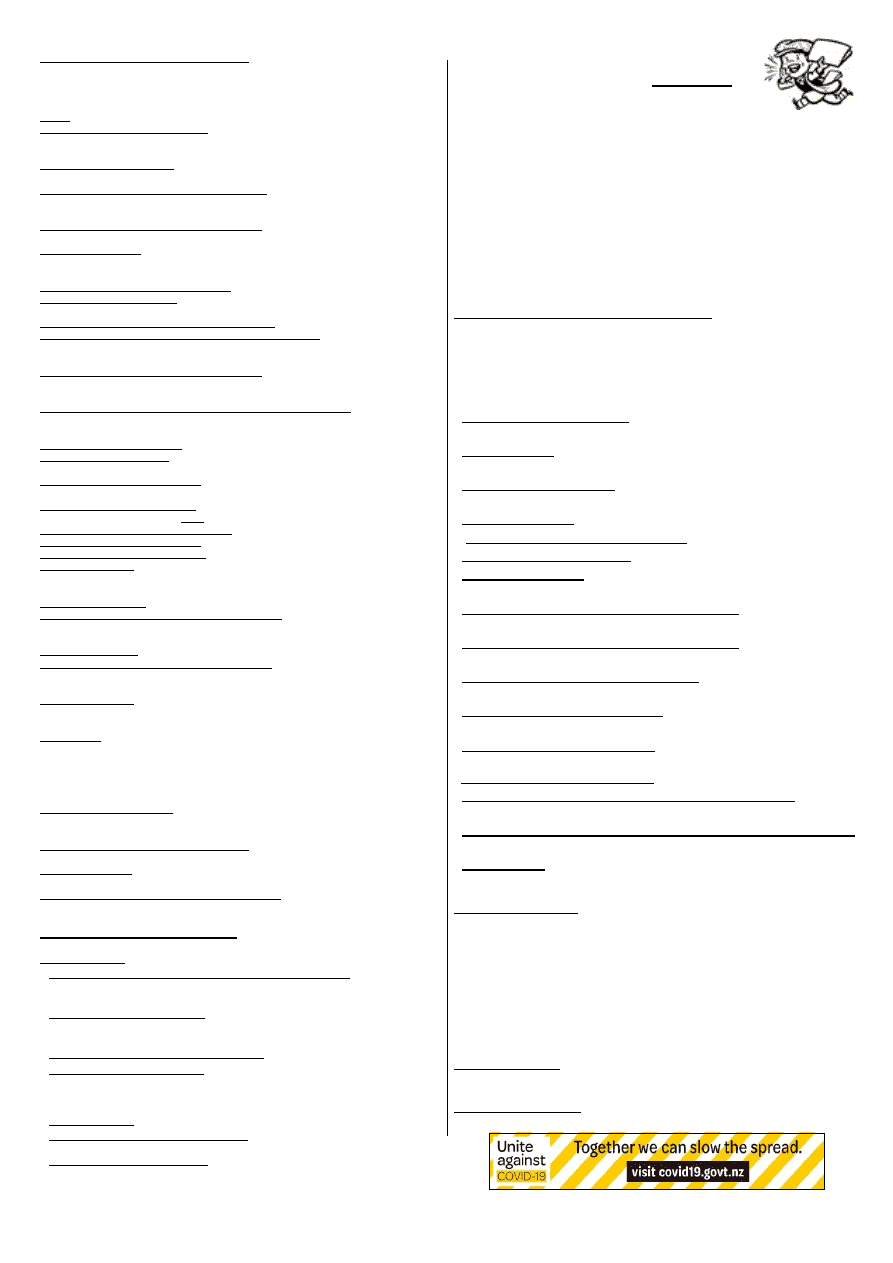 www.kaiwaka.co.nz 
Kaiwaka Bugle - 2 November 2021 
Page 18 
WHAT'S ON
PLEASE ~ do let us know what is on - 
email kaiwakabugle@kaiwaka.co.nz 
*3&5Nov~Covid Testing, Three Furlongs Carpark 
*4Nov~Covid Vax, KSA, 11am-2pm & 3pm-7pm 
*4Nov~Hakaru Hall AGM, 7.30pm 
*17Nov~Otamatea Community Services AGM, Mgto 
*18Nov~Kaiwaka School PTA, AGM 
*24Nov~Otamatea Repertory Theatre AGM,7pm 
*29-30Jan 2022~Kaiwaka Volunteer Fire Brigade Open 
Fishing Contest 
KWMH = Kaiwaka War Memorial Hall; KSA = Kaiwaka Sports Association 
See www.kaiwaka.co.nz for more information 
HOUSEHOLD RUBBISH COLLECTION  
Kaiwaka Pick up: 
Mondays = Green bags (Northland Waste - 09 430 3273) 
Wednesdays  =  Blue  bags  and  yellow  recycling  (at  Four  Square 
Kaiwaka $3.30 and $1.70) (Kaurilands 09 4392146); ONLY Blue 
and Yellow bags picked up on Oneriri Road. 
 DIABETES Support Group-for Kaiwaka, Mangawhai, Wellsford 
10am, 3rd Friday of month Ph: Colleen James 09 4314238 
 GENEALOGY - Wellsford: 1st Thursday in month Ph: 423 
7033; Waipu: 4th Monday in month Ph: 4312 725 
 HAKARU PONY CLUB - Secretary Denise Rogers 021423376 
secretary@hakaruponyclub.co.nz  
 KAIPARA HUNT - Secretary Albert Doonenbal Ph 4312059 
  KAIPARA HUNTING & FISHING - 021 1294378 
 KAIWAKA BADMINTON -Tuesdays 7.30pm Ph: 4312345 
 KAIWAKA  CAN  - 3rd Wednesday in month, 5.30pm, Archie 
Bull Hall Ph: 0273572751 
 KAIWAKA GARDEN & FLORAL GROUP - 2nd Thursday in 
month. Ph: 431 4744 
 KNITTING FOR WHANGAREI HOSPITAL - 2nd Tuesday in 
month, Archie Bull Hall 10am Ph 4314827 
 MANGAWHAI COMBINED REBUS CLUB - 2pm, 3rd 
Thursday month, Senior Citizens Hall Mangawhai. Ph: 4315777 
 MANGAWHAI GENEALOGY  - meet 3rd Thursday month, 
Mangawhai Museum, 10.30am 
 PILATES - HAKARU HALL - Tuesday 10am, Thursday 9am 
Qualified Instructor  Ph. 0220643965  
*PT CURTIS CRUISING CLUB - Jean Ph: 4312227 (wk), 4312520 (hm) 
 RSA,  HAKARU  &  DISTRICTS  WOMEN'S  SECTION  –  meets 
1.30pm 4th Thursday of the month. Ph: 431 5818  
 KAIWAKA  SCOTTISH  COUNTRY  DANCING  CLUB-
Wednesdays 10am - 12 noon  Ph: Elaine 027 432 0032  
 TRAMPING 
- 
Mondays 
9am-2:30pm, 
contact  
valkenburgmaria@gmail.com 
HALLS FOR HIRE: 
  Kaiwaka St. John Hall: Phone Marj  0272941227  
 St.Pauls  Archie  Bull Hall  HIRE  $20 half day, $40 full day per 
hire, S McAulay, Ph 4312311 
 Kaiwaka  War  Memorial  Hall  HlRE  -  Phone  4312725  or 
kaiwaka.hall.bookings@gmail.com 
 Hakaru Community Hall HIRE -Ph.  Karen 4312090 
 Te Pounga Marae queries - Pearl Nathan  0223933533 
 Kaiwaka Sports Association hire/queries - Jennie Reynolds
   ksa.bookings@mail.com
, 02102764171  
Justice  of  Peace:  L.Donaldson  4312  228;  A.F.Hargreaves  4312 
045,  W.Howard  4312  725  -  please  phone  to  make  sure  they  are 
available www.justiceofthepeace.org.nz B.FJaques Retd  
Marriage Celebrants:  
L.Donaldson; A.F.Hargreaves; Y Osborne
Next Bugle Deadline  Friday 12 November 2021
LOCAL SERVICES 
*Emergencies - Ambulance, Fire, Police - dial 111 
*Non-urgent Police phone 105
A A: Meets Wed., 7pm. Kate's Place Ph 021 024 25969 or 0800 229 6757 
NARCOTICS ANONYMOUS : Mon., 6pm, Archie Bull Hall, Kwk-Mwi 
Road; drug and alcohol related issues. Ph. 02102412348 
ASUREQUALITY LTD (was AgriQuality) Call Free 0508 0011 22  
BUDGETING SERVICE, WELLSFORD: Free confidential advice & 
support for all areas of personal finance. Ph (09) 423 7123 
CAB-Citizens Advice Bureau.Wellsford Ph: 4237333 
0800 367 222 email:cab.wells@xtra.co.nz  
CIVIL DEFENCE - Kaiwaka Community Response Group: 
kaiwaka.civildefencecrg@gmail.com, 4312725 Wendy 
DOG/STOCK /NOISE CONTROL 0800 105 890 
FUNERAL SERVICES: Morris & Morris Ltd, 0800667747 
GRANDPARENTS Raising Grandchildren: Dianah Roberts 0223819539 
HAKARU & DISTRICTS MEMORIAL RSA (Inc) 733 Settlement Rd, 
Hakaru. Ph 4312 176 or Bill Warren (President) 431 2092 
HAKARU LANDFILL/Transfer Station:Open everyday  10am-
4pm.Ph4312629 Cost-$55 trailer load up to 1 cubic metre. Ph:4258567 - 
office 
KAIPARA DISTRICT COUNCIL www.kaipara.govt.nz:  
Help Desk FREEPHONE 0800 727 059  
KAIWAKA CEMETERY: Ph: 4312045 or 4314017 
KAIWAKA LIBRARY: kaiwaka.library@gmail.com  
Mon. 4-6pm; Wed., Thurs., Fri., Sat. 10am-2pm Ph:4312539 
KAIWAKA PLAYCENTRE: Ph Juanita 0274134904; open Mon, Wed, 
Fri 9am-12pm. Hastie Lane; Monday to Friday 9.00am - 12 noon. 
KAIWAKA POST OFFICE:Ph:4312 431  
Post Code: 0573 for RD2 and 0542 for all Kaiwaka Post Office mail 
KAIWAKA PRIMARY SCHOOL: Ph: 4312309   
KAIWAKA SPORTS ASSN: Ph 4312005; 4312129 gym 
KAIWAKA ST JOHN HALL: Phone Marj  0272941227  
KATE'S PLACE Community Centre - Employment services, Free Health 
Nurse, Plunket, Advocacy, Osteotherapist, A.A., Legal Advice. 4312 661 
LINKING HANDS Health Shuttle Ph 4315906 or 09 4318969 
MINISTRY FOR PRIMARY INDUSTRIES - General inquiries Call 
Free 0800 008 333 
NORTHPOWER: Faults Kaiwaka area 0800 104040 
OTAMATEA COMMUNITY SERVICES: Counselling, parent coach, 
Family Support worker, budget advice, food bank. Mon-Fri 9am-3pm. Ph 
09 431 9080 http://www.otamateacs.org/ 
PARENTPORT: Free, practical family support service Puhoi to Paparoa 
Ph or txt: Dianne 027 280 5093 or 09 425 9357 
PLUNKET: Kaiwaka- St John Hall, Monday 19 Oct, 23 Nov, 21 Dec. then 4th 
Monday of the month. Plunket Nurse Louise 027 282 3987 or 09 438 2508 
Mangawhai- Rose Madsen Cottage, Mondays and Wednesdays. Plunket Nurse 
Rebecca 021 501 941 or 09 438 2508 
Maungaturoto - Good News Church, 2nd and 4th Wednesday of the month. 
Plunket Nurse Seleisa 021 912 248 or 09 438 2508 
PLUNKET HELPLINE -0800 933 922 (24 hours)  
FACEBOOK - Kaipara Plunket 
TAITOKERAU COMMUNITY LAW: Free confidential legal advice and 
assistance, 2nd
Thursday
 of each month. Ph: 0800 155 529 for appts.  
TE URI O HAU Settlement Trust Tangata Developments: Whanau Ora 
021 793262  
VETERINARY SERVICE MANGAWHAI: 
Ph: 4314535 Mon-Fri 8.00-5.00, Sat 9-12, a/h appt. 
WELLSFORD DOCTORS: Ph: 4238 086 
CHURCHES:
 
Kaiwaka  Revival  Church  -  Your  Community  Church:  Sundays  10am. 
Ph: Pastor Tawhiri 09 431 8988 or Pastor Paul 09 4312 068 Visit us at 
www.facebook.com/kaiwakachurch 
 
St  Paul's  Anglican  Church  1st  Sun.  9.00am  (Eucharist),  3rd  Sun. 
9.00am  (Family  Service).  Contact:  Church  Office  Ph  431  4122 
www.mangawhaianglican.org.nz 
 
Church of Christ the King, Mangawhai:9.00am every Sunday 
 
St.Mary's  Catholic  Church:  Maungaturoto  –  Griffins  Road,  Saturday 
evening  Vigil  Mass  6pm;  Mangawhai  –  Senior  Citizens  Hall,  Sunday 
Mass  8:30am;  Wellsford  –  Matheson  Road,  Sunday  Mass  10:30am;  
Mid-week Mass times and all enquires to Fr. Bill Fletcher – phone 423 8170
 
Baptist Church: Sun. 10.30am Mangawhai Snr Cit.Hall.Ph:4312339 
 
Cause  Way  Church  Mangawhai:  Sundays  10.15am,  Mangawhai 
Community  Recreation  Centre,  Insley  St.  Ph:  09  4314782