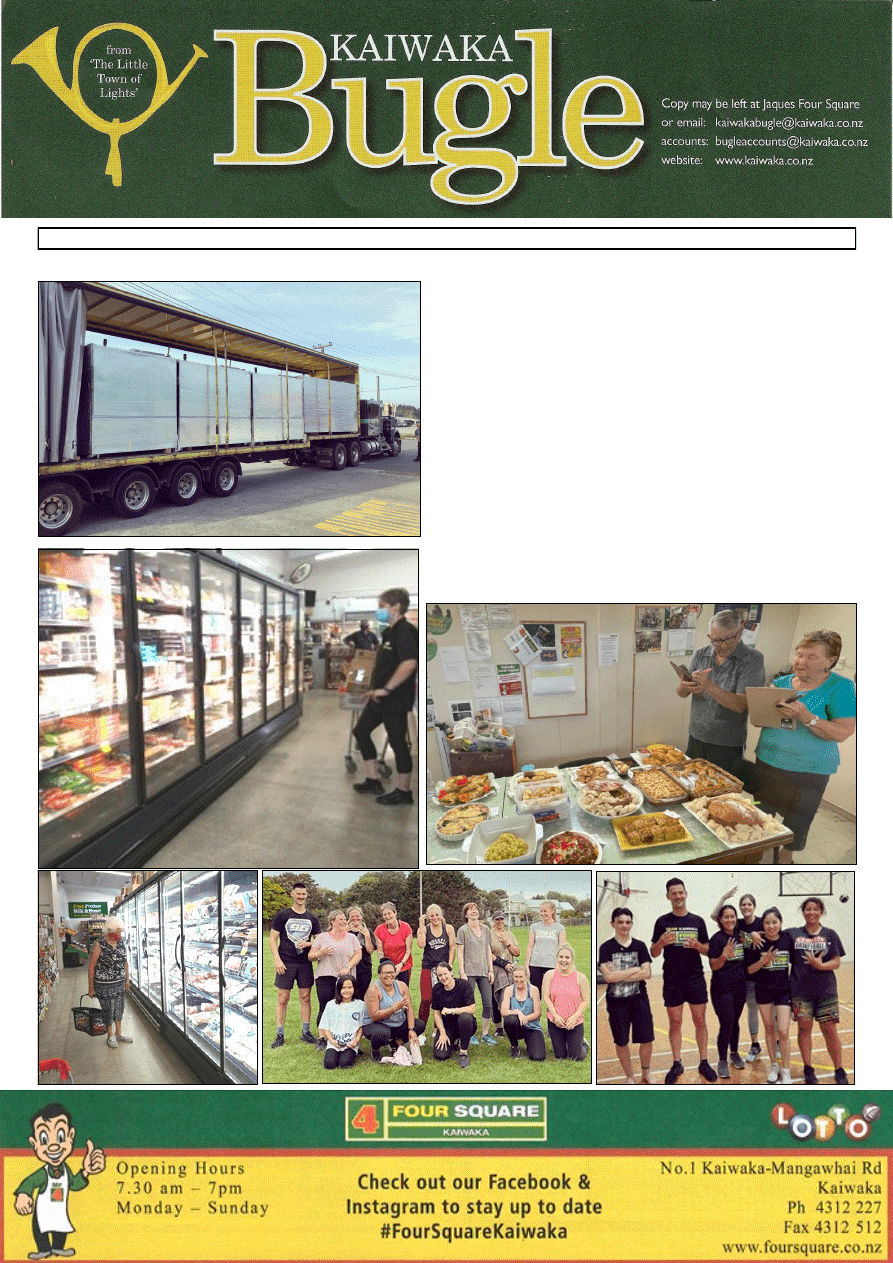 www.kaiwaka.co.nz 
Kaiwaka Bugle - 30 November 2021 
Page 1 
No.23 
30 November 2021 
4SQ KAIWAKA INSTORE CHANGES 
We're  extremely  proud,  and  relieved,  that  the  major  changes  in 
store  are  almost  completed.  It's  been  a  herculean  effort  from  our 
team,  all  the  tradesmen  involved  and  the  Kaiwaka  community  as 
we've  interrupted  their  store  with  all  manner  of  noises,  ladders, 
equipment etc. We are confident the end result will be an evolution 
of  the  shopping  experience  that  the  people  of  the  Kaiwaka 
community and further afield have enjoyed for close to 100 years. 
We can't wait to showcase a wider range of products all the while 
keeping our focus on quality, fresh products at competitive prices. 
If  you  have  any  product  suggestions  you'd  like  to  see  in  store, 
please  let  us  know.  And  stay  tuned  for  an  exciting  community 
initiative to be announced in December.  
4SQ KAIWAKA GREAT BAKE OFF 
Our team were tasked with creating two dishes (one sweet and one 
savoury) to be judged by local legends Mark and Pam Ottaway on 
the dishes' taste, texture and appearance. In what turned out to be a 
close  battle,  Helen  King  emerged  the  victor  and  recipient  of  the 
inaugural  4SQ  Kaiwaka  GREAT  Bake  Off  trophy.  Lish  Reynolds 
was  2ndand Jordyn  Jansen 3rd. It  was  an awesome opportunity  to 
come together as a team and share some 
wonderful  food  and  lots 
of laughs. Big thanks to Mark and Pam as our judges. 
KAIWAKA FOUR SQUARE 'FLAT OUT' IN NOVEMBER!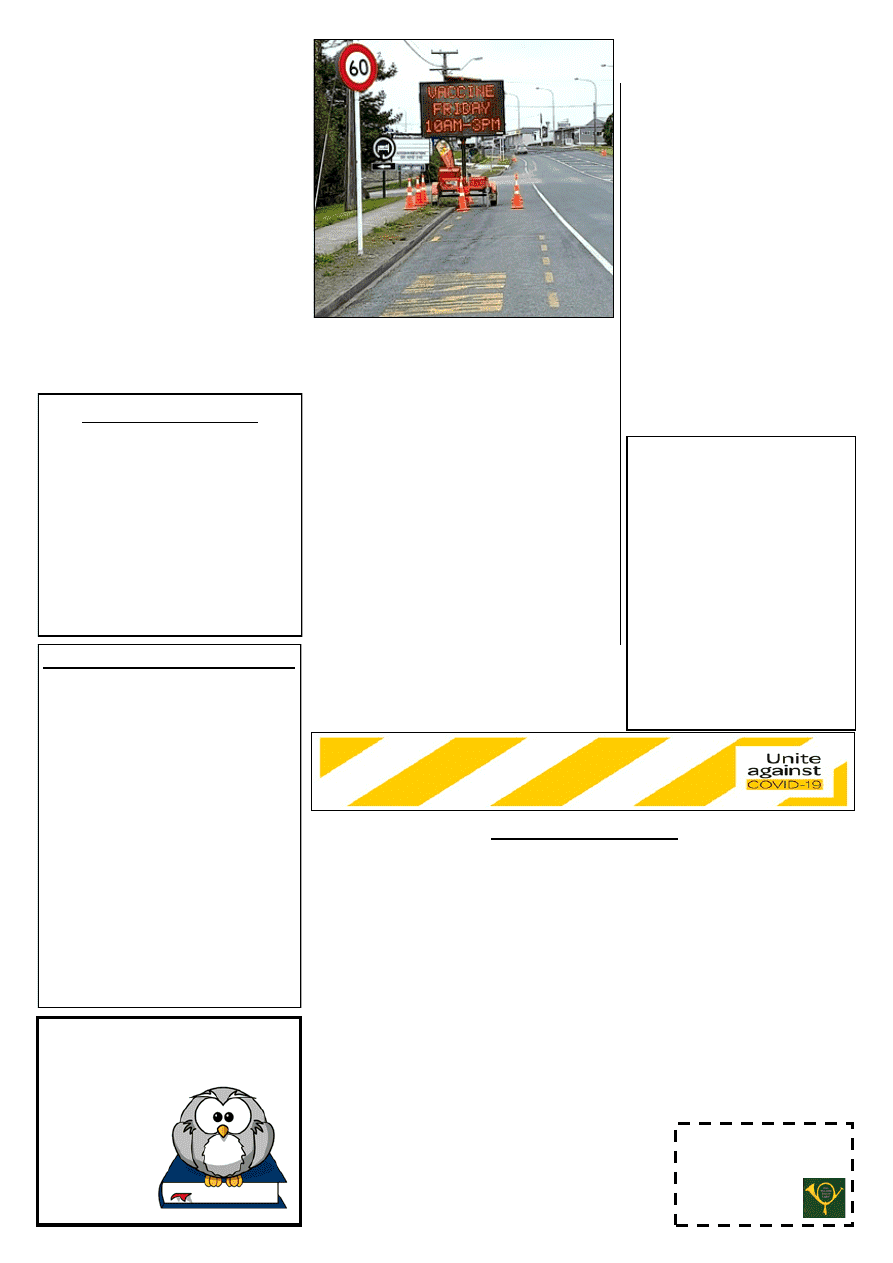 www.kaiwaka.co.nz 
Kaiwaka Bugle - 30 November 2021 
Page 2 
ABOUT TOWN 

 Our  congratulations  to  the  team  at  4SQ  Kaiwaka!  Not  only  have  they 
revamped and added to the store, they have joined in the FAST 4 basketball and 
kept up their fitness on Wednesday evenings, and run other fun activities - super! 

  Watch out for the wonderful Ottaway Christmas lights - coming soon! 

 Kaiwaka  Volunteer  Fire  Brigade  -  scrap  metal  donations  accepted  -  old 
washing machines, fridges … for fundraising. Phone Tim 022 646 3578  

 Scottish Word of the Week: Sleekit  … " They're too sleekit for my liking" - 
sly or cunning, also something smooth   

 On  a  rural  road  recently  local  observed  a  cat  deal  to  2  young  turkey  chicks 
while the mother bird valiantly tried to fight it off - sadly the cat won 

 Three Furlongs Bar & Grill -  open on Tuesdays to Saturdays. To book call 
(09) 4312 246 or online at www.threefurlongs.co.nz 

 Bus service - the weekly Bream Bay Link Service to Whangarei resumes. To 
book your seat please call Leabourn's office on 09 4237416 

 NEXT BUGLE WILL BE THE LAST BUGLE FOR 2021 - Deadline Friday 
10 December , published Tuesday 14 December.

 Would  you  like  to  join  the  Bugle  team?  A  great  place  to  learn  editing, 
reporting,  photography,  accounting,  graphic  design 
and collating  - plus friendship and team work  - send 
us a message or come to the Kaiwaka War Memorial 
Hall 5pm on Monday 13 December.

 Bugle 23 can be seen in colour at kaiwaka.co.nz
~ Lindsey, Ed
"This is not the year to get everything you want; this is the year to 
appreciate everything you have"  
KAIWAKA BUGLE NO.23 
30 NOVEMBER 2021 
CONTENTS: 
Page 3: Public Notices, Classified 
Page 5: Kaiwaka Physio;  
Page 7: Kaiwaka Can; Kaipara Hunting  
Page 9: Piroa-Brynderwyns Landcare; 
Libby Jones 
Page 11: Kaiwaka Sports  Assn 
Page 13: Spotted in Kaiwaka 
Page 15: Maungaturoto Rotary; 
Kaiwaka Foodbank Te Pataka 
Page 17 Kaiwaka Library; Buffaloes 
Bugle 24 will appear 14 December 
Contact for advertising, reports, articles 
or information can be made by 
Email: kaiwakabugle@kaiwaka.co.nz 
Ph: 09 4312 045 Lindsey 
Txt: 027 2724137 
Copy  may  be  left  at  Kaiwaka  Four 
Square. 
Kaiwaka Bugle 
Founded May 1978 
We appreciate articles and photos about local 
events, etc, as well as ads and suggestions. 
Copies available in Kaiwaka at Kaiwaka  Four 
Square, Kaiwaka Postal Centre, Shamrock 
Service Station, Animal Health Centre, 
Kaiwaka St John shop., La Nonna 
Also outlets in Maungaturoto, 
Mangawhai and Paparoa. 
Can be viewed online at  
www.kaiwaka.co.nz/Bugle  
Or a copy can be posted to you if you supply 
stamped, self-addressed DLE envelopes. 
Kaiwaka Bugle Advertisements 2021: 
All 
copy 
and 
queries 
to: 
kaiwakabugle@kaiwaka.co.nz 
The Bugle is printed on an A4 page, B&W  
Ad  sizes:  1/16  page  (3  x  9.5cm)  $5;  1/8 
(6.5  x  9.5cm  landscape  or  portrait)  $8; 
3/16 ( 10 x 9.5cm or 7.5 x 12,5)  $12.  
Classified  ads:  First  one  FREE,  $4  per 
entry (max. 30 words, max. 4 repeats). 
Payments  can  be  made  online  at 
ANZ 
06  0365  0006990  00
,  posted  or  left  at 
Kaiwaka Four Square Store. 
We  use  Microsoft  Publisher,  and  can 
work  with  most  common  image 
formats, Word, Excel, and PDF files. 
Accounts:  
Email: bugleaccounts@kaiwaka.co.nz 
The  Kaiwaka  Bugle  is  a  community 
newspaper run by volunteers, as part of 
the Kaiwaka Media Group Inc.   
Articles, etc. printed are not necessarily 
the opinion of the Bugle Team. 
Proverbs 16: 1 
 Mortals make elaborate 
plans, but 
God has the 
last word. 
KAIWAKA BUGLE 
DEADLINE DATES 
2021:   
Every second 
Friday 
December 10 
COVID TESTS & VAX 
Photo  above  is  the  'sign'  trailer  outside 
Three  Furlongs  carpark  -    keep  an  eye  out 
for any changes! 
At this stage covid testing will be at Three 
Furlongs  on  Tuesday  30  November  and  
Thursday  2 December 
More  testing  centres  can  be  found  on  the 
Health 
Point 
website: 
https://
www.healthpoint.co.nz/covid-19/northland/ 
Also check the Facebook  page  for  Te  Ha 
Oranga. 
NEED 
HELP 
GETTING 
YOUR 
VACCINE PASS? 
Mangawhai  Te  Whai  Community  Trust,  at 
Rose  Masden  Cottage  73  Moir  St.,  are 
running a friendly, FREE service at to help 
you get your pass organised.   
Drop-in clinics until mid-December: 
TUESDAYS 10am - 12noon 
THURSDAYS 12noon - 2.45pm  
 Bring: A form of identification (NZ drivers 
license, passport ...); Your NHI number.  
"If you collect 100 black ants and 
100  fire  ants  and  put  them  in  a 
glass jar, nothing will happen. 
But  if  you  take  the  jar,  shake  it 
violently and leave it on the table, 
the ants will 
start killing each other 
Red  believes  that  black  is  the 
enemy, 
while  black  believes  that  red  is 
the  enemy,  when  the  real  enemy 
is the person who shook the jar. 
The same is true in society. 
Men vs women 
Black vs White 
Faith vs Science 
Young vs Old 
Etc … 
Before  we  fight  each  ether,  we 
must ask ourselves: 
who shook the jar?" 
-- David Attenborough 
KAIWAKA BUGLE 
READERS  
See the Kaiwaka Bugle in colour 
online at www.kaiwaka.co.nz  
at any time. 
Please pass this on to your 
neighbours - we have so many 
new neighbours in our 
community and we would love 
them to be part of our great 
community 
Do you have a story to share? 
Would you like to be part of the 
Bugle Team? 
Contact: 09 4312045 
0272724137 
kaiwakabugle@kaiwaka.co.nz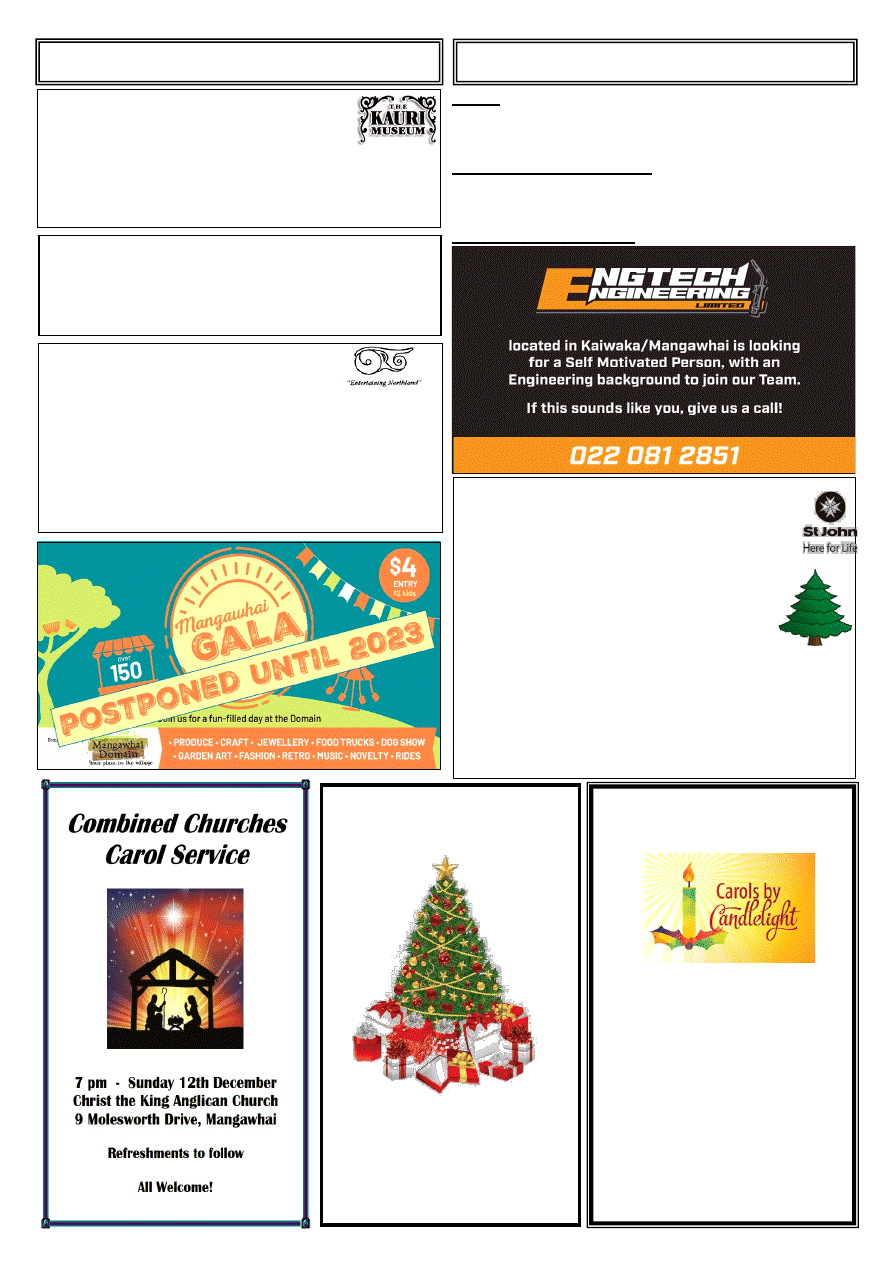 www.kaiwaka.co.nz 
Kaiwaka Bugle - 30 November 2021 
Page 3 
PUBLIC NOTICES 
CLASSIFIED 
ST. JOHN KAIWAKA STORE 
With Christmas fast approaching pop on in to 
check out our amazing bargains. 
Our Christmas decorations are now in Store.  
Lots of gift ideas at reasonable prices 
Christmas trees are coming in early December.   $40 
again this year. 
TWILIGHT MARKET  
FRIDAY 20th December from 5pm 
at Kaiwaka St John Hall.  
We will have the 'garage' open so if you need extra 
furniture pop on in for a browse. 
We are NOT taking Clothing or Electrical goods. 
Pop in and check us out  
Kaiwaka St John Store Hours: 
TUESDAY to FRIDAY  10am to 3pm;  
SATURDAY 10am to 2 pm 
PHONE: Shop  4312650  ~ 1919SH1, Kaiwaka 
FREE:  Cooking  books,  new  condition;  and  Material, 
new condition. Just ring 4312288 (Kaiwaka number) to  
in and pick up what you would like from the pile. 
SUPPORT  WORKERS  required  for  Kaiwaka  IHC 
House.  Go  to  Trademe  Jobs  and  type  'support  worker 
kaiwaka' in the search box for details. 
SITUATION VACANT: EngTech 0220812851 
OTAMATEA COMMUNITY SERVICES 
Community Lunch - Free 
Thursday 9th December 
Community Hall, Fagan Place, Mangawhai 
Contact Gail 09 4319080 or Pauline 021 251 0225 
OTAMATEA REPERTORY  
THEATRE Inc. 
ORT is disappointed to announce that, due to COVID 
restrictions,  we  will  be  taking  a  break  from  Youth 
Theatre for January 2022.  Our popular Youth Theatre 
programmes  will  return  as  soon  as  we  are  able  to 
present them safely - and with certainty.   
We  wish  you  all  a  happy  and  healthy  holiday  break 
and all the very best for the new year ahead. 
Keep on shining! Maura
THE OTAMATEA KAURI & 
PIONEER MUSEUM TRUST BOARD  
ANNUAL GENERAL MEETING 
Friday 3rd December, 5.30pm  
Matakohe Memorial Hall, 10 Church Street, Matakohe. 
AGENDA: 1. To receive Annual Accounts 
2. To receive Annual Report of the Board's activities 
3. Election of Board Members 
Carols by 
Candlelight 
Sunday 19th December 
7.30 pm 
St Paul's Anglican 
Church, Kaiwaka 
Refreshments to follow 
Christmas Day 
Communion Service  -  
9.00 am 
All Welcome! 
CHRISTMAS GIFTS 
Help to make this Christmas special 
for children less fortunate 
Please leave gifts at Christ the King 
Church, 9 Molesworth Drive, 
Mangawhai Village between 9 and 11 am, 
Friday and Sundays. 
Label your parcels, boy or girl and age. 
Gifts will be distributed  
in the Kaiwaka/Mangawhai area. 
Enquiries: Mangawhai Ph 09 431 5913 
Kaiwaka: Ph 09 431 2449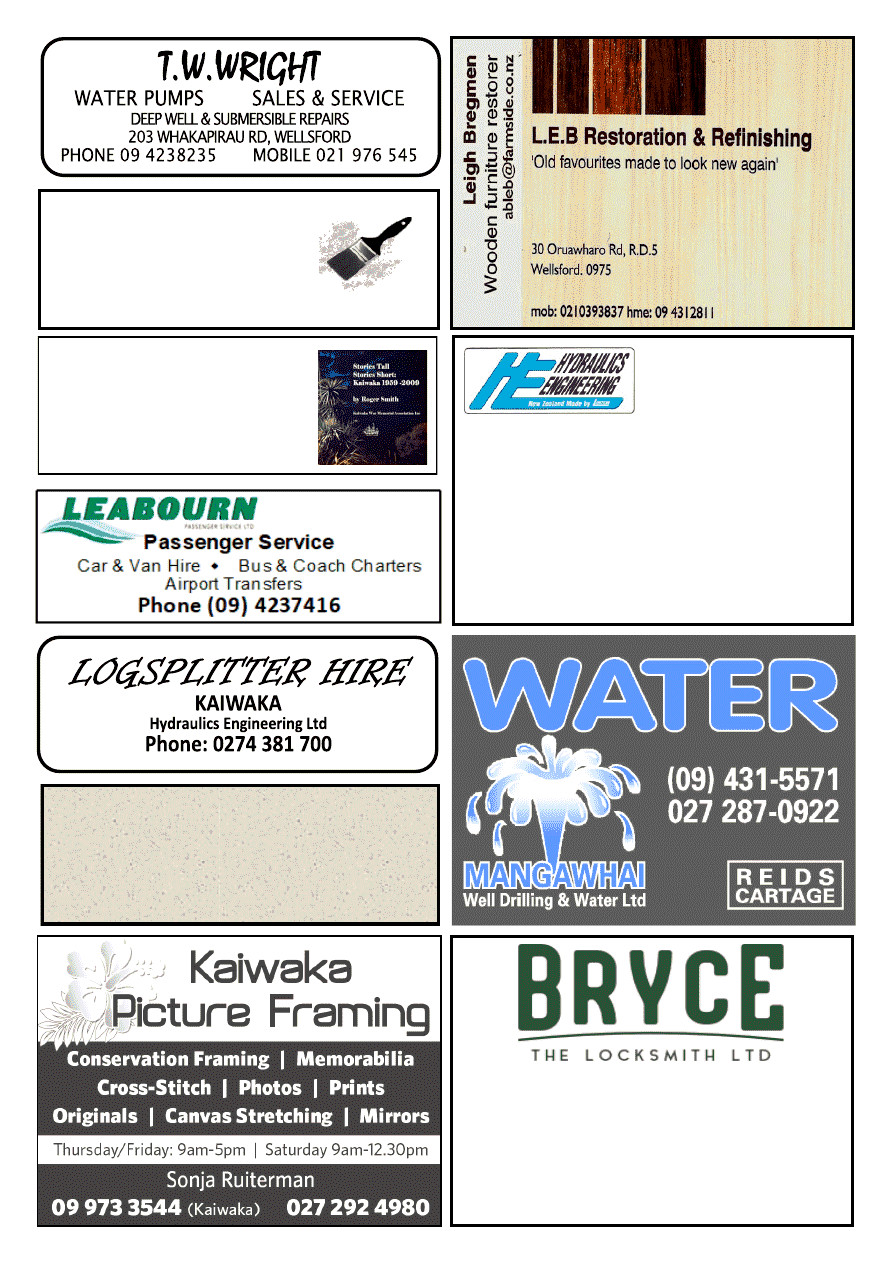 www.kaiwaka.co.nz 
Kaiwaka Bugle - 30 November 2021 
Page 4 
Bryce Frewin 
Ph: 021 850 983 
Kaipara Based Master Locksmith 
bryce@brycethelocksmith.co.nz 
www.brycethelocksmith.co.nz 
Hydraulics  
Engineering Ltd 
Kaiwaka 
Sales - Service - Parts - 
Hire - Manufacture 
Service Contractors & Industrial Equipment: 
Rams, Pumps, Valves 
Logsplitter Hire, Manufacturer, Sales 
Dennis Linton 
Lot 2 / 161 Ranganui Road, RD2, Kaiwaka, 0573, New Zealand 
Mobile: 0274 381 700 
Email: hydraulicsengineering@xtra.co.nz 
Counsellor and Registered Psychotherapist 
Offers Supervision 
ACC Sensitive Claims 
Susan Matheson      MNZAC 
Dip. Psychosynthesis Counselling and Psychotherapy 
Phone 09 431 2996                                     Mobile 027 605 2427 
DR PAINT
 Dave & Rhys 
 Painters
 02108742551 
0211200667   
Stories Tall, Stories Short  
Kaiwaka 1959-2009 
by Roger TW Smith.  $40 
Kaiwaka Photographic History $25 
Available at All Sortz Collectables  
or phone  4312 045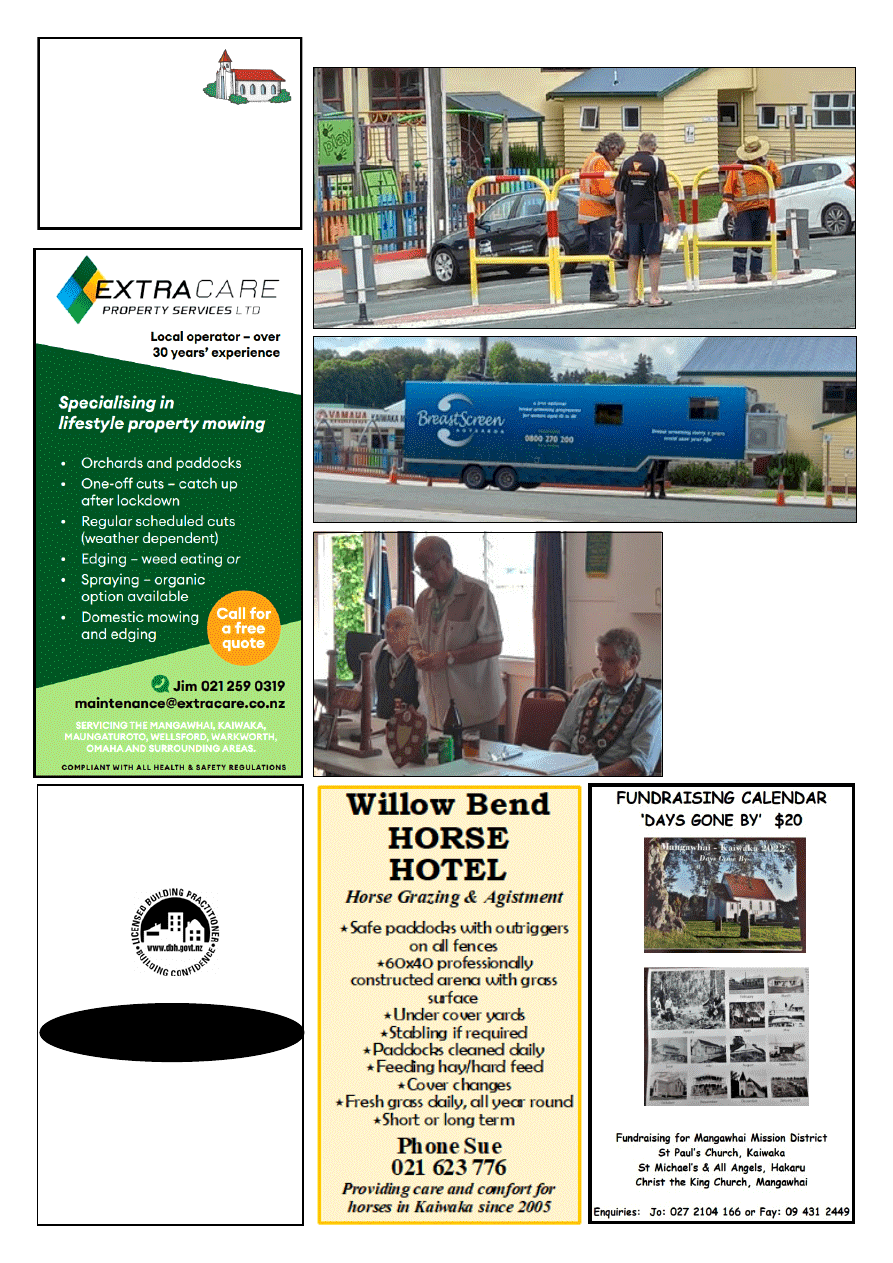 www.kaiwaka.co.nz 
Kaiwaka Bugle - 30 November 2021 
Page 5 
ST PAUL'S  
ANGLICAN  
SUNDAY SERVICES
First Sunday 9am Holy Communion 
Third Sunday 9am Family Service 
St Pauls Church: Kaiwaka-Mangawhai Rd. 
Church Office Ph 431 4122 
www.mangawhaianglican.org.nz
TOP:  The  guide  pipes  are 
back  and  in  position  at  the 
Kaiwaka-Mangawhai  Road 
pedestrian  crossing  -  this 
time painted bright yellow!  
MID:  The  breast  screening 
caravan  is  back  in  town 
(tough  on finding  a parking 
space …) 
BOTTOM:  Maungaturoto,  
Luxinn/Wellsford  Buffalo  
officers  -  Noel  Smith, 
Joseph  Cross  and  Owen 
Stevens. 
Wright  
Design 
No. 117345 
ARCHITECTURAL DESIGN 
N.Z.C.A.D. Architectural 
Mob: 021 276 7389 
Office: 25 Lupis Lane, 
Kaiwaka 0573 
brianwright@xtra.co.nz 
AROUND TOWN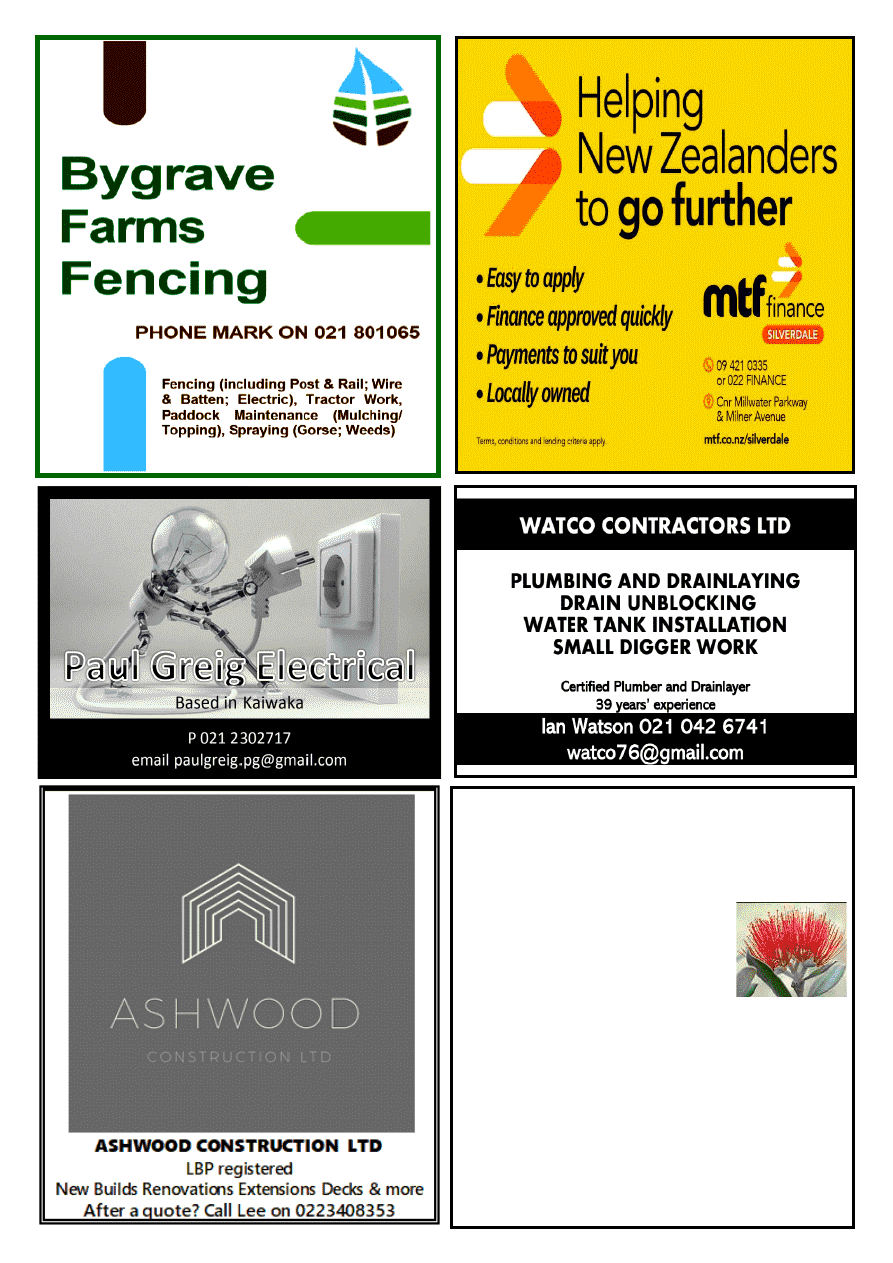 www.kaiwaka.co.nz 
Kaiwaka Bugle - 30 November 2021 
Page 6 
KAIPARA FLOORING CO 
FULLY MOBILE FLOORING SHOWROOM 
SERVICING THE KAIPARA 
PH (09) 946 9886 or  
CHRISTINE ON 021 515 415 or 
HOWARD 021 2696250 
IN HOUSE MEASURE, QUOTE AND 
CONSULTATION SERVICE 
FOR THE SUPPLY AND INSTALLATION OF 
CARPET, VINYL, VINYL PLANKING, HARD 
FLOORING, GARAGE CARPET, LAMINATE 
FLOORING AND MORE. 
EMAIL kaiparaflooring@gmail.com  
WEBSITE www.kaiparaflooring.co.nz 
Qcard 6 month interest free terms or 12 – 24 
month finance options available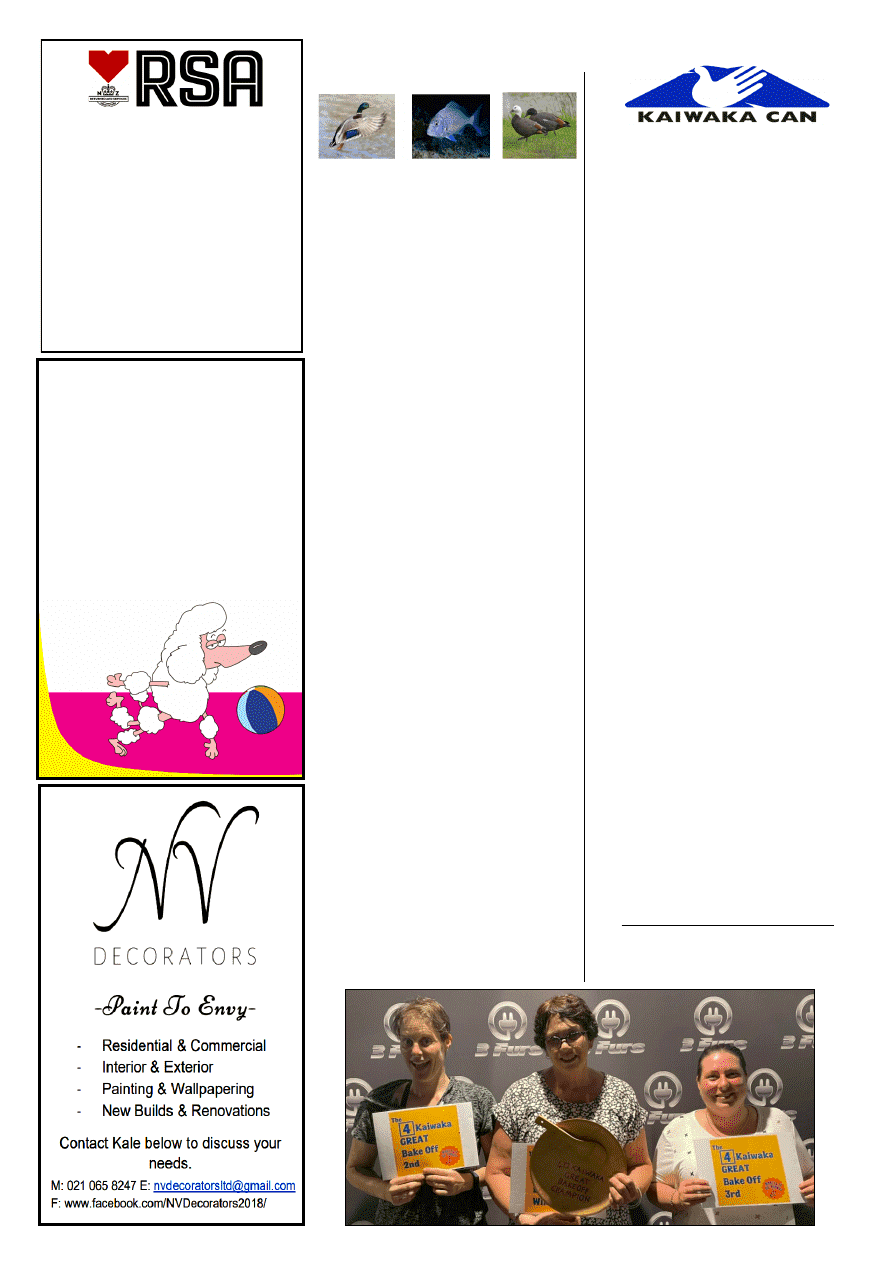 www.kaiwaka.co.nz 
Kaiwaka Bugle - 30 November 2021 
Page 7 
HAKARU & DISTRICTS 
MEMORIAL RSA (INC)
Members & guests are invited to 
come along and enjoy our hospitality. 
New members welcome. 
Meals are served on Thursday and 
Friday nights from 6.30pm. 
Order from Blackboard Menu  
For more information please phone 
Barry Wallace 0274 922 975 
Email: president@hakarursa.co.nz 
KAIPARA HUNTING 
& FISHING 
CHRISTMAS SHOOT 
Sunday 12th December 2021 10am  
Club 
grounds: 
Hames 
Road 
Maungaturoto 
Entry:  $40.00  per  person  Juniors:  16 
years and under – $20.00 
Ammo: $14.00 per box (25) 
Steel  shot  only.  Can  bring  your  own 
steel shot. This will be checked 
Please bring your Firearms License for 
our firearms register 
No Dogs please on course. Can be tied 
up at your vehicle. 
All  new  members  welcome  so  bring 
your shooting friends 
BYO chair, Refreshments and BBQ on. 
Cash only No eftpos available 
Great prizes to be won including 
Hams. See you all there. 
ANNUAL GENERAL MEETING 
The  Club  held  its  AGM  on  the  21 
November 2021 
Elected  Offices:  President  Cameron 
Shanks  09  4316229;  Treasurer  Andy 
Thompson 
0211294378; 
Secretary 
Annette Pull 0272862329 
Committee:  Trev,  Stick,  Tony,  Jenny, 
Dale, Gary, Dillion and Hayden 
Range Safety Officer: Tony Smith 
Yearly  Subs  are  now  due:  Adult  $25 
Family $35 Junior $15 You can pay this 
online or at the club grounds 
END  OF  SEASON  PRIZEGIVING 
RESULTS 
Top Gun Prize Dale Hamlin 
Fishing: Seniors 
Snapper Steve Wrathall; Kahawai Tony 
Smith; Gamefish Andy T (Marlin) 
Juniors 
Snapper  Tara  Wrathall;  Kahawai 
Bronson  Wrathall;  Kingfish  Bronson 
Wrathall; Gamefish Bronson Wrathall 
Congratulations  Bronson  and  Tara  on 
your  amazing  fish.  Keep  up  the  good 
work. 
THANK YOU 
Also a big thank you to Robin  Dickens 
of GAS Maungaturoto for the supply of 
the trap batteries.  Please support Robin 
in his business. 
Regards Your Committee 
Hot Diggity Dog  
DOG GROOMING  
KAIWAKA 
Spring is in the hair. 
Professional Dog Groomer  
at affordable prices.
www.doggroomingkaiwaka.co.nz 
call Pam 094312143 or text 
0273335380 for bookings 
KAIWAKA CAN 
As  most  will  be  aware  the  two 
walking  bridges  are  due  to  get 
under  way  and  Bridge  It  NZ  has 
won the tender for the project. 
Bridge It NZ will have a dedicated team 
on  site  for  the  duration  of  the  works 
which is expected to be 7 weeks on site 
starting from the 10th January 2022.  
To  assist  with  site  works,  we  are 
looking  to  engage  with  local  sub-
contractors 
to 
assist 
with 
the 
completion  of  certain  aspects  of  the 
work.  
These include: 
1.Carpenters 
–  construct  raised 
boardwalks  with  timber  handrails  at 
both  the  north  and  south  bridges.  This 
includes 45m at the northern bridge and 
20m at the southern bridge location. All 
materials have been ordered and will be 
supplied for the job. 
2.Landscape/civil  works 
– construct 
approximately  100m  of  2.5m  wide 
aggregate  track.  The  track  will  join  at 
Gibbons Rd and join with the southern 
approach of the northern bridge. 
3.Piling 
–  The  northern  bridge  has 
4no. steel driven piles on each abutment 
along with 40no. timber SED's for both 
the  north  and  south  approaches.  We 
expect a 15T excavator is required with 
a +750kg pile driver. 
4.Skilled  labour 
– we would also be 
open to any skilled labour to assist with 
construction throughout  the  site  works. 
We  would  prefer  carpentry  experience 
for these roles. 
For  more  information,  please  contact 
Kim  Bevins  (Project  Manager)  by 
either  phone  (027  4066  234)  or  email 
(kim.bevins@bridgeitnz.co.nz) 
MCCLEAN PARK 
Kaiwaka Can is also working on trying 
to get another working bee at McClean 
Park  before  Christmas  with  a  tentative 
date of Sunday  12th  December. Keep 
an  eye  out  on  Facebook  or  check  out 
our  new  website  kaiwakacan.nz  for 
conformation. 
WINNERS  of  KAIWAKA  FOUR 
SQUARE GREAT BAKE OFF: 
L to R: Lish, Helen, Jordyn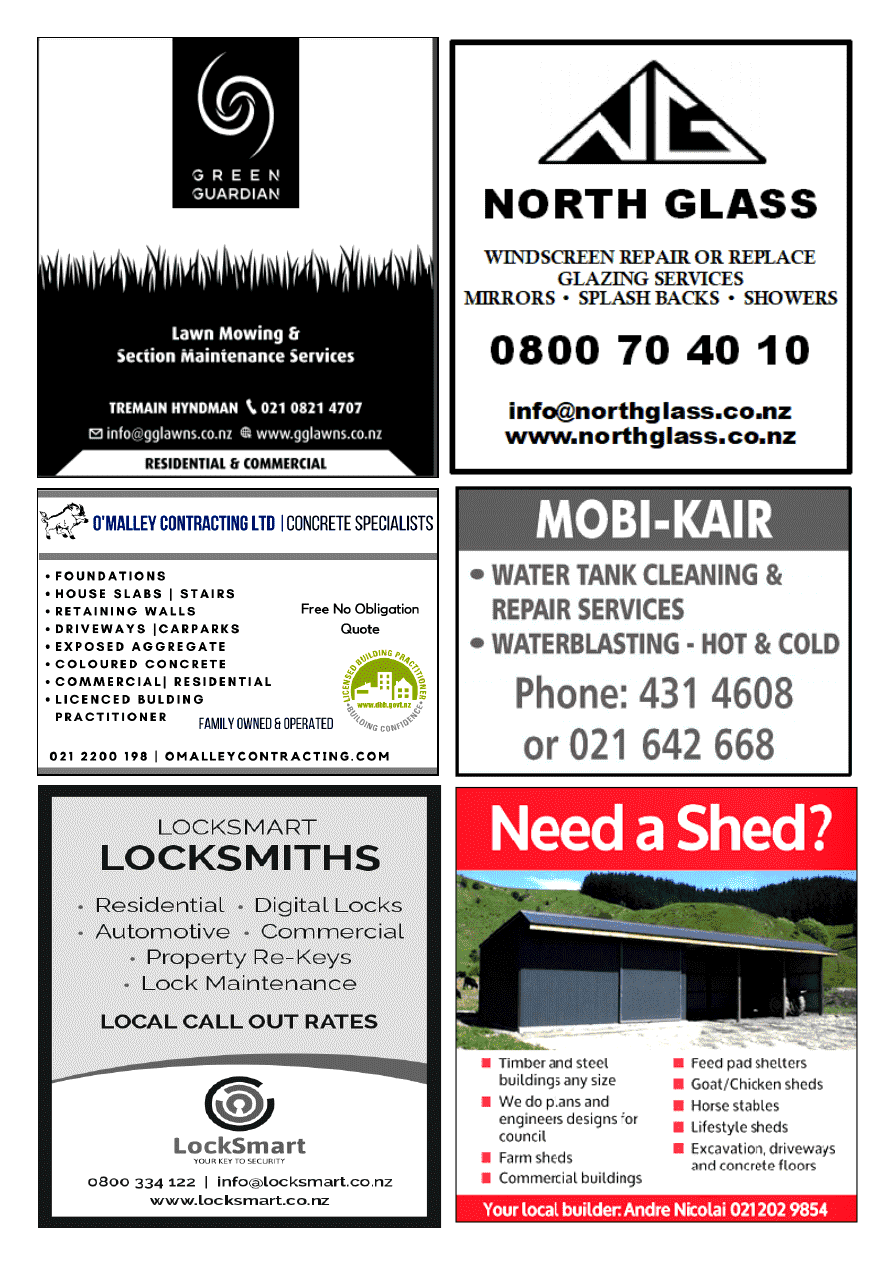 www.kaiwaka.co.nz 
Kaiwaka Bugle - 30 November 2021 
Page 8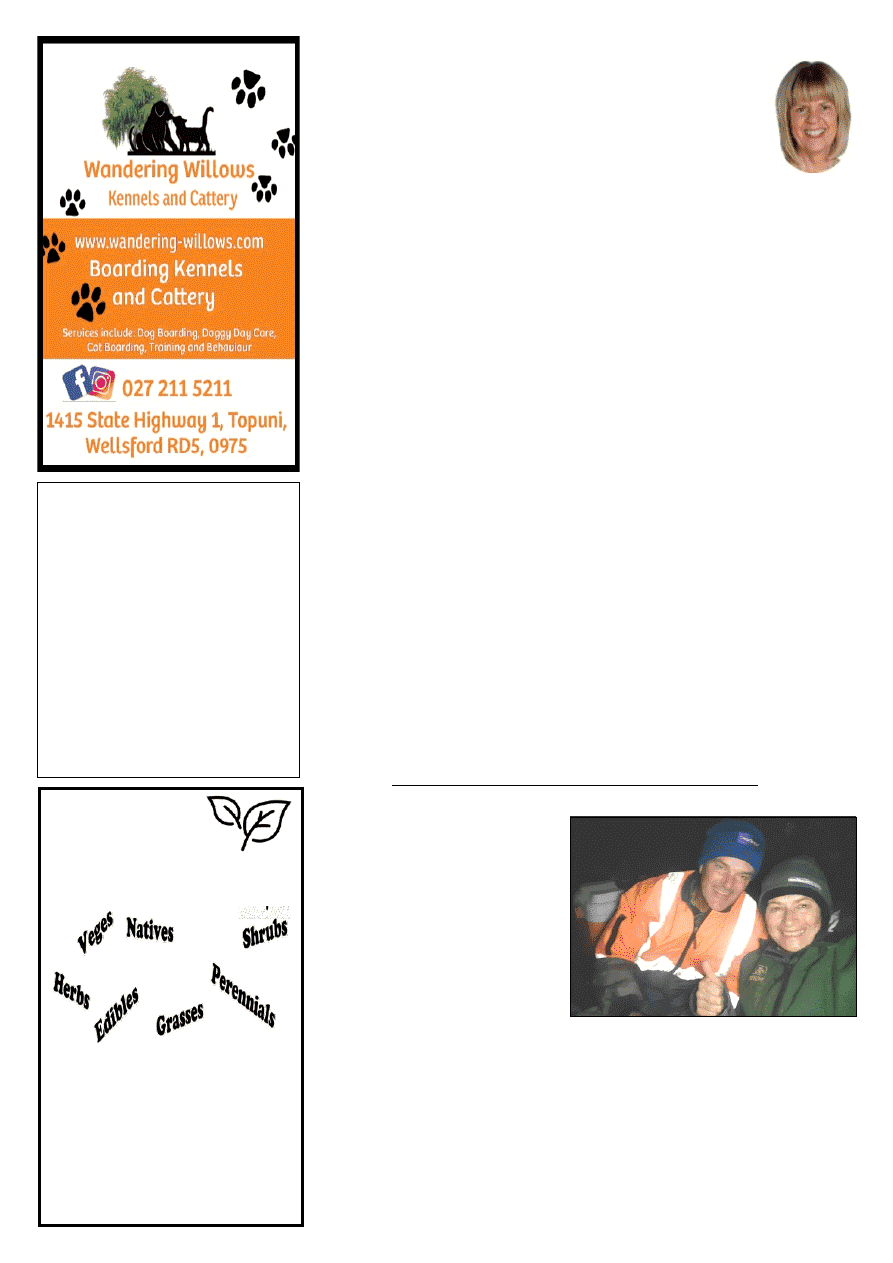 www.kaiwaka.co.nz 
Kaiwaka Bugle - 30 November 2021 
Page 9 
HAKARU HALL 
ACTIVITIES 

Monday:  Line Dancing 10-12pm Ph 
4315160 

Tuesday & Thursday: Pilates 10am 
Ph. 0220643965 

Wednesday:  Music Jam Session 7pm 
Ph. 0210628631 

Sunday: Canine Coaching Ph 
0272365004 

Dance Energy  Week Days  
   Monday to Friday, Afternoon/Evening  
Ph. 0275610469 

Friday Morning: Available for HIRE 
Hall Bookings Karen  
4312090 or 0210467490 
NORTHLAND 
RURAL 
SUPPORT TRUST BOARD 
I have been a member of the Northland 
Rural  Support  Trust  Board  for  the  last 
seven  years,  more  recently  as  Deputy 
Chair, and am finishing my term at the 
end  of  this  year. There are  14  regional 
Rural Support Trusts set up across New 
Zealand  serving  the  different  rural 
communities.  
When I joined there was a major focus 
on  adverse  events  in  the  rural  areas 
such  as  droughts  and  floods  and 
Northland  has  had  their  fair  share  of 
them  in  the  last  seven  years.  With  my 
background  in  health  and  social 
services I was particularly interested in 
support  for  health  and  wellbeing  in 
rural  communities,  which  has  steadily 
increased  in  priority  over  this  time. 
Rural people helping rural people is the 
focus  and  each  regional  trust  has  Ag 
Facilitators  who  support  individual 
farmers and refer on as needed. 
Some funding comes from government 
(MPI)  to  support  adverse  events 
responses,  short  or  longer  term,  and 
some  to  maintain  "business  as  usual" 
offering  support  for  financial,  animal 
welfare  and  employment  challenges.  A 
national  line  for  contact  0800  787  254 
links to each regional trust.  
Our area covers parts of Auckland and 
Northland, and our Te Tai Tokerau Co-
ordinator  is  Rebekah  Sulman  based  in 
the south of Northland. 
NORTHLAND 
ADVERSE 
EVENTS TEAM  
Organisations  such  as  NRST  do  not 
work  in  isolation  to  support  rural 
communities  and  are  part  of  the 
Northland Adverse Events Team which 
includes 
NDHB, 
Civil 
Defence, 
Councils,  and  other  primary  industry 
groups and networks. They 
all  share  vital  information 
and  contacts  to  be  able  to 
respond 
quickly 
and 
appropriately,  and  can 
mobilise people, resources, 
animal 
feed, 
welfare 
assistance  etc  when  adverse  events 
occur. 
Check  out  the  website  and  Facebook 
page  for  great  information  to  support 
our rural lifestyles. https://www.rural-
support.org.nz/Regions/North-Island/
Northland 
or 
https://
www.facebook.com/NorthlandRST  
COVID 19  
COVID  19  is  a  new  sort  of  adverse 
event  probably  not  imagined  when 
RSTs  were being  set  up. However,  the 
same  principles  of  collaboration, 
networks  sharing  and  focusing  on  the 
bigger  picture  are  at  play  now  across 
Northland and nationally. 
COVID 19 ON FARM  
Preparing  for  COVID  19  on  Farm  is  a 
current  focus  and  involvement  in  the 
Northland  DHB  led  COVID  in  the 
Community  response.  With  the  change 
to  Community  Self  Isolation  (C-SIQ) 
there  are  a  number  of  logistical  things 
that need to occur when a COVID case 
is positive in a rural community. There 
have  been  quite  a  few  of  these  lately 
and  this  is  predicted  to  increase  over 
January  and  February  as  people  move 
around  Northland  more  over  the 
summer.  Sensitivities  such  as  privacy 
of  the  cases  is  an  important  factor too, 
as people get supported to safely isolate 
and communities know what they need 
to  do  to  remain  safe  –  get  vaccinated, 
get tested and scan in. 
Have a great summer Kaipara. 
Libby  Jones  hames.jones@xtra.co.nz 
021 2080093 
Oneriri  
Plants 
Visit our Nursery 
Contact Heather 021 
766399 
oneririplants@gmail.com 
365AOneriri Rd, Kaiwaka 
A short trip off SH1
LIBBY JONES 
– 
Member Northland District Health Board 
PIROA-BRYNDERWYN LANDCARE (PBL) 
Over  7,000ha  are  being  actively 
trapped  in  the  Piroa  Brynderwyns 
area,  which  is  roughly  one  third  of 
the PBL high value area. 
Listening  for  Kiwi  in  PBL    -  Our 
Annual Call Counts  
The  annual  call  count  programme 
managed  by  the  Department  of 
Conservation  helps  us  know  if  the 
kiwi  in  our  HVA  are  breeding 
successfully.  This  year  we  added 
four new listening stations to make a 
total of eight across the HVA and ran 
two  training  workshops  to  boost  our  listener  numbers.  The  DOC  Annual  Kiwi 
Call  listening  count  programme  has  been  running  for  20  years  and  helps  to 
establish  important  data  to  better  understand  kiwi  numbers  and  distribution  on 
both a regional and national scale.  
Kiwi Listeners 2021 include Tania and Innes Anderson, Baldrock Rd (photo ) 
We are thrilled to share the exciting news that 2 of the newest stations have heard 
kiwi  male  and  female  calls,  confirming  that  kiwi  in  this  area  are  spreading 
throughout the hills. A fantastic reward and an even greater reminder of why our 
trapping programmes are so important. 
Kiwi have continued to explore the full extent of the Brynderwyns.  In the West a 
kiwi  was  seen  by  a  trapper  in daylight  on  a  bush  block  near  SH1.  Over  on  the 
East Coast, a pair of kiwi have recently been heard calling at Bream Tail Farm.  
Slowly but surely the hard work of  many owners, volunteers and contractors is 
proving fruitful with sightings and kiwi calls increasing in the area.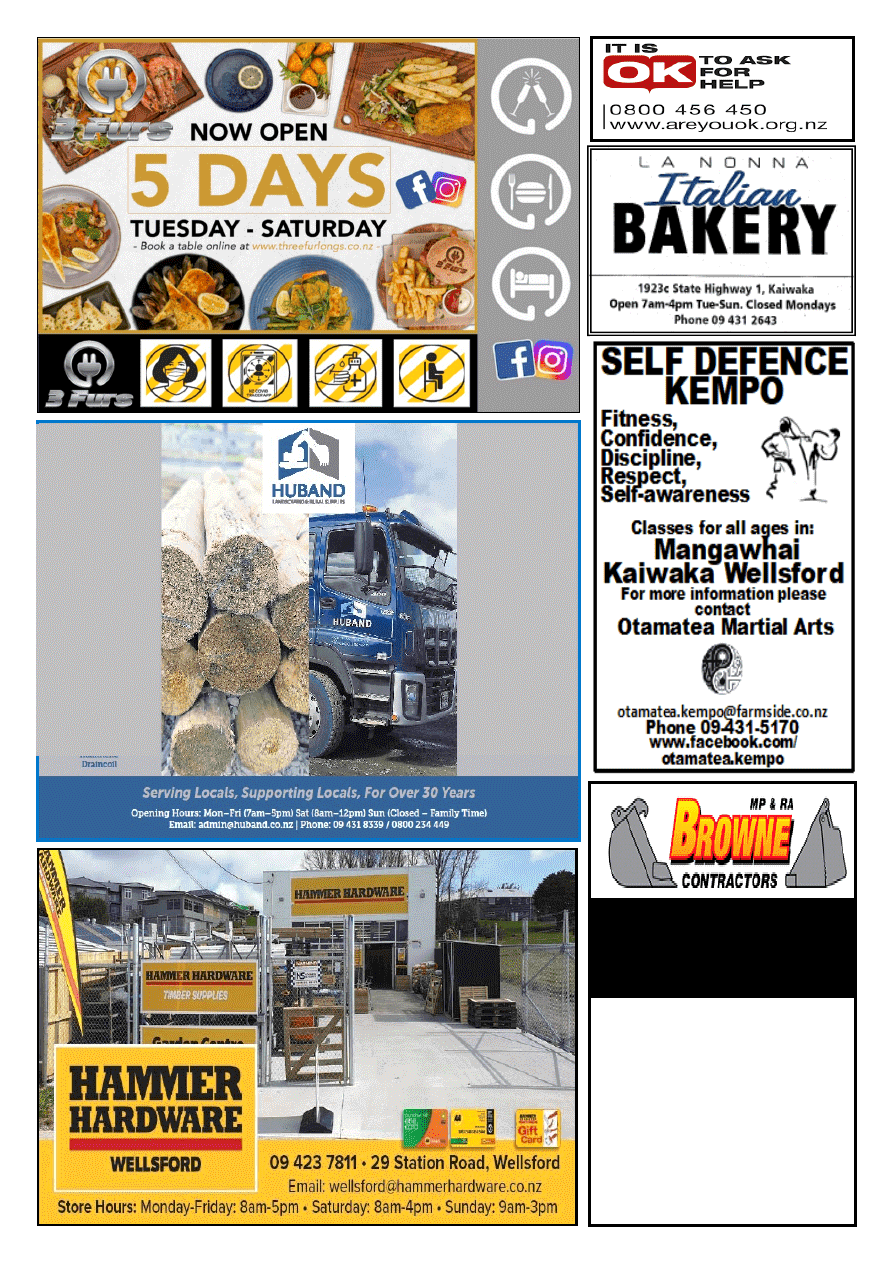 www.kaiwaka.co.nz 
Kaiwaka Bugle - 30 November 2021 
Page 10 
WATER TANKS: 
Aqua & Baileys 
Brands 
DRAINAGE & 
SEPTICS: 
Land Drainage 
Urban Rural 
Drainage 
Water Pipelines 
Culverts 
Septic Systems 
(RX Plastics & 
Biorock) 
SITEWORKS: 
Retaining Walls 
Piling 
Driveways 
Carparks 
Landscaping Supplies: 
Waikato Screen Topsoil 
Bark 
Woodchip 
Mill Bark 
Post Peelings 
Compost 
Crushed Shell 
Topsoil 
Limestone Chip 
Daltons Garden Mix 
Aggregate 
Gap: 20,40.65 
Riverstone 
Sand 
Belt Dust 
40/20 Drainage Metal 
Builders Mix 
 Cement 
Timber/Fencing Supplies: 
Rails, Posts  
Stays, Strainers 
Fence Battens 
Palings 
Stakes 
Fencing Wire 
Farm Gates & hardware 
Drainage: 
PVC Fittings 
Alkathene 
Draincoil 
- 4 Tonne DIGGER - 
- BOBCAT- 
- TIP TRUCK - 
Property Maintenance  
Driveways 
Building Sites 
Stump & Tree Removal 
Hole Boring -  Chain Trencher 
Calf Shed and Stockyard Cleaning 
Phone Matt: 021 199 6677 
Email: mprabrownecontractors@gmail.com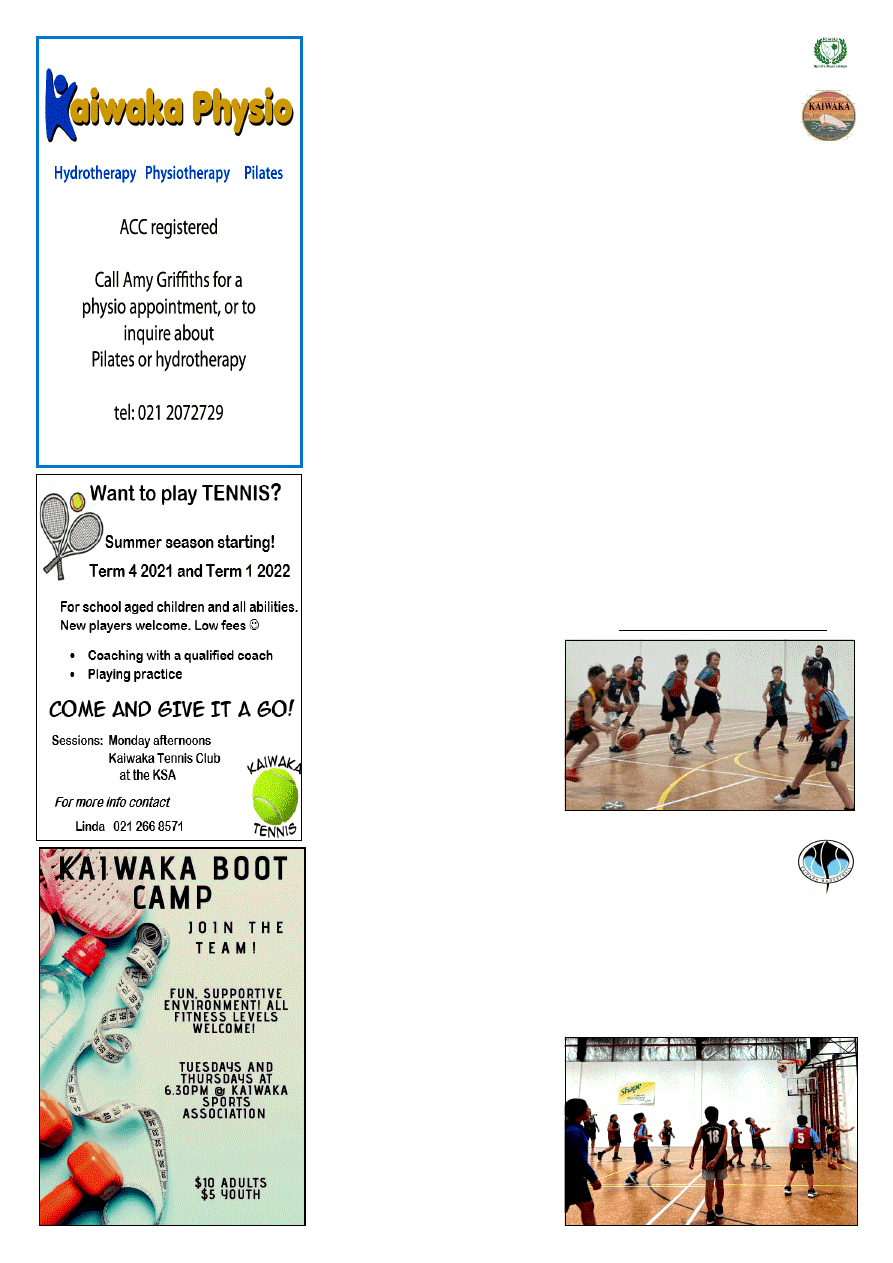 www.kaiwaka.co.nz 
Kaiwaka Bugle - 30 November 2021 
Page 11 
KAIWAKA SPORTS ASSN NEWS 
KAIWAKA SPORTS ASSN 
KSA Bookings contact: 
Jennie Reynolds, 02102764171  
ksabookings@mail.com 
KSA email: ksa.sec3@gmail.com 
Lindell Ferguson
PT.CURTIS CRUISING  
CLUB 
CHRISTMAS DINNER  
at 3Furlongs Bar & Grill  
from 6pm on Thursday 2nd December 
2021 
There will not be a smorgasbord due to 
the  Covid19  restrictions  so  we  will 
need  to  purchase  our  meals  from  the 
Dinner  menu.  We  have  30  reserved 
seats  available  and  would  love  to  see 
you there. 
Please  text  me  on  021638012  with  the 
names of people you will be bringing to 
secure  your  spots  and  ensure  no  one 
misses out. 
ANNUAL RANGIORA BOAT 
RAMP PICNIC will be held on 
Saturday 15 January 2022 at approx. 
1pm.  
There  will  be  a  few  camping  over  the 
weekend  and  you  are  welcome  to  join 
those staying. 

Fish  of  the  Month  for  October  & 
November was Kahawai 

Winner:  1st  Chainsaw  [nickname] 
1.619kgs, prize from Kaiwaka 4 Square 

New Fish of the Month: Snapper till 
12 January 2022 

Next  Club  meeting:  Wednesday 12 
January  2022,  7pm,  Kaiwaka  Sports 
Association 
Wayne Leslie (Commodore)
) 
KSA UPDATE 
BADMINTON  is  every  Tuesday 
evening, 7.30pm in the KSA gym. 
Contact Kaye 4312345 
KAIWAKA  TOUCH  MODULE  is a 
social  grade  touch  rugby  competition 
held  over  8weeks,  played  at  the 
Kaiwaka Sports Pavilion. It is a family 
friendly  environment  and  suitable  for 
all ages - back in January 2022 
KAIPARA BASKETBALL 
Well 
done 
Kaipara. 
Congratulations  to  locals    Jade, 
Miah,  Isaiah  and  Maxwho  have 
been  selected  to  attend  the 
National U14 Development Camp early 
2022. 
The last round for FAST 4x4 Basketball 
at  the  KSA  gym  is  on  Monday  13 
December 
For  more  information  email  info@  kaipara 
basketball.com 
Facebook: @kbabasketball 
Website: www.kaiparabasketball.com 
CLUB CONTACT DETAILS 

ATHLETICS 
Eileen Parsons 021 142 0357 
E: b.parsons@xtra.co.nz 

BADMINTON 
Kaye Fleming 4312 345 
E: pkfleming@xtra.co.nz 

BASKETBALL 
Cyrena Brunton, secretary 
E: basketball.kaipara @gmail.com 
Blake Worsfold 021 148 9743 
E: blake@ruraldesign.co.nz 

FITNESS CENTRE 
Siobhan Henderson 027 979 1203 
E: siobhanCole87@gmail.com 

HOCKEY 
Tina Holst 021 293 5974 
E:  tina.holst@otamatea.school.nz 

KAIWAKA PRIMARY SCHOOL 
Sharlene Tornquist 09 4312309 
E: principal@kaiwaka.school.nz 

MARTIAL ARTS 
Craig Bennetts 021 152 4466 
E: otamatea.kempo@farmside.co.nz 

NETBALL-Senior (OTA-EX) 
Maree Stewart 

NETBALL – High School  
Jodie Bennetto 021 0266 3634 
E: mgtonetball@gmail.com 

NETBALL- Primary School 
Courtney Cave 021 266 7946 
E: cjcave@hotmail.com 

PT.  CURTIS CRUISING CLUB 
Sandy Shaw 021 0236 0740 
E: wfdsports@xtra.co.nz 

RUGBY-Senior 
Michael Tovine 021 138 661 
E: michealtovine@hotmail.com 

RUGBY – JMB 
Te Awhina Whitehead 021 0259 6889 
E: teawh@hotmail.com 

RUGBY - Women 
Bron Hames 027 4258046 
E: horsiehames@yahoo.com 

SQUASH: 
Heath Worsfold 021 431 320 
E: heath@ruraldesign.co.nz 
Bruce Leslie 021 12608015 
E: leswa212@gmail.com 

SQUASH - Juniors 
Lana Thompson 
kaiwakasquash@gmail.com 

TENNIS: 
Linda Cowbourne 021 266 8571 
kaiwakatennis@gmail.com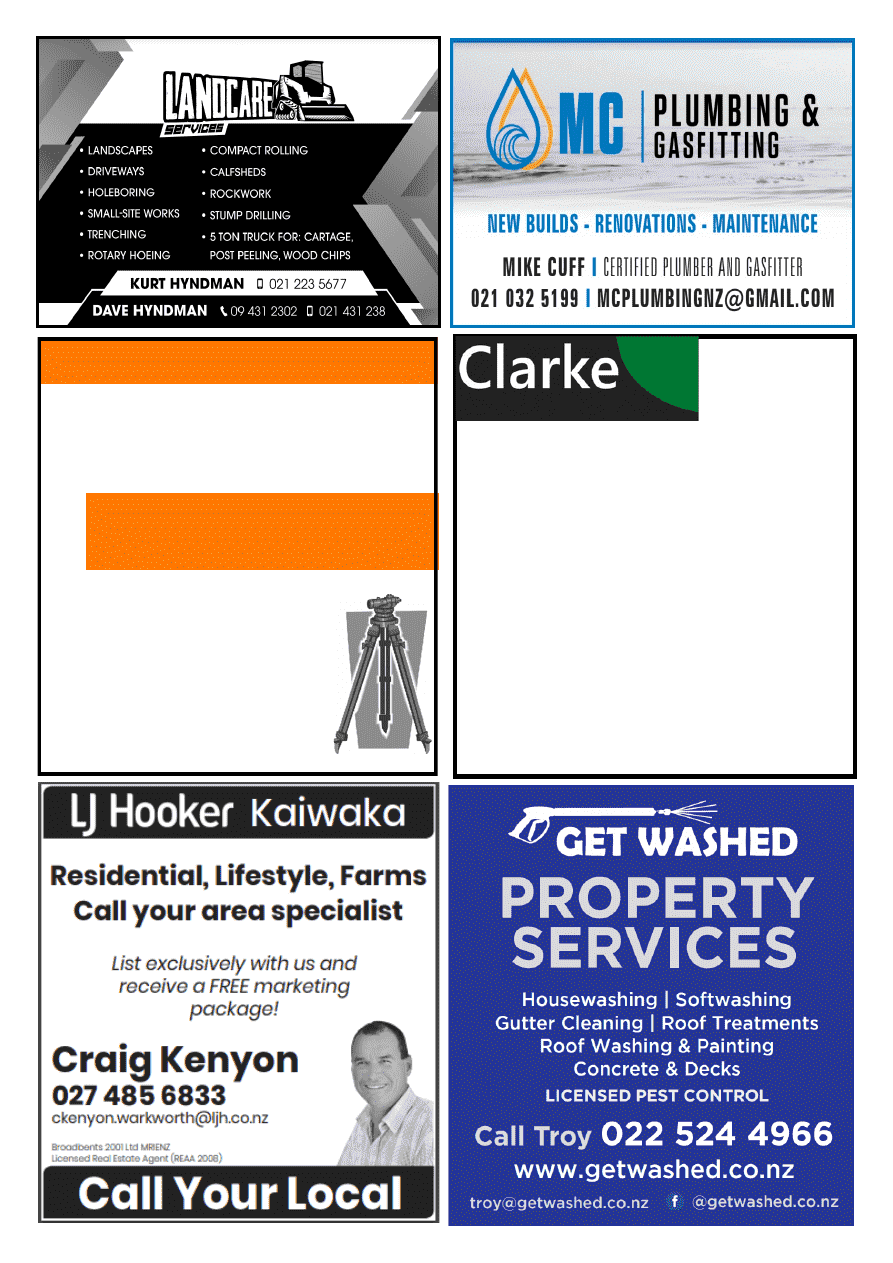 www.kaiwaka.co.nz 
Kaiwaka Bugle - 30 November 2021 
Page 12 
Drainage & Earthmoving 
nigel@clarkedrainage.nz 
027 2233 185 
Registered Drainlayer                 All Types of Earthworks  
> All Residential & Commercial Work  > House Sites 
> Septic System Design & Install 
> Footings & Drilling to 10m 
> Sewer Connections 
> Dams 
> Water Tank Installation 
> Roading & Races 
> Farm Work 
THE ONE STOP SHOP  
Phone Nigel for an Obligation Free Quote  
SURVEYORS 
SUBDIVISIONS 
HOUSE SITE SURVEYS 
CIVIL ENGINEERING 
WASTEWATER DESIGNS 
EXPERIENCED 
PROFESSIONAL 
INNOVATIVE 
Ph 09 431 5353 
0800 PACIFIC (0800 722 434) 
pacificcoastsurvey.com
Adam Booth - 027 415 5752 
Bsurv, Licensed Cadastral Surveyor
Surveying Kaipara since 1994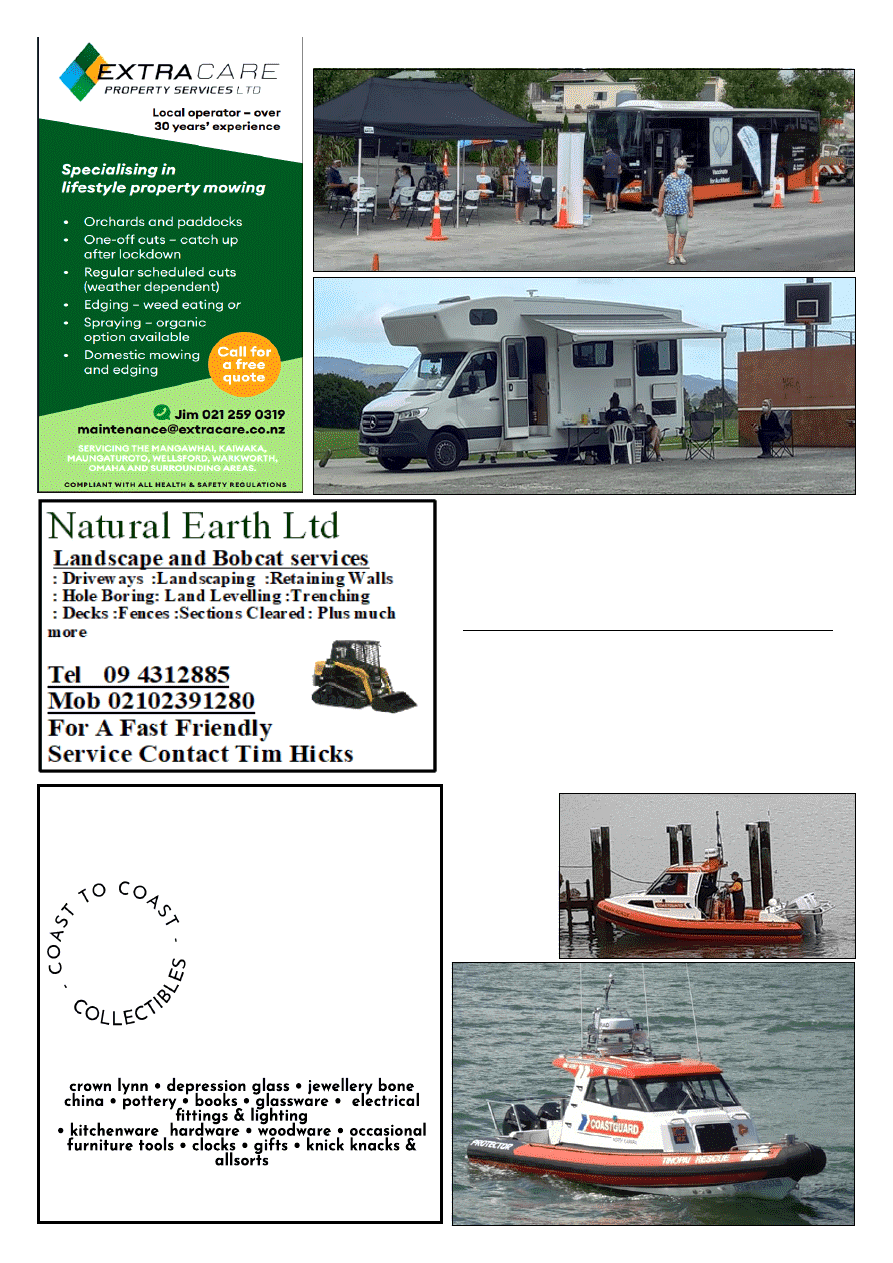 www.kaiwaka.co.nz 
Kaiwaka Bugle - 30 November 2021 
Page 13 
COVID VAX IN KAIWAKA 
Top  photo  was  taken  last  Thursday  at  the  Three  Furlongs 
car  park  -  Carolyn  received  a  grocery  voucher  following 
here Covid-19  vaccination. 
The  lower  photo  was  also  taken  on  Thursday  at  the 
Kaiwaka Sports Assn top carpark.  Ta Ha Oranga crew were 
just setting up for their 3-7pm vaccination run. 
There were also vaccinations at the Kaiwaka St. John Hall 
Eclectic Boutique 
99 Gibbons Rd, 
Kaiwaka 
Contact Trish 
for buying or selling 
021 2140 522  
09 431 2193 
Large selection of: 
Open10am – 4pm  
Cash, Eftpos or Direct Debit available 
'TINOPAI RESCUE' HAS 
ARRIVED IN TINOPAI.  
North  Kaipara  Coastguard  have  taken  possession  of  a  new 
9m  Rayglass  Protector  Rescue  Boat  to  help  them  assist 
boaties on the Kaipara Harbour.  
'Tinopai Rescue' arrived at the Tinopai wharf on Friday 26 
November.  After  some  upskilling  for  the  2  operating 
Skippers  and  Wet  Crew,    Tinopai  Rescue  will  be  fully 
operational 
helping 
boaties  on  the 
Kaipara 
and 
'Manaia 
Rescue' 
is 
going  north  to 
Waitangi  for 
the  next  phase 
in her life.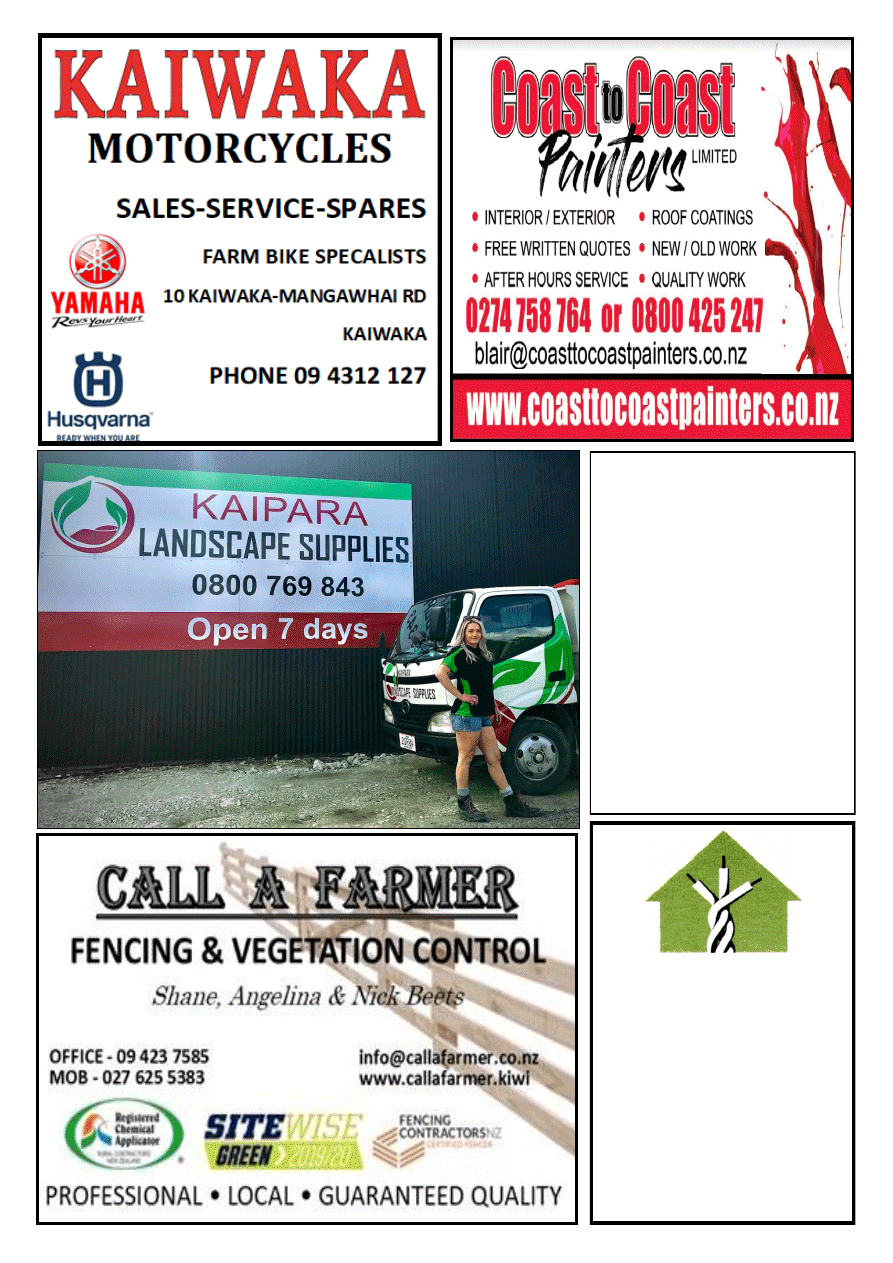 www.kaiwaka.co.nz 
Kaiwaka Bugle - 30 November 2021 
Page 14 
HELP 
PHONE NUMBERS 
HEALTHLINE 0800 611 116 - a 
nurse to answer health queries  
SAMARITANS 0800 726 666 - 
support for lonely or suffering 
mental distress 
YOUTHLINE 0800 376 633 
LIFELINE 0800 543 354 
DEPRESSION HELPLINE 0800 111 
756 
ALCOHOL & DRUG HELPLINE 0800 
787 797 
URGENT MENTAL HEALTH LINE 
0800 223 371 
WARMLINE -peer support for 
people with mental health issues 
0800 200 207 
Reyahn  Leng 
Registered Electrician 
Local, honest and 
reliable. 
For your residential and 
light-commercial 
projects. 
022 314 1068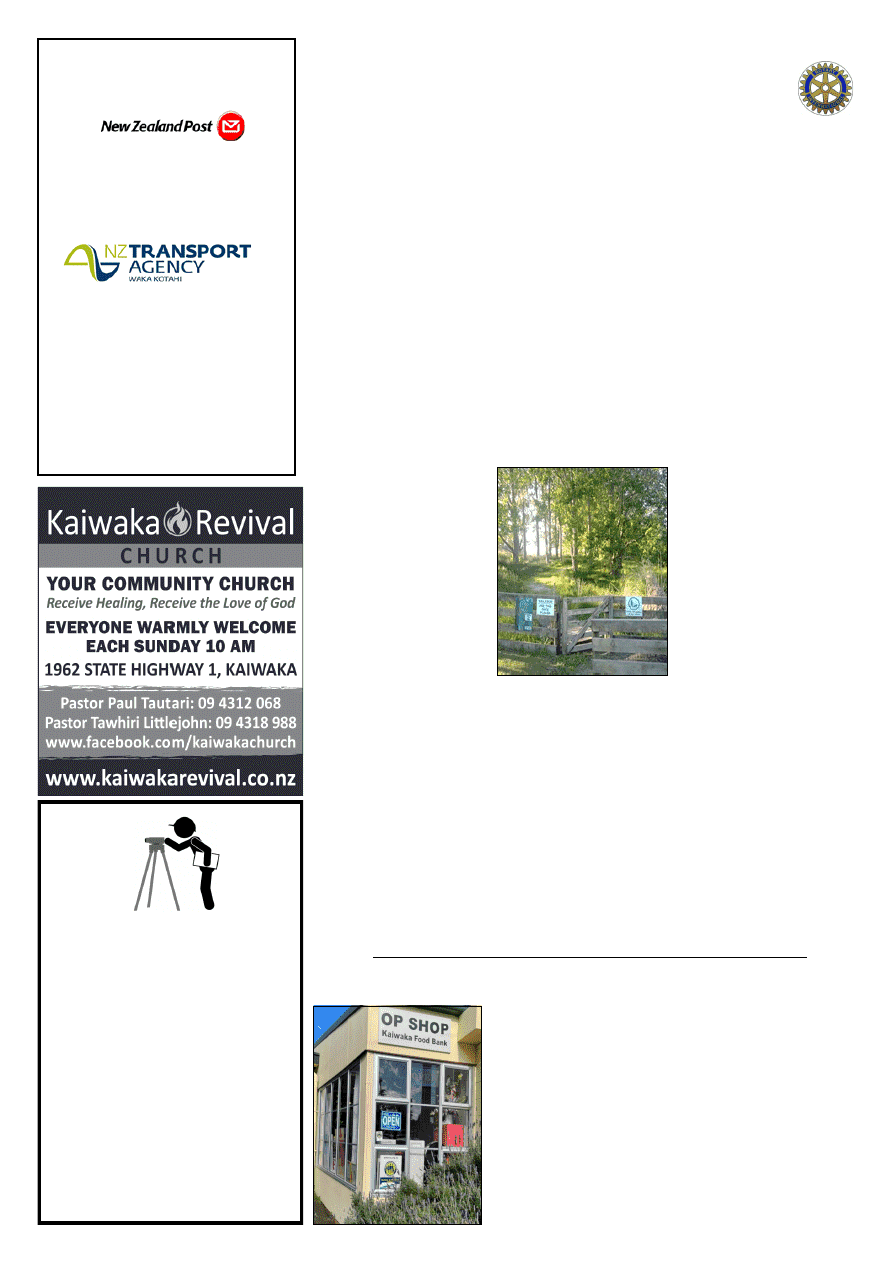 www.kaiwaka.co.nz 
Kaiwaka Bugle - 30 November 2021 
Page 15 
KAIWAKA POST 
CENTRE and 
FOOD MART 
POST CENTRE TRADING 
HOURS 
MONDAY to FRIDAY 8am to 5pm 
SATURDAY 8am to 12pm 
CLOSED ON SUNDAY and on 
PUBLIC HOLIDAYS 
FOOD MART (GROCERIES) 
MONDAY TO FRIDAY  
7:30am to 7.30pm 
SATURDAY  8am to 7.30pm 
SUNDAY  8:30am to 7pm 
IF ANY QUERIES PLEASE CALL 
STORE MANAGER AMRIT  
on 09 4312431 or 
EMAIL: kaiwakafood19a@gmail.com 
1919a State Highway1, Kaiwaka 0542 
Ken Urquhart 
BSurv Licensed  
Cadastral Surveyor 
KMU Surveys Ltd 
467 Bickerstaffe Road 
RD 2 
Maungaturoto 0587 
Ph 09 431 8705 
Mob 021 161 2344 
kenurquhart@xtra.co.nz 
MAUNGATUROTO &DISTRICTS ROTARY 
 DR DAVE GERARD  
Rotary  has  learnt  (as  have  many  other 
organisations)  that  when  people  are 
isolated  there  are  alternative  ways  of 
being  involved  with  each  by  way  of 
Zoom and Teams. The former provided 
us  with  an excellent  speaker  organized 
by  Takapuna  Rotary  some  weeks  ago. 
They  had  Dr  Dave  Gerard  as  their 
invited  guest  (he  won  the  200m 
Butterfly  at  the  1966  Olympics,  has 
been  Chef  de Mission for a  number  of 
Olympic  games  and  is  now  Chairman 
of 
an 
anti-doping 
international 
organisation.)  His  speech  covered  a 
number of topics, but two points taken 
from it were:  
Firstly,  the  importance  of  children  to 
aim at being involved in a wide variety 
of  sports,  until  they  are  in  their  teens 
and  secondly  for all athletes who aim 
to aspire in their chosen sport to have a 
life  outside  that  arena,  in  other  words, 
plan for a life after sport. Something to 
be pondered now when so many of our 
professional  athletes  are  struggling  to 
get a balance in their lives. 
MAUNGATUROTO 
COUNTRY CLUB 
Our  Club  has  become 
affiliated 
to 
the 
Maungaturoto 
Country 
Club.  This  will  allow  us 
to  have  more  diversity  in 
our  meetings  in  the 
coming  year.  It  will  also 
give us a chance to look at 
areas  where  we  can 
support them.  
The  first  project  is  an 
upgrade  of  the  walking 
track  which  needs  widening.  It  is  also 
hoped  to  make  the  track  more  user 
friendly for bikers as well as walkers. 
EMERGENCY RESPONSE  
We  have  decided  to  donate  $600 
towards  an  Emergency  Response  kit  – 
this  is  a  really  good  Rotary  project 
which  provides  equipment  in  a  box  in 
areas  where  disasters  have  occurred. 
With  the  upcoming  cyclone  season 
imminent, we thought it a good time to 
help replenish these supplies.  
ROTARY YOUTH LEADERSHIP 
Also,  for  the  first  time  in  a  number  of 
years  we  have  a  Rotary  Youth 
Leadership  candidate.  This  weeklong 
camp  for  20-  to  28-year-olds 
provides  an  excellent  base  for 
those young people who aspire 
to becoming leaders. 
DRIVER MENTORS 
Our  driver  mentoring  scheme  is  going 
well and we have had several successes 
in  recent  weeks.  Obviously  being  in 
anything  other  than  levels  1  or  2,  has 
limited  out  driving  time  and  has  also 
meant that several students have had to 
rebook  their  licence  attempts.  While 
this is winding down now, if you know 
of anyone interested, please get them to 
complete an application form so we can 
continue  to  support  our  drivers  in 
attaining their restricted licence. 
FIONA KEMP 
We  had  an  excellent  talk  from  Fiona 
Kemp  (formerly  a  kaiawhina  at 
Otamatea High). She is now working in 
the  environmental  arm  of  Te  Uri  O 
Hau.  One  of  her  areas  of  focus  is  in 
conjunction  with  Kaipara  District 
Council  and  Northland  Regional 
Council 
to 
help 
prevent 
the 
sedimentation 
of 
the 
Kaipara  Harbour  through 
fencing 
and 
planting. 
There  is  financial  support 
available for this provided 
the landowner is willing to 
contribute as well (usually 
in  the  provision  of  labour 
and  time.)  She  is  also 
involved  in  a  project  to 
stop  soil  erosion  on  Mt's 
Pukekaroro 
and 
Pukearenga. They are also 
hoping  to  extend  this  to 
seed 
collection 
and 
propagation. 
SENIOR CITIZENS TREAT 
On  Friday,  19th  November,  our  senior 
citizens were treated to a fantastic hour-
long  concert  by  pupils  of  Maura 
Flower.  As  the  competitions  were 
cancelled this year, the youngsters were 
given a chance to perform in front of an 
audience.  We  have  many  talented 
youngsters  in  our  community  and  all 
present 
were 
uplifted 
by 
the 
presentation. 
We would like to wish you and yours a 
very  Merry  Christmas  and  a  positive 
New  Year.  Stay  safe  and  enjoy  your 
time with friends and family. ~ Eileen
TE PATAKA O KAIWAKA - FOODBANK OP SHOP  
HOURS: Tuesday to Friday 10am to 3pm  
We  will  be  open  Saturday  4th  December  then  every 
Saturday after that up to Xmas.  
We have lots of goodies Xmas Decorations and Trees - 
no real pinecones! 
NEEDING: Cooking pots, Swimming togs - Babies to 
Adults, other goods much appreciated except Clothing 
and Electricals.   
FOODBANK:    To  those  needing  food  please  come 
when  the  shop  is  OPEN.    You  ask  only  for  your 
Household.  Times  are  really  hard.  Don't  go  without, 
more so if you have Children. We are here to help.  
Thank you everyone for your support and to those who 
gave Xmas gifts and those who donate financially  
We thank you. Arohanui, Milly and Staff.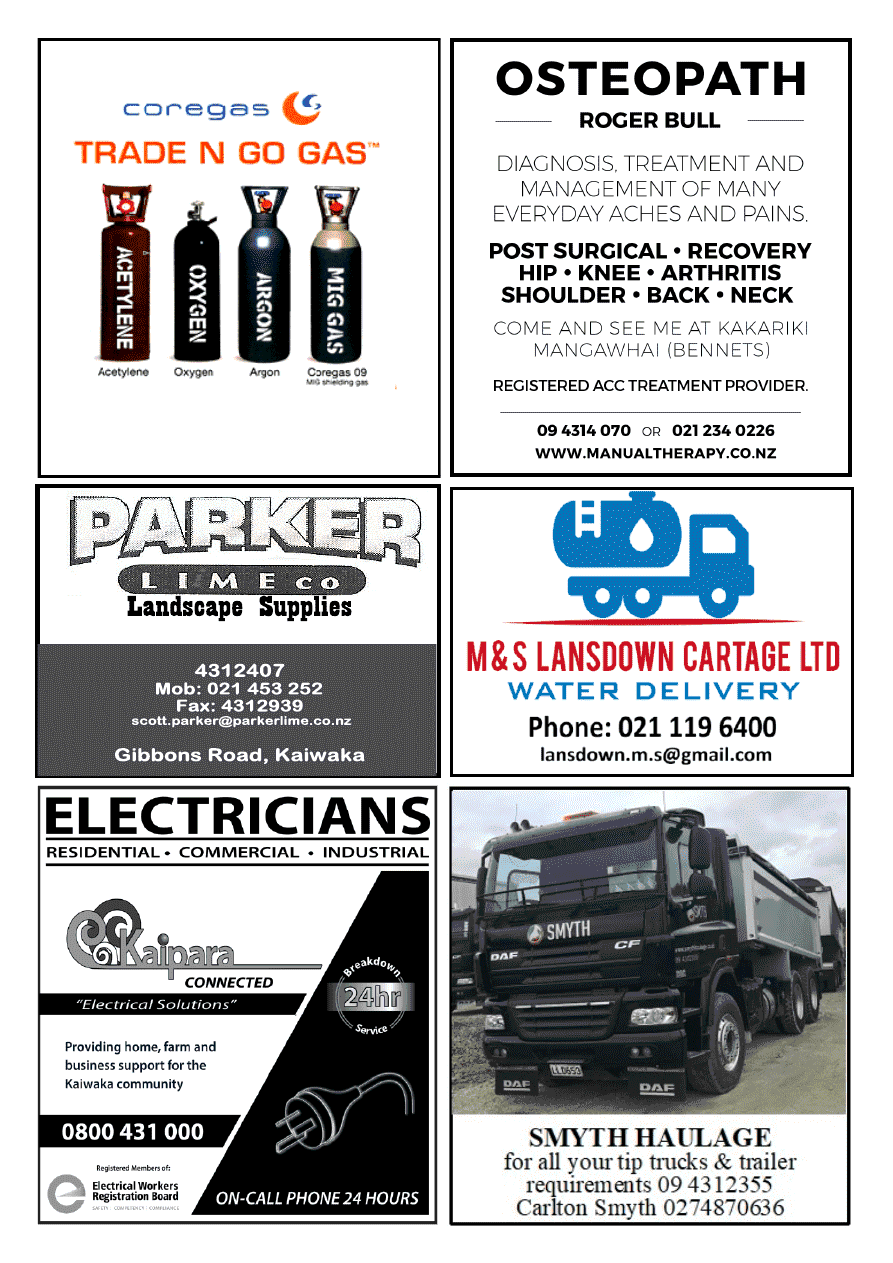 www.kaiwaka.co.nz 
Kaiwaka Bugle - 30 November 2021 
Page 16 
Bulk Cartage 
At Twinkle Tow 'n' Tyre 
Mob: 021 833 960 
Ph & Fax: 09 431 2823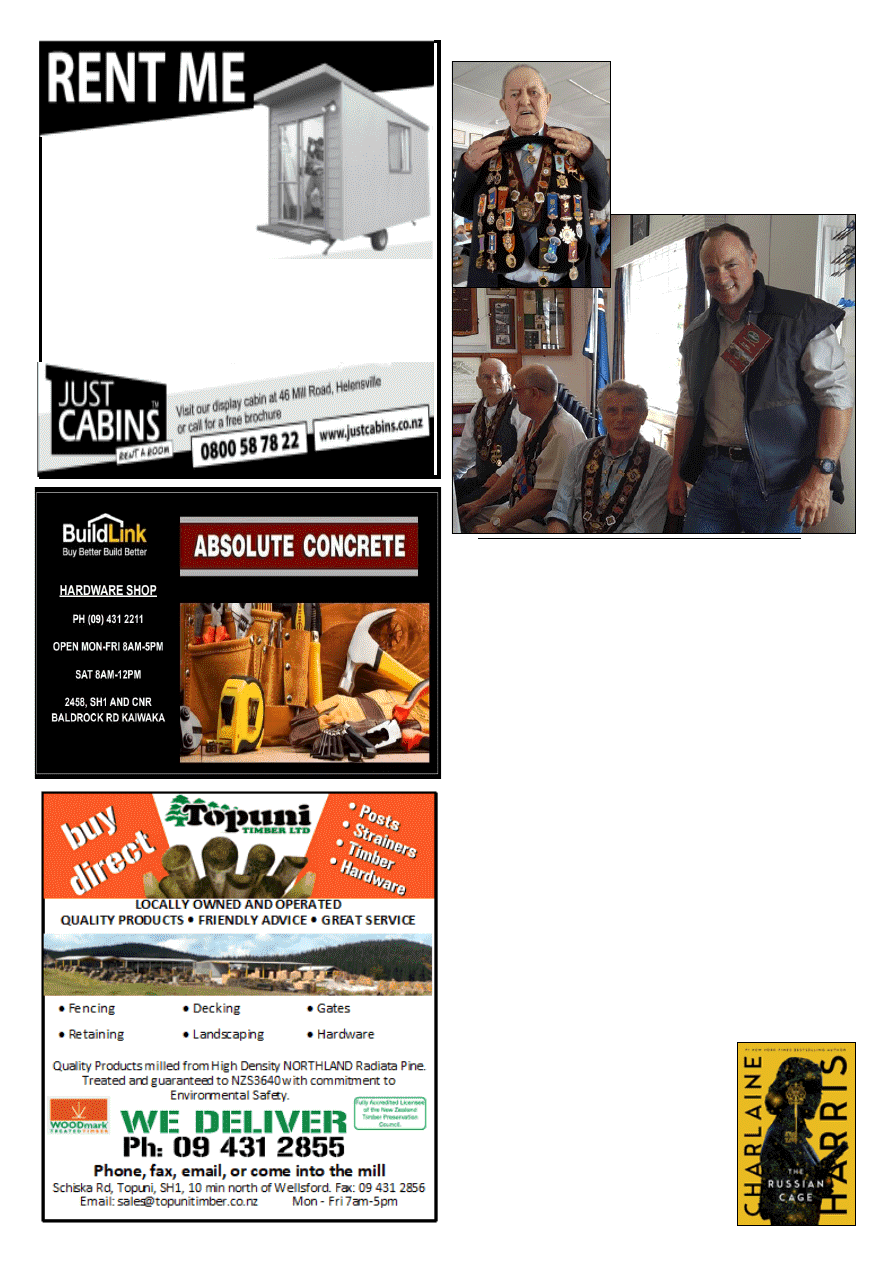 www.kaiwaka.co.nz 
Kaiwaka Bugle - 30 November 2021 
Page 17 
Ideal as an extra  
bedroom or office 
Three Convenient sizes: 
Standard 3.6m x 2.4m - $65 
per week 
Large 4.2m x 2.4m - $80 per week 
Extra Large 4.8m x 2.4m - $100 per week 
Fully insulated. Minimum 6 months rental period 
KAIWAKA LIBRARY 
LIBRARY SURVEY 
Thank  you  to  everyone  who  completed  the  survey  from 
Kaipara District Council about libraries recently. Your input 
is appreciated. 
NEW COVID TRAFFIC LIGHT SYSTEM 
As I write this article, the legislation for the new traffic light 
framework  has  just  been  passed  in  Parliament.  We  don't 
know yet exactly what it will mean for the district's libraries, 
but  I  expect  we  will  have  it  worked  out  before  it's 
implemented in a few weeks' time. 
Please  know  that  if  we  will  be  required  by  law  to  exclude 
anyone from entering the library because of their vaccination 
status or inability to wear a mask, we will still be able to get 
library  items  to  you.  You  can  place  holds  on  items  using 
Enterprise*  or  the  library  app  on  your  phone,  or  we  can 
choose  titles  for  you  after  talking  to  you  about  what  you 
enjoy reading, and then we'll arrange how we're going to get 
it to you. Please contact me if you want to talk about it. 
CHRISTMAS HOLIDAY BREAK 
The library will be closed from 2pm Thursday 23 December 
2021  until  10am  Wednesday  5  January  2022.  Please  mark 
your calendars if that's going to affect you, so you can plan 
ahead. Stock up on your Christmas reading before Christmas 
Eve, or you can use the digital library that is open 24 hours a 
day  7  days  a  week  -  see  the  eResources  section  at 
Enterprise* for details if you're new to it. 
BOOK REVIEW 
Recently I've read The Russian Cage by Charlaine Harris, 
book #3 in the Gunny Rose series. "
Picking up right where A 
Longer  Fall  left  off,  Lizbeth  Rose  takes  on  one  of  her  most 
dangerous  missions  yet:  rescuing  her  estranged  partner,  Prince 
Eli, from the Holy Russian Empire. Once in 
San  Diego,  Lizbeth  is  going  to  have  to  rely 
upon  her  sister  Felicia,  and  her  growing 
Grigori powers to navigate her way through 
this  strange  new  world  of  royalty  and 
deception in order to get Eli freed from jail 
where  he's  being  held  for  murder."   
As 
with any Charlaine Harris book I've read 
(well over 20 of her titles by now), it's a 
thoroughly enjoyable, entertaining read.  
See you in the library ~Wendy 
https://www.facebook.com/KaiwakaLibrary  
*Enterprise: http://kaipara.kotui.org.nz/ 
BUFFALO LODGE 
The  Luxinn  Buffalo  Lodge  meets  on 
3rd  Sunday  of  each  month  in  the 
Maungaturoto RSA rooms. 
Recently  they  presented  Jamie  Ewen 
and  Graham  Slater  with  jackets  in 
appreciation  of  the  work  they  have 
done  for  the  River  view  Retirement 
Village. 
Left  Kelvin  Foster  (of  the  Bugle 
Team) 
displaying 
his 
Buffalo 
hardware - after 50 years membership.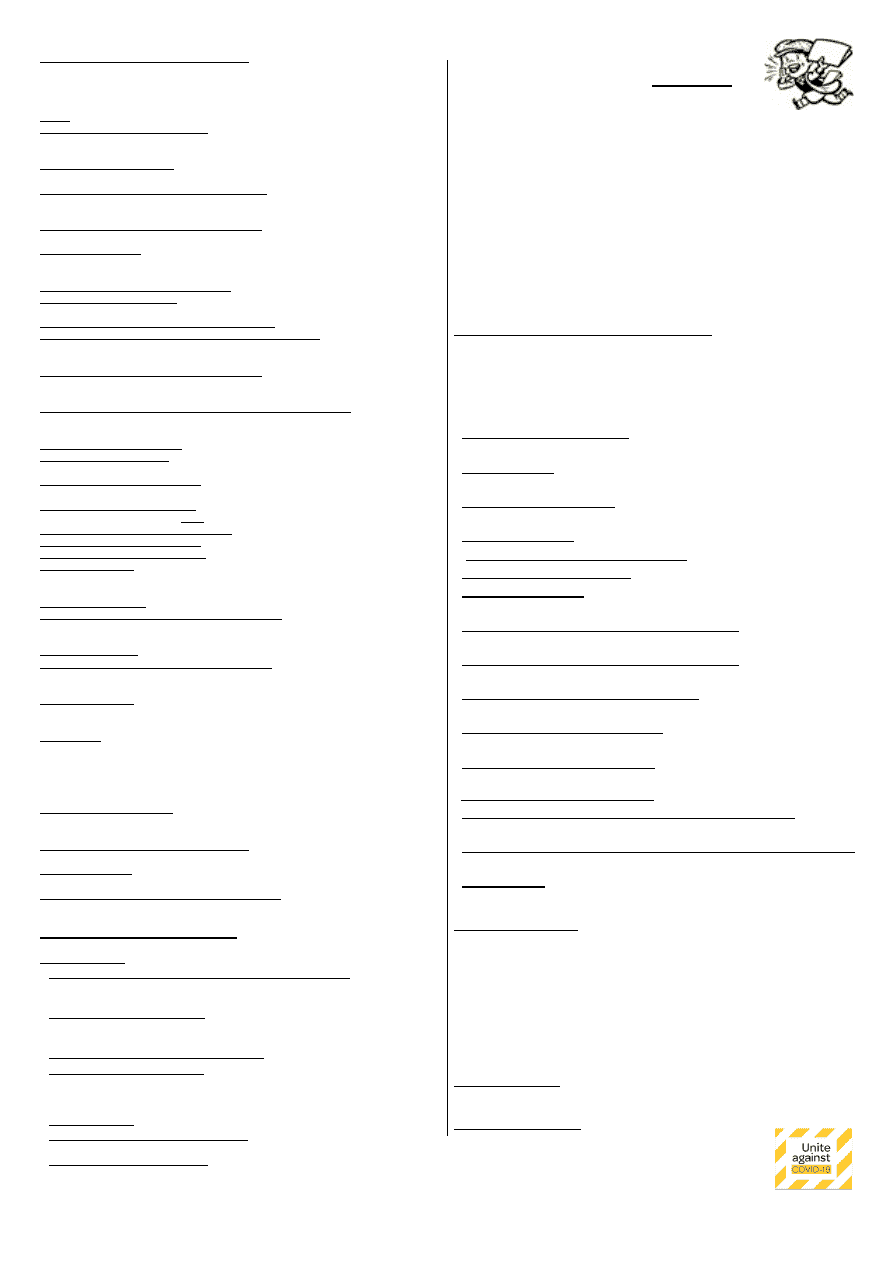 www.kaiwaka.co.nz 
Kaiwaka Bugle - 30 November 2021 
Page 18 
WHAT'S ON
PLEASE ~ do let us know what is on - 
email kaiwakabugle@kaiwaka.co.nz 
*3Dec~Otamatea Kauri  Museum Board AGM, 5.30pm 
*9cdec~OCS Free Community lunch, Fagan Pl.  Ph. 0 21 251 0225 
*12Dec~Kaiwaka Can McClean Park Clean Up 
*14Dec~Kaiwaka School last day Term 4 
*16Dec~Otamatea High  School Junior prizegiving - last day of term 
*20Dec~St. John Twilight Market, Kaiwaka St John Hall, 5pm 
*23Dec-5Jan~Kaiwakaa Library closed 
*29-30Jan 2022~Kaiwaka Volunteer Fire Brigade Open 
Fishing Contest 
KWMH = Kaiwaka War Memorial Hall; KSA = Kaiwaka Sports Association 
See www.kaiwaka.co.nz for more information 
HOUSEHOLD RUBBISH COLLECTION  
Kaiwaka Pick up: 
Mondays = Green bags (Northland Waste - 09 430 3273) 
Wednesdays  =  Blue  bags  and  yellow  recycling  (at  Four  Square 
Kaiwaka $3.30 and $1.70) (Kaurilands 09 4392146); ONLY Blue 
and Yellow bags picked up on Oneriri Road. 
 DIABETES Support Group-for Kaiwaka, Mangawhai, Wellsford 
10am, 3rd Friday of month Ph: Colleen James 09 4314238 
 GENEALOGY - Wellsford: 1st Thursday in month Ph: 423 
7033; Waipu: 4th Monday in month Ph: 4312 725 
 HAKARU PONY CLUB - Secretary Denise Rogers 021423376 
secretary@hakaruponyclub.co.nz  
 KAIPARA HUNT - Secretary Albert Doonenbal Ph 4312059 
  KAIPARA HUNTING & FISHING - 021 1294378 
 KAIWAKA BADMINTON -Tuesdays 7.30pm Ph: 4312345 
 KAIWAKA  CAN  - 3rd Wednesday in month, 5.30pm, Archie 
Bull Hall Ph: 0273572751 
 KAIWAKA GARDEN & FLORAL GROUP - 2nd Thursday in 
month. Ph: 431 4744 
 KNITTING FOR WHANGAREI HOSPITAL - 2nd Tuesday in 
month, Archie Bull Hall 10am Ph 4314827 
 MANGAWHAI COMBINED REBUS CLUB - 2pm, 3rd 
Thursday month, Senior Citizens Hall Mangawhai. Ph: 4315777 
 MANGAWHAI GENEALOGY  - meet 3rd Thursday month, 
Mangawhai Museum, 10.30am 
 PILATES - HAKARU HALL - Tuesday 10am, Thursday 9am 
Qualified Instructor  Ph. 0220643965  
*PT CURTIS CRUISING CLUB - Jean Ph: 4312227 (wk), 4312520 (hm) 
 RSA,  HAKARU  &  DISTRICTS  WOMEN'S  SECTION  –  meets 
1.30pm 4th Thursday of the month. Ph: 431 5818  
 KAIWAKA  SCOTTISH  COUNTRY  DANCING  CLUB-
Wednesdays 10am - 12 noon  Ph: Elaine 027 432 0032  
 TRAMPING 
- 
Mondays 
9am-2:30pm, 
contact  
valkenburgmaria@gmail.com 
HALLS FOR HIRE: 
  Kaiwaka St. John Hall: Phone Marj  0272941227  
 St.Pauls  Archie  Bull Hall  HIRE  $20 half day, $40 full day per 
hire, S McAulay, Ph 4312311 
 Kaiwaka  War  Memorial  Hall  HlRE  -  Phone  4312725  or 
kaiwaka.hall.bookings@gmail.com 
 Hakaru Community Hall HIRE -Ph.  Karen 4312090 
 Te Pounga Marae queries - Pearl Nathan  0223933533 
 Kaiwaka Sports Association hire/queries - Jennie Reynolds
   ksa.bookings@mail.com
, 02102764171  
Justice  of  Peace:  L.Donaldson  4312  228;  A.F.Hargreaves  4312 
045,  W.Howard  4312  725  -  please  phone  to  make  sure  they  are 
available www.justiceofthepeace.org.nz B.FJaques Retd  
Marriage Celebrants:  
L.Donaldson; A.F.Hargreaves; Y Osborne
Next Bugle Deadline  Friday 10 December 2021
LOCAL SERVICES 
*Emergencies - Ambulance, Fire, Police - dial 111 
*Non-urgent Police phone 105
A A: Meets Wed., 7pm. Kate's Place Ph 021 024 25969 or 0800 229 6757 
NARCOTICS ANONYMOUS : Mon., 6pm, Archie Bull Hall, Kwk-Mwi 
Road; drug and alcohol related issues. Ph. 02102412348 
ASUREQUALITY LTD (was AgriQuality) Call Free 0508 0011 22  
BUDGETING SERVICE, WELLSFORD: Free confidential advice & 
support for all areas of personal finance. Ph (09) 423 7123 
CAB-Citizens Advice Bureau.Wellsford Ph: 4237333 
0800 367 222 email:cab.wells@xtra.co.nz  
CIVIL DEFENCE - Kaiwaka Community Response Group: 
kaiwaka.civildefencecrg@gmail.com, 4312725 Wendy 
DOG/STOCK /NOISE CONTROL 0800 105 890 
FUNERAL SERVICES: Morris & Morris Ltd, 0800667747 
GRANDPARENTS Raising Grandchildren: Dianah Roberts 0223819539 
HAKARU & DISTRICTS MEMORIAL RSA (Inc) 733 Settlement Rd, 
Hakaru. Ph 4312 176 or Bill Warren (President) 431 2092 
HAKARU LANDFILL/Transfer Station:Open everyday  10am-
4pm.Ph4312629 Cost-$55 trailer load up to 1 cubic metre. Ph:4258567 - 
office 
KAIPARA DISTRICT COUNCIL www.kaipara.govt.nz:  
Help Desk FREEPHONE 0800 727 059  
KAIWAKA CEMETERY: Ph: 4312045 or 4314017 
KAIWAKA LIBRARY: kaiwaka.library@gmail.com  
Mon. 4-6pm; Wed., Thurs., Fri., Sat. 10am-2pm Ph:4312539 
KAIWAKA PLAYCENTRE: Ph Juanita 0274134904; open Mon, Wed, 
Fri 9am-12pm. Hastie Lane; Monday to Friday 9.00am - 12 noon. 
KAIWAKA POST OFFICE:Ph:4312 431  
Post Code: 0573 for RD2 and 0542 for all Kaiwaka Post Office mail 
KAIWAKA PRIMARY SCHOOL: Ph: 4312309   
KAIWAKA SPORTS ASSN: Ph 4312005; 4312129 gym 
KAIWAKA ST JOHN HALL: Phone Marj  0272941227  
KATE'S PLACE Community Centre - Employment services, Free Health 
Nurse, Plunket, Advocacy, Osteotherapist, A.A., Legal Advice. 4312 661 
LINKING HANDS Health Shuttle Ph 4315906 or 09 4318969 
MINISTRY FOR PRIMARY INDUSTRIES - General inquiries Call 
Free 0800 008 333 
NORTHPOWER: Faults Kaiwaka area 0800 104040 
OTAMATEA COMMUNITY SERVICES: Counselling, parent coach, 
Family Support worker, budget advice, food bank. Mon-Fri 9am-3pm. Ph 
09 431 9080 http://www.otamateacs.org/ 
PARENTPORT: Free, practical family support service Puhoi to Paparoa 
Ph or txt: Dianne 027 280 5093 or 09 425 9357 
PLUNKET: Kaiwaka- St John Hall, Monday 19 Oct, 23 Nov, 21 Dec. then 4th 
Monday of the month. Plunket Nurse Louise 027 282 3987 or 09 438 2508 
Mangawhai- Rose Madsen Cottage, Mondays and Wednesdays. Plunket Nurse 
Rebecca 021 501 941 or 09 438 2508 
Maungaturoto - Good News Church, 2nd and 4th Wednesday of the month. 
Plunket Nurse Seleisa 021 912 248 or 09 438 2508 
PLUNKET HELPLINE -0800 933 922 (24 hours)  
FACEBOOK - Kaipara Plunket 
TAITOKERAU COMMUNITY LAW: Free confidential legal advice and 
assistance, 2nd
Thursday
 of each month. Ph: 0800 155 529 for appts.  
TE URI O HAU Settlement Trust Tangata Developments: Whanau Ora 
021 793262  
VETERINARY SERVICE MANGAWHAI: 
Ph: 4314535 Mon-Fri 8.00-5.00, Sat 9-12, a/h appt. 
WELLSFORD DOCTORS: Ph: 4238 086 
CHURCHES:
 
Kaiwaka  Revival  Church  -  Your  Community  Church:  Sundays  10am. 
Ph: Pastor Tawhiri 09 431 8988 or Pastor Paul 09 4312 068 Visit us at 
www.facebook.com/kaiwakachurch 
 
St  Paul's  Anglican  Church  1st  Sun.  9.00am  (Eucharist),  3rd  Sun. 
9.00am  (Family  Service).  Contact:  Church  Office  Ph  431  4122 
www.mangawhaianglican.org.nz 
 
Church of Christ the King, Mangawhai:9.00am every Sunday 
 
St.Mary's  Catholic  Church:  Maungaturoto  –  Griffins  Road,  Saturday 
evening  Vigil  Mass  6pm;  Mangawhai  –  Senior  Citizens  Hall,  Sunday 
Mass  8:30am;  Wellsford  –  Matheson  Road,  Sunday  Mass  10:30am;  
Mid-week Mass times and all enquires to Fr. Bill Fletcher – phone 423 8170
 
Baptist Church: Sun. 10.30am Mangawhai Snr Cit.Hall.Ph:4312339 
 
Cause  Way  Church  Mangawhai:  Sundays  10.15am,  Mangawhai 
Community  Recreation  Centre,  Insley  St.  Ph:  09  4314782