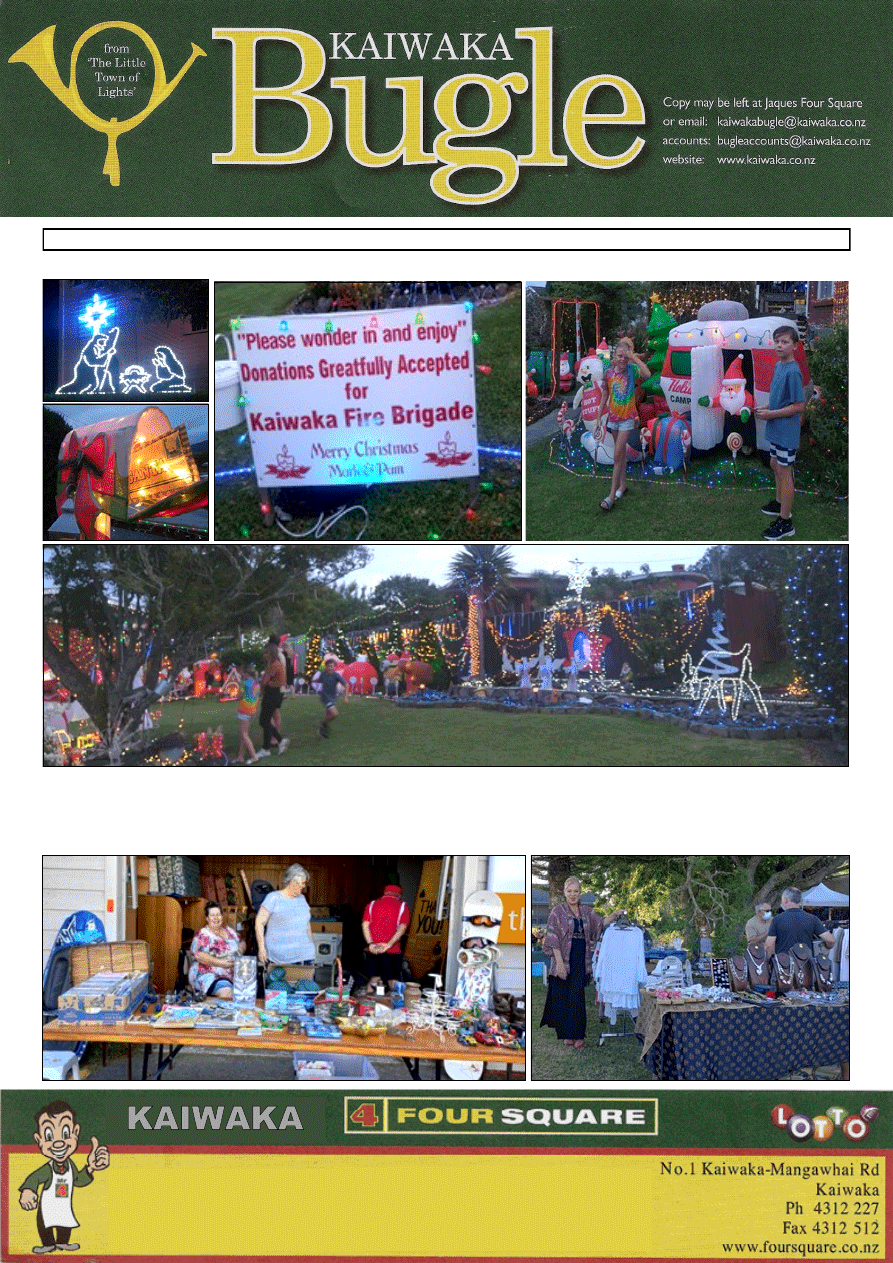 www.kaiwaka.co.nz 
Kaiwaka Bugle - 16 November 2021 
Page 1 
No: 24 
 14 December 2021 
HOURS: 
7.30am - 7pm, seven days 
CHRISTMAS IN KAIWAKA!  
Above:  "The  lights  get  better  every  year!"  A big thank you to Pam and Mark Ottaway for sharing their passion for 
Christmas lights and bringing joy to so many folk. The Christmas Lights are on each evening (except on rainy nights) at 
1842 SH, Kaiwaka. You are very welcome to come and enjoy. There is parking at Caltex Service Station after 8.30pm. A 
donation for the Kaiwaka Fire Brigade would be appreciated. 
Below: Scenes from the Twilight Christmas Market at the Kaiwaka St. John Hall last Friday evening
TRADING HOURS: 
7.30am - 7pm daily 
"Your local Store" 
Family owned & operated 
L  to  R,  BACK  ROW:  Kelvin  Foster,  James  Eagleton,  Nigel  Bree,  Jackie 
Winters,  Michael  Ferguson  Eddie  Coates.  MID  ROW:  Dalleise  Jaques,  Judy 
Eagleton, Karen Harris, Pam Ottaway, Lynne Coates. FRONT ROW: Tony and 
Lindsey Hargreaves, Corina Ross, Mary and David Hargreaves. 
Absent: Daphne Linnell, Heather Ferguson, Helen Bennett, Kim Marshall, and 
we remember the late Rob Hastie. 
KAIWAKA BUGLE No. 24 
14 DECEMBER 2021 
CONTENTS 
Page 3: Public Notices, Classified 
Page 5: Kaiwaka Revival Church; The 
Best Gift Ever; Ron McCallum 
Page 7: Kaiwaka Weather;  Hakaru 
Women's RSA;  Kaiwaka School  
Page 9: Otamatea High; Airlyte; OHS  
Page 11: Kaiwaka Sports Assn. 
Page 13:Kaiwaka Physio; Gardening 
Page 15: Considering Selling? 
Page 17: Kaiwaka Library; KWMHall; 
Road Works 
Page 19: Christmas 
Bugle 1 will appear 24 January 2022  
Contact for advertising, reports, articles 
or information can be made by 
Email kaiwakabugle@kaiwaka.co.nz 
Ph: 09 4312 045 Lindsey 
Txt: 027 2724137 
Copy may be left at our Four Square. 
Kaiwaka Bugle 
Founded May 1978 
We appreciate articles and photos about local 
events, etc, as well as ads and suggestions. 
Copies available in Kaiwaka at Four Square, 
Kaiwaka Postal Centre, Shamrock Service 
Station, Best Pets , Kaiwaka St John shop. 
Also outlets in Maungaturoto, 
Mangawhai and Paparoa. 
Can be viewed online at   
www.kaiwaka.co.nz/Bugle  
Or a copy can be posted to you if you supply 
stamped, self-addressed DLE envelopes. 
Kaiwaka 
Bugle 
Advertisements 
2021: 
All 
copy 
and 
queries 
to: 
kaiwakabugle@kaiwaka.co.nz 
The Bugle is printed on an A4 page   
Ad  sizes:  1/16  page  (3  x  9.5cm)  $5;  1/8 
(6.5  x  9.5cm  landscape  or  portrait)  $8; 
3/16 ( 10 x 9.5cm or 7.5 x 12.5)  $12.  
Classified  ads:  First  one  FREE,  $4  per 
entry (max. 30 words, max. 4 repeats). 
Payments  can  be  made  online  at 
ANZ 
06  0365  0006990  00
,  posted  or  left  at 
Kaiwaka Four Square Store. 
We  use  Microsoft  Publisher,  and  can 
work  with  most  common  image 
formats, Word, Excel, and PDF files. 
Accounts:  
Email: bugleaccounts@kaiwaka.co.nz 
The  Kaiwaka  Bugle  is  a  community 
newspaper run by volunteers, as part of 
the Kaiwaka Media Group Inc.   
Articles, etc. printed are not necessarily 
the opinion of the Bugle Team. 
ABOUT TOWN

 What wonderful lights we have around town; great to see the look of delight 
on the youngsters faces when visiting the Christmas light!  

 Brilliant  work  done  by  the  Kaiwaka  Can  team  with  their  planting  work  at 
McClean Park. 

 We  remember  the  passing  of  Craig  Prouting,  long  time  Kaiwaka  School 
caretaker, and Roger Burrill who farmed on the Oneriri Peninsula. 

 Note: The Fire Brigade Fishing Competition and  Fish Auction that was to be 
in the last weekend of January is now on hold. 

'Auld  Lang  Syne', sung on New Year's Eve is the title and key phrase of a 
1788 Scottish poem by Robert Burns - basically means "days gone by."  

 The  Waipu  Highland  Games  will  celebrate  150  years  of  the  event  on  New 
Year's Day 2023, as Covid-19 has made it too difficult to run next year 

 A  Reminder:  there  is  a  public  liquor  ban  in  effect  in  Mangawhai  from 
8.30pm Wednesday 22 December through to 7am Thursday 13 January 2022 

 The  Bugle  Team  are  considering  publishing  the  Bugle  once  a  month  rather 
than  every  two  weeks  (coming  out  on  the  last  Monday  of  the  month)  -  any 
thoughts?

Kaiwaka  Bugle  No.  24  is  online  at  www.kaiwaka.co.nz  in  colour  and  is  in 
print for our local Readers. Very Merry Christmas and a Happy New Year!  
~ 
Lindsey, Ed
"Reach out to those around: encourage, bless, bake, give, 
visit, invite, share, and lift hearts wherever you can.  
By New Year you'll find Christmas to have been 
marvellously, and even miraculously, mighty." 
~ Jack Hayford 
KAIWAKA BUGLE 
DEADLINE 
DATES 2022:   
21 January
Isaiah 9:6
For unto us a Child is 
born, to us a son is given, 
and the government will 
be on His shoulders, And 
He will be called 
Wonderful, Counsellor, Mighty 
God, Everlasting Father, Prince 
of Peace  
KAIWAKA BUGLE TEAM 2021 
 Above  left: 
Kaiwaka Can team planting 380 native  plants (donated by Rural 
Design) on the riverbank at McClean Park,
Kaiwaka, on Sunday morning.  
Above right: One very happy winner of the Yates Vege Seed competition.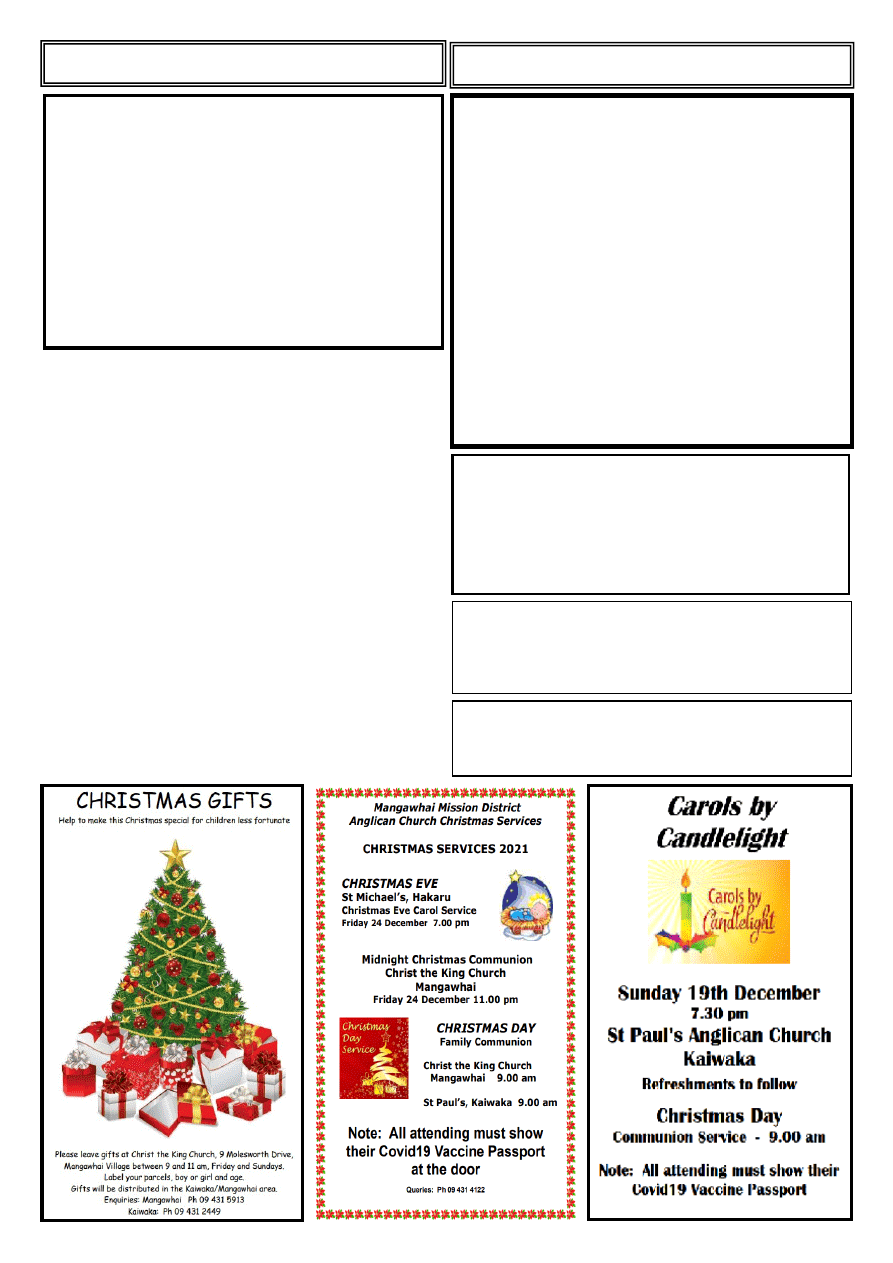 www.kaiwaka.co.nz 
Kaiwaka Bugle - 16 November 2021 
Page 3 
PUBLIC NOTICES 
CLASSIFIED 
HAKARU RE:SORT STATION 
636 KAIWAKA-MANGAWHAI ROAD 
Open every day 8am - 4pm  
Closed All Public Holidays 
Telephone: 09 431 2629 
NOTE: No GREEN Bag Pick Up on Oneriri Rd 
KDC BLUE & YELLOW Bag collection as usual for 
Kaiwaka area. 
KAIWAKA  MEDIA GROUP 
Annual General Meeting 
Monday 24 January, 5.30pm 
 Kaiwaka War Memorial Hall
ROBERT HASTIE 
Deb, Euan, Fiona, Dena and the grandies have been 
overwhelmed  by  the  wonderful  caring  and  support 
we have all experienced since Rob's passing. 
The visits, phone calls, food, flowers, messages and 
help has been so comforting.  To those who kindly 
gave  up  their  places  at  the  service,  due  to  the 
restrictions, we are so grateful. 
We will be holding a special Rob type farewell, to 
which you are all invited, once the border openings 
allow. 
To you all we offer our heartfelt thanks . 
TE PĀTAKA O KAIWAKA  
FOODBANK & OP SHOP 

Our little Shop has done us proud, while it has been hard 
work it is all coming together. Next  year we will be more 
organised  and  there  is  nothing  like  a  few  changes  for  the 
good.  

I would like to thank the Committee and Staff for always 
being there for me, and Ant, Jean and Pam, also Ant's wife 
Jess who has helped me a lot, and our electrician, John. 

To  the  many  people  who  have  given  donations  -  thank 
you all very much for your support. ~ Arohanui, Milly  
To my husband, Ray, who gave his blessings for me to help 
with this 'cause' - love you, Dear. 
"Now, Why We Are Here" 
At  the  Foodbank:  To  those  in  need  I  will  be  preparing 
Xmas Food Parcels so would like to hear from you as soon 
as possible. The last day will be Wednesday 22 December - 
stop by for a chat. 
The  Shop  will  be  closed  from  Friday  24  December  to 
Tuesday  28  December,  and  again  from  Thursday  30 
December until Tuesday 4 January 2022. 
Have a safe and lovely time with whanau and friends.  
Look after your elderly – they are precious. 
Merry Xmas and Happy New Year 
Arohanui, Milly and Staff 
tepatakaokaiwaka@gmail.com 027 388 9217  
FREE AYURVEDIC 
MASSAGE 
I am a 3rd year Ayurvedic Student and soon 
to be Consultant. 
Part  of  my  Curriculum  is  traditional 
Ayurvedic  massage,  "Abbyanga"  and  "Kati 
Basti"  treatment  using  warm  pure  sesame 
oil.  This  treatment  helps  to  nourish  and 
stimulate the tissues, whilst expelling toxins 
out of the body. 
To  assist  me  for  my  final  case  study 
assessments I am looking for volunteers. 
Depending on treatment, this will take 60 to 
90 minutes. 
For further information please contact  
Craig, 0211280785 
(Kaiwaka / Mangawhai area) 
KAIPARA  DISTRICT  COUNCIL 
  offices  will  be 
closed from noon Friday 24 December 2021 and reopen at 
8am  Monday  10  January  2022.  The  0800  727  059 
telephone  number  is  monitored  24/7  and  urgent  queries 
will be responded to or online via www.kaipara.govt.nz/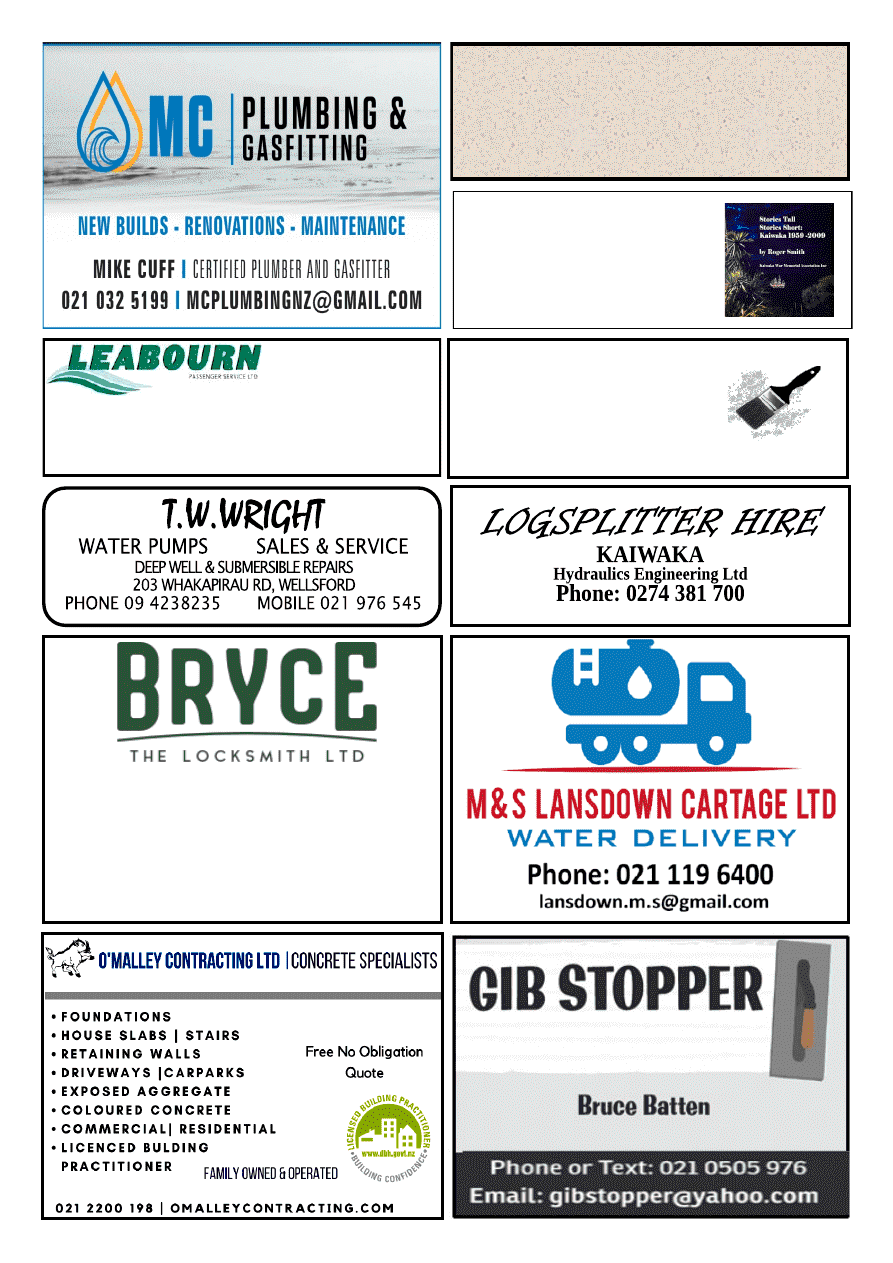 Counsellor and Registered Psychotherapist 
Offers Supervision
Susan Matheson 
MNZAC 
Dip. Psychosynthesis Counselling and Psychotherapy 
Phone 09 431 2996                        Mobile 027 605 2427 
Passenger Service
Car & Van Hire   Bus & Coach Charters 
Airport Transfers    
Phone (09) 4237416 
Bryce Frewin 
Ph: 021 850 983 
Kaipara Based Master Locksmith 
bryce@brycethelocksmith.co.nz 
www.brycethelocksmith.co.nz 
Stories Tall, Stories Short  
Kaiwaka 1959-2009 
by Roger TW Smith.  $40 
Kaiwaka Photographic History $25 
Available at All Sortz Collectables  
or phone  4312 045 
DR PAINT
 Dave & Rhys 
 Painters
 02108742551   
0211200667    drpaintnz@gmail.com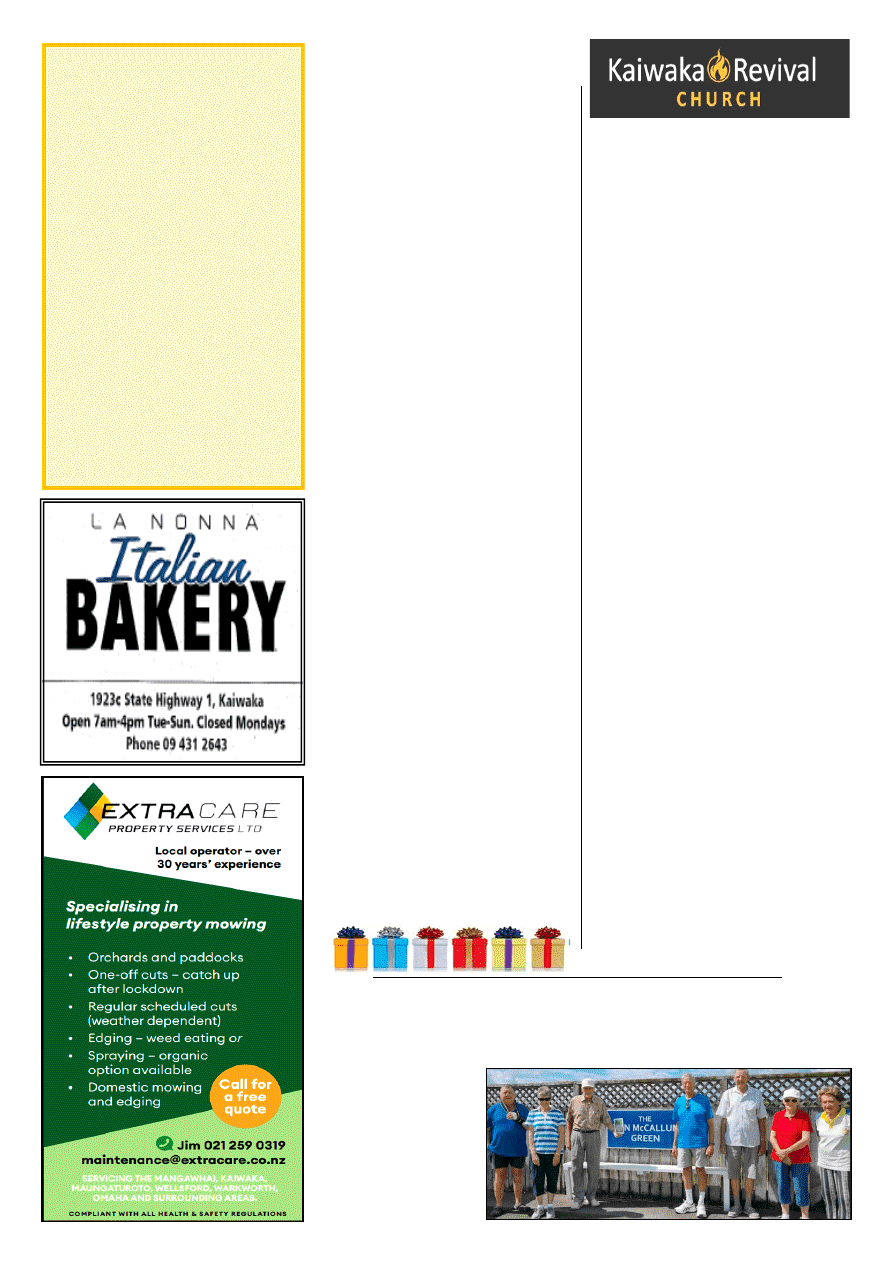 www.kaiwaka.co.nz 
Kaiwaka Bugle - 16 November 2021 
Page 5 
Willow Bend 
HORSE  
HOTEL 
Horse Grazing & Agistment 

Safe paddocks with outriggers 
on all fences 

60x40 professionally 
constructed arena with grass 
surface 

Under cover yards 

Stabling if required 

Paddocks cleaned daily 

Feeding hay/hard feed 

Cover changes 

Fresh grass daily, all year round 

Short or long term
Phone Sue  
021 623 776  
Providing care and comfort for 
horses in Kaiwaka since 2005 
Some changes to Church life 
in our Whare…  
IMPORTANT PLEASE READ  
Kia ora family, 
I hope you all are well.  
Due to the changes regarding the Covid 
restrictions we have had to make some 
updates regarding our services and end 
of year gatherings. 
On  Friday  December  3  we  moved  to 
the  red  light  system  for  the  whole  of 
Northland and Auckland. 
What does this mean for us? 
This means under the red alert we can 
gather together with a maximum of 25 
people. 
How is this going to work for us as a 
church going forward? 
We  will  continue  to  meet  together 
under  these  restrictions;  however,  it 
will  no  longer  be  in  our  usual  setting. 
Instead, we will be splitting into home 
groups  in  our  different  regions  to 
ensure we can still gather together.  
We  will  have  home  group  gatherings 
in: 
Maungaturoto  
Kaiwaka  
Mangawhai 
Waipu 
Matakana 
Whichever area you are closest to then 
we  will  connect  you  with  the  group 
running in that area.  
You will need to keep updated here or 
on  our  fb  church  page  with  the  latest 
details  as  we  will  release  information 
regarding where we are going to gather 
in these regions. 
We will start home group services from 
the 12th of December. 
Our  last  home  group  service  for  the 
year  will  be  on  the  19th  of  December 
then  we  will  be  having  our  summer 
break. 
We  will  start  service  again  in  our 
homegroup  setting  on  January  15th, 
2022. 
Blessings! Ps Tawhiri Littlejohn. 
THE  BEST  GIFT 
EVER! 
'Good news...great joy for all the people.' 
Luke 2:10 NIV 
For  many  people  Christmas  is 
filled  with  dread  instead  of 
delight.  
Author  Jon  Walker  writes  this:  'I'm 
sitting  in  a  fast-food  restaurant 
observing  a  young  girl  celebrating  an 
early  Christmas  with  her  mother.  Her 
presents  are  spread  out  across  the 
booth,  and  she  just  said,  "l  miss  you, 
Mommy." "I miss you too, Baby," her 
mother says.  
Beyond  the  booth  a  woman  casually, 
but carefully watches them. Using my 
journalist's  eye,  I  put  it  all  together. 
The  watching  woman  is  a  social 
worker  supervising  a  structured  visit 
for  a  mother  and  child  who  are  doing 
their best to celebrate Christmas, a few 
minutes  later  foster  parents  arrive  and 
take  the  little  girl  home.  The  mother 
leaves alone.  
There's a darker side to Christmas we 
rarely  acknowledge.  We  create  this 
fantasy  that  seldom  matches  reality, 
even  in  the  best  of  homes  many 
Christmas  memories  are  full  of 
tension,  not  tinsel...the  holidays  are 
just another excuse for Mommy to get 
drunk,  or  Daddy  to  be  with  his  new 
family...yet  another  reminder  that  the 
one  we  love  is  far  away  or  perhaps 
never coming back. 
The suicide rate is extraordinarily high 
in  December...depression  as  common 
as  "Joy  to  the  World"...more  people 
hurt  at  Christmas  than  we  initially 
imagine. For those tired of the hollow 
hope...of Christmas, the good news is, 
God is with us. Jesus came to earth to 
"bring...good  news.  .  .for  all  the 
people."  
 Jon  Walker  continues:  'Regardless  of 
your  situation,  Christmas  is  the  best 
gift you'll ever get, because:  
1.it's  the  costliest  you'll|  ever  receive 
because it cost Jesus his life;  
2. it's the only gift that lasts forever;  
3. it's one you can enjoy for the rest of 
your life.'  
~ Word For the Day, Rhema Media 
RON MCCALLUM – Northland Bowls Volunteer of the Year 
Ron  McCallum  of  the  Maungaturoto  Bowling  club  was  nominated  for  this 
award  for  last  season,  pictured  3rd  from  left  with  fellow  bowlers  when  he 
received  it.  Ron  spends  many  hours  calling  prospective  competitors  and 
sponsors  to  our  three  tournaments  and  has  done  this  for  many  years.  He  has 
sponsored  one  of  our 
tournaments  for  31 
years.  He  also  provides 
innovative  ways  to 
make  the  day  more 
entertaining 
- 
is 
passionate  about  bowls 
and  encourages  other 
people  to  enjoy  the 
game.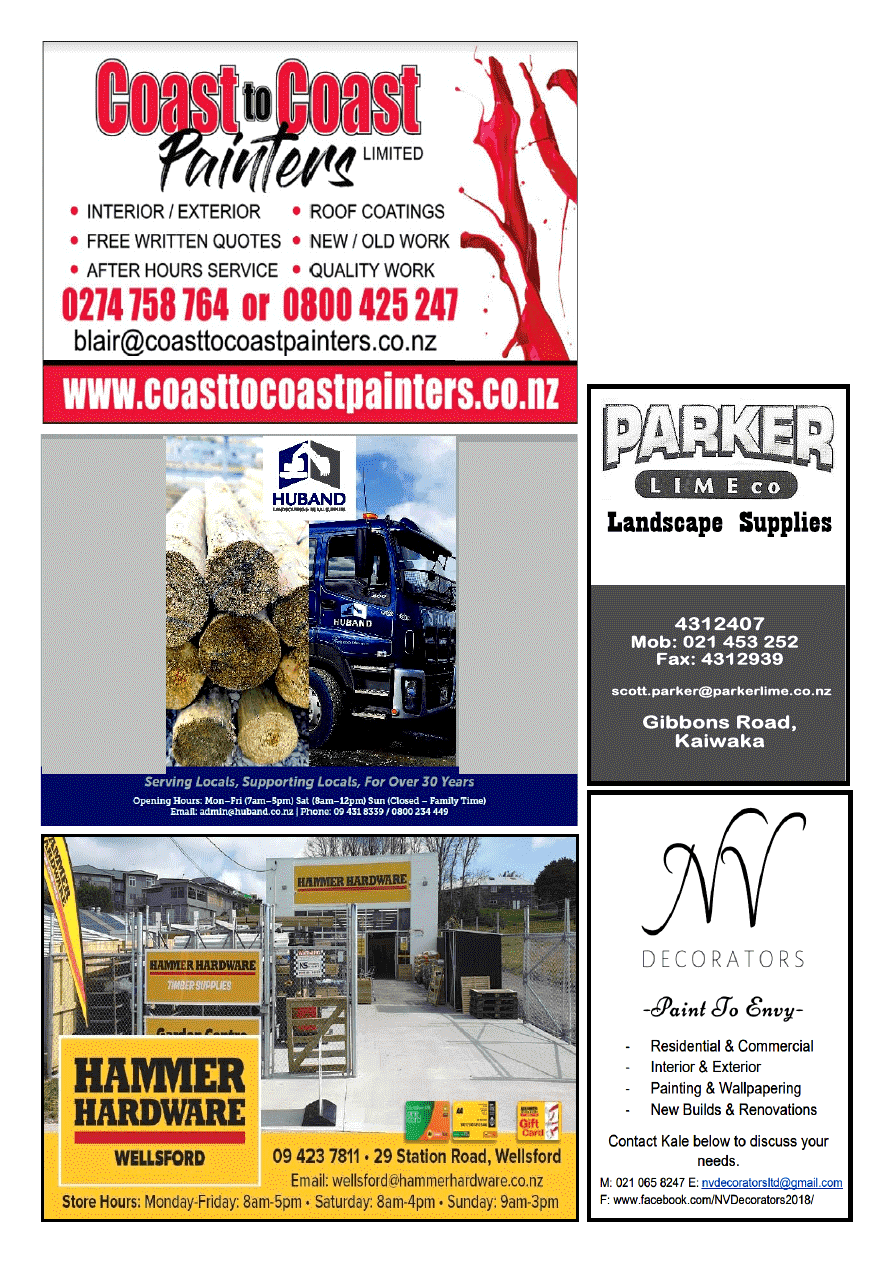 Bulk Cartage 
HELP 
PHONE NUMBERS 

HEALTHLINE  0800  611  116  -  a 
nurse to answer health queries  

SAMARITANS  
0800  726  666  -  support  for  lonely  or 
suffering mental distress 

YOUTHLINE 0800 376 633 

LIFELINE 0800 543 354 

DEPRESSION HELPLINE  
0800 111 756 

ALCOHOL  &  DRUG  HELPLINE 
0800 787 797 

URGENT 
MENTAL 
HEALTH 
LINE 0800 223 371 

WARMLINE  -peer  support  for 
people with mental health issues  
0800 200 207 
Landscaping Supplies: 
Waikato Screen Topsoil 
Bark 
Woodchip 
Mill Bark 
Post Peelings 
Compost 
Crushed Shell 
Topsoil 
Limestone Chip 
Daltons Garden Mix 
Aggregate 
Gap: 20,40.65 
Riverstone 
Sand 
Belt Dust 
40/20 Drainage Metal 
Builders Mix 
 Cement 
Timber/Fencing Supplies: 
Rails, Posts  
Stays, Strainers 
Fence Battens 
Palings 
Stakes 
Fencing Wire 
Farm Gates & hardware 
Drainage: 
PVC Fittings 
Alkathene 
Draincoil 
WATER TANKS: 
Aqua & Baileys 
Brands 
DRAINAGE & 
SEPTICS: 
Land Drainage 
Urban Rural 
Drainage 
Water Pipelines 
Culverts 
Septic Systems 
(RX Plastics & 
Biorock) 
SITEWORKS: 
Retaining Walls 
Piling 
Driveways 
Carparks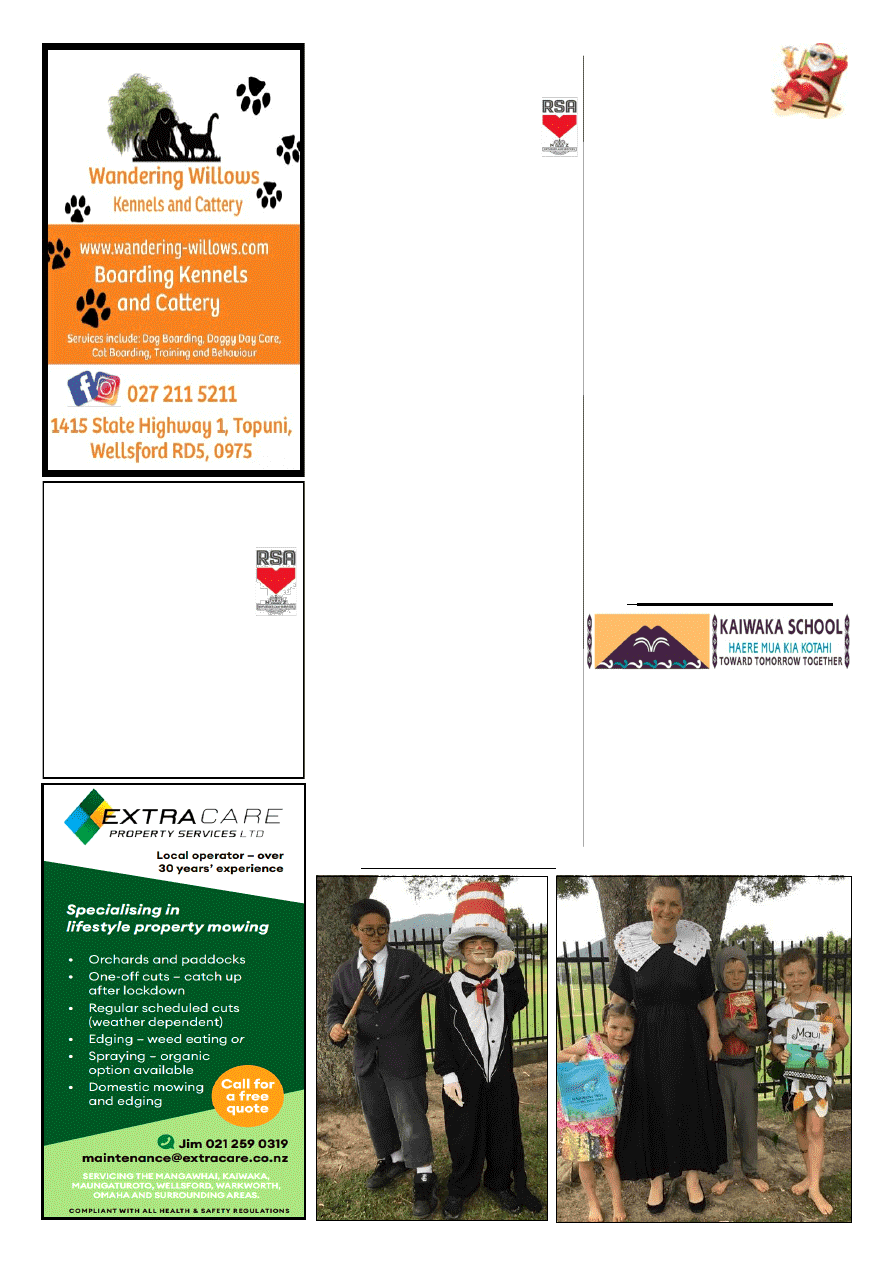 www.kaiwaka.co.nz 
Kaiwaka Bugle - 16 November 2021 
Page 7 
HAKARU & DISTRICTS 
MEMORIAL RSA  
Members & guests are 
invited to come along and 
enjoy our hospitality. 
New members welcome. 
Meals are served on 
Thursday and Friday nights 
from 6.30pm. 
Order from Blackboard Menu 
For more information please phone 
Barry Wallace 0274 922 975  
Email: president@hakarursa.co.nz 
It  was  great  to  see  all  but  2  of 
our  members  present  at  the 
November  meeting  where  we 
had  a  delicious  Pre  Christmas-
Potluck Luncheon. 
We missed Francie Wearing who hasn't 
been  well  and  Shirley  De  Vries  who 
had  a  fall  and  had  a  doctor's 
appointment.  We  do  hope  you  will 
both be fit and well again soon. 
After  lunch  we  had  a  brief  meeting 
which was proceeded with a "moments 
silence"  for  Betty  Aitken  Cooke  who 
passed away recently. Betty had been a 
very  supportive  member  for  many 
years. 
It  was  an  honour  to  welcome  Neville 
Andrews  fiancée  Patricia,  and  Annie 
Meriot  who  both  wish  to  become 
members. 
Mangawhai Heads Volunteer 
Lifeguard Service  
After the meeting we were treated to a 
very  interesting  talk  about  the 
Mangawhai  Lifesaving  Club  by  the 
President Jon. It was a surprise that the 
Club  has  members  as  young  as  4  up 
to12  as  Junior  Life  Savers.  The 
youngest  they  can  become  fully 
qualified  Life  savers  is  13,  this  is  an 
interesting life for our younger people, 
and we encourage the general public to 
support this worthwhile cause. 
Birthdays 
The  Birthdays  this  month  were  Lena, 
Trish, Heather, Patricia and Ann - hope 
you all had lovely Birthdays. 
10  members  are  attending  a  combined 
Birthday  Luncheon  with  Waipu  at 
11.30am  on  Monday  6th  December 
which will be fun. 
NEXT MEETING 
There  will  not  be  a  meeting  in 
December and the next meeting will be 
Thursday 27th January at 1.15 p.m. 
That  is  all  for  now  from  the  "Girls" 
from Hakaru Women's Section. 
We  wish  everyone  a  Merry  Christmas 
and a Healthy and Happy 2022. ~ Ann 
KAIWAKA 
WEATHER 
Hello everyone,
Well,  the  rain  finally 
stopped on the 16th of November and 
then it went to quite the opposite as we 
only  had  6  ml  of  rain  in  the  second 
half  of  the  month.  The  total  recorded 
at  my  place  for  the  month  of 
November this year was 82.5ml.  
The  driest  November  I  recorded,  was 
in 2010 when we only had 24.5ml.  
The wettest November I recorded was 
in  2005  when  we  had  204ml. 
November  this  year  has  been  quite 
warm, so grass growth is good. 
The  farm  land  is  looking  nice  and 
green with lots of silage being made. I 
can finally get the lawnmower over all 
of our lawn, so I'm back in my happy 
place – with a nice tidy lawn. The trees 
are all covered with lovely new green 
leaves  and  the  birds  are  happily 
building nests and raising their young. 
I  had  to  put  a  shade  cloth  cover  over 
our  silverbeet  as  the  darling  little 
sparrows  were  stripping  it  before  I 
could  get  any.  Our  vege  garden  has 
been a bit slower this year, except for 
the  radishes  of  which  we  have  had  a 
great crop. 
As I write this report, I realise there is 
only 2 and a half weeks to Xmas so I 
had  better  get  into  gear  and  do  some 
shopping.
Have a safe and happy Xmas folks.  
Kaiwaka School is a school of readers. 
While we could not have our book fair 
due to COVID we could still have our 
character  dress  up  parade  and 
competition.  The  children  and  staff 
walked  in  a  parade  around  the  school 
and  shared  their  amazing  costumes. 
Local    librarian  Wendy  Howard  was 
the judge for the junior school, middle 
school,  senior  school  and  the  staff.  It 
was difficult this year as the costumes 
were amazing. 
HAKARU RSA 
WOMEN'S SECTION
WE ARE CLOSED  
But we will see you all again soon!  
Phone 09 4312 246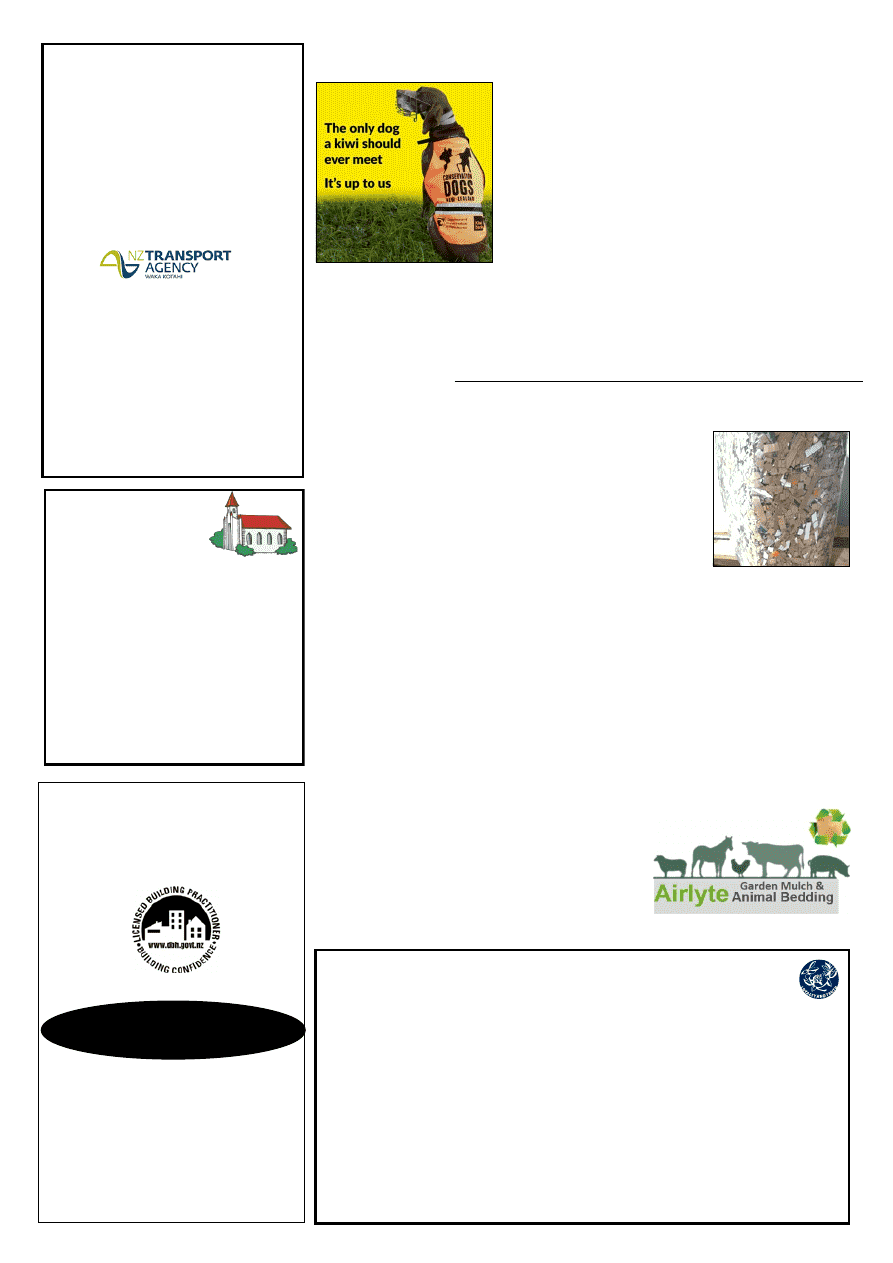 www.kaiwaka.co.nz 
Kaiwaka Bugle - 16 November 2021 
Page 9 
OTAMATEA HIGH SCHOOL 
IMPORTANT DATES FOR START OF YEAR 2022 
Wednesday 2nd February: Year 13 Leadership Day 9.00am - 3.30pm 
Thursday 3rd February: Buses will be running 
School starts for all Year 7, all Year 13 and all new students to OHS. 
On  the  first  day  of  school  students  should  bring  pen,  paper,  morning  tea,  togs  and  a 
towel. Sausage sizzle lunch provided
. 
Friday 4th February: All Year 9 students ONLY to attend school (12.30pm 
finish time) 
Year  11  and  12  Course  confirmation  will  take  place  off  site  with 
scheduled digital interviews. 
Tuesday 8th February: Whole School to attend 
School off opens Monday 24 January 2022. Please phone 09 4318230 or 0800682 628 
for further information. Please visit www.otamatea.school.nz for 2202 school information 
including uniform, stationery and school calendar. 
KAIWAKA POST 
CENTRE and 
FOOD MART 
POST CENTRE TRADING HOURS 
MONDAY to FRIDAY 8am to 5pm 
SATURDAY 8am to 12pm 
CLOSED ON SUNDAY and on 
PUBLIC HOLIDAYS 
FOOD MART (GROCERIES)  
MONDAY TO FRIDAY  
7:30am to 7.30pm 
SATURDAY  8am to 7.30pm 
SUNDAY  8:30am to 7pm 
IF ANY QUERIES PLEASE CALL 
STORE MANAGER AMRIT  
on 09 4312431 or 
EMAIL: kaiwakafood19a@gmail.com 
1919a State Highway1, Kaiwaka 0542 
ANIMAL BEDDING & GARDEN MULCH 
New Unique Product From Cardboard Packaging – in Kaiwaka 
We  (Grant  &  Lesley)  are  "RECYCLING"  clean 
commercial corrugated cardboard packaging/boxes for use 
as "Animal Bedding & Garden Mulch".  
It makes a clean, dust-free and absorbent base for all sized 
animals & pets from Horses, Pheasants, Chickens, through 
to  Guineapigs  etc,  and  when  used  on  the  Garden 
(*especially  during  summer),  helps  to  keep  your  Garden 
moist  during  the  low  water  months.  Worms  love  it! 
Include  it  in  your  compost  and  it's  great  under 
strawberries too. 
The cardboard is sliced & diced into tiny pieces, dust is removed and packaged 
into  100L  Bags  (approx.  18kg).  The  product  was  originally  made  in 
Christchurch in the early 2000's and shifted to Ruawai for a period of time. The 
large shredder machine ended up back in Christchurch and we have brought it 
back to the Kaipara. Northland businesses alone generate more than 5000 tonnes 
of waste corrugated cardboard. 
Airlyte is popular with horse owners and people who keep small pets, and the 
product  has  found  favour  with  top  level  dressage  riders.  Unlike  traditional 
sawdust or straw bedding, cardboard is dust-free making it healthier for animals 
prone to respiratory problems. It also absorbs liquid and smells and is springy to 
stand on which is easier on the animals' legs. 
A great thing about Airlyte when used as Animal Bedding is it becomes doubly 
perfect for disposal into the Compost or onto the garden as mulch. With Sawdust 
and  Straw  becoming  more  difficult  to  obtain,  and  expensive  to  buy  Airlyte 
provides  an  environmentally  friendly  alternative!  There  is  no  shortage  of  raw 
material for shredding… 
Although  we  are  only  processing  a  fraction  of 
NZ's  waste  cardboard,  it's  great  to  be  part  of  a 
local  solution  to  what  is  really  an  international 
problem, "what to do with packaging waste". 
Can  be  purchased  from  Grant  &  Lesley  at  American 
Retro Furniture 
(beside Kaiwaka Liquor Centre) 
Ph: 0274 350758 or 0274 341329 
Please call ahead to ensure we are onsite if wanting to purchase/pickup. 
$25 per bag or $20ea for 5 or more (Eftpos not available – DC or Cash payment only  
ST PAUL'S  
ANGLICAN  
SUNDAY SERVICES 
First Sunday 9am Holy Communion 
Third Sunday 9am Family Service 
St Pauls Church: Kaiwaka-Mangawhai Rd. 
Church Office Ph 431 4122 
www.mangawhaianglican.org.nz
PIROA-BRYNDERWYN LANDCARE (PBL) 
PBL have just launched their new website www.pbl.org.nz 
From Mangawhai through to Waipū is a high value 
conservation area (HVA) including the home to a lot 
of  protected  native  species  including  fairy  tern, 
dotterels and kiwi. 
Kiwi  can  be  anywhere,  and  often  where  you  least 
expect  them!  Many  people  assume  kiwi  are  in  the 
forest,  or  special  reserve  areas  –  but  they  just  love 
long grass on the roadside, pampas, gorse, scrub and 
culverts  etc.  A  responsible  dog  owner  is  an 
important ally in helping protect our native flora and 
fauna.  Please only walk your dog on walking tracks 
that  are  approved  for  dogs  -  many  of  our  walking 
tracks are in conservation areas where dogs are prohibited, or cross over private 
land where dogs are not allowed. 
Locally  there  are  several  places  where  you  can  exercise  your  dog  off  a  leash, 
within a safe and controlled environment. Check the beach rules with our local 
council  -  www.kaipara.govt.nz.  If  you  lose  your  dog  or  if  you  see  a  roaming 
dog, take a photo, note the location and call your local 24-hour Animal Control 
Officer immediately: Whangarei: 09 438 7513, Kaipara: 0800 105 890
Wright  
Design 
No. 117345 
ARCHITECTURAL DESIGN 
N.Z.C.A.D. Architectural 
Mob: 021 276 7389 
Office: 25 Lupis Lane, 
Kaiwaka 0573 
brianwright@xtra.co.nz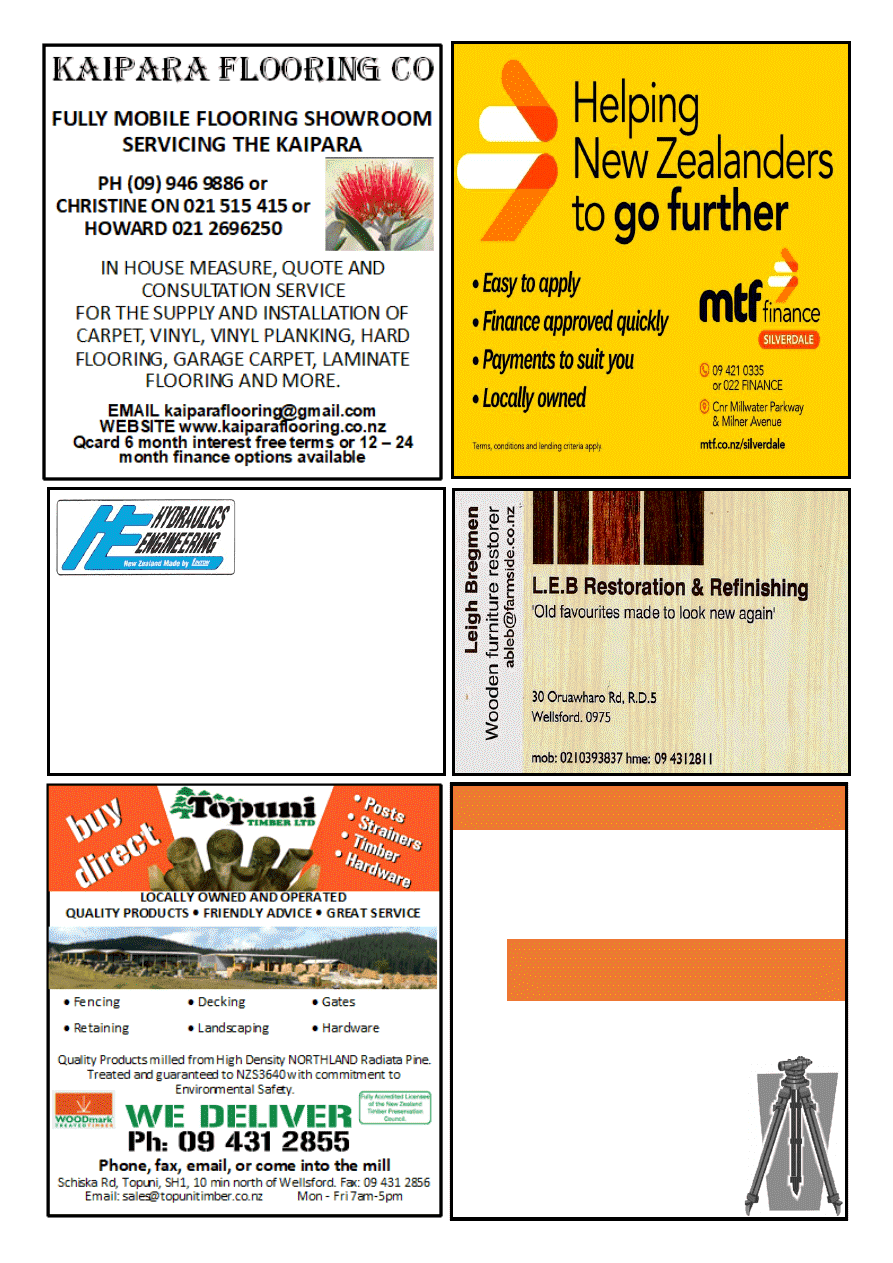 SURVEYORS 
SUBDIVISIONS 
HOUSE SITE SURVEYS 
CIVIL ENGINEERING 
WASTEWATER DESIGNS 
EXPERIENCED 
PROFESSIONAL 
INNOVATIVE 
Ph 09 431 5353 
0800 PACIFIC (0800 722 434) 
pacificcoastsurvey.com
Adam Booth - 027 415 5752 
Bsurv, Licensed Cadastral Surveyor
Surveying Kaipara since 1994 
Hydraulics  
Engineering Ltd 
Kaiwaka 
Sales - Service - Parts - Hire - Manufacture 
Service Contractors & Industrial Equipment: 
Rams, Pumps, Valves 
Logsplitter Hire, Manufacturer, Sales 
Dennis Linton 
Lot 2 / 161 Ranganui Road, RD2, Kaiwaka, 0573, New Zealand 
Mobile: 0274 381 700 
Email: hydraulicsengineering@xtra.co.nz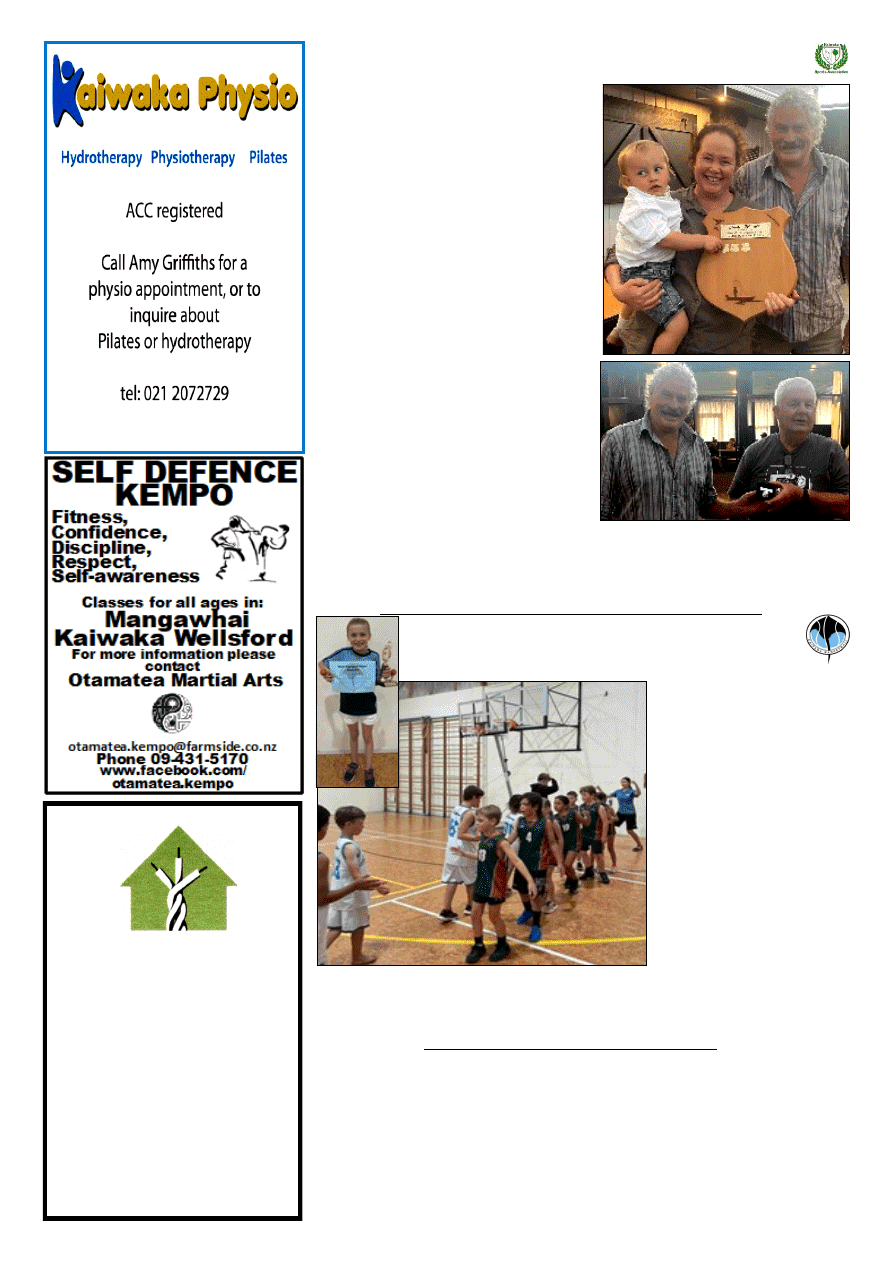 www.kaiwaka.co.nz 
Kaiwaka Bugle - 16 November 2021 
Page 11 
Reyahn  Leng 
 Registered Electrician 
Local, honest and reliable. 
For your residential and 
light-commercial projects. 
022 314 1068  
KAIWAKA SPORTS ASSOCIATION 
BOOKING the KSA:  
Contact Jennie: 02102764171 or ksabookings@mail.com  
KSA EMAIL: Contact Lindell 
ksa.sec3@gmail.com   
KSA AED* 
-  automated external defibrillator:  
In case of someone in cardiac arrest, perform the three steps that can double a 
person's  chance  of  survival:  call  111 for  an  ambulance,  start  CPR  and  use  an 
AED which is simpler than using a mobile phone. Anyone can do it, just turn it 
on and follow the voice instructions.  
* kept in downstairs toilet nearest swimming pool 
PT.CURTIS  
CRUISING CLUB 
Christmas  Dinner  at  the  Three 
Furlongs  Bar  &  Grill  on 
Thursday  2nd  December  2921  was  a 
success  with  40+  attendees.  Thank  you 
one and all. 
The  Boots  "N"  All  shield 
was 
presented to Jean McLeish, pictured here 
with  her  grandson  and  club  president 
Wayne Leslie 
Lifetime  membership 
presentations 
were  presented  to  John  Bowmar, 
pictured,    and  Dan  Mills  who 
unfortunately was not able attend, but the 
award  was  presented  to  his  sons  Keith 
and Paul. 
ANNUAL RANGIORA BOAT RAMP 
PICNIC will be held on  
Saturday 15 January 2022, 1pm.  
There  will  be  a  few  camping  over  the 
weekend  and  you  are  welcome  to  join 
those staying. 

Fish  of  the  Month  for  October  & 
November was Kahawai: 
1st,  Chainsaw  1.619kgs  -  Kaiwaka  4 
Square 

New Fish of the Month: Snapper till 12 January 2022 

Next  Club  meeting:  Wednesday  12  January  2022,  7pm,  Kaiwaka  Sports 
Association 
May you all have a wonderful Christmas and New Year. Be safe on land or sea, 
roll on 2022, Wayne Leslie, Commodore 
KAIPARA BASKETBALL 
Another epic final of the Primary Schools Competition  
2021 Results: 
*Years  3/4  Champions 
Maungaturoto School  
*Years  5/6  Champions 
Mangawhai 2  
Individual Awards: 
*Years  3/4:  MVP  -  Iosefa 
Tovine 
(Maungaturoto); 
MIP  -  Molly  (Paparoa), 
pictured;  DPOTY  -  Van 
Walker (Kaiwaka) 
*Years  5/6:  MVP  -  Liam 
Brennan  (Mangawhai);  MIP 
-  Ollie  Clark  (Mangawhai); 
DPOTY  -  Tui  Nathan-
Jenkins (Maungaturoto) 
As  always,  thank  you  to  all 
the primary schools, players, 
team  managers,  awesome 
coaches and parents for your 
continued support of our tamariki and the great game of basketball.  Last but not 
least to our tireless KBA frontline team ... you kept everyone safe and the comp 
running smoothly during this challenging time. Photo: 'Low 5s' at games end in 
Kaiwaka Sports Assn. gym.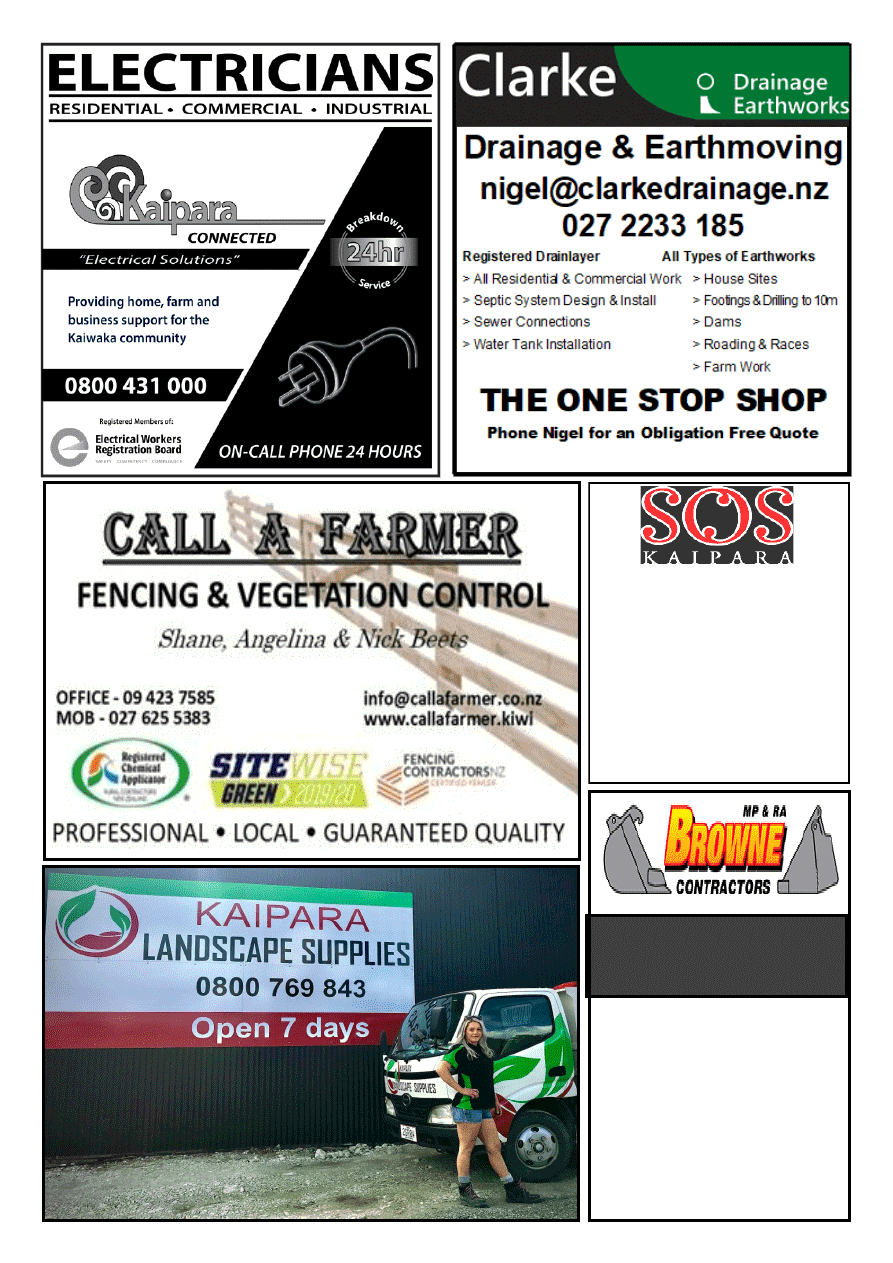 - 4 Tonne DIGGER - 
- BOBCAT- 
- TIP TRUCK - 
Property Maintenance  
Driveways 
Building Sites 
Stump & Tree Removal 
Hole Boring -  Chain Trencher 
Calf Shed and Stockyard Cleaning 
Phone Matt: 021 199 6677 
Email: mprabrownecontractors@gmail.com 
S.O.S Kaipara 
Support, advocacy, crisis and 
family therapy counselling, refuge 
housing to survivors of sexual 
abuse and domestic violence. Also 
Education prevention programmes 
for the community and clients.  
Office hours 9am to 3pm Mon- Fri; 
24/7  Police  
or phone 09 4396070 
FACEBOOK :SOS KAIPARA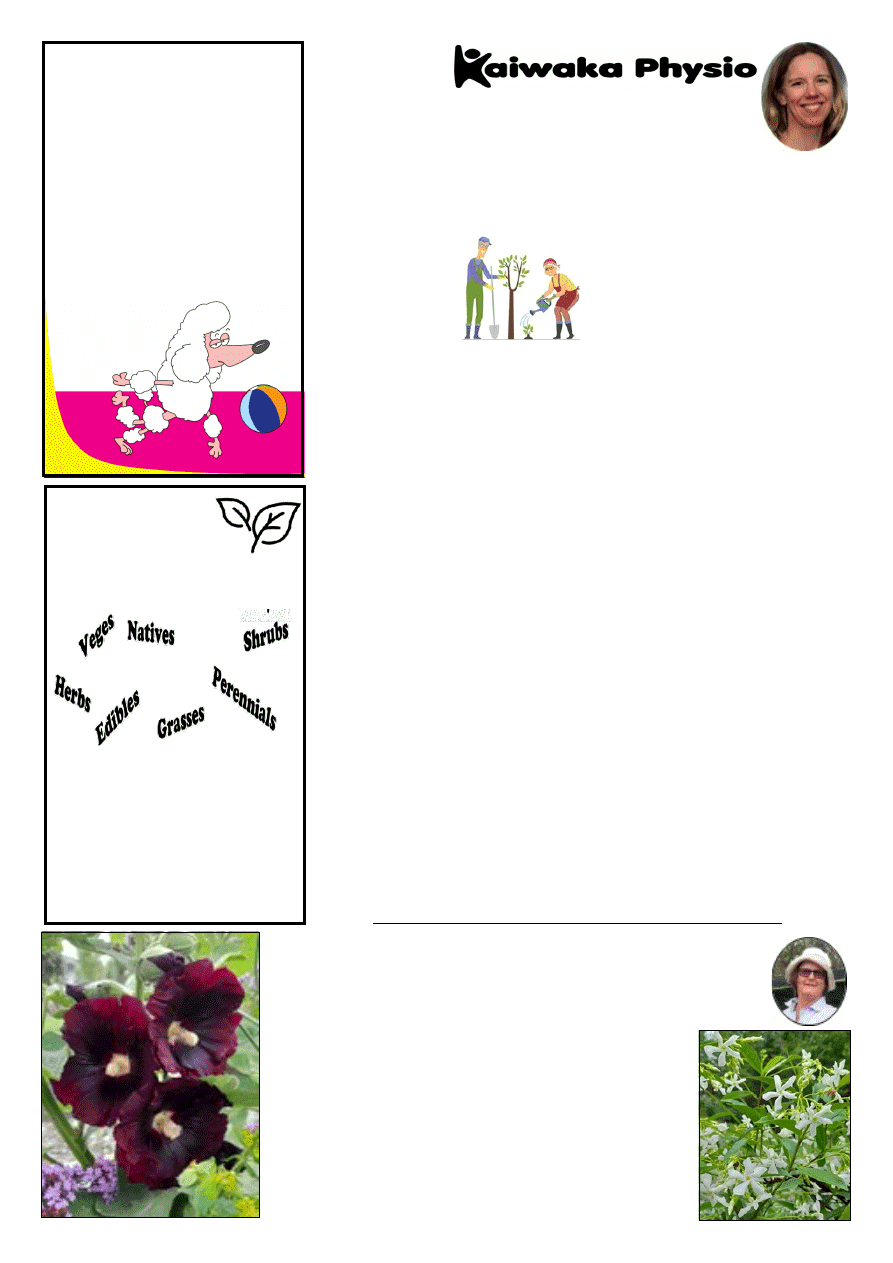 www.kaiwaka.co.nz 
Kaiwaka Bugle - 16 November 2021 
Page 13 
Hot Diggity Dog  
DOG GROOMING  
KAIWAKA 
Spring is in the hair. 
Professional Dog Groomer  
at affordable prices.
www.doggroomingkaiwaka.co.nz 
call Pam 094312143 or text 
0273335380 for bookings 
ONERIRI GARDENER 
COLOUR  FOR  CHRISTMAS,  HOLLYHOCK: 
This colour really 
pleases me. Although it self sows readily ,I collect seed as well. Just to make 
sure I don't lose it. I collected the original seed from the garden at The Apple 
Basket. A great little quilting shop here in Kaiwaka. So good I'd even heard 
of  them  before  we  moved  to  Kaiwaka.  And  yes,  I  did  ask 
permission before I collected seed.  
TRACHELOSPERMUM  OR  STAR  JASMINE: 
In full 
flower  and  heavy  with  scent.  A  super  easy  climber.  It  will 
tolerate most conditions except wet feet. I get that. In Auckland 
I grew it on a fence and treated it as a hedge. A hard clipping in 
autumn and it grew tight, shaping well. It was close to the house 
there. The scent was a bit overwhelming. Here it is distant from 
the  house  and  we  can  smell  it  a  good  100  metres  away.  It's 
rather nice to walk in the garden full of scent.  
   ~ Heather, Oneriri Plants 021 766399
Oneriri  
Plants 
Visit our Nursery 
Contact Heather 
021 766399 
oneririplants@gmail.com 
365AOneriri Rd, Kaiwaka 
A short trip off SH1
Kaiwaka 
Physio- 
a 
regular 
column  on  all  things  physio 
and fitness: 
My  last  two  columns  have  been  about 
how  much  exercise  we  should  be 
getting  and  some  suggestions  on  how 
to  get  more.  This  week  I  am  going  to 
talk about the benefits of gardening. 
HEALTH 
BENEFITS 
OF 
GARDENING 
Did  you  know  that 
there 
are 
non-
pathogenic  bacteria 
called mycobacterium 
vaccae 
that 
live 
naturally  in  the  soil? 
They  increase  the 
levels  of  serotonin  -  which  is  a  feel 
good hormone in our brains. They have 
also  been  found  to  decrease  levels  of 
anxiety.  So,  getting  your  hands  dirty 
can  make  you  happy  because  of 
bacteria! 
Gardening  will  generally  help  us  get 
our  step  count  up  and  will  often 
involve  some  resisted  exercise.  We 
should  include  some  resisted  exercise 
at  least  3  times  a  week  and  gardening 
can  help  provide  this  -  for  example 
lifting  and  pushing  a  wheelbarrow, 
lifting plant pots and pulling a hose. 
Gardening  can  help  improve  our 
balance  by  walking  on  uneven  ground 
and  bending  and  reaching  out  of  our 
base  of  support.  It  helps  us  get  our 
daily  dose  of  vitamin  D  in  the  winter, 
but we obviously need to be careful in 
the  summer  in  case  we  get  too  much 
sun. 
Exposure to nature in general has been 
shown to be beneficial to our health by 
decreasing  blood  pressure,  decreasing 
anger  and  stress,  decreasing  heart  rate 
and decreasing muscle tension. 
We can also get a sense of achievement 
which  adds  to  the  feel  good  factor  as 
well  as  getting  to  eat  some  fresh, 
healthy produce. 
THINK  OF  GARDENING  LIKE  A 
SPORT 
Gardening  will  likely  mean  some 
physical  activity  for  at  least  30 
minutes, and this involves preparation - 
just  like  playing  sport.  For  example, 
you need the right  shoes 
and  racquet  for  tennis, 
and  you  need  the  correct 
equipment  for  gardening. 
In the winter we tend to wear gumboots 
which are good at keeping our feet dry, 
but they aren't very supportive. So, we 
may need to wear lace up boots or get 
some  orthotic  arch  supports  to  go  in 
our  gumboots.  Also  make  sure  that 
your  shoes  are  non-slip  -  especially 
round wet leaves - crocs can be lethal! 
Try out tools before you buy them and 
check  for  weight  and  comfort.  Choose 
well balanced, lightweight tools to help 
prevent  stresses  and  strains  in  your 
hands and arms. 
Some examples include: 
Long  handled  loppers  instead  of  single 
handed secateurs 
Long  handled  hoes  mean  we  don't  have 
to bend constantly for the weeds 
Long handled shovel rather than a spade 
Use  a  kneeler  with  handles  that  can  be 
used to kneel or sit on Use knee pads or a 
foam kneeler 
Try  secateurs  with  an  angled  head  to 
reduce  wrist  strain,  non-stick  blades  and  a 
wrist strap. 
Choose plastic watering cans, rather than 
metal,  as  they  are  lighter  and  have 
smoother edges so are less likely to bruise 
your legs.  
More information in the next Bugle 
WHAT 
IF 
YOU 
INJURE 
YOURSELF? 
In  2015  The  most  common  ACC 
claims  were  for  soft  tissue  injury, 
suffered 
by 
35,121 
gardeners. 
Lacerations,  puncture  wounds  and 
stings  were  the  next  most  common 
injuries, with 12,060 claims. 
Concussions or brain injuries were the 
cause  of  73  gardening-related  claims 
last year, according to ACC. 
If you suffer a strain or sprain you can 
come  straight  to  physio,  and  we  can 
sort  out  your  ACC  claim  and  provide 
treatment. 
Hopefully,  if  you  follow  the  above 
advice this won't be needed! 
Until next time, Merry Christmas, Amy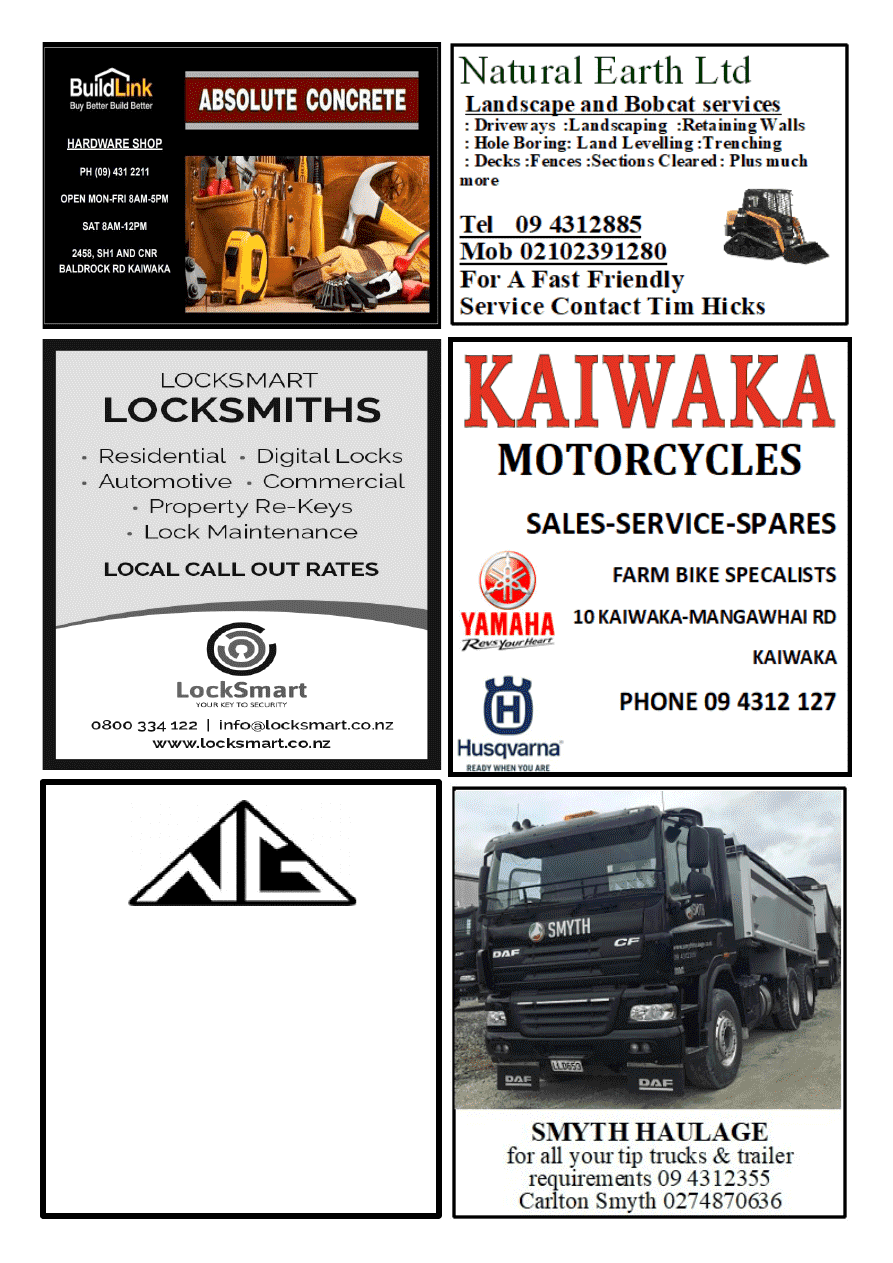 NORTH GLASS 
WINDSCREEN REPAIR OR REPLACE 
GLAZING SERVICES 
MIRRORS  •  SPLASH BACKS  •  SHOWERS 
0800 70 40 10
info@northglass.co.nz 
www.northglass.co.nz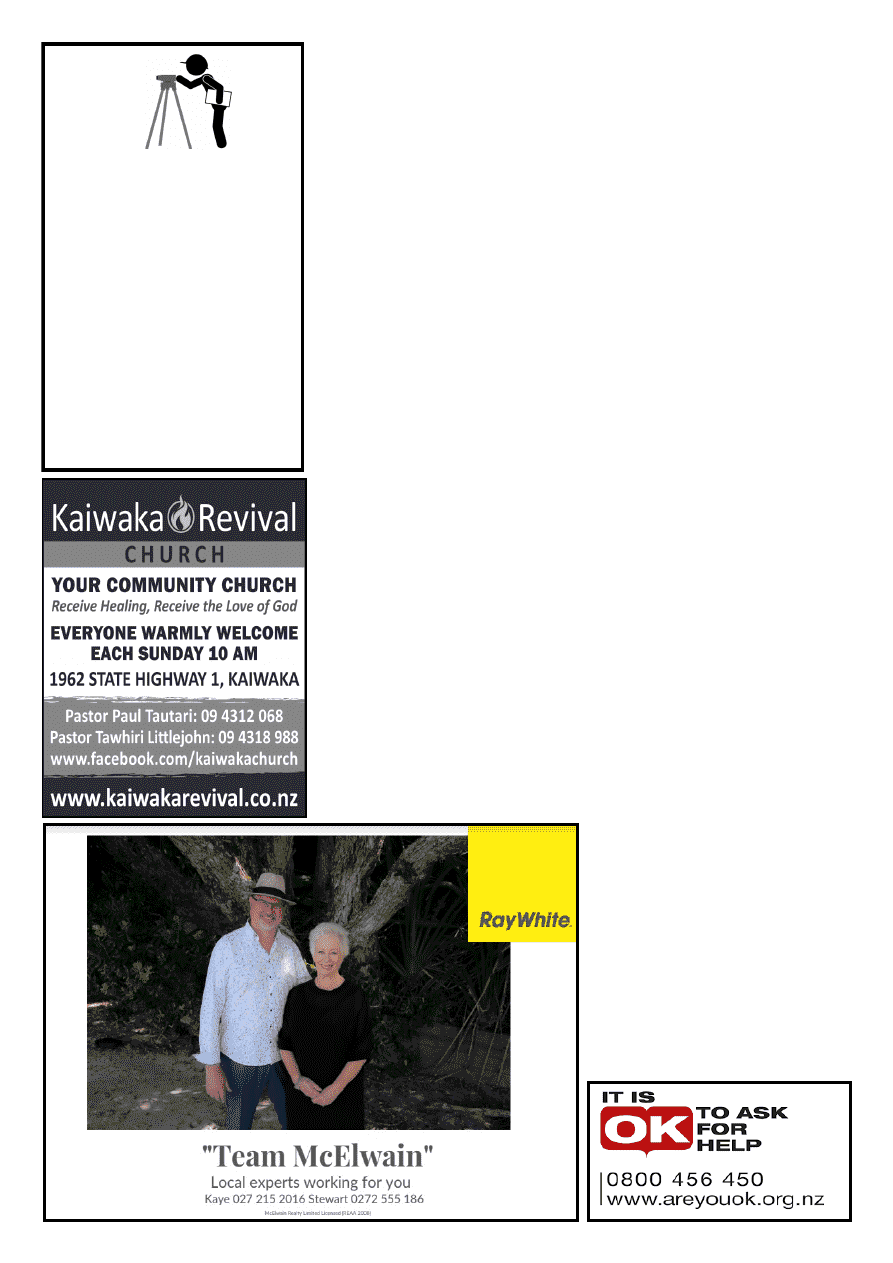 www.kaiwaka.co.nz 
Kaiwaka Bugle - 16 November 2021 
Page 15 
Kaye  McElwain  from  Ray  White  has 
lived  in  the  area  for  17  years  and  has 
worked in real estate for more than two 
decades  as  an  agent  and  business 
owner.  Once  a  month  she  writes  a 
column  with commentary  and  analysis 
on our local real estate market. Today, 
she talks us through some of the factors 
influencing price growth. 
THE PRICE GROWTH  
There  is  much  speculation  as  to 
whether  the  price  growth  that  has 
recently 
been 
experienced 
can 
continue.  Over  the  past  year,  prices  in 
Northland  have  rocketed,  the  average 
price of residential property in Kaipara 
is  now  $827,342  −  up  29.2  percent 
since the same time last year.  
However, in Mangawhai, it is now hard 
to find a home for under $1 million. 
Some of our recent record sales in the 
wider  area  illustrate  this  price  boom. 
These  include:  $2,705,000  for  16 
Robert  Street,  Mangawhai  Heads; 
$3,520,000  for  173a  Tern  Point; 
$985,000  for  69D  Vineyard  Lane, 
Mangawhai, 
$970,000 
for 
65 
Mangawhai  Heads  Rd  and  Land  only 
$650,000  for  24  Lincoln  Street, 
Mangawhai  Heads;  and  $425,000  for 
83  Payne  Road,  Topuni  and  $376,000 
for 291 Oruawharo Road, Topuni. 
Some  pundits  are  picking  that  price 
growth  will  slow  and  there  are  others 
that  have  even  suggested  that  prices 
could  drop,  while  there  are  others that 
are hypothesising that the pace of price 
growth will remain.  
FACTORS 
Here  are  a  few  factors 
that have 
been influencing price growth in recent 
months and if they're still present now: 
●  Interest  rates  -  Interest  rates  were 
cut  to  record  low  levels  during  2020 
and  have  remained  at  these  low  levels 
until  the  most  recent  rate  increase  by 
the  RBNZ  of  25  basis  points  on  6 
October  to  0.5  percent.  While  this 
increase  has  signalled  the  start  of 
tightening  monetary  policy,  in  the 
closer  term,  purchasing  power  from 
prospective  purchasers  remains  very 
strong  and  rates  are  still  very  low 
historically speaking. It should also be 
noted  that  banks  have  been  expecting 
these  increases  for  some  time  and,  in 
most  cases,  have  been  assessing 
potential  lending  at  higher  rates  than 
those that are currently being offered. 
●  House  supply  -  It  has  been  widely 
publicised  that  for  many  years  that 
New  Zealand  simply  hasn't  been 
building enough houses. Compounding 
the  shortage  of  housing  stock  are  the 
delays  to  construction  that  COVID-19 
related  lockdowns  have  imposed. 
While  development  has  ramped 
significantly  up  in  recent  months,  this 
construction  can  take  many  months  or 
years  to  complete,  meaning  that  the 
immediate demand remains unsatisfied. 
In  addition,  any  vendor  that  had 
delayed  putting  their  property  on  the 
market  due  to  the  outbreak  also  added 
to the shortage of available stock. 
● Buyer pool - The latest data from the 
Reserve  Bank  of  New  Zealand  reports 
that  currently,  Investor's  account  for 
17.9  percent  of  new  mortgage 
commitments and first home buyers at 
17.0  percent,  with  almost  all  other 
lending to other owner-occupiers. 
Where  this  has  an  impact  on  prices 
though,  is  that  almost  35  percent  of 
purchasing  (in  dollar  value)  is  to 
people  that  are  not  listing  another 
property  to  sell.  When  this  is 
considered alongside the fact that first-
home  buyers  and  investors  are  not 
typically  purchasing  at  the  top  end  of 
the  market,  the  actual  number  of 
properties  being  sold  to  these  two 
categories,  rather than  the dollar  value 
of lending is most likely much higher. 
It  does  remain  difficult  to predict  how 
long  these  influences  will  continue  to 
remain,  and  that  is  why  many  are 
suggesting that right now could be the 
best  time  to  take  advantage  of  the 
current  conditions  when  it  comes  to 
selling your home.  
Don't hesitate to give me a call, if you 
would like to know what your home is 
worth.  
Have  a  happy  Xmas  and  stay  safe  this 
holiday season. Best wishes, Kaye 
Ken Urquhart 
BSurv Licensed Cadastral 
Surveyor 
KMU  
Surveys Ltd
467 Bickerstaffe Road 
RD 2 
Maungaturoto 0587 
Ph 09 431 8705 
Mob 021 161 2344 
kenurquhart@xtra.co.nz 
CONSIDERING SELLING? WHAT IS REALLY 
INFLUENCING THE PRICE GROWTH?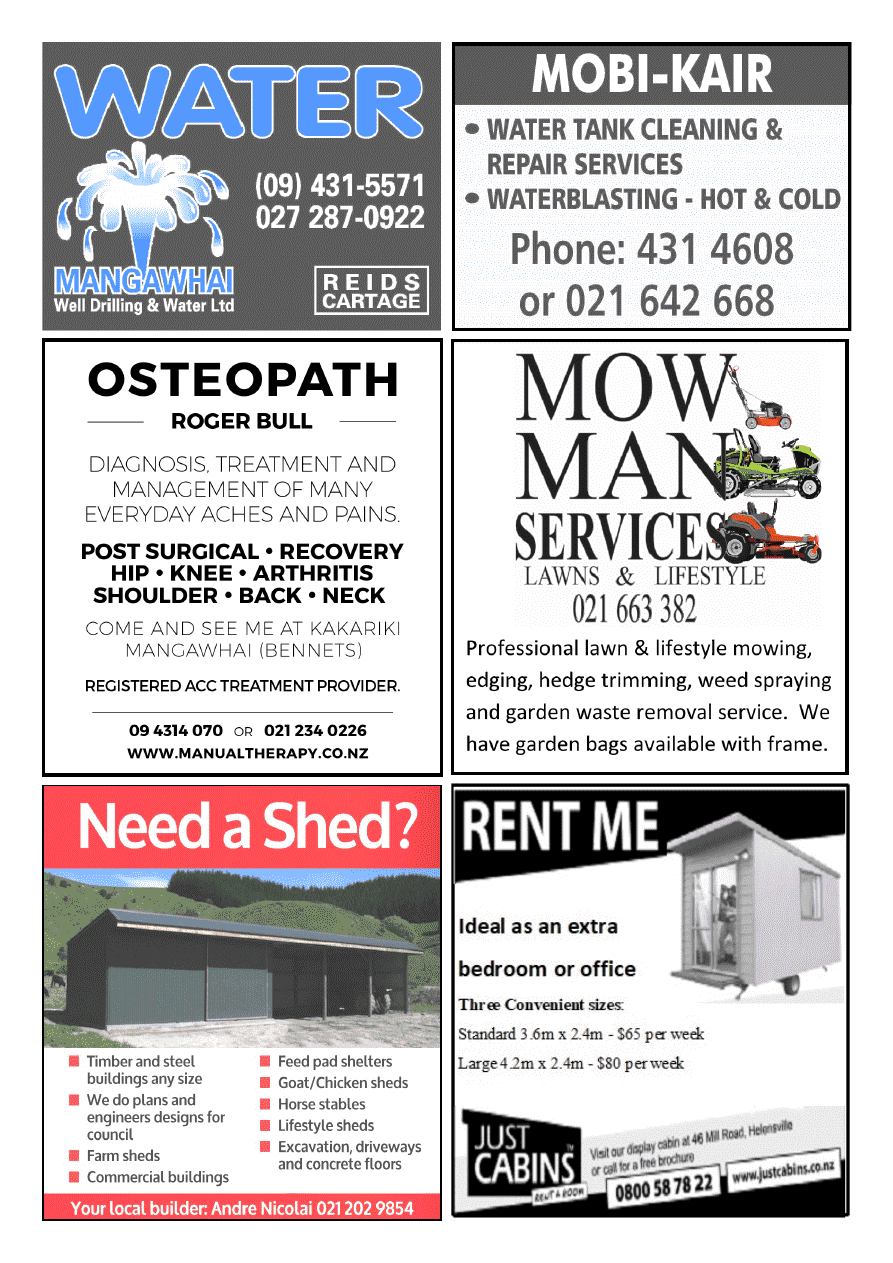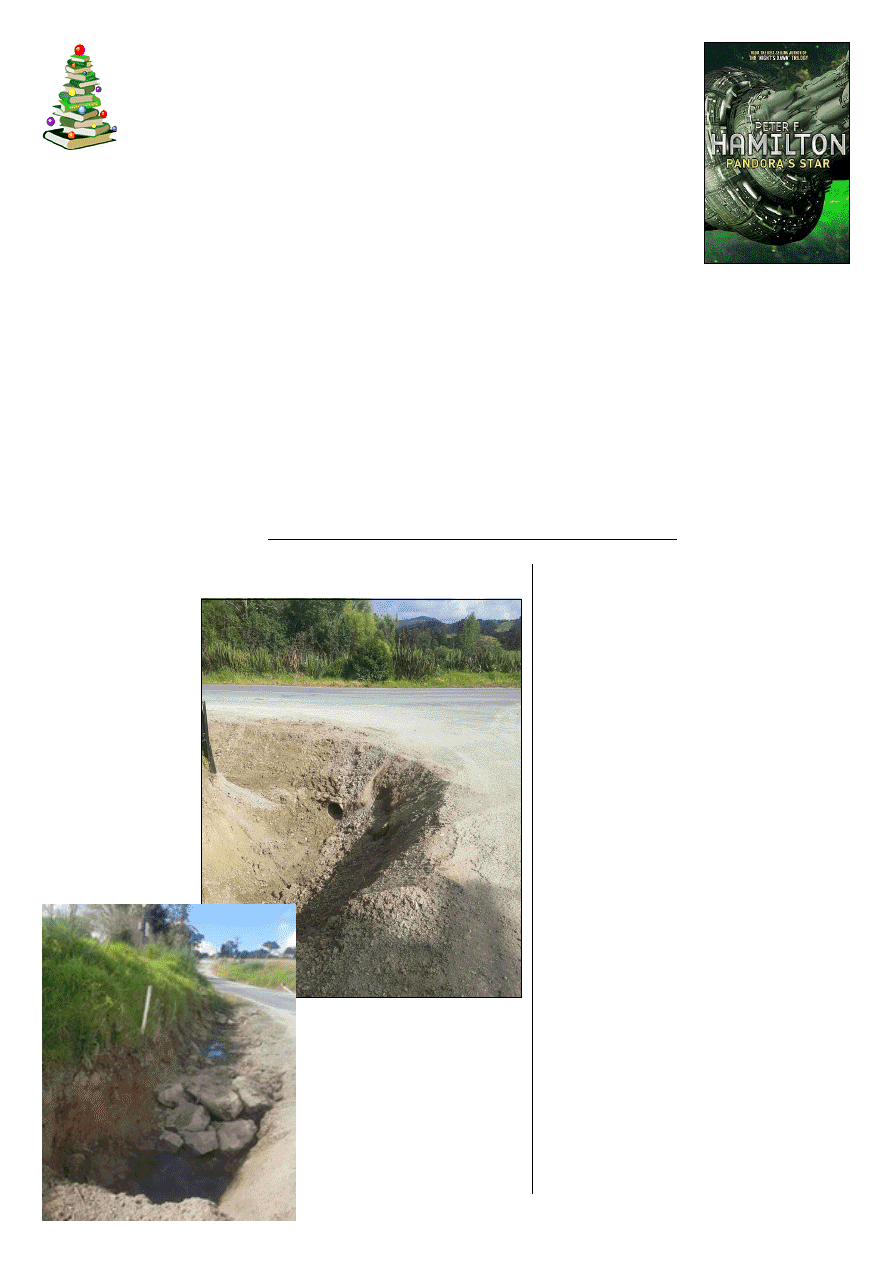 www.kaiwaka.co.nz 
Kaiwaka Bugle - 16 November 2021 
Page 17 
COPING WITH COVID 
The  transition  to  the  Traffic  Light  system  the 
other week saw not a lot of change for us in our 
library. We had the option of using the vaccine 
passport, and we chose to not use it. Anyone is 
welcome  in  the  library,  regardless  of  their 
vaccination status. You still need to be masked, use the QR 
code or sign in manually on entry, and keep your distance. 
If  you  prefer  to  stay  away  from  the  library  at  this  time, 
please  know  that  we  can  still  help  you  with  your  reading 
material. The digital library is open 24/7 (see eResources at 
Enterprise*),  and  if  you  want  physical  books,  we  can 
arrange  to  get  those  to  you.  Place  holds  on  items  at 
Enterprise* or talk to me about what you would like, and I'll 
make  a  selection  for  you.  We  can  then  organise  a  pickup 
time or deliver to you. 
CHRISTMAS HOLIDAYS 
The library will be open for its usual hours of 10am-2pm on 
Thursday  23  December,  then  closed  until  Wednesday  5 
January  when  we  open  at  10am  and  resume  our  normal 
schedule.  Stock  up  on  your  Christmas  reading  before 
Christmas  Eve,  or  you  can  use  the  digital  library  that  is 
open  24  hours  a  day  7  days  a  week  -  see  the  eResources 
section at Enterprise* for details if you're new to it. 
Items  borrowed  just  before  the  holidays  that  would 
normally  be  due  back  while  we're  closed  will  be 
automatically extended to 5 January. 
BOOK REVIEW 
We  welcome  book  reviews  from  anyone  about  any  book/
item held at a library in Kaipara District . 
I've been re-reading a favourite lately - since July until now! 
It's  the  Commonwealth  series  by 
Peter F Hamilton, which I've read in 
fits  and  starts  in  the  past  as  the 
books  were  published  over  several 
years,  but  this  time  I've  read  them 
one after the other with nothing else 
in-between.  It's  been  good  to  keep 
all  the  characters  and  events  in  my 
head  for  this  long  saga.  It's 
published as 7 books in 3 series, but 
the  reality  of  the  content  is  that  it's 
really 3 stories that are so long they 
had  to  be  split  into  multiple 
volumes.  The  first  2  books  (one 
story)  are  just  over  a  thousand  pages  each  -  and  it's  a 
rollicking  good  story  that  I  highly  recommend.  The  other 
two stories are a little shorter. 
"
It  is  AD  2380,  and  humanity  has  colonized  over  six  hundred 
planets, all interlinked by wormholes. With Earth at its centre, 
the Intersolar Commonwealth has grown into a quiet, wealthy 
society,  where  rejuvenation  allows  its  citizens  to  live  for 
centuries. When astronomer Dudley Bose observes a star over a 
thousand light-years away vanish ..."
Start at the beginning with Pandora's Star. The whole series 
is on the free fiction shelves in the library. 
SEASON'S GREETINGS 
From  the  library  team  and  I,  we  hope  you  have  a  great 
festive season, and we look forward to seeing you again in 
the new year.   ~Wendy 
*Enterprise: http://kaipara.kotui.org.nz/ 
KAIWAKA WAR 
MEMORIAL HALL 
From the President 
Another Year with Covid 19. This has been a 
very  disrupted  year  regarding  Movies, 
Meetings,  and  hall  use/rentals,  which  reflects 
a bit on our financial position, but we are still 
in pretty good shape. 
We  have  a  fantastic  Community  asset  here 
which  needs  to  be  looked  after  and  managed 
and with the new footpaths finished and soon 
a  large  spruce  up  of  our  library  things  will 
look pretty good when finished.  
People stop here for a visit – the Public toilets, 
Four Square, the Playground, the Library and 
use the Free Wi-Fi, the EV charger.... 
I  would  like  to  give  a  big  thanks  to  all  the 
committee  members  –  we  have  had  some 
retiring  and  some  moving  away  this  year, 
meaning we really need a few more Kaiwaka 
people to join the committee. 
Look  out  for  a  date  for  our  next  AGM...in 
2022. 
Again,  thanks  to  committee  members  - 
Wendy, Tony, Lindsey, Amanda and Heather. 
Hopefully next year life with Covid 19 will be 
easier. 
KAIWAKA 
MOVIES....UPDATE... 
The  Kaiwaka  Movie  Team  -  Bev,  James, 
Judy,  Heidelind  and  Ad,  are  aiming  to  be 
starting  up  again.at  end  of  January  2022. 
Hopefully  things  will  have  turned  back  to  a 
more "normal" life ......without masks ??...and 
no  limits  on  the  numbers??  We  will  have  to 
wait and see... 
Best wishes to you all from the Kaiwaka War 
Memorial  Hall  Committee  and  our  Kaiwaka 
Movie Team. 
Ad Clarijs, President 
KAIWAKA LIBRARY 
THE ONERIRI ROAD - PUKENUI ROAD 
CORNER  
Photo:  The  Oneriri 
Rd/Pukenui 
Rd 
culvert  exposed  at 
last!  Looking  north-
west  across  Oneriri 
Road. 
This  culvert  is  too 
small, 
hence 
whenever  it  rains  it 
clogs 
up 
easily, 
resulting  in  the  little 
lake 
which 
then 
overflows 
across 
Oneriri 
Road!  
Council  knows  the 
culvert is too small for 
the  amount  of  water 
running  off  Pukenui 
Road,  but  replacing  it 
is 
not 
part 
of 
regular 
maintenance, it  has to be voted 
on as capital expenditure. 
Photo  2: The  huge  dug-out  on 
the  opposite  corner  -  looking 
south up Pukenui Road. It is part 
filled with water.   
All the ditches gave been cleared 
and  culverts  exposed  but  not 
sure that they have been cleared 
of gravel. There is a rather large 
dip or 'sink hole' just to the east 
of this drain.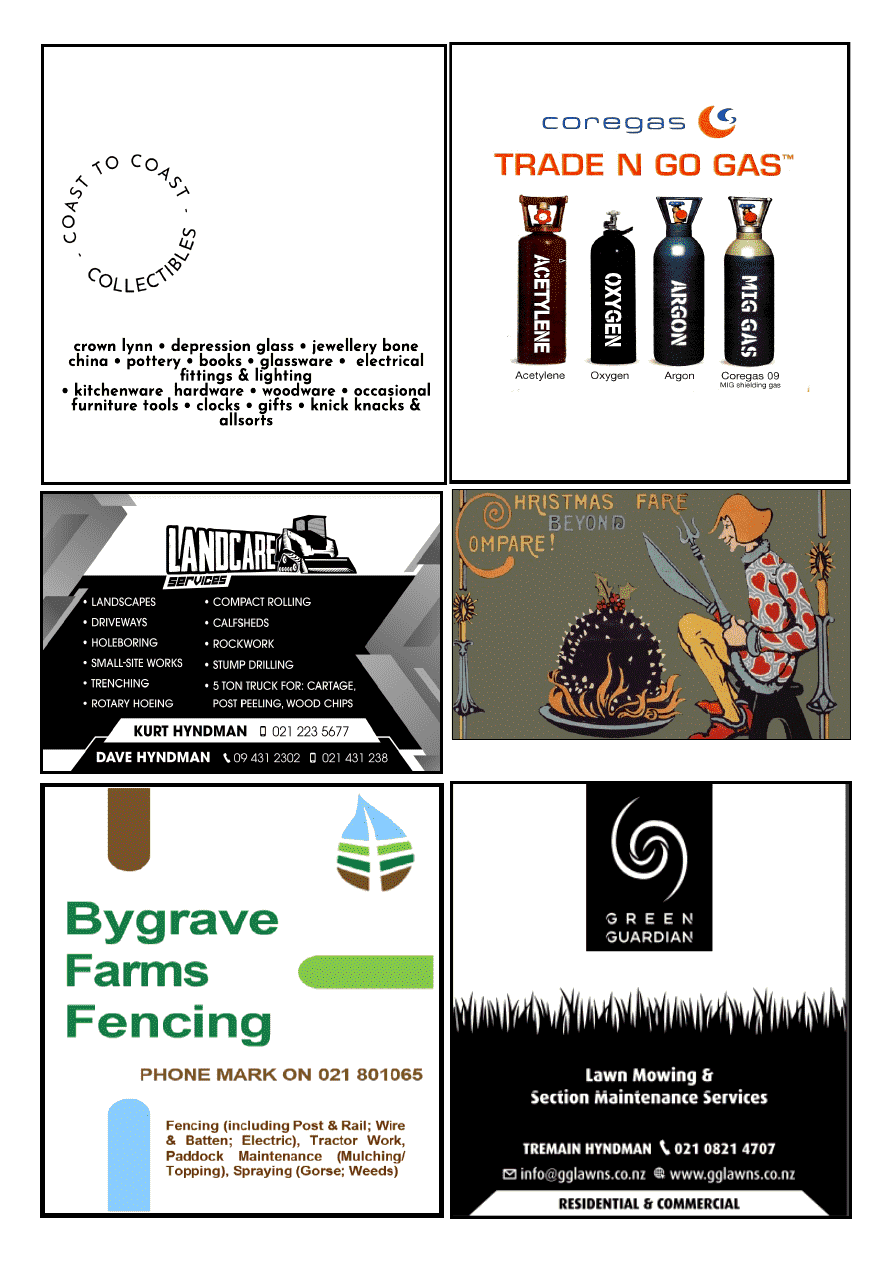 EARLY CHRISTMAS CARD 
Card ref. Christmas Fare. 1899. Cat ref: COPY 1/153 nationalarchives.gov.uk 
At Twinkle Tow 'n' Tyre 
Mob: 021 833 960 
Ph & Fax: 09 431 2823 
1837 State Highway 1, Kaiwaka 
Eclectic Boutique 
99 Gibbons Rd, Kaiwaka 
Contact Trish 
for buying or 
selling 
021 2140 522  
09 431 2193 
Large selection of: 
Open10am – 4pm  
Cash, Eftpos or Direct Debit available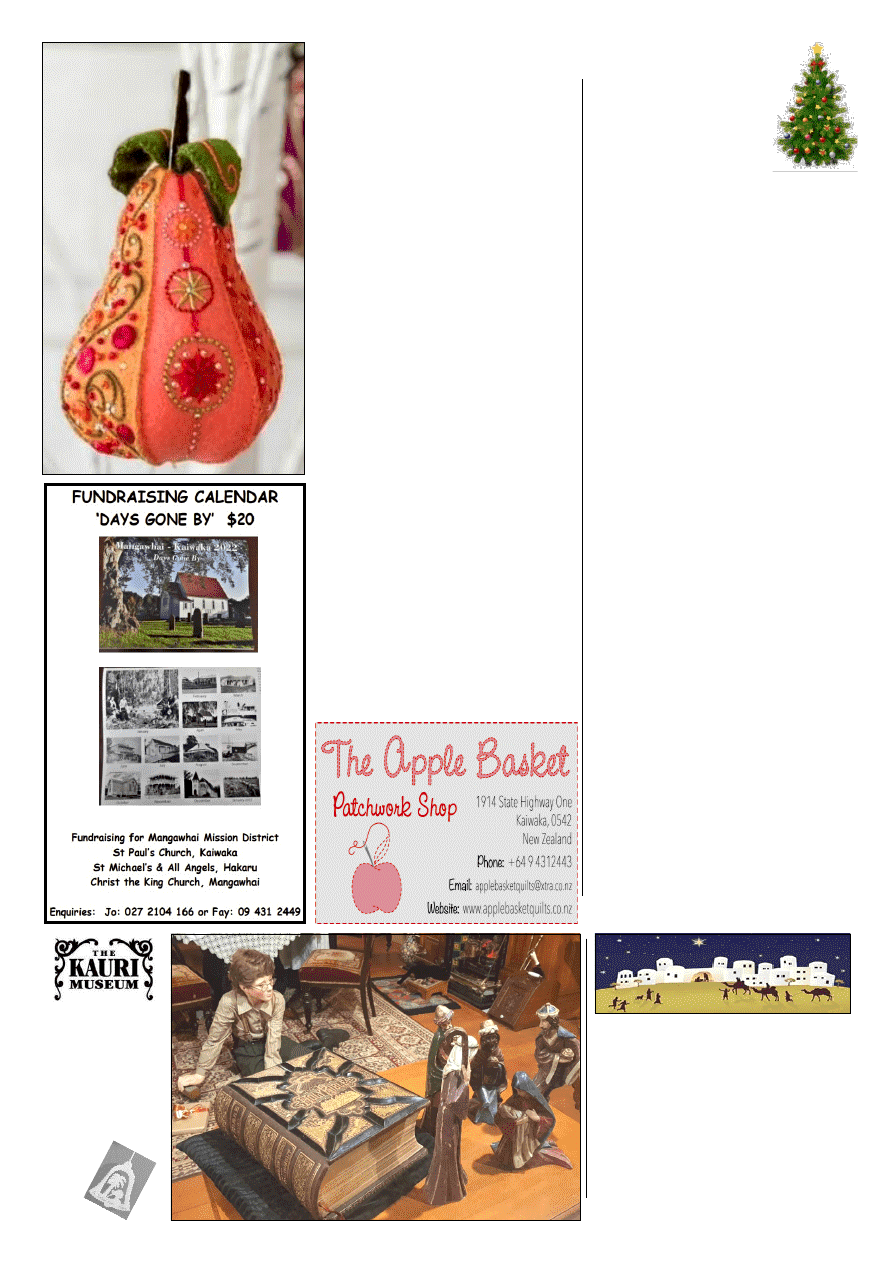 www.kaiwaka.co.nz 
Kaiwaka Bugle - 16 November 2021 
Page 19 
The Nativity, the 
antique bible and 
a train-set on 
display?  
Must be 
December at  
The Kauri 
Museum   
5 Church Road  
R D 1 Matakohe  
CELEBRATE 
CHRISTMAS! 
'I  am  like  an 
evergreen 
tree.' 
Hosea 14:8 TLB 
The  word  'celebrate' 
means to rejoice, delight in, revel 
and appreciate.  
Jack Hayford writes: 'There is so much 
done  in  the  name  of  Christmas  that  is 
neither  pleasing  nor  honouring  to 
Christ.  Even  so,  I  find  myself  doing 
battle...with...religious 
superstitions 
which  argue  against  almost  every 
observation  of  Christmas,  against 
giving,  against  decorations,  trees,  or 
just  plain  fun,  as  though  such 
participation  defiled  something  holy. 
Such harsh debunking is nothing more 
than "holy humbug".  
A  Christmas  tree  is  a  specific 
statement. 
By  means  of  this  tree  we  are  saying: 
We  believe  in  celebration.  We  serve 
the God who "gives us richly all things 
to enjoy" (1 Timothy 6:17 NKJV) and 
who  through  history  assigned...sacred 
appointments 
of 
feasting 
and 
rejoicing..."great 
gladness" 
(1 
Chronicles 29:22 NKJV).  
Although  no  one  can  make  a  "biblical 
case"  for  Christmas  trees,  we  gather 
around ours with joy. 
We see in its living branches a symbol 
of  everlasting  life  given  us  because  of 
Jesus' death on the tree - whose naked 
crossbars Xed out death and ushered in 
forgiveness and eternal hope.  
The  lights  gleam  a  testimony  of  his 
light-of-the-world glory.  
The  ornaments  reflect  the  decorative 
splendour  with  which  his  kindnesses 
adorn our lives.  
The  star  beams  hope,  with  a 
heavenward  ray,  reminding  us  that 
from  there  he  shall  come  again  to 
receive us.' 
If you're gathering around the tree this 
Christmas, don't forget to celebrate the 
one  who  said,  'I  am  the  light  of  the 
world. Whoever follows me...will have 
the light of life' (John 8:12 NIV).  
~ Word For the Day, Rhema Media 
CELEBRATE 
PEARS! 
'Here  is  the  first  official  shot  of  our 
very new programme of the month - 12 
very 
luxuriously 
embroidered 
Christmas Pears.  
Each pear is completely individual - no 
two  pears  are  the  same.  Great  way  to 
learn  all  those  amazing  embroidery 
stitches.  There  is  a  choice  of  getting 
the  bright  colourway  or  the  more 
subdued  French  Country  colourway. 
The kits will come to you with all the 
wool  fabrics,  all  threads,  patterns  and 
the  beautiful  hotfix  crystals.  The  only 
thing  you  will  need to  purchase  is  the 
polyester  stuffing,  needles,  Creative 
Stitching  by  Sue  Spargo  and  a 
Bejeweller  Down  Under  to  put  the 
crystals on with. This is a great way to 
try out all the different threads but not 
actually have to buy a whole reel. The 
bright colourway comes with different 
coloured  crystals  to  match  the  wool 
fabrics  used.  The  French  Country 
colourway uses only the diamond clear 
crystals  -  but  whichever  way  you 
choose  to  go,  they  are  all  "oh  so 
sparkly" - and sparkles are what a girl 
needs don't you think?  
We are currently taking registrations of 
interest. 
 This is going to be soooo much fun!! 
Starting  mid-January  2022  and  it  will 
go  for  12  months  so  you  will  have  a 
new Christmas tree for next year, hang 
them  or  put  in  a  bowl  all  year  round. 
To  register,  either  ring  us  on  09 
4312444 
or 
email 
us 
applebasketquilts@xtra.co.nz or on our 
website applebasketquilts.co.nz  
Chaos  reigned  in  Bethlehem 
with 
people  from  near  and  far  coming  to 
register  at  their  town  of  birth  for  the 
census  ordered  by  Caesar  Augustus 
and amidst the chaos Jesus was born....  
LOVE  was  plonked  down  amongst 
fear  and  confusion,  JOY  slipped  in 
between  worry  and  stress...PEACE 
spread  around  in  a  world  prone  to 
panic.  In  our  covid  chaos  of  today, 
Jesus  can  bring  to  each  of  us  that 
LOVE,  JOY  and  PEACE  if  we  but 
seek after Him.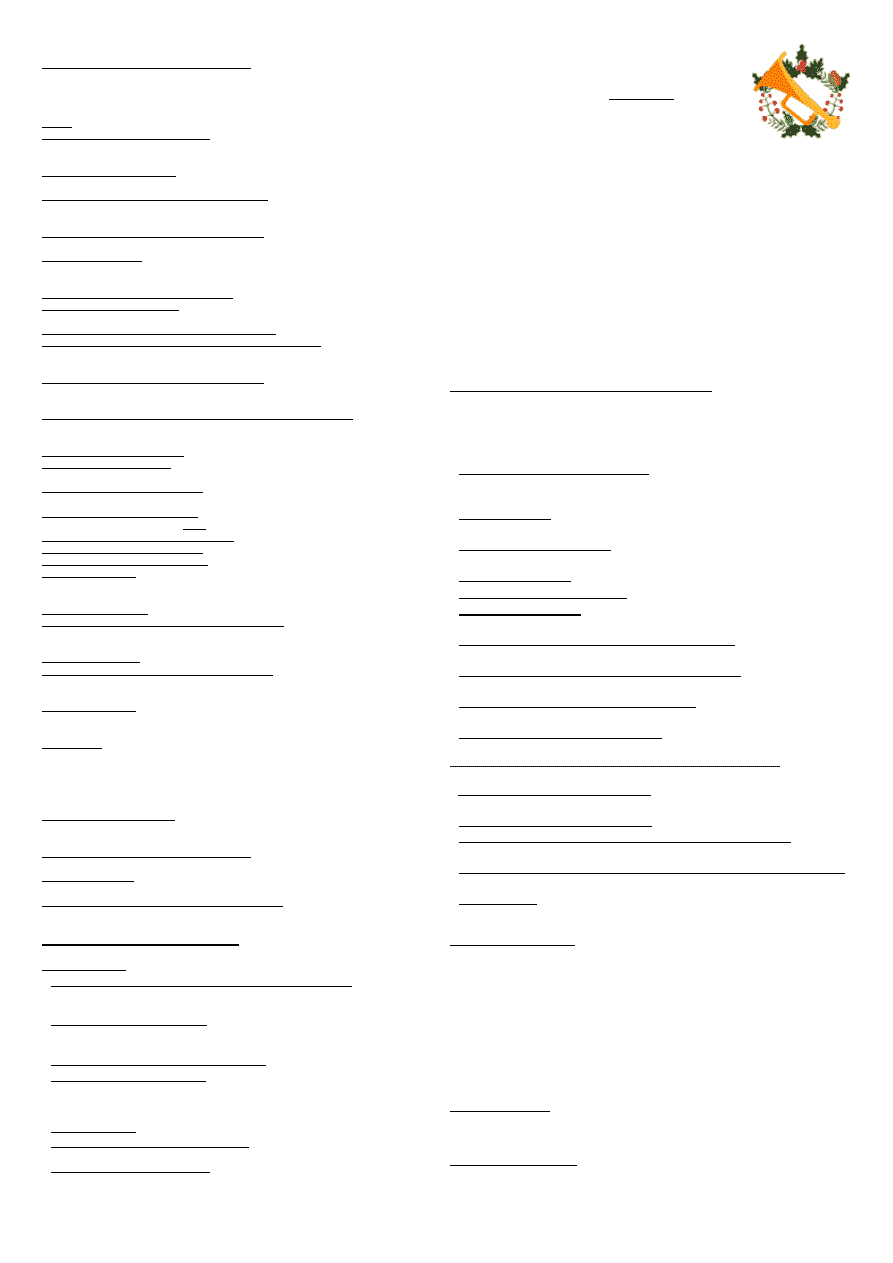 WHAT'S ON
PLEASE ~ do let us know what is on - or what is 
NOT on at the moment! 
email kaiwakabugle@kaiwaka.co.nz 
Advertising in WHAT'S ON is FREE  
*14Dec~Kaiwaka School last day Term 4 
*16Dec~Otamatea High  School Junior prizegiving - last day of term 
*19Dec~Carol Service, St. Paul's Church, 7.30pm 
*23Dec-5Jan~Kaiwakaa Library closed 
*24Dec~Christmas Eve Carols, St Michaels, Hakaru, 7pm 
*25Dec~MERRY CHRISTMAS! 
*25Dec~Christmas Communion Service, St Paul's, 9am 
*27Jan~Hakaru Womens RSA meet, 1.15pm 
 1Feb~Kaiwaka School Term 1 begins 
KWMH = Kaiwaka War Memorial Hall; KSA = Kaiwaka Sports Association 
See www.kaiwaka.co.nz for more information 
HOUSEHOLD RUBBISH COLLECTION - Kaiwaka Pick up: 
Mondays = Green bags (Northland Waste - 09 430 3273) 
Wednesdays  = Blue bags and yellow recycling (at Kaiwaka Four 
Square  $3.30  and  $1.70)  (Kaurilands  09  4392146);  ONLY  Blue 
and Yellow bags picked up on Oneriri Road. 
 DIABETES  Support  Group  -for  Kaiwaka,  Mangawhai, 
Wellsford  10am,  3rd  Friday  of  month  Ph:  Colleen  James  09 
4314238 
 GENEALOGY - Wellsford: 1st Thursday in month Ph: 423 
7033; Waipu: 4th Monday in month Ph: 4312 725 
 HAKARU PONY CLUB - Secretary Denise Rogers 021423376 
secretary@hakaruponyclub.co.nz  
 KAIPARA HUNT - Secretary Albert Doonenbal Ph 4312059 
 KAIWAKA BADMINTON -Tuesdays 7.30pm Ph: 4312345 
 KAIWAKA  CAN  - 3rd Wednesday in month, 5.30pm, Archie 
Bull Hall Ph: 0273572751 
 KAIWAKA GARDEN & FLORAL GROUP - 2nd Thursday in 
month. Ph: 431 4744 
 KNITTING FOR WHANGAREI HOSPITAL - 2nd Tuesday in 
month, Archie Bull Hall 10am Ph 4314827 
 MANGAWHAI COMBINED REBUS CLUB - 2pm, 3rd 
Thursday month, Senior Citizens Hall Mangawhai. Ph: 4315777 
 MANGAWHAI GENEALOGY  - meet 3rd Thursday month, 
Mangawhai Museum, 10.30am 
*PILATES - KAIWAKA WAR MEMORIAL HALL - Ph: 
021  
2072729  
*PILATES - HAKARU HALL - Tuesday 10am, Thursday 9am 
Qualified Instructor  Ph. 0220643965  
 PT CURTIS CRUISING CLUB - Jean Ph: 4312227 (wk), 4312520 (hm) 
 RSA,  HAKARU  &  DISTRICTS  WOMEN'S  SECTION  –  meets 
1.30pm 4th Thursday of the month. Ph: 431 5818  
 KAIWAKA  SCOTTISH  COUNTRY  DANCING  CLUB-
Wednesdays 10am - 12 noon  Ph: Elaine 027 432 0032  
 TRAMPING 
- 
Mondays 
9am-2:30pm, 
contact  
valkenburgmaria@gmail.com 
HALLS FOR HIRE: 
  Kaiwaka St. John Hall: Phone Marj  0272941227  
 St.Pauls Archie Bull Hall HIRE $20 half day, $40 full day per 
hire, S McAulay, Ph 4312311 
 Kaiwaka  War  Memorial  Hall  HlRE  -  Phone  4312725  or 
kaiwaka.hall.bookings@gmail.com 
 Hakaru Community Hall HIRE -Ph.  Karen 4312090 
 Te Pounga Marae queries - Pearl Nathan  0223933533 
 Kaiwaka Sports Association hire/queries 
Jennie Reynolds 
   ksa.bookings@mail.com, 02102764171  
Justice of Peace:  
L.Donaldson  4312  228;  A.F.Hargreaves  4312  045,  W.Howard 
4312 725  - please phone to make sure they are available or go to 
www.justiceofthepeace.org.nz 
Marriage Celebrants:  
L.Donaldson; A.F.Hargreaves; Y Osborne
LOCAL SERVICES 
*Emergencies - Ambulance, Fire, Police - dial 111 
*Non-urgent Police phone 105
A A: Meets Wed., 7pm. Kate's Place Ph 021 024 25969 or 0800 229 6757  
NARCOTICS ANONYMOUS : Mon., 6pm, Archie Bull Hall, Kwk-Mwi 
Road; drug and alcohol related issues. Ph. 02102412348 
ASUREQUALITY LTD (was AgriQuality) Call Free 0508 0011 22  
BUDGETING SERVICE, WELLSFORD: Free confidential advice & 
support for all areas of personal finance. Ph (09) 423 7123 
CAB-Citizens Advice Bureau.Wellsford Ph: 4237333 
0800 367 222 email:cab.wells@xtra.co.nz  
CIVIL DEFENCE - Kaiwaka Community Response Group: 
kaiwaka.civildefencecrg@gmail.com, 4312725 Wendy 
DOG/STOCK /NOISE CONTROL 0800 105 890 
FUNERAL SERVICES: Morris & Morris Ltd, Whangarei 0800667747 
GRANDPARENTS Raising Grandchildren: Dianah Roberts 0223819539 
HAKARU & DISTRICTS MEMORIAL RSA (Inc) 733 Settlement Rd, 
Hakaru. Ph 4312 176 or Bill Warren (President) 431 2092 
HAKARU LANDFILL/Transfer Station:Open everyday  10am-
4pm.Ph4312629 Cost-$55 trailer load up to 1 cubic metre. Ph:4258567 - 
office 
KAIPARA DISTRICT COUNCIL www.kaipara.govt.nz:  
Help Desk FREEPHONE 0800 727 059  
KAIWAKA CEMETERY: Ph: 4312045 or 4314017 
KAIWAKA LIBRARY: kaiwaka.library@gmail.com  
Mon. 4-6pm; Wed., Thurs., Fri., Sat. 10am-2pm Ph:4312539 
KAIWAKA PLAYCENTRE: Ph Juanita 0274134904; open Mon, Wed, 
Fri 9am-12pm. Hastie Lane; Monday to Friday 9.00am - 12 noon. 
KAIWAKA POST OFFICE:Ph:4312 431  
Post Code: 0573 for RD2 and 0542 for all Kaiwaka Post Office mail 
KAIWAKA PRIMARY SCHOOL: Ph: 4312309   
KAIWAKA SPORTS ASSN: Ph 4312005; 4312129 gym 
KAIWAKA ST JOHN HALL: Phone Marj  0272941227  
KATE'S PLACE Community Centre - Employment services, Free Health 
Nurse, Plunket, Advocacy, Osteotherapist, A.A., Legal Advice. 4312 661 
LINKING HANDS Health Shuttle Ph 4315906 or 09 4318969 
MINISTRY FOR PRIMARY INDUSTRIES - General inquiries Call 
Free 0800 008 333 
NORTHPOWER: Faults Kaiwaka area 0800 104040 
OTAMATEA COMMUNITY SERVICES: Counselling, parent coach, 
Family Support worker, budget advice, food bank. Mon-Fri 9am-3pm. Ph 
09 431 9080 http://www.otamateacs.org/ 
PARENTPORT: Free, practical family support service Puhoi to Paparoa 
Ph or txt: Dianne 027 280 5093 or 09 425 9357 
PLUNKET: Kaiwaka- St John Hall, Monday 19 Oct, 23 Nov, 21 Dec. then 4th 
Monday of the month. Plunket Nurse Louise 027 282 3987 or 09 438 2508 
Mangawhai- Rose Madsen Cottage, Mondays and Wednesdays. Plunket Nurse 
Rebecca 021 501 941 or 09 438 2508 
Maungaturoto - Good News Church, 2nd and 4th Wednesday of the month. 
Plunket Nurse Seleisa 021 912 248 or 09 438 2508 
PLUNKET HELPLINE -0800 933 922 (24 hours)  
FACEBOOK - Kaipara Plunket 
TAITOKERAU COMMUNITY LAW: Free confidential legal advice and 
assistance, 2nd
Thursday
 of each month. Ph: 0800 155 529 for appts.  
TE URI O HAU Settlement Trust Tangata Developments: Whanau Ora 
021 793262  
VETERINARY SERVICE MANGAWHAI: 
Ph: 4314535 Mon-Fri 8.00-5.00, Sat 9-12, a/h appt. 
WELLSFORD DOCTORS: Ph: 4238 086 
CHURCHES:
 
Kaiwaka  Revival  Church  -  Your  Community  Church:  Sundays  10am. 
Ph: Pastor Tawhiri 09 431 8988 or Pastor Paul 09 4312 068 Visit us at 
www.facebook.com/kaiwakachurch 
 
St  Paul's  Anglican  Church  1st  Sun.  9.00am  (Eucharist),  3rd  Sun. 
9.00am  (Family  Service).  Contact:  Church  Office  Ph  431  4122 
www.mangawhaianglican.org.nz 
 
Church of Christ the King, Mangawhai:9.00am every Sunday 
 
St.Mary's  Catholic  Church:  Maungaturoto  –  Griffins  Road,  Saturday 
evening  Vigil  Mass  6pm;  Mangawhai  –  Senior  Citizens  Hall,  Sunday 
Mass  8:30am;  Wellsford  –  Matheson  Road,  Sunday  Mass  10:30am;  
Mid-week Mass times and all enquires to Fr. Bill Fletcher – phone 423 8170
 
Baptist Church: Sun. 10.30am Mangawhai Snr Cit.Hall.Ph:4312339 
 
Cause  Way  Church  Mangawhai:  Sundays  10.15am,  Mangawhai 
Community  Recreation  Centre,  Insley  St.  Ph:  09  4314782 
Next Bugle Deadline Friday 21  January 2022