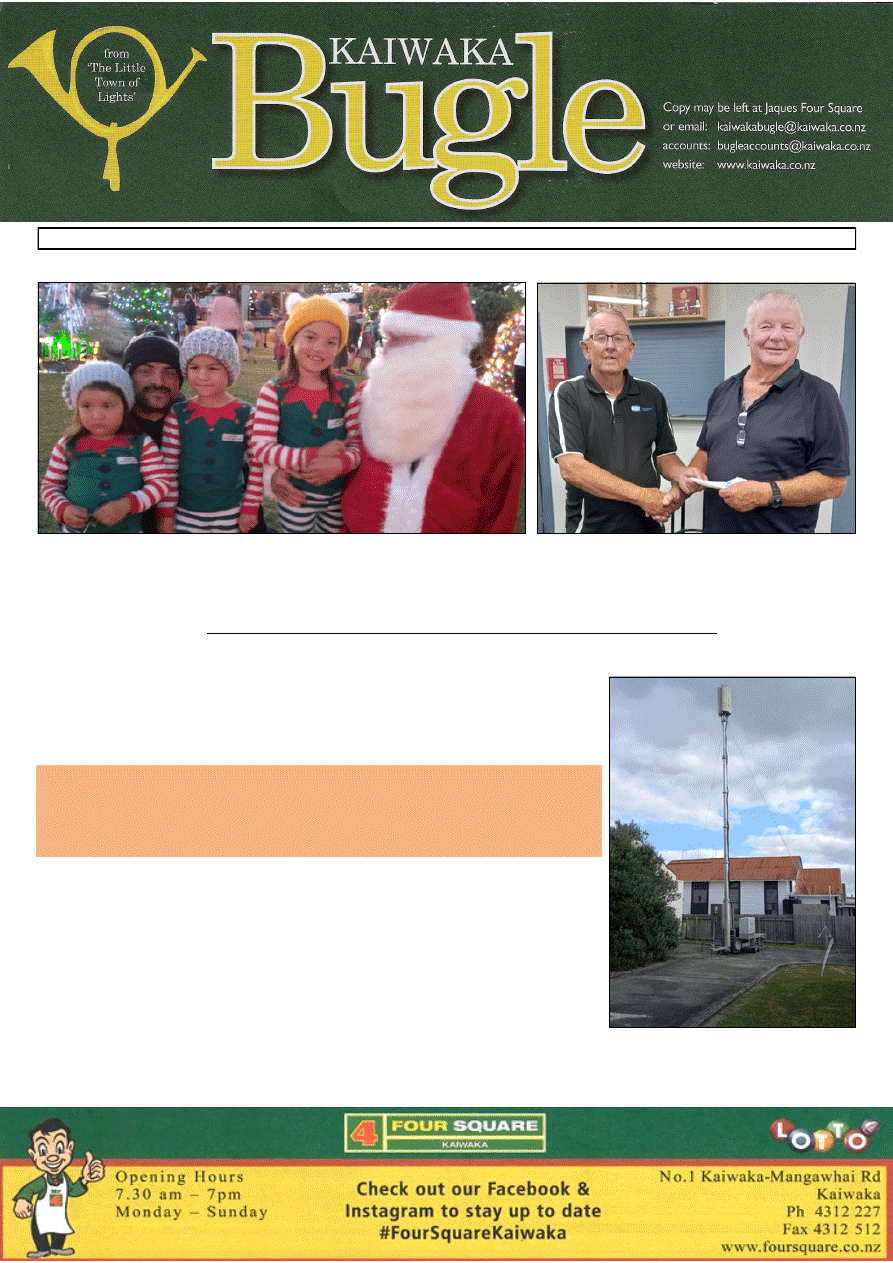 www.kaiwaka.co.nz 
Kaiwaka Bugle - 24 January 2022 
Page 1 
No.1 
24 January 2022 
SPARK MOBILE SERVICE ISSUES 
THE PROBLEM 
On  2  January,  Spark  and  Skinny  mobile  phone  coverage  disappeared  in  several  areas 
around Kaiwaka. This was due to a Spark cell site having been destroyed by suspected 
vandalism.  Police  are  investigating  and  Spark  is  working  to  restore  service.  Spark  has 
posted  the  occasional  useful  post  of  Facebook,  but  so  far  there  has  been  little 
communication to non-Facebook users. Spark has listed the outage as follows: 
Kaipara District Outage Outage 
(Mobile) 
3G/4G  mobile  customers  and  WBB  customers  in  the  Kaiwaka  town  may  be 
experiencing  a  loss  of  voice,  data  and  SMS  services  due  to  a  cell  site  being 
vandalized  on  the  2  of  January  2022.  A  temporary  site was  set  up  on  6th  Jan 
with more capacity being added in the next few days to fully restore service. 
RESOLUTION 
Spark has installed a temporary cell site (known as Cellsite on Wheels or COW) on 6 
January and some service has been restored; however these temporary sites don't have 
the height/power of the original and hence full coverage hasn't yet been restored. Spark 
are working to install a second COW to improve coverage until a permanent tower can 
be re-established. The permanent replacement may take some time but there is no ETA 
available  as  yet.  According  to  Spark  though,  full  service  should  be  available  upon 
completion  on  the  second  COW  installation  as  per  the  Outage  notice.  Hopefully  that 
installation  will  be  complete  by  the  time  this goes  to  print.  As  I  write  this, the  second 
COW is in position near the Kaiwaka library. 
SCOPE OF PROBLEM 
The  current  situation  is  that  there  are  pockets  of  poor  or  no  coverage  in  various  areas  of  Kaiwaka.  For  those  of  you  who 
remember, this is pretty much the way it was until around 5 or 6 years ago, when coverage was patchy and there was almost none 
in the area around the Four Square and Three Furlongs and the various businesses around that area. Newer technology (4G) has 
KAIWAKA  CHRISTMAS TO NEW YEAR 2022 
… continued on page 11 ...  
CHRISTMAS LIGHTS 
Big thankyou to all that visited our Christmas Lights and made a Donation to the Fire Brigade, through your help we raised 
$2720.50.      Hopefully  this  coming  Christmas  will  be  back  to  normal,  and  we  can  have  our  full  Display,  Thank  you  to 
Caltex for providing Parking.  Cheers Mark and Pam . Photo Right:  Mark Ottaway handing the donation to John Bowmar, 
Chief Fire Officer, Kaiwaka. Photo Left: On Christmas Eve the Elves met Santa among the Ottaway Lights!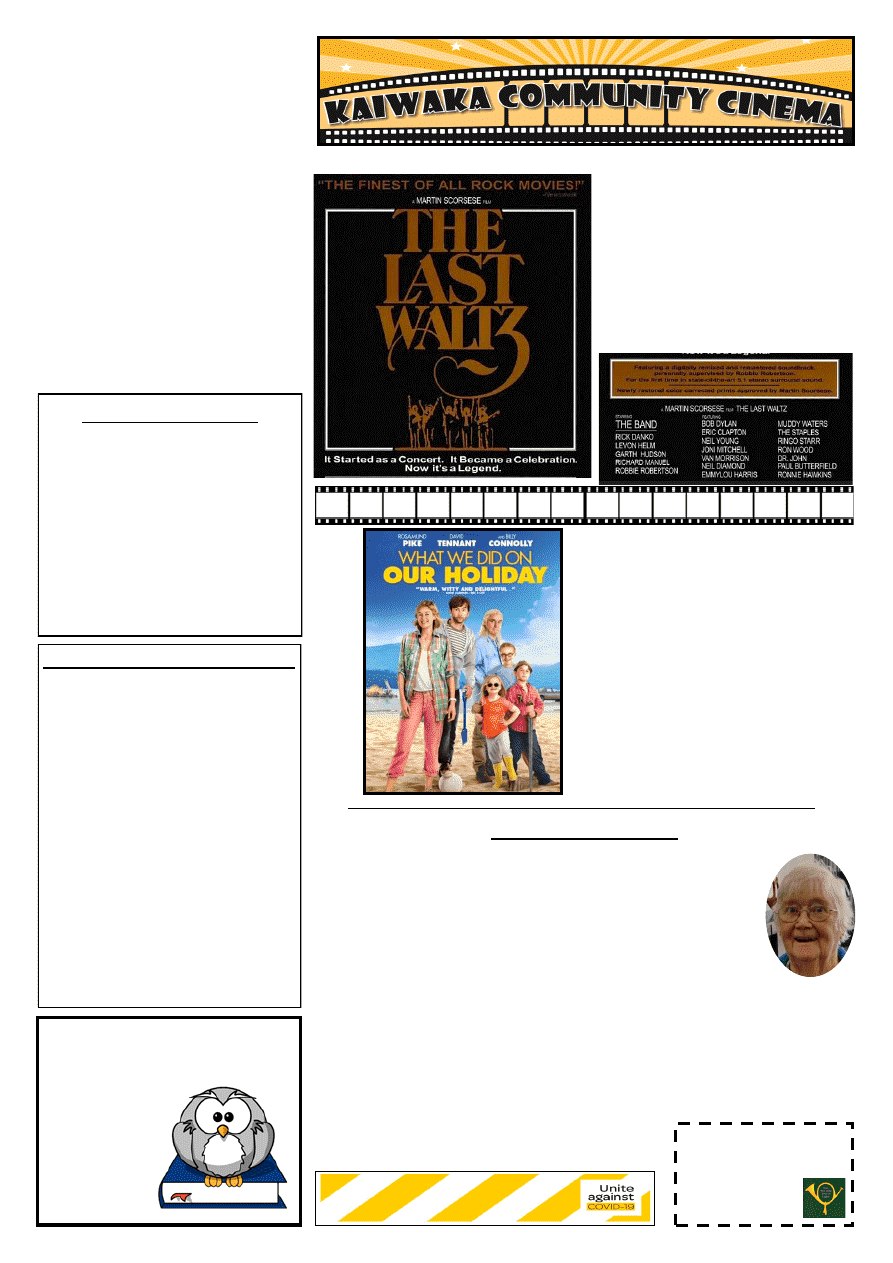 www.kaiwaka.co.nz 
Kaiwaka Bugle - 24 January 2022 
Page 2 
ABOUT TOWN 

 Life at RED - for further information go to COVID19.govt.nz 

  Thank  you  Pam  and  Mark  for  your  wonderful  Ottaway 
Christmas lights - and a super donation to our local Fire Brigade 

 Thank  you  to  Steve  Barr  for  his  pointers  on  the  Spark 
communication outage 

 We sadly remember the passing of Ross and Jean Stewart (long 
time Kaiwaka business folk); Mary Corker, pictured, at 99 (see page 
19); and Michael Jaques, a young man. 

 Twilight Market, 28th January 4pm start. Kaiwaka St John Hall, 
Stall sites available $15 per site. Contact Sandy on 02041303026 or pm me.  All 
welcome.

 Bus service - the weekly Bream  Bay  Link  Service  to Whangarei  - To book 
your seat please call Leabourn's office on 09 4237416 

 NEXT  BUGLE  DEADLINE  WILL  BE  FRIDAY  25  FEBRUARY  -  
published Monday28 February.

 Yes, publishing of the Kaiwaka Bugle will be on the last Monday of the month 
- a trial for this year.

 Bugle 1 can be seen in colour at kaiwaka.co.nz
~ Lindsey, Ed
'Dignity and humility are the cornerstones of compassion"  
~ Theodore Isaac Rubin 
KAIWAKA BUGLE NO.1 
24 JANUARY 2022 
CONTENTS: 
Page 3: Public Notices, Classified 
Page 5: Kaiwaka Weather; Scottish 
Dancing 
Page 7: Maria & Rau; Claire Allen  
Page 9: Spark continued; Libby Jones 
Page 11: Kaiwaka Sports  Assn 
Page 13: Kaiwaka Can 
Page 15: Maungaturoto Rotary; 
Kaiwaka   
Page 17 Kaiwaka Library 
Page 19: Mary Corker 
Bugle 2 will appear 28 March 
Contact for advertising, reports, articles 
or information can be made by 
Email: kaiwakabugle@kaiwaka.co.nz 
Ph: 09 4312 045 Lindsey 
Txt: 027 2724137 
Copy  may  be  left  at  Kaiwaka  Four 
Square. 
Kaiwaka Bugle 
Founded May 1978 
We appreciate articles and photos about local 
events, etc, as well as ads and suggestions. 
Copies available in Kaiwaka at Kaiwaka  Four 
Square, Kaiwaka Postal Centre, Shamrock 
Service Station, Animal Health Centre, 
Kaiwaka St John shop., La Nonna 
Also outlets in Maungaturoto, 
Mangawhai and Paparoa. 
Can be viewed online at  
www.kaiwaka.co.nz/Bugle  
Or a copy can be posted to you if you supply 
stamped, self-addressed DLE envelopes. 
Kaiwaka Bugle Advertisements 2021: 
All 
copy 
and 
queries 
to: 
kaiwakabugle@kaiwaka.co.nz 
The Bugle is printed on an A4 page, B&W  
Ad  sizes:  1/16  page  (3  x  9.5cm)  $5;  1/8 
(6.5  x  9.5cm  landscape  or  portrait)  $8; 
3/16 ( 10 x 9.5cm or 7.5 x 12,5)  $12.  
Classified  ads:  First  one  FREE,  $4  per 
entry (max. 30 words, max. 4 repeats). 
Payments  can  be  made  online  at 
ANZ 
06  0365  0006990  00
,  posted  or  left  at 
Kaiwaka Four Square Store. 
We  use  Microsoft  Publisher,  and  can 
work  with  most  common  image 
formats, Word, Excel, and PDF files. 
Accounts:  
Email: bugleaccounts@kaiwaka.co.nz 
The  Kaiwaka  Bugle  is  a  community 
newspaper run by volunteers, as part of 
the Kaiwaka Media Group Inc.   
Articles, etc. printed are not necessarily 
the opinion of the Bugle Team. 
Proverbs 163: 13 
 Despise Gods' Word  
and find 
yourself in 
trouble.  
Obey it and 
succeed.  
KAIWAKA BUGLE 
DEADLINE DATES 
2021:   
Friday 
25 February 
25 March 
At Kaiwaka War Memorial Hall . Adults $10, Kids (under 16) $5, Family Pass (2 adults + 3 children) $25 
THE LAST WALTZ 
Friday  11 February, 7.30pm 
'More  than  just  one  of  the  greatest 
concert  films  ever  made,  The  Last 
Waltz is an at once ecstatic and elegiac 
summation  of  a  vital  era  in  American 
rock music' -
Criterion Collection.  
Features  standout  performances  by 
rock  legends  Bob  Dylan,  Van 
Morrison,  Eric  Clapton,  Joni  Mitchell 
and Muddy Waters  
WHAT WE DID ON OUR 
HOLIDAY 
Friday  25 February, 7.30pm 
'While  visiting  family  in  the  Scottish 
Highlands, 
a 
troubled 
couple 
(Rosamund Pike, David Tennant) try to 
put  on  a  happy  face,  but  their  three 
children  innocently  reveal  all  of  their 
biggest secrets.'  
British  comedy  heart-warmer  from  the 
creators of BBC series Outnumbered. 
Cast:  Rosamund  Pike  (Abi),  Billy 
Connolly  (Gordie  McLeod),  David 
Tennant  (Doug),  Ben  Miller  (Gavin 
McLeod)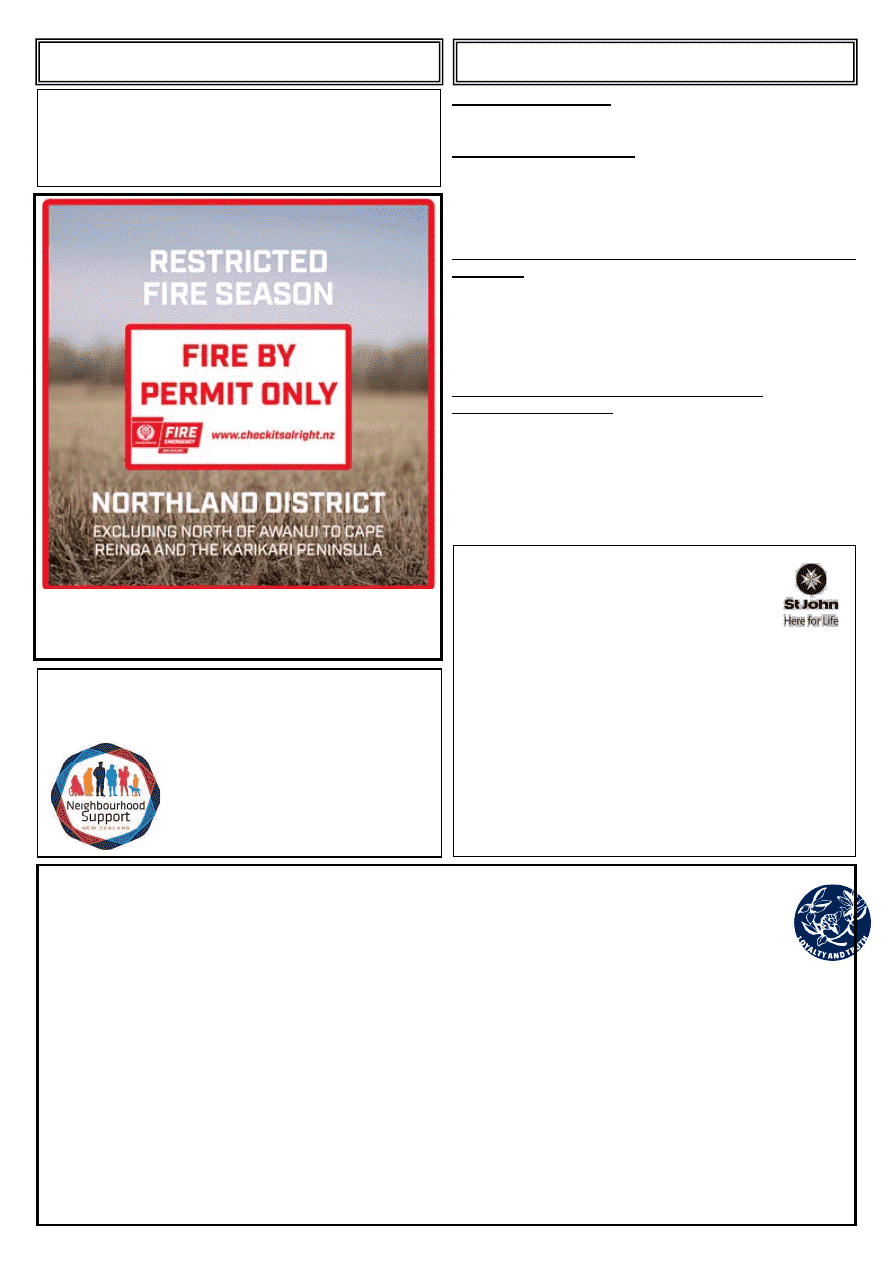 www.kaiwaka.co.nz 
Kaiwaka Bugle - 24 January 2022 
Page 3 
PUBLIC NOTICES 
CLASSIFIED 
ST. JOHN KAIWAKA STORE 
Red Light Celebration  
Clothing Sale  
for 2 weeks. 
Starting on Tuesday 25th January running till 
Saturday 5th February 
   *  Children's size 10 to Adult sizes $1 an item 
   *  Infant size 2 to size 8 children's   2 for $1 
   * Babies and up to 18months   8 for $1 
If you are needing furniture pop in and ask. We have 
several items stored off site. 
Dianne and the Team 
Kaiwaka St John Store Hours: 
TUESDAY to FRIDAY  10am to 3pm;  
And EVERY SATURDAY 10am to 2 pm 
PHONE: Shop  4312650  ~ 1919SH1, Kaiwaka 
GARAGE  SALE:  Saturday  29th  January,  8am  – 
10.30am, 102 Settlement Road, Kaiwaka 
SITUATION VACANT:  
An experienced Pest Control person is required for two 
hours work per week locally. Would need to be able to 
provide 
an 
invoice 
for 
payment. 
Please 
contact jacqui@cluster.net.nz or call 021416048 
MANGAWHAI  MISSION  DISTRICT    RAFFLE 
RESULT:  Drawn  at  Christ  the  King  Carol  Service 
Sunday  19th  December  -  1st  prize  Nick  Butterworth 
Baldrock  Kaiwaka;  2nd  Prize  Brooke  Campbelltown, 
Kahu Drive, Mangawhai. 
Many  thanks  to  all  who  supported  the  raffle  and  a 
Happy New Year to you all.   
KAIWAKA WHANGAREI HOSPITAL 
KNITTING GROUP  
We meet at Archie Bull Hall at 10am, 2nd Tuesday of 
the  month.  February  meeting  is  on  8th  at  10am  till 
12pm.  All  our  knitting  goes  to  Ward  2  -  Children's 
Ward, SCBU, and Renal Unit. Any donations of wool 
and stuffing very much appreciated.  
New members welcome.  
Contact Gale 0274149576  or 09 4314827 
RODNEY  
NEIGHBOURHOOD SUPPORT  
This organization now covers the Kaiwaka area following 
a change of Rodney Police Area   
Kaiwaka Area now comes under the 
local Wellsford Police Station. 
Mobile and Text:  021 2583737     
Mobile: 0508 or RODNEY 0508 763639 
rns.coordinator@gmail.com       
www.nsrodney.org.nz 
A  restricted  fire  season  means  a  permit  will  be 
required to light an open-air fire. If you need to apply 
for a permit, please use the 'can I light a fire' tool on 
www.checkitsalright.nz
KAIWAKA WAR MEMORIAL HALL 
KAIWAKA LIBRARY 
ANNUAL GENRAL MEETING 
Tuesday 8 February, 5pm 
Kaiwaka War Memorial Hall
OTA M AT E A   H IG H   S C H OO L 
I MP O RTA N T   DAT E S   F O R   S TA RT   O F   Y E A R   20 2 2  
Wednesday 2nd February: Year 13 Leadership Day 9.00am - 3.30pm 
Thursday 3rd February: (Buses will be running) 
School starts for all Year 7, all Year 13 and all new students to OHS. 
On the first day of school students should bring pen, paper, morning tea, togs and a towel. Sausage sizzle lunch provided
. 
Friday 4th February: (Buses will be running) 
All Year 9 students ONLY to attend school (12.30pm finish time) 
Year 11 and 12 Course confirmation will take place off site with scheduled digital interviews. 
Tuesday 8th February: Whole School to attend 
Tuesday 22nd February: School Athletics Day (all day) 
Thursday 3rd March: School Swimming Sports (all day) 
School off opens Monday 24 January 2022. Please phone 09 4318230 or 0800682 628 for further information.  
Please visit our website for 2202 school information including uniform, stationery and school calendar. 
www.otamatea.school.nz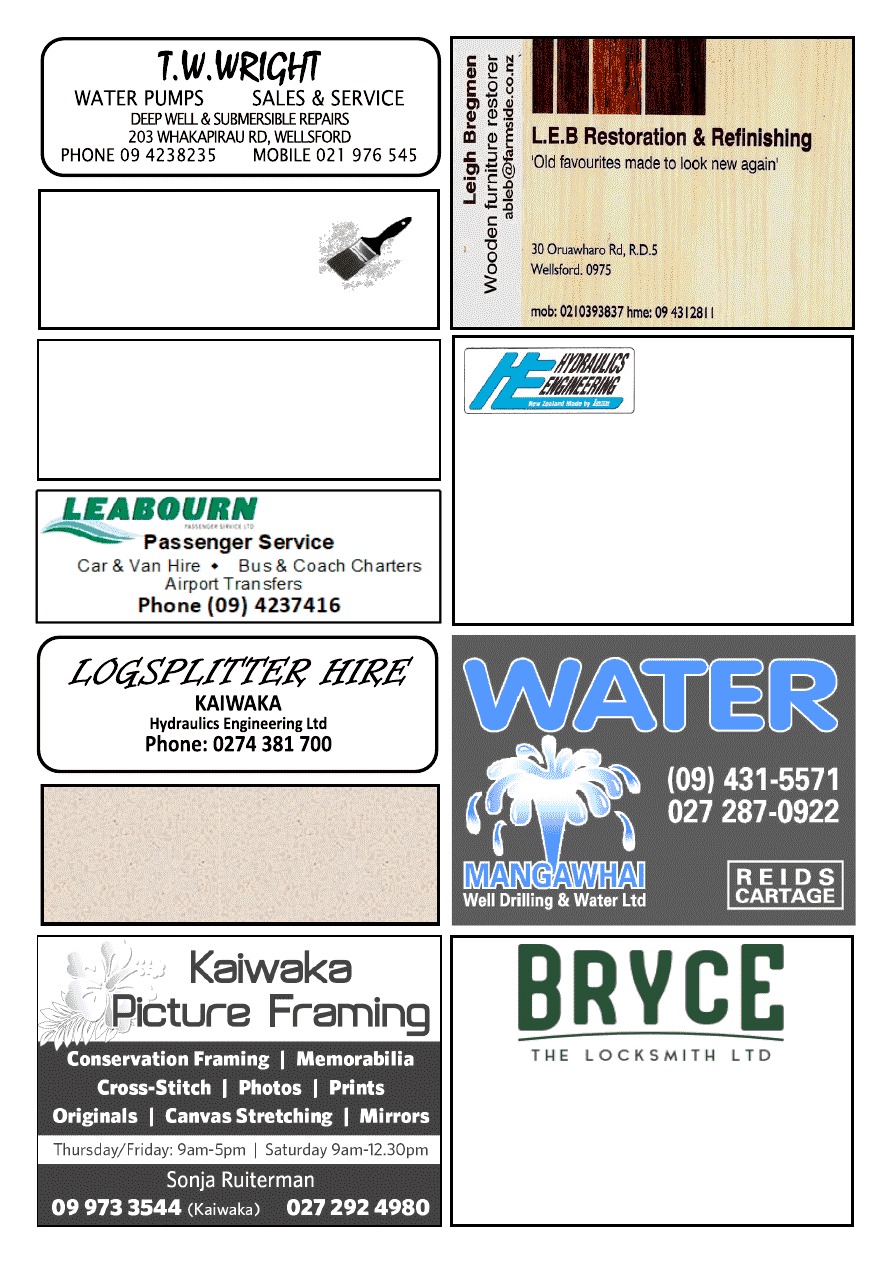 www.kaiwaka.co.nz 
Kaiwaka Bugle - 24 January 2022 
Page 4 
Bryce Frewin 
Ph: 021 850 983 
Kaipara Based Master Locksmith 
bryce@brycethelocksmith.co.nz 
www.brycethelocksmith.co.nz 
Hydraulics  
Engineering Ltd 
Kaiwaka 
Sales - Service - Parts - 
Hire - Manufacture 
Service Contractors & Industrial Equipment: 
Rams, Pumps, Valves 
Logsplitter Hire, Manufacturer, Sales 
Dennis Linton 
Lot 2 / 161 Ranganui Road, RD2, Kaiwaka, 0573, New Zealand 
Mobile: 0274 381 700 
Email: hydraulicsengineering@xtra.co.nz 
Counsellor and Registered Psychotherapist 
Offers Supervision 
ACC Sensitive Claims 
Susan Matheson      MNZAC 
Dip. Psychosynthesis Counselling and Psychotherapy 
Phone 09 431 2996                                     Mobile 027 605 2427 
DR PAINT
 Dave & Rhys 
 Painters
 02108742551 
0211200667   
HAKARU RE:SORT STATION 
636 KAIWAKA-MANGAWHAI ROAD 
Open every day 8am - 4pm  
Closed All Public Holidays 
Telephone: 09 431 2629 
NOTE: No GREEN Bag Pick Up on Oneriri Rd 
KDC BLUE & YELLOW Bag collection Wednesday 
morning for Kaiwaka area.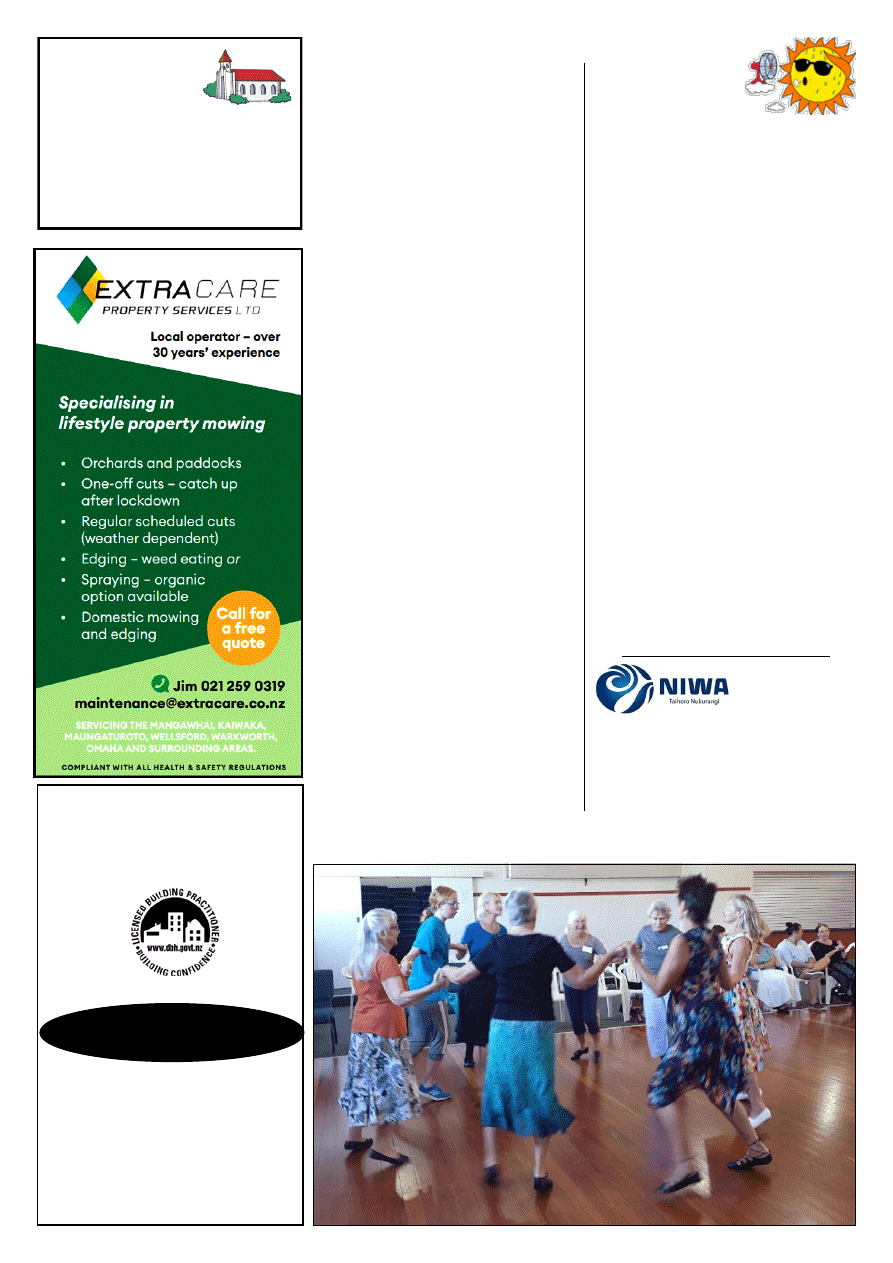 www.kaiwaka.co.nz 
Kaiwaka Bugle - 24 January 2022 
Page 5 
ST PAUL'S  
ANGLICAN  
SUNDAY SERVICES
First Sunday 9am Holy Communion 
Third Sunday 9am Family Service 
St Pauls Church: Kaiwaka-Mangawhai Rd. 
Church Office Ph 431 4122 
www.mangawhaianglican.org.nz
THE KAIWAKA 
SCOTTISH 
COUNTRY 
DANCING CLUB. 
Scottish Country Dancing is a fun way 
of  getting  and  staying  fit  without 
knowing  it!  The  dancing  is  very 
sociable,  but  you  don't  need  a  partner. 
We  all  swap  around  partners  to  get  to 
know each other.  If you have ever been 
to and enjoyed a Ceilidh, then Scottish 
Country Dancing could be for you. 
Kaiwaka  Scottish  Country  Dancing 
Club  was  started  in  May  2018  and 
formally  opened  in  July  of  that  year. 
We  have  been  in  Kaiwaka  on 
Wednesday  mornings  ever  since. 
During  lockdown  we  danced  on  Zoom 
to keep up our fitness and social contact 
and  when  we  could  we  resumed 
dancing  albeit  outside  and  contactless 
for those of us based in Auckland area!! 
We  are  starting  this  term's  sessions 
with  a  4-week  beginners'  course  in 
Kaiwaka  War  Memorial  Hall  on 
Wednesdays  from  the  9th  February, 
9.30 – 11.00(includes a coffee break!).  
Experienced  dancers  will  be  dancing 
from  10.30  starting  with  coffee  and 
then dancing from 10.45 until 12.30. 
All ages are welcome, and it is an ideal 
form  of  exercise  for  relaxing  after 
dropping  off  the  children  at  school, 
home  school  fitness  or  keeping  fit 
during  retirement.  Please  come  and  try 
it  out.  Weekly  fee  is  $5,  the  cost  of  a 
cup  of  coffee,  which  is  included.  You 
will  need  soft  soled  flat  shoes.    If  you 
decide  to  join  after  your  course,  there 
will  also  be  an  annual  fee  of  $10.  We 
will  sight  vaccination  passes  on  your 
first attendance. 
Do come and try it out for 4 weeks. We 
welcome  2  left  feet  and  have  heaps  of 
patience with beginner dancers! 
KAIWAKA 
WEATHER 
Happy  New  Year  to 
you all, 
As you will all be very aware, there is 
not a lot to report as far as rain goes for 
December.  We  went  from  the  24th 
November to the 5th of December with 
no rain at all, then we got – wait for it – 
5ml over 3 days. I was quite glad as our 
lawn got a chance to dry out a bit. We 
then  had  another  dry  week.  From  the 
12th  December  to  the  17th  we  had  a 
lovely  soaking  rain,  out  of  which  we 
got 98ml. 
We  then  had  to  wait  until  29th 
December when we got 5.5ml.  
•
The  total  rainfall  for  the  month  of 
December at our place was 108.5ml.  
•
The highest December  rainfall I have 
recorded at our place was in 2011 with 
a whopping big 216ml. 
•
Our  driest  December  was  in  2015 
with only 27ml.  
•
The  total  rainfall  for  2021  at  our 
place was 1508ml.  
•
The  lowest  annual  rainfall  I  have 
recorded  was  in  2015  with  only 
1008.5ml. 
•
The  highest  annual  rainfall  I  have 
recorded  was  in  2017  with  1728ml 
recorded at our place. 
Tony and Lindsey tell me, that my rain 
records  are  pretty  much  the  same  as 
what  they  record  at  their  Kaira  Rd 
property.  Very  interesting,  as  I  often 
look towards Oneriri and think they are 
getting a lot more rain than us. Maybe 
it is all  falling  further  out?  I  hope  you 
all have a lovely 2022. ~ Karen 
2021 was New Zealand's  warmest year on 
record,  surpassing  the  previous  record  set 
in 2016. 
Seven  of  the  past  nine  years  have  been 
among  New  Zealand's  warmest  on  record. 
The  nationwide  average  temperature  for 
2021,  calculated  using  stations  in  NIWA's 
seven-station  temperature  series  which 
began in 1909, was 13.56°C (0.95°C above 
the 1981–2010 annual average). 
Wright  
Design 
No. 117345 
ARCHITECTURAL DESIGN 
N.Z.C.A.D. Architectural 
Mob: 021 276 7389 
Office: 25 Lupis Lane, 
Kaiwaka 0573 
brianwright@xtra.co.nz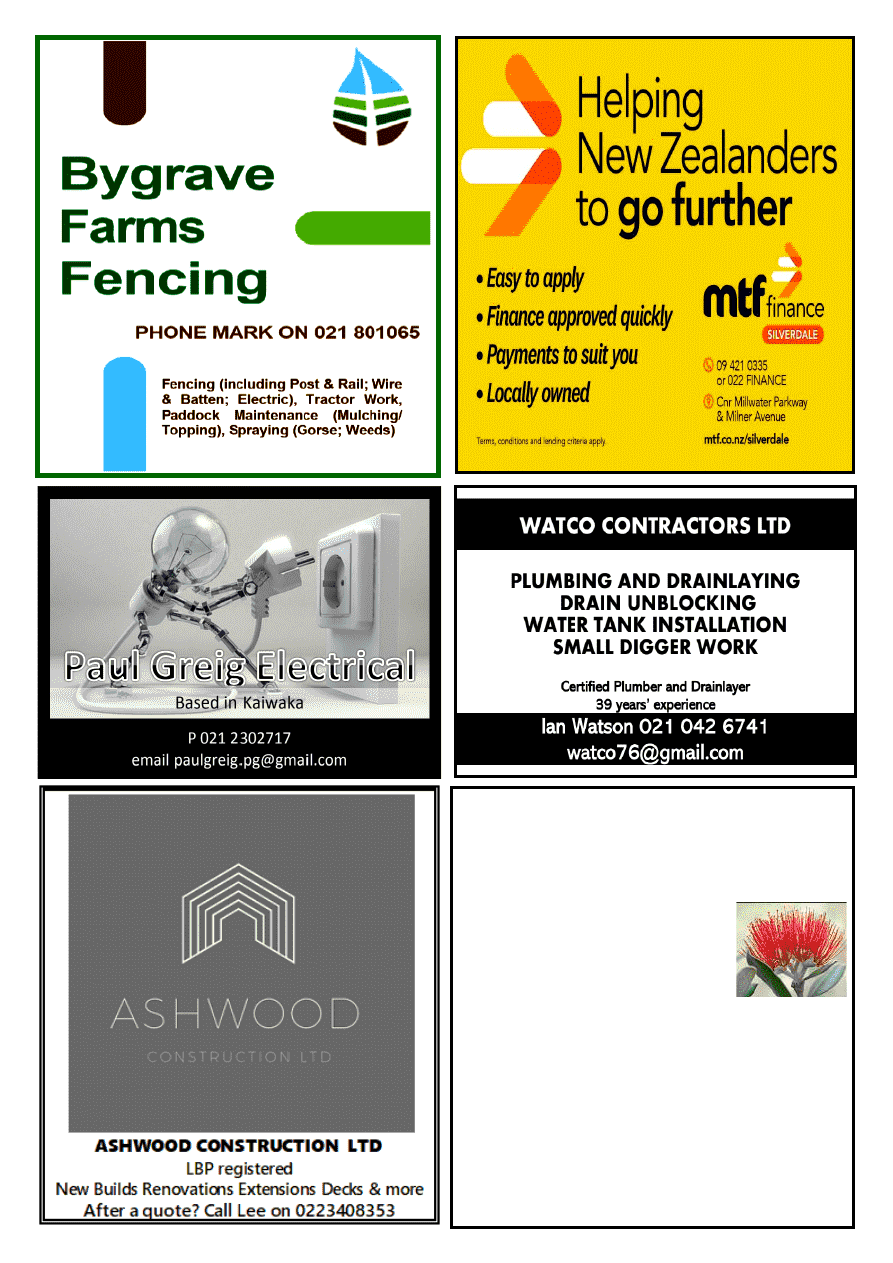 www.kaiwaka.co.nz 
Kaiwaka Bugle - 24 January 2022 
Page 6 
KAIPARA FLOORING CO 
FULLY MOBILE FLOORING SHOWROOM 
SERVICING THE KAIPARA 
PH (09) 946 9886 or  
CHRISTINE ON 021 515 415 or 
HOWARD 021 2696250 
IN HOUSE MEASURE, QUOTE AND 
CONSULTATION SERVICE 
FOR THE SUPPLY AND INSTALLATION OF 
CARPET, VINYL, VINYL PLANKING, HARD 
FLOORING, GARAGE CARPET, LAMINATE 
FLOORING AND MORE. 
EMAIL kaiparaflooring@gmail.com  
WEBSITE www.kaiparaflooring.co.nz 
Qcard 6 month interest free terms or 12 – 24 
month finance options available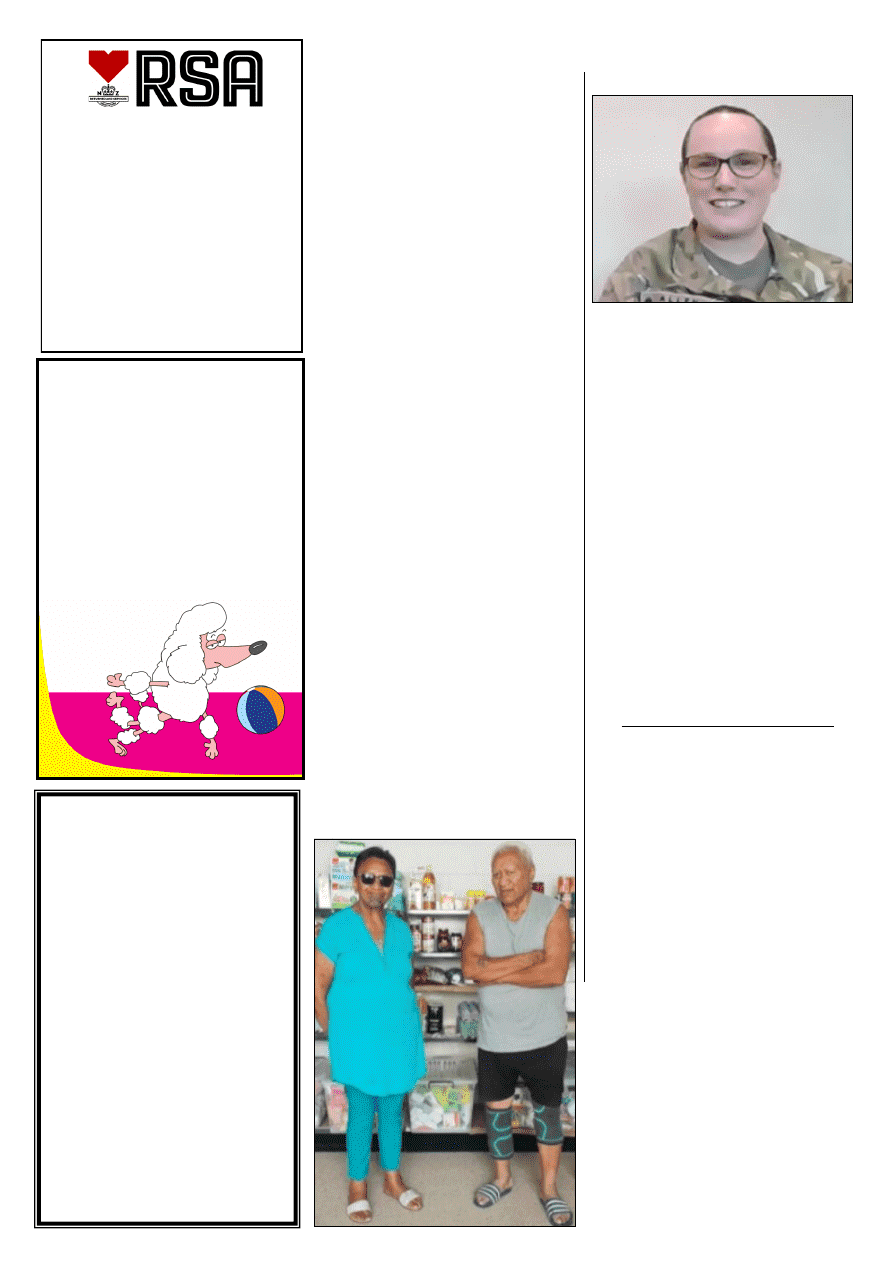 www.kaiwaka.co.nz 
Kaiwaka Bugle - 24 January 2022 
Page 7 
HAKARU & DISTRICTS 
MEMORIAL RSA (INC)
Members & guests are invited to 
come along and enjoy our hospitality. 
New members welcome. 
Meals are served on Thursday and 
Friday nights from 6.30pm. 
Order from Blackboard Menu  
For more information please phone 
Barry Wallace 0274 922 975 
Email: president@hakarursa.co.nz 
THE END OF AN 
ERA IS TIP TOEING 
NEARER!! 
Today  Pa  and  Mā  (Rau  and 
Maria  Morgan)  have  officially 
retired 
from 
the 
Kaiwaka 
Foodbank.   
What  originally  started  as  Wahine 
Māori  Toko  i  te  Ora  (Māori  Women's 
Welfare  League)  some  15+  years  ago, 
morphed  into  what  it  is  today  "Te 
Pātaka  o  Kaiwaka".    Already  full-time 
workers, Pa (now a retired School Bus 
Driver  and  Kaumātua  for  Police)  and 
Ma  (currently  HOD  Māori  at  Rodney 
College),  both  worked  around  the 
clock, giving the little time they had, to 
serve the wider community, taking food 
from their own cupboards to make sure 
whānau,  especially  children  were  well 
taken  care  of.    Stacking  and  packing 
boxes  and  sometimes  delivering 
parcels, driving for miles to people who 
couldn't come to them, was part of their 
daily  routine.    With  the  continued 
support  of  Jaques  Four  Square, 
Community  and  their  Whānau,  the 
Foodbank still thrives today.  
They  have  seen  many  friendly  faces 
come and go and wish the very best and 
every  success  for  those  who  will  now 
take the reins.  Mā te Ariki e manaaki, e 
tiaki i ngā wā katoa. 
The  Kaiwaka  Foodbank  will  still  be 
fully operational and manned as per the 
information on their page "Te Pātaka o 
Kaiwaka".    Rau  and  Mā  however,  will 
no longer be based there.   
We  thank  you  both  for  your  endless 
service  and  unconditional  aroha  to  a 
community.  May God bless & always 
keep you. ~ Waimarie 
With that said, the committee members 
of  Te  Pataka  o  Kaiwaka  and  Milly 
O'Leary would like to invite those that 
wish  to  acknowledge  Rau  and  Ma's 
contribution  to  a  pot  luck  lunch  next 
Tuesday  25th  January  at  11.30am  at 
the Kaiwaka War Memorial Hall. 
Hot Diggity Dog  
DOG GROOMING  
KAIWAKA 
Call now for a summer groom 
Professional Dog Groomer  
at affordable prices.
www.doggroomingkaiwaka.co.nz 
call Pam 094312143 or text 
0273335380 for bookings 
TE PATAKA O 
KAIWAKA - 
FOODBANK OP SHOP  
Happy New Year, Everyone 
The shop is cruising along beautifully. 
Ma and Rau have now retired from the 
"Foodbank", and we wish them all the 
best.  They  now  have  time  for  each 
other. 
FOODBANK: This will continue on, so 
if  you  need  a  food  parcel please  come 
and  see  us  during  shop  hours.  We  are 
here to help. 
WE have donated goods that have been 
in  the  shop  for  a  while  along  with 
clothes to go to Tonga – that's our little 
bit to help and share our Aroha (Love). 
We  do  need  a  lot  of  Toys  –  please, 
Toys that are complete. We never seem 
to have enough toys! 
Also  need  Plastic  Ride-ons,  Tools, 
Cooking  Pots  with  Lids,  Jewellery  … 
Anything  else  EXCEPT  Clothes  and 
Books. 
Thank you, Arohanui, Milly and Staff 
SHOP  HOURS:  Tuesday  –  Friday 
10am – 3pm Saturday 9am – 1pm 
Phone:  022  564  3830  or  43124231 
(hm)
MOMMAS 
TAKEAWAYS 
09 601 6124 
Online: https://bopple.app/
mommas-takeaways  
NEW HOURS 
MONDAY 12 – 8pm 
TUESDAY CLOSED 
WEDNESDAY 4 – 8pm 
THURSDAY 4 – 8pm 
FRIDAY 4 – 8pm 
SATURDAY 12 – 8pm 
SUNDAY 12 – 8pm 
1923b State Highway 1 
Kaiwaka 
CHRISTMAS 
OVERSEAS 
STAFF SERGEANT ALLEN  
Staff  Sergeant  Allen  grew  up  in 
Kaiwaka.  We  knew  her  as  Claire 
Gilligan.  Claire  attended  Kaiwaka 
Primary  and  Otamatea  High  School, 
before joining the NZ Army. She was 
part of the Bugle collating team too. 
More than 170 New Zealand personnel 
across  a  dozen  missions  are  set  to 
spend  Christmas  away  from  home. 
(Source: 1News) 
But  for  those  set  to  spend  Christmas 
posted in another country thoughts are 
turning  to  friends,  family  and  simple 
pleasures they can't have. 
"That's  probably  one  of  the  biggest 
things I think most of us is missing, is 
the  bread,  bread  from  New  Zealand... 
just  amazing,"  Staff  Sergeant  Claire 
Allen  told  1News  from  South  Korea. 
"And cheese." 
"Everyone will start off the day talking 
to  their  families  and  then  we'll  come 
together around lunchtime, and have a 
New  Zealand  Christmas  lunch,"  Staff 
Sergeant Allen said.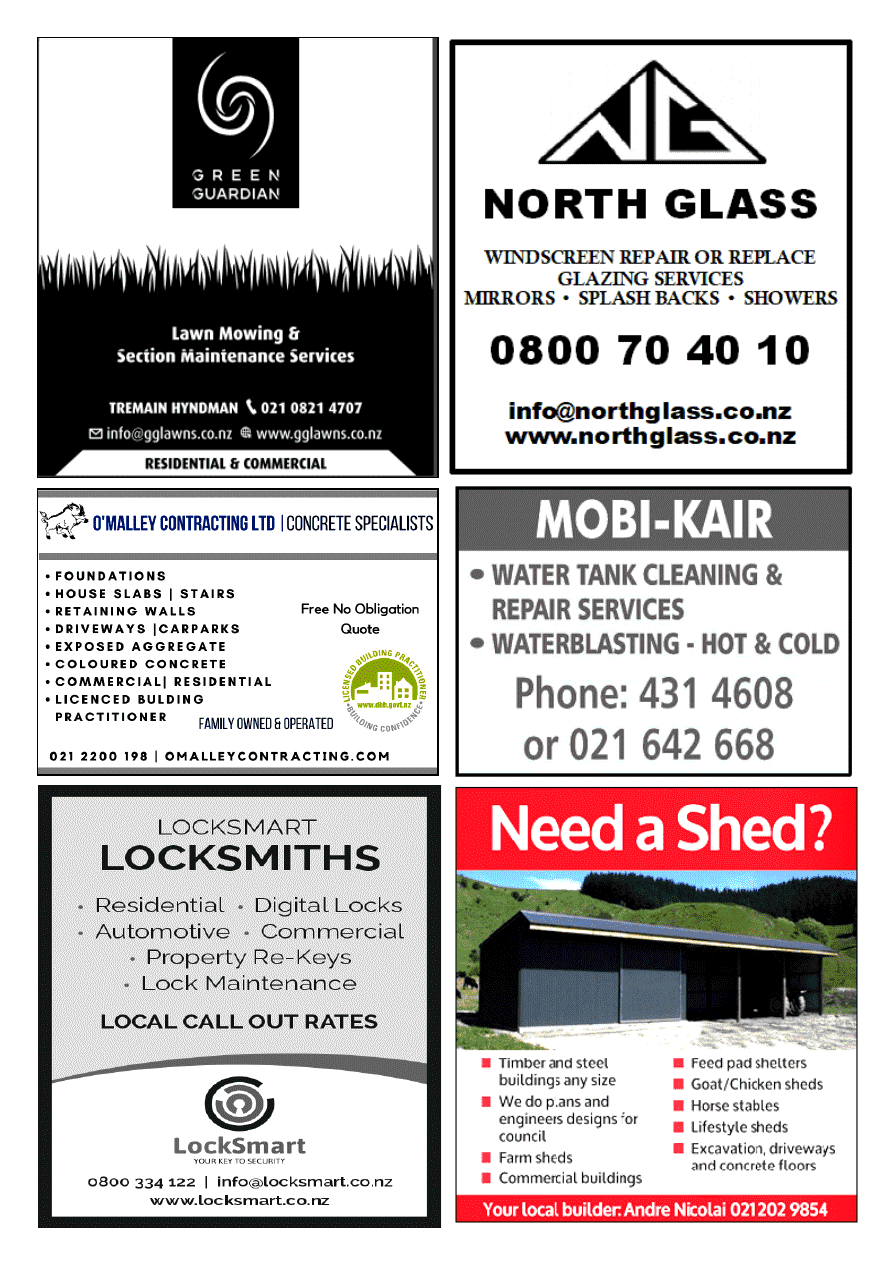 www.kaiwaka.co.nz 
Kaiwaka Bugle - 24 January 2022 
Page 8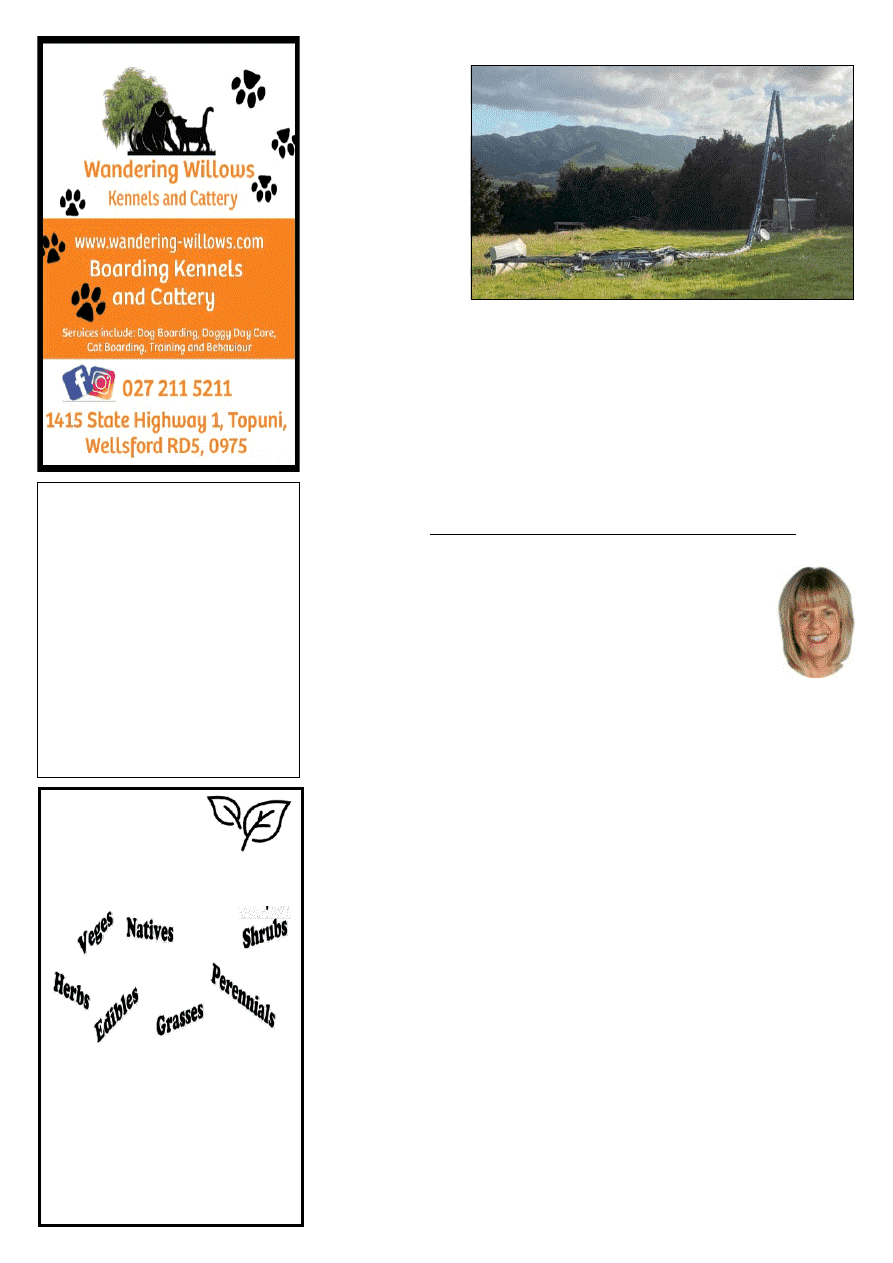 www.kaiwaka.co.nz 
Kaiwaka Bugle - 24 January 2022 
Page 9 
HAKARU HALL 
ACTIVITIES 

Monday:  Line Dancing 10-12pm Ph 
4315160 

Tuesday & Thursday: Pilates 10am 
Ph. 0220643965 

Wednesday:  Music Jam Session 7pm 
Ph. 0210628631 

Sunday: Canine Coaching Ph 
0272365004 

Dance Energy  Week Days  
   Monday to Friday, Afternoon/Evening  
Ph. 0275610469 

Friday Morning: Available for HIRE 
Hall Bookings Karen  
4312090 or 0210467490 
Since  being  on  boards  of  trustees  at 
Paparoa  Primary  and  Otamatea  High 
Schools I have developed an interest in 
governance  –  the  part  of  the 
organisation  that  has  oversight  of  and 
determines  direction  and  outcomes  for 
the organisation to deliver on. It works 
in conjunction with the management of 
the  organisation,  and  when  working 
well is a great pleasure to be part of. I 
have recently been elected as the 
Chair 
of  Sport  Northland 
and  feel 
privileged  to  be  stepping  into  in  this 
role. It has great alignment with my role 
on  the  district  health  board  and  the 
focus  there  on  a  creating  a  Healthier 
Northland. 
As  a  district  councillor  for  Kaipara,  I 
was  appointed  to  the  Sport  Northland 
Board  in  2017,  which  I  was  delighted 
about.  I  have  had  a  long  interest  in 
health  and  wellbeing,  and  physical 
activity  since  being  an  adult  (not  so 
much  as  a  teenager!)  I  wasn't  a  sporty 
kid  but  was  encouraged  to  participate 
and enjoyed the camaraderie and fun of 
getting together with my mates. 
Sport 
Northland's 
vision 
is 
"Enriching  lives  through  play,  active 
recreation,  and  sport".  I  see  that  as 
being  relevant  to  everyone  from 
children to older adults. Movement and 
physical  activity  is  essential  for  every 
"body"  and  the  social  aspects  of 
connection and belonging to a group or 
a  team  are  also  beneficial  to  our 
physical  and  mental  wellbeing.  In 
saying  that  I  also  enjoy  a  solo  walk  - 
just  me  and  the  environment,  my 
thoughts  or  maybe  my  music  or  a 
podcast.  Going  to  the  beach,  doing  a 
bush  walk,  a  farm  walk, 
playing with the kids, yoga, 
pig  hunting,  dancing,  tai 
chi,  gardening  are  all 
examples 
of 
active 
recreation. 
Sport  Northland 
has  a 
variety  of  areas  where  they  encourage 
and  support  Northlanders  to  move 
more.  Some  of  these  are  in  schools, 
such  as  the  Energiser  roles  in  primary 
schools,  supporting  teachers  to  run 
programmes  for  students  on  physical 
activity  and  nutrition;  and  supporting 
secondary  schools  with  competitions 
and  events  across  a  variety  of  sports. 
They  also  run  events  such  as  the  Kai 
Iwi  Lakes  triathlon  coming  up  on  9 
April,  the  Hatea  Loop  Challenge  in 
Whangarei on 17 February, Beach to 
Basin  on  6  March,  among  others 
across 
Northland. 
Working 
in 
conjunction with the Councils and other 
groups  they  also  own  and/or  manage  a 
number  of  facilities  to  provide 
opportunities  for  physical  activity  and 
getting  together  with  others.  These 
include  the  Kauri  Coast  (Dargaville) 
Pool,  the  Whangarei  Aquatic  Centre 
and a number of other public swimming 
pools  across  Northland  as  well  as 
running the Kensington Fitness gym. 
I am excited (and a little nervous) about 
taking on the chair role. I hope we can 
help  and  encourage  more  Northlanders 
to  Move  More  to  improve  their  health 
and  enjoyment,  in  whatever  way  they 
can. That includes all of us! 
Check out www.sportnorthland.co.nz 
Libby Jones  
hames.jones@xtra.co.nz 021 2080093 
Oneriri  
Plants 
Visit our Nursery 
Contact Heather 021 
766399 
oneririplants@gmail.com 
365AOneriri Rd, Kaiwaka 
A short trip off SH1
SPARK MOBILE SERVICE ISSUES 
continued …...
LIBBY JONES 
– 
Member Northland District Health Board 
improved 
coverage. 
So, once again we have 
poor  service  in  the 
middle  of  Kaiwaka  as 
well as in various other 
areas in and around our 
town.  This  has  left 
some  with  unreliable 
or  no  phone  service, 
internet 
connection, 
medical  alarms  and 
businesses 
without 
EFTPoS. 
There  are  no  outage 
reports on Vodafone or 
2 Degrees mobile sites. 
To  make  matters  worse,  the  Spark  front  line  support  people  have  been  apparently 
unaware  of  the  network  issues  and  have  therefore  been  unable  to  provide  reliable 
information or useful advice. 
WHERE TO FROM HERE? 
Spark expects resolution 'in a few days' but hasn't yet committed to a restore date. 
Meanwhile they have recommended that Spark Mobile users contact them to discuss 
options (yes, I know this might be difficult). Spark's numbers are 0800 800 123 for 
general  service;  0800  22  55  98  for  mobile  faults, lost  or  stolen  mobiles;  and  0800 
287 463 for businesses. They have a strong online presence too. 
~ Steve Barr 18/01/22 
Disclaimer: Any views expressed are those of the author and are not necessarily the views of 
Spark  New  Zealand  or  any  of  its  affiliated  companies.  The  author  is  not  associated  with 
Spark or any other mobile service provider, other than in a normal customer capacity. 
Photos:  Front page -  COW at Kaiwaka Library; Above -Damaged tower (from Facebook)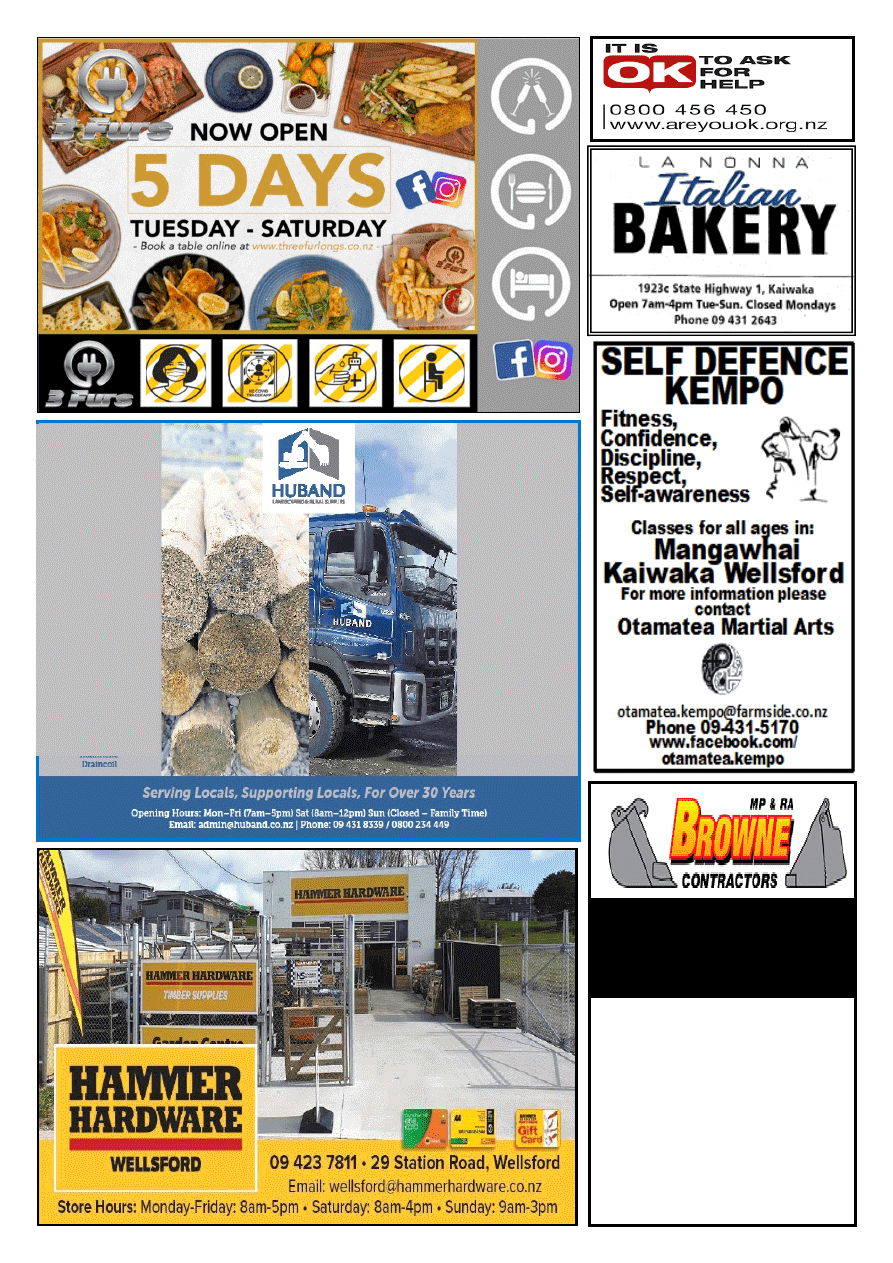 www.kaiwaka.co.nz 
Kaiwaka Bugle - 24 January 2022 
Page 10 
WATER TANKS: 
Aqua & Baileys 
Brands 
DRAINAGE & 
SEPTICS: 
Land Drainage 
Urban Rural 
Drainage 
Water Pipelines 
Culverts 
Septic Systems 
(RX Plastics & 
Biorock) 
SITEWORKS: 
Retaining Walls 
Piling 
Driveways 
Carparks 
Landscaping Supplies: 
Waikato Screen Topsoil 
Bark 
Woodchip 
Mill Bark 
Post Peelings 
Compost 
Crushed Shell 
Topsoil 
Limestone Chip 
Daltons Garden Mix 
Aggregate 
Gap: 20,40.65 
Riverstone 
Sand 
Belt Dust 
40/20 Drainage Metal 
Builders Mix 
 Cement 
Timber/Fencing Supplies: 
Rails, Posts  
Stays, Strainers 
Fence Battens 
Palings 
Stakes 
Fencing Wire 
Farm Gates & hardware 
Drainage: 
PVC Fittings 
Alkathene 
Draincoil 
- 4 Tonne DIGGER - 
- BOBCAT- 
- TIP TRUCK - 
Property Maintenance  
Driveways 
Building Sites 
Stump & Tree Removal 
Hole Boring -  Chain Trencher 
Calf Shed and Stockyard Cleaning 
Phone Matt: 021 199 6677 
Email: mprabrownecontractors@gmail.com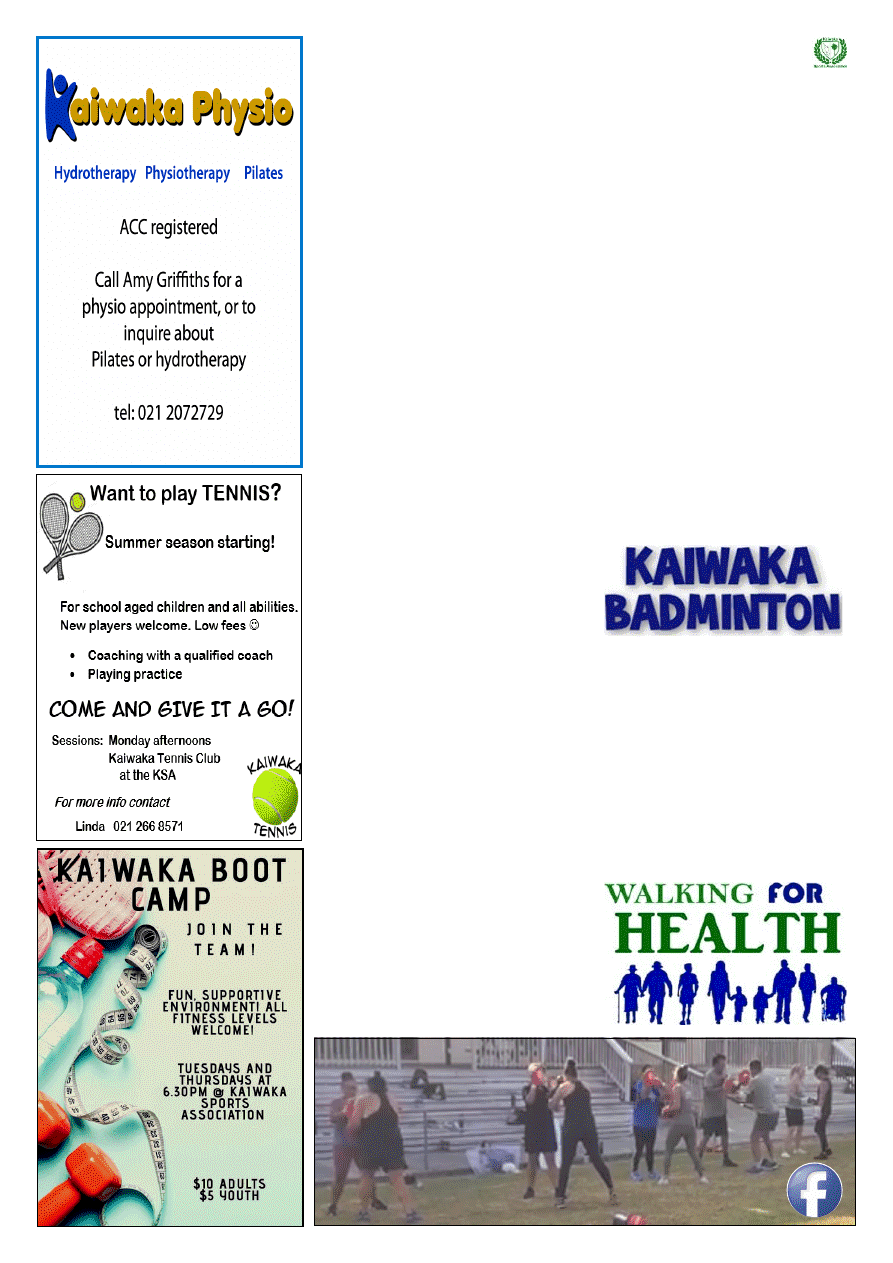 www.kaiwaka.co.nz 
Kaiwaka Bugle - 24 January 2022 
Page 11 
KAIWAKA SPORTS ASSN NEWS 
KAIWAKA SPORTS ASSN 
KSA Bookings contact: 
Jennie Reynolds, 02102764171  
ksabookings@mail.com 
KSA email: ksa.sec3@gmail.com 
Lindell Ferguson
KSA UPDATE 
COVID19 and OMICRON  has made it 
difficult  for  a  number  of  the  sporting 
activities to go ahead. 
KAIWAKA  TOUCH  MODULE  is a 
social grade touch rugby competition  - 
due  to  Covid  restrictions  has  been 
cancelled. 
ANNUAL 
ANNIVERSARY 
WEEKEND  OTAMATEA  TENNIS 
TOURNAMENT  -  due  to  Covid 
restrictions has been cancelled. 
KSA ANNUAL  
'TOP of the ROCK' 
Was to  be held  in March, but  with the 
latest Covid news it will not go ahead at 
this  stage  -  the  country'  RED  setting 
only  allows  for  100    at  an  event 
outdoors. 
BADMINTON  is  every  Tuesday 
evening, 7 to 8.30pm in the KSA gym. 
Contact Mel 0274114817. 
 Any  cancelations  are  put  up  on  the 
Facebook page.  $3 casual $50 per year 
single and $80 per year family.  Gear is 
available to use and all ages welcome.   
KAIWAKA  FITNESS  CENTER  -  
now have singlets, T-shirts and hoodies 
available  in  both  black  and  grey  -  see 
contact left or follow on Facebook 
CHECKOUT THE KSA 
WALKING PATH
CLUB CONTACT DETAILS 

ATHLETICS 
Eileen Parsons 021 142 0357 
E: b.parsons@xtra.co.nz 

BADMINTON 
Mel Williams 0274114817  
E: pkfleming@xtra.co.nz 

BASKETBALL 
Cyrena Brunton, secretary 
E: basketball.kaipara @gmail.com 
Blake Worsfold 021 148 9743 
E: blake@ruraldesign.co.nz 

FITNESS CENTRE 
Siobhan Henderson 027 979 1203 
E: siobhanCole87@gmail.com 

HOCKEY 
Tina Holst 021 293 5974 
E:  tina.holst@otamatea.school.nz 

KAIWAKA PRIMARY SCHOOL 
Sharlene Tornquist 09 4312309 
E: principal@kaiwaka.school.nz 

MARTIAL ARTS 
Craig Bennetts 021 152 4466 
E: otamatea.kempo@farmside.co.nz 

NETBALL-Senior (OTA-EX) 
Maree Stewart 

NETBALL – High School  
Jodie Bennetto 021 0266 3634 
E: mgtonetball@gmail.com 

NETBALL- Primary School 
Courtney Cave 021 266 7946 
E: cjcave@hotmail.com 

PT.  CURTIS CRUISING CLUB 
Sandy Shaw 021 0236 0740 
E: wfdsports@xtra.co.nz 

RUGBY-Senior 
Michael Tovine 021 138 661 
E: michealtovine@hotmail.com 

RUGBY – JMB 
Te Awhina Whitehead 021 0259 6889 
E: teawh@hotmail.com 

RUGBY - Women 
Bron Hames 027 4258046 
E: horsiehames@yahoo.com 

SQUASH: 
Heath Worsfold 021 431 320 
E: heath@ruraldesign.co.nz 
Bruce Leslie 021 12608015 
E: leswa212@gmail.com 

SQUASH - Juniors 
Lana Thompson 
kaiwakasquash@gmail.com 

TENNIS: 
Linda Cowbourne 021 266 8571 
kaiwakatennis@gmail.com 
PLEASE  SEND  UPDATES,  RE-
PORTS,  PHOTOS,  ADVERTS  to 
kaiwakabugle @kaiwaka.co.nz 
Term 1 2022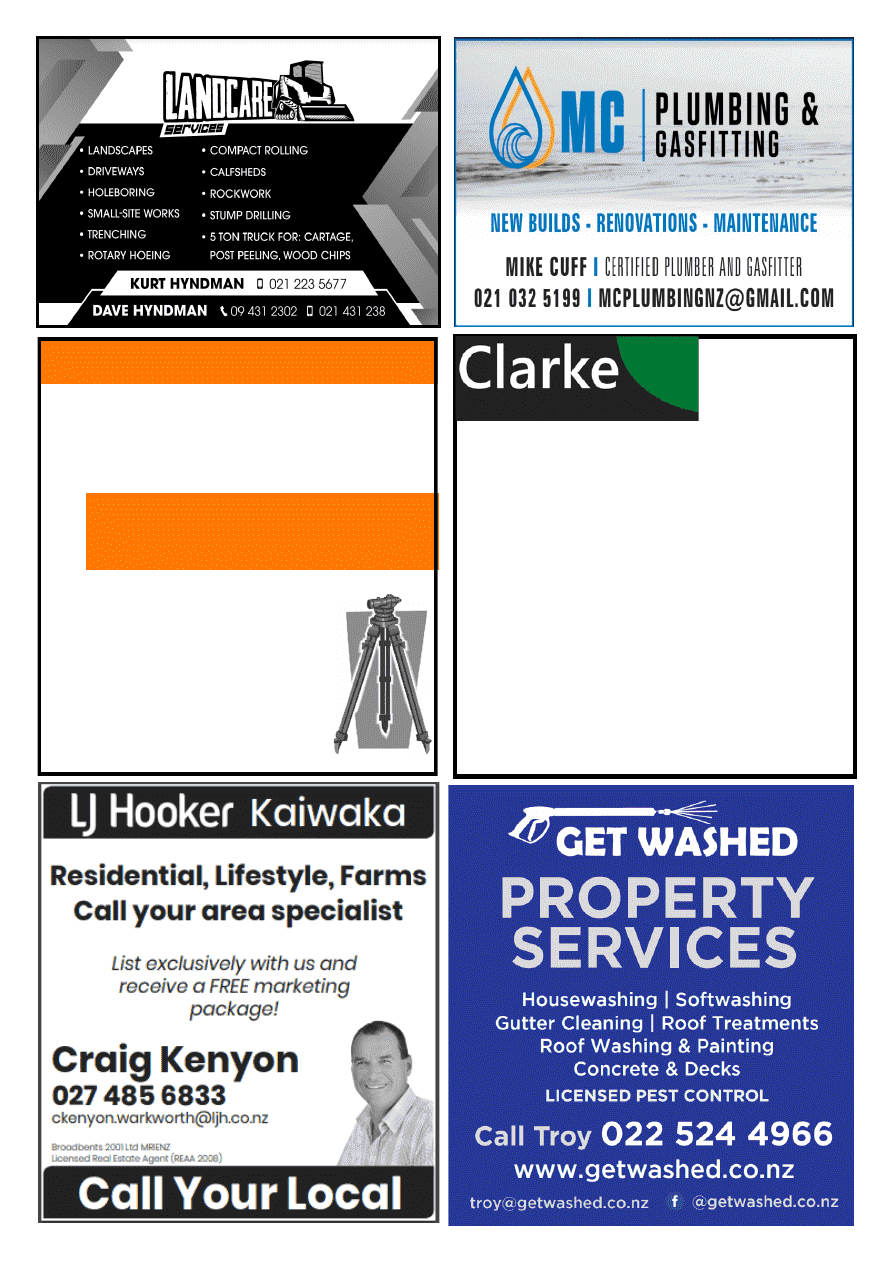 www.kaiwaka.co.nz 
Kaiwaka Bugle - 24 January 2022 
Page 12 
Drainage & Earthmoving 
nigel@clarkedrainage.nz 
027 2233 185 
Registered Drainlayer                 All Types of Earthworks  
> All Residential & Commercial Work  > House Sites 
> Septic System Design & Install 
> Footings & Drilling to 10m 
> Sewer Connections 
> Dams 
> Water Tank Installation 
> Roading & Races 
> Farm Work 
THE ONE STOP SHOP  
Phone Nigel for an Obligation Free Quote  
SURVEYORS 
SUBDIVISIONS 
HOUSE SITE SURVEYS 
CIVIL ENGINEERING 
WASTEWATER DESIGNS 
EXPERIENCED 
PROFESSIONAL 
INNOVATIVE 
Ph 09 431 5353 
0800 PACIFIC (0800 722 434) 
pacificcoastsurvey.com
Adam Booth - 027 415 5752 
Bsurv, Licensed Cadastral Surveyor
Surveying Kaipara since 1994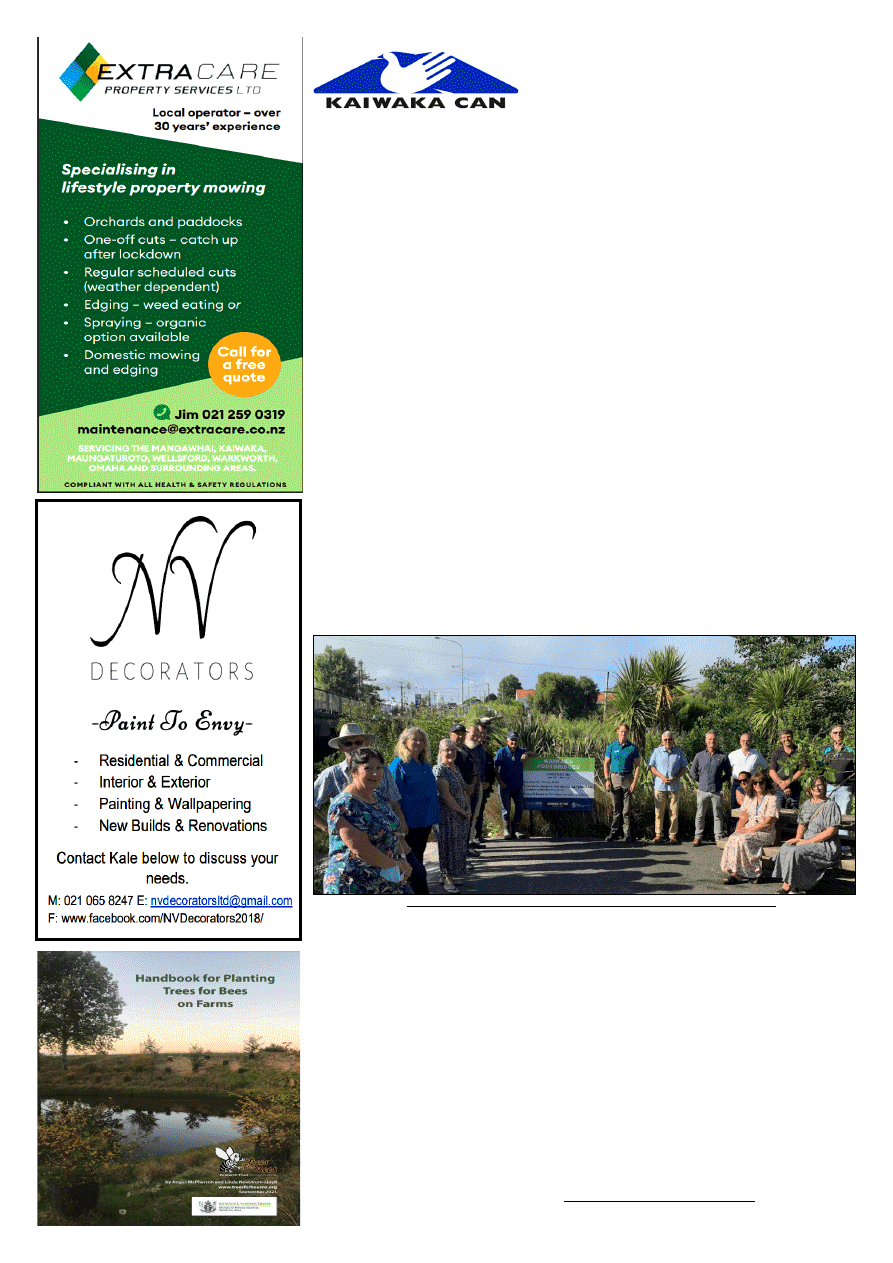 www.kaiwaka.co.nz 
Kaiwaka Bugle - 24 January 2022 
Page 13 
KAIWAKA CAN
At  last,  the  bridges  are  under 
construction  after  the  blessing  on 
Tuesday 11th February! 
All going well completion will be mid-March. It is also great that the construction 
company, Bridge It NZ, has been able to employ some local content to help. 
Kaiwaka Can held the first meeting for the new year and laid out some guidelines 
or goals for the 2022 year. 
Some of these goals include: 

The  opening  of  the  bridges  -  with  the  hope  of  some  sort  of  light  festival 
including the making of lanterns by children. We are open to other ideas to make 
this a day the whole community can enjoy. 

McClean Park upgrades.  

This includes a working bee to clean up some areas on the 20th February before 
the  bridge  opening,  sign  boards  telling  the  early  history  of  the  area  and  more 
planting if needed. 

Seeing  some  movement  in  planning  for  planting  and  walkway  around  the 
peninsula from McClean Park and Eutopia, with the hope we may be able to start 
something in 2023. 

The resurrection of the ship lights from the southern wall of the building now 
used by Small Pukeko's Early Learning Centre. At this stage we hope to place it 
on the opposite bank to McClean Park. 

We are also going to try to encourage more of the locals to get involved with 
lighting up the town so we can regain the name of the little town of lights. 

Welcome signs at each end of the town. Objective is to at least get the northern 
one in place. 

We  are  also  hoping  to  organise  another  winter  warm  up  tentative  date 
Wednesday 22nd June. 

We are working on one other major project which we hope to announce soon. 
With another year of uncertainty ahead this could prove to be a challenge, so we 
welcome new members and people with a vision to moving Kaiwaka forward. 
If  you  are  interested  in  getting  involved,  you  can  contact  David  Wright  at 
pukepunga@xtra.co.nz or joining us at our monthly meetings held at the Archie 
Bull Hall every 3rd Wednesday of the month. 
Next Meeting: Wednesday 16 February, 5.30pm. 
THE HANDBOOK FOR PLANTING TREES 
FOR BEES ON FARMS  
The Handbook for Planting Trees for Bees on Farms presents basic principles and 
practical advice on how to plant the best pollen and nectar sources for bees.  The 
booklet  show  how  farmers  can  include  premier  bee  forage  on  farms  or  public 
parks,  lifestyle  blocks,  and  gardens,  covering  ten  different  types  of  plantations:  
riparian  protection;  land  stabilisation;  shelterbelts;  paddock  shade  and  shelter; 
native  bush  biodiversity;  roads,  avenues,  and  laneways;  amenity;  edible 
plantations;  apiaries  and  beekeeper  yards;  and  mānuka  plantations.    Each 
plantation type is described with examples, illustrations, advice, and plant lists. 
There is practical guidance on how to prepare a planting plan; balance and target 
a bee forage profile; and establish a plantation.  The steps for designing a good 
bee forage plan include candidate planting lists, flowering calendars, and charts 
for flowering diversity and abundance.  
The  Handbook  for  Planting  Trees  for  Bees  on  Farms  is available as a free 
PDF on the Trees for Bees website at treesforbeesnz.org/handbook.  
Limited softcover print copies are also available.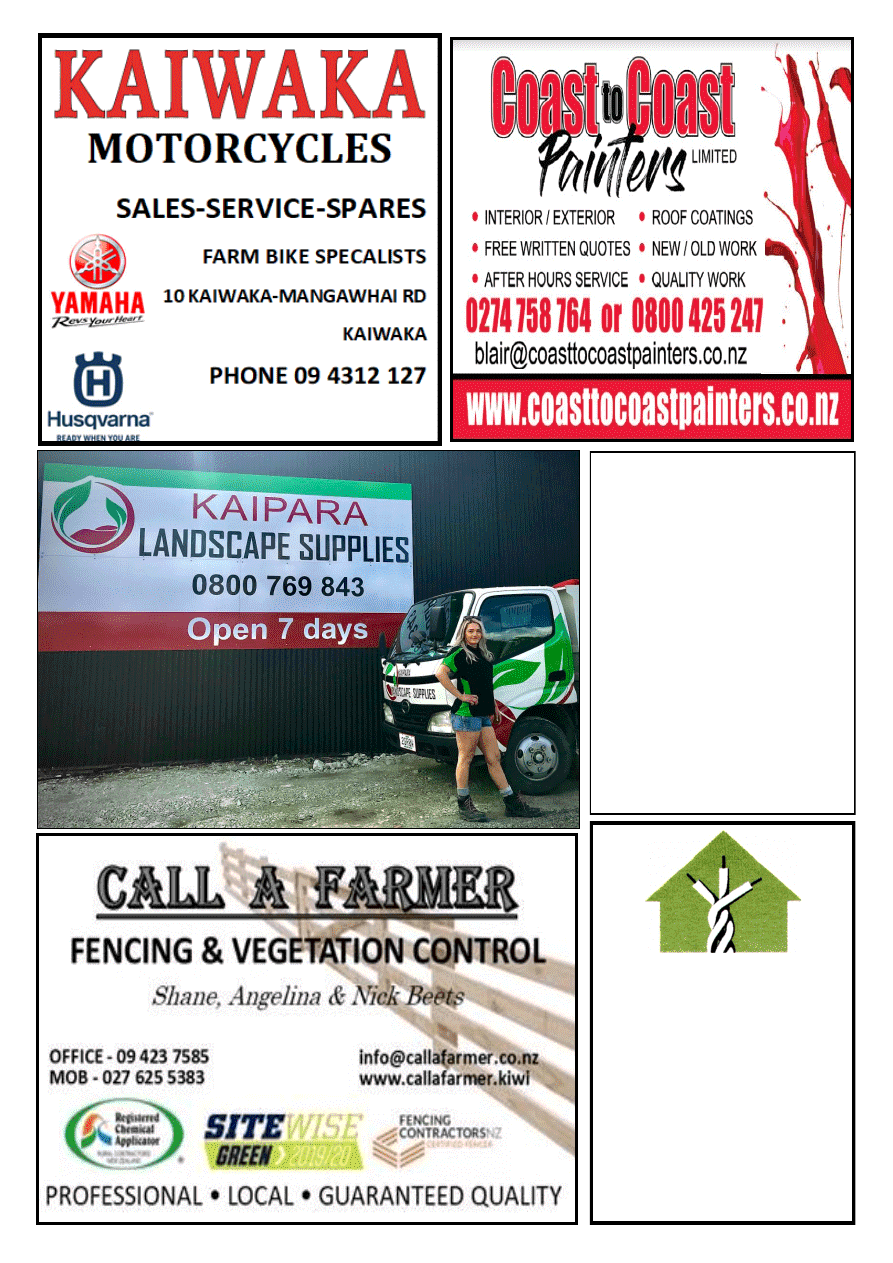 www.kaiwaka.co.nz 
Kaiwaka Bugle - 24 January 2022 
Page 14 
HELP 
PHONE NUMBERS 
HEALTHLINE 0800 611 116 - a 
nurse to answer health queries  
SAMARITANS 0800 726 666 - 
support for lonely or suffering 
mental distress 
YOUTHLINE 0800 376 633 
LIFELINE 0800 543 354 
DEPRESSION HELPLINE 0800 111 
756 
ALCOHOL & DRUG HELPLINE 0800 
787 797 
URGENT MENTAL HEALTH LINE 
0800 223 371 
WARMLINE -peer support for 
people with mental health issues 
0800 200 207 
Reyahn  Leng 
Registered Electrician 
Local, honest and 
reliable. 
For your residential and 
light-commercial 
projects. 
022 314 1068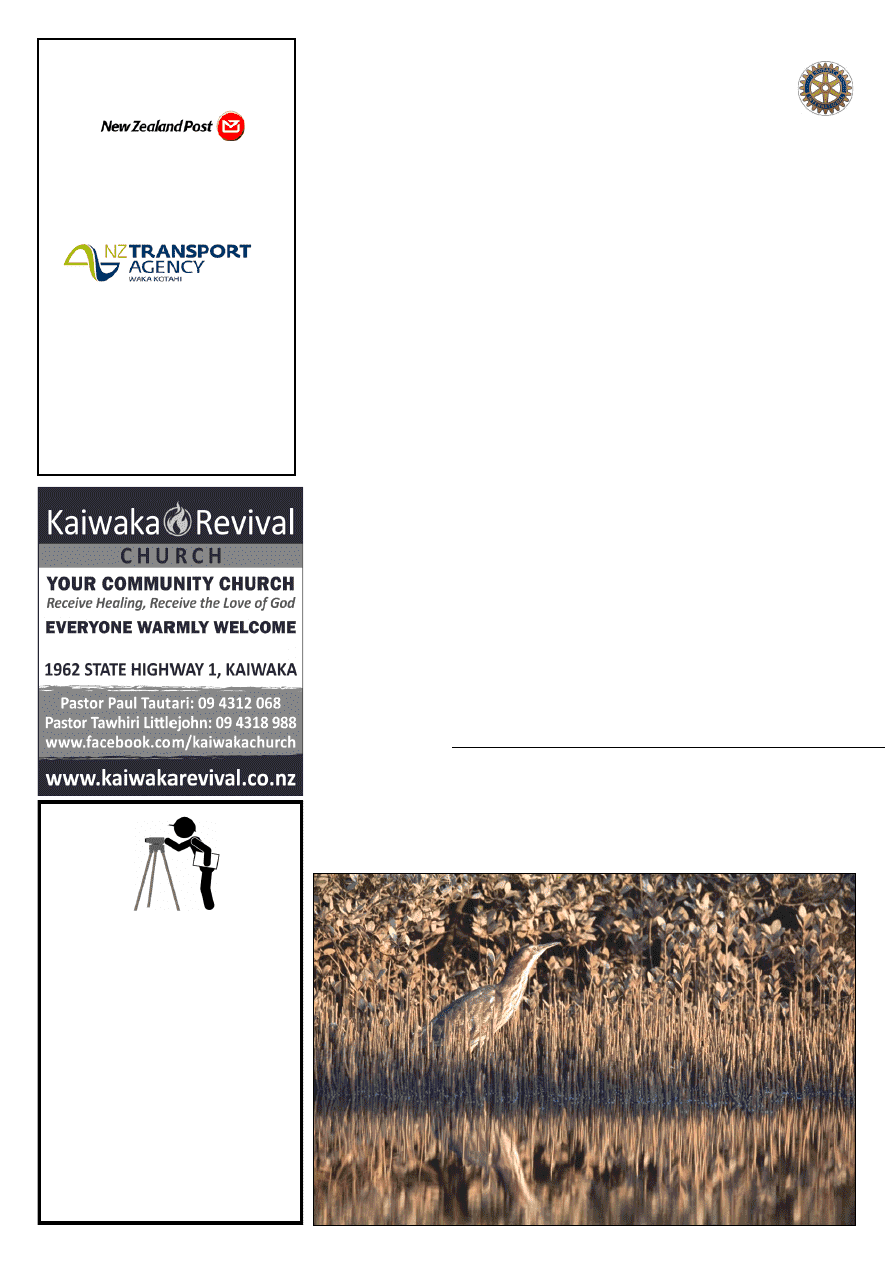 www.kaiwaka.co.nz 
Kaiwaka Bugle - 24 January 2022 
Page 15 
KAIWAKA POST 
CENTRE and 
FOOD MART 
POST CENTRE TRADING 
HOURS 
MONDAY to FRIDAY 8am to 5pm 
SATURDAY 8am to 12pm 
CLOSED ON SUNDAY and on 
PUBLIC HOLIDAYS 
FOOD MART (GROCERIES) 
MONDAY TO FRIDAY  
7:30am to 7.30pm 
SATURDAY  8am to 7.30pm 
SUNDAY  8:30am to 7pm 
IF ANY QUERIES PLEASE CALL 
STORE MANAGER AMRIT  
on 09 4312431 or 
EMAIL: kaiwakafood19a@gmail.com 
1919a State Highway1, Kaiwaka 0542 
Ken Urquhart 
BSurv Licensed  
Cadastral Surveyor 
KMU Surveys Ltd 
467 Bickerstaffe Road 
RD 2 
Maungaturoto 0587 
Ph 09 431 8705 
Mob 021 161 2344 
kenurquhart@xtra.co.nz 
MAUNGATUROTO &DISTRICTS ROTARY 
Like most organisations our local group 
has  been  in  recess  for  the  past  few 
weeks but not before we had a fantastic 
closing  night,  a  summary  of  highlights 
follows: 
The  Paul  Harris  Fellowship 
Award 
was  presented  to  three 
people: 

Stella  Clyde 
for  her  work  in  the 
community and with young people. 

Keith  Shadbolt 
for his community 
work in the environmental area.  

Lyn  Tetzner 
who  does  an 
incredible amount of background work 
supporting Alex and is always involved 
in our fundraising efforts. 
The  President's  Scholarship 
recipients this year were:  

Renee  Allen 
(she had been head girl 
at  Otamatea  two  years  ago,  and  is  an 
excellent netballer),  

Jaden  Sheppard 
(head  boy  last 
year,  who  is  very  involved  in  the 
Performing Arts) and  

Bethany  Hudson 
(who was unable 
to  be  present  but  has  had  a  number  of 
articles published). It is great to be able 
to provide some support to these young 
people  and  it  is  always  interesting  to 
hear from them in subsequent years. 
Besides the work in the community, we 
have  also  been  involved  with  RYLA, 
RYDA,  and  Duffy  books.  Duke  of 
Edinburgh  and  William  Pike  has  seen 
our  support  of  younger  people  aiming 
at building resilience.  
Our  driver  mentoring  scheme  has 
been  popular  with  both  younger  and 
older people. It has been good working 
with  People  Potential  and  Roadsafe 
Northland as they have both been very 
supportive.  We  have  also  been 
fortunate to have someone like 
Dean Garnett taking care of the 
car,  ensuring  that  it  is 
roadworthy  and  warranted. 
Speaking of this, we are now accepting 
new  recruits  (and  mentors  if  you  feel 
able to give of your time). Age is not an 
issue,  but  clients  and  mentors  need  to 
be double-vaccinated. 
Satellite club  
Both  Grahame  Carbery  and  Dennis 
Emsley were congratulated on the work 
they  have  done  in  setting  up  the 
Satellite  club  at  Mangawhai  and  an 
extremely successful sailing venture. 
Because  of  the  large  number  of 
youngsters  involved  they  are  going  to 
be  splitting  their  sessions  this  year  to 
cater  better  for  sailing  ability.  They 
have also hit the ground running with a 
fantastic 
fundraiser 
(Sandsational 
event)  on  the  30  January  with  various 
activities throughout the day. (More on 
this next month.) 
We  had  a  very  pleasant  President's 
BBQ  at  Les  Kenworthy-Thompson's. 
We appreciated Les and Shirley making 
their place available as this is always a 
great  way  to  reconnect  in  the  New 
Year.  
Our  first  major  fundraiser  is a Quiz 
night  at  the  Maungaturoto  Country 
Club  on  Friday  25th  February  –  look 
out for details which will be publicised. 
Club Meetings 
Remember,  if  you  feel  you  can 
contribute  in  any  way  to  our  Club,  we 
meet  on  a  Tuesday  in  the  Centennial 
Hall,  Maungaturoto  at  6pm.  Any 
enquiries, please call Eileen  – 021 142 
0357 
PIROA-BRYNDERWYN LANDCARE (PBL) 
AUSTRALASIAN  BITTERN 
which we are lucky to have in our area 
with recent sights in a few locations in Mangawhai and further north in the One 
Tree  Point  area.  Threatened–Nationally  Critical  with  a  population  less  than 
1,000 in NZ. Mainly found in wetlands of Northland, Waikato, East Coast of the 
North Island, and the West Coast of the South Island. 
Picture taken by Aaron Skelton.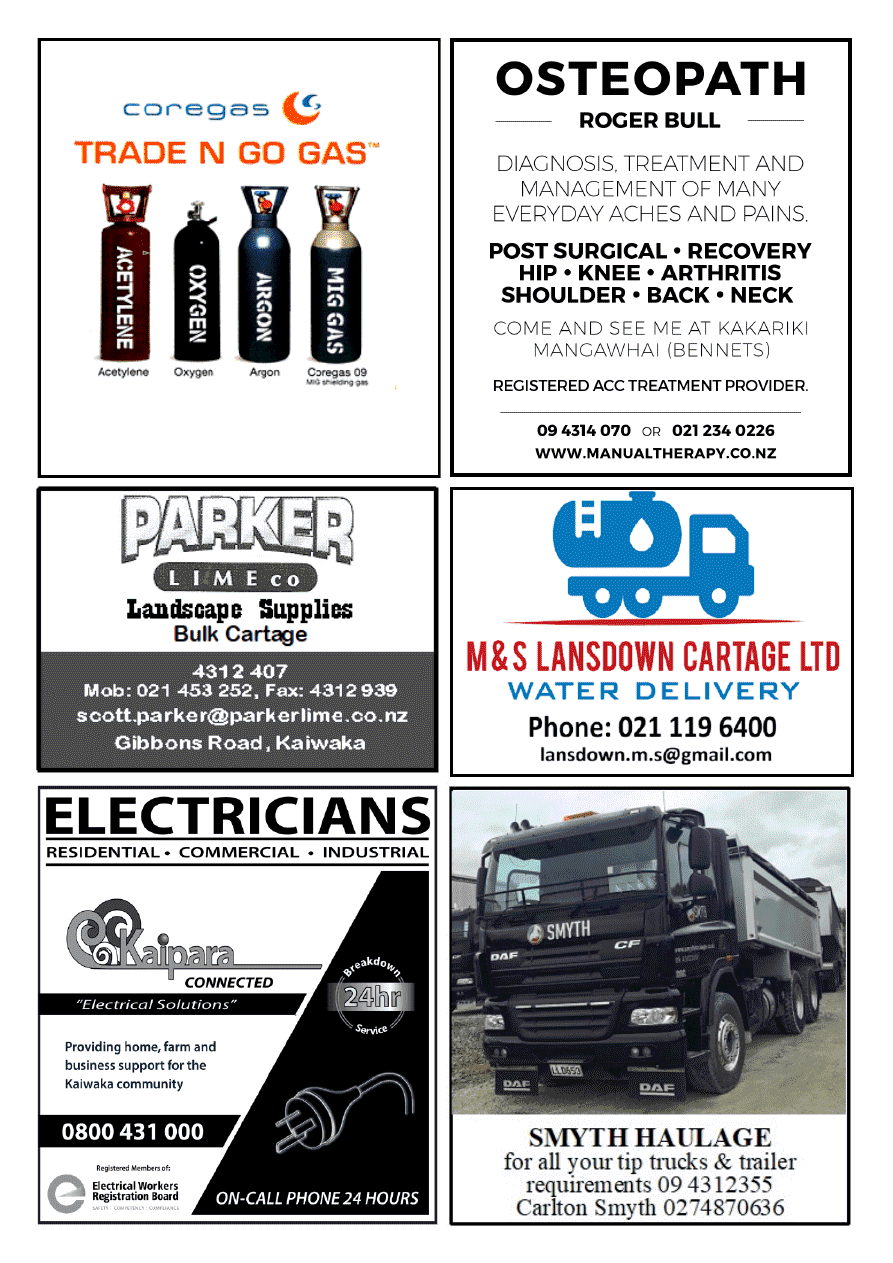 www.kaiwaka.co.nz 
Kaiwaka Bugle - 24 January 2022 
Page 16 
At Twinkle Tow 'n' Tyre 
Mob: 021 833 960 
Ph & Fax: 09 431 2823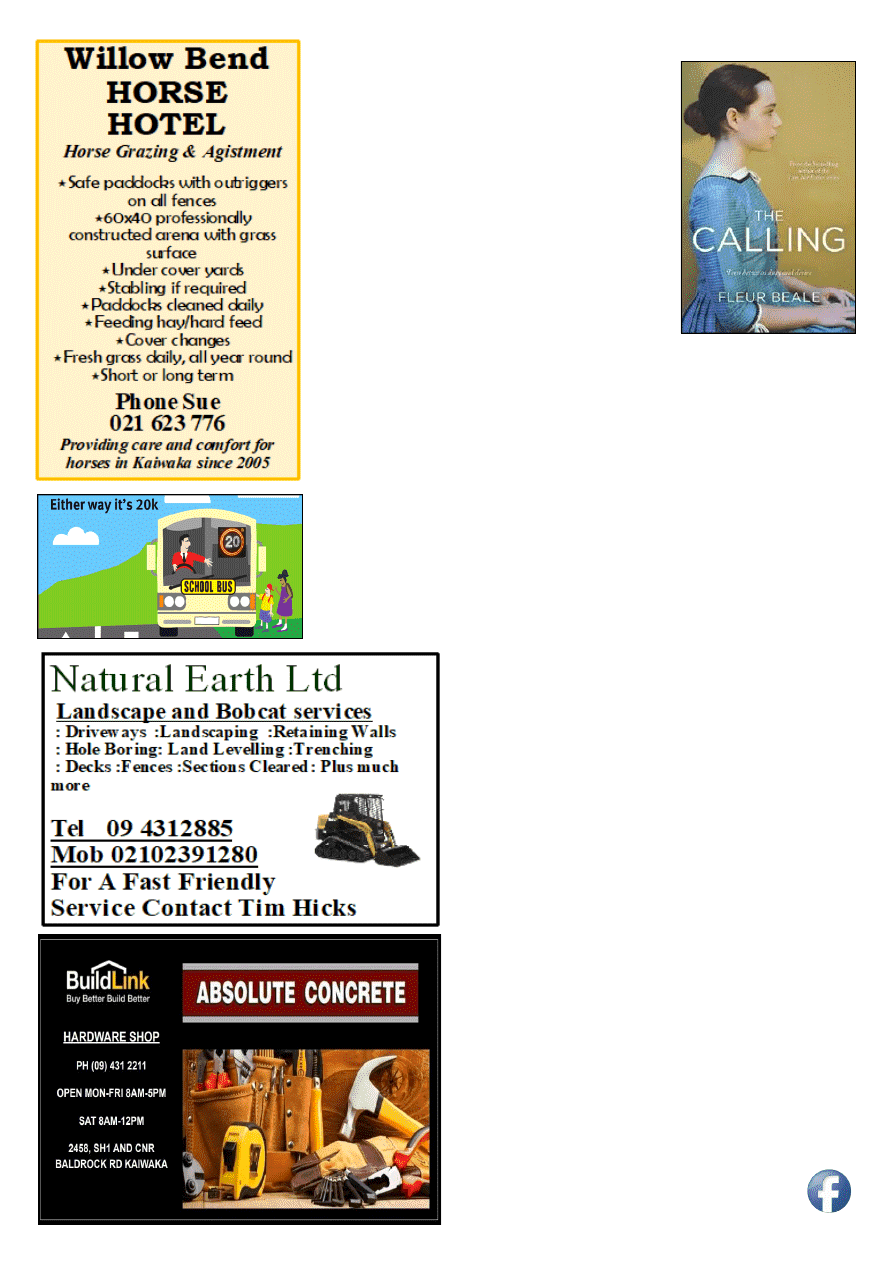 www.kaiwaka.co.nz 
Kaiwaka Bugle - 24 January 2022 
Page 17 
HAPPY  NEW  YEAR!  We  hope  the 
festive season was a good one for you. 
COVID: 
TRAFFIC 
LIGHT 
ORANGE 
We've  finally  joined  the  rest  of  the 
country  at  the  orange  level  of  the 
current  system.  Yay!  In  the  library, 
nothing  has  changed  from  red,  we  are 
operating  with  the  same  requirements 
as before. 
Sadly,  we're  now  waiting  to  see  what 
happens when Omicron escapes into the 
community,  and  how  that  affects 
everything.  Please  know  that  if  the 
library  needs  to  close  at  any  stage,  we 
will do what we can to get books out to 
you. Keep an eye on our Facebook page 
(link  below,  you  don't  need  to  have  a 
Facebook account to view it) and get in 
touch if you have any questions or need 
assistance. 
SUMMER 
READING 
CHALLENGE 
There  are  just  a  few  days  left  to  get 
your  entry  for  the  Summer  Reading 
Challenge in to us so you're in the draw 
for  the  fantastic  prizes.  There  are 
separate  competitions  for  adults  and 
children.  Have  you  got  your  entry  in 
yet? Entries close Saturday 6 February, 
and  entry  forms  are  available  from  the 
library counter. 
SUMMER CATALOGUE 
Have  you  picked  up  your  copy  of  the 
summer  catalogue  yet?  It's  full  of 
recommendations 
for  good  reads,  for 
all 
the 
family. 
They're  on  the 
counter 
in 
the 
library  waiting  for 
you. 
PHONE 
PROBLEMS 
Apologies 
to 
everyone  who  has 
been 
inconvenienced  by 
the  lack  of  phone 
service 
at 
the 
library  in  recent 
weeks  and  thank 
you 
for 
your 
patience.  First  the 
local  Spark  mobile 
tower 
was 
vandalised 
and 
destroyed 
on 
January  2nd,  and 
Spark  took  a  long 
time  to  bring  in 
adequate 
temporary 
replacements  (as  I 
type 
it's 
still 
terrible 
but 
expected  to  be 
improved  by  this 
afternoon  when  a 
second 
mobile 
tower  is  connected 
to  the  network). 
This 
affected  the 
library's 
phone,  as  it 
is  diverted 
to 
my 
mobile. 
When  a  call 
comes 
to 
me  diverted 
from 
the 
library 
phone  all  I 
can  see  is 
that 
it's 
coming 
from 
the 
library, with 
no 
information  about  who  is  calling  so 
when I've missed calls, I can't call back 
-  and  I've  not  been  able  to  check 
voicemail  messages  for  a  lot  of  the 
time, either (though I can now). 
And then our landline developed a fault 
last week, and we had no internet for a 
few days. Again, this is still waiting to 
be fixed as I type, but I live in hope that 
it  will  all  be  resolved  by  the  time  you 
read this article. If you need to contact 
the  library,  do  still  call  the  library's 
number, and leave a message if I don't 
answer. Or you can contact me on 027 
480 6275 or at home 4312 725. 
If you have been affected by the Spark 
mobile outage, make sure you report it 
to them so you can have a credit applied 
to your account for the lack of service. 
They have specifically said that mobile 
customers  need  to  get  in  touch,  the 
credit won't be automatic. 
BOOK REVIEW 
Did  you  read  a  good  book  from  our 
library  over  the  holidays?  I'd  love  to 
hear  about  it.  Drop  me  a  line  or  two, 
telling me the title and author, and what 
you  liked  about  it.  Email,  text,  private 
message on Facebook, or write it down 
on  paper  and  drop  it  at  the  library.  It 
would  be  wonderful  to  have  reviews 
from someone other than me! 
I've read a stack of good books since I 
last  wrote  in  mid-December  -  how  to 
choose  just  one  to  tell  you  about?!  It's 
too hard, so I'm going to tell you a little 
about the Kiwi authors in that pile... Ian 
Austin  has  a  couple  of  detective-type 
books  -  start  with  The  Agency;  Paul 
Cleeve's  latest  title  The  Quiet  People 
is  an  excellent  gripping  read;  Fleur 
Beale gives a bit of an insight into late
-19th Century life in NZ, weaving real 
people  into  her  fascinating  story  The 
Calling;  Eileen  Merriman's  latest 
novel Double Helix is again set around 
Kiwi  doctors,  this  time  medical 
students 
who 
are 
themselves 
grappling  with  a  genetic  illness 
hanging over their heads.  
All  of  these  books  are  on  our  Rental 
Fiction shelves in the library. 
See you in the library ~Wendy 
Phone 4312 539 
Email kaiwaka.library@gmail.com  
KAIWAKA LIBRARY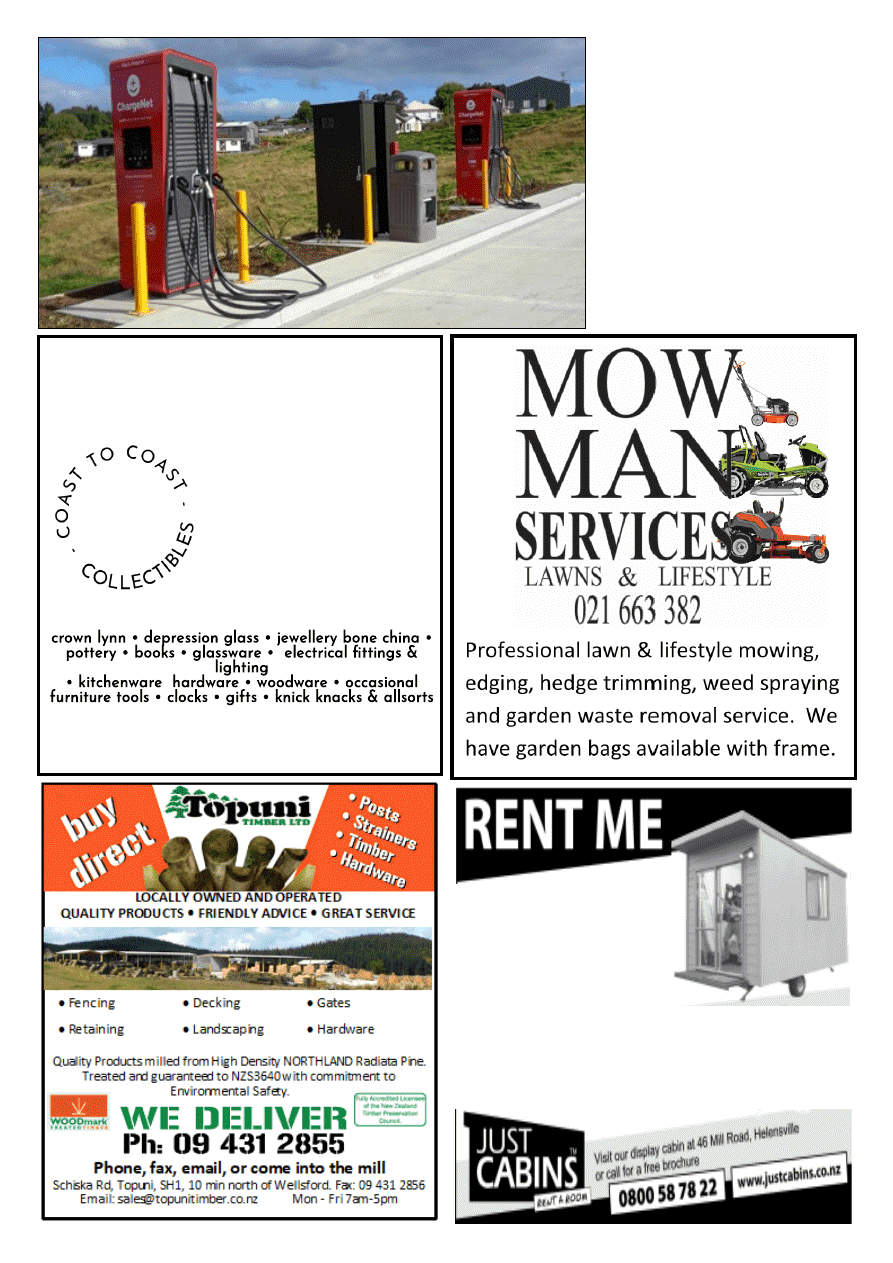 www.kaiwaka.co.nz 
Kaiwaka Bugle - 24 January 2022 
Page 18 
Ideal as an extra  
bedroom or office 
Three Convenient sizes: 
Standard 3.6m x 2.4m - $65 
per week 
Large 4.2m x 2.4m - $80 per week 
Extra Large 4.8m x 2.4m - $100 per week 
Fully insulated. Minimum 6 months rental period 
KAIWAKA 
CHARGENET 
ChargeNet  opened  Northland's 
first 
Hyper-rapid 
(300kW) 
charging  location  on  Thursday, 
23 December 2021, 11:53 am 
Electric vehicles (EV) can now 'fill up' 
at  Gull  Kaiwaka.  ChargeNet,  New 
Zealand's 
largest 
EV 
charging 
network,  has  opened  Northland's  first 
hyper-rapid 
(300kW) 
charging 
location..  The  charging  location  joins 
the  existing  hyper-rapid  sites  at 
Bombay  and  Taupō,  as  well  as  an 
additional  250  rapid  charging  stations 
across the country. 
Eclectic Boutique 
99 Gibbons Rd, Kaiwaka 
Contact Trish 
for buying or 
selling 
021 2140 522  
09 431 2193 
Large selection of: 
Open10am – 4pm   
Cash, Eftpos or Direct Debit available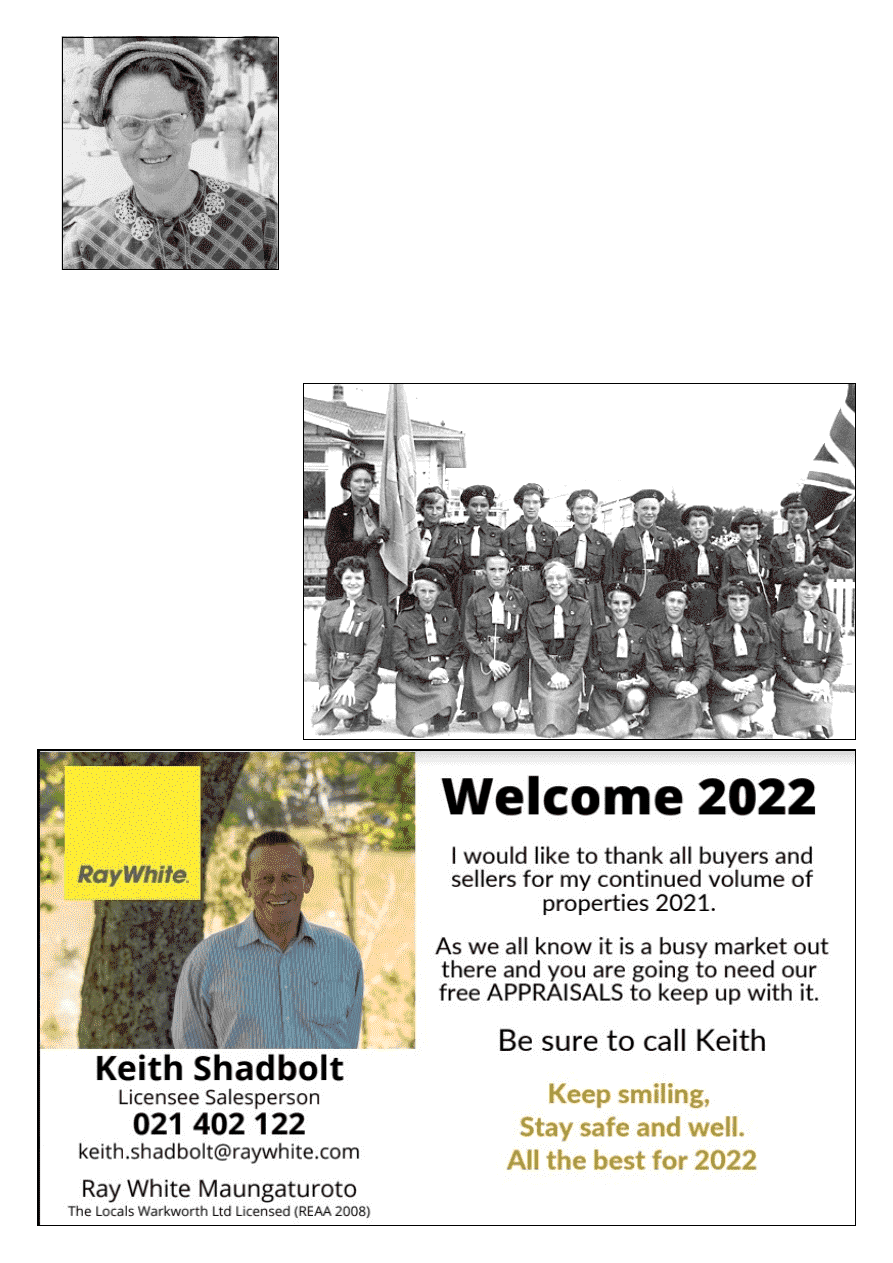 www.kaiwaka.co.nz 
Kaiwaka Bugle - 24 January 2022 
Page 19 
'CORKER,  Mary  Joice  (nee  Fraser). 
22/09/1922  -  8/01/2022  Much 
loved  wife  of  husband  Roy  (Robert) 
Corker 
(deceased). 
Mother 
to 
Noeline, Fay, June (deceased), Robert, 
Diane,  and  Donald.  A  cherished 
Grandmother 
and 
Great 
Grandmother.  Remembered  by 
many  for  her  Community  Service 
duties'. 
 
Mary Joice Corker (nee Fraser), 
passed  away  on  January  8th,  2022,  a 
little short of her 100th birthday.   
Mary  came  to  Kaiwaka  in  1949  with 
her  husband  Roy  and  lived  in  the 
Pukekaroro valley for nearly 50 years 
before  retiring  to  Saorsa  Retirement 
Village  in  Waipu,  and  then  spending 
the  last  10  years  in  the  Selwyn  Park 
Village in Whangarei.     
 Mary  raised  6  children,  gardened 
prodigiously,  and  was  involved  in 
many 
community 
organisations 
including  WDFF,  CWI,  Girl  Guides 
and Brownies and many others.    She 
frequently  enjoyed  fishing  for  mullet 
and  flounder  at  Point  Ernie,  with  her 
'spotted' punt, which is resting beneath 
the  mud  and  mangroves  still,  and  was 
always  willing  to  pull  out  her 
harmonica  or  accordion  for  some 
music.  She formed the 'Spice Grannies' 
trio in Saorsa and was still entertaining 
Selwyn Village residents until recently. 
Mary  would  tell  the  story  about  how 
when  she  first  came  to  Kaiwaka,  and 
heard  a  car  coming  past,  she  would 
check  out  the  window,  to  see  who  it 
was - how times have changed. 
Mary  had  an  old  Gestetner  (printing 
machine)  from  which  she  would  do 
newsletters  for  Guides  and  Brownies, 
and  this  was  the  forerunner  of  the 
Bugle,  which  Mary  started,  with  much 
smudged  ink  and  the  instantly 
recognisable clunking and rolling of the 
old  'gestetner'.    Mary  was  well  known 
for  helping  out  with  others,  and  well 
into  her  retirement  she  still  did 
voluntary home help and supported the 
Kauri  Museum  in  Matakohe.    There 
will  be  many  people  throughout  the 
Otamatea  area  (and  Northland),  who 
will  have  stories  to  tell,  and  fond 
memories  of  Mary  and  her  eccentric 
ways.  She will be greatly missed by her 
children,  grandchildren  and  great 
grandchildren. 
[We  had  the  privilege  of  meeting  with 
Mary at in 2018, at the 40th birthday of 
the Kaiwaka Bugle. Mary, as 'Sharp as 
a  Tack!'  is  on  the  front  page  of  Bugle 
No.9, 15 May 2018. Ed.] 
Photo  -  above:  1955  Napier holiday.  Mary 
won  second  prize  of  ten  shillings  playing 
the  mouth  organ  in  a  talent  contest  at  the 
Napier Sound Shell.  
Below: Mary with her Guides 
MARY CORKER ~ a true volunteer 
1959 Kaiwaka Guides:  
Back  Row  -Capt.  Mary  Corker,  Gibbs,  ?,  Janet 
Colson,  Isabel  McClean,  Jennifer  McDonald, 
Elizabeth Gordon, Gay Greenway, Anne Hall.  
Front:  Noeline  Corker,  Annabel  Donaldson,  Gaylene 
Woodcock,  Gibbs,  Susan  Littin,  Kaye  Leslie,  Fay 
Corker.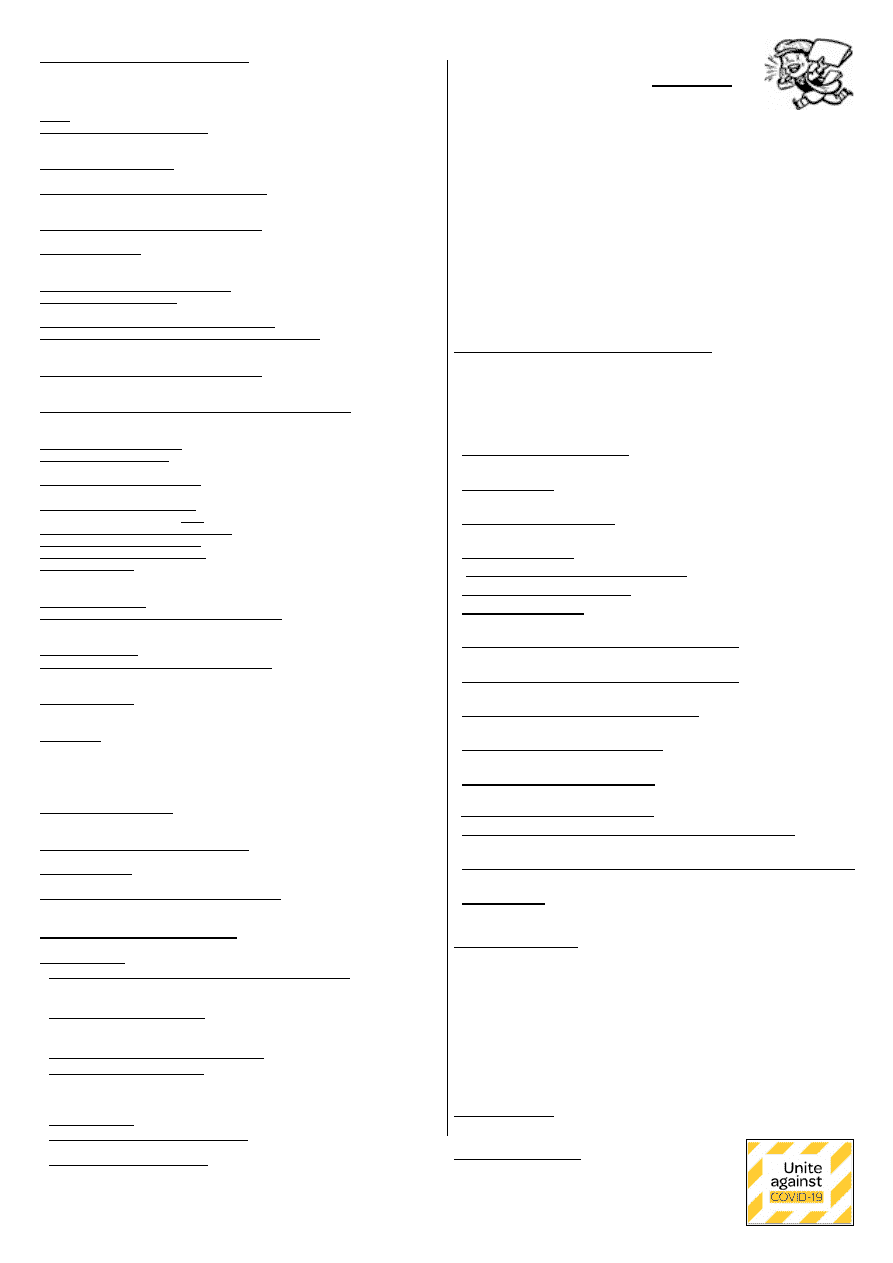 www.kaiwaka.co.nz 
Kaiwaka Bugle - 24 January 2022 
Page 20 
WHAT'S ON
PLEASE ~ do let us know what is on - 
email kaiwakabugle@kaiwaka.co.nz 
*31Jan~Anniversay Day 
*1Feb~Term 1 2022 begins, Kaiwaka Primary School 
*8Feb~Kaiwaka War Memorial Hall AGM,  5pm 
*6Feb~Waitangi Day 
*11Feb~Movie 'The Last Waltz', KWMH 7.30pm 
14Feb~Valentine's Day 
*16Feb~ Kaiwaka Can meet 5.30pm Archie Bull Hall 
*25Feb~Rotary Quiz Fundraiser, Mgto Country Club 
*25Feb~Movie 'What We Did On Our Holiday' KWMH 
7.30pm 
KWMH = Kaiwaka War Memorial Hall; KSA = Kaiwaka Sports Association 
See www.kaiwaka.co.nz for more information 
HOUSEHOLD RUBBISH COLLECTION  
Kaiwaka Pick up: 
Mondays = Green bags (Northland Waste - 09 430 3273) 
Wednesdays  =  Blue  bags  and  yellow  recycling  (at  Four  Square 
Kaiwaka $3.30 and $1.70) (Kaurilands 09 4392146); ONLY Blue 
and Yellow bags picked up on Oneriri Road. 
 DIABETES Support Group-for Kaiwaka, Mangawhai, Wellsford 
10am, 3rd Friday of month Ph: Colleen James 09 4314238 
 GENEALOGY - Wellsford: 1st Thursday in month Ph: 423 
7033; Waipu: 4th Monday in month Ph: 4312 725 
 HAKARU PONY CLUB - Secretary Denise Rogers 021423376 
secretary@hakaruponyclub.co.nz  
 KAIPARA HUNT - Secretary Albert Doonenbal Ph 4312059 
  KAIPARA HUNTING & FISHING - 021 1294378 
 KAIWAKA BADMINTON -Tuesdays 7.30pm Ph: 4312345 
 KAIWAKA  CAN  - 3rd Wednesday in month, 5.30pm, Archie 
Bull Hall Ph: 0273572751 
 KAIWAKA GARDEN & FLORAL GROUP - 2nd Thursday in 
month. Ph: 431 4744 
 KNITTING FOR WHANGAREI HOSPITAL - 2nd Tuesday in 
month, Archie Bull Hall 10am Ph 4314827 
 MANGAWHAI COMBINED REBUS CLUB - 2pm, 3rd 
Thursday month, Senior Citizens Hall Mangawhai. Ph: 4315777 
 MANGAWHAI GENEALOGY  - meet 3rd Thursday month, 
Mangawhai Museum, 10.30am 
 PILATES - HAKARU HALL - Tuesday 10am, Thursday 9am 
Qualified Instructor  Ph. 0220643965  
*PT CURTIS CRUISING CLUB - Jean Ph: 4312227 (wk), 4312520 (hm) 
 RSA,  HAKARU  &  DISTRICTS  WOMEN'S  SECTION  –  meets 
1.30pm 4th Thursday of the month. Ph: 431 5818  
 KAIWAKA  SCOTTISH  COUNTRY  DANCING  CLUB-
Wednesdays 10am - 12 noon  Ph: Elaine 027 432 0032  
 TRAMPING 
- 
Mondays 
9am-2:30pm, 
contact  
valkenburgmaria@gmail.com 
HALLS FOR HIRE: 
  Kaiwaka St. John Hall: Phone Marj  0272941227  
 St.Pauls  Archie  Bull Hall  HIRE  $20 half day, $40 full day per 
hire, S McAulay, Ph 4312311 
 Kaiwaka  War  Memorial  Hall  HlRE  -  Phone  4312725  or 
kaiwaka.hall.bookings@gmail.com 
 Hakaru Community Hall HIRE -Ph.  Karen 4312090 
 Te Pounga Marae queries - Pearl Nathan  0223933533 
 Kaiwaka Sports Association hire/queries - Jennie Reynolds
   ksa.bookings@mail.com
, 02102764171  
Justice of Peace: A.F.Hargreaves 4312 045, W.Howard 4312 725 - 
please 
phone 
to 
make 
sure 
they 
are 
available 
www.justiceofthepeace.org.nz  B.FJaques Retd  
Marriage Celebrants:  
L.Donaldson; A.F.Hargreaves; Y Osborne
Next Bugle Deadline  Friday 25 February 2022
LOCAL SERVICES 
*Emergencies - Ambulance, Fire, Police - dial 111 
*Non-urgent Police phone 105
A A: Meets Wed., 7pm. Kate's Place Ph 021 024 25969 or 0800 229 6757 
NARCOTICS ANONYMOUS : Mon., 6pm, Archie Bull Hall, Kwk-Mwi 
Road; drug and alcohol related issues. Ph. 02102412348 
ASUREQUALITY LTD (was AgriQuality) Call Free 0508 0011 22  
BUDGETING SERVICE, WELLSFORD: Free confidential advice & 
support for all areas of personal finance. Ph (09) 423 7123 
CAB-Citizens Advice Bureau.Wellsford Ph: 4237333 
0800 367 222 email:cab.wells@xtra.co.nz  
CIVIL DEFENCE - Kaiwaka Community Response Group: 
kaiwaka.civildefencecrg@gmail.com, 4312725 Wendy 
DOG/STOCK /NOISE CONTROL 0800 105 890 
FUNERAL SERVICES: Morris & Morris Ltd, 0800667747 
GRANDPARENTS Raising Grandchildren: Dianah Roberts 0223819539 
HAKARU & DISTRICTS MEMORIAL RSA (Inc) 733 Settlement Rd, 
Hakaru. Ph 4312 176 or Bill Warren (President) 431 2092 
HAKARU LANDFILL/Transfer Station:Open everyday  10am-
4pm.Ph4312629 Cost-$55 trailer load up to 1 cubic metre. Ph:4258567 - 
office 
KAIPARA DISTRICT COUNCIL www.kaipara.govt.nz:  
Help Desk FREEPHONE 0800 727 059  
KAIWAKA CEMETERY: Ph: 4312045 or 4314017 
KAIWAKA LIBRARY: kaiwaka.library@gmail.com  
Mon. 4-6pm; Wed., Thurs., Fri., Sat. 10am-2pm Ph:4312539 
KAIWAKA PLAYCENTRE: Ph Juanita 0274134904; open Mon, Wed, 
Fri 9am-12pm. Hastie Lane; Monday to Friday 9.00am - 12 noon. 
KAIWAKA POST OFFICE:Ph:4312 431  
Post Code: 0573 for RD2 and 0542 for all Kaiwaka Post Office mail 
KAIWAKA PRIMARY SCHOOL: Ph: 4312309   
KAIWAKA SPORTS ASSN: Ph 4312005; 4312129 gym 
KAIWAKA ST JOHN HALL: Phone Marj  0272941227  
KATE'S PLACE Community Centre - Employment services, Free Health 
Nurse, Plunket, Advocacy, Osteotherapist, A.A., Legal Advice. 4312 661 
LINKING HANDS Health Shuttle Ph 4315906 or 09 4318969 
MINISTRY FOR PRIMARY INDUSTRIES - General inquiries Call 
Free 0800 008 333 
NORTHPOWER: Faults Kaiwaka area 0800 104040 
OTAMATEA COMMUNITY SERVICES: Counselling, parent coach, 
Family Support worker, budget advice, food bank. Mon-Fri 9am-3pm. Ph 
09 431 9080 http://www.otamateacs.org/ 
PARENTPORT: Free, practical family support service Puhoi to Paparoa 
Ph or txt: Dianne 027 280 5093 or 09 425 9357 
PLUNKET: Kaiwaka- St John Hall, Monday 19 Oct, 23 Nov, 21 Dec. then 4th 
Monday of the month. Plunket Nurse Louise 027 282 3987 or 09 438 2508 
Mangawhai- Rose Madsen Cottage, Mondays and Wednesdays. Plunket Nurse 
Rebecca 021 501 941 or 09 438 2508 
Maungaturoto - Good News Church, 2nd and 4th Wednesday of the month. 
Plunket Nurse Seleisa 021 912 248 or 09 438 2508 
PLUNKET HELPLINE -0800 933 922 (24 hours)  
FACEBOOK - Kaipara Plunket 
TAITOKERAU COMMUNITY LAW: Free confidential legal advice and 
assistance, 2nd
Thursday
 of each month. Ph: 0800 155 529 for appts.  
TE URI O HAU Settlement Trust Tangata Developments: Whanau Ora 
021 793262  
VETERINARY SERVICE MANGAWHAI: 
Ph: 4314535 Mon-Fri 8.00-5.00, Sat 9-12, a/h appt. 
WELLSFORD DOCTORS: Ph: 4238 086 
CHURCHES:
 
Kaiwaka  Revival  Church  -  Your  Community  Church:  Sundays  10am. 
Ph: Pastor Tawhiri 09 431 8988 or Pastor Paul 09 4312 068 Visit us at 
www.facebook.com/kaiwakachurch 
 
St  Paul's  Anglican  Church  1st  Sun.  9.00am  (Eucharist),  3rd  Sun. 
9.00am  (Family  Service).  Contact:  Church  Office  Ph  431  4122 
www.mangawhaianglican.org.nz 
 
Church of Christ the King, Mangawhai:9.00am every Sunday 
 
St.Mary's  Catholic  Church:  Maungaturoto  –  Griffins  Road,  Saturday 
evening  Vigil  Mass  6pm;  Mangawhai  –  Senior  Citizens  Hall,  Sunday 
Mass  8:30am;  Wellsford  –  Matheson  Road,  Sunday  Mass  10:30am;  
Mid-week Mass times and all enquires to Fr. Bill Fletcher – phone 423 8170
 
Baptist Church: Sun. 10.30am Mangawhai Snr Cit.Hall.Ph:4312339 
 
Cause  Way  Church  Mangawhai:  Sundays  10.15am,  Mangawhai 
Community  Recreation  Centre,  Insley  St.  Ph:  09  4314782