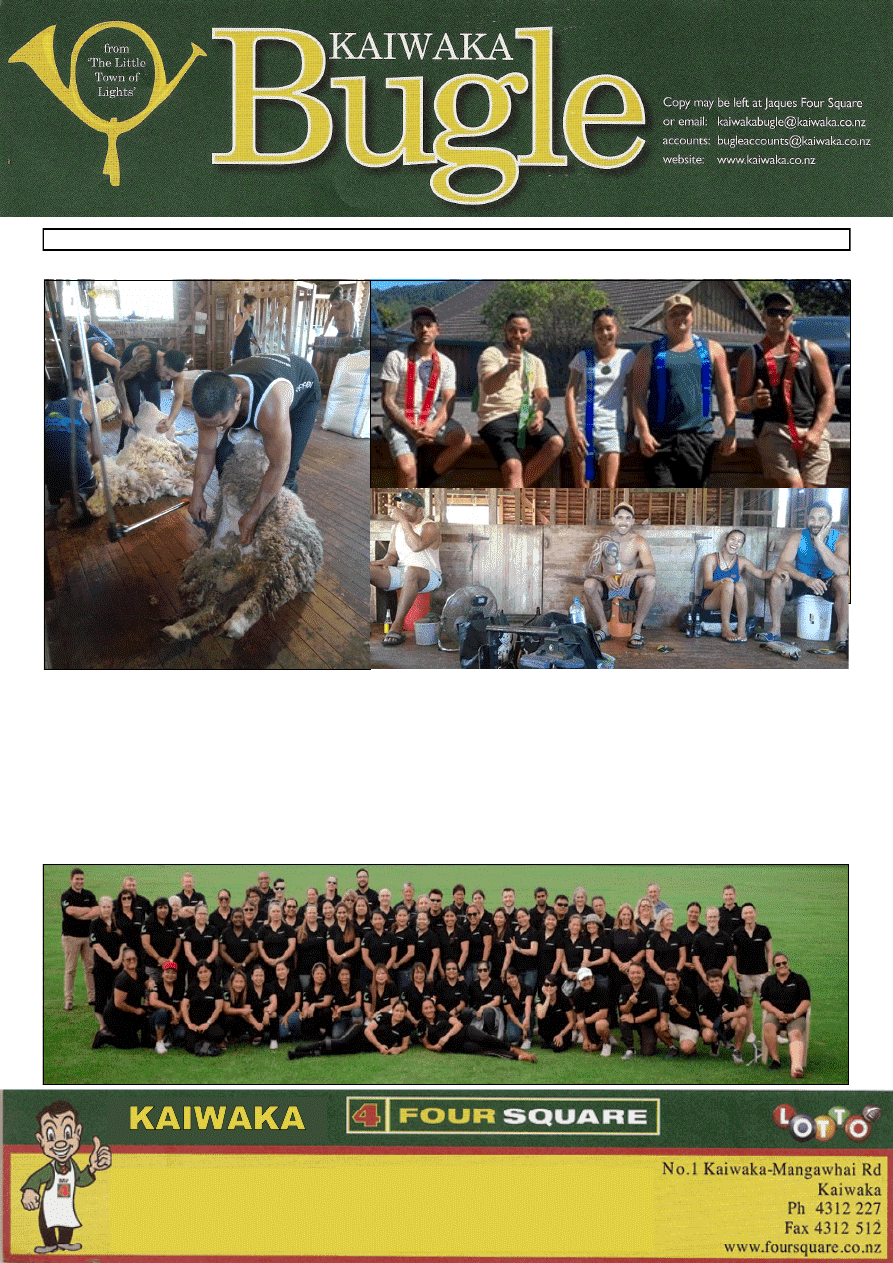 www.kaiwaka.co.nz 
Kaiwaka Bugle - 28 February 2022 
Page 1 
No: 2 
 28 February 2022 
KAIWAKA WINNERS ARE WORKERS!  
Above: "We are very proud of our shearing team!" Not only does this Henderson Shearing Team put in the hard yards 
in  the  woolshed,  but  they  come  out  on  top  in  Shearing  Sports.  Photo  top  left  -  the  team  at  work  in  a  local  Oneriri 
woolshed just before their competition - Toa Henderson and Tama Nahona can be seen in the front, and photo above - 'a 
great  feeling  at  cut-out"!  Photo  top  right  -  Winners  Toa  Henderson  -  1st  Open  Final,  Dane  Phillips  -  4th  Open  Final, 
Destiny  Paikea  -  2nd  Woolhandling  Final,  Jayden  Mainland  -  2nd  Senior  Final,  Tama  Nahona  -  1st  Senior  Final,  at 
Rotorua Agrodome, January 30. 
A number of Shearing Sports competitions have been cancelled this year due to Covid restrictions; Tama Nahona was 
placed in the Senior Shearing Final at the Apiti Shears on Saturday 26  February. 
Below:  A  business  to  be  proud  of!  Our  local  Kaiwaka  Clothing  team  of  eighty  celebrated  the  end  of  2021  at  the 
Kaiwaka Sports complex. Ross Stewart began his business, known world-wide, in 1975. From small beginnings to one of 
New Zealand's leading supplier of wet weather gear. Sadly Ross and his wife, Jean,  died just after this celebration. 
TRADING HOURS: 
7.30am - 7pm daily 
"Your local Store" 
Family owned & operated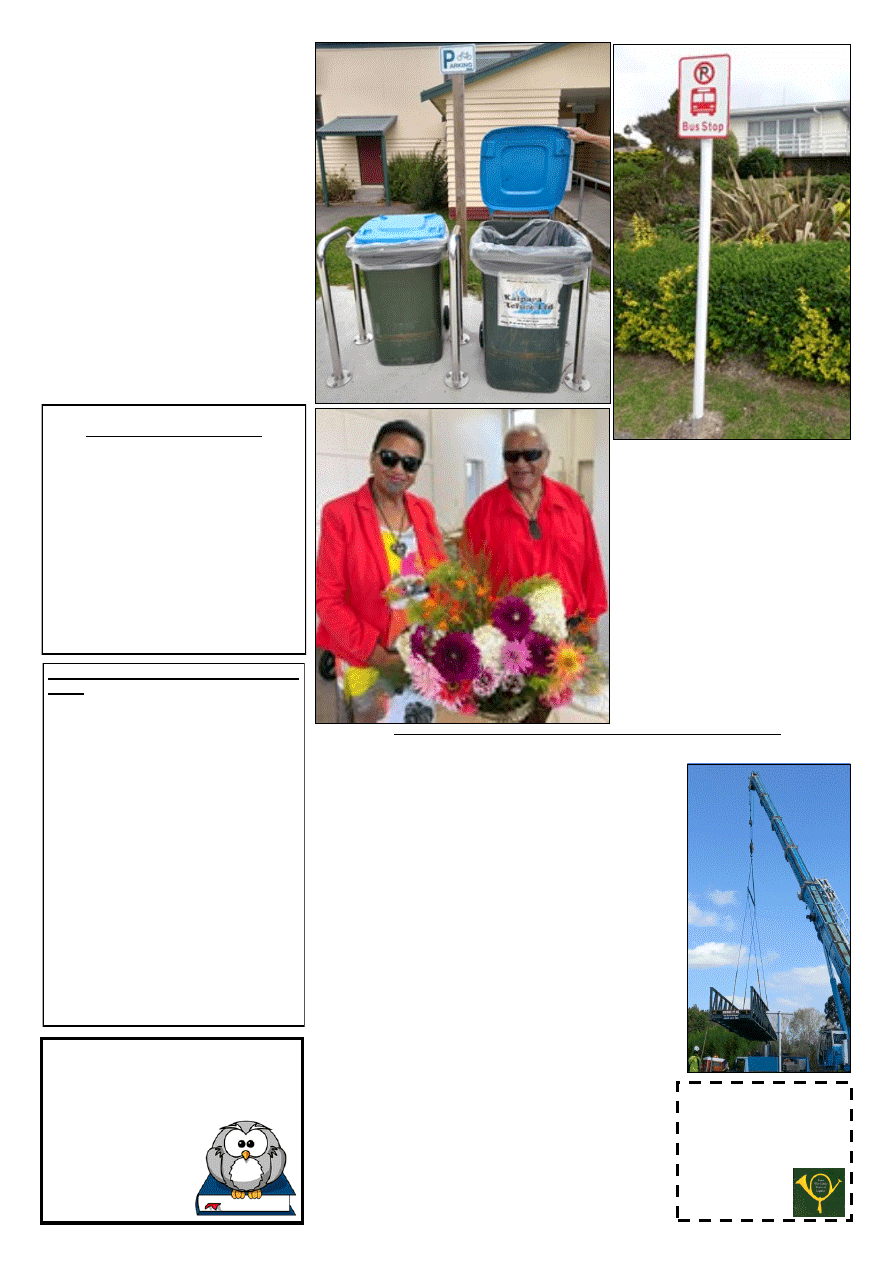 KAIWAKA BUGLE No. 2 
28 FEBRUARY 2022 
CONTENTS 
Page 3: Public Notices, Classified 
Page 5: Jonathan KDC councillor 
Page 7: Kaiwaka Weather;  Libby 
NDHB  
Page 9: Kaiwaka Can  
Page 11: Kaiwaka Sports Assn. 
Page 13:Rotary; Gardening 
Page 15: Kay McElwain 
Page 17: Kaiwaka Library; OHS 
Page 19: Footbridges 
Page 21: Kaiwaka Sports Assn 
Bugle 3 will appear 28 March 2022  
Contact for advertising, reports, articles 
or information can be made by 
Email kaiwakabugle@kaiwaka.co.nz 
Ph: 09 4312 045 Lindsey 
Txt: 027 2724137 
Copy may be left at our Four Square. 
Kaiwaka Bugle 
Founded May 1978 
We appreciate articles and photos about local 
events, etc, as well as ads and suggestions. 
Copies available in Kaiwaka at Four Square, 
Kaiwaka Postal Centre, Shamrock Service 
Station, Best Pets , Kaiwaka St John shop. 
Also outlets in Maungaturoto, 
Mangawhai and Paparoa. 
Can be viewed online at   
www.kaiwaka.co.nz/Bugle  
Or a copy can be posted to you if you supply 
stamped, self-addressed DLE envelopes. 
Kaiwaka 
Bugle 
Advertisements 
2022: 
All 
copy 
and 
queries 
to: 
kaiwakabugle@kaiwaka.co.nz 
The Bugle is printed on an A4 page   
Ad  sizes:  1/16  page  (3  x  9.5cm)  $5;  1/8 
(6.5  x  9.5cm  landscape  or  portrait)  $8; 
3/16 ( 10 x 9.5cm or 7.5 x 12.5)  $12.  
Classified  ads:  First  one  FREE,  $4  per 
entry (max. 30 words, max. 4 repeats). 
Payments  can  be  made  online  at 
ANZ 
06  0365  0006990  00
,  posted  or  left  at 
Kaiwaka Four Square Store. 
We  use  Microsoft  Publisher,  and  can 
work  with  most  common  image 
formats, Word, Excel, and PDF files. 
Accounts:  
Email: bugleaccounts@kaiwaka.co.nz 
The  Kaiwaka  Bugle  is  a  community 
newspaper run by volunteers, as part of 
the Kaiwaka Media Group Inc.   
Articles, etc. printed are not necessarily 
the opinion of the Bugle Team. 
ABOUT TOWN

 Great  to  see  our  sturdy  footbridge  now  ready  for 
crossing - well done Bridge It NZ! 

 Brilliant work done by the Kaiwaka Can team with 
their planting and cleaning work at McClean Park. See 
page 9. 

 The  latest  Covid  Vax  day  at  the  KSA  went  well 
with 104 adults and 7 children receiving vaccinations. 

'St.  Patrick's  Day  is  celebrated  in  more  countries 
than  any  other  national  festival,  celebrated  on  17 
March,  the  traditional  death  date  of  Saint  Patrick  (c. 
385 – c. 461), \patron saint of Ireland.  

 The  Rodney/Otamatea  Under  18  Rugby  Junior 
Rugby team will be training at Maungaturoto Country 
Club (16 Feb onwards) at 6.30pm at the Maungaturoto 
-  call  Phillip  Tana  on  021  734  830  if  you  have  any 
questions/queries. 

 The  Bugle  is  now  once  a  month  rather  than  every 
two  weeks,    coming  out  on  the  last Monday  of  the 
month.

Kaiwaka 
Bugle 
No. 
2 
is 
online 
at 
www.kaiwaka.co.nz in colour and is in print for our 
local Readers.    
~ 
Lindsey, Ed
""May you have all the happiness and luck that life can 
hold—and at the end of your rainbows ay you find a pot of 
gold." 
~ Old Irish Blessing 
KAIWAKA BUGLE 
FRIDAY 
DEADLINE DATES 
2022:   
25 March 
22 April 
27 May 
24 June
Proverbs 9:10
For the reverence and fear of 
God are basic to all wisdom. 
Knowing God 
results in every 
other kind of 
understanding. 
AROUND TOWN  
Above  left:  The  KDC  installed 
bike stand has become a perfect fit 
for the rubbish bins. 
Above  right:  Another  KDC 
instalment - a Bus Stop  sign, near 
the pedestrian crossing. 
Photo  left:  A lovely farewell and 
potluck  lunch  was  held  recently 
for  Maria  (Aunty  Ma)  and  Rau 
Morgan  as  they  retire  from 
Kaiwaka  Foodbank  (see  Kaiwaka 
Bugle No.1)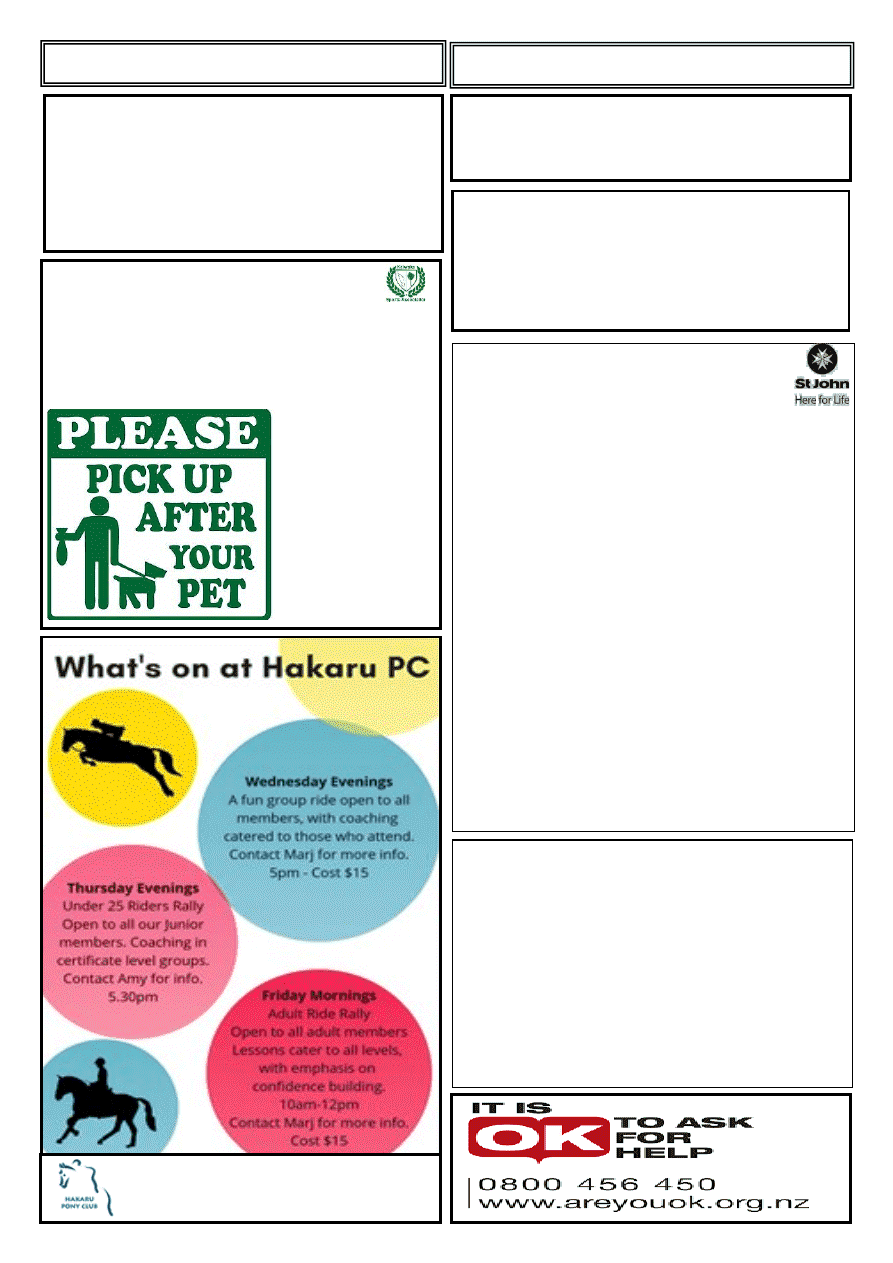 www.kaiwaka.co.nz 
Kaiwaka Bugle - 28 February 2022 
Page 3 
PUBLIC NOTICES 
CLASSIFIED 
HAKARU RE:SORT STATION 
636 KAIWAKA-MANGAWHAI ROAD 
Open every day 8am - 4pm  
Closed All Public Holidays 
Telephone: 09 431 2629 
NOTE: No GREEN Bag Pick Up on Oneriri Rd 
KDC BLUE & YELLOW Bag collection as usual for 
Kaiwaka area. 
OTAMATEA NETBALL CLUB 
Annual General Meeting 
Sunday 6 March at 9am  
at Coast Cafe in Maungaturoto.  
You are welcome to attend,  
but vaccine passports will be required.  
If you have any nominations for the committee please 
email club otamateanetball@gmail.com. 
TE PĀTAKA O KAIWAKA  
FOODBANK & OP SHOP 
A note from Millie and her Team!  
We are in need of New-born babies' clothes  
also shoes for children and adults please  
Men's  small  and  medium  clothes;  Nicnacs;  Tools; 
Jewellery. 
Would anyone have a strong sturdy Clothes rack we could 
have  
Please  do  not  leave  Clothes  outside  the  shop  -  this  is  no 
help to us when thrown in bag and smelly.  
The Foodbank is always available have said it all before - 
so don't go without.  
Arohanui, Milly and Staff 
tepatakaokaiwaka@gmail.com 027 388 9217  
ST. JOHN KAIWAKA STORE 
Thanking you all for the donations over the past 
four weeks.   
Hope you are all safe and well. Might pay to top up on 
books for reading in case you end up isolating. 
We are currently NOT accepting any CLOTHING as 
we are full up again and have run out of storage space. 
Needing Books, Bric a Brac, Jewellery, Craft items, please 
When sorting out items please remember that we only 
accept things that are clean and tidy. 
"If you would not purchase it We DO NOT Want it as it 
costs us to dispose of it." 
Please do not leave any donations on our deck as these 
get picked thru before we open. 
You can purchase First Aid Kits in Store; You can also get 
memberships for yourself, you and your spouse, or for the 
whole family (must be in one dwelling). 
St John are currently having a break from First Aid 
Courses, but you can check out our online Courses. 
Stay safe and remember if you are not well Stay Home and 
get a test. 
Thank you, Dianne and my wonderful team of volunteers 
Kaiwaka St John Store Hours: 
TUESDAY to FRIDAY  10am to 3pm;  
And EVERY SATURDAY 10am to 2 pm 
PHONE: Shop  4312650  ~ 1919SH1, Kaiwaka 
First notice FREE  for Classified or Public Notices - 
less  than  30  words  -  then  charged  as  per  advertised  
($4). This includes AGM and meeting notices, FOR 
SALE, WANTED, FOR RENT. ~ Kaiwaka Bugle 
KAIWAKA SPORTS ASSN 
YOUR DOG is most welcome on the Kaiwaka Sports 
Assn. grounds as long as you Clean up … 
Many folk use the grass area for sport and exercise. 
A  SUGGESTION:  Using  a  Plastic  Bag  to  Pick  Up 
Your Dog's Poop 
When  you  stoop  to  pick  up  your  dog's  poop,  with  your 
hand  on  the  inside  of 
the  inverted  plastic 
bag  (as  if  you  were 
putting  on  a  glove), 
firmly  grab  the  poop 
on  the  ground  and 
pick  it  up;  then  with 
your free hand to fold 
the sides of the bag up 
and  around  the  poop; 
tie the bag tightly and 
place in a bin. 
HAKARU PONY CLUB 
More info. Contact Amy Westlake  
021-180-5000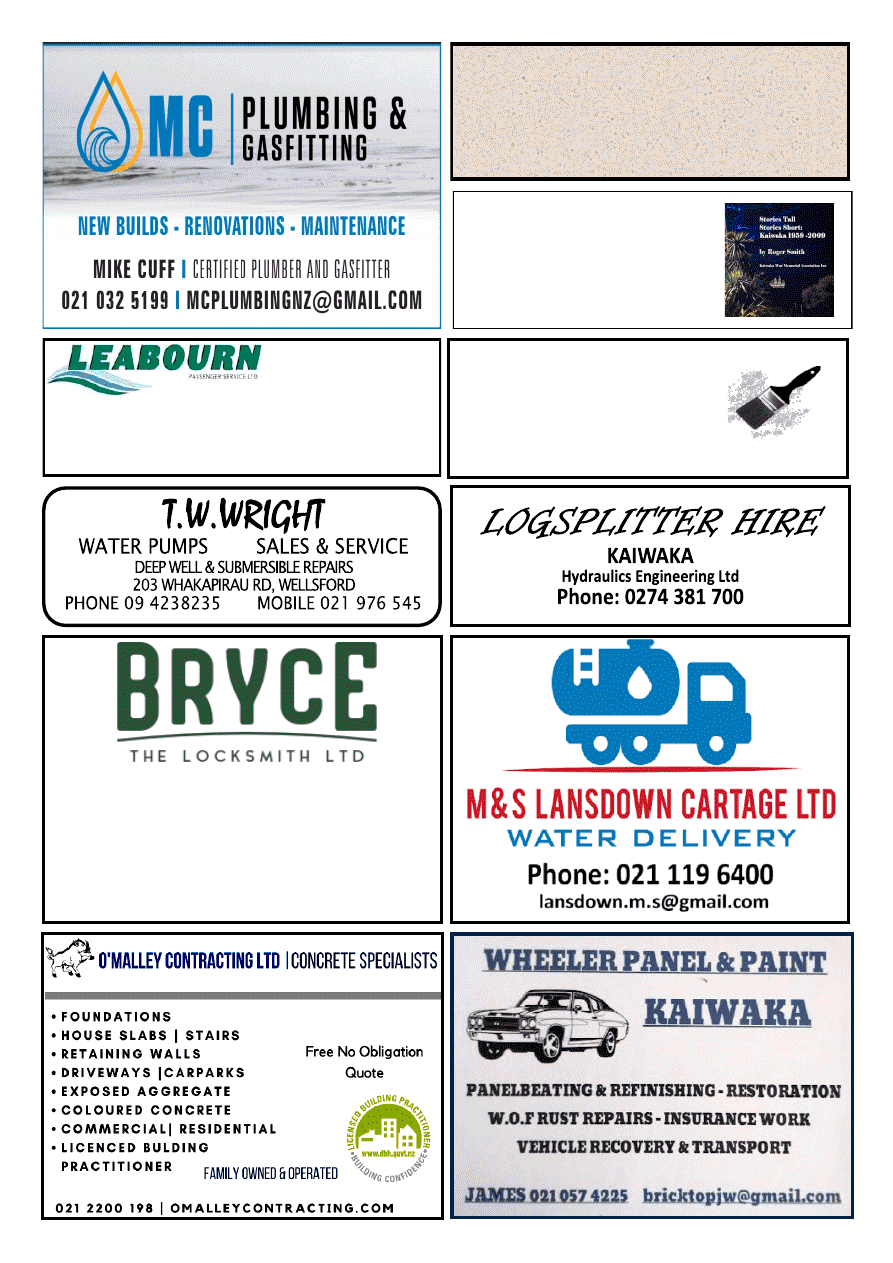 Counsellor and Registered Psychotherapist 
Offers Supervision
Susan Matheson 
MNZAC 
Dip. Psychosynthesis Counselling and Psychotherapy 
Phone 09 431 2996                        Mobile 027 605 2427 
Passenger Service
Car & Van Hire   Bus & Coach Charters 
Airport Transfers    
Phone (09) 4237416 
Bryce Frewin 
Ph: 021 850 983 
Kaipara Based Master Locksmith 
bryce@brycethelocksmith.co.nz 
www.brycethelocksmith.co.nz 
Stories Tall, Stories Short  
Kaiwaka 1959-2009 
by Roger TW Smith.  $40 
Kaiwaka Photographic History $25 
Available at All Sortz Collectables  
or phone  4312 045 
DR PAINT
 Dave & Rhys 
 Painters
 02108742551   
0211200667    drpaintnz@gmail.com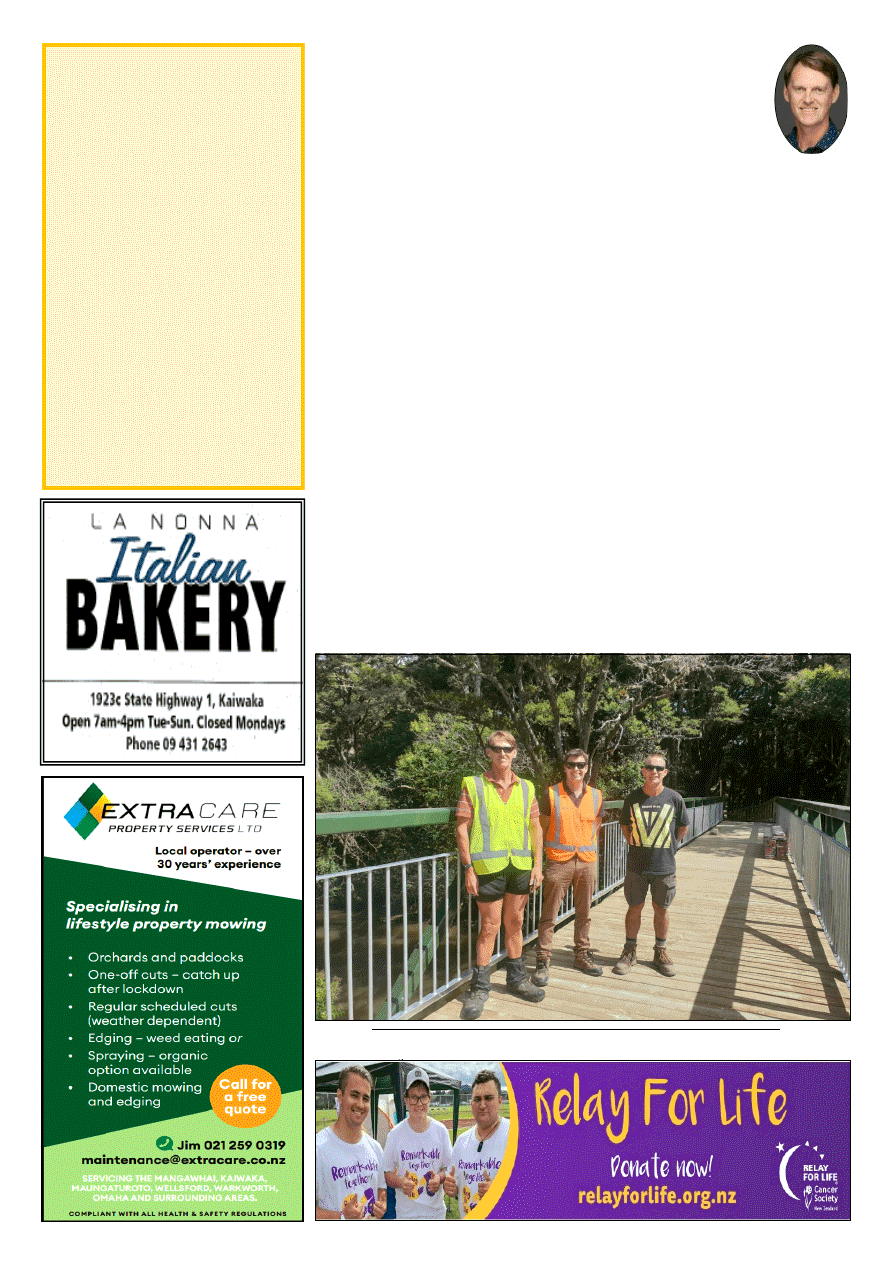 www.kaiwaka.co.nz 
Kaiwaka Bugle - 28 February 2022 
Page 5 
Willow Bend 
HORSE  
HOTEL 
Horse Grazing & Agistment 

Safe paddocks with outriggers 
on all fences 

60x40 professionally 
constructed arena with grass 
surface 

Under cover yards 

Stabling if required 

Paddocks cleaned daily 

Feeding hay/hard feed 

Cover changes 

Fresh grass daily, all year round 

Short or long term
Phone Sue  
021 623 776  
Providing care and comfort for 
horses in Kaiwaka since 2005 
COUNCILLOR'S COMMENT* 
with Kaiwaka-Mangawhai Ward Councillor Jonathan Larsen 
KAIWAKA FOOTBRIDGES 
NEAR COMPLETION 
I had the pleasure last week of taking a 
tour  of  the  Kaiwaka  Footbridges 
construction  site.  The  bridges  were 
fabricated off site and are now both in 
place.  They  will  seamlessly  link  all 
parts of central Kaiwaka both North to 
South,  and  East  to  West  via  dual 
underpasses  of  State  Highway  One. 
This 
will 
significantly 
improve 
pedestrian  and  cyclist  safety  around 
town and provide a safe linkage on the 
western  side  from  La  Nonna  Bakery 
through  McClean  Park  to  Gateway 
Motel  and  the  Coffeepot  Cafe.  The 
bridges  are  expected  to  be  useable  by 
4th  March  and  works  completed  a 
week  later.  Exciting  times  for 
Kaiwaka! 
MORE FUNDS FOR RESERVES 
IN KAIWAKA AND 
MANGAWHAI 
Reserve  contributions  are  funds 
collected 
from 
subdivision 
to 
compensate  for  the  effects  of  growth. 
They are used to acquire new reserves 
and  to  upgrade  existing  facilities. 
During  the  last  term  of  Council,  I 
initiated  a  review  of  the  reserve 
contributions  policy.  The  two  main 
issues  were  that  40  percent  of  funds 
collected  were  being  deducted  for 
district-wide  use,  and  many  ratepayers 
felt  they  had  little  say  in 
how the funds were used. 
The  policy  was  amended 
to  ensure  at  least  80%  of 
funds collected were used in the area of 
collection,  and  a  contestable  fund  was 
created  to  allow  ratepayer  projects  to 
be  funded.  At  the  February  Council 
meeting  a  further  review  of  the  policy 
was  adopted.  The  policy  will  now 
ensure that 90 percent of funds will be 
spent locally. This means there will be 
more  funds  available  for  the  much-
needed  reserves  and  facilities  in  this 
rapidly growing area. 
For  any  Council  maintenance  or 
service issues please phone 0800 0800 
727 
059 
or 
email 
council@kaipara.govt.nz.  
If you have any community projects or 
issues  that  you  would  like  assistance 
with, I can be contacted on Ph. 021 185 
8389 or jlarsen@kaipara.govt.nz.  
For  regular  updates  see  https://
www.facebook.com/
TheWorkBootCouncillor. 
*
The  views  expressed  are  those  of  the 
writer and do not necessarily represent the 
consensus position of Council. 
Photo below:  Checking out Kaiwaka's 
northern  footbridge  with  KDC  Project 
Manager Tim Manning and Bridge It 
NZ Site Manager Fraser Macleod  
 Relay For Life to Celebrate, Remember, and Fight Back against cancer.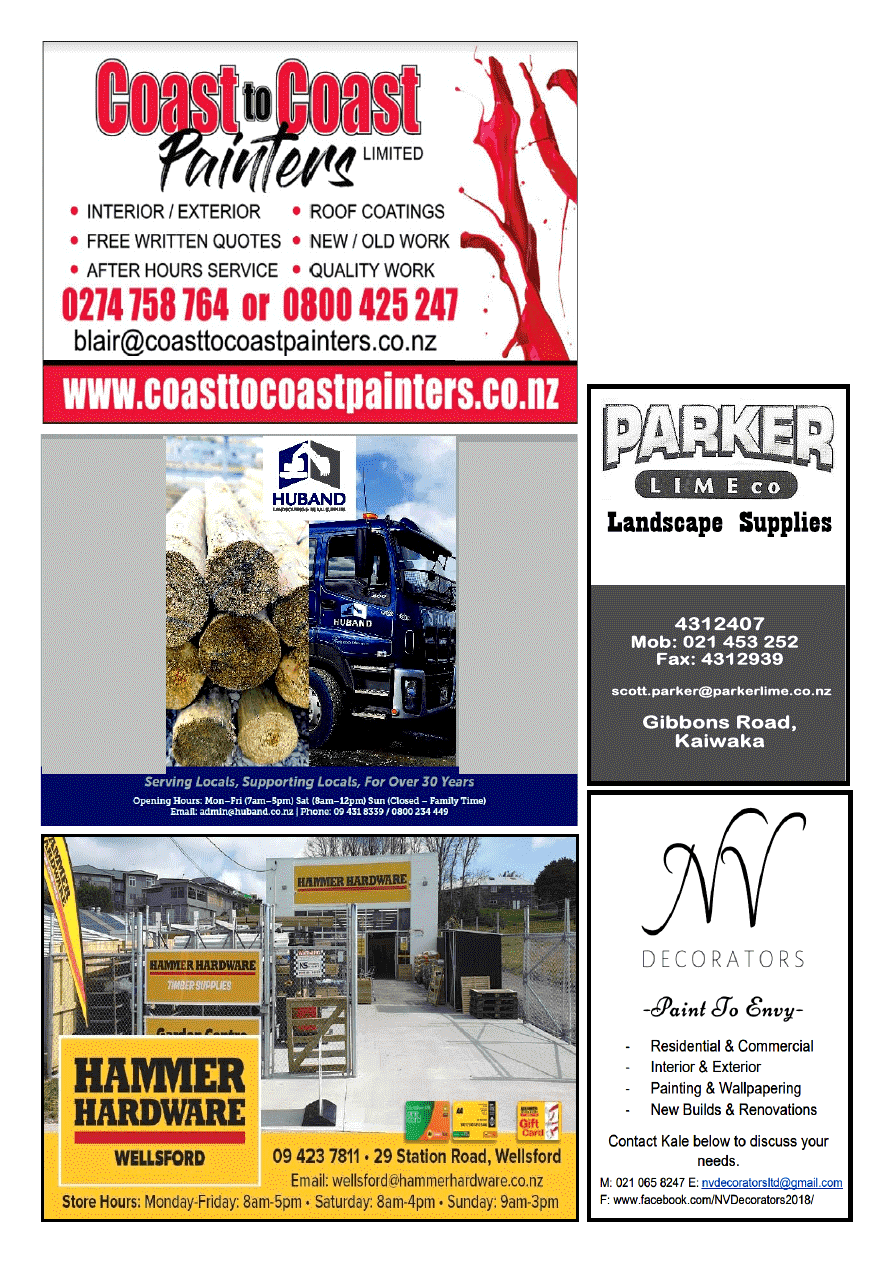 Bulk Cartage 
HELP 
PHONE NUMBERS 

HEALTHLINE  0800  611  116  -  a 
nurse to answer health queries  

SAMARITANS  
0800  726  666  -  support  for  lonely  or 
suffering mental distress 

YOUTHLINE 0800 376 633 

LIFELINE 0800 543 354 

DEPRESSION HELPLINE  
0800 111 756 

ALCOHOL  &  DRUG  HELPLINE 
0800 787 797 

URGENT 
MENTAL 
HEALTH 
LINE 0800 223 371 

WARMLINE  -peer  support  for 
people with mental health issues  
0800 200 207 
Landscaping Supplies: 
Waikato Screen Topsoil 
Bark 
Woodchip 
Mill Bark 
Post Peelings 
Compost 
Crushed Shell 
Topsoil 
Limestone Chip 
Daltons Garden Mix 
Aggregate 
Gap: 20,40.65 
Riverstone 
Sand 
Belt Dust 
40/20 Drainage Metal 
Builders Mix 
 Cement 
Timber/Fencing Supplies: 
Rails, Posts  
Stays, Strainers 
Fence Battens 
Palings 
Stakes 
Fencing Wire 
Farm Gates & hardware 
Drainage: 
PVC Fittings 
Alkathene 
Draincoil 
WATER TANKS: 
Aqua & Baileys 
Brands 
DRAINAGE & 
SEPTICS: 
Land Drainage 
Urban Rural 
Drainage 
Water Pipelines 
Culverts 
Septic Systems 
(RX Plastics & 
Biorock) 
SITEWORKS: 
Retaining Walls 
Piling 
Driveways 
Carparks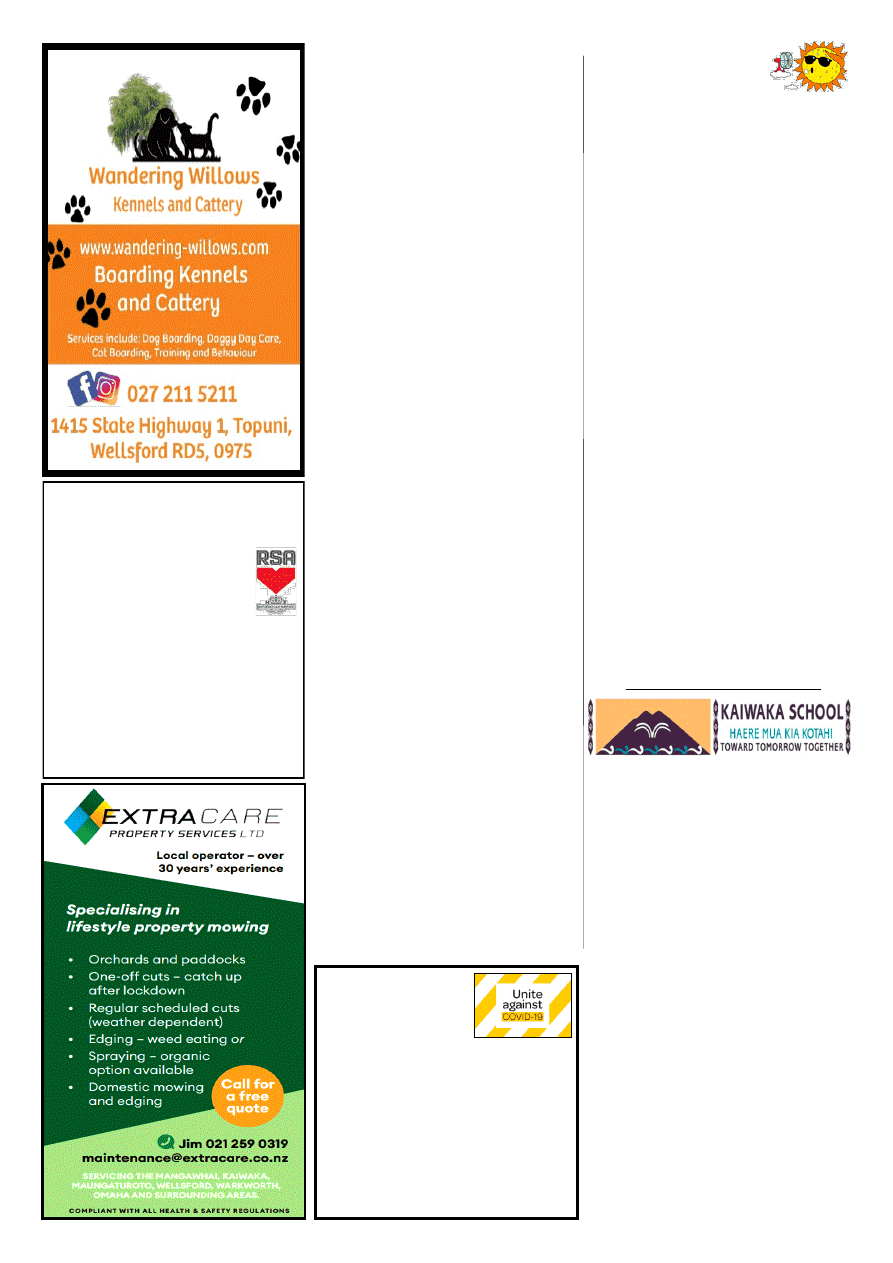 www.kaiwaka.co.nz 
Kaiwaka Bugle - 28 February 2022 
Page 7 
HAKARU & DISTRICTS 
MEMORIAL RSA  
Members & guests are 
invited to come along and 
enjoy our hospitality. 
New members welcome. 
Meals are served on 
Thursday and Friday nights 
from 6.30pm. 
Order from Blackboard Menu 
For more information please phone 
Barry Wallace 0274 922 975  
Email: president@hakarursa.co.nz 
LIBBY  JONES 
– 
Member 
Northland District Health Board 
I am in the very privileged position of 
being able to share my thoughts in the 
Kaiwaka  Bugle  and  other  publications 
each  month,  as  an  elected  member  of 
the  Northland  District  Health  Board.  I 
try  to  share  what  is  happening  in  the 
health  sector,  what  the  plans  are  with 
the  Northland  DHB  in  various  area, 
how  the  system  works  and  other 
information  I  think  would  be  helpful 
for  locals  to  know  about  health  and 
wellbeing. My background is in social 
work  working  in  health,  not  as  a 
medical  professional.  I  am  still 
working  in  social  services,  so  I  see 
hardship,  distress  and  unwell  people 
every  day.  I  have  always  supported 
prevention as better than cure, and I am 
still absolutely convinced of public and 
personal  health  measures  that  we  can 
use  to  promote  good  health  and 
maintain our wellbeing. 
One  of  the  things  I  find  most  difficult 
to  understand  is  how  people  can  be 
disbelieving  of  the  science  of 
vaccination yet lining up at hospital to 
get  treatment  and  help  when  they 
become  unwell,  with  in  this  case 
COVID 19. Over the years I have seen 
people  in  the  community  refuse 
childhood vaccination for their children 
then  when  measles  or  other  nasties 
strike,  they  are asking  for medications 
(and who knows how they are made?) 
to make them better and wanting to be 
vaccinated. The trouble is, it can be too 
late, you can't get vaccinated when you 
are  suffering  from  the  illness  and 
fighting for your life. 
Kaiwaka 
has 
lower 
levels 
of 
vaccination  than  many  other  areas, 
15%  lower  than  the  national  average 
for  first  and  second  doses  and  lower 
than much of Kaipara and Northland. 
So, are you prepared for COVID in the 
community?  Think  how  you  will 
manage  in  your  home  or  business  if 
you or one of your family, neighbours 
or  work  colleagues  become  infected 
with  COVID  19  and  have  to  self-
isolate. Information is available on the 
Northland  DHB  website.  https://
www.northlanddhb.org.nz/home/covid-
19/be-covid-ready 
Have a safe summer Kaiwaka. 
Libby  Jones  hames.jones@xtra.co.nz 
021 2080093 
KAIWAKA 
WEATHER 
We are into the last month of summer 
already  and  what  a  lovely  Summer  it 
was.  
I  have  noticed  the  leaves  on  a  few 
trees  are  starting  to  turn  yellow  as 
Autumn  approaches.  We  desperately 
need  some  rain.  The  reports  keep 
telling  us  we  are  going  to  get  some, 
but it seems to disappear before it gets 
to  us.  I  drove  through  a  lovely  rain 
shower in Kaiwaka a couple of weeks 
ago  but  unfortunately  it  didn't  reach 
our place, just some 3 km away.  
The  rain  recorded  at  our  place  for 
January was 36.75ml but as soon as it 
hit  the  ground  the  warm  balmy  wind 
dried it up again.  
The  rainfall  we  had  during  the  winter 
has  thankfully  seen  the  ground  stay 
reasonably  moist  down  low,  as  we 
haven't got quite as many cracks in the 
ground  as  previous  summers.  The 
Brynderwyn  waterfall  is  back  to  a 
trickle again. 
We had rainfall on 178 days in 2021.  
The  lowest  January  rainfall  I  have 
recorded was in 2020 with a mere 9ml 
followed closely by 2013 with 9.5ml.  
The highest January rainfall I recorded 
was in 2011 with 352ml when we got 
a  downpour  of  200ml  on  the  28th  of 
that month.  
Since  I  have  been  recording  the 
rainfall,  our  annual  total,  averages 
out to 1465ml per year.  
The  Peaches  have  all  but  finished 
fruiting,  but  the  Sparrows  are  still 
nesting.  I  hope  you  all  have/had  a 
lovely Waitangi weekend.  
Stay safe, Karen 
STAFF FOR 2022 
Sharlene Tornquist- Principal 
Cathryn Stevens-Year 5/6 
Michelle Dempsey-Deputy Principal, Year 
4/5 
Nik Massey- Year 3/4 
Hannah Taylor-Rose - Reading Recovery  
Year 2/3 
Laura de Luen- Year 2/3 
Katherine Brown-Jnr. Syndicate, Year 1/2 
Rebecca Harris- Year 0/1 
Glenys Read-Special Needs Support  
Mina Paikea-Kaiarahi I te Reo 
Heather Gilligan-Administrator 
Crystal Tahata-Cleaner 
Len Whitelaw-Caretaker 
Sarah  McAulay  -  Librarian/Teacher 
Assistant 
Chris Harrison-Teacher Aide 
Pat Buxton-Teacher Aide 
DUFFY  BOOKS.  We  have  Duffy 
Books to give out as certificate prizes. 
Every child will also receive 4 books a 
year of their own to keep. A big thank 
you to or sponsors: Maungaturoto and 
District  Rotary  Club,  Oneriri  Station, 
Kaiwaka  Four  Square,  Leabourns 
Passenger  Service  and  Absolute 
Concrete. 
RED Phase 3:  
 Isolate  if  you  or 
someone 
in 
your 
household 
have 
COVID-19. 
Close 
contacts no longer need to isolate. 
And  only  get  tested  if  you  have 
symptoms  or  you  live  with  someone 
who has COVID-19. 
We're  now  using  Rapid  Antigen 
Tests, 
so 
you'll 
get 
faster 
confirmation of your results. 
Find  out  what  you  need  to  do,  and 
what  support  is  available  at 
www.covid19.govt.nz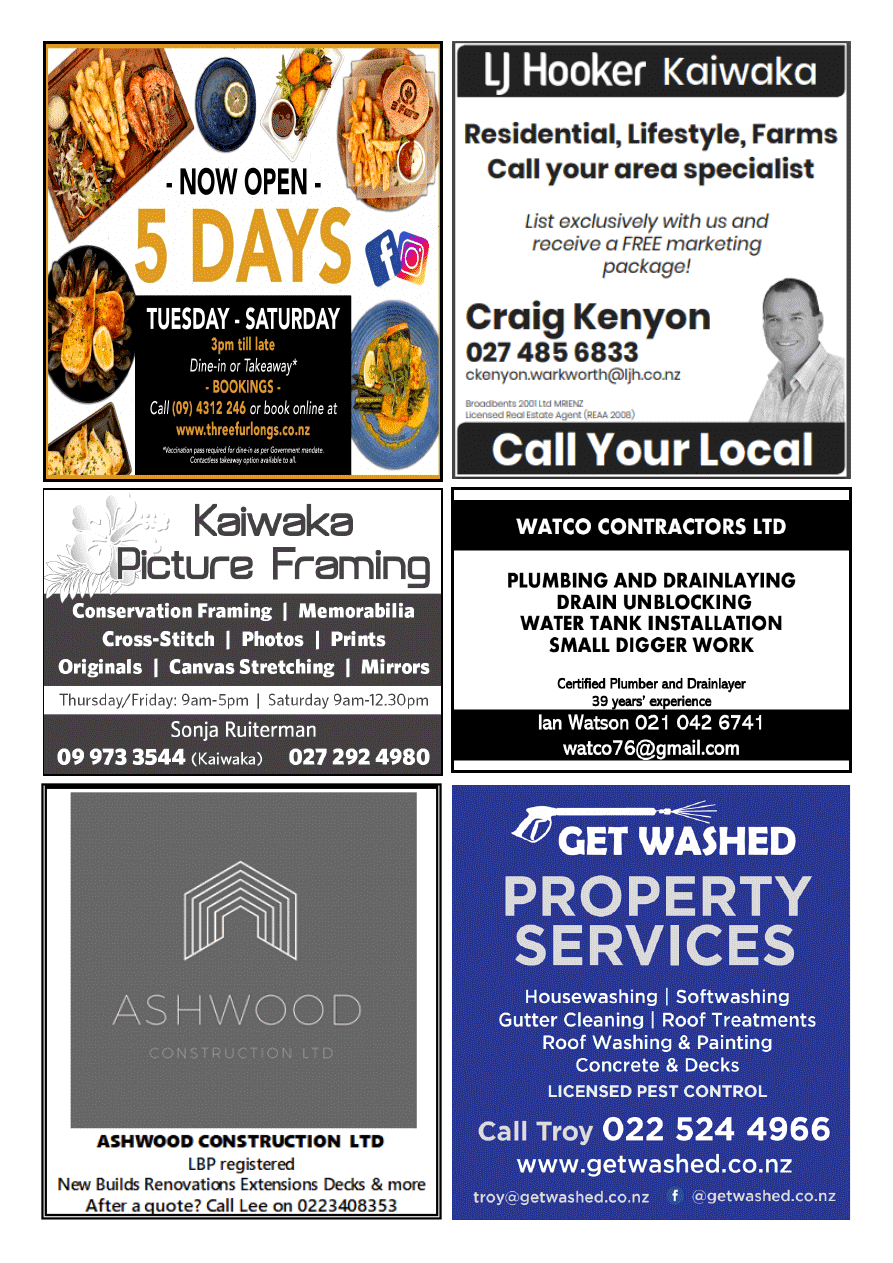 WE ARE CLOSED  
But we will see you all again soon!  
Phone 09 4312 246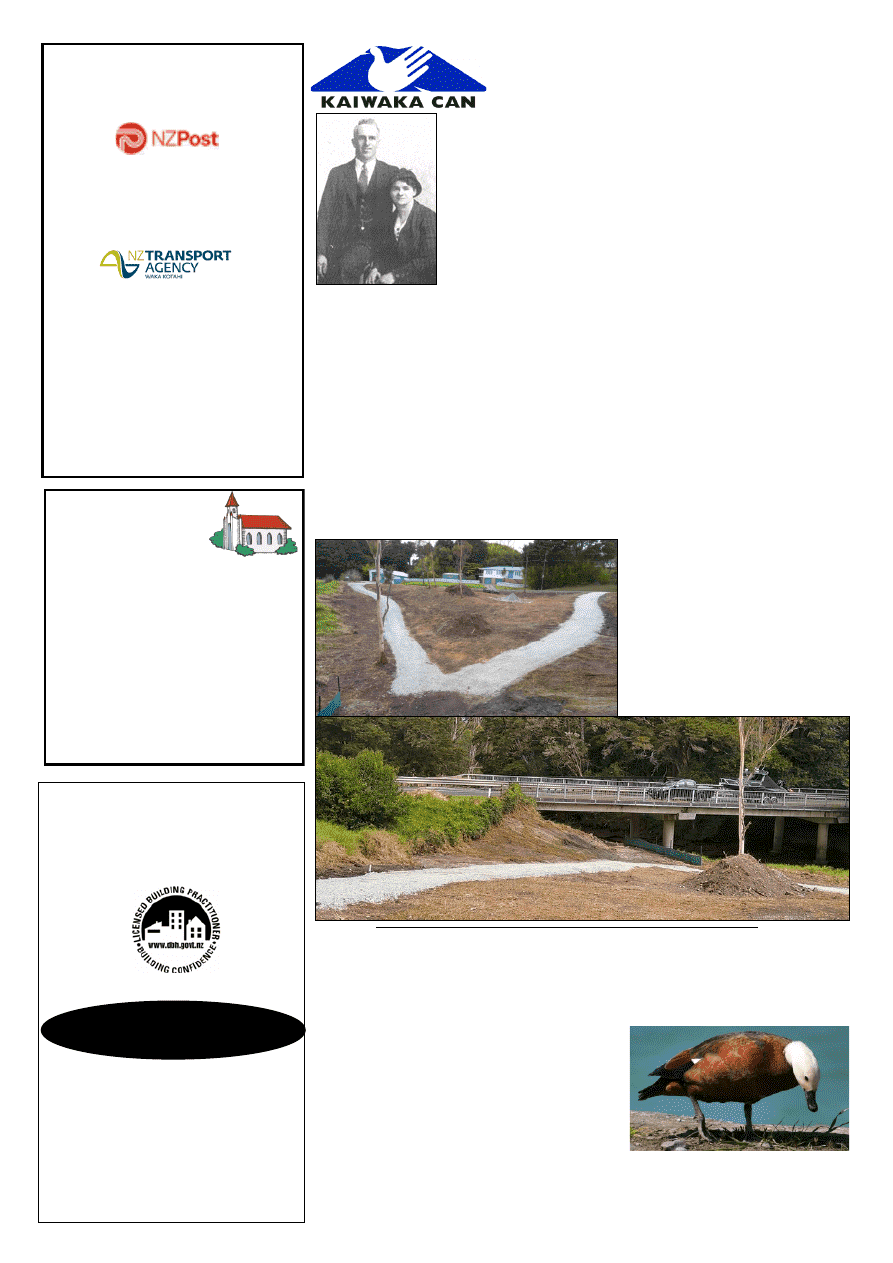 www.kaiwaka.co.nz 
Kaiwaka Bugle - 28 February 2022 
Page 9 
KAIPARA HUNTING & FISHING 
The club had its pre-parry shoot recently. The cyclone was still howling through 
the trees, but the show went on. I think the wind may have helped a few people 
with their results. 18 shooters braved the weather and had a great day. 
Tony Smith won the main spot prize draw. Congratulations Tony. We had a 
shoot off for 2nd and 3rd spots against David 
and Dylan with David coming out on top. Well 
done to all those that attended 
Results: 
Seniors: 1st Andy Thompson 66; 2nd David 
Byles 60; 3rd Dylan Thompson 60 
Ladies: 1st Jenny 34; 2nd Regan 19 
Juniors: 1st Lane H 49; 2nd Max T 24 
A big thank you to our sponsors on the day: 
Mike Nola, Nola Sports Dargaville and Robin Dickens Gas Maungaturoto 
Club Contacts: President Cam Shanks 09 4316229 
Treasurer Andy Thompson 021 12943 78; Secretary Annette Pull 027 28623 29 
McCLEAN PARK 
As the foot bridges get closer to completion Kaiwaka 
Can  have  been  working  hard  to  clean  up  McClean 
Park for when they are opened at the end of March. 
In 1946 a section of land by the motel was named McClean 
Park after Archie McClean donated his piece of his land 
to  the  community  for  tennis  courts.  A  society  was  formed. 
After  a  large  number  of  voluntary  hours  by  the  locals  Mrs 
Bessie  (Archie's  wife)  McClean  cut  the  ribbon  and  Mr 
Talbot Bowmar declared the park and tennis courts open on 
the 15th November 1947. 
After  the  tennis  courts  were  destroyed  by  floods  in  1973  it 
was decided to move the courts up to the Domain (Kaiwaka 
Sports Association). From there the park went through some 
interesting and sometimes unfavourable times. Ending up in 
an  untidy  and  neglected  state.  [
See  page  62  'Kaiwaka  A 
Photographic History' for information and photos of these events; reference to McClean 
Park  has  been  made  in  a  number  of  publications,  including  Hazel  Williamson's  'John 
and  Eliza  Curtis  Family  of  Point  Curtis  –  including  the  photo  above  of  Archie  and 
Bessie McClean.
] 
Like those of 1946 another society has taken up the challenge to clean up the 
park  with  a  fantastic  band  of  volunteers.  A  big  thank  you  to  those  who  have 
turned out to help with the clean-up, still a way to go but you can already see the 
transformation taking place. 
There has also been clearing work taking place on the small piece of land next 
to the St John hall between SH 1 and Gibbons Road. (the photos below show the 
east  and  west  views  of  the  paths  being  formed).  This  land  is  owned  by  John 
McClean, son of Archie McClean. He has offered to donate the land to the 
community  for  recreation. Kaiwaka  Can  and  Council  are  working  through  the 
details at the moment. 
Thanks to the generosity of the McClean families 1946 – 2022 (for both parcels 
of land) we can make up a park for the locals and travelling public to use, as we 
are looking at various ventures for both parts of the park. 
Hopefully  we  will  see  some 
movement  on  some  if  not  all 
these  ventures  by  the  end  of  the 
year. 
Remember  if  you  wish  to  get 
involved  with  Kaiwaka  moving 
forward  come  along  to  our 
meetings  or  contact  David 
Wright 
the 
Chairman 
pukepunga@xtra.co.nz  
Next  meeting:  Wednesday  16  March, 
5.30pm in the Archie Bull Hall
ST PAUL'S  
ANGLICAN  
SUNDAY SERVICES 
First Sunday 9am Holy Communion 
Third Sunday 9am Family Service 
St Pauls Church: Kaiwaka-Mangawhai Rd. 
Church Office Ph 431 4122 
www.mangawhaianglican.org.nz
Wright  
Design 
No. 117345 
ARCHITECTURAL DESIGN 
N.Z.C.A.D. Architectural 
Mob: 021 276 7389 
Office: 25 Lupis Lane, 
Kaiwaka 0573 
brianwright@xtra.co.nz 
KAIWAKA POST 
CENTRE and 
FOOD MART 
POST CENTRE TRADING HOURS 
MONDAY to FRIDAY 8am to 5pm 
SATURDAY 8am to 12pm 
CLOSED ON SUNDAY and on 
PUBLIC HOLIDAYS 
FOOD MART (GROCERIES)  
MONDAY TO FRIDAY  
7:30am to 7.30pm 
SATURDAY  8am to 7.30pm 
SUNDAY  8:30am to 7pm 
IF ANY QUERIES PLEASE CALL 
STORE MANAGER AMRIT  
on 09 4312431 or 
EMAIL: kaiwakafood19a@gmail.com 
1919a State Highway1, Kaiwaka 0542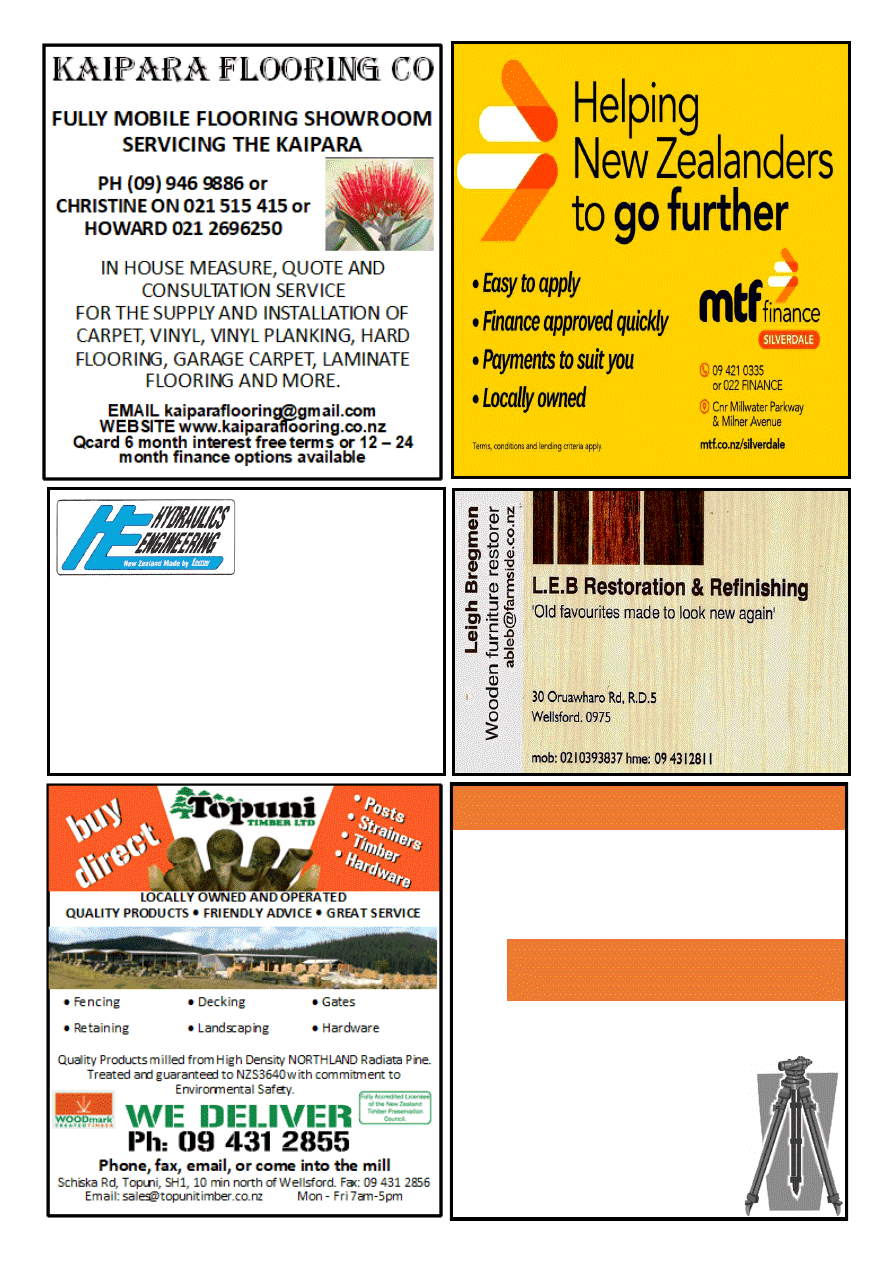 SURVEYORS 
SUBDIVISIONS 
HOUSE SITE SURVEYS 
CIVIL ENGINEERING 
WASTEWATER DESIGNS 
EXPERIENCED 
PROFESSIONAL 
INNOVATIVE 
Ph 09 431 5353 
0800 PACIFIC (0800 722 434) 
pacificcoastsurvey.com
Adam Booth - 027 415 5752 
Bsurv, Licensed Cadastral Surveyor
Surveying Kaipara since 1994 
Hydraulics  
Engineering Ltd 
Kaiwaka 
Sales - Service - Parts - Hire - Manufacture 
Service Contractors & Industrial Equipment: 
Rams, Pumps, Valves 
Logsplitter Hire, Manufacturer, Sales 
Dennis Linton 
Lot 2 / 161 Ranganui Road, RD2, Kaiwaka, 0573, New Zealand 
Mobile: 0274 381 700 
Email: hydraulicsengineering@xtra.co.nz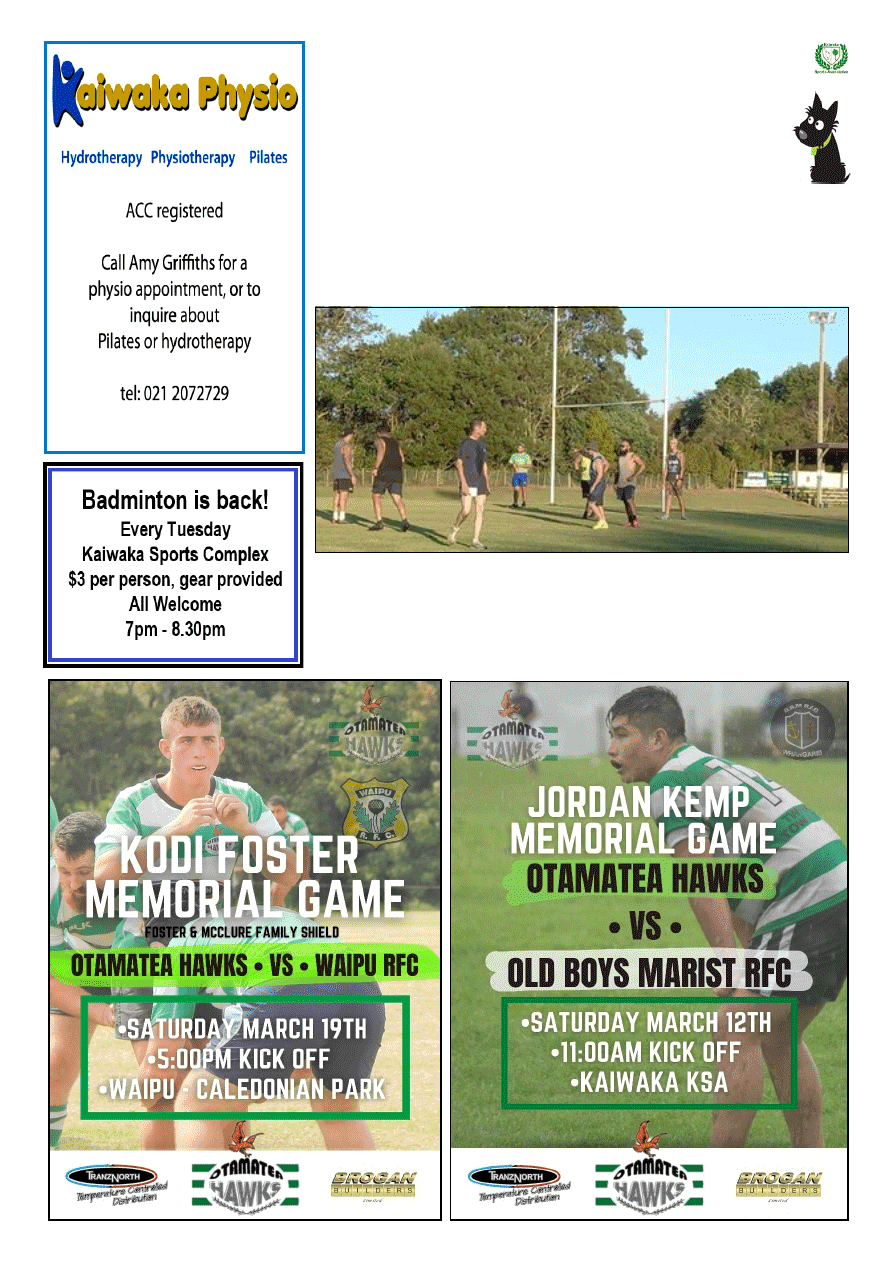 www.kaiwaka.co.nz 
Kaiwaka Bugle - 28 February 2022 
Page 11 
KAIWAKA SPORTS ASSOCIATION 
KSA SPORTS GROUND 
Just a friendly reminder to everyone 
who  utilizes  our  amazing  facilities 
at the KSA to walk their pooches... 
Please pick up and dispose of their 
poop. 
It  isn't  very  fun  for  people 
exercising or children playing when 
there  is  quite  a  large  amount  of 
poop everywhere. 
Mark  has  placed  a  bin  beside  the 
basketball hoop (there are plenty of 
other  bins  around),  please  bring 
your  poop  bags  and  do  the  right 
thing. 
KSA ANNUAL  
'TOP of the ROCK' 
That  was  to  be  held  in 
March, has been cancelled. 
KSA Bookings contact: 
Jennie Reynolds, 02102764171  
ksabookings@mail.com 
KSA email: ksa.sec3@gmail.com 
Lindell Ferguson
OTAMATEA HAWKS 
Kia  ora  Hawks  whānau,  we  are  getting  back  into  it,  and  we  kick  off  the 
preseason with our 2 most important games. For those of you who are new to 
our club/whānau, these are the memorial games for 2 of our taonga who have 
passed  -  Jordan  Kemp  and  Kodi  Foster.  These  games  are  significant  to  both 
teams involved, their whānau and many in our community. 
Photo above: Training on the KSA fields.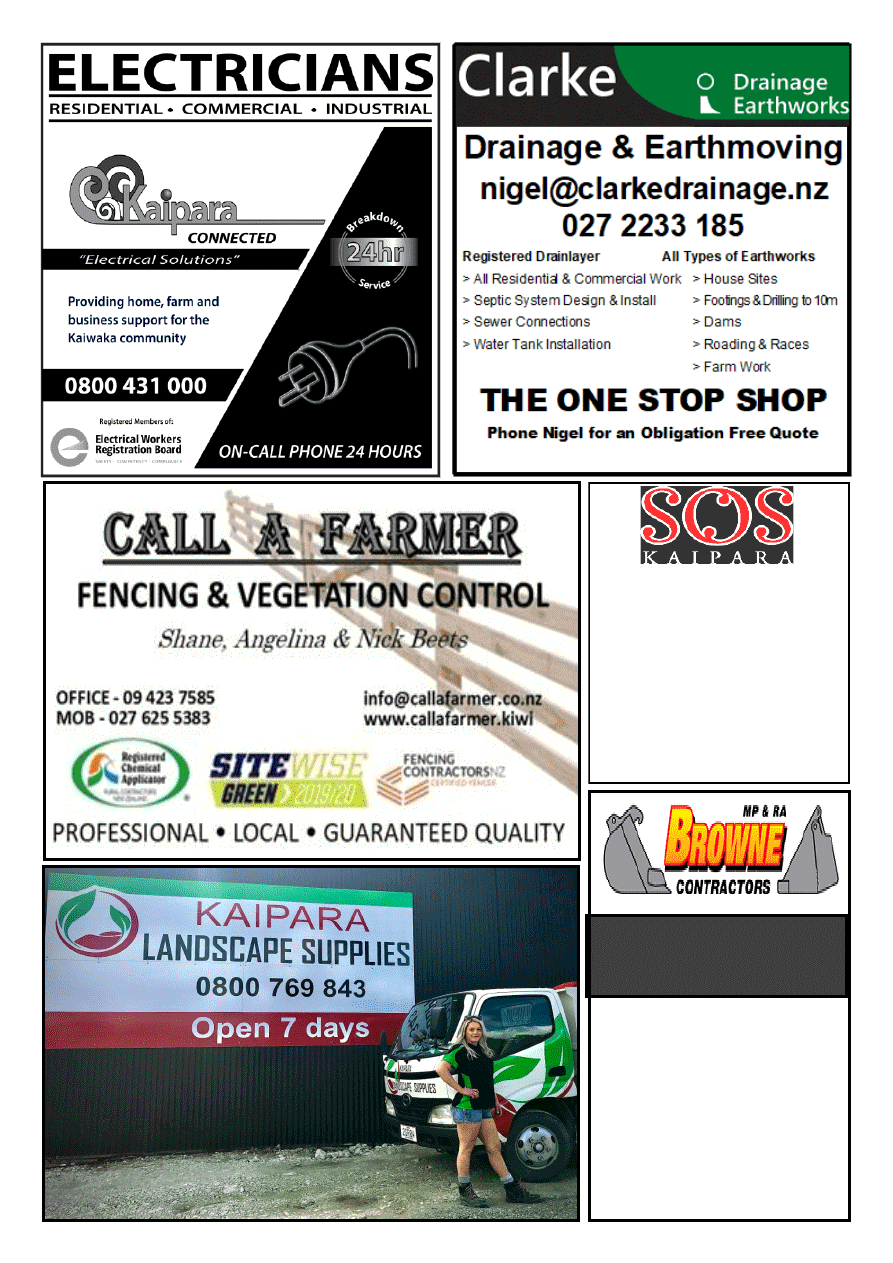 - 4 Tonne DIGGER - 
- BOBCAT- 
- TIP TRUCK - 
Property Maintenance  
Driveways 
Building Sites 
Stump & Tree Removal 
Hole Boring -  Chain Trencher 
Calf Shed and Stockyard Cleaning 
Phone Matt: 021 199 6677 
Email: mprabrownecontractors@gmail.com 
S.O.S Kaipara 
Support, advocacy, crisis and 
family therapy counselling, refuge 
housing to survivors of sexual 
abuse and domestic violence. Also 
Education prevention programmes 
for the community and clients.  
Office hours 9am to 3pm Mon- Fri; 
24/7  Police  
or phone 09 4396070 
FACEBOOK :SOS KAIPARA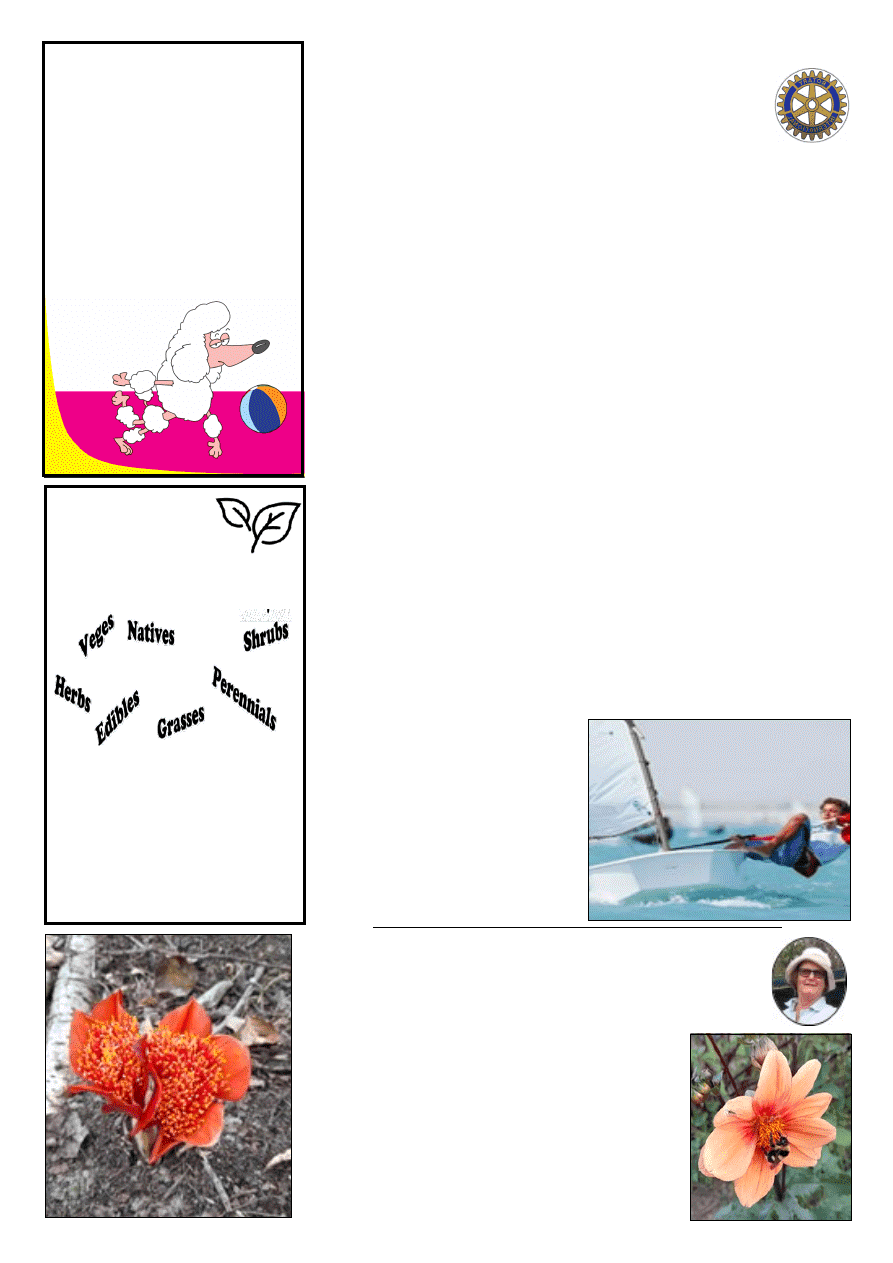 www.kaiwaka.co.nz 
Kaiwaka Bugle - 28 February 2022 
Page 13 
Hot Diggity Dog  
DOG GROOMING  
KAIWAKA 
Call now for a Summer Groom 
Professional Dog Groomer  
at affordable prices.
www.doggroomingkaiwaka.co.nz 
call Pam 094312143 or text 
0273335380 for bookings 
ONERIRI GARDENER 
HAEMANTHUS  OR  TONGUE  LILY: 
A  bulb  from  southern 
Africa.  These  flowers  appear  in  late  summer  before  a  pair  of  large 
tongue  shaped  leaves  arrive.  Think  Rolling  Stones  but  green.  Very 
dramatic. Tongue lily are slow but have grown well here. I have them 
in  sun  and  shade.  And  are  doing  best  in  semi  shade. 
Downside  -  when  the  leaves  appear,  they  are  snail 
magnets. 
Whenever I walk by the dahlias, they have a Bumblebee 
at their centre. There must be a nest nearby. Bumblebees 
live  in  small  colonies  and  while  they've  avoided 
exploitation  by  humans.  We  need  them.  They  are much 
more  efficient  pollinators  than  honeybees.  we'd  be  in 
trouble  without  them.  Good  news  is  that  unlike 
honeybees  they  don't  die  after  stinging.  Let's  give  these 
gentle bumblers space in the garden. 
   ~ Heather, Oneriri Plants 021 766399
MAUNGATUROTO & DISTRICTS ROTARY 
Oneriri  
Plants 
Visit our Nursery 
Contact Heather 
021 766399 
oneririplants@gmail.com 
365AOneriri Rd, Kaiwaka 
A short trip off SH1
Unfortunately, Covid has played havoc 
with our fundraising. Our participation 
in  three  planned  events  has  had  to  be 
postponed.  We  are  still  planning  to 
hold our Quiz when the environment is 
a little more user friendly. 
DISTRICT GOVERNOR  
On the 15th February we had our first 
meeting  with  our  District  Governor 
(from  Auckland).  This  was  his  first 
face-to-face  meeting  since  August  last 
year, so it was great to have Grant and 
his  wife  with  us.  Grant  spoke  of  his 
history  in  Rotary  and  what  Rotary 
meant  to  him.  He  emphasised  the 
support that is provided by District and 
the fantastic free on-line resources that 
are  available  for  members.  He  also 
spoke  of  the  projects  undertaken  with 
other  Rotary  clubs  and  community 
groups. Bearing in mind our relatively 
small membership, please get in touch 
if  you  think  we  can  support  you  (not 
necessarily  financially)  in  any  venture 
you might have. 
NIKAU GROVE 
We  were  fortunate  to  have  a  local 
person  donate  some  lime  chip that  we 
could use in Nikau Grove. 
It was decided that we would put it in 
the  entranceway  which  makes  it  stand 
out.  If  you  haven't  ventured  through 
this  Grove  in  Hurndall  Street, 
Maungaturoto,  yet,  please  take  the 
opportunity to visit this very nice patch 
of native bush. I trust that many of you 
have taken time to visit Piroa Falls this 
summer in a bid to keep a little cooler. 
Some  have  been  asking  about  the 
concrete  picnic  table  on  site  there.  It 
was  helicoptered  in  as  there  was  no 
other way to put it in place. 
DUFFY BOOKS 
For  a  number  of  years,  we  have 
supported  "Books  in  Schools"  at 
Tinopai (also known as Duffy Books). 
Kaiwaka Primary has asked if we will 
also support them, so we plan to pay an 
annual fee from this year on. This is a 
fantastic  venture  set  up  by  Alan  Duff 
which  encourages  the  youngsters  to 
read.  As  part  of  the 
programme  there  is  also  a 
play put on for the students 
each  year  which  has  a 
strong  message  about  the 
importance of reading. 
SANDCASTLES 
Mangawhai  Satellite's  Sandsational 
event  seemed  to  be  very  successful, 
and  it  created  a  great  deal  of  interest 
from  passers-by  for  a  large  portion  of 
the  day  on  the  30th January.  The  golf 
ball  drop  was  a  very  good  fundraiser, 
with  close  to  500  being  sold.  It  was 
good  to  see  a  wide  range  of 
participants  in  the  fancy  dress  event, 
some  as  individuals  and  some  as 
family  groups.  The  sandcastle  contest 
produced a wide range of structures of 
people,  animals,  fish  and  vehicles. 
Thanks  to  the  judges  in  the  last  two 
events as this would not have been an 
easy task. The club was also fortunate 
to  have  a  great  deal  of  sponsorship 
from  a  variety  of  sources  and  netted 
close to $3,000. The Sailing group has 
increased  to  35  participants  and  now 
runs  two  classes  on  both  Monday  and 
Wednesday afternoons. 
It is great to see the active involvement 
of  parents  and  caregivers  as  well. 
Congratulations  to  all  involved  in  this 
fantastic activity. 
YOU ARE WELCOME 
Remember,  if  you  feel  you  can 
contribute in any way to our Club, we 
meet  on  a  Tuesday  in  the  Centennial 
Hall, Maungaturoto at 6pm.  
Any enquiries, please call Eileen – 021 
142 0357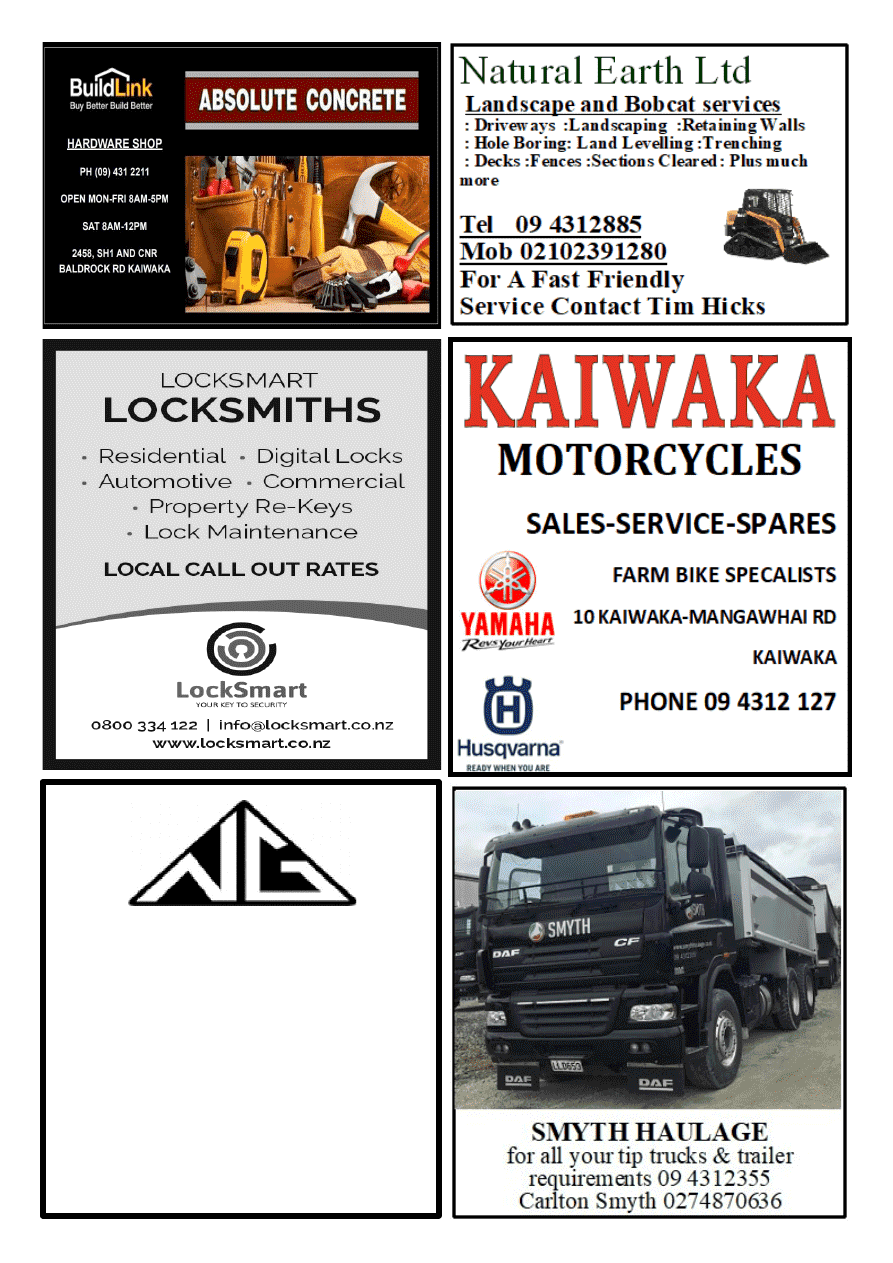 NORTH GLASS 
WINDSCREEN REPAIR OR REPLACE 
GLAZING SERVICES 
MIRRORS  •  SPLASH BACKS  •  SHOWERS 
0800 70 40 10
info@northglass.co.nz 
www.northglass.co.nz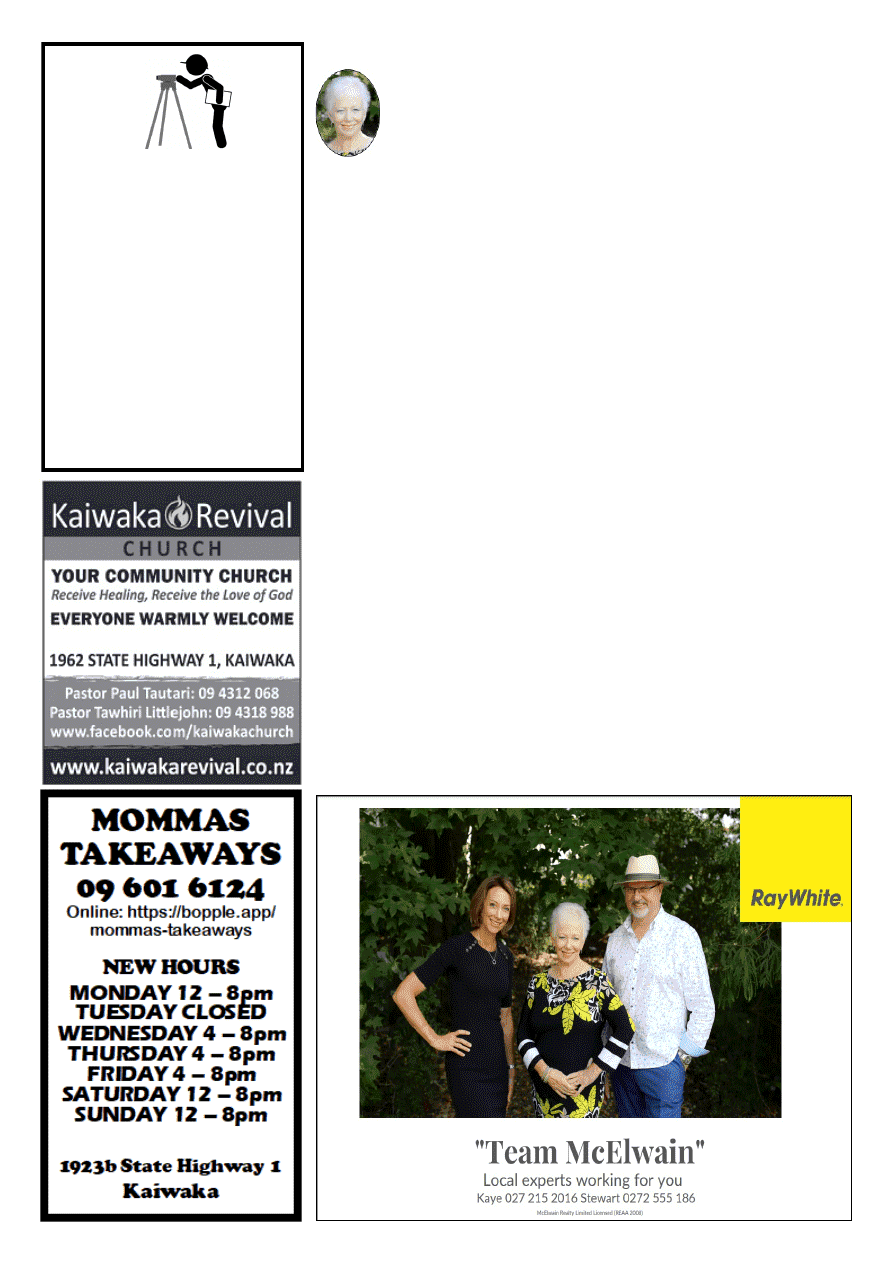 www.kaiwaka.co.nz 
Kaiwaka Bugle - 28 February 2022 
Page 15 
Kaye  McElwain  from  Ray 
White  has  lived  in  the  area  for 
17 years and has worked in real 
estate for more than two decades 
as  an  agent  and  business  owner.  Once  a 
month  she  writes  a  column  with 
commentary  and  analysis  on our  local real 
estate  market. Today, she  looks  at  how to 
increase  your  chances  of  getting  mortgage 
approval. 
The  CCCFA  (Credit  Contracts  and 
Consumer Finance Act) only came into 
force  in  December,  and  the  credit 
crunch  is  already  starting  to  bite.  The 
legislation  aims  to  protect  vulnerable 
borrowers  from  loan  sharks  and 
requires 
lenders 
to 
scrutinise 
applicants'  financial  history  more 
closely. 
However,  many  home  loan  seekers 
have  found  themselves  rejected  by  the 
banks.  The  latest  data  shows  the 
proportion  of  successful  home  loan 
applications  has  dropped  from  36 
percent  to  30  percent.  According  to 
media  reports,  grounds  for  refusal 
include  too  much  spending  on 
takeaways  and  Christmas  shopping. 
The  good  news  is  that  you  can  take 
action  to improve  your  prospects  even 
in a tightened lending environment. 
Here  are  some  tips  to  give  you  the 
best chance of approval. 
1
.
REDUCE  YOUR  SPENDING 
NOW
Lenders will ask to see your latest three 
months  of  bank  statements.  Tighten 
your belt in the run-up to applying for a 
home  loan.  There's  not  much  you  can 
do  about  the  holiday  spending  that's 
already happened. However, your daily 
barista  coffees  and  weekly  takeaways 
may 
be 
seen 
as 
unnecessary 
expenditure. 
2.PAY 
YOUR 
BILLS 
PROMPTLY 
Lenders  will  also  check  your  credit 
history. Maximise your credit score by 
making  prompt,  regular  payments  on 
utilities,  credit  cards,  personal  loans, 
and  rent.  Ideally,  you  should  clear 
outstanding debts before applying for a 
mortgage. Be sure to cancel any credit 
or  store  cards  you  no  longer  use  and 
consider reducing your balance limits. 
3. SAVE, SAVE, SAVE 
The bigger your deposit, the less risky 
you  are  for  lenders.  Tighter  loan-to-
value  rules  mean  only  10  percent  of 
new  lending  can  go  to  low-deposit 
owner-occupiers  (those  with  an  LVR 
above 80 percent). Ideally, your deposit 
should be a minimum 20 percent of the 
property's value. A healthy deposit and 
a strong track record of regular savings 
get a big tick from lenders. 
4.SORT 
OUT 
YOUR 
PAPERWORK PRONTO 
Make sure you don't stumble at the last 
hurdle.  Get  together  all  the  supporting 
paperwork  beforehand  for  a  smoother, 
faster  application  process.  Alongside 
bank statements for current and savings 
accounts, lenders also need proof of ID 
and  income.  Employees  should  have 
three most recent payslips. And the self
-employed  will  need  accountant-
prepared financials. 
It may be a rockier road than it used to 
be, but it's not all doom and gloom, we 
are also here to help, so give us a call 
and we can help guide you through the 
process.  
Good  luck  and  we  look  forward  to 
hearing  from  you,    Kaye  McElwain 
027 215 2016
Ken Urquhart 
BSurv Licensed Cadastral 
Surveyor 
KMU  
Surveys Ltd
467 Bickerstaffe Road 
RD 2 
Maungaturoto 0587 
Ph 09 431 8705 
Mob 021 161 2344 
kenurquhart@xtra.co.nz 
HOW TO MAXIMISE YOUR CHANCES OF 
MORTGAGE APPROVAL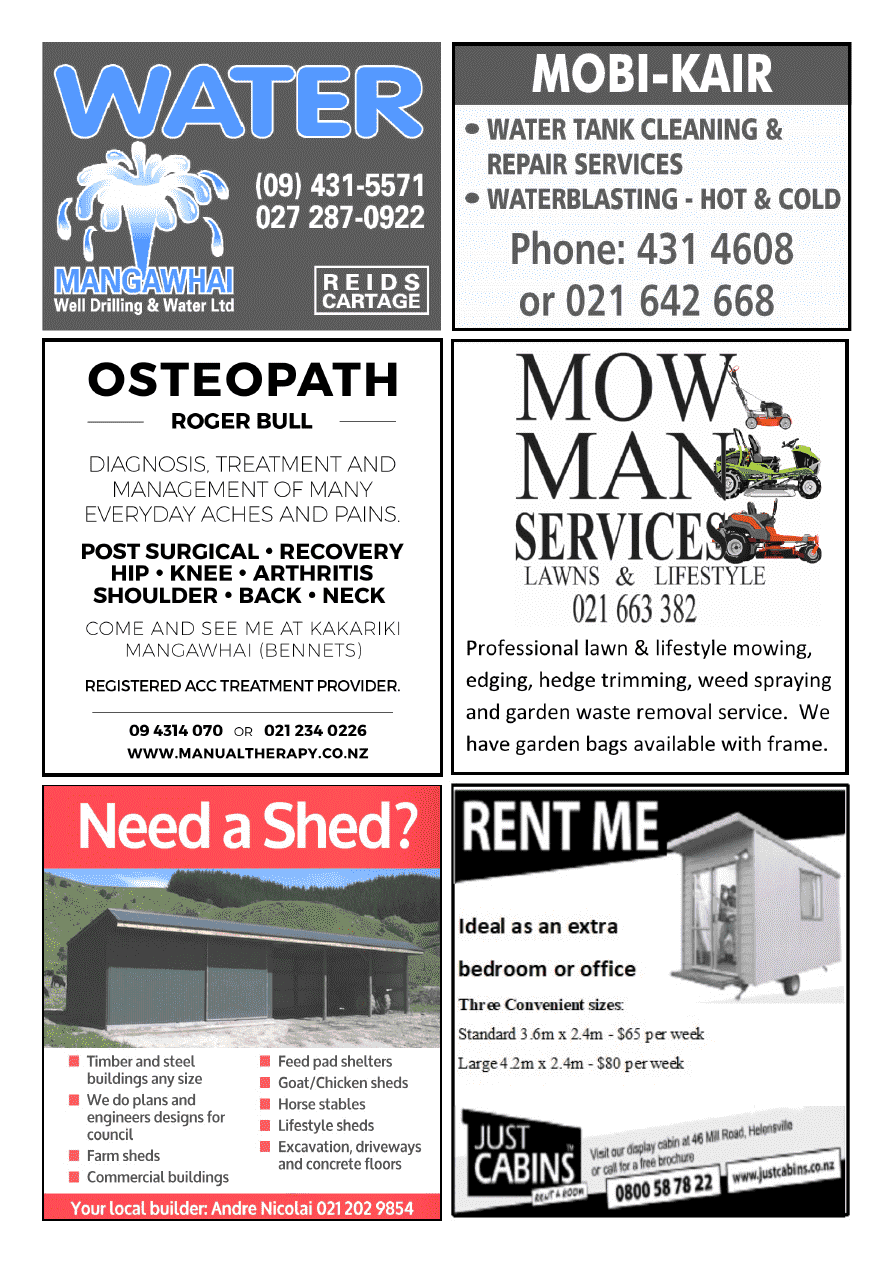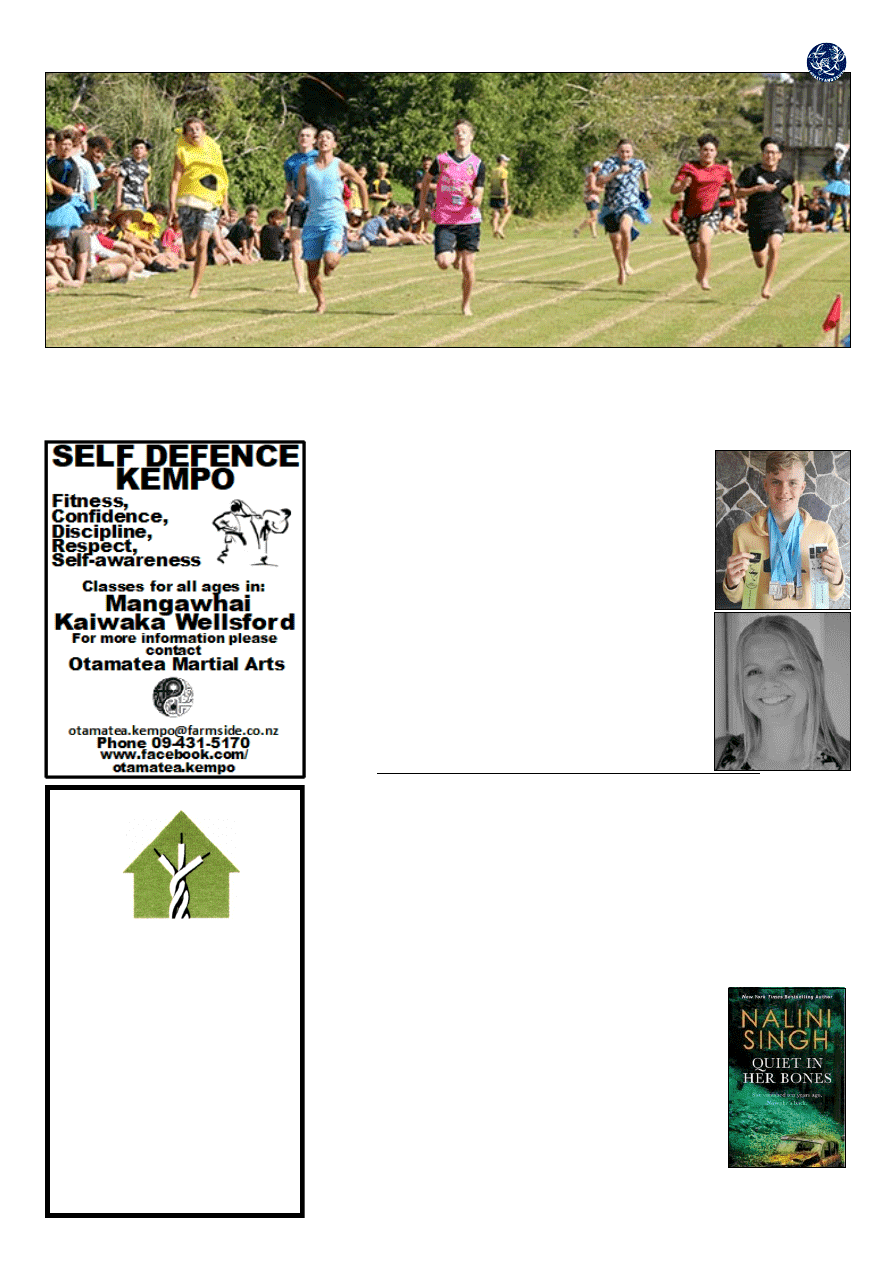 www.kaiwaka.co.nz 
Kaiwaka Bugle - 28 February 2022 
Page 17 
Reyahn  Leng 
 Registered Electrician 
Local, honest and reliable. 
For your residential and 
light-commercial projects. 
022 314 1068  
KAIWAKA LIBRARY 
NEW AUTUMN CATALOGUE 
The new season's catalogue is out now - come and get your free copy from the 
library.  It's  full  of  reading  recommendations, including  for  the first  time  some 
'staff picks', including one from me. 
ILLNESS AND VISITING THE LIBRARY 
If you are ill with ANYTHING contagious - not just Covid, but also colds, flu, 
shingles, tummy bugs, etc - please do not come into the library. 
If  you  want  library  books,  contact  the  library  (see  below)  and  we  will  make 
arrangements to get them to you. We can extend your current loans if needed. 
Everyone  with  a  Kaipara  library  card  has  24/7  free  access  to  our  digital 
collections - see https://kaipara.kotui.org.nz for more information and contact us 
or Dargaville Library (0800 532 542) if you need assistance. 
BOOK REVIEW 
I've  recently  read  Quiet  In  Her  Bones  by  Nalini  Singh. 
Aarav  Rai's  mother  disappeared  10  years  ago,  from  the  family 
home, apparently with quarter of a million dollars in cash from 
his father's safe. Now her body has been found – in her car, and 
just  down  the  road  from  the  house.  Everyone  thought  she  had 
run off with the money, and Aarav is struggling to make sense 
of  his  own  memories  of  the  night  and  the  new  evidence. 
This 
was a gripping read that I found hard to put down. This book 
is currently on our Rental Fiction shelves. 
See you in the library ~Wendy 
Kaiwaka  Library,  cnr  State  Highway  1  and  Kaiwaka  Mangawhai  Road.  PO  Box  89,  Kaiwaka  0542.  Phone 
4312  539.  Email  kaiwaka.library@gmail.com  Open  Wed-Sat  10am-2pm,  Mon  4-6pm.  Free  membership  is 
available to all residents in the Kaiwaka area. https://www.facebook.com/KaiwakaLibrary *Enterprise: http://
kaipara.kotui.org.nz/
OTAMATEA HIGH SCHOOL 
ATHLETICS DAYS: With our record roll of over 560 students, the annual athletics day was run over two days this year. 
This meant there was enough time available for all students to fully participate in the track and field events. On Tuesday 
all year 9 to 13 students were involved, and on Friday all year 7 and 8 students participated. Iwi colours were strongly 
encouraged. Unfortunately, due to COVID restrictions on gathering limits, spectators were unable to be present on these 
days. All the inter-iwi relays for all year groups were held during the last period on Friday, and the whole school was 
down on the field cheering the relay teams on. It was a wonderful climax to this 
year's event. 
SWIMMING  GALA: This year's annual swimming  gala 
will  be  held  on  Thursday  3  March  here  at  school. 
Regrettably, due to gathering restrictions, we are not able 
to have any spectators present on the day.  
Congratulations  to  Noah  Martin  (pictured  right)  who 
competed in the Northland Age Group Swimming Champs 
last  month.    Noah  finished  with  eight  personal  bests  and 
took home 1 gold, 3 silver and 4 bronze medals for his age 
group. 
TEACHER  SUCCESS:  Last  year  our  health  and  PE 
teacher  Anna  Liddington  (pictured  lower  right)  was 
fortunate enough to be granted a TeachNZ scholarship to 
complete  a  Post  Graduate  Diploma  in  Health  Science, 
specialising  in  violence  and  trauma  studies.  Anna 
completed  a  range  of  papers  which  focused  on  reducing, 
managing  and  resolving  violence  in  New  Zealand 
communities, as well as healing from trauma at a personal, 
interpersonal, and societal level.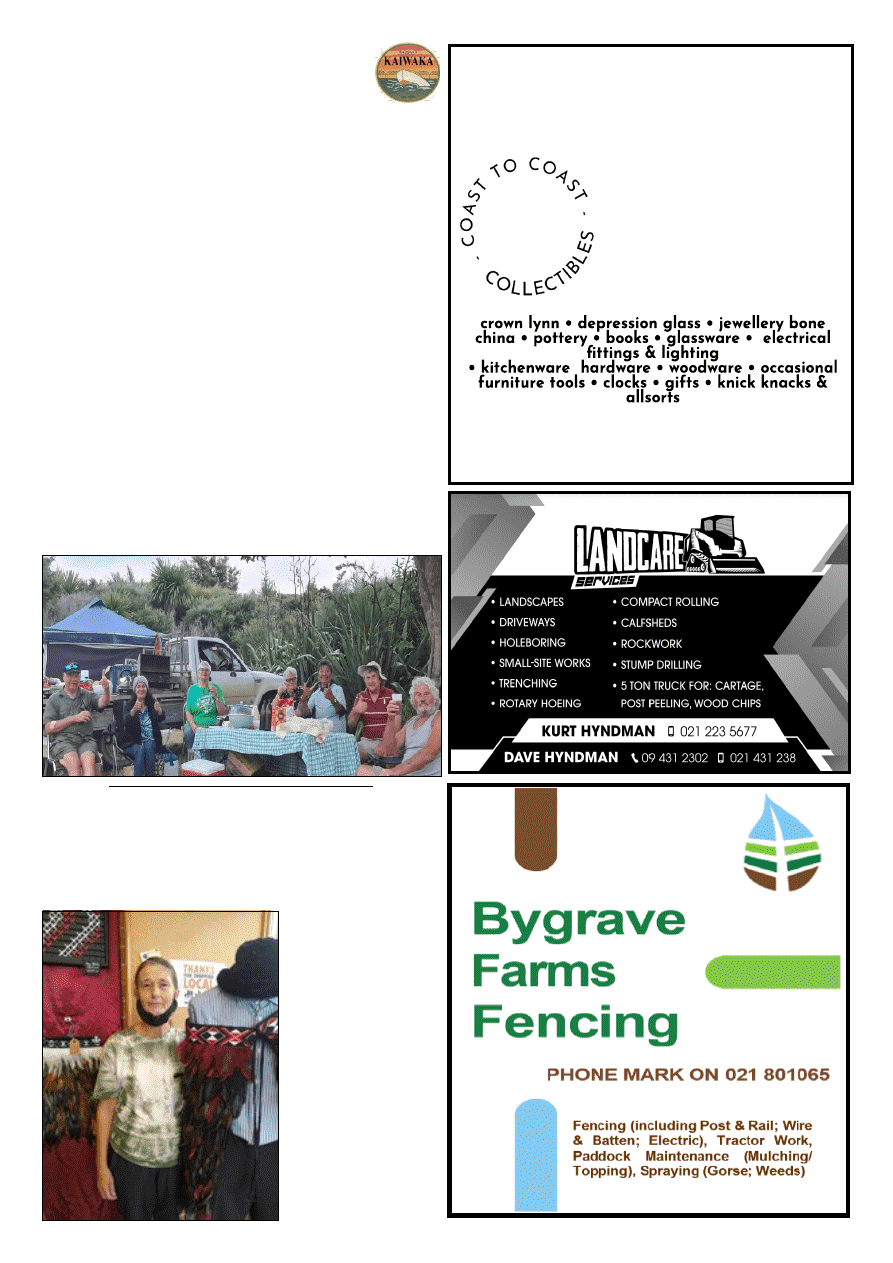 PT.CURTIS  
CRUISING CLUB 
2022 OPEN FISHING 
COMPETITION 12th & 13th March 
PLUS AUCTION 
Species:  Kingfish,  Kahawai,  Snapper  &  Crayfish.  All  fish 
weighed in are to be kept by the Club and will need to be 
gilled and gutted. Fundraising for the Rangiora Boat Ramp. 
Fish Auction on Sunday 13 March at approx. 6.30pm 
All  competitors  must  register  entry  by  11pm  Friday  11th 
March to: Carol 02102697378 or Pongo 09 4312205 
PAYMENT  at  Weigh  In  or  via  internet  banking  12  3094 
0008233 00, please use Name as reference 
UPCOMING EVENTS: 
East v West Open Fishing Competition: 8 - 10 April 
Open Duck Shoot: Saturday 7 May 
There will be a few camping over the weekend and you are 
welcome to join those staying. 

Fish of the Month for November, December, January & 
February  was  Snapper:  1st,  Pongo  8kgs;  2nd  Linda  7kgs; 
3rd Van Walker 2,306kgs 

New Fish of the Month: Snapper till 9 March 2022 

Next Club meeting: Wednesday 9 March, 7pm, Kaiwaka 
Sports Association  ~ Wayne Leslie, Commodore 
Photo Below: The Rangiora Boat Ramp Picnic was a great 
success  with  various  people  turning  up  and  enjoying  the 
vibes. Thanks to all who came it was awesome to 
see you there. 
Eclectic Boutique 
99 Gibbons Rd, Kaiwaka 
Contact Trish 
for buying or selling 
021 2140 522  
09 431 2193 
Large selection of: 
Open10am – 4pm  
Cash, Eftpos or Direct Debit available 
BEAUTIFUL CREATIONS 
Sandy  Davies  can  be  seen  here  with  one  of  her 
beautiful  korowai,  along  with  other  craft  she  has 
completed. 
 Sandy  says,  "I  have  a  position  for  creating  different 
types  of  art.  From  making  korowai  and  mirrors  and 
many  other  crafts.  I 
display  my  creations 
in 
the 
Owl 
Community 
Art 
Gallery in Wellsford. 
I 
also 
run 
the 
Kaiwaka 
twilight 
market once a month 
at  the  Kaiwaka  St 
John Hall." 
Sandy 
lives 
in 
Kaiwaka  and  has 
done  on  and  off  for 
many years. You can 
see  more  of  her 
creations  on  her 
Facebook page.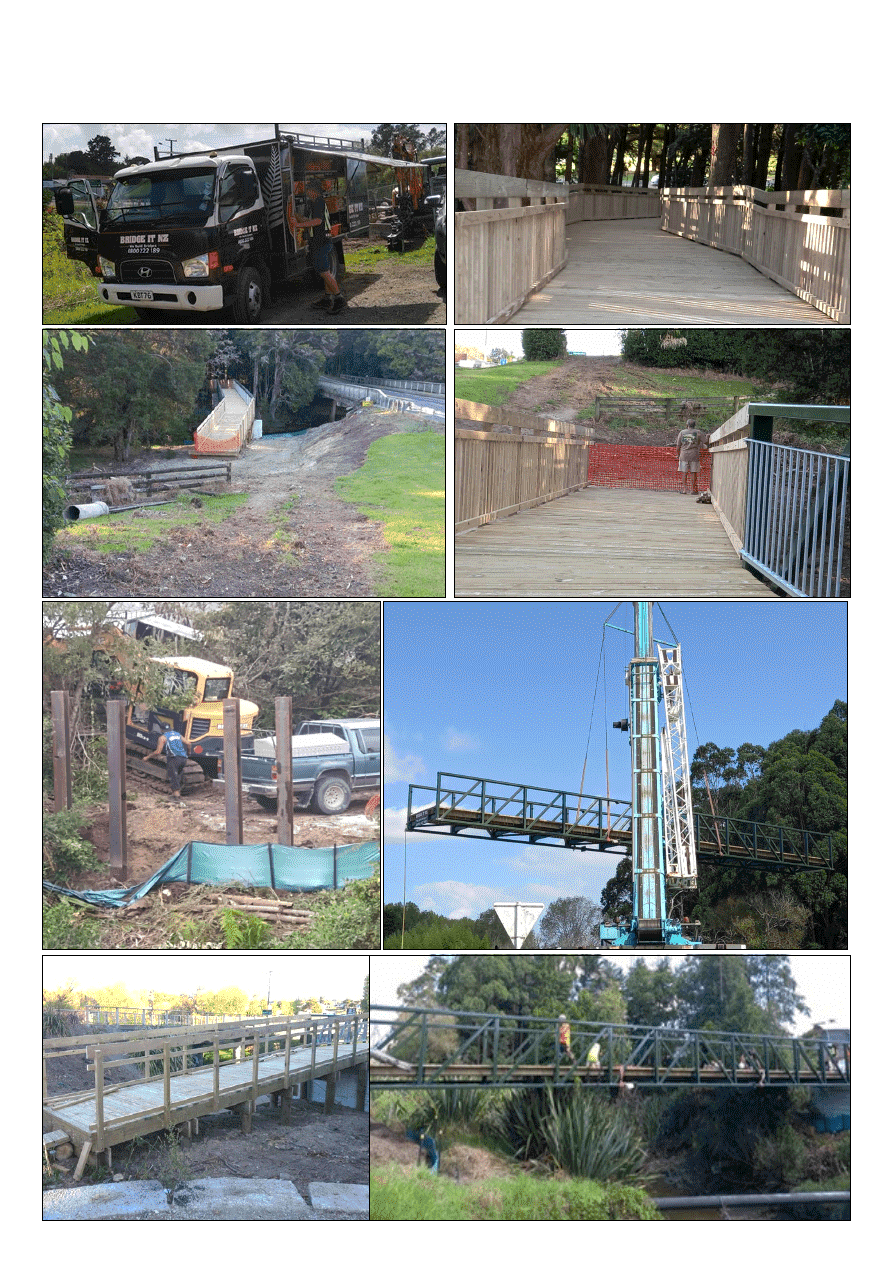 www.kaiwaka.co.nz 
Kaiwaka Bugle - 28 February 2022 
Page 19 
TRACKING THE FOOTBRIDGES 
Bridge It NZ began Kaiwaka's two footbridges at the end of January. Photos 2, 3 and below show progress on 
the northern bridge; photos 5,6,7 and 8 show stages of the southern bridge and now ready for a 'walk over' by 
the end of this week. Note: there is currently no formed path between the bridges.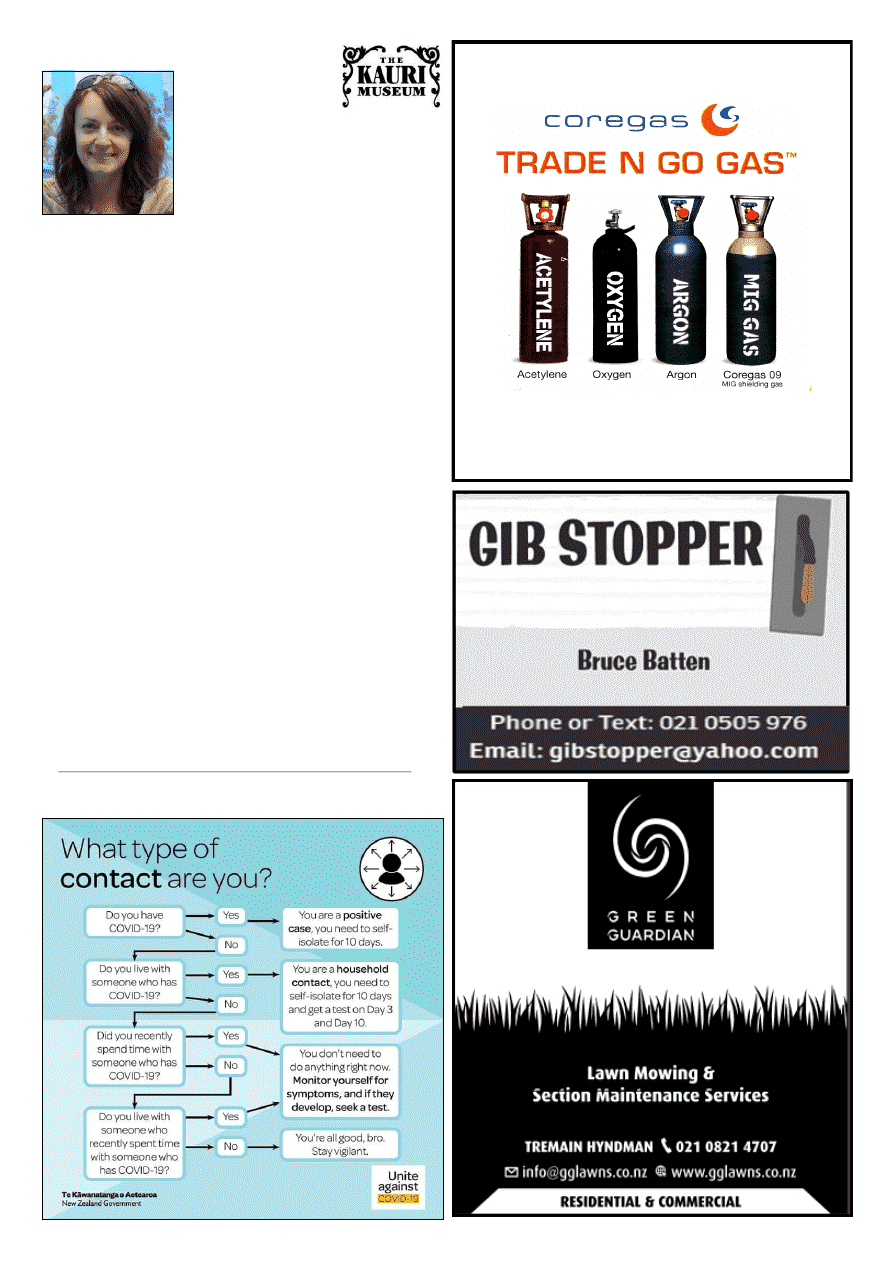 THE KAURI MUSEUM 
The  Kauri  Museum 
announced  on  Monday 
February 
21 
the 
appointment  of  Canadian  Barbara 
Hilden as the Museum's new Director. 
Barbara joins the Museum at a critical 
phase  of  planning  and  reshaping 
exhibition  design  and  delivery,  as  the 
Kauri  Museum  received  in  June  2020 
$3m of Provincial Growth Funds for a 
makeover  that  includes  creating  a  centre  of  excellence  for 
people  to  have  a  deeper  and  stronger  understanding  of  the 
significance of kauri 
Museum  Board  chairman  Grant  McCallum  says  the  Board 
is  delighted  with  the  appointment.  "Barbara  brings 
considerable international and museology experience to the 
role  and  the  Board  was  impressed  with  her  vision  for  the 
future  of  museums  and  her  focus  on  working  with  all  our 
communities to tell our stories as we chart a new path in a 
post Covid world." 
Currently  based  in  Vancouver,  British  Columbia,  Barbara 
has been working for Puke Ariki Museum in New Plymouth 
since 2020 as the Collections and Curatorial Lead, although 
the  Covid  border  restrictions  has  meant  that  she  has  been 
carrying out work from Canada. 
Prior to this, she curated and managed the Borealis Gallery 
in  Edmonton,  Canada,  and  as  a  Collections  Consultant  for 
the Alberta Foundation for the Arts where she cared for 17 
Alberta  provincial  art  collections  supervising  acquisitions, 
worked  with  artists  and  curators,  and  administered  the 
various contemporary and historical collections.. 
Speaking from Canada, Barbara said  "our job as museums 
and  stewards  is  to  share  stories,  because  stories  are  what 
connect us. With our communities. With our cultures. With 
each  other.  In  a  post-Covid  world,  those  connections  are 
going to be more important than ever." 
Barbara and her partner Tom Long will be moving to New 
Zealand as soon as Covid border restrictions allow. 
The Kauri Museum   
5 Church Road  
R D 1 Matakohe  
At Twinkle Tow 'n' Tyre 
Mob: 021 833 960 
Ph & Fax: 09 431 2823 
1837 State Highway 1, Kaiwaka 
https://covid19.govt.nz/news-and-data/ 
PHASE 3 Omicron Response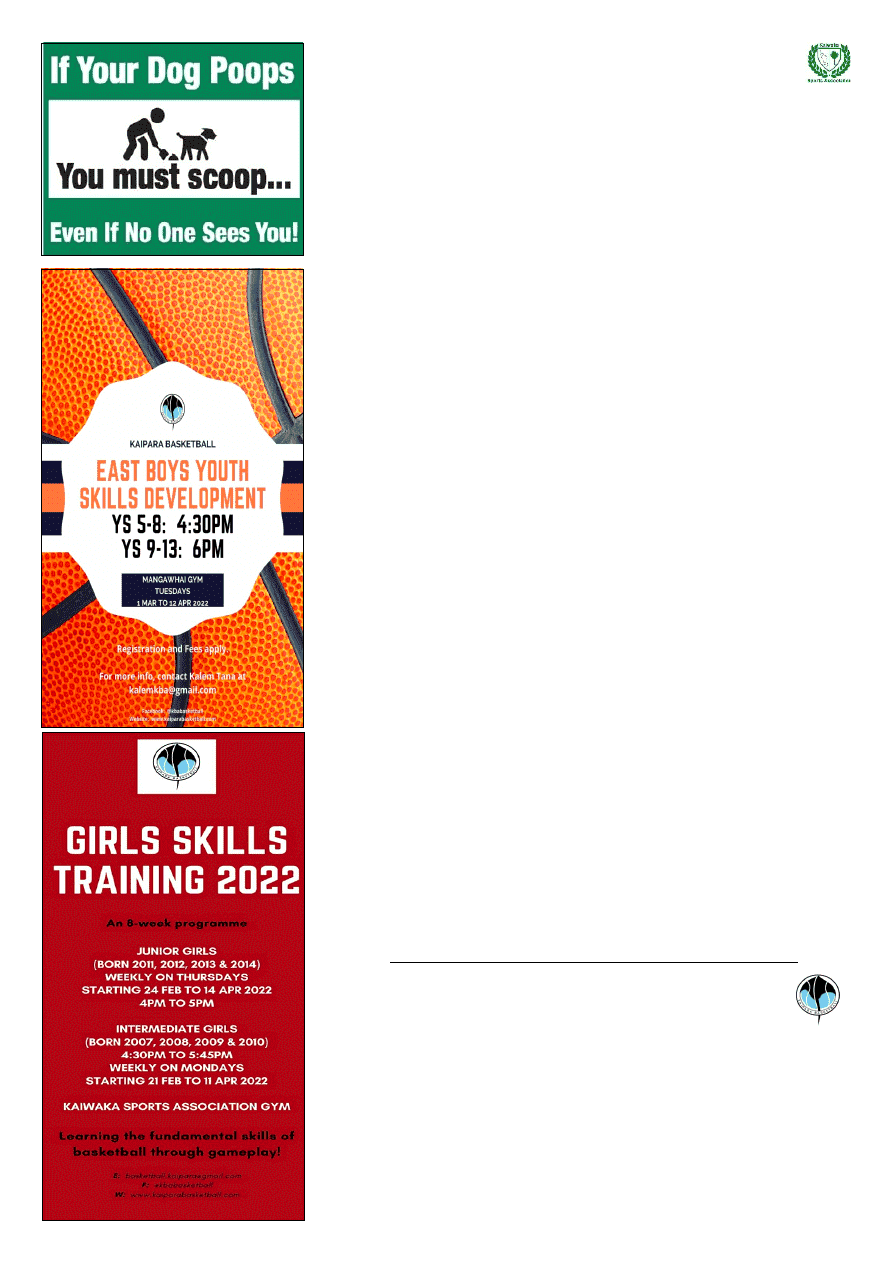 www.kaiwaka.co.nz 
Kaiwaka Bugle - 28 February 2022 
Page 21 
APPLICATION  PROCESS  -  HOW 
TO APPLY: 

Applicants  can  uplift  a  KSA 
application  form  from  The  Three 
Furlongs Hotel operating KSA gaming 
machines. Forms can also be requested 
directly from KSA.  

All  relevant  details  are  displayed 
below  and  are  also  displayed  at  the 
venue. 

Venue:  The  Three  Furlongs  Hotel; 
Postal: PO Box 62, Kaiwaka.  

Ph.: 094312229 

You must return the application form 
and  any  associated  documentation  to 
the  Association  at  the  address  printed 
on the application form. 

The  application  form  contains  a 
checklist of important information that 
must  be  included  with  the  application 
for funding to be considered. Failure to 
supply  all  Information  requested  may 
result in the application being declined 
or returned to you unprocessed. 

 Applications  are  checked  for 
completeness  and  considered  by  the 
Grants  Committee  on  a  regular  basis. 
An application may take up to 6 weeks 
to be processed. 
CRITERIA: 
1.Applications 
are 
checked 
for 
compliance  against  the  criteria  of  the 
Department of Internal Affairs and the 
definition  of  Authorised  Purposes  as 
set out in the Gambling Act 2003. 
2.  Funding  is  distributed  in  the  local 
community area – 
a. 
Provision, 
maintenance 
and 
development  of  club  buildings, 
furniture, 
fittings, 
grounds 
and 
equipment. Excludes any bar area and/
or facilities. 
b.  Assist  sporting  adjuncts  within  the 
club  through  the  provision  of 
uniforms, equipment, premises and the 
actual  and  reasonable  expenses  to 
travel  to  and  compete  in  tournaments 
with kindred groups. 
Excludes  professional  sports  people/
teams. 
c.   Funds for the promotion of amateur 
sport  within  the  local  community. 
Excludes  the  payment  of  wages/
salaries.  
d.  Donations  to  support  recognised 
community  organisations  within  the 
local  community  with  the 
provision  of  facilities.  Excludes  bar 
area and/or facilities. 
Applicants  should  be  aware  that  the 
ultimate decision on funding rests with 
the  Association's  Grants  Committee 
and  that  there  are  no  guarantees  that 
the full amount of the application will 
be supported or indeed the application 
will be supported at all. 
WHO WILL  
CONSIDER APPLICATIONS: 
All applications will be considered by 
the  Grants  Committee  which  is  made 
up of KSA Trustees. 
Applications  are  generally  considered 
in the week following the closing date. 
Applicants  are  usually  notified  in 
writing within 10 Days. 
The Trustees of KSA are: 
Brian  Jaques  JP.  QSM  -  Managing 
Director, Kaiwaka 
Evan Wright -Farmer, Kaiwaka 
Tony 
Hargreaves, 
JP- 
Farmer, 
Kaiwaka 
Wayne Leslie - Farmer, Kaiwaka 
Mark Ottaway QSM - Baker, Kaiwaka 
COMPLAINTS POLICY: 
Any 
complaints 
regarding 
the 
distribution of grant proceeds must be 
sent in writing addressed to: 
The Principal Officer/Complaints. 
KSA. PO Box 62. Kaiwaka 
Complaints  received  in  this  manner 
will be acknowledged in writing. 
2021 GRANT RECIPIENTS 
K.S.A.    
1476.51 
Mangawhai  Heads  Surf  Lifesaving 
Club  
2000.00 
Pt Curtis Cruising Club 
6000.00 
K.S.A.    
3222.20 
Otamatea High School  
2000.00 
Kaiwaka Tennis Club   
3500.00 
Taniwha Cup Rugby    
3000.00 
Hakaru Hall Committee   3000.00 
Eastern JMB Rugby    
4873.70 
Otamatea High School  
1900.00 
Kaiwaka Family Support   2000.00 
K.S.A.    
5425.50 
Otamatea High School 
  600.00 
K.S.A.    
2003.61 
KAIPARA BASKETBALL 
With reference to the adverts on the left: 
EAST BOYS YOUTH SKILLS DEVELOPMENT 
This  programme  will  focus  on  the  development  skills,  expand  on  the 
game of basketball, perfecting the fundamentals and creating a solid base ready 
for  team  play,  and  to  be  each  Tuesday  from  1  March  to  12  April  in  the 
Mangawhai Gym; at 4.30pm for Years 5-8 and 6pm for Years 9-13 High School 
Please contact Kalem Tana at kalemkba@gmail.com with any questions. 
KAIPARA KOTIRO BASKETBALL 
This is an 8-week program Mondays and Thursday at Kaiwaka Gym for Junior 
Girls  4.00pm  -  5.00pm  Thursdays  and  Intermediate  Girls  4.40pm-5.45pm 
Mondays. 
Please  contact  Cyrena  at  basketball.kaipara@gmail.com  and/or  Blake  at 
blake@ruraldesign.co.nz for any queries. 
KAIWAKA SPORTS ASSN. GRANTS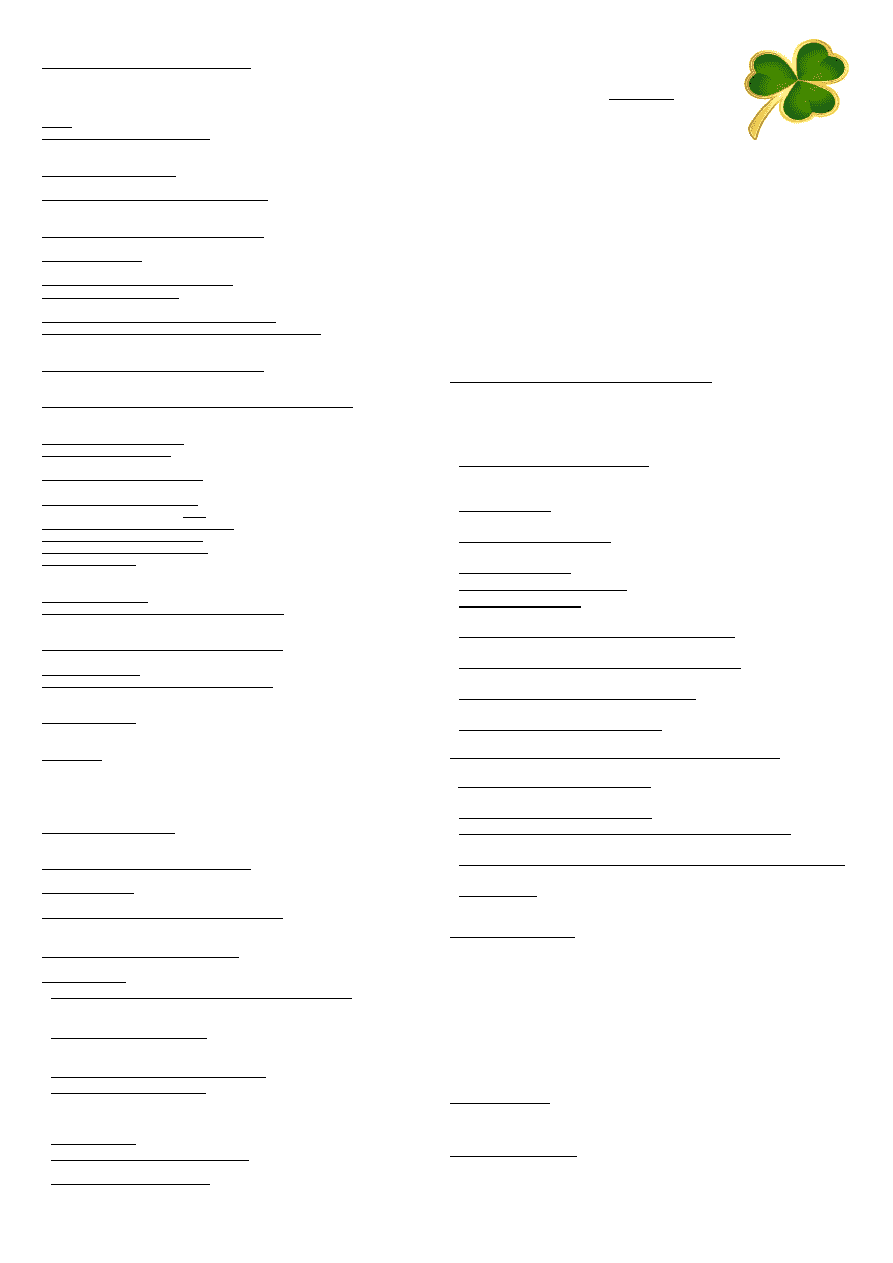 WHAT'S ON
PLEASE ~ do let us know what is on - or what is 
NOT on at the moment! 
email kaiwakabugle@kaiwaka.co.nz 
Advertising in WHAT'S ON is FREE  
*6Mar~Otamatea Netball AGM, Coast Café Mgto, 9am 
*9Mar~Pt. Curtis CC meet, 7.30pm KSA 
*12-13Mar~Pt. Curtis CC Open Fishing Competition & Auction 
*12Mar~Otamatea HAWKS v  Old Boys Marist, 11am KSA 
*16Mar Kaiwaka Can Meet Archie Bull Hall 5.30pm 
*17Mar~St. PATRICK'S DAY 
*19Mar~Otamatea HAWKS v Waipu, 5pm Waipu 
KWMH = Kaiwaka War Memorial Hall; KSA = Kaiwaka Sports Association 
See www.kaiwaka.co.nz for more information 
HOUSEHOLD RUBBISH COLLECTION - Kaiwaka Pick up: 
Mondays = Green bags (Northland Waste - 09 430 3273) 
Wednesdays  = Blue bags and yellow recycling (at Kaiwaka Four 
Square  $3.60  and  $1.70)  (Kaurilands  09  4392146);  ONLY  Blue 
and Yellow bags picked up on Oneriri Road. 
 DIABETES  Support  Group  -for  Kaiwaka,  Mangawhai, 
Wellsford  10am,  3rd  Friday  of  month  Ph:  Colleen  James  09 
4314238 
 GENEALOGY - Wellsford: 1st Thursday in month Ph: 423 
7033; Waipu: 4th Monday in month Ph: 4312 725 
 HAKARU PONY CLUB - Secretary Denise Rogers 021423376 
secretary@hakaruponyclub.co.nz  
 KAIPARA HUNT - Secretary Albert Doonenbal Ph 4312059 
 KAIWAKA BADMINTON -Tuesdays 7.30pm Ph: 0274114817 
 KAIWAKA  CAN  - 3rd Wednesday in month, 5.30pm, Archie 
Bull Hall Ph: 0273572751 
 KAIWAKA GARDEN & FLORAL GROUP - 2nd Thursday in 
month. Ph: 431 4744 
 KNITTING FOR WHANGAREI HOSPITAL - 2nd Tuesday in 
month, Archie Bull Hall 10am Ph 4314827 
 MANGAWHAI COMBINED REBUS CLUB - 2pm, 3rd 
Thursday month, Senior Citizens Hall Mangawhai. Ph: 4315777 
 MANGAWHAI GENEALOGY  - meet 3rd Thursday month, 
Mangawhai Museum, 10.30am 
*PILATES - KAIWAKA WAR MEMORIAL HALL - Ph: 
021  
2072729  
*PILATES - HAKARU HALL - Tuesday 10am, Thursday 9am 
Qualified Instructor  Ph. 0220643965  
 PT CURTIS CRUISING CLUB - Ph: 4312205 Pongo, Commodore 
 RSA,  HAKARU  &  DISTRICTS  WOMEN'S  SECTION  –  meets 
1.30pm 4th Thursday of the month. Ph: 431 5818  
 KAIWAKA  SCOTTISH  COUNTRY  DANCING  CLUB-
Wednesdays 10am - 12 noon  Ph: Elaine 027 432 0032  
 TRAMPING - Mondays 9am - 2:30pm, contact  
  valkenburgmaria@gmail.com 
HALLS FOR HIRE: 
  Kaiwaka St. John Hall: Phone Marj  0272941227  
 St.Pauls Archie Bull Hall HIRE $20 half day, $40 full day per 
hire, S McAulay, Ph 4312311 
 Kaiwaka  War  Memorial  Hall  HlRE  -  Phone  4312725  or 
kaiwaka.hall.bookings@gmail.com 
 Hakaru Community Hall HIRE -Ph.  Karen 4312090 
 Te Pounga Marae queries - Pearl Nathan  0223933533 
 Kaiwaka Sports Association hire/queries 
Jennie Reynolds 
   ksa.bookings@mail.com, 02102764171  
Justice of Peace:  
L.Donaldson  4312  228;  A.F.Hargreaves  4312  045,  W.Howard 
4312 725  - please phone to make sure they are available or go to 
www.justiceofthepeace.org.nz 
Marriage Celebrants:  
L.Donaldson; A.F.Hargreaves; Y Osborne
LOCAL SERVICES 
*Emergencies - Ambulance, Fire, Police - dial 111 
*Non-urgent Police phone 105
A A: Meets Wed., 7pm. Kate's Place Ph 021 024 25969 or 0800 229 6757  
NARCOTICS ANONYMOUS : Mon., 6pm, Archie Bull Hall, Kwk-Mwi 
Road; drug and alcohol related issues. Ph. 02102412348 
ASUREQUALITY LTD (was AgriQuality) Call Free 0508 0011 22  
BUDGETING SERVICE, WELLSFORD: Free confidential advice & 
support for all areas of personal finance. Ph (09) 423 7123 
CAB-Citizens Advice Bureau.Wellsford Ph: 4237333 
0800 367 222 email:cab.wells@xtra.co.nz  
CIVIL DEFENCE - Kaipara 0800 727 059 or Facebook 
DOG/STOCK /NOISE CONTROL 0800 105 890 
FUNERAL SERVICES: Morris & Morris Ltd, Whangarei 0800667747 
GRANDPARENTS Raising Grandchildren: Dianah Roberts 0223819539 
HAKARU & DISTRICTS MEMORIAL RSA (Inc) 733 Settlement Rd, 
Hakaru. Ph 4312 176 or Barry Wallace (President) 0274 922 975 
HAKARU LANDFILL/Transfer Station:Open everyday  10am-
4pm.Ph4312629 Except Public Holidays. Cost-$55 trailer load up to 1 
cubic metre. Ph:4258567 - office 
KAIPARA DISTRICT COUNCIL www.kaipara.govt.nz:  
Help Desk FREEPHONE 0800 727 059  
KAIWAKA CEMETERY: Ph: 4312045 or 4314017 
KAIWAKA LIBRARY: kaiwaka.library@gmail.com  
Mon. 4-6pm; Wed., Thurs., Fri., Sat. 10am-2pm Ph:4312539 
KAIWAKA PLAYCENTRE: Ph Juanita 0274134904; open Mon, Wed, 
Fri 9am-12pm. Hastie Lane; Monday to Friday 9.00am - 12 noon. 
KAIWAKA POST OFFICE:Ph:4312 431  
Post Code: 0573 for RD2 and 0542 for all Kaiwaka Post Office mail 
KAIWAKA PRIMARY SCHOOL: Ph: 4312309   
KAIWAKA SPORTS ASSN: Ph 4312005; 4312129 gym 
KAIWAKA ST JOHN HALL: Phone Marj  0272941227  
KATE'S PLACE Community Centre - Employment services, Free Health 
Nurse, Plunket, Advocacy, Osteotherapist, A.A., Legal Advice. 4312 661 
LINKING HANDS Health Shuttle Ph 4315906 or 09 4318969 
MINISTRY FOR PRIMARY INDUSTRIES - General inquiries Call 
Free 0800 008 333 
NEIGHBOURHOOD SUPPORT RODNEY:  021 2583737      
NORTHPOWER: Faults Kaiwaka area 0800 104040 
OTAMATEA COMMUNITY SERVICES: Counselling, parent coach, 
Family Support worker, budget advice, food bank. Mon-Fri 9am-3pm. Ph 
09 431 9080 http://www.otamateacs.org/ 
PARENTPORT: Free, practical family support service Puhoi to Paparoa 
Ph or txt: Dianne 027 280 5093 or 09 425 9357 
PLUNKET: Kaiwaka- St John Hall, 4th Monday of the month. Plunket Nurse 
Louise 027 282 3987 or 09 438 2508 
Mangawhai- Rose Madsen Cottage, Mondays and Wednesdays. Plunket Nurse 
Rebecca 021 501 941 or 09 438 2508 
Maungaturoto - Good News Church, 2nd and 4th Wednesday of the month. 
Plunket Nurse Seleisa 021 912 248 or 09 438 2508 
PLUNKET HELPLINE -0800 933 922 (24 hours)  
FACEBOOK - Kaipara Plunket 
TAITOKERAU COMMUNITY LAW: Free confidential legal advice and 
assistance, 2nd
Thursday
 of each month. Ph: 0800 155 529 for appts.  
TE URI O HAU Settlement Trust Tangata Developments: Whanau Ora 
021 793262  
VETERINARY SERVICE MANGAWHAI: 
Ph: 4314535 Mon-Fri 8.00-5.00, Sat 9-12, a/h appt. 
WELLSFORD DOCTORS: Ph: 4238 086 
CHURCHES:
 
Kaiwaka  Revival  Church  -  Your  Community  Church:  Sundays  10am. 
Ph: Pastor Tawhiri 09 431 8988 or Pastor Paul 09 4312 068 Visit us at 
www.facebook.com/kaiwakachurch 
 
St  Paul's  Anglican  Church  1st  Sun.  9.00am  (Eucharist),  3rd  Sun. 
9.00am  (Family  Service).  Contact:  Church  Office  Ph  431  4122 
www.mangawhaianglican.org.nz 
 
Church of Christ the King, Mangawhai:9.00am every Sunday 
 
St.Mary's  Catholic  Church:  Maungaturoto  –  Griffins  Road,  Saturday 
evening  Vigil  Mass  6pm;  Mangawhai  –  Senior  Citizens  Hall,  Sunday 
Mass  8:30am;  Wellsford  –  Matheson  Road,  Sunday  Mass  10:30am;  
Mid-week Mass times and all enquires – phone 423 8170
 
Baptist Church: Sun. 10.30am Mangawhai Snr Cit.Hall.Ph:4312339 
 
Cause  Way  Church  Mangawhai:  Sundays  10.15am,  Mangawhai 
Community  Recreation  Centre,  Insley  St.  Ph:  09  4314782 
Next Bugle Deadline Friday 25 March 2022