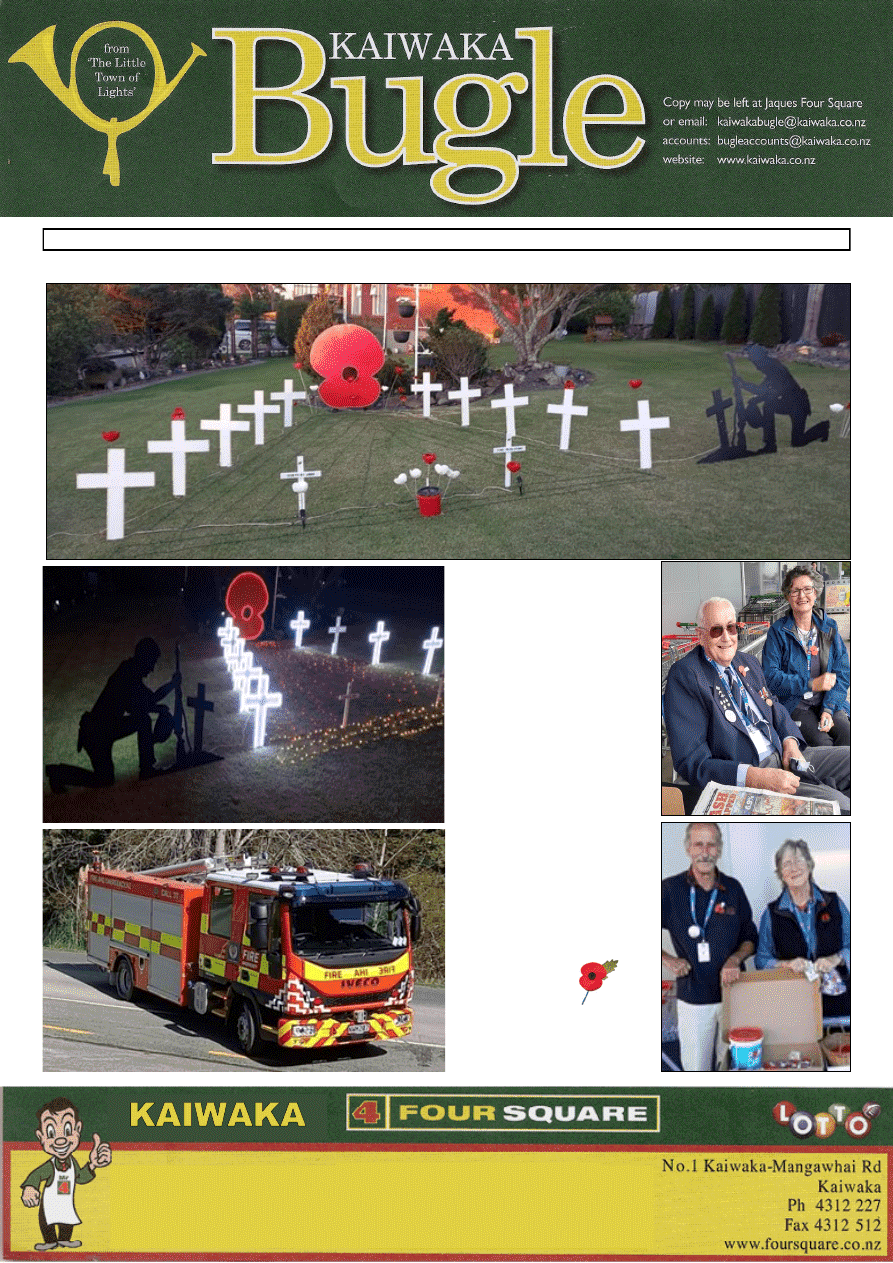 www.kaiwaka.co.nz 
Kaiwaka Bugle - 25 April 2022 
Page 1 
No: 4 
 25 April 2022 
KAIWAKA: ANZAC 2022 
ANZAC 2022 
OTTAWAY 
DISPLAY 
This  display  commemorates 
Anzac  Day,  with  special 
memories of Pte. W.T. Jaques 
and Tpr. W.  Ottaway..  It  can 
be  viewed  day  or  night  at 
1842 
SH 
1, 
Kaiwaka. 
Donations  to  to  our  Hakaru 
and Districts RSA.. 
They shall grow not old, as we 
that are left grow old: 
Age shall not weary them, nor 
the years condemn. 
At the going down of the sun, 
and in the morning, 
We will remember them 
We will remember them. 
Photos right: Kaiwaka Poppy 
Day 
collectors 
outside 
Kaiwaka Four Square - thank 
you, folk! 
Photo 
left: 
Kaiwaka 
Volunteer 
Fire 
Brigades 
brand  new  fire  truck  arriving 
at the Station.
TRADING HOURS: 
7.30am - 7pm daily 
"Your local Store" 
Family owned & operated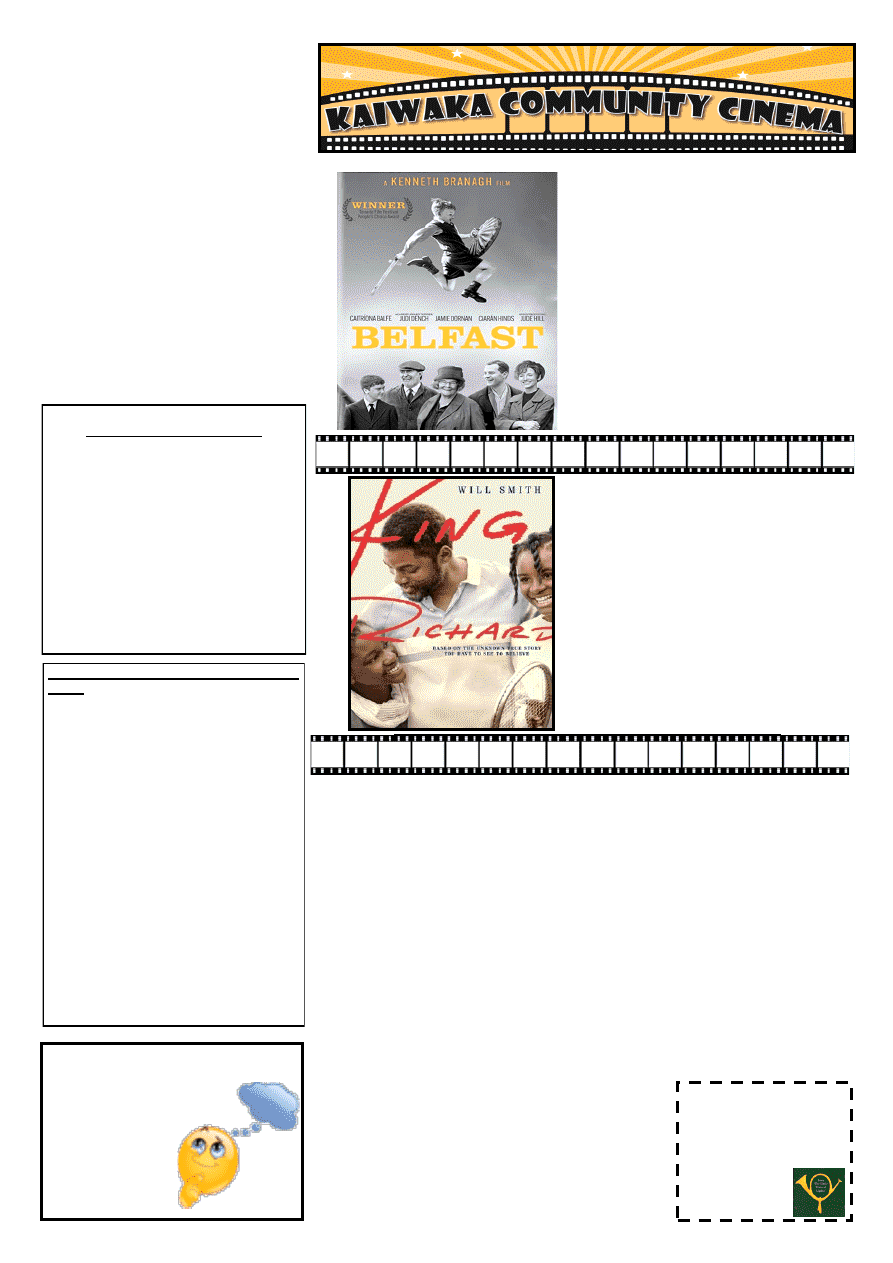 KAIWAKA BUGLE No. 4 
25 APRIL 2022 
CONTENTS 
Page 3: Public Notices, Classified 
Page 5: The DEN Sale; Possums 
Page 7: Kaiwaka Weather;  Libby 
NDHB  
Page 9: Kaiwaka ; Gardening 
Page 11: Kaiwaka Sports Assn. 
Page 13:Rotary; Oneriri Roads 
Page 15: Kay McElwain; PBL 
Page 17: Kaiwaka Library; OHS 
Page 19: Kauri Museum; War Graves 
Bugle 5 will appear 30 May 2022  
Contact for advertising, reports, articles 
or information can be made by 
Email kaiwakabugle@kaiwaka.co.nz 
Ph: 09 4312 045 Lindsey 
Txt: 027 2724137 
Copy may be left at our Four Square. 
Kaiwaka Bugle 
Founded May 1978 
We appreciate articles and photos about local 
events, etc, as well as ads and suggestions. 
Copies available in Kaiwaka at Four Square, 
Kaiwaka Postal Centre, Shamrock Service 
Station, Best Pets , Kaiwaka St John shop. 
Also outlets in Maungaturoto, 
Mangawhai and Paparoa. 
Can be viewed online at   
www.kaiwaka.co.nz/Bugle  
Or a copy can be posted to you if you supply 
stamped, self-addressed DLE envelopes. 
Kaiwaka 
Bugle 
Advertisements 
2022: 
All 
copy 
and 
queries 
to: 
kaiwakabugle@kaiwaka.co.nz 
The Bugle is printed on an A4 page   
Ad  sizes:  1/16  page  (3  x  9.5cm)  $5;  1/8 
(6.5  x  9.5cm  landscape  or  portrait)  $8; 
3/16 ( 10 x 9.5cm or 7.5 x 12.5)  $12.  
Classified  ads:  First  one  FREE,  $4  per 
entry (max. 30 words, max. 4 repeats). 
Payments  can  be  made  online  at 
ANZ 
06  0365  0006990  00
,  posted  or  left  at 
Kaiwaka Four Square Store. 
We  use  Microsoft  Publisher,  and  can 
work  with  most  common  image 
formats, Word, Excel, and PDF files. 
Accounts:  
Email: bugleaccounts@kaiwaka.co.nz 
The  Kaiwaka  Bugle  is  a  community 
newspaper run by volunteers, as part of 
the Kaiwaka Media Group Inc.   
Articles, etc. printed are not necessarily 
the opinion of the Bugle Team. 
ABOUT TOWN

 ANZAC - big thank you to Pam and Mark Ottaway for their Anzac display 

 A big HAPPY BIRTHDAY to Bill Jaques on his 90th birthday last week. Bill  
of the famous Jaques Store has a great memory of Kaiwaka events! 

 Help! Has anyone noticed where the spouting has gone from the chapel at our 
Kaiwaka Cemetery? 

 Kaipara Knights soccer - contact Alison Cadman 0278286795 

 Our local Linking Hands are still seeking Kaiwaka drivers - call 09 4318969 
for further information 

 NZ  Sign  Language  Week    Monday  9  May  -  Sunday  15  May.  Alycia  from 
Mangawhai Pharmacy has a free NZ Sign Language Club. 

Mother's Day is Sunday 8 May! 

 Sadly  we  have  lost  a  Bugle  Team  member  -  Jackie  Winters  passed  away 
suddenly last  Friday. We also remember Murray Hall who passed recently 

 A big thank you to Jess and  Ant, Kaiwaka Four Square for printing another 
batch of front pages for the Bugle! Giving us a spot of colour too!

Kaiwaka 
Bugle 
No. 
4 
is 
online 
at 
www.kaiwaka.co.nz in colour and is in print for our 
local Readers.    
~ 
Lindsey, Ed
'From little towns in a far land we came, 
To save our honour and a world aflame. 
By little towns in a far land we sleep; 
And trust that world we won for you to keep!' 
~ Rudyard Kipling, Canadian WWI Memorial epitaph 
KAIWAKA BUGLE 
FRIDAY 
DEADLINE DATES 
2022:   
27 May 
24 June 
22 July 
26 August
Proverbs 4:23
Be careful 
how you 
think; your 
life is shaped 
by your 
thoughts. 
Good News Bible 
At Kaiwaka War Memorial Hall . Adults $10, Kids (under 16) $5, Family Pass (2 adults + 3 children) $25 
BELFAST 
Friday  6 May, 7.30pm 
A  semi-autobiographical  film  which 
chronicles  the  life  of  a  working  class 
family  and  their  young  son's  childhood 
during  the  tumult  of  the  late  1960s  in 
the Northern Ireland capital. 
Named  one  of  the  best  films  of  2021. 
This  British  coming-of-age  drama 
film 
was 
written 
and 
directed 
by Kenneth Branagh. Starring Caitríona 
Balfe, 
Judi 
Dench, 
Jamie 
Dornan,  Ciarán  Hinds,  Colin  Morgan 
and newcomer Jude Hill.    
KING RICHARD 
Friday  20 May, 7.30pm 
2021  American  biographical  sports 
drama,  King  Richard  is  based  on  the 
true  story  of  Richard  Williams,  the 
father  of  Venus  and  Serena  Williams. 
In  the  film,  Richard  tells  anyone  who 
will listen that his daughters are born to 
be stars and that he has an 84-page plan 
to  achieve  that  dream.  Together,  the 
Williams  family  defies  seemingly 
insurmountable odds and the prevailing 
expectations laid before them.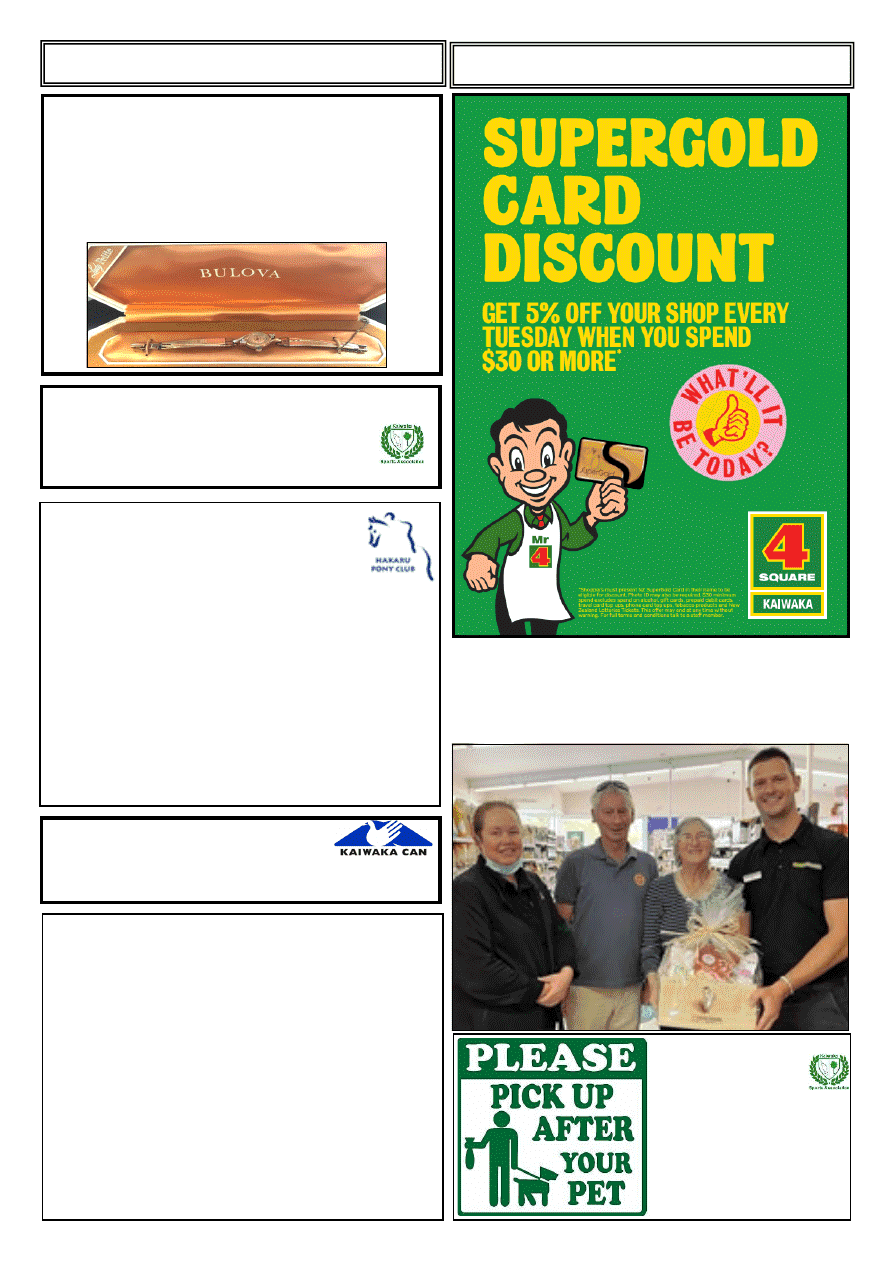 www.kaiwaka.co.nz 
Kaiwaka Bugle - 25 April 2022 
Page 3 
PUBLIC NOTICES 
CLASSIFIED 
HAKARU PONY CLUB Inc  
Annual General Meeting 
Hello  members,  I  hereby  give  notice  to  all 
current financial members that the Hakaru Pony 
Club Inc AGM meeting will take place on  
Monday 16th May 2022, 7pm at Hakaru Hall. 
It  is  beneficial  that  members  18  years  and  over  attend  as 
you all have voting rights at the meeting. 
We must elect our officers for the 2022/2023 season, they 
are: President – Vice President – Secretary  – Treasurer – 
Head Coach and 4 committee members 
The  pony  club  is  run  on  a  voluntary  basis  by  the 
membership  –  parents  and  adults  –  and  all  members 
should be able to contribute in some way to this.  
If  you  would  like  to  put  forward  for  nomination  for  a 
position above, please email Secretary Nicole Strong  - 
hakaruponyclub@gmail.com 
A  huge  thank  you  to  the  current  committee  and  coaches 
for a wonderful and successful 21/22 season.
FOUR
SQUARE KAIWAKA
Ant and Jess and their great team are super supporters of our 
Kaiwaka community. They even surprise locals, seen below with 
Jean and Ant!
The locals say thank you!
KAIWAKA CAN
Annual General Meeting 
Wednesday 18th May 5.30pm
Archie Bull Hall, Kaiwaka 
TE PĀTAKA O KAIWAKA  
FOODBANK & OP SHOP 
Hoping everyone had a lovely and safe Easter and Anzac 
Weekends. 
The shop is going along nicely - a lot of 'stuff' moving on. 
NEEDS: Cooking Pots, Bric a brac, Jewellery, Blankets & 
Pillows, and Children's winter shoes. 
FOODBANK:  We  now  have  a  landline  at  the  shop  -  09 
4312188.  If  you  are  in  need  please  ring  this  number.  No 
more mobiles. 
Thank  you  to  everyone  who  supports  since  I  have  taken 
over the Foodbank. Needs vary from 6 in one day to 6 per 
week  for  people  needing  help.  If  you  know  of  anyone  in 
need send them to see me, thank you. 
Arohanui, Milly and Staff 
SHOP HOURS Tuesday - Friday 10am - 2pm 
Saturday - Monday CLOSED 
tepatakaokaiwaka@gmail.com   Phone: 09 4312188 
KAIWAKA 
SPORTS ASSN 
YOUR DOG is most 
welcome on the Kaiwaka 
Sports Assn. grounds as 
long as you Clean up … 
Many folk use the grass 
area for sport and 
exercise. 
THE DEN
ANTIQUES & COLLECTABLE SALE 
Saturday 7, 9am - 3pm 
 & Sunday 8 May, 10am - 1pm 
At Maungaturoto Country Club
Proceeds to Health and Wellbeing of people of the old 
Otamatea County area, and outside organisations that service 
the same. 
KAIWAKA SPORTS ASSN.
Annual General Meeting 
Wednesday 11th May 7pm
Kaiwaka Sports Complex Lounge 
All welcome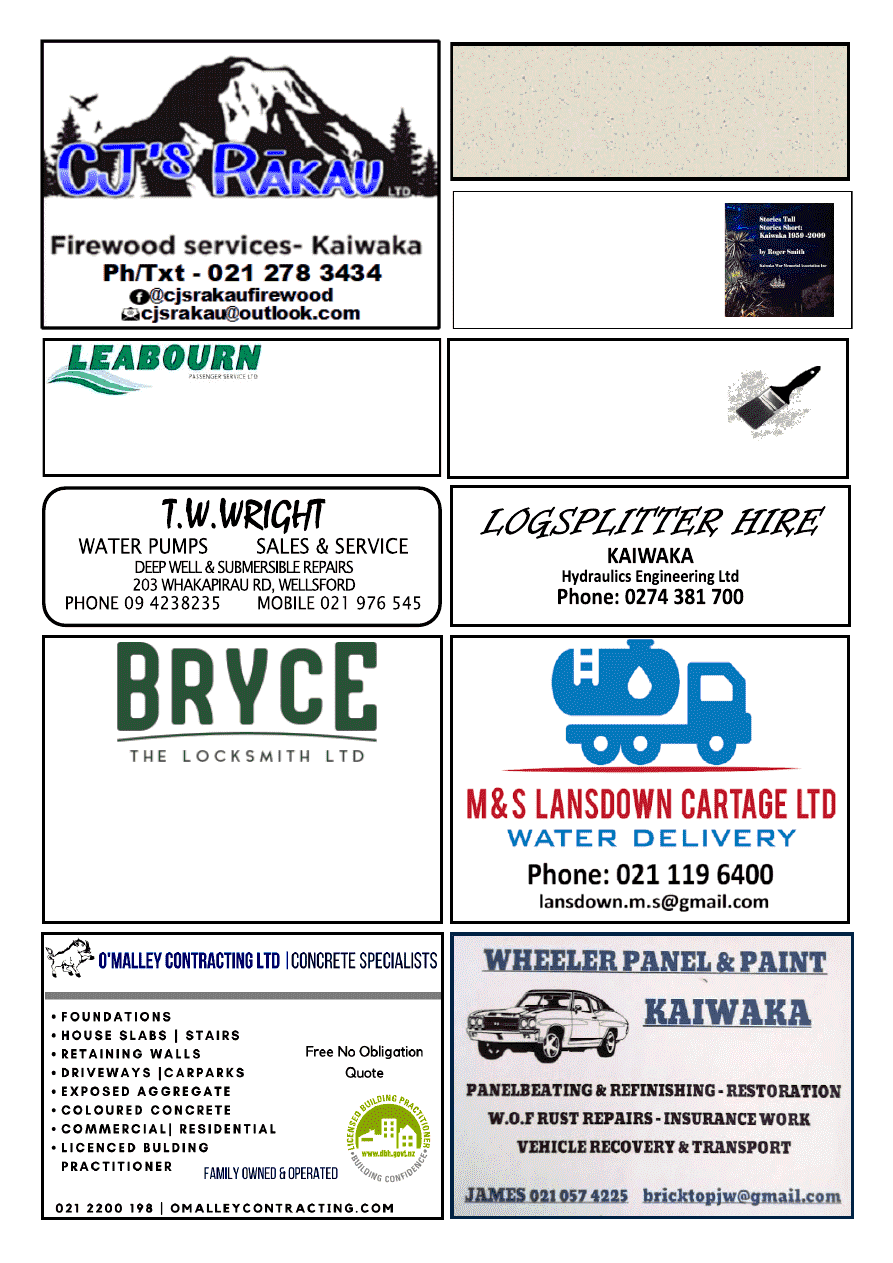 Counsellor and Registered Psychotherapist 
Offers Supervision
Susan Matheson 
MNZAC 
Dip. Psychosynthesis Counselling and Psychotherapy 
Phone 09 431 2996                        Mobile 027 605 2427 
Passenger Service
Car & Van Hire   Bus & Coach Charters 
Airport Transfers    
Phone (09) 4237416 
Bryce Frewin 
Ph: 021 850 983 
Kaipara Based Master Locksmith 
bryce@brycethelocksmith.co.nz 
www.brycethelocksmith.co.nz 
Stories Tall, Stories Short  
Kaiwaka 1959-2009 
by Roger TW Smith.  $40 
Kaiwaka Photographic History $25 
Available at All Sortz Collectables  
or phone  4312 045 
DR PAINT
 Dave & Rhys 
 Painters
 02108742551   
0211200667    drpaintnz@gmail.com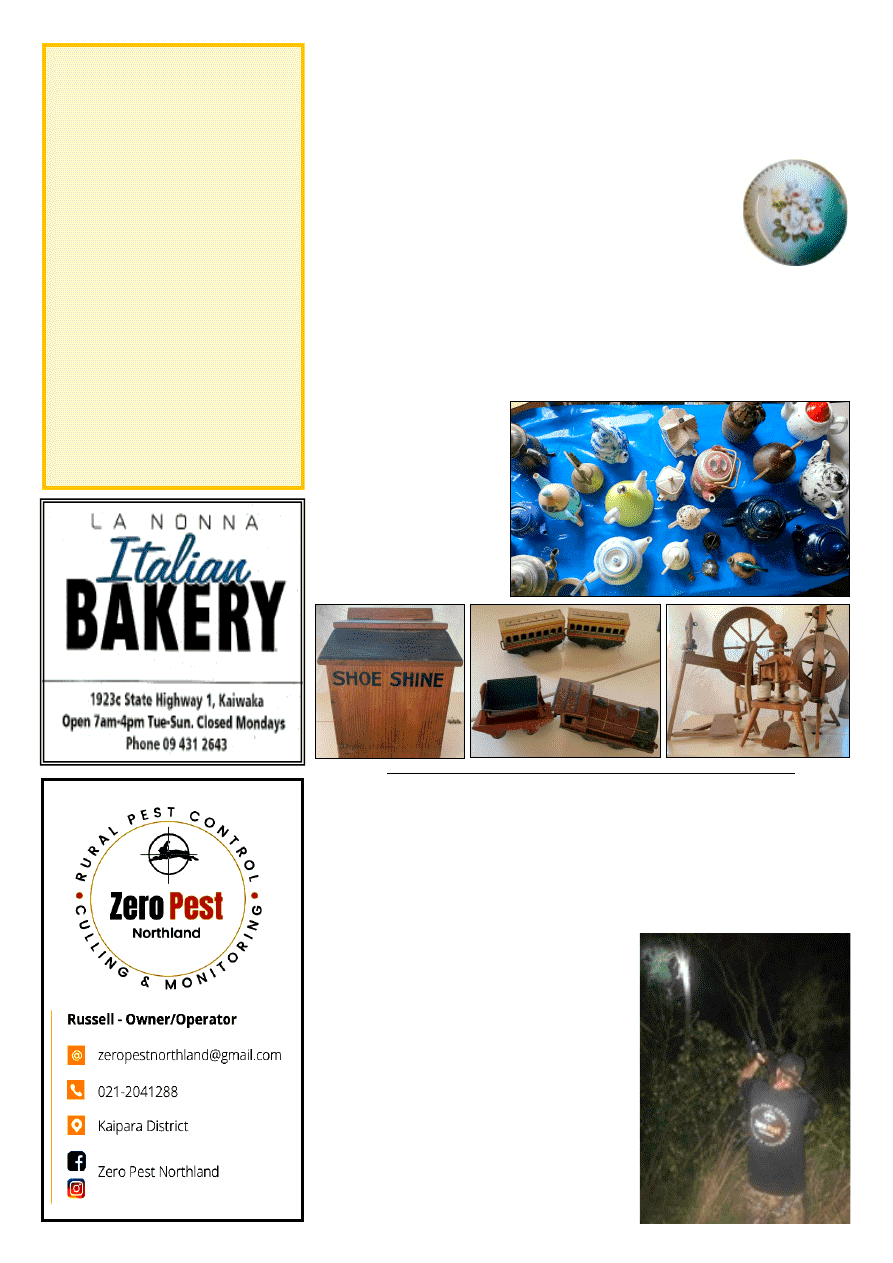 www.kaiwaka.co.nz 
Kaiwaka Bugle - 25 April 2022 
Page 5 
Willow Bend 
HORSE  
HOTEL 
Horse Grazing & Agistment 

Safe paddocks with outriggers 
on all fences 

60x40 professionally 
constructed arena with grass 
surface 

Under cover yards 

Stabling if required 

Paddocks cleaned daily 

Feeding hay/hard feed 

Cover changes 

Fresh grass daily, all year round 

Short or long term
Phone Sue  
021 623 776  
Providing care and comfort for 
horses in Kaiwaka since 2005 
MAY 7th and 8th 
The Den in Maungaturoto is holding a 
sale of antiques and collectables at the 
Maungaturoto  Country  Club  at  84 
Bickerstaffe  Road,  Maungaturoto  on 
Saturday 7th May between 9am – 3pm 
and  Sunday  8th  May  between  9am  – 
2pm.  
SILENT AUCTION 
There  will  also  be  a  silent  auction  of 
some  very  special  items  held  on 
Saturday  starting  at  9am  and  finalised 
at 12pm that day. 
COMMUNITY BENEFITS 
The Den has become a successful way 
of  raising  money  for  the  health  and 
wellbeing  of  the  wider  Otamatea 
County  area  and  some  of  the 
beneficiaries 
have 
been 
The 
Maungaturoto  Community  Charitable 
Trust  contributing  to  the 
Dementia  Unit  at  the 
Maungaturoto  Rest  Home 
and  Retirement  Village, 
The  Kaipara  Volunteer 
Coastguard, 
Northland 
Electricity 
Helicopter, 
Linking 
Hands 
Inc, 
Otamatea 
St 
John 
Ambulance to name a few. 
We  look  forward  to  seeing 
you  there  helping  support 
the  wider  community  and 
be  quick,  as  there  are  plenty  of  sort 
after/collectable  items  as  well  as  great 
bargains to be had. 
Items include: 
Crockery, Glassware, Cutlery etc 
Books  –  children's, 
adults, reference etc 
Records 
Toys  -  including  tin 
toys 
Crafts 
Cameras 
and 
equipment 
Furniture and other household items 
Tools and electrical items 
Brass 
Plus, lots lot more 
For  more  information  contact  Albie 
Paton  0274  949 448  or  check  out The 
Den Facebook page. 
POSSUM FACTS  

Did  you  know  that  breeding  of  possums  occurs  from  late  March  until  early 
May, with a gestation period of 17-19 days.  

They breed again September - October  

Possums have a lifespan of around 9 years.  

Every night possums eat about 21,000 tonnes of vegetation! That's nearly the 
weight of Auckland's Sky Tower.  

Possums pose a serious threat to our forests and native wildlife by destroying 
plants and birds' nests, eating birds' eggs and invertebrates, and competing with 
other species for food  

Possums  also  carry  a  disease  called  bovine 
Tb (tuberculosis) which they spread to cattle  

Possums  follow  the  same  track,  forming 
flattened paths about 20cm wide.   

Warm  nights  are  best,  especially  after  a  rain 
to shoot possums  

Possums  are  not  always  out  in  the  bush, 
sometimes they are right under your nose where 
you  would  least  expect  them  to  be  -  in  your 
sheds, in thick grass or toetoe on the side of the 
road. 
Get  in  touch  with  Russell, 
Zero  Pest 
Northland,  if  you  need  a  hand  to  prevent 
possums causing damage to your property  - or 
peacocks,  rabbits,  goats.  Russell  is  Kaiwaka 
based and is ready to travel. 
ANTIQUE AND COLLECTABLES SALE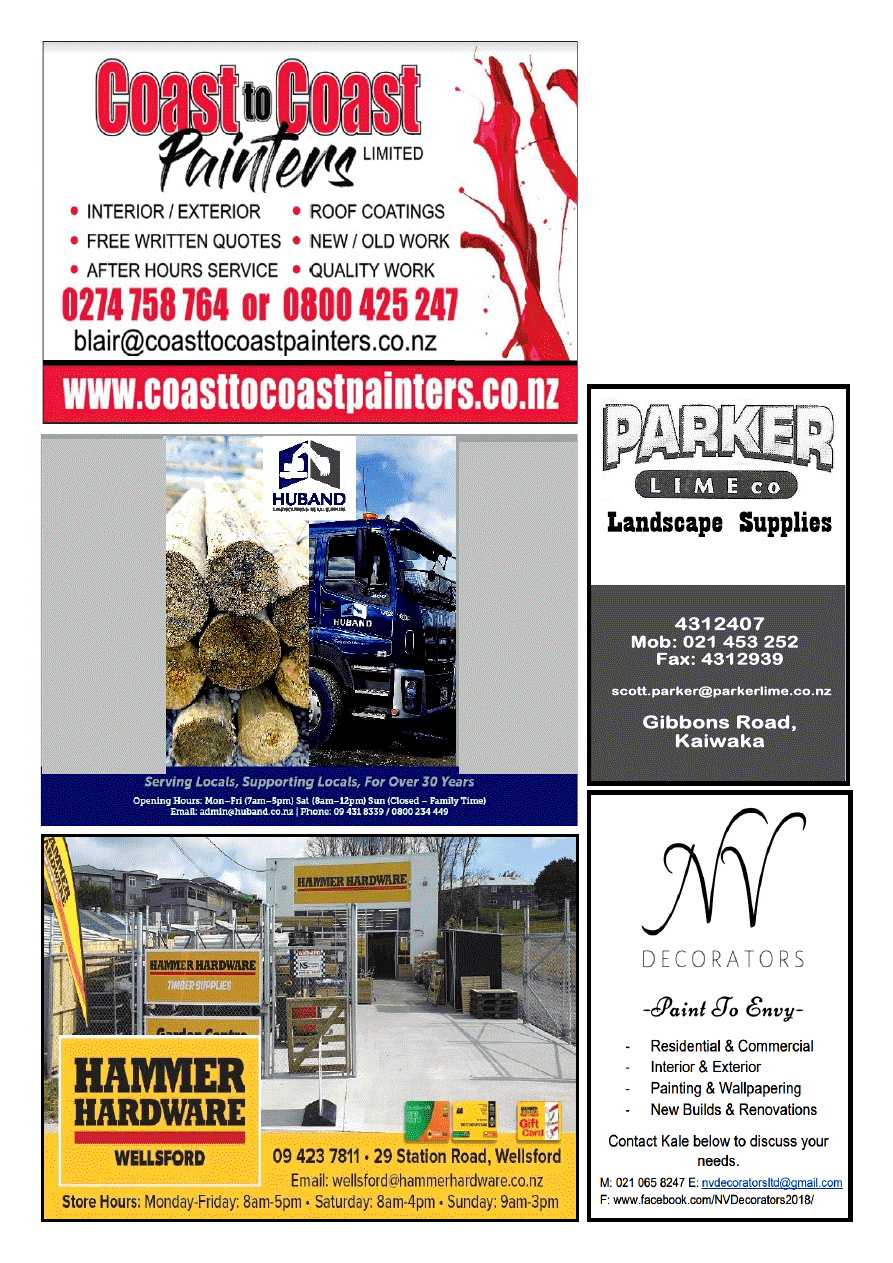 Bulk Cartage 
HELP 
PHONE NUMBERS 

HEALTHLINE  0800  611  116  -  a 
nurse to answer health queries  

SAMARITANS  
0800  726  666  -  support  for  lonely  or 
suffering mental distress 

YOUTHLINE 0800 376 633 

LIFELINE 0800 543 354 

DEPRESSION HELPLINE  
0800 111 756 

ALCOHOL  &  DRUG  HELPLINE 
0800 787 797 

URGENT 
MENTAL 
HEALTH 
LINE 0800 223 371 

WARMLINE  -peer  support  for 
people with mental health issues  
0800 200 207 
Landscaping Supplies: 
Waikato Screen Topsoil 
Bark 
Woodchip 
Mill Bark 
Post Peelings 
Compost 
Crushed Shell 
Topsoil 
Limestone Chip 
Daltons Garden Mix 
Aggregate 
Gap: 20,40.65 
Riverstone 
Sand 
Belt Dust 
40/20 Drainage Metal 
Builders Mix 
 Cement 
Timber/Fencing Supplies: 
Rails, Posts  
Stays, Strainers 
Fence Battens 
Palings 
Stakes 
Fencing Wire 
Farm Gates & hardware 
Drainage: 
PVC Fittings 
Alkathene 
Draincoil 
WATER TANKS: 
Aqua & Baileys 
Brands 
DRAINAGE & 
SEPTICS: 
Land Drainage 
Urban Rural 
Drainage 
Water Pipelines 
Culverts 
Septic Systems 
(RX Plastics & 
Biorock) 
SITEWORKS: 
Retaining Walls 
Piling 
Driveways 
Carparks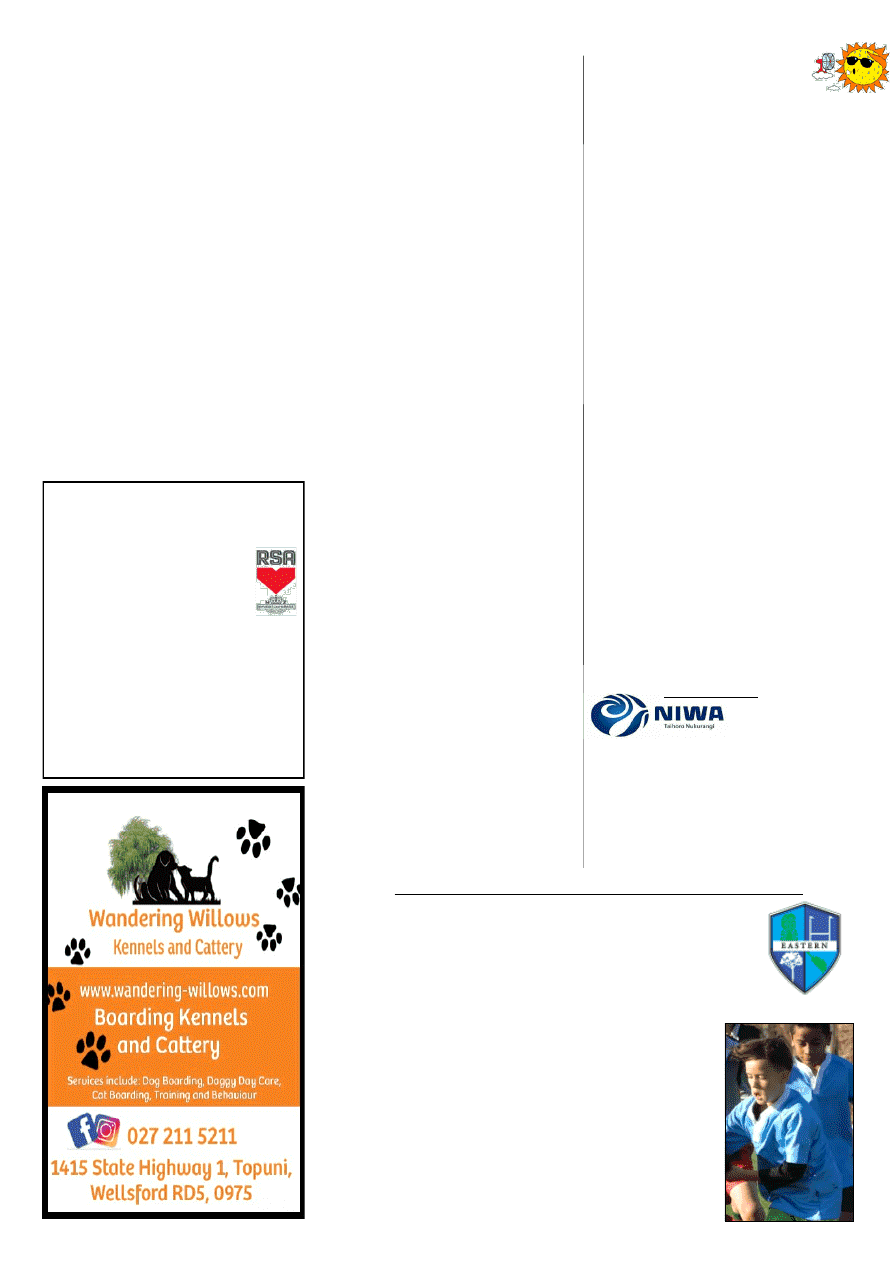 www.kaiwaka.co.nz 
Kaiwaka Bugle - 25 April 2022 
Page 7 
KAIWAKA 
WEATHER 
March
  was  certainly  an  unusual 
month.  Starting  out  very  dry,  then 
extremely  wet,  then  very  dry  again. 
Autumn  is  upon  us.  The  leaves  seem 
to  be  falling  off  the  trees  before 
making  much  colour  change,  I'm 
presuming  that  is  because  it  has  been 
so dry.  
On  the  19th  of  March  the  dry 
weather  came  to  an  end  and on the 
21st  we  got  an  extremely  intense 
thunderstorm,  which  lasted  several 
hours and then came to an abrupt end 
but not before dumping 155ml of rain 
on us.  
Two  days  later  we  had  to  endure 
another  drenching,  this  time  81ml  of 
rain fell in only 20 minutes! 
 We  had  to  once  again  get  out  and 
sweep away copious amounts of water 
from  around  the  back  door  as  the 
drains  couldn't  cope  with  the  amount 
of  water  thrown  at  us  in  such  a  short 
while.  
The  total  rainfall  for  March  this 
year,  at  our  place  was  275ml  with 
268 of that falling over five days.  
The  highest  rainfall  I  have  recorded 
for  March  was  in  2007  with  a 
whopping 362ml.  
The  driest  March  at  our  place  was 
recorded  in  2005  with  a  total  of 
13.5ml.  
The  Indian  summer  that  we  have  got 
this year is absolutely wonderful, with 
beautiful  warm  days.  Hopefully  the 
downgraded  cyclone that  is  due to  hit 
us  today  will  not  be  as  bad  as 
predicted - more on that next month.  
Take care everyone, Karen 
March Climate Summary:  
- Warm and dry for most 
-  Much  higher  than  average  sea 
temperatures 
-  Drier  and  warmer  than  normal, 
particularly for the South Island  
-  Significant  heavy  rainfall  event  for 
the North Island in late March, with a 
record-setting downpour in Northland.
The  new  Te  Tai  Tokerau  Health 
Strategy  2040  /  Taitokerau 
Rautaki  Hauora  2040  has  been 
launched by Northland DHB.  
It is the result of extensive consultation 
and  engagement  across  the  whole  of 
Northland  with  many  communities, 
health  sector  workers,  other  sectors, 
iwi, and our board.  
Some  of  you  will  have  attended  the 
consultation  meeting  in  Maungaturoto 
a  couple  of  years  ago,  which  had  the 
biggest  attendance  of  communities 
across  the  region.  I  have  been 
determined  to  keep  the  voices  that  we 
heard  on  that  day  alive,  and  many  of 
the  concerns  and  hopes  were  repeated 
across  other  communities  and  have 
been  included  as  part  of  the  direction 
for this strategy. 
You  might  wonder  with  the  change 
to the health and disability system and 
DHBs no longer continuing as separate 
entities why this is important now, and 
is it just a waste of time? 
In  fact,  it  is  even  more  important  that 
the new entities of Health NZ and the 
Maori  Health  Authority  have a clear 
understanding  of  the  aspirations  and 
hopes  of  whanau  and  communities 
across Te Tai Tokerau.  
Health  NZ  have  been  asking  for  key 
information  from  each  area  about  key 
priorities and projects to assist them to 
form  the  basis  of  the  interim  national 
health  plan,  so  have  welcomed  this 
strategy  as  they  begin  to  grapple  with 
the  health,  wellbeing  and  disability 
needs  of  our  region  alongside  others. 
Localities will be important in the new 
health structure, and it could be that the 
whole of Northland will be a "locality," 
which could oversee this strategy. 
Our  updated  vision  aligns  with  the 
direction  of  the  country's  new  health 
system  that  will  achieve  Pae  Ora  / 
Healthy Futures for all.  
Our vision for Te Tai Tokerau is: 
• people live longer in good health 
• have improved quality of life 
•  and  there  is  equity  between  all 
groups. 
It  is  uncertain  times  in  the  health  and 
disability  sector  with  the  changes 
imminent,  so  as  a  board  member 
finishing on 30 June I am  pleased that 
the  voices  from  local  communities 
have been included in a document that 
we  trust  will  be  a  part  of  the  new 
direction for Northland.  
And yes, I am a glass half full kind of 
person, but it has served me well in my 
life so far. 
Check  out  the  new  strategy  on  the 
NDHB  website  or let me know if you 
want me to email you a pdf copy. 
https://www.northlanddhb.org.nz/
news-and-publications/publications/
health-strategy-2040 
Stay well, Libby 
Libby  Jones  hames.jones@xtra.co.nz 
021 2080093 
HAKARU & DISTRICTS 
MEMORIAL RSA  
Members & guests are 
invited to come along and 
enjoy our hospitality. 
New members welcome. 
Meals are served on 
Thursday and Friday nights 
from 6.30pm. 
Order from Blackboard Menu 
For more information please phone 
Barry Wallace 0274 922 975  
Email: president@hakarursa.co.nz 
EASTERN UNITED JMB  
 JUNIOR RUGBY 
Welcome to another season of rugby with Eastern.  
Our  Season  is  set  to  run  over  Term  2,  with  games  played  on 
Saturday mornings, as follows: 
7th May: Maungaturoto 
14th May: Wellsford 
21st May: Tomarata 
28th May: Eastern (Kaiwaka) 
4th June: NO GAMES QUEENS BIRTHDAY 
11th June: Maungaturoto 
18th June: Wellsford 
25th June: Tomarata 
2nd July: Eastern (Kaiwaka) 
The first training is Thursday 5th May at Kaiwaka  
Sports Assn grounds. 
Follow updates on Facebook: Eastern United JMB Kaiwaka  
LIBBY JONES 
– 
Member Northland District Health Board  
NEW NORTHLAND HEALTH STRATEGY 2040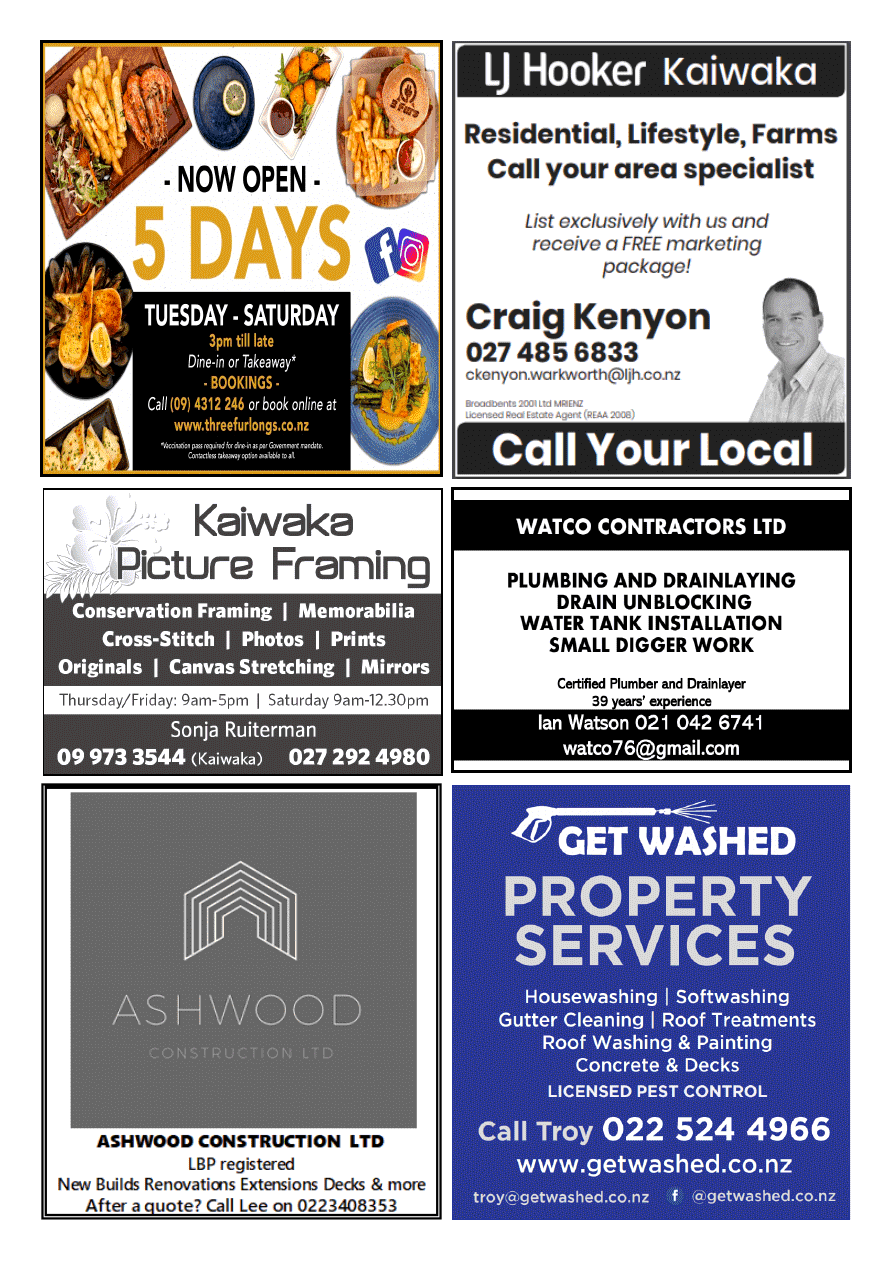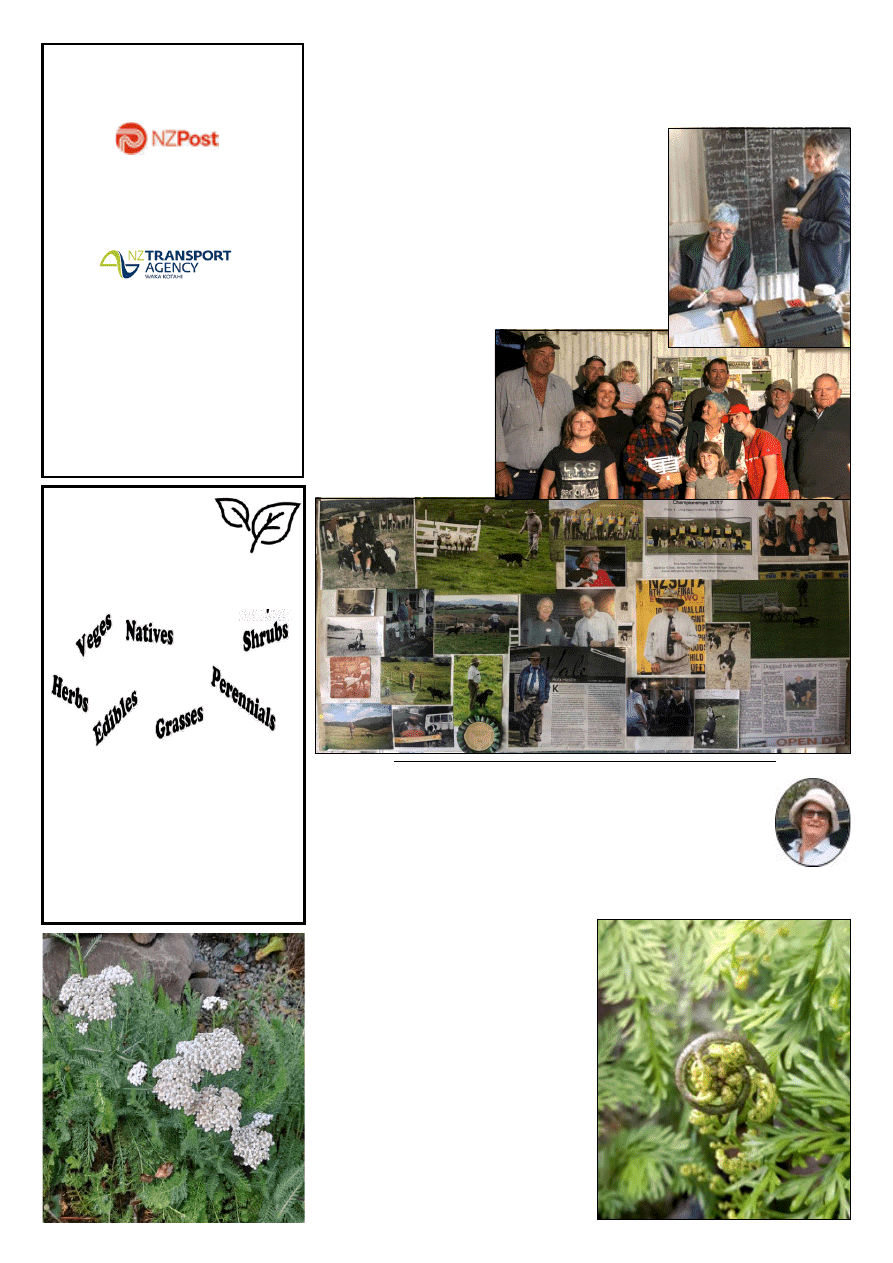 www.kaiwaka.co.nz 
Kaiwaka Bugle - 25 April 2022 
Page 9 
Oneriri  
Plants 
Visit our Nursery 
Contact Heather 021 
766399 
oneririplants@gmail.com 
365AOneriri Rd, Kaiwaka 
A short trip off SH1
MOLESWORTH SHEEP DOG TRIALS 
2022 Robt. Hastie Memorial Trial 
Successful dog trials, held this time in memory of Robert Hastie, on Thursday 
and  Friday  6-7  April,  on  the  Oneriri  grounds.  Competitors    and  nearly  30 
volunteer  workers  enjoyed  the  fellowship  and  fine 
weather.  Special  thanks  to  the  Otamatea  Club 
members. 
In  addition  to  the  winners,  for  the  Robert  Hastie 
Memorial there were two prizes for aggregate over 
the  two  huntaway  events  and  two  heading  events.  
Winners  of  those  were  Neville  Child  (Heads)  and 
Grant  West  (Hunts).    Each  won  a  wooden  bowl 
(hand turned by Rob) and stick from timber on the 
Hastie farm.    A special trophy  was  made  by  Euan 
Hastie,  a  miniature  pen,  mounted  on  a  totara  slab 
from  the  old  Hastie  farm  in  Mangawhai.    This  is 
now  the  Robert  Hastie  Memorial  Volunteers 
trophy, this year won by Kay Damsted. 
Molesworth 
SDTC 
members  wish  to  thank 
their  sponsors:  ORT; 
Rabobank;  Marty  Brown 
Weedspraying; 
Wilson 
Hellaby;  Paton  Family; 
Oneriri  Station  &  staff; 
Poland 
Motors; 
Farmlands; 
PGG 
Wrightson; Tux
KAIWAKA POST 
CENTRE and 
FOOD MART 
POST CENTRE TRADING HOURS 
MONDAY to FRIDAY 8am to 5pm 
SATURDAY 8am to 12pm 
CLOSED ON SUNDAY and on 
PUBLIC HOLIDAYS 
FOOD MART (GROCERIES)  
MONDAY TO FRIDAY  
7:30am to 7.30pm 
SATURDAY  8am to 7.30pm 
SUNDAY  8:30am to 7pm 
IF ANY QUERIES PLEASE CALL 
STORE MANAGER AMRIT  
on 09 4312431 or 
EMAIL: kaiwakafood19a@gmail.com 
1919a State Highway1, Kaiwaka 0542 
ONERIRI GARDENER 
ASPLENIUM  BULBIFERUM  OR  PIKO  PIKO
: According 
to  Violet,  here  in  the  Kaipara  it  is  also  known  as  mouku.  Violet 
visited my garden today and while talking plants we discovered we 
both  love  this  fern.  As  soon  as  I  had  shade  in  the  garden,  I  started 
planting it. Only to be in despair as the long hot summer killed them 
off.  But  no.  Come  the  autumn  rain  these  lovely  fronds  reappear.  The  fresh 
shoots  are  edible  too.  Delicious  in  fact.  I  feel  this  plant  could  be  our  Easter 
symbol. Easter is usually represented by 
spring. 
Renewal, 
rebirth 
and 
resurrection.  Here  the  piko  piko  can  do 
that in autumn. Propagated by collecting 
the little chicks which grow on the older 
fronds.  Also  known  as  Hen  and 
Chickens' fern. 
YARROW OR ACHILLEA. 
Comes 
in  colours  from  white  and  pastels. 
Through  reds  and  bright  yellow.  I  have 
been spreading the white throughout the 
garden.  It  can  mix  with  any  colour 
scheme.  Flowering  almost  continuously 
and  gradually  spreading  it  is  one  of  my 
useful  plants.  It  has  been  used  since 
ancient  times  for  a  variety  of  medicinal 
purposes.  Seems  to  be  a  cure  all.  But 
beware, overuse can be toxic.    
~ Heather, Oneriri Plants 021 766399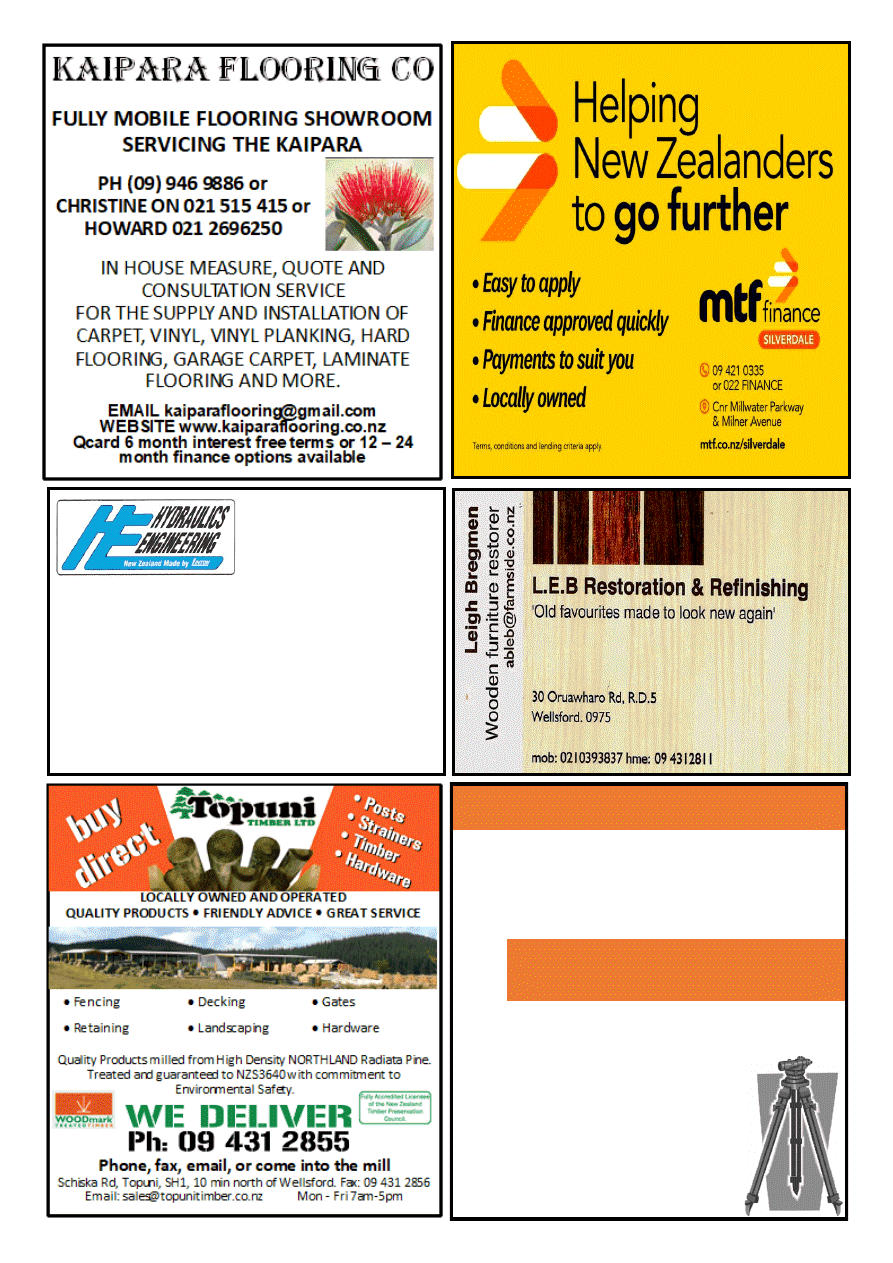 SURVEYORS 
SUBDIVISIONS 
HOUSE SITE SURVEYS 
CIVIL ENGINEERING 
WASTEWATER DESIGNS 
EXPERIENCED 
PROFESSIONAL 
INNOVATIVE 
Ph 09 431 5353 
0800 PACIFIC (0800 722 434) 
pacificcoastsurvey.com
Adam Booth - 027 415 5752 
Bsurv, Licensed Cadastral Surveyor
Surveying Kaipara since 1994 
Hydraulics  
Engineering Ltd 
Kaiwaka 
Sales - Service - Parts - Hire - Manufacture 
Service Contractors & Industrial Equipment: 
Rams, Pumps, Valves 
Logsplitter Hire, Manufacturer, Sales 
Dennis Linton 
Lot 2 / 161 Ranganui Road, RD2, Kaiwaka, 0573, New Zealand 
Mobile: 0274 381 700 
Email: hydraulicsengineering@xtra.co.nz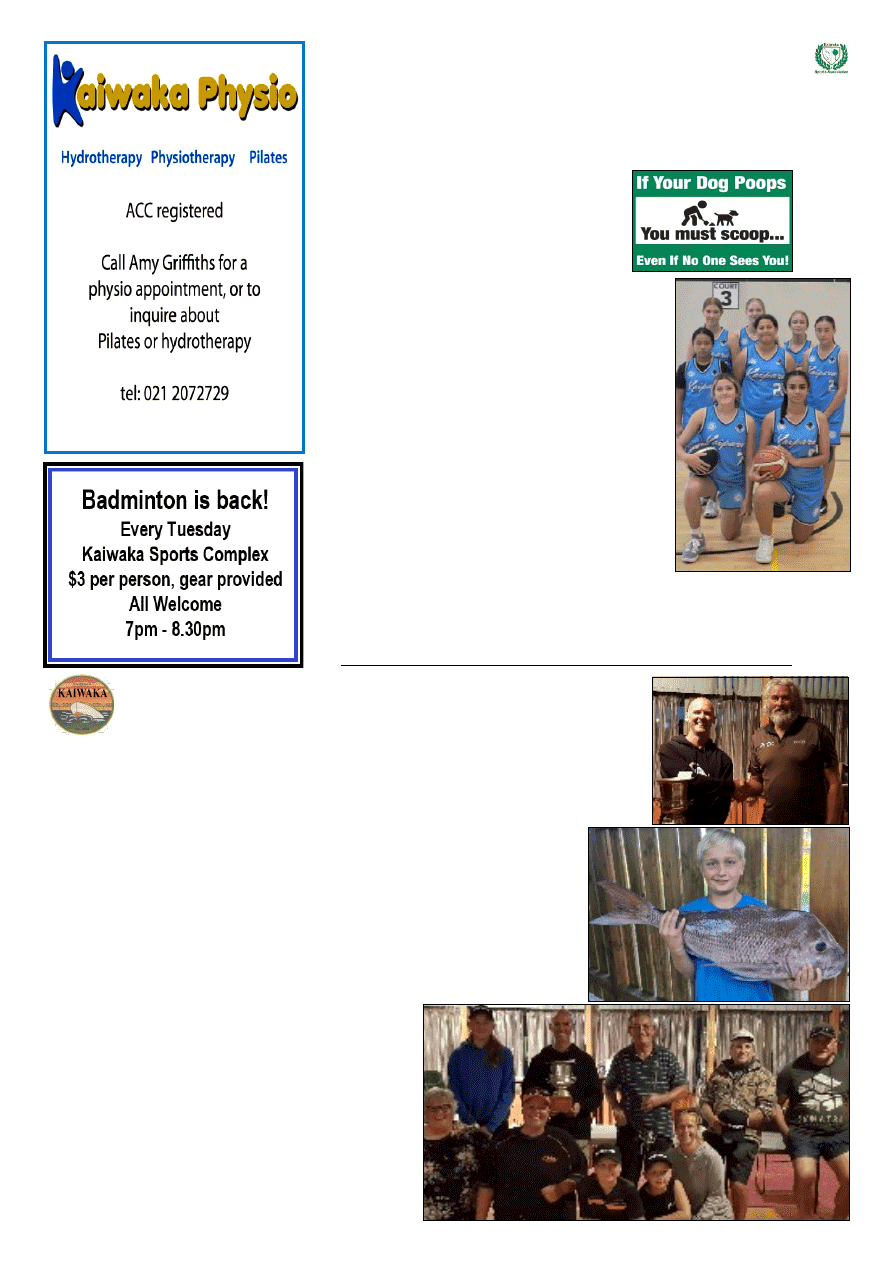 www.kaiwaka.co.nz 
Kaiwaka Bugle - 25 April 2022 
Page 11 
KAIWAKA SPORTS ASSOCIATION 
KSA AGM 
Kaiwaka Sports Association 
Annual General Meeting 
Wednesday 11 May 2022 at 7pm 
Kaiwaka Sports Complex Lounge 
All welcome. 
KSA Bookings contact: 
Jennie Reynolds, 02102764171  
ksabookings@mail.com 
KSA email: ksa.sec3@gmail.com 
Lindell Ferguson 
KSA SPORTS GROUND 
Just a friendly reminder to everyone 
who  utilizes  our  amazing  facilities 
at the KSA to walk their pooches... 
Please pick up and dispose of their 
poop. 
POINT CURTIS CRUISING CLUB 
2022Opening Duck Shoot Competition 7th May 
All Species are covered on the board : Peacock, Turkey, Mallard, Grey, Parry, 
Pheasant, Canadian Goose, Pukeko & Black Swan.  
Prizegiving will be Saturday 7th May at approx. 6pm. 
All competitors must register entry by 11pm Friday 6th May to: 
Carol please text p: 02102697378; Jodi p: 0212118022; Pongo p: 094312205 
PAYMENT  AT  WEIGH  IN  or  via  Internet  banking  12  3094  0008233  00  Please  use 
Name/s as a reference. 
Fish  of  the  Month  for  March  was Snapper and we had a full complement of 
winners: 1st Renna 6.340kgs; 2nd Jeanette 4.766kgs; 3rd Renna 3.624kgs . 
New Fish of the Month: Kahawai till 4th May 2022 
Next  Club  meeting:  4th  May  2022  @  7pm,  Kaiwaka  Sports  Association. 
Annual General Meeting will be early to mid June. 
2022 East vs West Fishing Competition –we had a successful competition and 
Photos,  with  results:    Top  -  Heaviest  Snapper  &  Thunder  cup  winner  -Mike 
Mcleish; Mid - Toby Walker Junior heaviest Snapper;  
Competition winners  - Bottom photo 
Back  row:  Sonya  Steiner  Junior  1st  &  2nd  Trevally, 
Mike  Mcleish  Seniors  1st  Heaviest  Snapper,  Allan 
Walker Senior 1st Kahawai, Grant Stewart Seniors 1st 
Trevally,  Justin  Kemp  Seniors  2nd  Snapper  &  2nd 
Kingfish 
Front  row:  Linda  Leslie  Seniors  3rd  Snapper  &  3rd 
Kingfish,  Renna  Brown  Seniors  2nd  Trevally,  Toby 
Walker  Juniors  1st  Snapper  &  2nd  Trevally,  Van 
Walker Juniors 2nd & 3rd Snapper & 1st Trevally, Jodi 
Walker Seniors 2nd Kahawai 
Missing from photo Kraig Steiner Seniors 3rd Kahawai 
~ 
Wayne Leslie (Commodore) 
KAIPARA BASKETBALL 
Kaipara  Under  15  teams  performed  well  at  the 
Tribal Wars this Easter Weekend. 
Under  15  Girls:  Anahera  Worsfold,  Irimei  Grey, 
Charlene  Masiutama,  Amelia  Waenga,  Pyper 
Buxton,  Miah  Fraser,  Leayah  Buxton, Jade  Ferrari, 
Bekks Coll  
COACH: Karina Khisamutdinova; Assistant Coach/
Manager: Blake Worsfold 
Under 15 Boys:  Oscar Longden, Luke Weber, Jack 
Smith,  Isaiah  Pere,  Junior  Ulisala,  Ben  Lawson, 
Jamie  Dowson,  Rylan  Adams,  Mason  Thomas-
Harris, JZ Lewell. COACH: Kalem Tana; Assistant 
Coach/Manager: Don Lawson 
OTAMATEA NETBALL 
Amazing  turnout  to  trials  this  year  with  plenty  of 
excitement,  nerves  and  talent  displayed  on  the  courts  which  is  good  to  see 
leading  into  a  new  season  with  four  senior  teams  and  two  junior  teams. 
Otamatea Netball's first grading games for Whangarei Netball Centre are Friday 
6 May (Senior 1) and Saturday 7th May (All other teams). All players will need 
the Otamatea Green Boylegs to go under their playing dresses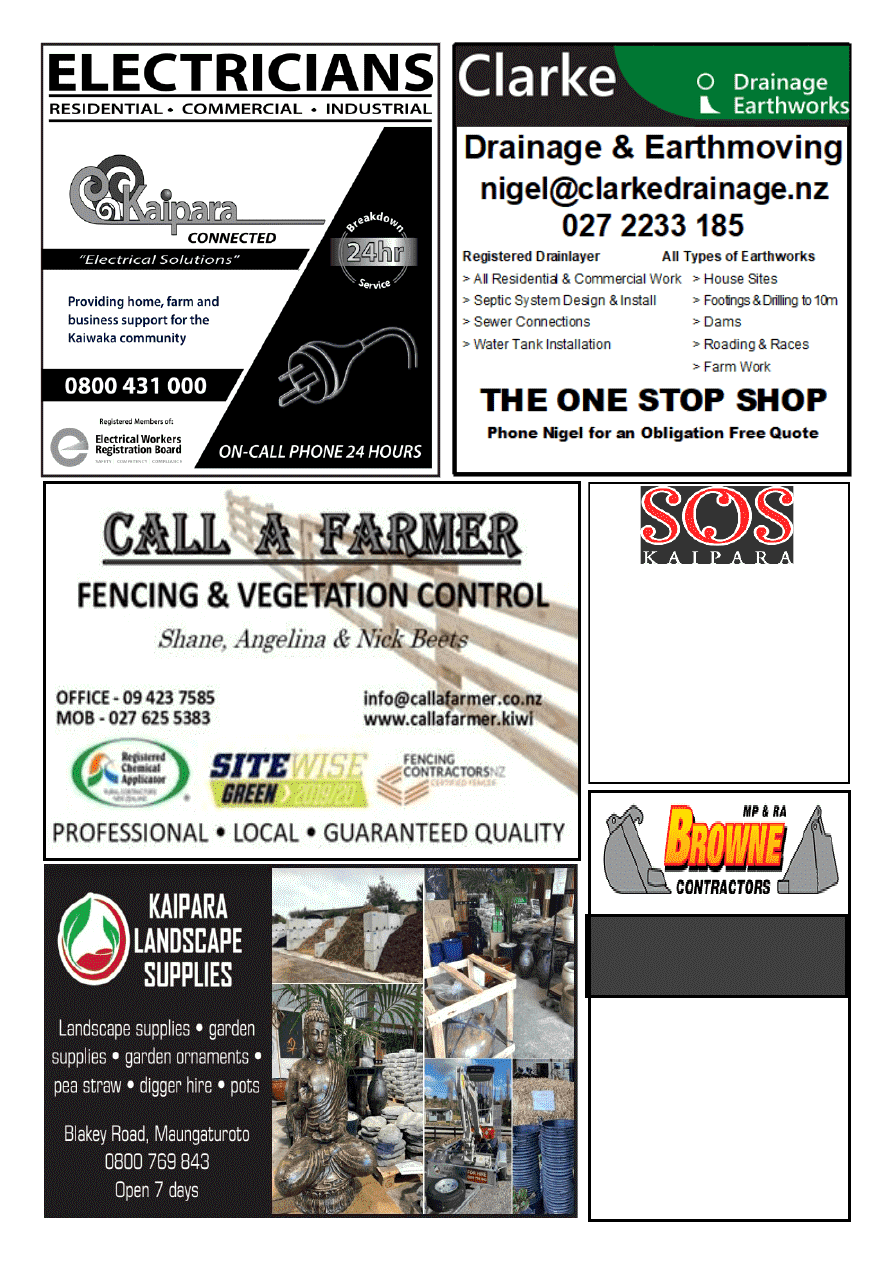 - 4 Tonne DIGGER - 
- BOBCAT- 
- TIP TRUCK - 
Property Maintenance  
Driveways 
Building Sites 
Stump & Tree Removal 
Hole Boring -  Chain Trencher 
Calf Shed and Stockyard Cleaning 
Phone Matt: 021 199 6677 
Email: mprabrownecontractors@gmail.com 
S.O.S Kaipara 
Support, advocacy, crisis and 
family therapy counselling, refuge 
housing to survivors of sexual 
abuse and domestic violence. Also 
Education prevention programmes 
for the community and clients.  
Office hours 9am to 3pm Mon- Fri; 
24/7  Police  
or phone 09 4396070 
FACEBOOK :SOS KAIPARA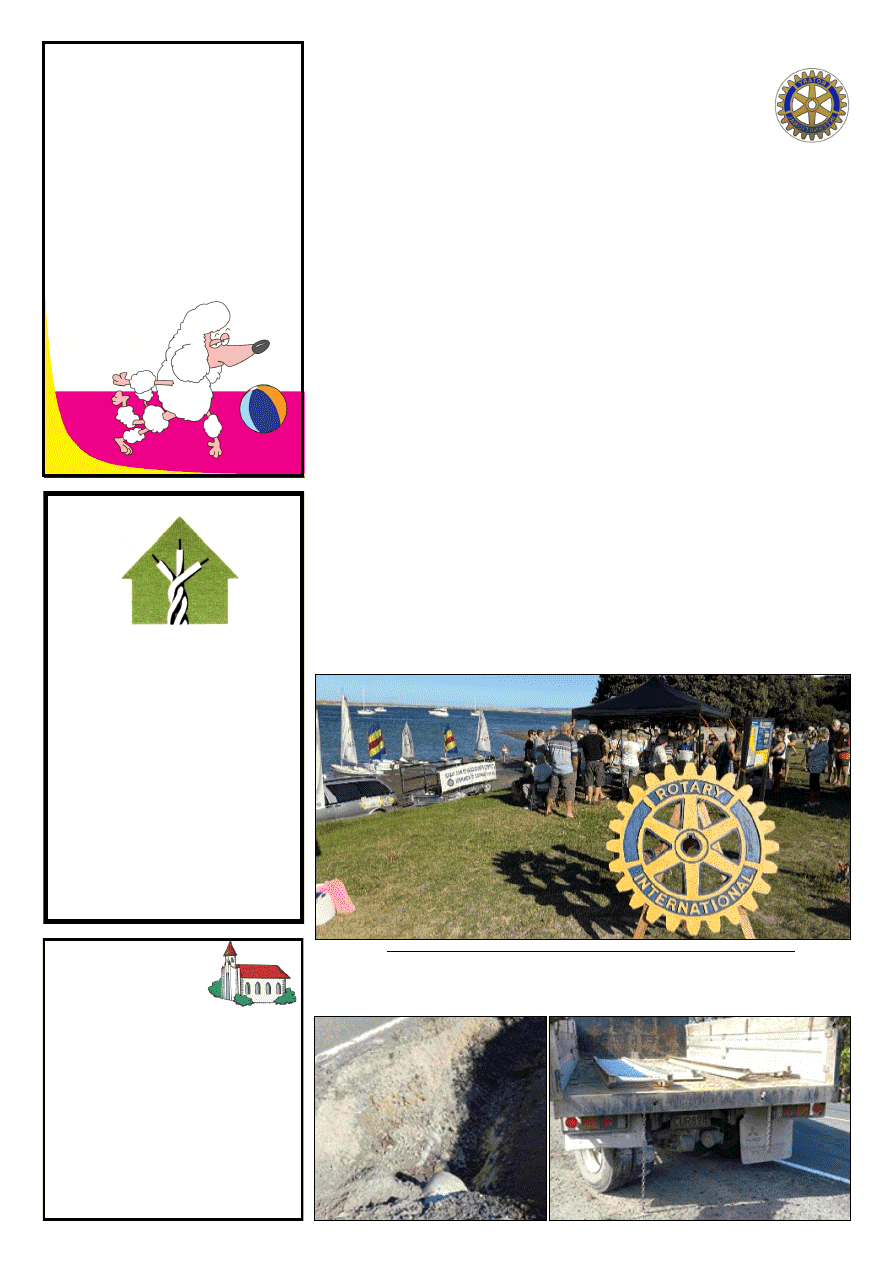 www.kaiwaka.co.nz 
Kaiwaka Bugle - 25 April 2022 
Page 13 
Hot Diggity Dog  
DOG GROOMING  
KAIWAKA 
Call now for a  
Between season groom"  
Professional Dog Groomer  
at affordable prices.
www.doggroomingkaiwaka.co.nz 
call Pam 094312143 or text 
0273335380 for bookings 
DRIVE CAREFULLY ON ONERIRI ROADS 
Some drains are next to the seal. Look closely at the angle of the back wheel ... 
MAUNGATUROTO & DISTRICTS ROTARY 
MANGAWHAI SATELLITE  
Some  of  our  Club  members  were  able 
to  join  the  Mangawhai  Satellite  club 
for their prizegiving and season closure 
on the 30th March. It was great to see 
such  a  large  number  of  youngsters 
receive  awards  on  the  night,  pictured 
below. The Club has been fortunate to 
get  sponsorship  from  many  sources, 
not  the  least  of  which  is  the  Wright 
Foundation.  This  Foundation  not  only 
gave  funds  for  the  purchase  of  four 
boats  but  also  contributed  some  very 
handsome  trophies  to  the  award 
winners.  It  was  great  to  see  the 
community support on the evening. 
While  the  harbour  is  well  used  in  the 
weekends,  having  this  activity  on  a 
weekday  means  that  no  one  is 
inconvenienced. 
RYDA  
Two  weeks  ago,  on  a  Wednesday,  the 
Year  12  students  at  Otamatea  High 
School were able to complete a RYDA 
(Rotary  Youth  Driving  Awareness) 
course  at  school.  (This  is  normally 
completed  in  Whangarei,  but  Covid 
caused  a  rethink.)  While  much  of  the 
course was run in a classroom, the on-
road  section  was  aimed  at  making 
students  more  aware  of  not  only  the 
safety  features  in  a  car  but  also  the 
necessity  to  keep  to  the  speed  limits, 
especially  in  town,  when  they  were 
made  aware  of  the  distance  it  takes  to 
bring  a  car  to  a  complete  stop  at 
different  speeds.  The  importance  of  a 
car  having  safety  features  was  also 
emphasized  by  the  guest 
speaker  who  suffered  a 
head  injury  as  a  result  of  a 
head-on  collision.  She  had 
been  driving  a  "cheapie" 
which though registered and warranted 
had no airbags, something which might 
have lessened her injuries. 
DRIVING LESSONS 
We have been told by People Potential 
that  we  can  once  again  take 
unvaccinated  students  for  driving 
lessons,  so  if  you  are  in  this  category 
and  want  us  to  help  you  gain  your 
Restricted licence, please get in touch. 
Two  more  students  were  successful 
this month and both of them had been 
given  the  opportunity  to  drive  many 
times, outside our allotted lessons. It is 
recommended  that  they  complete  120 
hours  driving  before  sitting  their 
Restricted  (and  we  would  give  about 
30 hours in our 12 lessons.) 
NOTABLE TREES 
At  a  recent  Resident's  Assn  meeting 
were asked to let the KDC know of any 
"notable trees"  in the Kaipara District. 
They  are  forming  a  database  of  such 
trees,  so  if  you  think  you  know  of  a 
tree  that  may  fit  this  category,  please 
get in touch with the Council and they 
will be able to give you the criteria that 
applies. 
If  you  have  queries  about  the  above, 
please  don't  hesitate  to  give  me  a  call 
on 0211420357. Eileen 
He taonga rongonui te aroha ki te tangata. 
Good will towards others is a precious treasure. 
ST PAUL'S  
ANGLICAN  
SUNDAY SERVICES 
First Sunday 9am Holy Communion 
Third Sunday 9am Family Service 
St Pauls Church: Kaiwaka-Mangawhai Rd. 
Church Office Ph 431 4122 
www.mangawhaianglican.org.nz
Reyahn  Leng 
 Registered Electrician 
Local, honest and reliable. 
For your residential and 
light-commercial projects. 
022 314 1068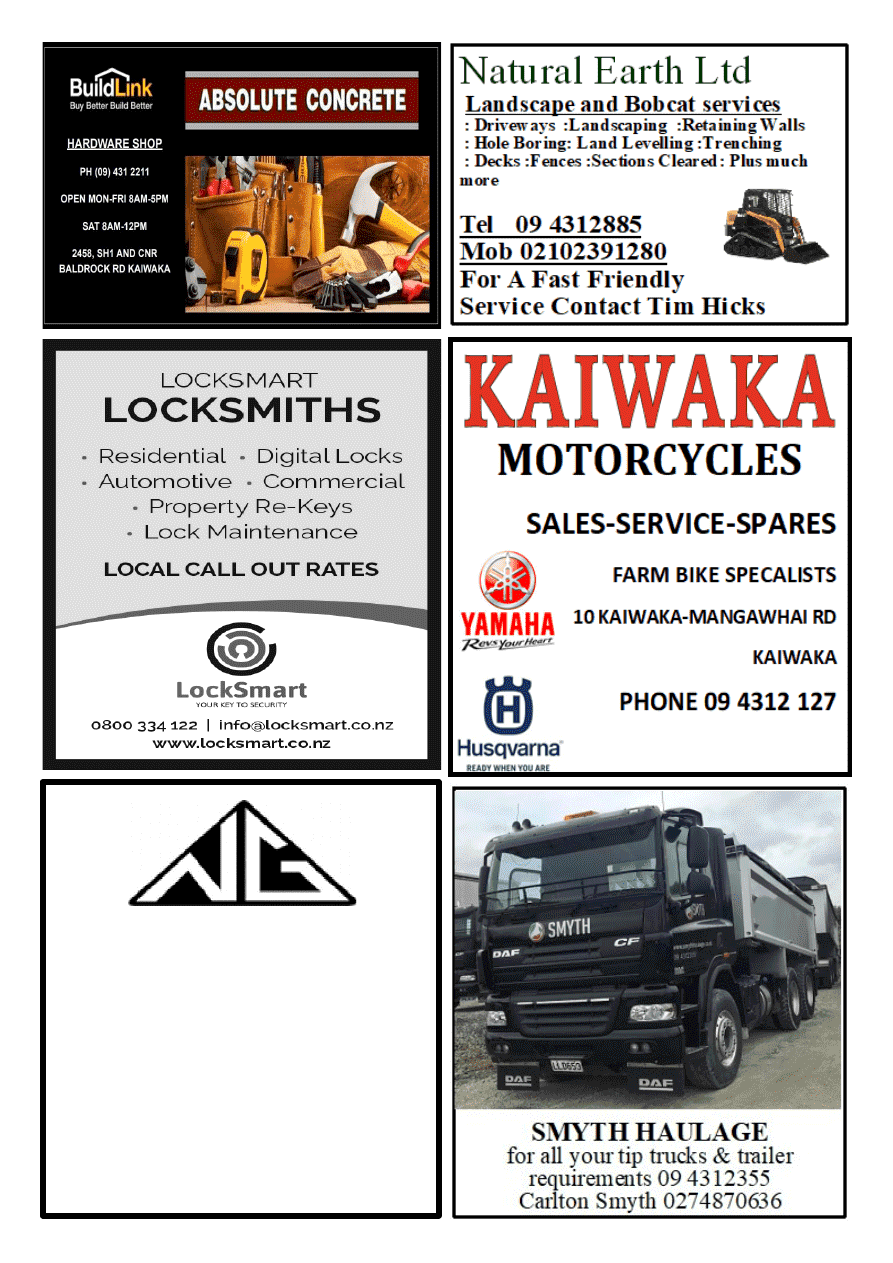 NORTH GLASS 
WINDSCREEN REPAIR OR REPLACE 
GLAZING SERVICES 
MIRRORS  •  SPLASH BACKS  •  SHOWERS 
0800 70 40 10
info@northglass.co.nz 
www.northglass.co.nz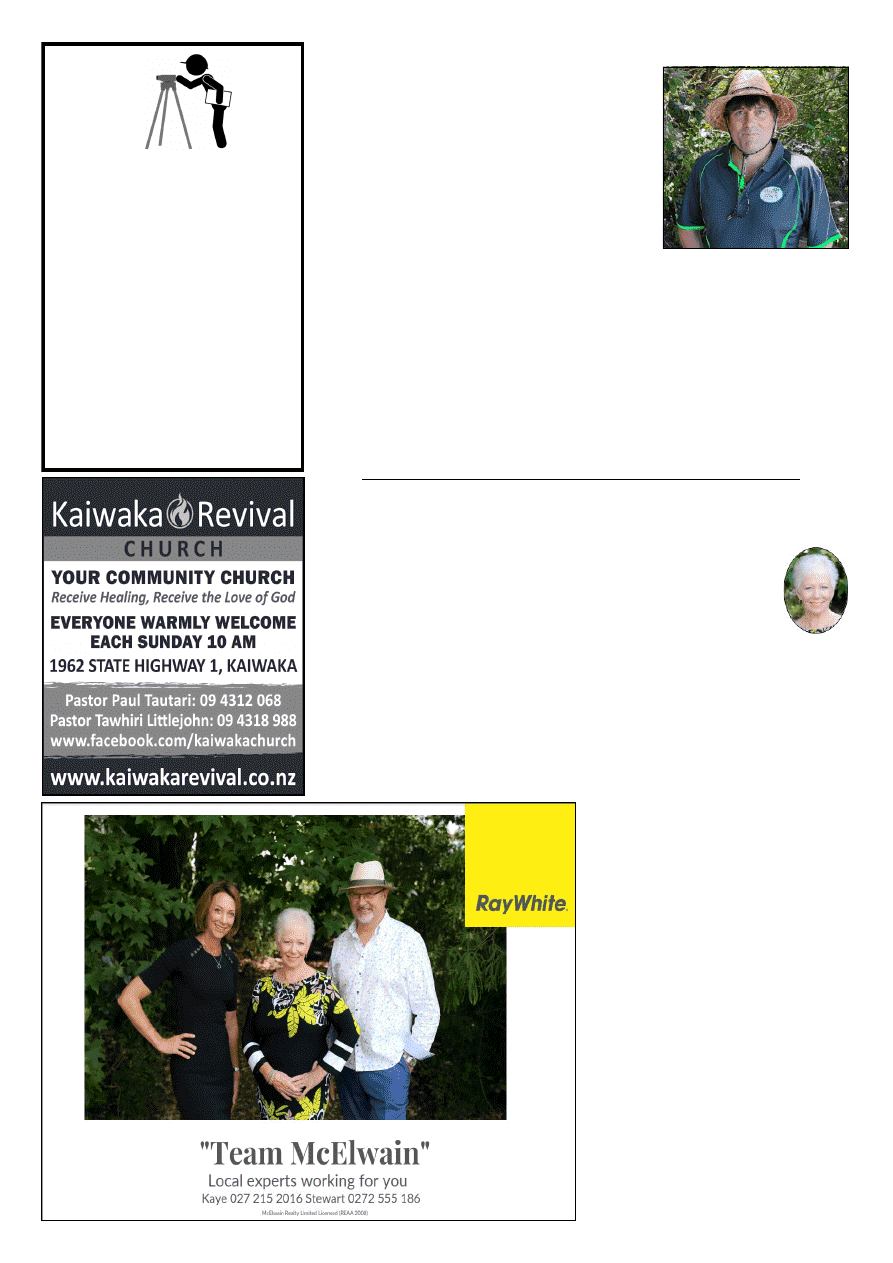 www.kaiwaka.co.nz 
Kaiwaka Bugle - 25 April 2022 
Page 15 
Kaye McElwain from Ray White has lived in the area for 17 years and has 
worked  in  real  estate  for  more  than  two  decades  as  an  agent  and  business 
owner. Once a month she writes a column with commentary and analysis on 
our local real estate market.  
Today  she  looks  at  why  now  is  a  great  time  to  get  into  the 
property market. 
It  has  been  a  tough  couple  of  years  for  home  buyers.  Despite  a  pandemic,  a 
quick  recession,  and  lockdowns,  New  Zealand  house  prices  have  skyrocketed. 
Between  the  start  of  the  pandemic  and  the  price  peak  in  November  2021,  the 
median house price across the country increased by almost 40 percent. 
While price growth is great for consumer confidence, at some point affordability 
concerns become apparent. According to Demographia, New Zealand is now the 
second  least  affordable  country  to  buy  a  home  in  the  world  if  you  compare 
incomes to house prices. 
It was therefore no surprise that the Reserve Bank of New Zealand put in a large 
number of finance restrictions during 2021. With rapidly rising inflation also a 
concern, three interest rate rises are also 
slowing the market. 
The  price  declines  we  are  seeing  now 
are  orchestrated  by  Government  policy. 
The good news from this is that much of 
that  policy,  particularly  related  to 
finance restrictions can be reversed if it 
looks  like  the  market  is  cooling  too 
quickly. 
While  a  slower  market  is  generally 
preferred  by  buyers,  another  piece  of 
good  news  for  buyers  is  stock 
availability. Listings have increased and 
are now up three percent from last year 
and nine percent from last month. While 
not  a  dramatic  increase,  it  does  mean 
there is more stock available for anyone 
wanting to buy. 
Kaiwaka  is  still  very  much  in  demand 
with Auckland buyers looking at moving 
out  of  Auckland  and  our  proximity  to 
the  city  makes  our  location  appealing, 
even though the market has cooled. 
Feel free to give me a call at any time if 
you  have  any  questions  regarding  real 
estate.  
Best wishes Kaye, 027 215 2016
Ken Urquhart 
BSurv Licensed Cadastral 
Surveyor 
KMU  
Surveys Ltd
467 Bickerstaffe Road 
RD 2 
Maungaturoto 0587 
Ph 09 431 8705 
Mob 021 161 2344 
kenurquhart@xtra.co.nz 
IF YOU'RE A BUYER,  
NOW IS YOUR TIME! 
PIROA-BRYNDERWYN LANDCARE (PBL) 
Welcome  to  Ron  Haynes
,  coordinator  for 
Weed  Action  Piroa  Brynderwyns  volunteer 
groups. 
Ron  has  recently  graduated  with  a  Diploma  in 
Environmental  Management  from  Northtec, 
following on from a NZ Certificate in Sustainable 
Primary  Production,  and  an  Agriculture  NZ 
Organic  Horticulture  course  through  PGG 
Wrightson Business.  He is dedicated to protecting 
the unique native environment of New Zealand.  
Since  moving  to  Waipu  in  2015,  Ron  has  never 
looked  back.  Impressed  and  inspired  by  the  local 
community's  interest  in  protecting  and  advancing  public  and  private  spaces, 
Ron is now an active participant in cleaning up troublesome areas in the Piroa 
Ranges catchment. This area includes Waipu, Lang's Beach and Mangawhai, all 
of which boast a natural beauty that is worth preserving. 
Ron says, "I personally love where I live – and want to do as much as I can to 
help in the eradication of pest plants and pest animals, and any work to restore 
the  environment  in  general.  I  encourage  people  to  take  part  in  volunteer 
workdays,  community  events,  pest  plant  weed  management,  and  pest  animal 
trapping in your local community". 
We have placed several signs around the neighbourhood to raise awareness of 
backyard  plant  escapees  which  then  threaten  our  native  bush.  The  worst 
offender  is  climbing  asparagus. If you see any or want to know how to deal 
with it be in touch at weedactionpb@gmail.com. ~ Adele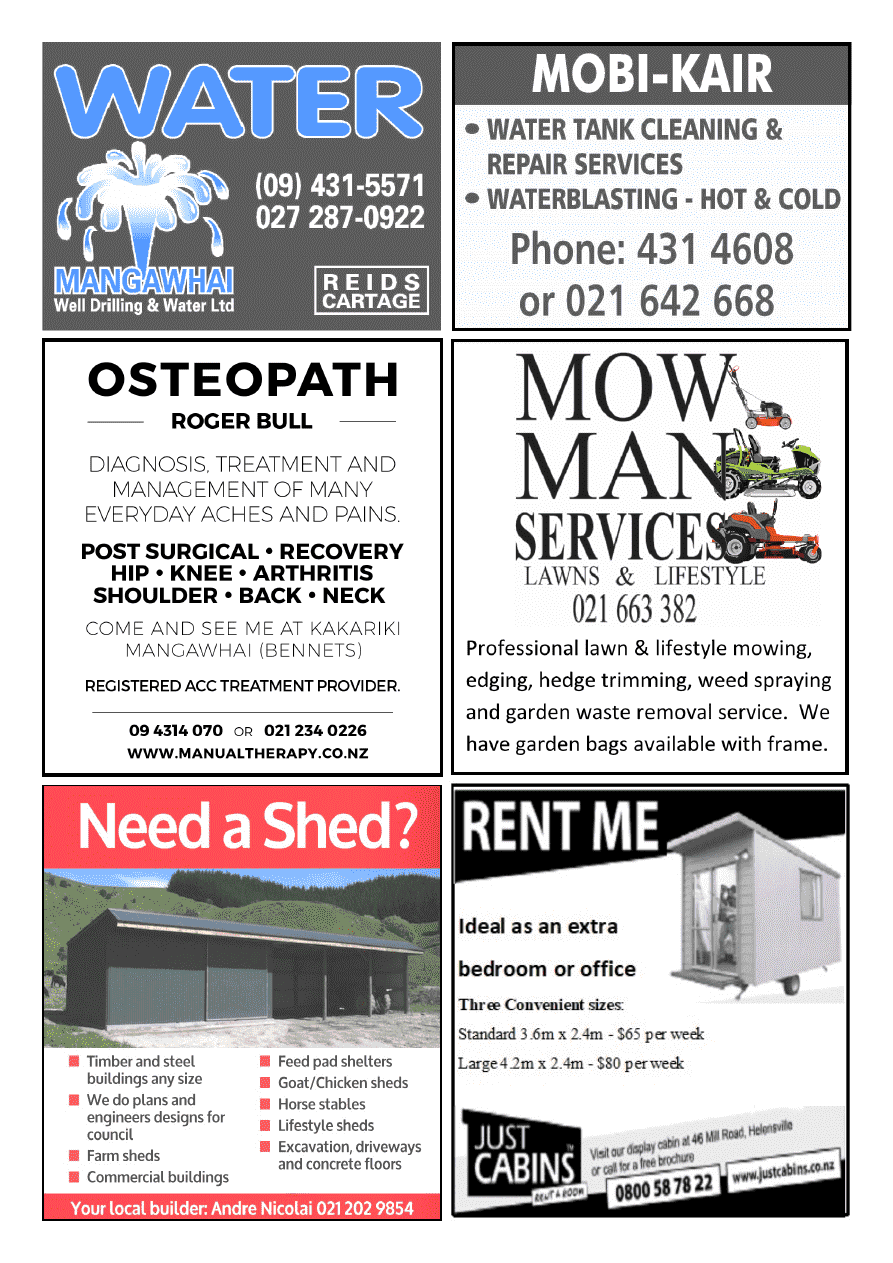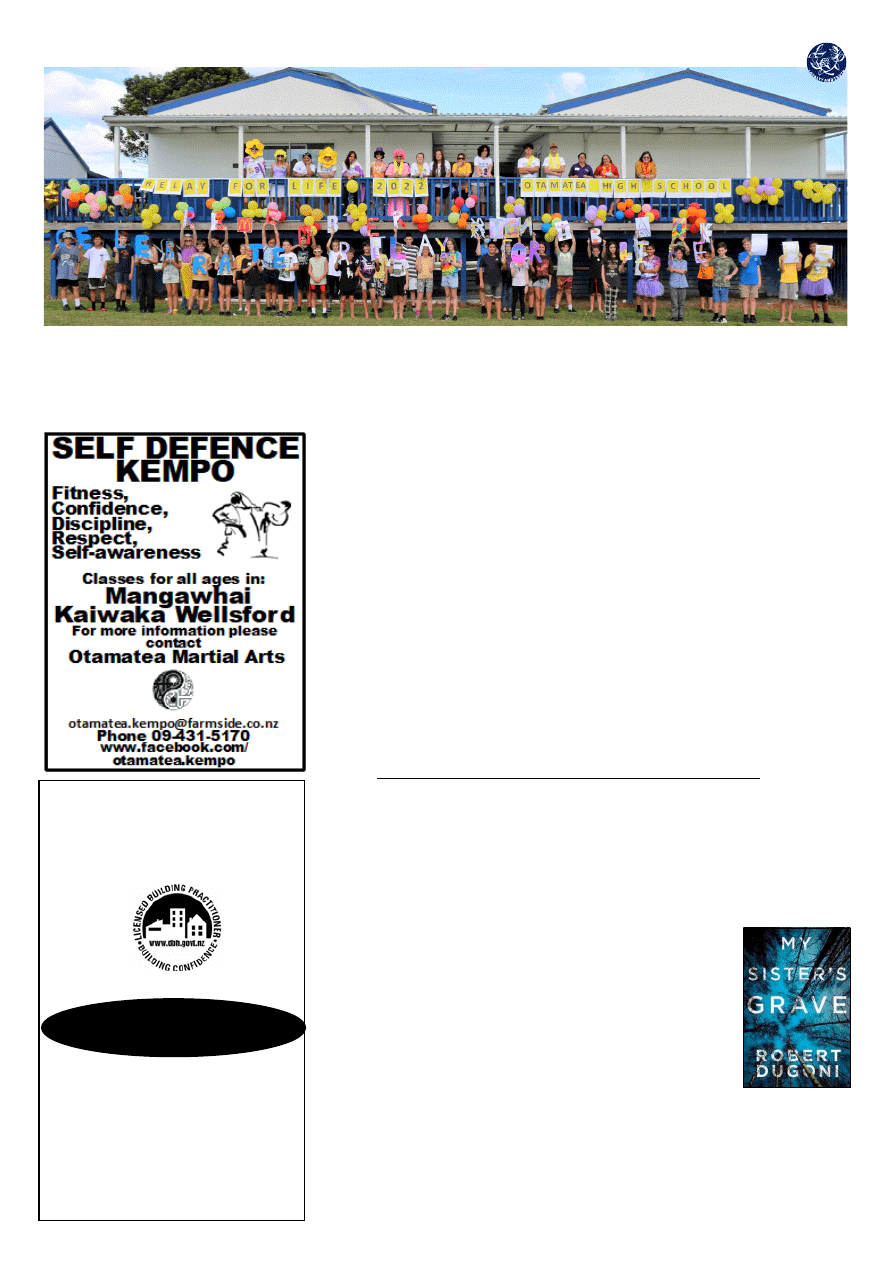 www.kaiwaka.co.nz 
Kaiwaka Bugle - 25 April 2022 
Page 17 
KAIWAKA LIBRARY 
DARGAVILLE BOOK SWAP 
The next swap at Dargaville Library will be happening on Tuesday 3 May. We 
will be getting the titles onto the shelves the next morning, and they'll be ready 
for  borrowing  by  lunchtime  on  the  4th.  Many  thanks  to  the  library  team 
members who volunteered their time and efforts to making this swap a success. 
LOST and FOUND 
We have had a number of items left behind in the library over time - if you think 
you've  left  something  at  the  library  in  the  past,  please  ask  to  see  the  Lost  & 
Found box to see if it/they are there. 
BOOK REVIEW 
Recently,  I've  read  My  Sister's  Grave  by  Robert  Dugoni. 
"
Tracy  Crosswhite  has  spent  twenty  years  questioning  the  facts 
surrounding  her  sister  Sarah's  disappearance  and  the  murder  trial  that 
followed.  She  doesn't  believe  that  Edmund  House  —  a  convicted  rapist 
and  the  man  condemned  for  Sarah's  murder  —  is  the  guilty  party. 
Motivated  by  the  opportunity  to  obtain  real  justice,  Tracy  became  a 
homicide detective with the Seattle PD and dedicated her life to tracking 
down  killers.  When  Sarah's  remains  are  finally  discovered  near  their 
hometown  in  the  northern  Cascade  mountains  of  Washington  State, 
Tracy is determined to get the answers she's been seeking. As she searches 
for  the  real  killer,  she  unearths  dark,  long-kept  secrets  that  will  forever  change  her 
relationship to her past — and open the door to deadly danger
."  I  found  this  a  gripping 
read  and  raced through  the  book  in  a  couple  of  days.  It's  the  first  book  in the 
Tracy Crosswhite series; I've read the second book Her Final Breath since then, 
and the third In the Clearing is next in my pile waiting to be read. These are all 
on our Rental Fiction shelves, and the next 3 titles are on order at my supplier 
and will be on the shelves soon. ~ 
See you in the library ~Wendy
Kaiwaka  Library:  Phone  4312  539.  Email  kaiwaka.library@gmail.com  Open  Wed-Sat  10am-2pm,  Mon  4-
6pm.  Free  membership  is  available  to  all  residents  in  the  Kaiwaka  area.  https://www.facebook.com/
KaiwakaLibrary *Enterprise: http://kaipara.kotui.org.nz/
Wright  
Design 
No. 117345 
ARCHITECTURAL DESIGN 
N.Z.C.A.D. Architectural 
Mob: 021 276 7389 
Office: 25 Lupis Lane, 
Kaiwaka 0573 
brianwright@xtra.co.nz 
OTAMATEA HIGH SCHOOL 
Principal's News ... 
Donna  Squires: It is with great sadness that our long serving teacher aide, Donna Squires, passed away last weekend. 
Donna  worked  at  Otamatea  High  School  for  16  years,  working  with  many  of  our  most  vulnerable  and  high  needs 
students. We will miss her dearly. 
RELAY  FOR  LIFE: 
Our school Relay for Life team has managed to raise nearly $9,000 for the Cancer Society. We 
finished the week on a high with a very successful Otamatea High School hosted Relay for Life event. Our head prefects 
Billie and Michael even got interviewed by More FM on Thursday morning, and 
were  very  composed  and  articulate,  doing  a  fantastic job  promoting  this  event 
and  our  school.  All  mufti  money  raised  on  Friday  went  towards  the  Cancer 
Society  and  there  were  numerous  other  fund-raising  activities  on  the  day, 
including  raffles,  sausage  sizzles  and  the  amazing  Rapid  Relief  team  who 
cooked up a storm. We had Zumba, blind fold and 3 legged races, games, music 
and more. The Remembrance Tree was a reminder to us all of the price so many 
of our loved ones have paid over the years to cancer. A  massive thank you to 
Nikki Donaldson for putting the day together, and to all our incredible year 13s 
whose  hard  work  has  seen  their  fledgling  idea  grow  into  such  a  wonderful 
community event.  
P
ARAFED  VISIT: 
On Friday of last week Parafed came to Otamatea High 
School to deliver professional development on inclusive activities and sports for 
students  with  physical  disabilities.  Students  in  PE  classes  got  to  experience 
wheelchair turbo touch, magnetic archery, seated badminton and boccia. Parafed 
has a goal of creating inclusive opportunities for all Northlanders. 
ANZAC  Day
: Staff and prefects will be represented at each of the four local 
ANZAC  day  services  being  held  on  the  25  April  (Waipu,  Matakohe, 
Maungaturoto and Hakaru). Our prefects will be dressed in their uniforms and 
will be laying beautiful wreaths on the day. Lest we forget.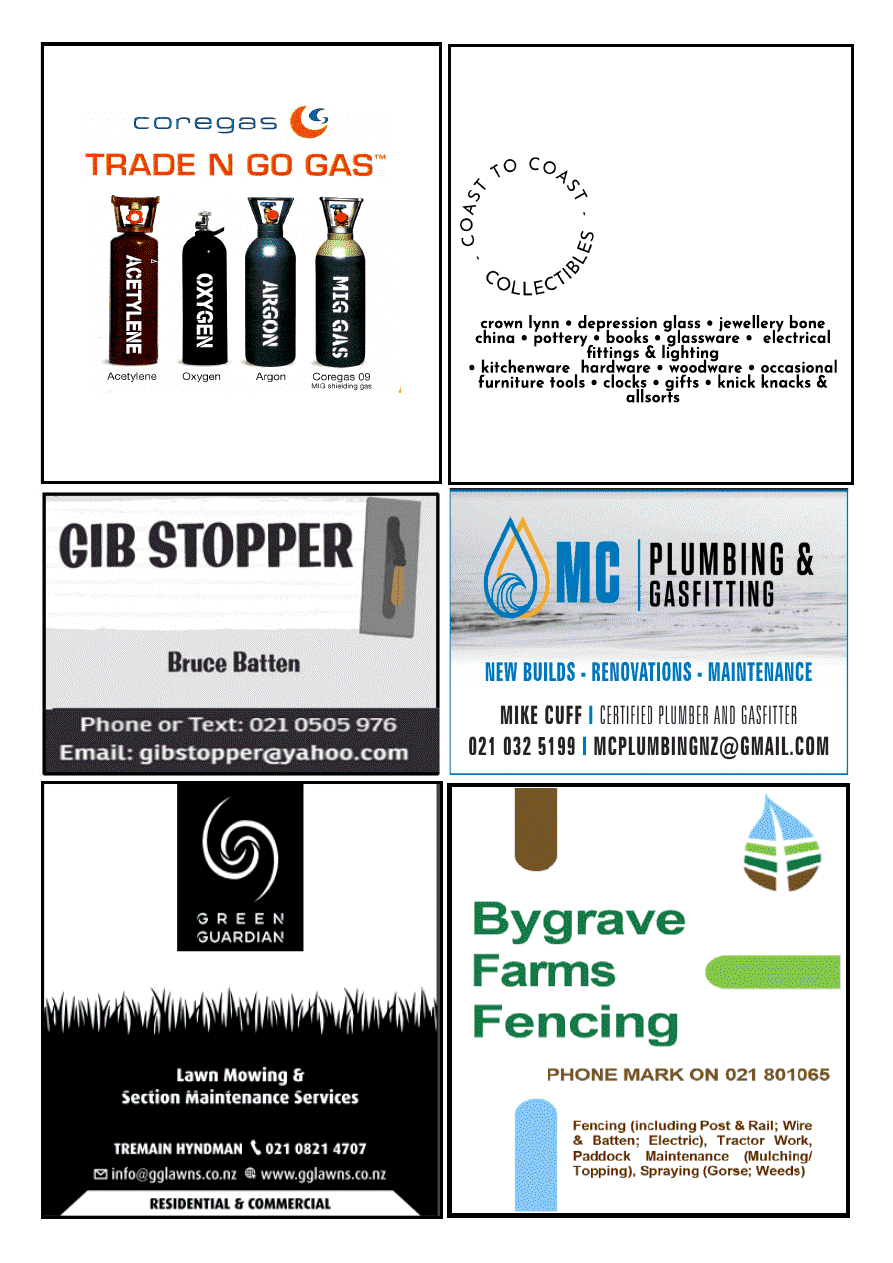 Eclectic Boutique 
99 Gibbons Rd, Kaiwaka 
Contact Trish 
for buying or selling 
021 2140 522  
09 431 2193 
Large selection of: 
Open10am – 4pm  
Cash, Eftpos or Direct Debit available 
At Twinkle Tow 'n' Tyre 
Mob: 021 833 960 
Ph & Fax: 09 431 2823 
1837 State Highway 1, Kaiwaka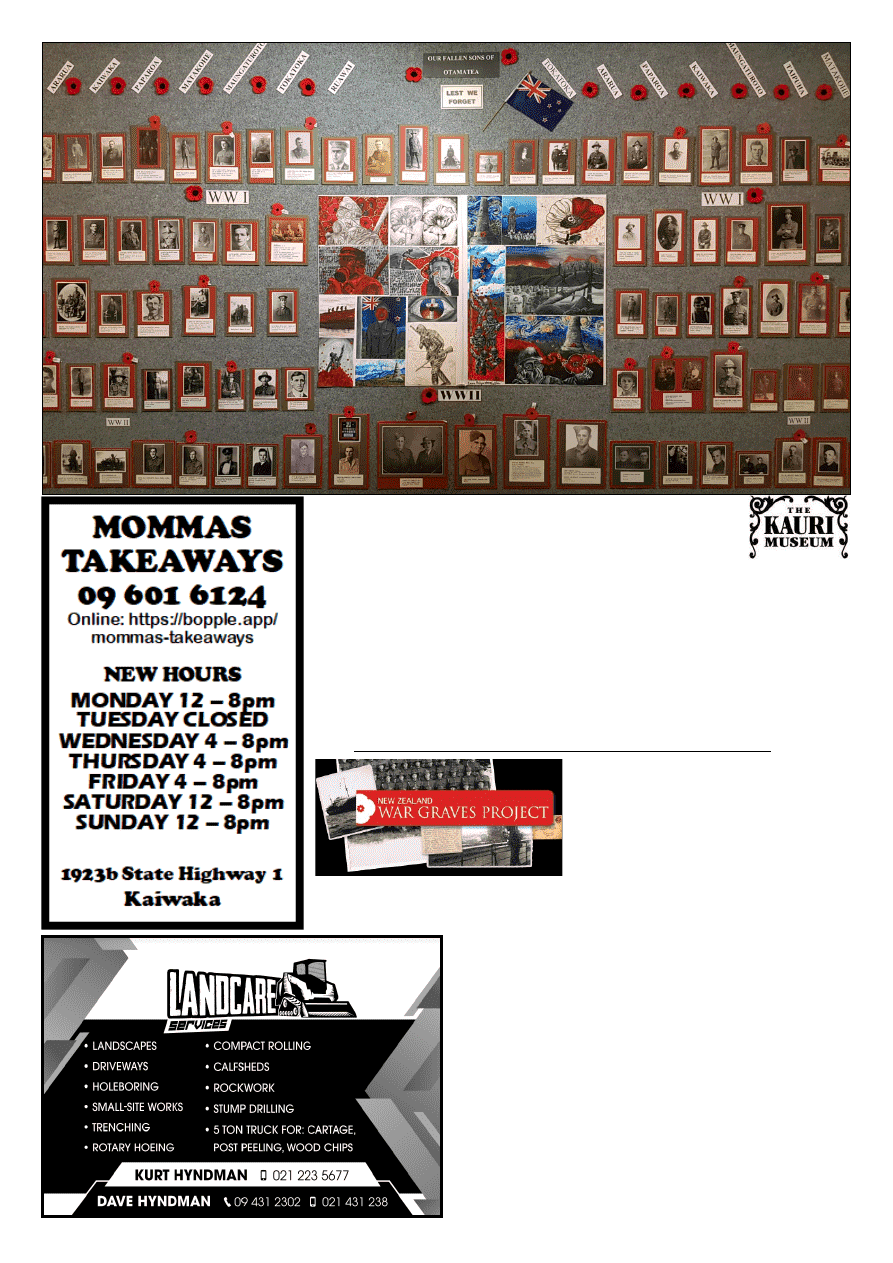 www.kaiwaka.co.nz 
Kaiwaka Bugle - 25 April 2022 
Page 19 
LEST WE FORGET 
NEW ZEALAND WAR 
GRAVES PROJECT  
The  Project  is  to  photograph  all  the  war 
graves  and  primary  memorials  of  New 
Zealanders  who,  serving  with  New 
Zealand  and  Allied  forces,  died  in 
conflicts,  from  the  Anglo-Boer  war  (1899-1902)  to  the  present  day  and  in 
peacekeeping  operations. The  research  has identified  31,758  New  Zealand  war 
graves  in  79  countries  including  New  Zealanders  serving  with  other  Allied 
forces. 
New  Zealand  War  Graves  Trust  is  the  site  where 
photographs, research and background information from the 
Trust's project are lodged: https://www.nzwargraves.org.nz/. 
They welcome and appreciate contributions from visitors to 
the website. They have received a lot of interesting stories, 
photos  and  information  casting  light  on  the  background  of 
the  New  Zealanders  whose  war  graves  are  hosted  on  the 
site.  The  Trust  checks  and  prepares  each  piece  prior  to 
publication. 
This  website  is  easy  to  use  -  you  are  able  to  search  the 
database  for  casualty  information  using  the  search  menu.  
For  example:  'Bombardier  Geoffrey  Austin  Rashleigh, 
Conflict:  WW2.  Additional  Information:  Son  of  William 
and Georgina Emma Rashleigh, of Auckland, New Zealand; 
husband of Edna May Rashleigh, of Kaiwaka, Auckland. 
Died 22 March 1944; Buried at Casino Cemetery, Italy 
https://www.nzwargraves.org.nz/ 
THE KAURI MUSEUM 
Above:  'The  Fallen  Sons  of  Otamatea'  -  this  display  of  local 
ANZAC  contributions  has  been  mounted  in  the  Museum's 
Volunteers Hall, and will remain in place until 23 May.  
 STERLING WING OBJECT HUNT 
Every  school  holidays  we  have  an  Object  Hunt,  where  visitors  young  and  old 
can explore the Museum, looking for some of our most special or unusual items, 
some of which changed the lives of the people who used them, and see some of 
the history of the families of Northland. 
For  the  first  time  we  are  now  able  to  give  the  chance  to  explore  the  Museum 
from  wherever  you  are,  with  virtual tours  -  and  for these  School  Holidays  we 
have an online Object Hunt, especially for Primary school aged children. Go to 
the  Facebook  page  'The  Kauri  Museum'  or  https://www.kaurimuseum.com/
museum-object-hunt 
The Kauri Museum , 
5 Church Road, Matakohe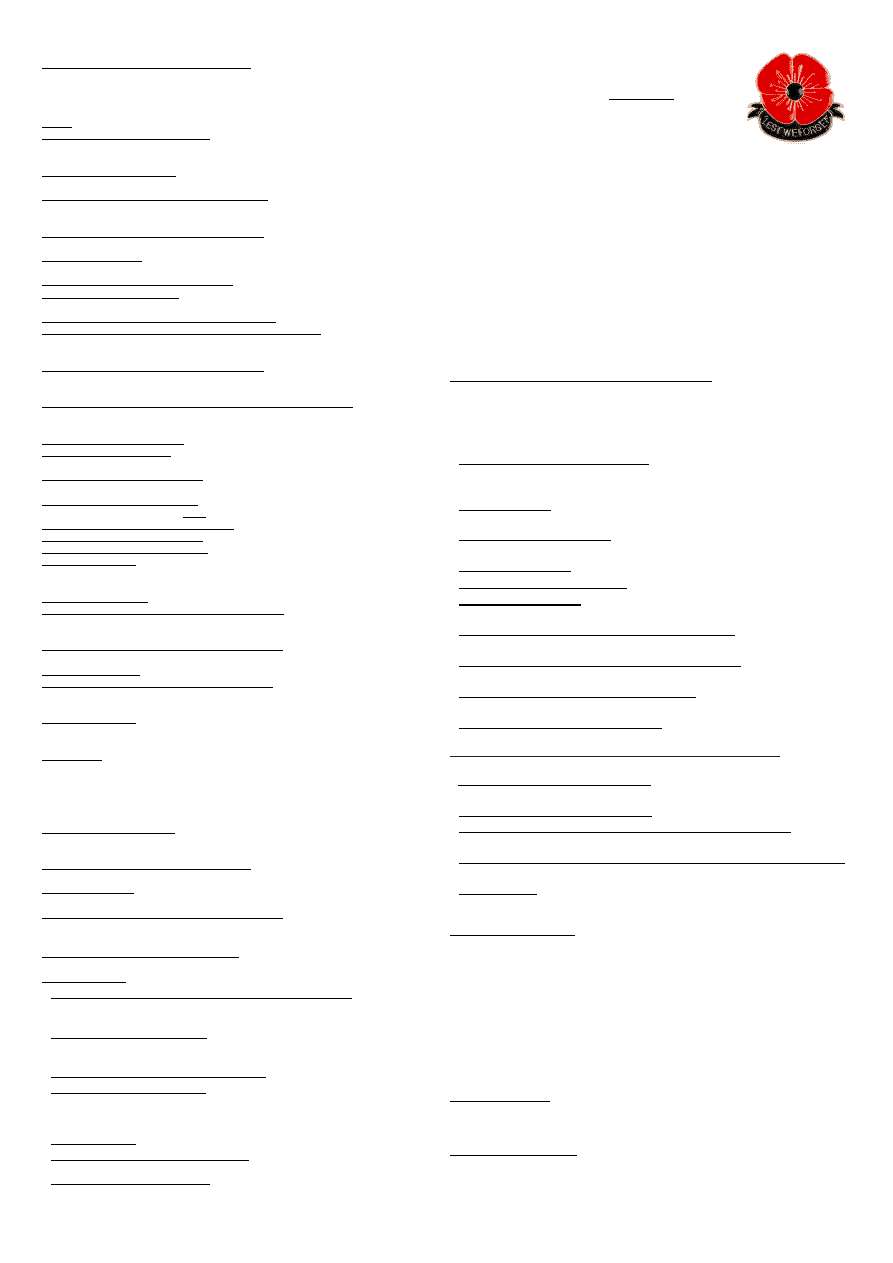 WHAT'S ON
PLEASE ~ do let us know what is on - or what is 
NOT on at the moment! 
email kaiwakabugle@kaiwaka.co.nz 
Advertising in WHAT'S ON is FREE  
*25Apr~ANZAC Day 
*2May~ School Term 2 begins 
*7-8 May ~Antiques & Collectibles Sale, Mgto Country Club 
*8May~MOTHER'S  DAY 
*11May~KSA Annual General Meeting, 7pm  KSA 
*16May~Hakaru Pony Club AGM 7pm Hakaru Hall 
*18May ~Kaiwaka Can AGM, Archie Bull Hall , 5.30pm 
*20May~ PINK SHIRT DAY 
KWMH = Kaiwaka War Memorial Hall; KSA = Kaiwaka Sports Association 
See www.kaiwaka.co.nz for more information 
HOUSEHOLD RUBBISH COLLECTION - Kaiwaka Pick up: 
Mondays = Green bags (Northland Waste - 09 430 3273) 
Wednesdays  = Blue bags and yellow recycling (at Kaiwaka Four 
Square  $3.60  and  $1.70)  (Kaurilands  09  4392146);  ONLY  Blue 
and Yellow bags picked up on Oneriri Road. 
 DIABETES  Support  Group  -for  Kaiwaka,  Mangawhai, 
Wellsford  10am,  3rd  Friday  of  month  Ph:  Colleen  James  09 
4314238 
 GENEALOGY - Wellsford: 1st Thursday in month Ph: 423 
7033; Waipu: 4th Monday in month Ph: 4312 725 
 HAKARU PONY CLUB - Secretary Denise Rogers 021423376 
secretary@hakaruponyclub.co.nz  
 KAIPARA HUNT - Secretary Albert Doonenbal Ph 4312059 
 KAIWAKA BADMINTON -Tuesdays 7.30pm Ph: 0274114817 
 KAIWAKA  CAN  - 3rd Wednesday in month, 5.30pm, Archie 
Bull Hall Ph: 0273572751 
 KAIWAKA GARDEN & FLORAL GROUP - 2nd Thursday in 
month. Ph: 431 4744 
 KNITTING FOR WHANGAREI HOSPITAL - 2nd Tuesday in 
month, Archie Bull Hall 10am Ph 4314827 
 MANGAWHAI COMBINED REBUS CLUB - 2pm, 3rd 
Thursday month, Senior Citizens Hall Mangawhai. Ph: 4315777 
 MANGAWHAI GENEALOGY  - meet 3rd Thursday month, 
Mangawhai Museum, 10.30am 
*PILATES - KAIWAKA WAR MEMORIAL HALL - Ph: 
021  
2072729  
*PILATES - HAKARU HALL - Tuesday 10am, Thursday 9am 
Qualified Instructor  Ph. 0220643965  
 PT CURTIS CRUISING CLUB - Ph: 4312205 Pongo, Commodore 
 RSA,  HAKARU  &  DISTRICTS  WOMEN'S  SECTION  –  meets 
1.30pm 4th Thursday of the month. Ph: 431 5818  
 KAIWAKA  SCOTTISH  COUNTRY  DANCING  CLUB-
Wednesdays 10am - 12 noon  Ph: Elaine 027 432 0032  
 TRAMPING - Mondays 9am - 2:30pm, contact  
  valkenburgmaria@gmail.com 
HALLS FOR HIRE: 
  Kaiwaka St. John Hall: Phone Marj  0272941227  
 St.Pauls Archie Bull Hall HIRE $20 half day, $40 full day per 
hire, S McAulay, Ph 4312311 
 Kaiwaka  War  Memorial  Hall  HlRE  -  Phone  4312725  or 
kaiwaka.hall.bookings@gmail.com 
 Hakaru Community Hall HIRE -Ph.  Karen 4312090 
 Te Pounga Marae queries - Pearl Nathan  0223933533 
 Kaiwaka Sports Association hire/queries 
Jennie Reynolds 
   ksa.bookings@mail.com, 02102764171  
Justice of Peace:  
A.F.Hargreaves 4312 045, W.Howard 4312 725  - please phone to 
make 
sure 
they 
are 
available 
or 
go 
to 
www.justiceofthepeace.org.nz 
Marriage Celebrants:  
L.Donaldson; A.F.Hargreaves; Y Osborne
LOCAL SERVICES 
*Emergencies - Ambulance, Fire, Police - dial 111 
*Non-urgent Police phone 105
A A: Meets Wed., 7pm. Kate's Place Ph 021 024 25969 or 0800 229 6757  
NARCOTICS ANONYMOUS : Mon., 6pm, Archie Bull Hall, Kwk-Mwi 
Road; drug and alcohol related issues. Ph. 02102412348 
ASUREQUALITY LTD (was AgriQuality) Call Free 0508 0011 22  
BUDGETING SERVICE, WELLSFORD: Free confidential advice & 
support for all areas of personal finance. Ph (09) 423 7123 
CAB-Citizens Advice Bureau.Wellsford Ph: 4237333 
0800 367 222 email: wellsford@cab.org.nz, 1 Matheson Road, Wellsford  
CIVIL DEFENCE - Kaipara 0800 727 059 or Facebook 
DOG/STOCK /NOISE CONTROL 0800 105 890 
FUNERAL SERVICES: Morris & Morris Ltd, Whangarei 0800667747 
GRANDPARENTS Raising Grandchildren: Dianah Roberts 0223819539 
HAKARU & DISTRICTS MEMORIAL RSA (Inc) 733 Settlement Rd, 
Hakaru. Ph 4312 176 or Barry Wallace (President) 0274 922 975 
HAKARU LANDFILL/Transfer Station:Open everyday  10am-
4pm.Ph4312629 Except Public Holidays. Cost-$55 trailer load up to 1 
cubic metre. Ph:4258567 - office 
KAIPARA DISTRICT COUNCIL www.kaipara.govt.nz:  
Help Desk FREEPHONE 0800 727 059  
KAIWAKA CEMETERY: Ph: 4312045 or 4314017 
KAIWAKA LIBRARY: kaiwaka.library@gmail.com  
Mon. 4-6pm; Wed., Thurs., Fri., Sat. 10am-2pm Ph:4312539 
KAIWAKA PLAYCENTRE: Ph Juanita 0274134904; open Mon, Wed, 
Fri 9am-12pm. Hastie Lane; Monday to Friday 9.00am - 12 noon. 
KAIWAKA POST OFFICE:Ph:4312 431  
Post Code: 0573 for RD2 and 0542 for all Kaiwaka Post Office mail 
KAIWAKA PRIMARY SCHOOL: Ph: 4312309   
KAIWAKA SPORTS ASSN: Ph 4312005; 4312129 gym 
KAIWAKA ST JOHN HALL: Phone Marj  0272941227  
KATE'S PLACE Community Centre - Employment services, Free Health 
Nurse, Plunket, Advocacy, Osteotherapist, A.A., Legal Advice. 4312 661 
LINKING HANDS Health Shuttle Ph 4315906 or 09 4318969 
MINISTRY FOR PRIMARY INDUSTRIES - General inquiries Call 
Free 0800 008 333 
NEIGHBOURHOOD SUPPORT RODNEY:  021 2583737      
NORTHPOWER: Faults Kaiwaka area 0800 104040 
OTAMATEA COMMUNITY SERVICES: Counselling, parent coach, 
Family Support worker, budget advice, food bank. Mon-Fri 9am-3pm. Ph 
09 431 9080 http://www.otamateacs.org/ 
PARENTPORT: Free, practical family support service Puhoi to Paparoa 
Ph or txt: Dianne 027 280 5093 or 09 425 9357 
PLUNKET: Kaiwaka- St John Hall, 4th Monday of the month. Plunket Nurse 
Louise 027 282 3987 or 09 438 2508 
Mangawhai- Rose Madsen Cottage, Mondays and Wednesdays. Plunket Nurse 
Rebecca 021 501 941 or 09 438 2508 
Maungaturoto - Good News Church, 2nd and 4th Wednesday of the month. 
Plunket Nurse Seleisa 021 912 248 or 09 438 2508 
PLUNKET HELPLINE -0800 933 922 (24 hours)  
FACEBOOK - Kaipara Plunket 
TAITOKERAU COMMUNITY LAW: Free confidential legal advice and 
assistance, 2nd
Thursday
 of each month. Ph: 0800 155 529 for appts.  
TE URI O HAU Settlement Trust Tangata Developments: Whanau Ora 
021 793262  
VETERINARY SERVICE MANGAWHAI: 
Ph: 4314535 Mon-Fri 8.00-5.00, Sat 9-12, a/h appt. 
WELLSFORD DOCTORS: Ph: 4238 086 
CHURCHES:
 
Kaiwaka  Revival  Church  -  Your  Community  Church:  Sundays  10am. 
Ph: Pastor Tawhiri 09 431 8988 or Pastor Paul 09 4312 068 Visit us at 
www.facebook.com/kaiwakachurch 
 
St  Paul's  Anglican  Church  1st  Sun.  9.00am  (Eucharist),  3rd  Sun. 
9.00am  (Family  Service).  Contact:  Church  Office  Ph  431  4122 
www.mangawhaianglican.org.nz 
 
Church of Christ the King, Mangawhai:9.00am every Sunday 
 
St.Mary's  Catholic  Church:  Maungaturoto  –  Griffins  Road,  Saturday 
evening  Vigil  Mass  6pm;  Mangawhai  –  Senior  Citizens  Hall,  Sunday 
Mass  8:30am;  Wellsford  –  Matheson  Road,  Sunday  Mass  10:30am;  
Mid-week Mass times and all enquires – phone 423 8170
 
Baptist Church: Sun. 10.30am Mangawhai Snr Cit.Hall.Ph:4312339 
 
Cause  Way  Church  Mangawhai:  Sundays  10.15am,  Mangawhai 
Community  Recreation  Centre,  Insley  St.  Ph:  09  4314782 
Next Bugle Deadline Friday 27 May 2022