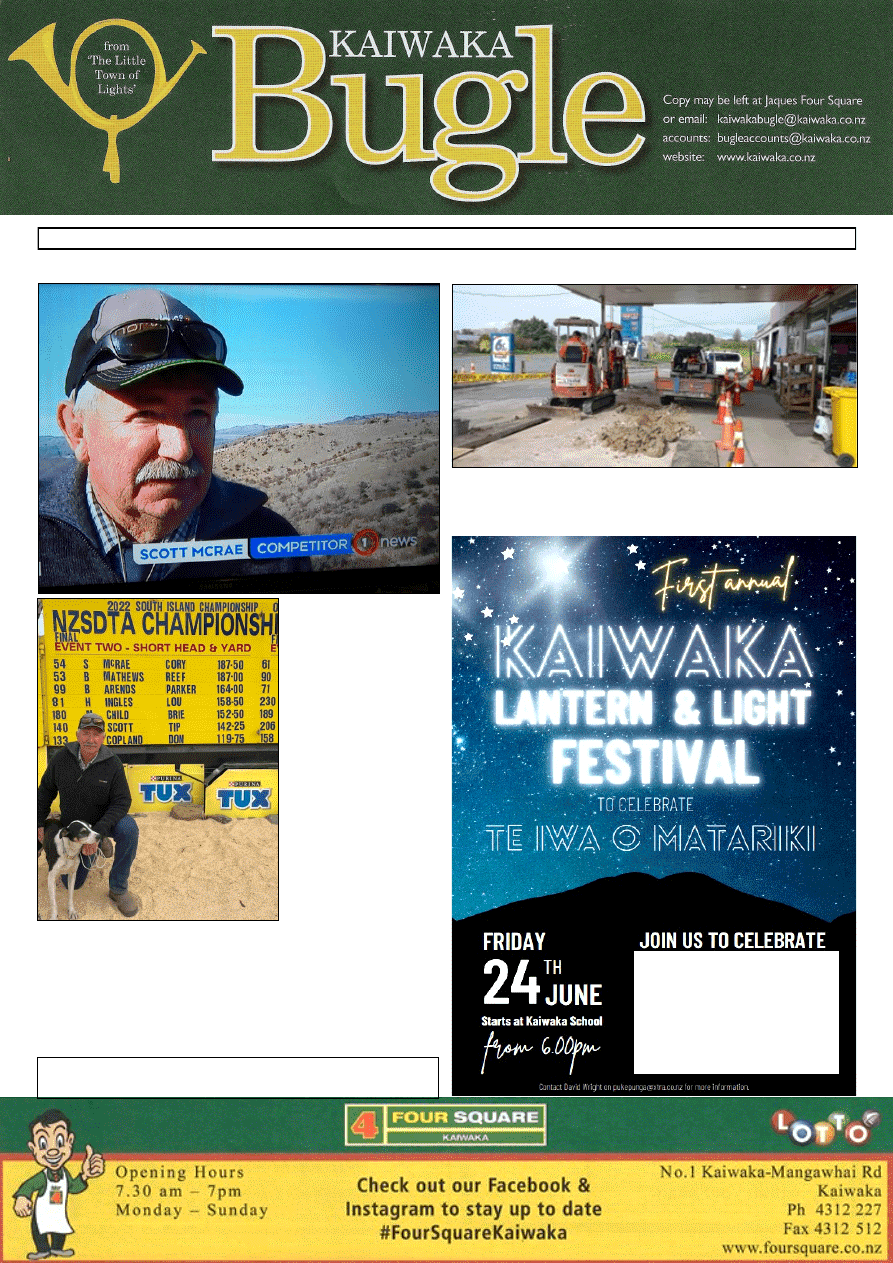 www.kaiwaka.co.nz 
Kaiwaka Bugle - 30 May 2022 
Page 1 
No.5 
30 May 2022 
DOG TRIALS AND LANTERNS 
Congratulations  Scott 
McRae  and  Cory  on 
winning  the  South  Is 
Championship Class II 
(Short  Head  &  Yard) 
Heading  event  earlier 
this month. 
Scott, 
our 
local 
Molesworth 
Sheep 
Dog 
Trial 
Club 
president,  finished  in 
the  top  7  of  250 
competitors  then  went 
on to win the event. 
Scott,  developed  a 
passion  for  trialling 
when shepherding as a 
youngster  in  the  King 
Country, more than 30 
years  ago  -  much  of 
that  time  farming  on 
the Oneriri Peninsula. 
Scott has a history of doing well at National events without 
taking  out  the  top  placing.  He  won  the  event  working 
Merino  lambs  which  are  very  different  to  our  Romney 
sheep. 
Staring  30 May  Scott  and a  contingent  of  Northlanders are 
competing  at  the  National  Championships  being  held  in 
Taumarunui. 
Matariki is a time to gather with whanau 
and friend, celebrate new life, 
remember those who have passed, and 
plan for the future. 
Kaiwaka's Lantern and Light Festival 
walk starts at Kaiwaka and will weave 
its way around Kaiwaka township. 
Contact David Writ on pukepunga @xtra .co.nz  
or more information 
Scott McRae, on the hills 
of  Alexandra  made  TV 
One  News  following  his 
victory. 
See the KAIWAKA BUGLE in colour online at 
www.kaiwaka.co.nz  at any time. 
CALTEX SERVICE STATION LINE UPGRADE 
The workers were surprised to find another layer of concrete below 
the  surface  paving.  Mark  was  able  to  say  that  the  earlier  station 
burnt down. Question - what was the date of that event?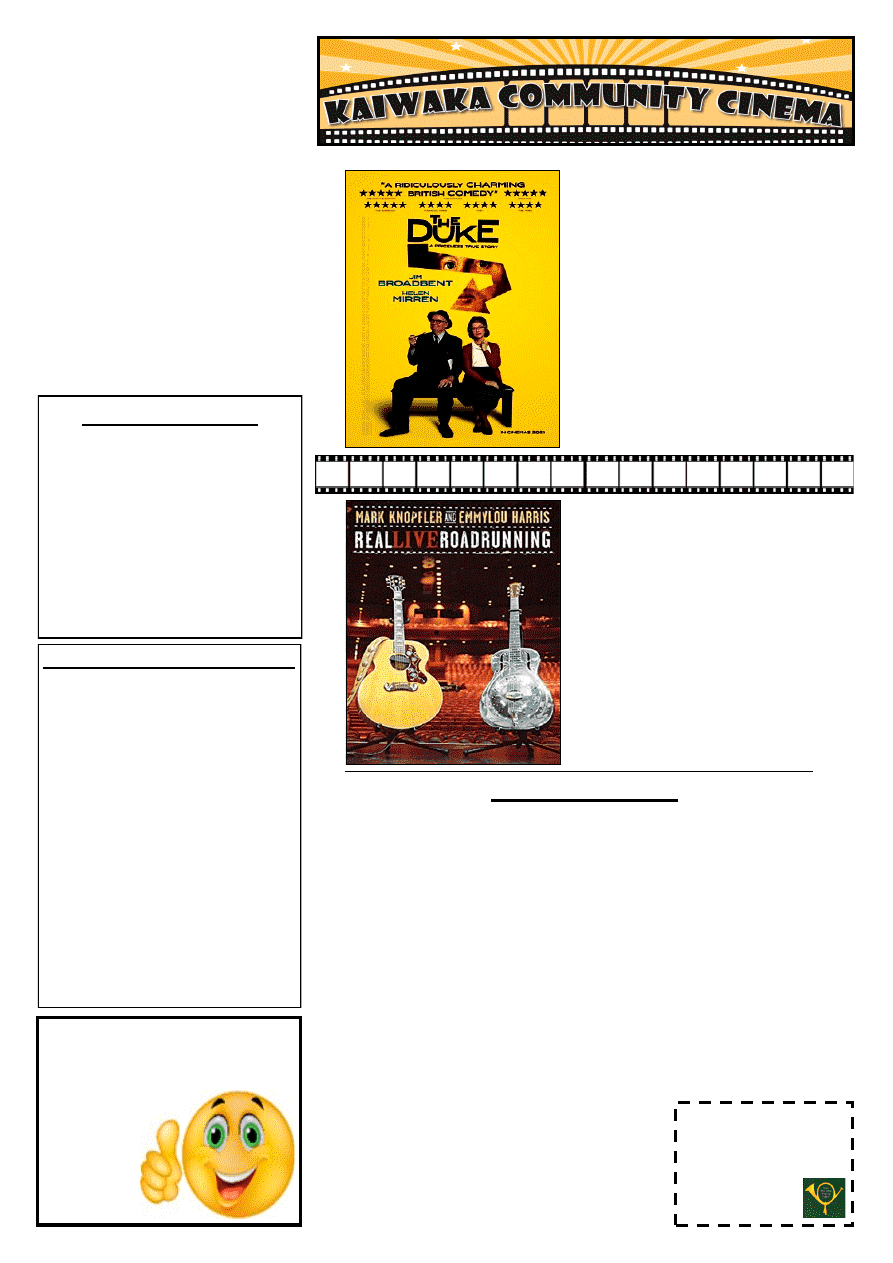 www.kaiwaka.co.nz 
Kaiwaka Bugle - 30 May 2022 
Page 2 
ABOUT TOWN 

 What an amazing hive of activity was seen at the Kaiwaka Sports ground on 
Saturday with youngsters rugby in full swing!  

Kaiwaka's  Lantern  and  Light  Festival  - 24 June, 6pm. The first  Kaiwaka 
Lights Parade was held in June 2009 as part of Kaiwaka's 150 years celebration 

 World  Wide  Knit  in  Public  Day  -  watch  out  for  a  group  of  knitters  in 
Kaiwaka on 11 June! You are welcome to join them - see page 5 

 We are saddened to learn  of the passing of Robert Leslie. 

  Linking Hands Health Shuttle drivers needed - vehicle provided - see page 9 

 Keep your ears open for a possible casual skate group at the KSA for over the 
winter  period  -  sessions  Tuesday  after  school  and  one  Sunday  of  each  month. 
Check Kaiwaka Facebook page

 Measuring the length of a football field - see the Weather News! 

 YOGA - St. John Hall - Tuesday 6 pm, Carla, 021 2968794

 20 May 1773: During his second visit to New Zealand, James Cook released a 
ewe  and  a  ram  in  Queen Charlotte  Sound. The sheep  population  peaked  at just 
over 70 million in 1982. By 2020 numbers had dropped to 26 million ...

 New  speed  limits  in  the  Mangawhai  –  Kaiwaka  (including  Hakaru)  and 
Kaiwaka  West  (including  Oneriri  Road  and  Oruawharo  Road)  areas.  The  new 
speed limits come into effect on 13 June 2022. These signs will remain covered 
until the new speed limits come into effect. See KDC 
website  on  speed  limits  -  a  general  guide  is  that  the 
tarseal is 80 kph , the gravel is 60 kph!

 Bugle 5 can be seen in colour at kaiwaka.co.nz
~ Lindsey, Ed
"Our days are like identical suitcases - all the same size. But 
some pack more into them than others."  
KAIWAKA BUGLE NO.5 
30 MAY 2022 
CONTENTS: 
Page 3: Public Notices, Classified 
Page 5: Kaiwaka Weather; Hakaru 
Women's RSA; WWKIP 
Page 7: Kaiwaka Can; ORT  
Page 9: Linking Hands; Kaipara 
Hunting & Fishing 
Page 11: Kaiwaka Sports  Assn 
Page 13: Pt. Curtis CC; PBL 
Page 15: Maungaturoto Rotary; OHS 
Page 17 Kaiwaka School 
Page 19: Kaye McElwain; Gardening 
Page 21:  Kaiwaka JMB 
Bugle 6 will appear 27 June 
Contact for advertising, reports, articles 
or information can be made by 
Email: kaiwakabugle@kaiwaka.co.nz 
Ph: 09 4312 045 Lindsey 
Txt: 027 2724137 
Copy  may  be  left  at  Kaiwaka  Four 
Square. 
Kaiwaka Bugle 
Founded May 1978 
We appreciate articles and photos about local 
events, etc, as well as ads and suggestions. 
Copies available in Kaiwaka at Kaiwaka  Four 
Square, Kaiwaka Postal Centre, Shamrock 
Service Station, Animal Health Centre, 
Kaiwaka St John shop., La Nonna 
Also outlets in Maungaturoto, 
Mangawhai and Paparoa. 
Can be viewed online at  
www.kaiwaka.co.nz/Bugle  
Or a copy can be posted to you if you supply 
stamped, self-addressed DLE envelopes. 
Kaiwaka Bugle Advertisements 2022: 
All 
copy 
and 
queries 
to: 
kaiwakabugle@kaiwaka.co.nz 
The Bugle is printed on an A4 page, B&W  
Ad  sizes:  1/16  page  (3  x  9.5cm)  $5;  1/8 
(6.5  x  9.5cm  landscape  or  portrait)  $8; 
3/16 ( 10 x 9.5cm or 7.5 x 12,5)  $12.  
Classified  ads:  First  one  FREE,  $4  per 
entry (max. 30 words, max. 4 repeats). 
Payments  can  be  made  online  at 
ANZ 
06  0365  0006990  00
,  posted  or  left  at 
Kaiwaka Four Square Store. 
We  use  Microsoft  Publisher,  and  can 
work  with  most  common  image 
formats, Word, Excel, and PDF files. 
Accounts:  
Email: bugleaccounts@kaiwaka.co.nz 
The  Kaiwaka  Bugle  is  a  community 
newspaper run by volunteers, as part of 
the Kaiwaka Media Group Inc.   
Articles, etc. printed are not necessarily 
the opinion of the Bugle Team. 
Proverbs 15: 30 
Smiling faces make you 
happy, and 
good news 
makes you 
feel better. 
KAIWAKA BUGLE 
DEADLINE DATES 
2022:   
Friday 
24 June 
22 July 
26 August 
At Kaiwaka War Memorial Hall . Adults $10, Kids (under 16) $5, Family Pass (2 adults + 3 children) $25 
THE DUKE 
Friday  3 June, 7.30pm 
  British  comedy-drama  film  directed 
by  Roger  Michell.  Dealing  with  the 
1961  theft  of  the  Portrait  of  the  Duke 
of  Wellington,  the  film  stars  Jim 
Broadbent, Helen Mirren  
"The fact that it was a real story made 
it the interesting story it is," Broadbent 
says.  "Because  no  one  would  have 
bought  it  if  it  had  just  been  a  fiction. 
This nutty idea about this strange man 
who  had  stolen  a  picture  from  the 
National  Gallery  is  too  unlikely  to  be 
real, but the fact that it is real made it 
so interesting."  
REAL LIVE ROAD 
RUNNING 
Friday  17 June, 7.30pm 
A  collaborative  live  album  by  British 
singer-songwriter  and  guitarist  Mark 
Knopfler  and  American  singer-
songwriter Emmylou Harris,   released 
on  14  November  2006  by  Mercury 
Records 
and 
Universal 
Music  internationally,  and  by  Warner 
Bros.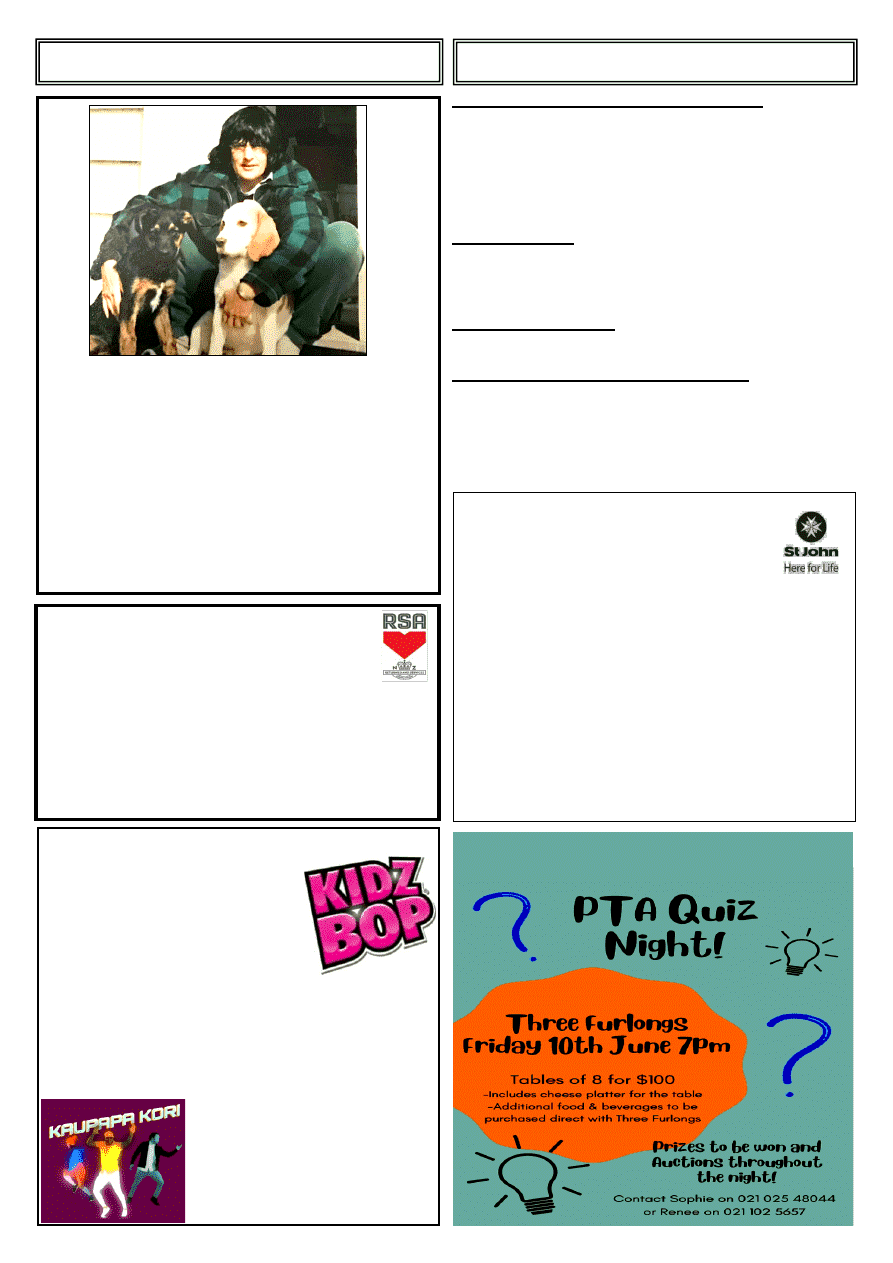 www.kaiwaka.co.nz 
Kaiwaka Bugle - 30 May 2022 
Page 3 
PUBLIC NOTICES 
CLASSIFIED 
ST. JOHN KAIWAKA STORE 

Winter has kicked in and we are selling thru our 
Winter stock quicker than we can put it out. 

If anyone has any Winter Clothing, Winter 
bedding or Blankets we would love to take these 
off your hands. 

We are currently in need of Books, Bric a Brac, CD and DVDs, 
to help whittle away those long winter nights. 

We ask that NO Donations are left on our ramp outside of  
opening hours as this gets rummaged thru and makes a mess.  

If you have a donation to make and we are closed, please call 
0272007765 and someone will meet you at the store to take 
saleable items from you.   

We ask your help in keeping our community tidy. 
A REMINDER - We only accept saleable items. 
 Please do not give us your junk. We are here to make money 
not pay for other people rubbish disposal. 
Our Hours are:  Tuesday to Friday 10am to 3pm  
EVERY Saturday 10am to 2 pm 
Contact number is 0272007765  
RENTAL  WANTED  –  URGENTLY:  Urban  or 
Rural;  Kaiwaka  or  surrounding  area;  1-2  bdrms.  Full 
time  essential  workers  (mother  &  son);  having  sold  a 
property we need to find a home urgently (by 10 June) 
but  can  commit  sooner.  Have  small  dog  &  2  cats  – 
properly  house  trained.  I  have  my  own  ride-on  and 
hand  mowers  –  a  keen  gardener  and  love  mowing 
lawns. Please call or text Janet 021 425781 
FOR  RENTAL:  Maungaturoto  -  modern,  sunny  one 
bdrm cottage, stand alone, sea view. Private on 5 acres. 
$250  pw  incl.  power  &  water.  Suit  quiet  one  person, 
working. Ph: 09 4318448 
HUNTAWAY  PUPS  available,  3  weeks  old.  Phone 
Tony 09 4312045. 
KAIWAKA HISTORICAL SOCIETY: 
 Please phone Lindsey 09 4312045 or Jennie 021 0276 
4171 for information. 
POINT CURTIS CRUISING CLUB 
Annual General Meeting Wednesday 22nd June 2022, 
7pm in the Kaiwaka Sports Complex 
HAKARU &DISTRICTS 
MEMORIAL RSA 
Notice of EGM / AGM 
To be held on the 3rd of July 2022 
At The RSA rooms 733 Settlement Rd, Hakaru. 
The EGM will start at 13:00 hrs.  
The EGM is to present the Financial records to the 
members for the years 2019 and 2020. 
At the conclusion of the EGM there will be a 15 
minute break before the AGM begins. 
~ 
Martin Edinborough
Hey hey hey - get your dance moves 
on, learn one of the 
Kidz Bop or 
Kaupapa Kori dance 
routines, perform it, 
and you could be the  
next BIG STAR! 
Rules: 
You must use one of the Kidz Bop or Kaupapa 
Kori songs. 
You can use your own dance moves or copy the Kidz 
Bop /Kaupapa Kori dancers. 
You can perform on your own or in a group. 
Parents are welcome to be in your group! 
Live performance is Wednesday 6 July, 
10.45am at KSA 
Covid restrictions will apply 
Registrations are due by Friday  
10 June - see Miss Dempsey. 
Spot prizes and overall winner 
prizes will be presented on the day. 
JACKIE WINTERS 
On  behalf  of  the  non-local  family  and  friends  of 
Jackie Winters, I would like to acknowledge all her 
local  friends  and  neighbours  for  their  support  and 
generosity  before,  during  and  after  this  difficult 
time. From flowers, cakes, and wonderful sandwich 
platters  through  to  clearing  and  packing  up  the 
house,  or  checking  on  and  moving  the  cattle.  It 
wouldn't have happened without you. 
Special thanks to Charly, Nigel, Viv, Eric, Tony and 
Lindsey,  Heather,  Ros,  Pam  and  others  we  didn't 
meet. 
KAIWAKA SCHOOL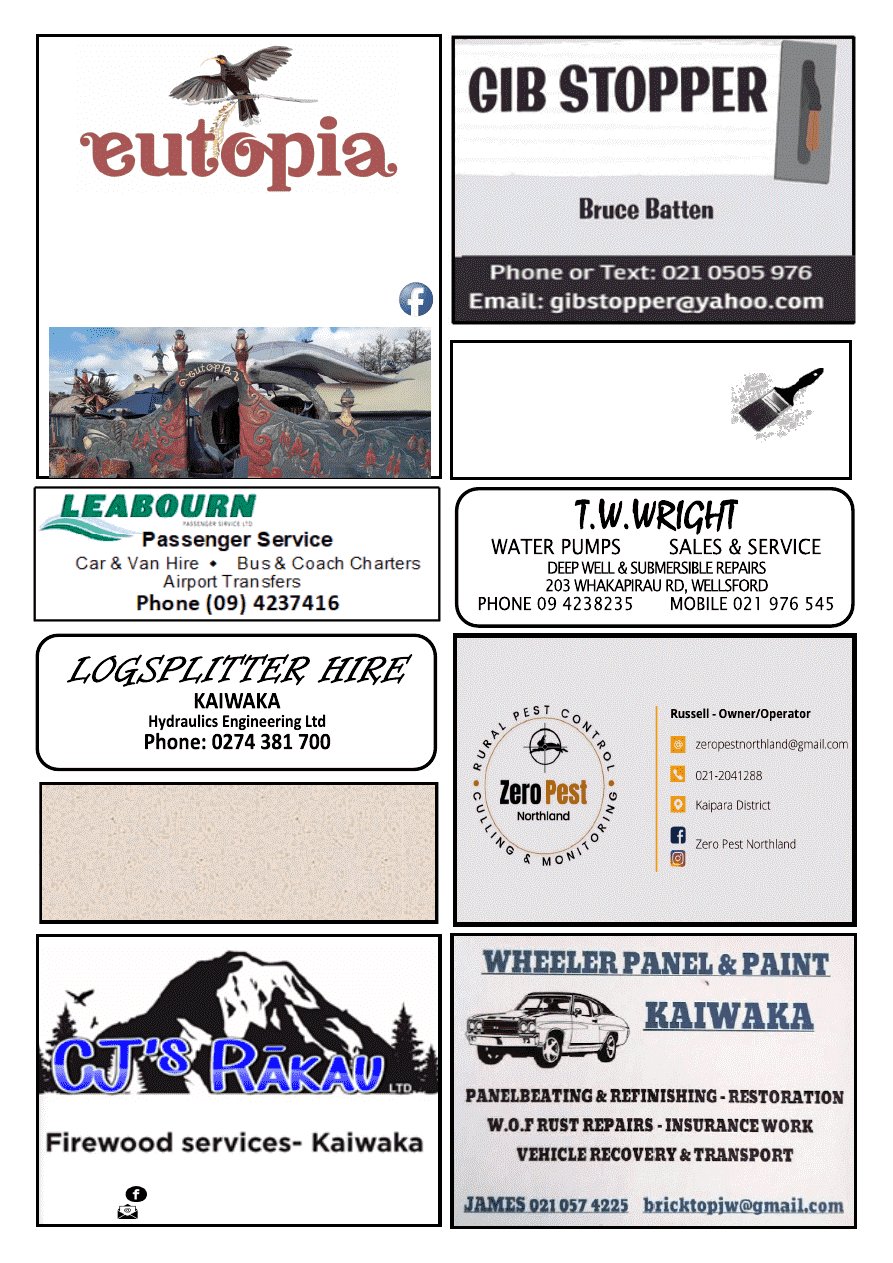 www.kaiwaka.co.nz 
Kaiwaka Bugle - 30 May 2022 
Page 4 
Kaiwaka's Own Art Cafe 
Opening hours 8.30am - 3pm  
Open some evenings, available as a venue.  
Phone: 021 891484 or 094312222 
1955 State Highway, Kaiwaka. 
Counsellor and Registered Psychotherapist 
Offers Supervision 
ACC Sensitive Claims 
Susan Matheson      MNZAC 
Dip. Psychosynthesis Counselling and Psychotherapy 
Phone 09 431 2996                                     Mobile 027 605 2427 
DR PAINT
 Dave & Rhys 
 Painters
 02108742551 
0211200667   
Ph/Txt - 021 278 3434 
@cjsrakaufirewood 
cjsrakau@outlook.com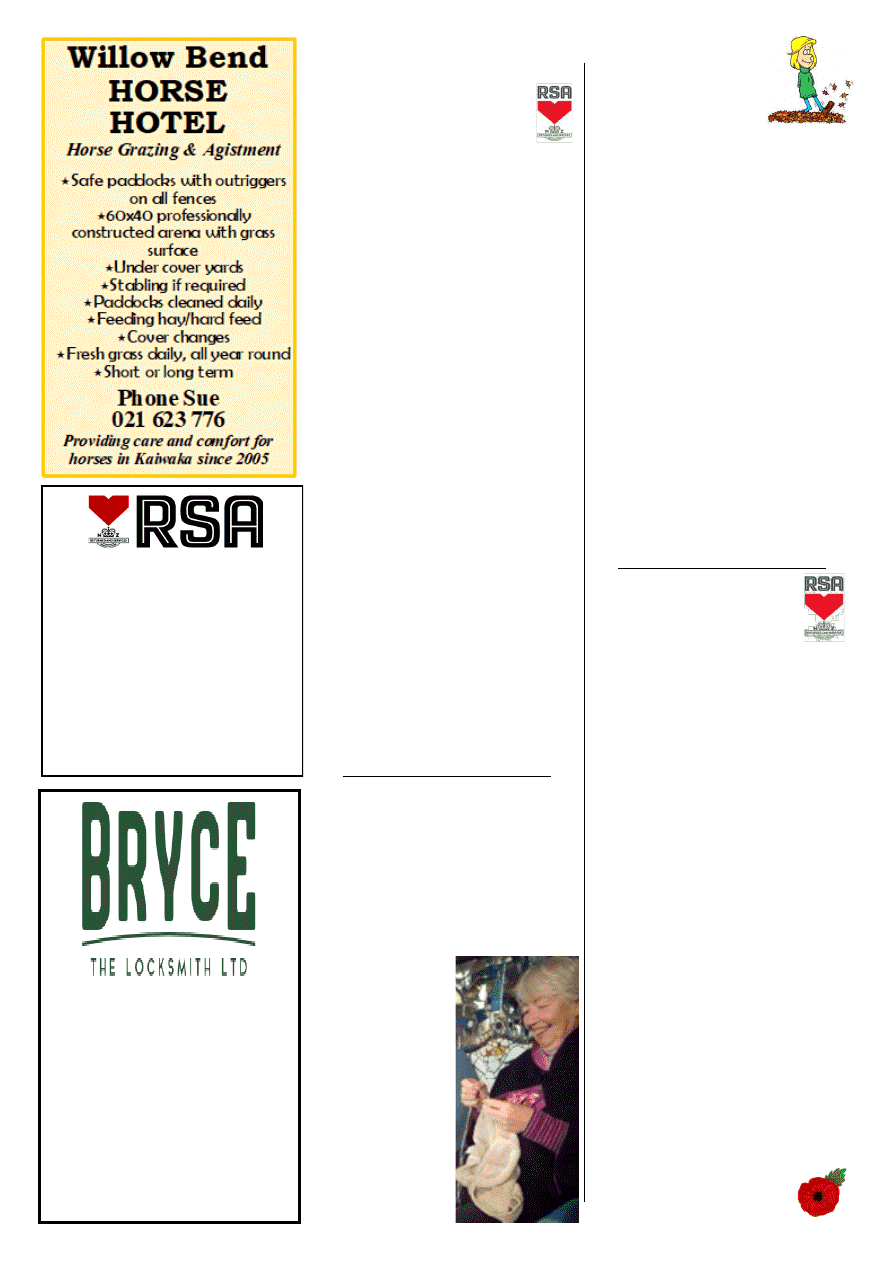 www.kaiwaka.co.nz 
Kaiwaka Bugle - 30 May 2022 
Page 5 
Bryce Frewin 
Ph: 021 850 983 
Kaipara Based Master 
Locksmith 
bryce@brycethelocksmith.co.nz 
www.brycethelocksmith.co.nz 
HAKARU & DISTRICTS 
MEMORIAL RSA (INC)
Members & guests are invited to 
come along and enjoy our 
hospitality. 
New members welcome. 
For more information please phone 
Barry Wallace 0274 922 975 
Email: president@hakarursa.co.nz 
WWKIP 
World Wide Knit in 
Public Day 
Better living through stitching together! 
Every  year  on  the  second 
Saturday  in  June,  World  Wide 
Knit  in  Public  Day  aiming  to 
encourage knitters to come together and 
enjoy  one  another's  company.  It's  also 
a 
day 
for 
experienced knitters 
to teach others how 
to knit.  
Knitting 
is 
no 
longer  the  province 
of  the  elderly  but 
has  been  taken  up 
by all ages as a way 
to  create  something 
lovely,  to  promote 
social  change,  and 
to  spend  some  time 
peacefully 
meditating  as  they 
knit 
one, 
purl  
one ... 
KAIWAKA 
WEATHER 
APRIL 
 I  hope  you  have  enjoyed 
the Indian Summer?  
We  have  had  a  very  mild  month  of 
April. The showers have been frequent 
but  quite  welcome  as  the  gardens  and 
lawns  are  looking  much  better  for  it.  I 
have noticed several fires being lit now 
that the fire ban has been lifted.  
Our  total  rainfall  for  April  2022 
was  133ml. 
We recorded rain over 14 
days.  96ml  fell  over  9  days  from  the 
18th to the 26th but in amongst that the 
23rd  of  April  was  a  most  beautiful 
Autumn day after a cloudy start.  
The  most  rain  recorded  at  our 
place  for  the  month  of  April  was 
in  2017  when  we  got  224ml  and 
the  least  recorded  was  in  2012 
when we only got 28.5ml.  
The temperatures are still very mild but 
are starting to cool off in the evenings. 
The  trees  that  have  got  any  leaves  left 
on  them,  are  finally  changing  colour 
and dropping their leaves everywhere.  
Now  for  a  bit  of  trivia:  How  many 
stubbie  beer  bottles  laid  end  to  end, 
would  it  take  to  go  from  one  end  of  a 
rugby field to the other? Answer – 603! 
Cheers ~ Karen 
Nine  members  were  present  at 
the monthly meeting which was 
followed by the AGM. 
One  minutes  silence  was 
observed  after  the  ODE  in  memory  of 
Bettie Aitken-Cooke and Pat Judd who 
have  "crossed  the  Bar"  this  year.  We 
also  remembered  our  special  War 
Veteran  Ron  Paigee  who  passed  away 
this year aged 101. 
Annual Meeting: 
Fay  Wintle  is  still  our  Patroness,  Ann 
Dowson  President,  June  Wilson  Vice 
President, 
Jan 
Mann 
Secretary/
Treasurer, 
Lena 
Carleton 
NWA 
Delegate,  committee:  -  Heather  Small, 
Pamela  Truscott,  Sheila  Holmes,  and 
Annie Marriott. 
Our Delegate Lena will be representing 
us  at  Levin  at  the  NWA  AGM  and 
conference this year. 
Thank you: 
Hakaru Women's Section would like to 
thank  the  Kaiwaka  Garden  Club  and 
our own members who helped make the 
Wreaths  for  ANZAC  DAY,  RSA 
Members who did shifts to sell poppies 
the Friday before and supplied food for 
after the Service. Many thanks to all the 
members  of  the  public  who  also 
brought 
along 
food 
we 
really 
appreciated your help. 
Our Birthday girls for this month were 
Jan  Mann  and  Doreen  Woodhouse  - 
hope  you  both  had  extra  happy  days, 
Ladies. 
The  raffle  was  won  by  Dawn  Powell 
1st and Lena 2nd. 
Next Meeting: 
The  next  meeting  will  be  on  Thursday 
26th May at 1.15 p.m. 
We  are  having  a  Guest  speaker  to  talk 
on  special  trips  available;  Visitors  are 
welcome. 
Take care everyone. Cheers Ann 
HAKARU RSA 
WOMEN'S SECTION
HAKARU & 
DISTRICTS  
MEMORIAL RSA 
(INC) 
ANZAC Commemoration  
A  big  thank  you  goes  out  to  our 
community who turned out to pay their 
respects  to  our  Veterans  and  Service 
members.  Our  Commemoration  saw 
approximately  300  attendees  outside. 
They stood through heavy rain showers 
and a cooling wind. Many stayed for a 
social  time  and  partook  in  a  fabulous 
light meal after. 
Thanks  to  Roi  McCabe  for  being  our 
guest speaker. 
Thank  you  to  Deputy  Mayor  Anna 
Curnow  and  Councillor  Jonathan 
Larsen  for  attending  and  laying  a 
wreath on behalf of the Council. 
The  public  have  been  extremely 
generous this year donating to the fund 
that supports the Welfare needs of both 
ex  and  current  Veterans  and  Services 
members  we  thank  you  for  your 
donations. 
 A big thanks to our MC past President 
Neville Andrew, Bernard Chivers from 
the  C.O.E  Church  in  Mangawhai 
Village, thanks to all who brought food 
and  to  the  ladies  of  our  Women's 
Section  for  managing  the  Kitchen,  and 
members who worked hard to make the 
day a success. 
President 
Barry 
Wallace 
thanks 
everyone,  for  their  attendance,  and 
support,  also  our  guest  Pipers,  and  all 
those who laid wreaths. 
 ~ 
Martin Edinborough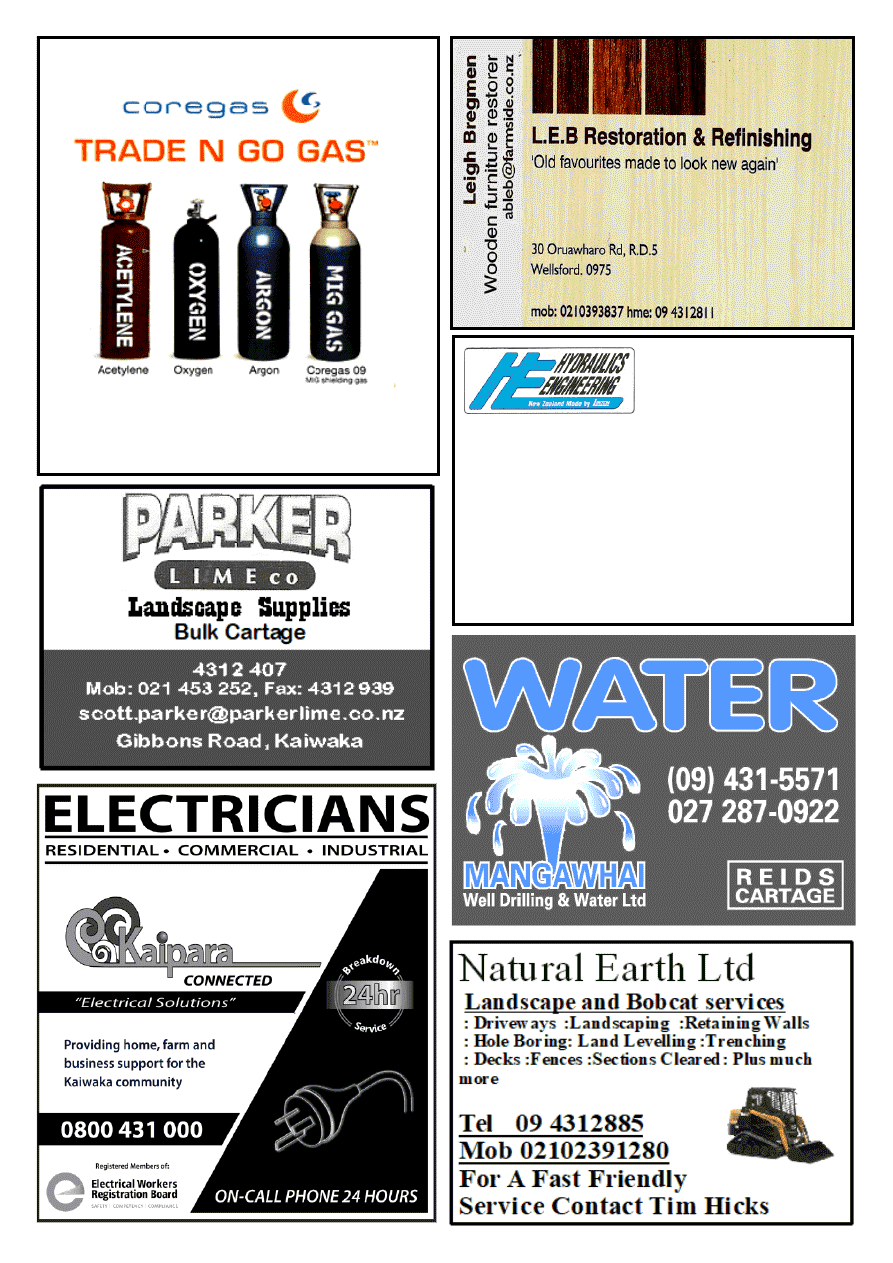 www.kaiwaka.co.nz 
Kaiwaka Bugle - 30 May 2022 
Page 6 
Hydraulics  
Engineering Ltd 
Kaiwaka 
Sales - Service - Parts - 
Hire - Manufacture 
Service Contractors & Industrial Equipment: 
Rams, Pumps, Valves 
Logsplitter Hire, Manufacturer, Sales 
Dennis Linton 
Lot 2 / 161 Ranganui Road, RD2, Kaiwaka, 0573, New Zealand 
Mobile: 0274 381 700 
Email: hydraulicsengineering@xtra.co.nz 
At Twinkle Tow 'n' Tyre 
Mob: 021 833 960 
Ph & Fax: 09 431 2823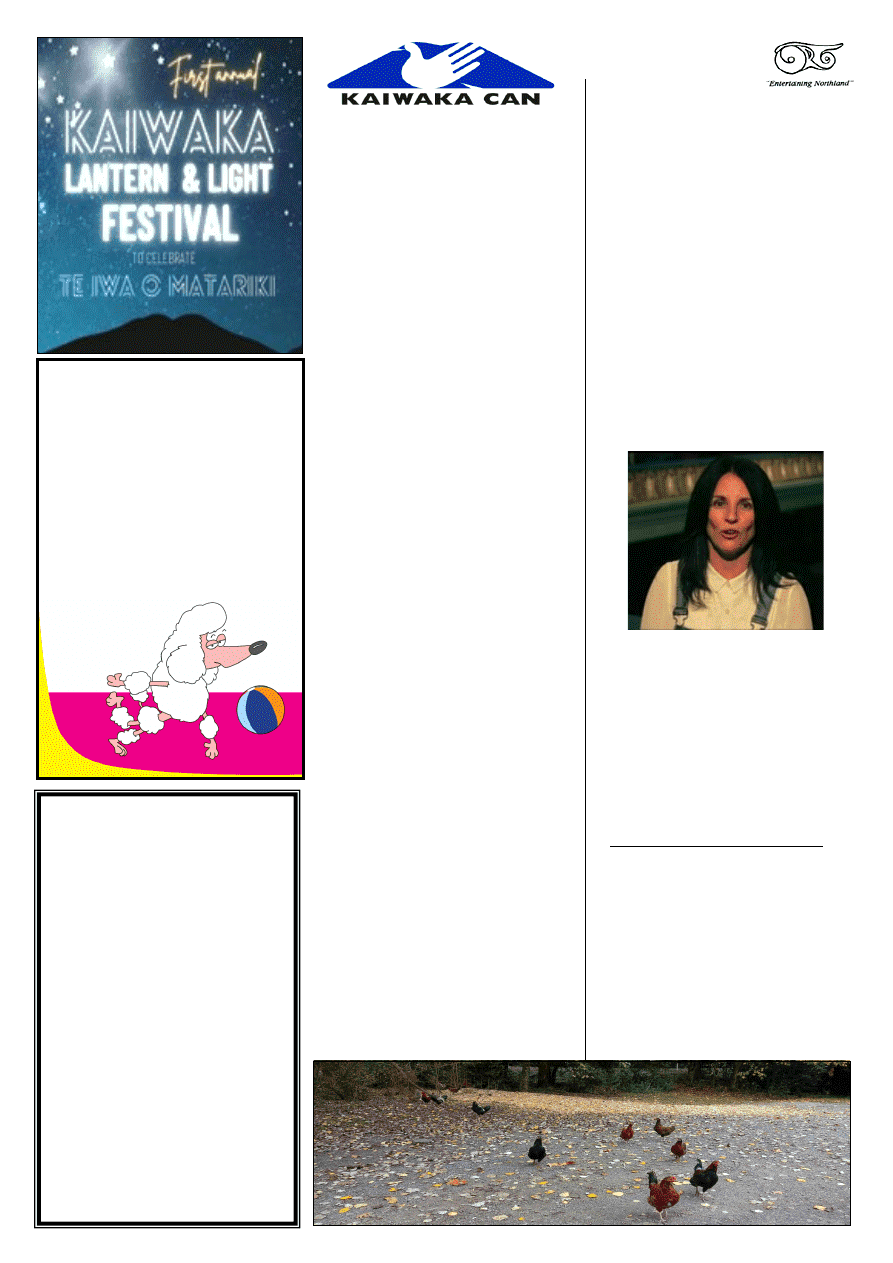 www.kaiwaka.co.nz 
Kaiwaka Bugle - 30 May 2022 
Page 7 
TE PĀTAKA O KAIWAKA - 
FOODBANK 
NEEDING:  Cooking Pots, Bric a brac, 
Jewellery,  Blankets  &  Pillows,  and 
Children's winter shoes. 
FOODBANK:  Landline  number  09 
4312188 
Arohanui, Milly and Staff 
HOURS Tuesday - Friday 10am - 2pm 
Saturday - Monday CLOSED 
tepatakaokaiwaka@gmail.com    
Phone: 09 4312188
Hot Diggity Dog  
DOG GROOMING  
KAIWAKA 
Call now for a  
Between season groom"  
Professional Dog Groomer  
at affordable prices.
www.doggroomingkaiwaka.co.nz 
call Pam 094312143 or text 
0273335380 for bookings 
OTAMATEA 
REPERTORY 
THEATRE 
Time to dust off the cobwebs and 
announce  that  there  will  be 
FURTHER AUDITIONS for 'The 
Revlon  Girl', 
by  Neil  Anthony 
Docking, (90-minute play).   
A  group  audition  will  be  held  on  be 
held on Sunday 12 June 1pm - 3pm, at 
Otamatea 
Repertory 
Theatre, 
Bickerstaffe Road, Maungaturoto. 
The Play is based on the true events of 
the  1966  mining  disaster  in  Aberfan, 
Wales, 'The Revlon Girl' tells the story 
of  four  mothers  grieving  the  loss  of 
their children.  
Warm,  sorrowful,  and  surprisingly 
funny,  this  Olivier  Award  nominated 
play is a story of survivors, small-town 
bickering and the redemptive power of 
make-up. It contains coarse language. 
"Grief, anger and community all blend 
together flawlessly"  
The List 
https://www.youtube.com/watch?
v=FgvmzIuQslY&t=95s 
Rehearsals commence in late June 
Performances  planned  for  late 
September/early October 
Cast (Welsh accents not required) 
Five women, early 20s to late 30s 
No  need  to  book  an  audition  time  for 
the group audition 
For all inquiries, Director Sheri O'Neill  
09 431 6907, 027 571 6907 
bogwood@xtra.co.nz 
MOMMAS 
TAKEAWAYS 
09 601 6124 
Online: https://bopple.app/
mommas-takeaways  
NEW HOURS 
MONDAY 12 – 8pm 
TUESDAY CLOSED 
WEDNESDAY 4 – 8pm 
THURSDAY 4 – 8pm 
FRIDAY 4 – 8pm 
SATURDAY 12 – 8pm 
SUNDAY 12 – 8pm 
1923b State Highway 1 
Kaiwaka 
KAIWAKA CAN  
Kaiwaka  Can  held  it's  AGM  this 
month with the officers rolling over for 
another  year.  David  Wright  Chairman, 
Pablo  Garcia  Vice  Chairman  and  Jean 
Guttery as Secretary. 
The  previous  year  has  seen  major 
projects completed, creating many more 
to  go  on  with  including  the 
development  of  the  new  portion  of 
McClean  Park  and  walkway/cycleway 
to link the 2 walk bridges going around 
the peninsular. 
MCCLEAN PARK 1947  
McClean  Park  1947  is  slowly  taking 
shape and it is noticeable how more and 
more people are making use of it. It is a 
shame  though  to  see  we  have  a  few  in 
the  community  who  want  to  disrespect 
the park and the people of Kaiwaka by 
trying  to  destroy  all  the  hard  work  put 
in  tearing  up  the  grass  with  their 
vehicles. 
LANTERN 
AND 
LIGHTS 
FESTIVAL  
We have also decided to start what we 
hope  will  become  an  annual  festival 
The  Kaiwaka  Lantern  and  Lights 
festival,  to  also  incorporate  Matariki. 
As we have had a late start on this, we 
have  decided  to  start  with  a  taster 
running  on  the 
evening  24  June 
2022
. This will involve the local school 
making  lanterns  and  in  the  evening 
walk  with  them  from  the  school  down 
to  the  park  and  over  the  foot  bridges 
finishing  at  Eutopia.  Any  others  who 
would like to join in are most welcome, 
dress  in  lights  or  make  your  own 
lantern.  Or  just  come  along  to  see  the 
display.  From  this  we  will  work  to 
make  the  event  larger  next  year  and 
hopefully  have  the  whole  community 
involved.  Now  is  the  time  to  put 
Kaiwaka  back  on  the  map  as  'The 
Little Town of Lights'. 
PROJECTS AHEAD 
We  also  have  a  number  of  other 
projects  to  move  on  with  so  if  you 
would  like  to  get  involved  in  the 
community  projects  don't  be  shy  come 
and join in. At our working bees we try 
to make it a social event, so it is a great 
place  to  meet  and  get  to  know  others. 
Watch our Facebook page for details. 
Meetings  3rd  Wednesday  every 
month  at the Archie Bull Hall 5.30pm 
to 7pm or email pukepunga@xtra.co.nz 
for details
.~ David, Chairman Kaiwaka Can
. 
Autumn in McClean Park 1947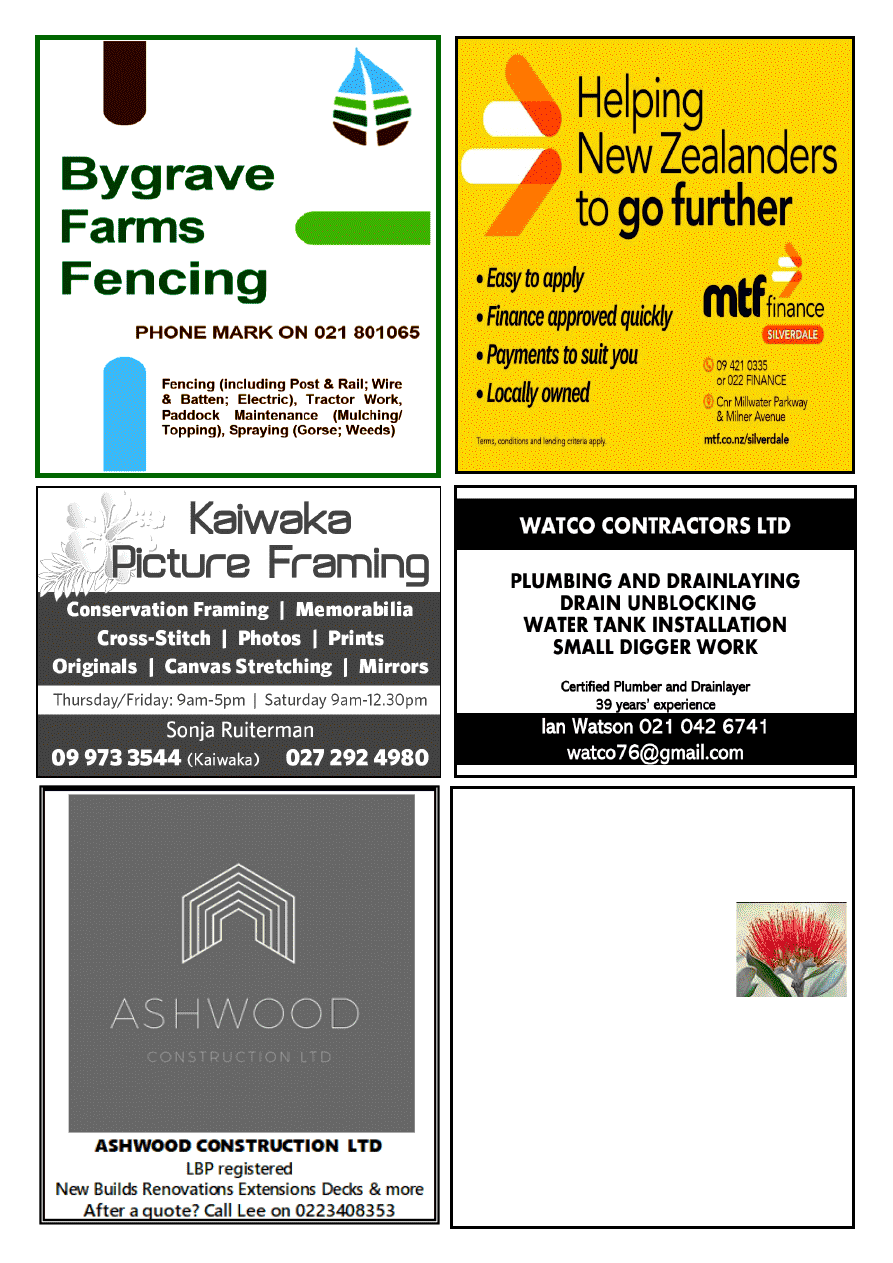 www.kaiwaka.co.nz 
Kaiwaka Bugle - 30 May 2022 
Page 8 
KAIPARA FLOORING CO 
FULLY MOBILE FLOORING SHOWROOM 
SERVICING THE KAIPARA 
PH (09) 946 9886 or  
CHRISTINE ON 021 515 415 or 
HOWARD 021 2696250 
IN HOUSE MEASURE, QUOTE AND 
CONSULTATION SERVICE 
FOR THE SUPPLY AND INSTALLATION OF 
CARPET, VINYL, VINYL PLANKING, HARD 
FLOORING, GARAGE CARPET, LAMINATE 
FLOORING AND MORE. 
EMAIL kaiparaflooring@gmail.com  
WEBSITE www.kaiparaflooring.co.nz 
Qcard 6 month interest free terms or 12 – 24 
month finance options available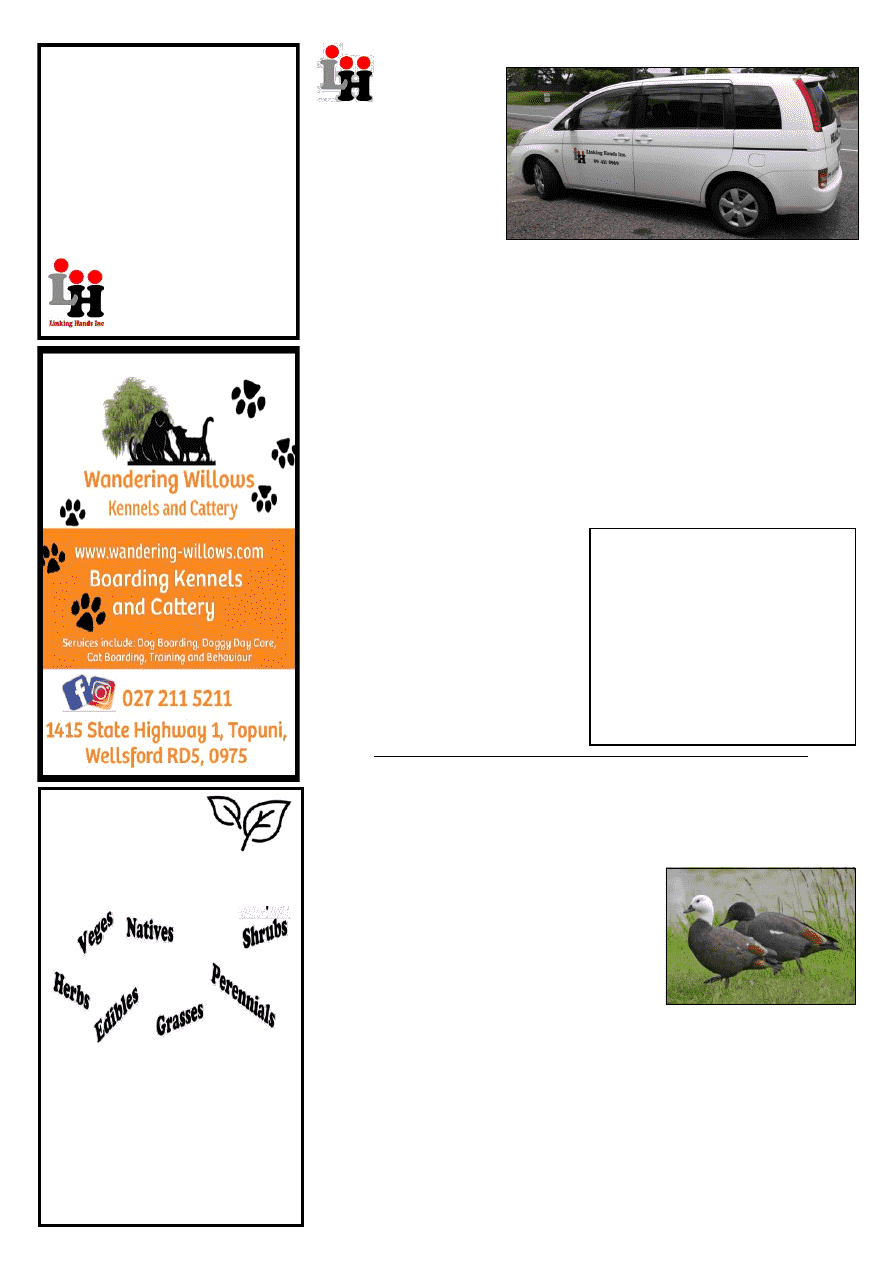 www.kaiwaka.co.nz 
Kaiwaka Bugle - 30 May 2022 
Page 9 
KAIPARA HUNTING & FISHING 
Hope you all got the opportunity to shoot a few ducks on opening weekend. Our 
latest event was the Mixed Bag over the weekend of the 21st and 22nd May 2022. 
Coming up: Heaviest bird weekend 
Birds shot over the weekend of the 18th and 19th June 2022. 
Start 6.30am Saturday on your own secret hunting spot. 
Species  to  be  weighed  in  –  Drake  Mallard  and 
Pheasants and a prize for the longest pheasant tail; 
One species each to be weighed 
Weigh-in  19th  June  4pm  at  4.30pm  with 
prizegiving at 5pm at the club 
Great prizes to be won at both events.  
Last Shoot - Duck Shooters Shoot 
What  a  great  result  with  41  shooters  on  the  day 
shooting 80 clays each 
Results: 
Seniors 1st Andy T 63; 2nd Dylan T 62; 3rd Steve Taylor 59 
Ladies 1st Regan 
Juniors 1st Sam 61; 2nd Fletch 57; 3rd Max 48; 4th Matty; 5th Bronson 
Great shooting. Well done to you all 
Major drawn prize: Matt Vaughan 
A big thank you to our sponsors. Please support our sponsors. They Rock! 
Nola Sports Dargaville, R Dickins GAS Maungaturoto, Phil Durham, Mr Steak 
Homekill Dargaville, Maungaturoto 
Regards Your Committee 
For  New  Membership:  Email  Andy  at  awthompson@outlook.co.nz  Or  send  to  P.O.  Box  12, 
Ruawai.0549 
President Cam Shanks 09-431-6229; Treasurer Andy Thompson 021-1294-378 
Secretary Annette Pull 027-286-2329 Photos: annettebaker@slingshot.co.nz 
Oneriri  
Plants 
Visit our Nursery 
Contact Heather 021 
766399 
oneririplants@gmail.com 
365AOneriri Rd, Kaiwaka 
A short trip off SH1
LINKING HANDS INC 
Maungaturoto - Kaiwaka - 
Mangawhai 
Meeting the needs of the community. 
A free Health Shuttle Service, providing 
transport to those who would struggle to 
get  to  medical,  dental,  podiatry,  or 
optometrist  appointments  anywhere 
from Warkworth to Whangarei. 
HEALTH SHUTTLE SERVICES  
Ph/fax 09 431 8969 
Kaiwaka/Mangawhai  
09 4315906 
OFFICE HOURS 
Maungaturoto - Monday to 
Friday - 10am to 4pm 
Closed Public Holidays 
LINKING HANDS 
We  are  struggling 
to  provide  our 
Kaiwaka  Service 
with  the  number  of  drivers 
that we presently have. 
 HOPEFULLY  there  are 
prospective  volunteers  out 
there  in  Kaiwaka.  WE 
NEED ASSISTANCE 
The  commitment  is  for 
about half  a  day  a  week  at 
your choosing, and we will 
normally  be  able to  give  you  plenty  of 
notice.  Your  availability  can  vary 
depending  on  your  other  commitments 
or holidays, etc. If you do not happen to 
be  available  when  we  ask,  that  is  no 
problem,  but  is  the  reason  that  we  do 
need enough drivers as cover for others 
being  away  for  a  period  or  not 
available. 
The  qualifications  are  simple  -  a 
willingness to assist others, a valid full 
car  driving  licence  and  the  willingness 
to have a police vetting check. 
PLEASE HELP US BY 
CALLING HEAD OFFICE on 09 
431 8969 for an initial chat and 
information. 
WHAT DO WE DO? 
We  are  a 
Free  Health  Shuttle 
Service
,  providing  transport  to  those 
who would otherwise struggle to get to 
their  medical,  dental,  podiatry,  or 
optometrist appointments. 
Linking  Hands  overall  picks  up  people 
who  live  in  the  areas  of  Mangawhai, 
Kaiwaka,  Maungaturoto,  South  to 
Oruawharo 
Rd, 
Topuni, 
Waipu, 
Ruakaka,  One  Tree  Point  then  takes 
them to medical appointments South as 
far  as  Warkworth,  West  as  far  as 
Ruawai,  North  as  far  as  Kamo  and  all 
points in between, then home. 
Shuttles  are  at  Mangawhai,  Kaiwaka, 
Maungaturoto  (1  with  wheelchair 
hoist),  Waipu  and  Ruakaka.  We  also 
take  our  clients  to  meet  the  Northland 
DHB  Shuttle  and  we  pick  them  up  in 
the evening. 
Northland  DHB  run  a  daily  shuttle 
service  return  from  Whangarei  to 
Auckland  hospitals,  stopping  at  the  3 
Furlongs Hotel in Kaiwaka on the way 
there and on the way back. 
Our clients need to book in advance by 
calling  Whangarei  Hospital.  Once  they 
have  booked,  they  can  call  us  to  take 
them to Kaiwaka in the morning and to 
pick  them  up  from  Kaiwaka  in  the 
evening. 
PLEASE HELP  
*LINKING HANDS  
MANGAWHAI & KAIWAKA* 
WE NEED VOLUNTEER 
DRIVERS  
IN KAIWAKA TO TAKE 
THOSE WHO CANNOT DRIVE 
OR HAVE NO TRANSPORT TO 
THEIR MEDICAL 
APPOINTMENTS  
ANYWHERE FROM KAMO 
TO WARKWORTH AND BACK 
HOME AFTER.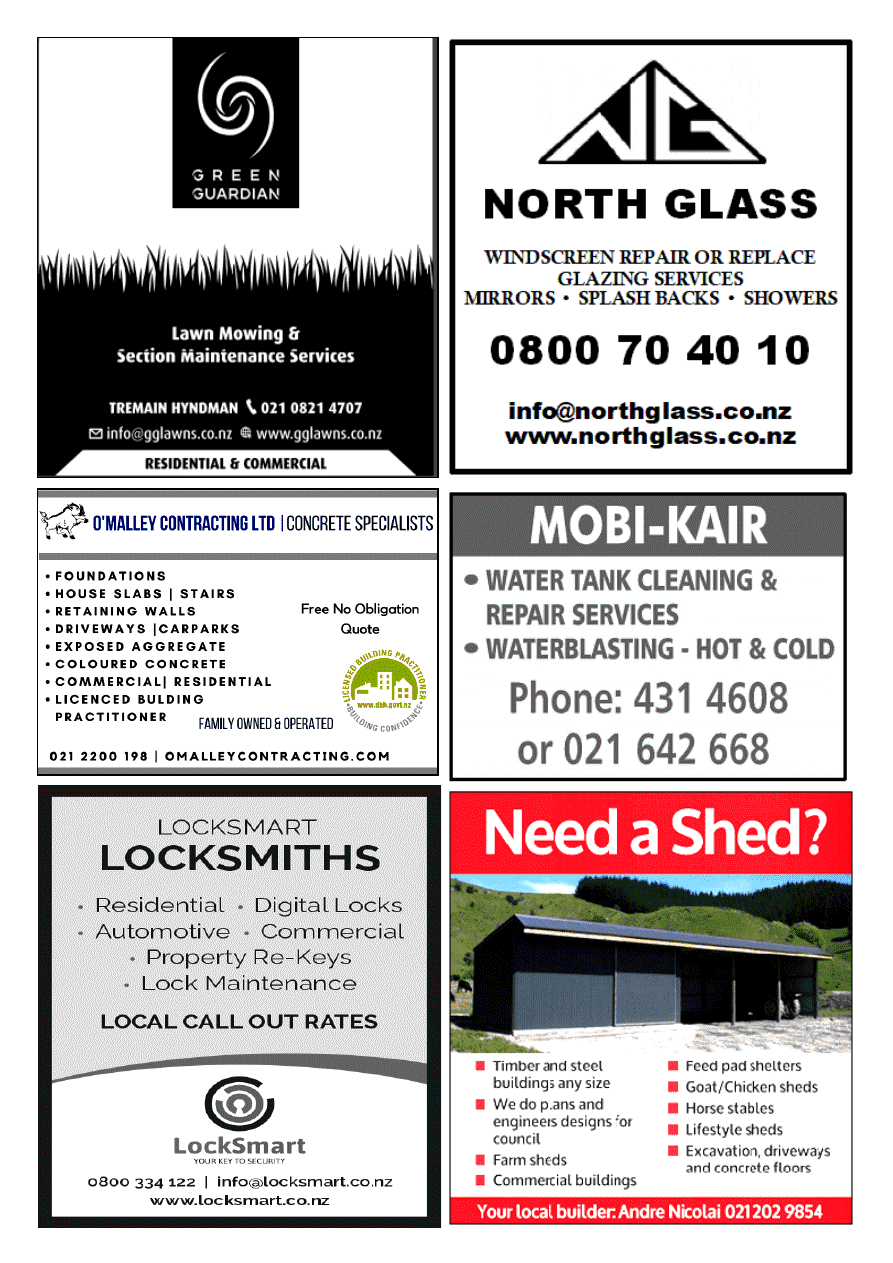 www.kaiwaka.co.nz 
Kaiwaka Bugle - 30 May 2022 
Page 10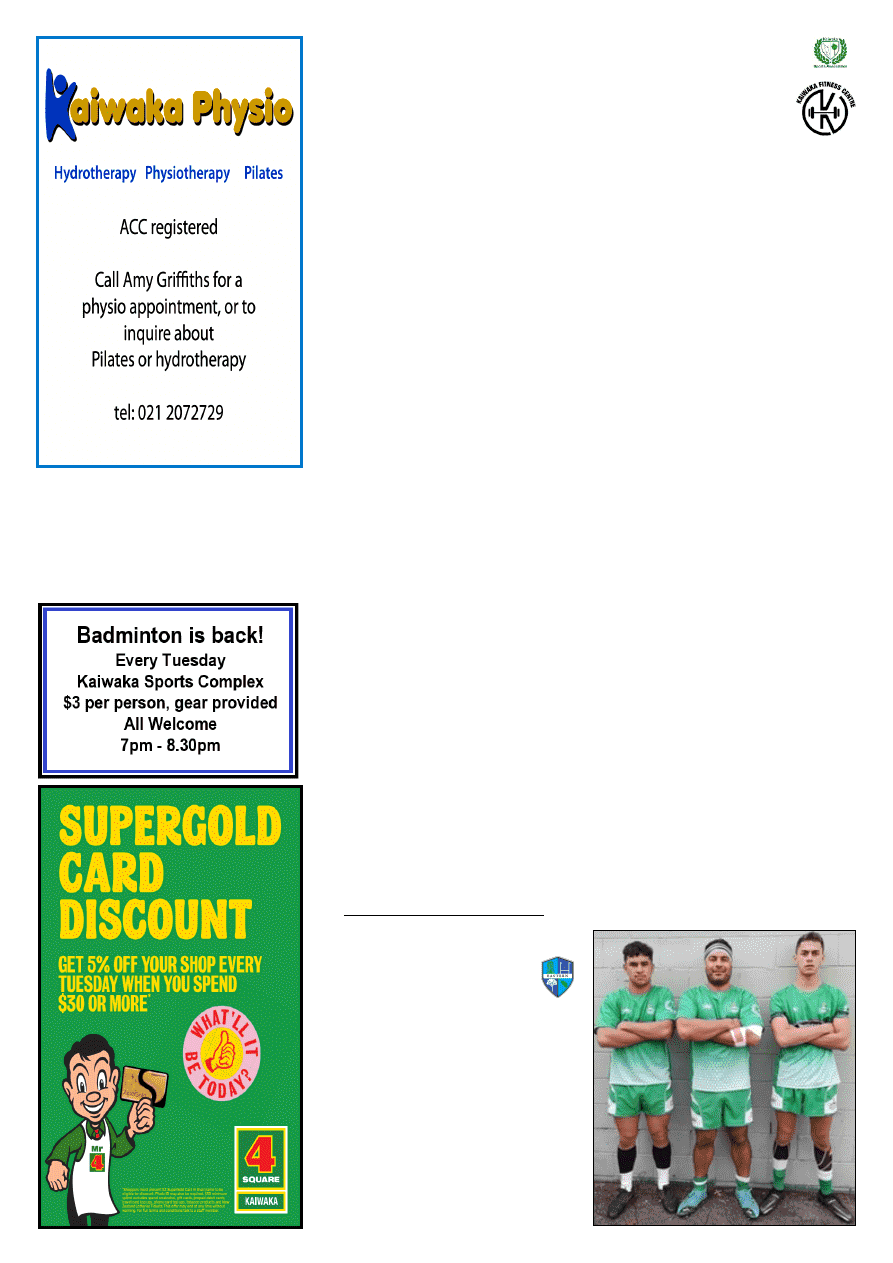 www.kaiwaka.co.nz 
Kaiwaka Bugle - 30 May 2022 
Page 11 
KAIWAKA SPORTS ASSN NEWS 
KAIWAKA SPORTS ASSN 
KSA Bookings contact: 
Jennie Reynolds, 02102764171  
ksabookings@mail.com 
KSA email: ksa.sec3@gmail.com 
Lindell Ferguson
KAIWAKA FITNESS  
**MEMBERSHIP INFO** 
The  new  membership  year  is 
now open!  
Single price - $170 + $20 key 
charge (if you need a key)  
Senior  (must  be  over  65)  -  $80  +  $20 
key charge  
Student (must be attending high school) 
-  message  Kaiwaka  Fitness  Center  to 
sign up manually.  
To 
sign 
up 
please 
go 
to 
www.kaiwakasport.co.nz  click  on  the 
menu  bar  then  KFC  membership.  All 
info and payment is available.  
New keys - contact our Facebook page 
for issue of new key.  
Key  replacement-  for  current  members 
who  are  renewing  and  needing  a  new 
key  check  our  Facebook  -  payment 
must be made and received prior to key 
exchange.  Old  keys  will  be  decoded 
from the 10th of June. 
OTAMATEA NETBALL 
We  are  having  a  great  start  to  our 
season. 
The  Club  has  an  excellent  group  of 
umpires  this  year  which  is  fantastic  to 
see. The following are allocated on the 
WNC draw weekly and are focused on 
achieving  their  umpire  goals  for  2022: 
Pat  Buxton,  Leayah  Buxton,  Pyper 
Buxton,  Stevie-Raye  Ball,  Tina  Ball, 
Pip  Smythe,  Zoey  Smythe,  Jodie 
Bennetto.  If  you  are  keen  to  get  into 
umpiring, please get in contact with me 
~ Jodie, message on Facebook 
OTAMATEA HAWKS 
Watch  on  their  Facebook  page  for  the 
new dates for games.  
11 June v Onerahi - HOME 2.30pm  
18 June BYE 
23 June v MID Western - HOME (night 
game)  
Mid May game – HAWKS beat Marist 
at  Tikipunga,  43-0.  Big  moment  for 
their #8 Toby Phillips, running out with 
his  two  sons
–  Tamati  and  Tawhetu, 
pictured below. 
UNDER 18s: 
WOLVES  -  Otamatea  lads  have 
combined with Wellsford. 
KAIWAKA 
SPORTS 
ASSN 
ANNUAL MEETING: 
Election  of Officers 
Patron - Brian Jaques 
President: Wayne Leslie   
Vice President: Mark Ottaway   
Secretary: Lindell Ferguson   
Treasurer: Carol Mills   
Auditor: BDO 
Bookings officer: Jennie Reynolds 
Independent 
Committee 
members: 
Tony  &  Lindsey  Hargreaves,  John  & 
Jan  Hargreaves,  Evan  Wright,  Brian 
Jaques,  Sandra  Shaw,  Andy  Griffiths, 
Bruce Ferguson. 
Club  delegates  are  also  part  of  this 
committee. 
Poker Machine Grants Committee: 
Mark  Ottaway,  Tony  Hargreaves, 
Wayne  Leslie,  Evan  Wright,  Brian 
Jaques, Innes Anderson 
The  club  affiliation  fees  and  hireage 
rates stay the same as last year. Lindell 
and Jennie can be contacted for these. 
Wayne  Leslie  said  it  will  be  his  last 
year as President. He thanked Mark for 
the  work  he  does  keeping  the  grounds 
and buildings looking good. 
Jennie reported that the KSA is a busy 
place  -  every  weekday  night  is  booked 
at  the  gym  and  the  lounge  area  is  in 
regular use for a range of activities. 
Mark  noted  it  was  rare  to  find  nobody 
at the KSA. Blake said there had been a 
lot  of  positive  feedback  about  the 
concrete pathway. 
Kauri  Walking  Track  will  have  a 
raised  wooden  boardwalk  to  protect 
trees,  take  a  different  path  to  what  is 
currently  formed.  This  is  being  funded 
by  DOC  Kauri  Dieback  scheme.  There 
are  pink  ribbons  in  the  bush  marking 
the new track.  
Possible  Projects: Installation of goals 
for  Frisbee  Golf.    This  is  popular  at 
Maungaturoto Country Club; an  
Indoor Volleyball setup in the gym - the 
poles  and  net  would  fit  into  existing 
keyholes. 
EASTERN UNITED JMB  
 JUNIOR RUGBY 
There  were  90  JMB  players, 
teams  in  all  three  age-groups.; 
Four  clubs  in  local  competition  -  
Maungaturoto, 
Wellsford 
and 
Tomarata  slightly  smaller  so  players 
are  shared  and  teams  evened  up  on 
game days as necessary. 
Games  played  on  Saturday  mornings, 
venues as follows: 
4th June: No Games - Queens Birthday 
11th June: Maungaturoto 
18th June: Wellsford 
25th June: Tomarata 
2nd July: Eastern (Kaiwaka) 
Follow  updates  on Facebook: Eastern 
United JMB Kaiwaka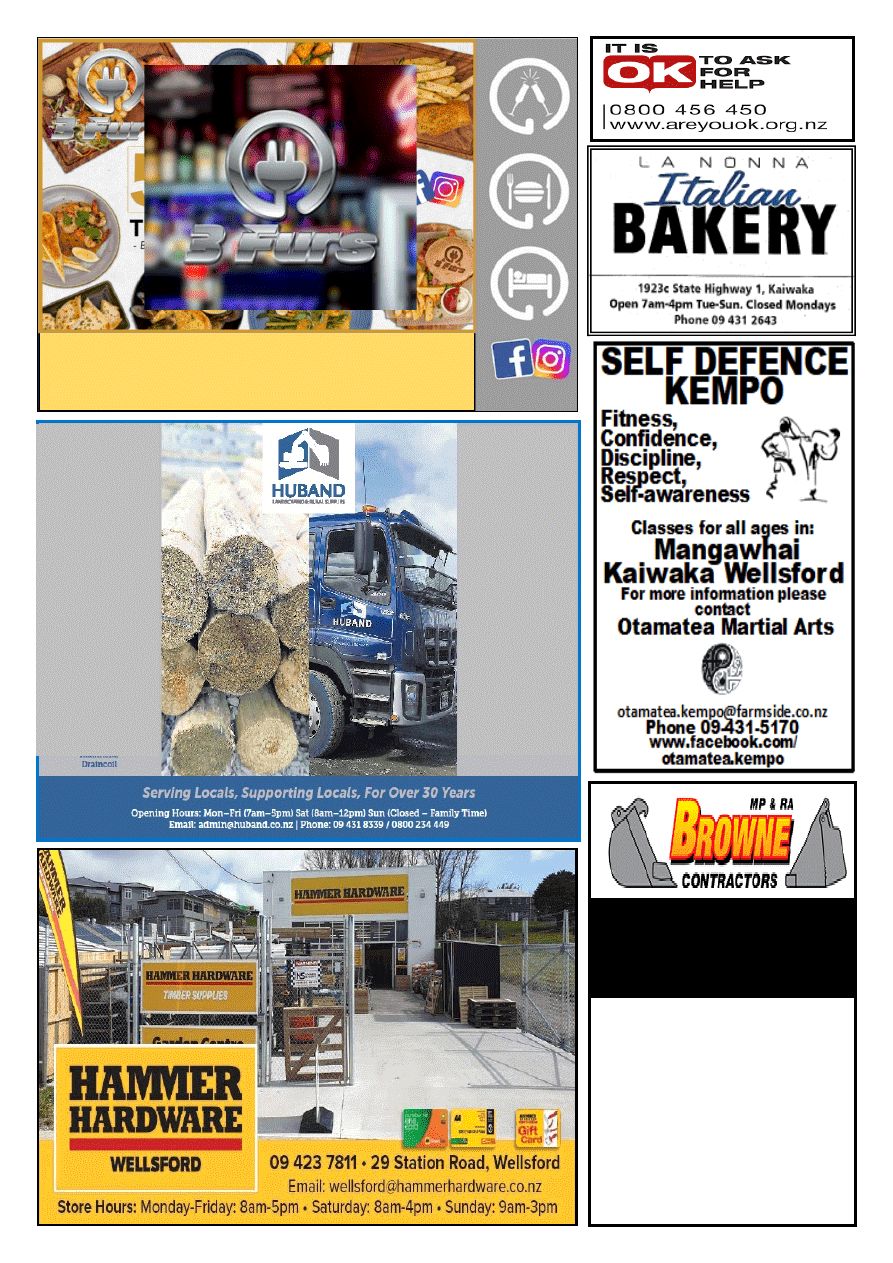 www.kaiwaka.co.nz 
Kaiwaka Bugle - 30 May 2022 
Page 12 
WATER TANKS: 
Aqua & Baileys 
Brands 
DRAINAGE & 
SEPTICS: 
Land Drainage 
Urban Rural 
Drainage 
Water Pipelines 
Culverts 
Septic Systems 
(RX Plastics & 
Biorock) 
SITEWORKS: 
Retaining Walls 
Piling 
Driveways 
Carparks 
Landscaping Supplies: 
Waikato Screen Topsoil 
Bark 
Woodchip 
Mill Bark 
Post Peelings 
Compost 
Crushed Shell 
Topsoil 
Limestone Chip 
Daltons Garden Mix 
Aggregate 
Gap: 20,40.65 
Riverstone 
Sand 
Belt Dust 
40/20 Drainage Metal 
Builders Mix 
 Cement 
Timber/Fencing Supplies: 
Rails, Posts  
Stays, Strainers 
Fence Battens 
Palings 
Stakes 
Fencing Wire 
Farm Gates & hardware 
Drainage: 
PVC Fittings 
Alkathene 
Draincoil 
- 4 Tonne DIGGER - 
- BOBCAT- 
- TIP TRUCK - 
Property Maintenance  
Driveways 
Building Sites 
Stump & Tree Removal 
Hole Boring -  Chain Trencher 
Calf Shed and Stockyard Cleaning 
Phone Matt: 021 199 6677 
Email: mprabrownecontractors@gmail.com 
www.threefurlongs.co.nz        09
-431 2246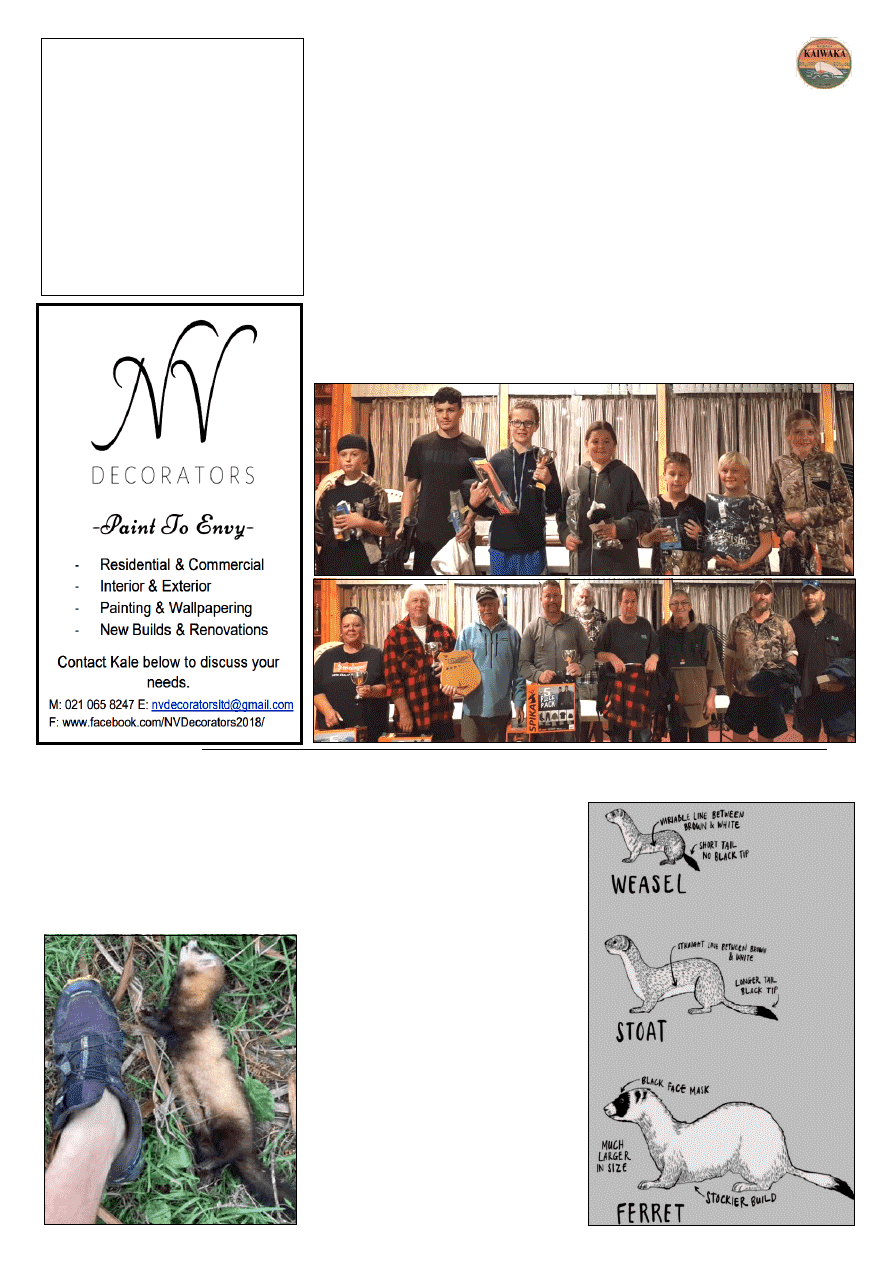 www.kaiwaka.co.nz 
Kaiwaka Bugle - 30 May 2022 
Page 13 
HAKARU HALL 
ACTIVITIES 

Monday:  Line Dancing  
Ph 4315160 

Tuesday : Pilates  
Ph. 022 0643965 

Tuesday: Chess Club Kids  
Ph. 0210628631 

Wednesday:  Music Jam Session  
Ph. 0210628631  
Hall Bookings Karen  
0210467490 
PT.CURTIS CRUISING CLUB 

2022 Opening Duck Shoot Competition 7th May –  
The  attendance  numbers  were  down  but  those  who  participated  had  a 
fantastic day.  It was a first for the Juniors to out-shoot the Seniors by 1 duck: 
Juniors 32 Seniors 31. 

 END of YEAR PRIZEGIVING  - photos below 
SENIORS: 
Pongo  –  Snapper,  Pukeko;  Chris  Reid  –  Kingfish;  Kraig  Steiner  – 
Kahawai;  Renna  Brown  –  Trevally;  Dip  –  Gurnard;  Dale  H  –  Peacock,  Canadian 
Goose, Black Swan; Declan Hem – Boar; Kevin Ries – Turkey; Tony Smith – Mallard, 
Grey, Parry, Pheasant.
JUNIORS: 
Toby  Walker  –  Snapper;  Leyton  Greig  –  John  Dory;  Van  Walker  – 
Trevally;  Morgan  Gunther-Leslie  –  Peacock,  Pukeko;  Amanda  Ries  –  Turkey, 
Mallard, Grey, Canadian Goose; Hunter Ries – Parry, Pheasant.

2022/2023  Annual  subscription  renewals  are  due  1  June  2022  please  make 
PAYMENT  via  Internet  banking  12  3094 0008233 00  Please  use  Name/s  as  a 
reference 

New Fish of the Month: Kahawai till 4th May 2022 

Next  Club  meeting  and Annual  General  meeting: 22nd June 2022 @ 7pm, 
Kaiwaka Sports Association 
Wayne Leslie (Commodore)
) 
FERRET BOUNTY $100 DEAD OR ALIVE! 
PIROA-BRYNDERWYN LANDCARE  
Ferrets  are  a  worrisome  predator 
because  they  can  attack  adult  kiwi  as 
well as juveniles- so anytime a ferret is 
spotted or caught- the alarm bells go off 
about  potential  impact  on  the  kiwi 
population in our backyard. 
Piroa  Brynderwyns  ask  that  the 
community  alert  them  of  any  sightings 
of  ferrets  and  the  location  where  they 
saw  them-  so  the  volunteer  trappers 
have the best chance at removing them 
and  any  other  members  of  their  family 
in the vicinity. Ferrets when sighted are 
a  key  menace  to  the  survival  of  kiwi 
and other wildlife in the Piroa 
Brynderwyn Hills. 
A $100 bounty is being offered by PBL 
for  ferrets  -  dead  or  alive  will  be 
collected to assess age, sex and review 
capture  site.  The  ferret  sighting  or 
capture must be within 5km of the PBL 
boundary (check our website for details 
on this). 
A big call out to Emily and Liam who 
recently caught a ferret on their land at 
Waipu.  Both  Emily  and  Liam  are 
passionate  about  NZs  native  flora  and 
fauna  and  improving  biodiversity  on 
their  land  and  the  surrounding  area. 
They  have  had  traps  on  their  property 
for  18  months  -  a  few  mustelid  traps 
and  1x  live  capture  trap.  Catching  the 
ferret  in  March  was  a  surprise  as  they 
have  mainly  caught  feral  cats  and 
possums in the traps to date .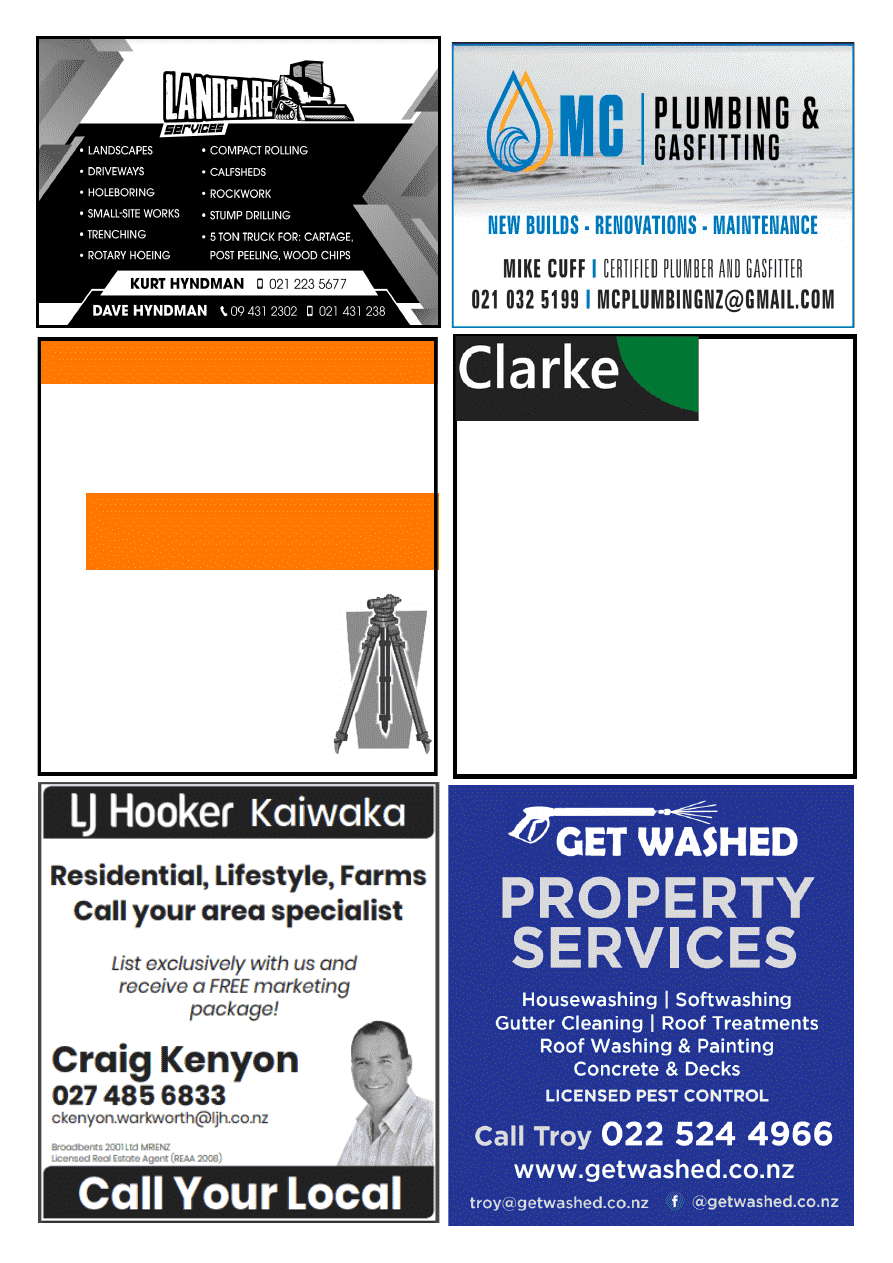 www.kaiwaka.co.nz 
Kaiwaka Bugle - 30 May 2022 
Page 14 
Drainage & Earthmoving 
nigel@clarkedrainage.nz 
027 2233 185 
Registered Drainlayer                 All Types of Earthworks  
> All Residential & Commercial Work  > House Sites 
> Septic System Design & Install 
> Footings & Drilling to 10m 
> Sewer Connections 
> Dams 
> Water Tank Installation 
> Roading & Races 
> Farm Work 
THE ONE STOP SHOP  
Phone Nigel for an Obligation Free Quote  
SURVEYORS 
SUBDIVISIONS 
HOUSE SITE SURVEYS 
CIVIL ENGINEERING 
WASTEWATER DESIGNS 
EXPERIENCED 
PROFESSIONAL 
INNOVATIVE 
Ph 09 431 5353 
0800 PACIFIC (0800 722 434) 
pacificcoastsurvey.com
Adam Booth - 027 415 5752 
Bsurv, Licensed Cadastral Surveyor
Surveying Kaipara since 1994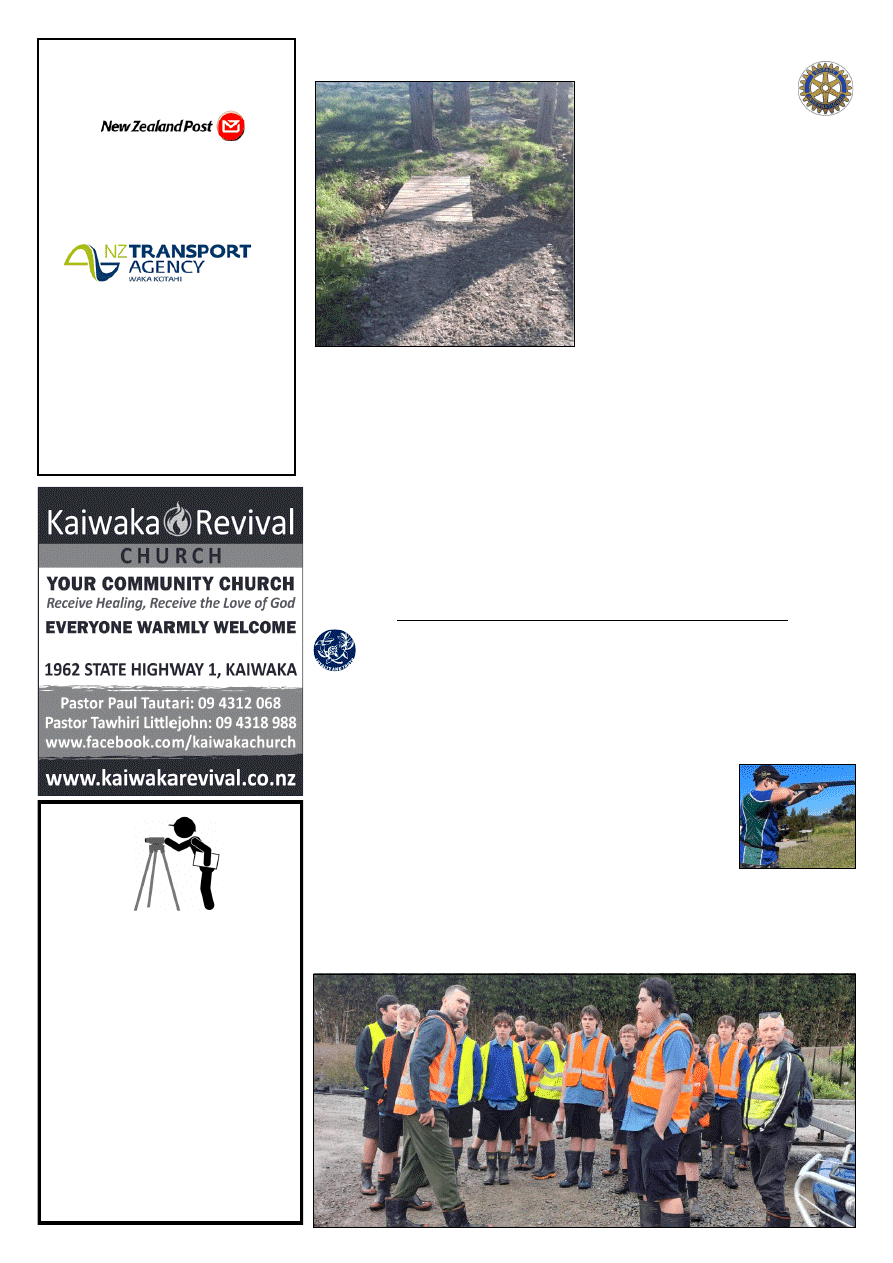 www.kaiwaka.co.nz 
Kaiwaka Bugle - 30 May 2022 
Page 15 
KAIWAKA POST 
CENTRE and 
FOOD MART 
POST CENTRE TRADING 
HOURS 
MONDAY to FRIDAY 8am to 5pm 
SATURDAY 8am to 12pm 
CLOSED ON SUNDAY and on 
PUBLIC HOLIDAYS 
FOOD MART (GROCERIES) 
MONDAY TO FRIDAY  
7:30am to 7.30pm 
SATURDAY  8am to 7.30pm 
SUNDAY  8:30am to 7pm 
IF ANY QUERIES PLEASE CALL 
STORE MANAGER AMRIT  
on 09 4312431 or 
EMAIL: kaiwakafood19a@gmail.com 
1919a State Highway1, Kaiwaka 0542 
Ken Urquhart 
BSurv Licensed  
Cadastral Surveyor 
KMU Surveys Ltd 
467 Bickerstaffe Road 
RD 2 
Maungaturoto 0587 
Ph 09 431 8705 
Mob 021 161 2344 
kenurquhart@xtra.co.nz 
MAUNGATUROTO &DISTRICTS ROTARY 
WALKWAY 
Four  of  our  Rotarians  spent  a  Sunday 
morning upgrading part of the walkway 
at  the  Maungaturoto  Country  Club  to 
make  it  more  easily  accessible  for 
people with pushchairs. 
Thank  you  to  Stella,  Gael,  Tim  and 
Keith for your efforts in this area. This 
will  make  the  area  much  more 
accessible,  especially  in  the  wetter 
weather. 
CYCLE WAY 
While  Covid  has  meant  that  our 
planned  trips  have  not  taken  place, 
there  was  a  group  of  individuals  who 
met  at  Matakohe  Hall  and  cycled 
down  to  Tanoa*. This was a great way 
for  a  like-minded  group  of  people  to 
meet and appreciate the beauty 
of  our  countryside  and  the 
Kaipara  Harbour  whether  their 
bikes  were the traditional ones 
or  E-bikes.  It  is  this  aspect  of  the 
fellowship  of  Rotary  that  enhances  the 
community  service  we  are  involved 
with. 
Some of our members were able to join 
those who attended Anzac Day services 
and  laid  wreaths  both  at  the  Dawn 
Service  in  Maungaturoto  and  the  mid-
morning service at Matakohe 
STRAY DOGS 
There  has  been  an  issue  with  dogs 
roaming  in  Nikau  Grove,  Hurndall 
Street 
Maungaturoto, 
and 
we 
understand  some  people have  been  put 
off  enjoying  this  fantastic  resource. 
However, with the help of KDC we are 
hoping  this  matter  has  been  addressed. 
There  will  be  a  sign  going  up  soon 
stating that dogs in that area must be on 
a  lead.  It  is  important  that  we,  as 
Rotarians,  are  made  aware  of  anything 
that happens here or at Piroa Falls that 
detracts  from  the  ability  of  people  to 
make  full  use  of  the  facility  we  have 
provided, so please let us know of your 
concerns. 
Any enquiries, please call Eileen – 021 
142 0357 
*Tanoa:  The  Otamatea  Marae  is  on 
Tanoa  Road.  The  Tanoa  School  was 
established  just  east  of  the  Marae  in 
1876 - 1957, and the Kakaraea  Church 
which was opened in 1874.
PTCA
:  Thank  you  to  our  hardworking  Otamatea  High  School  PTCA 
members  for  their  generous  donation  of  $6000  towards  new  library  books  and 
furniture. This is very much appreciated. PTCA stands for Parents, Teachers and 
Citizens  Association  and  welcomes  anyone  in  our  community  who  can  spare 
time and skills to help this amazing group with fundraising activities that benefit 
our children. Your commitment can be whatever you are comfortable giving so 
please contact the school if you would like to join, or simply help out from time 
to time with fundraising events. 
CLAY  BIRD
:  Otamatea  High  School  Clay  Bird  Shooting 
Team  2022  recently  attended  the  Northland  Secondary 
Schools competition in Kaitaia. The team achieved 4th overall, 
out  of  the  11  teams.  Aaron  Westlake  won  the  Junior  section 
Single Rise. 
RURAL  DESIGNS  TRIP: 
Friday 27th May, the Level 1 
Primary Industries and Year 10 Green to Gold classes went to 
Rural  Designs  in  Kaiwaka  to  learn  about  their  native  plant  nursery.  Blake 
Worsfold, himself an ex-student of Otamatea High School, was our guide for the 
tour. Students learned about the sustainable vision of the company and the work 
that  goes into  producing  native trees.  We  would like  to  thank  Blake  and  Rural 
Designs  for  taking  the  time  to  give  us  an  informative  and  entertaining 
experience. 
Marco Troost 
OTAMATEA HIGH SCHOOL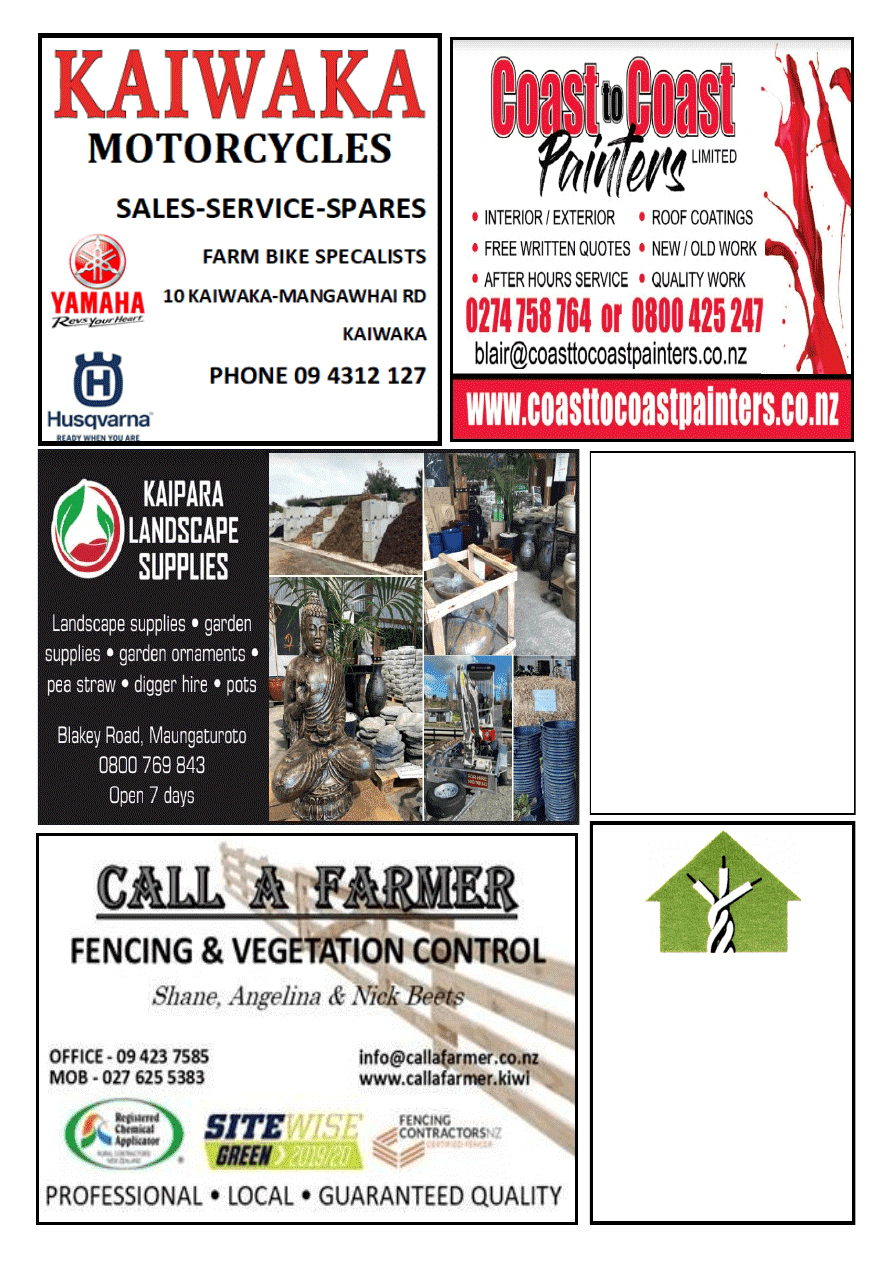 www.kaiwaka.co.nz 
Kaiwaka Bugle - 30 May 2022 
Page 16 
HELP 
PHONE NUMBERS 
HEALTHLINE 0800 611 116 - a 
nurse to answer health queries  
SAMARITANS 0800 726 666 - 
support for lonely or suffering 
mental distress 
YOUTHLINE 0800 376 633 
LIFELINE 0800 543 354 
DEPRESSION HELPLINE 0800 111 
756 
ALCOHOL & DRUG HELPLINE 0800 
787 797 
URGENT MENTAL HEALTH LINE 
0800 223 371 
WARMLINE -peer support for 
people with mental health issues 
0800 200 207 
Reyahn  Leng 
Registered Electrician 
Local, honest and 
reliable. 
For your residential and 
light-commercial 
projects. 
022 314 1068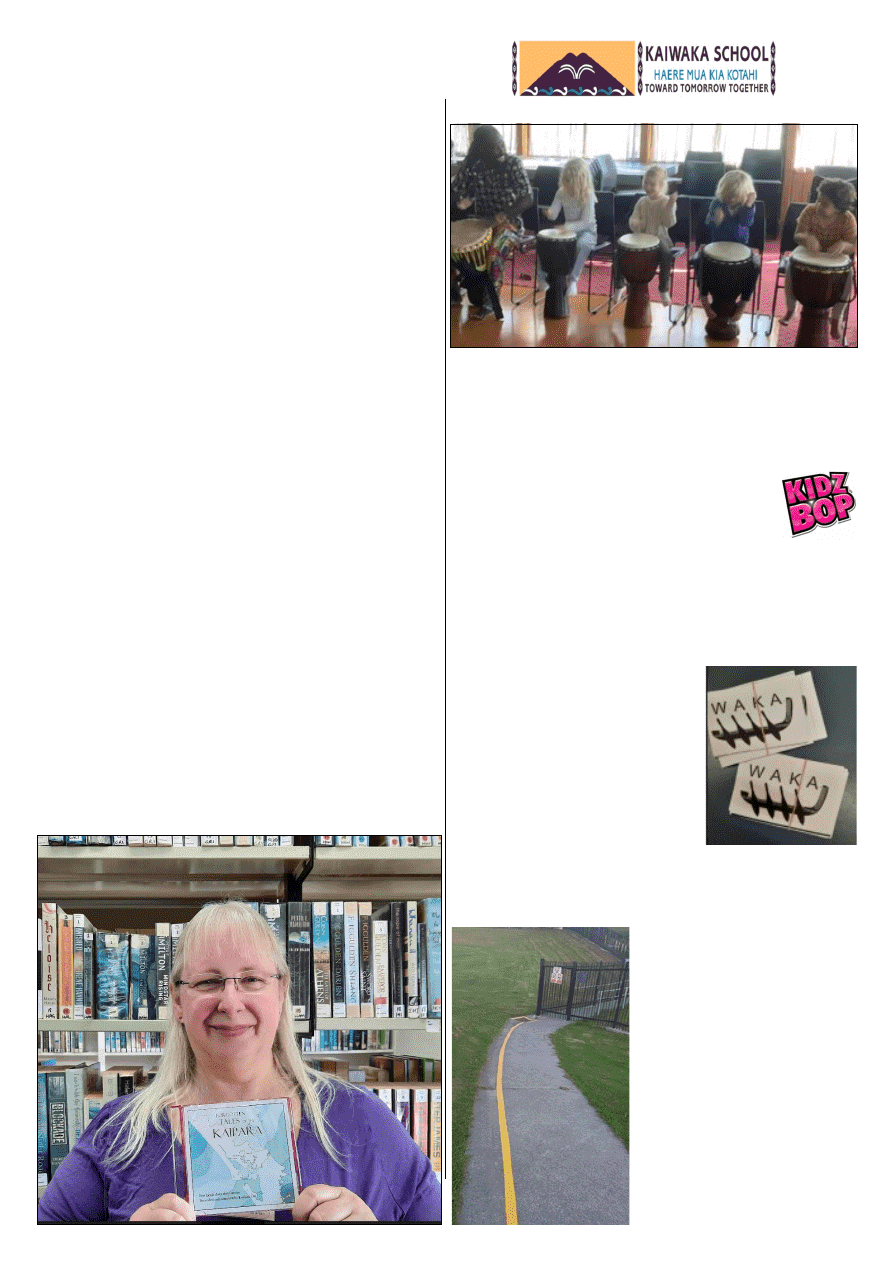 www.kaiwaka.co.nz 
Kaiwaka Bugle - 30 May 2022 
Page 17 
KAIWAKA SCHOOL 
DRUMMING:  Kaiwaka School had some amazing African 
Drummers  visit  the  school.  All  students  were  given  the 
opportunity to have a go on the drums and start learning how 
to  drum.  Even  the  staff  of  Kaiwaka  School  had  a  turn. 
Robert  Koffie  Fugah  runs  the  Kadodo  Drum  and  Dance 
School and visits Northland Schools once a year. We try to 
get  him  in  annually  because  it is such a  fun  experience  for 
the students. 
KIDZ  BOP:  We  have  our  annual  Kidz  Bop  / 
Kaupapa  Kori  dance  competition  coming  up  on 
Wednesday 6 July at the KSA. 
This will be the third year we have run this event 
and  are  expecting  the level  of  dance to  be  even  higher this 
time round.   
Students  can  enter  in  a  group  or  as  an  individual.    We 
welcome  family  to  join  in  the  fun  and  this  year  we  have 
some guest performances...  all will be revealed on the day! 
If  there  are  any  community  members  who  would  like  to 
enter - that would be awesome! ~Michelle Dempsey  
WAKA: 
Students  are  now  receiving  WAKA 
cards  –  'caught  being  good'  instead 
of  SHARE  hands.  The  school 
community  were  surveyed  late  last 
year and early this year for feedback 
and staff and students were also part 
of  the  discussions.  It  was  decided 
that  the  waka  reflects  our  school 
especially with the beautiful waka at 
the  front  of  our  school.  The  values 
that  waka  stands  for  reflects  our 
schools goals and strategic planning. 
W = whakaute / respect 
A = aroha / love 
K = kaitakitanga / protecting our environment 
A = Ako / learning together 
YELLOW LINE: 
The yellow painted  line that can 
be seen from the KSA and up to 
the school is to assist those with 
sight impairment 
PHIL LEES has now joined the 
staff.  He  is  teaching  students  in 
Room 7 - Ruma Nikau. 
DATES TO NOTE: 
6th June: Queen's Birthday 
13th June: Elena De Roo a 
story teller is visiting school 
24th June: Matariki Holiday 
6th July: Kidz Bop / Kaupapa 
Kori 
8th July: Term 2 ends 
LISTEN TO LIFE ON  
THE KAIPARA 
Kaiwaka  Library  Manager  Wendy  Howard  was  pleased  to 
accept  a  copy  of  a  new  CD  last  week  when  she  met  with 
local artist Luciana Orr. 
'Forgotten Tales of the Kaipara', is an intriguing, recorded 
compilation which shares the social history of a region, told 
by five longstanding Kaipara locals. 
Orr  recorded  and  compiled  this  project  which  was  created 
with the support of Creative Communities funding. She has 
gifted copies of the CD to libraries in the Kaipara region and 
publicly  funded  organizations  in  the  Kaipara  like  schools, 
can request the MP3 version for free. 
What  happened  to  the  promising  boxer  who  ventured  into 
Tapu Bush? Where are the lost babies of Paparoa buried, and 
why? 
"These stories uncover cultural pathways that give meaning 
to our past and inspire who we are today. I wanted to make 
them  accessible  and  to  create  a  record  of  time,  people  and 
place." said interview curator Luciana Orr. 
Kaiwaka  local,  Ngāti  Whātua  Kaumātua  Ben  Hita,  shares 
stories from his youth at Poutō. 
'Our  job  at  night  was  to  catch  the  eels  and  the  old  people 
would  come  in  and  split  them  all.  They  were  huge,  they 
would  have  been  200  round,  you  know,  big  horns  on  their 
heads. We were told not to handle them…" 
Stella Clyde of Paparoa, tells of her father's contribution to 
early radio on the Kaipara, and Matakohe born Joy Bonham 
recalls  the  revered  Toheroa  expeditions.  Pete  Panhuis, 
knowledgeable  guide  at  The  Kauri  Museum,  recounts  tales 
of early days in Matakohe, Paparoa and Ruawai. 
"He  slipped between  two logs.  It  was  like  going  through  a 
ringer and he injured his back severely. 
They brought father home lying on a stretcher…" 
Pahi  local  Kerry  Bonham  remembers  a  rebellion  in  Ararua 
that reached the ears of the world. 
Copies of the MP3 version can be purchased by emailing the 
artist  and  a  limited  number  of  CD's  are  also  currently 
available. 
Based  in  Matakohe,  Luciana  has  a  qualification  in  Audio 
Engineering  and  a  strong  interest  in  culture  and  heritage 
preservation.  Spanning  over  thirty  years,  her  work  as  an 
illustrator of heritage architecture has captured in perpetuity, 
many buildings of historic significance. 
You  can  listen  to  a  sample  of  the  recordings  at:  http://
www.illustrator-luciana-orr.com/forgotten-tales-of-the-
kaipara-audio-mp3/ 
Email: info@illustrator-luciana-orr.com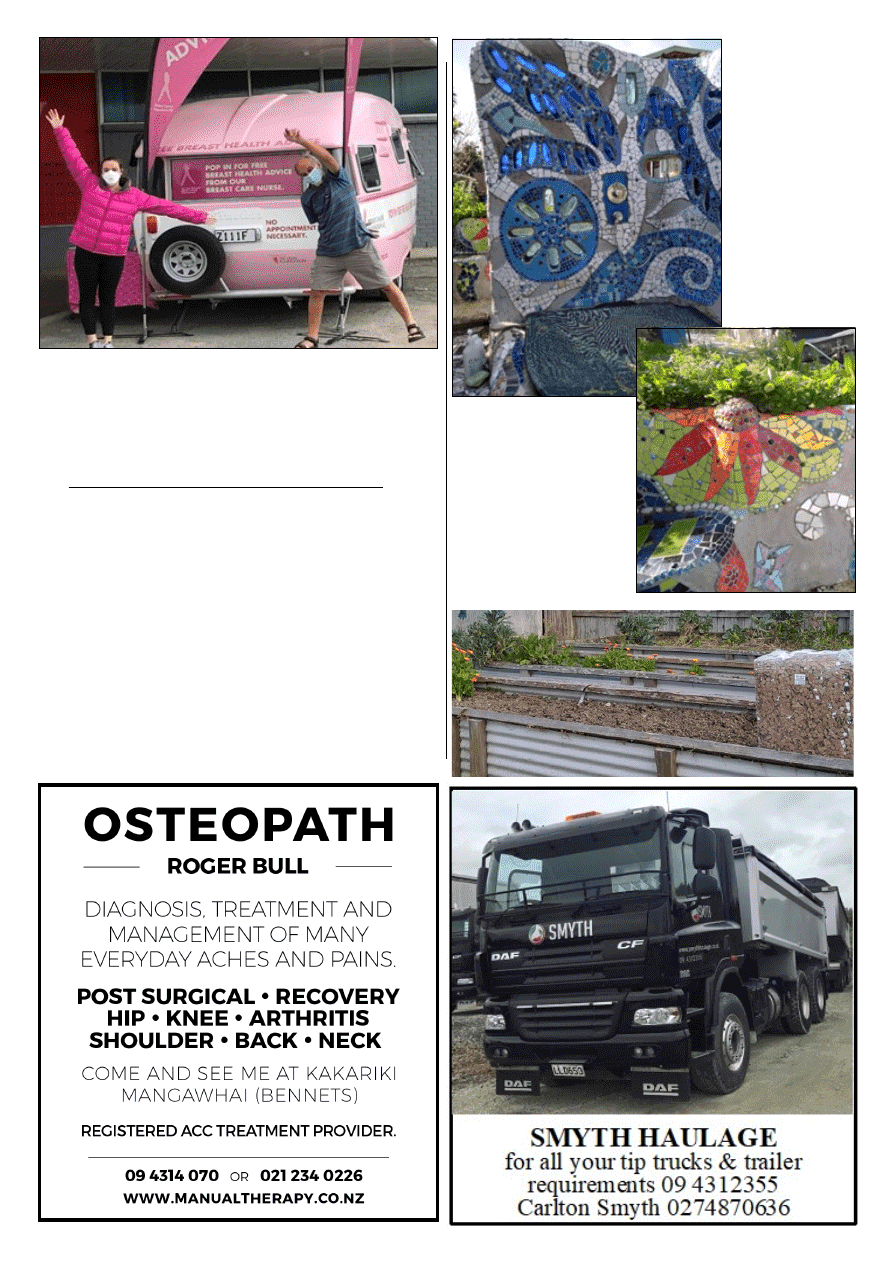 www.kaiwaka.co.nz 
Kaiwaka Bugle - 30 May 2022 
Page 18 
'PINKIE' 
The  Breast  Cancer  Foundation  New  Zealand 
caravan  will  be  at  Four  Square,  Kaiwaka  on 
Tuesday, May 31.  
The  specialist  breast  nurses  are  able  to  give  advice  about 
mammograms, checking your breasts and learn how you can 
reduce your breast cancer risk.  For more information: 
 https://www.breastcancerfoundation.org.nz/pinkcaravan  
ALBERTLAND HERITAGE MUSEUM 
29 May 2022 was the 160th Anniversary of when the first two 
ships  sailed  from  Gravesend  for  Auckland.    The  Matilda 
Wattenbach and Hanover had a total of 688 passengers between 
them and set sail on the 29 March 1862. With great excitement, 
the  settlers  began  their  journey  looking  forward  to  what  lay 
ahead in the settlement known as 'Albertland'.  After a perilous 
sea  voyage  and  a  two-week  journey  from  Auckland  to  Port 
Albert  they  were  met  with  huge  disappointment  which  was 
relayed in a letter to family in England by Mrs Judson when she 
described  exactly  how  they  felt  upon  their  arrival,  'New 
Zealand  was  described  as  a  paradise  or  a  fairyland  –  an 
illusion that was rudely dispelled when the first settlers were 
landed at Port Albert and Paparoa.'   With tough times ahead 
much needed help was given by Rev. Gittos and the local Māori 
people.  The settlers' skills as carpenters, farmers, dressmakers, 
wheelwrights,  and  joiners  (to  name  just  a  few  of  the 
occupations listed) were quickly put to the test as they set about 
building shelter and growing their food  
MOSAICS 
Local  artist,  Deva 
Prem,  not  only 
exhibits 
her 
amazing  colourful 
work,  but  has  a 
range of activity at 
her  home  on  the 
Oneriri  Peninsula. 
The 
outdoor 
shower seen to the 
left  catches  the 
sunlight  through 
the  blue  bottles; 
the  garden  wall  is 
a work in progress 
with 
wonderful, 
bright 
flowers. 
COMMUNITY 
GARDEN
A grand group of workers 
are  making  a  great 
difference to the Kaiwaka 
Community 
Gardens, 
pictured below. 
Follow  progress  on  the 
Kaiwaka 
Community 
Facebook page. 
The  garden  is  behind  the 
Kaiwaka  War  Memorial 
Hall.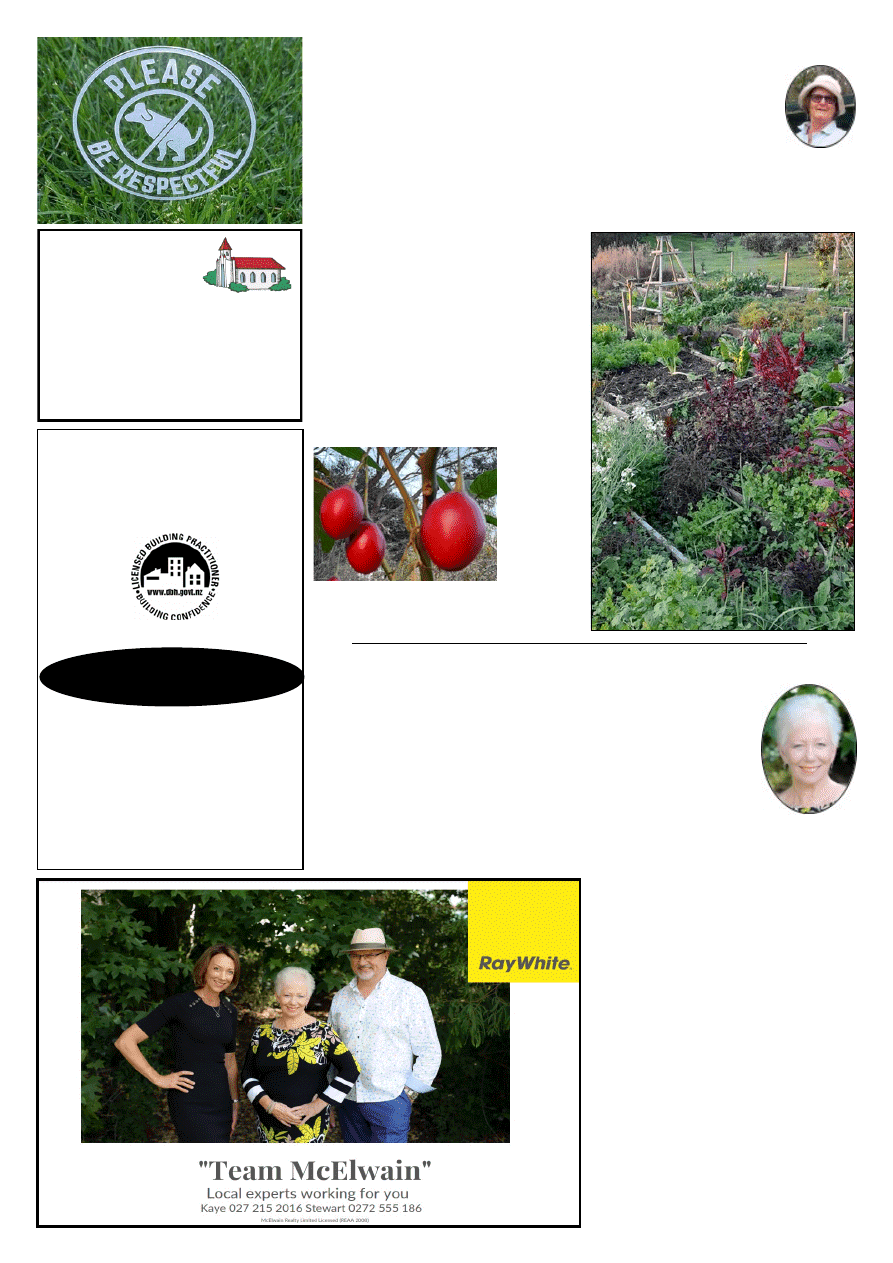 www.kaiwaka.co.nz 
Kaiwaka Bugle - 30 May 2022 
Page 19 
ST PAUL'S  
ANGLICAN  
SUNDAY SERVICES
First Sunday 9am Holy Communion 
Third Sunday 9am Family Service 
St Pauls Church: Kaiwaka-Mangawhai Rd. 
Church Office Ph 431 4122 
www.mangawhaianglican.org.nz
HOW DOES YOUR GARDEN GROW? 
THE VEGETABLE GARDEN: 
I have been working in the vegetable garden. I was taught the amount 
you  take  out  should  be  put  back  each  year.  Sounds  good  and 
sustainable. But few of us are blessed with perfect soil. In Oneriri we 
have clay and limerock. We inherited a depleted farm paddock. So we 
build up our beds each year. Lots of compost of course. And layers of 
comfrey,  miscanthus,  corn  stalks  and  anything  from  the  garden.  Plus  from  our 
worm farms. The occasional rabbit and possum is buried in a bed having a fallow 
time. And then there is what we call vile water. More like vile stew. A barrel of 
cow,  horse  and  sheep  poo.  With  some  lovely  greens.  Comfrey,  docks,  and 
anything else that takes my fancy.  
Winter is a good time to do this house 
keeping.  With  winter  veg  coming  on 
too.  Brassicas,  broad  beans,  spinach, 
and  lettuce.  All  our  salad  greens  are 
doing  well  lily.  These  have  responded 
to the recent rains.  
TAMARILLO: 
As  for  growing 
them.  Not  so  hard  really.  A  sheltered 
frost-free  site.  They  naturally  grow  in 
forests so lots of leaf mulch. Other than 
that,  I  don't  feed  them  but  do  water 
occasionally  in  the  first  summer.  They 
are 
short 
lived. 
About 
5 
years. 
Every  year 
I put a new 
tree  in  to 
keep 
the 
cycle 
going.  Propagate  by  seed  or  cutting.  I 
do both.    
~  Heather,  Oneriri  Plants,  021 
766399 with inquiries.
Wright  
Design 
No. 117345 
ARCHITECTURAL DESIGN 
N.Z.C.A.D. Architectural 
Mob: 021 276 7389 
Office: 25 Lupis Lane, 
Kaiwaka 0573 
brianwright@xtra.co.nz 
IT'S NOT ALL DOOM AND GLOOM! 
Kaye McElwain from Ray White has lived in the area for 17 years and has 
worked in real estate for more than two decades as an agent and business 
owner.  Once a month she writes a column with commentary and analysis 
on our local real estate market.   
Today she explains why our local market is still buoyant.  
If you're keeping an eye on the media at the moment, it's easy to 
come  to  the  conclusion  that  now  is  not  a  great  time  to  put  your 
home on the market with rising interest rates and inflation hitting a 
record  high  since  inflation  rates  have  been  recorded  in  New 
Zealand.   
However, despite this doom and gloom report, locally the market is still punching 
above its weight.  At Ray White Mangawhai we've just achieved our best ever 
trading  month  since  we  bought  the 
business  nearly  a  decade  ago.      All  of 
our  salespeople  sold  at  least  one 
property, 
including 
one 
at 
auction.  Shane Romani also deserves a 
special mention for achieving one of the 
highest  ever  sales  for  a  home  in 
Mangawhai,  with  a  Tern  Point  sale 
fetching $4.35 million.  
Last  month  we  also  welcomed  first 
home buyers, Demi and Caleb, into the 
Kaiwaka 
community, 
with 
their 
purchase  of  112  Gibbons  Road, 
showing  that  despite  the  market 
reportedly  being  stacked  against  first 
home  buyers,  it's  still  possible  to  get 
your  first  foothold  on  the  property 
ladder.  
Feel  free  to  call  me  at  any  time  if  you 
have any questions regarding real estate 
and  how  we  can  help  make  your 
property dreams a reality.    
Best wishes Kaye, 027 215 2016 
www.kaiwaka.co.nz 
Kaiwaka Bugle - 30 May 2022 
Page 20 
Ideal as an extra  
bedroom or office 
Three Convenient sizes: 
Standard 3.6m x 2.4m - $65 
per week 
Large 4.2m x 2.4m - $80 per week 
Extra Large 4.8m x 2.4m - $100 per week 
Fully insulated. Minimum 6 months rental period 
Eclectic Boutique 
99 Gibbons Rd, Kaiwaka 
Contact Trish 
for buying or 
selling 
021 2140 522  
09 431 2193 
Large selection of: 
Open10am – 4pm  
Cash, Eftpos or Direct Debit available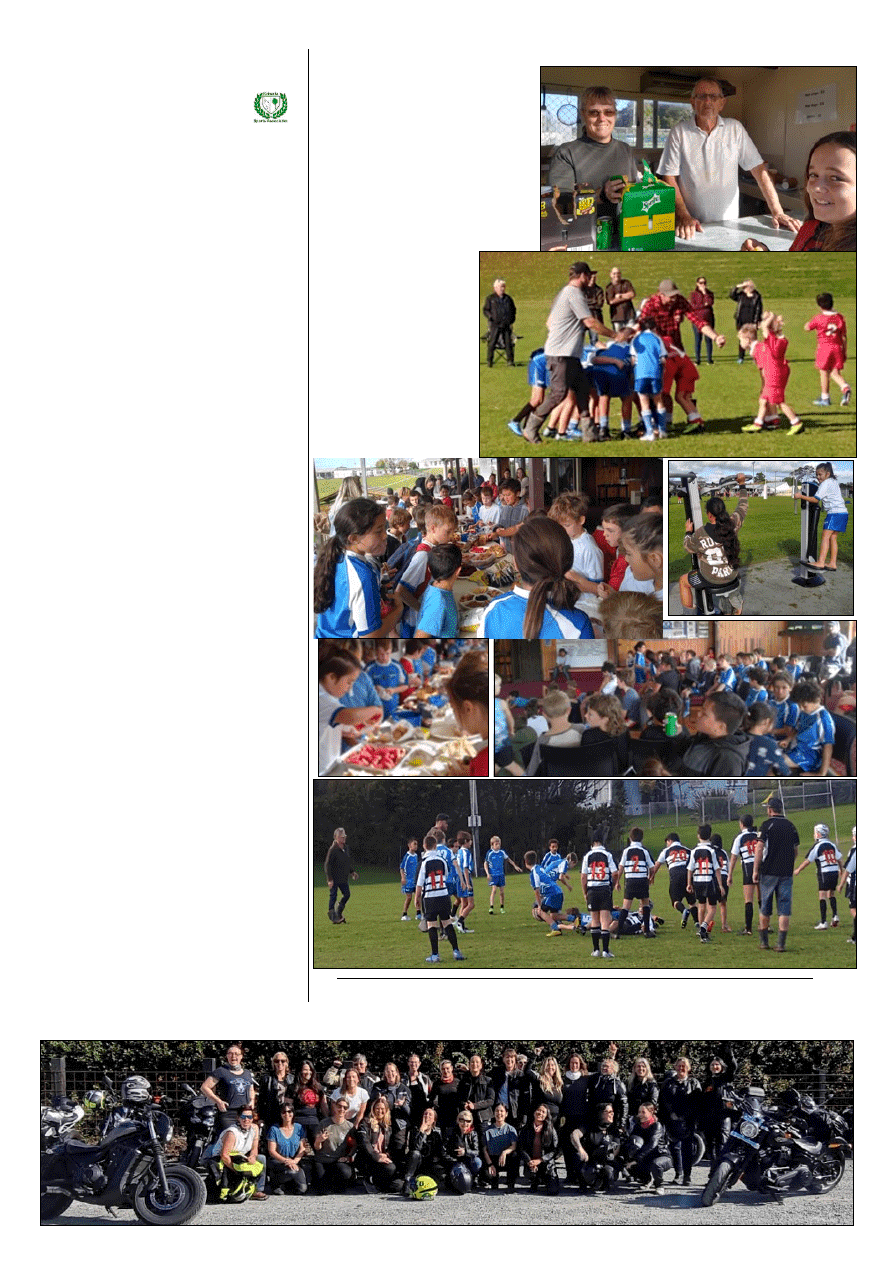 www.kaiwaka.co.nz 
Kaiwaka Bugle - 30 May 2022 
Page 21 
A GREAT DAY OF SPORT: 
Teams 
from 
Kaiwaka, 
Tomarata,  Maungaturoto  and 
Wellsford  gathered  at  the 
Kaiwaka  sports  grounds.  This 
was  Eastern  JMB's    (Kaiwaka) 
turn to host the Un 7, Un 9, Un 
11 and Un 13 games of rugby. 
 Along  with  parents  there  were 
many  grandparents  enjoying  the 
sunshine 
and 
the 
great 
community spirit. 
What  a  pleasure  it  was 
to 
see 
the 
great 
organisation,  the  team 
works 
and 
the 
youngsters 
enjoying 
themselves  yet  always 
ready to help. 
The  chips  and  hotdogs 
went  well  with  Mark 
and  Lindell.  And  the 
team  manners  at  the 
'after  function'  were 
brilliant. 
KAIWAKA - JMB 
KAIWAKA SPORTS ASSN. 
CLUB CONTACT DETAILS 

ATHLETICS 
Eileen Parsons 021 142 0357 
E: b.parsons@xtra.co.nz 

BADMINTON 
Mel Williams 0274114817  
E: pkfleming@xtra.co.nz 

BASKETBALL 
Cyrena Brunton, secretary 
E: basketball.kaipara @gmail.com 
Blake Worsfold 021 148 9743 
E: blake@ruraldesign.co.nz 

FITNESS CENTRE 
Siobhan Henderson 027 979 1203 
E: siobhanCole87@gmail.com 

HOCKEY 
Tina Holst 021 293 5974 
E:  tina.holst@otamatea.school.nz 

KAIWAKA PRIMARY SCHOOL 
Sharlene Tornquist 09 4312309 
E: principal@kaiwaka.school.nz 

MARTIAL ARTS 
Craig Bennetts 021 152 4466 
E: otamatea.kempo@farmside.co.nz 

NETBALL-Senior (OTA-EX) 
Maree Stewart 

NETBALL – High School  
Jodie Bennetto 021 0266 3634 
E: mgtonetball@gmail.com 

NETBALL- Primary School 
Courtney Cave 021 266 7946 
E: cjcave@hotmail.com 

PT.  CURTIS CRUISING CLUB 
Wayne Leslie 09 4312205 
E: wfdsports@xtra.co.nz 

RUGBY-Senior 
Michael Tovine 021 138 6461  
E: michealtovine@hotmail.com 

RUGBY – JMB 
Te Awhina Whitehead 021 0259 6889 
E: teawh@hotmail.com 

RUGBY - Women 
Bron Hames 027 4258046 
E: horsiehames@yahoo.com 

SQUASH: 
Heath Worsfold 021 431 320 
E: heath@ruraldesign.co.nz 
Bruce Leslie 021 12608015 
E: leswa212@gmail.com 

SQUASH - Juniors 
Lana Thompson 
kaiwakasquash@gmail.com 

TENNIS: 
Linda Cowbourne 021 266 8571 
kaiwakatennis@gmail.com 
PLEASE SEND UPDATES,  
REPORTS, PHOTOS, ADVERTS to 
kaiwakabugle @kaiwaka.co.nz 
Spotted by Hugh: Female bike riders travelled Kaipara roads on the first fine Saturday in 
March for "international Female Ride Day". Organiser Alley Miller from Auckland mar-
shalled the convoy which made Mangawhai's Hotel Market a post on the trail. The Litas 
have six branches in New Zealand and welcome new members - 
https://thelitas.co/newzealand.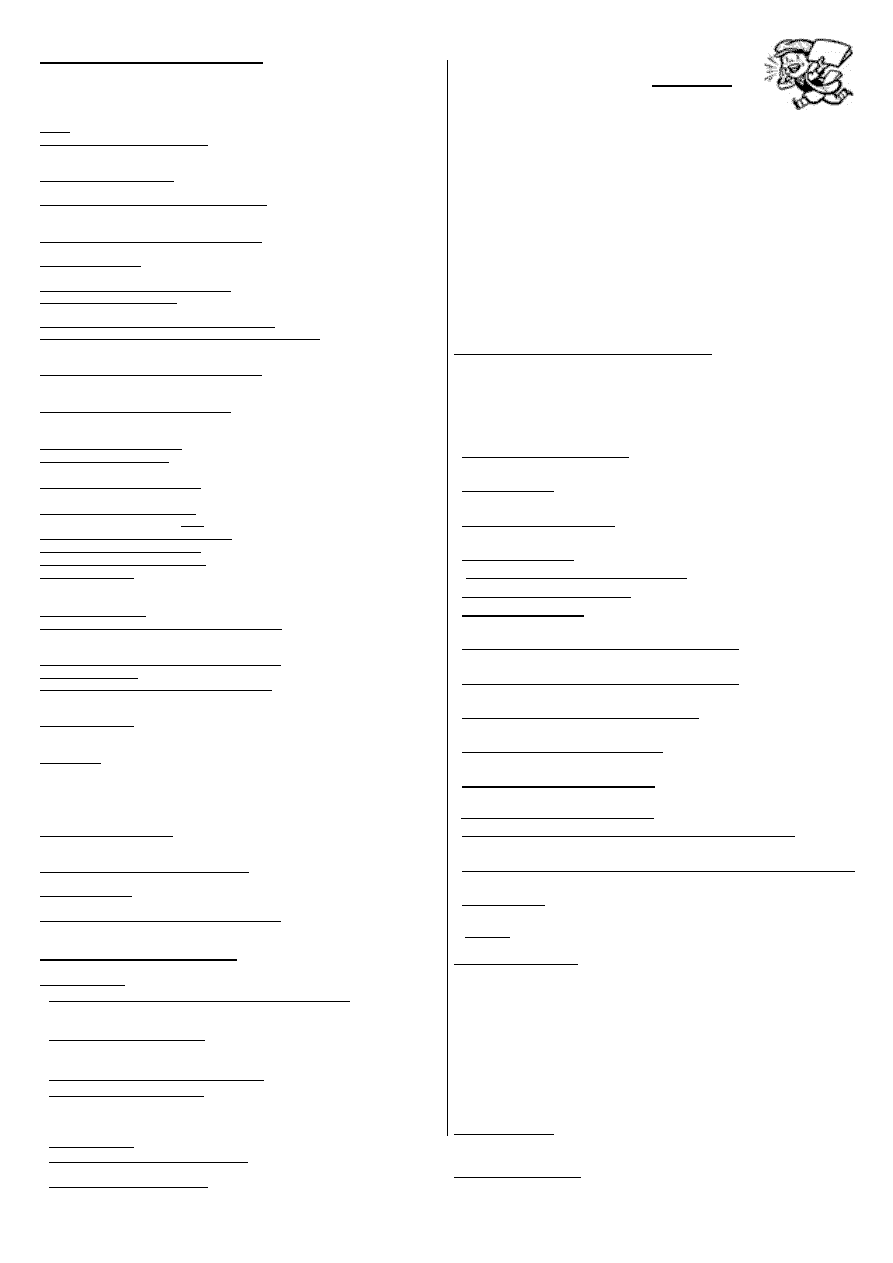 www.kaiwaka.co.nz 
Kaiwaka Bugle - 30 May 2022 
Page 22 
WHAT'S ON
PLEASE ~ do let us know what is on - 
email kaiwakabugle@kaiwaka.co.nz 
*3Jun~Movie 'THE DUKE', 7.30pm KWMH 
*6Jun~QUEENS BIRTHDAY 
*10un~Kaiwaka School PTA Quiz Night 3 Furs, 7pm 
*11Jun~World Wide Knit in Public Day 
*13Jun~R Stolwerk, NRC, 1.30-2.30pm KWMH 
*15Jun~Kaiwaka Can meet, 5.30pm Archie Bull Hall 
*17Jun~Movie 'Real Live RoadRunning', 7.30pm KWMH 
*22Jun Pt.Curtis Cruising Club AGM,  7pm KSA 
*24Jun~MATARIKI  & Lantern Festival, 6pm 
*6Jul~Kaiwaka School KIDZ BOP , KSA 10.45am 
KWMH = Kaiwaka War Memorial Hall; KSA = Kaiwaka Sports Association 
See www.kaiwaka.co.nz for more information 
HOUSEHOLD RUBBISH COLLECTION  
Kaiwaka Pick up: 
Mondays = Green bags (Northland Waste - 09 430 3273) 
Wednesdays  =  Blue  bags  and  yellow  recycling  (at  Four  Square 
Kaiwaka $3.60 and $1.70) (Kaurilands 09 4392146); ONLY Blue 
and Yellow bags picked up on Oneriri Road. 
 DIABETES Support Group-for Kaiwaka, Mangawhai, Wellsford 
10am, 3rd Friday of month Ph: Colleen James 09 4314238 
 GENEALOGY - Wellsford: 1st Thursday in month Ph: 423 
7033; Waipu: 4th Monday in month Ph: 4312 725 
 HAKARU PONY CLUB - Secretary Denise Rogers 021423376 
secretary@hakaruponyclub.co.nz  
 KAIPARA HUNT - Secretary Albert Doonenbal Ph 4312059 
  KAIPARA HUNTING & FISHING - 021 1294378 
 KAIWAKA BADMINTON -Tuesdays 7.30pm Ph: 0274114817 
 KAIWAKA  CAN  - 3rd Wednesday in month, 5.30pm, Archie 
Bull Hall Ph: 0273572751 
 KAIWAKA GARDEN & FLORAL GROUP - 2nd Thursday in 
month. Ph: 431 4744 
 KNITTING FOR WHANGAREI HOSPITAL - 2nd Tuesday in 
month, Archie Bull Hall 10am Ph 4314827 
 MANGAWHAI COMBINED REBUS CLUB - 2pm, 3rd 
Thursday month, Senior Citizens Hall Mangawhai. Ph: 4315777 
 MANGAWHAI GENEALOGY  - meet 3rd Thursday month, 
Mangawhai Museum, 10.30am 
 PILATES - HAKARU HALL - Tuesday 10am, Thursday 9am 
Qualified Instructor  Ph. 0220643965  
*PT CURTIS CRUISING CLUB -  Ph: 4312205 Pongo, Commodore 
 RSA,  HAKARU  &  DISTRICTS  WOMEN'S  SECTION  –  meets 
1.30pm 4th Thursday of the month. Ph: 431 5818  
 KAIWAKA  SCOTTISH  COUNTRY  DANCING  CLUB-
Wednesdays 10am - 12 noon  Ph: Elaine 027 432 0032  
 TRAMPING - Mondays 9am-2:30pm, contact 
  valkenburgmaria@gmail.com 
* YOGA - St. John Hall - Tuesday 6 pm, Carla, 021 2968794 
HALLS FOR HIRE: 
  Kaiwaka St. John Hall: Phone Marj  0272941227  
 St.Pauls  Archie  Bull Hall  HIRE  $20 half day, $40 full day per 
hire, S McAulay, Ph 4312311 
 Kaiwaka  War  Memorial  Hall  HlRE  -  Phone  4312725  or 
kaiwaka.hall.bookings@gmail.com 
 Hakaru Community Hall HIRE -Ph.  Karen 4312090 
 Te Pounga Marae queries - Pearl Nathan  0223933533 
 Kaiwaka Sports Association hire/queries - Jennie Reynolds
   ksa.bookings@mail.com
, 02102764171  
Justice of Peace: A.F.Hargreaves 4312 045, W.Howard 4312 725 - 
please 
phone 
to 
make 
sure 
they 
are 
available 
www.justiceofthepeace.org.nz  B.FJaques Retd  
Marriage Celebrants:  
L.Donaldson; A.F.Hargreaves; Y Osborne; C. Rosseels
Next Bugle Deadline  Friday 24 June 2022
LOCAL SERVICES 
*Emergencies - Ambulance, Fire, Police - dial 111 
*Non-urgent Police phone 105 
DOCTOR: Ph: 4238 086 
A A: Meets Wed., 7pm. Kate's Place Ph 021 024 25969 or 0800 229 6757 
NARCOTICS ANONYMOUS : Mon., 6pm, Archie Bull Hall, Kwk-Mwi 
Road; drug and alcohol related issues. Ph. 02102412348 
ASUREQUALITY LTD (was AgriQuality) Call Free 0508 0011 22  
BUDGETING SERVICE, WELLSFORD: Free confidential advice & 
support for all areas of personal finance. Ph (09) 423 7123 
CAB-Citizens Advice Bureau.Wellsford Ph: 4237333 
0800 367 222 email: wellsford@cab.org.nz, 1 Matheson Road, Wellsford 
CIVIL DEFENCE - Kaipara 0800 727 059 or Facebook 
DOG/STOCK /NOISE CONTROL 0800 105 890 
FUNERAL SERVICES: Morris & Morris Ltd, 0800667747 
GRANDPARENTS Raising Grandchildren: Dianah Roberts 0223819539 
HAKARU & DISTRICTS MEMORIAL RSA (Inc) 733 Settlement Rd, 
Hakaru. Ph 4312 176 or Barry Wallace (President) 0274 922 975 
HAKARU LANDFILL/Transfer Station:Open everyday  10am-4pm. 
Except Public Holidays. Ph4312629 Cost-$55 trailer load up to 1 cubic 
metre. Ph:4258567 - office 
KAIPARA DISTRICT COUNCIL:  www.kaipara.govt.nz 
Help Desk FREEPHONE 0800 727 059  
KAIWAKA CEMETERY: Ph: 4312045 or 4314017 
KAIWAKA LIBRARY: kaiwaka.library@gmail.com  
Mon. 4-6pm; Wed., Thurs., Fri., Sat. 10am-2pm Ph:4312539 
KAIWAKA PLAYCENTRE: Ph Juanita 0274134904; open Mon, Wed, 
Fri 9am-12pm. Hastie Lane; Monday to Friday 9.00am - 12 noon. 
KAIWAKA POST OFFICE:Ph:4312 431  
Post Code: 0573 for RD2 and 0542 for all Kaiwaka Post Office mail 
KAIWAKA PRIMARY SCHOOL: Ph: 4312309   
KAIWAKA SPORTS ASSN: Ph 4312005; 4312129 gym 
KAIWAKA ST JOHN HALL: Phone Marj  0272941227  
KATE'S PLACE Community Centre - Employment services, Free Health 
Nurse, Plunket, Advocacy, A.A., Legal Advice. 4312 661 
LINKING HANDS Health Shuttle Ph 4315906 or 09 4318969 
MINISTRY FOR PRIMARY INDUSTRIES - General inquiries Call 
Free 0800 008 333 
NEIGHBOURHOOD SUPPORT RODNEY:  021 2583737      
NORTHPOWER: Faults Kaiwaka area 0800 104040 
OTAMATEA COMMUNITY SERVICES: Counselling, parent coach, 
Family Support worker, budget advice, food bank. Mon-Fri 9am-3pm. Ph 
09 431 9080 http://www.otamateacs.org/ 
PARENTPORT: Free, practical family support service Puhoi to Paparoa 
Ph or txt: Dianne 027 280 5093 or 09 425 9357 
PLUNKET: Kaiwaka- St John Hall, 4th Monday of the month. Plunket Nurse 
Louise 027 282 3987 or 09 438 2508 
Mangawhai- Rose Madsen Cottage, Mondays and Wednesdays. Plunket Nurse 
Rebecca 021 501 941 or 09 438 2508 
Maungaturoto - Good News Church, 2nd and 4th Wednesday of the month. 
Plunket Nurse Seleisa 021 912 248 or 09 438 2508 
PLUNKET HELPLINE -0800 933 922 (24 hours)  
FACEBOOK - Kaipara Plunket 
TAITOKERAU COMMUNITY LAW: Free confidential legal advice and 
assistance, 2nd
Thursday
 of each month. Ph: 0800 155 529 for appts.  
TE URI O HAU Settlement Trust Tangata Developments: Whanau Ora 
021 793262  
VETERINARY SERVICE MANGAWHAI: 
Ph: 4314535 Mon-Fri 8.00-5.00, Sat 9-12, a/h appt. 
WELLSFORD DOCTORS: Ph: 4238 086 
CHURCHES:
 
Kaiwaka  Revival  Church  -  Your  Community  Church:  Sundays  10am. 
Ph: Pastor Tawhiri 09 431 8988 or Pastor Paul 09 4312 068 Visit us at 
www.facebook.com/kaiwakachurch 
 
St  Paul's  Anglican  Church  1st  Sun.  9.00am  (Eucharist),  3rd  Sun. 
9.00am  (Family  Service).  Contact:  Church  Office  Ph  431  4122 
www.mangawhaianglican.org.nz 
 
Church of Christ the King, Mangawhai:9.00am every Sunday 
 
St.Mary's  Catholic  Church:  Maungaturoto  –  Griffins  Road,  Saturday 
evening  Vigil  Mass  6pm;  Mangawhai  –  Senior  Citizens  Hall,  Sunday 
Mass  8:30am;  Wellsford  –  Matheson  Road,  Sunday  Mass  10:30am;  
Mid-week Mass times and all enquires  – phone 423 8170
 
Baptist Church: Sun. 10.30am Mangawhai Snr Cit.Hall.Ph:4312339 
 
Cause  Way  Church  Mangawhai:  Sundays  10.15am,  Mangawhai 
Community  Recreation  Centre,  Insley  St.  Ph:  09  4314782