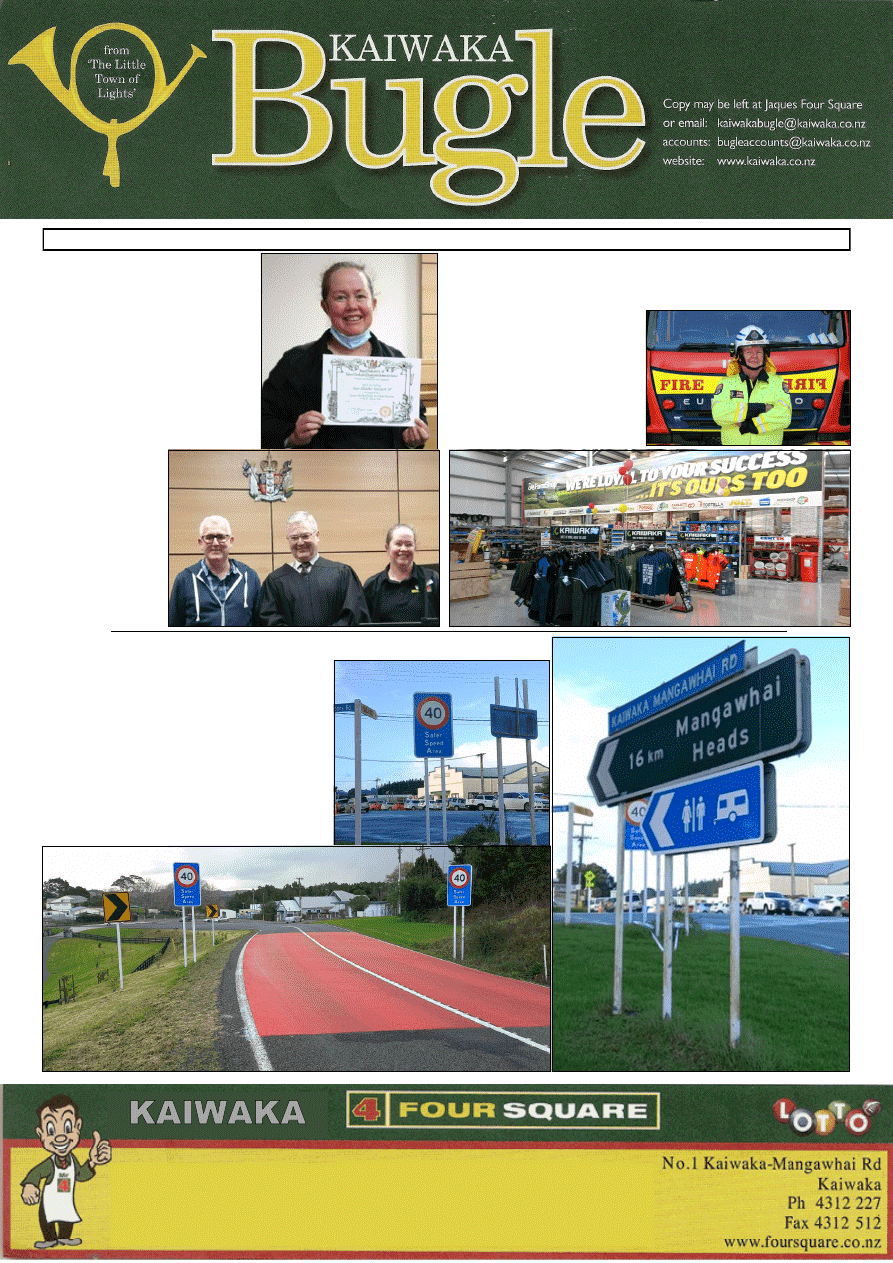 www.kaiwaka.co.nz 
Kaiwaka Bugle - 27 June 2022 
Page 1 
No: 6 
 27 June 2022 
HOURS: 
7.30am - 7pm, seven days 
A NEW JP FOR 
KAIWAKA 
Monday  13  June,  Jean  Mcleish 
was  sworn  as  a  Justice  of  the 
Peace  at  the  Whangarei  Courts 
by  Judge  P  Rzepecky,  the 
District  Court  Judge,  A  large 
supporting group along with her 
Mum  were  there  in  the  back 
row.  Jean, 
pictured top right 
and 
with  G.  Parker  (new  JP)  and 
Judge  Rzepecky- 
pictured right
. 
Northland 
JP 
Assn Registrar,  
Valerie 
Wong    
presented 
Jean  
with 
her 
certificate.  
Jean's contact  is 
0212132795,  
Kaiwaka 
Four 
Square. 
TRADING HOURS: 
7.30am - 7pm daily 
"Your local Store" 
Family owned & operated 
40. 50, 60, 80, 100 - WATCH THE  SIGNS! 
The  Kaiwaka-Mangawhai Road  stretch  of 
Kaiwaka  town  is  now  40  kph.  This  is 
clearly  marked  with  the  added  red  paint 
across  the    road  just  east  of  the  primary 
school.  The  40  kph  sign  for  turning  left 
coming  from  the  north  on  SH  1  is  rather 
cluttered - photo far left,  but the southern 
approach seems to be shy of any signage - 
be aware! 
SH1 is still 60kph; most of Oneriri Road is 
80kph  (except  where  a  100kph  is  still 
standing); the gravel roads are 60 kph  ...
The Northern Advocate nominated John Bowmar, Kaiwaka 
Volunteer  Fire  Brigade  chief  fire  officer  in  their  list  of 
volunteers  for  National 
Volunteer Week.  
He  was  the  first  Kaiwaka 
firefighter  to  receive  the 
Queen's Service Medal. For 
him,  firefighting  is  about 
making  a  difference  and 
helping others.
NATIONAL VOLUNTEER WEEK 
THE FARM SHOP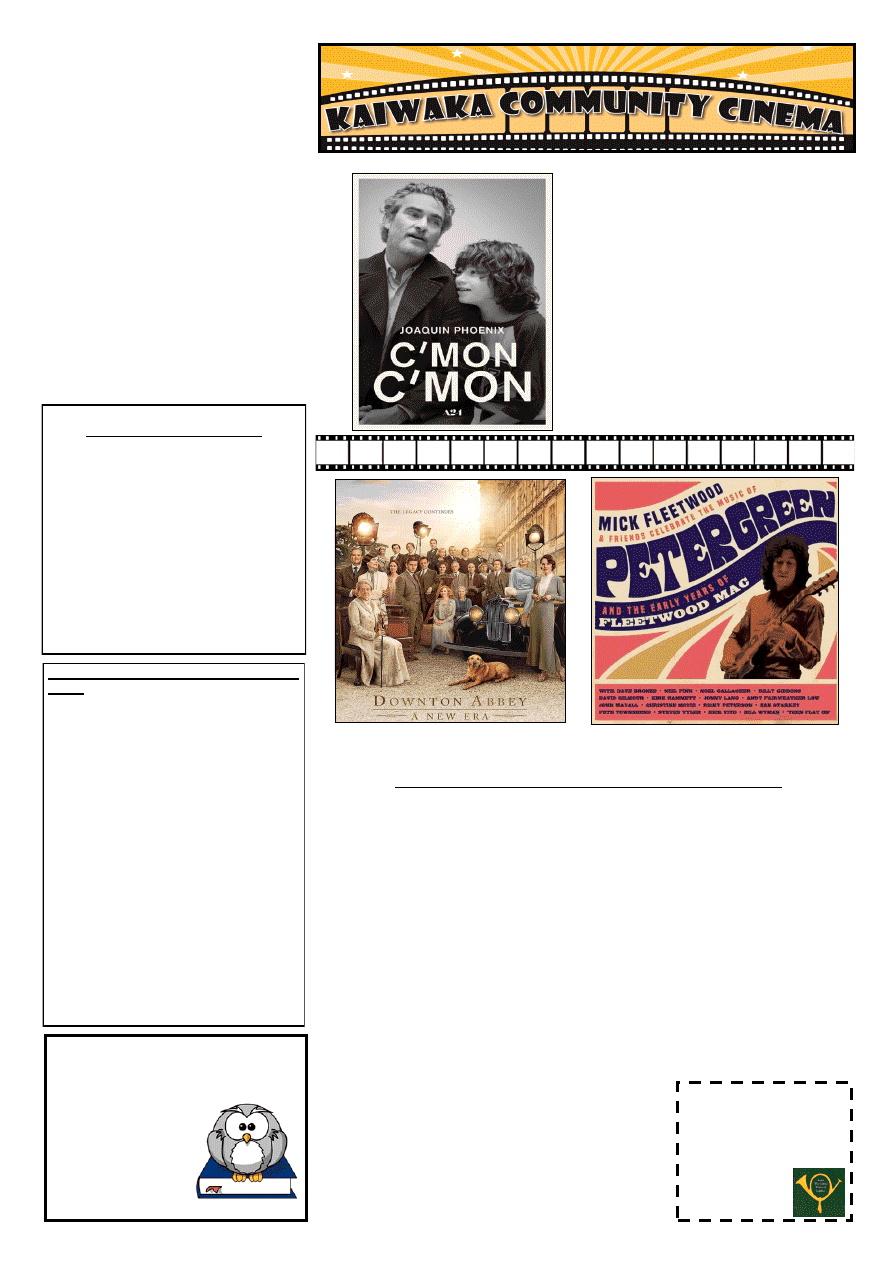 KAIWAKA BUGLE No. 6 
27 JUNE 2022 
CONTENTS 
Page 3: Public Notices, Classified 
Page 5: Weather; Women's RSA; OHS 
Page 7: Libby NDHB; Knitters 
Page 9: Hakaru Pony Club; Gardening 
Page 11: Kaiwaka Sports Assn. 
Page 13: Rotary; Zonta 
Page 15: Kay McElwain; Kaiwaka 
Community Garden 
Page 17: Kaiwaka Library; HAWK 
Page 19: Miss Linnell Memoirs 
Bugle 7 will appear  25 July 2022  
Contact for advertising, reports, articles 
or information can be made by 
Email kaiwakabugle@kaiwaka.co.nz 
Ph: 09 4312 045 Lindsey 
Txt: 027 2724137 
Copy may be left at our Four Square. 
Kaiwaka Bugle 
Founded May 1978 
We appreciate articles and photos about local 
events, etc, as well as ads and suggestions. 
Copies available in Kaiwaka at Four Square, 
Kaiwaka Postal Centre, Shamrock Service 
Station, Best Pets , Kaiwaka St John shop. 
Also outlets in Maungaturoto, 
Mangawhai and Paparoa. 
Can be viewed online at   
www.kaiwaka.co.nz/Bugle  
Or a copy can be posted to you if you supply 
stamped, self-addressed DLE envelopes. 
Kaiwaka 
Bugle 
Advertisements 
2022: 
All 
copy 
and 
queries 
to: 
kaiwakabugle@kaiwaka.co.nz 
The Bugle is printed on an A4 page   
Ad  sizes:  1/16  page  (3  x  9.5cm)  $5;  1/8 
(6.5  x  9.5cm  landscape  or  portrait)  $8; 
3/16 ( 10 x 9.5cm or 7.5 x 12.5)  $12.  
Classified  ads:  First  one  FREE,  $4  per 
entry (max. 30 words, max. 4 repeats). 
Payments  can  be  made  online  at 
ANZ 
06  0365  0006990  00
,  posted  or  left  at 
Kaiwaka Four Square Store. 
We  use  Microsoft  Publisher,  and  can 
work  with  most  common  image 
formats, Word, Excel, and PDF files. 
Accounts:  
Email: bugleaccounts@kaiwaka.co.nz 
The  Kaiwaka  Bugle  is  a  community 
newspaper run by volunteers, as part of 
the Kaiwaka Media Group Inc.   
Articles, etc. printed are not necessarily 
the opinion of the Bugle Team. 
ABOUT TOWN

 Drive carefully around the town - 40kph is quite a stately drive! 

 A  big  WELL  DONE  to  Kaiwaka  Four  Square  for  their  amazing  video  of  a 
tour of our  town and  their staff - can be seen on FB Four Square Kaiwaka 

 Answer: From Bugle 5 - the fire at Caltex Service Station site was when the 
Hilltop  Garage  burnt  down  on  Saturday  22  Jan  1977;  the  Merry  Pheasant 
Restaurant burnt down in December 1977 - now site of St. John Store 1919 SH1 

 Thank you Libby Jones for all your NDHB news - see page7 

 Peter  Linnell  has  given  us  the  opportunity  to  share  the  Memoirs  of  Miss 
Linnell.  This  is  an  wonderful  look  back  in  early  Kaiwaka  history.  Many  will 
recall the old names - see page 19 for Part One of this series. 

 Our local Linking Hands are still seeking Kaiwaka drivers - call 09 4318969 
for further information 

 Welcome to new Kaiwaka businesses - Knight Outdoors, see advert page16; 
and Farm Shop just north of Kaiwaka on  SH1 - on Facebook too! 

 Thank you Joseph Paikea for your wonderful artwork - a beautiful HAWK!

 Eastern JMB Rugby will be at the Kaiwaka Sports 
grounds on Saturday 2 July, 9am on - worth a watch!

Kaiwaka 
Bugle 
No. 
6 
is 
online 
at 
www.kaiwaka.co.nz in colour and is in print for our 
local Readers.    
~ 
Lindsey, Ed
"If winter comes, can spring be far behind?"  ~ Percy Bysshe Shelley  
 "Hoki whakamuri, kia anga whakamua"- Look to the past in order to 
forge the future  
KAIWAKA BUGLE 
FRIDAY 
DEADLINE DATES 
2022:   
22 July 
26 August 
23 September 
28 October
At Kaiwaka War Memorial Hall . Adults $10, Kids (under 16) $5, Family Pass (2 adults + 3 children) $25 
C'MON, C'MON 
Friday  1 July, 7.30pm 
Johnny  (Joaquin  Phoenix)  and  his 
young  nephew  (Woody  Norman) 
forge  a  tenuous  but  transformational 
relationship 
when 
they 
are 
unexpectedly  thrown  together  in  this 
delicate  and  deeply  moving  story 
about the connections between adults 
and  children,  the  past  and  the  future, 
from writer-director Mike Mills.  
Downton Abbey New Era 
Friday  15 July, 7.30pm 
MICK FLEETWOOD  
Friday  29 July 7.30pm
Proverbs 22: 6 
Teach a child how he 
should live  
and he will 
remember it  
all his life. 
Good News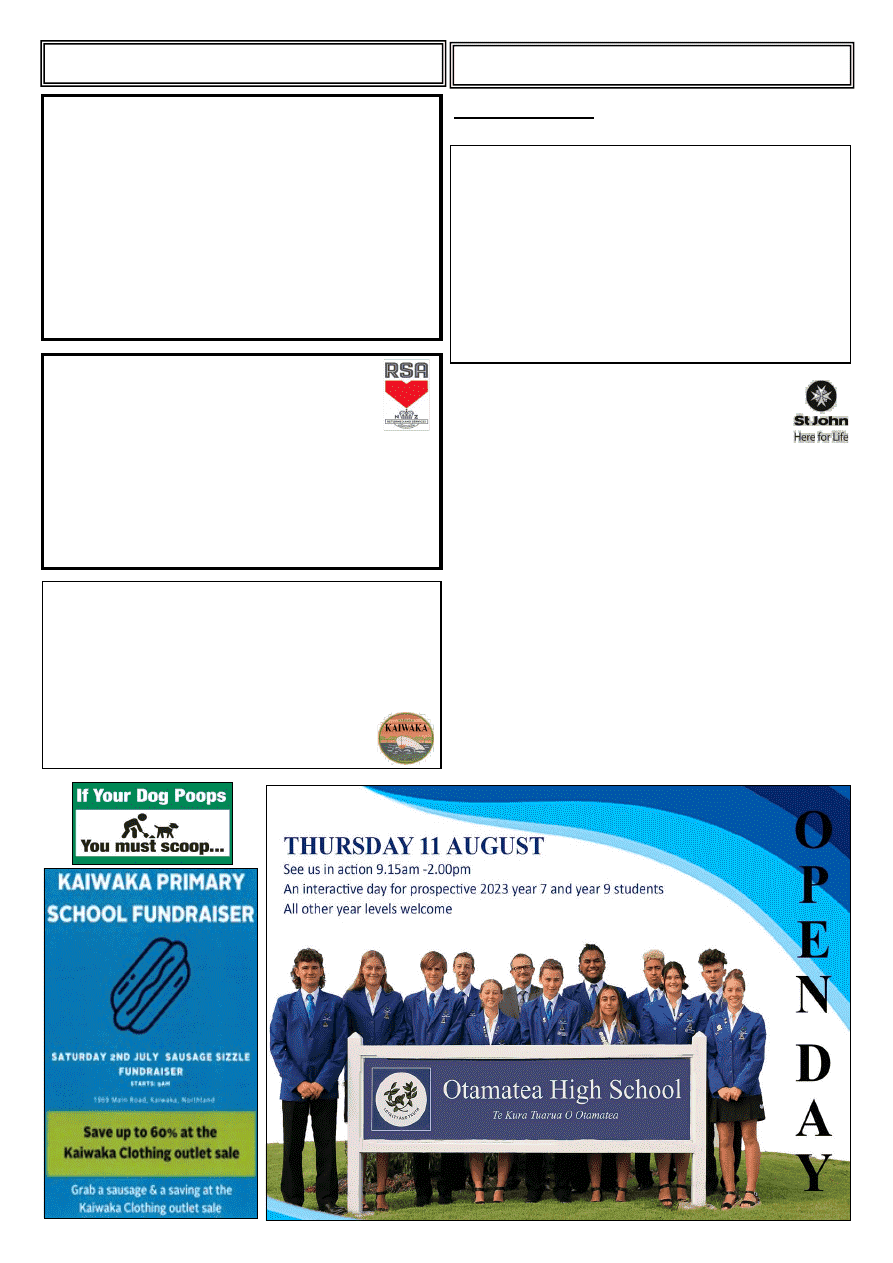 www.kaiwaka.co.nz 
Kaiwaka Bugle - 27 June 2022 
Page 3 
PUBLIC NOTICES 
CLASSIFIED 
FREE GRAZING: Oneriri Road. Approximately 2.5 
acres. Phone or txt 021 027 95077 
 KAIWAKA  PHYSIO  IS  TAKING  AN  EXTENDED 
BREAK. 
While  I  am  away  Caitlyn  Bloxham  from  Maungaturoto 
Physio  will  extend  her  Maungaturoto  clinic  and  come  to 
Kaiwaka once a week. She will continue to use the clinic 
space  at  The  Kaiwaka  Fitness  Centre.  This  means  that 
Kaiwaka  can  continue  to  have  a  local  physio  service. 
Caitlyn  is  experienced  in  all  aspects  of  private  practice, 
including sports injuries. Remember you do not need a GP 
appointment  to  see  a  physio.  We  can  initiate  an  ACC 
claim  for  you  and  refer  for  x-ray  and  ultra-sound  if 
required. Please keep it local and support Caitlyn! 
To make an appointment please call 094319062 
Kind regards, Amy
ST. JOHN KAIWAKA STORE 
Winter CLOTHING SALE 
Starting Friday 1st July to Saturday16th July  
Bag of clothing (bag provided at counter) $10.00   
DOES NOT INCLUDE Winter Jackets, socks or Bras. 

Winter Jackets all 50% off 

SHOES all 50% off 

SINGLE CD and DVD $1.00. does not include      
games or sets 
We are in need of Bric a Brac. Blankets and Towelling 
and Jewellery. 
We ask that no donations to be left at our door 
when we are not open. PLEASE also check the list 
on the door for what we cannot accept 
Dianne and the team  
1919b State Highway 1 next to Food Mart 
Hours are Tuesday to Friday 10am to 3pm 
            SATURDAY 10AM TO 2PM 
USED BOOK FAIR! 
Hundreds of books – fill a shopping bag in return 
for a gold coin koha! 
Maungaturoto Public Library needs to make space 
for new books, so all these must go. Great selection 
of fiction and non-fiction – there are bargains here 
for everyone! 
The USED BOOK FAIR is being held during the next 
school holidays, from Wednesday 13th July to Saturday 
16th July inclusive from 10am – 1pm. 
Location: Footprint room behind Holy Trinity Anglican 
Church at 132 Hurndall Street East. 
(Look out for the roadside banner.) 
HAKARU &DISTRICTS 
MEMORIAL RSA 
Notice of EGM / AGM 
To be held on the 3rd of July 2022 
At The RSA rooms 733 Settlement Rd, Hakaru. 
The EGM will start at 13:00 hrs.  
The EGM is to present the Financial records to the 
members for the years 2019 and 2020. 
At the conclusion of the EGM there will be a 15 
minute break before the AGM begins. 
~ 
Martin Edinborough
POINT CURTIS CRUSING CLUB Inc 
CLOSING GAME BIRD SHOOT 
Saturday 2nd & Sunday 3rd July 
Juniors & Seniors 
Weigh In & Prizegiving at Kaiwaka Sports Complex 
 For more information and to Register contact 
 Jodi Walker  0212118022 
Carol txt 021638012  Pongo  09 4312205 
Competitors must register by 1st July 
See Facebook for further details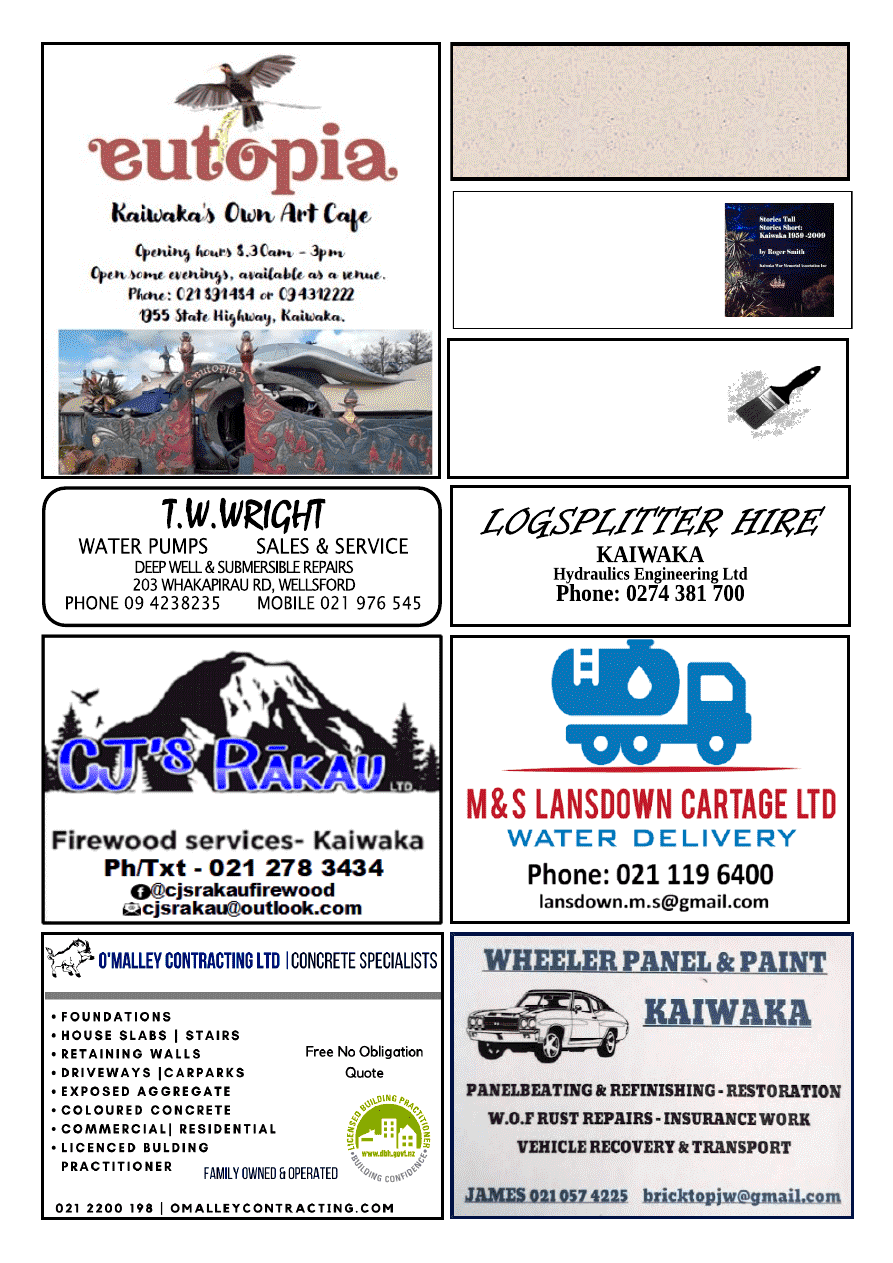 Counsellor and Registered Psychotherapist 
Offers Supervision
Susan Matheson 
MNZAC 
Dip. Psychosynthesis Counselling and Psychotherapy 
Phone 09 431 2996                        Mobile 027 605 2427 
Stories Tall, Stories Short  
Kaiwaka 1959-2009 
by Roger TW Smith.  $20 
Kaiwaka Photographic History $25 
Available at All Sortz Collectables  
or phone  4312 045 
DR PAINT
 Dave & Rhys 
 Painters
 02108742551   
0211200667    drpaintnz@gmail.com 
www.kaiwaka.co.nz 
Kaiwaka Bugle - 27 June 2022 
Page 5 
Willow Bend 
HORSE  
HOTEL 
Horse Grazing & Agistment 

Safe paddocks with outriggers 
on all fences 

60x40 professionally 
constructed arena with grass 
surface 

Under cover yards 

Stabling if required 

Paddocks cleaned daily 

Feeding hay/hard feed 

Cover changes 

Fresh grass daily, all year round 

Short or long term
Phone Sue  
021 623 776  
Providing care and comfort for 
horses in Kaiwaka since 2005 
KAIWAKA 
WEATHER 
May
The Indian Summer finally came to an 
end  on  the  18th  of  May,  with  a  19ml 
drop  and  then  another  22ml  on  the 
19th.  The  ground  was  wet  but  not 
saturated.  There  were  a  few  more 
showery  days  to  follow  until  we  got 
another  lot  of  rain  on  the  29th  when 
we got 19ml and on the 30th we got a 
whopping 40ml. The ground was then 
saturated, 
and 
the 
temperature 
changed.  Mostly  warm  but  with  a 
cooler edge.  
Our total rainfall for May 2022 was 
122ml.  This  was  recorded  over  14 
days (the same as for April).  
The  least  rain  recorded  for  May  at 
our  place  was  in  2007  when  we 
recorded 35ml and the  most  recorded 
for  the  month  of  May  was in 2020 
when we recorded 281ml.  
The Autumn leaves are 99% fallen and 
have made great mulch for the garden. 
We had a clutch of ducklings arrive on 
our dam on or around the 25th of May. 
This is extremely  early  I  feel, and  we 
haven't seen any since.  
Winter is definitely on its way.  
Take care everyone, Karen 
The  12  Members  attended  our 
meeting on 26th May. 
An  invitation  has  been  received 
to  attend  Birkenhead  RSA 
Women's  Section  party  on  26th  July 
$26  per  person,  so  come  on  members 
put on your glad rags and join us, Ann 
would  like  to  hear  from  you  on 
4315913. 
Lena  and  Ann  travelled  to  Kaitaia  to 
their  75th  Birthday  and  the  Annual 
NWA  meeting,  we  had  a  lovely  sea 
food  luncheon.  Lena  gave  a  report  on 
this meeting. Lena and June are now at 
the  National  Women's  Association 
AGM.  Many  thanks to  Lena  for  being 
our  delegate,  Levin  is  a  long  way  to 
travel.  
It is 80 years since the RSA recognised 
Women's  Section  as  part  of  their 
Association. 
The  raffle  winner  for  this  month  was 
Lynette.  and  our  Birthday  girl  for  this 
month  was  Petronella  -  we  hope  you 
had a lovely birthday and are enjoying 
your new home. 
We  had  a  very  interesting  talk  and 
display from Lynette Clothier who runs 
an extensive travel business. They have 
a 10-seater van to do day trips and we 
are  hoping  to  make  use  of  this  in  the 
near  future.  They  do  both  North  and 
South  Island  trips,  shows,  and  even 
overseas trips. 
Next  meeting  is  on  21  July  at  1.15 
p.m. Visitors welcome. 
Principal's News 
ENROLMENT  SCHEME:  A reminder that the Ministry of Education (MOE) 
continues to work with the Board of Otamatea High School to implement a new 
enrolment  scheme,  to  be  put  in  place  for  2023  student  enrolments.  This  has 
become  necessary  due  to  the  rapid  roll  growth  we  are  currently  experiencing. 
Enrolment  schemes  are  needed  to  help  manage  the  risk  of  overcrowding  at 
schools.  The  MOE  has  completed  their  consultation  process  with  our 
communities,  and  we  are  now  waiting  to  see  what  the  submissions  that  have 
been made look like before a final decision is made. 
ATTENDANCE: I am pleased to see that our attendance rates have continued 
to rise, with average attendance for the week at 85%, which is close to the 90% 
minimum  average  attendance  target  for  our  students  that  we  aim  for.  The 
Matariki  long  weekend  is  a  great  opportunity  for  students  to  catch  up  on 
outstanding work, especially seniors as there are now only 15 weeks of school 
left before senior prizegiving.  
ROCKQUEST:  A huge congratulations to our school band Patient People for 
making  it  through  to  the  Northland  Regional  Finals  (top  12  Bands  for  the 
Smokefree  Rockquest  competition).  A  massive  congratulations  to  Pigeon 
Paradise on their fantastic performance. We have so much talent at our school, 
and  it  is  wonderful  to  see  these  students  on  stage,  giving  their  best,  and 
representing our school so well. Ngā mihi, Dirk Smyth 
NIWA:  Seen  a  stunning  sunrise  or 
sunset lately? 
"Usually when you see a sunrise or sunset, 
it  is  the  clouds  that  morph  into  the  most 
vibrant 
colours. 
However, 
when 
stratospheric aerosols are present following 
a  volcanic  eruption,  they  scatter  and  bend 
the  light  as  the  sun  dips  or  rises  past  the 
horizon,  creating  a  glow  in  the  sky  with 
hues of blue, purple, and violet." 
OTAMATEA HIGH SCHOOL 
PT. CURTIS CRUISING CLUB 
Annual General meeting was held at 7pm, Wednesday 22nd June 2022 
New OFFICERS: 
Patron:  Dan  Mills,  Commodore:  Wayne  Leslie  (Pongo),  Vice  Commodore:  Harman 
Walker, Secretary: Tracy Collins, Treasurer: Jodi Walker, Auditor: Carol Mills 
2022/2023  Annual  subscription  renewals  due  1  June  2022  please  make 
PAYMENT via Internet banking 12 3094 000823300 with Name/s as reference 
Fish of the Month May: Kahawai – no fish were weighed in. 
New Fish of the Month June: Snapper until 13th July 2022 
HAKARU RSA 
WOMEN'S SECTION
Bulk Cartage 
HELP 
PHONE NUMBERS 

HEALTHLINE  0800  611  116  -  a 
nurse to answer health queries  

SAMARITANS  
0800  726  666  -  support  for  lonely  or 
suffering mental distress 

YOUTHLINE 0800 376 633 

LIFELINE 0800 543 354 

DEPRESSION HELPLINE  
0800 111 756 

ALCOHOL  &  DRUG  HELPLINE 
0800 787 797 

URGENT 
MENTAL 
HEALTH 
LINE 0800 223 371 

WARMLINE  -peer  support  for 
people with mental health issues  
0800 200 207 
Landscaping Supplies: 
Waikato Screen Topsoil 
Bark 
Woodchip 
Mill Bark 
Post Peelings 
Compost 
Crushed Shell 
Topsoil 
Limestone Chip 
Daltons Garden Mix 
Aggregate 
Gap: 20,40.65 
Riverstone 
Sand 
Belt Dust 
40/20 Drainage Metal 
Builders Mix 
 Cement 
Timber/Fencing Supplies: 
Rails, Posts  
Stays, Strainers 
Fence Battens 
Palings 
Stakes 
Fencing Wire 
Farm Gates & hardware 
Drainage: 
PVC Fittings 
Alkathene 
Draincoil 
WATER TANKS: 
Aqua & Baileys 
Brands 
DRAINAGE & 
SEPTICS: 
Land Drainage 
Urban Rural 
Drainage 
Water Pipelines 
Culverts 
Septic Systems 
(RX Plastics & 
Biorock) 
SITEWORKS: 
Retaining Walls 
Piling 
Driveways 
Carparks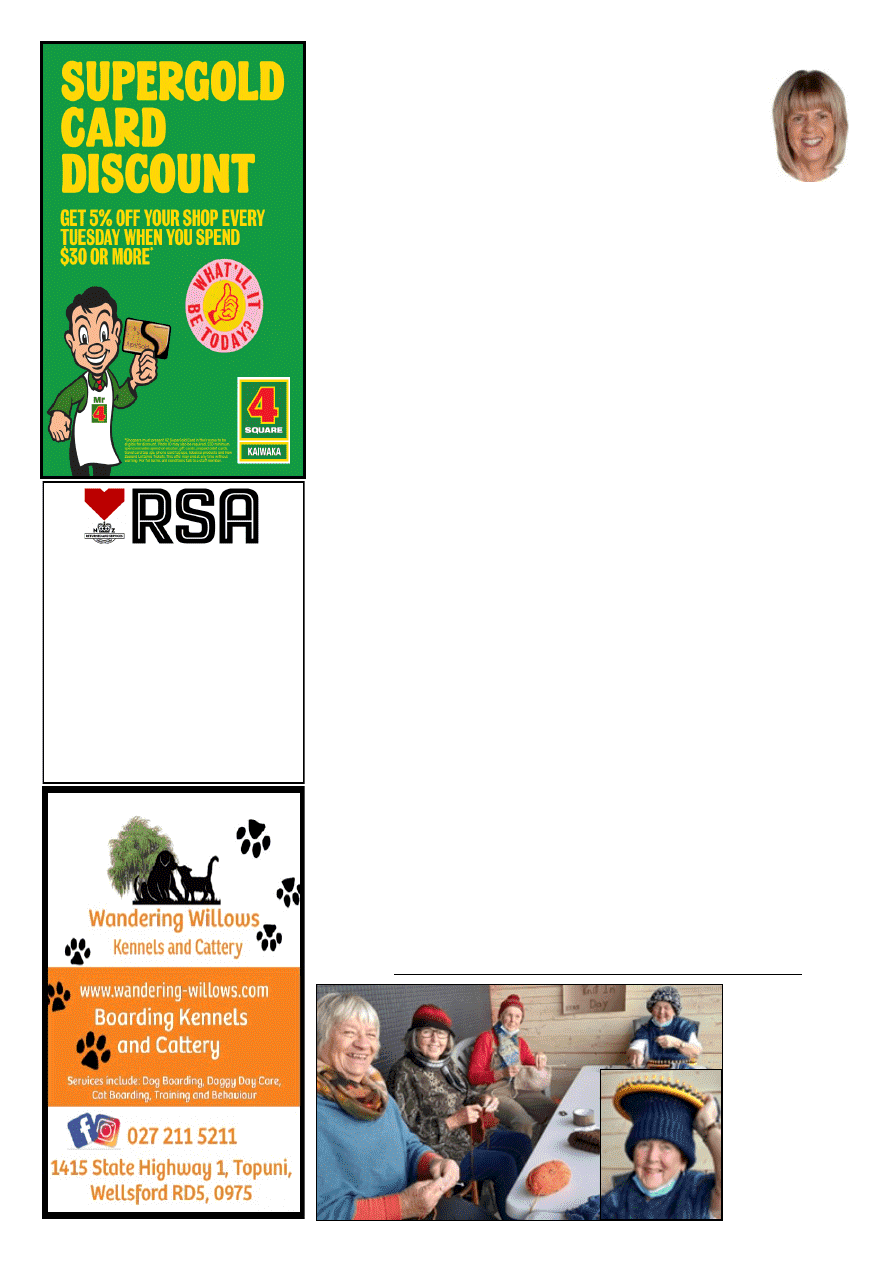 www.kaiwaka.co.nz 
Kaiwaka Bugle - 27 June 2022 
Page 7 
After  12  years  I am finishing my term 
on the Northland District Health Board, 
due to the health reforms district health 
boards  across  the  country  are  being 
disbanded. Health  NZ  and  the  Māori 
Health  Authority  are  taking  over  to 
create a national health service. 
So why did I get involved and how did 
an  unknown  woman  from  Paparoa 
(Taipuha  even)  get  voted  on  to  the 
district health board 12 years ago? 
I  had  some  governance  experience 
from school boards of trustees and had 
worked  in  social  work  in  a  variety  of 
roles  at  Whangarei  Hospital  over 
several  years.  Health  board  meetings 
are  public  meetings  so  I  sat  in  on  a 
number of them, and thought that yes, I 
could  add  value  at  the  meetings.  I 
thought  the  meetings  seemed  very 
hospital and surgery focused and there 
was very little about prevention, wider 
social  issues  in  health,  challenges  for 
patients  accessing  services  and  the 
needs of rural people, plus many of the 
directors  looked  pretty  old  and  out  of 
touch!  
With fantastic family and local support 
and  a  lot  of  pavement  pounding  and 
driving  all  around  Northland  to  erect 
election  billboards and  hand  out flyers 
at  markets  or  gate-crashing  council 
election  meetings  where  health  board 
members were not included, I was one 
of  the  seven  elected  members  in 
October 2010. It never got any easier to 
be  elected  as  I  was  not  a  household 
name  in  Whangarei  or  anywhere  else 
and the second time, I stood I was not 
re-elected  which  was  pretty  gutting. 
But  it's  hard  to  keep  a  good  woman 
down,  and  I  was  appointed  on  one  of 
the  board  committees  during  that  term 
and stood again in 2016 (for KDC also 
at  that  election)  and  2019  and  was  re-
elected those two times. In 2016 I was 
appointed  as  chair  the  community, 
public health and disability committee. 
This  ended  up  probably  being  the 
highlight  of  my  time  on  the  board, 
although  being  chair  was  a  little 
daunting  at  times.  That  was  all  about 
prevention,  public  health  and  really 
getting  to  the  heart  of  improving  our 
negative health statistics. 
So, did I achieve anything for the rural 
area  closet  to  my  heart?  I  believe  so. 
The  lower  Northland  area 
we are in sits in Northland 
DHB  but  near  the  border 
of  Waitemata  DHB,  and 
the  PHO  that  services  this 
area  is  not  based  in 
Northland. For many years 
I  had  to  fly  that  flag  to  ensure  that 
when we were talking about data from 
Northland  it  included  this  area  as 
otherwise,  we  had  no  visibility  of  the 
delivery  or  outcomes  for  the  health  of 
our people. When the free medical care 
was introduced for under 13s, it did not 
include  our  area  so  again  I  advocated 
for that to happen. I have loved people 
contacting  me  about  their  experiences 
of  health  services,  good  and  bad  and 
gaps  that  occur  in  access  or  services. 
That  has  helped  inform  me  in 
discussions,  and  strategic  direction,  as 
well  as  decision  making.  I  kept  my 
focus  on  prevention;  the  impact  on 
families  and  carers  of  those  with  ill 
health  or  disabilities,  especially  the 
more  disadvantaged in  our  region,  and 
ensuring  all  voices  are  heard  not  just 
the loudest. And I have learnt so much, 
about myself, about governance and 
leadership about  managing  my  time  to 
fit it all in! If you think you would like 
to  get  more  involved  in  your  local 
community,  governance  or  in  some 
other  way,  give  it  ago,  who  knows 
where it might lead. 
Ko te pae tawhiti whāia kia tata, ko te 
pae tata whakamaua kia tina - Seek out 
distant horizons, and cherish those you 
attain 
I want to say a very big thank you to all 
of  you  who  voted  for  me,  and  to  the 
wonderful people who went out of your 
way to support and mentor me.  I hope 
that I repaid that trust well in my quest 
to be part of improving the health of all 
Northlanders. 
This  is  my  last  article  as  a  health 
board  member  so  thanks  to  the 
Kaiwaka  Bugle  for  allowing  me  to 
share updates and my thoughts over the 
years, and to you for reading them. For 
now, I am signing out! 
Mauri ora, Stay well, Libby 
Libby  Jones  hames.jones@xtra.co.nz 
021 2080093 
HAKARU & DISTRICTS 
MEMORIAL RSA  
Members & guests are invited to 
come along and enjoy our 
hospitality. 
New members welcome. 
For more information please phone 
Barry Wallace 0274 922 975  
Email: president@hakarursa.co.nz 
LIBBY JONES 
– 
Member Northland District Health Board  
SIGNING OUT! 
WWKIP 
World Wide 
Knit in 
Public Day 
Saturday  4  June, 
outside  our  Four 
Square,  a group of 
Kaiwaka  knitters 
joined 
knitters 
around  the  world 
to enjoy this craft. 
Left-  a  large  French 
knitted hat!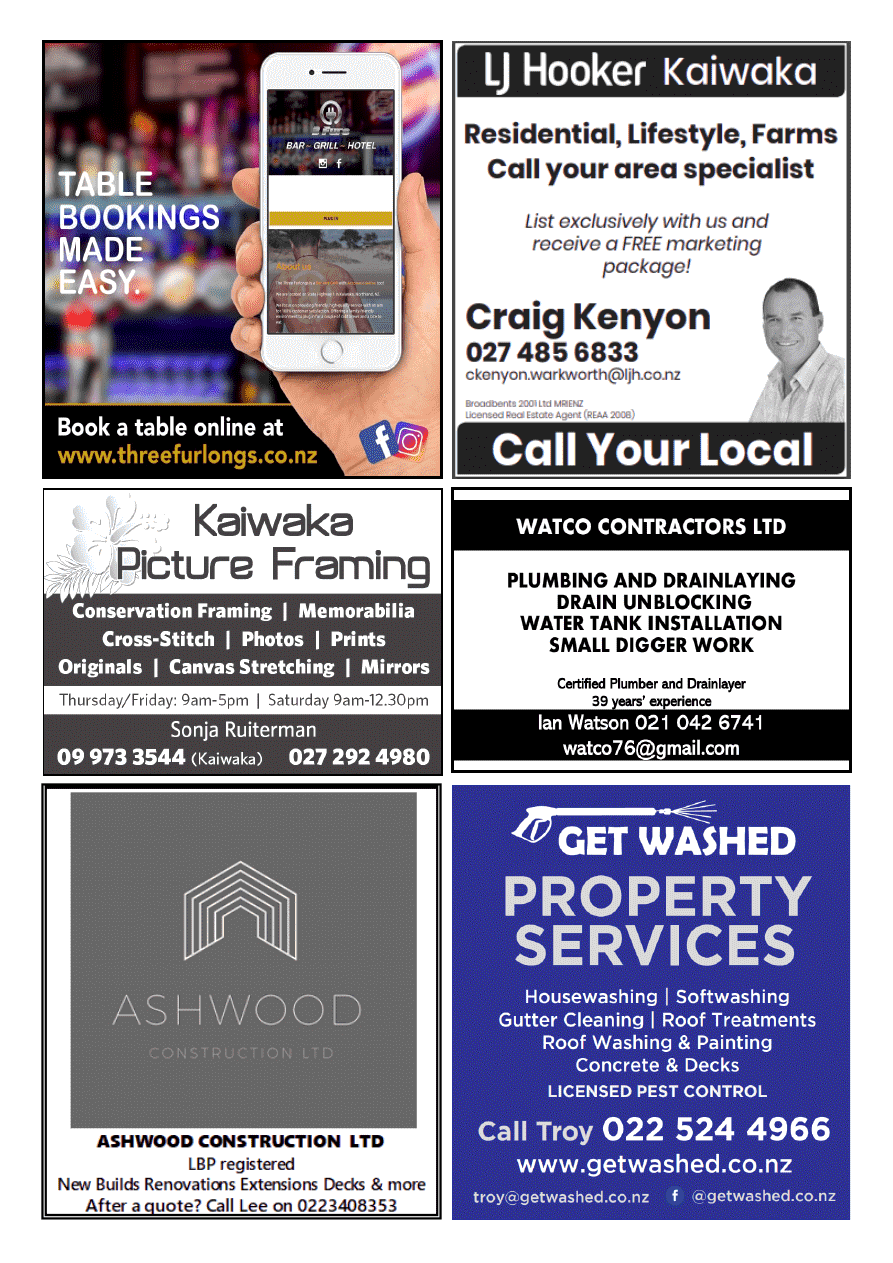 Call us on (09) 4312 246  
or book online at 
 www.threefurlongs.co.nz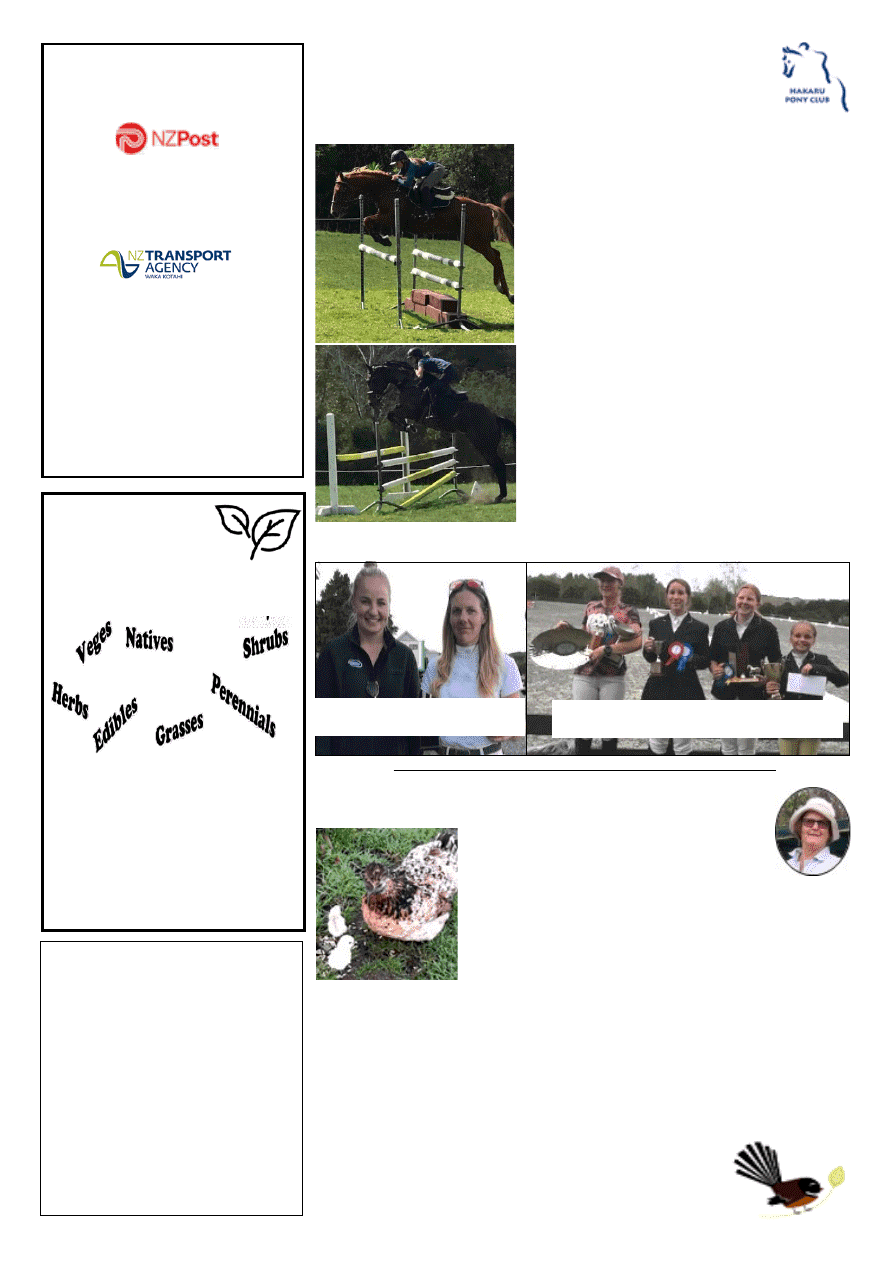 www.kaiwaka.co.nz 
Kaiwaka Bugle - 27 June 2022 
Page 9 
Oneriri  
Plants 
Visit our Nursery 
Contact Heather 021 
766399 
oneririplants@gmail.com 
365AOneriri Rd, Kaiwaka 
A short trip off SH1
HAKARU PONY CLUB 
Hakaru  Pony  Club  successfully  completed  the  season  with  a  full 
Dressage  and  Showjumping  Series  events  despite  so  many  other 
events being COVID affected. 
A highlight of the Dressage Series was having judge Janet Fox bring her four-
star Dressage horse for a demonstration and Q&A which was quite the spectacle 
and  amazing  learning  for  riders  and  parents. 
Over  the  series  Julie  Harrison  and  Janet  Fox 
judged  the  three  days  and  the  club  felt  very 
fortunate  to  secure  such  high-level  judges. 
Dunstan  Horsefeeds  generously  supported  the 
series with Horse Feed for our prize winners and 
Ria Gunson, Northland Territory Manager from 
Dunstan was on hand at the prizegiving. 
This season's winners were 
Level 0 Junior Winner - Paige Collinson 
Level 0 Senior Winner - Helen Connett 
Level 1 Junior Winner - Tegan Chisholm 
Level 1 Senior Winner - Sarah Lusty 
Level 2 Junior Winner - Bella Jackson 
Level 2 & 3 Senior Winner - Helen Connett 
The  weather  also  turned  on  for  the 
Showjumping  Series,  another  three-day  event 
with a fantastic turnout of competitors jumping 
soaring heights. 
This 
season's 
winners 
were: 
Junior 
Showjumping Series Winner - Tegan Chisholm; 
Senior  Showjumping  Series  Winner  -  Julie 
Rynne 
Behind the scenes, both of the series were well 
supported  by  faithful  volunteers  in  particular 
Wendy Westlake, Julie Rynne, Di Russek and Marj Steiner. 
Photos: Top Briar Wooley; Mid Billie Menzter
PIROA-BRYNDERWYN LANDCARE (PBL) 
If you haven't previously taken part in The NZ Garden Bird Survey, you really 
should give this annual citizen science project a go this year. 
It's easy and fun to do and takes just an hour of your time at your convenience 
between  June  25  and  July  3.  Run  by  Manaaki  Whenua  –  Landcare  Research 
every year since 2007, participating in the survey is a great way to learn more 
about the birds in your own garden. 
NZ GARDEN BIRD SURVEY 
– go to https://gardenbirdsurvey.nz/ 
Survey dates: 25th June – 3rd July; Select your garden, park, 
or school; Choose one day from 25 June to the 3 July 2022; 
Look  and  listen  for  birds  for  ONE  hour;  Record  the 
HIGHEST number of a bird species observed at one time and 
submit your survey result.
KAIWAKA POST 
CENTRE and 
FOOD MART 
POST CENTRE TRADING HOURS 
MONDAY to FRIDAY 8am to 5pm 
SATURDAY 8am to 12pm 
CLOSED ON SUNDAY and on 
PUBLIC HOLIDAYS 
FOOD MART (GROCERIES)  
MONDAY TO FRIDAY  
7:30am to 7.30pm 
SATURDAY  8am to 7.30pm 
SUNDAY  8:30am to 7pm 
IF ANY QUERIES PLEASE CALL 
STORE MANAGER AMRIT  
on 09 4312431 or 
EMAIL: kaiwakafood19a@gmail.com 
1919a State Highway1, Kaiwaka 0542 
ONERIRI GARDENER 
ASTER  AND  HER  CHICKS. 
This  is  the  stubbornest 
bantam  hen  I've  ever  had.  And  I've  been 
keeping bantams for over 40 years. I thought 
she was having a break. Middle of winter and 
all. No.  She was busy hatching these two. She 
just  loves  making  babies.  More  chickens  are  what  we 
don't  need.  But  Aster  is  very  friendly  and  brings  up  her 
babies to be friendly. I don't know. I feel I'm being played 
here. I think I might call them Waiti and Waita after the 
Matariki twins. See, she's done it again. toxic.    
   ~ Heather, Oneriri Plants 021 766399
HAKARU HALL 
ACTIVITIES 

Monday:  Line Dancing  
Ph 4315160 

Tuesday : Pilates  
Ph. 022 0643965 

Tuesday: Chess Club Kids  
Ph. 0210628631 

Wednesday:  Music Jam Session  
Ph. 0210628631  
Hall Bookings Karen  
0210467490 
L  to  R:  Helen  Connett,  Tegan  Chisholm, 
Bella Jackson and Paige Collinson 
Ria  Gunson  from  Dunstan 
Horsefeeds and Sarah Lusty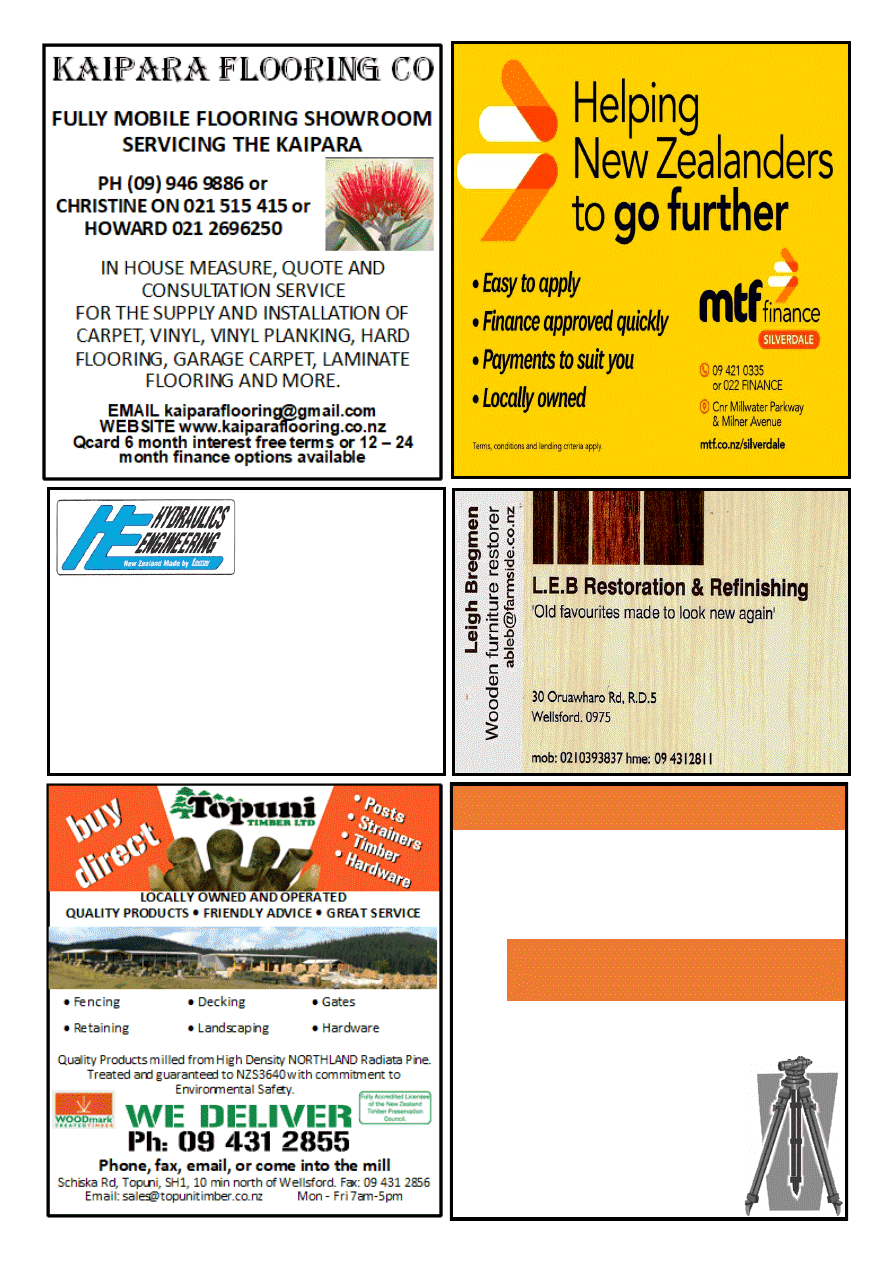 SURVEYORS 
SUBDIVISIONS 
HOUSE SITE SURVEYS 
CIVIL ENGINEERING 
WASTEWATER DESIGNS 
EXPERIENCED 
PROFESSIONAL 
INNOVATIVE 
Ph 09 431 5353 
0800 PACIFIC (0800 722 434) 
pacificcoastsurvey.com
Adam Booth - 027 415 5752 
Bsurv, Licensed Cadastral Surveyor
Surveying Kaipara since 1994 
Hydraulics  
Engineering Ltd 
Kaiwaka 
Sales - Service - Parts - Hire - Manufacture 
Service Contractors & Industrial Equipment: 
Rams, Pumps, Valves 
Logsplitter Hire, Manufacturer, Sales 
Dennis Linton 
Lot 2 / 161 Ranganui Road, RD2, Kaiwaka, 0573, New Zealand 
Mobile: 0274 381 700 
Email: hydraulicsengineering@xtra.co.nz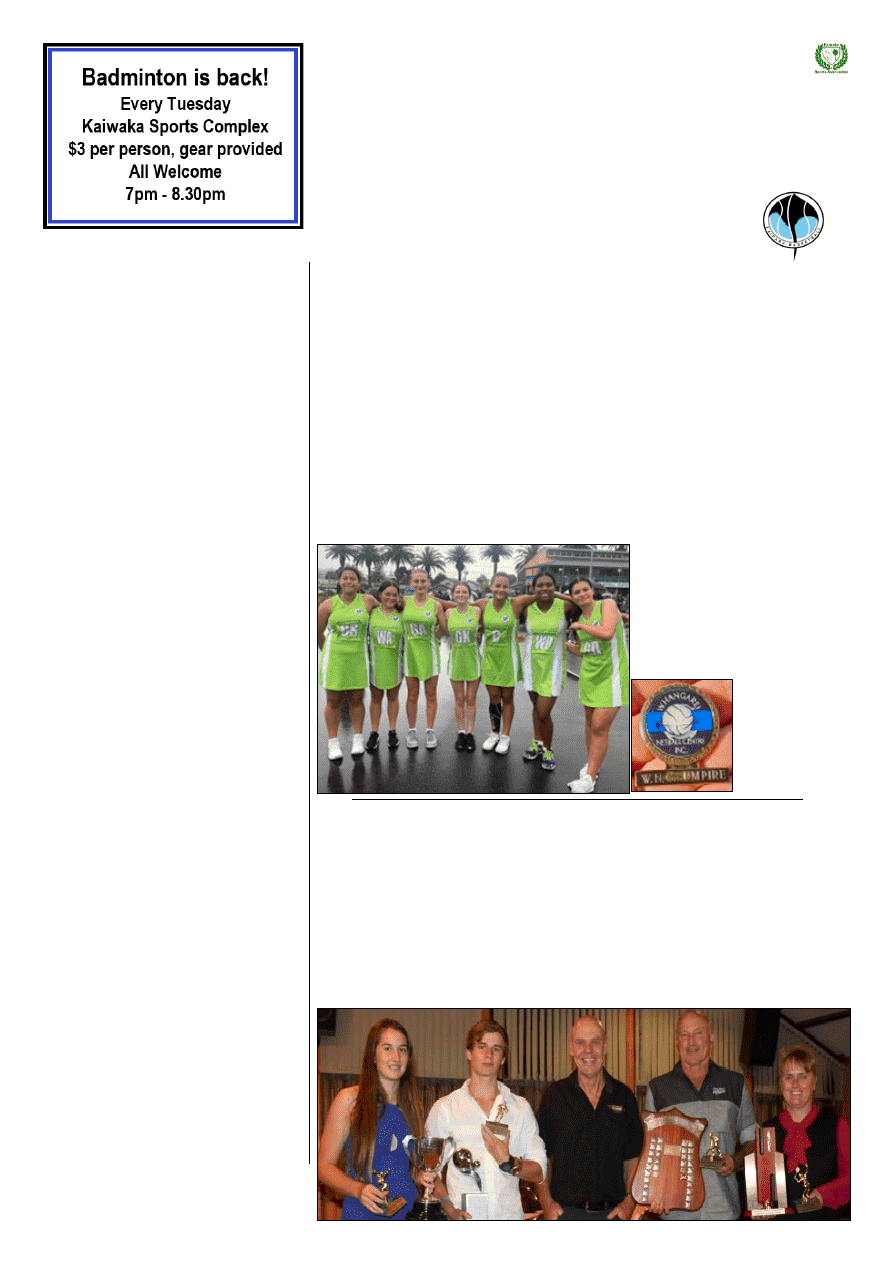 www.kaiwaka.co.nz 
Kaiwaka Bugle - 27 June 2022 
Page 11 
KAIWAKA SPORTS ASSOCIATION 
CONGRATULATIONS MERV HUXFORD 
Queen's Birthday Honours - Merv Huxford was recognised for his outstanding 
contribution to the community with a Queens Service Medal.  
2016,  the 32nd Kaiwaka Sports Association Sports Awards held in the Kaiwaka 
Sports  Complex,  Merv  Huxford  was  awarded  the    Senior  Sportsperson  of  the 
Year (nominated by the Hockey Club). At that time he had achieved to a very 
high  level  in  Masters  Hockey  representing  New  Zealand  in  a  test  against 
Australia  becoming  the  first  Hockey  New  Zealand  Masters  Blackstick  to  play 
100 internationals and was selected for the Masters World Tournament.  
Pictured  below:  Annmarie  Holst  -  Junior  Sportsperson,  Rhys  Shadbolt  -  Greg 
McRae Memorial, John Markby - MC, Merv Huxford - Senior Sportsperson of 
the Year, Lindell Ferguson - Service to Sport . 
KAIPARA BASKETBALL 
What an awesome weekend of Basketball for the North at Tribal Wars. All our 
teams  represented  Kaipara  with  pride,  and  we  had  players  ranging  from 
Dargaville  to  Wellsford.  The  kids  had  a  ball  and  the  improvement  they 
underwent over the two days was immense.  
Northland  has  done  a  great  job  expanding  the  tournament,  with  teams  from 
Hibiscus  Coast,  Kaipara,  Mangakahia,  Whangarei,  Mid-North,  Hokianga  and 
Kaitaia all putting in teams.  
A big thankyou to all our coaches and Managers and Refs. 
 (Under 11 Boys) Marilyn Lewell, Patrice Donaldson, Vegas. 
(Under 11 Girls) Toni Phillips, Courtney Cave 
(Under 13 Boys) Don Lawson, Kalem Tana 
(Under 13 Girls) Blake Worsfold, Anahera Worsfold, Pat Buxton. 
Referees: JZ Lewell, Mokoia Lewell, Charlene Masiutama, Irimei Grey 
Last but not least the amazing hosts Mel, Del and team up Waipapa, and Mata, 
Jin and team in Whangārei.  
KAIWAKA FITNESS CENTER 
This a fully equipped 24/7 gym! 
Kaiwaka Fitness Center full year membership runs from 1st June to 1st June the 
following year, prices and membership term reduce every quarter. Prices are as 
follows: 
A full year 1st June to 1st June - $140 
Half year 1st December to 1st June - $95 
Quarter year 1st March to 1st June - $50 
$10  is  added  to  each  price  as  a  bond  for  the  key,  if  you  are  renewing  your 
membership and exchange your old key you do not pay the extra $10. 
There is a $50 charge for replacement of lost keys. 
See Facebook Kaiwaka Fitness Center 
OTAMATEA NETBALL 
The  teams  are  really  enjoying 
their  netball  -  Otamatea  Senior 
2, pictured, had a great win for 
their last game - well done! 
CONGRATULATIONS  to  Pat 
Buxton  for  achieving  her 
Centre  Practical  badge  in 
umpiring and to 
Zoey  Smythe  - 
Junior, 
Tina 
Ball  and  Pip 
Smythe    -  both 
Centre 
umpiring 
badges. 
CLUB CONTACT DETAILS 
Check FACEBOOK pages 

ATHLETICS 
Eileen Parsons 021 142 0357 
E: b.parsons@xtra.co.nz 

BADMINTON 
Mel Williams 0274114817  
E: pkfleming@xtra.co.nz 

BASKETBALL 
Cyrena Brunton, secretary 
E: basketball.kaipara @gmail.com 
Blake Worsfold 021 148 9743 
E: blake@ruraldesign.co.nz 

FITNESS CENTRE 
Siobhan Henderson 027 979 1203 
E: siobhanCole87@gmail.com 

HOCKEY 
Tina Holst 021 293 5974 
E:  tina.holst@otamatea.school.nz 

KAIWAKA PRIMARY SCHOOL 
Sharlene Tornquist 09 4312309 
E: principal@kaiwaka.school.nz 

MARTIAL ARTS 
Craig Bennetts 021 152 4466 
E: otamatea.kempo@farmside.co.nz 

NETBALL-Senior (OTA-EX) 
Maree Stewart 

NETBALL – High School  
Jodie Bennetto 021 0266 3634 
E: mgtonetball@gmail.com 

NETBALL- Primary School 
Courtney Cave 021 266 7946 
E: cjcave@hotmail.com 

PT.  CURTIS CRUISING CLUB 
Sandy Shaw 021 0236 0740 
E: wfdsports@xtra.co.nz 

RUGBY-Senior 
Michael Tovine 021 138 661 
E: michealtovine@hotmail.com 

RUGBY – JMB 
Te Awhina Whitehead 021 0259 6889 
E: teawh@hotmail.com 

RUGBY - Women 
Bron Hames 027 4258046 
E: horsiehames@yahoo.com 

SQUASH: 
Heath Worsfold 021 431 320 
E: heath@ruraldesign.co.nz 
Bruce Leslie 021 12608015 
E: leswa212@gmail.com 

SQUASH - Juniors 
Lana Thompson 
kaiwakasquash@gmail.com 

TENNIS: 
Linda Cowbourne 021 266 8571 
kaiwakatennis@gmail.com 
PLEASE SEND UPDATES,  
REPORTS,  PHOTOS,  ADVERTS  to 
kaiwakabugle @kaiwaka.co.nz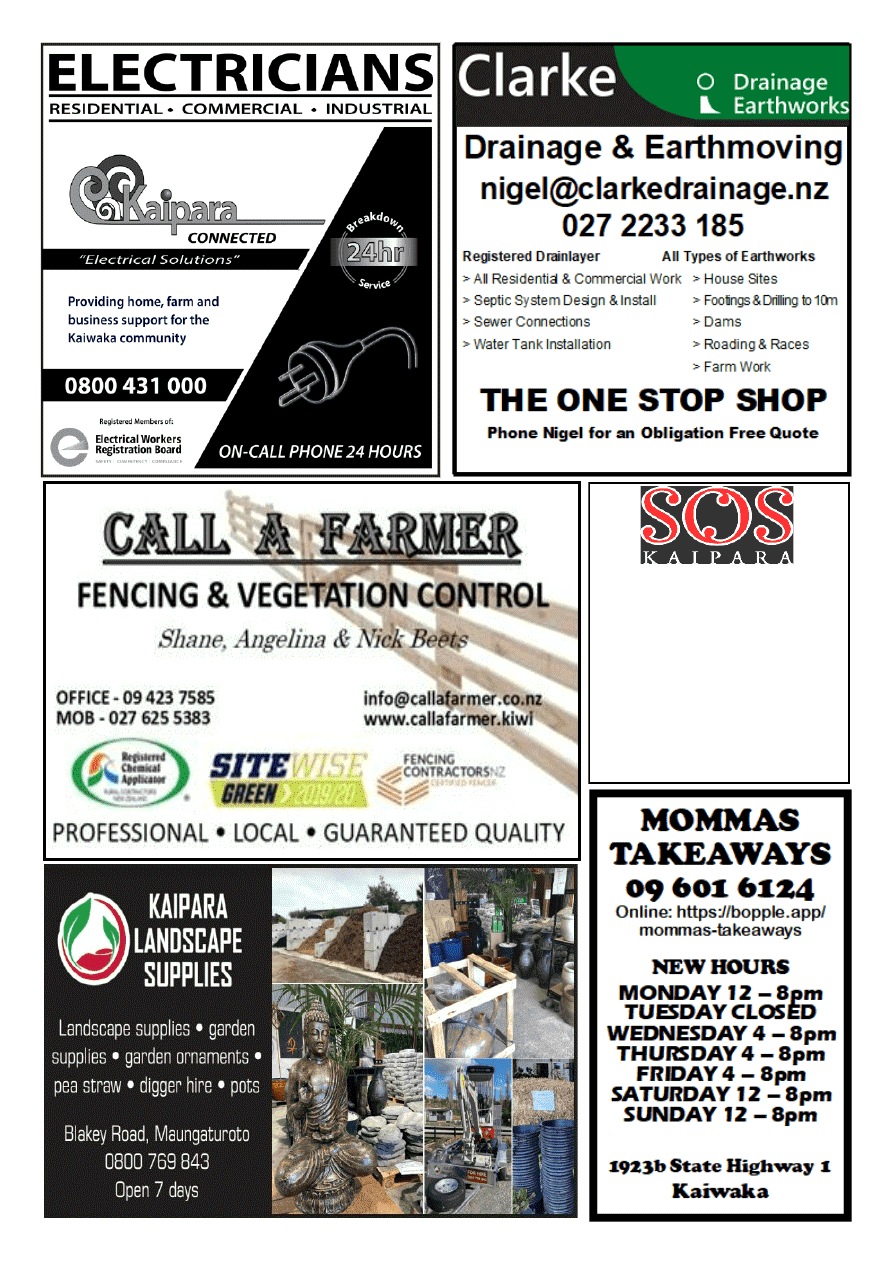 S.O.S Kaipara 
Support, advocacy, crisis and 
family therapy counselling, refuge 
housing to survivors of sexual 
abuse and domestic violence. Also 
Education prevention programmes 
for the community and clients.  
Office hours 9am to 3pm Mon- Fri; 
24/7  Police  
or phone 09 4396070 
FACEBOOK :SOS KAIPARA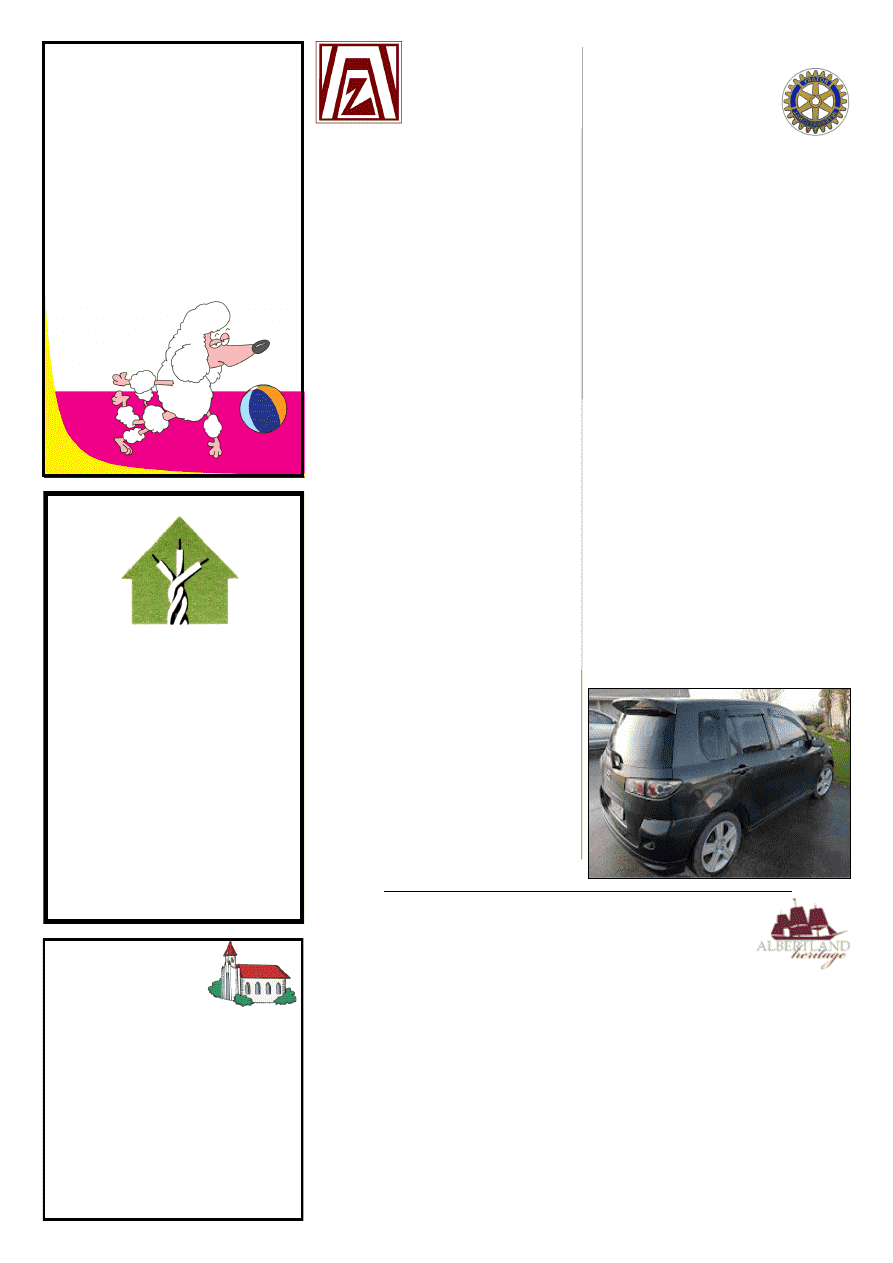 www.kaiwaka.co.nz 
Kaiwaka Bugle - 27 June 2022 
Page 13 
Hot Diggity Dog  
DOG GROOMING  
KAIWAKA 
Call now for a  
Between season groom"  
Professional Dog Groomer  
at affordable prices.
www.doggroomingkaiwaka.co.nz 
call Pam 094312143 or text 
0273335380 for bookings 
ZONTA CLUB 
OF 
MANGAWHAI  
is  delighted  to  offer  to 
young  local  women  our  9th  Annual 
Award  of  a  10  Day  Development 
Voyage  on  the  Spirit  of  New 
Zealand. 
CRITERIA FOR APPLICANTS 

 A  young  woman  from  16-18  years 
of  age  (at  least  16  when  the  voyage 
commences  and  still  be  no  older  than 
18 throughout the voyage) 

A New Zealand citizen or permanent 
resident of New Zealand 

Resident  in  Mangawhai,  Tomarata, 
Wellsford,  Kaiwaka,  Maungaturoto, 
Dargaville, Ruakaka or Waipu areas 

Has  shown  leadership  potential  or 
keen to develop leadership skills 

Meets  the  medical  criteria*  of  the 
Spirit of Adventure Trust 

Must  be  able  to  swim  100  metres 
unaided 

Must  agree  to  the  Spirit  of 
Adventure  Trust's  code  of  conduct  /
terms and conditions of the voyage* 
*
See  the  Spirit  of  Adventure  website  for 
more  details.  10  Day  Development  - 
Voyage • Spirit of Adventure Trust
After the voyage, the applicant will be 
required  to  report  back  to  the  Zonta 
Club  of  Mangawhai  at  a  mutually 
agreed  date  within  one  year  of  the 
Voyage. 
HOW TO APPLY 

Applications  are  to  be  on  the 
designated form 

The  names  of  two  referees  will  be 
required,  neither  of  whom  can  be  a 
family member 

To obtain an application form, please 
email  Sheryl  sheryl@  ivotal4u.com  or 
text 027 478 2540 citing Spirit Award 
and  giving  your  name  and  contact 
details (telephone and email) 
CLOSING DATE FOR 
APPLICATIONS IS  
FRIDAY 8 July 2022 
This award is made possible because of the 
generosity of the local community at Zonta 
fundraising events such as our Mid-Winter 
Ball and quiz nights. 
MATARIKI 
The newest volunteer at the Albertland Heritage Museum, Harold 
Marsh's great great-granddaughter and Lyn Johnston's great-niece 
– Emma Fairweather wrote: because we are celebrating Matariki 
officially  for  the  first  time  we  thought  we  would  share  the  legends  behind 
Matariki and why it is so important for us all here in New Zealand. '
A Matariki 
origin story. The biggest and brightest star in the Pleiades cluster is called Matariki 
and  she  is  married  to  Rehua  (Antares  in  the  Taurus  constellation),  and  they  have 
eight  children,  both  male  and  female.  The  eldest  is  Pōhutukawa  and  she  is  the 
guardian of deceased loved ones that have passed on since the last heliacal rising of 
the  cluster.  There  is  also  Tupu-ā-nuku  who  is  female  and  is  associated  with  food 
grown  in  the  earth  and  Tupu-ā-rangi  who  is  male  and  associated  with  food  that 
comes  from  the  sky  (food  from  trees  as  well  as  birds).  Waitī  is  female  and  is 
associated with food that comes from freshwater (like rivers and lakes) and Waitā is 
male  and  is  associated  with  food  from  salt  water  (the  ocean).  Waipuna-ā-rangi  is 
female and associated with the rain and Ururangi is male and is associated with the 
winds.  Hiwa-i-te-rangi  is  the  youngest  and  she  is  associated  with  the  promise  of  a 
prosperous year ahead.
' 
Ref Facebook Albertland Museum for the full article
MAUNGATUROTO 
&  DISTRICTS 
ROTARY 
DRIVER MENTORING 
SCHEME 
Our Club has been running this scheme 
very  successfully  for  two  and  a  half 
years  now.  It  is  aimed  at  assisting 
people, once they have their Learner's 
licence, and have been able to do some 
driving,  to  progress  to  their  Restricted 
Licence. 
We aim to give each student at least 12 
lessons  to  enable  them  to  become 
competent.  The  first  few  are  in  the 
local  area,  gradually  going  further 
afield  until  we  spend  some  time 
driving  in  Whangarei. We work  under 
the  umbrella  of  People  Potential  in 
Whangarei.  The  initial  lessons  are  of 
about  an  hour  duration  but  as  we  go 
further  afield,  lessons  can  be  about  3 
hours. 
Our mentors can choose the number of 
students  they  have,  and  the  days  and 
times  that  they  are  available.  We  aim 
for  one  lesson  a  week,  preferably  on 
the same day. 
Do  you  have  some  time  to  spare? 
Would  you  like  to  become  one  of  our 
Mentors?  This  is  a  voluntary  job,  but 
you will receive appropriate training. 
Our Mazda is an automatic – see photo 
below  –  and  is  well  maintained  by 
Dean  Garnett.  If  you  would  like  to 
know  more  about  this  scheme,  please 
call Eileen on 021 142 0357.
ST PAUL'S  
ANGLICAN  
SUNDAY SERVICES 
First Sunday 9am Holy Communion 
Third Sunday 9am Family Service 
Blessing and Thanksgiving Service 
Sunday 17th July 
St Pauls Church: Kaiwaka-Mangawhai Rd. 
Church Office Ph 431 4122 
www.mangawhaianglican.org.nz
Reyahn  Leng 
 Registered Electrician 
Local, honest and reliable. 
For your residential and 
light-commercial projects. 
022 314 1068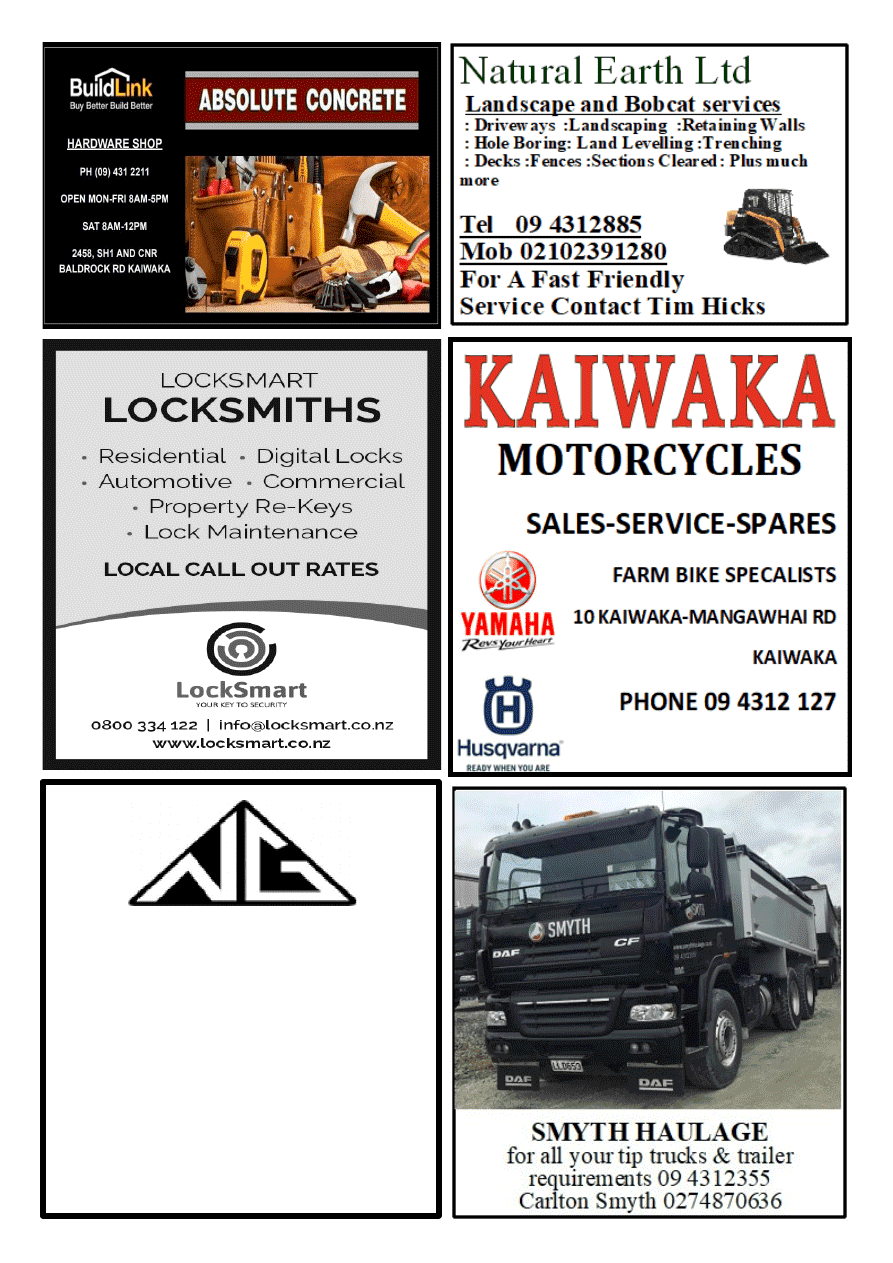 NORTH GLASS 
WINDSCREEN REPAIR OR REPLACE 
GLAZING SERVICES 
MIRRORS  •  SPLASH BACKS  •  SHOWERS 
0800 70 40 10
info@northglass.co.nz 
www.northglass.co.nz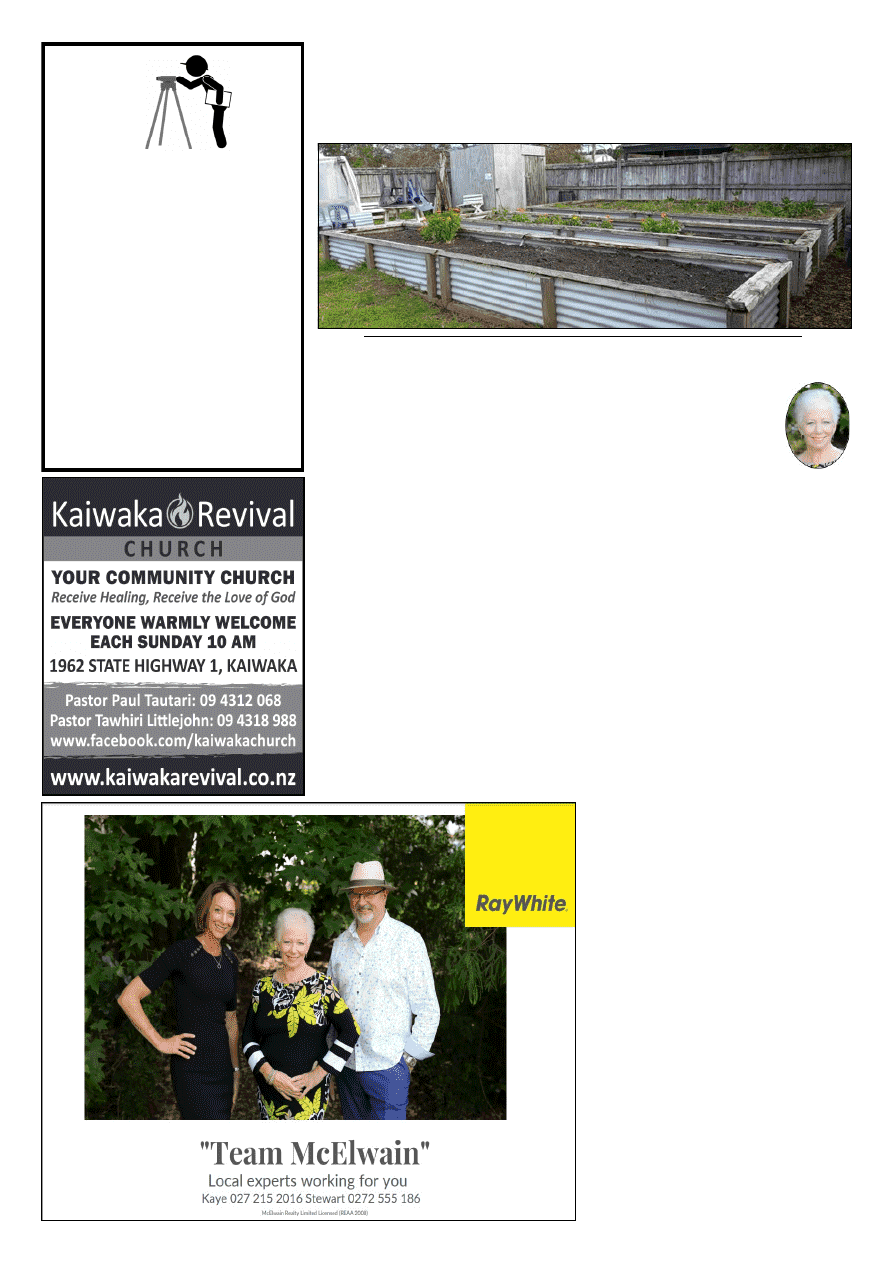 www.kaiwaka.co.nz 
Kaiwaka Bugle - 27 June 2022 
Page 15 
Kaye McElwain from Ray White has lived in the area for 17 years and has 
worked  in  real estate  for  over  two decades  as  an agent  and  business  owner. 
Once a month she writes a column with commentary and analysis on our local 
real estate market.  
Today she looks at what's happening in our current market 
and  why, 
contrary  to  what  you  may  be  reading  and  hearing,  an 
auction is still the preferred option for selling your property. 
Looking at where the market has come from it's not a surprise to many that a 
slowdown has occurred. Since COVID-19 and post our first lockdown in April 
2020,  prices  have  surged  an  average  of  41  percent  during  the  past  two  years 
across New Zealand. 
This  dynamic  in  house  price  increases  has  never  occurred  in  previous  real 
estate markets in such a short amount of time. Interest rates dropped to record 
low  levels,  and  borrowing  was  encouraged.  This  allowed  buyers  to  enter  the 
market  and  sellers to  take  a  perceived  uplift  in price.  Confidence  abounded in 
the market in New Zealand; property became very much the talking point, and 
the success of marketing property increased, which delivered higher sale prices 
and lower days on market. 
Fast  forward  to  October  2021,  and  we  experienced  the  first  upward  lift  in 
interest rates since 2014 and since then we have experienced four further interest
-rate rises, this lifted the official cash interest rate to 2.0 basis points from 0.25 
only  nine  months  ago.  It  may  not  seem  like  a  high-level  increase  in  terms  of 
quantum, but in real terms, the lift has been 
fivefold and is expected to continue increasing. 
So how do you navigate this cooler market  if you're wanting to sell and still 
get  a  great  price  for  your  property?  Choosing  the  most  appropriate  method  of 
sale for market conditions and personal needs remains important. We know the 
most  active  purchasers  in  the  market 
typically  inquire  early  on  property  and 
are  attracted  to  'fresh  homes'  coming 
onto  the  market,  with  most  properties 
generating  higher  levels  of  interest  in 
the  early  days  of  being  on  the  market, 
and  over  time  the  levels  of  interest 
wane. 
While it's more difficult to encourage, 
under  the  hammer  sales  are  still  our 
preferred  marketing  method.  We 
believe 
that 
auction 
provides 
transparency  for  buyers  to  transact, 
whether  that  be  before  the  auction,  at 
the auction, or after. While success rates 
have  changed  with  under-hammer 
results, the auction marketing method is 
still  the  most  successful  giving  the 
vendor  the  shortest  days  on  market  to 
be SOLD. In market conditions that are 
potentially 
declining, 
it 
remains 
relevant  for  sellers  to  consider,  with 
bidders  needing  to  be  unconditional 
with their bid/s. 
Feel free to give me a call at any time if 
you  have  any  questions  regarding  real 
estate. 
~ Best wishes Kaye, 027 215 2016
Ken Urquhart 
BSurv Licensed Cadastral 
Surveyor 
KMU  
Surveys Ltd
467 Bickerstaffe Road 
RD 2 
Maungaturoto 0587 
Ph 09 431 8705 
Mob 021 161 2344 
kenurquhart@xtra.co.nz 
HOW to NAVIGATE a COOLER MARKET 
KAIWAKA COMMUNITY GARDEN 
The weekend working bee has definitely got the gardens underway again! James 
replaced  the  broken  shed  lock,  allowing  us  to  keep  our  gear,  chemicals  and 
fertilizers safe; the paths have begun to be mulched; the soil has been cultivated 
and fertilizer added; some seedlings are in; a worm farm has been setup and a 
smaller compost bin has been brought on site. 
See Facebook for Kaiwaka Gardeners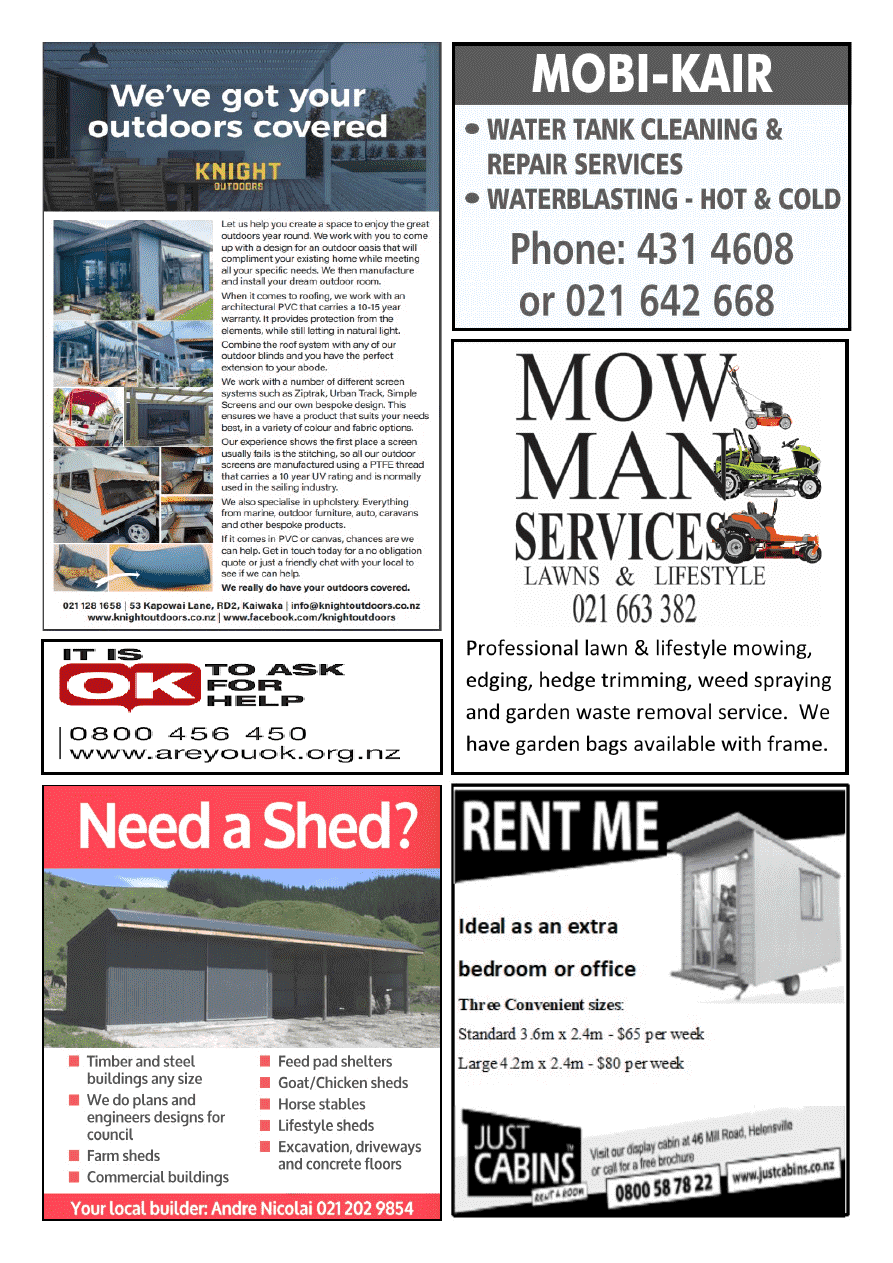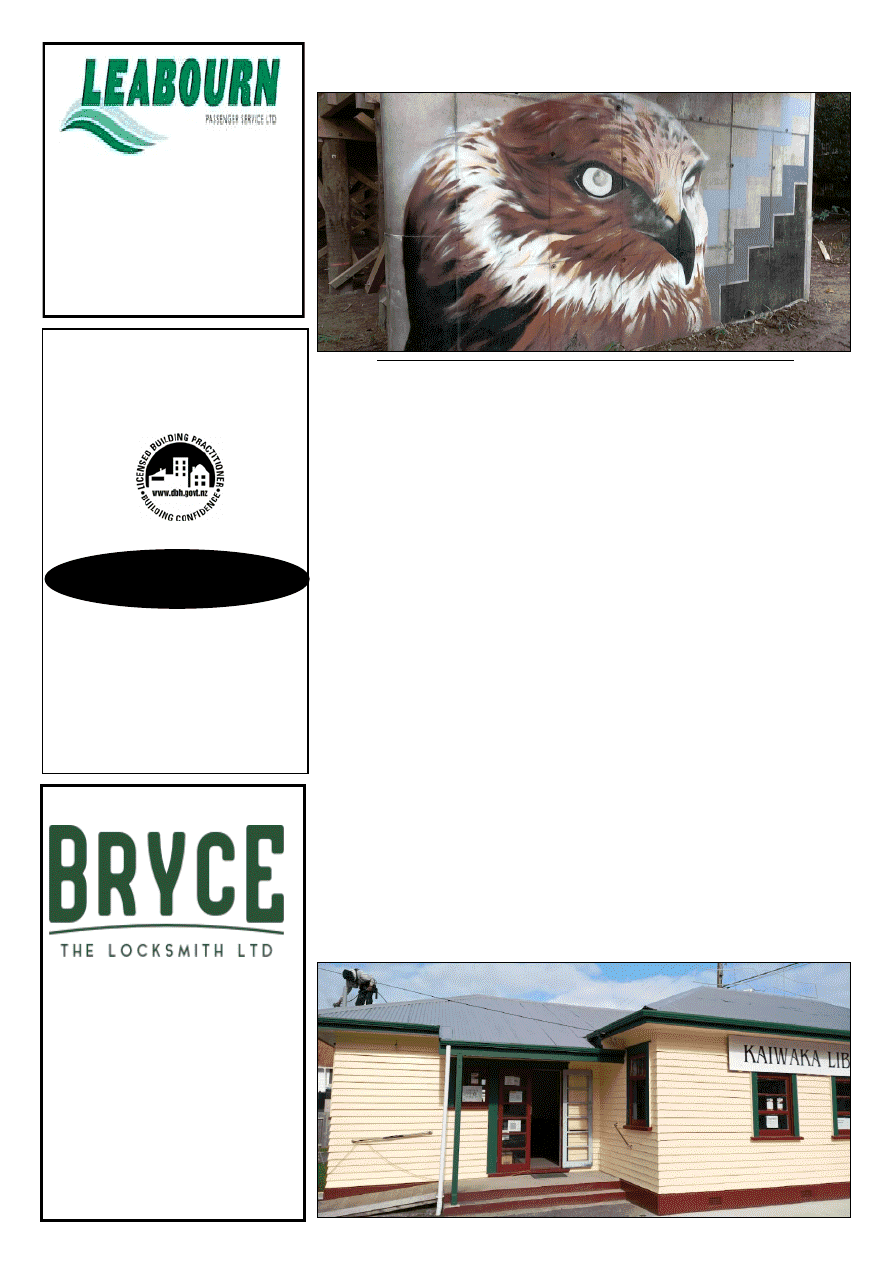 www.kaiwaka.co.nz 
Kaiwaka Bugle - 27 June 2022 
Page 17 
LIBRARY 
MEMBERSHIP 
IS 
FREE! 
Membership at Kaiwaka Library is free 
for everyone, adults and children. Sign 
up at Enterprise* or come in and see us 
and  we'll  sign  you  up  on  the  spot.  No 
need  to  prove  where  you  live.  Adults 
need  to  bring  some  form  of  personal 
ID,  such  as  a  driver's  license  or 
passport, or firearms license. 
LIBRARY BOOKS FOR KIDS 
While the library at Kaiwaka School is 
temporarily  closed,  your  kids  can  still 
have access to books - it's free to join, 
see  above.  Come  in  and  see  what  we 
have!  You  can  also  borrow  from  the 
other  libraries  in  the  district  - 
Dargaville,  Paparoa,  Maungaturoto, 
and  Mangawhai  -  with  your  Kaiwaka 
Library card, and have their books sent 
to Kaiwaka for your convenience. Talk 
to us if you have any questions about it. 
NATIONAL VOLUNTEER WEEK 
It  was  Te  Wiki  Tūao  ā-Motu  National 
Volunteer  Week  last  week  in  New 
Zealand.  I  give  my  thanks  to  the team 
of  past  and  present  volunteers  at  the 
library  who  have  put  their  time  and 
effort  into  making  the  library  such  a 
great place. 
NEW PAINT 
Do  you  like  our  new  paint  job  at  the 
library? 
We 
think 
it's 
pretty 
spectacular!  The  Art  Deco  colours 
were  chosen  to  match  the  Kaiwaka 
War  Memorial  Hall  next  door.  Many 
thanks to Blair and the team at Coast to 
Coast  Painters  for  the  hard  work,  and 
to  Kaipara  District  Council  for  the 
grant  to  pay  for  it.  As  I  type  this,  the 
roof  is  being  painted,  and  then  the 
project is done. 
BOOK REVIEW 
Margarita  said  of  Love  to  cook:  120 
joyful  recipes  from  my  new  BBC 
series  by  Mary  Berry:  "Recently,  I 
had  the  love  of  perusing  through 
cookbooks  and  found  a  few  of  the 
recent  Mary  Berry  cook  books  in  the 
Kaipara  library,  which  I  loved.  This 
one  hasn't  disappointed  me  with  120 
"joyful" recipes. The lay out is easy to 
follow  which  gave  me  the  confidence 
to  try  the  recipes.  The  ingredients  can 
be 
sourced 
easily 
from 
the 
supermarket.  She  does  use  muscovado 
sugar  in  a  lot  of  the  recipes  which  I 
could not find in the local Four Square 
so  used  brown  sugar  instead.  The 
recipes  I  tried  were  yummy  with  my 
favourite  being  the  sweet  and  sour 
pork. All in all, a good range of recipes 
without  taking  too  much  time."  This 
book  is  at  Dargaville  Library  and  can 
be brought to Kaiwaka for you. 
I've been reading the Hollows series by 
Kim Harrison. Start with the first book, 
Dead witch walking: "All the creatures 
of the night gather in "the Hollows" of 
Cincinnati, to hide, to prowl, to party... 
and to feed. We have the first 5 books 
in  the  series  on  our  shelves,  Dead 
witch  walking  and  The  good,  the 
bad,  and  the  undead  on  the  free 
fiction  shelves,  and  the  others  on  the 
rental shelves. The first 4 titles are also 
available  as  an  ebook,  which  can  be 
borrowed for free. 
~ 
See you in the library ~Wendy 
Passenger Service
Car & Van Hire   Bus & 
Coach Charters 
Airport Transfers    
Phone (09) 4237416 
Bryce Frewin 
Ph: 021 850 983 
Kaipara Based Master 
Locksmith 
bryce@brycethelocksmith.co.nz 
www.brycethelocksmith.co.nz 
Wright  
Design 
No. 117345 
ARCHITECTURAL DESIGN 
N.Z.C.A.D. Architectural 
Mob: 021 276 7389 
Office: 25 Lupis Lane, 
Kaiwaka 0573 
brianwright@xtra.co.nz 
See Joseph Paikea's amazing Hawk  
under the northern walking bridge 
KAIWAKA LIBRARY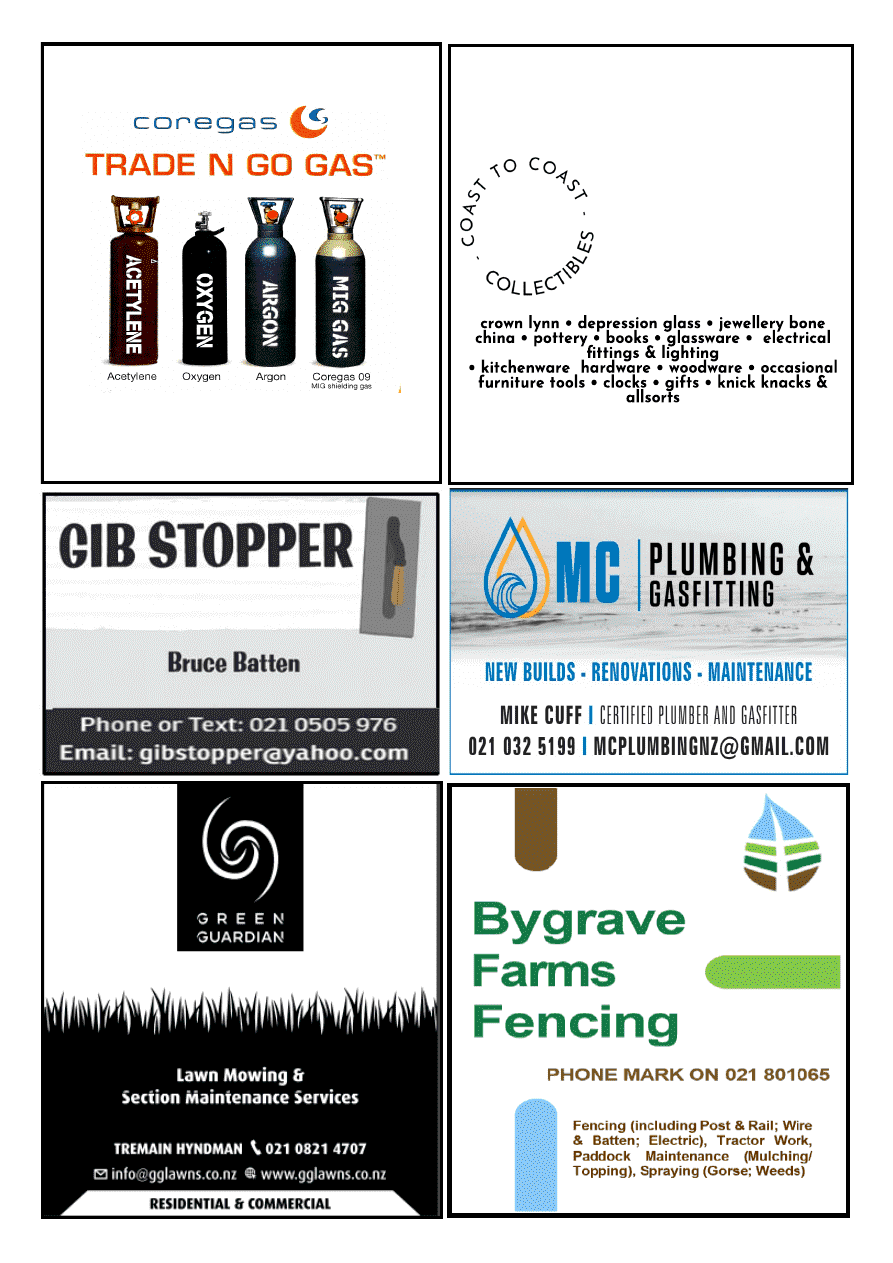 Eclectic Boutique 
99 Gibbons Rd, Kaiwaka 
Contact Trish 
for buying or selling 
021 2140 522  
09 431 2193 
Large selection of: 
Open10am – 4pm  
Cash, Eftpos or Direct Debit available 
At Twinkle Tow 'n' Tyre 
Mob: 021 833 960 
Ph & Fax: 09 431 2823 
1837 State Highway 1, Kaiwaka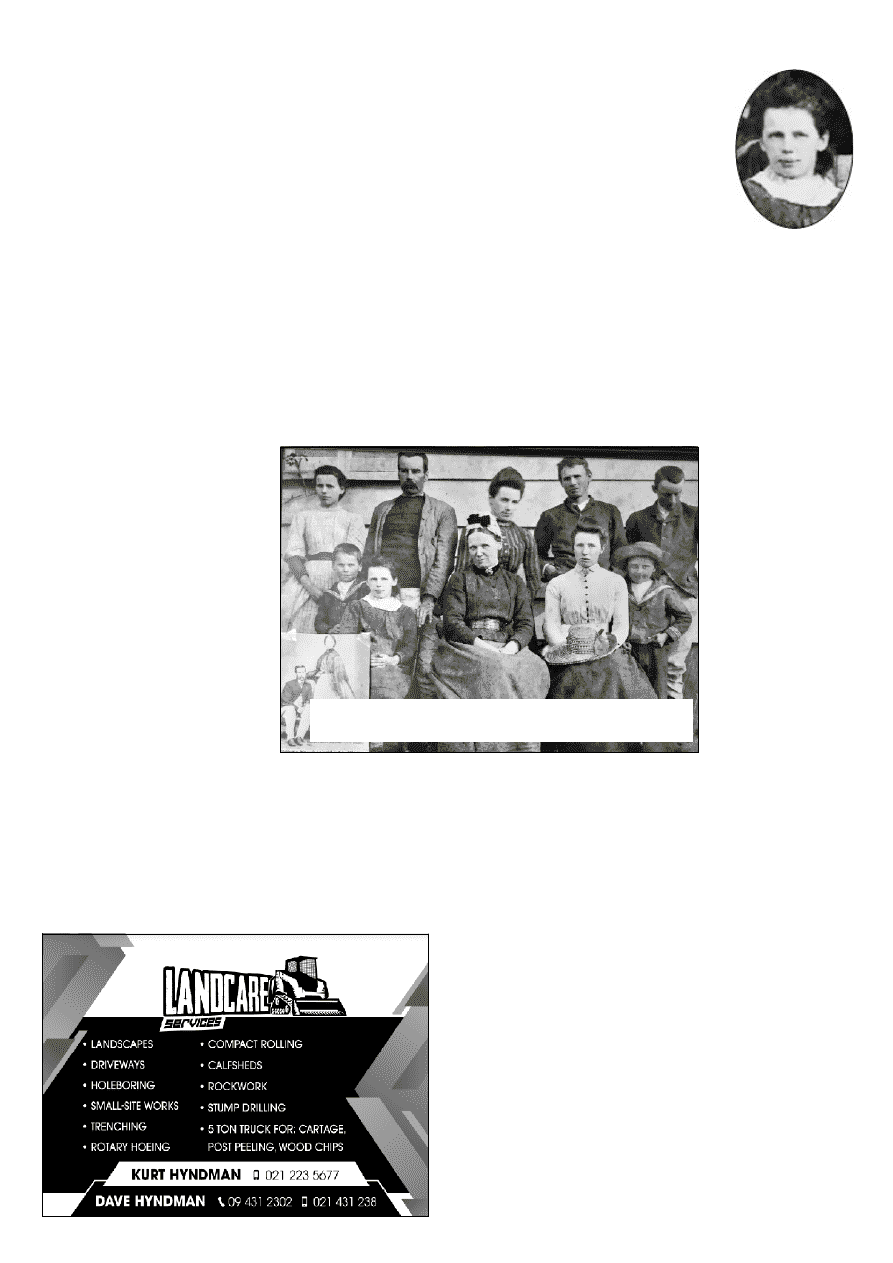 www.kaiwaka.co.nz 
Kaiwaka Bugle - 27 June 2022 
Page 19 
In  1964,  at  85  years  Lily  Linnell, 
fourth  and  youngest  daughter  of 
George and Mary Linnell (nee Hull) 
of  the  early  Kaiwaka  history.  Lily 
was  born  12  January  1880  and  died  4 
June 1974 …. 
PART ONE: 
My father came from Cheshire, England in 
1862 at the age of 19 years, in the company 
of  Mr  and  Mrs  Forde.  Allotment  of  land 
was 40 acres for each person in those days, 
but  Capt.  Forde,  having  been  in  the  army, 
received several hundred. But they did not 
stay long in that spot, which was at the foot 
of  Pukekaroro  Mount  near  Kaiwaka.  A 
block  of  Māori  land  attracted  my  father  - 
afterwards  called  Young's  Point  -  and  he 
moved  there  after  marrying  my  mother, 
Mary Hull, in 1867.  
The  Hull  family  had  arrived  in  NZ  from 
Ireland on the Bluejacket  in  1860 and had 
settled  on  what  was  afterwards  called 
Fairburn  near  Kaiwaka.  The  first  5 
children  were  born  at  Young's  point,  but 
later  they  moved  to  land  next  door, 
also Māori land, called the Waihakari 
block.  On  this  the  family  lived  for 
many  years  until  different  members 
got  married.  It  is  still  owned  by  a 
grandson. 
Life was strenuous, and it was mostly 
hard work by everyone of our family 
of  eight,  and  not  much  education. 
However, we got along and had many 
happy  days.  Mother  had  been  well 
taught  in  England  and  played  the 
piano.  Many  were  the  happy  little 
dances  we  had  with  friends  coming, 
under  difficulties,  to  join  us.  We  all 
learned  to  dance,  and  even  taught 
some of our neighbours, who used to 
come  by  rowing  boats  up  the  river. 
The  living room  was soon cleared of 
all furniture and dancing commenced: 
polka, barn-dance,  waltz, lancers and 
d'Albert  square  dances.  One  neighbour, 
Tony  Hill,  had  been  working  on  the 
railway line coming north and attended all 
the  dances  about.  He  made  an  excellent 
MC and knew all the figures and how they 
came.  Mother's  music  was  good,  and  we 
all  had  a  splendid  time.  Later,  we  had  a 
large  barn  built  and  we  danced  there.  We 
generally  finished  in  the  "wee  small 
hours".  When  we  went  to  other  peoples' 
houses,  we  rode,  or  drove  in  a  trap,  and 
took our clothes and changed at the friends' 
house. 
In between, we all worked at our different 
jobs,  helped  milk  the  cows  and  fed  the 
animals. My eldest sister was a good hand 
taking  beehives  and  honey  too.  Well 
protected with a veil and gloves and men's 
socks  over  stockings,  she  looked  a  real 
character,  but  managed  the  job  all  the 
same. 
Father  was  a  good  rider  and  could  handle 
any  sort  of  horse,  riding  or  driving.  He 
used  to  go  droving  cattle  and  sheep  to 
Auckland  with  a  neighbour,  Bob  Ross, 
buying in the  far north and taking them to 
the  market  in  Auckland.  Sometimes 
making  a  good  profit,  and  other  times  not 
so  good.  It  meant  long  days  in  the  saddle, 
and  often  being  away  from  home  for  a 
fortnight or a month at a time. 
The family carried on. The older boys with 
the stock and the girls helping. Mother was 
always busy cooking, making and mending 
clothes for all – a truly good mother. 
At  one  time  our  farm  was  supplying  beef 
and  butter  to  the  Pukekaroro  bush,  owned 
by the Thomas  Coates  family, which was 
being worked out. Father and the boys used 
to hunt up a beast each week, fit for killing, 
off the Māori run as we called it then. Most 
of  it  had  been  leased  from  the  various 
Māori  owners,  so  we  had  the  right  to  run 
cattle  on  it.  There  were  also  some  wild 
ones which had got away from people and 
bred  there,  so  it  made  the  mustering  of 
tame  ones  much  more  difficult.  However, 
there 
was 
always 
something 
forthcoming. 
When 
killing day came round 
the  family  lived  on 
edible  entrails, and the 
dogs  on  the  rest.  The 
same  applied  to  the 
sheep.  We  did  this  for 
some  years,  in  fact  till 
the  kauri  bush  was 
worked out. 
Mr  T.  Coates  also 
kept a store and we got 
most of our  goods and 
groceries 
from 
it. 
Mother  even  bought  a 
beautiful piece of navy 
serge and made a sailor 
frock  for  me.  With  a 
pleated  skirt  and  sailor 
bodice,  wasn't  I  a 
proud 
ten-year-old! 
And  in  the  finish,  I 
think we came off with 
a  good  few  pounds  to 
our  credit.  They  were 
very  nice  people  to 
deal  with  and  had  a 
wonderful  bookkeeper 
who made no mistakes. They were also our 
very  good  and  true  friends,  and  their 
descendants still are. 
When  father  first  started  on  his  land,  he 
somehow  broke  in  and  trained  four  or  six 
steers,  to  pull  in  yokes,  and  did  all  his 
hauling  with  them,  and  for  other  people 
too.  When  some  of  the  settlers  arrived  at 
Mangawhai  by  boat,  he  was  asked  to  take 
them  and  their  chattels  across  to 
Maungaturoto,  which  he  was  able  to  do. 
There was no distinct road either, to where 
they  had  their  allotment  of  land,  40  acres 
each.  We  had  quite  a 
number of nice friends, 
but  they  were  very 
scattered.  It  was  a 
happy  event  when  we 
did  meet,  and  all  have 
remained  good  friends 
ever since. 
Father  was  elected  to 
the County Council and 
was in that for about 25 
years  and  chairman  for 
twelve.  At  the  present 
time 
his 
grandson 
Brian,  who  also  owns 
the old home, is in that 
position. 
At  the  beginning  of 
1900,  Mother  became 
ill,  and  had  to  go  to 
Auckland,  and  was 
operated  on  for  a  tumour.  She,  poor  dear, 
was  never  really  strong  again  and  passed 
away in 1907 which was a terrific blow to 
us all. 
Previous  to  this  George,  Katie  and  Edith 
had  been  married,  so  I  was  alone  to  nurse 
her and cope with the housekeeping. and to 
"do" for Father, Forester (Forrie), Dick and 
Jim.  Sometimes  we  had  help,  which  was 
somewhat  indifferent,  but  at  times  good. 
There was always plenty to do, and not too 
many conveniences in those days. 
George  married  Augusta  de  Labrosse 
(Duttie)  and  they  lived  at  "Ihu",  about  a 
mile  down  the  river  from  Waihakari.  He 
had  his  own  farm,  down  the  Māori  run, 
"Tuhirangi" but also continued to work for 
father,  so  was  often  at  "Waihakari".  They 
had six children. Percy, one of the younger 
men, died in his sleep, when he was about 
26  years  old.  He  went  to  bed,  apparently 
quite well, and did not wake again. It was a 
very  great  blow,  and  we  never  knew  the 
cause.  It  may  have  been  an  injury  playing 
football.  A  promising  young  man,  full  of 
life.  "Te  Ihu"  was  purchased  from  Capt. 
Colbeck,  who  owned  the  Bickerstaffe 
estate,  which  was  later  sold  to  the 
government  and  cut  up  into  farms.  It  was 
on the opposite side of the Otamatea River. 
~ Ref. Peter Linnell 
MEMOIRS OF LILIAN "LILY" MARGARET LINNELL  
Linnell  Family  circa  1890  at  Waihakai.  Back    L  to  R: 
Alicia, George Snr, Kate, George Jr, Forester; Front L to 
R: James, Lillian, Mary (Cissie), Edith, Francis (Dick)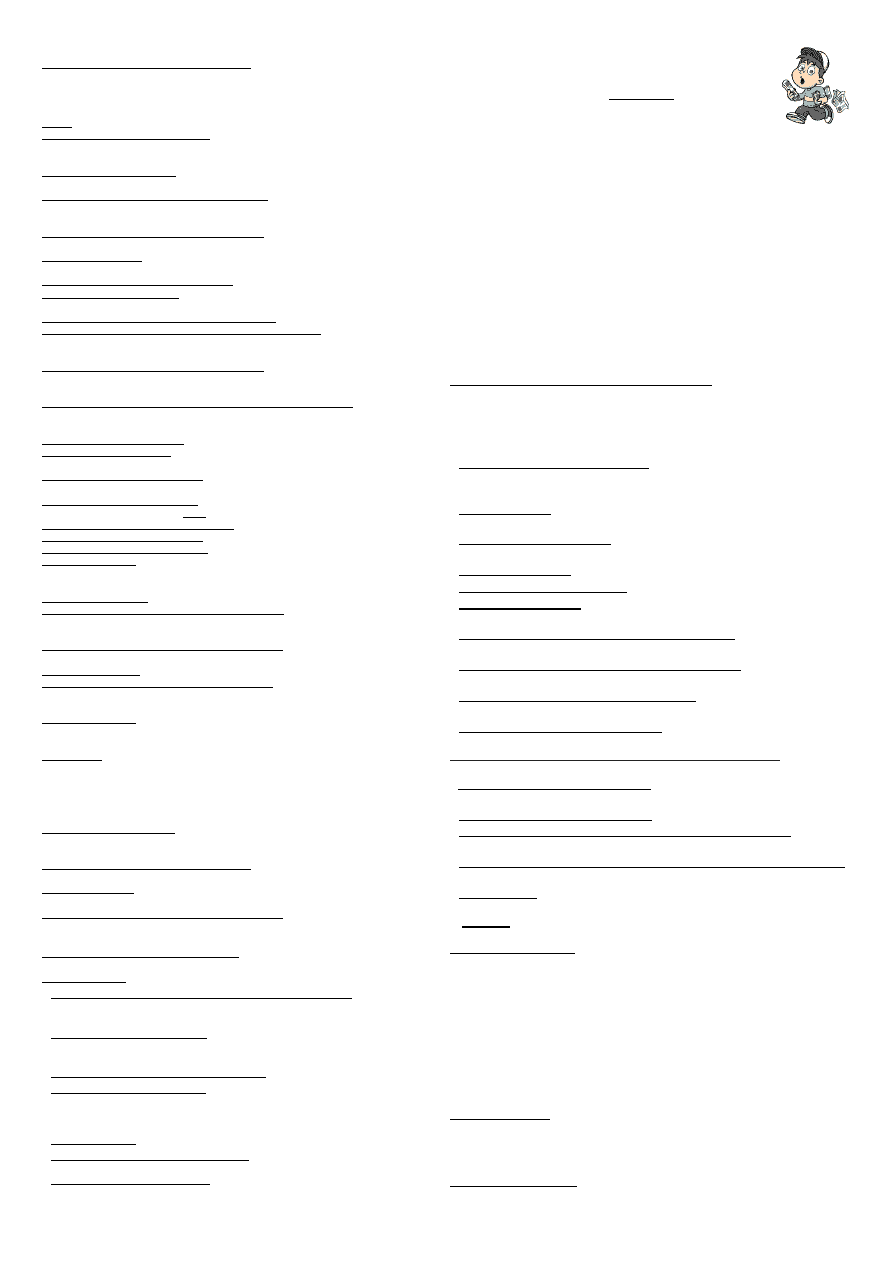 WHAT'S ON
PLEASE ~ do let us know what is on - or what is NOT 
on at the moment! email 
kaiwakabugle@kaiwaka.co.nz 
Advertising in WHAT'S ON is FREE  
*30Jun~Kaipara Young Farmers, Three Furlongs 7pm 
*1Jul~Movie 'C'MON, C'MON" 7.30pm KWMH 
*6Jul~Kaiwaka School KIDZ BOP , KSA 10.45am 
*8Jul~End School Term  Two 
*15Jul~Movie 'DOWNTON ABBEY New Era', 7.30pm 
KWMH 
*29Jul~ Music Movie 'Mic k FLEETWOOD/Peter 
GREEN ,7.30pm KWMH 
*11Aug~Otamatea High School OPEN DAY 9.15am 
KWMH = Kaiwaka War Memorial Hall; KSA = Kaiwaka Sports Association 
See www.kaiwaka.co.nz for more information 
HOUSEHOLD RUBBISH COLLECTION - Kaiwaka Pick up: 
Mondays = Green bags (Northland Waste - 09 430 3273) 
Wednesdays  = Blue bags and yellow recycling (at Kaiwaka Four 
Square  $3.60  and  $1.70)  (Kaurilands  09  4392146);  ONLY  Blue 
and Yellow bags picked up on Oneriri Road. 
 DIABETES  Support  Group  -for  Kaiwaka,  Mangawhai, 
Wellsford  10am,  3rd  Friday  of  month  Ph:  Colleen  James  09 
4314238 
 GENEALOGY - Wellsford: 1st Thursday in month Ph: 423 
7033; Waipu: 4th Monday in month Ph: 4312 725 
 HAKARU PONY CLUB - Secretary Denise Rogers 021423376 
secretary@hakaruponyclub.co.nz  
 KAIPARA HUNT - Secretary Albert Doonenbal Ph 4312059 
 KAIWAKA BADMINTON -Tuesdays 7.30pm Ph: 0274114817 
 KAIWAKA  CAN  - 3rd Wednesday in month, 5.30pm, Archie 
Bull Hall Ph: 0273572751 
 KAIWAKA GARDEN & FLORAL GROUP - 2nd Thursday in 
month. Ph: 431 4744 
 KNITTING FOR WHANGAREI HOSPITAL - 2nd Tuesday in 
month, Archie Bull Hall 10am Ph 4314827 
 MANGAWHAI COMBINED REBUS CLUB - 2pm, 3rd 
Thursday month, Senior Citizens Hall Mangawhai. Ph: 4315777 
 MANGAWHAI GENEALOGY  - meet 3rd Thursday month, 
Mangawhai Museum, 10.30am 
*PILATES - KAIWAKA WAR MEMORIAL HALL - Ph: 
021  
2072729  
*PILATES - HAKARU HALL - Tuesday 10am, Thursday 9am 
Qualified Instructor  Ph. 0220643965  
 PT CURTIS CRUISING CLUB - Ph: 4312205 Pongo, Commodore 
 RSA,  HAKARU  &  DISTRICTS  WOMEN'S  SECTION  –  meets 
1.30pm 4th Thursday of the month. Ph: 431 5818  
 KAIWAKA  SCOTTISH  COUNTRY  DANCING  CLUB-
Wednesdays 10am - 12 noon  Ph: Elaine 027 432 0032  
 TRAMPING - Mondays 9am - 2:30pm, contact  
  valkenburgmaria@gmail.com 
* YOGA - St. John Hall - Tuesday 6 pm, Carla, 021 2968794 
HALLS FOR HIRE: 
  Kaiwaka St. John Hall: Phone Marj  0272941227  
 St.Pauls Archie Bull Hall HIRE $20 half day, $40 full day per 
hire, S McAulay, Ph 4312311 
 Kaiwaka  War  Memorial  Hall  HlRE  -  Phone  4312725  or 
kaiwaka.hall.bookings@gmail.com 
 Hakaru Community Hall HIRE -Ph.  Karen 4312090 
 Te Pounga Marae queries - Pearl Nathan  0223933533 
 Kaiwaka Sports Association hire/queries 
Jennie Reynolds 
   ksa.bookings@mail.com, 02102764171  
Justice of Peace:  
A.F.Hargreaves  4312  045,  W.Howard  4312  725,  J  Mcleish 
0212132795  or  Kaiwaka  Four  Square  4312227  (Sundays  – 
Thursdays)   - please phone to make sure they are available or go 
to www.justiceofthepeace.org.nz 
Marriage Celebrants: A.F.Hargreaves; Y Osborne; C. Rosseels
LOCAL SERVICES 
*Emergencies - Ambulance, Fire, Police - dial 111 
*Non-urgent Police phone 105
A A: Meets Wed., 7pm. Kate's Place Ph 021 024 25969 or 0800 229 6757  
NARCOTICS ANONYMOUS : Mon., 6pm, Archie Bull Hall, Kwk-Mwi 
Road; drug and alcohol related issues. Ph. 02102412348 
ASUREQUALITY LTD (was AgriQuality) Call Free 0508 0011 22  
BUDGETING SERVICE, WELLSFORD: Free confidential advice & 
support for all areas of personal finance. Ph (09) 423 7123 
CAB-Citizens Advice Bureau.Wellsford Ph: 4237333 
0800 367 222 email: wellsford@cab.org.nz, 1 Matheson Road, Wellsford  
CIVIL DEFENCE - Kaipara 0800 727 059 or Facebook 
DOG/STOCK /NOISE CONTROL 0800 105 890 
FUNERAL SERVICES: Morris & Morris Ltd, Whangarei 0800667747 
GRANDPARENTS Raising Grandchildren: Dianah Roberts 0223819539 
HAKARU & DISTRICTS MEMORIAL RSA (Inc) 733 Settlement Rd, 
Hakaru. Ph 4312 176 or Barry Wallace (President) 0274 922 975 
HAKARU LANDFILL/Transfer Station:Open everyday  10am-
4pm.Ph4312629 Except Public Holidays. Cost-$55 trailer load up to 1 
cubic metre. Ph:4258567 - office 
KAIPARA DISTRICT COUNCIL www.kaipara.govt.nz:  
Help Desk FREEPHONE 0800 727 059  
KAIWAKA CEMETERY: Ph: 4312045 or 4314017 
KAIWAKA LIBRARY: kaiwaka.library@gmail.com  
Mon. 4-6pm; Wed., Thurs., Fri., Sat. 10am-2pm Ph:4312539 
KAIWAKA PLAYCENTRE: Ph Juanita 0274134904; open Mon, Wed, 
Fri 9am-12pm. Hastie Lane; Monday to Friday 9.00am - 12 noon. 
KAIWAKA POST OFFICE:Ph:4312 431  
Post Code: 0573 for RD2 and 0542 for all Kaiwaka Post Office mail 
KAIWAKA PRIMARY SCHOOL: Ph: 4312309   
KAIWAKA SPORTS ASSN: Ph 4312005; 4312129 gym 
KAIWAKA ST JOHN HALL: Phone Marj  0272941227  
KATE'S PLACE Community Centre - Employment services, Free Health 
Nurse, Plunket, Advocacy,  A.A., Legal Advice. 4312 661 
LINKING HANDS Health Shuttle Ph 4315906 or 09 4318969 
MINISTRY FOR PRIMARY INDUSTRIES - General inquiries Call 
Free 0800 008 333 
NEIGHBOURHOOD SUPPORT RODNEY:  021 2583737      
NORTHPOWER: Faults Kaiwaka area 0800 104040 
OTAMATEA COMMUNITY SERVICES: Counselling, parent coach, 
Family Support worker, budget advice, food bank. Mon-Fri 9am-3pm. Ph 
09 431 9080 http://www.otamateacs.org/ 
PARENTPORT: Free, practical family support service Puhoi to Paparoa 
Ph or txt: Dianne 027 280 5093 or 09 425 9357 
PLUNKET: Kaiwaka- St John Hall, 4th Monday of the month. Plunket Nurse 
Louise 027 282 3987 or 09 438 2508 
Mangawhai- Rose Madsen Cottage, Mondays and Wednesdays. Plunket Nurse 
Rebecca 021 501 941 or 09 438 2508 
Maungaturoto - Good News Church, 2nd and 4th Wednesday of the month. 
Plunket Nurse Seleisa 021 912 248 or 09 438 2508 
PLUNKET HELPLINE -0800 933 922 (24 hours)  
FACEBOOK - Kaipara Plunket 
TAITOKERAU COMMUNITY LAW: Free confidential legal advice and 
assistance, 2nd
Thursday
 of each month. Ph: 0800 155 529 for appts.  
TE URI O HAU Settlement Trust Tangata Developments: Whanau Ora 
021 793262  
VETERINARY SERVICE MANGAWHAI: 
Ph: 4314535 Mon-Fri 8.00-5.00, Sat 9-12, a/h appt. 
WELLSFORD DOCTORS: Ph: 4238 086 
CHURCHES:
 
Kaiwaka  Revival  Church  -  Your  Community  Church:  Sundays  10am. 
Ph: Pastor Tawhiri 09 431 8988 or Pastor Paul 09 4312 068 Visit us at 
www.facebook.com/kaiwakachurch 
 
St  Paul's  Anglican  Church  1st  Sun.  9.00am  (Eucharist),  3rd  Sun. 
9.00am  (Family  Service).  Contact:  Church  Office  Ph  431  4122 
www.mangawhaianglican.org.nz 
 
Church of Christ the King, Mangawhai:9.00am every Sunday 
 
St.Mary's  Catholic  Church:  Maungaturoto  –  Griffins  Road,  Saturday 
evening  Vigil  Mass  6pm;  Mangawhai  –  Senior  Citizens  Hall,  Sunday 
Mass  8:30am;  Wellsford  –  Matheson  Road,  Sunday  Mass  10:30am;  
Mid-week Mass times and all enquires – phone 423 8170
 
Baptist Church: Sun. 10.30am Mangawhai Snr Cit.Hall.Ph:4312339 
 
Cause  Way  Church  Mangawhai:  Sundays  10.15am,  Mangawhai 
Community  Recreation  Centre,  Insley  St.  Ph:  09  4314782 
Next Bugle Deadline Friday 22 July 2022