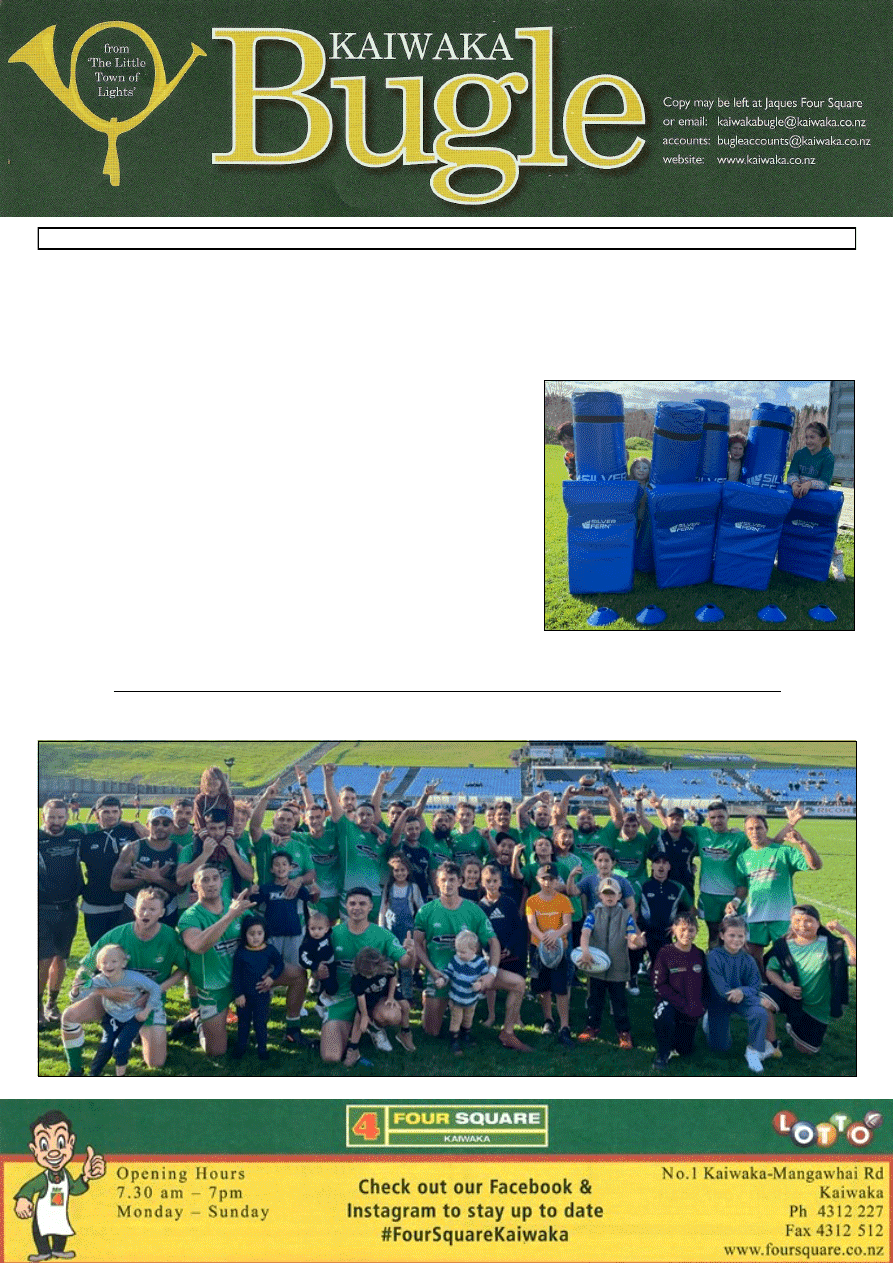 www.kaiwaka.co.nz 
Kaiwaka Bugle - 25 July 2022 
Page 1 
No.7 
25 July 2022 
LOCAL RUGBY AT ALL LEVELS! 
2022 TYREPOWER SOUTH ZONE CHAMPIONS OTAMATEA HAWKS! 
Final Score 29-23 taking the win over Mid-Western on Okara Park! 
EASTERN UNITED JUNIOR MANAGEMENT RUGBY 
We started this year with a truly massive turnout of children. It was awesome to see so many new families keen to give 
rugby a go. More than 100 kids aged 3-13 which made up 3x under 7 teams; 3 x under 9 teams; 1x under 11 team and an 
under 13 team. We haven't been able to have an under 13 grade in our district for a few years so we were happy to have our 
older boys who grew up playing for Eastern still being around to show our younger ones some great rugby skills!  
We have been so lucky with many new coaches stepping up to help and guide our players. It's a hard but great job so many 
thanks to the coaches who give up their spare time to give the kids.  
2022 was a short season being only 8 weeks. Rally Days were at Kaiwaka, 
Maungaturoto and Wellsford. On Saturdays it's been great to see a 'sea of 
blue',  an  awesome  feeling  to  know  Eastern  has  grown  into  a  strong  and 
great club to be in! So many people willing to help and create a great club! 
As  we  had  such  a large  number  of  players,  we  needed  to  purchase  more 
equipment  and  bags  to  help  run  the  club  -  we  put  out  a  message  for 
sponsorship and we were blown away with all the businesses that gave a 
hand up.  
A  huge  donation  of  funds  to  our  account  from  Henderson  Shearing  and 
The  Green  Team  was  hugely  appreciated.  Orang-Otang  Tree  Trimmers, 
Oilcon,  Reflection  Pools  and  Constructive  Management  Limited  together 
bought  our  first  tackle  bags  for  Eastern  -  our  players  have  been  using 
Hawks goalpost pads for a long time so will be awesome to have our own 
junior bags!  
More sponsors: Jackson Brown Motors, C R Johnson who help purchase new balls 
and tags; Intech Designer Kitchen for our very own Eastern Bottles for each team. 
Player  of  the  day  sponsorship  -  Bridgestone  Wellsford,  Three  Furlongs
,  Waterboy;  Step  Construction,  Mangawhai  Natives 
sponsoring prize giving trophies. 
Prizegiving which will be on Saturday 6 August 11am at the Kaiwaka Sports Complex. 
See the KAIWAKA BUGLE in colour online at www.kaiwaka.co.nz  at any time.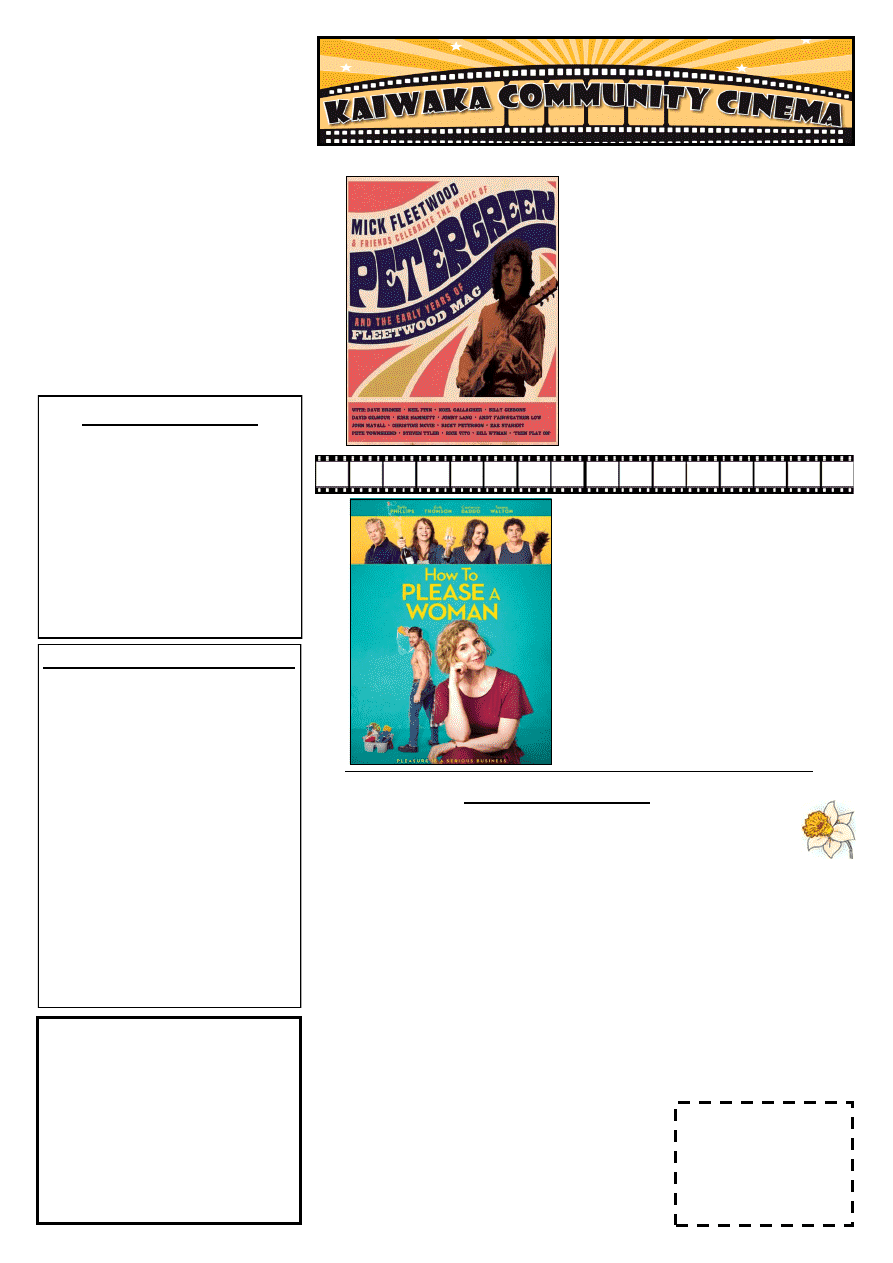 www.kaiwaka.co.nz 
Kaiwaka Bugle - 25 July 2022 
Page 2 
ABOUT TOWN 

 Great see and read about our local sporting folk with all the energy and 
positive  activities  -  along  with  the  community  support  through 
sponsorship and giving a helping hand!  

 A BIG Well Done to two of our local businesses! The July Junction 
magazine awarded Four Square Kaiwaka winner of the People's Choice for Large 
Business,  and  Four  Little  Birds  Patisserie  and  Cakes  winner  of  the  People's  
Choice for Small Business 

 Hakaru  RSA  -  opening  hours  now  Tuesdays  4~6  pm,  Wednesdays  and 
Thursdays 5~8pm. See Facebook for updates

 Kaipara Council dog registrations are due by 31 August  

 DAFFODIL DAY - Friday 26 August, supporting families  with cancer 

 Otamatea Community Services lunch: Wednesday 3rd August at St John Hall 
Hurndall Street; Shopping in Whangarei 9th and 24th August  - mini-bus leaves 
the Maungaturoto Retirement Village at 9am - phone OCS on 431 9080.

Did read the  Mahurangi Matter's  (July 18) article from Bev Ross? Bob Ross 
farmed  the  Topuni  area.  Ross's  Hill,  the  hill  going  south  out  of  Kaiwaka,  was  
named after him.

 FYI - For any home-school families in the area, there is a weekly catch up at 
the Kaiwaka St John Hall from 11am-2pm Thursdays. 
Super  casual,  kids  can  play  while  we  chat.  You  can 
bring  board  games  or  crafts,  it's  really  relaxed  ~ 
Cherie

 Bugle 7 can be seen in colour at kaiwaka.co.nz
~ Lindsey, Ed
"
You spend years learning what's important and one heart-
stopping moment learning what's more important". ~ 
Robert Braul 
KAIWAKA BUGLE NO.7 
25 JULY 2022 
CONTENTS: 
Page 3: Public Notices, Classified 
Page 5: Kaiwaka Weather; Hakaru 
Women's RSA;  
Page 7: Election; Knight Outdoors  
Page 9: Ray White Zonta Ball; 
Gardening 
Page 11: Kaiwaka Sports  Assn 
Page 13: Library; Oneriri Rd. Corner 
Page 15: Maungaturoto Rotary 
Page 17 KDC CEO; Pt. Curtis CC 
Page 19: Miss Linnell Memoirs Pt. 2 
Bugle 8 will appear 29 August 
Contact for advertising, reports, articles 
or information can be made by 
Email: kaiwakabugle@kaiwaka.co.nz 
Ph: 09 4312 045 Lindsey 
Txt: 027 2724137 
Copy  may  be  left  at  Kaiwaka  Four 
Square. 
Kaiwaka Bugle 
Founded May 1978 
We appreciate articles and photos about local 
events, etc, as well as ads and suggestions. 
Copies available in Kaiwaka at Kaiwaka  Four 
Square, Kaiwaka Postal Centre, Shamrock 
Service Station, Animal Health Centre, 
Kaiwaka St John shop., La Nonna 
Also outlets in Maungaturoto, 
Mangawhai and Paparoa. 
Can be viewed online at  
www.kaiwaka.co.nz/Bugle  
Or a copy can be posted to you if you supply 
stamped, self-addressed DLE envelopes. 
Kaiwaka Bugle Advertisements 2022: 
All 
copy 
and 
queries 
to: 
kaiwakabugle@kaiwaka.co.nz 
The Bugle is printed on an A4 page, B&W  
Ad  sizes:  1/16  page  (3  x  9.5cm)  $5;  1/8 
(6.5  x  9.5cm  landscape  or  portrait)  $8; 
3/16 ( 10 x 9.5cm or 7.5 x 12,5)  $12.  
Classified  ads:  First  one  FREE,  $4  per 
entry (max. 30 words, max. 4 repeats). 
Payments  can  be  made  online  at 
ANZ 
06  0365  0006990  00
,  posted  or  left  at 
Kaiwaka Four Square Store. 
We  use  Microsoft  Publisher,  and  can 
work  with  most  common  image 
formats, Word, Excel, and PDF files. 
Accounts:  
Email: bugleaccounts@kaiwaka.co.nz 
The  Kaiwaka  Bugle  is  a  community 
newspaper run by volunteers, as part of 
the Kaiwaka Media Group Inc.   
Articles, etc. printed are not necessarily 
the opinion of the Bugle Team. 
Proverbs 24:3 - 4 
By wisdom a house is built, 
and through understanding it 
is established;  
through knowledge its rooms 
are filled with rare and 
beautiful treasures. 
 ~ NIV
KAIWAKA BUGLE 
DEADLINE DATES 
2022:   
Friday 
26 August 
23 September 
28 October 
At Kaiwaka War Memorial Hall . Adults $10, Kids (under 16) $5, Family Pass (2 adults + 3 children) $25 
MICK FLEETWOOD  
AND FRIENDS CELEBRATE 
THE MUSIC OF  
PETER GREEN AND THE 
EARLY YEARS OF 
FLEETWOOD MAC 
Friday  29 July, 7.30pm 
British MUSIC MOVIE NIGHT 
An  AWESOME  CONCERT  with 
David  Gilmour,  John  Mayall,  Steven 
Tyler, Bill Wyman, Rick Vito, Jeremy 
Spencer, Zak Starkey, Pete Townsend, 
Andy  Fairweather  Low,  Jonny  Lang, 
Billy  Gibbons,  Kirk  Hammett  and 
more...if  you  like  guitars  &  R&R  this 
is a must see. 
Recorded April 2020. 
HOW TO PLEASE A 
WOMAN 
Friday  12 August, 7.30pm 
"Inspired  by  a  birthday  surprise  from 
her friends, a 50-year-old woman has a 
business  idea  to  launch  an  all-male 
house-cleaning service…" 
26  August:   
Movie still to be decided. 
We  like  to  screen  the  most  recently 
released (DVDs) so to keep up to date 
go 
to 
FACEBOOK 
PAGE 
- 
KAIWAKA COMMUNITY MOVIES. 
You will get all the info first …request 
to join and you're  in the loop.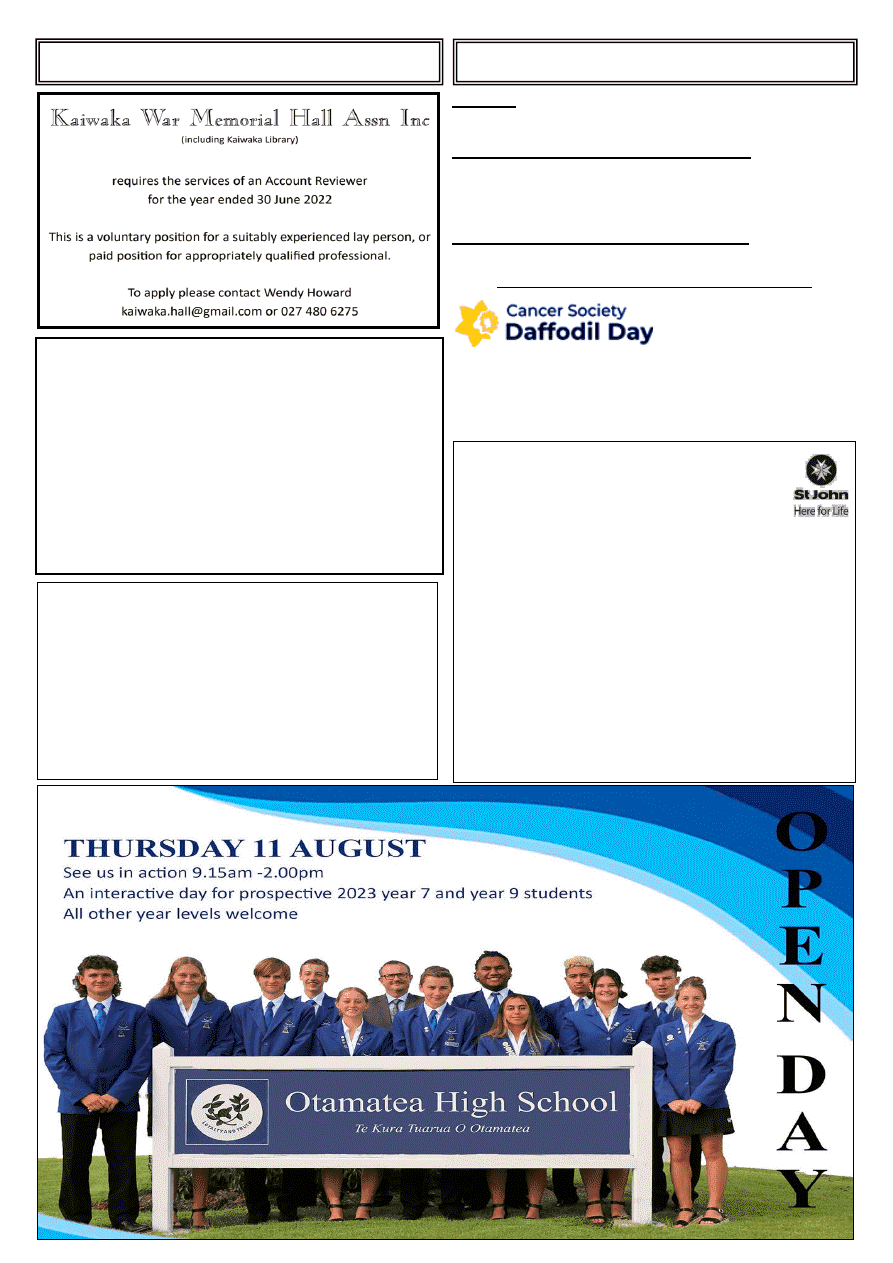 www.kaiwaka.co.nz 
Kaiwaka Bugle - 25 July 2022 
Page 3 
PUBLIC NOTICES 
CLASSIFIED 
ST. JOHN KAIWAKA STORE 
Hope everyone is keeping well and warm. 
We  are  accepting  donations  but  NO  Clothing  at 
the moment as we are still reasonably full. 
We are in need of Linen, Blankets, Towels.   
Bric a Brac, Books and Kitchenware. 
We have in stock a range of First Aid kits.  
You can also pay your Membership Fees or join  
as a member in the Store. 
Individuals  $55 
Joint             $75 
Household  $90 
A trip in a ambulance will cost you $98 each trip 
This entitles you to free Ambulance Trips  
for sickness or accidents 
1919B State Highway 1 next to Food Mart. 
Hours :Tuesday to Friday 10am to 3pm 
Every Saturday 10am to 2pm 
FOUND: Gold Bracelet on the Rangiora Boat Ramp  - 
early June. Phone  09 4312045 
MANGAWHAI  WRITERS  GROUP    meets  the 
second Thursday of the month Poetry - Music - Prose - 
Stories.  Join  us  over  a  cuppa  for  wild  imaginings  and 
tall tales. Ph or Txt  Bevan 027 6176521 
KAIWAKA HISTORICAL SOCIETY: 
 Please phone Lindsey 09 4312045 or Jennie 021 0276 
4171 for information. 
Daffodil Day is on Friday 
26 August 2022. 
You  can  donate,  fundraise 
or  volunteer  to  make  sure  no  one  goes  through  their 
cancer journey alone. 
Kaiwaka  Collectors  will  be  outside  Kaiwaka  Four 
Square  and  La  Nonna  on  Friday  26  and  Saturday  27 
August. 
KAIWAKA VOLUNTEER FIRE 
BRIGADE  
OPEN FISHING CONTEST 
Saturday the 5th & Sunday the 6th November 2021 
Start time 12am on Saturday 5th November 
FISH AUCTION & PRIZEGIVING 
Following weigh in, Sunday 6 November, around 5pm 
 Adults - species: Snapper, Gurnard, Kingfish, Kahawai. 
Trevally & Crayfish. 
Junior prizes for Snapper & Kahawai. 
*  Prize can be in cash or equivalent value of a sponsored prize. 
Further information coming in Bugle 8 
PHYSIO IN KAIWAKA 
Caitlyn  Bloxham  from  Maungaturoto  Physio  will  extend 
her  Maungaturoto  clinic  and  come  to  Kaiwaka  once  a 
week.  She  will  continue  to  use  the  clinic  space  at  The 
Kaiwaka  Fitness  Centre.  This  means  that  Kaiwaka  can 
continue  to  have  a  local  physio  service.  Caitlyn  is 
experienced  in  all  aspects  of  private  practice,  including 
sports  injuries.  Remember  you  do  not  need  a  GP 
appointment  to  see  a  physio.  We  can  initiate  an  ACC 
claim  for  you  and  refer  for  x-ray  and  ultra-sound  if 
required. Please keep it local and support Caitlyn! 
To make an appointment please call 094319062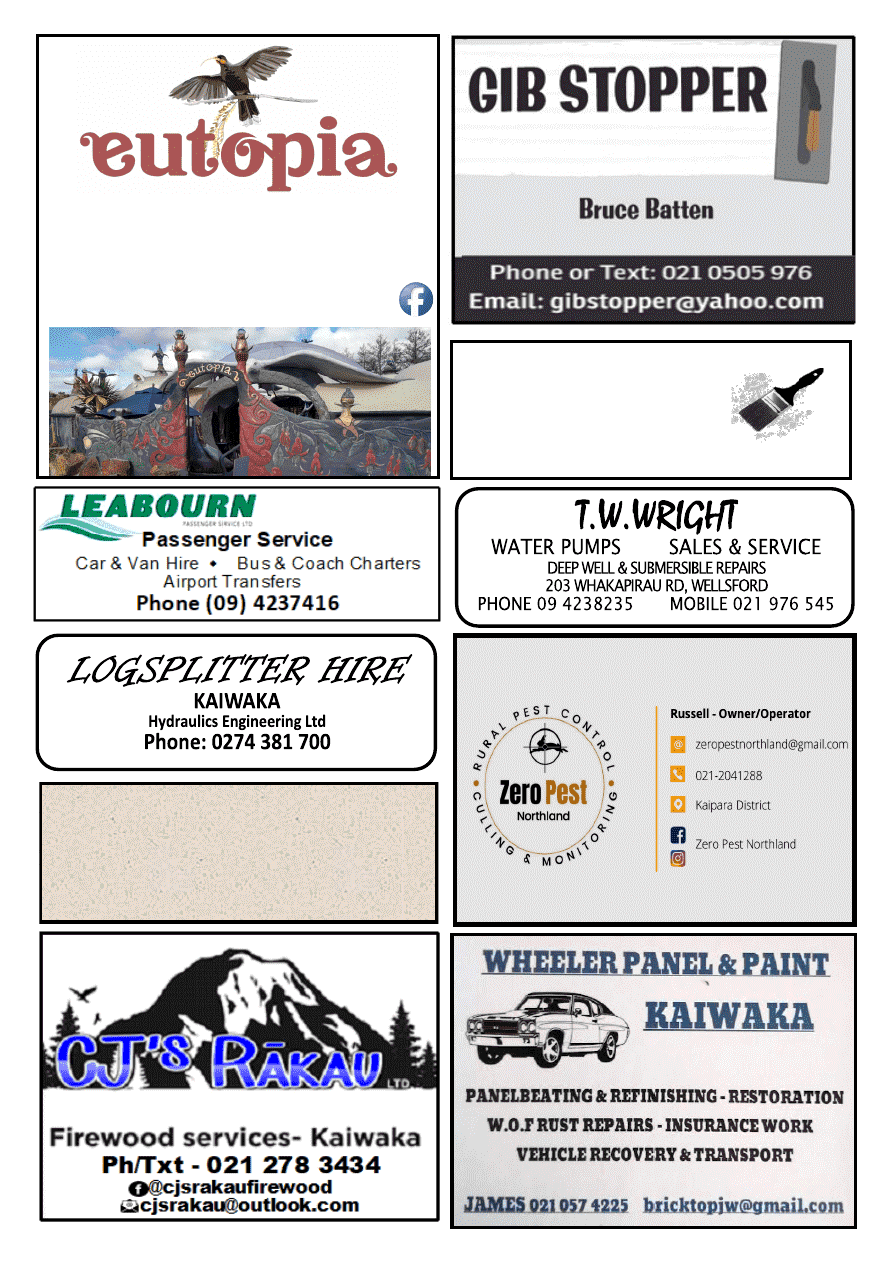 www.kaiwaka.co.nz 
Kaiwaka Bugle - 25 July 2022 
Page 4 
Kaiwaka's Own Art Cafe 
Opening hours 8.30am - 3pm  
Open some evenings, available as a venue.  
Phone: 021 891484 or 094312222 
1955 State Highway, Kaiwaka. 
Counsellor and Registered Psychotherapist 
Offers Supervision 
ACC Sensitive Claims 
Susan Matheson      MNZAC 
Dip. Psychosynthesis Counselling and Psychotherapy 
Phone 09 431 2996                                     Mobile 027 605 2427 
DR PAINT
 Dave & Rhys 
 Painters
 02108742551 
0211200667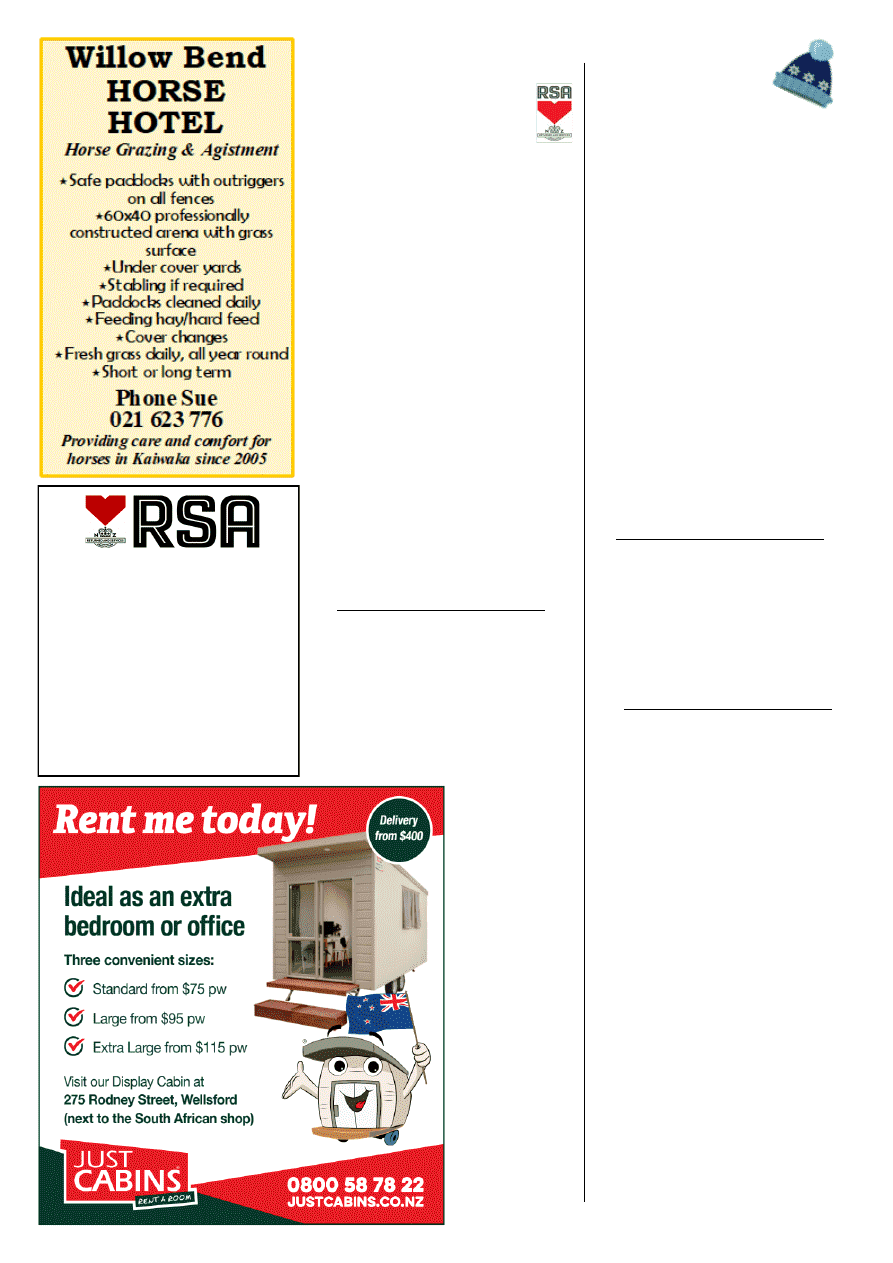 www.kaiwaka.co.nz 
Kaiwaka Bugle - 25 July 2022 
Page 5 
HAKARU & DISTRICTS 
MEMORIAL RSA (INC)
Members & guests are invited to 
come along and enjoy our 
hospitality. 
New members welcome. 
Opening hours:  
Tuesdays 4~6 pm 
Wednesdays 5~8 pm 
Thursdays 5~8pm 
NGĀ TUPURANGA O 
NGĀ PUNA REO  
OPEN DAY  
26th July 9am 
Nāu mai haere mai ki  
Kaiwaka Playcentre  
Hastie Lane 
Come along and enjoy: 

Waiata/Karakia  

Messy play  

Art/crafts  

Water play 
What makes Puna Reo unique?  
Ng
ā  Tupuranga  o  Ngā  Puna  Reo  is  a 
Māori incentive playgroup that's creates 
opportunity for all tamariki to learn and 
grow alongside Te Ao Maori, where not 
only English is spoken but also Te Reo 
māori. Our aim is to provide a nurturing 
environment  for  both  tamariki  and 
parents  alike,  so  they  may  feel 
comfortable  to  learn  alongside  their 
tamariki. 
So  come  along  e  te  whanau  we  would 
love  to  see  you  there!  Kanohi  ki  te 
kanohi! 
Kai/Morning tea provided  
~ Whaea Raegan:0275908082  
KAIWAKA 
WEATHER 
JUNE 
 Well!  the  winter  rain  has  certainly  set 
in.  Our  poor  lawn  is  now  very  soggy. 
I'm  not  mowing  parts  of  it  for  fear  of 
getting stuck. The deciduous trees have 
now  lost  all  their  leaves.  June  was  a 
month with quite mild temperatures. So 
far, we haven't had any cold days.  
The  rainfall  in June  2022 was  122.5ml 
over 22 days.  
The  highest  rainfall  for  the  month  of 
June  that  I  have  recorded  was  in  2018 
with 311.5ml over 15 days.  
The  least  rainfall  I  have  recorded  for 
the  month  of  June  was  in  2012  with 
only 50ml over 9 days.  
We  still  haven't  seen  any  more 
ducklings but I guess there is plenty of 
time yet. 
Keep dry people  
Cheers ~ Karen 
NIWA Report 
The June climate summary in short: 
Temperatures  above,  or  well  above, 
average for most of the country. 
Rainfall  was  above  normal  or  well 
above  normal  for  many  western  and 
inland parts of New Zealand. 
110 YEARS AGO: 
Ref.www.colonialcdbooks.com/Wises-1912-O.html 
KAIWAKA,  Auckland.  A  farming 
district, 66 miles north from Auckland. 
Steamer  from  there  to  Mangawai,  then 
road,  10  miles  off  or  rail  to  Te  Hana, 
thence  bi-weekly  coach  5  miles. 
Pheasant shooting. Private board, 3s per 
day.  Post,  telephone,  and  money  order 
office.  Kaiwaka  means  "boat  with 
food." 
Railway 
through  Kaiwaka 
now constructing. 
HAKARU, 
Auckland. A kauri 
gum  and  dairying 
district, 
near 
Hakaru River, four 
miles  from  coast 
and 78 miles north 
from Auckland. Bi
-weekly steamer to 
Mangawai 
[sic]
(Tuesday 
and 
Friday,  returning 
Wednesday 
and 
Saturday),  thence 
four miles by traps 
which 
meet 
steamer:  steamer 
fare, 9s single. 14s 
return. 
Good 
pheasant  shooting 
and  fishing.  One 
accommodation 
house,  14s  to  20s 
per week. Post and 
telephone  office. 
Nearest  doctor  at 
Maungaturoto,  16 
m. 
There was a small attendance at 
our  June  meeting,  after  "The 
Ode"  silence  was  observed  for 
Trish  Black  who  passed  away 
recently. Trish will be sadly missed by 
us  all  with  her  willingness  to  help  on 
every  occasion,  her  sense  of  humour 
and  her  caring  attitude  to  all.  Our 
Deepest  sympathy  to  her  family  from 
us all. 
Four 
members 
are 
attending 
Birkenhead's  party  on  26th  July  so 
hope the weather is kind. 
Lena  gave  an  interesting  report  on  the 
RNZRSA  A.G.M.  and  Conference 
she and June attended at Levin. 
There  were  114  Ladies  present 
representing 33 Women's Section clubs 
from Northland to Wellington. 
Next year's AGM and Conference will 
be at Hibiscus Coast on 21st May 2023. 
Birthdays  for  June  were  Margaret 
Haverfield and Sheila Holmes hope you 
both had Happy days. 
The  raffle  was  won  by  Sheila  and 
Annie got second draw. 
Hostesses  for  next  meeting  are  Annie 
and Ann. 
THE  NEXT  MEETING  will  be  on 
Thursday  28th  July  1.30  p.m.  at  the 
Clubrooms  733  Settlement  Road, 
Hakaru.  
Visitors are welcome. 
Take care everyone. Cheers Ann
HAKARU RSA 
WOMEN'S SECTION
Knock, knock,   Who's there? 
Dishes,     Dishes who? 
Dishes a nice place you got here. 
Knock, knock,   Who's there? 
Mikey,     Mikey who? 
Mikey doesn't fit in the keyhole.  
Someone ripped the 5th month out of my 
calendar. 
I'm completely dismayed.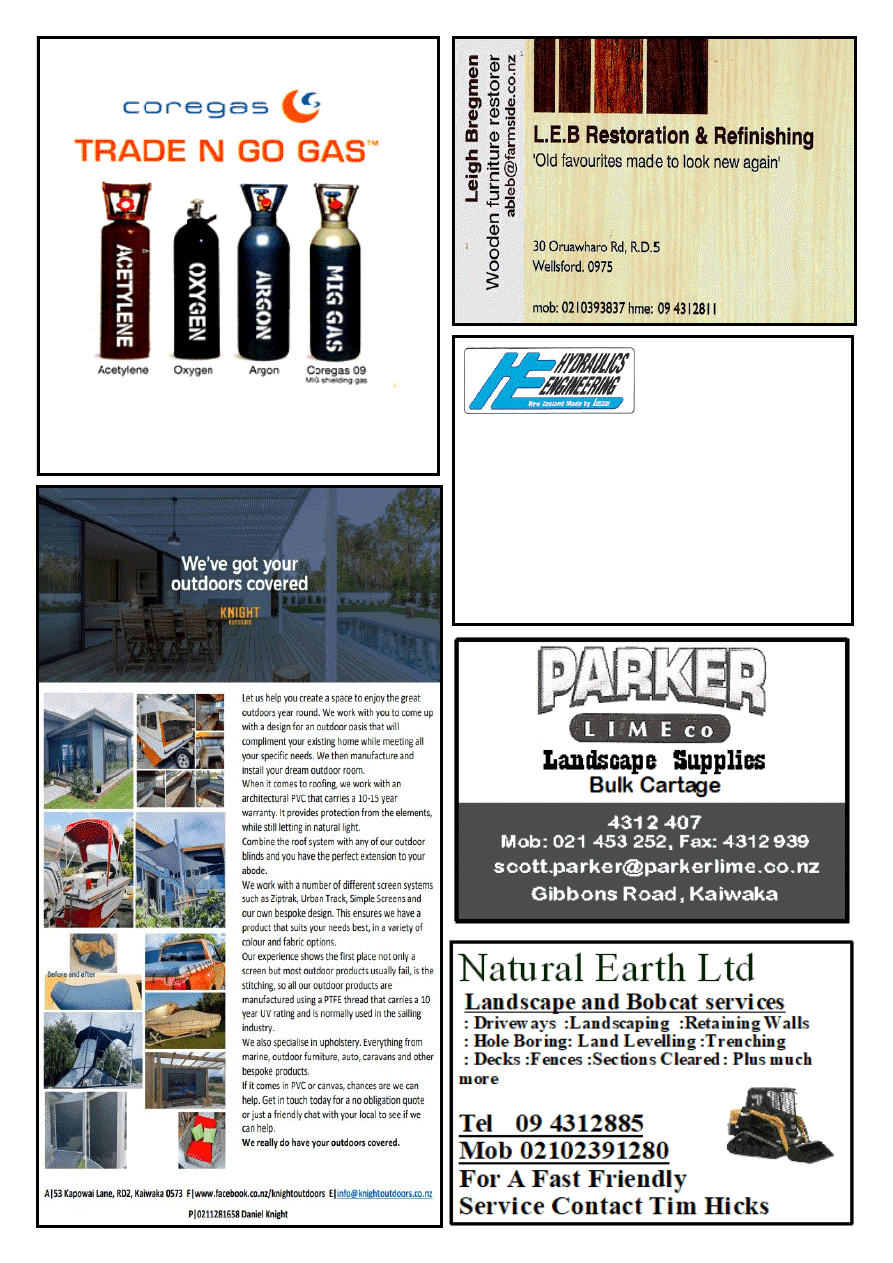 www.kaiwaka.co.nz 
Kaiwaka Bugle - 25 July 2022 
Page 6 
Hydraulics  
Engineering Ltd 
Kaiwaka 
Sales - Service - Parts - 
Hire - Manufacture 
Service Contractors & Industrial Equipment: 
Rams, Pumps, Valves 
Logsplitter Hire, Manufacturer, Sales 
Dennis Linton 
Lot 2 / 161 Ranganui Road, RD2, Kaiwaka, 0573, New Zealand 
Mobile: 0274 381 700 
Email: hydraulicsengineering@xtra.co.nz 
At Twinkle Tow 'n' Tyre 
Mob: 021 833 960 
Ph & Fax: 09 431 2823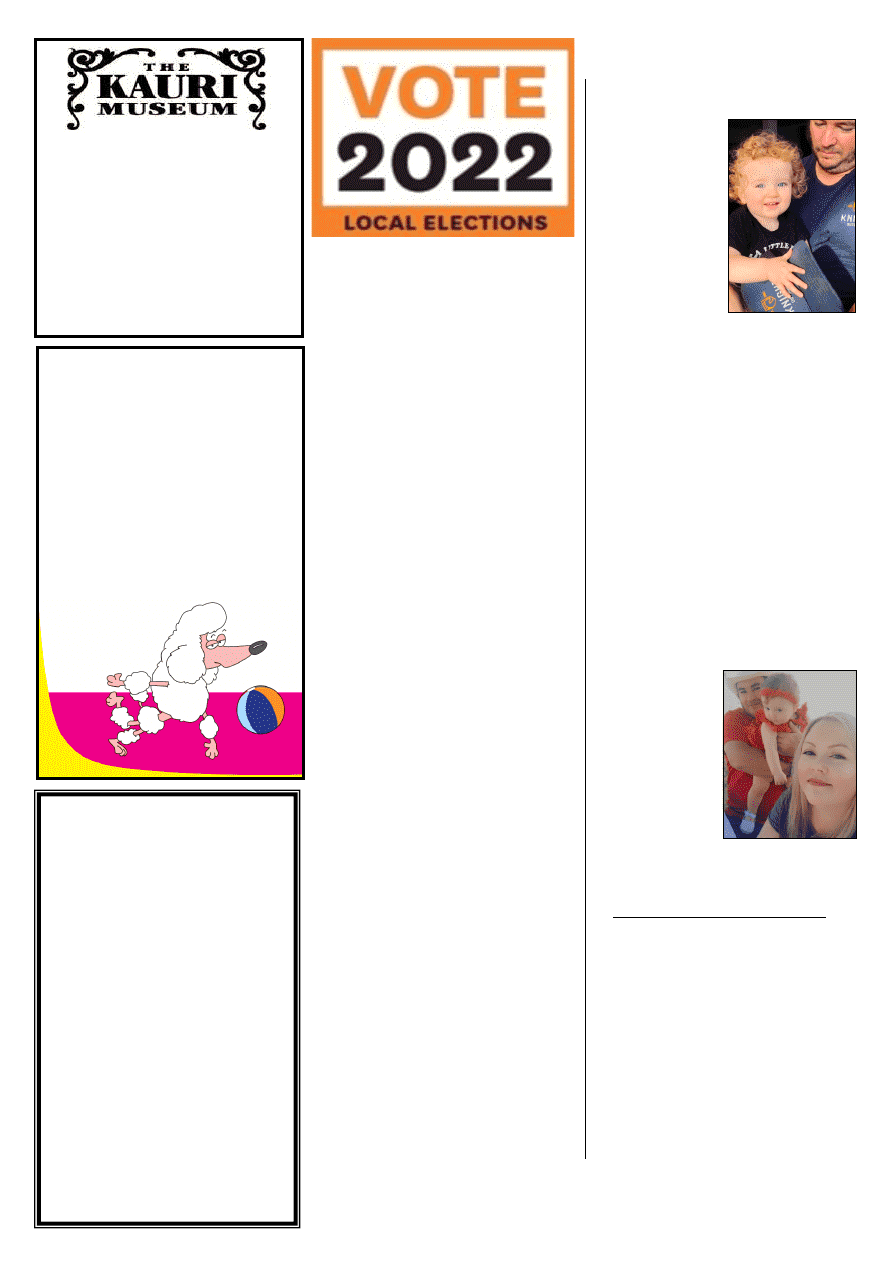 www.kaiwaka.co.nz 
Kaiwaka Bugle - 25 July 2022 
Page 7 
TE PĀTAKA O KAIWAKA - 
FOODBANK 
Hoping everyone is keeping warm if 
not we have warm winter clothing  - all 
going cheap   
NEEDING:  Bath towels, Nicnacs Bric
-a-brac, Children's shoes, Plants  
No more CLOTHES  
FOODBANK:  Once  again  get  over 
SHYNESS  and  Embarrassment  please 
come  in  or  phone.  I  am  hearing  too 
many  stories  of  people  going  without, 
unless  we  know  we  cant  HELP  YOU 
Arohanui, Milly and Staff 
HOURS Tuesday - Friday 10am - 2pm 
Saturday - Monday CLOSED 
tepatakaokaiwaka@gmail.com    
Phone: 09 4312188 
0220289156  
Hot Diggity Dog  
DOG GROOMING  
KAIWAKA 
Call now for a  
Between season groom"  
Professional Dog Groomer  
at affordable prices.
www.doggroomingkaiwaka.co.nz 
call Pam 094312143 or text 
0273335380 for bookings 
KNIGHT 
OUTDOORS 
Daniel  and  Jodi  relocated  to  Kaiwaka 
around  six  years 
ago  to  be  closer  to 
family  and  friends. 
It took a good year 
or  so  for  them  to 
complete their barn 
conversion, 
now 
they  love  it  and 
feel  truly  at  home. 
The 
barn 
is 
relatively 
small 
however 
with 
Daniel having been 
working  in  the 
outdoor  room  industry  for  years,  he 
made  a  huge  addition  to  their  barn 
almost doubling the square footage.  
Jodi  says,  'the  lifestyle  here  in  the 
country  lends  itself  to  cosy  dinners  at 
home  and  barbeques  in  the  sun  shared 
with those you love, having an outdoor 
room makes sense'.  
After working at Canvas Plus for some 
time getting to know the locals, Daniel 
decided  he  wanted  to  branch  out  and 
start  his  own  company  helping  others 
enjoy  the  lifestyle  he  and  Jodi  love. 
With Jodi on maternity leave with their 
first child, it seemed like the right time 
to get started and thus Knight Outdoors 
was born.  
Canvas  Plus  grew  immensely  in  the 
time Daniel worked there and they now 
focus 
on 
big 
commercial 
projects 
which 
means  they  are 
happy 
to 
recommend 
Knight  Outdoors 
for  the  smaller, 
more 
intimate 
jobs.  
Knight  Outdoors 
specialise  in  outdoor  rooms  working 
with  a number  of leading  suppliers,  as 
well  as  upholstery  and  anything  PVC 
or canvas. 
MOMMAS 
TAKEAWAYS 
09 601 6124 
Online: https://bopple.app/
mommas-takeaways  
NEW HOURS 
MONDAY 12 – 8pm 
TUESDAY CLOSED 
WEDNESDAY 4 – 8pm 
THURSDAY 4 – 8pm 
FRIDAY 4 – 8pm 
SATURDAY 12 – 8pm 
SUNDAY 12 – 8pm 
1923b State Highway 1 
Kaiwaka 
LOCAL ELECTIONS 
You  are  eligible  to  enrol  and  vote  if 
you  are  18  years  or  older,  a  New 
Zealand  citizen  or  permanent  resident, 
and  you've  lived  in  New  Zealand 
continuously  for  12  months  or  more at 
some time in your life.  
If you've already registered to vote in a 
general  election,  you're  automatically 
enrolled  to  vote  in  a  local  election  in 
the area where you live. 
Nominations  for  candidates  standing 
for  Council  opened  on  Friday  15  July 
and close at noon on Friday 12 August 
2022 
Nomination  forms  and  a  candidate 
information  handbook  are  available  by 
calling 0800 922 822 or a KDC office. 
Candidates  for  the  District  Council 
will  be  announced  on  Wednesday  17 
August 2022.  
•  A  candidate  profile  booklet  is  sent 
with your voting documents 
•  Candidate information  will  be  posted 
on 
localelections.co.nz 
and 
kaipara.govt.nz after nominations close. 
If  you  are  enrolled  by  12  August,  you 
will receive your voting documents and 
a freepost return envelope in the mail. 
If  you  enrol  after  12  August,  you  will 
need  to  cast  a  'special  vote'.  You  can 
request  this  by  calling  the  electoral 
office on 0800 922 822 or at a Kaipara 
District Council office. 
Have  your  vote  in  the  mail  before 
Tuesday  4  October  2022  or  hand 
deliver your voting document to one of 
our  ballot  boxes  at  Kaipara  District 
Council offices during the voting period 
– from Friday 16 September 2022 to 12 
noon Saturday 8 October 2022. 
Local  Election  Day  is  Saturday  8 
October  2022  and  voting  closes  at 
noon. 
Official  results  announced  –  Thursday 
13 October to Wednesday 19 October. 
Representation  for  elections  -  in 
Kaipara, our Council will consist of the 
Mayor and nine councillors: - 
Mayor (elected 'at large') 
Kaiwaka-Mangawhai General Ward - 3 
positions 
Otamatea General Ward - 2 positions 
Wairoa General Ward - 3 positions 
Te Moananui o Kaipara Māori Ward - 1 
position
KAURI HERITAGE  
FESTIVAL 
Saturday 15 October 2022  
10am-5pm 
The Kauri Museum is holding an 
Open Day to celebrate 60 years - 
more details to come. 
5 Church Road R D 1, Matakohe 
www.kaurimuseum.com 
09 431 7417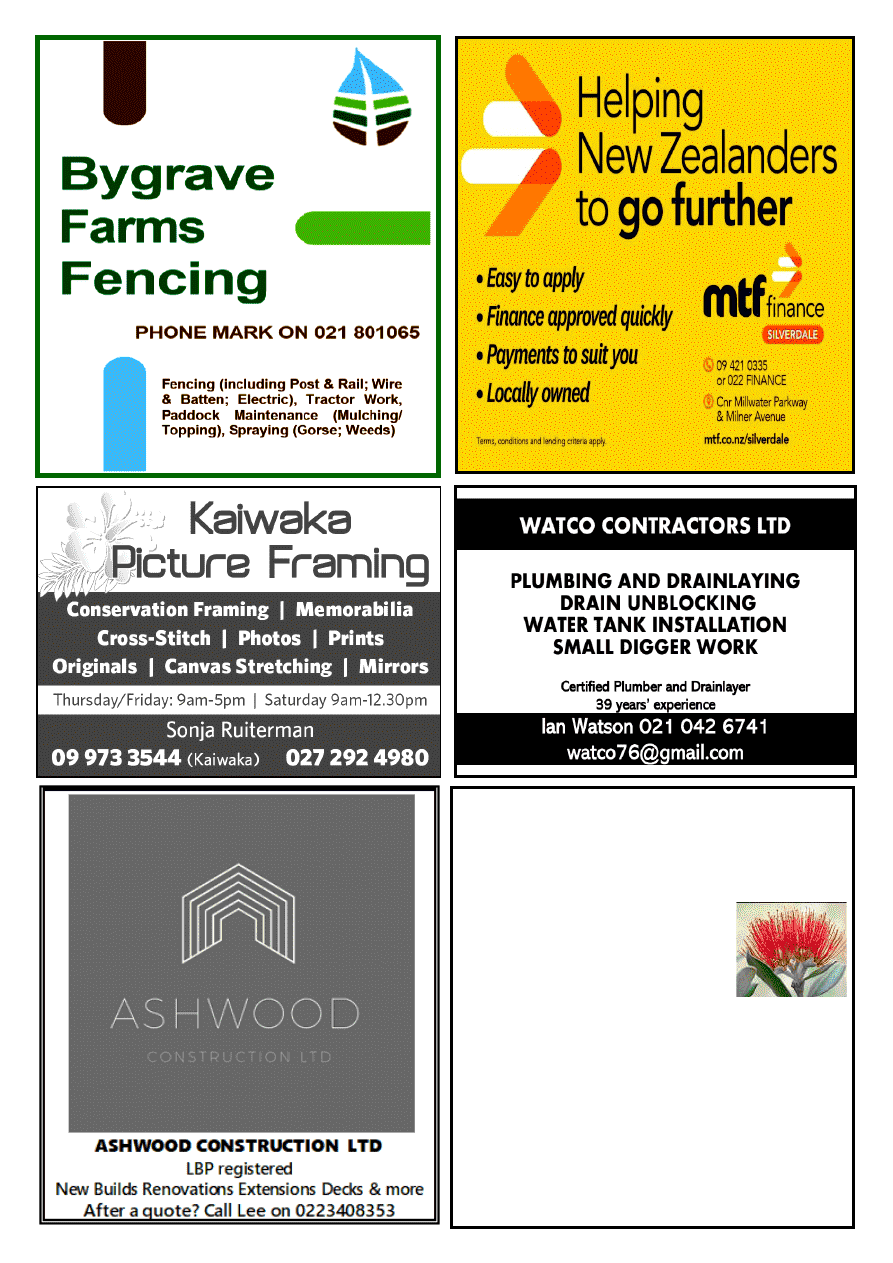 www.kaiwaka.co.nz 
Kaiwaka Bugle - 25 July 2022 
Page 8 
KAIPARA FLOORING CO 
FULLY MOBILE FLOORING SHOWROOM 
SERVICING THE KAIPARA 
PH (09) 946 9886 or  
CHRISTINE ON 021 515 415 or 
HOWARD 021 2696250 
IN HOUSE MEASURE, QUOTE AND 
CONSULTATION SERVICE 
FOR THE SUPPLY AND INSTALLATION OF 
CARPET, VINYL, VINYL PLANKING, HARD 
FLOORING, GARAGE CARPET, LAMINATE 
FLOORING AND MORE. 
EMAIL kaiparaflooring@gmail.com  
WEBSITE www.kaiparaflooring.co.nz 
Qcard 6 month interest free terms or 12 – 24 
month finance options available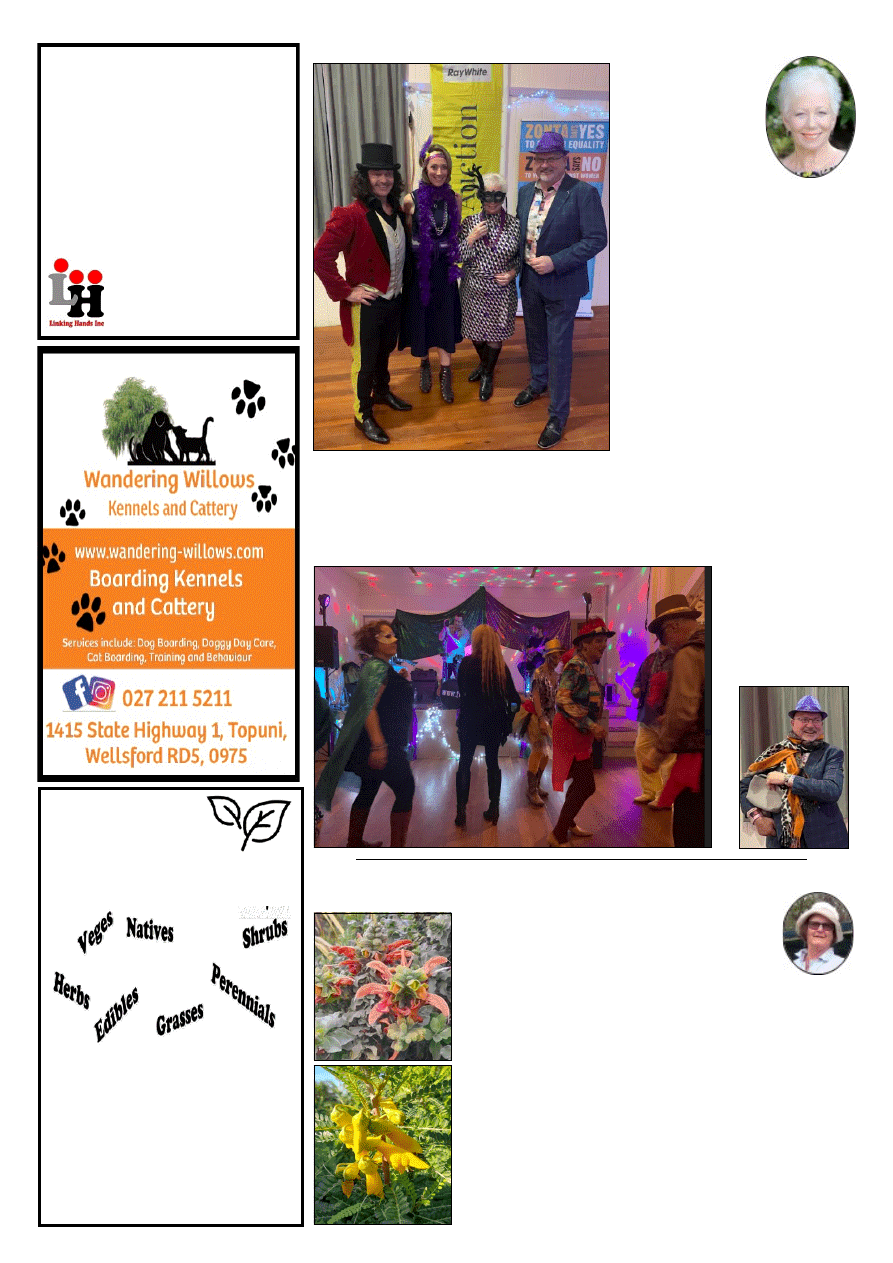 www.kaiwaka.co.nz 
Kaiwaka Bugle - 25 July 2022 
Page 9 
Oneriri  
Plants 
Visit our Nursery 
Contact Heather 021 
766399 
oneririplants@gmail.com 
365AOneriri Rd, Kaiwaka 
A short trip off SH1
LINKING HANDS INC 
Maungaturoto - Kaiwaka - 
Mangawhai 
Meeting the needs of the community. 
A free Health Shuttle Service, providing 
transport to those who would struggle to 
get  to  medical,  dental,  podiatry,  or 
optometrist  appointments  anywhere 
from Warkworth to Whangarei. 
HEALTH SHUTTLE SERVICES  
Ph/fax 09 431 8969 
Kaiwaka/Mangawhai  
09 4315906 
OFFICE HOURS 
Maungaturoto - Monday to 
Friday - 10am to 4pm 
Closed Public Holidays 
HOW DOES YOUR GARDEN GROW? 
SALVIA  AFRICANA:  Still  one  of  my  favourite  plants.  Flowering 
very  early  this  year.  I  didn't  cut  this  one  back. 
Not  for  any  reason  other  than  running  out  of 
time.  Maybe  if  I  stagger  the  pruning,  I  can 
extend  the  flowering.  If  you  are  one  of  those 
who likes birds in the garden this is for you. The 
waxeyes  love it.  I  have  a plant  by  my  back  door. There's 
nothing  quite  like  having  a  morning  cup  of  tea  counting 
waxeyes drinking from these flowers. I have seen over 20 
on  one  shrub.  Busy  as.  And  they  don't  fight.  They  seem 
very happy to share. A wonderful example. 
KOWHAI.  The first to flower and one of the first plants 
given  to  us  when  we  came  up  here.  I'm  not  sure  which 
variety it is. It is just over a  metre tall and has a rather a 
droopy growth habit. If I don't know the name of a plant I 
give  it  the  name  of  the  person  of  origin.  Hence  this  is 
known  as  the  Huia  Kowhai.  Quite  fitting  really  as  birds 
love  Kowhai.  One  of  my  great  pleasures  is  watching  the 
Kereru  chomping  away  at  the  fresh  growth.  Then  the  tui 
battling  over  the  nectar.  Over  the  years  their  descendants 
return. I've planted plenty of Kowhai and there seems to be 
enough to go round. 
~ Heather, Oneriri Plants, 021 766399 
ZONTA CHARITY BALL! 
Kaye McElwain from 
Ray 
White 
Mangawhai  has  lived 
in  the  area  for  17 
years and has worked 
in real estate for more 
than  two  decades  as 
an agent and business 
owner. Today,  she  takes  a  break 
from 
Real 
Estate 
market 
commentary and talks about one 
of 
the 
highlights 
on 
the 
community  calendar  for  Ray 
White Mangawhai. 
This  is  the  second  year  running 
Ray  White  Mangawhai  has  been 
the  major  sponsor  of  the  Zonta 
Club  of  Mangawhai's  charity  ball, 
dinner,  and  auction  held  at  the 
Hakaru  Hall.  We  want  to 
congratulate 
all 
the 
women 
involved  in  the  Zonta  Club  who 
produce  this  fabulous  event, 
transforming  the  humble  Hakaru 
hall  into  a  venue  of  glitz  and 
glamour. With a Mardi gras theme, 
ball-goers got into the spirit, with a 
fantastic array of masks and bling. Not only did we dance the night away to live 
music from the Renegades, but we enjoyed a fantastic meal from local caterers A
-Z Catering. 
Our  expert  auctioneer  Wayne  Maguire,  from  Ray  White  Maguires  One  Group, 
travelled  North  from  Auckland  to  help  raise  more  than  $10,000  in  the  Charity 
Auction. All the funds raised were for a great cause - the Zonta Club's "Second 
Chance" and "Spirit of Adventure" Scholarships. 
If you've never been 
to  the  Zonta  Ball, 
make sure you mark 
it  in  your  diary  for 
next year - it's a fun
-filled  local  night 
out.  
~ Best wishes, Kaye.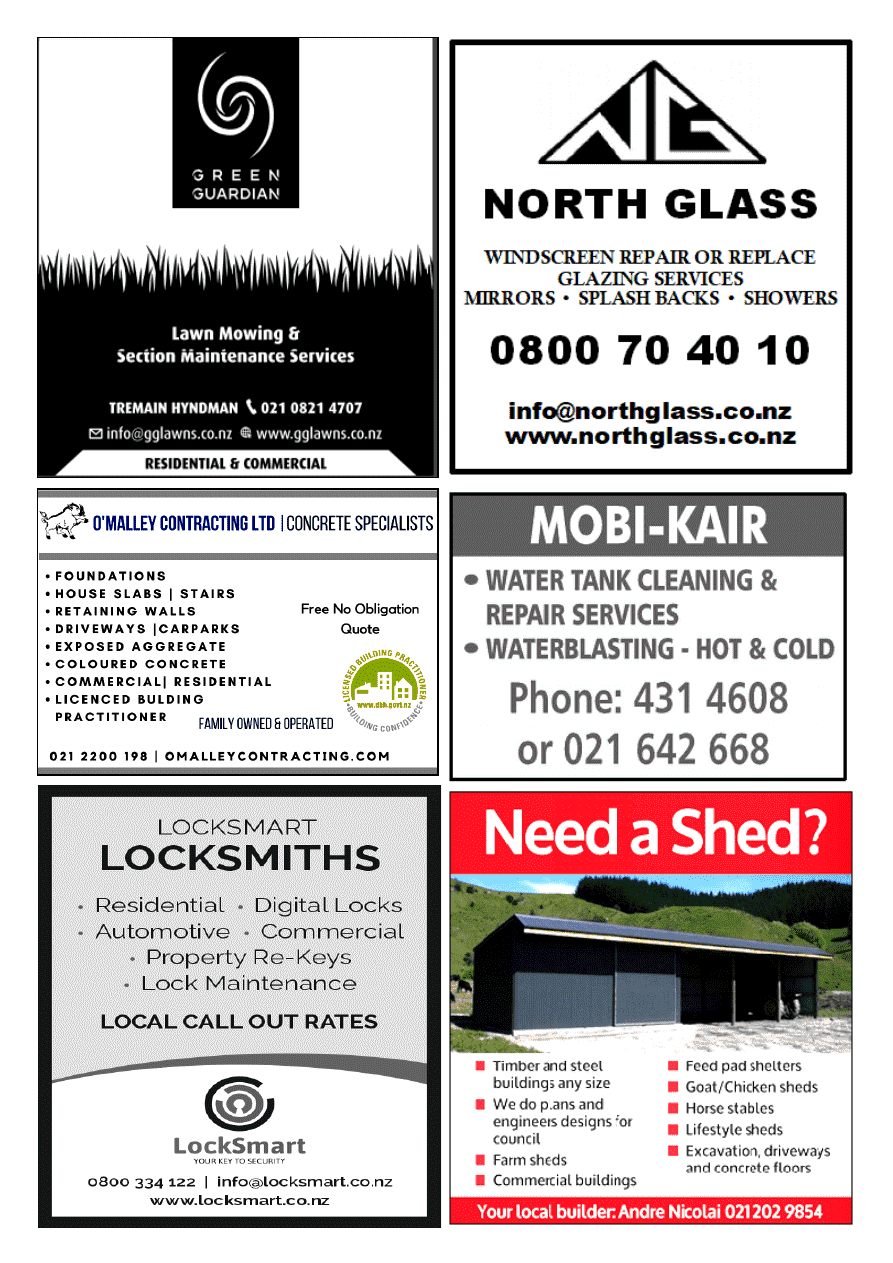 www.kaiwaka.co.nz 
Kaiwaka Bugle - 25 July 2022 
Page 10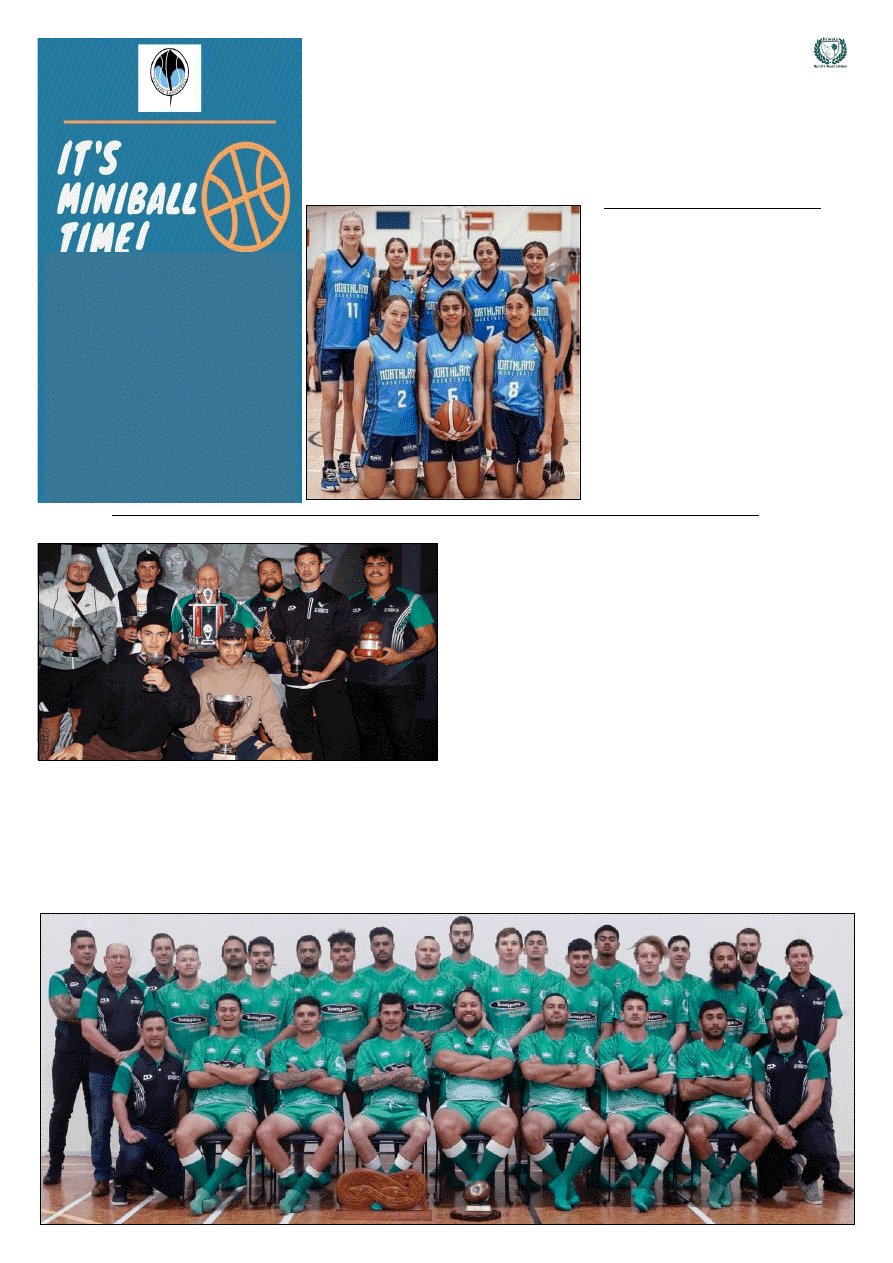 www.kaiwaka.co.nz 
Kaiwaka Bugle - 25 July 2022 
Page 11 
KAIWAKA SPORTS ASSN NEWS 
KAIWAKA SPORTS ASSN 
KSA Bookings contact: 
Jennie Reynolds, 02102764171  
ksabookings@mail.com 
KSA email: ksa.sec3@gmail.com 
Lindell Ferguson
OTAMATEA NETBALL 
Whangarei 
Netball 
Centre  
Representatives  played  in  the  KeriKeri 
Rep  tournament  at  the  weekend.  The 
weather  was  not  very  kind  with  it 
currently wet and cold . 
Congratulations  to  our  local  players    - 
Pyper  Buxton  in  the  U14/1  Team  and 
Zoey  Smythe  in  U14/2  Team.  Pyper's 
team  won  the  U14  grade  and  Zoey's 
came third.  
We also had umpires there representing 
WNC  and  Otamatea  Netball  Club  - 
Otamatea  umpires  Jodie  Bennetto  who 
was  also  up  there  umpiring  the  WNC 
U16 team and Pip and  Pat sharing the 
job of umpiring one of the U14s team.  
KAIPARA BASKETBALL 
Well  done  to  all  our  Kaipara  Players, 
with  a special congratulations to Jade, 
Charlene and Anahera!  
Jade, Charlene and Anahera - our local 
girls  who  were  part  of  the  Under 
15Team  to  come  6th  in  the  National 
Competition in Palmerston North 
OTAMATEA HAWKS - 2022 SOUTH ZONE CHAMPIONS 
L to R: BACK ROW: Michael Tovine (Assistant Coach), Ross Hargreaves (Assistant Manager), Dean Stewart, Tae 
Murray, Shan Luani, Logan Eager, Tawhetu Phillips, Kevin Hofeni, Eric Bradley, Bevan Thomas (Backs Coach) 
MIDDLE ROW: Pete Robinson (Club President), Michael Robinson, Tamati Hohipa, Izayah Frost, Dallas Smith, Tamati 
Abel, Tamati Phillips, Zack Hamlin, Kharnse Namana, Lance Nepia (Assistant Coach) 
FRONT ROW: Mike Peeni (Head Coach), Rowland Vaimauli, James Mitchelson, Jojo Perrett (Vice Captain), Arapeta 
Waata (Captain), Toby Phillips, John Luke Whitehead, Bodean Mane, Jono Laing-Geraghty (Manager) 
ABSENT: Tama Nahona, Whetu Henderson, Lewis Harris, Daniel Kawana-Pool, Kyle Harris, Josh Caldwell, Cole 
Campbell, Chaz Mikaere, Caitlyn Bloxham (Physio) 
Hawks photo credit to Chantelle Peeni
OTAMATEA HAWKS - 2022 PRIZEGIVING 
L to R: Best Forward - Dallas Smith, Player of the Year - Jojo 
Perrett 
Club  Spirit  -  John  Bruce,  Most  Conscientious  Player  - 
Arapeta 
Waata 
Top Try Scorer & Best Back - Johnluke Whitehead, Under 21 
Player - Izayah Frost. In front: First Year Seniors - Tamati & 
Tawhetu Phillips.  
"Huge THANK YOU to all our sponsors for your contributions this 
year - those who have recently joined the Hawks whānau and those 
who  are  long  standing  supporters.  We  understand  your  support  is 
crucial  in  keeping  the  ball  rolling/passing  and  we  appreciate  your 
sponsorship. Thank you". 
For many more photos see the Otamatea Hawks Facebook page.  
YEARS 3 TO 6 
TIMES TO BE CONFIRMED 
Starts 9 August 22 
Tuesday afternoon 
Kaiwaka Sports Assn. Gym or 
Mangawhai Beach School Gym 
(TBC depending on numbers) 
Focus: Developing basics required to enjoy 
the game! 
Cost: $40pp or $60 max per family 
Payable via online by Tuesday 5 August 
(details on our website) 
E: info@kaiparabasketball.com 
F: @KBABASKETBALL 
W: www.kaiparabasketball.com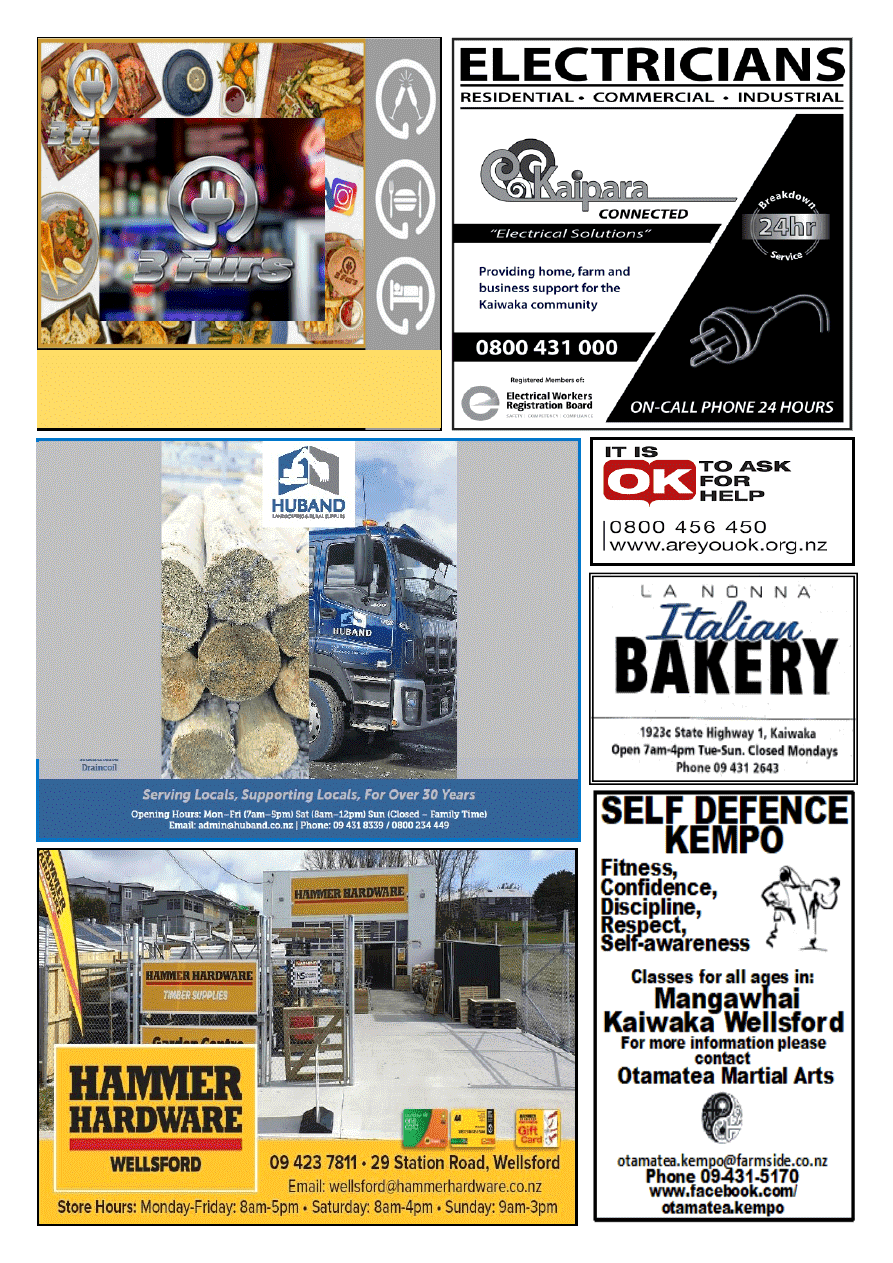 www.kaiwaka.co.nz 
Kaiwaka Bugle - 25 July 2022 
Page 12 
WATER TANKS: 
Aqua & Baileys 
Brands 
DRAINAGE & 
SEPTICS: 
Land Drainage 
Urban Rural 
Drainage 
Water Pipelines 
Culverts 
Septic Systems 
(RX Plastics & 
Biorock) 
SITEWORKS: 
Retaining Walls 
Piling 
Driveways 
Carparks 
Landscaping Supplies: 
Waikato Screen Topsoil 
Bark 
Woodchip 
Mill Bark 
Post Peelings 
Compost 
Crushed Shell 
Topsoil 
Limestone Chip 
Daltons Garden Mix 
Aggregate 
Gap: 20,40.65 
Riverstone 
Sand 
Belt Dust 
40/20 Drainage Metal 
Builders Mix 
 Cement 
Timber/Fencing Supplies: 
Rails, Posts  
Stays, Strainers 
Fence Battens 
Palings 
Stakes 
Fencing Wire 
Farm Gates & hardware 
Drainage: 
PVC Fittings 
www.threefurlongs.co.nz        
09-431 2246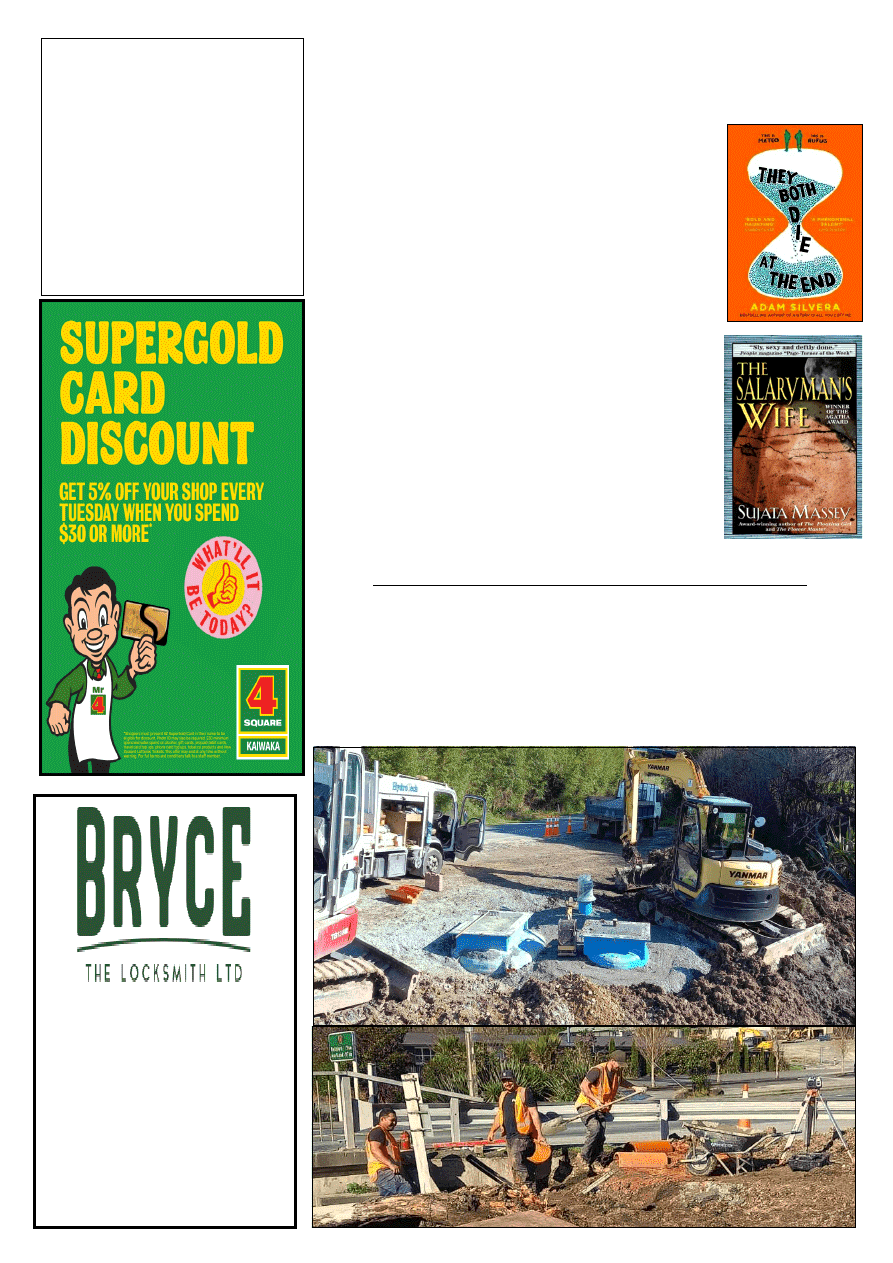 www.kaiwaka.co.nz 
Kaiwaka Bugle - 25 July 2022 
Page 13 
HAKARU HALL 
ACTIVITIES 

Monday:  Line Dancing  
Ph 4315160 

Tuesday : Pilates  
Ph. 022 0643965 

Tuesday: Chess Club Kids  
Ph. 0210628631 

Wednesday:  Music Jam Session  
Ph. 0210628631  
Hall Bookings Karen  
0210467490 
Bryce Frewin 
Ph: 021 850 983 
Kaipara Based Master 
Locksmith 
bryce@brycethelocksmith.co.nz 
www.brycethelocksmith.co.nz 
KAIWAKA LIBRARY  
DVDS  AND  BLU-RAYS  ARE  NOW 
FREE, AND NO OVERDUE FEES! 
As  of  01  July,  there  are  no  rental 
charges on DVDs and Blu-rays, and we 
no longer charge overdue fees if you're 
late  returning  them.  (We  haven't 
charged  overdue  fees  on  books  for 
many  years.)  We  hope  this  encourages 
more  people  to  use  these  collections 
and enjoy the titles we're holding. 
SALE BOOKS CHANGED 
The  books  that  were  for  sale  in  the 
library  entrance  have  been  cleared  out, 
and  a  new  selection  of  books  are  now 
available.  These  are  old  library  books 
and unwanted donations seeking a new 
life elsewhere. They are 50c each, or 10 
for $2.50. What a bargain! 
BOOK REVIEWS 
Where to start?! I've read 9 books from 
our  library  since  I  last  reported  here, 
and they were all good! The best of the 
bunch has to be  They  Both  Die  at  the 
End  by  Adam  Silvera. "
On  September 
5th,  a  little  after  midnight,  Death-Cast 
calls Mateo Torrez and Rufus Emeterio to 
give  them  some  bad  news:  they're  going 
to  die  today.  Mateo  and  Rufus  are  total 
strangers,  but  for  different  reasons, 
they're  both  looking  for  a  new  friend  on 
their End Day. The good news: there's an 
app  for  that…." 
It's a lovely story, right 
to  the  end.  You'll  find  it  on  the  New 
Teen Fiction shelf. 
Also of note is  The  Salaryman's  Wife 
by  Sujata  Massey. 
This  is  the  first 
book  in  her  Rei 
Shimura 
series. 
"
Japanese-American 
Rei Shimura is a 27-
year-old 
English 
teacher living in one 
of  Tokyo's  seediest 
neighbourhoods. 
She  doesn't  make 
much  money,  but 
she  wouldn't  go 
back 
home 
to 
California  even  if 
she had a free ticket 
(which,  thanks  to 
her  parents,  she 
does.) 
Her 
independence 
is 
threatened 
however,  when  a 
getaway 
to 
an 
ancient  castle  town 
is 
marred 
by 
murder..
." 
This, 
and  its  sequel  Zen 
Attitude are on the 
Rental Fiction shelves in the library. 
See you in the Library, Wendy 
ACTIVITY AT ONERIRI CORNER 
Work  to  improve  the  wastewater  network  in  Kaiwaka  began  at  the  end  of  23 
May. For the first stage of this project contractors HydroTech Ltd are installing a 
new pump station - the photo below shows the tops of the blue coloured station - 
beside the south bridge on SH1, next to the Oneriri Road turn off.  
Access  onto  the  southern  footbridge  may  be  affected  while  the  works  are 
underway. if this happens, HydroTech Ltd staff will escort pedestrians around the 
worksite.  The new pump station will support the flow of wastewater through the 
main line, which has previously relied on gravity to push wastewater through the 
network.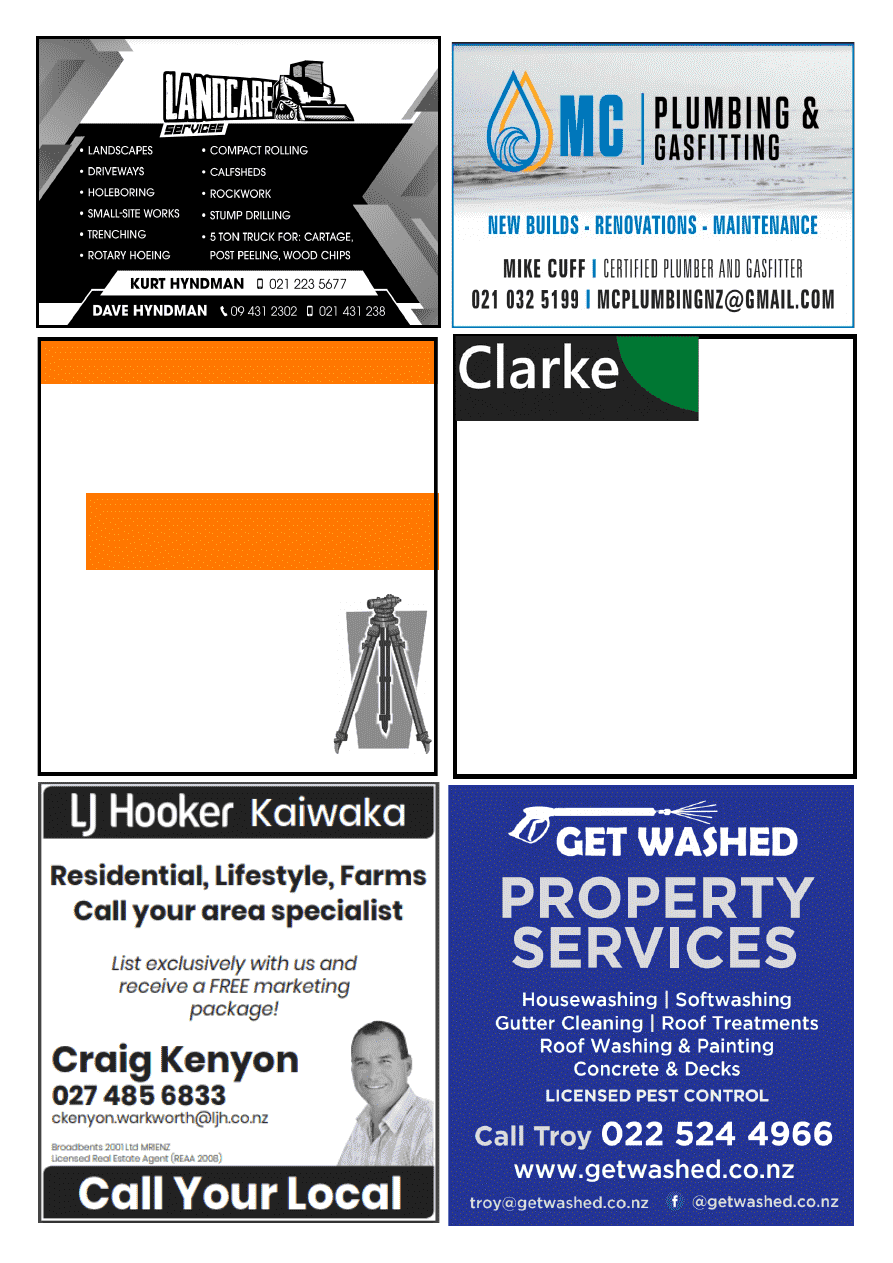 www.kaiwaka.co.nz 
Kaiwaka Bugle - 25 July 2022 
Page 14 
Drainage & Earthmoving 
nigel@clarkedrainage.nz 
027 2233 185 
Registered Drainlayer                 All Types of Earthworks  
> All Residential & Commercial Work  > House Sites 
> Septic System Design & Install 
> Footings & Drilling to 10m 
> Sewer Connections 
> Dams 
> Water Tank Installation 
> Roading & Races 
> Farm Work 
THE ONE STOP SHOP  
Phone Nigel for an Obligation Free Quote  
SURVEYORS 
SUBDIVISIONS 
HOUSE SITE SURVEYS 
CIVIL ENGINEERING 
WASTEWATER DESIGNS 
EXPERIENCED 
PROFESSIONAL 
INNOVATIVE 
Ph 09 431 5353 
0800 PACIFIC (0800 722 434) 
pacificcoastsurvey.com
Adam Booth - 027 415 5752 
Bsurv, Licensed Cadastral Surveyor
Surveying Kaipara since 1994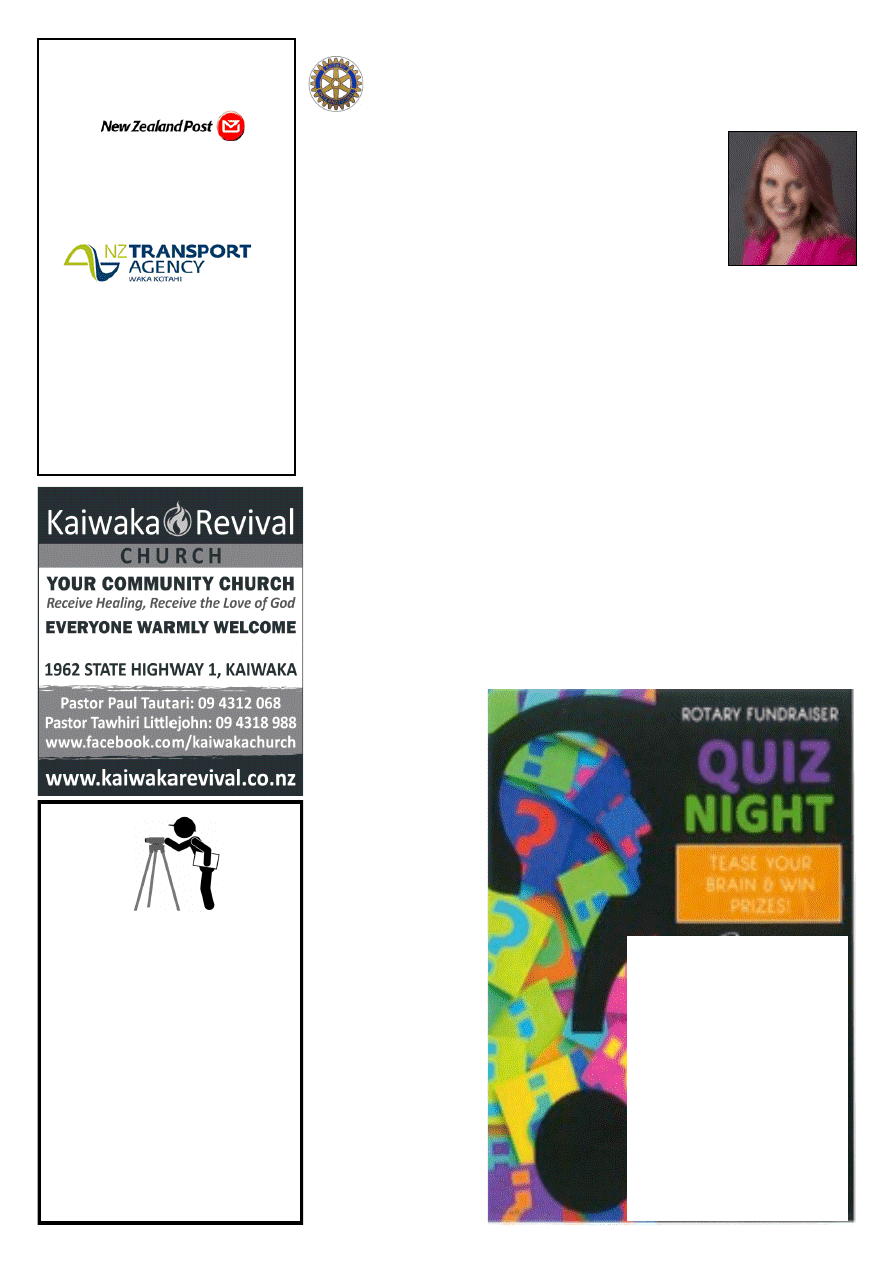 www.kaiwaka.co.nz 
Kaiwaka Bugle - 25 July 2022 
Page 15 
KAIWAKA POST 
CENTRE and 
FOOD MART 
POST CENTRE TRADING 
HOURS 
MONDAY to FRIDAY 8am to 5pm 
SATURDAY 8am to 12pm 
CLOSED ON SUNDAY and on 
PUBLIC HOLIDAYS 
FOOD MART (GROCERIES) 
MONDAY TO FRIDAY  
7:30am to 7.30pm 
SATURDAY  8am to 7.30pm 
SUNDAY  8:30am to 7pm 
IF ANY QUERIES PLEASE CALL 
STORE MANAGER AMRIT  
on 09 4312431 or 
EMAIL: kaiwakafood19a@gmail.com 
1919a State Highway1, Kaiwaka 0542 
Ken Urquhart 
BSurv Licensed  
Cadastral Surveyor 
KMU Surveys Ltd 
467 Bickerstaffe Road 
RD 2 
Maungaturoto 0587 
Ph 09 431 8705 
Mob 021 161 2344 
kenurquhart@xtra.co.nz 
MAUNGATUROTO &DISTRICTS ROTARY 
QUIZ FRIDAY 19 AUGUST 
First  of  all,  I  hope  you  have 
considered  putting  a  team  into 
our  Quiz  on  Friday  19th 
August. 
Teams of up to 6 people; Cost $15 per 
person;  Good  prizes  as  well  as  raffles; 
continuous  nibbles;  Team  entries  close 
Monday  15th  August;  Doors  open 
6.30pm for 7pm start. 
Proceeds  will  go  towards  the  Youth 
activities we support at Otamatea High 
School  (DOE  and  William  Pike).  To 
enter  a  team,  contact  Nyree  – 
nyree.antunovich@otamatea.school.nz 
or any Rotarian. This is sure to be a fast 
paced, fun night. 
YOUNG ENTERPRISE  
Vipin  Patel  (Maungaturoto  Four 
Square)  and  I  had  the  chance  earlier 
this  month  to  be  judges  at  a  Young 
Enterprise  presentation  by  the  Level  1 
students at Otamatea High school. Four 
teams  had  to  decide  on  what  facilities 
could be provided to encourage visitors 
to  our  area.  They  had  four  periods  to 
design  their  plans  and  five  minutes  to 
present  them.  Once  again,  we  were 
made  aware  of  the  wide-ranging 
abilities the youth in our area have and 
which they are encouraged to develop. 
CHANGEOVERS 
We have had both our District and Club 
changeovers  in  the  past  month.  Our 
District now has a new Governor, Matt 
McLeod  and  our  Club  has  a  new 
President, Les Kenworthy Thompson. 
No  doubt  both  these  leaders  will  be 
hoping  for  fewer  disruptions  in  the 
coming year. For our club, virtually all 
our 
projects 
and 
fundraising 
activities 
were 
negatively 
impacted last year. 
Each 
changeover 
presented  a  focus  on 
what  had  been  achieved 
in the past year and what 
the  aims  are  for  the 
ensuing year.  
In  attending  a  District 
Changeover, 
one 
is 
made more aware of the 
bigger  picture  of  Rotary 
–  how  it  provides 
programmes  for  the 
younger  people  in  our 
community  as  well  as 
supporting 
projects 
offshore, 
including 
upgrades 
of 
water 
supplies,  provision  of 
better  sanitation  and 
repairs 
to 
cyclone 
ravaged  areas.  (For  the 
first  time  in  the  history 
of  Rotary  International, 
there  is  a  woman  at  the 
helm – Jennifer Jones). 
SPEAKERS 
There  were  two  guest 
speakers  of  note  at 
District  Changeover  – 
the  first  was  Jessie 
Harman  (a  Director 
from  Rotary  International).  She  spoke 
about  the  different  formats  for  Rotary 
clubs  now  so  that  they  can  be  more 
meaningful  for  participants,  e.g., 
Passport  club,  e-
clubs.  She  also 
spoke  about  the 
need  to  increase 
diversity, 
equity 
and 
inclusion 
within clubs as well 
as  looking  at  ways 
to 
protect 
the 
environment. 
The  second  speaker,  Cat  Levine 
(pictured),  has  had  a  pilot  project  in 
Northland  -  Promoting  Tamariki 
Mental  Well-being.  She  now  wants  to 
extend  this  throughout  Northland;  Her 
topics include: Be  Cool  –  introducing 
students  of  concepts  of  emotional 
regulation;  Be  Brave  –  strategies  to 
manage  anxiety;  and  Be  Calm  – 
strategies  for  Anger  Management. 
She  believes  that  now  more  than  ever, 
especially  post-Covid,  youngsters  need 
to be given methods of managing their 
stressors.  This  Trust  has  been  set  up 
with a Rotary Grant.  
It is interesting to note that many well-
known organisations were initiated by a 
Rotary Club in NZ - Crippled Children, 
Health  Camps,  National  Kidney 
Foundation;  Riding  for  Disabled,  to 
name a few. 
We  look  forward  to  a  year  of  being 
more active in our community. 
Any enquiries, please call Eileen – 021 
142 0357
Friday 
19th August 
Doors open 6.30pm 
Quiz starts 7pm 
Maungaturoto Country Club 
To all Club members and invited guests 
Rotary Fundraiser supported by William Pike 
Challenge Group at Otamatea High School 
$15 per person – Teams up to 6 people 
Raffles will be run throughout the night 
Team entries close 15 August 
To enter a team contact 
Nyree Antunovich 027 504 5874 
Nyree.antunovich@otamatea.school.nz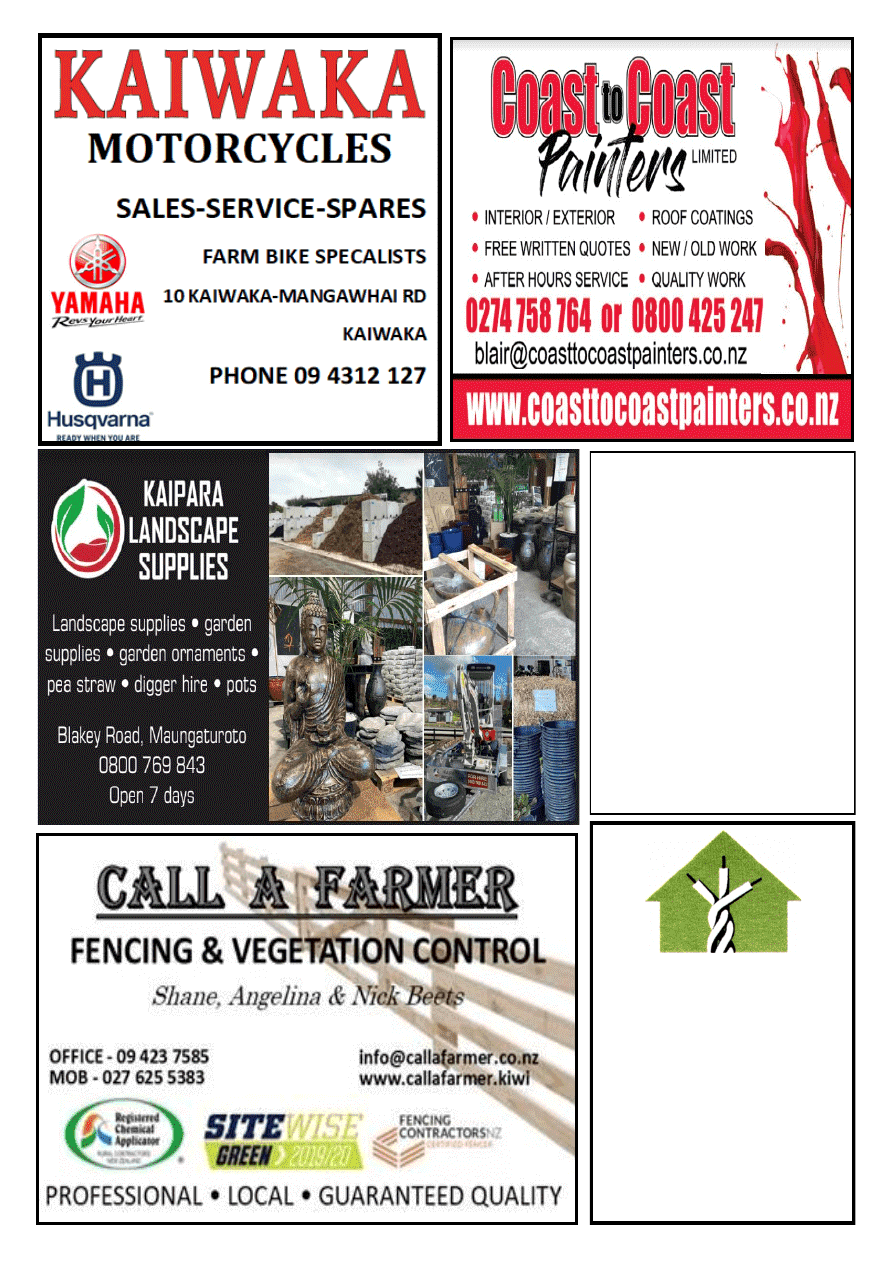 www.kaiwaka.co.nz 
Kaiwaka Bugle - 25 July 2022 
Page 16 
HELP 
PHONE NUMBERS 
HEALTHLINE 0800 611 116 - a 
nurse to answer health queries  
SAMARITANS 0800 726 666 - 
support for lonely or suffering 
mental distress 
YOUTHLINE 0800 376 633 
LIFELINE 0800 543 354 
DEPRESSION HELPLINE 0800 111 
756 
ALCOHOL & DRUG HELPLINE 0800 
787 797 
URGENT MENTAL HEALTH LINE 
0800 223 371 
WARMLINE -peer support for 
people with mental health issues 
0800 200 207 
Reyahn  Leng 
Registered Electrician 
Local, honest and 
reliable. 
For your residential and 
light-commercial 
projects. 
022 314 1068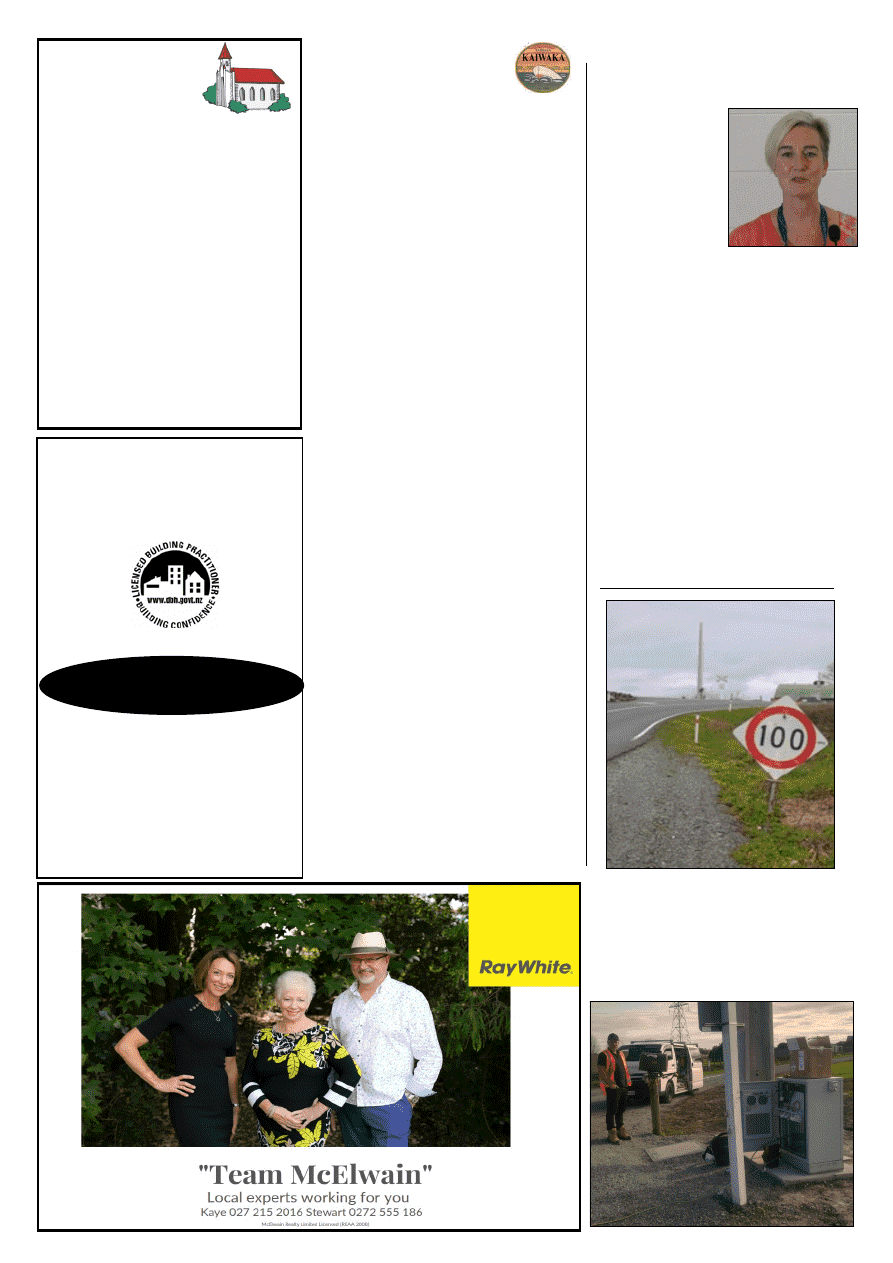 www.kaiwaka.co.nz 
Kaiwaka Bugle - 25 July 2022 
Page 17 
PT.CURTIS 
CRUISING 
CLUB 
Our End  of  Season  Duck  Shoot  2022 
on  Sunday  3rd  July  was  well  attended 
and  enjoyed  by  all.  Good  number  of 
game  birds  caught,  and  a  number  of 
different winners listed below:  
Seniors:  
Peacock Wayne  Leslie 5.06; Turkey  Lloyd 
Clarke  8.807;  Mallard  Tony  Smith  1.351; 
Grey  Nigel  Ball  1.110;  Parry  Tony  Smith 
1.882;  Pheasant  Tony  Smith  1.219; 
Canadian  Goose  Nigel  Clarke      4.452; 
Pukeko Wayne Leslie 1.043.   
Juniors: 
Morgan G Leslie 5.075; Hunter Ries 9.177; 
Tessa Ball 1.297; Tessa Ball 1.169; Hunter 
Ries 1.700; Amanda Ries  
4.028; 
Hunter 
Ries 
1.132; 
Swan 
(Black) Hunter Ries   6.172. 
SUBS 
Don't  forget  Subs  were  Due  1st  June 
2022.  $30  Family  $20  Single.  Internet 
banking  12  3094  0008233  00  Please 
use Name/s as a reference. 
COMMITTEE 
AGM  meeting  was  held  10  June  2022 
at Kaiwaka Sports Association -  
Patron: Dan Mills;  
Commodore: Pongo;  
Vice-Commodore:  Harmon  Walker; 
Secretary: Tracy Collins;  
Treasurer: Jody Walker;  
Auditor: Carol Mills 
SUPER CLUB COMPETITION 
Next  fishing  competition  is  the  Super 
Club Competition which Point Curtis is 
hosting on the 10th and 11th September 
2022. 
New  Fish  of  the  Month:  Snapper till 
10th August 2022 
Winner  Fish  of the  month  Snapper is 
Dip,  weighed  2.506  kg.  Thanks  to  our 
Local  Kaiwaka  4  Square  store  for 
donating the prize. 
Next  Club  meeting:    10th  August 
2022 , Kaiwaka Sports Complex. 
~ Wayne Leslie (Commodore)
) 
KAIPARA DISTRICT 
COUNCIL CHIEF 
EXECUTIVE STEPS 
DOWN 
Louise  Miller,  has 
advised  today  that 
she  will  step  down 
from  her  role  as 
Chief  Executive  of 
Kaipara 
District 
Council  on  28 
October,  after  the 
new Council is sworn in. 
Mayor Dr Jason Smith says for the last 
four  years  Louise  has  led  Kaipara 
District Council from the front and built 
around  her  a  great  team  that's  set 
Kaipara on a better path. 
"As  Chief  Executive  Louise  has 
overseen  with  flair  the  transformation 
of  KDC  to  being  a  trusted  Council 
that's  capable  of  taking  on  great  big 
projects 
such 
as 
planning 
for 
Mangawhai  Central,  generating  the 
Kaipara  Spatial  Plan  and  the  District 
Plan Review, building Pouto  Road and 
setting  up  the  teams  for  delivering  the 
PGF  unsealed  road  network  repairs," 
says Mayor Smith. 
Louise  will  spend  time  travelling  in 
Europe  and  visiting  with family  before 
returning to New Zealand to find a new 
adventure.  
SPOTTED 
next to the railway line on 
Oneriri Road a single concrete power pole - 
centre  of  top  photo.  Bottom  photo  shows 
the  equipment  being  installed  for  this 
Vodafone  'connecter'  between  their  north 
and south towers. 
Top photo taken this week of a 100kph sign 
on an 80kph sealed road ... 
ST PAUL'S  
ANGLICAN  
SUNDAY SERVICES
First Sunday 9am Holy Communion 
Third Sunday 9am Family Service 
St Pauls Church: Kaiwaka-Mangawhai Rd. 
31st July: 
CHRIST THE KING,  
Mangawhai 
9am Holy Communion 
ST. MICHAEL'S
,  
Hakaru  
11.30am Holy Communion 
Church Office Ph 431 4122 
www.mangawhaianglican.org.nz 
Wright  
Design 
No. 117345 
ARCHITECTURAL DESIGN 
N.Z.C.A.D. Architectural 
Mob: 021 276 7389 
Office: 25 Lupis Lane, 
Kaiwaka 0573 
brianwright@xtra.co.nz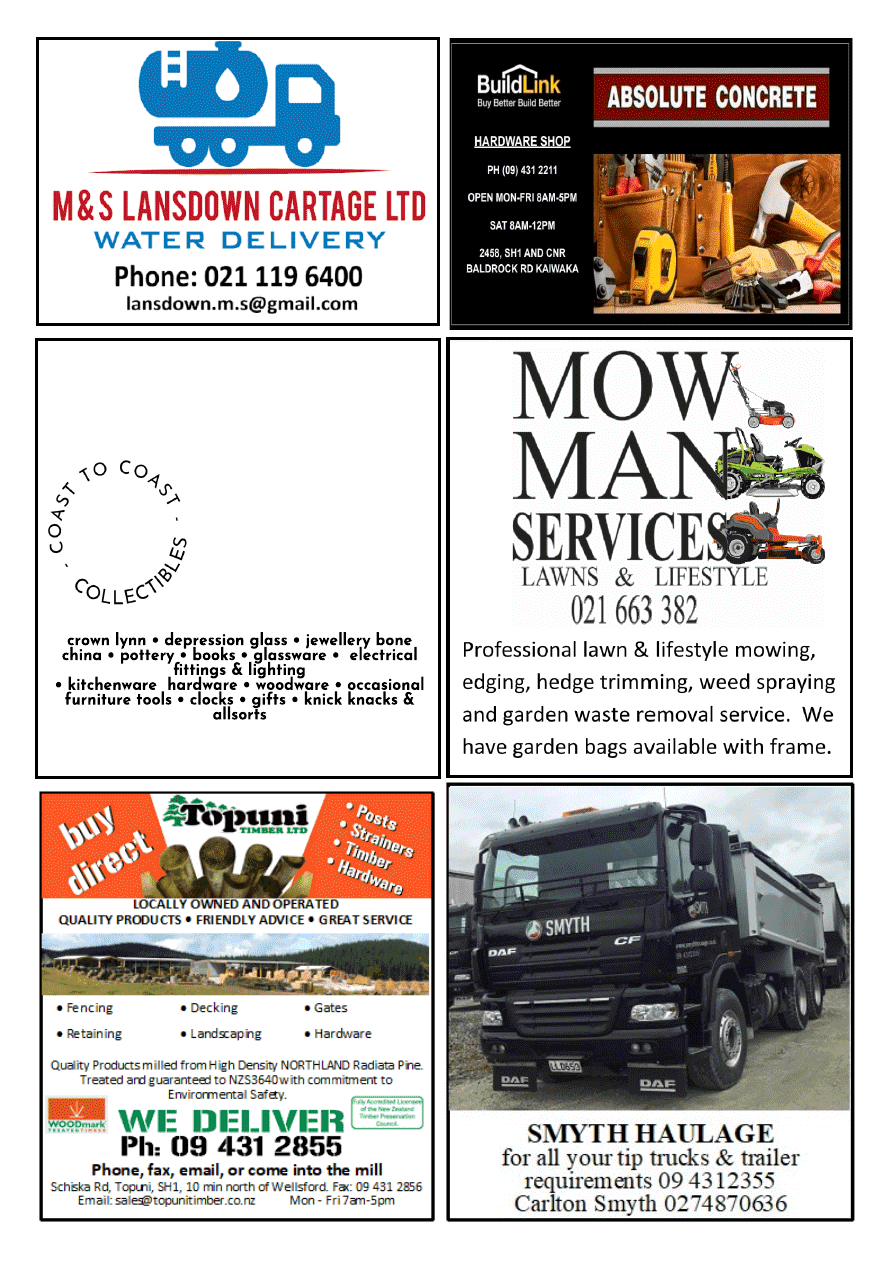 www.kaiwaka.co.nz 
Kaiwaka Bugle - 25 July 2022 
Page 18 
Eclectic Boutique 
99 Gibbons Rd, Kaiwaka 
Contact Trish 
for buying or 
selling 
021 2140 522  
09 431 2193 
Large selection of: 
Open10am – 4pm  
Cash, Eftpos or Direct Debit available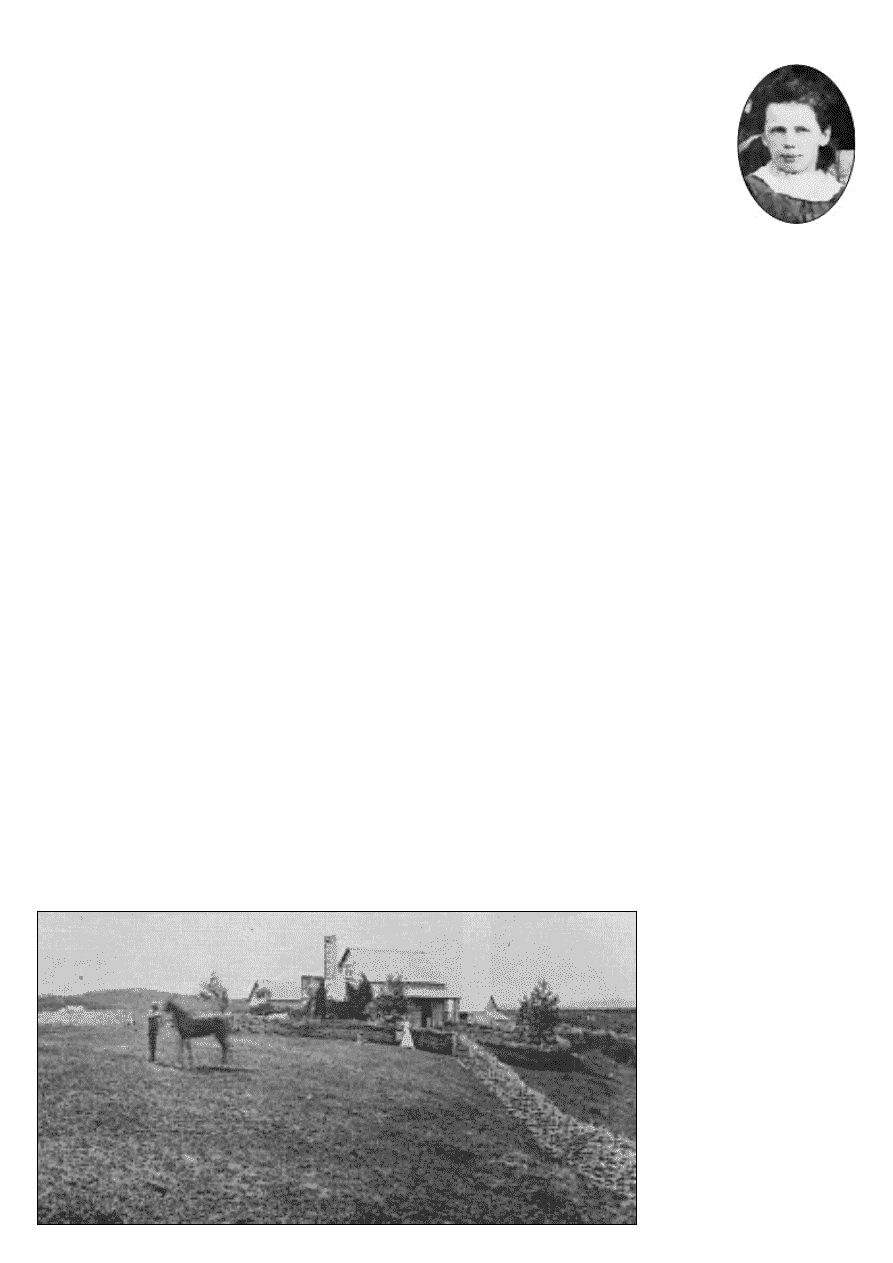 www.kaiwaka.co.nz 
Kaiwaka Bugle - 25 July 2022 
Page 19 
In  1964,  at  85  years  Lily  Linnell, 
fourth  and  youngest  daughter  of 
George  and  Mary  Linnell  (nee  Hull) 
of the early Kaiwaka history. Lily was 
born  12  January  1880  and  died  4  June 
1974 …. 
PART TWO: 
In  1914  the  war  started and so many 
went to that. Dick was going and went 
into camp at Trentham at Upper Hutt. It 
was  a  comfortless  place,  and  a  hotbed 
of  measles,  flu,  etc.  Dick  caught 
measles and it turned to pneumonia and 
he  passed  away  after  a  fortnight's 
illness.  Father  and  George  went  down, 
and  when  it  became  serious,  Forrie 
(Forester  Linnell)  and  I  also  went.  We 
brought him back to Hakaru and he was 
laid in the cemetery there near Mother. 
There  are  many  more  dear  ones  there 
now. 
The  farm  went  on  as  usual.  We 
always had good vegetables, pumpkins, 
marrows,  etc.,  so  we  never  wanted  for 
food  and  meat.  Sheep  or  often  wild 
beasts  were  caught  on  the  run.  We 
bought  most  of  the  run  from  different 
Māori,  which  was  not  an  easy  job,  as 
there  were  so  many  owners.  Some 
would  want  to  sell,  and  others did not. 
It was dearly bought land, but it was a 
good run with plenty of feed and water 
and shelter. Stock did very well on it. 
When  I  was  fourteen,  I  had  severe 
sunstroke.  We children were bathing in 
the  river  below  the  Waihakari  house, 
and  suddenly  I  got  a  most  terrific 
headache,  and  I  struggled  into  my 
clothes.  I  managed  to  reach  the  house 
where I collapsed on the sofa. They got 
the local practitioner, an Irishman, who 
came  and  looked.  He  said  I  would  be 
alright  in  the  morning,  and  to  give  me 
some  whiskey.  He  was  having  some 
himself,  I  guess.  I  was  in  bed  for 
several weeks with mother looking after 
me.  My  spine  was  contracted,  and  my 
chin was up in the air. For years I could 
not  go  out  in  the  sun.  In  later  years,  a 
doctor  pooh-poohed  the  sunstroke  and 
said  it  was  more  likely  to  be  infantile 
paralysis.  It  may  have  been,  but  I  was 
lucky and thankful to get over it in time. 
Our grandmother, Eliza Hull, was with 
us  at  the  time,  and  she  fanned  me 
continuously  which  helped  to  keep  my 
temperature down. There was no ice or 
cool drinks in those days. 
It  was  the  habit  in  our  family  to 
always  have  family  prayers  morning 
and  evening,  a  portion  from  the  Bible, 
and  the  Lord's  prayer.  In  that  way  we 
got  to  know  most  of  both  testaments. 
After  Mother  went,  Father  continued 
the habit. He had a small book he read 
from. So many passages from the Bible. 
Just  enough  and  not  too  much.  One 
evening  we  were  waiting  for  him  to 
start,  he  seemed  extra  slow,  he  then 
said,  "The  bullocks  have  been  in  the 
turnips  a  month".  George  said  quietly 
aside "I've never read that before in the 
Bible". So, of course, the rest of us got 
a  fit  of  the  giggles  and,  I  fear,  did  not 
remember the reading. I suppose Father, 
looking 
at 
the 
day, 
suddenly 
remembered where the bullocks were. 
He  did  many  things  for  other  people, 
and in later years was a lay reader and 
drove  or  rode  to  Hakaru  once  a  month 
and  held  the  service.  Mother  or  I  or 
both  always  went  with  him,  rain  or 
shine,  over  appalling  roads.  We  were 
always  made  welcome  at  the  Ryan 
[Hakaru] homestead for lunch. 
I  think  it  was  for  the  South  African 
war  that  Father  was  asked  by  the 
Government to buy suitable horses. The 
men  who  went  were  mostly  mounted. 
So, he, and George too, went all round 
the  north  buying  them. They  had to  be 
so  many  hands  in  height, and  sound  in 
wind and limb. They found a lot. They 
were brought to Waihakari to be passed 
by  a  government  man.  A  Colonel  he 
was called. I think he was just a vet. He 
was a bounder, and had to be waited on, 
hand and foot, with a bottle of whiskey 
on tap to have a drink every half hour or 
so. Several men trotted and cantered the 
horses  up  and  down  in  front  of  the 
house.  However,  they  were  nearly  all 
passed to go to the war at the end of the 
day. The "Colonel" invited Icie and me 
to  go  back  with  him  to  Helensville 
enroute  to  Auckland  where  he  would 
give us an evening's gay entertainment. 
We declined with thanks. I supposed he 
imagined it would be a great treat after 
being  buried  in  the  country  all  our 
young  lives!  This 
would  be  1902  when 
our 
good 
Queen 
Victoria died and was 
succeeded  by  her  son 
Edward  VII.  In  that 
war we ourselves lost 
two 
very 
good 
friends,  Tyrell  de 
Labrosse  and  Henry 
Ryan. 
The  farm  went  on  slowly,  and  it  was 
gradually  being  brought  in.  Father, 
coming from England, wanted to make 
it like an old-country farm. So, a lot of 
ploughing  went  on,  and  cropping,  to 
grow  feed  for  the  farm  horses.  It 
certainly  had  the  effect  of making  nice 
clean  grass  paddocks,  but  it  meant  a 
great deal of hard work for everyone in 
the family. 
Elizabeth  Kate  married  Herbert 
Leather.  He  was  English,  with  a  good 
education  and  a  wonderful  memory, 
especially  for  racehorses.  I  think  he 
knew  the  names  and  pedigree  of  every 
foal. 
Edith married Lovelace Bull, who had 
been a sailor at one time. 
Next  in  the  family,  George  married 
Augusta  de  Labrosse and lived at "Te 
Ihu". 
Forrie  (Forester)  never  married, nor 
did I (Lilian Margaret – Lily). 
Dick,  we  lost  on  his  way  to  the  first 
world war. 
The  youngest,  James  (Jim)  married 
Mab  Rice  from  Auckland,  a  friend  of 
our cousin Cecil Hull. Cecil was a very 
clever  woman  who  took  her  MA  and 
was  a  teacher  at  the  Auckland  (Girls) 
Grammar  for  many  years.  She  was  the 
daughter  of  our  Uncle  Frank  Hull, 
Mother's  brother.  That  family,  Father, 
Mother,  and  three  children  spent  many 
school  holidays  at  Waihakari  with  us. 
The  country,  though  rough,  was  a 
healthy change from town life. And we 
sometimes  stayed  with  them  in  town, 
which was a wonderful change for us. 
After  mother  died,  Father and I, along 
with George and Icie went for a trip to 
England. We thought it would be good 
for  Father  as  he  still  had  a  sister  and 
two  brothers  living  there.  Icie's 
husband's  family  (he  was  a 
cousin) 
were 
living 
in 
Cheshire,  so  we  stayed  with 
them,  and  the  aunt  in  the  lake 
country,  which  was  very 
lovely. 
Photo:  The  home  of  George  F 
Linnell  and  Mary  Linnell  (nee 
Hull),  built  in  1867    on  Ranganui 
in  the  vicinity  of  the  Kaiwaka 
railway line. It was built of timber 
cut  and  pit-sawn  by  George  and 
erected  with  the  assistance  of  an 
old sailor. 
The  first  five  of  their  eight 
children were born there. 
For  a  short  time  George  was  in 
partnership  in  grazing  and  cattle 
dealing  with  Samuel  Clayton,  on 
land  owned  by  Mrs  Suzann 
Clayton  (Mrs  Brayton  in  Jane 
Mander's  book,  "The  Story  of  a 
New Zealand River"). 
MEMOIRS OF LILIAN "LILY" MARGARET LINNELL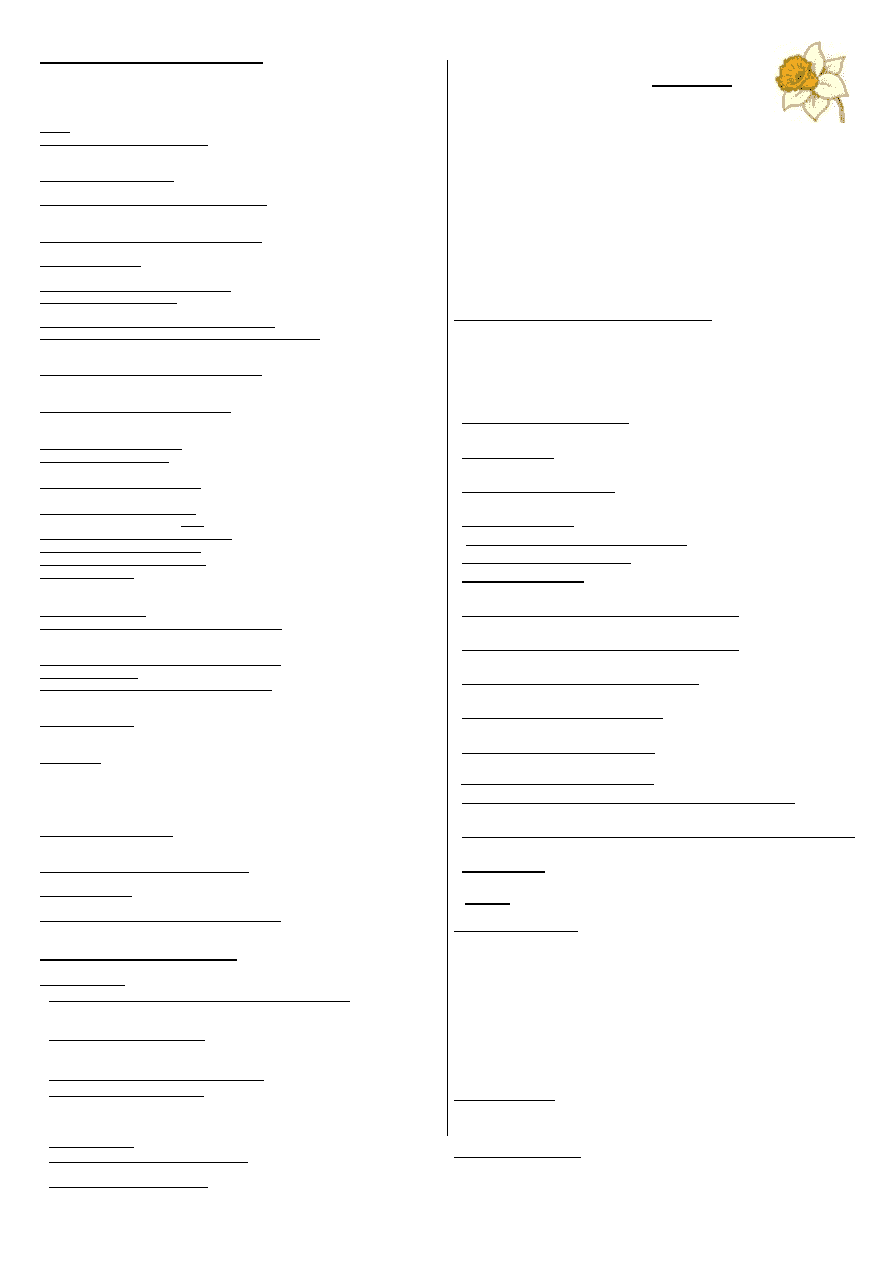 www.kaiwaka.co.nz 
Kaiwaka Bugle - 25 July 2022 
Page 20 
WHAT'S ON
PLEASE ~ do let us know what is on - 
email kaiwakabugle@kaiwaka.co.nz 
*25Jul~School Term Three begins 
*29Jul~ Music Movie 'Mic k FLEETWOOD/Peter 
GREEN ,7.30pm KWMH 
*11Aug~Otamatea High School OPEN DAY 9.15am 
*12Aug~Movie 'How to Please a Woman' 7.30pmKWMH 
*17Aug~Kaiwaka Can meet Archie Bull Hall, 5.30pm 
*26Aug~DAFFODIL DAY 
*8Oct~LOCAL ELECTION -voting closes midday 
KWMH = Kaiwaka War Memorial Hall; KSA = Kaiwaka Sports Association 
See www.kaiwaka.co.nz for more information 
HOUSEHOLD RUBBISH COLLECTION  
Kaiwaka Pick up: 
Mondays = Green bags (Northland Waste - 09 430 3273) 
Wednesdays  =  Blue  bags  and  yellow  recycling  (at  Four  Square 
Kaiwaka $3.60 and $1.70) (Kaurilands 09 4392146); ONLY Blue 
and Yellow bags picked up on Oneriri Road. 
 DIABETES Support Group-for Kaiwaka, Mangawhai, Wellsford 
10am, 3rd Friday of month Ph: Colleen James 09 4314238 
 GENEALOGY - Wellsford: 1st Thursday in month Ph: 423 
7033; Waipu: 4th Monday in month Ph: 4312 725 
 HAKARU PONY CLUB - Secretary Denise Rogers 021423376 
secretary@hakaruponyclub.co.nz  
 KAIPARA HUNT - Secretary Albert Doonenbal Ph 4312059 
  KAIPARA HUNTING & FISHING - 021 1294378 
 KAIWAKA BADMINTON -Tuesdays 7.30pm Ph: 0274114817 
 KAIWAKA  CAN  - 3rd Wednesday in month, 5.30pm, Archie 
Bull Hall Ph: 0273572751 
 KAIWAKA GARDEN & FLORAL GROUP - 2nd Thursday in 
month. Ph: 431 4744 
 KNITTING FOR WHANGAREI HOSPITAL - 2nd Tuesday in 
month, Archie Bull Hall 10am Ph 4314827 
 MANGAWHAI COMBINED REBUS CLUB - 2pm, 3rd 
Thursday month, Senior Citizens Hall Mangawhai. Ph: 4315777 
 MANGAWHAI GENEALOGY  - meet 3rd Thursday month, 
Mangawhai Museum, 10.30am 
 PILATES - HAKARU HALL - Tuesday 10am, Thursday 9am 
Qualified Instructor  Ph. 0220643965  
*PT CURTIS CRUISING CLUB -  Ph: 4312205 Pongo, Commodore 
 RSA,  HAKARU  &  DISTRICTS  WOMEN'S  SECTION  –  meets 
1.30pm 4th Thursday of the month. Ph: 431 5818  
 KAIWAKA  SCOTTISH  COUNTRY  DANCING  CLUB-
Wednesdays 10am - 12 noon  Ph: Elaine 027 432 0032  
 TRAMPING - Mondays 9am-2:30pm, contact 
  valkenburgmaria@gmail.com 
* YOGA - St. John Hall - Tuesday 6 pm, Carla, 021 2968794 
HALLS FOR HIRE: 
  Kaiwaka St. John Hall: Phone Marj  0272941227  
 St.Pauls  Archie  Bull Hall  HIRE  $20 half day, $40 full day per 
hire, S McAulay, Ph 4312311 
 Kaiwaka  War  Memorial  Hall  HlRE  -  Phone  4312725  or 
kaiwaka.hall.bookings@gmail.com 
 Hakaru Community Hall HIRE -Ph.  Karen 4312090 
 Te Pounga Marae queries - Pearl Nathan  0223933533 
 Kaiwaka Sports Association hire/queries - Jennie Reynolds
   ksa.bookings@mail.com
, 02102764171  
Justice of Peace: A.F.Hargreaves 4312 045, W.Howard 4312 725, 
J  Mcleish  0212132795  or  Kaiwaka  Four  Square  4312227 
(Sundays  –  Thursdays)    -  please  phone  to  make  sure  they  are 
available www.justiceofthepeace.org.nz  B.FJaques Retd  
Marriage Celebrants:  
A.F.Hargreaves; Y Osborne; C. Rosseels, D. Muskett -Osborne 
Next Bugle Deadline  Friday 26 August 2022
LOCAL SERVICES 
*Emergencies - Ambulance, Fire, Police - dial 111 
*Non-urgent Police phone 105 
DOCTOR: Ph: 4238 086 
A A: Meets Wed., 7pm. Kate's Place Ph 021 024 25969 or 0800 229 6757 
NARCOTICS ANONYMOUS : Mon., 6pm, Archie Bull Hall, Kwk-Mwi 
Road; drug and alcohol related issues. Ph. 02102412348 
ASUREQUALITY LTD (was AgriQuality) Call Free 0508 0011 22  
BUDGETING SERVICE, WELLSFORD: Free confidential advice & 
support for all areas of personal finance. Ph (09) 423 7123 
CAB-Citizens Advice Bureau.Wellsford Ph: 4237333 
0800 367 222 email: wellsford@cab.org.nz, 1 Matheson Road, Wellsford 
CIVIL DEFENCE - Kaipara 0800 727 059 or Facebook 
DOG/STOCK /NOISE CONTROL 0800 105 890 
FUNERAL SERVICES: Morris & Morris Ltd, 0800667747 
GRANDPARENTS Raising Grandchildren: Dianah Roberts 0223819539 
HAKARU & DISTRICTS MEMORIAL RSA (Inc) 733 Settlement Rd, 
Hakaru. Ph 4312 176 or Barry Wallace (President) 0274 922 975 
HAKARU LANDFILL/Transfer Station:Open everyday  10am-4pm. 
Except Public Holidays. Ph4312629 Cost-$55 trailer load up to 1 cubic 
metre. Ph:4258567 - office 
KAIPARA DISTRICT COUNCIL:  www.kaipara.govt.nz 
Help Desk FREEPHONE 0800 727 059  
KAIWAKA CEMETERY: Ph: 4312045 or 4314017 
KAIWAKA LIBRARY: kaiwaka.library@gmail.com  
Mon. 4-6pm; Wed., Thurs., Fri., Sat. 10am-2pm Ph:4312539 
KAIWAKA PLAYCENTRE: Ph Juanita 0274134904; open Mon, Wed, 
Fri 9am-12pm. Hastie Lane; Monday to Friday 9.00am - 12 noon. 
KAIWAKA POST OFFICE:Ph:4312 431  
Post Code: 0573 for RD2 and 0542 for all Kaiwaka Post Office mail 
KAIWAKA PRIMARY SCHOOL: Ph: 4312309   
KAIWAKA SPORTS ASSN: Ph 4312005; 4312129 gym 
KAIWAKA ST JOHN HALL: Phone Marj  0272941227  
KATE'S PLACE Community Centre - Employment services, Free Health 
Nurse, Plunket, Advocacy, A.A., Legal Advice. 4312 661 
LINKING HANDS Health Shuttle Ph 4315906 or 09 4318969 
MINISTRY FOR PRIMARY INDUSTRIES - General inquiries Call 
Free 0800 008 333 
NEIGHBOURHOOD SUPPORT RODNEY:  021 2583737      
NORTHPOWER: Faults Kaiwaka area 0800 104040 
OTAMATEA COMMUNITY SERVICES: Counselling, parent coach, 
Family Support worker, budget advice, food bank. Mon-Fri 9am-3pm. Ph 
09 431 9080 http://www.otamateacs.org/ 
PARENTPORT: Free, practical family support service Puhoi to Paparoa 
Ph or txt: Dianne 027 280 5093 or 09 425 9357 
PLUNKET: Kaiwaka- St John Hall, 4th Monday of the month. Plunket Nurse 
Louise 027 282 3987 or 09 438 2508 
Mangawhai- Rose Madsen Cottage, Mondays and Wednesdays. Plunket Nurse 
Rebecca 021 501 941 or 09 438 2508 
Maungaturoto - Good News Church, 2nd and 4th Wednesday of the month. 
Plunket Nurse Seleisa 021 912 248 or 09 438 2508 
PLUNKET HELPLINE -0800 933 922 (24 hours)  
FACEBOOK - Kaipara Plunket 
TAITOKERAU COMMUNITY LAW: Free confidential legal advice and 
assistance, 2nd
Thursday
 of each month. Ph: 0800 155 529 for appts.  
TE URI O HAU Settlement Trust Tangata Developments: Whanau Ora 
021 793262  
VETERINARY SERVICE MANGAWHAI: 
Ph: 4314535 Mon-Fri 8.00-5.00, Sat 9-12, a/h appt. 
WELLSFORD DOCTORS: Ph: 4238 086 
CHURCHES:
 
Kaiwaka  Revival  Church  -  Your  Community  Church:  Sundays  10am. 
Ph: Pastor Tawhiri 09 431 8988 or Pastor Paul 09 4312 068 Visit us at 
www.facebook.com/kaiwakachurch 
 
St  Paul's  Anglican  Church  1st  Sun.  9.00am  (Eucharist),  3rd  Sun. 
9.00am  (Family  Service).  Contact:  Church  Office  Ph  431  4122 
www.mangawhaianglican.org.nz 
 
Church of Christ the King, Mangawhai:9.00am every Sunday 
 
St.Mary's  Catholic  Church:  Maungaturoto  –  Griffins  Road,  Saturday 
evening  Vigil  Mass  6pm;  Mangawhai  –  Senior  Citizens  Hall,  Sunday 
Mass  8:30am;  Wellsford  –  Matheson  Road,  Sunday  Mass  10:30am;  
Mid-week Mass times and all enquires  – phone 423 8170
 
Baptist Church: Sun. 10.30am Mangawhai Snr Cit.Hall.Ph:4312339 
 
Cause  Way  Church  Mangawhai:  Sundays  10.15am,  Mangawhai 
Community  Recreation  Centre,  Insley  St.  Ph:  09  4314782